1. Hoe Park

Hoe Park is an idyllic getaway in the lively city of Plymouth, United Kingdom. Famous for its sweeping views of Plymouth Sound, this expansive park offers a variety of activities for visitors of all ages. Take a stroll along the scenic boardwalk, enjoy a picnic with friends and family, or simply unwind and enjoy the breathtaking scenery.

Insider tip: Visit at sunset for a truly mesmerizing sight. Also, visit the nearby Smeaton's Tower for an incredible glimpse into the city's maritime history.

Hoe Park
4 Osborne Place, Plymouth

Monday - Sunday: Open 24 hours
2. National Marine Aquarium
If you're looking for a fun and educational day out in Plymouth, don't miss the National Marine Aquarium. This award-winning attraction offers an immersive and interactive experience where visitors can explore the wonders of the ocean. You'll have the opportunity to see more than 4,000 animals, including sharks, jellyfish and sea turtles, and learn more about their habitats and behaviors through informative exhibits. You can also witness a feeding show and watch divers swim with the animals in "Eddystone Reef." Don't forget to visit the "Tidal Zone" where you can touch real sea creatures. Also, the aquarium is located in Plymouth's historic Barbican, right next to the Mayflower Museum, which tells the story of the Pilgrims' voyage to America. Don't miss out on visiting this attraction in Plymouth.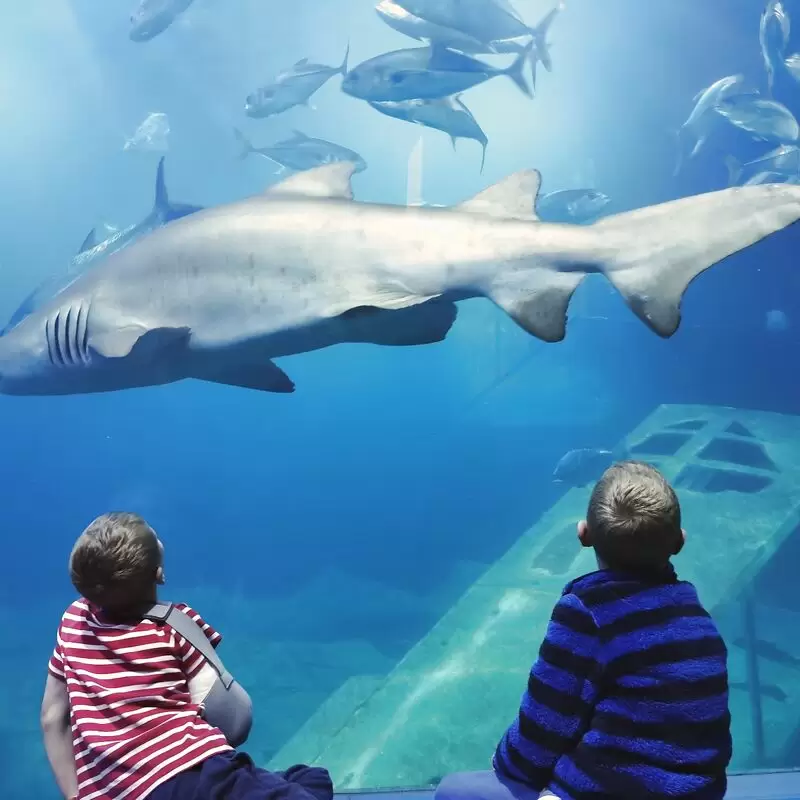 National Marine Aquarium
Rope Walk, Coxside, Plymouth
Monday - Sunday: 10:00 AM – 5:00 PM
3. National Trust Cotehele
Explore the breathtaking beauty and rich history of Plymouth with a visit to the National Trust - Cotehele. This magnificent country estate features an impressive collection of tapestries, furniture, and armor that offers a glimpse into the lives of the wealthy families who called the property home. A special insider detail not to be missed is the charming Tudor chapel, whose walls and ceilings are decorated with intricate wood carvings. When you're done exploring the estate, you can take a stroll through the lovely gardens and lose yourself in their tranquil surroundings. If you are looking for more sightseeing, you should visit the nearby Morwellham Quay with its fascinating open-air museum and water views.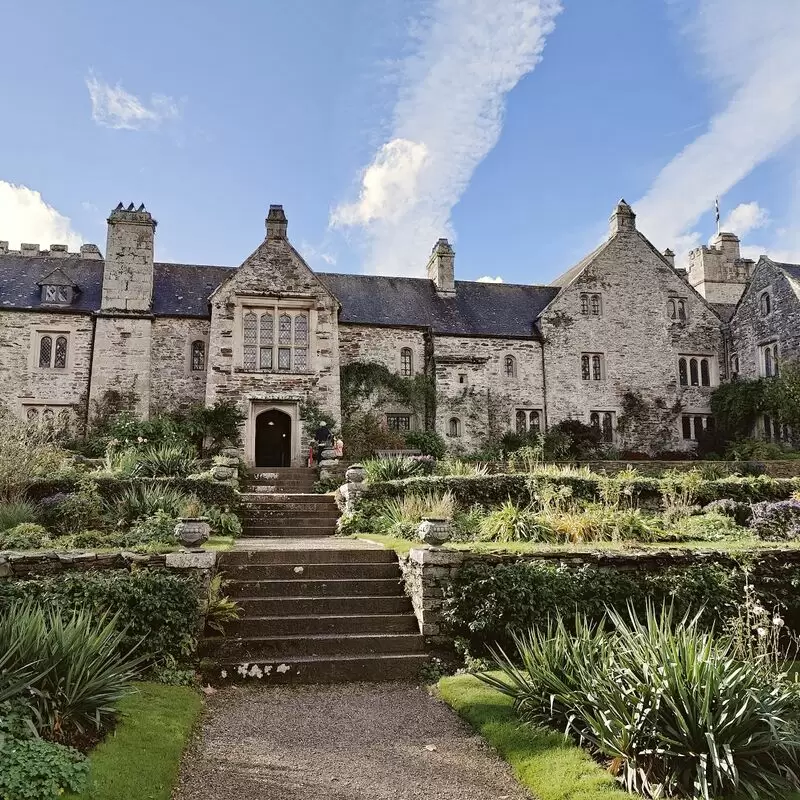 National Trust Cotehele
Saltash
Monday - Sunday: 10:00 AM – 4:00 PM
4. National Trust Saltram
Want to step back in time and experience the elegance of Georgian England? Then the National Trust - Saltram in Plymouth is the place for you. This stunning mansion features ornate rooms, antique furniture, and beautiful 18th-century artwork. The gardens are equally impressive, with their manicured lawns, peaceful walkways, and picturesque views of the lake. You may also recognize Saltram from popular television shows and movies. And don't miss the nearby? Plymbridge Woods, ideal for a quiet stroll or an adventurous hike.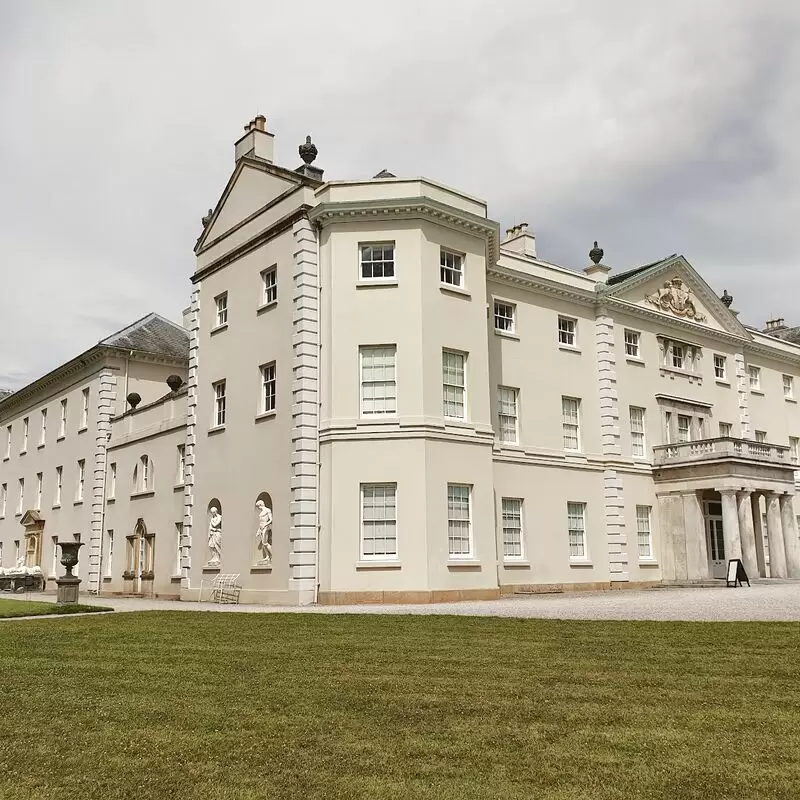 National Trust Saltram
Saltram, Plympton, Plymouth
Monday - Sunday: 10:00 AM – 4:00 PM
5. Pennywell Farm
Are you ready for a day of fun in Plymouth? Then be sure to add Pennywell Farm to your itinerary! This charming farm offers an unforgettable experience for animal lovers of all ages. Meet the friendly farm animals, pet the cuddly rabbits, and experience an exciting pig race. You can also indulge in a delicious Devonshire Cream Tea or a refreshing ice cream before heading out for a hike in the neighboring Dartmoor National Park. Don't miss out on this fantastic attraction that is guaranteed to be a great experience for the whole family!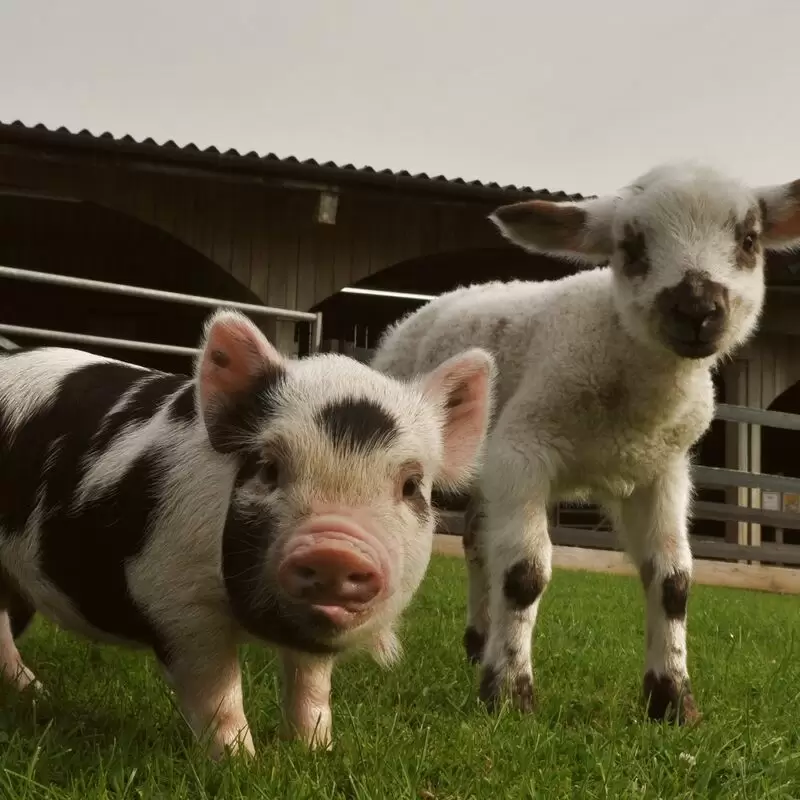 6. National Trust Lydford Gorge

Looking for an adventure in Plymouth? The National Trust's Lydford Gorge is the perfect destination for you! As one of the deepest gorges in the Southwest, it offers breathtaking natural beauty and an exhilarating hiking experience. Hike through a variety of landscapes, including ancient forests and rushing waterfalls, and keep an eye out for the unique wildlife that call the gorge home. Don't miss the opportunity to see the famous White Lady Waterfall - a real feast for the eyes.

Insider tip: Wear comfortable shoes and bring a rain jacket just in case. Another nearby attraction is Brentor, with its iconic church perched on the top of a hill.

National Trust Lydford Gorge
Lydford, Tavistock, Okehampton

Monday - Sunday: 11:00 AM – 3:00 PM
7. Buckfast Butterfly Farm and Dartmoor Otter Sanctuary

One of the main attractions in Plymouth for nature lovers is Buckfast Butterfly Farm and Dartmoor Otter Sanctuary. At this sanctuary you can see over 40 species of butterflies up close in a natural environment, including the spectacular Blue Morpho. You'll also have the chance to meet some cute otters and see them play in their sanctuary. And the surrounding Dartmoor National Park is a beautiful area for a hike or picnic.

Insider tip: Otter feeding is a truly unforgettable experience. Another nearby attraction is historic Buckfast Abbey.

Buckfast Butterfly Farm and Dartmoor Otter Sanctuary
Station House, Dart Bridge Road, Buckfastleigh

Monday - Sunday: 10:00 AM – 5:00 PM
8. Mount Edgcumbe House and Country Park
Get ready to experience the grandeur of Mount Edgcumbe House and Country Park in the heart of Plymouth. This stunning property features a magnificent home with breathtaking views of the ocean and rolling countryside. Take a leisurely stroll through the picturesque gardens and soak in the natural beauty of the surrounding countryside. You can also explore the nearby villages and beaches and participate in a variety of outdoor activities such as hiking and biking. Don't miss the opportunity to visit this hidden gem in the southwest of England.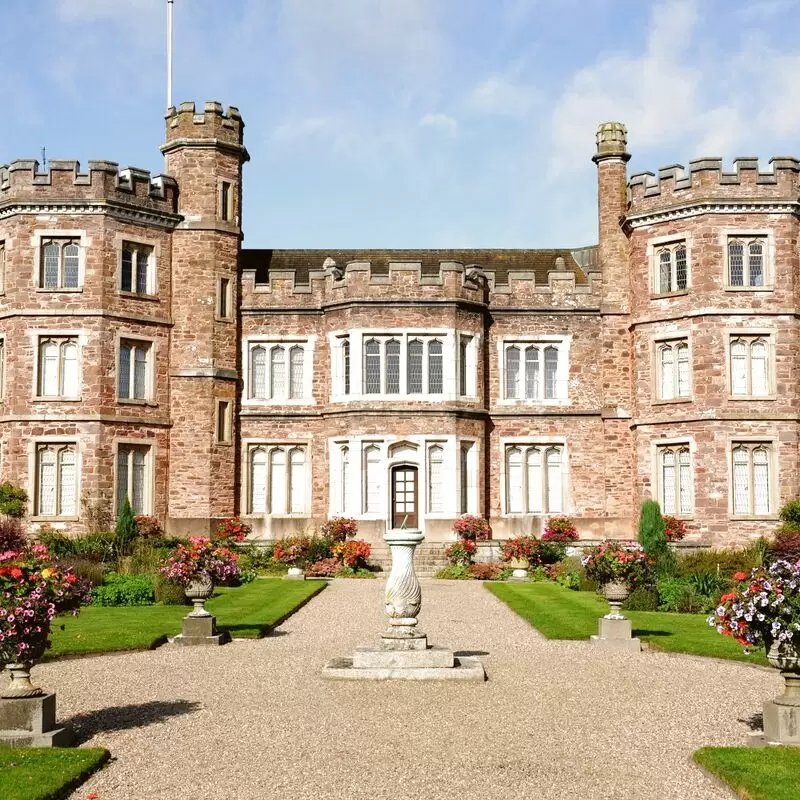 Mount Edgcumbe House and Country Park
Cremyll, Torpoint
Monday - Saturday: Closed
Tuesday - Sunday: 11:00 AM – 4:30 PM
9. Plymouth Naval Memorial
The Plymouth Naval Memorial is a must-see for anyone interested in naval history and architecture. This impressive memorial in the heart of the city is a beautiful tribute to the men and women who lost their lives serving their country during the two world wars. With its striking columns and breathtaking views of the sea, the memorial is sure to leave a lasting impression on visitors. After visiting the memorial, be sure to visit nearby attractions such as the Royal Citadel and the historic Barbican district.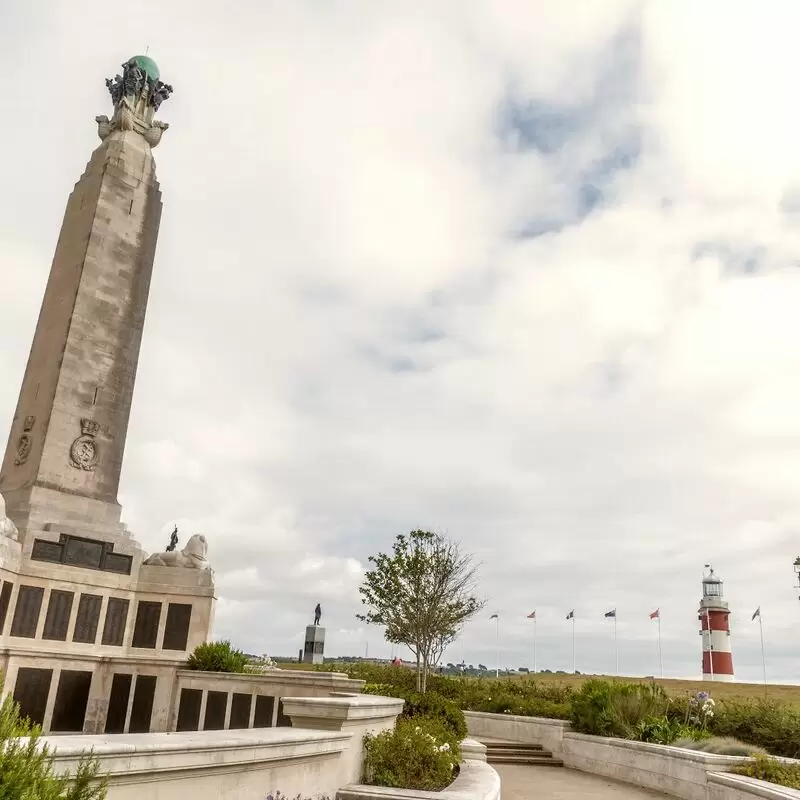 Plymouth Naval Memorial
Hoe Promenade, Plymouth
Monday - Sunday: Open 24 hours
10. National Trust Buckland Abbey

Nestled in the picturesque Dartmoor National Park lies the breathtaking Buckland Abbey, the famous former residence of Sir Francis Drake. A visit to this National Trust property is the perfect way to explore the rich history of the region and immerse yourself in the beautiful natural surroundings. Stroll through the gardens and take in the breathtaking views of the Tavy Valley before heading inside to explore the fascinating collections of art, furniture, and artifacts.

Insider tip: Don't forget to stop by the tearoom for a delicious piece of cake! Other nearby attractions include the ancient ruins of Dartmoor's many gates and the picturesque Tamar Valley.

National Trust Buckland Abbey
Yelverton

Monday - Sunday: 10:00 AM – 4:00 PM
Tuesday - Friday: 10:00 AM – 5:00 PM
11. Wistman's Wood
One of the most unique and enchanting natural landscapes you can experience in Plymouth is Wistman's Wood. This ancient forest on Dartmoor feels like entering a fairy tale kingdom. The wood is made up of stunted oaks covered in lichen and topped with moss, creating an ethereal atmosphere. Foliage and moss also cover the rocky ground, creating a soft bed to walk on, while streams and small ponds appear here and there in the forest. Watch out for "Wisht hounds" as you follow the trails through Wistman's Wood. Also nearby are Dartmoor Zoological Park and Mount Batten Tower.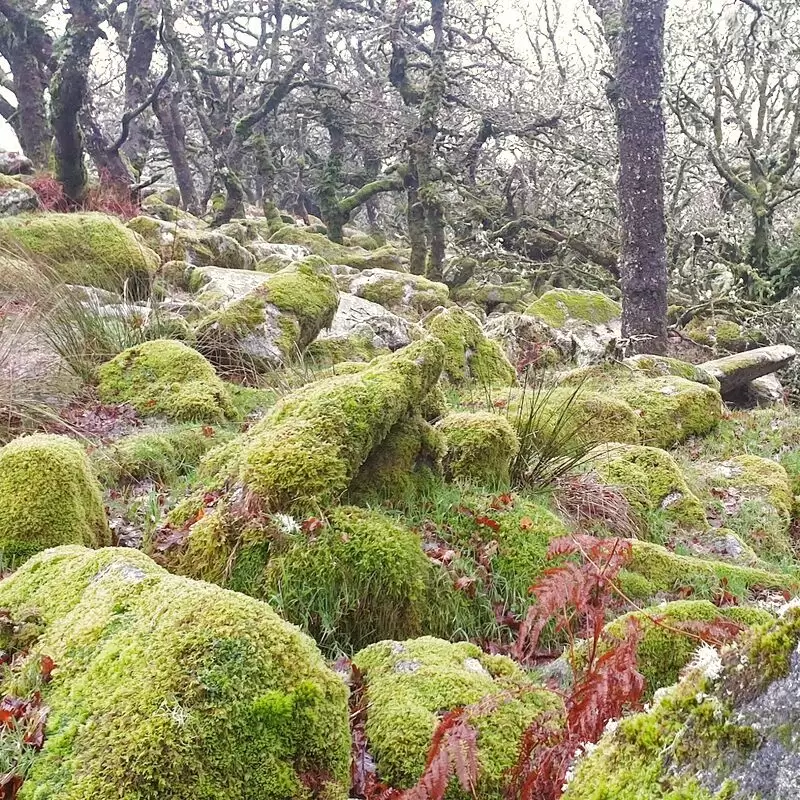 Wistman's Wood
Two Bridges, Princetown
Monday - Sunday: Open 24 hours
12. Royal William Yard
The Royal William Yard is an absolute must-see for anyone coming to Plymouth! This historic shipyard has been transformed into a trendy cultural center with trendy stores, artisan cafes, and world-class restaurants serving world-class cuisine. Enjoy local delicacies as you stroll through the picturesque surroundings and admire the stunning architecture of the landmark buildings. You might even catch a glimpse of a naval vessel or two anchored in the harbor. Oh, and don't forget to try the award-winning gelato at the artisan gelateria! Also visit the nearby National Marine Aquarium, where you can see over 4000 animals from sea turtles to sharks.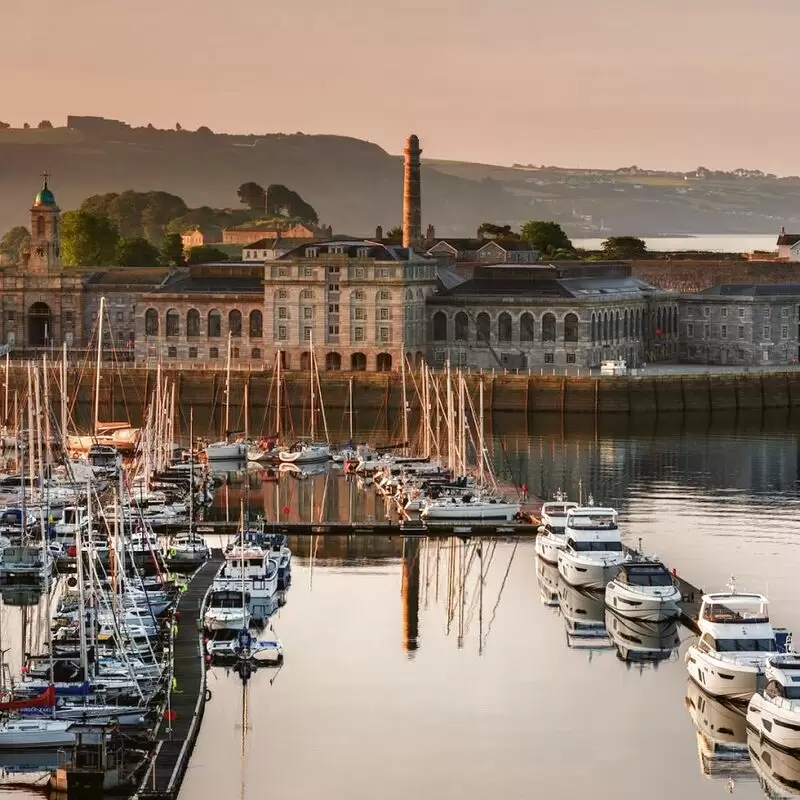 Royal William Yard
Royal William Yard, Stonehouse, Plymouth PL1 3RP
Monday - Sunday: Open 24 hours
13. Becky Falls Ancient Woodland Park

Escape the hustle and bustle of city life and immerse yourself in the beautiful old growth forest of Becky Falls. Located just 30 minutes from the heart of Plymouth, this hidden gem is a must-see. Hike the various trails, marvel at the spectacular waterfalls, and observe the playful wildlife.

Insider tip: Don't miss trying the delicious cream tea at the on-site café! And if you have more time, visit nearby Buckfast Butterfly Farm and Dartmoor National Park.

Becky Falls Ancient Woodland Park
Manaton, Newton Abbot

Monday - Sunday: 10:00 AM – 5:00 PM
14. Smeaton's Tower

When in Plymouth, be sure to visit Smeaton's Tower! This iconic lighthouse was originally built in 1759 and is a true testament to the city's maritime history. Climbing to the top of the tower offers breathtaking panoramic views of Plymouth Sound and is an exhilarating experience in itself.

Insider tip: Be sure to bring a camera to capture these unforgettable moments. And while you're in the area, be sure to visit the beautiful beach and boardwalk at Hoe Park, just a short walk away.

Smeaton's Tower
West Hoe Road, Plymouth PL1 2NZ

Monday: Closed
Tuesday - Sunday: 10:00 AM – 5:00 PM
15. The Box
Immerse yourself in a world of fascinating history and art at The Box - Plymouth's newest cultural attraction. This innovative museum features an incredible art collection, groundbreaking exhibitions, and highlights Plymouth's local history, from the Bronze Age to the present day. As you explore, you'll discover amazing insights into the city's maritime heritage, military significance, and more. Don't miss the interactive exhibits that bring history to life! Plus, The Box is located right next to the breathtaking views of Plymouth Hoe, so you can experience the best of both worlds in one visit.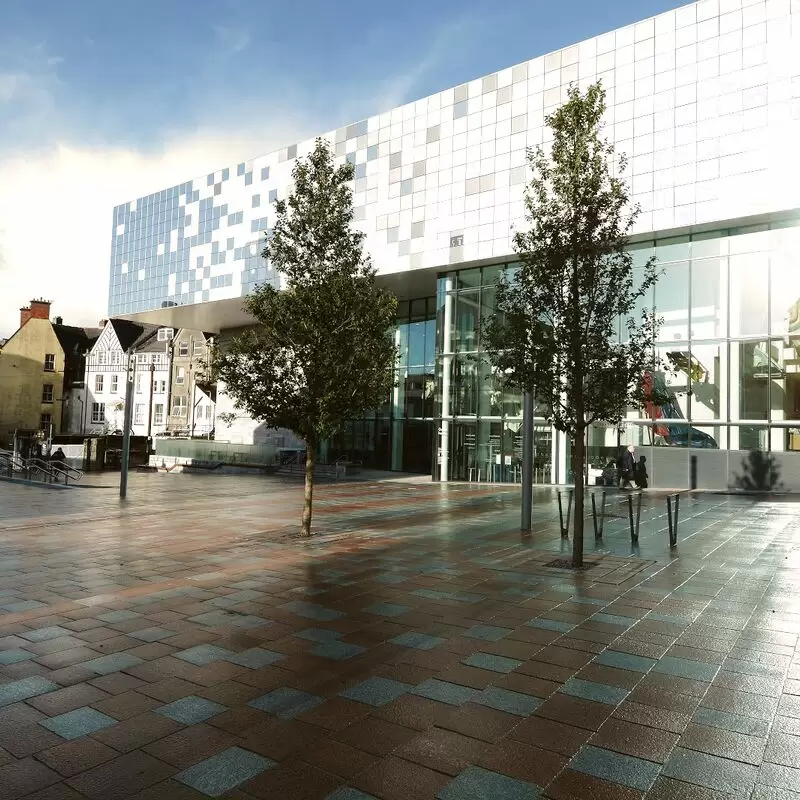 The Box
Tavistock Place, Plymouth
Monday: Closed
Tuesday - Sunday: 10:00 AM – 5:00 PM
16. National Trust Plymbridge Woods
Get ready to explore one of the most enchanting natural landscapes in Plymouth - the National Trust - Plymbridge Woods. With its diverse flora and fauna, this 1,200-acre woodland is a nature lover's paradise. Observe native wildlife such as otters, kingfishers and various other birds. History buffs can also explore Plymbridge Woods' industrial heritage with its disused quarries and tramways. After your walk, you can visit Saltram House, an impressive Georgian mansion nearby that is also under the National Trust.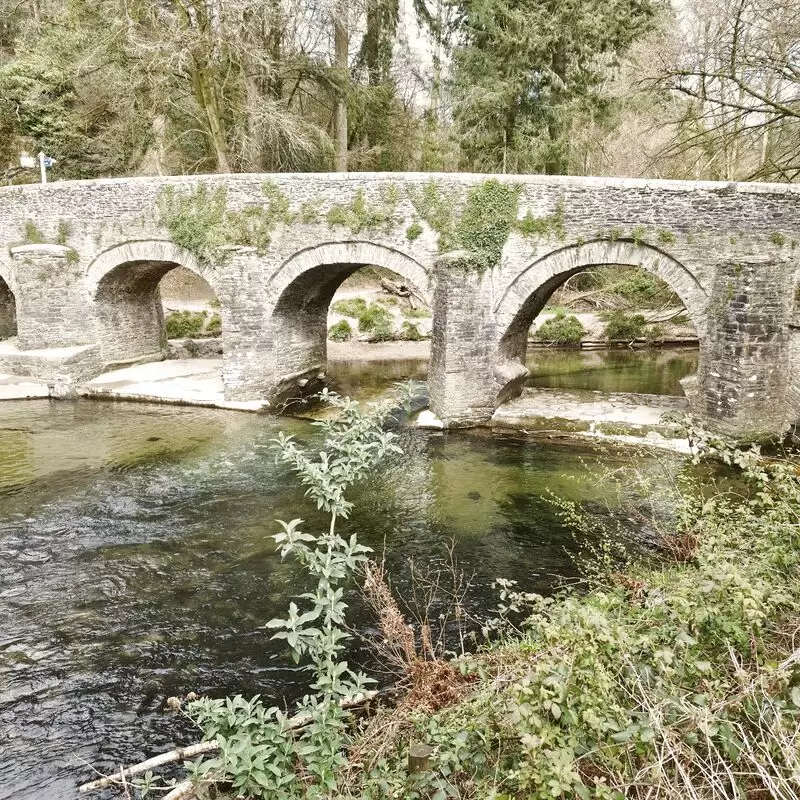 National Trust Plymbridge Woods
Plymbridge Road, Plymouth
Monday - Sunday: Open 24 hours
17. Foggintor Quarry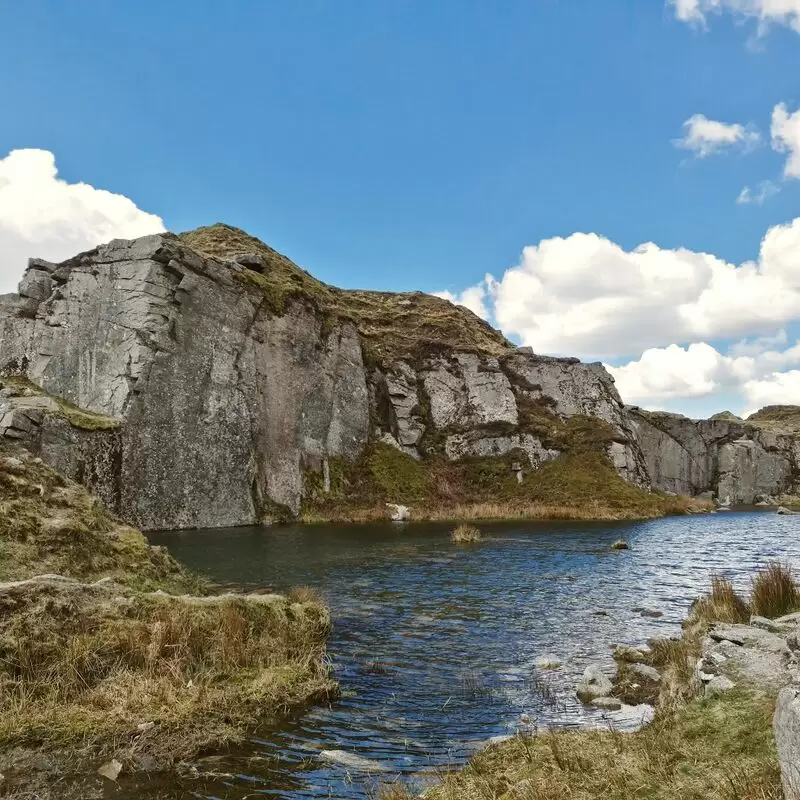 Foggintor Quarry
B3212, Yelverton
Monday - Sunday: Open 24 hours
18. Central Park

Central Park in Plymouth is a must-see for anyone traveling to the city. Surrounded by beautiful gardens and woodlands, the park offers visitors the chance to relax and enjoy the natural surroundings. Take a stroll along the scenic trails, play a game of soccer on the playing fields, or enjoy a picnic with family and friends.

An insider tip is the park's Life Centre, where you can participate in a variety of sports and fitness activities. The nearby Plymouth Argyle Football Club stadium is also worth a visit for soccer enthusiasts.
19. Seaton Beach

Seaton Beach is a hidden gem on the outskirts of Plymouth and a must for any beach lover. This stunning stretch of coastline offers golden sands, crystal clear waters and breathtaking views that will leave you in awe. Whether you want to take a dip in the ocean, build sandcastles, or just relax and soak up the sun, Seaton Beach has everything you need.

Insider tip: Keep an eye out for the rock pools on the shore - they're great for exploring! After your visit, enjoy delicious local seafood in the nearby village of Seaton.

Seaton Beach
Deviock, Torpoint

Monday - Sunday: Open 24 hours
20. Wembury Beach

If you want to escape the hustle and bustle of everyday life, head to Wembury Beach in Plymouth. This charming little cove offers crystal clear waters, golden sands and stunning panoramic views of the Devon coastline. Wembury is the perfect destination for those looking for a peaceful day by the sea, with plenty of rock pools to explore and wildlife to spot.

Insider tip: Take a walk along the South West Coast Path and enjoy the breathtaking views of the rugged cliffs and sea rocks. Be sure to visit the Wembury Marine Centre, which offers a glimpse of the local flora and fauna. Nearby, you can also visit the historic Royal William Yard, where you'll find excellent food and drink.

Wembury Beach
Wembury, Plymouth

Monday - Sunday: Open 24 hours
21. National Trust Antony

Located in the picturesque village of Torpoint, just a short drive from Plymouth, National Trust - Antony is a must for history and nature lovers. The stunning, Grade II listed mansion features beautifully preserved architecture and interiors, as well as expansive gardens that invite you to take a leisurely stroll.

Insider tip: Be sure to visit the Woodland Garden, which is captivating for its floral splendor and tranquil water features. After your visit, grab a bite to eat in the charming village of Millbrook at one of the local cafes.

National Trust Antony
Ferry Lane, Torpoint

Monday - Sunday: 12:00 – 5:00 PM
Saturday: Closed
22. Bovisand Beach
Looking for a secluded and picturesque beach in Plymouth? Look no further than Bovisand Beach! With its crystal clear waters and stunning views, this hidden gem is the perfect spot for a relaxing day trip. Bovisand Beach is also known for its stunning marine life, so be sure to pack your snorkeling gear. If you're feeling adventurous, you can take a walk along the South West Coast Path, which will lead you to a breathtaking view of nearby Fort Bovisand. So, what are you waiting for? Head to Bovisand Beach and enjoy the sun!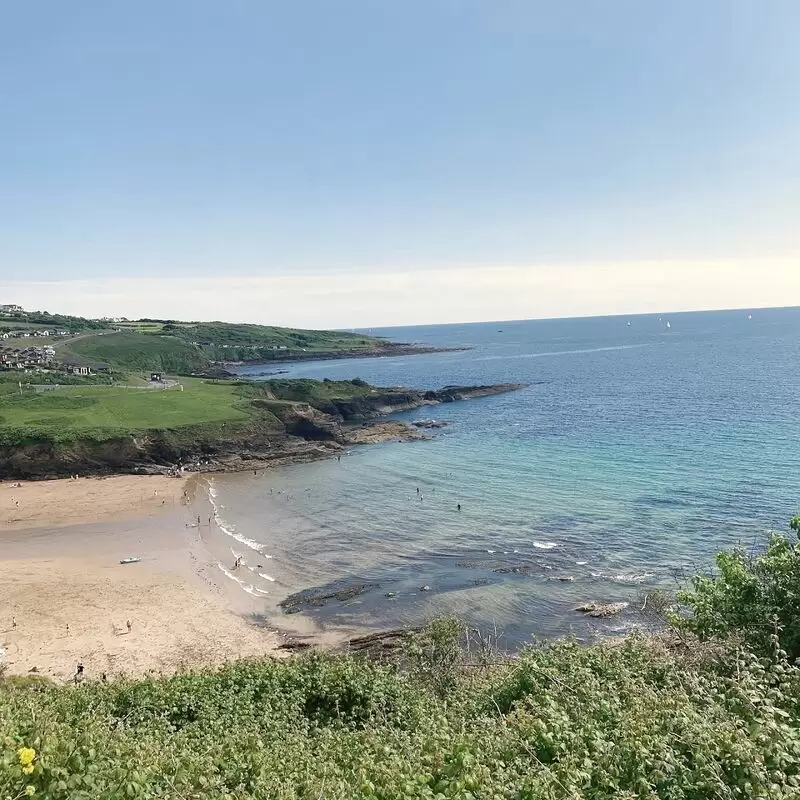 Bovisand Beach
Bovisand Beach, Wembury, Bovisand, Plymouth
Monday - Sunday: Open 24 hours
23. Devil's Point
If you're one of those travelers who enjoys exploring the darker and more mysterious aspects of history, then a visit to Devil's Point is an absolute must on your trip to Plymouth. This picturesque headland offers stunning views of the Sound, but it's the stories surrounding the area that really captivate visitors. Known as the site of pirate executions and smuggling operations, Devil's Point has a fascinating past just waiting to be uncovered. While you're there, be sure to visit the nearby Royal William Yard, which is now a modern restaurant and shopping center, but once housed the Royal Navy's supply depots.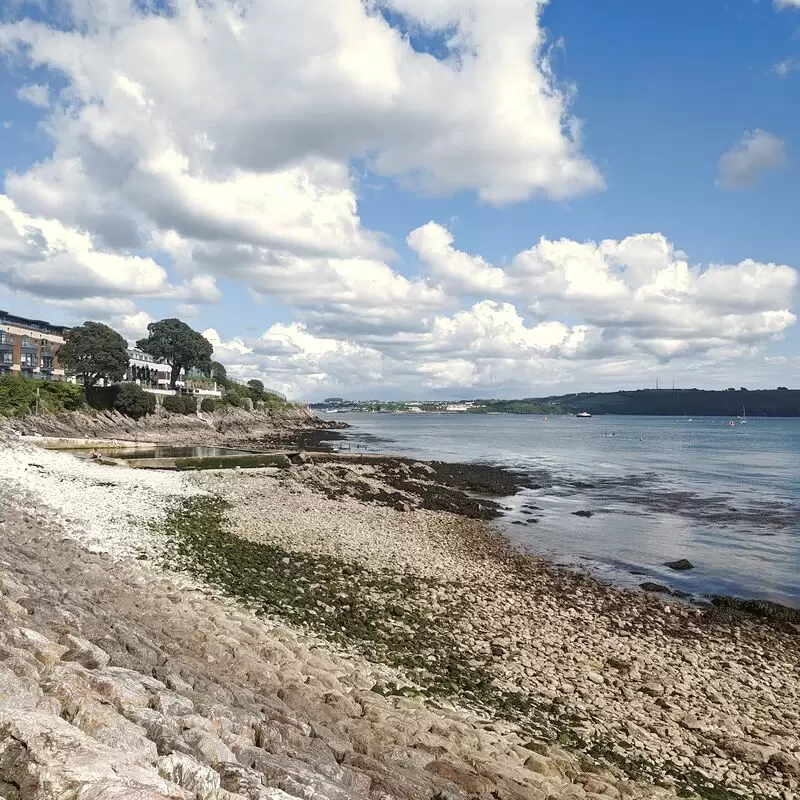 Devil's Point
Admiralty Road, Stonehouse, Plymouth PL1
Monday - Sunday: Open 24 hours
Best Time to Visit Plymouth
The best time to visit Plymouth is during the summer months of June, July and August when the weather is warmer and there are many outdoor activities such as swimming, boating and exploring the beaches. Another good time to visit is May, when the famous Plymouth Pirate Weekend takes place. However, if you are looking for fewer crowds and lower prices, the low seasons of spring and fall are also a good time to visit.
Annual Weather in Plymouth
Plymouth 3-Day Forecast
Tue, 26 September
Night
57 °F
14 °C
0%
Morning
59 °F
15 °C
73%
Afternoon
64 °F
18 °C
73%
Evening
58 °F
14 °C
68%
Wed, 27 September
Night
56 °F
13 °C
0%
Morning
58 °F
15 °C
71%
Afternoon
62 °F
16 °C
69%
Evening
55 °F
13 °C
0%
Thu, 28 September
Night
55 °F
13 °C
65%
Morning
53 °F
12 °C
62%
Afternoon
58 °F
14 °C
0%
Evening
57 °F
14 °C
0%
Questions & Answers

How far is Plymouth from London?

Plymouth is located about 320 km (200 miles) southwest of London and can be reached by car or train in about three hours. The city is well served by major freeways and a direct rail link from London's Paddington station. Alternatively, there are regular bus services between the two cities. Plymouth is a historic port city known for its maritime heritage, stunning coastline and charming old town. It is an ideal destination for a day trip or weekend getaway from London.

What is the history behind the Mayflower Steps?

The Mayflower Steps are one of Plymouth's historic landmarks. It was from here that the Pilgrims set sail for America aboard the Mayflower in 1620. The Mayflower Steps are believed to be located near the original stone steps and feature a granite portico describing the history of the Mayflower and the Pilgrim Fathers. The portico was designed by architect Joseph Rowntree and unveiled in 1934 to commemorate the 300th anniversary of the Pilgrim Fathers' voyage.

Can I take a ferry to visit nearby islands?

Yes, from Plymouth there are several ferries that can take you to nearby islands. The most popular destinations are the Isles of Scilly, which are about 28 miles off the coast of Cornwall. The trip takes about 2-3 hours each way. Another option is the historic port town of Cawsand on the Rame Peninsula, which can be reached by ferry from the Barbican Landing Stage in Plymouth. Alternatively, you can take a short ferry ride to Mount Edgcumbe House and Country Park at Cremyll Point.

What are the best places to eat seafood in Plymouth?

Plymouth is known for its seafood. Some of the best seafood restaurants in Plymouth include the Boathouse Cafe, which offers fresh seafood dishes with stunning views of the harbor; The Fisherman's Arms, which serves traditional fish and chips dishes using locally sourced fish; Rockfish Plymouth, a seafood restaurant that sources its fish from local markets; and The Harbour Seafood Restaurant & Takeaway, which offers a wide selection of perfectly prepared seafood.

Are there any guided tours of the city?

Yes, there are several guided tours available in Plymouth. Visitors can take a walk through the historic Barbican district with a local guide, explore the city's rich maritime heritage at the Royal William Yard with an expert, or discover the dark side of Plymouth's history on a ghost tour. Tours are also available to the famous Plymouth Hoe, where Sir Francis Drake is said to have played bocce, and the historic Plymouth Gin Distillery. Whatever your interests, there is a guided tour of Plymouth to suit you.

What is the local currency used in Plymouth?

The local currency in Plymouth is the British pound sterling (£), which is also the official currency of the United Kingdom. The pound is divided into 100 pence (p). Visitors can exchange their currency for pounds at banks, bureaux de change or ATMs throughout the city. Major credit cards are widely accepted, as are travelers checks. However, it is advisable to keep some cash on hand for small transactions or emergencies.

How can I get to Plymouth from the airport?

The nearest airport to Plymouth is Exeter Airport, which is about 50 kilometers away. A cab ride from Exeter Airport to Plymouth takes about 45 minutes and costs £60-70. Alternatively, you can take a train from Exeter St. David's Station to Plymouth, which runs regularly and takes about 50 minutes. There is also a direct bus service from Exeter Airport to Plymouth which takes about an hour and can be booked in advance.

What is the nightlife like in Plymouth?

Plymouth has a diverse and vibrant nightlife that has something for everyone. Whether you want to enjoy a relaxed drink with friends in a traditional British pub, dance the night away in a nightclub, or catch some live music, Plymouth has it all. The Barbican district is a hotspot for bars and restaurants, while the city center has a variety of pubs, clubs and live music venues. The Royal William Yard also offers a chic and trendy atmosphere for nightlife.

Are there any local festivals or celebrations happening during my visit?

Plymouth is a city that celebrates its history and culture with a variety of festivals and events throughout the year. If you visit the city during the summer months, you can look forward to the Plymouth Pirate Weekend, which features live music and street performers. The Plymouth Seafood Festival is also a must, showcasing the region's best seafood and drinks. Other popular events include the Mayflower 400 celebration and the Plymouth Christmas Market. Be on the lookout for other events that may take place during your visit.

Where can I find information on public transportation in Plymouth?

The best source of information about public transport in Plymouth is the website of Plymouth Citybus, the main provider of bus services in the city. On the website you can find details of routes, timetables, fares and service updates. You can also download a mobile app to plan your trip and track buses in real time. The website of First Bus, another major bus company, also provides useful information about connections in Plymouth. If you want to travel by train, the National Rail Enquiries website has information on routes, fares, and schedules.

Feedback

I hope you found this article informative and helpful. I'm eager to improve the content and make it even more valuable for you. If you have any feedback or suggestions, I would love to hear from you.

Do you have any tips or hidden gems that you think should be added to the list? Are there any areas that you feel could use more explanation or clarification?

Your input is greatly appreciated and will help us to continue providing high-quality content that meets your needs and interests. Please feel free to share your thoughts.