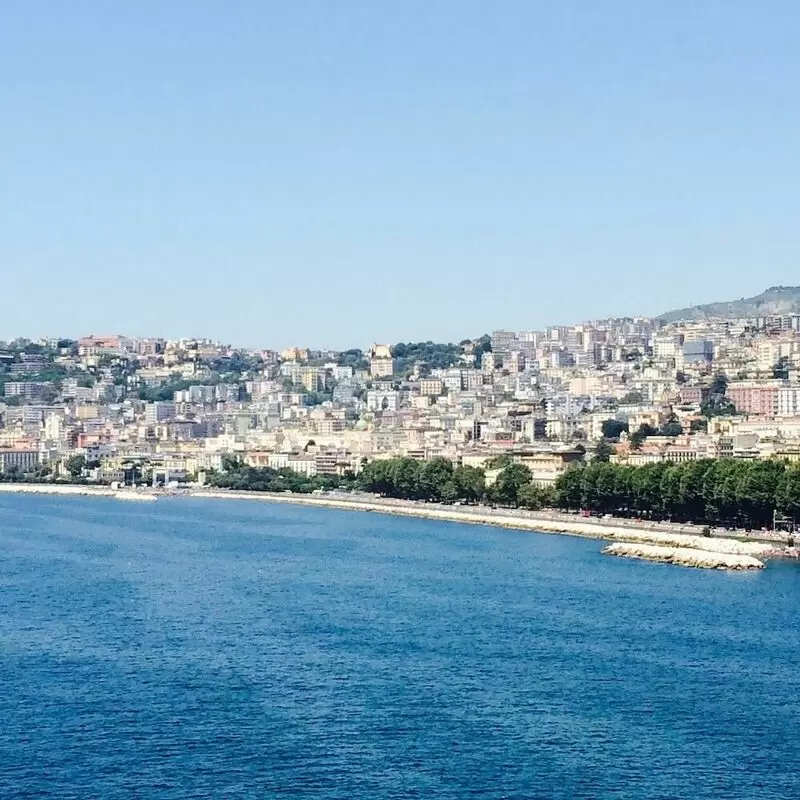 1. Piazza del Plebiscito
A visit to Piazza del Plebiscito is like a visit to a great open-air museum. It is one of the largest squares in Italy and is perfect for strolling while you admire the emblematic Basilica di San Francesco di Paola with its majestic colonnades. Don't miss the unique thrill of walking blindfolded between the two equestrian statues! Just a short walk away is the Royal Palace, where history comes alive in every opulent room.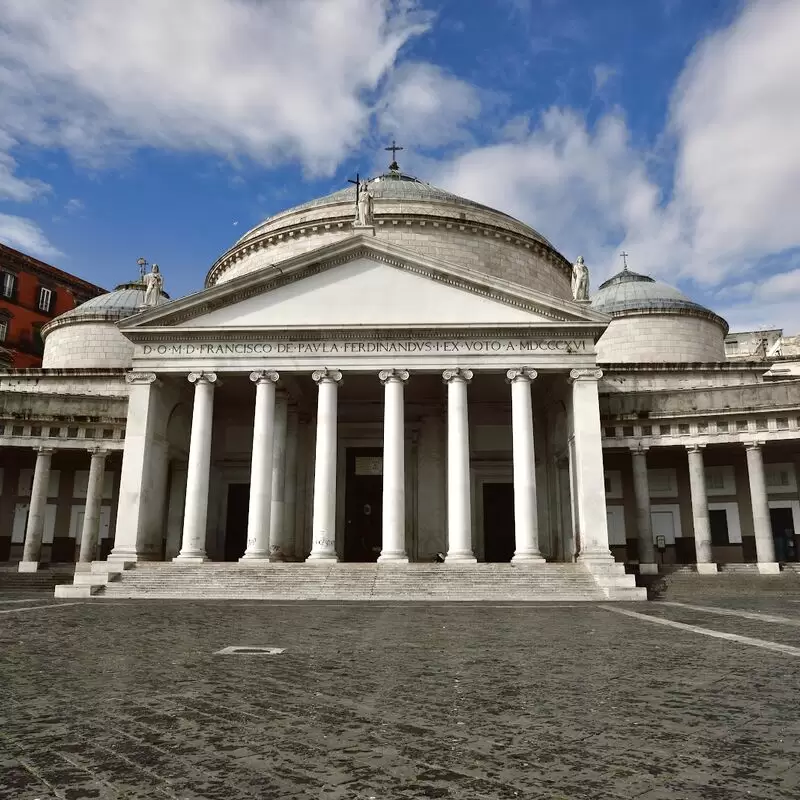 Piazza del Plebiscito
80132 Naples
Monday - Sunday: Open 24 hours
2. Naples National Archaeological Museum
Visit the National Archaeological Museum of Naples, a paradise for history buffs. The museum houses an extensive collection of Greek and Roman antiquities and is most famous for the mosaics from Pompeii. Delve deep into the past with the priceless treasures of the Secret Cabinet. Located just 800 meters from Piazza Dante, it's a treasure trove not to be missed! Afterwards, grab a pizza at a small traditional pizzeria around the corner to end your tour in pure Neapolitan style.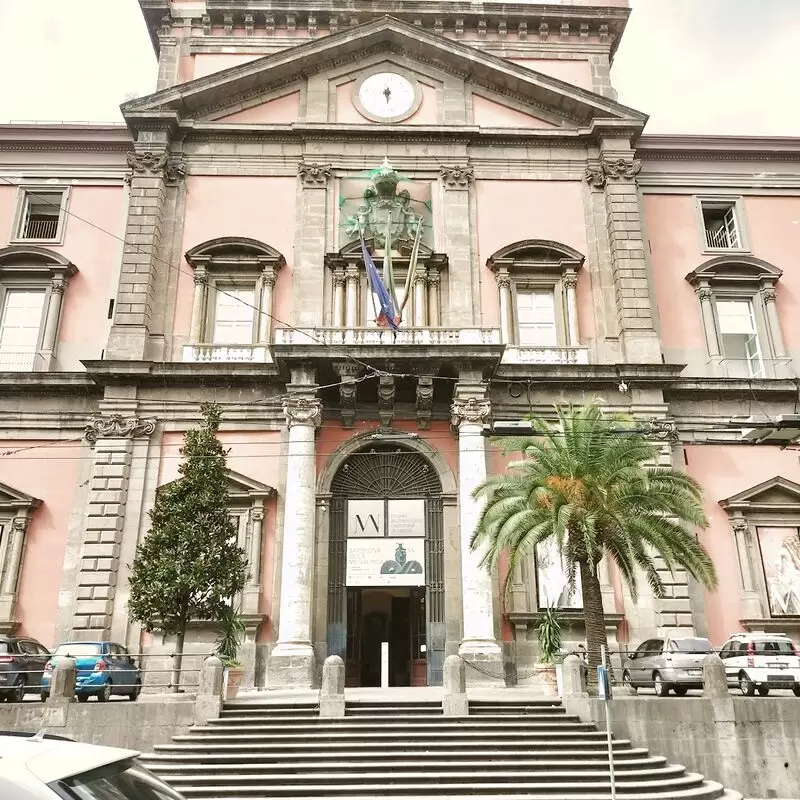 Naples National Archaeological Museum
Piazza Museo, 19, 80135 Naples
Monday - Sunday: 9:00 AM – 7:30 PM
Tuesday: Closed
3. Ovo Castle
Discover the haunting beauty of Naples at the famous Castel dell'Ovo. With its history dating back to Roman times and its breathtaking architecture, it is an awe-inspiring sight. Located on the island of Megaride, it offers unparalleled panoramic views of the city and the sea. Discover the crypt of the Roman villa below, which few tourists know about! Just a short walk along the waterfront will take you to the Royal Palace of Naples, which will enrich your historical journey.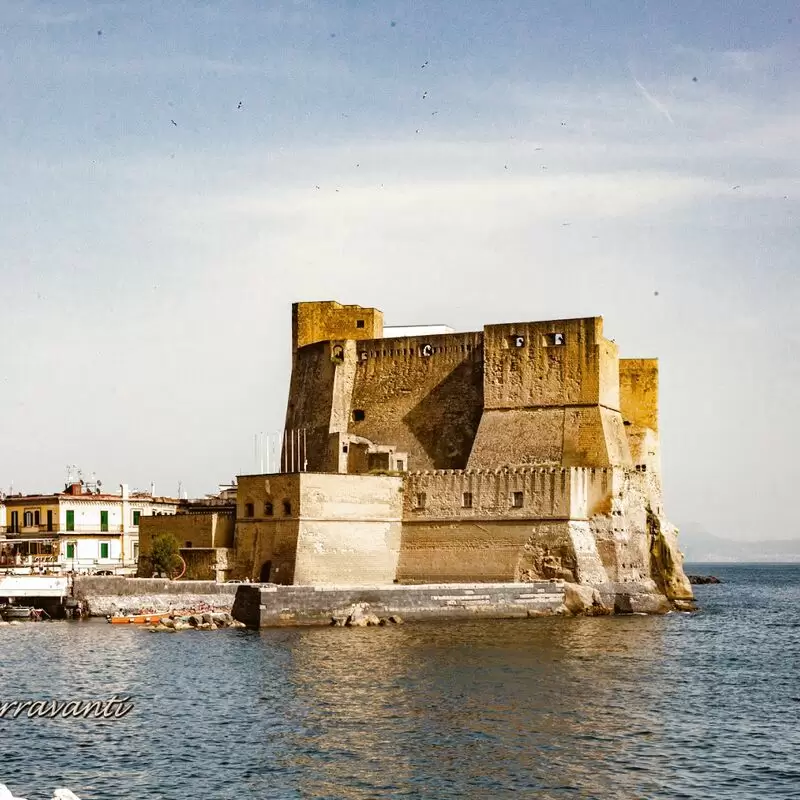 Ovo Castle
Via Eldorado, 3, 80132 Naples
4. Castel Sant'Elmo
Castel Sant'Elmo, towering over Naples, is a must-see! This star-shaped fortress offers an unforgettable panoramic view of the city, Mount Vesuvius and the sparkling Tyrrhenian Sea. It dates back to 1329 and is full of history and intrigue. Don't miss the opportunity to wander through the ancient halls. The nearby Certosa di San Martino is equally enchanting, with beautiful gardens and a fascinating museum to explore.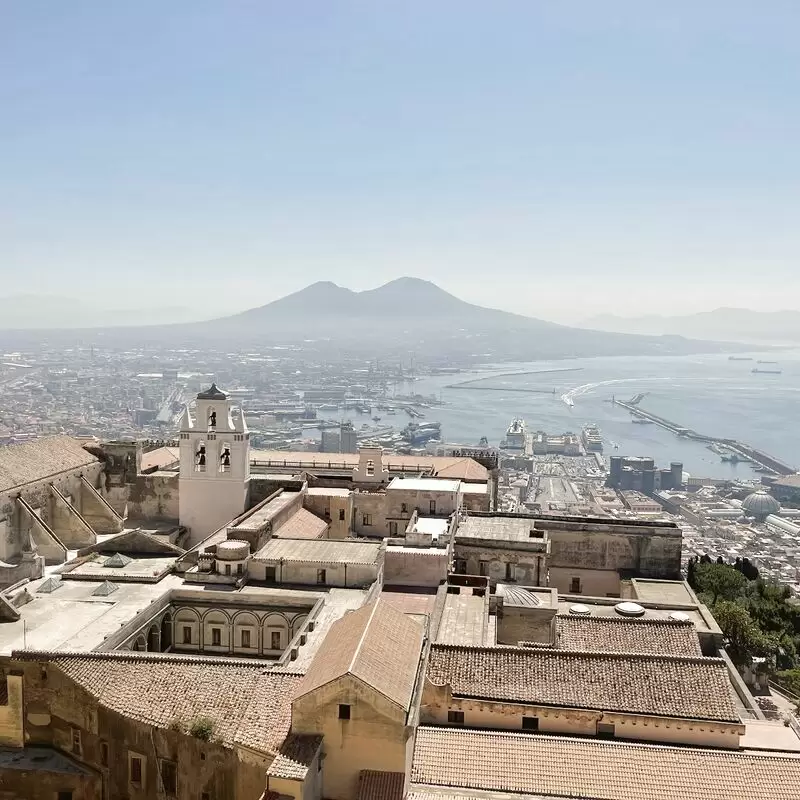 Castel Sant'Elmo
Via Tito Angelini, 20/A, 80129 Naples
Monday - Sunday: 8:30 AM – 6:30 PM
5. Archaeological Park of Herculaneum
Venture off the typical tourist trail to the remarkable Herculaneum Archaeological Park in Naples. Here you'll discover a wealth of ancient Roman relics remarkably preserved by the ashes of Mount Vesuvius. Be amazed by the vivid frescoes and antiquities seemingly frozen in time from that fateful day in 79 AD. The site is less crowded than its famous neighbor Pompeii, so the atmosphere is quiet. The Santuario Maria SS. delle Grazie a Bellavista, a temple with panoramic views, is nearby and invites you to a spiritual visit.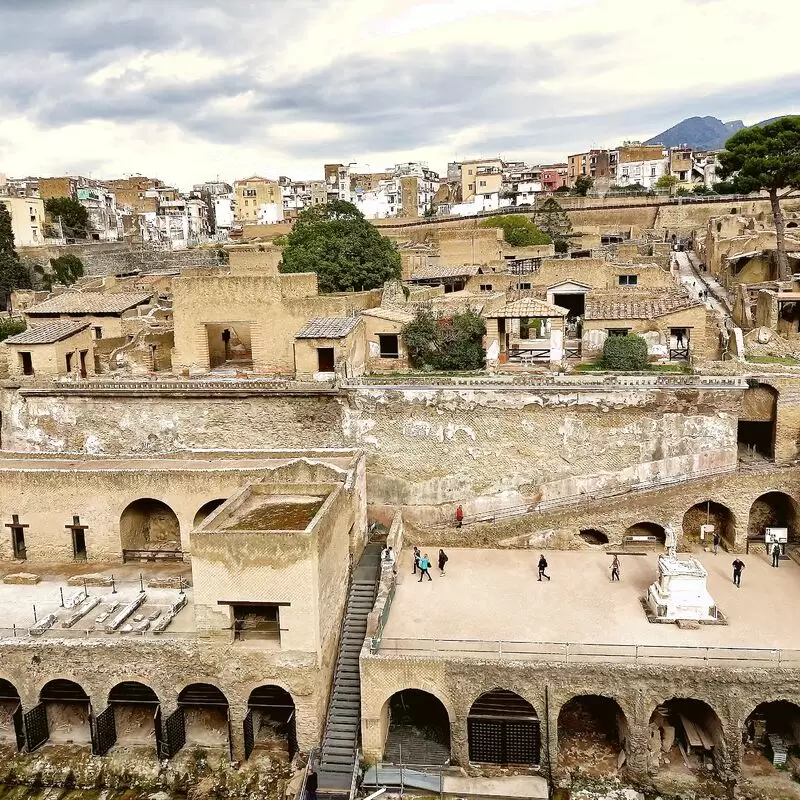 Archaeological Park of Herculaneum
Corso Resina, 187, 80056 Ercolano
Monday - Sunday: 8:30 AM – 6:00 PM
6. Castel Nuovo
Explore the famous Castel Nuovo, a majestic architectural marvel and symbol of Naples. This 13th-century castle is bursting with historical intrigue and houses chapels, frescoes and sculptures that will transport you back to medieval Italy. Don't miss the Arc de Triomphe, an exquisite example of 15th-century art. The castle, which once housed kings and queens, offers panoramic views of the Gulf of Naples. Just a stone's throw away is Piazza Municipio, one of the city's lively meeting places, ideal for a lively Italian evening.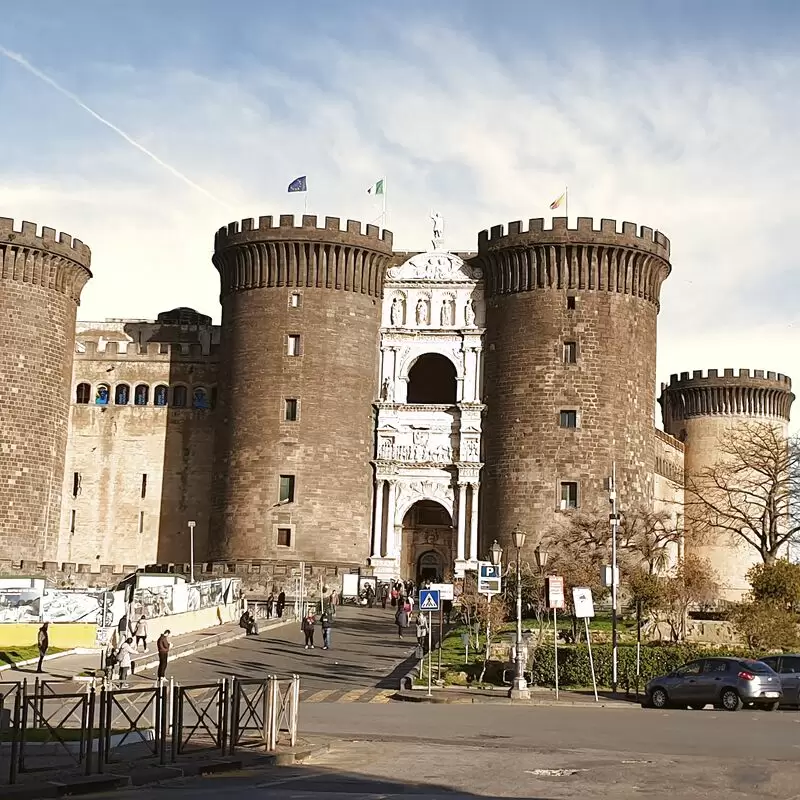 Castel Nuovo
Via Vittorio Emanuele III, 80133 Naples
Monday - Saturday: 8:30 AM – 5:00 PM
Sunday: Closed
7. Complesso Monumentale di Santa Chiara
The Complesso Monumentale di Santa Chiara is more than a church, it is an impressive ensemble of religious architecture from the 14th century. Century. Discover the cloister adorned with colorful majolica tiles, the archaeological museum, and a peaceful garden that invites introspection. Here you'll also find fascinating echoes of Naples' rich past. Just around the corner is the famous Piazza del Gesù, where you can enjoy a classic Neapolitan espresso.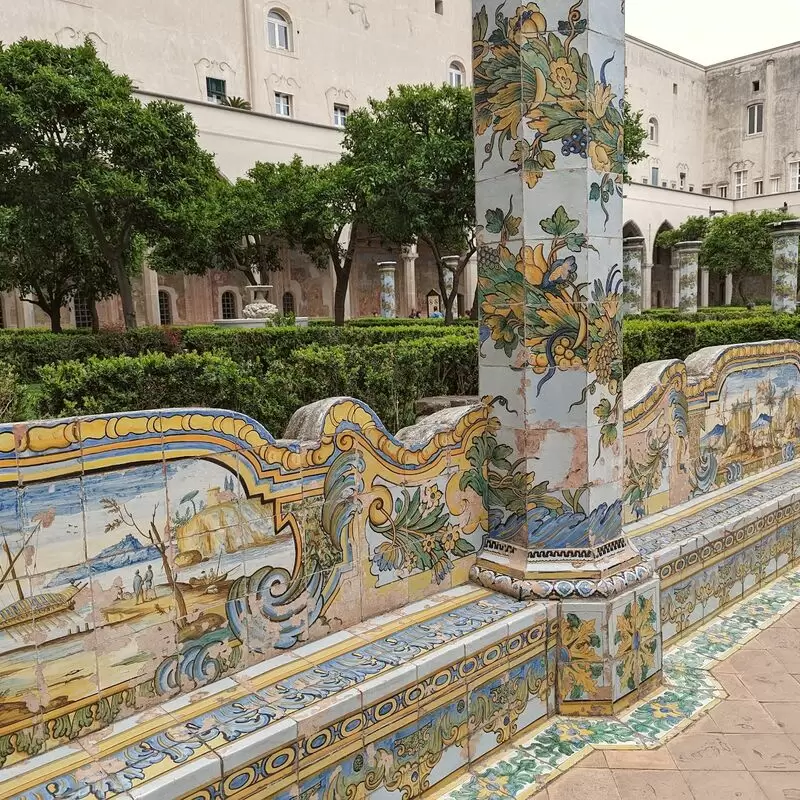 Complesso Monumentale di Santa Chiara
49/c, Via Santa Chiara, 49/C, 80134 Naples
Monday - Saturday: 9:30 AM – 5:30 PM
Sunday: 10:00 AM – 2:30 PM
8. Underground Naples
Immerse yourself in the mysterious past of Naples by entering the "underground Naples". A labyrinth of tunnels, catacombs and hidden passages that lies 40 meters below the bustling city and is 2400 years old. Excavations reveal stories of World War II bomb shelters, ancient aqueducts and secret escape routes from royal palaces. Just a stone's throw away is Piazza Del Plebiscito, a majestic semi-circular square not to be missed. Don't forget comfortable shoes, the adventure is worth it.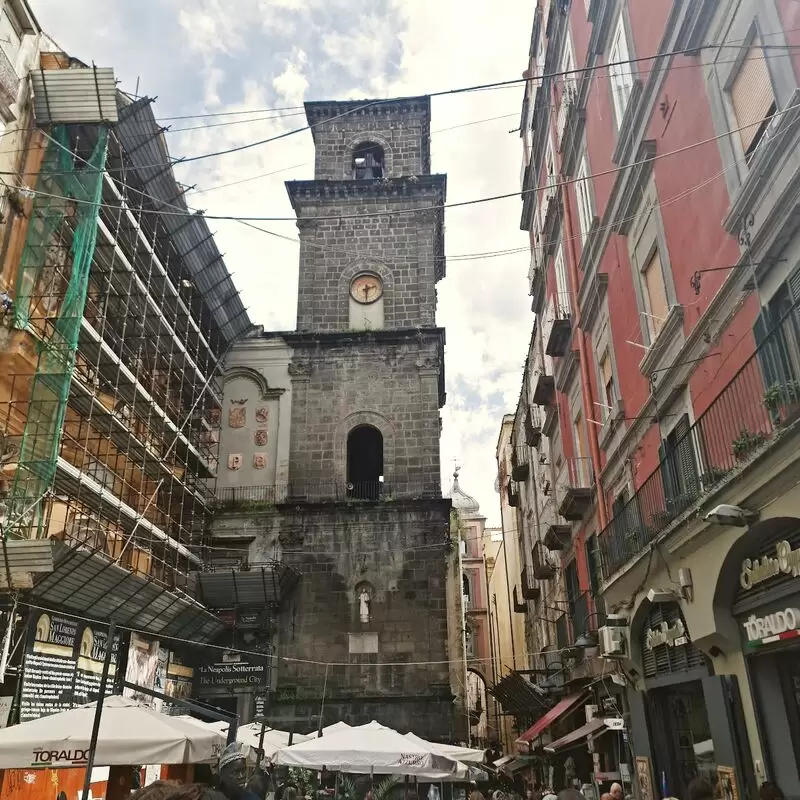 Underground Naples
Piazza San Gaetano, 68, 80138 Naples
Monday - Friday: 10:00 AM – 6:00 PM
Saturday - Sunday: 9:30 AM – 6:00 PM
9. Royal Palace of Naples
The Royal Palace of Naples is a must-see for its luxurious ambience, steeped in history. Admire the breathtaking great halls, the royal apartments and the impressive theater - all under one roof. Bonus tip: Don't miss the mesmerizing view of Naples from the palace's rooftop terrace! The nearby San Carlo Theater and the impressive Galleria Umberto I are just a leisurely stroll away! Experience the extravagant life of Neapolitan royalty and immerse yourself in rich cultural stories all within a stone's throw of each other.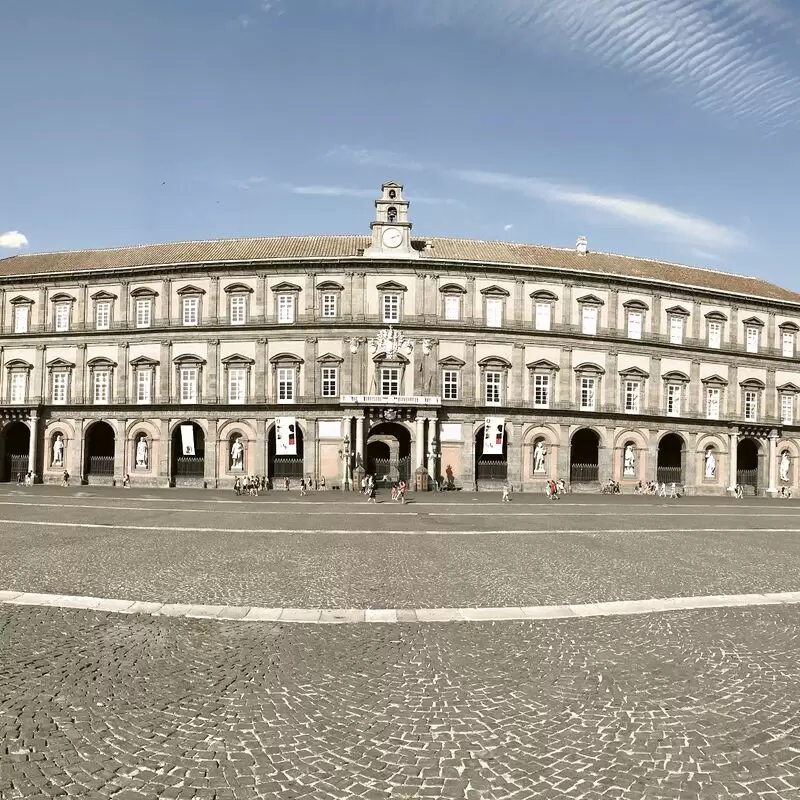 Royal Palace of Naples
Piazza del Plebiscito, 1, 80132 Naples
10. Cathedral of Santa Maria Assunta

Unleash your inner history buff at the magnificent Santa Maria Assunta Cathedral, a must-see in Naples. Be enchanted by the magnificent Gothic architecture and marvel at the world-famous San Gennaro Chapel.

Insider tip: Don't miss the opportunity to explore the crypt that houses the blood ampulla of St. Gennaro. Just around the corner is the fascinating archaeological site of San Lorenzo Maggiore, which adds an extra dose of cultural richness to your visit.

Cathedral of Santa Maria Assunta
Via Duomo, 147, 80138 Naples

Monday - Friday: 8:30 AM – 1:30 PM, 2:30 – 7:30 PM
Saturday - Sunday: 8:30 AM – 1:30 PM, 4:30 – 7:30 PM
11. Catacombs of San Gennaro
Discover the haunting beauty of the Catacombs of San Gennaro. Delve deep into the history of Naples as you explore the vast network of underground burial chambers that date back to the 3rd century. Admire the frescoes that have survived the centuries, depicting early Christian art and giving insight into the religious beliefs of the time. Unique is the oldest image of St. Gennaro, the patron saint of Naples. Just a few steps away, you can also visit the equally fascinating catacombs of San Gaudioso.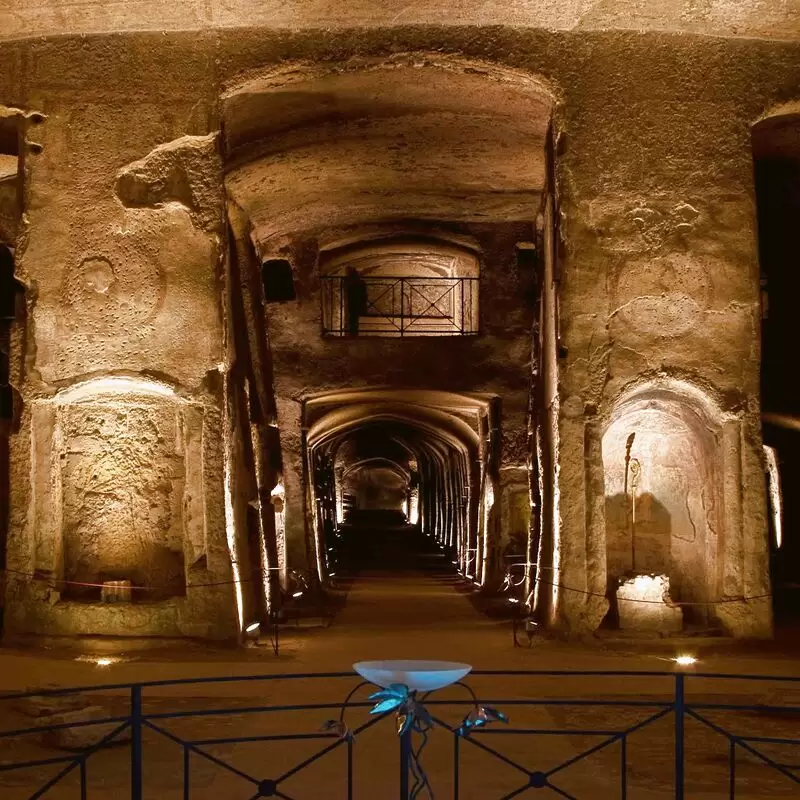 Catacombs of San Gennaro
Via Capodimonte, 13, 80100 Naples
Monday - Sunday: 10:00 AM – 5:00 PM
Wednesday: Closed
12. San Carlo Theatre
The San Carlo Theater is a must-see, not only for opera lovers, but for anyone with a sense of elegance. This magnificent royal blue auditorium, aglow with golden light, was built even before Milan's La Scala! Imagine sitting in the plush red velvet seats where kings and queens once resided. And then, when you leave the hall, enchanted by the music, you are just a few steps away from the breathtaking Galleria Umberto I, a glass-roofed arcade that serves as a shopping oasis.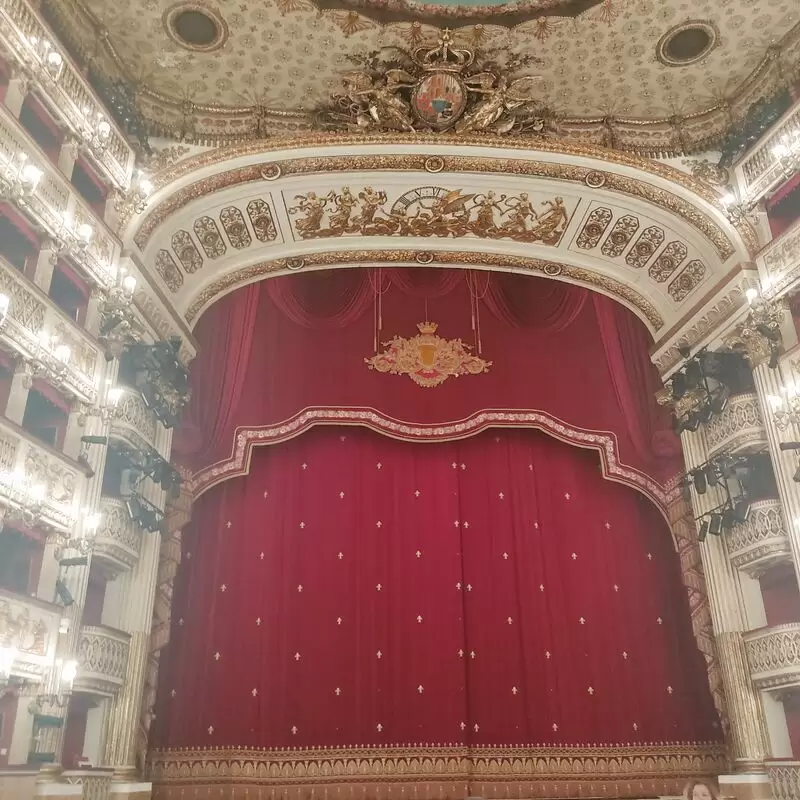 San Carlo Theatre
Via San Carlo, 98, 80132 Naples
13. Certosa e Museo di San Martino
Discover the divine splendor of the Certosa e Museo di San Martino, a former monastery now used as a museum. Marvel at the exquisite architecture of the Neapolitan Baroque, the enchanting cloister and the impressive view of the city and the bay that will make your heart beat faster. Discover Naples' historical treasures, from ornate nativity scenes to naval artifacts. Nearby, the equally stunning Castel Sant'Elmo offers 360-degree panoramic views of Naples and becomes a must-see cultural walk.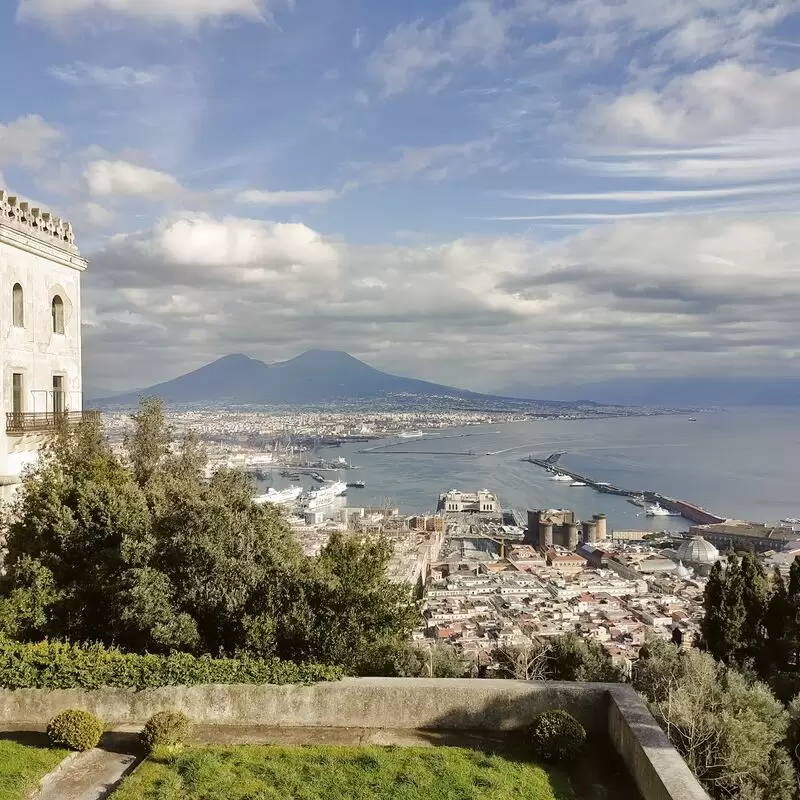 Certosa e Museo di San Martino
Largo S. Martino, 5, 80129 Naples
Monday - Sunday: 8:30 AM – 6:00 PM
Wednesday: Closed
14. Catacombe di San Gaudioso
Not for the faint of heart, the Catacombs of San Gaudioso are a fascinating historical journey. These ancient catacombs, located beneath the serene Basilica of Santa Maria della Sanità, offer a glimpse into early Christian burials and spiritual customs. Here you can see the crypts of bishops, 5th-century frescoes, and the eerie skull of San Gaudioso himself. Stroll through nearby Rione Sanità, a colorful neighborhood with authentic Neapolitan life, recommended restaurants, and the inspiring Palazzo Sanfelice.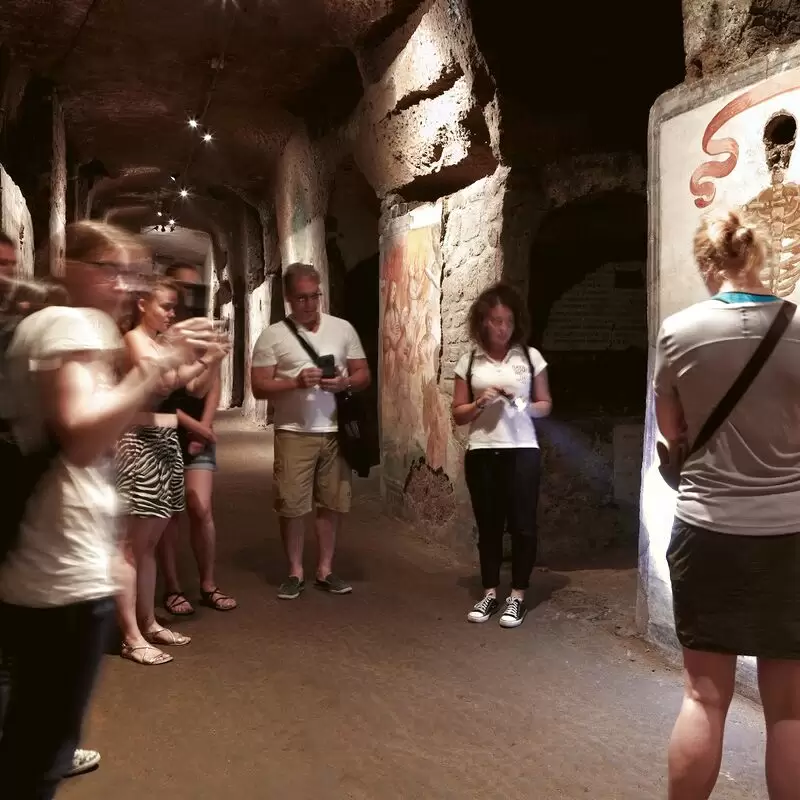 Catacombe di San Gaudioso
Via Sanità, 123, 80136 Naples
Monday - Sunday: 9:30 AM – 5:00 PM
Wednesday: Closed
15. Napoli Sotterranea Guided Authorized Tour
Discover the fascinating history of Naples on the authorized guided tour of Napoli Sotterranea. A labyrinth of tunnels, cisterns and hidden passages located 40 meters below the busy city streets. Transport yourself to another time, with bomb shelters and relics from World War II. Be captivated by captivating tour guides who will give you riveting accounts of past events in numerous languages. Just minutes away, enjoy the beauty of Piazza San Gaetano and be enchanted by the history and culture above ground - the perfect complement to your underground exploration.
Napoli Sotterranea Guided Authorized Tour
Vico S. Anna di Palazzo, 52, 80132 Naples
Monday - Friday: 9:30 AM – 4:30 PM
Saturday - Sunday: 9:30 AM – 6:00 PM
16. Galleria Borbonica
Delve into the fascinating underworld of Naples at Galleria Borbonica, a hidden wonder deep in a maze of tunnels. Dating back to Bourbon times, the fascinating labyrinth houses mysterious artifacts and a rich history. Guided tours allow you to see an exciting side of the city's past. Nearby you will find the elegant Royal Palace and Piazza del Plebiscito, where you can enjoy the lively atmosphere of the city after your underground adventure.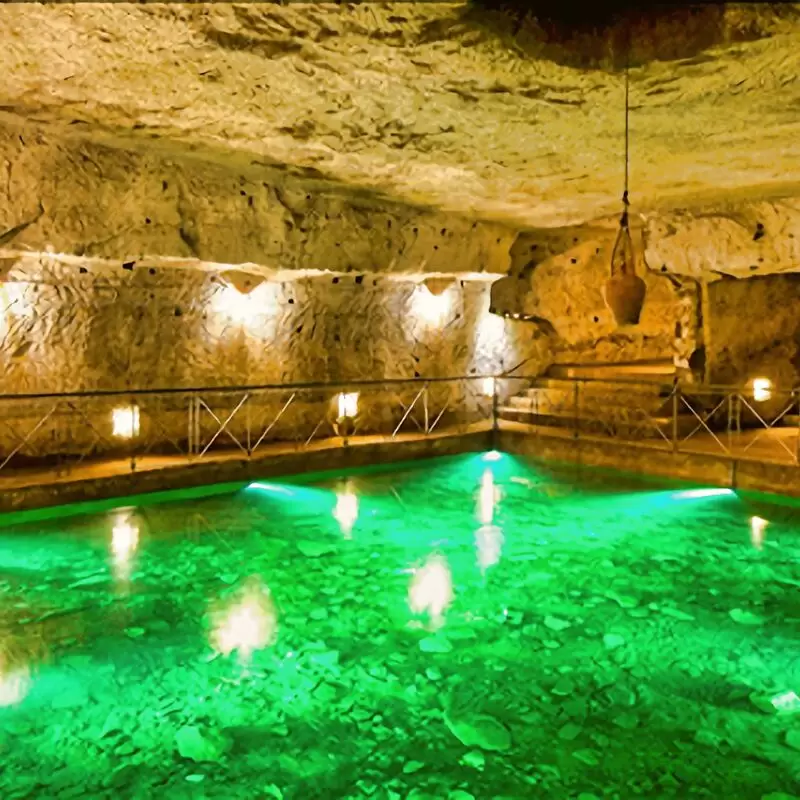 Galleria Borbonica
Via Domenico Morelli, 61 c, 80121 Naples
Monday - Thursday: Closed
Friday - Sunday: 10:00 AM – 5:00 PM
17. Sansevero Chapel Museum
The Museum of the Sansevero Chapel is a jewel to be seen. It houses mysterious works of art that will captivate you! The main attraction, the "Veiled Christ" by Giuseppe Sanmartino, is a marble masterpiece that expresses fine details and intense emotions. Explore the anatomical machines: amazing representations of human veins and arteries! Nearby, stroll through the remarkable architecture of Piazza San Domenico Maggiore. Visit this compact but captivating museum and experience the surreal side of Naples!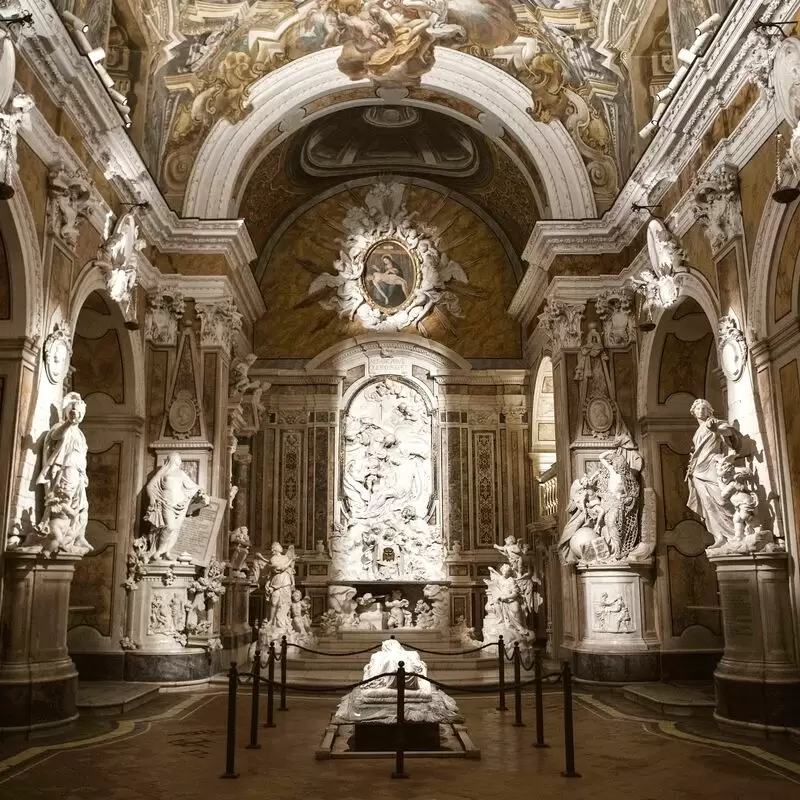 Sansevero Chapel Museum
Via Francesco de Sanctis, 19/21, 80134 Naples
Monday - Sunday: 9:00 AM – 6:30 PM
Tuesday: Closed
Best Time to Visit Naples
The best time to visit Naples, Italy, is spring (April to June) and autumn (September to October). During these months, the weather is mild and pleasant, and there are fewer tourists than in the high season. This makes sightseeing more pleasant and less crowded.
Annual Weather in Naples
Naples 3-Day Forecast
Tue, 26 September
Night
69 °F
21 °C
0%
Morning
66 °F
19 °C
0%
Afternoon
79 °F
26 °C
0%
Evening
78 °F
26 °C
0%
Wed, 27 September
Night
73 °F
23 °C
0%
Morning
70 °F
21 °C
0%
Afternoon
81 °F
27 °C
0%
Evening
77 °F
25 °C
0%
Thu, 28 September
Night
74 °F
23 °C
0%
Morning
72 °F
22 °C
0%
Afternoon
79 °F
26 °C
0%
Evening
76 °F
24 °C
0%
Questions & Answers

What is the local language?

The local language in Naples, Italy, is Italian. The region also has its own local dialect known as Neapolitan, which is widely spoken by the local population. This dialect varies in different parts of Naples. Nevertheless, you will find that most locals, especially those who work in the tourism sector or in stores, restaurants and hotels, also speak English. Many are usually bilingual and therefore can easily communicate with international tourists.

Is English commonly spoken in Naples?

Although English is not widely spoken in Naples, Italy, people working in areas frequented by tourists, such as restaurants, hotels and tourist attractions, may understand and speak a smattering of English. However, it is not uncommon to encounter locals who speak only Italian. Locals appreciate it when visitors make an effort to learn some basic Italian phrases. Therefore, a translation app or phrasebook can be very useful.

What is the currency used?

The currency in Naples, Italy is the Euro, which is used in most countries of the European Union. Euros come in the form of both coins and bills. The coins come in denominations of 1, 2, 5, 10, 20 and 50 cents, as well as 1 and 2 euros. The banknotes are available in denominations of 5, 10, 20, 50, 100, 200 and 500 euros.

How easy is it to get around the city?

Naples, Italy, has an extensive public transportation network consisting of subway lines, streetcars, buses and funiculars that make it easy for tourists to find their way around the city. Many of the city's major attractions are within walking distance of the historic center. However, the city's old layout and busy traffic can be a challenge for some. Cabs and bicycle rentals are also available. It is advisable to have a reliable city map or GPS device with you to facilitate exploration.

Is Naples safe for tourists?

Naples, like any major city, has problem areas, but is generally safe for tourists. The crime rate is low, especially in terms of violent crime. The most common problem is petty theft, so watch your property in busy areas. Naples is a lively and vibrant city known for its rich history, culture and cuisine. Tourists usually receive a warm welcome. As in all travel situations, attention and vigilance are advised.

What is the tipping culture in Naples?

Tipping is not as common in Naples, Italy as it is in some other countries. Generally, tipping is included in restaurant menu prices. However, if the service was exceptional, it is customary to leave a small tip of about 10%. For cab rides, it is customary to round up the fare to the nearest euro, but tipping is not mandatory. However, it is always appreciated and can be a nice gesture of gratitude for good service.

Can I drink tap water in Naples?

Although tap water in Naples, Italy, is technically safe, it may have a different taste due to local plumbing. Some locals prefer bottled water, especially if the tap water in their area is not clear. For tourists, it may be best to play it safe and stick to bottled water, especially if they have a sensitive stomach. It is also more practical to have a bottle with you when sightseeing.

Are there vegetarian/vegan food options?

Absolutely! Naples has a great selection of vegetarian and vegan eateries. Traditional Italian cuisine focuses heavily on fresh fruits, vegetables, and grains, so finding meatless dishes is quite easy. Restaurants like "Un Sorriso Integrale" and "Pizzeria Starita" are known for offering a variety of vegan and vegetarian pizzas and pastas. Some ice cream parlors also offer vegan options, so you can enjoy Italian cuisine in all its facets without having to sacrifice your dietary habits.

Is Naples a walking-friendly city?

Naples is indeed a pedestrian-friendly city. The historic center is compact and filled with hundreds of churches, stores and restaurants that are best discovered on foot. The narrow, winding streets lead to majestic squares and hidden gems, opening up the city's history and culture to the curious pedestrian. Plus, many areas are traffic-free, making your walk safer and more enjoyable. Just remember to wear comfortable shoes and bring a map to help you find your way through the labyrinthine alleys.

What nightlife options are available in Naples?

Naples, Italy, offers a vibrant nightlife with a variety of options. Enjoy an evening at the theater at Teatro San Carlo or visit local music venues like Lanificio 25 for live performances. The city also has a number of sophisticated bars and clubs like Bourbon Street Jazz Club. For more relaxed evenings, many prefer a late-night meal at a traditional pizzeria or a stroll through the bustling streets of the historic city center.

How can I respect the local culture?

When traveling to Naples, Italy, it is important to respect local traditions and social norms. Italians place great importance on meal times, so avoid rushing when eating and enjoy the cuisine. Dress modestly, especially in religious sites, and remember that tipping is not customary in Italy, but a personal choice. Greet locals with a polite "Buongiorno" or "Buonasera" and be sure to appreciate the local art, history and music that is deeply rooted in Neapolitan culture.

What is the best way to travel around Naples?

Naples is best explored on foot or by public transport. The city center is compact, so you can enjoy the lively atmosphere and impressive architecture on foot. For longer distances, the metro is a good option, especially Line 1, which stops at most major sights. Alternatively, buses and streetcars are widely available, while cabs are readily available for more convenience.

Are credit cards commonly accepted?

Yes, credit cards are widely accepted in Naples, Italy. While smaller, family-run businesses or street vendors may only accept cash, most restaurants, hotels and stores accept major credit cards. However, it is always a good idea to keep some cash on hand for smaller transactions or places that do not accept cards. Always remember to inform your bank about your travels so that they do not consider your transactions abroad suspicious.

How do I get from the airport to the city?

Naples International Airport is located about 5 km from the city center. The fastest and easiest way to reach the city of Naples is by Alibus shuttle, which runs every 20-30 minutes. The trip takes about 15-20 minutes to the main train station and 20-25 minutes to the port. Cabs are also available; be sure to arrange the fare before you leave. Alternatively, you can rent a car from one of the agencies at the airport.

Is there a specific dress code in churches or other religious sites?

In Naples, as in most Italian cities, it is considered respectful to dress modestly when visiting religious sites, including churches. This means covering shoulders and knees. As a rule, women should avoid sleeveless tops, short skirts or shorts. For men, shorts and sleeveless tops are also considered inappropriate. Some religious sites do provide covering items for tourists, but to avoid discomfort, it is best to dress appropriately.

Are the beaches of Naples easily accessible?

Yes, the beaches of Naples are within easy reach. The city is right on the coast of the Tyrrhenian Sea, so it's just a short drive to the sandy beaches. Most beaches are just a walk or a short bus ride from the city center. Those who want to visit nearby islands like Capri and Ischia can also go by boat. Thus, anyone staying in Naples can conveniently include beach visits in their itinerary.

What common customs should I be aware of?

Italians in Naples value punctuality, but don't always adhere to it themselves, so don't be surprised if you're running a little late. Greetings are warm and may include kisses on both cheeks. Always say "buongiorno" in the morning and "buonasera" in the evening. It is customary to have a long, leisurely lunch, and many stores close during this time. Tipping is not mandatory, but is appreciated. Remember that hand gestures are an important part of communication, and the dress code tends to be dressy in public.

How can I avoid tourist traps and scams?

When visiting Naples, avoid establishments that are right next to the main sights as they can be overpriced. Travel only with licensed tour guides to ensure authentic experiences. Beware of pickpockets in busy areas and use ATMs in banks to avoid card swipers. Do your research before buying cameos or other local crafts to ensure you are getting a reputable deal. Remember, if a price or offer seems too good to be true, it probably is.

Is Naples kid-friendly?

Yes, Naples, Italy, is a family-friendly destination with a variety of kid-friendly attractions. The city has numerous parks, fascinating museums such as the Interactive Museum of History for Children and the famous Naples Aquarium. Rides on the Naples Metro with its artfully designed stations are another fun activity for kids. Finally, kids will love trying the city's world-famous pizza. Overall, Naples offers a perfect blend of education, entertainment and delicious food for a family vacation.

What local dishes should I try in Naples?

When you visit Naples, be sure to try the delicious Neapolitan pizza, known for its thin, soft and crispy crust. Also treat yourself to the local pasta dish Spaghetti alle vongole, a delicious dish made with clams. The delicious sfogliatella, a shell-shaped filled pastry, is a must-try dessert. Finally, you should try the traditional mozzarella en carrozza, a deep-fried sandwich with mozzarella cheese. These dishes offer an authentic taste of the rich and tasty cuisine of Naples.

What's the healthcare system like in Naples?

Naples, like the rest of Italy, is subject to a nationally coordinated public health system, the Servizio Sanitario Nazionale (SSN). The system provides universal coverage and ensures that all citizens and residents have access to various medical services. It covers general care, hospital treatment and subsidized medications. Those who wish can also receive private care. Quality varies, but Naples has some excellent hospitals such as Ospedale Cardarelli and Ospedale Monaldi.

Can I rent a bike in Naples?

Yes, you can rent a bike in Naples. A number of agencies in the city offer bike rentals for short and long periods of time to explore the charming streets, scenic coastline and historic sites in a fun and eco-friendly way. Some also offer guided bike tours for a more personalized experience. Always remember to follow local traffic rules and stay safe while enjoying your bike tour of the beautiful city of Naples.

Are there many public restrooms in Naples?

While there are some public restrooms in Naples, they are not as numerous as in other cities. Finding a restroom can sometimes be a challenge, especially in the older neighborhoods with narrow streets. Many patrons find restrooms in cafes and restaurants to be a more reliable option. However, it is common courtesy to make a small purchase there. The city's main tourist attractions usually offer restrooms. There are also often toilets at public transportation hubs, although there may be a small fee associated with them.

Does Naples have Wi-Fi spots?

Yes, Naples has a well-connected network of Wi-Fi hotspots available to tourists and locals alike. These hotspots are located throughout the city, especially in popular areas such as shopping malls, cafes, and tourist attractions. In addition, many hotels and accommodations offer free Wi-Fi access to their guests. However, the quality of the connection can vary, so it is a good idea to have a data plan as a backup when visiting Naples.

Could I see a local music performance in Naples?

Definitely! Naples is a city full of musical talent and invites you to enjoy sounds ranging from traditional Neapolitan folklore and opera to modern pop and rock. A special highlight is the famous Teatro di San Carlo, one of the oldest theaters still in operation, where you can experience world-class opera and ballet performances. If you're looking for more local color, stop by the city's many bars and cafes, which regularly feature live music from local bands and singers. The music scene in this historic city is very diverse and remarkably vibrant.

What unique experiences can I have in Naples?

In Naples, Italy, you can stroll through the maze-like streets of the historic city center, a UNESCO World Heritage Site. A taste of authentic Neapolitan pizza in its birthplace is another unique experience. Visit the fascinating buried city of Pompeii nearby or delve into the mysterious underground passages of Naples. Also, don't miss seeing an opera at the opulent Teatro di San Carlo. Naples' charm lies in its vibrant street life and rich history.

Are taxis affordable in Naples?

Yes, cabs in Naples, Italy, are usually an affordable and convenient option. Fares are usually moderate and are based on a meter or a flat rate for certain tourist areas. It is an ideal option for people who prefer point-to-point transportation over public transportation. However, it is always advisable to check the prices and make sure the taxi meter is running to avoid unpleasant surprises. Remember that if you frequently travel long distances, the cost can add up.

How do I access emergency services?

In Naples, Italy, as in the rest of the country, you can reach emergency services by dialing specific numbers on your phone. In case of a general emergency, dial 112, the single European emergency number. This is the central coordination service for all types of emergencies. Specifically for medical emergencies, you can also dial 118. Stay calm on the phone, give your exact location and clearly explain what kind of emergency it is.

Can I bring my pet to Naples?

Of course, you can take your pet with you to Naples. However, it is important that your furry companion complies with EU regulations. This includes a microchip, an EU pet passport and up-to-date vaccinations, especially against rabies. Many hotels, restaurants and public transport in Naples are pet-friendly, but it would be wise to check the pet policies of these establishments before visiting or booking to ensure a pleasant stay.

Is the taste of pizza different in Naples?

The pizza in Naples, the birthplace of pizza, is very different from any other pizza in the world. Its crust is soft and chewy, yet crispy and often a bit charred to enhance the flavor. A true Neapolitan pizza uses fresh local ingredients such as buffalo mozzarella, San Marzano tomatoes and basil. The sauce is tangy and slightly sweet, and the overall taste is a charming blend of savory and slightly acidic flavors. Each bite offers a harmonious symphony of flavors that truly sets it apart.

Feedback

I hope you found this article informative and helpful. I'm eager to improve the content and make it even more valuable for you. If you have any feedback or suggestions, I would love to hear from you.

Do you have any tips or hidden gems that you think should be added to the list? Are there any areas that you feel could use more explanation or clarification?

Your input is greatly appreciated and will help us to continue providing high-quality content that meets your needs and interests. Please feel free to share your thoughts.