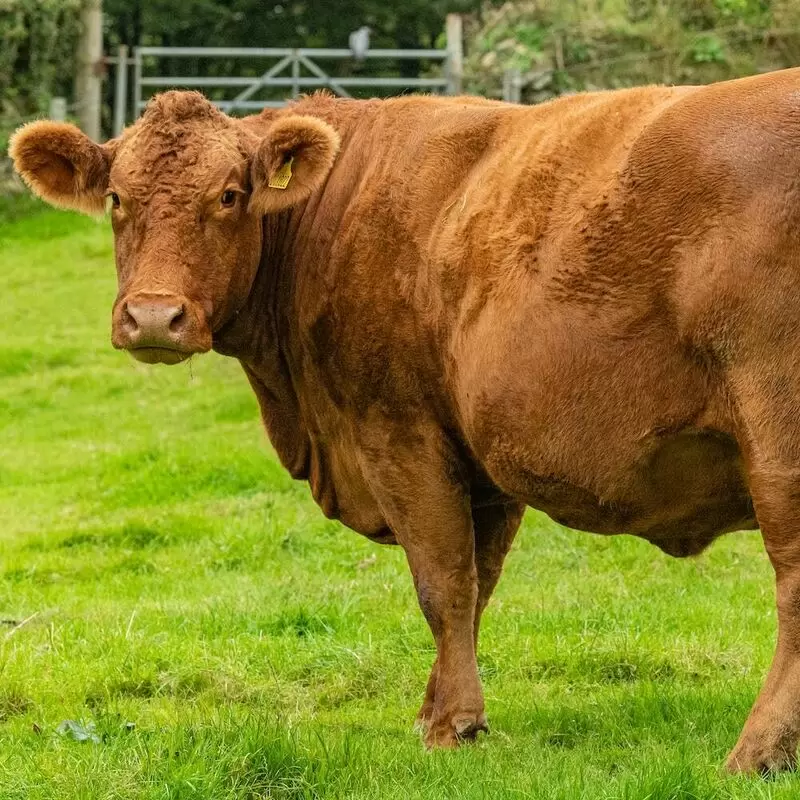 1. Dunnottar Castle
Visit the impressive Dunnottar Castle, a remarkable ruined fortress perched on a rocky outcrop. Its history is rich with tales of Vikings, Scottish heroes, and crown jewels. Fascinatingly, it served as the inspiration for the Disney movie "Brave." Explore the mysterious corners of the castle and its melancholy but captivating atmosphere. Next, take in the breathtaking view of the North Sea - a panorama perfect for Instagram. Just a stone's throw away is Stonehaven, a picturesque harbor town known for its quaint charm and wonderful coastal walks.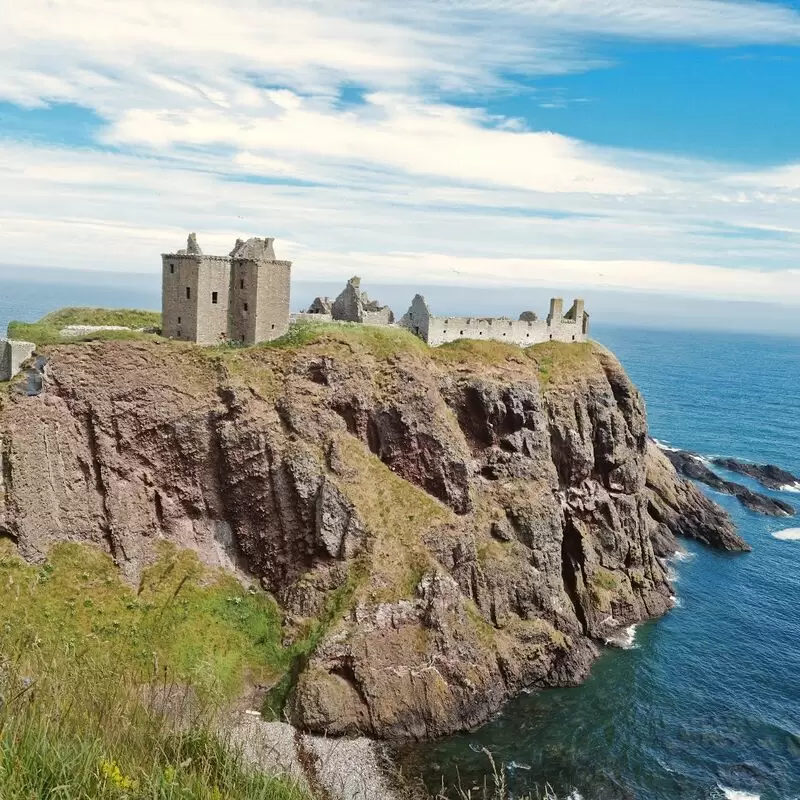 Dunnottar Castle
Stonehaven
Monday - Sunday: 9:00 AM – 5:00 PM
2. Slains Castle
A trip to Slains Castle, the mystical jewel of Aberdeen, guarantees an atmospheric outing. Here you'll stand amid lofty ruins that once served as the eerie inspiration for Bram Stoker's Dracula. Let your gaze wander over the rugged coastline and enjoy the salty Atlantic wind whispering ancient tales to you. And don't miss the rare sight of puffins nesting on the nearby cliffs. Just a stone's throw away is the quaint village of Cruden Bay, where you can enjoy a cozy pub lunch for a perfect Scottish adventure.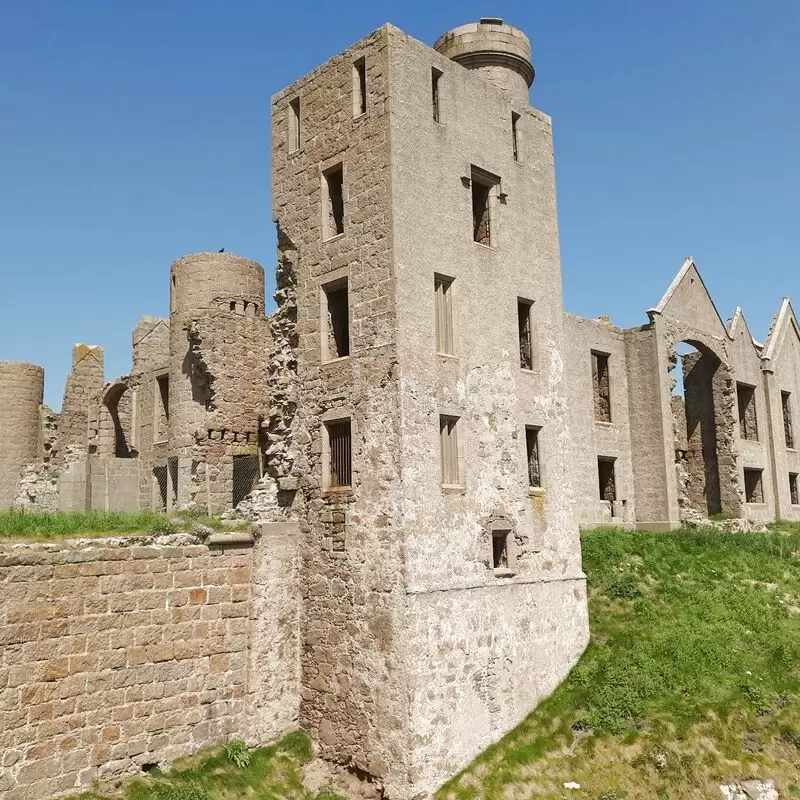 Slains Castle
A975, Cruden Bay, Peterhead
Monday - Sunday: Open 24 hours
3. Crathes Castle
Step back in time at charming Crathes Castle, a 16th-century tower house with fantastically preserved ceiling paintings. Wander the whimsical gardens with rare plants and even catch a glimpse of deer or red squirrels. Plus, it's just a stone's throw from Drum Castle, another impressive historic site. Immerse yourself in the world of Scottish heritage here in Aberdeen!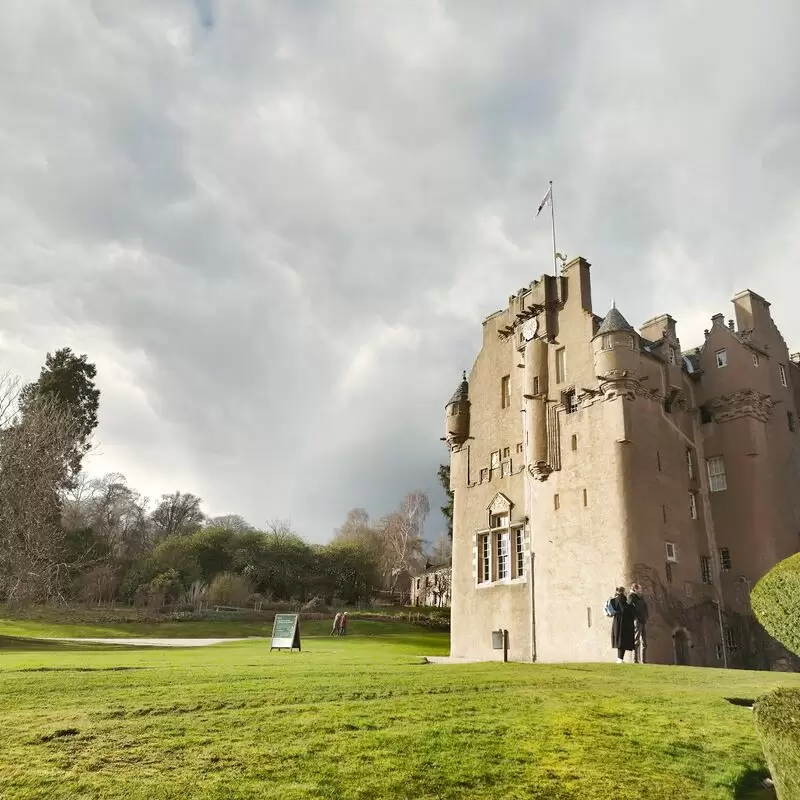 Crathes Castle
Crathes, Banchory
Monday - Sunday: 10:00 AM – 5:00 PM
4. Duthie Park
Visit Duthie Park in Aberdeen and immerse yourself in its rich history and verdant landscape. Donated by Miss Elizabeth Duthie in 1881, the 44-acre park features magnificent flower gardens, a magnificent sunken garden and the David Welch Winter Gardens. Enjoy spectacular views from the bandstand, which originally dates to Victorian times, watch model yachts gliding on the park's ponds, or simply enjoy the tranquil surroundings. The River Dee, just a short walk away, offers scenic trails, abundant wildlife, and a chance to catch a glimpse of the local rowing clubs.
Duthie Park
Polmuir Road, Aberdeen
Monday - Sunday: Open 24 hours
5. Seaton Park Aberdeen
Venture into the green oasis of Seaton Park in Aberdeen, a blooming hotspot for nature lovers. Breathe in the refreshing scent of blooming flowers and enjoy the soothing whisper of the River Don, which runs through the middle of the park. An insider's tip is the Cathedral Walk, which offers a fascinating view of flower beds with St. Machar Cathedral in the background. Just minutes away, you can explore Aberdeen's historic Old Town, bursting with old charm and allure.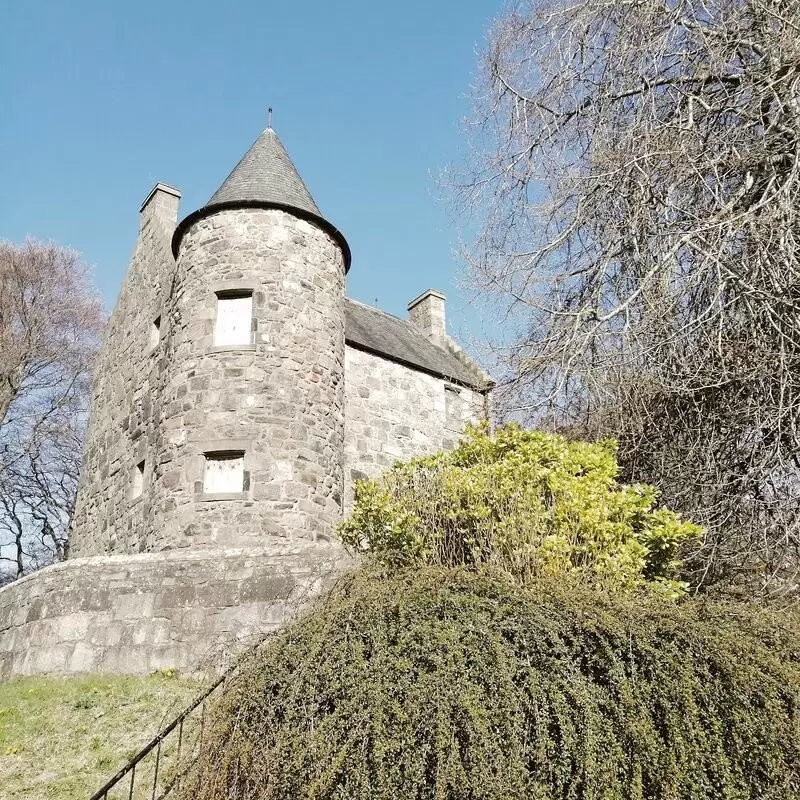 Seaton Park Aberdeen
Don Street, Old Aberdeen, Aberdeen
Monday - Sunday: Open 24 hours
6. Stonehaven Harbour
A picturesque gem, Stonehaven Harbor is a unique blend of Scottish tradition and seafaring history. Its charm is highlighted by an array of colorful boats bobbing on the calm waters and surrounded by historic buildings. Become an insider and sample the fresh seafood caught by local fishermen right on the harbor. Just a stone's throw away, you can walk on the cliffs to the imposing medieval Dunnottar Castle, a landmark immortalized in many movies such as "Hamlet".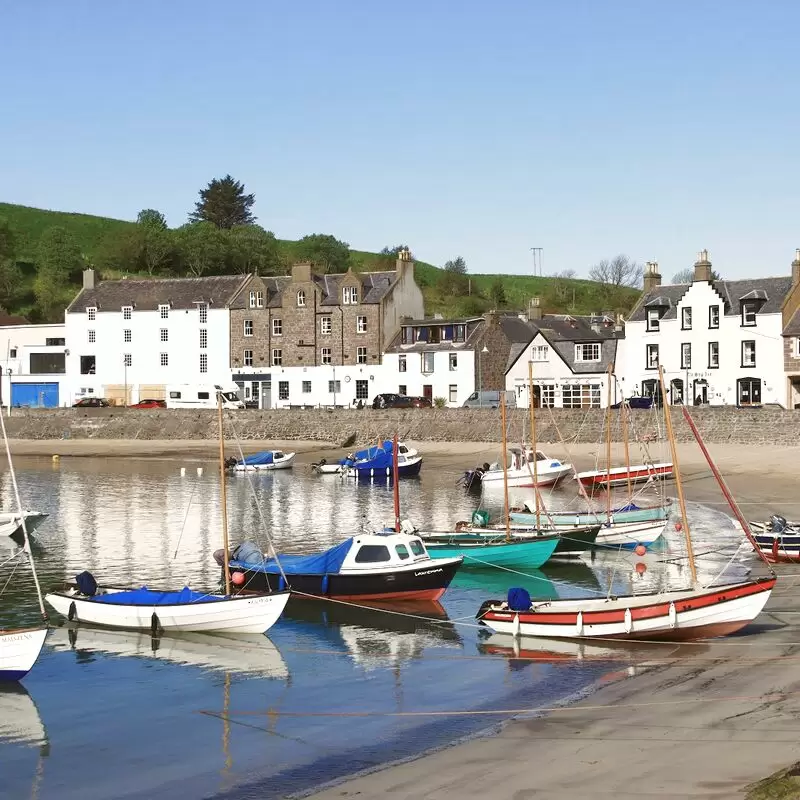 Stonehaven Harbour
Old Pier, Stonehaven
Monday - Sunday: Open 24 hours
7. Hazlehead Park
Hazlehead Park in Aberdeen is a charming retreat with a maze, rose gardens in mesmerizing colors, and an ideal spot for family picnics. The pet corner attracts the youngest with adorable farm animals. Plus, many venture to the 18-hole golf! Pro-tip: Try the freshly baked pies at the on-site café. Consider extending your visit to nearby Johnston Gardens, another charming oasis adorned with picturesque bridges and beautiful flowers.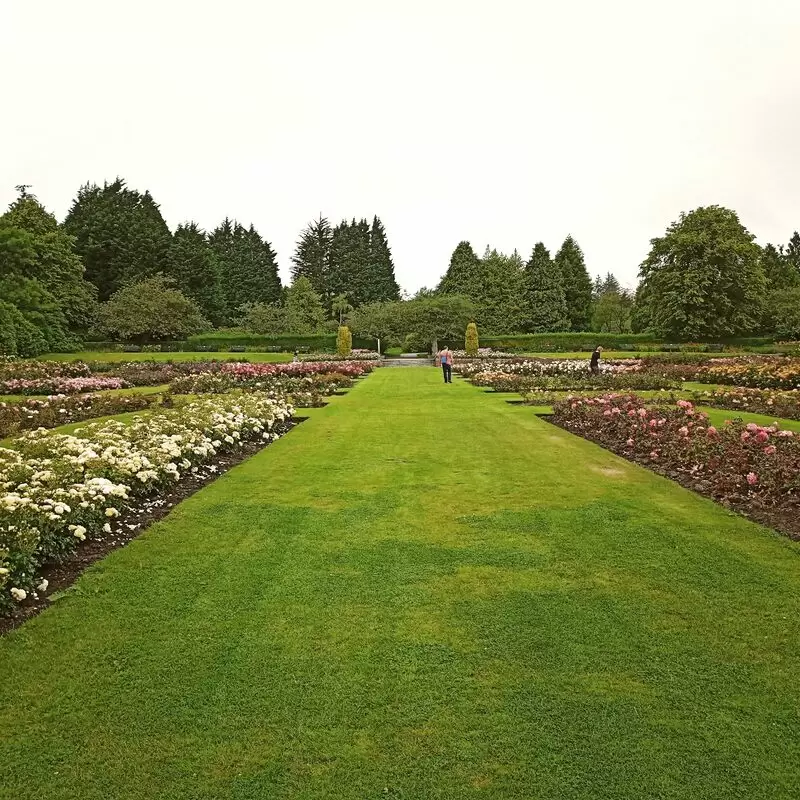 Hazlehead Park
Hazlehead Avenue, Aberdeen
Monday - Sunday: 10:00 AM – 5:30 PM
8. Aberdeen Maritime Museum
Immerse yourself in Aberdeen's rich maritime heritage at the Aberdeen Maritime Museum, where you can discover fascinating artifacts and interactive exhibits detailing the city's long history with the sea. Be enthralled by the exhibits on shipbuilding, fishing, and harbor history. From the museum itself, you'll have a breathtaking view of the bustling harbor - a unique insider attribute. And before you go, don't forget to visit the adjacent Provost Ross' House, the second oldest house in the city, which offers a glimpse into life in the 16th century.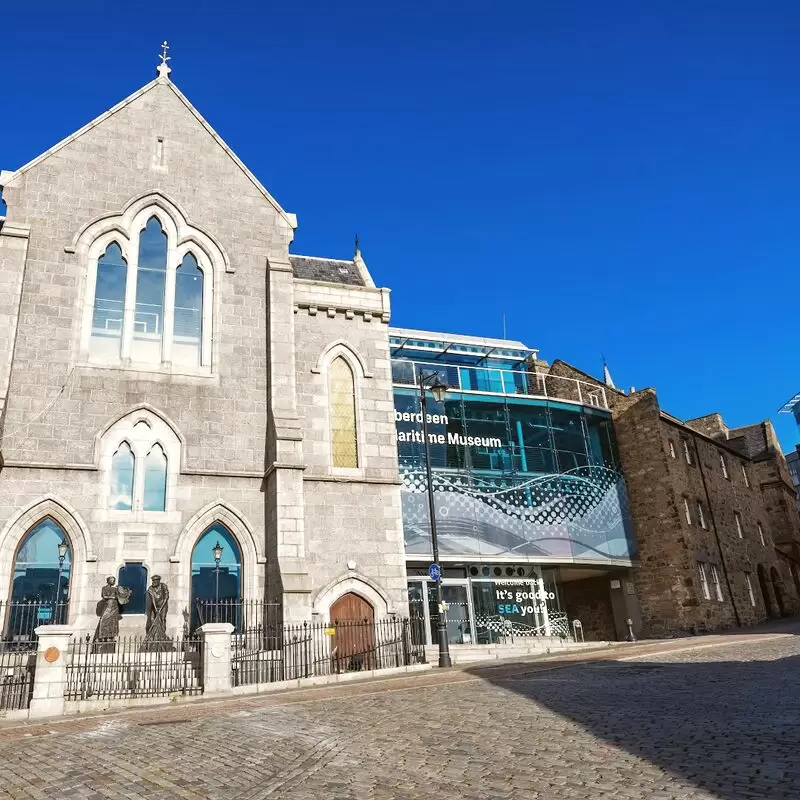 Aberdeen Maritime Museum
Shiprow, Aberdeen
Monday - Saturday: 10:00 AM – 5:00 PM
Sunday: 11:00 AM – 4:00 PM
9. Donmouth Local Nature Reserve
Venture to Donmouth Local Nature Reserve in Aberdeen, an ecological gem teeming with wildlife, unique plants, and scenic vistas. Feel the crunch of sand beneath your shoes as you walk through the dunes, and spot rare birds fluttering in the sky. The fascinating ebb and flow of the Don River add to this tranquil environment. Close to this oasis are the rustic charm of Old Aberdeen and the beauty of St. Machar's Cathedral. Enjoy the harmony of nature and history in a single visit!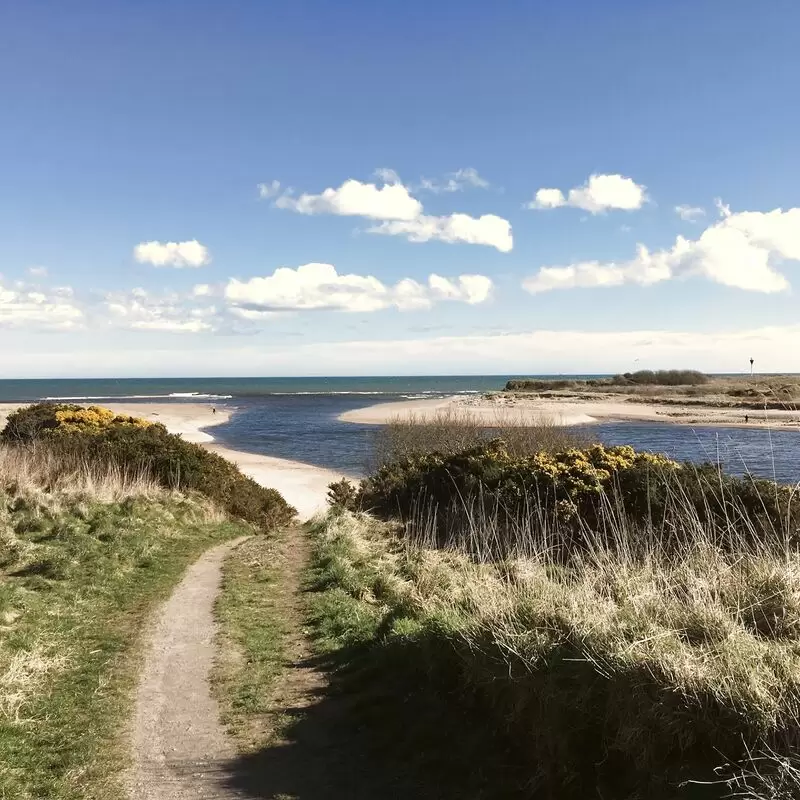 Donmouth Local Nature Reserve
Aberdeen AB24 1XP
Monday - Sunday: Open 24 hours
10. Bullers of Buchan
Head to the spectacular Bullers of Buchan and witness the raw power of nature. This dramatic, collapsed sea cave near Aberdeen is a birdwatcher's paradise, offering unparalleled views of puffins, gulls, guillemots and more! Feel the spray on your face as the waves crash against the cliffs - an unforgettable spectacle. While you're here, don't miss the nearby Longhaven Cliffs Nature Reserve - a rugged, lively coastal walk that offers another chance to see great wildlife. Experience two hidden gems in close proximity, each with its own charm.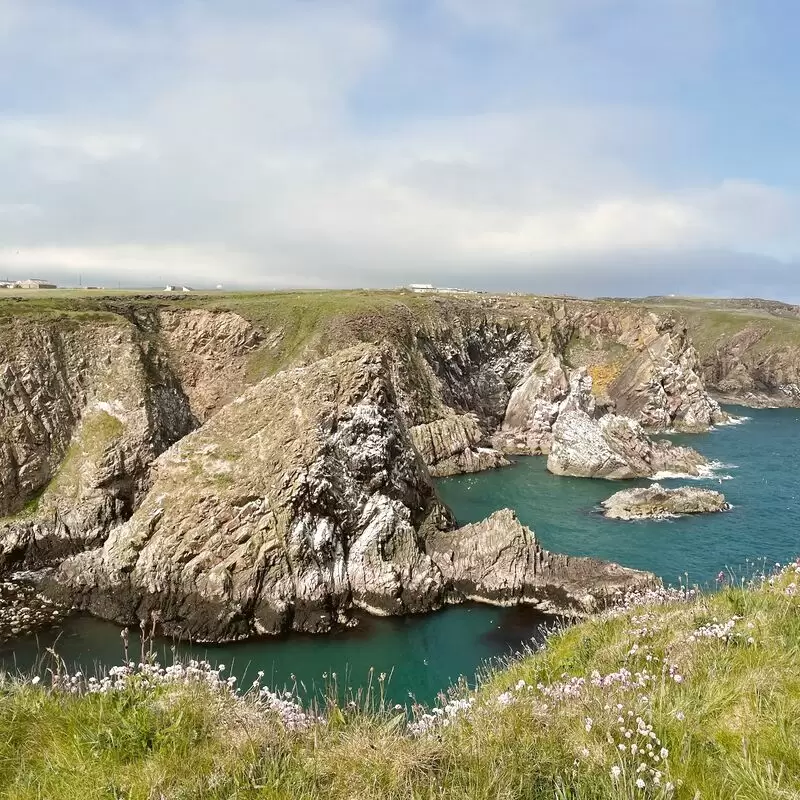 Bullers of Buchan
A975, Peterhead
Monday - Sunday: Open 24 hours
11. David Welch Winter Gardens
Visit the enchanting David Welch Winter Gardens and experience one of the largest indoor gardens in Europe. A celebration of global flora transports you to different worlds, from arid deserts to lush tropics. Don't miss the Japanese Corner, an oasis of tranquility. Right next door is Duthie Park, with its beautiful botanical grounds and the River Dee for scenic strolls. And just a short walk away you can visit the charming Aberdeen Beach.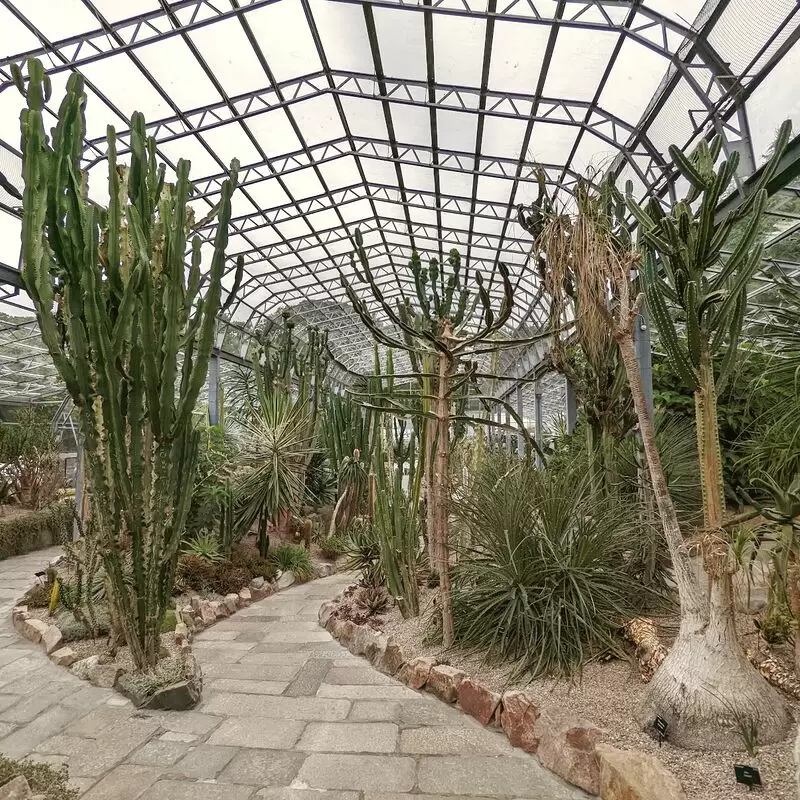 David Welch Winter Gardens
Polmuir Road, Aberdeen AB11 7TH
Monday - Sunday: 10:30 AM – 5:00 PM
12. Drum Castle Garden & Estate
Immerse yourself in Scotland's history at Drum Castle - Garden & Estate. This treasured estate houses 700-year-old family heirlooms, Gothic elements, a medieval tower, and stunning green scenery. Venture into the ancient woodlands that are home to a variety of wildlife and bird species. It's especially appealing in the fall when the leaves turn colorful. Nearby is Crathes Castle, another historic gem with colorful gardens that are well worth a visit. Don't forget to visit the Jacobean manor house and St. Thomas Chapel.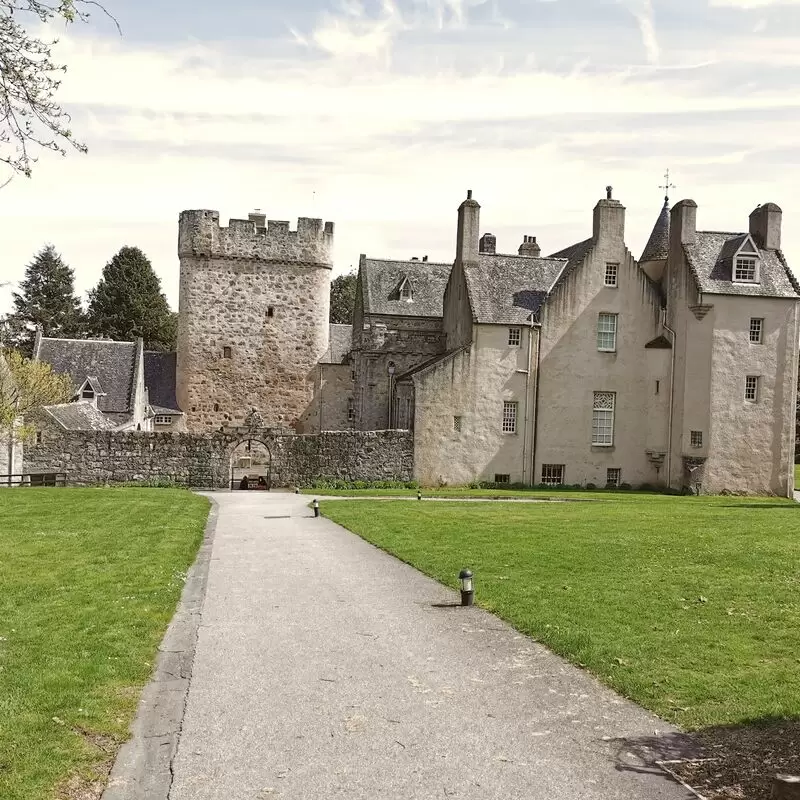 Drum Castle Garden & Estate
Drumoak, Banchory
Monday - Sunday: 10:30 AM – 4:00 PM
13. Aberdeen Beach
Aberdeen beach is not only sand and sea, but also a wealth of activities and scenic beauty. The golden sands that stretch for miles kiss the mesmerizing blue North Sea and offer picturesque views that will leave you spellbound. Thrill seekers can surf the North Sea waves, while the tranquil voices of nature will delight peace-loving souls. Just a stone's throw away is the charming "Footdee", a fishing village with quaint cottages and artful artwork. Together with "Codies", a popular fish and chips restaurant, your day at Aberdeen beach will be an unforgettable experience.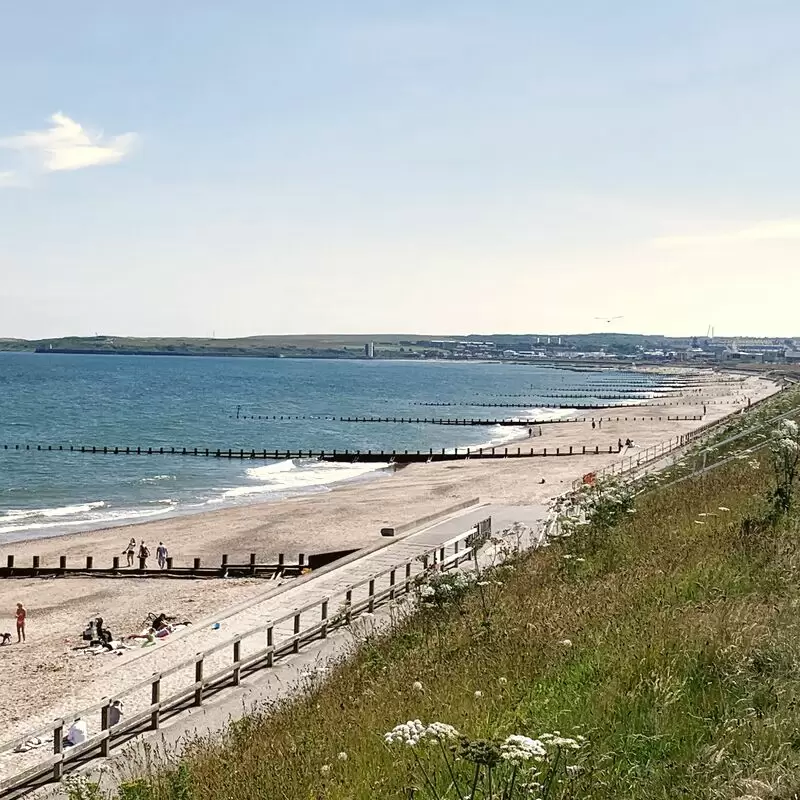 Aberdeen Beach
Esplanade, Aberdeen AB24 5QA
Monday - Sunday: Open 24 hours
14. Aberdeen Art Gallery
Aberdeen Art Gallery is the heart of the city's visual arts. It houses treasures from Da Vinci to Degas and constantly presents new exhibitions. Be amazed by the impressive collection of modern Scottish and international art! Marvel at the beauty of the iconic marble halls and enjoy sweeping views of the city from the rooftop terrace. Just a short walk away, you'll find His Majesty's Theatre, which offers a rich program of plays, musicals, and ballet. An unmissable cultural experience in Aberdeen.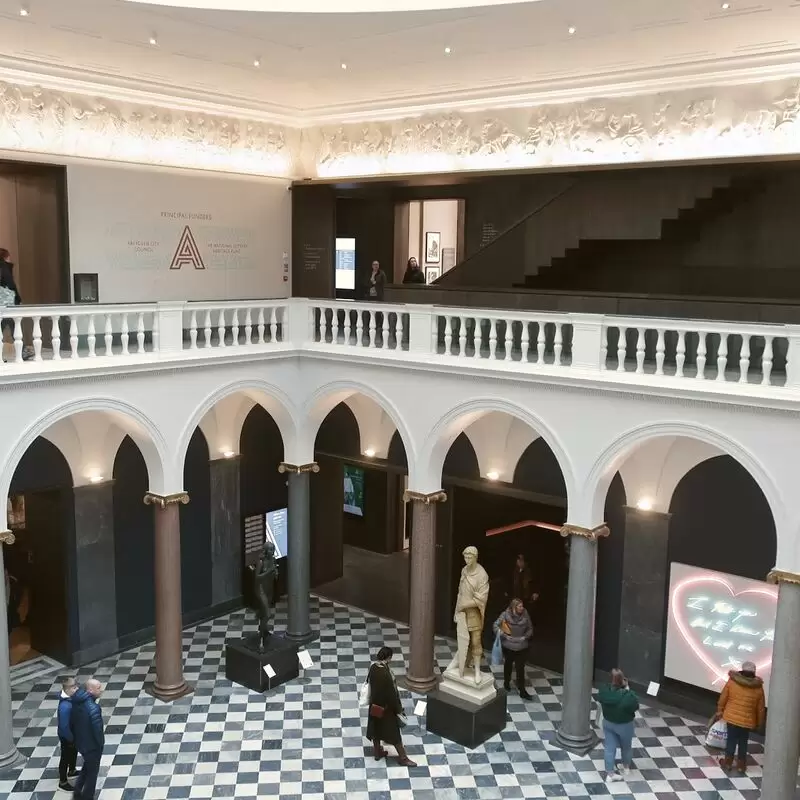 Aberdeen Art Gallery
Art Gallery, Schoolhill, Aberdeen
Monday - Saturday: 10:00 AM – 5:00 PM
Sunday: 11:00 AM – 4:00 PM
15. Craigievar Castle
The enchanting Craigievar Castle is a fairy tale come true! The stunning pink hue of the seven-story tower amidst the lush greenery of Aberdeenshire is a sight not to be missed. Transport yourself back to 17th-century Scotland as you explore the well-preserved rooms, furnished with artwork and antique furniture. A little-known secret: It inspired Walt Disney's Cinderella Castle! Nearby, Cairngorms National Park is just a drive away and perfect for a nature getaway. Immerse yourself in the enchanting history and beauty.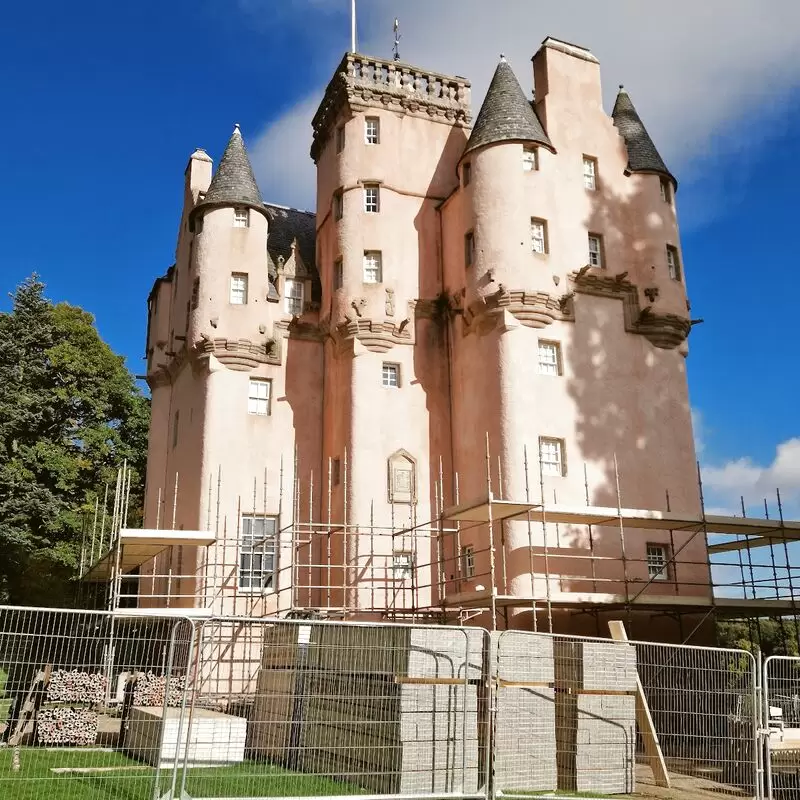 Craigievar Castle
Craigievar, Alford
16. Johnston Gardens
Immerse yourself in Aberdeen's natural splendor at Johnston Gardens, a hidden gem that boasts tranquil waterfalls, picturesque bridges, and a variety of plants from roses to rhododendrons. The tranquil spot captivates visitors year-round, transforming into a colorful spectacle in summer and a wonderland under a blanket of snow in winter. The gardens are very popular with locals as they invite you to take enchanting walks and offer a charming spectacle of ducks and their ducklings. Just a stone's throw away is the Gordon Highlanders Museum, which offers a glimpse into Scotland's remarkable military history.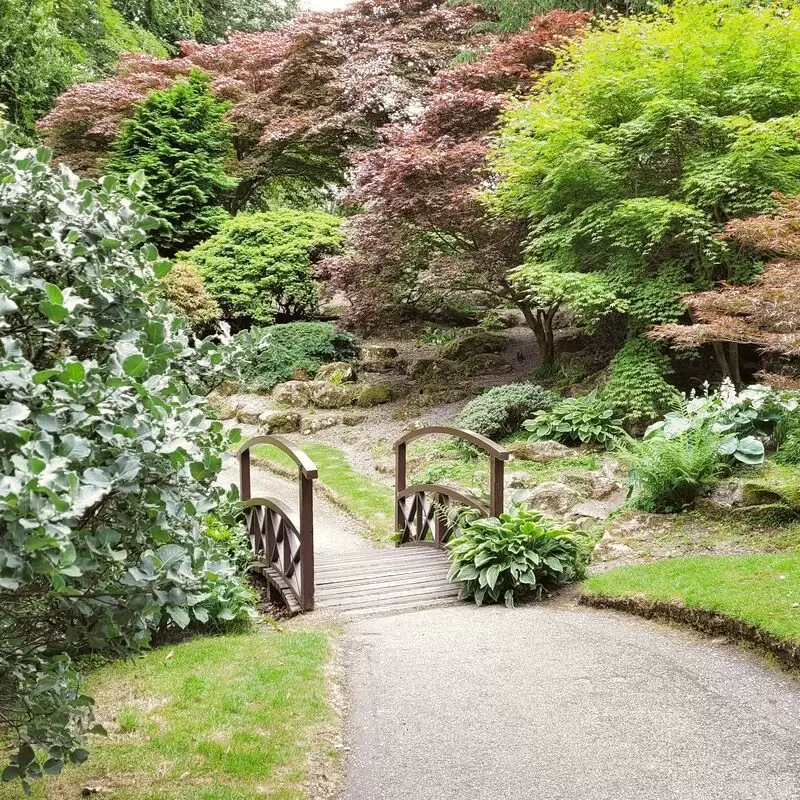 17. Queens Links Leisure Park

Experience the heart of Aberdeen's entertainment offerings at Queens Links Leisure Park! It's an amusement lover's paradise with a dynamic range of activities from cinema, golf and bowling to impressive restaurants. Don't miss Murcar Links, a classic championship golf course just a 15-minute drive away.

Another insider tip? The amusement park is just steps from the beach, perfect for a stroll after an eventful day! Excitement and relaxation, both within reach. This place is not to be missed!

Queens Links Leisure Park
Links Road, Aberdeen

Monday - Sunday: 9:00 AM – 11:00 PM
18. St. Machar's Cathedral
Immerse yourself in Scottish history at St. Machar's Cathedral in charming Old Aberdeen. This majestic 14th-century cathedral beckons with its fascinating medieval architecture, tranquil garden, and distinctive twin towers. Stories from the past are told in every corner. Fascinating detail: the cathedral supposedly houses a piece of the True Cross. Just a walk away, you can also explore nearby Seaton Park, an idyllic spot perfect for relaxing after a visit to the cathedral.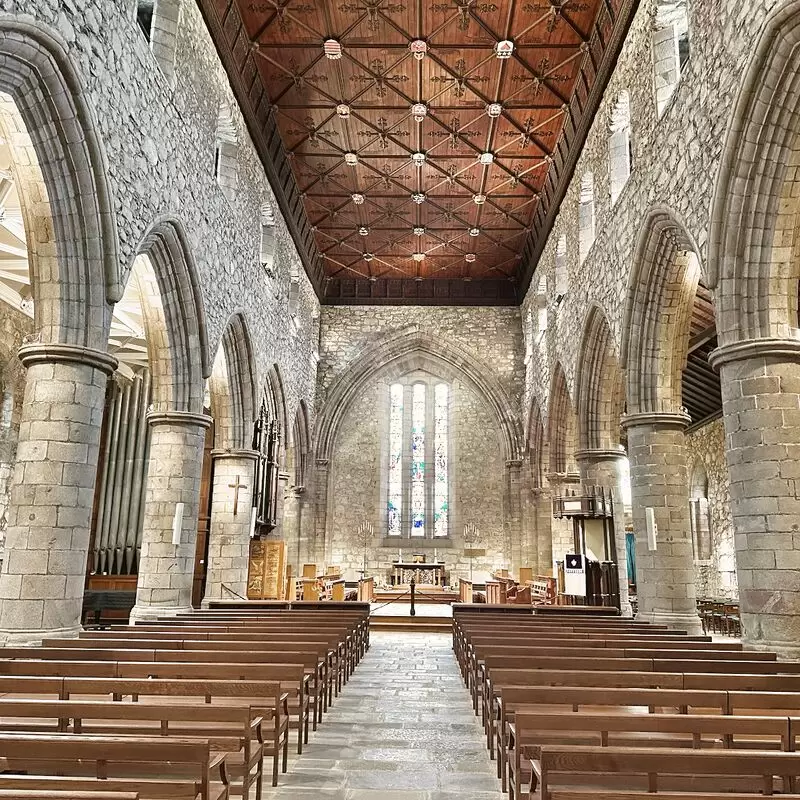 St. Machar's Cathedral
The Chanonry, Old Aberdeen, Aberdeen
Monday - Sunday: 9:30 AM – 4:30 PM
Best Time to Visit Aberdeen
The best time to visit Aberdeen, United Kingdom, are the summer months between June and August, when temperatures are pleasant and the city offers an abundance of events. Spring (April and May) and autumn (September and October) also offer pleasant weather and fewer tourists.
Annual Weather in Aberdeen
Aberdeen 3-Day Forecast
Wed, 27 September
Night
51 °F
11 °C
0%
Morning
50 °F
10 °C
0%
Afternoon
53 °F
12 °C
69%
Evening
54 °F
12 °C
57%
Thu, 28 September
Night
51 °F
11 °C
0%
Morning
47 °F
8 °C
0%
Afternoon
57 °F
14 °C
0%
Evening
53 °F
12 °C
67%
Fri, 29 September
Night
51 °F
11 °C
0%
Morning
54 °F
12 °C
0%
Afternoon
59 °F
15 °C
0%
Evening
54 °F
12 °C
0%
Questions & Answers

What is Aberdeen famous for?

Aberdeen, often referred to as the "Granite City," is known for its stately granite architecture, particularly evident in buildings such as Marischal College. The city is rich in maritime history, and its busy port is central to the city's economic growth. Aberdeen is internationally known for its thriving oil industry. It also has beautiful parks, including Duthie Park with its charming conservatories, and golf courses such as the Royal Aberdeen.

How do I get around Aberdeen?

The city of Aberdeen offers a variety of transportation options. For local transportation, you can use the city's extensive bus network, operated mainly by First Aberdeen and Stagecoach. You can also rent a car or bicycle or take a cab for more convenient travel. For longer trips, the city is connected to major cities by train services. Also, Aberdeen is a compact city where you can easily explore the main attractions on foot. Just be prepared for occasional Scottish rain showers!

How many days should I spend in Aberdeen?

A trip to Aberdeen ideally takes about 3 to 4 days. This allows plenty of time to explore the city's historic sites such as Aberdeen Maritime Museum, King's College Chapel and St. Machar's Cathedral. There is also plenty of time to explore the beautiful coastline and breathtaking scenery outside the city. Don't forget that Aberdeen is known for its whisky distilleries and golf courses, so you should allow some time for that as well.

Are people in Aberdeen friendly to tourists?

Aberdeen, often referred to as the "Granite City", is characterized by its welcoming and friendly residents. The people of Aberdeen are known for their warm hospitality and are usually more than happy to assist tourists with directions, recommendations, or any assistance they may need. The city has a rich history of international trade and oil exploration, so it is accustomed to welcoming visitors from all over the world. This acceptance is reflected in the kindness and friendliness of Aberdeen's residents.

Is Aberdeen expensive?

Aberdeen, known as the oil capital of Europe, can be a bit more expensive compared to other UK cities. However, this depends largely on your lifestyle. The cost of accommodation, food and transportation is relatively high here, but is offset by the high standard of living. For a tourist, pricing should not be a problem if you plan it right. For travelers on a budget, there are plenty of budget options as well.

Which part of Aberdeen should I stay in?

If you are looking for a lively and central location, consider staying in Aberdeen city center. Here you will find numerous historical sites, shopping centers, a variety of restaurants, and an exciting nightlife. If you prefer quiet, upscale neighborhoods, the West End is a good choice with its beautiful Victorian homes, boutiques, and cozy cafes. Finally, for beach lovers, the Beach district offers breathtaking views of the sea and a variety of leisure activities.

What kind of food is popular in Aberdeen?

Aberdeen has a diverse dining scene due to its rich fishing history and agricultural environment. Fresh seafood is very popular, with dishes like fish and chips and delicacies like smoked haddock and mussels. Traditional Scottish dishes such as haggis, neeps and tatties are also popular. The influence of Aberdeen's international residents brings a global culinary element, with many international dishes available throughout the city. Pubs and restaurants often serve local beers and Scotch whisky as well.

Can I find vegetarian or vegan options in Aberdeen?

Although Aberdeen is known for its traditional Scottish cuisine, which often includes seafood and meat, there are many restaurants and cafes that specialize in vegetarian and vegan diets. These establishments offer a wide range of dishes, including Indian, Italian, and modern global dishes. In addition, most restaurants in Aberdeen offer vegetarian or vegan options on their menus, so there is something for everyone. The dining scene in Aberdeen is constantly evolving, with new vegetarian and vegan-friendly eateries popping up on a regular basis.

What is the local language spoken in Aberdeen?

The local language in Aberdeen, United Kingdom, is English. However, the regional accent and dialect can be quite unique, known as Doric. Doric is a form of the Scots language characterized by a particular vocabulary and pronunciation, and is used primarily in rural communities in the northeast of Scotland. It is worth noting that not every Aberdonian speaks this dialect, but it is deeply embedded in the culture of the town. Despite the dialect, English-speaking visitors should have no trouble communicating in Aberdeen.

How safe is Aberdeen for travelers?

Aberdeen is generally considered safe for travelers. As in any city, there are busier and quieter areas, but the crime rate is relatively low. It is always important to take the usual safety precautions, such as not displaying expensive items and being aware of your surroundings, especially at night. The city center, tourist attractions and transport links are well lit and regularly patrolled, making Aberdeen a pleasant destination for most visitors. Medical care is of a high standard should any health problems arise.

Are there interesting day trips from Aberdeen?

Definitely! Stonehaven and Dunnottar Castle are great for a day trip, with stunning coastal views and a rich history. You can also visit the whisky distilleries in Speyside to explore the Scotch whisky heritage. Another option is the Cairngorms National Park, which offers wonderful trails for hiking, bird watching and nature photography. Highlander lovers might enjoy a visit to the "Braveheart country" of Glen Affric. Whatever your preference, the Aberdeen area promises captivating experiences.

Are there good camping spots around Aberdeen?

Yes, there are beautiful campsites in the Aberdeen area. Visit Deeside Holiday Park, a peaceful retreat in South Deeside surrounded by nature and the River Dee. Another option is Queen Elizabeth II Country Park, with its beautiful woodlands and wide-open spaces. Finally, be sure to visit the Hilly Cow Wigwams, which offer incredible views over the Forth Valley and are perfect for relaxing stargazing. At these sites you can connect with nature while enjoying the main camping facilities.

Are there any natural reserves or parks in Aberdeen?

Yes, Aberdeen has several green spaces that nature lovers will appreciate. One of the most popular is Duthie Park, a parkland setting that invites you to take a leisurely stroll and is also home to the beautiful David Welch Winter Gardens. You may also want to explore Johnston Gardens, a picturesque park with flowers, shrubs and a cascading waterway. If you're looking for a nature reserve, you can visit the Donmouth Local Nature Reserve, where you can experience a variety of bird species and breathtaking views.

What are the best outdoor activities in Aberdeen?

In Aberdeen you can enjoy a variety of outdoor activities. Explore the beautiful coastline on a long walk along Balmedie Beach and admire the clear blue sea. Adventure seekers can visit the fabulous Glen Tanar Estate for hiking or trout fishing. Golf lovers should not miss a visit to the Royal Aberdeen Golf Course. In addition, the city's magnificent parks, such as Duthie and Seaton Park, offer scenic landscapes and refreshing walks. Don't forget to visit the historic and magnificent Old Town House.

How is public transportation in Aberdeen?

Aberdeen, United Kingdom, has a well-developed public transportation system. Buses operated by First Aberdeen and Stagecoach run frequently in the city and surrounding areas. Aberdeen's train station connects the city with larger cities in Scotland and England. The city's seaport also provides ferry services to the Orkney and Shetland Islands. Aberdeen International Airport serves several domestic and international air routes. Automated cab services are also widely available.

Can I rent a car in Aberdeen?

Yes, renting a car in Aberdeen, United Kingdom is very possible and quite easy to do. There are a number of reputable car rental companies in the city, including global brands like Avis and Hertz. You can also find car rental offices at Aberdeen Airport and in the city center. This way, you can explore the beautiful Scottish countryside at your convenience. The car rental agencies often require a valid driver's license and a credit card.

Is biking a good way to get around Aberdeen?

Yes, cycling is a wonderful way to explore Aberdeen. The city is very bike-friendly and has numerous bike paths and routes that offer a unique, active and environmentally friendly way to explore the beautiful sights. Because Aberdeen is relatively compact, many destinations and attractions are within easy reach. However, keep in mind that the terrain in Aberdeen is hilly and requires a certain level of fitness to cycle comfortably.

Is Aberdeen children friendly?

That's right! Aberdeen is a wonderful destination for families. The city offers a number of kid-friendly attractions such as Codona's Amusement Park with rides for all ages and the Aberdeen Science Centre where children can experience interactive exhibits. Nature-loving families can explore the Aberdeen Maritime Museum, Duthie Park or the beautiful sandy beaches. With kid-friendly restaurants and accommodation options, Aberdeen offers an enjoyable stay for the whole family.

What are the emergency numbers in Aberdeen?

In Aberdeen, as in the rest of the UK, the emergency number is 999. This free call provides access to police, ambulance, fire and coastguard services. For less urgent health problems, 111 is the National Health Service's non-emergency hotline. To report non-emergency crimes such as theft, vandalism, or minor car accidents, you can call the police at 101. In all cases, be sure to provide accurate information about your whereabouts so you can get help in a timely manner.

Are credit cards widely accepted in Aberdeen?

Yes, credit cards are widely accepted in Aberdeen, United Kingdom. Most retail outlets, including stores, restaurants and hotels, accept major credit cards such as Visa, Mastercard and American Express. However, it is always a good idea to carry some cash in pounds sterling for small purchases or at places that do not accept cards. Throughout the city you will find ATMs where you can withdraw cash if needed.

Are there good places for running or jogging?

Aberdeen offers several excellent places for walking and jogging. A good choice is Duthie Park, with its manicured gardens and well-maintained trails. Union Terrace Gardens offers a great route in the city center, while Seaton Park offers a more challenging run. For longer runs or difficult terrain, Hazlehead Park is a good choice. Alternatively, you can jog along Aberdeen Beach and Esplanade. Each location offers different challenges and scenic views to keep your running experience interesting.

Can I swim in Aberdeen beach?

Yes, you can swim at Aberdeen Beach, a popular spot in the heart of the city. However, the waters of the North Sea can be quite chilly, so this is only dared by the brave. The long sandy beach is suitable not only for swimming, but also for walks and picnics. There are also recreational facilities nearby, such as a cinema, an ice skating rink and even a leisure pool with water slides, making it a lively destination.

How common is tipping in Aberdeen?

Tipping is common in Aberdeen, similar to the rest of the UK, but not mandatory. It is customary to tip 10-15% in restaurants if the service charge is not included in the bill. For cab rides, it is customary to round up to the nearest pound or tip 10-15%. In bars and pubs, tipping is not expected. However, if you wish, some visitors will leave some change as a token of appreciation. Overall, tipping is discretionary and depends on the quality of service.

Where can I see authentic Scottish culture in Aberdeen?

In Aberdeen, you can immerse yourself in true Scottish culture at the historic Aberdeen Maritime Museum, which reflects the city's close relationship with the sea. The architectural marvel of St. Machar's Cathedral is also a must-see. Enjoy traditional Scottish music at The Blue Lamp, and don't forget to try the local delicacy, Aberdeen Angus Steak. A stroll through Old Aberdeen offers picturesque views of traditional granite houses, a sign of authentic Scottish life.

Are there any peculiar laws in Aberdeen that a visitor should know?

In Aberdeen, it is illegal to shake out or spread carpets on public streets or roads without express permission to reduce the amount of dust and litter. It is also prohibited to hang clothing or laundry across the street to maintain the aesthetics of the city. Always remember to respect local customs, such as Scotland's minimum drinking age of 18, and follow the rules for drinking in public so you can enjoy the city properly.

Is there free Wifi in public areas?

Yes, Aberdeen offers free public WiFi in various areas of the city. This initiative, known as Aberdeen CityConnect, allows locals and tourists to access the Internet in various public places such as parks, libraries, and shopping districts. However, as with many public WiFi networks, it is important that you use a secure connection when transferring personal data to protect yourself from potential security risks.

How can I get from Aberdeen airport to the city center?

The most convenient way to get from Aberdeen Airport to the city center is by cab or shuttle service, which takes about 30 minutes. You can also use the local bus service, which is inexpensive and runs every 10 minutes. The bus ride to the city center takes about 40 minutes. Alternatively, you can rent a car at the airport if you want to drive yourself.

What medical facilities are available in Aberdeen?

Aberdeen, United Kingdom, is home to numerous high-quality medical facilities. The most important of these is the Aberdeen Royal Infirmary, a large teaching hospital that provides comprehensive care. Aberdeen is also home to the Royal Aberdeen Children's Hospital and the Aberdeen Maternity Hospital. There are also several private dental and family practice clinics in the city. For psychiatric care, the Royal Cornhill Hospital is available. Pharmacies are located throughout the city for medication and minor medical appointments.

Are there cooking classes for traditional Scottish cuisine?

Absolutely! Aberdeen offers many opportunities to learn about traditional Scottish cuisine. One is the Nick Nairn Cook School, run by Scotland's first Michelin-starred chef. Another option is Thyme Out in the West End, where special groups receive Scottish cooking lessons. These classes are an exceptional way to immerse yourself in the local culture and learn how to prepare typical Scottish dishes.

Can I go fishing in Aberdeen?

Absolutely! Aberdeen, located in the northeast of Scotland, is surrounded by beautiful countryside and unspoiled coastline, which makes the city a paradise for fishing enthusiasts. From the city's beach you can try sea fishing and catch cod, haddock or mackerel. The nearby River Dee is a popular spot for salmon and trout fishing. Although some fishing spots require a permit, there are also places where you can fish for free.

What traditional events or festivals happen in Aberdeen?

Aberdeen hosts celebrated events that reflect the region's rich culture and heritage. The Aberdeen Jazz Festival attracts top-notch international jazz musicians, while the annual TechFest promotes science and technology through interactive activities. Culturally-minded visitors can enjoy the Aberdeen International Youth Festival, which showcases talent in theater, dance and music. The city's cultural heritage is showcased at the Aberdeen Highland Games, featuring traditional Scottish sports, music and dance. The Nuart Street Art Festival enhances the city's architecture by inviting international artists to create outdoor art.

Are there any pet-friendly places?

Aberdeen definitely offers several pet-friendly options. Hazlehead Park is a beautiful place with large open spaces and forest paths where dogs are welcome. Dogs are also allowed on the city's beaches, and there is plenty of room for them to run around. As for accommodation, many hotels such as The Dog House, Mercure Caledonian and Malmaison Aberdeen are pet-friendly. Dogs are also allowed in some cafes and pubs, which makes Aberdeen a great city to explore with your four-legged friends.

Is there a dress code to be followed in Aberdeen?

There is no specific dress code in Aberdeen, but as in much of the United Kingdom, people generally dress casually. In upscale restaurants, theaters, and other formal venues, dressier attire may be required. Weather conditions greatly affect how locals dress - in the cooler months, warm, waterproof clothing is required due to frequent rainfall. In the summer, lighter clothing with multiple layers is preferable as the weather can be unpredictable. Modest clothing may be required in churches and cathedrals.

Can I find guided tours in Aberdeen?

Yes, Aberdeen offers several guided tours where you can explore the city's rich history, culture and architecture. There are several options to choose from, including walking tours of the city center, boat tours of the harbor, or cultural excursions to major architectural landmarks. For whisky lovers, tours to nearby distilleries in the region are also available. This is an ideal way to learn about the fascinating history of the city under the guidance of knowledgeable locals.

Feedback

I hope you found this article informative and helpful. I'm eager to improve the content and make it even more valuable for you. If you have any feedback or suggestions, I would love to hear from you.

Do you have any tips or hidden gems that you think should be added to the list? Are there any areas that you feel could use more explanation or clarification?

Your input is greatly appreciated and will help us to continue providing high-quality content that meets your needs and interests. Please feel free to share your thoughts.