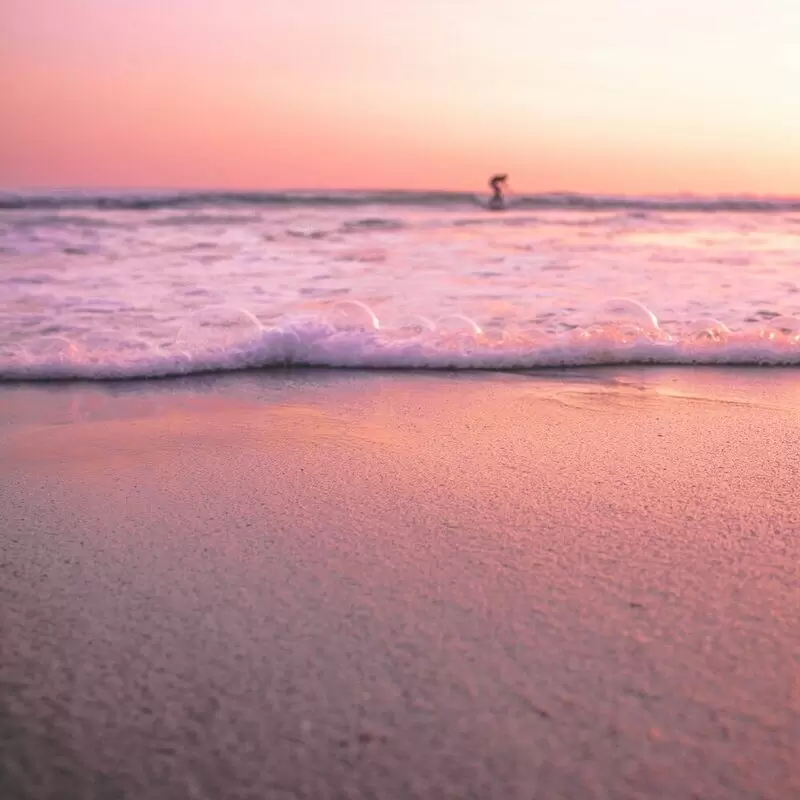 1. Sacred Monkey Forest Sanctuary
Make your way to the enchanting Sacred Monkey Forest Sanctuary, where over 700 energetic Balinese monkeys swing through lush treetops and ancient temples. In this precious nature reserve, you can observe these fascinating creatures in their natural habitat. Don't forget to discover the exotic plants that are unique to this area. Just a 10-minute drive away, you can relax at the beautiful Nyuh Kuning Village, which is less crowded and offers a quiet, authentic Balinese atmosphere.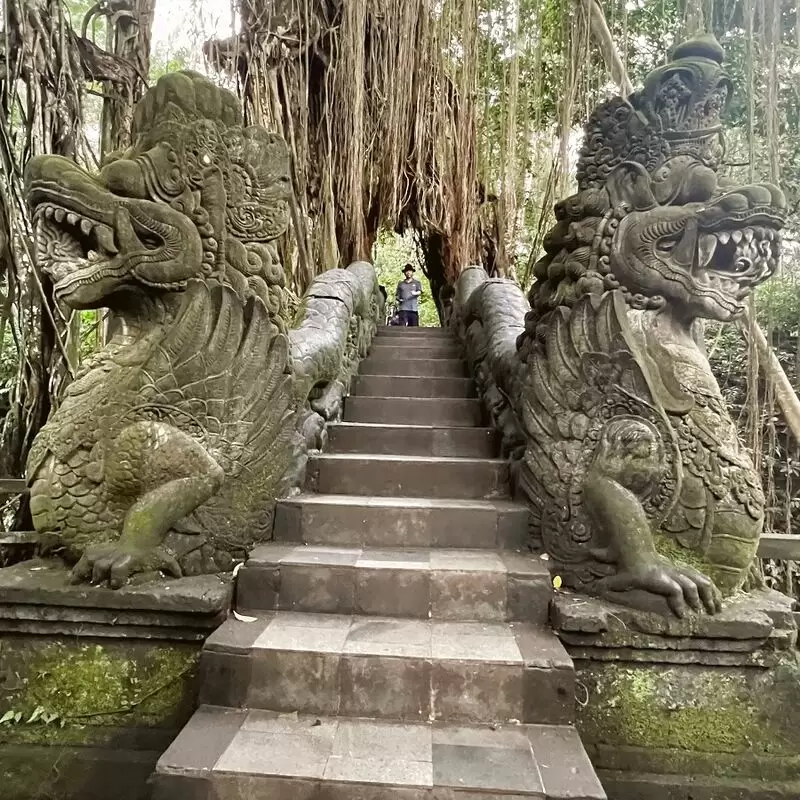 Sacred Monkey Forest Sanctuary
Jl. Monkey Forest, Ubud, Kecamatan Ubud, Gianyar Regency
Monday - Sunday: 9:00 AM – 5:00 PM
2. Taman Ayun Temple
Take a side trip to Seminyak to Taman Ayun Temple, a regal Hindu-Balinese architectural wonder. Surrounded by picturesque moats and lush gardens, it offers tranquil beauty, vibrant culture, and historic charm. Here's a tip: It's also known as Mengwi's "Garden Temple in the Water." Immerse yourself in the enchanting ambience of this UNESCO heritage site. Nearby, you can visit the famous Tanah Lot Temple for an unforgettable sunset experience. This sacred sea temple is only a 30-minute drive away, making your trip an additional spiritual adventure.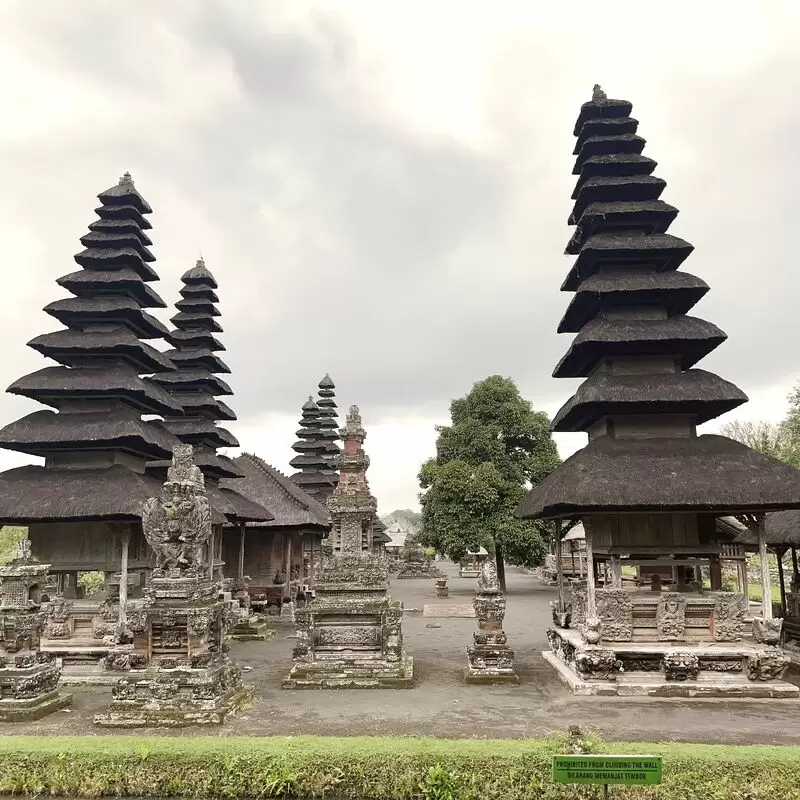 Taman Ayun Temple
Jl. Ayodya No.10, Mengwi, Kec. Mengwi, Badung Regency
Monday - Sunday: 8:00 AM – 6:15 PM
3. Werdhi Budaya Art Centre

Step into the Werdhi Budaya Art Centre and you're immersed in Bali's vibrant cultural heart. Located in Seminyak, this center for traditional art, profound culture and glittering festivals exudes an unmistakable charm. The "Pesta Kesenian Bali" brings the center to life every summer with great traditional performances.

Insider tip: The center also houses an impressive collection of traditional Balinese arts and crafts. The nearby Taman Ayun temple and Alas Kedaton monkey forest complete the cultural exploration and make the visit even more attractive.

Werdhi Budaya Art Centre
Jl. Nusa Indah No.1, Panjer, Denpasar Selatan, Denpasar City

Monday - Saturday: 7:30 AM – 3:30 PM
Friday: 7:30 AM – 1:00 PM
Sunday: Closed
4. W Bali Seminyak
A visit to the "W Bali - Seminyak" is like stepping into a tropical paradise. It's a luxury resort that brings style and sophistication to Bali's shores. Enjoy pulsating music at the Woobar, delight in the infinity pool that flows seamlessly into the ocean, and indulge in innovative treatments at the AWAY® Spa. For a taste of local culture, visit the neighboring Petitenget Temple, an ancient spiritual site just a leisurely stroll away. Combine luxury and culture in an unforgettable Balinese vacation!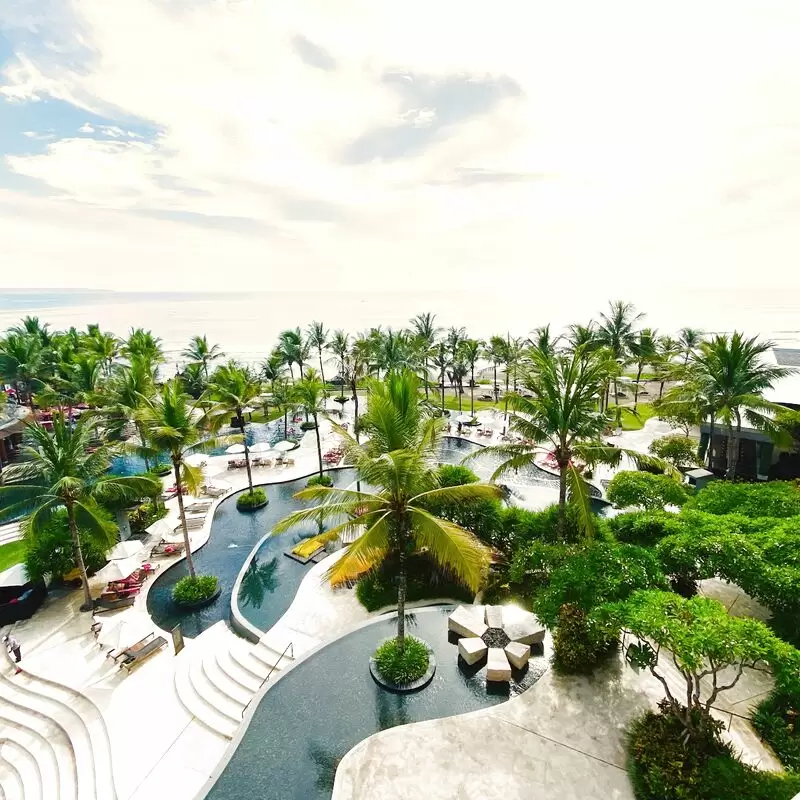 5. La Plancha Bali
La Plancha Bali, garnished with beanbags and colorful parasols, sets the perfect mood for a gorgeous sunset view on Seminyak beach. Enjoy delicious Spanish cuisine while listening to chill music, and end the day with a vibrant nightlife. For surfers, there's an added treat. The sea here offers a great surf spot. Just a short walk away you'll find Pura Petitenget, an impressive ancient Hindu temple with intricate Balinese architecture.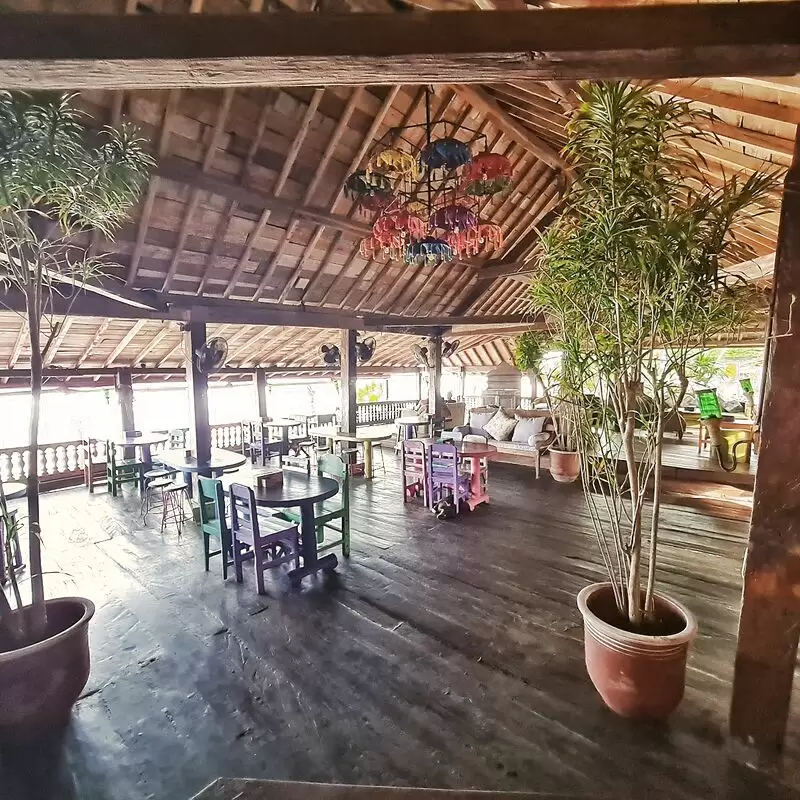 La Plancha Bali
Jalan Mesari Beach, Seminyak, Kec. Kuta, Badung Regency
Monday - Sunday: 7:30 AM – 12:00 AM
6. Campuhan Ridge Walk
Visit Campuhan Ridge Walk for an unforgettable nature experience right in Seminyak. Enjoy the panorama of the beautiful hills lined with emerald green fields. Ideal for morning runs or quiet walks at sunset. This less crowded attraction offers a peaceful retreat from the hustle and bustle of Seminyak. Nearby is the lively Ubud market where you can shop for authentic Indonesian handicrafts, adding even more color to your trip!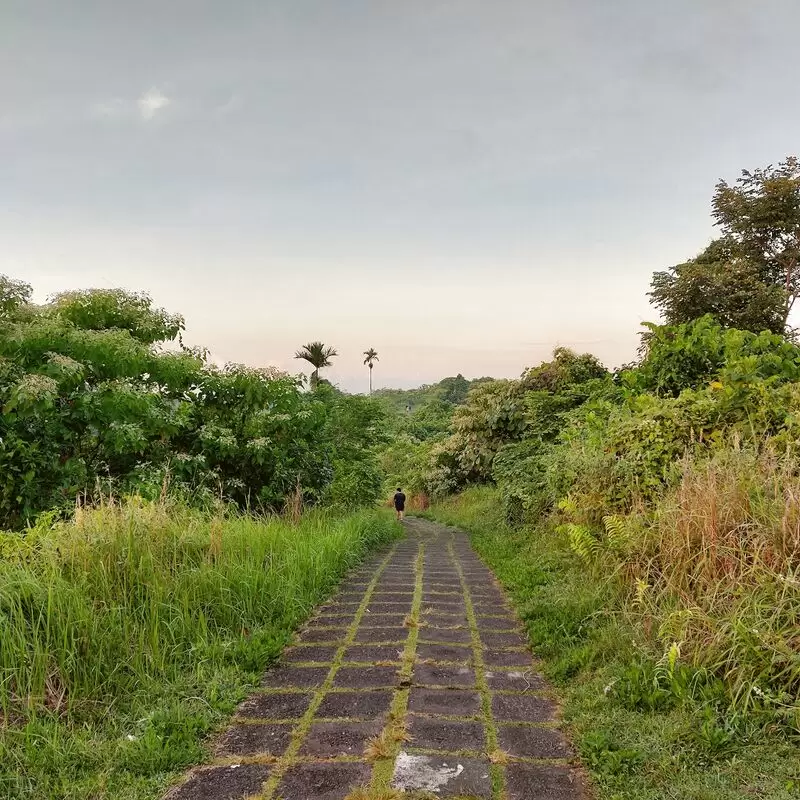 Campuhan Ridge Walk
Kelusa, Payangan, Jl. Raya Campuhan, Sayan, Kecamatan Ubud, Gianyar Regency
Monday - Sunday: Open 24 hours
7. Devil's Tears
Discover the fascinating Devil's Tears, a natural spectacle on the coast of Seminyak. Watch as the azure waves crash against the rocky cliffs, creating a stunning geyser-like effect. Listen for the unmistakable "roar" - this sound has given the place its devilish name! Dare to take a closer look when the tide is right. Just around the corner you'll find Dream Beach, a tranquil addition to the adrenaline-fueled spectacle of Devil's Tears. You don't want to miss it!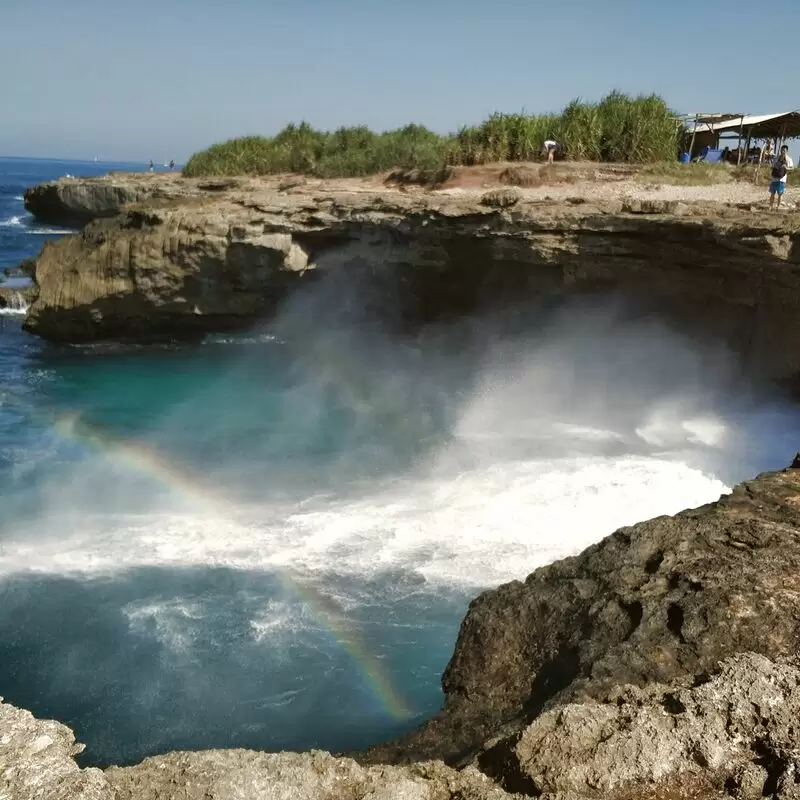 Devil's Tears
Nusa Lembongan, Jungutbatu, Kec. Nusa Penida, Klungkung Regency
Monday - Sunday: Open 24 hours
8. Waterbom Bali
Waterbom Bali is a must for every Seminyak visitor. It offers the best water slides in Asia and provides thrills and fun for all ages. Apart from the slides, you can also enjoy a tranquil Lazy River or a reflexology massage. Enjoy healthy, delicious meals at the food court, whose ingredients are sourced from local farmers. For thrill seekers, don't miss the Climax Rider, a trapdoor slide that will get your adrenaline pumping! Just around the corner, you can enjoy an open-air shopping experience at Discovery Shopping Mall.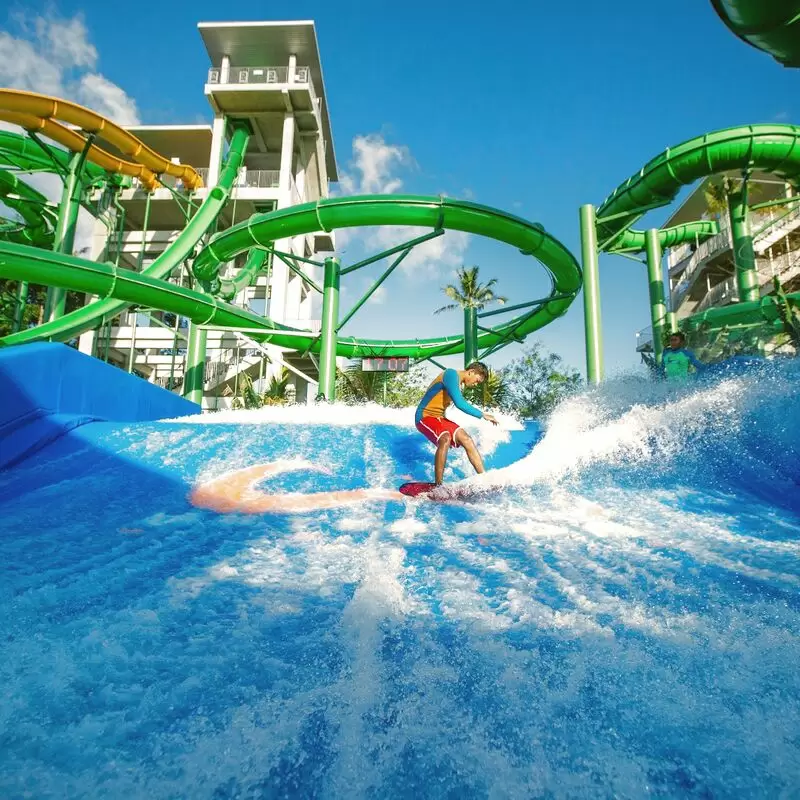 Waterbom Bali
Jl. Kartika Plaza, Tuban, Kec. Kuta, Badung Regency
Monday - Sunday: 9:00 AM – 6:00 PM
9. Sangeh Monkey Forest

Immerse yourself in the enchanting world of Sangeh Monkey Forest, a must-see for nature lovers! Here you will have the unique opportunity to interact with hundreds of mischievous but fascinating long-tailed macaques in their natural habitat.

Insider tip: They love bananas, so be ready! Also explore the sacred 17th-century temple of Pura Bukit Sari, located in the forest. Just a short drive away is the quaint village of Blayu, where you can experience authentic Indonesian culture and crafts. Perfect for a day of adventure!

Sangeh Monkey Forest
Jl. Brahmana, Sangeh, Kec. Abiansemal, Badung Regency

Monday - Sunday: 8:00 AM – 5:00 PM
10. Seminyak Beach
Seminyak Beach, glistening under the Indonesian sun, is an absolute must visit. With its golden sands and turquoise waters, it is the perfect place to sunbathe or surf the playful ocean waves. Experience enchanting sunsets and enjoy the island's delicacies at the beachfront restaurants. Just a stroll away is Pura Petitenget, a historic sea temple with impressive architecture - a charming contrast to modern and chic Seminyak. Come and be enchanted by this tropical paradise!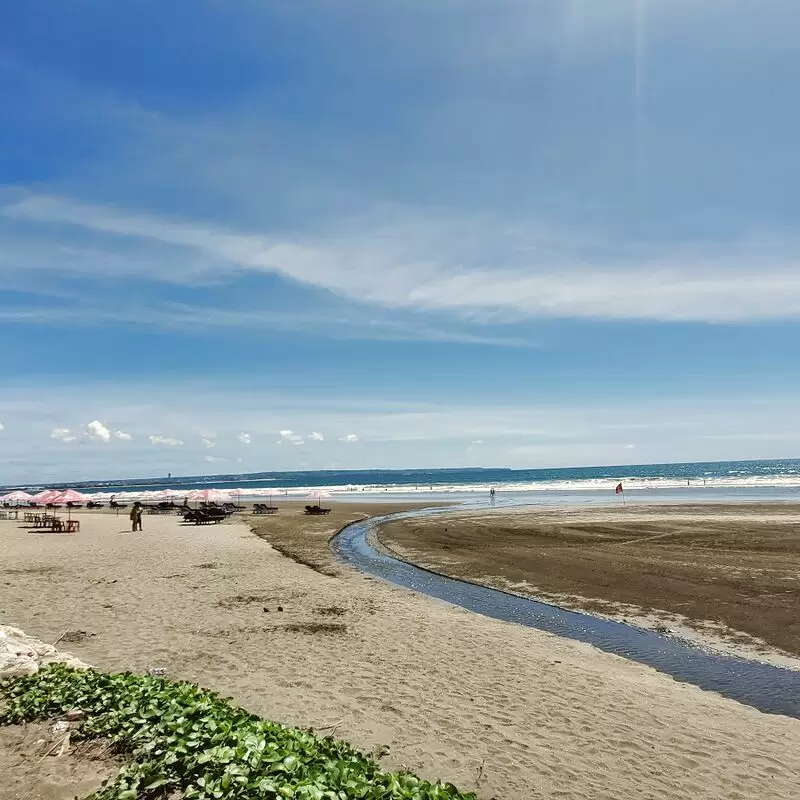 Seminyak Beach
Seminyak Beach, Bali
11. Desa Potato Head
Desa Potato Head is a true experience when visiting Seminyak. This sprawling cultural and entertainment complex is a treat for the senses, offering everything from chic bars to top-notch restaurants. The architecture itself, intricately designed with eco-friendly materials, is an Instagrammer's delight. Soak up the vibrant tropical ambiance with a delicious cocktail or take in the sunset from the beach club, which resembles an amphitheater. When you settle in Seminyak, you're just a stone's throw from the ancient temple complexes of Pura Petitenget - a perfect blend of spiritual heritage and modern indulgence.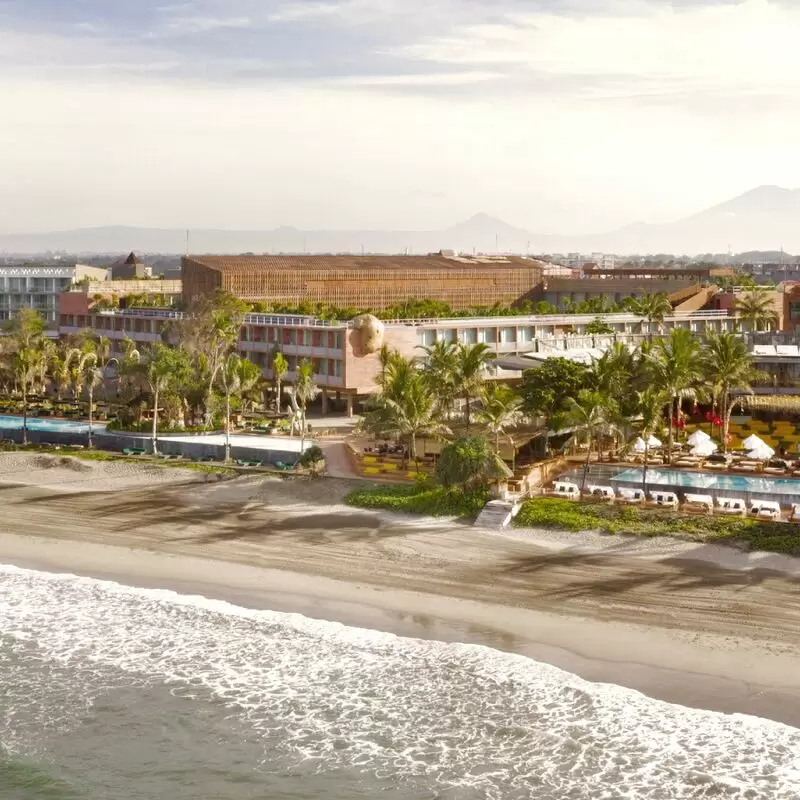 Desa Potato Head
Jl. Petitenget No.51B, Kerobokan Kelod, Kec. Kuta Utara, Badung Regency
Monday - Sunday: 9:00 AM – 2:00 AM
12. The Seminyak Beach Resort & Spa
The Seminyak Beach Resort & Spa" is a breathtaking paradise that enchants with its exotic ambience. The resort is a spa lover's delight, offering traditional Balinese treatments with panoramic sea views. If you fancy a romantic dinner on the beach, the Al-fresco restaurant will impress you! Don't miss the spectacular sunset from the infinity pool, a lesser known gem. Nearby is the Pura Petitenget Temple, a visually appealing cultural marvel and a must-see for learning about Bali's rich heritage.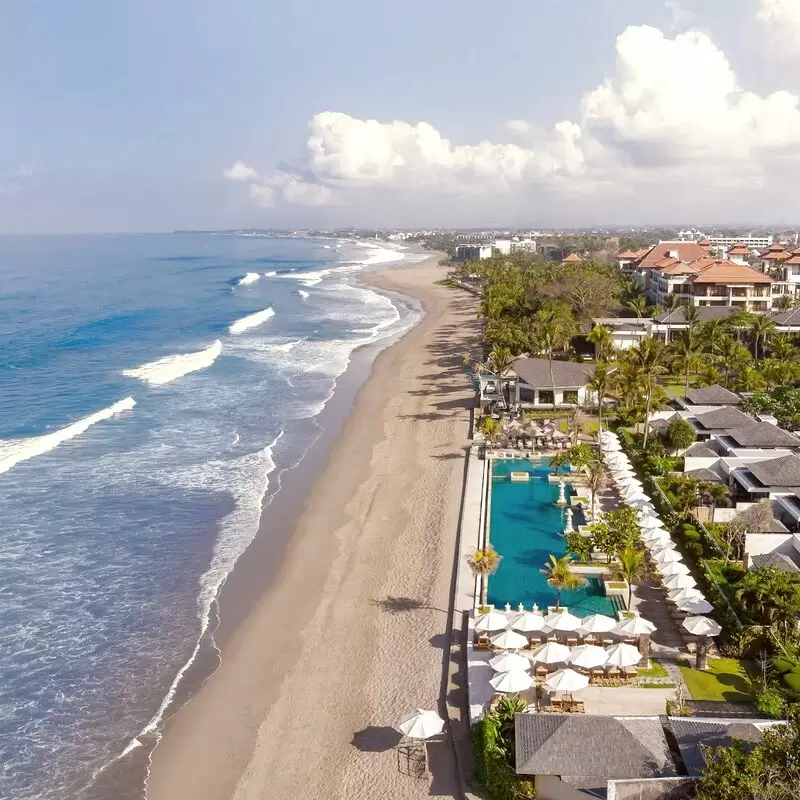 The Seminyak Beach Resort & Spa
Jl. Kayu Aya, Pantai Seminyak, Kuta, Seminyak, Kec. Kuta, Badung Regency
13. The Legian Seminyak Bali
The Legian Seminyak, Bali is a tropical paradise right on Seminyak beach, offering pure luxury and stunning sea views. It features an exquisite sunset lounge that is not to be missed! Local tip: try the "Legian Luxury" cocktail. The hotel is known for its personalized service, ensuring that every guest is treated like royalty. And just a short walk away is Seminyak Square, a center full of classy boutiques and restaurants that combine local charm and international sophistication.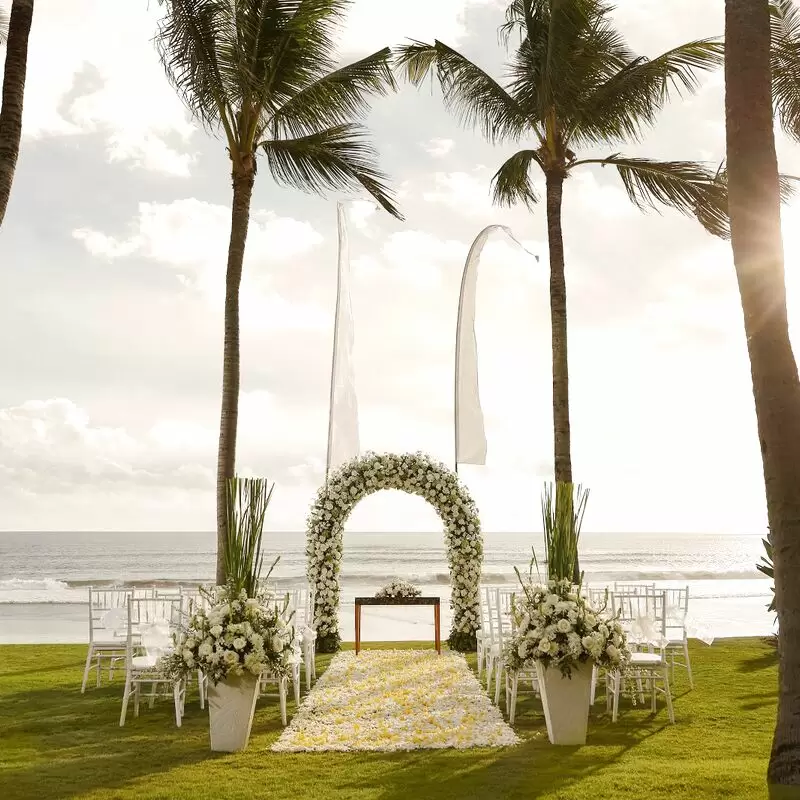 The Legian Seminyak Bali
Jl. Kayu Aya, Seminyak, Kec. Kuta, Badung Regency
Monday - Sunday: Open 24 hours
14. Sukawati Art Market
Immerse yourself in local Balinese culture at Suwakati Art Market. Dubbed the "goldmine of Bali," this bustling market offers an array of handmade crafts, traditional kites, stylish batiks and silk scarves. Use your bargaining skills, as prices here are not set in stone! Just a short drive away is the enchanting Tegenungan Waterfall, a hidden paradise that invites you to take a refreshing dip. Take the opportunity to mingle with the locals at the colorful market and experience their rich culture and tradition.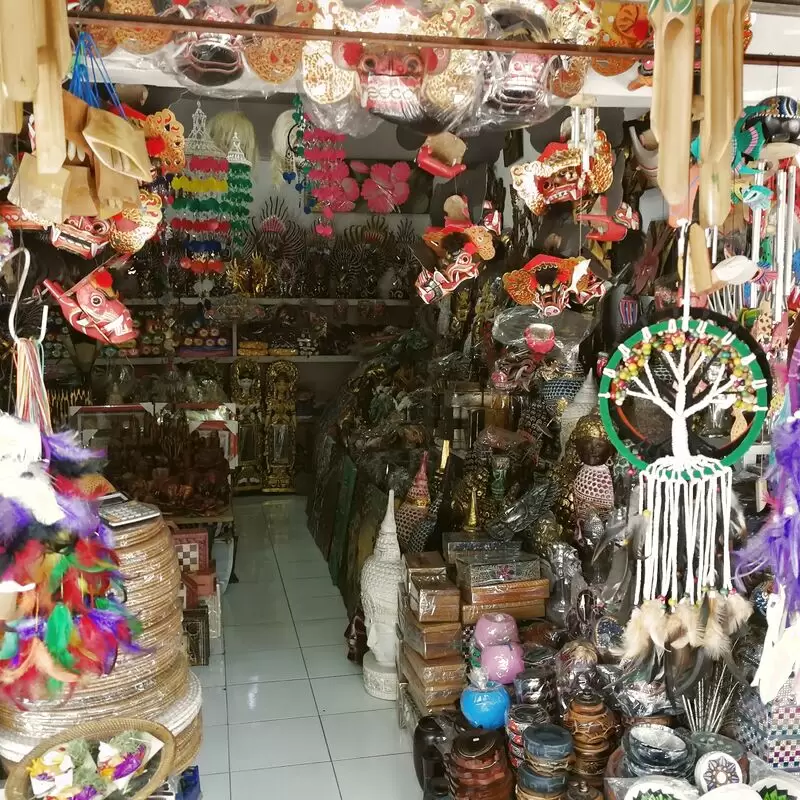 Sukawati Art Market
Jalan Raya Sukawati, Sukawati, Kec. Sukawati, Gianyar Regency
Monday - Sunday: 6:00 AM – 6:00 PM
15. YukmariGO BALI TOUR PRIVATE DRIVER HIRE & ACTIVITY Water Sport Rafting ATV Quad Bike Organizer
A visit to YukmariGO BALI TOUR is an exciting and fun way to explore the hidden beauty of Seminyak. With adventures such as water sports, rafting and ATV quad biking, it is a must for thrill seekers. The experienced guides will ensure a safe yet fast-paced experience that you won't forget. Don't miss the opportunity to ride a quad bike through the breathtaking tropical surroundings of Seminyak. After the adrenaline rush, indulge in Seminyak's nearby chic boutiques and world-class restaurants.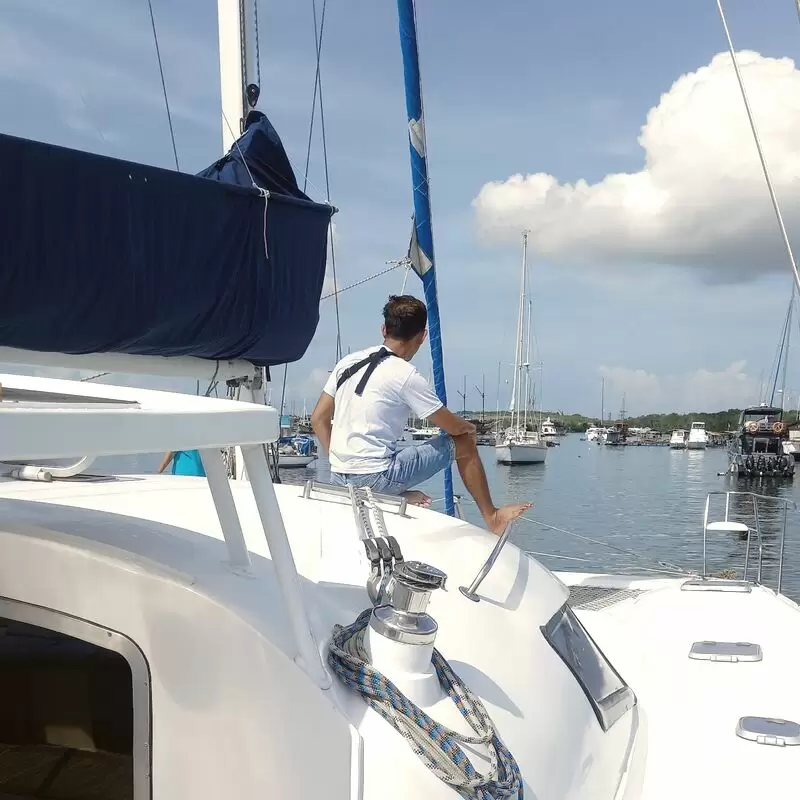 YukmariGO BALI TOUR PRIVATE DRIVER HIRE & ACTIVITY Water Sport Rafting ATV Quad Bike Organizer
Jalan Raya Gg. Bebek No.118 F, Kerobokan Kelod, Kec. Kuta Utara, Badung Regency
Monday - Sunday: Open 24 hours
16. Leke Leke Waterfall
Discover the alluring beauty of Leke Leke Waterfall, a hidden treasure in the lush jungles of Bali. A little-visited place, the descent offers you peaceful exclusivity. Let the misty rains envelop you, experience the heavenly tranquility, and take Instagram-worthy photos with the curtain-like waterfall as your backdrop. Nearby is the enchanting Ulun Danu Beratan Temple, an important water temple to explore. Also, enjoy authentic Balinese cuisine at the local warungs for an unforgettable experience.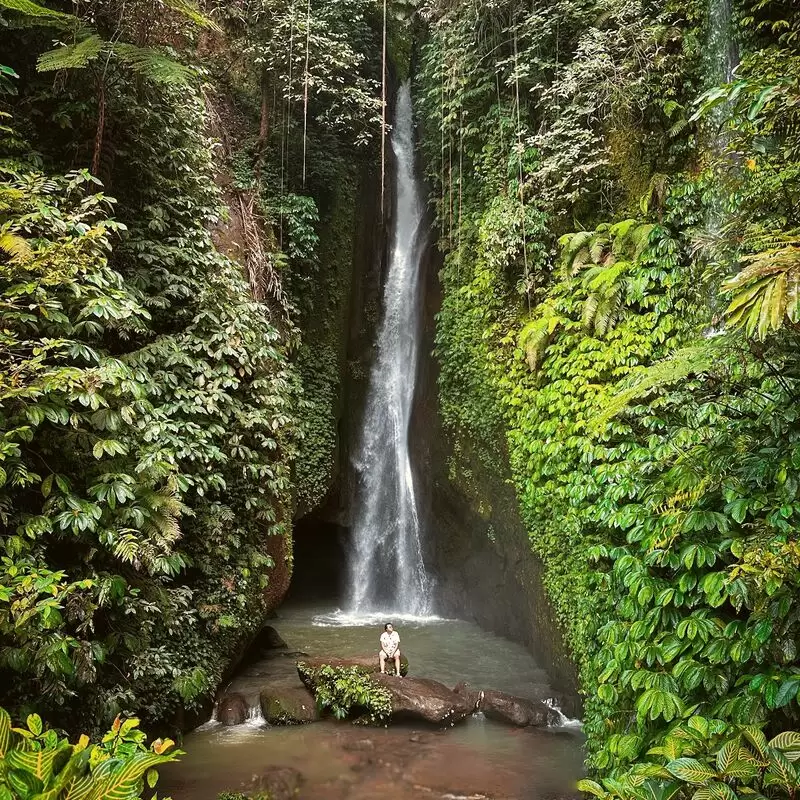 Leke Leke Waterfall
J5PW+7W7, Antapan, Baturiti, Tabanan Regency
17. Art Market Kumbasari
The Kumbasari Art Market is a must-visit spot in Seminyak. This lively market is a haven for local handicrafts and offers a treasure trove of artwork, beautiful textiles and handmade jewelry. It's a bargain hunter's paradise - here you can show off your haggling skills and secure some unique souvenirs! Just a stone's throw away is the magnificent Badung River, offering beautiful scenery. The market is usually bustling from dawn until late afternoon - perfect to incorporate into your itinerary! Don't forget to try traditional Indonesian snacks from street vendors.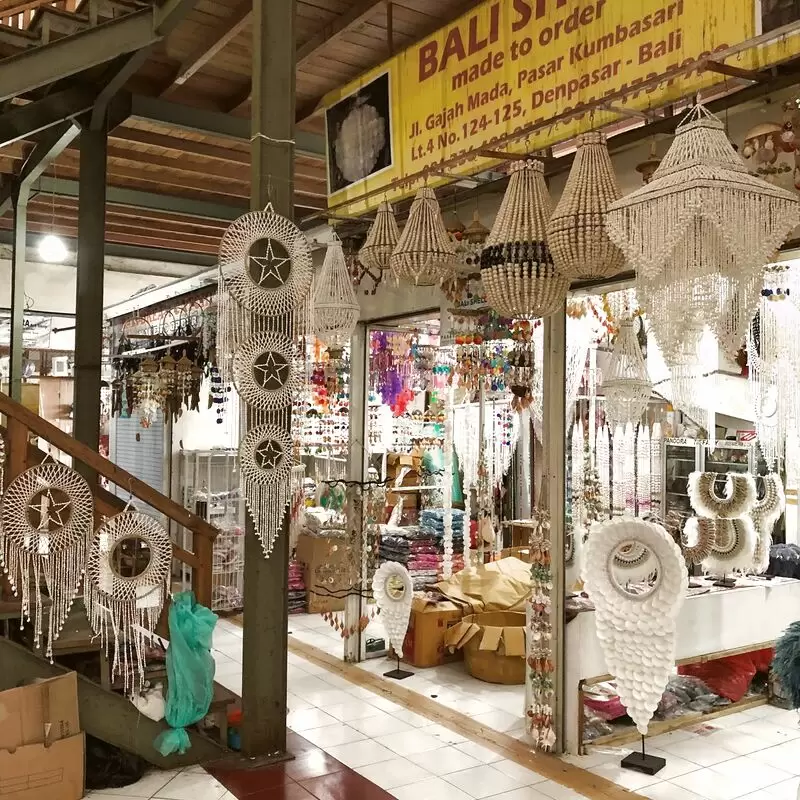 Art Market Kumbasari
Jl. Gajah Mada, Pemecutan, Kec. Denpasar Bar., Denpasar City
Monday - Sunday: 9:00 AM – 5:00 PM
18. Seminyak Village
Seminyak Village is a must-see in Seminyak! This upscale shopping complex is full of high-end boutiques and an array of trendy cafes and restaurants. At Seminyak Village, you'll find the perfect beachwear, chic jewelry or local souvenirs. Then, if you visit the multi-screen movie theater, you'll have hours of fun. Oh, and rumor has it there's a secret rooftop spot with breathtaking views! Near the Village is the "Seminyak Beach", which is only a 5-minute walk away and offers exotic Bali sunsets.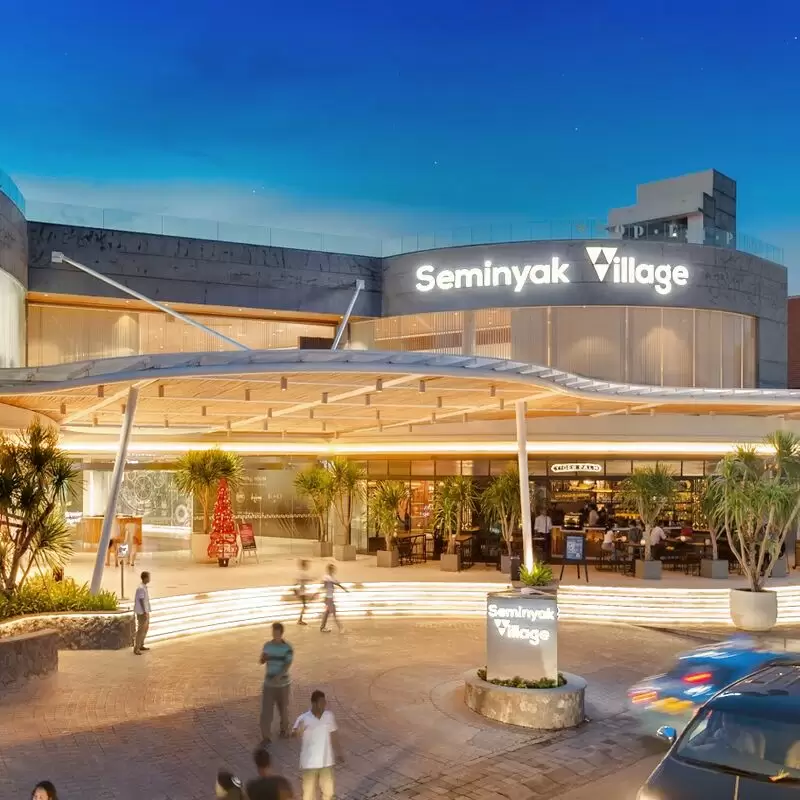 Seminyak Village
Jl. Kayu Jati No.8, Seminyak, Kec. Kuta, Badung Regency
Monday - Sunday: 10:00 AM – 10:00 PM
19. Pantai Double Six

Pantai Double-Six is an exquisite tapestry of turquoise waves and sandy shores that promises the quintessential tropical experience in Seminyak. It's the ultimate place to admire breathtaking sunsets - an experience made even better with a cool drink from the nearby beach bars.

Insider tip: Be prepared for lively soccer matches on the beach as the sun goes down. It's also just a stone's throw from iconic Legian Street, making it the perfect combination for beach and shopping lovers.

Pantai Double Six
Double Six Beach, Legian, 8526+XVJ, Jl. Double Six, Seminyak, Kec. Kuta, Badung Regency

Monday - Sunday: Open 24 hours
20. Dharmayana Temple
The Dharmayana Temple in Seminyak is a colorful Buddhist shrine that is barely visible to the public. A stunning counterpart to the bustling district, it lures visitors with its deeply spiritual aura, intricate architecture, and tranquil gardens. An insider's tip is the lively Vesak celebration that takes place every year. Also, Pura Masceti, a sacred Balinese Hindu temple, is just a stone's throw away, offering the opportunity to experience Indonesia's rich cultural diversity in one fell swoop.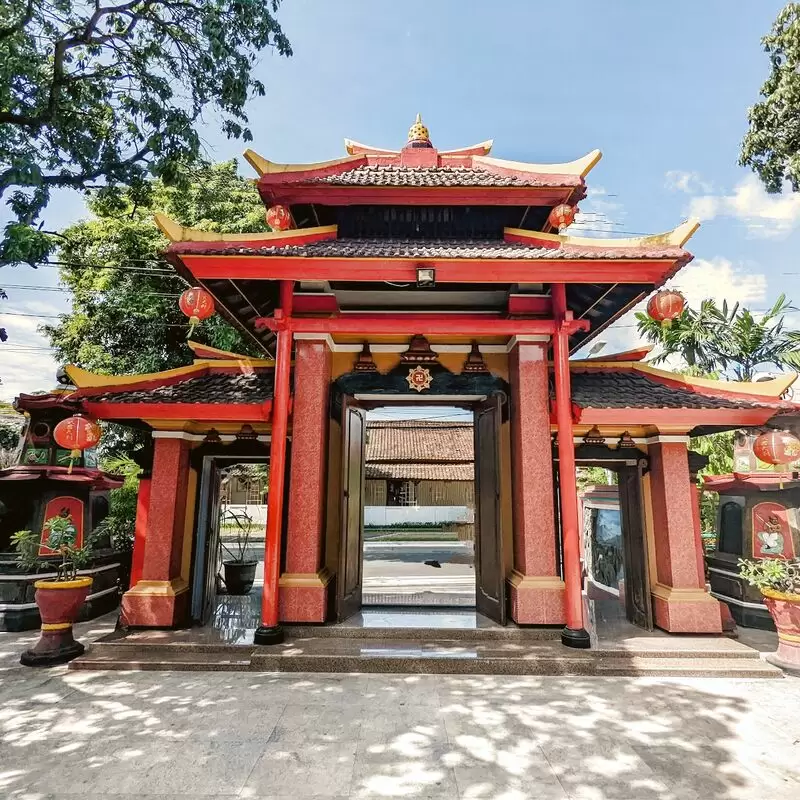 Dharmayana Temple
75GH+F52, Jl. Blambangan, Legian, Kec. Kuta, Badung Regency
Monday - Sunday: 9:00 AM – 8:00 PM
21. Bali Wake Park

Bali Wake Park, a hidden gem in Seminyak, offers a rush like no other - wakeboarding! This adrenaline-pumping water sport is suitable for all ages and skill levels and makes for a heart-pounding adventure. Instructors provide guidance and make it safe for novices. Ditch the conventional surf and cause a stir with your wild wakeboarding stunts.

Insider tip: Don't miss the sunset view from the park's floating restaurant. Nearby, you can explore the Balinese countryside through the mangrove forest that surrounds the park.

Bali Wake Park
Jl. Raya Pelabuhan Benoa No.7X, Pedungan, Denpasar Selatan, Denpasar City

Monday - Sunday: 10:00 AM – 6:00 PM
22. Seminyak Driver Bali Private Tour Service
Visiting "Seminyak Driver - Bali Private Tour Service" is an absolute must in Seminyak! With this service, you will get a customized Bali experience tailored to your interests. Your driver doubles as your guide, showing you local insights and hidden treasures in Seminyak and beyond. You'll also be driven in comfort and style. Nearby, you can explore stylish Petitenget Street, known for its upscale boutiques, vibrant nightlife and exquisite restaurants.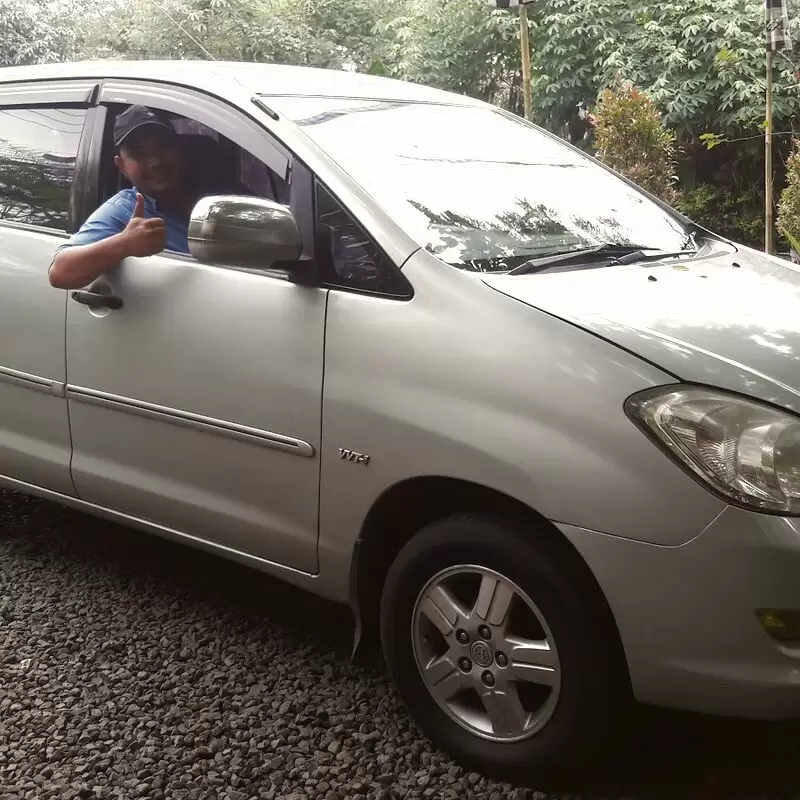 Seminyak Driver Bali Private Tour Service
Jl. Raya Seminyak No.468, Seminyak, Kec. Kuta, Badung Regency
Monday - Sunday: Open 24 hours
23. Jambe Asri Agrotourism

At Jambe Asri Agrotourism, you can experience the traditions of Indonesian agriculture firsthand. From roasting your own coffee, known as Kopi Luwak, to tasting fresh tropical fruits, this place is a treat for the senses! Nestled in lush greenery, it's an ideal spot for nature and photography enthusiasts.

Insider tip: Don't miss the chocolate nibbles in a variety of flavors. Not far away is the ATTA Rainforest Camp, an ecological retreat perfect for a relaxing getaway after farm work.

Jambe Asri Agrotourism
jl. Pura dalem, Tegaltamu Batubulan, Batubulan, Kec. Gianyar, Gianyar Regency

Monday - Friday: 8:00 AM – 6:00 PM
Saturday - Sunday: 9:00 AM – 6:30 PM
24. Seminyak Square

Seminyak Square is a vibrant haven with a colorful mix of classy boutiques, restaurants and bars. Everything from local handicrafts to designer jewelry is offered here. The square is not only a shopping arena, but also the center of city life, where local festivities often take place.

An insider tip: Don't miss the night market, held every Friday and Saturday, which offers a smorgasbord of local food. Just a stone's throw away is the famous Petitenget Temple, steeped in local history and serene spirituality.

Seminyak Square
Jl. Kayu Aya No.1, Seminyak, Kec. Kuta, Badung Regency

Monday - Sunday: 10:00 AM – 10:00 PM
25. Kayumas Seminyak Resort
For an incomparably luxurious stay, Kayumas Seminyak Resort is a must! It offers first-class villas with private pools that provide the ultimate in privacy. Guests rave about the personalized service and the tropical, tranquil setting that transports you to paradise. Don't miss the signature Balinese spa treatments. Nearby are Seminyak's vibrant shopping scene, the famous Seminyak Beach, and the beautiful Petitenget Temple, making your Indonesia experience even more charming.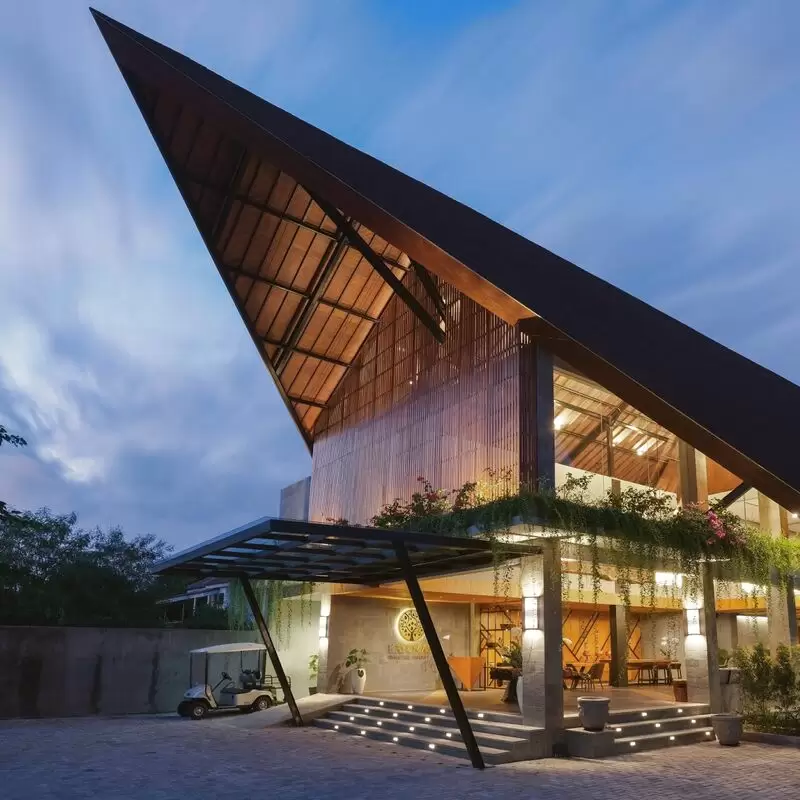 Kayumas Seminyak Resort
Jl. Pura Telaga Waja No.18A, Kerobokan Kelod, Kec. Kuta Utara, Badung Regency
Monday - Sunday: Open 24 hours
26. Bali Tourist Guide

Seminyak offers a luxury beach vacation with an upscale atmosphere. Luxurious resorts, world-class shopping and a lively dining scene characterize the landscape.

Check out the "Bali Tourist Guide" for insider tips on hidden restaurants and the best spa treatments. Nearby, you can explore the vibrant nightlife of Kuta or surf the world-famous waves of Uluwatu. Art lovers should travel a little further to Ubud, Seminyak's culturally rich cousin. The excitement never stops in this Indonesian paradise.

Bali Tourist Guide
Jl. Kartika Plaza, Kuta, Kec. Kuta, Badung Regency

Monday - Saturday: 8:00 AM – 9:00 PM
Sunday: 8:00 AM – 10:00 PM
Best Time to Visit Seminyak
The best time to visit Seminyak, Indonesia, is the dry season from April to September. The weather is pleasant for beach activities, sightseeing and water sports. Avoid the high season in July and August, when there are fewer crowds.
Annual Weather in Seminyak
Seminyak 3-Day Forecast
Tue, 26 September
Night
77 °F
25 °C
84%
Morning
75 °F
24 °C
83%
Afternoon
78 °F
26 °C
0%
Evening
79 °F
26 °C
0%
Wed, 27 September
Night
78 °F
25 °C
81%
Morning
77 °F
25 °C
0%
Afternoon
78 °F
26 °C
0%
Evening
79 °F
26 °C
0%
Thu, 28 September
Night
78 °F
26 °C
85%
Morning
78 °F
26 °C
67%
Afternoon
79 °F
26 °C
0%
Evening
79 °F
26 °C
0%
Questions & Answers

What languages are commonly spoken in Seminyak?

In Seminyak, Indonesia, the most commonly spoken language is Bahasa Indonesia, the official language of the country. Many locals also speak Balinese, a regional language spoken mainly on the island of Bali. However, due to Seminyak's status as a popular tourist destination, there are also many people who communicate in English, especially in areas such as hotels, restaurants and tourist attractions.

Is Seminyak safe for tourists?

Seminyak, like most tourist areas in Indonesia, is generally safe for tourists. However, it is always important to exercise a degree of caution and common sense when traveling. Petty crimes such as pickpocketing or purse snatching can occur, especially in busy areas. Always keep your belongings safe and avoid remote areas at night. Locals are friendly and the police presence is felt, which gives a sense of security. Be aware of your surroundings and follow local guidelines to enjoy a safe and enjoyable stay.

What's the food like in Seminyak?

Seminyak is a true paradise for foodies, offering a variety of local and international dishes. The flavorful traditional Balinese dishes such as Babi Guling (suckling pig), Nasi Campur and Satay are a must try. Seafood lovers can enjoy fresh, locally caught delicacies. Italian, Mexican and other global flavors are also well represented here. The neighborhood also boasts a trendy café culture and is known for its vibrant nightlife with lively bars and clubs.

How do public transport options work in Seminyak?

In Seminyak, local cabs are the most reliable form of public transportation. Cabs with taximeters can be hailed directly on the street, although using ride-hailing apps such as GoJek or Grab offers more convenience and price certainty. Bemo, a local minivan/shuttle, is another public transportation option, although it is less reliable. However, public transportation does not cover every corner of Seminyak. For a more personalized travel experience, rent a scooter or bicycle.

Do I need a visa to visit Seminyak?

Whether you need a visa for Seminyak, Indonesia depends on your nationality and the duration of your visit. Many countries such as the US, UK, Australia and Canada grant visa-free entry for up to 30 days. However, if you are planning a longer stay, you will need a visa, which you can obtain upon arrival. Please check with your local Indonesian embassy or consulate for the most accurate and up-to-date information.

Are credit cards widely accepted in Seminyak?

In Seminyak, credit cards are accepted in most places, including hotels, restaurants and upscale stores. Visa and Mastercard are the most commonly accepted cards. However, smaller stores, local markets or transportation companies may only accept cash. Therefore, it is advisable to have some Indonesian Rupiah on hand. Note that credit card transactions may incur fees.

Is Seminyak family-friendly?

Yes, Seminyak is a family-friendly destination in Indonesia. This upscale beach resort is full of family-friendly activities, including captivating cultural performances, safe and clean beaches for kids to play on, and plenty of shopping centers. There are also a variety of dining options here to suit all tastes. In addition, many resorts and villas in Seminyak offer family rooms and child care services to ensure an enjoyable stay for the whole family.

Can I drink the tap water in Seminyak?

Although tap water is not recommended for consumption in Indonesia due to possible contamination, many hotels and resorts in Seminyak offer purified water in guest rooms. Travelers are advised to drink bottled or purified water, which is widely available in the area, to avoid the risk of waterborne diseases. You may also consider boiling water or using purification devices.

Are there dressing codes in Seminyak?

There is no strict dress code in Seminyak, Indonesia, and casual beachwear is perfectly acceptable given the coastal location and warm climate. However, it is recommended to respect local customs. This includes covering shoulders and knees when visiting religious sites such as temples. In upscale restaurants and clubs, dressy casual attire is the norm. Bikinis and swimwear are best for the beach or hotel pool. Always dress comfortably and be mindful of the humidity and heat.

Is there WiFi available throughout Seminyak?

Yes, WiFi is widely available in Seminyak, Indonesia. Most hotels, restaurants, cafes and even many public areas like beaches and shopping malls offer free WiFi to their customers. However, the connection might not be as stable or fast as you are used to. If you want a more reliable connection, consider buying a local SIM card with data access.

What is the currency in Seminyak?

The official currency in Seminyak, as in all of Indonesia, is the Indonesian Rupiah (IDR). It is advisable to have some cash on hand for small transactions, although credit cards are accepted in most places such as hotels, restaurants and shopping centers. While there are many ATMs and money changers, be sure to visit reputable money changers to avoid fraud or counterfeit money.

How is the nightlife in Seminyak?

Nightlife in Seminyak is lively and eclectic, offering a mix of upscale clubs and beach bars. There are live music venues, cozy pubs and stylish rooftop bars. Seminyak is known for its chic beach clubs and offers visitors the chance to admire the mesmerizing sunsets while sipping a well-mixed cocktail. Whether you want to spend a relaxing evening or an energetic night of dancing, Seminyak's diverse nightlife is sure to impress you.

Is it customary to tip in Seminyak?

Tipping is not common in Seminyak, Indonesia, as most restaurants and hotels include a service charge in the bill. However, if you receive outstanding service or if the staff does more than the usual, a small tip is greatly appreciated. Give the tip in cash and directly to the person who served you. Generally, a 10 percent tip is considered generous.

Are there healthcare facilities in Seminyak?

Yes, Seminyak, a popular tourist hotspot in Indonesia, offers various healthcare facilities. These range from small clinics to larger hospitals. Hospitals such as Bali Med Hospital and Prime Plus Medical offer a full range of services, including emergency care. There are also numerous pharmacies in the region. Although healthcare is of a high standard, visitors are advised to take out adequate travel insurance to cover any medical expenses.

What are the local customs and traditions?

In Seminyak, as in the rest of Indonesia, the locals are known for their warmth and hospitality. Shaking hands is common, but it is important to use the right hand, as the left is considered unclean. It is common for people to greet each other with a prayer-like gesture called "sembah". Traditional Balinese clothing is worn at festivals. Religion plays an important role, and ceremonies and offerings are part of daily life. Small handmade palm leaf baskets ("canang sari") filled with flowers and incense are often seen being offered to the gods. Art, music and dance are integral parts of the culture.

Are there vegetarian or vegan food options in Seminyak?

Absolutely! Seminyak, Indonesia, is a vegetarian and vegan paradise with numerous restaurants specializing in plant-based diets. Yogi's Paradise and Grill offers a full vegan menu, while Earth Cafe Seminyak serves a mix of vegetarian and vegan options. The popular Zula Vegetarian Paradise offers a wide range of vegetarian and largely vegan dishes from breakfast to dinner. There are many other options throughout Seminyak, offering everything from traditional Indonesian cuisine to Western dishes.

Is Seminyak suitable for disabled travelers?

Seminyak, Indonesia, is generally suitable for disabled travelers as several hotels, restaurants, and attractions offer provisions for their needs. The sidewalks can be somewhat difficult due to the uneven surfaces. However, transportation services such as cabs and private drivers are readily available. Beaches may be less accessible, but some resorts offer beach wheelchairs. Despite some minor issues, Seminyak offers a welcoming and accommodating environment to all visitors. In any case, check with your accommodation for their special facilities.

Are there English-speaking guides available in Seminyak?

Yes, Seminyak is a popular destination for international travelers and offers many English-speaking travel guides. They are available through several travel agencies that cater to foreigners. These guides offer in-depth knowledge of the local culture, attractions, and gastronomy. They help foreigners find their way around the city and help them enjoy and understand the beautiful Indonesian area as much as possible.

Can I rent a car or scooter in Seminyak?

Yes, you can rent cars as well as scooters in Seminyak, Indonesia. Numerous service providers offer a wide range of vehicles to choose from. Before renting, make sure you have an international driver's license. For scooters, you do not need a special driver's license unless they are vehicles over 50 cc. Always remember to follow local traffic rules and wear a helmet for your safety when driving a scooter. Take out insurance to cover any incidents that may occur.

Is there any risk of malaria or other diseases in Seminyak?

Although Bali, including Seminyak, is generally not considered a high risk area for malaria, there is always a small risk. It is recommended to take the necessary precautions against mosquito bites. Dengue fever, which is transmitted by mosquitoes, is more common but still relatively low risk. Always consult a doctor about vaccinations and other precautions before traveling. Maintain good hygiene to avoid food- and water-borne illnesses.

What are the rules for smoking in public places in Seminyak?

In Seminyak, Indonesia, strict laws apply to smoking in public places. Smoking is prohibited in public buildings, restaurants, shopping malls, public transportation, and outdoor areas such as parks and tourist sites. However, many establishments have designated smoking areas. Violations of these laws can result in fines. It is advisable to look for signs or ask permission before lighting up. This is for your comfort as well as the health and enjoyment of others.

What type of electrical plug is used in Seminyak?

In Seminyak, Indonesia, the standard voltage is 230 V, while the standard frequency is 50 Hz. The power plugs and sockets are mainly type C and type F, similar to those in Europe. If your device uses a different type of plug, you will need an adapter. Remember to also check the voltage your device can handle to avoid damage.

Are there any specific local laws that tourists should be aware of?

In Seminyak, Indonesia, it is important to remember that drugs are strictly prohibited and the consequences are severe, including the possible death penalty for traffickers. Showing affection in public is considered rude. Nudity and topless sunbathing are not allowed, even on the beach. Also, you should ask permission before photographing anyone. It is also illegal to tear or damage the local currency or flag. Make sure that your tourist visa is always valid, as overstaying can result in heavy fines.

What are the emergency numbers in Seminyak?

In Seminyak, as in the rest of Indonesia, you can reach the police by dialing 110, ambulance and medical services by dialing 118 or 119, and the fire department by dialing 113. If you need to contact the search and rescue service, dial 115. The tourist police, who specifically cater to the needs of tourists, can be reached in the Bali region, including Seminyak, by dialing (0361) 754599. Remember that these numbers can be dialed free of charge from any phone.

Is there a specific etiquette to follow while visiting temples in Seminyak?

Visiting temples in Seminyak, such as the Petitenget Temple, requires respect and observance of customs. Always dress appropriately; this usually includes a long sarong and a sash around the waist. Never point your feet at the shrines or statues - this is considered disrespectful. If you attend ceremonies, follow the instructions of the locals. Finally, do not enter if there is a black and white cloth tied around the entrance, as this means a ban on visitors.

Feedback

I hope you found this article informative and helpful. I'm eager to improve the content and make it even more valuable for you. If you have any feedback or suggestions, I would love to hear from you.

Do you have any tips or hidden gems that you think should be added to the list? Are there any areas that you feel could use more explanation or clarification?

Your input is greatly appreciated and will help us to continue providing high-quality content that meets your needs and interests. Please feel free to share your thoughts.