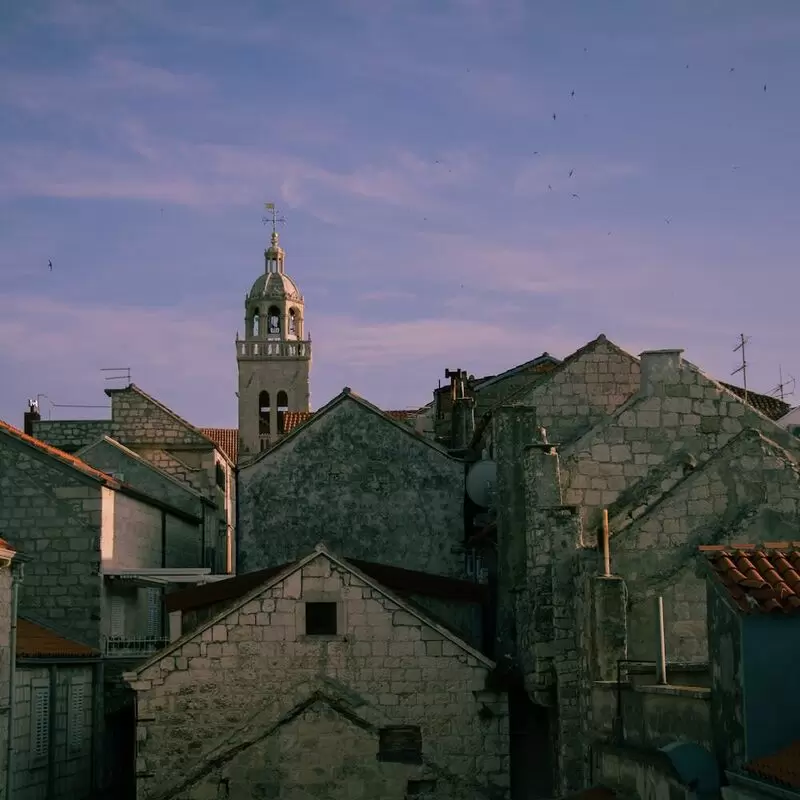 1. Korcula Town Gate

As you make your way through the charming streets of Korcula, don't miss the impressive Korcula City Gate. This ancient entrance to the city is the perfect place to snap a photo or two and take in the beauty and history of the area. The ornate carvings and details on the gate itself will delight you, as will the breathtaking view of the town and the sea beyond.

Insider tip: After passing through the gate, stroll around the fortifications for an even better view. Don't miss the opportunity to visit this attraction in Korcula city.

Korcula Town Gate
Ul. Korčulanskih domobrana 6, 20260, Korčula

Monday - Sunday: Open 24 hours
2. Pupnatska Luka Beach

Pupnatska Luka beach is a hidden gem that will capture your heart with its crystal clear waters, white pebble beach and breathtaking views. Nestled in a stunning bay, this beach is perfect for swimming, snorkeling or just enjoying the beautiful surroundings. Locals consider it one of the best beaches on the island of Korcula, but it is less known to tourists, making it a quiet and relaxing destination.

Insider tip: Get there early to secure a spot for the day. If you're feeling adventurous, you can climb the hill behind the beach for stunning views of the Adriatic Sea. Don't miss this idyllic spot during your visit to Korcula! Another nearby attraction is the charming village of Pupnat with its traditional stone houses and historic church.

Pupnatska Luka Beach
20274, Pupnat

Monday - Sunday: Open 24 hours
3. St. Mark's Church
Discover the breathtaking beauty of St. Mark's Church, which is a must-see in Korcula, Croatia. This magnificent Gothic and Renaissance style church was built in the 15th century and is one of the most impressive structures in the city. Admire the intricate stonework and elegant architectural details of the church's facade, and step inside the stunning interior where you can admire the impeccable restoration work on the frescoes. After your visit, be sure to visit the nearby Marco Polo Museum and discover the fascinating story of one of Corcula's most famous sons.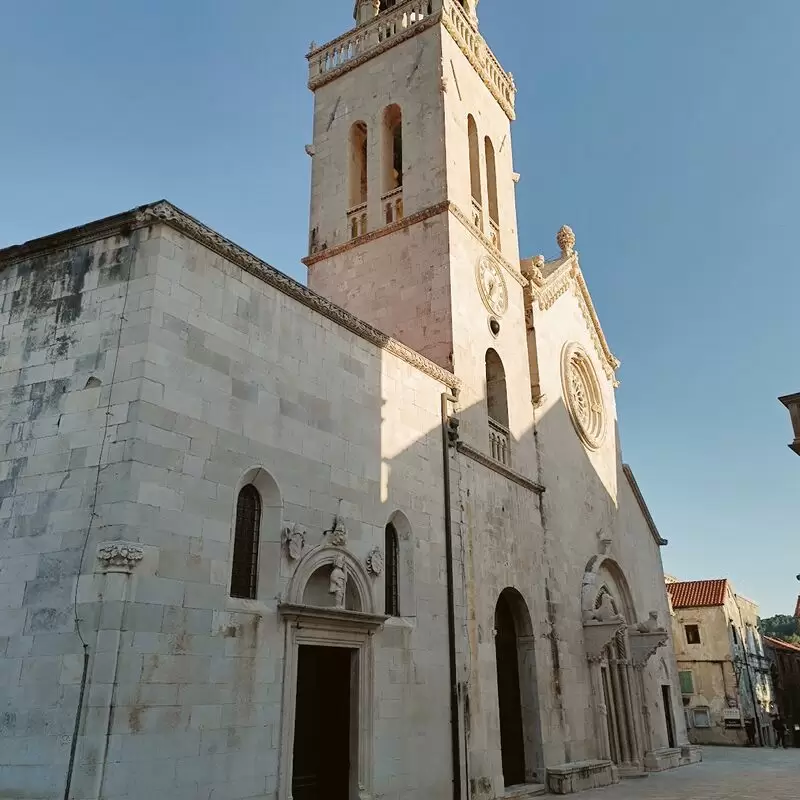 St. Mark's Church
20260, Korčula
Monday - Sunday: Open 24 hours
4. Bačva Beach

Bačva beach in Korcula is a hidden gem that you should not miss during your visit to the island. It is a secluded beach surrounded by lush vegetation, with crystal clear waters perfect for swimming and snorkeling. The small pebbles under your feet, the soothing sound of the waves and the warm sun on your skin will transport you to a world of pure relaxation.

Insider tip: Bring a picnic and plenty of water, as there are no restaurants or stores nearby. If you are looking for a bit of adventure, visit the nearby Vela Spila cave, one of the oldest archaeological sites in Europe.

Bačva Beach
Uvala Bačva bb, 20274, Pupnat
5. Vela Spila Vela Luka
If you are looking for a unique experience of Korcula's history, Vela Spila is definitely a must-see attraction. This ancient cave in the town of Vela Luka was once inhabited by prehistoric people about 20,000 years ago. Inside the cave you will find fascinating evidence of human habitation, including a fireplace, tools, animal bones and some impressive wall paintings. As you explore the cave, it is truly amazing to see how many generations of people have inhabited this place. After your visit to Vela Spila, be sure to visit the nearby village of Vela Luka, where you can enjoy delicious local food and charming culture.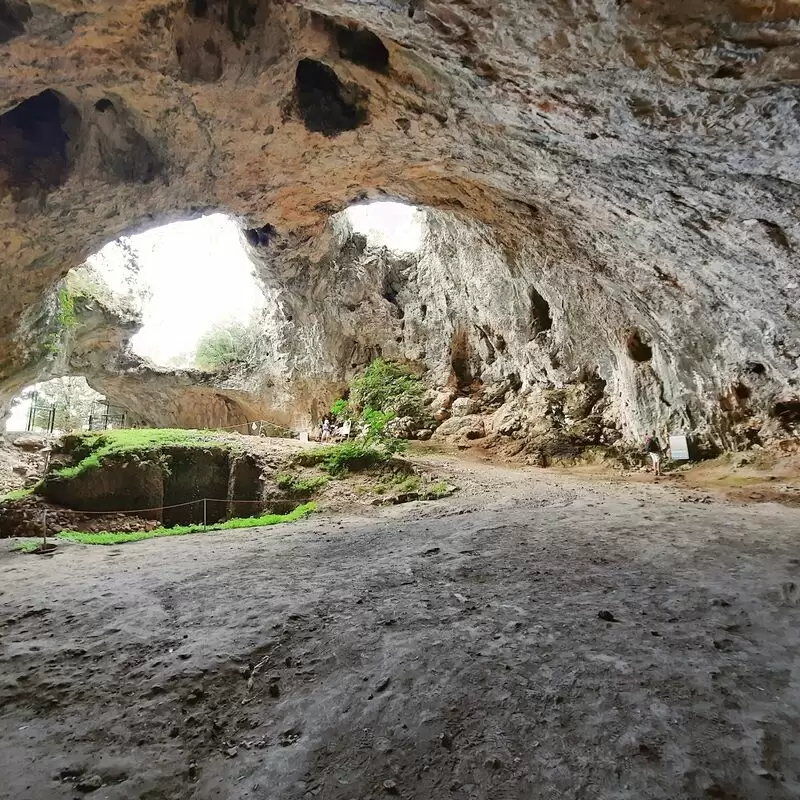 Vela Spila Vela Luka
Ul. 4, 20270, Vela Luka
6. Popić Winery

If you're a wine lover visiting Korcula, you absolutely must visit the Popić Winery. One of the best things about the winery is the breathtaking view of the nearby town of Smokvica - a sight not to be missed while sipping delicious white and red wines. The winery produces some of the best local wines in the region, including Posip and Plavac Mali varieties.

Insider tip: don't forget to try the homemade grappa! If you have time, you can also visit the nearby Smokvica winery, known for its local red wine Smokvica.

Popić Winery
Mala postrana 475, 20263, Lumbarda

Monday - Saturday: 1:00 – 8:00 PM
Sunday: Closed
7. Panorama Korčula

If you are looking for a breathtaking view of the island of Korcula and the Adriatic Sea, then the "Panorama Korčula" is a must for you. This viewpoint is located just outside the town of Korcula and offers a breathtaking panoramic view that will take your breath away. Don't forget to bring your camera, because you'll want to capture the breathtaking beauty of the island from all angles.

Insider tip: Visit the island at sunset for an unforgettable experience. While you're in the area, be sure to also check out the nearby St. Nicholas Church, a beautiful medieval church that also offers breathtaking views.

Panorama Korčula
Ul. 45, 20260, Korčula
8. Great Governor's Tower

The Great Governor's Tower in Korcula is an absolute must-see for anyone traveling to this stunning Croatian island. This historic tower once served to guard the city and now houses a fascinating museum that tells the story of Korcula. From the top of the tower, you can not only enjoy a panoramic view of the beautiful surroundings, but also get a glimpse into the rich history and culture of the region.

Insider tip: Bring comfortable shoes and climb the tower for an unforgettable view! The Marco Polo Museum is just a short walk away and is also worth a visit.

Great Governor's Tower
Obala Franje Tuđmana, 20260, Korčula
9. Posebni rezervat šumske vegetacije Kočje
If you are looking for a quiet retreat and are passionate about nature, a visit to the "Posebni rezervat šumske vegetacije Kočje" in Korcula is an absolute must. In this special reserve of forest vegetation you have the opportunity to explore a species-rich landscape with rare and exotic flora and fauna. On the well-marked trails you will find picturesque picnic spots where you can have your lunch, and from where you will have a magnificent view of the surrounding landscape. And when you finish your tour, be sure to explore the charming village of Smokvica, famous for its locally produced wine, just a stone's throw away.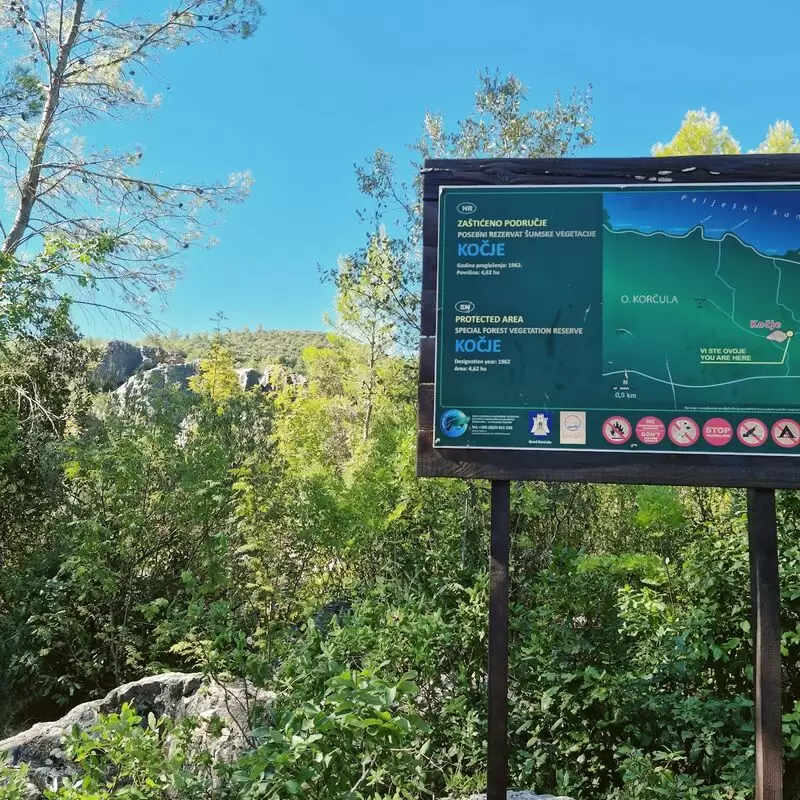 Posebni rezervat šumske vegetacije Kočje
20275, Žrnovo
10. Kanavelić Tower

Kanavelić Tower is a must-see for anyone interested in history and architecture. Its impressive stone construction has stood since the 15th century and is a unique example of Gothic-Renaissance architecture in Korcula. From the tower you have a breathtaking view of the surrounding area, including the red roofs of Korcula town.

Insider tip: Be sure to climb to the top of the tower for an unforgettable panoramic view! Another nearby attraction is the famous St. Mark's Cathedral, which is just a short walk away.

Kanavelić Tower
Unnamed Road, 20260, Korčula
11. Lovrić Winery
If you are a wine lover or simply looking for an authentic local experience, then a visit to Lovrić Winery in Korcula should definitely be on your itinerary. This family-owned winery has been making some of the best wines in the region for generations, using traditional methods passed down from their ancestors. You can take a guided tour of the vineyards, explore the production area, and enjoy a wine tasting of the winery's award-winning wines. Don't miss the red wine Plavac mali, known for its rich and powerful taste. The winery is just a short drive from the stunning old town of Korcula, making it easy to incorporate into your day trip itinerary.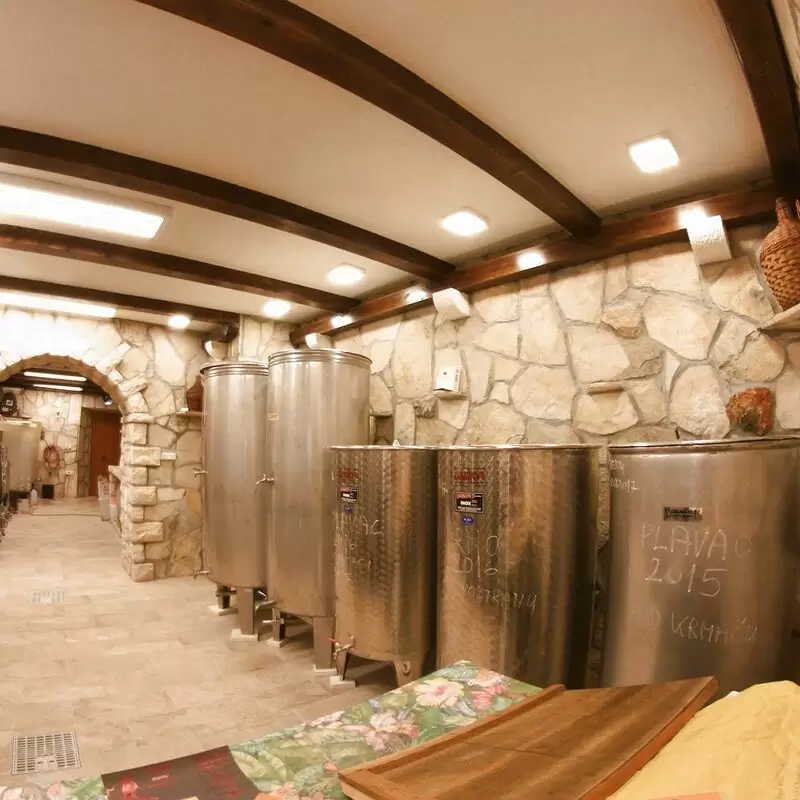 Lovrić Winery
Pension Lovrić, Lumbarda 217/1, 20263, Lumbarda
Monday - Sunday: 4:00 – 7:00 PM
Best Time to Visit Korcula
The best time to visit Korcula are the summer months from June to September, when the weather is warm and sunny and the sea is inviting for swimming. However, the crowds of visitors can be quite large during this time. For a quieter experience, it is recommended to visit the island in the low season in May or October, when the weather is still pleasant and prices are generally lower. Winter is not a popular time to visit, as most tourist establishments are closed.
Annual Weather in Korcula
Korcula 3-Day Forecast
Tue, 26 September
Night
66 °F
19 °C
0%
Morning
67 °F
20 °C
0%
Afternoon
75 °F
24 °C
0%
Evening
75 °F
24 °C
0%
Wed, 27 September
Night
72 °F
22 °C
0%
Morning
68 °F
20 °C
0%
Afternoon
75 °F
24 °C
0%
Evening
75 °F
24 °C
0%
Thu, 28 September
Night
71 °F
22 °C
0%
Morning
67 °F
20 °C
0%
Afternoon
74 °F
23 °C
0%
Evening
71 °F
22 °C
0%
Questions & Answers

Where is the best place to taste local food?

If you want to try authentic local cuisine in Korcula, I recommend visiting a traditional konoba. These are small, family-run restaurants that offer a rustic ambiance and homemade dishes made from local ingredients. One of my favorite konobas is Konoba Mate in the old town of Korcula. Here you can find traditional Croatian dishes like octopus salad, black risotto and grilled fish, accompanied by local wines. It is a great place to enjoy the local cuisine while enjoying the relaxed atmosphere and the view of the Adriatic Sea.

How far is Dubrovnik from Korcula and how to get there?

Dubrovnik is located about 120 kilometers from Korcula. The best way to get there is to take a catamaran or a ferry from Korcula to Dubrovnik. The trip takes about 2-3 hours, depending on the type of ship. Another option is to rent a private boat or a car with a driver for a more personal experience. It is also possible to take a bus from Korcula to Dubrovnik, which takes about 3-4 hours.

Where can I find the best beaches on Korcula?

Korcula has to offer some of the most beautiful beaches in Croatia. One of the most popular and beautiful beaches is Pupnatska Luka on the southern coast of the island. Another good choice is Vela Przina near the village of Lumbarda with its golden sand and crystal clear water. If you prefer something more remote and rustic, you should visit the beaches of the uninhabited island of Badija. And if you are looking for a relaxed and family-friendly beach, you should visit the sandy beaches of Lumbarda, such as Bilin Žal and Tatinja.

What are some traditional festivals in Korcula?

Several traditional festivals take place on Korcula throughout the year, reflecting the island's rich cultural heritage. These include Kumpanija, a sword dance that originated in the 16th century and is performed during Easter processions and on special occasions. Moreska is another traditional dance that depicts a folklore battle between Turks and Christians. The Marco Polo Festival honors the famous explorer said to have been born on the island with reenactments and musical performances. The Fishermen's Nights Festival celebrates Korcula's fishing culture and offers a variety of seafood dishes.

Can I rent a boat or a bike on the island?

Yes, Korcula offers several options for renting a boat or a bike on the island. Renting a boat is a great way to explore hidden coves and beaches on the island, and can be found in most major towns. Renting bicycles is also a popular activity, as Korcula has numerous bike paths that lead through beautiful landscapes. Bike rentals can be found in most towns and villages on the island.

How to get to Korcula from Split or Hvar?

Korcula is a beautiful Croatian island in the Adriatic Sea. To get there from Split, there are two options: either by ferry or by catamaran, with both options leading directly to Korcula town. The ferry takes about three hours, while the catamaran crossing is faster and takes about two hours. From Hvar, the catamaran is the only way to reach Korcula in about one hour and 20 minutes. Prices and schedules may vary depending on the season.

Is it safe to swim in the sea around the island?

Yes, it is generally safe to swim in the sea around the island of Korcula, Croatia. The water is clean and clear, and there are several popular beaches where lifeguards are on duty during the summer season. However, as with any coastal area, swimmers should be aware of potential hazards such as strong currents, sharp rocks and jellyfish. It is also important to heed all warning signs on the beach and always swim within your means. Overall, with the right precautions, swimming in the sea around Korcula can be a safe and enjoyable experience.

Where can I try out water sports on the island?

The island of Korcula offers various water sports activities in its crystal clear waters. You can snorkel or dive to explore the breathtaking underwater scenery and diverse marine life. Windsurfing and kiteboarding are also popular among adrenaline addicts thanks to the constant wind on the island. Paddleboarding, kayaking and canoeing are ideal options for those who want to enjoy the calm and serene waters. On the island's beaches you will find water sports centers, some of which offer equipment rentals, courses and guided tours.

Are there any historical sites in Korcula?

Korcula is a city rich in history and cultural heritage. Among the historical sites you should visit is the Old Town of Korcula, a charming medieval town known for its narrow streets and ancient architecture. The Gothic-Renaissance style St. Mark's Cathedral is also a must-see. Other notable sights include the Tower of All Saints and the Marco Polo Museum, which honors the life and achievements of the famous explorer who was born in Korcula.

Can you recommend a good winery to visit?

One of the best wineries to visit on Korcula is the Bire Winery. It is located in the charming village of Smokvica and offers a variety of wines made from local grape varieties Posip and Plavac Mali. The winery has a beautiful tasting room with knowledgeable staff that will guide you through the different wines and their production process. Moreover, the winery is located in the middle of a breathtaking landscape with a wide view of the countryside and the Adriatic Sea, making it an ideal place for a relaxing and pleasant day trip.

Feedback

I hope you found this article informative and helpful. I'm eager to improve the content and make it even more valuable for you. If you have any feedback or suggestions, I would love to hear from you.

Do you have any tips or hidden gems that you think should be added to the list? Are there any areas that you feel could use more explanation or clarification?

Your input is greatly appreciated and will help us to continue providing high-quality content that meets your needs and interests. Please feel free to share your thoughts.