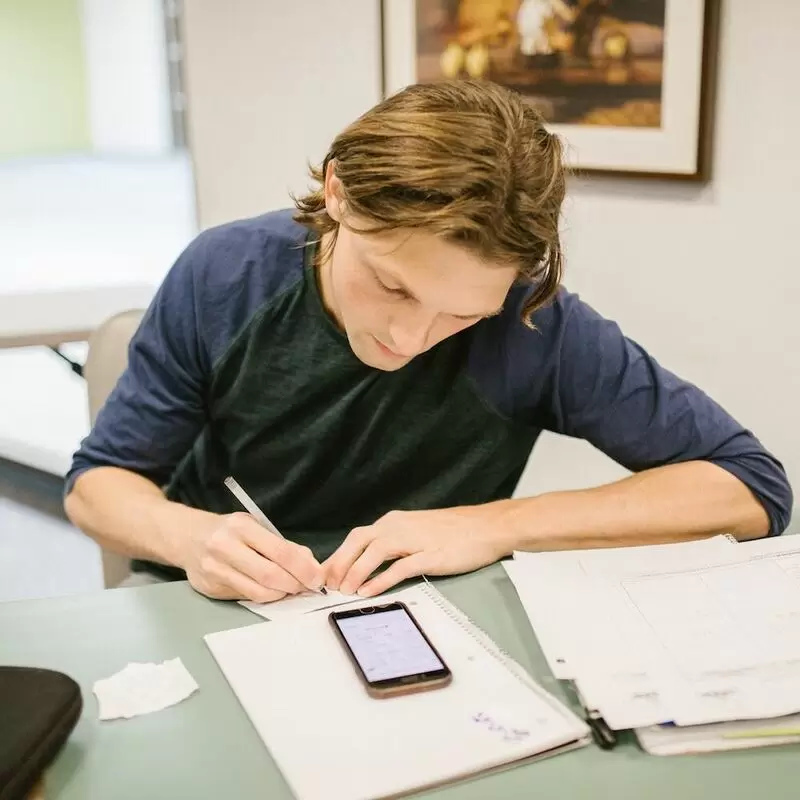 1. Chester Zoo
If you are looking for an unforgettable adventure in Chester, don't miss a visit to the world famous Chester Zoo! Home to over 27,000 animals from more than 500 different species, the zoo is an exciting and inspiring destination that will become a highlight of your visit to the UK. Take a guided tour to see spectacular creatures like tigers, elephants, rhinos, and more, explore the Tropical Kingdom to see reptiles and amphibians up close, or even take part in a hands-on experience with some of the zoo's friendly residents. And if you have more time, be sure to visit some of the nearby attractions like Chester's historic cathedral or the Roman amphitheater.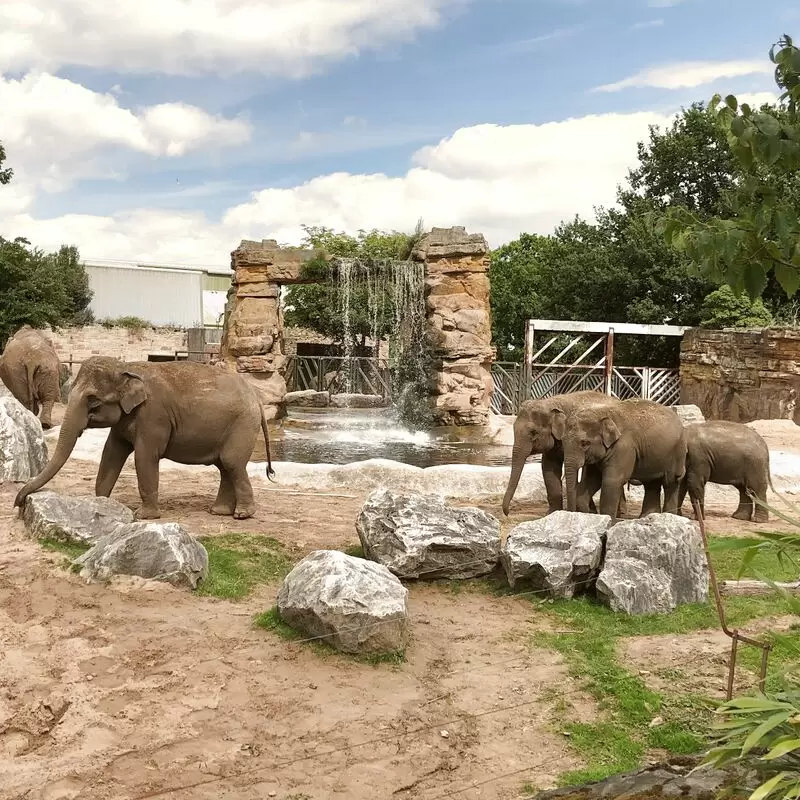 Chester Zoo
Chester
Monday - Sunday: 10:00 AM – 5:00 PM
2. Chester Cathedral
When you enter Chester Cathedral, you will be transported back to a medieval world with stunning architecture and intricate details. This stunning cathedral is one of the city's most popular attractions and is known for its Gothic style. Admire the stained glass windows, intricate carvings and beautiful choir stalls. Don't miss the bell tower, from which you can enjoy a panoramic view of the city. A very special experience is to attend one of the famous Evensong services. The cathedral is located in the heart of the city, near the picturesque River Dee.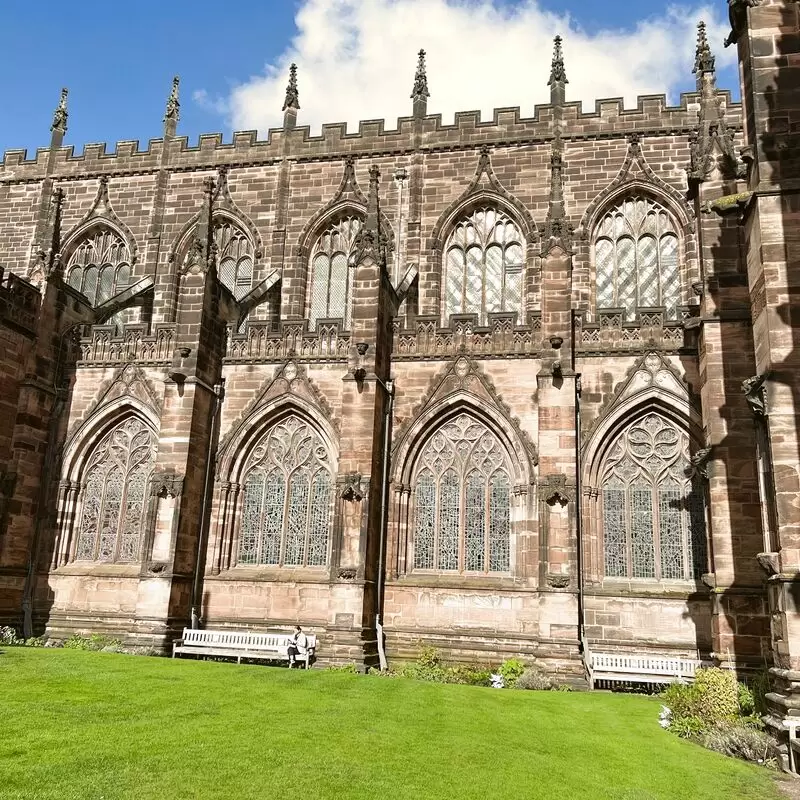 Chester Cathedral
Saint Werburgh Street, Chester
Monday - Saturday: 9:30 AM – 6:00 PM
Sunday: 10:00 AM – 5:00 PM
3. Grosvenor Park
Grosvenor Park in the heart of Chester is a lush green oasis that should be at the top of your itinerary. This charming park is filled with impeccably manicured lawns, colorful flower beds, towering trees, and spectacular fountains, making it the perfect place for a picnic or a leisurely stroll. With its charming cafes and playgrounds for children, Grosvenor Park is a popular hangout for locals and tourists alike. And if you're interested in a little history, be sure to visit the miniature railroad that runs along the edge of the park. Don't miss this attraction, and while you're in the area, be sure to visit the impressive Chester Cathedral.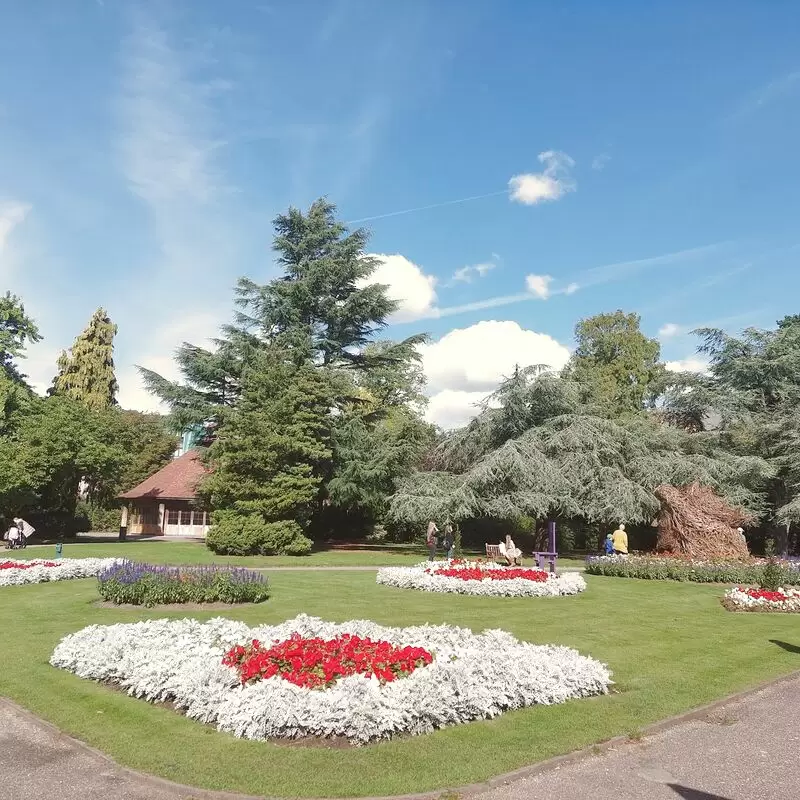 Grosvenor Park
Grosvenor Park Road, Chester
Monday - Sunday: 7:00 AM – 8:00 PM
4. Blue Planet Aquarium

If you love marine life, you can't miss the Blue Planet Aquarium in Chester! Step inside this fascinating attraction and marvel at the incredible variety of aquatic life from around the world, from tiny tropical fish to majestic sharks and stingrays. Don't miss the opportunity to walk through the underwater tunnel, where you can get up close and personal with some of the ocean's most impressive predators.

Insider tip: Visit the park during feeding times, when you can watch the sharks and other animals feed. And if you have time, combine your visit with a trip to the nearby Chester Zoo for a truly memorable day.

Blue Planet Aquarium
Longlooms Rd, Ellesmere Port CH65 9LF

Monday - Sunday: 10:00 AM – 5:00 PM
5. Eastgate Clock
If you want to experience the charm and history of Chester, a visit to the famous Eastgate Clock must be on your to-do list. This impressive clock was built in 1897 to celebrate Queen Victoria's Diamond Jubilee and has become synonymous with the city. Legend has it that stepping through the clock's archway when it strikes midnight brings good luck - a must for all superstitious visitors! And if you're hungry after your visit, the popular Chester Market is just a short walk away.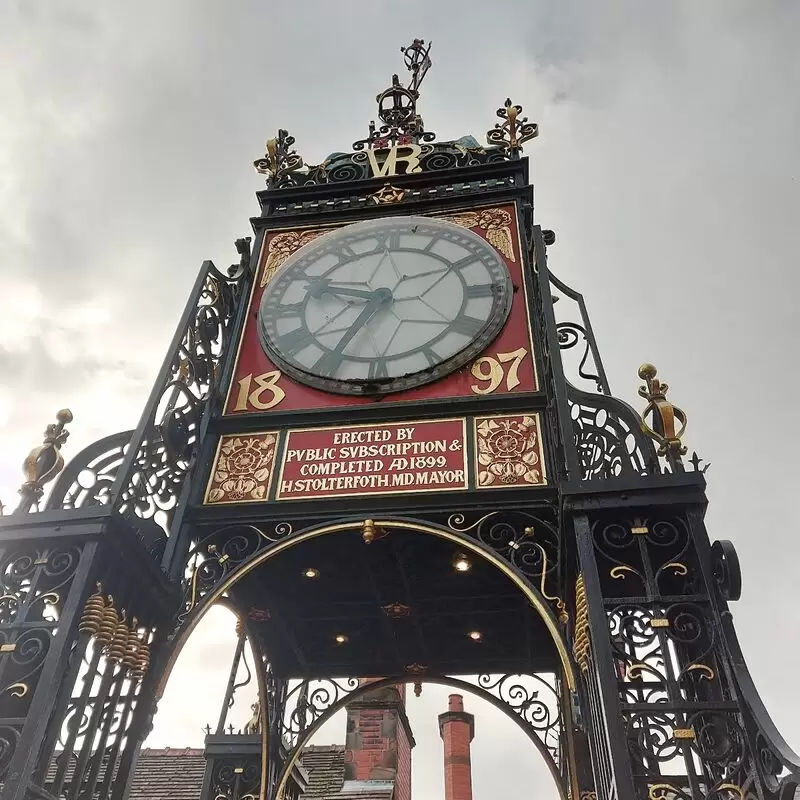 Eastgate Clock
41-45 Eastgate Street, Chester
Monday - Sunday: Open 24 hours
6. Chester City Walls

No visit to Chester would be complete without a visit to the city walls. This magnificent structure has stood the test of time and remains one of Chester's landmarks. You'll love walking along the walls, getting lost in the history and taking in the breathtaking views of the city.

Insider tip: As you walk along the city walls, look out for Chester Rows - a unique architectural feature that dates back to medieval times. Don't miss the opportunity to visit the Roman Amphitheater, just a few steps away!

Chester City Walls
City Walls, Chester CH1 2JH

Monday - Sunday: Open 24 hours
7. Chester Roman Gardens
The Chester Roman Gardens are a must-see for history buffs and nature lovers alike. This beautifully preserved garden in the heart of Chester features ancient Roman ruins, including a bathhouse, a hypocaust system and reconstructed Roman columns. The garden is a peaceful oasis in the middle of the city, ideal for a relaxing stroll where you can learn about Roman history. And if you're lucky, you might catch a glimpse of the ducks that call the garden pond home. Don't miss this hidden gem! And while you're in the area, be sure to check out the neighboring Chester Cathedral, another spectacular historical site.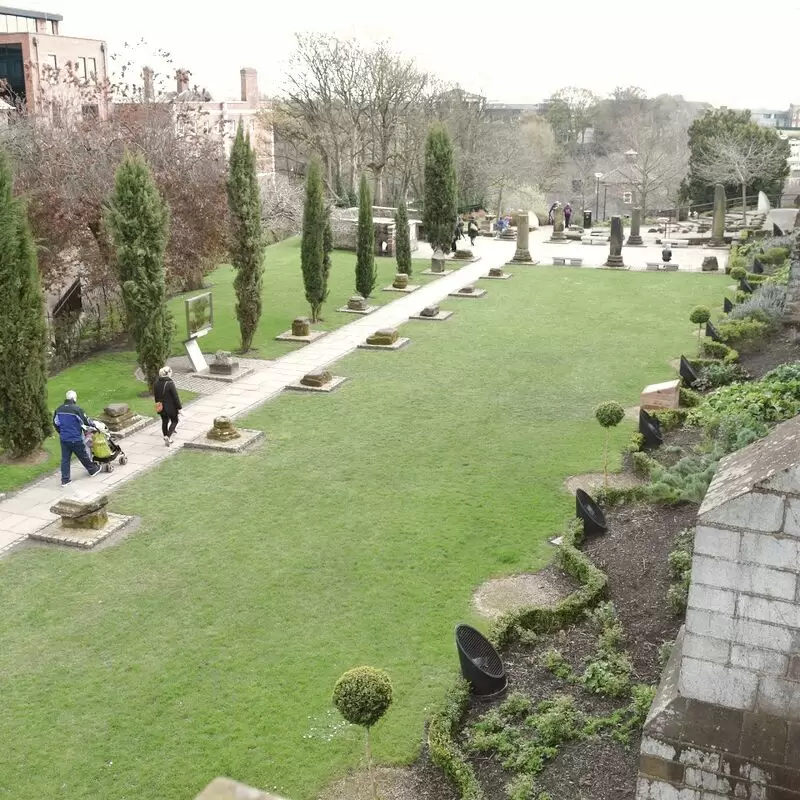 Chester Roman Gardens
Pepper Street, Chester
Monday - Sunday: 9:00 AM – 6:00 PM
8. Chester Cross
A visit to Chester Cross is an absolute must for any visitor to Chester, United Kingdom. This iconic landmark is the setting for the bustling city market and is surrounded by charming, historic buildings. The Eastgate Clock, which dates back to the late 1800s, towers high above the cross and is an incredibly popular spot for photos. If you're lucky enough to visit on a Saturday, you can browse the market stalls for unique souvenirs and delicious local produce. And if you want to experience a truly authentic taste of Chester, be sure to try a famous Chester roll from the nearby tea rooms. While you're in the area, be sure to take a stroll down Bridge Street to see the stunning Row Houses, another historic Chester gem.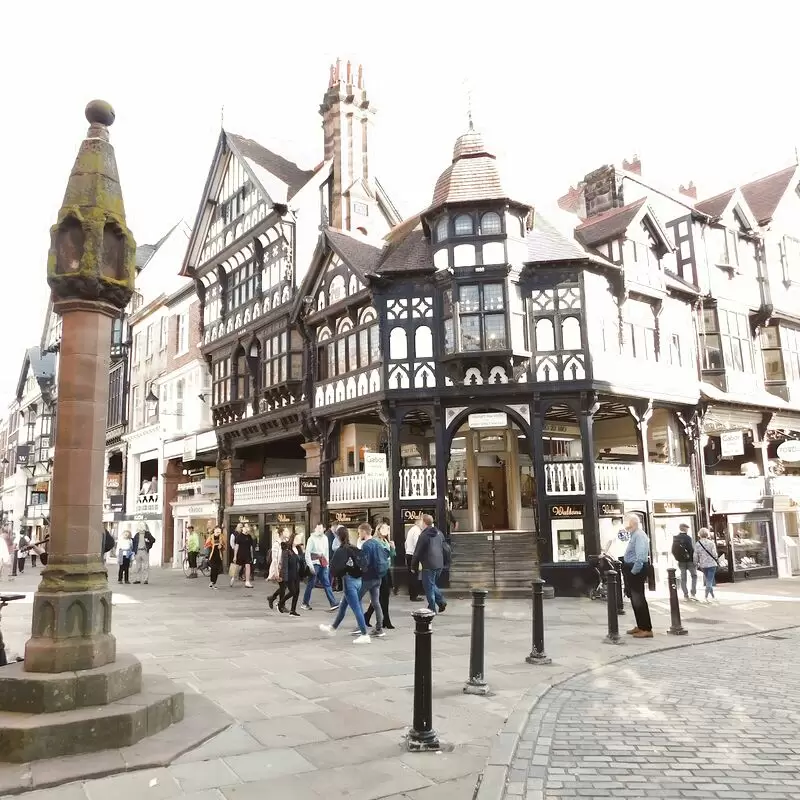 Chester Cross
46 Watergate Street, Chester
Monday - Sunday: Open 24 hours
9. ChesterBoat

Are you looking for a unique way to explore the historic city of Chester? Then ChesterBoat is the place for you! This riverboat tour offers a fantastic way to experience the sights and sounds of the city from a different perspective. You'll glide along the beautiful River Dee with breathtaking views of the city's buildings and bridges.

Insider tip: Try to catch a tour at sunset for a truly magical experience. And after the boat tour, be sure to visit the nearby Roman amphitheater to learn even more about the city's history.

ChesterBoat
Souter's Lane, The Groves, Chester

Monday - Sunday: 11:00 AM – 5:00 PM
10. The Grosvenor Museum

A trip to Chester would not be complete without a visit to the Grosvenor Museum, a hidden gem that showcases the city's history and culture. Here you can immerse yourself in the fascinating archaeology, art and natural history exhibits that tell the story of Chester. Take a walk through the Roman garden, admire the medieval architecture, and be sure to visit the changing exhibitions that take place throughout the year.

Insider tip: Don't forget to stop by the coffee shop for a delicious homemade cake and a hot drink to round out your visit. Chester Castle is another nearby attraction and well worth a visit!

The Grosvenor Museum
27 Grosvenor Street, Cheshire, Chester CH1 2DD

Monday: Closed
Tuesday - Saturday: 10:30 AM – 5:00 PM
Sunday: 1:00 – 4:00 PM
11. Bridge Gate and Old Dee Bridge

Discover Chester's rich history with a visit to the impressive Bridge Gate and Old Dee Bridge. This place is not only the oldest bridge in the city, but also offers a breathtaking viewpoint over the River Dee. Its impressive structure and charm make it a must-see for tourists in Chester.

Insider tip: Be sure to bring your camera and take a walk along the riverbank to find excellent photo opportunities. Nearby is also the famous Chester Rows shopping center, perfect for a shopping spree.

Bridge Gate and Old Dee Bridge
River Dee, Chester CH4 7JB

Monday - Sunday: Open 24 hours
12. Cheshire Military Museum
Experience the history of the British Army at the Cheshire Military Museum in Chester! The museum displays an extensive collection of weapons, uniforms, medals and documents from the 17th century to the present. It's a fascinating journey through Cheshire's military history and the people who served. Don't miss the opportunity to explore the interactive gallery where you can touch some of the equipment. By visiting this museum, you will get a glimpse of the military heritage of the region and learn to appreciate the bravery of the soldiers who fought for their country. After your visit, why not take a walk along the nearby The Walls of Chester?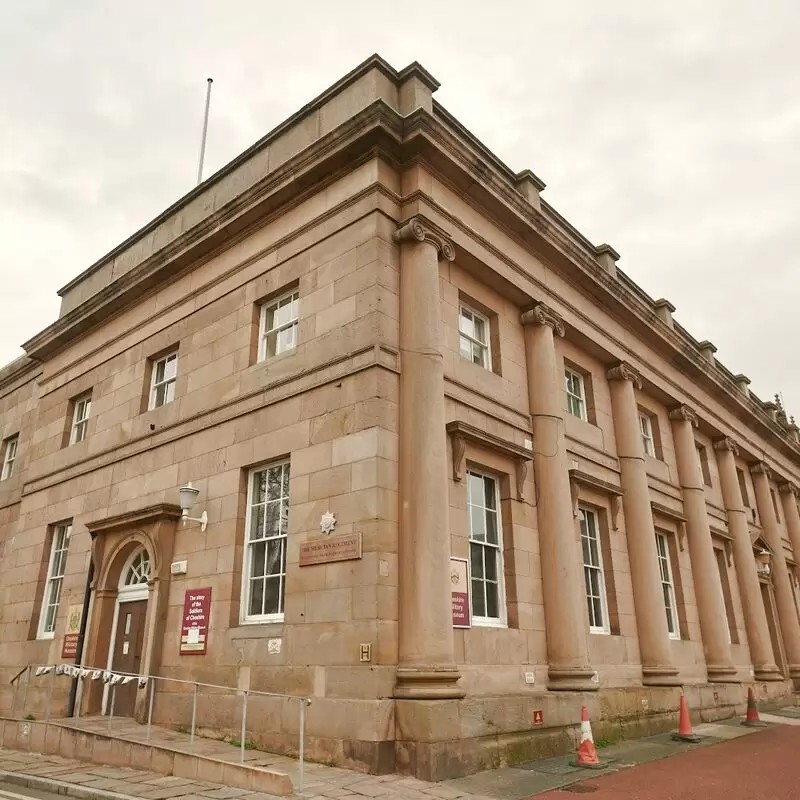 Cheshire Military Museum
Colvin House, Grosvenor Street, Chester
Monday - Wednesday: Closed
Thursday - Sunday: 11:00 AM – 4:00 PM
13. Sick To Death
Looking for a unique cultural experience in Chester? Then look no further than "Sick To Death," the city's newest museum and exhibition center dedicated to the fascinating history of medicine and healthcare. Located in the heart of Chester, "Sick To Death" offers visitors an exciting and interactive journey through centuries of medical practices, including artifacts and exhibits showcasing gruesome surgical tools, remedies and treatments from medieval times to modern innovations in healthcare. And thanks to its prime location, there are many attractions nearby, from Chester Cathedral to the historic Rows shopping district. Don't miss this unique, educational and unforgettable experience!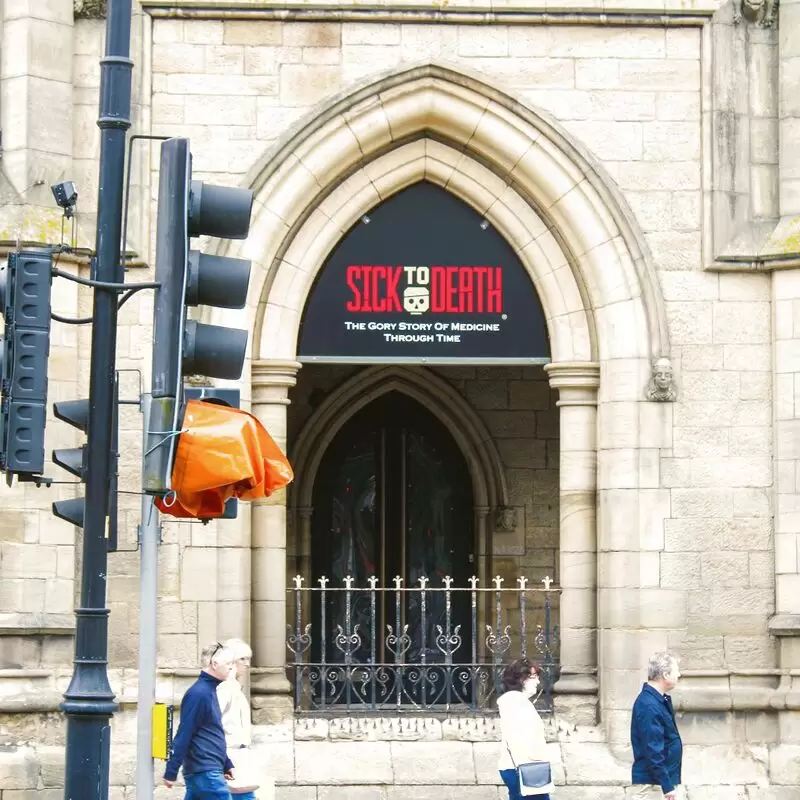 Sick To Death
Bridge Street, Bridge St Row East, Chester CH1 1NW
Monday - Sunday: 10:00 AM – 6:00 PM
Best Time to Visit Chester
The best time to visit Chester are the summer months from June to August, when temperatures average 20 °C. This is also the peak tourist season and many outdoor activities and events take place. Spring (March to May) and fall (September to November) are also good times to visit, as temperatures are milder and crowds are smaller. Be prepared for rain, however, as the weather can be unpredictable throughout the year.
Annual Weather in Chester
Chester 3-Day Forecast
Tue, 26 September
Night
53 °F
12 °C
0%
Morning
53 °F
11 °C
0%
Afternoon
64 °F
18 °C
80%
Evening
56 °F
14 °C
0%
Wed, 27 September
Night
51 °F
10 °C
0%
Morning
52 °F
11 °C
0%
Afternoon
57 °F
14 °C
69%
Evening
55 °F
13 °C
0%
Thu, 28 September
Night
49 °F
9 °C
0%
Morning
47 °F
8 °C
0%
Afternoon
60 °F
15 °C
74%
Evening
56 °F
13 °C
0%
Questions & Answers

What is the history of Chester's city walls?

The city walls of Chester are one of the city's landmarks. Originally they were built by the Romans about 2,000 years ago to protect their fortress Deva Victrix. Over the centuries, the walls have been added to and maintained, with each new civilization leaving its mark. Today, visitors can walk around the city on the walls, enjoying breathtaking views of the city's historic buildings and landmarks.

Can I go on a tour of Chester's Roman Amphitheatre?

Yes, a visit to the Roman amphitheater in Chester is definitely possible. The amphitheater is located just outside the city walls and is one of the largest of its kind in the UK. During the guided tour you will learn more about the history of the site and the events that took place there. You can also visit the remains of the original structure and get a feel for what it must have looked like 2,000 years ago.

How do I get to Chester from Manchester or Liverpool?

Chester is conveniently located between Manchester and Liverpool, making it easy to reach from both cities. You can take a train from Manchester Piccadilly or Liverpool Lime Street stations, which takes about an hour. You can also drive to Chester from either city via the M62 and M56 freeways. Alternatively, several bus companies offer connections from Manchester and Liverpool to Chester. The journey takes about 90 minutes.

Are there any festivals or events currently happening in Chester?

As an AI, I don't have access to real-time information, but I can tell you that Chester has a rich cultural calendar with various festivals and events throughout the year. Some of the most popular events in the area include the Chester Food and Drink Festival, the Chester Literature Festival, the Chester Races, and the Chester Music Festival. The city also hosts regular markets, fairs, and concerts that provide entertainment for visitors and locals alike. For up-to-date information on events and festivals in Chester, check local event calendars or travel guides.

Can I see a performance at the Grosvenor Park Open Air Theatre?

Yes, Grosvenor Park Open Air Theatre is a great place to enjoy a performance in the heart of historic Chester. Located in beautiful Grosvenor Park, the theater offers a wonderful outdoor stage that is perfect for theatrical performances of all kinds. While the program varies from year to year, visitors can look forward to a diverse range of performances with something for everyone, including Shakespeare plays, musicals, and contemporary dramas. The theater is a popular draw for locals and tourists alike, and it's definitely worth exploring the city of Chester.

What are the best places to see the River Dee and to go for a walk along it?

The River Dee flows through Chester, offering beautiful views and a peaceful atmosphere. A good starting point is the Groves, near the city center, where you can walk and enjoy the riverside cafes and pubs. The Meadows, a large park area, is also a popular choice, with plenty of greenery and benches to relax and enjoy the scenery. Another good option is the Chester Riverside Promenade, which offers scenic views of the river, bridges, and cathedral, and has a playground for children.

Is there a good view of Chester from a certain spot?

Yes, there is! The best view of Chester is from the top of the Cathedral Tower. Visitors can climb the 216 steps of the tower to reach the top and enjoy a breathtaking panoramic view of Chester and its surroundings. From this vantage point, you can see the winding River Dee, the picturesque Welsh hills and the historic architecture of the city. It is truly a breathtaking sight that is worth the climb for.

Where can I find the best traditional ale pubs in Chester?

Chester has a wide range of traditional beer pubs, each with its own character. One popular pub is The Brewery Tap, located in the heart of the city and known for its range of real ales and ciders. The Pied Bull is also a popular choice, as it is the oldest licensed pub in Chester and offers an impressive selection of local beers. The Cross Keys is another good choice, with a cozy atmosphere and regular live music events. Finally, the Kash Taprooms is newer, but with over 20 taps of rotating craft beer, it's still worth a visit.

What food specialties should I try while in Chester?

Chester has a diverse culinary scene that offers a range of delicious and unique specialties. One popular dish is Cheshire cheese, which is made locally and used in a variety of dishes such as cheese on toast. Another dish you should definitely try is Chester pudding, a dessert made of breadcrumbs, eggs and fruit. Also try the famous Eccles Cakes, small pastries filled with currants. Finally, don't miss a traditional British pub meal, like fish and chips or sausages with mashed potatoes.

Where can I take an interesting day trip from Chester?

As a guide to Chester, I recommend a day trip to Liverpool, which is only 45 minutes away by train. Liverpool is rich in culture and history, with several museums and iconic landmarks such as Albert Dock, Beatles Story and Liverpool Cathedral. You can also take a ferry ride on the River Mersey or shop and dine in the city center. Overall, Liverpool is a fascinating day trip from Chester that you will remember for a long time.

Feedback

I hope you found this article informative and helpful. I'm eager to improve the content and make it even more valuable for you. If you have any feedback or suggestions, I would love to hear from you.

Do you have any tips or hidden gems that you think should be added to the list? Are there any areas that you feel could use more explanation or clarification?

Your input is greatly appreciated and will help us to continue providing high-quality content that meets your needs and interests. Please feel free to share your thoughts.