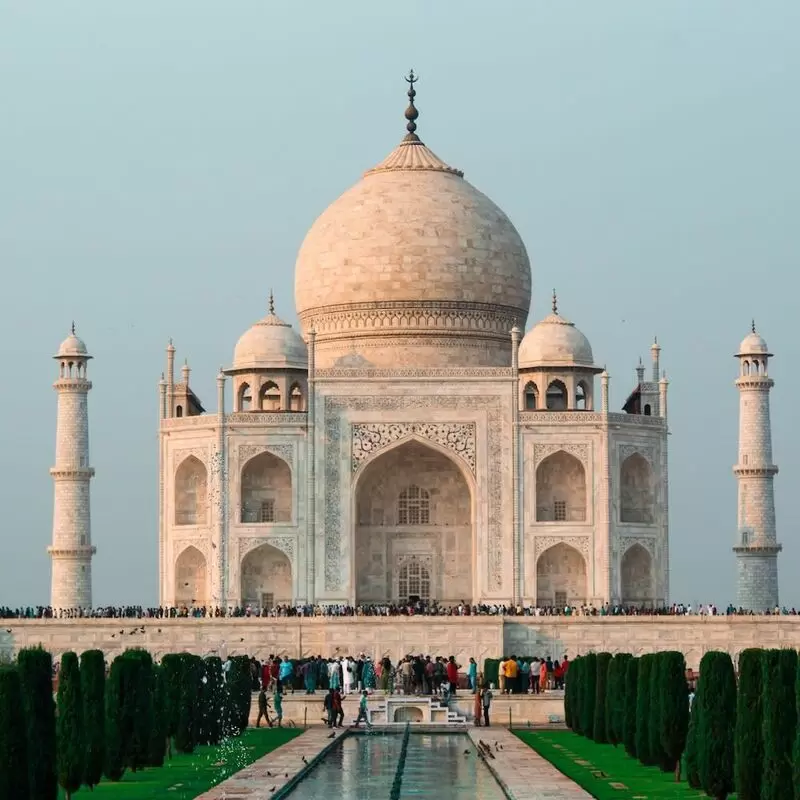 1. Taj Mahal

If there is one place you must visit in Agra, it is the Taj Mahal. One of the Seven Wonders of the World, this incredible white marble mausoleum is a must-see for any visitor to India. Not only is it visually stunning, but the history and love story behind it make it even more special.

Insider tip: Visit it at sunrise for the best views and fewer crowds. When you are in Agra, you should also check out the Agra Fort, from which you can see the Taj Mahal from a different perspective.

Taj Mahal
Dharmapuri, Forest Colony, Tajganj, Agra
2. Agra Fort

Agra Fort is an impressive sight that you cannot miss when visiting Agra. This UNESCO World Heritage Site was built in the 16th century and has stood the test of time, witnessing various rulers and empires. Highlights of the fort include its impressive red sandstone walls, beautiful courtyards and gardens, and breathtaking views of the Taj Mahal from certain vantage points.

Insider tip: Try to visit the fort in the morning or late afternoon, when the weather is cooler and the crowds are lighter. Another nearby sight worth seeing is the Baby Taj, a smaller but no less beautiful version of the Taj Mahal.

Agra Fort
Agra Fort, Rakabganj, Agra
3. Tomb of Akbar the Great
The Tomb of Akbar the Great is an architectural masterpiece and a must-see in Agra. The tomb is a magnificent blend of Mughal and Persian styles and is a tribute to one of India's greatest emperors, Akbar. The peaceful surroundings and tranquil garden will take you back to the time of the Mughals. Insider Information: There are several buildings in the complex, including the tomb, gate, mosque and baradari (pavilion). Be sure to admire the stunning geometric patterns and colorful floral carvings on the walls. Nearby is also the tomb of Mariam, Akbar's wife.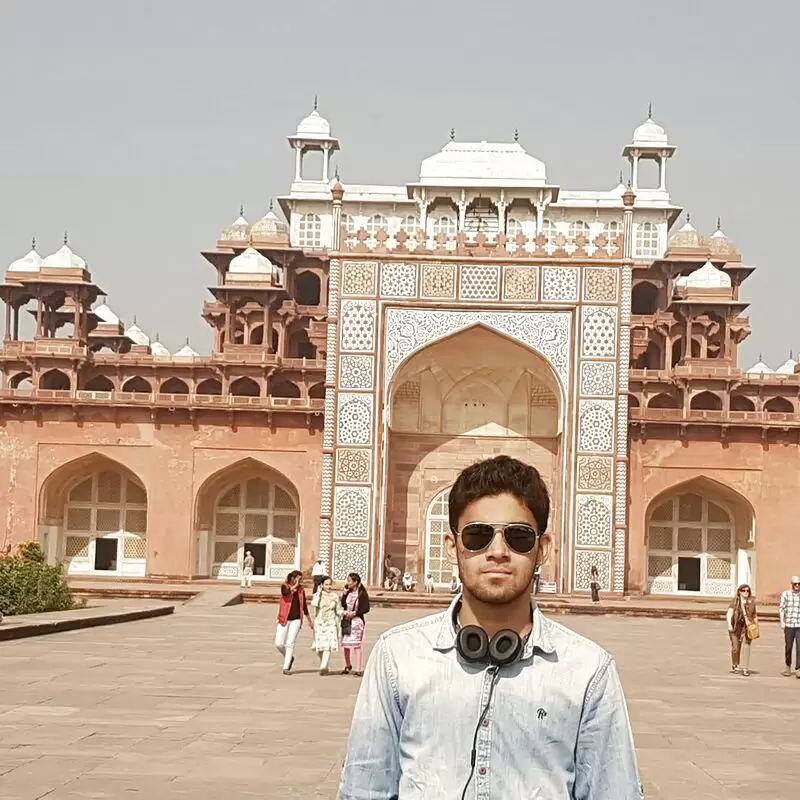 Tomb of Akbar the Great
Tomb of Akbar The Great Area, Sikandra, Agra
4. Itmad ud Daula

Itmad-ud-Daula, also known as the "Baby Taj", is a hidden gem in Agra that you simply cannot miss. This breathtaking mausoleum is considered the blueprint of the Taj Mahal and brims with Mughal grandeur. Itmad-ud-Daula was built between 1622 and 1628 for Nur Jahan's father and is known for its intricate inlay work, stunning gardens and marble patterns.

Insider tip: Visit the palace at sunrise or sunset for an especially beautiful view. Don't miss this stunning monument, which is just a short drive from the Taj Mahal.

Itmad ud Daula
Moti Bagh, Agra

Monday - Sunday: 8:00 AM – 12:00 AM
5. Buland Darwaza
As a traveler, you simply cannot miss to visit the breathtaking monument "Buland Darwaza" in Agra, India. This beautiful structure was built in 1601 by the great Mughal emperor Akbar. The attraction towers 54 meters high and is carved out of red and brown sandstone. The magnificent gate is a symbol of Akbar's victory over the king of Khandesh. It is located near the world famous UNESCO site of Fatehpur Sikri. Don't forget to photograph the intricate carvings and reliefs of the gate, as they are simply breathtaking.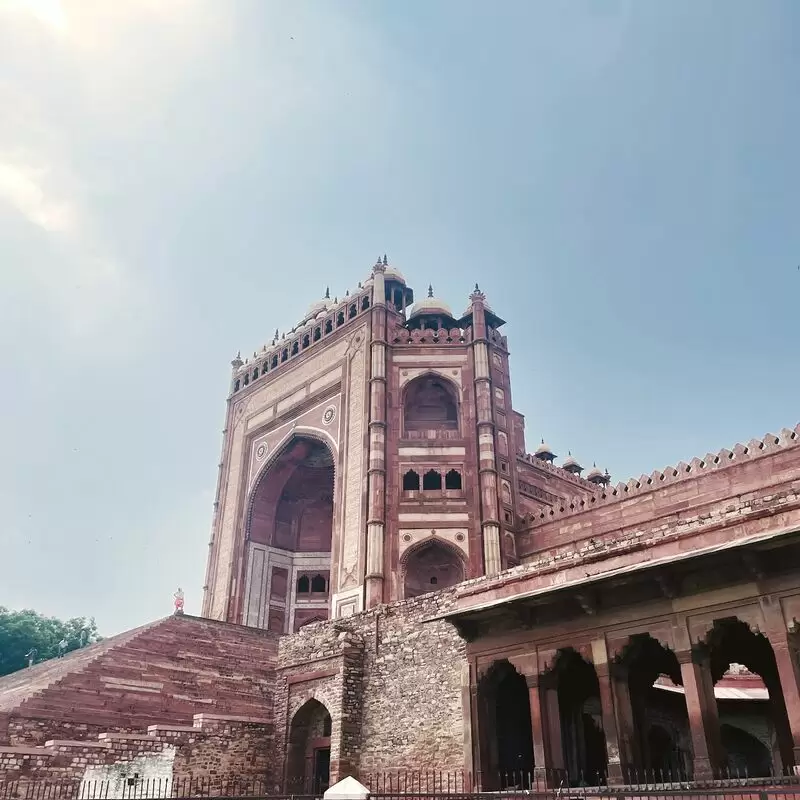 Buland Darwaza
Near nagar palika building, Dadupura, Agra, Delhi - Mathura Hwy, Dadupura, Fatehpur Sikri
Monday - Sunday: 8:00 AM – 7:00 PM
Saturday: 8:30 AM – 8:00 PM
6. Mahesh Taj Shop
If you are looking for authentic souvenirs to take home, then be sure to visit the Mahesh Taj Shop in Agra. This store is located near the Taj Mahal and offers a wide selection of unique and beautiful handmade marble items, including miniature replicas of the Taj Mahal. You will also find other handicrafts such as jewelry boxes, decorative plates and traditional Indian clothing. The staff is friendly, knowledgeable and happy to tell you interesting stories about the history and craftsmanship behind each piece. Don't forget to haggle for the best deal!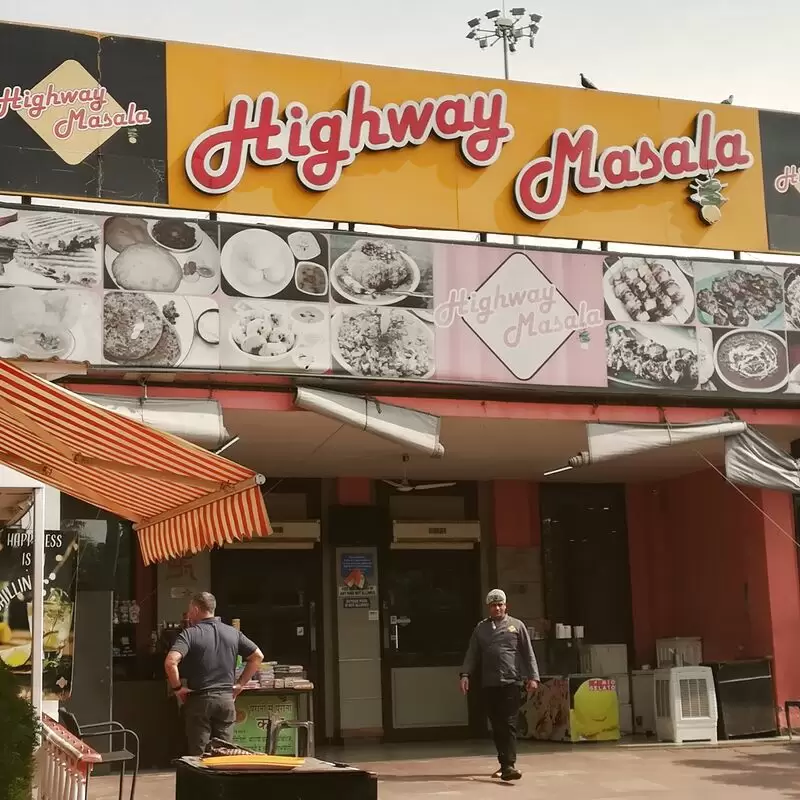 Mahesh Taj Shop
1, MEHTAB BAGH, Nagla Devjit, Agra
Monday - Sunday: 6:00 AM – 9:00 PM
Thursday: 6:00 AM – 5:00 PM
7. Red fort of Agra
The Red Fort of Agra is a must-see for anyone visiting the city. This iconic fort was built in 1565 by Mughal Emperor Akbar and holds centuries of history and architecture. While exploring the fort, be sure to visit the beautiful white marble Moti Masjid (Pearl Mosque), the stunning Diwan-i-Am (Hall of Public Audience), and the Summer Pavilion, where you can relax for a moment and enjoy the breathtaking view of the Yamuna River. After visiting the Red Fort, be sure to visit the nearby Jama Masjid, one of India's largest mosques, to experience the beauty of Mughal-era architecture and design. Both the Red Fort and the Jama Masjid are UNESCO World Heritage Sites and should not be missed when visiting Agra.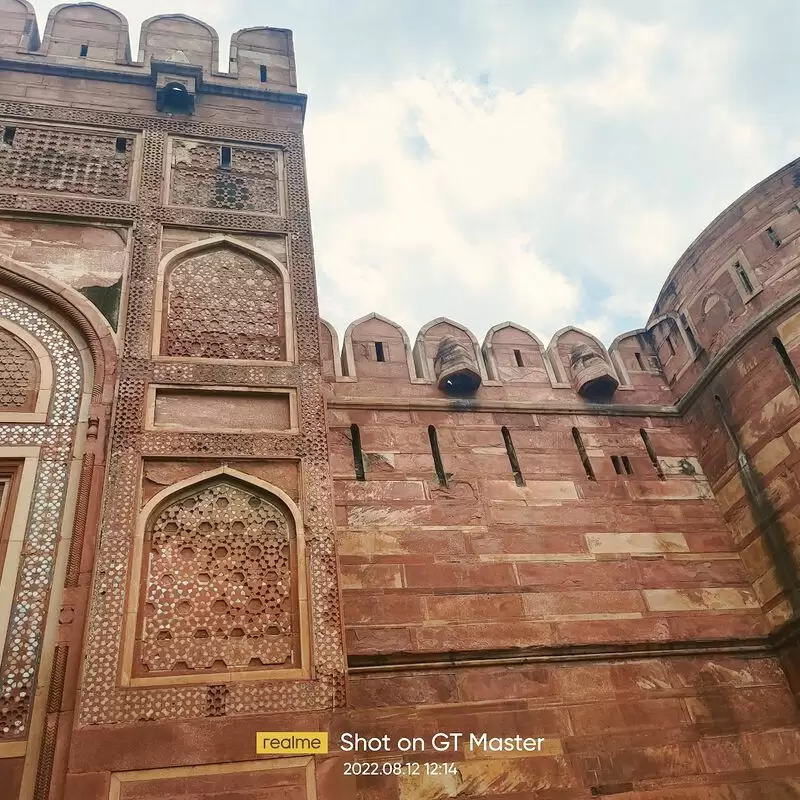 Red fort of Agra
52HC+VFH, Agra Fort, Rakabganj, Agra
8. Sikandra Fort

As a tourist in Agra, you can't miss a visit to the historic Sikandra Fort! Located just a short distance from the famous Taj Mahal, the fort is a beautiful testament to the Mughal era and a must-see for any history buff. The intricate carvings and beautiful architecture will fascinate you as you explore the fort.

Insider tip: Be sure to visit the fort at sunset, as the marble facade glowing in the golden light is simply breathtaking. Another nearby attraction is the Itmad-ud-Daulah Tomb, also known as the "Baby Taj".

Sikandra Fort
6XC2+C53, Tomb of Akbar The Great Area, Sikandra, Agra

Monday - Sunday: 8:00 AM – 6:00 PM
9. Amar Singh Gate
The Amar Singh Gate in the heart of Agra is one of the most remarkable places to visit in the city. This magnificent gate was built during the Mughal period and served as the entrance to the palace of Amar Singh Rathore, a trusted general of Emperor Akbar. The magnificent gate is made of sandstone and decorated with intricate carvings and patterns. Be sure to take a close look at the intricate patterns during your visit. Nearby is also the iconic Taj Mahal, which is undeniably one of the wonders of the world and a must-see for any visitor!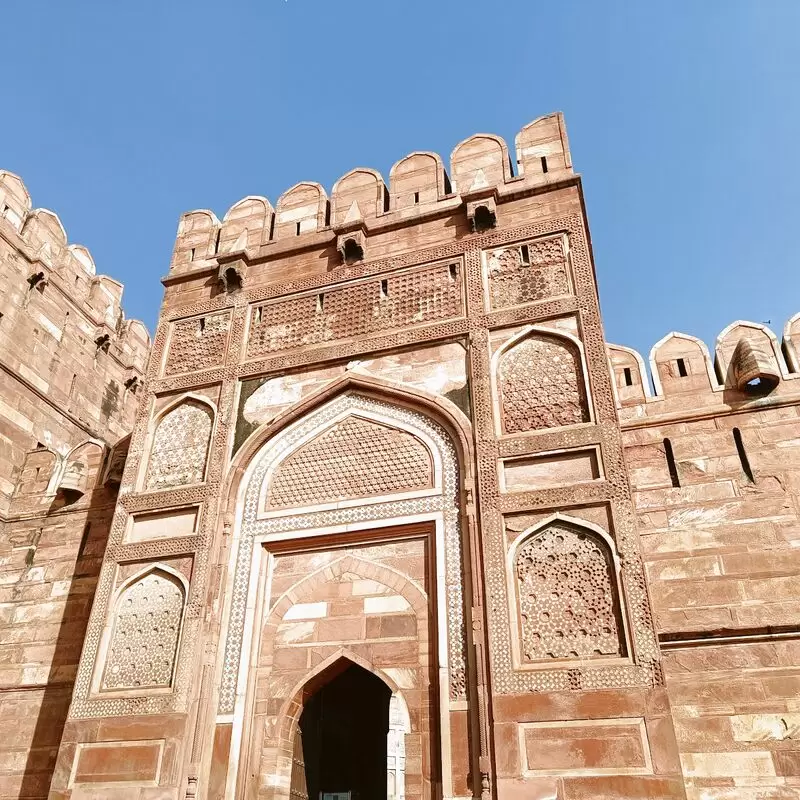 Amar Singh Gate
Agra Fort, 52GC+JR4, Agra Fort, Rakabganj, Agra
Monday - Sunday: 6:00 AM – 6:00 PM
Friday: Closed
10. Anguri Bagh
The Anguri Bagh, located on the grounds of the Taj Mahal, is a hidden gem that everyone traveling to Agra should visit. This beautiful garden, with its winding water channels and lush greenery, offers a quiet and peaceful break from the hustle and bustle of the city. Fun Facts: The name Anguri Bagh translates to "grape garden," and it is said that the garden was originally used to grow grapes for the royal family. Don't miss the opportunity to take a leisurely stroll through this historic and peaceful garden while admiring the breathtaking view of the Taj Mahal. If you have more time, you should also visit the Mehtab Bagh, another beautiful garden located across the river from the Taj Mahal.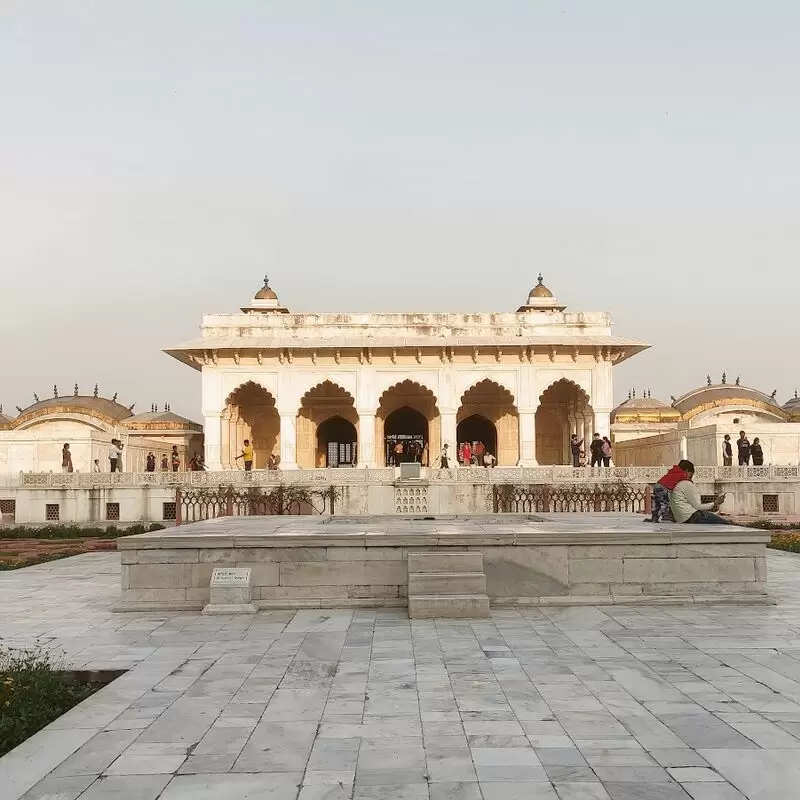 Anguri Bagh
Agra Fort, 52HF+966, Agra Fort, Rakabganj, Agra
Monday - Sunday: 6:00 AM – 7:30 PM
11. Taj Museum
The Taj Museum in Agra is a must-see for anyone interested in the history, culture and heritage of the famous Taj Mahal. The museum houses an extraordinary collection of artifacts, exhibits and photographs related to the construction and architecture of the Taj Mahal. Interestingly, the museum is located within the Taj Mahal complex and visitors can view the shimmering white dome up close. And while you're there, don't forget to visit the nearby monuments such as Agra Fort, Itimad-ud-Daula and Mehtab Bagh.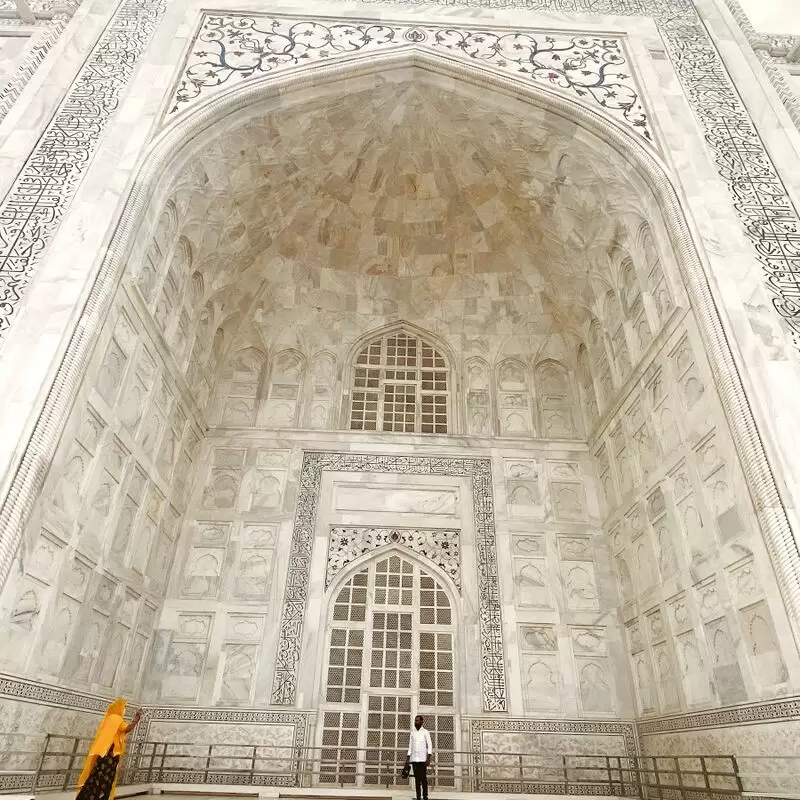 Taj Museum
Taj Mahal, 52FR+77F, Dharmapuri, Forest Colony, Tajganj, Agra
Monday - Sunday: 10:00 AM – 5:00 PM
Friday: Closed
12. Dolphin Water Park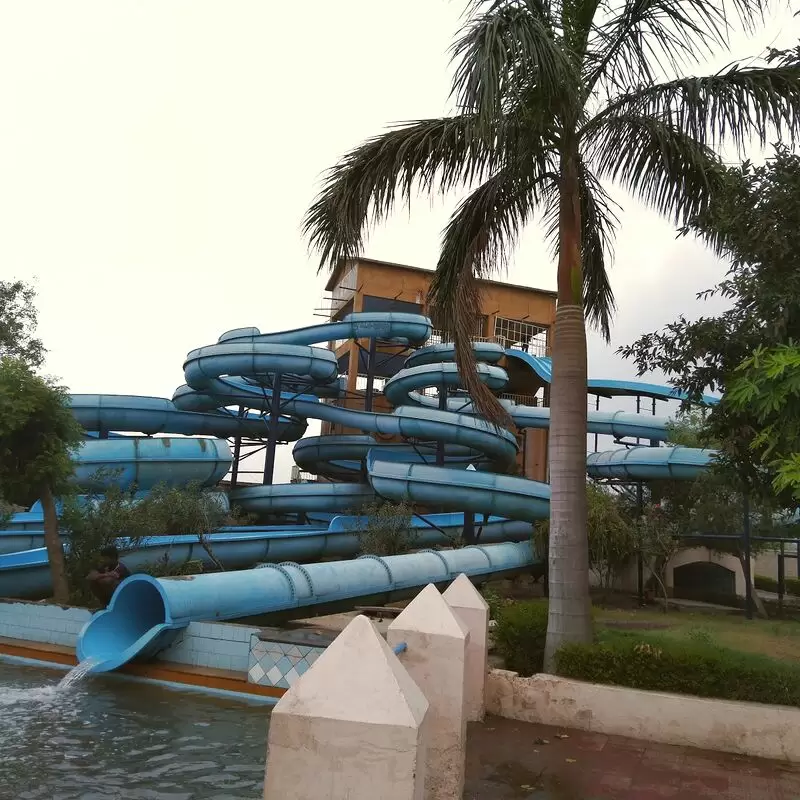 Dolphin Water Park
NH-2, Mathura Rd, Runkata
Monday - Sunday: 11:30 AM – 6:00 PM
13. Kalakriti culture and convention centre
If you are a culture lover visiting Agra, a visit to the Kalakriti Cultural and Convention Center is highly recommended. This impressive center showcases the best of regional culture, dance, music and art with performances by local artists and artisans. Visitors will be amazed by the size of the center and the colorful displays of traditional Indian arts and crafts. Be sure to stay for the lively evening shows with pulsating music and breathtaking performances. After your visit, you can also explore nearby Idgah Colony, a popular residential area in Agra.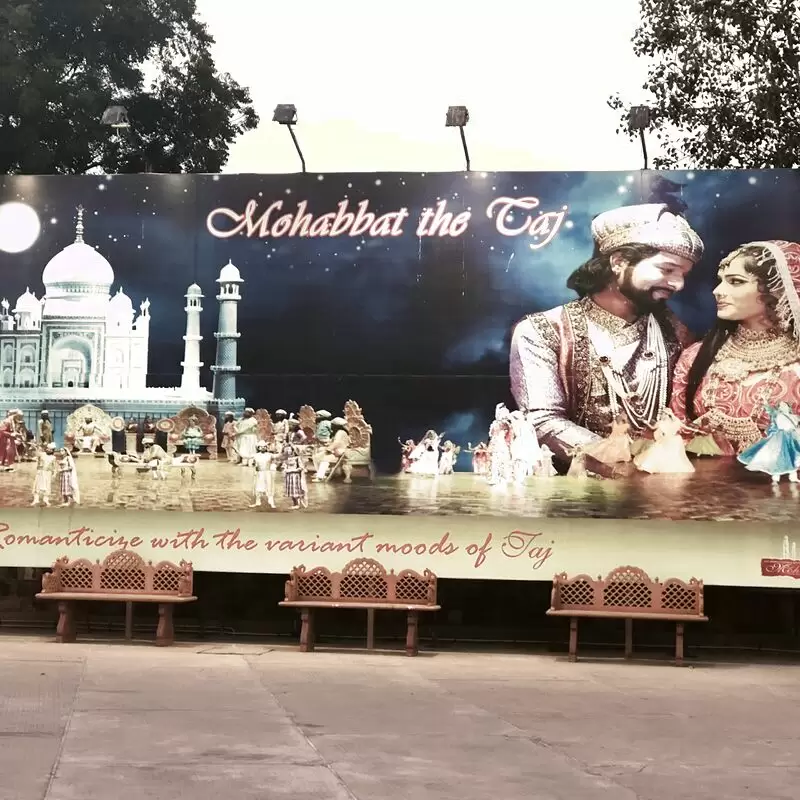 Kalakriti culture and convention centre
41/142, A/1 VIP Road-Taj Mahal Road, Fatehabad Rd, Agra
Monday - Saturday: 10:00 AM – 8:15 PM
Sunday: 10:30 AM – 9:00 PM
14. Chini Ka Rauza

Chini Ka Rauza", one of the hidden gems of Agra, is a must-see for all history buffs and architecture lovers. This monument is known for its intricate Persian style architecture and beautiful blue tiles decorated with floral motifs. This impressive tomb was built in the 17th century by Persian poet and scholar Allama Afzal Khan Mullah and represents a fusion of Indian-Islamic architecture.

Insider Tip: The tomb is located near the Itmad-ud-Daula Tomb, so why not visit both to make the most of your visit?

Chini Ka Rauza
Katra Wazir Khan, Agra

Monday - Sunday: 6:00 AM – 6:00 PM
Best Time to Visit Agra
The best time to visit Agra is from October to March, when the weather is pleasant and cool. During this time, temperatures range from 15 to 25 degrees Celsius and are ideal for tourists who want to spend long hours outdoors exploring the city's sights. In the summer months, from April to June, it can get hot and humid, with temperatures reaching 45 degrees Celsius, while in the monsoon season, from July to September, there are heavy rains and high humidity.
Annual Weather in Agra
Agra 3-Day Forecast
Thu, 21 September
Night
87 °F
31 °C
0%
Morning
85 °F
30 °C
0%
Afternoon
96 °F
36 °C
71%
Evening
90 °F
32 °C
0%
Fri, 22 September
Night
86 °F
30 °C
82%
Morning
84 °F
29 °C
0%
Afternoon
96 °F
36 °C
0%
Evening
89 °F
32 °C
0%
Sat, 23 September
Night
84 °F
29 °C
60%
Morning
79 °F
26 °C
0%
Afternoon
93 °F
34 °C
88%
Evening
91 °F
33 °C
0%
Questions & Answers

What is the best way to get to the Taj Mahal?

The best way to reach the Taj Mahal in Agra, India is to hire a cab or a tuk-tuk (auto-rickshaw). Alternatively, you can take a bus or train to Agra and then take a cab or tuk-tuk from the train station. There are also tour operators that offer day trips to Agra from Delhi that include transportation and a guide. However, if you prefer a more adventurous and environmentally friendly option, you can also ride a bicycle to the Taj Mahal.

How long does it take to visit the Taj Mahal?

Visiting the Taj Mahal usually takes about 2 to 3 hours, depending on how much time you want to spend exploring the complex. This includes time to enter the complex, admire the monument and its intricate details, take photos and visit the surrounding gardens and other attractions. It should be noted, however, that during high season, such as the winter months or national holidays, it may take longer due to crowds and long lines.

Can I take photos inside the Taj Mahal?

Yes, photography is allowed inside the Taj Mahal, but only for personal purposes and without a tripod. However, there are certain areas inside the monument where photography is strictly prohibited, such as the main chamber where the tombs are located. The use of drones on the grounds of the Taj Mahal is also strictly prohibited. It is recommended that visitors be mindful of their surroundings and other visitors when taking photographs.

What is the history behind the Taj Mahal?

The Taj Mahal is an impressive mausoleum in Agra, India. It was built by the Mughal Emperor Shah Jahan in memory of his beloved wife Mumtaz Mahal, who died giving birth to their child in 1631. Construction of the Taj Mahal began in 1632 and took about 22 years to complete. The white marble structure is considered a masterpiece of Mughal architecture and is known for its intricate carvings and decorative elements. Today it is a UNESCO World Heritage Site and is considered one of the Seven Wonders of the World.

What other historical sites are there to see in Agra?

Agra has many historical sites to offer besides the iconic Taj Mahal. One of them is the Agra Fort, which is an example of Mughal architecture and served as a residence for emperors for over 200 years. Another site worth visiting is the Tomb of Itimad-ud-Daula, also known as "Baby Taj", a beautiful mausoleum built in memory of Nur Jahan's father. Finally, Fatehpur Sikri, an abandoned city near Agra, shows the grandeur and vision of the Mughal Empire.

What is the local cuisine like in Agra?

Agra has a diverse cuisine that is heavily influenced by Mughlai and North Indian cooking styles. The city is famous for its delicious Mughlai dishes such as biryani, kebabs and korma. Must-try dishes include petha, a dessert made from white pumpkin, bedai and jalebi, a popular breakfast dish, and chaat, a savory snack of fried dough, spices and chutney. For non-vegetarians, Agra is a paradise with dishes such as kadai chicken and tandoori chicken among the local favorites.

Can I haggle when shopping in Agra?

Yes, haggling is a common practice when shopping in Agra, especially in the local markets and bazaars. Sellers usually start with a higher price, and it is appropriate to negotiate and try to get a lower price. When doing so, it is important to be respectful and not negotiate too aggressively. It is also advisable to have an idea of the value of the item and a budget in mind before you start negotiating.

Are there any cultural events or festivals happening during my stay?

Agra is a city rich in cultural heritage and there are many festivals and cultural events that take place throughout the year. One of the most popular festivals is the Taj Mahotsav, which celebrates the cultural diversity of the city and takes place every year in February. Another important festival is the Urs of the Sufi saint Khwaja Moinuddin Chishti, which is celebrated in Fatehpur Sikri in October and November. In addition, the city hosts a number of traditional fairs and exhibitions, such as the Ram Barat and the Kailash Fair, which offer a glimpse into the lifestyle and customs of the locals.

What is the dress code for visiting religious sites?

When visiting religious sites in Agra, it is recommended to dress conservatively and respect the customs of the particular place of worship. Both men and women should cover their knees and shoulders, and women should wear a long skirt or trousers. It is also important to remove your shoes before entering sacred sites. Jewelry and accessories should also be kept to a minimum. Appropriate attire shows respect for the cultural and religious heritage of the site you are visiting and contributes to a positive experience for all involved.

Can I find Western-style food in Agra?

Yes, there are several restaurants and cafes in Agra that offer western food. Some popular options are The Cookhouse, Bon Barbecue and Shankara Vegis Restaurant. These restaurants serve a range of dishes from pizza and burgers to pasta and sandwiches. It should be noted, however, that Agra is best known for its Indian cuisine, so visitors may also want to try some of the local specialties.

Feedback

I hope you found this article informative and helpful. I'm eager to improve the content and make it even more valuable for you. If you have any feedback or suggestions, I would love to hear from you.

Do you have any tips or hidden gems that you think should be added to the list? Are there any areas that you feel could use more explanation or clarification?

Your input is greatly appreciated and will help us to continue providing high-quality content that meets your needs and interests. Please feel free to share your thoughts.