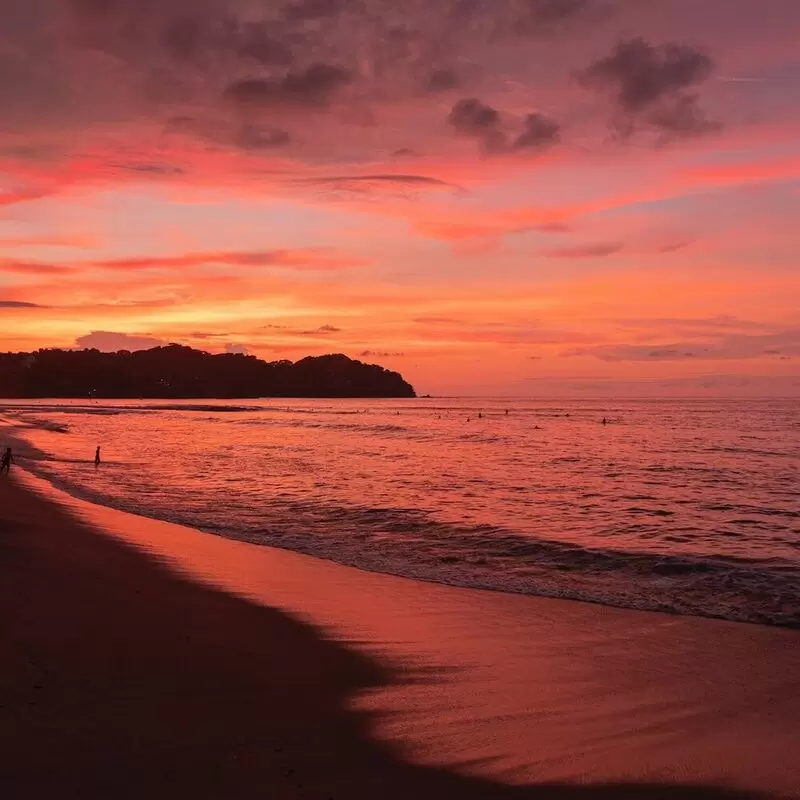 1. Sayulita Plaza

Sayulita Plaza is the heart and soul of this magical surf town, a lively meeting place where you can discover the true essence of Mexican culture. This colorful, tree-lined plaza is surrounded by cafes, bars and restaurants - all perfect places to relax and let the world go by. Throughout the day, you'll find street performers, food vendors, and artists offering their wares. If you're lucky, you might even catch a traditional Mexican dance or music performance!

Insider tip: Visit the plaza on Friday nights for a lively night market. And be sure to visit the nearby Sayulita Church as well.

Sayulita Plaza
Av. Revolución 41, 63734 Sayulita

Monday - Sunday: Open 24 hours
2. Playa De Los Muertos

If you are looking for a secluded and picturesque beach in Sayulita, Playa De Los Muertos is the place for you. Despite its morbid-sounding name, "Beach of the Dead," this place is full of life. Just a 20-minute walk from downtown Sayulita, this beach is a hidden gem with crystal clear waters and pristine white sand.

Insider tip: Bring your own snacks and drinks, as there are no vendors on this beach. Pro tip: Hike to the nearby lookout point for stunning views of the Pacific Ocean.

Playa De Los Muertos
Playa De Los Muertos, 63728 Nayarit

Monday - Sunday: Open 24 hours
3. Sayulita Beach
Sayulita Beach is a hidden gem on the Pacific coast of Mexico. The laid-back atmosphere, quaint surf town vibe, and stunning tropical scenery make it a must-visit for surfers and non-surfers alike. The waves are perfect for beginners and advanced surfers, and there are numerous stores offering surf lessons and board rentals. The beach also has a vibrant cultural scene with local artisans offering handmade products and jewelry. Don't miss the delicious street food and tropical drinks at the beachfront restaurants. Nearby attractions include Sayulita Plaza, a bustling open-air market, and the beautiful Punta de Mita.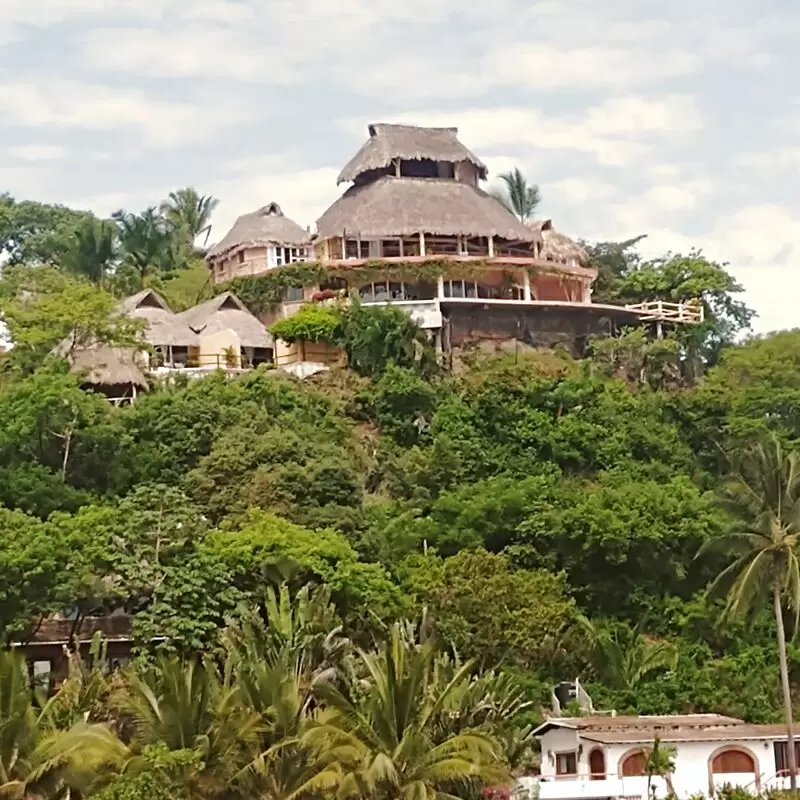 Sayulita Beach
Delfines 9, 63728 Sayulita
Monday - Sunday: Open 24 hours
4. Sayulita Nayarit Mexico
Located just 45 minutes north of popular Puerto Vallarta, Sayulita is a hidden gem that should definitely be on your list of places to visit in Mexico. This unconventional fishing village has a relaxed, welcoming atmosphere and a stunning beach perfect for surfing, swimming, and sunbathing. Stroll the cobblestone streets and explore the colorful street art and boutiques. Don't forget to sample the fresh seafood and tasty cocktails at one of the many charming restaurants that line the streets. For a special experience, take an exciting zipline tour through the jungle or hike to the nearby hidden beaches. With its year-round beautiful weather, Sayulita is a true paradise waiting to be explored.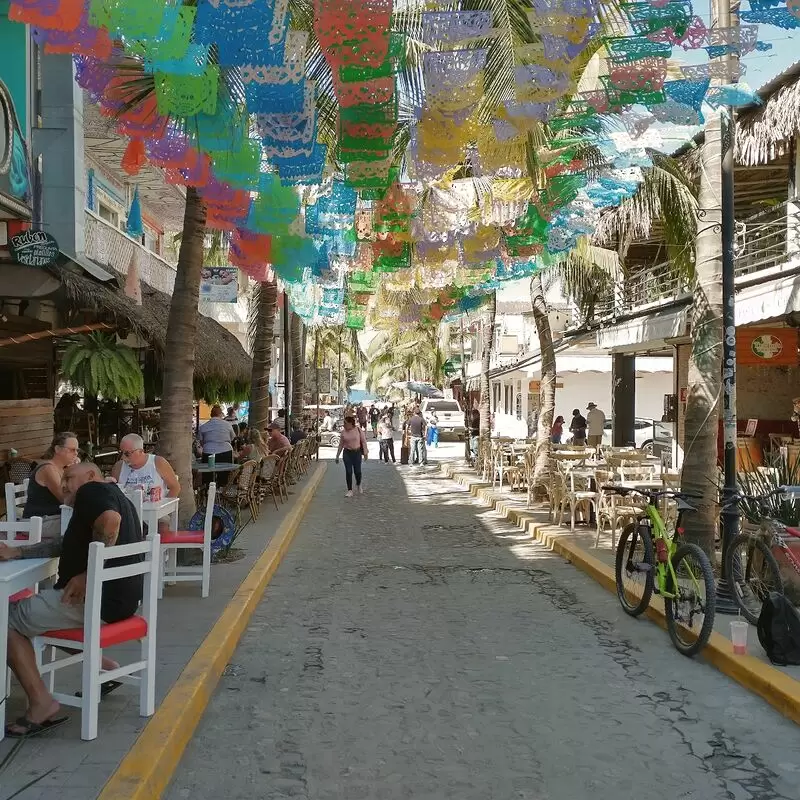 Sayulita Nayarit Mexico
Av. Revolución 88, 63728 Sayulita
5. Playa Malpaso

Playa Malpaso is a must-visit beach in Sayulita, Mexico. This secluded beach is a pristine paradise away from the crowds, with crystal clear waters and powder white sand. Just a short hike from town, Playa Malpaso offers a peaceful and tranquil escape from the hustle and bustle. Here you can catch some waves, soak up the sun, or have a relaxing picnic while admiring the breathtaking views of the surrounding jungle.

Insider tip: Don't forget to pack some snacks and an umbrella, as there are no vendors or facilities on the beach. If you're feeling adventurous, you can also explore the nearby jungle and hike up to the nearby waterfall for another breathtaking view. So what are you waiting for? Head to Playa Malpaso and experience a true hidden gem of Sayulita!

Playa Malpaso
Bahía de Banderas, 63728 Nayarit
6. Sayulita
Located on the beautiful Pacific coast of Mexico, Sayulita is a charming and laid-back beach town that has something for everyone. With its quaint streets, colorful buildings, and stunning sandy beaches, it is the perfect destination for relaxation and adventure. Activities range from surfing and paddleboarding to whale watching and yoga. Don't miss the delicious street food and great tequila cocktails you'll find on every corner. And if you want to explore the nearby sights, the stunning Marietas Islands are just a short boat ride away. Come to Sayulita and experience the true magic of Mexico!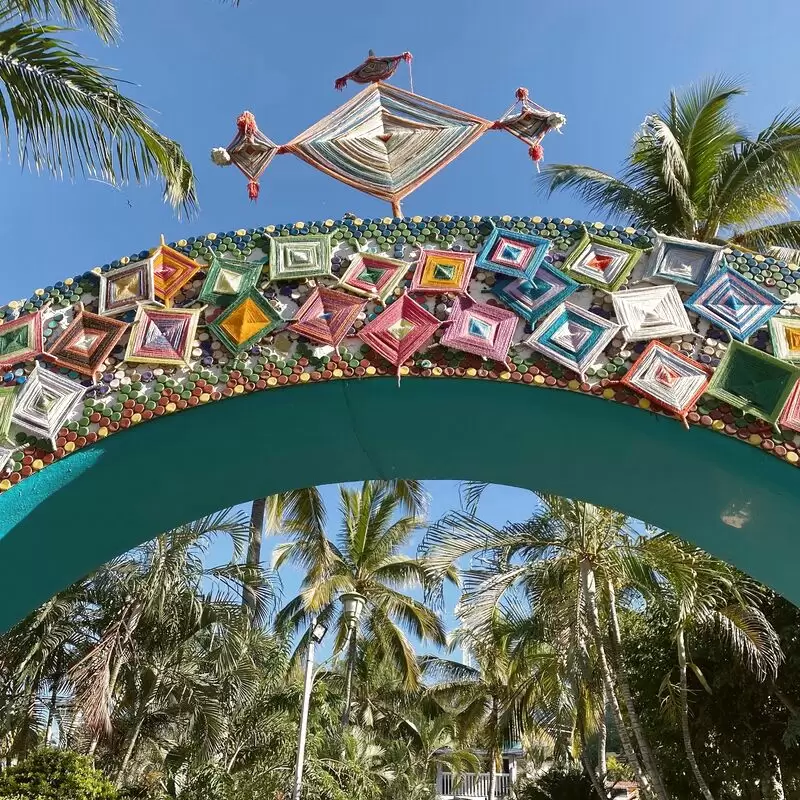 7. Rancho Mi Chaparrita
Rancho Mi Chaparrita is a must see in Sayulita, Mexico! Located in the green hills just outside of town, this charming ranch is the perfect place to experience the authentic beauty of Mexico. Here you'll find friendly ranchers, picturesque views, and delicious local cuisine. Be sure to take a guided horseback ride through the surrounding countryside, explore the neighboring vineyards, and relax with a sunset cocktail. For a truly memorable experience, stay in one of the ranch's cozy, traditional bungalows. Don't miss this hidden gem on your Sayulita vacation! And if you have time, visit the nearby Punta Sayulita Beach Club with its private beaches and lush surroundings.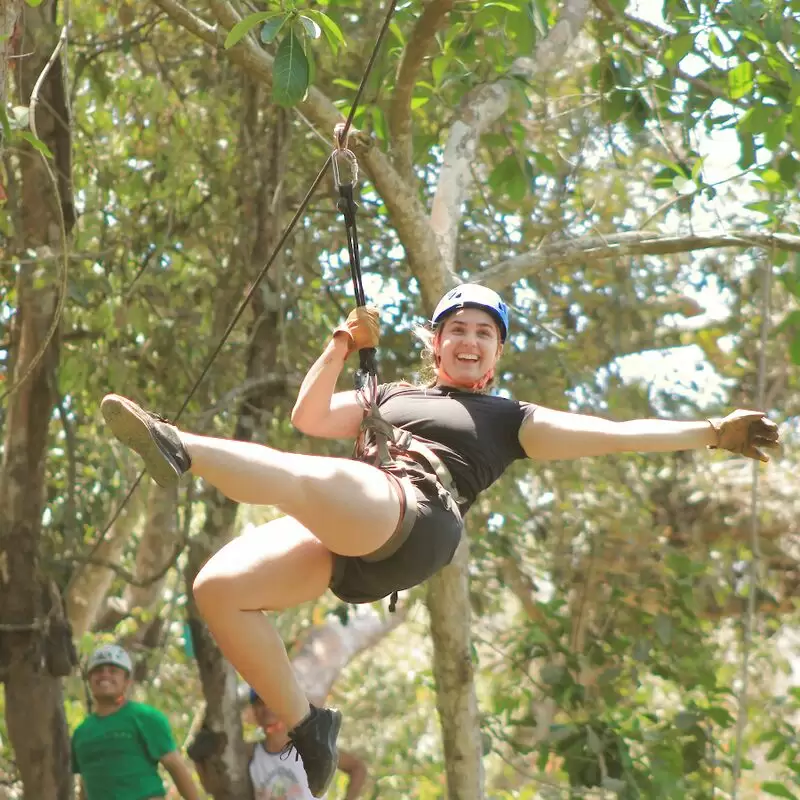 Rancho Mi Chaparrita
Carretera higuera blanca km 1.3, 63734 Sayulita
Monday - Sunday: 8:00 AM – 6:00 PM
8. El Pueblito Sayulita

When in Sayulita, a visit to "El Pueblito Sayulita" should be at the top of your list. This charming shopping center offers an abundance of stores and restaurants, each with a unique local flair. Stroll the cobblestone streets and take home a handmade souvenir.

Insider tip: Visit El Break, a popular restaurant known for its delicious breakfast and lunch offerings. Also visit the nearby Mercado del Pueblo, a bustling market with fresh produce and handicrafts.

El Pueblito Sayulita
C. Playa Azul 10, Centro, 63734 Sayulita

Monday - Sunday: Open 24 hours
9. Playa Carricitos

If you're looking for a quiet and secluded beach in Sayulita, Playa Carricitos is a must. This hidden gem is just a short distance from the town center, but it feels like it's a world away from the busy tourist areas. The peaceful atmosphere and pristine sand make it the perfect place to relax and take a break from the crowds. The beach offers great waves for surfing and is known for its crystal clear waters - ideal for snorkeling.

Insider tip: Bring your own snacks and drinks, as there are no outlets nearby. Another nearby attraction is the lesser known beach "Patzcuarito", with a great break for beginner surfers!
10. Surf'n Sayulita
Are you looking for an unforgettable surfing experience in Mexico? Then "Surf'n Sayulita" in the charming town of Sayulita is the place for you. Known for its world-class waves and vibrant surf culture, Sayulita is the perfect destination for surf enthusiasts of all levels. At "Surf'n Sayulita" you will find experienced surf instructors who are passionate about helping you catch the perfect wave. Plus, the surf store is just a stone's throw from Sayulita beach, so you can easily gear up and hit the water. Don't miss out on this iconic Sayulita experience! And if you have time, be sure to check out the lively town square and its bustling market.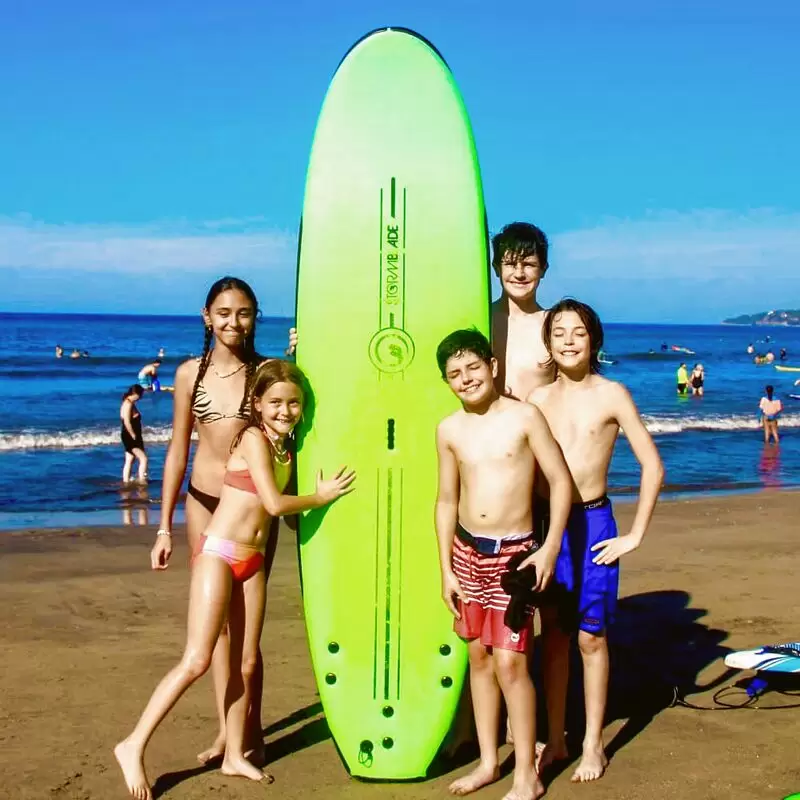 Surf'n Sayulita
Down Town, C. Gaviota #10, Centro, 63734 Sayulita
Monday - Saturday: 9:00 AM – 6:00 PM
Sunday: Closed
11. Chica Locca Tours

Are you looking for an unforgettable adventure in Sayulita? Then Chica Locca Tours is the place for you! This premier tour company offers a variety of exciting excursions, from snorkeling and paddleboarding to sunset cruises and whale watching. What sets Chica Locca apart, however, is their commitment to eco-friendliness and sustainability - they even use solar power to minimize their impact on the environment.

Insider tip: Be sure to bring plenty of sunscreen and a camera to capture the breathtaking scenery. Oh, and if you're hungry after your tour, visit nearby Sayulita Fish Taco - the fish tacos are out of this world!

Chica Locca Tours
Delfines 44, Centro, 63734 Sayulita

Monday: Closed
Tuesday - Sunday: 8:00 AM – 9:00 PM
12. Rancho Mi Chaparrita

Looking for a unique experience off the beaten path during your visit to Sayulita? Then Rancho Mi Chaparrita is the place for you! This stunning, family-run horse ranch offers authentic Mexican horseback riding experiences, including beach rides and mountain adventures. The horses here are well cared for and the guides are knowledgeable and experienced. Plus, the ranch is just a short ride from beautiful Playa Carricitos.

Insider tip: Be sure to bring a camera and snap some photos of the breathtaking ocean views from your trusty steed!

Rancho Mi Chaparrita
Av. Revolución 26, Centro, 63734 Sayulita

Monday - Sunday: 8:00 AM – 5:30 PM
13. Sayulitasurfschool

Are you ready to hit some waves at one of the most beautiful spots in Mexico? Then Sayulitasurfschool in Sayulita is the place for you! With experienced instructors and on-site equipment rental, this is the perfect place to learn to surf or improve your skills.

Insider tip: Ask for Sergio as your instructor, he is patient and knowledgeable. After surfing, be sure to visit the nearby Mercado del Pueblo for the freshest local produce and handmade products. Don't miss this unforgettable Sayulita experience!

Sayulitasurfschool
63734 Sayulita

Monday - Sunday: 9:00 AM – 5:00 PM
14. Sayulita Beachfront

Looking for an unforgettable beach experience during your stay in Sayulita? Then look no further than Sayulita Beachfront! This beautiful golden sand beach is the perfect place to soak up the sun, swim in the crystal clear waters, and enjoy some of the best surfing on the Pacific Coast. The beach is surrounded by lush green jungle and colorful beachfront homes, providing a stunning backdrop for your day in the sun.

Insider tip: Pick up some fresh ceviche from one of the local vendors for the ultimate beach snack. And if you're looking for a change of scenery, secluded Patzcuarito Beach is just a short walk away.

Sayulita Beachfront
C. Sábalo 7, 63728 Sayulita
15. Surf N Roll sayulita
Looking for an exciting adventure in Sayulita? Come to Surf N Roll and experience the waves like never before! Thanks to the knowledgeable and experienced surf instructors, you can catch the perfect wave and feel the rush of the ocean. But that's not all: Surf N Roll also offers the possibility to customize a surfboard according to your wishes. And don't miss the weekly open mic nights - a perfect opportunity to meet other travelers and locals while enjoying great music and drinks. While you're in the area, be sure to visit nearby Sayulita Beach for breathtaking views of the Pacific Ocean.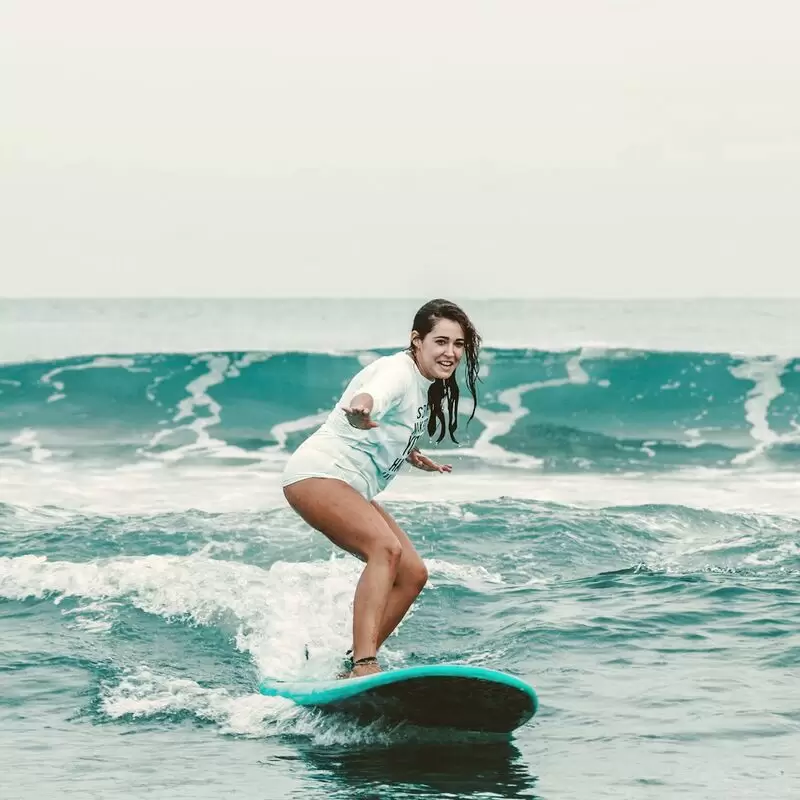 Surf N Roll sayulita
Calle Gaviotas Sur 11, centro, 63732 Sayulita
Monday - Sunday: 8:00 AM – 8:00 PM
16. Letras Sayulita

The "Letras Sayulita" are a must-see in Sayulita. It's the perfect opportunity for an Instagram photo with the colorful, oversized letters that represent the name of the town. The backdrop of the Pacific Ocean and the lively atmosphere of the town make it an excellent photo opportunity, and it is located near a busy street with many local merchants and restaurants.

Insider tip: Visit early in the day to avoid the crowds, and wear comfortable shoes as you'll have to climb a few steps for the perfect photo. Don't forget to include this picturesque place in your Sayulita trip planning!

Letras Sayulita
63728 Sayulita

Monday - Sunday: Open 24 hours
Best Time to Visit Sayulita
The best time to visit Sayulita is during the dry season from November to May, when temperatures are warm and rainfall is low. The peak tourist season is from December to March. So expect crowds and higher prices during this time. If you want a quieter stay, plan your visit during the off-season in November or May. However, keep in mind that there may be occasional rain showers during these months.
Annual Weather in Sayulita
Sayulita 3-Day Forecast
Fri, 22 September
Night
78 °F
26 °C
0%
Morning
79 °F
26 °C
0%
Afternoon
94 °F
35 °C
0%
Evening
84 °F
29 °C
0%
Sat, 23 September
Night
80 °F
26 °C
0%
Morning
78 °F
26 °C
0%
Afternoon
94 °F
34 °C
0%
Evening
85 °F
29 °C
0%
Sun, 24 September
Night
80 °F
27 °C
0%
Morning
79 °F
26 °C
0%
Afternoon
94 °F
34 °C
0%
Evening
84 °F
29 °C
0%
Questions & Answers

What's the transportation like in Sayulita?

Sayulita is a small town and the main mode of transportation is walking. Most of the town's roads are unpaved and therefore not suitable for biking. However, there are plenty of golf carts and ATVs for rent to explore the nearby areas. Cabs are also available in the city, but they are not fare-based, so you should check the price before getting in. The city has a bus stop for those who want to explore nearby cities, but the buses do not run very frequently.

Is it safe to swim at the beaches in Sayulita?

While the beaches of Sayulita are beautiful and a popular destination for swimming, it is important to exercise caution. Strong currents and waves can create dangerous conditions. Always pay attention to posted warnings and flags indicating the condition of the sea, and avoid swimming alone or after dark. Watch for lifeguards and local residents, who can often provide valuable advice on the safest places to swim. Also, watch out for rip currents and undercurrents that can pull even experienced swimmers out to sea. If you get caught in a current, swim parallel to shore until you escape the undertow.

What's the food like in Sayulita, and are there any must-try dishes?

Sayulita is a paradise for food lovers, especially seafood lovers. Local restaurants offer a variety of freshly prepared seafood dishes, including ceviche, grilled fish and crab tacos. Other must-try dishes include pozole, a traditional Mexican soup made with cornmeal and meat, and chilaquiles, a typical breakfast dish of tortilla chips, salsa and eggs. Those with a sweet tooth should definitely try churros, a fried pastry dusted with cinnamon sugar.

Are there any cultural norms or customs I should be aware of in Sayulita?

Yes, there are some cultural norms and customs to follow in Sayulita. First and foremost, it is customary to greet people with a smile and a "buenos dias" or "buenas tardes," depending on the time of day. It is also important to dress modestly when visiting places of worship or more conservative areas. In addition, it is customary to haggle in street markets and small stores, but not in larger stores or restaurants. Finally, it is important to respect the locals and their customs, including the celebration of traditional holidays such as Dia de los Muertos and the siesta, when businesses close during the hottest part of the day and people rest.

What outdoor activities are available in Sayulita, and where can I explore nature?

Sayulita offers an abundance of outdoor activities for nature lovers. You can explore the lush tropical forests on horseback or take a scenic hike to Monkey Mountain. For adrenaline junkies, surfing is a must, as is stand-up paddleboarding, parasailing and zip-lining. You'll also find some great surf spots near Sayulita at Punta Mita and San Pancho. You can also go whale watching and snorkel with sea turtles. The Marietas Islands National Park is another beautiful destination that offers a rich natural beauty.

Can you recommend any local markets or street food vendors to check out?

Sayulita is home to a variety of local markets and street food vendors. The Mercado del Pueblo is a popular weekend market that offers fresh produce, handmade crafts and street food. There are also street food stalls around the town square selling churros, tacos and quesadillas. Seafood lovers are recommended to visit El Ivan, a fish stand on the main street that offers fresh ceviche and fish tacos. Another option is the food truck Sabor y Aroma, which offers delicious burgers and sandwiches made with locally sourced ingredients.

What's the nightlife like in Sayulita?

Sayulita has a vibrant nightlife that has something for everyone. Whether you prefer cozy bars or lively nightclubs, you'll find it here. As you make your way to the lively downtown area, you'll be greeted by plenty of options to eat and drink while soaking up the local culture. Enjoy a cocktail at one of the beach bars overlooking the ocean, dance the night away at one of the local nightclubs, or simply stroll the streets and experience the warmth of Sayulita's nightlife.

Are there any conservation efforts or sustainable tourism practices in Sayulita?

Yes, Sayulita has several sea turtle conservation and sustainable tourism efforts. The Sayulita Turtle Conservation Project works to protect sea turtles and their habitats through education, community involvement, and monitoring. In addition, many businesses in the city emphasize environmentally friendly practices, such as using biodegradable products, reducing plastic waste, and supporting local artisans and farmers. Visitors are encouraged to respect and preserve the environment by participating in beach cleanups and practicing responsible tourism.

Feedback

I hope you found this article informative and helpful. I'm eager to improve the content and make it even more valuable for you. If you have any feedback or suggestions, I would love to hear from you.

Do you have any tips or hidden gems that you think should be added to the list? Are there any areas that you feel could use more explanation or clarification?

Your input is greatly appreciated and will help us to continue providing high-quality content that meets your needs and interests. Please feel free to share your thoughts.