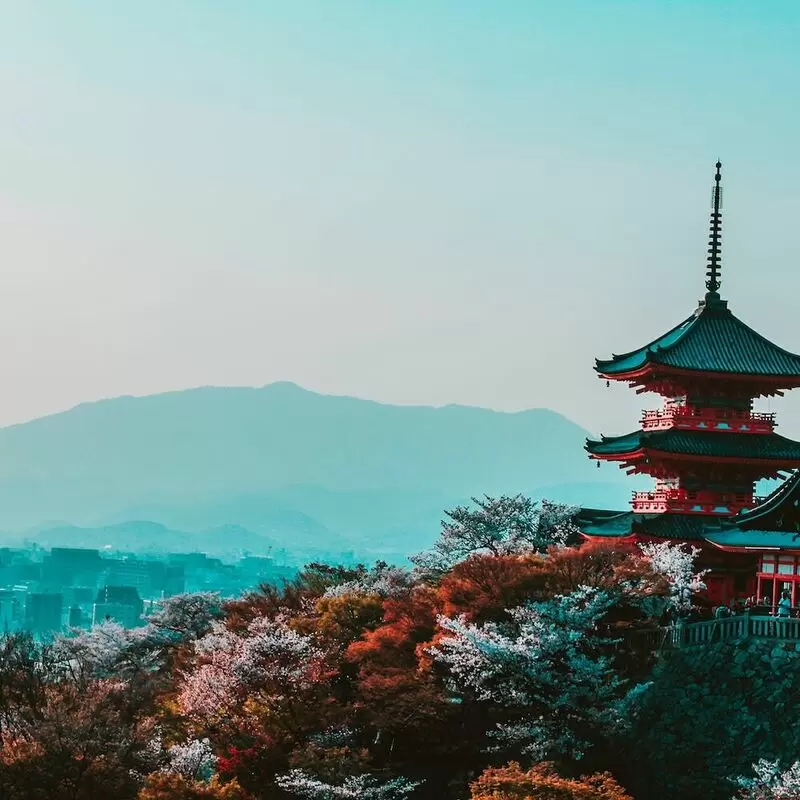 1. Fushimi Inari Taisha

The Fushimi Inari Taisha is a must-see destination in Kyoto. The shrine is world famous for its thousands of vermilion torii gates that form a breathtaking path through the forested hills of Inari Mountain. This unique pilgrimage site offers visitors the opportunity to experience the incredible natural beauty of Japan while taking an awe-inspiring spiritual journey. It is recommended that you hike up the mountain for a panoramic view of the city and a close-up look at the intricate carvings on the gates.

Insider tip: If you come early in the morning, you can avoid the crowds and enjoy the quiet atmosphere. Another nearby attraction is Tofuku-ji, a beautiful temple known for its fall foliage.

Fushimi Inari Taisha
68 Fukakusa Yabunouchichō, Fushimi Ward, Kyoto, 612-0882

Monday - Sunday: Open 24 hours
2. Kiyomizu dera
A trip to Kyoto would be incomplete without a visit to Kiyomizu-dera, one of the most famous temples in Japan. Located on a hill, the temple offers a breathtaking view of the city and is especially beautiful in spring and autumn. The main hall, built without nails, is a marvel of ancient Japanese architecture. Don't miss the Jishu Shrine, where you can participate in a love divination ritual! After the visit, you can stroll at your leisure through the charming streets of Higashiyama, where you will find traditional stores and teahouses.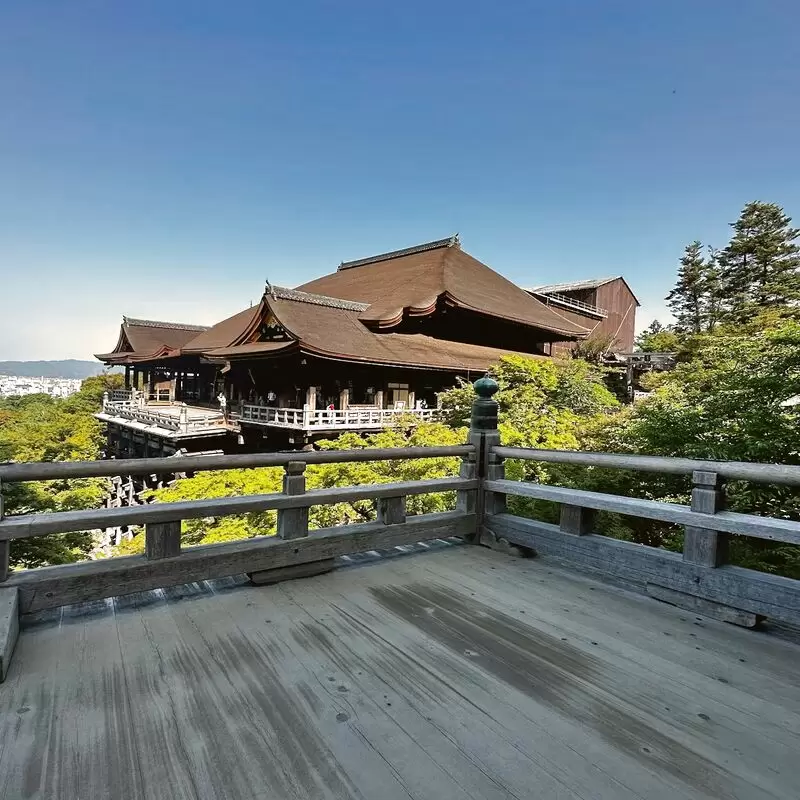 Kiyomizu dera
1-chōme-294 Kiyomizu, Higashiyama Ward, Kyoto, 605-0862
3. Kinkaku ji

When you take a trip to Kyoto, a visit to the Kinkaku-ji, also known as the "Golden Pavilion", is an absolute must. This stunning and ancient temple is a feast for the eyes, surrounded by a beautiful pond and classic Japanese gardens. Visitors can see the gleaming golden exterior, which gives an almost surreal impression. Make sure to arrive early in the morning to avoid the crowds and get the perfect photo opportunity.

Insider tip: Take the time to enjoy the view from the back, and maybe even visit the nearby Ryoan-ji temple for a peaceful Zen moment.

Kinkaku ji
1 Kinkakujichō, Kita Ward, Kyoto, 603-8361

Monday - Sunday: 9:00 AM – 5:00 PM
4. Nijō Castle
Nijō Castle has a rich history and impressive architecture that will captivate any traveler. The castle served as the residence of the Tokugawa shoguns and was the scene of important historical events in Japan. A special feature of the castle are the "nightingale floors" that creak like birds when you walk on them - a security measure to detect intruders. After visiting Nijō Castle, take a short walk to the nearby Nishi Honganji Temple to experience the tranquil beauty of this UNESCO World Heritage Site.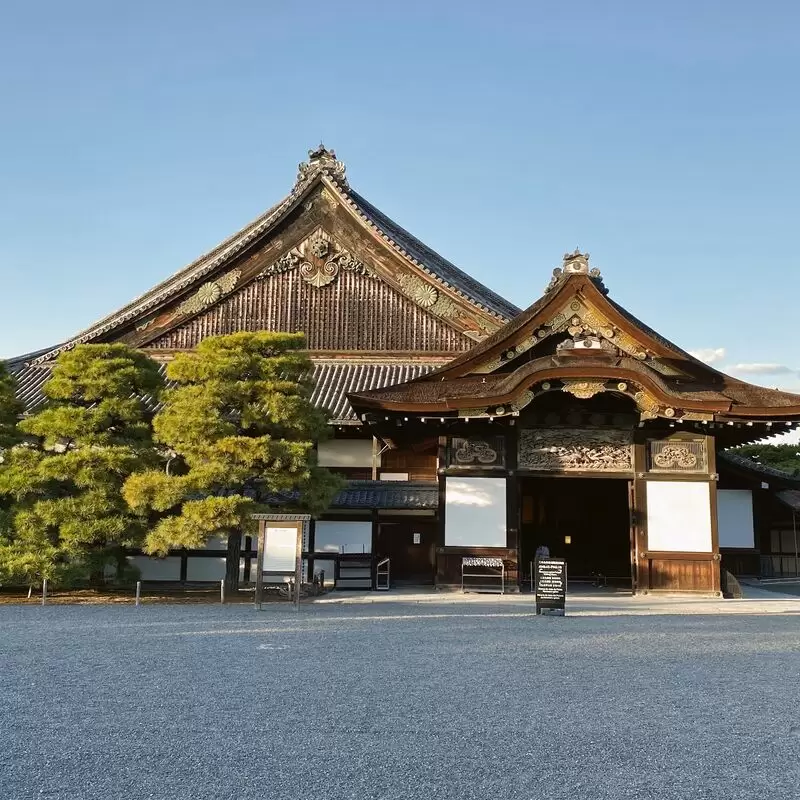 Nijō Castle
541 Nijōjōchō, Nakagyo Ward, Kyoto, 604-8301
Monday - Sunday: 8:45 AM – 5:00 PM
5. Dotonbori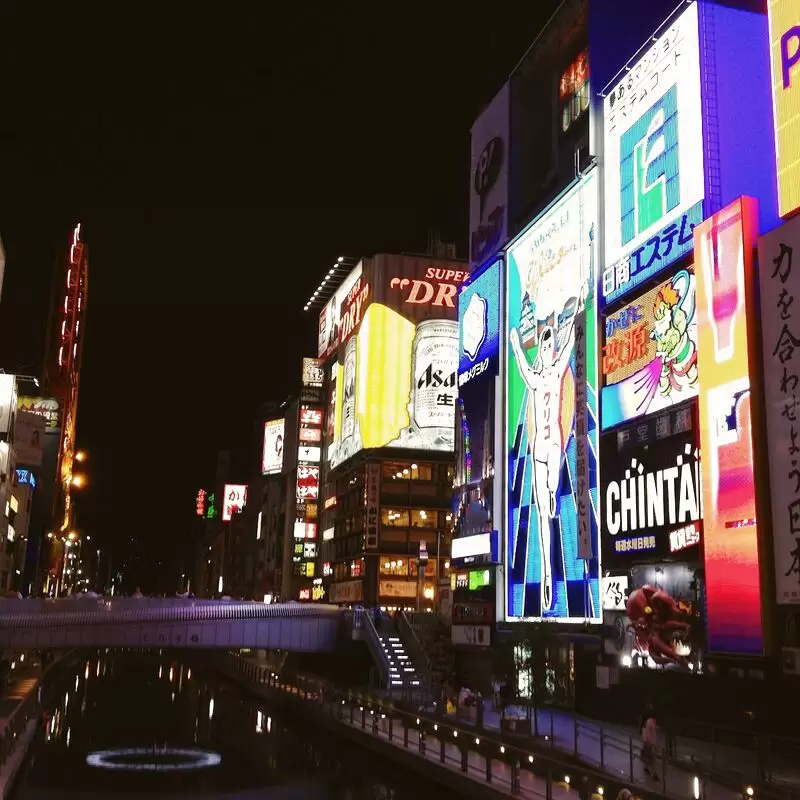 Dotonbori
1 Chome-9 Dotonbori, Chuo Ward, Osaka, 542-0071
Monday - Sunday: Open 24 hours
6. Higashiyama Jisho ji

If you're looking for a quiet and tranquil experience in Kyoto, Higashiyama Jisho-ji, also known as the Silver Pavilion, is a must-see. Located in the eastern part of Kyoto, this UNESCO World Heritage Site is known for its beautiful gardens and stunning architecture. Take a leisurely stroll through the beautifully landscaped grounds and marvel at the ornately designed temple buildings.

An insider tip is to visit on a sunny day, when the shimmering silver leaf of the grounds comes to life. Another architectural wonder is the nearby Ginkaku-ji, also known as the "Golden Pavilion.

Higashiyama Jisho ji
2 Ginkakujichō, Sakyo Ward, Kyoto, 606-8402

Monday - Sunday: 8:30 AM – 5:00 PM
7. Yasaka jinja Shrine

Yasaka-jinja Shrine is a must-see when you are in Kyoto. It is located in the popular Gion district, where you will find some of Kyoto's best restaurants and bars. The shrine dates back to the 7th century and is of great historical and cultural importance.

An insider tip: visit the shrine at night when it is beautifully lit. Then you will see the shrine in a whole new light. Nearby is also the famous Yasaka Pagoda, which is a perfect photo motif. Don't miss this unique and unforgettable Kyoto experience!

Yasaka jinja Shrine
625 Gionmachi Kitagawa, Higashiyama Ward, Kyoto, 605-0073

Monday - Sunday: Open 24 hours
8. Kyoto Imperial Palace
Immerse yourself in the world of Kyoto's imperial history and visit the Kyoto Imperial Palace. This stunning palace once housed Japan's emperors and is now a must-see for any tourist visiting Kyoto. Stroll through the lush gardens and admire the traditional architecture with its beautiful Japanese-style buildings and elegant bridges over tranquil ponds. Did you know that the palace has seen many fires and rebuilding since it was built in the 8th century? Also visit the Imperial Household Agency building next door for more fascinating insights into Japan's incredible history.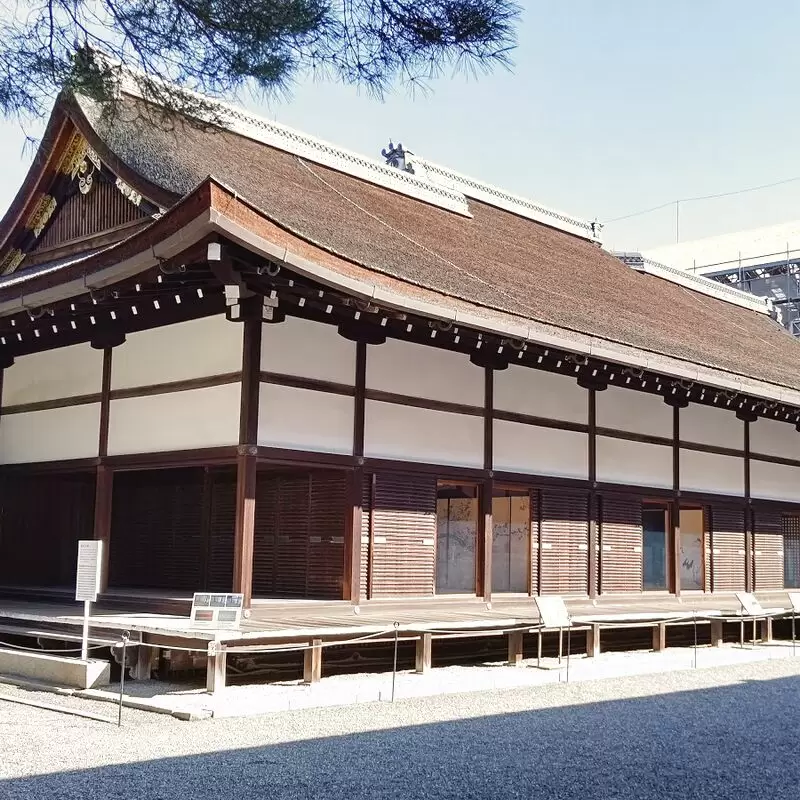 Kyoto Imperial Palace
3 Kyōtogyoen, Kamigyo Ward, Kyoto, 602-0881
Monday: Closed
Tuesday - Sunday: 9:00 AM – 5:00 PM
9. Ninna ji Temple
If you want to escape the hustle and bustle of the city, a visit to Ninna-ji Temple in Kyoto is a must. This UNESCO World Heritage Site features stunning temple buildings and gardens that are truly a sight to behold. Be sure to visit the impressive five-story pagoda and the beautiful cherry blossom trees in the spring. Fun Facts: Ninna-ji Temple is not just one temple, but a complex of several different temples and shrines. When you are done with Ninna-ji Temple, you can visit nearby Ryoan-ji Temple, famous for its Zen rock garden, and Kinkaku-ji Temple, also known as the Golden Pavilion.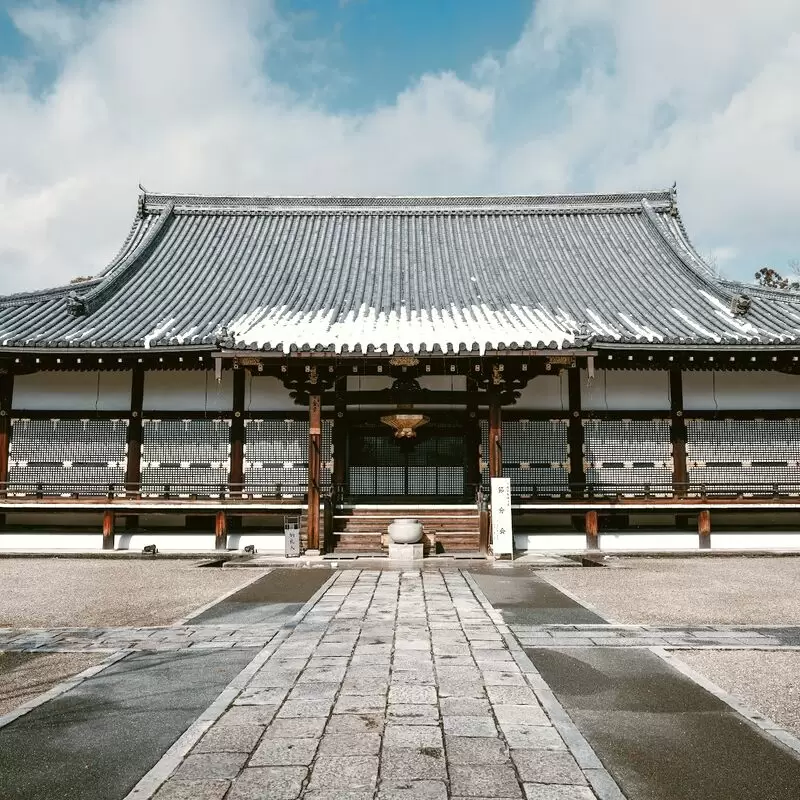 Ninna ji Temple
33 Omuroōuchi, Ukyo Ward, Kyoto, 616-8092
Monday - Sunday: 9:00 AM – 4:30 PM
10. Kyoto Station
If you are a traveler who loves modern architecture, then a visit to Kyoto Station is an absolute must! This station is not just a mere transportation hub, but a destination in itself. Marvel at the impressive futuristic design and innovative technology while you shop, dine, and explore the station's many attractions. Don't miss the Skyway and Sky Garden, which offer breathtaking panoramic views of Kyoto City. If you have time, be sure to visit the nearby Higashi Honganji Temple and Shosei-en Garden to get a taste of Kyoto's rich history and culture.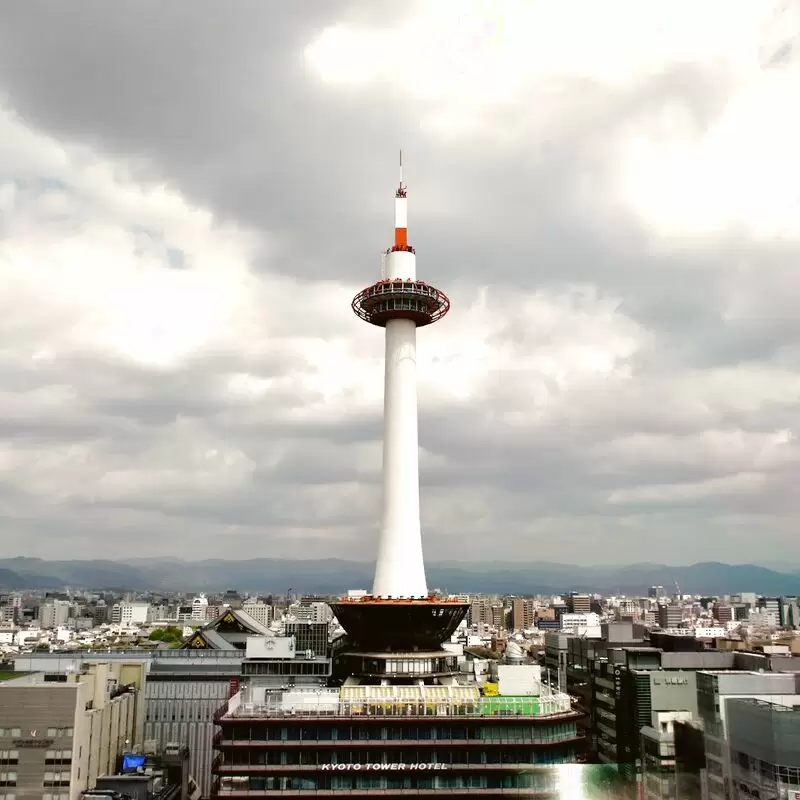 Kyoto Station
Higashishiokoji Kamadonocho, Shimogyo Ward, Kyoto, 600-8216
11. Kōdai ji Temple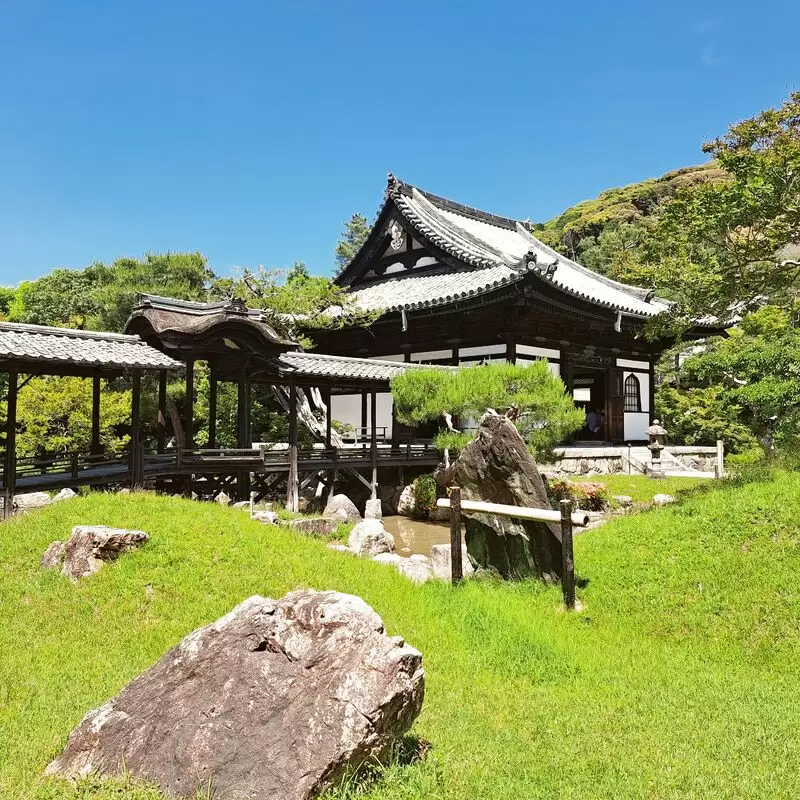 Kōdai ji Temple
高台寺下河原町526
Monday - Sunday: 9:00 AM – 5:00 PM
12. Nishiki Market

Kyoto's Nishiki Market is a must-see for any foodie looking to explore the city's culinary scene. This bustling market is overflowing with stalls selling everything from fresh seafood and exotic spices to unique Japanese sweets and souvenirs.

An insider tip is the grilled mochi with sweet soy sauce - they're a local favorite! After enjoying the market's delicious offerings, take a walk to nearby Gion to catch a glimpse of traditional Japanese geisha.

Nishiki Market
Higashiuoyacho, Nakagyo Ward, Kyoto, 604-8055
13. Rengeō in Sanjūsangen dō Temple

With its over 1000 statues of Buddhist deities, the Rengeō-in Temple (also known as Sanjūsangen-dō) is one of the main attractions in Kyoto. The temple, which is one of Japan's national treasures, is famous for its impressive architecture, intricate woodwork and stunning gardens.

Insider tip: The temple also offers visitors the chance to try their hand at traditional Kyudo-style archery. Be sure to visit the nearby Kyoto National Museum to learn more about the history of the region and admire the impressive collection of art and artifacts.

Rengeō in Sanjūsangen dō Temple
657 Sanjūsangendōmawari, Higashiyama Ward, Kyoto, 605-0941

Monday - Sunday: 8:30 AM – 5:00 PM
14. Arashiyama Monkey Park Iwatayama

If you are looking for a truly unique experience in Kyoto, Arashiyama Monkey Park Iwatayama is for you. Located in the picturesque Arashiyama Mountains, this park is home to over 120 Japanese macaque monkeys. Not only can you observe and interact with the monkeys up close, but you can also feed them from the observation deck while enjoying breathtaking views of the city.

Insider tip: Be sure to take some yen coins with you to buy the monkey food. After your visit to the monkey park, you can take a walk through the nearby bamboo forest or visit the historic Tenryu-ji temple.

Arashiyama Monkey Park Iwatayama


Monday - Sunday: 9:00 AM – 4:00 PM
15. Chion in Temple
If you want to experience one of the most tranquil and sacred places in Kyoto, then Chion-in Temple is for you. Located in the Higashiyama district of Kyoto, this temple is considered the birthplace of Jodo Shu, one of the most popular branches of Buddhism in Japan. The temple's breathtaking scenery and peaceful atmosphere, with its beautiful gardens, peaceful ponds and impressive architecture, will delight you. Don't forget to visit the massive wooden gate leading to the temple - it is one of the most impressive sights in Kyoto! If you are looking for another sight in the area, you should visit Maruyama Park, which is just a short walk from Chion-in Temple.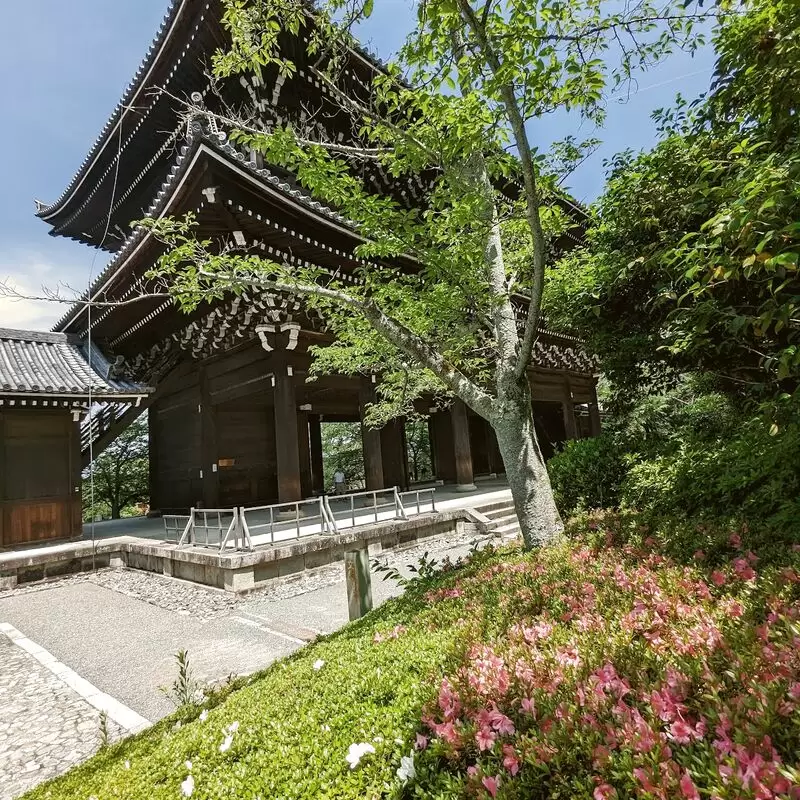 Chion in Temple
400 Rinkachō, Higashiyama Ward, Kyoto, 605-8686
Monday - Sunday: 9:00 AM – 4:00 PM
16. Arashiyama
Arashiyama is a magical district in Kyoto that will take your breath away! This area, with its natural beauty and cultural richness, is a must-see for any visitor. Take a walk across the picturesque Togetsukyo Bridge and admire the calm waters of the Katsura River. Visit Tenryuji Temple, a UNESCO World Heritage Site surrounded by beautiful gardens. Be sure to try the region's famous matcha ice cream, and take a ride on the enchanting Sagano Romantic Train to see the gorgeous foliage as you explore the area. While you're in the area, don't miss the famous bamboo groves of Arashiyama that will awaken your senses.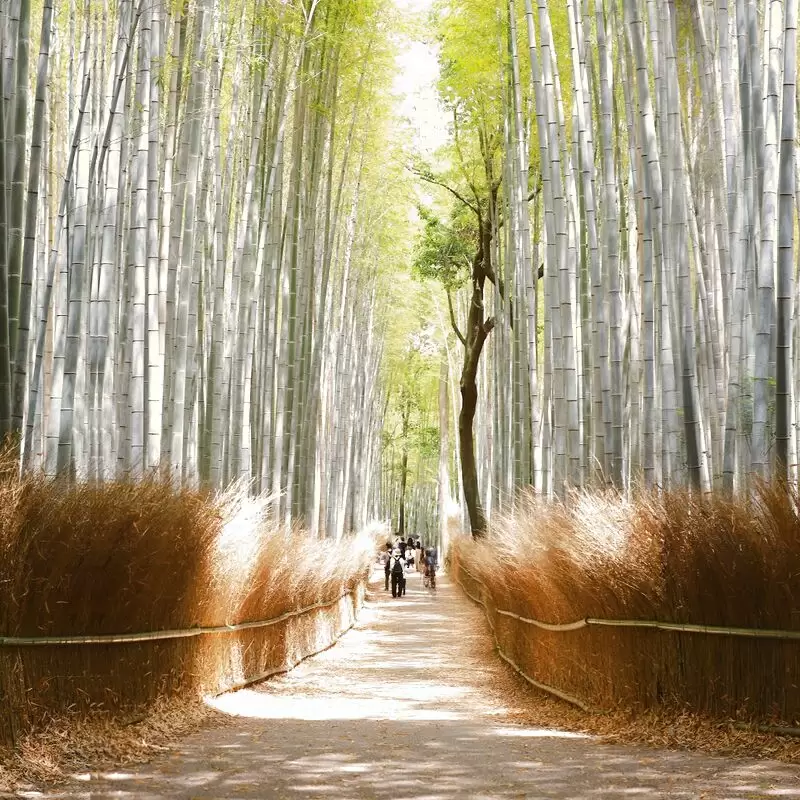 Arashiyama
Arashiyama Genrokuzancho, Ukyo Ward, Kyoto, 616-0007
Best Time to Visit Kyoto Annual Weather in Kyoto Kyoto 3-Day Forecast

Tue, 26 September

Night

67 °F

20 °C

0%

Morning

65 °F

18 °C

0%

Afternoon

84 °F

29 °C

0%

Evening

78 °F

25 °C

0%

Wed, 27 September

Night

72 °F

22 °C

0%

Morning

70 °F

21 °C

0%

Afternoon

84 °F

29 °C

0%

Evening

79 °F

26 °C

0%

Thu, 28 September

Night

74 °F

23 °C

0%

Morning

72 °F

22 °C

0%

Afternoon

84 °F

29 °C

61%

Evening

75 °F

24 °C

71%

Questions & Answers

What is the best way to get around Kyoto?

The best way to get around Kyoto is to use the extensive public transportation system. The city has an efficient bus system with various routes covering most of the popular tourist attractions. Kyoto also has a modern subway system that connects the different parts of the city. Cabs are also plentiful and can be hailed on the street or booked through apps. For a unique experience, you can also rent a bicycle or ride a rickshaw to explore Kyoto's scenic streets.

Are there any cultural customs or etiquette I should know before visiting Kyoto?

Kyoto has a rich cultural heritage that is reflected in its customs and manners. Visitors are expected to remove their shoes before entering a house or temple, and bowing is a common form of greeting. It is also polite to say "sumimasen" (excuse me) before asking for help or getting a person's attention. When visiting temples, visitors are expected to maintain respectful silence and not point their feet at sacred objects or images. It is important to dress modestly and avoid revealing clothing when visiting temples, shrines, or other religious sites.

Can you recommend any off-the-beaten-path destinations to explore in Kyoto?

If you're looking for off-the-beaten-path destinations in Kyoto, I recommend visiting the Kurama and Kibune areas. This area is located in the northern mountains of Kyoto and offers scenic hiking trails, hot springs, and traditional ryokans. Another hidden gem is Kitano Tenmangu Shrine, dedicated to the God of Education, which attracts fewer tourists. In autumn, you can also visit Tofukuji Temple and admire the stunning colors of the foliage.

Where can I find the best local food in Kyoto?

Kyoto's culinary scene is rich and exciting, and to experience the best of it, you should visit the Nishiki Market. The market is full of local vendors selling fresh sushi, sashimi, yakitori, tofu, pickles and other traditional Japanese dishes. The Gion district is also home to many exclusive restaurants offering everything from kaiseki (multi-course meals) to tempura, soba and ramen noodles. Those who prefer a more casual dining experience should visit Pontocho Avenue, where there are many quaint and inexpensive eateries.

What are some unique experiences I can have in Kyoto?

Kyoto offers several unique experiences that you won't find anywhere else. Visit the Fushimi Inari-taisha Shrine, famous for its thousands of torii gates that form a fascinating path through the forest. Try your hand at the Japanese tea ceremony (sado) or learn the ancient craft of making traditional Japanese armor or pottery. Experience Japanese nightlife by visiting a traditional izakaya or bar and enjoy delicious local cuisine, including kaiseki (multi-course traditional meal), udon noodles and sushi. Don't miss the opportunity to relax in a traditional onsen (hot spring) surrounded by stunning natural scenery.

What is the best way to sightsee in Kyoto in a limited amount of time?

Kyoto is a beautiful city with many sights, but if you have limited time, you should focus on three or four important areas. The Arashiyama district, with its peaceful bamboo forests and stunning Togetsukyo Bridge, is a must-see. Next, visit Kinkaku-ji Temple, one of Japan's most famous sights with its stunning gold-covered walls. Afterwards, head to Nijo Castle, an impressive structure with beautiful gardens. Finally, visit Fushimi-Inari Shrine with its iconic path of vermilion torii gates.

Can you recommend any traditional Japanese accommodations or ryokans to stay in Kyoto?

Kyoto is full of traditional Japanese accommodations called ryokans, which are perfect for travelers who want to experience traditional Japanese hospitality. One of the most popular ryokans is Tawaraya, which is known for its first-class service, private gardens and baths. Another option is Hiiragiya, a ryokan that has been around for over a century and offers tatami-floored rooms, an onsen, and traditional kaiseki meals. For affordable ryokans, Ryokan Nishiyama and Ryokan Shimizu are good choices, offering a traditional experience for budget travelers.

What are some of the must-visit temples and shrines in Kyoto?

Kyoto is home to some of the most beautiful and historically significant temples and shrines in the world. Kinkaku-ji, a golden temple set in the middle of a tranquil pond, is a UNESCO World Heritage Site. Another famous shrine is the Fushimi Inari Taisha, known for its thousands of torii gates. The impressive fortress-like building of Nijo Castle is also worth a visit. The quiet and peaceful atmosphere of Ryoan-ji, famous for its Zen garden, is another must-see attraction. Other temples worth seeing are Kiyomizu-dera, Ginkaku-ji and the Yasaka Shrine.

How do I participate in a tea ceremony in Kyoto?

To experience a traditional tea ceremony in Kyoto, you can visit one of the many tea houses in the city. These tea houses offer guided tours where you can learn more about the art and history of the Japanese tea ceremony. During the ceremony, you will be served traditional Japanese tea and enjoy the peaceful and meditative atmosphere. Some tea houses require reservations in advance, so it is best to plan ahead. The tea ceremony is very revered in Japanese culture and is an absolute must when visiting Kyoto.

Are there any special festivals or events happening during my stay in Kyoto?

Kyoto hosts numerous festivals and events throughout the year, which you should definitely visit during your stay. Among the most famous is the Gion Matsuri, one of the oldest and most famous festivals in Japan, with impressive floats and parades. The Jidai Matsuri, which celebrates Kyoto's history and includes a procession of people in period costumes. And the Arashiyama Hanatouro, a beautiful festival with illuminated bamboo paths and lanterns in the Arashiyama district. In addition, there are several seasonal events in Kyoto such as cherry blossom viewing and autumn foliage tours.

Feedback

I hope you found this article informative and helpful. I'm eager to improve the content and make it even more valuable for you. If you have any feedback or suggestions, I would love to hear from you.

Do you have any tips or hidden gems that you think should be added to the list? Are there any areas that you feel could use more explanation or clarification?

Your input is greatly appreciated and will help us to continue providing high-quality content that meets your needs and interests. Please feel free to share your thoughts.