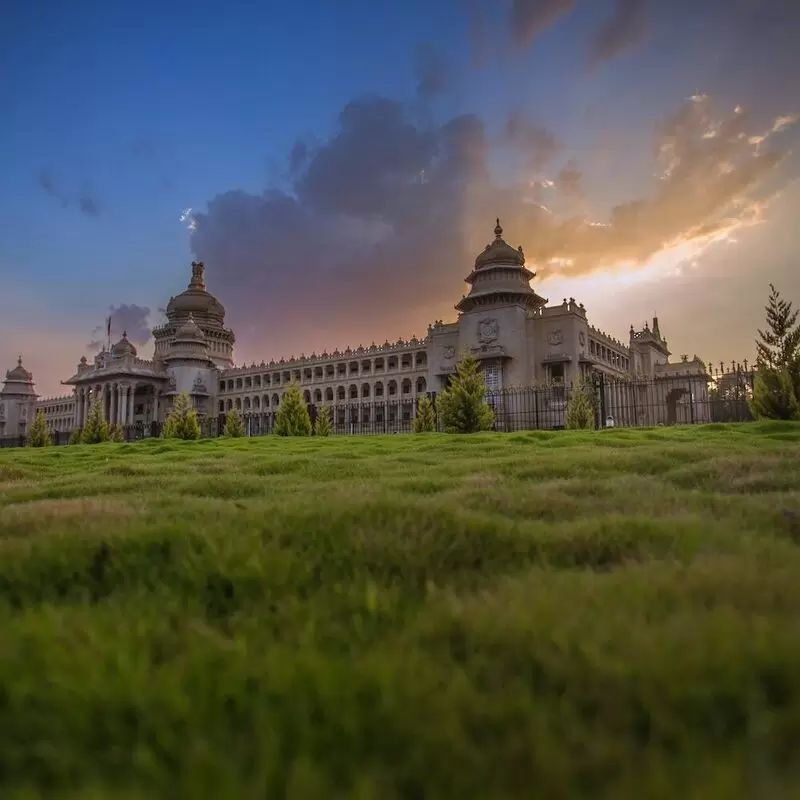 1. Lalbagh Botanical Garden
Discover the natural beauty and tranquil surroundings of Bangalore at Lalbagh Botanical Garden. The garden is an oasis for nature lovers who want to escape the hustle and bustle of the city. Lalbagh covers an area of 240 acres and is home to a variety of exotic plants and flowers. Take a leisurely stroll and marvel at the rare collection of plants from around the world. Don't forget to visit the impressive Glass House, a botanical marvel where a flower show is held every year on Independence Day. Another must-see attraction is the majestic Victorian-style Bandstand. Visit Cubbon Park, another famous park in Bangalore, located near Lalbagh.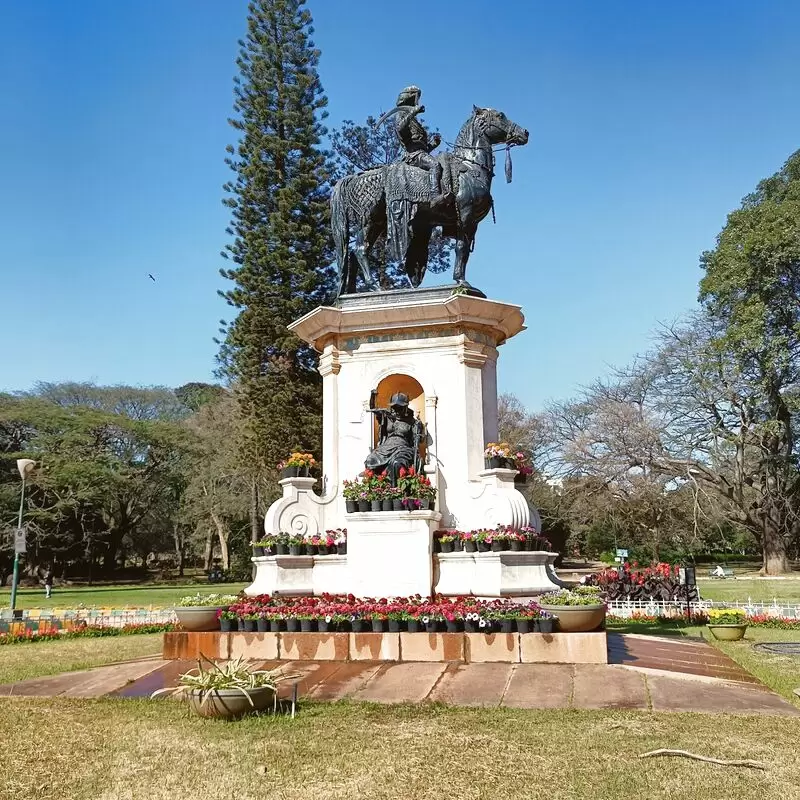 Lalbagh Botanical Garden
Mavalli, Bengaluru
2. Cubbon Park
Cubbon Park should be at the top of your list when visiting Bangalore! This magnificent natural gem in the heart of the city is a must-see for tourists and locals alike. With over 300 acres of lush greenery, you will find yourself in a tranquil paradise. Take a stroll through the magnificent botanical gardens and admire the exotic flora and fauna. There is also a toy train that will take you on a fun ride through the park. And while you're in the area, don't forget to visit the historic Vidhana Soudha building, just a short walk away.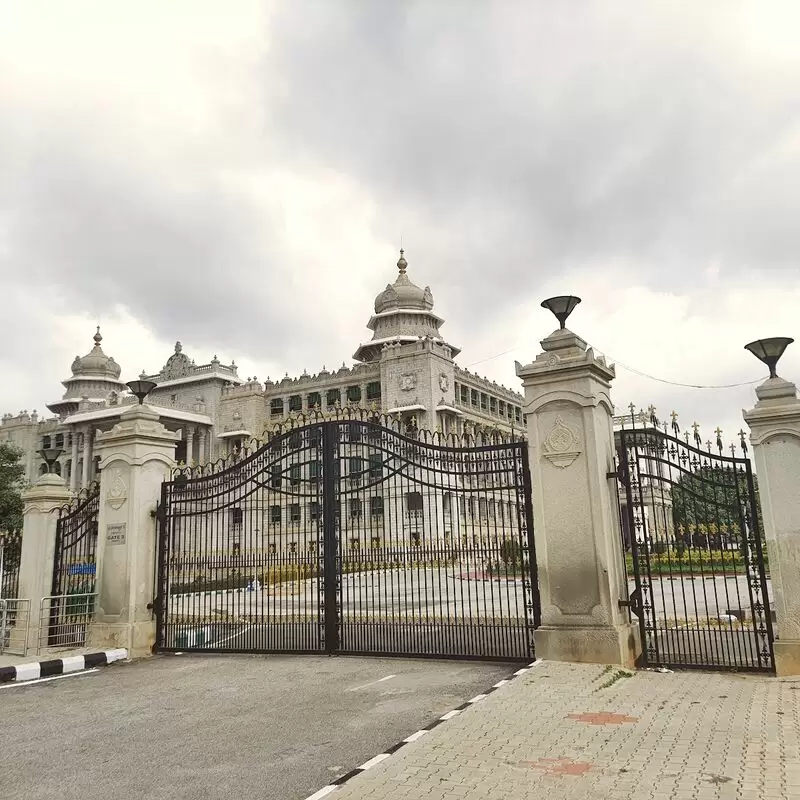 Cubbon Park
Kasturba Rd, behind High Court of Karnataka, Ambedkar Veedhi, Sampangi Rama Nagara, Bengaluru
3. Bannerghatta Zoo

Are you ready for a wild adventure? Then Bannerghatta Zoo, located just outside Bangalore, is the place for you. This huge wildlife park is home to a variety of exotic animals, including tigers, lions, bears, and elephants. You can even join a safari tour through the jungle to see these incredible creatures up close! But that's not all - the park also features a butterfly garden, a snake house, and a fantastic museum that showcases the natural history of the region.

Insider tip: Visit the park on a weekday to avoid crowds, and bring plenty of water and sunscreen. Another nearby attraction is the stunning Meenakshi Temple, just a short drive from the zoo.

Bannerghatta Zoo
Bannerghatta Main Rd, Bannerughatta, Bengaluru

Monday - Sunday: 9:30 AM – 5:00 PM
Tuesday: Closed
Thursday: 9:00 AM – 5:00 PM
4. Bengaluru Palace
Experience the grandeur and wealth of India's former kingdoms on a visit to Bengaluru Palace in Bangalore. Once the residence of the royal Wodeyar family, this exquisite palace is an architectural masterpiece that is a blend of Tudor and Scottish Gothic styles. The palace has ornate wood carvings, lush gardens and an impressive collection of paintings and artifacts that will leave you spellbound. It is also interesting to note that the palace was built in 1887 and is currently owned by Srikantadatta Narasimharaja Wadiyar, a scion of the Wodeyar dynasty. After visiting the palace, you can take a walk in the beautiful palace gardens or visit the nearby Tipu Sultan Summer Palace, which was once the summer residence of the ruler. Overall, Bengaluru Palace is a must-see for history, art and architecture lovers.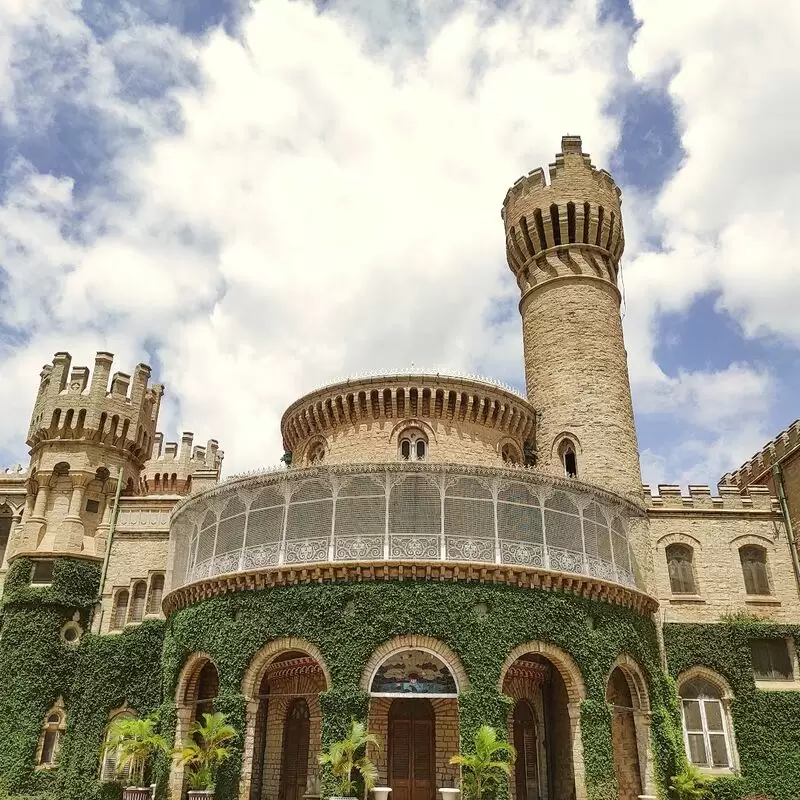 Bengaluru Palace
Bengaluru
Monday - Sunday: 10:00 AM – 5:30 PM
5. Tipu Sultan's Summer Palace

As a traveler in Bangalore, you should not miss to visit Tipu Sultan's Summer Palace, a fascinating marvel of Indian architecture and history. This palace, a true gem of the city, was the summer residence of Tipu Sultan, the former ruler of Mysore. The palace is full of fascinating artifacts, including paintings, furniture, and personal belongings of the Sultan.

Insider tip: Be sure to take a guided tour to learn more about the fantastic stories behind each room and decoration. While you're in the area, be sure to also visit the nearby Bangalore Fort to immerse yourself in the history and culture of the region.

Tipu Sultan's Summer Palace
XH5F+PFR, Tippu Sultan Palace Rd, Chamrajpet, Bengaluru

Monday - Sunday: 8:30 AM – 5:30 PM
6. Dodda Aalada Mara

Are you looking for a unique experience in Bangalore? Then Dodda Aalada Mara is the place for you, because here is one of the largest banyan trees in India. The sprawling tree covers nearly 3 acres and is over 400 years old! Explore the twisted roots and branches to discover hidden corners and a peaceful atmosphere.

Insider tip: Visit the tree on weekdays and in the morning to avoid crowds and enjoy the silence. Near Dodda Aalada Mara, you can also visit the Art of Living International Centre and Omkar Hills to complete your spiritual journey.

Dodda Aalada Mara
Tavarekere, W95W+Q7V, Dodda Aladmara Road, Uttarahalli Hobli, Bengaluru

Monday - Sunday: 8:00 AM – 5:30 PM
7. Bengaluru Fort
Are you ready for a trip back in time? Bengaluru Fort is a must-see in Bangalore that will take you back to the 16th century. Built by the founder of Bangalore, Kempe Gowda I, this impressive structure served as the center of power for several years. Inside the fort you will find beautiful temples, the most popular of which is the Ganesha Temple, and a divine ambience perfect for meditation. After exploring the fort, you should visit Tipu Sultan's Summer Palace, just a few minutes away, where you can experience true Mughal architecture. These are two attractions that will give you a deep insight into the rich history of Bangalore.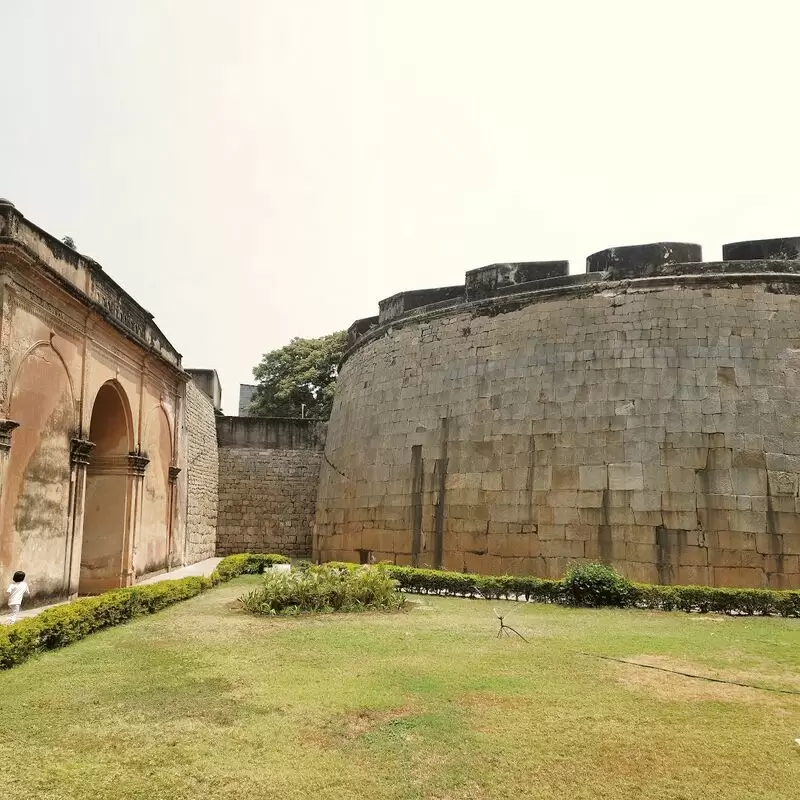 Bengaluru Fort
XH7G+49C, Krishna Rajendra Rd, New Tharagupet, Bengaluru
Monday - Sunday: 8:30 AM – 5:00 PM
8. Indira Gandhi Musical Fountain Park

The Indira Gandhi Musical Fountain Park is a fascinating attraction in Bangalore that is sure to leave you spellbound. The perfectly choreographed musical fountain show is a real feast for the eyes. The water dances to the rhythm of Bollywood and regional music, creating an enchanting atmosphere that will leave you in awe.

Insider tip: Try to catch the evening show when the park is lit up with colorful lights. The proximity to Cubbon Park, a lush green space ideal for a picnic with family or friends, makes for a perfect day out in the heart of Bangalore. Don't miss out on this great experience!

Indira Gandhi Musical Fountain Park
XHPR+4MV, Raj Bhavan Rd, Opposite to Jawahar Lal Nehru Planetarium, Vasanth Nagar, Bengaluru

Monday: Closed
Tuesday - Sunday: 7:00 AM – 7:30 PM
9. Butterfly Park
Looking for a quiet place to escape the hustle and bustle of Bangalore city? Then you should definitely visit the stunning Butterfly Park! The Butterfly Park is located just 15 kilometers south of the city center and covers an area of 7.5 hectares. It is full of exciting surprises for tourists! Take an inspiring walk through the live butterfly greenhouse, which houses over 20 species of the most charismatic insects. Surrounded by lush greenery and an amazing variety of flowers and plants that attract butterflies, the Butterfly Park is a must-see for all nature lovers. Don't forget to bring your camera and take a few clicks of these enchanting creatures! Bannerghatta National Park is also nearby and well worth a visit.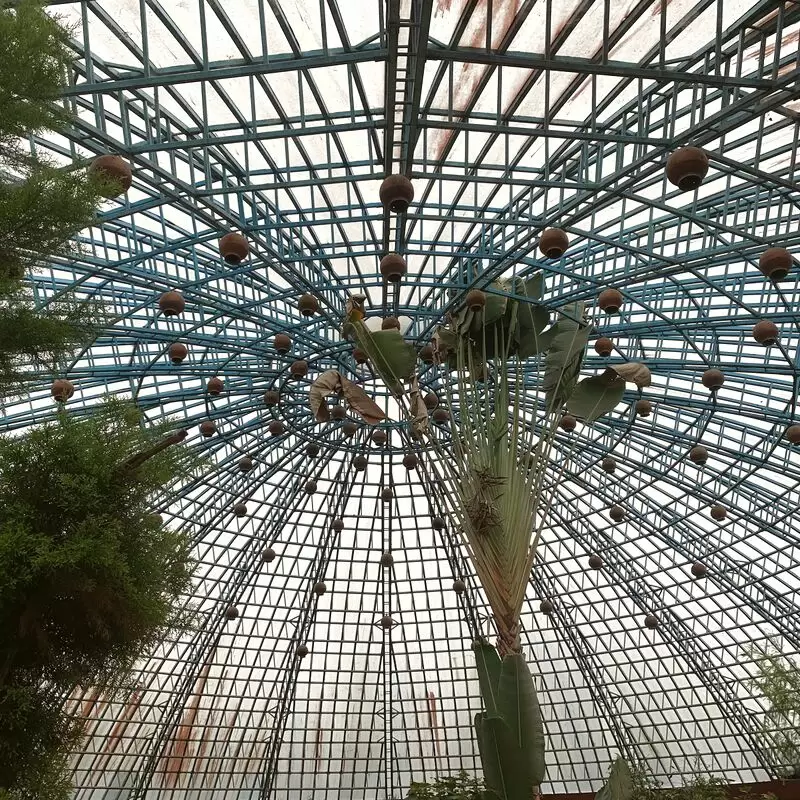 Butterfly Park
Inside Bannerughatta Biological Park, QHWG+CHF, Bannerughatta, Bengaluru
Monday - Sunday: 9:30 AM – 5:00 PM
Tuesday: Closed
10. Thottikallu Falls
Amidst the enchanting wilderness of Bangalore lie the charming Thottikallu Waterfalls, also known as the TK Waterfalls. This picturesque marvel is of breathtaking natural beauty and a perfect getaway for those who want to escape the hustle and bustle of city life. The mighty waterfall cascades down the rocky terrain, creating a mystical veil of water mist. There are many small caves in the area that are perfect for an adventurous hike, adding to the thrill of the trip! Don't miss a visit to the nearby Bannerghatta National Park, which is home to exotic flora and fauna and offers impressive experiences.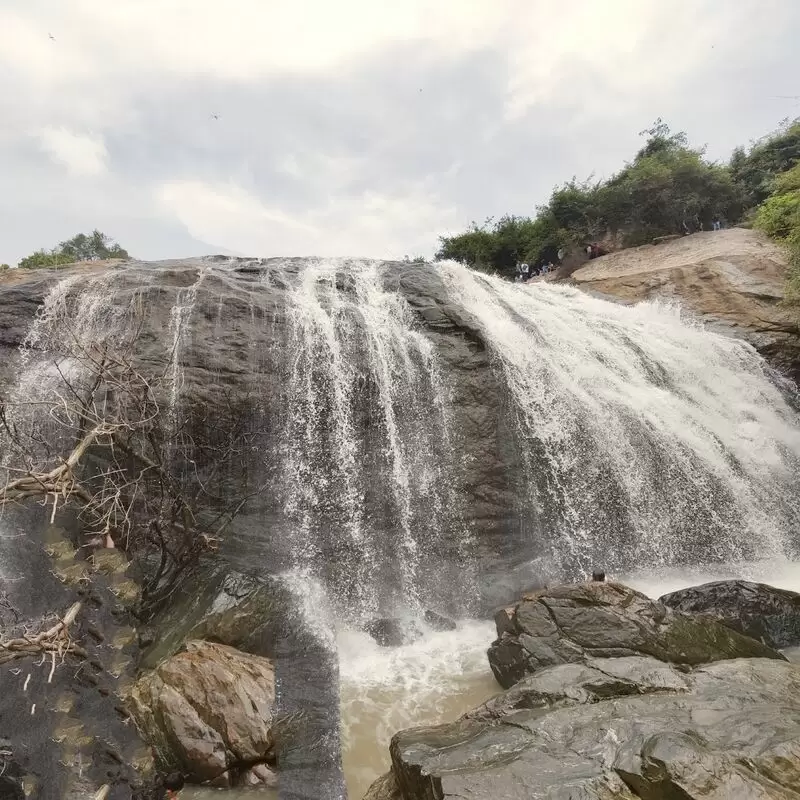 Thottikallu Falls
RG4Q+CFM, Kanakapura Rd, Bengaluru
11. Bilikal Rangaswamy Betta

Want to escape the hustle and bustle of Bangalore's city life? Head to Bilikal Rangaswamy Betta for a peaceful retreat surrounded by nature! The mountain peak offers breathtaking views of the surrounding serene forest and is popular with hikers. Keep an eye out for wildlife like monkeys and deer on your way to the summit. Don't forget to bring some water and snacks for the hike.

Insider tip: Visit the mountain early in the morning for a breathtaking sunrise. Another nearby attraction is the Muthyala Maduvu waterfall, a perfect place for a refreshing swim!

Bilikal Rangaswamy Betta
HG36+FX6, Bengaluru

Monday - Friday: Closed
Saturday - Sunday: 9:00 AM – 3:00 PM
12. Government Aquarium
Are you a lover of marine life? Then you must visit the Government Aquarium in Bangalore. It is the second largest aquarium in India and houses more than 5000 species of marine and freshwater fish. The aquarium has 83 tanks with a glass tunnel that offers a unique underwater experience. Here you can observe animals such as colorful coral reefs, sharks, stingrays and various species of freshwater fish. The aquarium also offers regular feedings, which are a must for visitors. If you want to visit other nearby attractions, the Indira Gandhi Musical Fountain Park is just a stone's throw away. It is a beautiful park with an impressive fountain where a colorful, choreographed musical performance is staged in the evenings.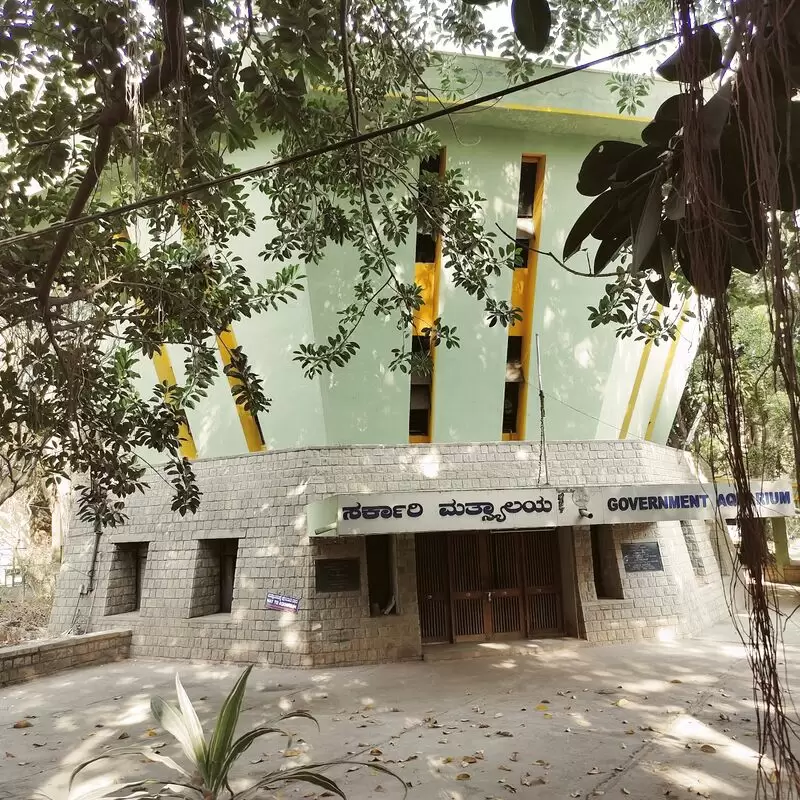 Government Aquarium
XHGX+JC3, Kasturba Rd, Shanthala Nagar, Bengaluru
13. Snow City

Are you ready for a unique experience that does not exist a second time in India? Then Snow City in Bangalore is the place for you! Get ready to be transported to a winter wonderland when you enter this indoor park in sub-zero temperatures. Enjoy thrilling snow rides, take the perfect Instagram photo in the snowy landscape, and even build a snowman!

Insider tip: Don't forget to wear warm clothes and gloves, as the temperature in the park is -5 °C. Nearby, you can get a fascinating glimpse of outer space at the Jawaharlal Nehru Planetarium.

Snow City
Fun World Complex, 1st floor, Snow city, Jayamahal Main Rd, opposite TV Tower, J.C.Nagar, Bengaluru

Monday - Sunday: 10:00 AM – 8:00 PM
14. BTM lake

Nestled in the bustling BTM Layout neighborhood, Lake BTM is a hidden gem waiting to be explored by avid travelers. The tranquil lake is surrounded by lush greenery and offers a peaceful escape from the hustle and bustle of the city. The shimmering waters are made for a relaxing boat ride or a peaceful picnic with loved ones.

Insider tip: Visit the nearby colorful market for delicious street food after your visit to the lake. BTM Lake is a must visit for anyone who wants to experience the natural beauty of Bangalore.

BTM lake
181, Tank Shore Rd, EWS Colony, Lake City, BTM Layout, Bengaluru

Monday - Sunday: 6:00 – 9:30 AM, 4:00 – 6:30 PM
15. Manchanabele Dam

Get ready for an exciting escapade in Bangalore as you head to the beautiful Manchanabele Dam, located about 40 km from the sprawling city. This hidden gem offers picturesque scenery and a serene atmosphere that will take your breath away. Take a walk around the dam and admire the vast expanse of water surrounded by hills and greenery. You can also indulge in various activities such as kayaking, rafting and camping.

Insider tip: Don't miss the sunset view from the top of the hill near the dam. Another nearby attraction is Savanadurga Hill, a popular trekking destination.

Manchanabele Dam
V8FP+XC4, SH 85, Bengaluru

Monday - Sunday: Open 24 hours
16. Maha Bodhi Society

If you are interested in Buddhism, then a visit to the Maha Bodhi Society in Bangalore is a must. This beautiful temple with traditional architecture houses an impressive collection of Buddhist artifacts, statues and scriptures. The peaceful atmosphere and tranquil surroundings of the temple make it an ideal place for meditation and introspection. You can also attend regular prayer sessions and learn about Buddhism from the resident monks. Don't forget to take a look at the library, which contains an extensive collection of books on Buddhism.

Insider tip: If you visit in December, don't miss the annual Buddha Pornima festival, which is celebrated with great enthusiasm. The famous Bull Temple is just a short drive away and worth a visit if you're in the area.

Maha Bodhi Society
14, Kavi Kalidasa Road, Gandhi Nagar, Gandhi Nagar, Bengaluru

Monday - Sunday: 9:00 AM – 7:00 PM
17. Venkatappa Art Gallery Bengaluru
If you are an art lover, a visit to the Venkatappa Art Gallery in Bengaluru is an absolute must! Housed in a beautiful colonial-era building, the gallery houses an impressive collection of paintings, sculptures and other artworks by Indian artists, including the legendary M. F. Hussain. You'll see a wide range of artistic styles and techniques, from classical realism to abstract modernism. Don't miss the small but fascinating sculpture collection outside the gallery. And while you're in the area, be sure to visit nearby Cubbon Park for a relaxing stroll through lush greenery.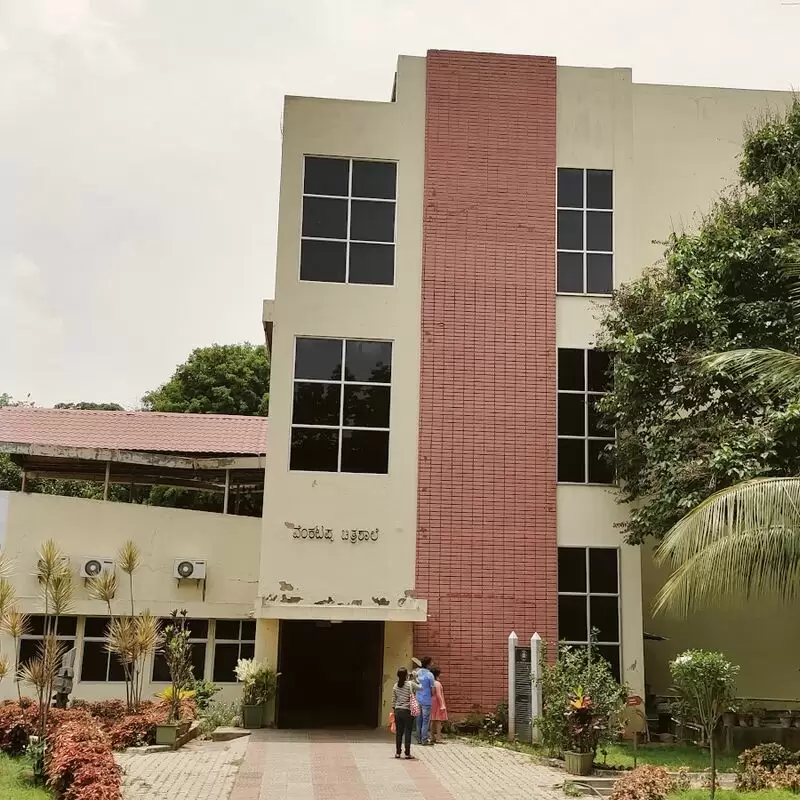 Venkatappa Art Gallery Bengaluru
XHFW+P4R, Kasturba Rd, Ambedkar Veedhi, Sampangi Rama Nagar, Bengaluru
Monday: Closed
Tuesday - Sunday: 10:00 AM – 5:00 PM
Best Time to Visit Bangalore
The best time to visit Bangalore is during the winter months between October and February, when the weather is pleasant and temperatures range from 15 to 27 degrees Celsius. In the summer months from March to May, it can be hot and uncomfortable with temperatures reaching 35 degrees Celsius. The monsoon season begins in June and lasts until September. During this time, heavy rains can occur, making outdoor activities difficult.
Annual Weather in Bangalore
Bangalore 3-Day Forecast
Tue, 26 September
Night
71 °F
22 °C
57%
Morning
68 °F
20 °C
0%
Afternoon
82 °F
28 °C
70%
Evening
79 °F
26 °C
0%
Wed, 27 September
Night
71 °F
21 °C
63%
Morning
67 °F
20 °C
0%
Afternoon
81 °F
27 °C
82%
Evening
76 °F
25 °C
68%
Thu, 28 September
Night
70 °F
21 °C
0%
Morning
67 °F
19 °C
0%
Afternoon
81 °F
27 °C
62%
Evening
72 °F
22 °C
60%
Questions & Answers

What is the best way to get around the city?

Bangalore has several means of transportation to explore the city. The city has a well-connected public transportation system that includes buses, subways and trains. Car rickshaws and cabs are also available for hire. A popular way to get around the city is to rent a two-wheeler or bicycle. There are also ride-sharing services in the city, such as Ola and Uber. With the expansion of the metro network, it is now easier to get to the outskirts of Bangalore, which is a convenient option for travelers.

How do I get a sim card for my phone in Bangalore?

Getting a SIM card in Bangalore is a relatively simple process. First, you need to present valid identification documents such as your passport or Aadhaar card. Secondly, you can buy a SIM card from any branch of a network operator like Airtel, Vodafone or Jio in the city. Fill out the application form and present the required documents, such as a passport photo, and pay for the chosen plan. The process takes less than an hour, and the SIM card will soon be activated.

Can you recommend any good street food places in Bangalore?

Bangalore is famous for its street food and offers a variety of options to choose from. A popular place is VV Puram Food Street, which offers a wide range of delicious snacks such as masala dosa, chaat and pav bhaji. Another recommended place is Shivaji Nagar where you can find delicious kebabs, rolls and biryanis. For lovers of South Indian cuisine, Brahmin's Coffee Bar in Basavanagudi is a must try Vada, Idli, Kesari Bath and filter coffee.

Are there any cultural festivals or events happening during my visit?

Bangalore is known for its vibrant cultural scene and hosts numerous festivals and events throughout the year. The city celebrates several traditional festivals, including Diwali, Dussehra and Ugadi, which are celebrated with grandiose decorations, carnivals and fireworks. Bengaluru Habba, an annual cultural festival, showcases various art forms, including dance, music, theater and visual arts. The Karaga Festival is a unique tradition of the city, where men dress up as the goddess Draupadi and participate in a grand procession. The Bengaluru International Film Festival and the Bangalore Literary Festival are also popular events that attract many visitors.

What are some unique souvenirs to buy in Bangalore?

Bangalore is known for its traditional handicrafts and textiles. A popular souvenir is the Mysore silk saree, a hand-woven silk fabric with intricate patterns. Another traditional souvenir is sandalwood carvings, made from the fragrant wood of southern India. Other souvenirs reflecting local craftsmanship include wooden toys, pottery and brassware. For foodies, Bangalore is famous for its filter coffee and masala dosa blend, which can be purchased at local markets and specialty stores.

Can you suggest any day trips or excursions outside of Bangalore?

From Bangalore, there are several options for day trips. Popular destinations include the Nandi Hills for a scenic sunrise view, Mysore to explore the historic palace and gardens, the Shivanasamudra waterfalls for a refreshing swim, and the Grover Zampa wine country for a wine tasting. Nature lovers are advised to visit Coorg hill station to experience the lush green landscape and coffee plantations. Another offbeat option is the Kolar Gold Fields, where visitors can explore abandoned mines and learn more about the region's rich mining history.

What is the cost of living in Bangalore compared to other cities in India?

Bangalore is considered one of the most expensive cities in India, where the cost of living is very high compared to other cities. The cost of rent, food and transportation is higher in Bangalore. However, salaries are also generally higher in Bangalore due to the many multinational companies and IT firms. Despite the higher cost of living, Bangalore offers a vibrant and thriving cultural scene, excellent weather, and a diverse range of food and entertainment options, making it a popular destination for locals and tourists alike.

Is it safe to walk around the city at night?

Bangalore is generally a safe city, but it is advisable to be careful when walking at night. It is always best to stay in well-lit and busy areas and avoid remote and poorly lit streets. Women should be especially careful when walking alone at night and consider traveling with a companion or taking a cab or carpool. In addition, it is important to be mindful of personal belongings and not to display valuables such as phones or cameras, or you could become a target for theft.

What are some popular local drinks and where can I find them in Bangalore?

Bangalore is famous for its refreshing local drinks, perfect for quenching thirst in hot weather. Among the popular drinks is filter coffee, which can be found on almost every street corner and in the city's cafes. You can also try masala chai, a spiced tea often offered in tea rooms. A refreshing non-alcoholic drink is the iconic buttermilk or yogurt-based lassi. These drinks can be found in most traditional South Indian restaurants and local markets.

What is the history behind the monuments and landmarks in Bangalore?

Bangalore is a city in India rich in history and culture, which is reflected in its many monuments and landmarks. The Bangalore Palace is an exemplary architectural work that shows the combination of Indian and Western styles and was built by King Chamaraja Wodeyar in the 19th century. The Vidhana Soudha, the state parliament building, is another landmark of the city and is famous for its unique Neo-Dravidian style architecture. Tipu Sultan's Summer Palace and St. Mary's Basilica are also important historical sites in Bangalore.

Feedback

I hope you found this article informative and helpful. I'm eager to improve the content and make it even more valuable for you. If you have any feedback or suggestions, I would love to hear from you.

Do you have any tips or hidden gems that you think should be added to the list? Are there any areas that you feel could use more explanation or clarification?

Your input is greatly appreciated and will help us to continue providing high-quality content that meets your needs and interests. Please feel free to share your thoughts.