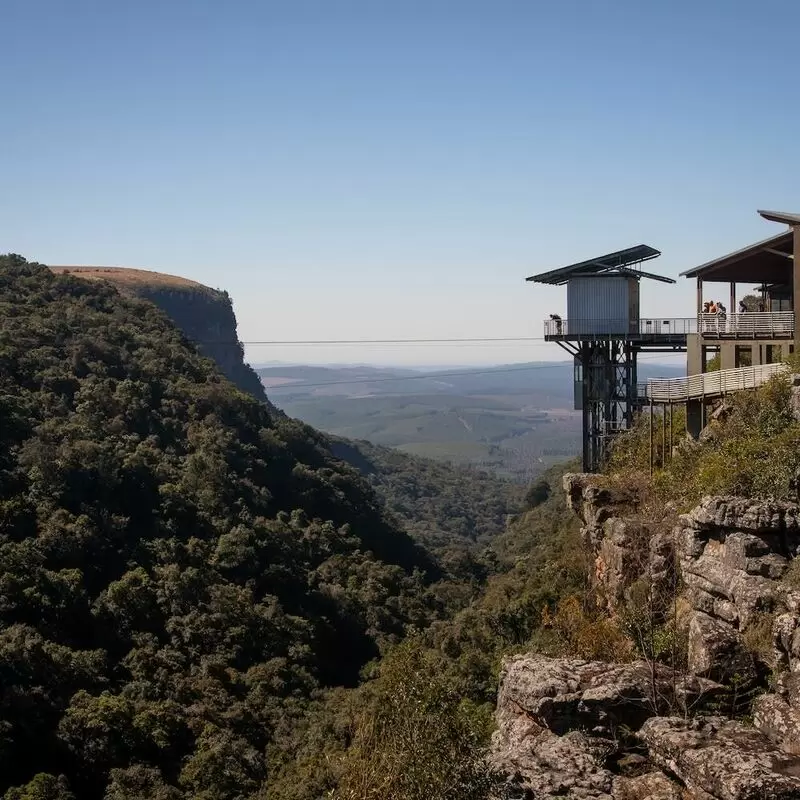 1. Bourke's Luck Potholes
A visit to Bourke's Luck Potholes in Graskop is a must for an unforgettable, awe-inspiring experience of nature's artistic abilities. Marvel at these cylindrical rock sculptures, sculpted over thousands of years by the swirling waters of the Treur and Blyde rivers. Don't miss the opportunity to see the sunlit potholes that create a stunning visual play with these majestic formations. During your stay, explore nearby attractions such as the dramatic Three Rondavels and the breathtaking God's Window, which offers panoramic views of the Blyde River Canyon, the third largest canyon in the world.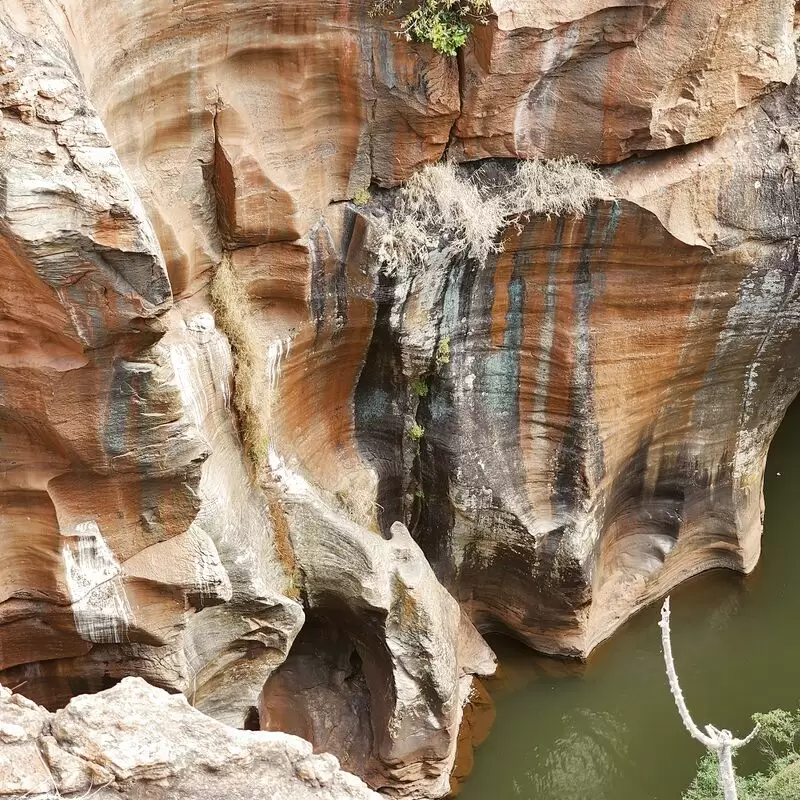 Bourke's Luck Potholes
Blyde River Canyon Nature Reserve, Moremela
Monday - Sunday: 7:00 AM – 5:00 PM
2. Graskop Gorge Lift Co.
Venture into the breathtaking Graskop Gorge Lift Co. and experience the unique beauty of South Africa's green heart. Plunge 51 meters into the lush native forest on a glass elevator and enjoy breathtaking panoramic views. Don't forget to walk in the treetops on an elevated walkway that offers glimpses of the diverse bird and plant life. And if you're a thrill seeker, you can swing across the gorge on the zipline. Just a stone's throw away, you can explore God's Window and the famous Blyde River Canyon.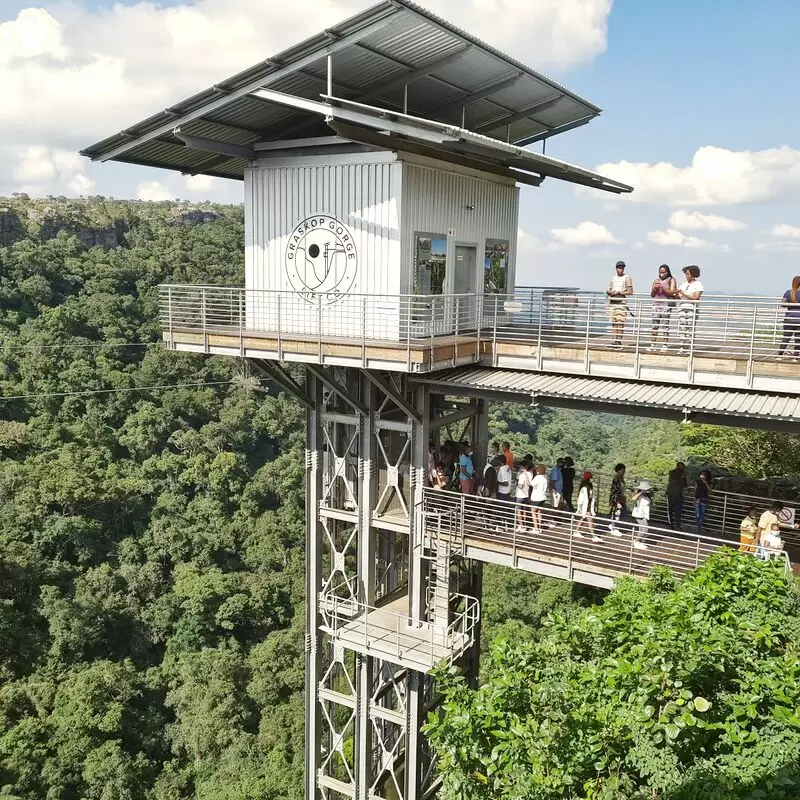 Graskop Gorge Lift Co.
R533 Graskop Gorge, Graskop
Monday - Sunday: 8:30 AM – 6:00 PM
3. God s Window
Visiting God's Window in Graskop is an experience like no other! When you admire the breathtaking panoramic view of the Blyde River Canyon Nature Reserve and the Lowveld, you will understand why it is called "God's Window". To avoid crowds and enjoy the breathtaking moment, come early in the morning. Don't miss nearby treasures like the impressive Pinnacle Rock, and just a short drive away you can experience the enchanting beauty of Lisbon Falls and Bourke's Luck Potholes. This is a masterpiece of nature waiting for you to explore!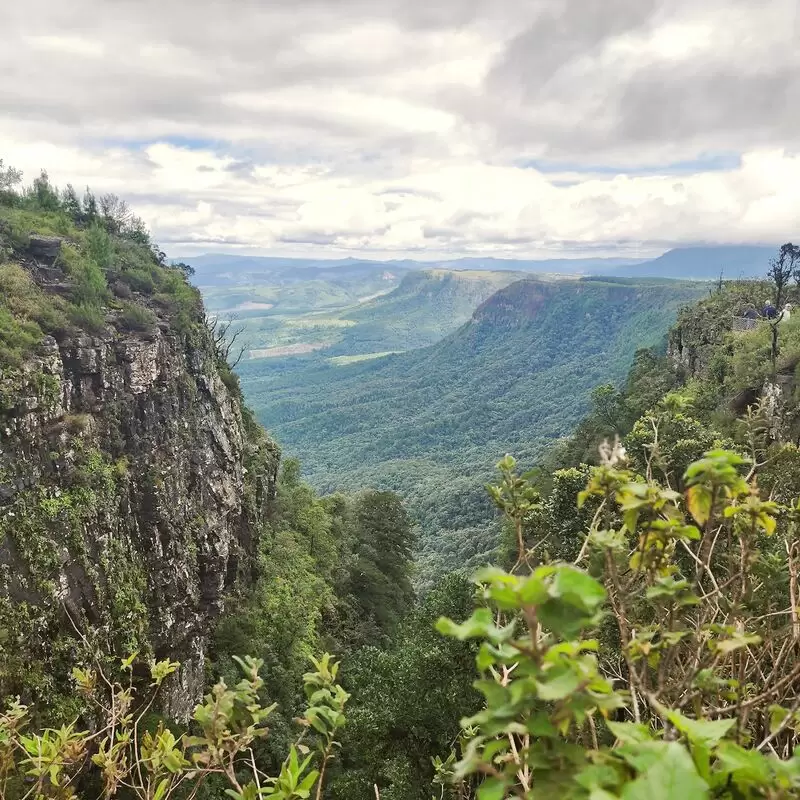 God s Window
R543, Ehlanzeni
Monday - Sunday: 7:00 AM – 5:00 PM
4. Sudwala Caves
Venture into the depths of Sudwala Caves, the oldest known caves in the world, dating back 240 million years! Lose yourself in the majestic chambers adorned with exquisite rock formations and marvel at the constant dripping that echoes throughout the caves. Breathe in the ancient "breath of the lion" and let your imagination run wild as you explore these natural wonders. Don't miss the fascinating "Screaming Monster" formation, a true testament to nature's artistic abilities. Nearby, quench your thirst with a visit to the majestic Mac Mac Falls - a breathtaking sight not to be missed!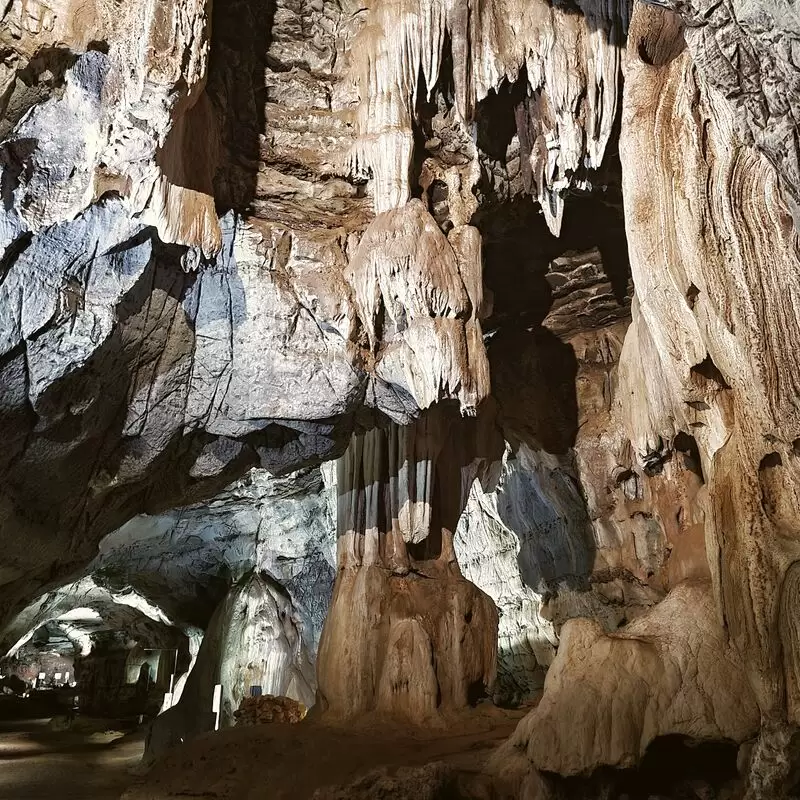 Sudwala Caves
R539, Nelspruit
Monday - Sunday: 8:30 AM – 4:30 PM
5. Lisbon Falls
A visit to Lisbon Falls in Graskop is a must for nature lovers! At 94 meters, it is the highest waterfall in Mpumalanga and offers an impressive experience. Marvel at the crystal clear water cascading into a glistening pool for a breathtaking spectacle. Take advantage of this hidden gem by diving into the refreshing water or taking unforgettable photos. If you're in the area, don't miss the nearby Berlin Falls and God's Window, which offer even better panoramic views and round out an unforgettable trip.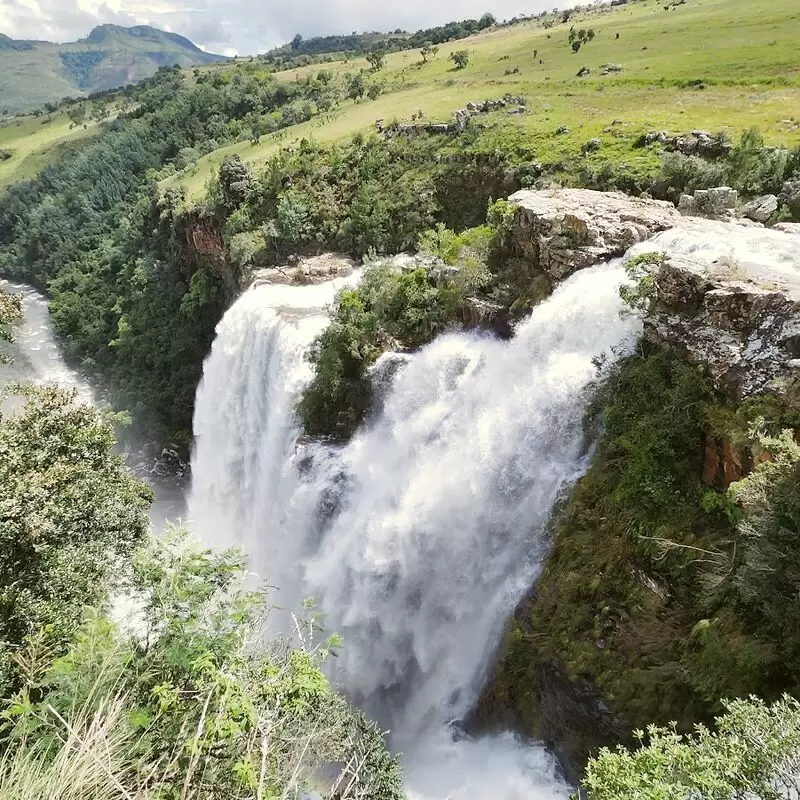 6. Lone Creek Falls
Lone Creek Falls in Graskop is a fascinating destination to experience the beauty of South Africa. See the majestic 70-meter waterfall plunge into a crystal clear pool, inviting visitors for a refreshing swim. On the short walk to the falls, enjoy the awe-inspiring views, enhanced by the native bird and plant life. Combine these two natural wonders on your Graskop adventure, just a 15-minute drive from God's Window, for a truly unforgettable experience.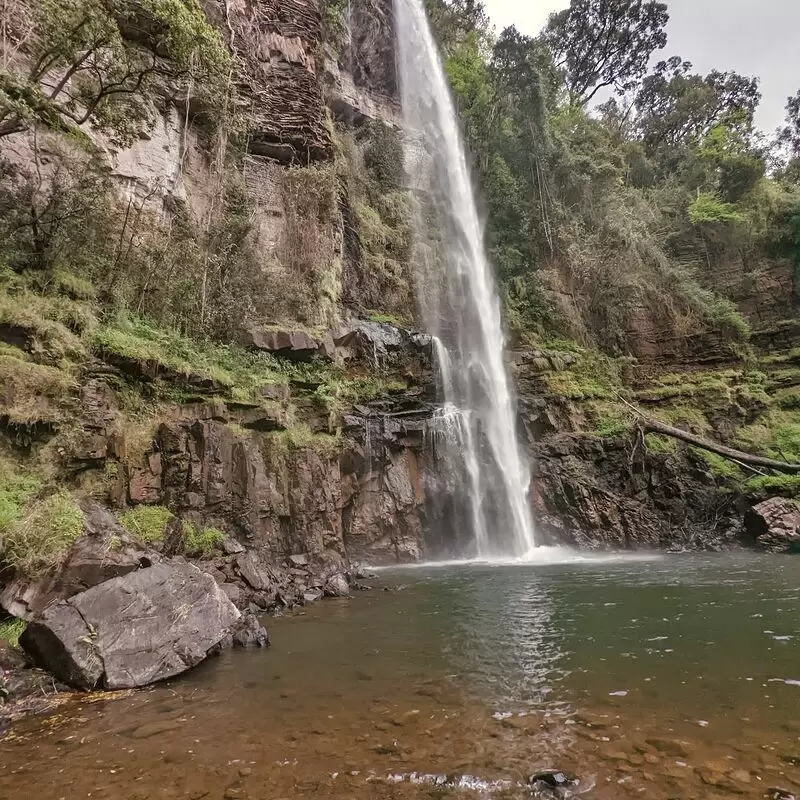 7. The Pinnacle Rock
A visit to the stunning Pinnacle Rock in Graskop is guaranteed to impress! This majestic 30-meter high quartzite rock is a natural wonder that will captivate you with its sheer beauty and the fascinating legends that surround it. Don't just take in the usual sights, immerse yourself in local lore and enjoy panoramic views of the Blyde River Canyon, the third largest canyon in the world. Then, just a 5-minute drive away, the fascinating Lisbon Falls await you - an unmissable water spectacle just waiting to be discovered.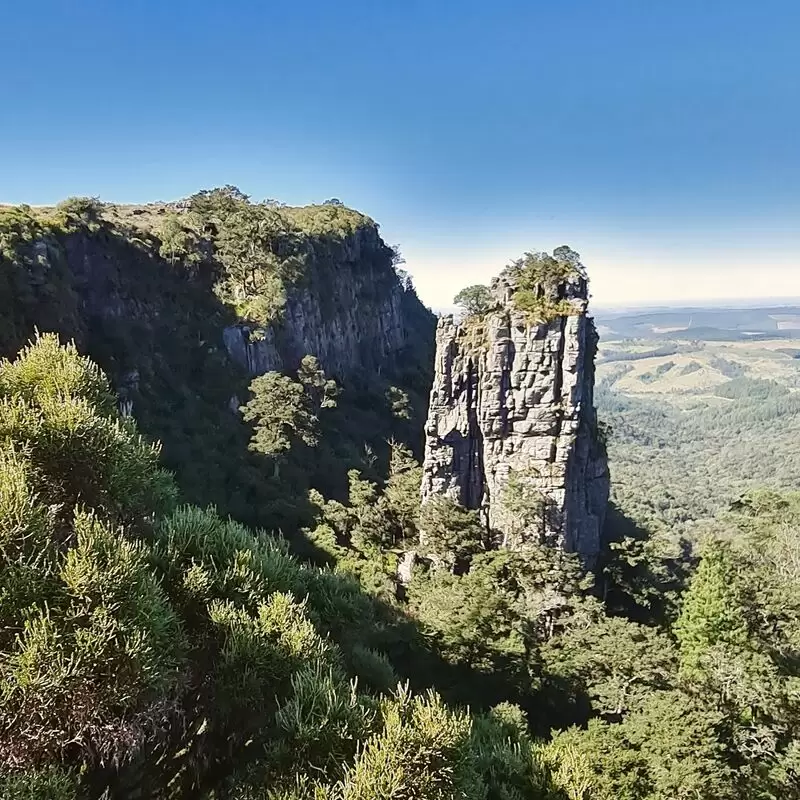 The Pinnacle Rock
R534
Monday - Sunday: 7:00 AM – 5:00 PM
8. Berlin Falls
A visit to Berlin Falls in Graskop is an absolute must for nature lovers! The stunning 80-meter waterfall offers breathtaking views and a tranquil atmosphere, making it the perfect place for a picnic or a relaxing hike. Follow the boardwalk to admire this natural wonder up close. Combine your visit with a trip to nearby Lisbon Falls, just a stone's throw away, to round out a memorable day exploring the hidden gems of Graskop.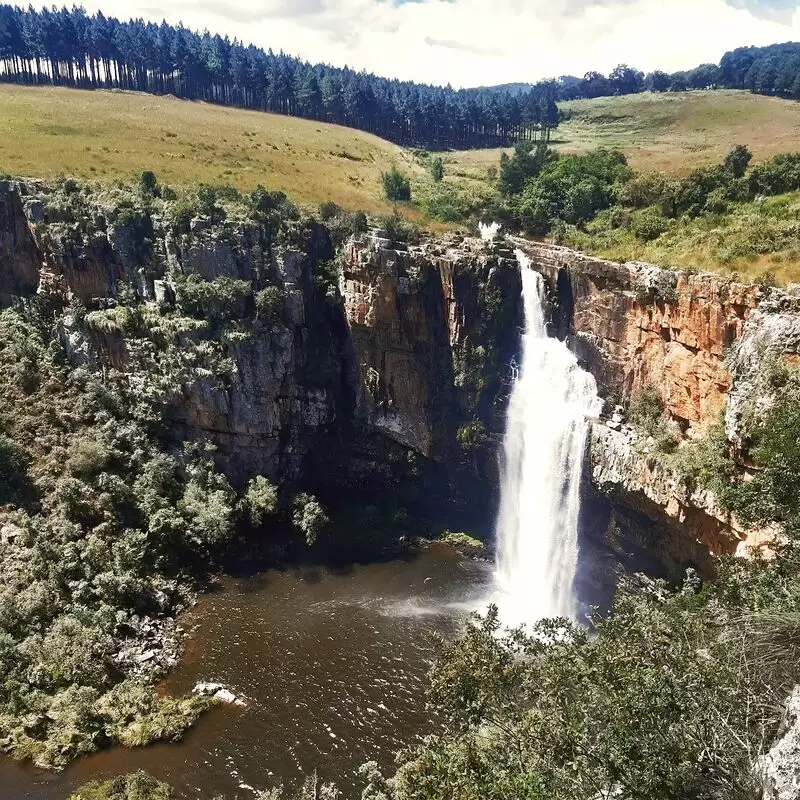 9. Mac Mac Falls
A visit to Mac Mac Falls in Graskop is an exciting experience not to be missed! The stunning 65-meter waterfall that plunges into a lush gorge is a nature lover's paradise. The footbridges and viewing platforms make for perfect photo opportunities, and the site's rich history from the gold rush era adds to its charm. Just a stone's throw away, you can explore spectacular Pinnacle Rock and picturesque Lisbon Falls for more unforgettable memories.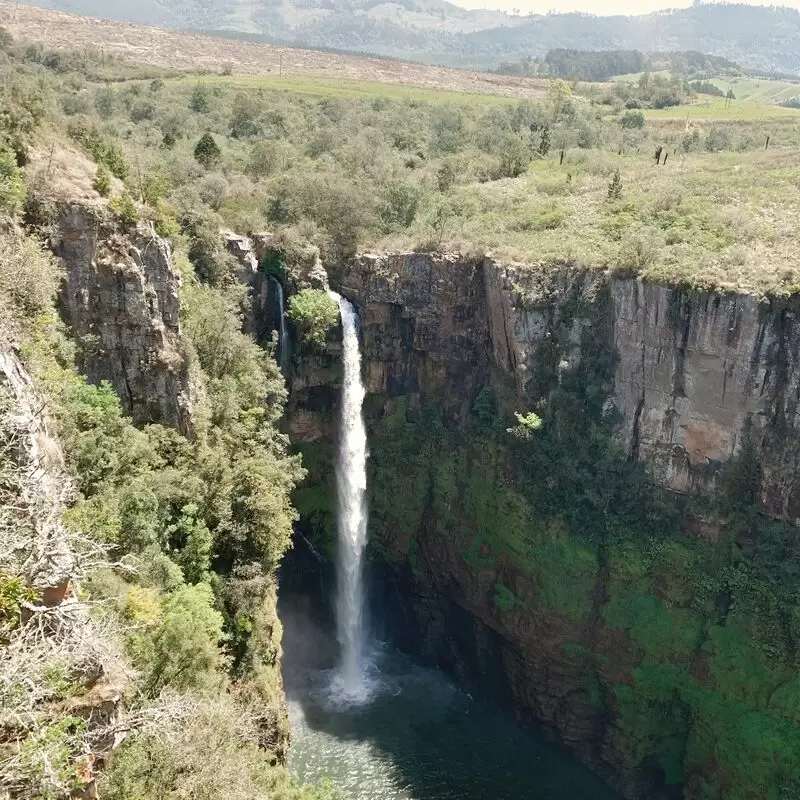 10. Lowveld View
Get ready for awe-inspiring views when you visit Lowveld View in Graskop. This breathtaking vantage point offers panoramic views of the lush Blyde River Canyon, the third largest canyon in the world. The natural beauty of the canyon, fed by the sparkling Treur River, is unparalleled. Don't miss the opportunity to take a photo with the famous misty Three Rondavels in the background. Pro tip: Come at sunrise or sunset to experience the breathtaking play of colors that envelops this extraordinary landscape. After enjoying the view, explore the nearby God's Window or Bourke's Luck Potholes for an enriching experience.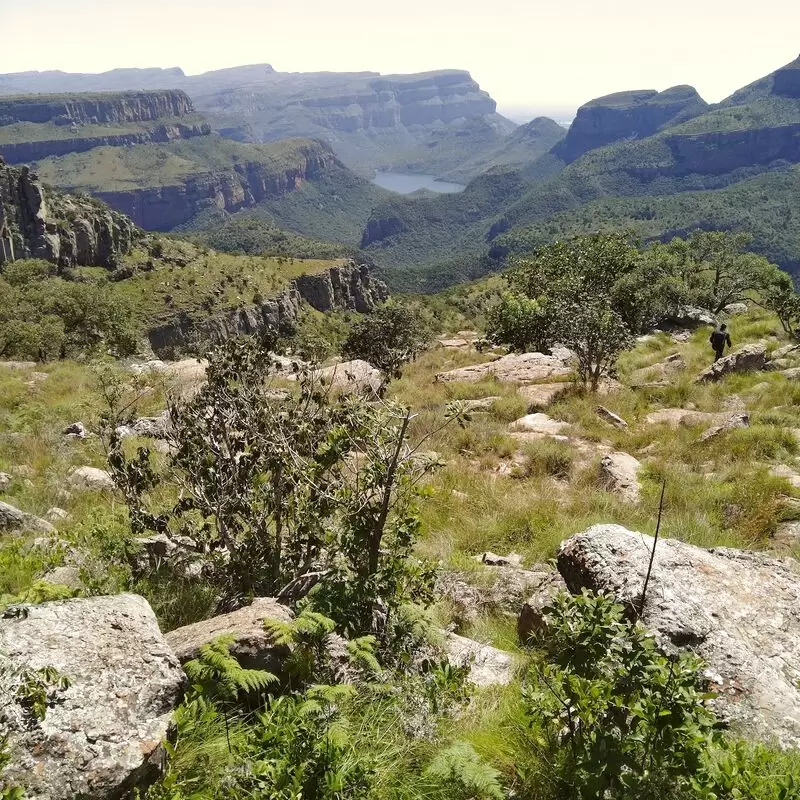 Lowveld View
R532
Monday - Saturday: 8:00 AM – 4:00 PM
Sunday: Closed
11. Mac Mac Pools
A trip to Graskop remains incomplete without a visit to the breathtaking Mac Mac Pools! Surrounded by lush vegetation and plunging waterfalls, these picturesque natural swimming holes are the perfect getaway for nature lovers and thrill seekers alike. Dive into the crystal clear waters, explore the tranquil hiking trails nearby, or enjoy a delightful picnic amidst the pristine scenery. Just a stone's throw away are the magnificent Mac Mac Falls, adding to the beauty of this oasis in South Africa.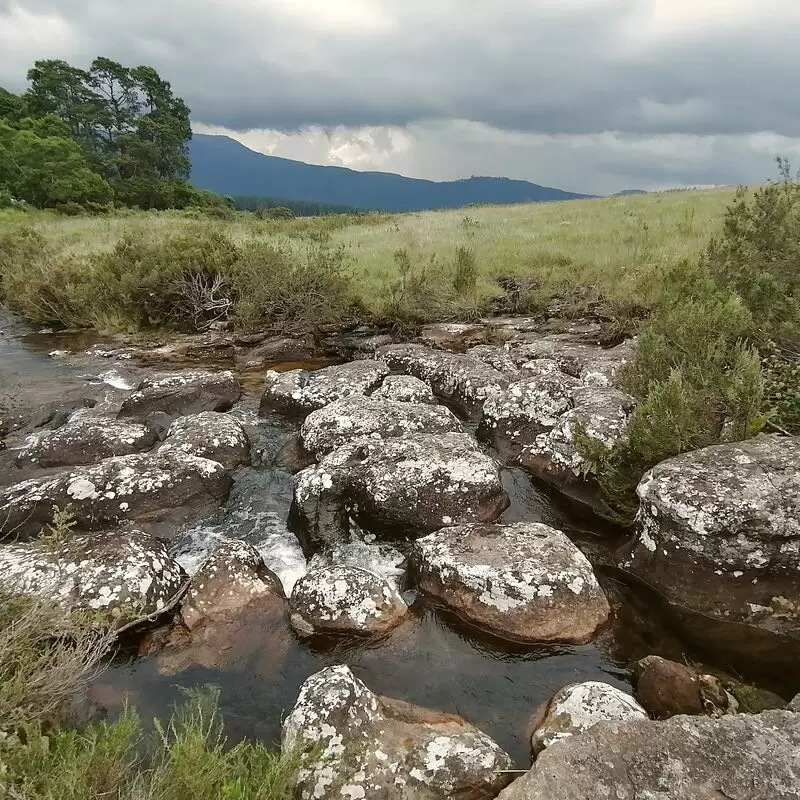 Mac Mac Pools

Monday - Sunday: 8:00 AM – 5:00 PM
12. Horse Shoe Falls
Visiting Horse Shoe Falls in Graskop is an absolute must for nature lovers and adventure seekers! As you follow the scenic winding path to the waterfall, you will be enchanted by the lush greenery and melodic bird calls that accompany you. Marvel at the unique horseshoe-shaped waterfall, found nowhere else in the area. Take the opportunity to explore other nearby attractions, such as neighboring Lisbon Falls and Berlin Falls, to further enhance your Graskop adventure.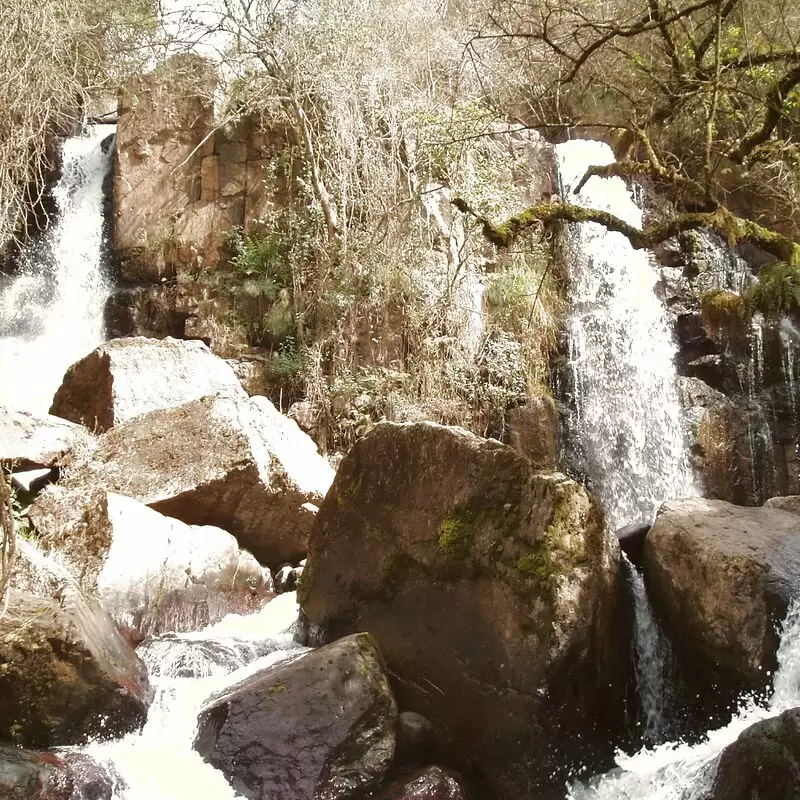 Horse Shoe Falls

Monday - Sunday: 9:00 AM – 5:00 PM
13. Sabie Falls
Sabie Falls in Graskop is a must-see for those looking for a refreshing escape into beautiful nature. Awaken your inner explorer as you follow a scenic hiking trail that leads to breathtaking viewpoints at the top and bottom of the falls. Find a secret spot nearby to take a refreshing dip and enjoy the awe-inspiring sight of the water cascading over the sheer cliffs. With the breathtaking beauty of God's Window just a short drive away, a day at Graskop is a nature lover's dream.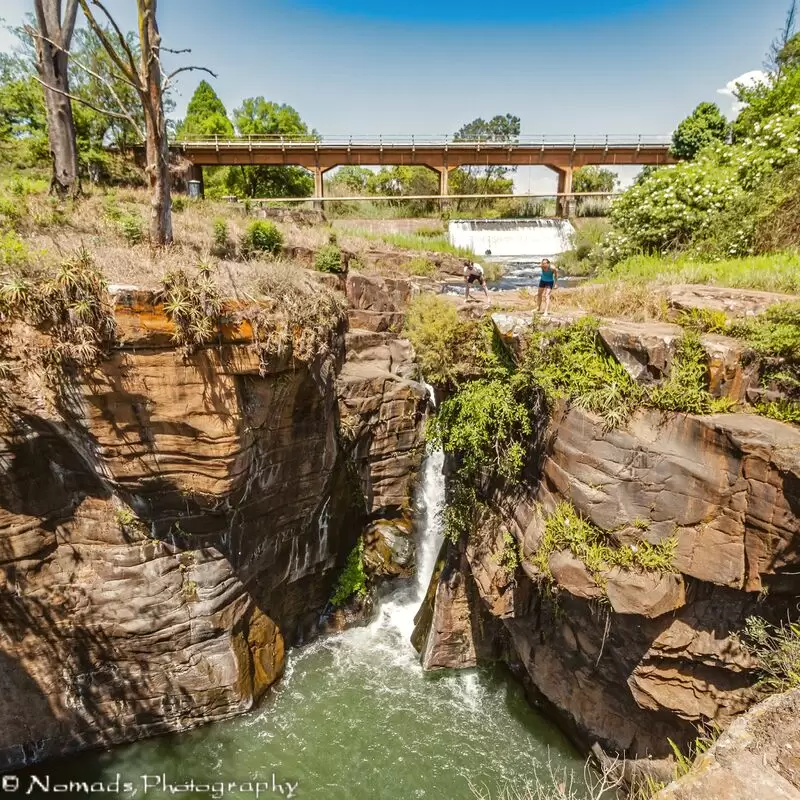 Sabie Falls
Main Rd, Sabie, 1260
Monday - Sunday: 8:00 AM – 5:00 PM
14. Zur Alten Mine Guest Farm B&B
Zur Alten Mine Guest Farm B&B in Graskop is a place of peace and comfort where you can get away to the peaceful countryside. Surrounded by picturesque landscapes and perfectly situated to explore nearby attractions such as the Panorama Route, God's Window and the Blyde River Canyon. Get a unique insider experience by visiting the old mining tunnel or enjoying a traditional barbecue under the stars, all while enjoying warm South African hospitality that leaves you wanting more.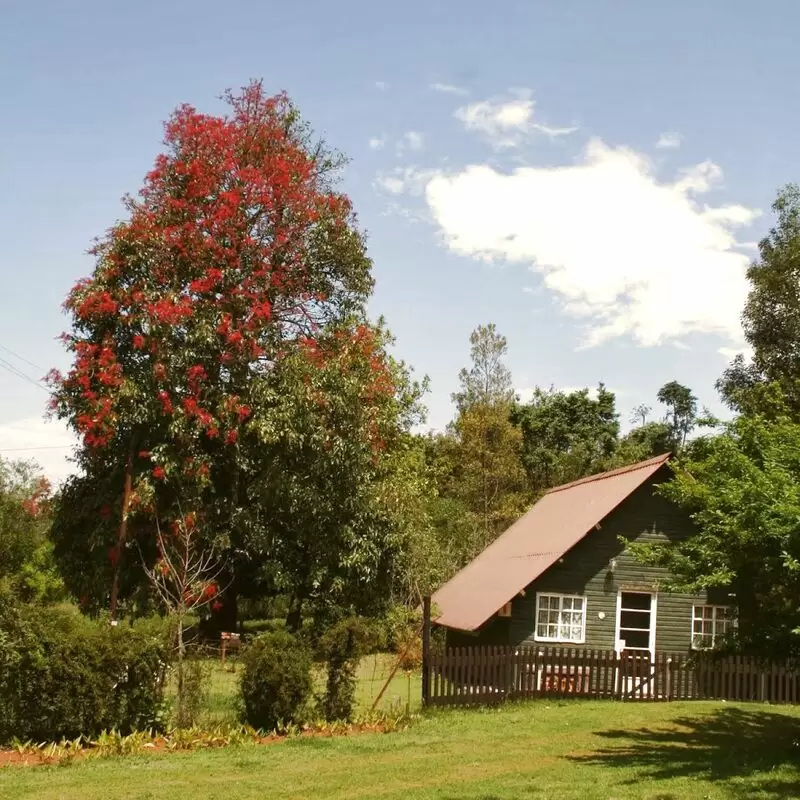 Zur Alten Mine Guest Farm B&B
R533, Graskop
Monday - Sunday: 7:00 AM – 12:00 PM, 2:00 – 6:00 PM
15. Wonder View
Experience the breathtaking "Wonder View" in Graskop, a true gem that offers stunning panoramic views of the lush Lowveld landscape. The sight of the sun setting on the distant horizon will fuel your sense of adventure even further! Insider Knowledge: Don't miss the chance to see the Three Rondavels, a unique geological formation that graces the vista. And with the world-famous Blyde River Canyon and God's Window nearby, your journey to this enchanting corner of South Africa has just begun!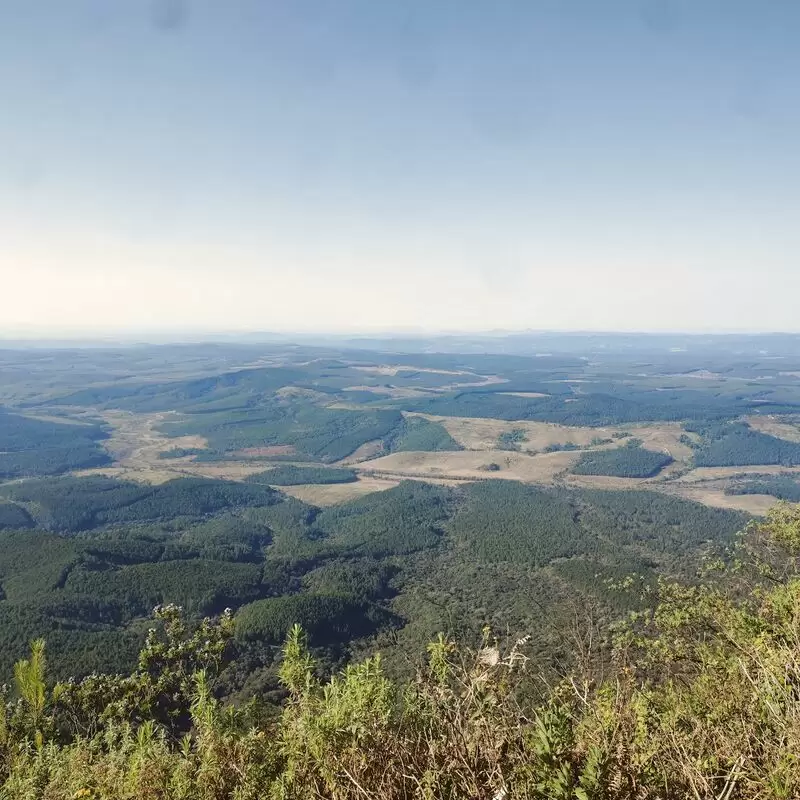 16. Mariepskop

A visit to Mariepskop in Graskop is a must for nature lovers and adventurers alike! This mountain peak is an incredible 1,944 meters high and offers some of the most breathtaking panoramic views in the region. During the leisurely climb, you'll be immersed in the region's rich biodiversity and encounter numerous bird species.

Insider tip: Don't miss exploring the mystical Mariepskop Forest, where the Outeniqua Yellowwoods form a magical canopy. Nearby, you can also admire the beautiful Berlin and Lisbon waterfalls. Don't miss this magical experience!

Mariepskop
Hoedspruit

Monday - Sunday: 8:00 AM – 4:00 PM
17. Panorama Chalets and Rest camp
A visit to Panorama Chalets and Rest Camp in Graskop is a must for travelers seeking a quiet retreat amidst natural beauty. This family-run establishment offers comfortable accommodations with breathtaking views of the surrounding mountains, forests, and waterfalls. Located away from the tourist hustle and bustle, it is the epitome of tranquility and privacy. Nearby, you can take a trip to God's Window for scenic panoramas or explore the extraordinary Blyde River Canyon, the third largest canyon in the world, which beckons with its lush greenery and phenomenal rock formations.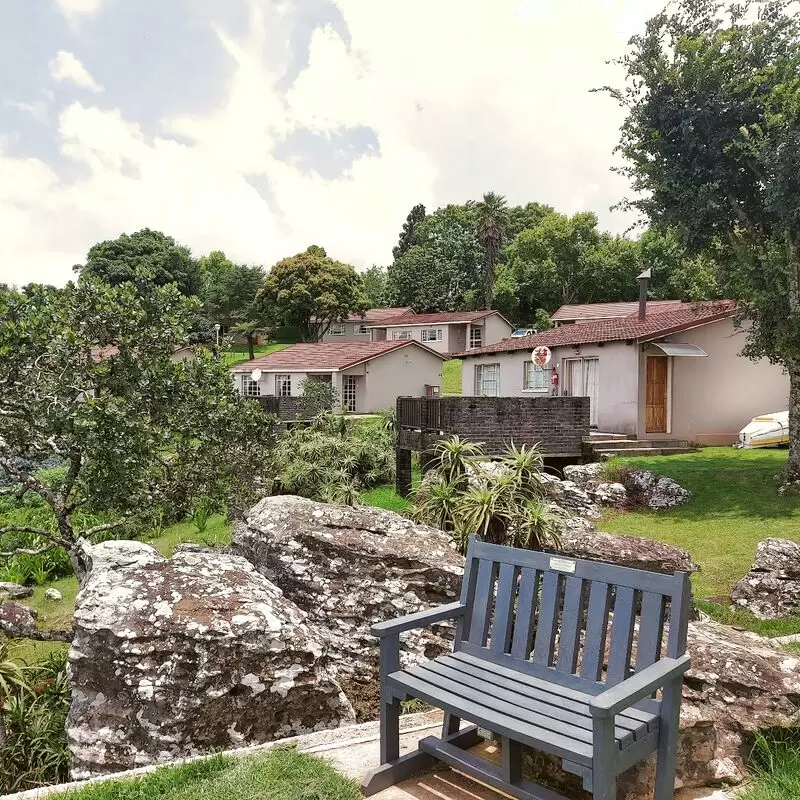 Panorama Chalets and Rest camp
R533, 2km out of Graskop, Graskop
Best Time to Visit Graskop
The best time to visit Graskop are the dry months from April to September. These months have mild temperatures, relatively low rainfall and optimal conditions for outdoor activities and exploring the attractions in the area, such as the Blyde River Canyon, waterfalls and viewpoints.
Annual Weather in Graskop
Graskop 3-Day Forecast
Wed, 27 September
Night
51 °F
11 °C
73%
Morning
50 °F
10 °C
61%
Afternoon
52 °F
11 °C
69%
Evening
53 °F
12 °C
67%
Thu, 28 September
Night
53 °F
12 °C
65%
Morning
52 °F
11 °C
80%
Afternoon
63 °F
17 °C
89%
Evening
60 °F
16 °C
87%
Fri, 29 September
Night
54 °F
12 °C
0%
Morning
56 °F
13 °C
0%
Afternoon
76 °F
24 °C
0%
Evening
71 °F
22 °C
0%
Questions & Answers

Is it safe to travel in Graskop?

Graskop is generally considered a safe destination for tourists. This small town in South Africa is known for its natural beauty and warm hospitality. However, as with any place, it is important to be cautious and take basic safety precautions. Stay alert, avoid walking alone after dark, keep your valuables safe, and follow trusted local safety advice. If you are aware of your surroundings and use common sense, you should be able to enjoy all that Graskop has to offer without any problems.

What type of cuisine is popular in Graskop?

Graskop, South Africa, is known for its diverse and delicious cuisine. The popular food in this region is a mix of African, European and Indian influences. Local dishes often consist of ingredients such as corn, beef, and an array of vegetables and spices. Potjiekos, a slow-cooked stew, and braai, South Africa's traditional barbecue, are popular. The city is also home to Harrie's Pancakes, a famous eatery serving delicious sweet and savory pancakes that are not to be missed.

Can I find English-speaking locals?

Yes, there are definitely English-speaking locals in Graskop, South Africa. Although the main language in the region is Afrikaans, the majority of South Africans speak English as a second or third language. In addition, English is one of South Africa's 11 official languages and is widely used in business, government and the media. Locals in tourist strongholds like Graskop are accustomed to serving English-speaking visitors, so communication should not be a problem during your visit to this beautiful region.

What is the local currency?

The local currency in Graskop, South Africa is the South African Rand (ZAR). It is abbreviated as "R" or "ZAR" and is the official currency of the country. One Rand is divided into 100 cents. Coins come in denominations of 10, 20 and 50 cents as well as R1, R2 and R5, while banknotes are available in denominations of R10, R20, R50, R100 and R200. It is important that you familiarize yourself with the exchange rates before your visit and have a reliable means of exchanging your currency.

Are there ATMs available?

Yes, Graskop offers ATMs for the convenience of travelers. When visiting Graskop, you will find national banks such as First National Bank (FNB), ABSA and Standard Bank offering ATMs in the downtown area. These ATMs support international cards and offer a secure way to withdraw money while in Graskop. However, it is advisable to carry some cash for small transactions as not all stores accept card payments.

How reliable is public transportation?

Public transportation in Graskop, South Africa, is not as reliable as in larger cities. In the area, there are mainly minibuses, often referred to as "station wagons," that run on flexible schedules. These vehicles can sometimes be overcrowded, but they are the most common and cheapest mode of transportation. However, it is more convenient for tourists to rent a vehicle or hire a private driver/tour guide for flexibility in exploring the sights in and around Graskop. If you plan ahead and seek local advice, you will be able to better navigate public transportation.

Do I need a car rental?

While you can explore Graskop without a rental car, having one can greatly enhance your experience. With a rental car, you can explore nearby attractions like the Blyde River Canyon, Panorama Route and God's Window at your own pace. It also gives you more flexibility to visit other destinations in Mpumalanga Province. However, if you prefer guided tours, there are tour operators that can transport you and help you with your sightseeing plans.

Is tap water safe to drink?

In Graskop, South Africa, tap water is generally considered safe as it meets national standards for water quality. However, as water quality can vary from place to place in the region, visitors are advised to exercise caution. To ensure safety, it is advisable to either boil the tap water or, more conveniently, purchase bottled water and drink it while in Graskop.

Are there vaccination requirements for Graskop?

While there are no specific vaccination requirements for Graskop, South Africa, it is strongly recommended that travelers brush up on their routine immunizations. These include measles-mumps-rubella (MMR), diphtheria-tetanus-pertussis, chickenpox, polio and influenza. In addition, it is advisable to get vaccinated against hepatitis A and typhoid, as these diseases are easily transmitted through contaminated food and water. It is a good idea to check with your healthcare provider for recommended vaccinations before traveling to Graskop.

Can I rely on Wi-Fi availability?

Wi-Fi availability in Graskop, South Africa, may vary depending on location. Generally, hotels, guesthouses, and some restaurants and cafes offer Wi-Fi access to their guests. However, the quality of the connection can vary and is not always consistent or reliable, especially in remote or rural areas. For a more reliable Internet connection, consider purchasing a local SIM card or activating a roaming plan with your home cellular provider.

What type of power outlets are in Graskop?

In Graskop, South Africa, the sockets are type D, M and N. The standard voltage is 230 V and the frequency is 50 Hz. Type D and M sockets are mainly used, which have three large round pins in a triangular pattern. Type N sockets with two round pins and one grounding pin can also be found, but are less common. Travelers are advised to carry a universal adapter compatible with these outlet types to ensure smooth use of their electronic devices.

How do I respect local customs?

When visiting Graskop, South Africa, it is important to respect local customs. Greet locals with a smile and say "hello" (dumela in Setswana or sawubona in Zulu). Avoid loud or boisterous behavior and dress modestly, especially in rural areas. Be aware that punctuality is not as strict as in Western culture; patience is key. If you are invited to a local's home, always bring a small gift, such as food or flowers, and be prepared to take off your shoes. Finally, keep a positive attitude and open-mindedness.

Are there any tipping guidelines?

In Graskop, South Africa, tipping is generally expected and appreciated for good service. A standard tip for restaurant staff is 10-15% of the total bill. For hotel porters and housekeeping, it is customary to tip about R10-R20 (South African Rand) per service. For cab drivers, rounding up the fare is appropriate. Always adjust the tip to the quality of service you receive, but remember that tips are an important supplement to employees' wages.

Is Graskop suitable for families?

Graskop, South Africa, is an excellent destination for families seeking both adventure and relaxation. This small town offers a variety of activities for all ages, such as exploring the scenic Panorama Route, visiting God's Window or Lisbon Falls, and leisurely hikes in the surrounding nature. Moreover, there are various accommodation options to suit different preferences, which makes Graskop a wonderful place for an unforgettable family vacation.

Are there any religious considerations to be aware of?

Graskop, South Africa, is a diverse and culturally rich region where people practice various faiths, including Christianity, Islam and traditional African religions. Although there are no strict religious rules for visitors, it is important to treat the different faiths and traditions with respect. When visiting places of worship or attending religious gatherings, follow a specific dress code or etiquette. Remain respectful and avoid bringing up sensitive religious topics, especially if you are not well acquainted with local customs and traditions.

What type of clothing should I pack?

When packing for Graskop, South Africa, keep in mind the time of year you'll be visiting. From April to September, temperatures range from cool to mild, so bring warm layers, a light jacket and long pants. From October to March, temperatures are warmer, so pack light clothing, shorts and t-shirts. Regardless of the season, always bring comfortable walking shoes, a hat, sunscreen and a water-resistant layer for sudden rain showers. It is also advisable to pack insect repellent to protect yourself from mosquitoes.

Can I use my credit cards widely?

In Graskop, South Africa, major credit cards such as Visa and MasterCard are widely accepted in hotels, restaurants and other tourist establishments. However, it is advisable to carry some cash for small purchases, especially when visiting local markets or street vendors. It is also recommended to inform your bank before traveling to avoid unexpected credit card problems.

Are there any safety tips for wildlife encounters?

When encountering wildlife in Graskop, South Africa, keep a safe distance and avoid approaching or feeding the animals. Stay in your vehicle during game drives and listen to your guide's instructions. Stick to designated trails and avoid leaving the beaten path. Keep noise levels low so as not to startle the animals, and respect their habitat by not leaving litter or destroying plants. If you encounter a potentially dangerous species, remain calm, avoid eye contact, and retreat slowly without turning your back on the animal.

How prevalent is malaria in Graskop?

Malaria is not prevalent in Graskop, South Africa, as the city is located outside of typical malaria risk zones. The town is located at higher elevations (1,400 meters above sea level), which contributes to a cooler climate that is less favorable for malaria-carrying mosquitoes. However, travelers exploring nearby regions such as Kruger National Park should take appropriate precautions as there is a higher risk of malaria in these areas.

Are there medical facilities nearby?

There is no full-fledged hospital in Graskop, South Africa; however, the town has a local clinic that takes care of basic medical needs and emergencies. For more comprehensive medical care, the nearest facility, Sabie Hospital, is about 30 km away. For major emergencies or specialized treatment, there is a good selection of health care facilities in Nelspruit, about 60 km from Graskop, including private hospitals such as Mediclinic Nelspruit and Rob Ferreira Hospital.

Feedback

I hope you found this article informative and helpful. I'm eager to improve the content and make it even more valuable for you. If you have any feedback or suggestions, I would love to hear from you.

Do you have any tips or hidden gems that you think should be added to the list? Are there any areas that you feel could use more explanation or clarification?

Your input is greatly appreciated and will help us to continue providing high-quality content that meets your needs and interests. Please feel free to share your thoughts.