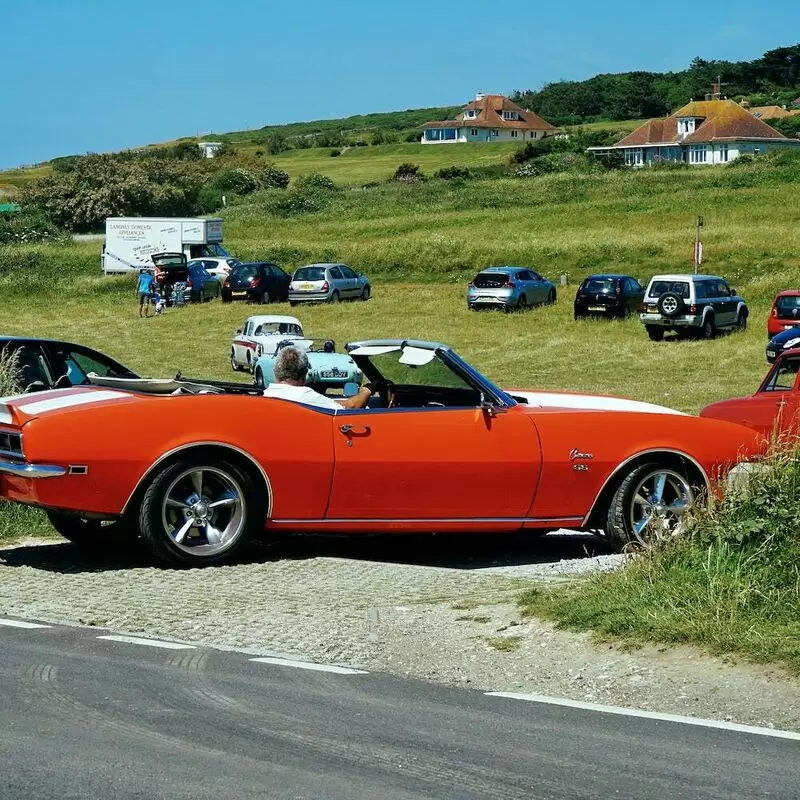 1. National Trust Birling Gap and the Seven Sisters
A trip to the "National Trust - Birling Gap and the Seven Sisters" is a must for nature lovers! These chalk cliffs offer mesmerizing views of the English Channel, not to mention the unrivaled beauty of the Seven Sisters cliffs - a true gem of Eastbourne. Explore the dynamic coastline at their interactive visitor center. Trivia: The Seven Sisters are one of the most famous suicide sites in the world, which is a depressing fact, but adds to the mysterious aura of the place. Nearby is Beachy Head, another dramatic landmark.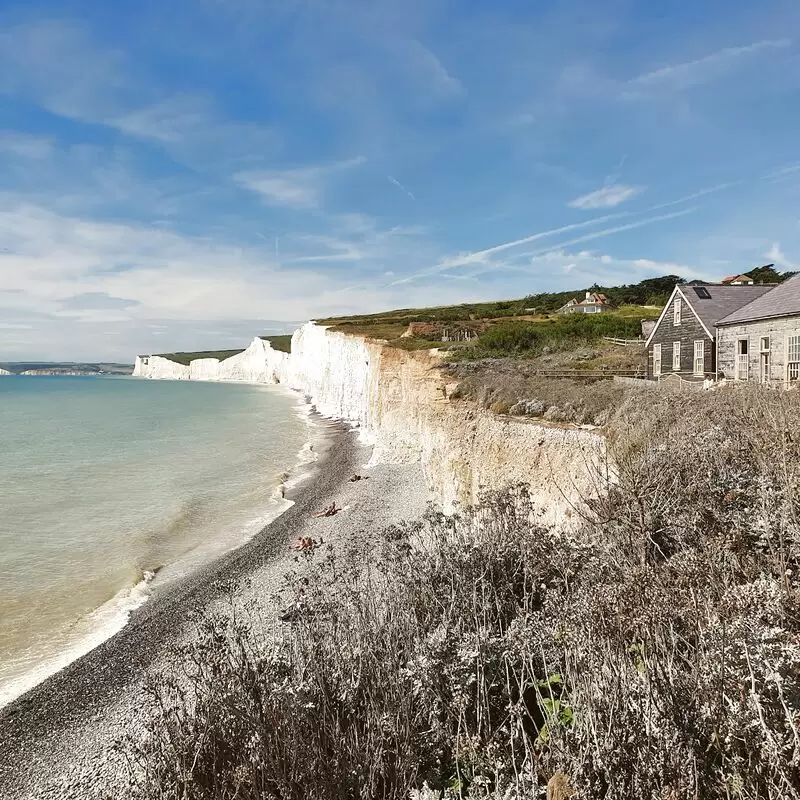 National Trust Birling Gap and the Seven Sisters
Beachy Head Road, Eastbourne BN20 0AB
Monday - Sunday: Open 24 hours
2. Drusillas Park
Drusillas Park in Eastbourne is your ticket to a captivating world of animal encounters and thrilling rides. Exotic creatures like red pandas, lemurs, and penguins will enchant you, while children enjoy the Hello Kitty Secret Garden and its themed attractions. Don't miss the rainforest carousel that captures the imagination. Just a short drive away is Beachy Head, the UK's highest chalk cliff, which offers breathtaking views of the English Channel. Learn more at the Beachy Head Visitor Centre.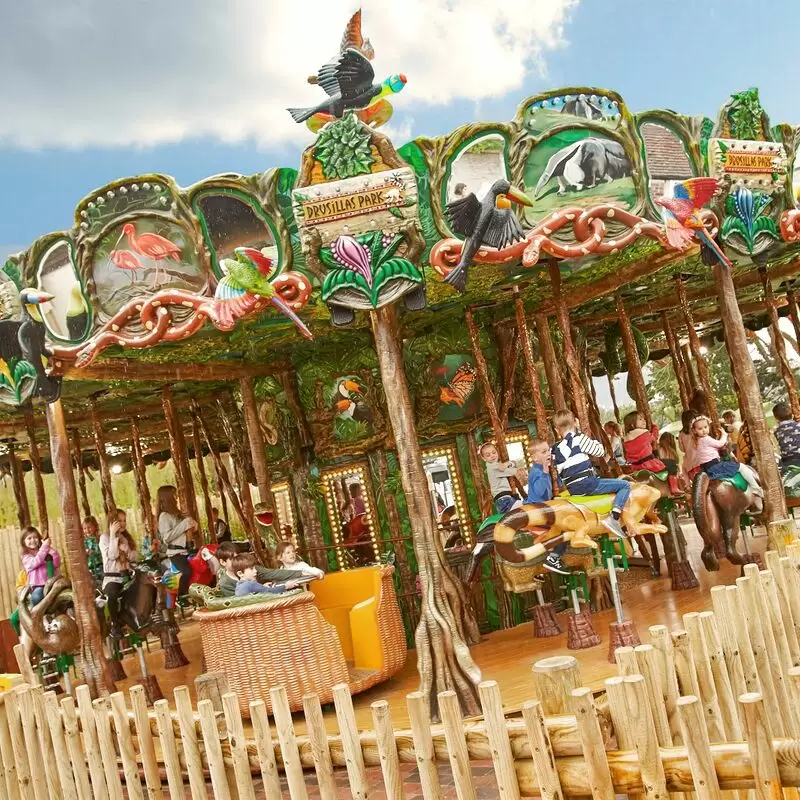 Drusillas Park
Drusillas, Zoo Park Ltd, Berwick, Polegate
Monday - Sunday: 10:00 AM – 6:00 PM
3. Eastbourne Pier
Eastbourne Pier, an iconic Victorian marvel by the sea, is a must-see! Stroll along the wooden boardwalk and enjoy panoramic sea views. The pier offers numerous amenities, from an arts and crafts market to a nostalgic treasure hunt in an old-fashioned penny arcade. End your stroll with a serving of fish and chips at the pier's café. Just a stone's throw away, the enchanting Carpet Gardens await you right on the boardwalk, another hidden gem showing off its exotic floral splendor!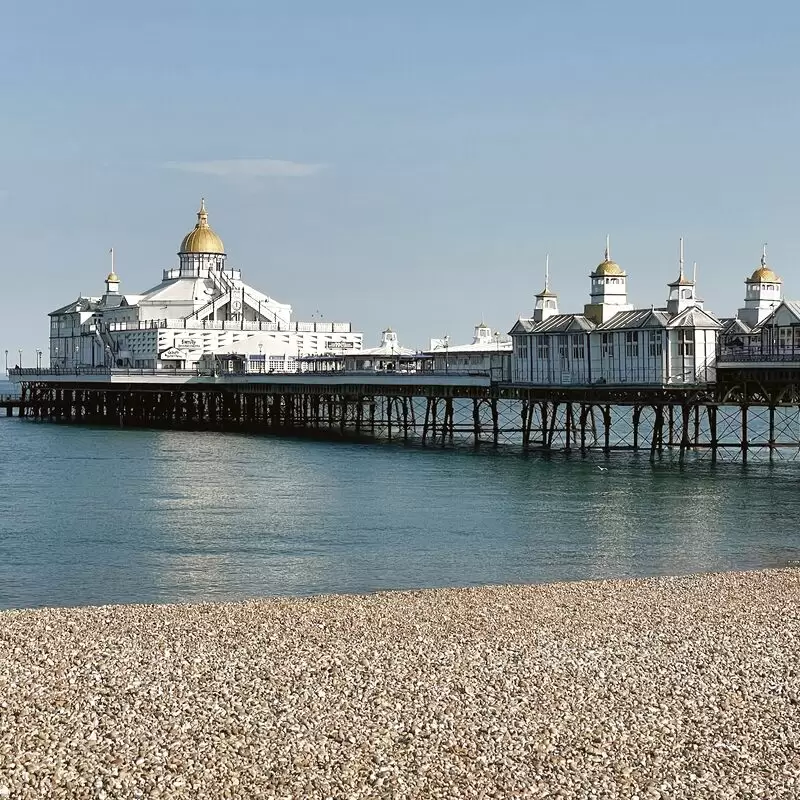 Eastbourne Pier
Eastbourne Pier Grand Parade, Eastbourne
4. Eastbourne Beach
Immerse yourself in the tranquil charm of Eastbourne Beach, a pebbled wonder adorned by the azure kiss of the English Channel. Enjoy the breathtaking sea views, Victorian-era shelters, and playful beach huts that add to the turquoise panorama. Perfect for sunbathing, a picnic or a walk on the pier, you can really relax here. In fact, unmissable! Nearby, the icon of Napoleonic history, Redoubt Fortress, is just a stone's throw away. Chat with the seagulls and sample the local seafood - an authentic Eastbourne experience!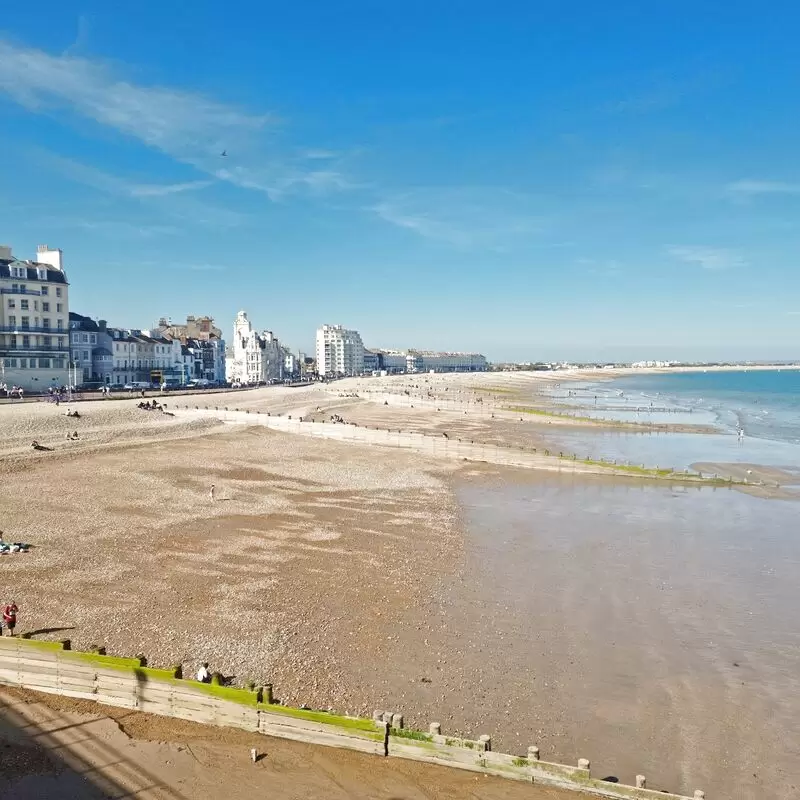 Eastbourne Beach
Eastbourne Beach, 23 Royal Parade, Eastbourne
Monday - Sunday: Open 24 hours
5. Pevensey Castle
Experience history up close at Pevensey Castle! The former Roman fortress and Norman keep are a magnificently preserved architectural relic. Feel the ancient stones under your hands and imagine the battles they have survived. The breathtaking panoramic view from the walls is a photographer's delight. Just around the corner is the charming Pevensey Courthouse Museum & Gaol, which offers a glimpse into local history and the ancient justice system. An afternoon in Pevensey offers an unforgettable glimpse into England's rich and storied past.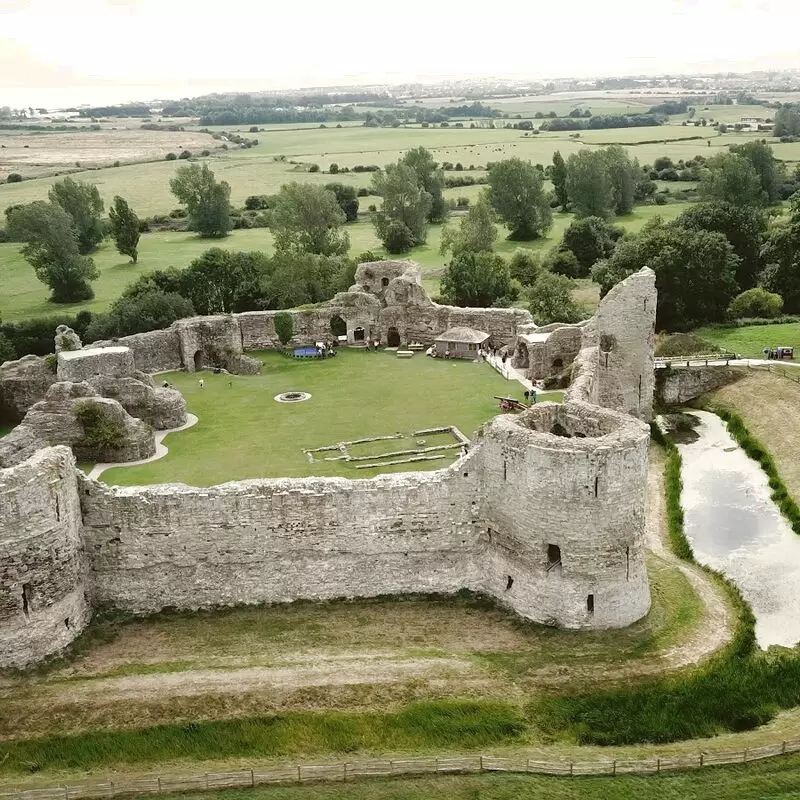 6. Western Lawns
Immerse yourself in the serenity of Western Lawns, Eastbourne. Enjoy the magnificent sea views from this lush green space. It's an idyllic spot for picnics, peaceful walks or just to enjoy the tranquility of the surroundings. Play a game of boules on the hidden court among the trees - a local secret! Just a stone's throw away is the iconic Eastbourne Bandstand, where live concerts are held regularly - the perfect place for a day out in Eastbourne.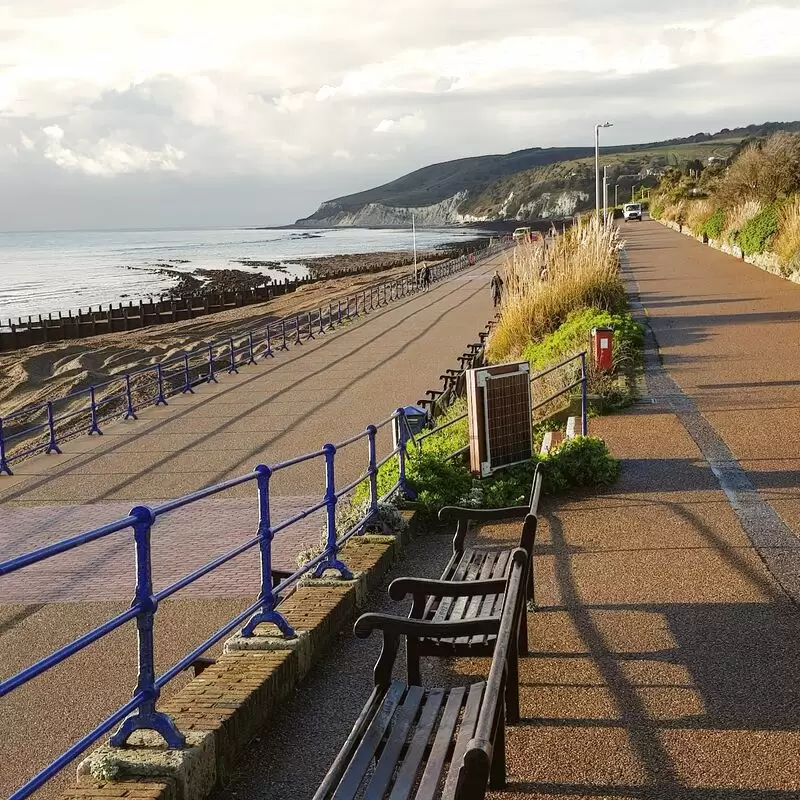 Western Lawns
King Edward's Parade, Eastbourne
Monday - Sunday: Open 24 hours
7. Hampden Park

At Hampden Park, Eastbourne's largest park, you can enjoy the picturesque tranquility. Surrounded by fields, a lake and blooming flora, it's the perfect place for quiet walks, boisterous picnics and bird watching.

An insider tip: don't miss the fascinating "Dinosaur Island," which is especially captivating for children. Right next door is the "Eastbourne Miniature Steam Railway Adventure Park", a unique combination of idyllic country park and miniature steam railroad, offering fun for all ages.

Hampden Park
Hampden Park Drive, Eastbourne BN22 9QR

Monday - Sunday: Open 24 hours
8. Eastbourne Miniature Steam Railway
Immerse yourself in a quintessentially British wonderland with the Eastbourne Miniature Steam Railway! Climb aboard our charming miniature locomotives and travel along an atmospherically designed track. Authentic station furnishings make young and old feel like Gulliver in Lilliput. You can also enjoy a classic English tea in the charming café. Just a stone's throw away is Eastbourne Sovereign Harbour, where scenic coastal walks, boat trips, and fresh seafood restaurants await!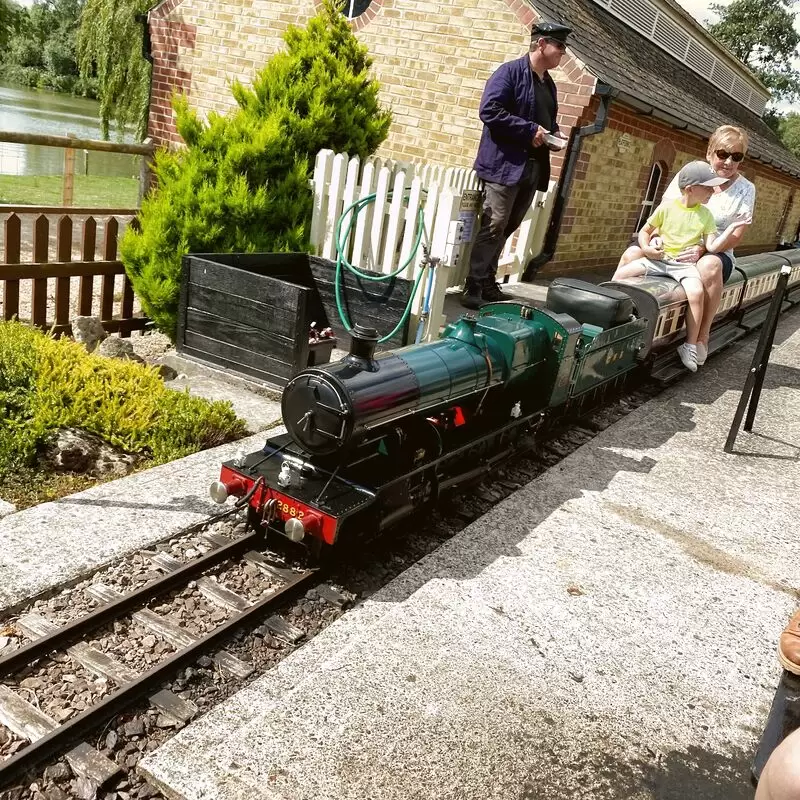 Eastbourne Miniature Steam Railway
Lottbridge Drove, Eastbourne BN23 6QJ
Monday - Sunday: 10:00 AM – 5:00 PM
9. Princes Park
Princes Park is a must for any visitor to Eastbourne. It is an oasis amidst the hustle and bustle of the city with a beautiful boating lake at its heart. Perfect for leisurely strolls, bird watching or soccer matches in the open field, this tranquil park oozes charm. Immerse yourself in the history of the park, which opened in 1931! Just a short walk away is the historic Redoubt Fortress, a Napoleonic War-era structure that offers an exciting glimpse into the city's history. If you time it right, you might even catch a cricket match!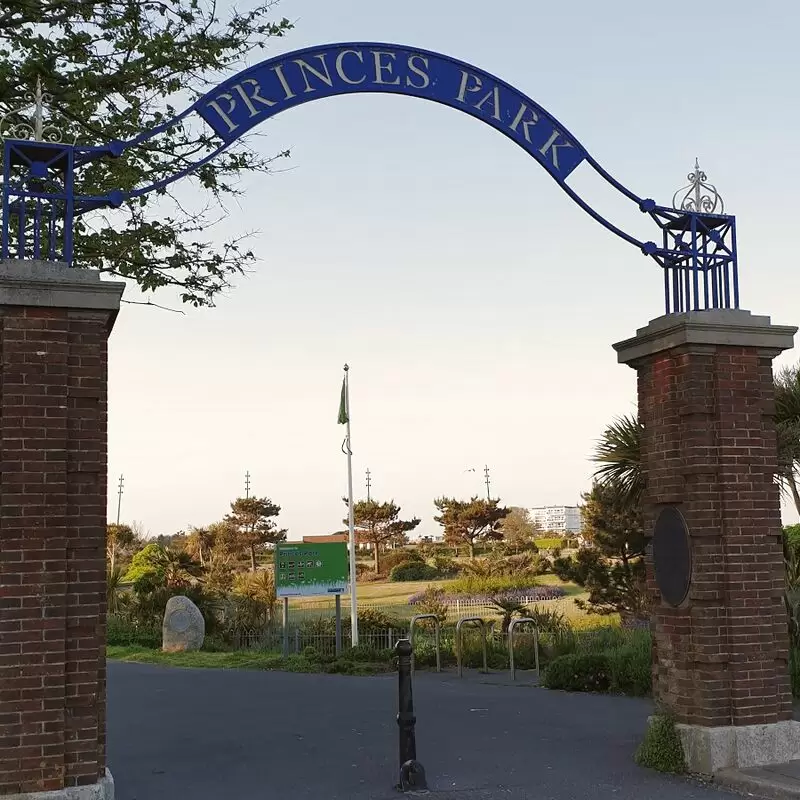 Princes Park
princes park, Channel View Road, Eastbourne
Monday - Sunday: 10:00 AM – 10:00 PM
10. Eastbourne Beach

Experience picturesque Eastbourne Beach, where pebbles meet clear blue waters. Lined with Victorian hotels and cafes, the beach is ideal for a quiet stroll or a relaxing sunbath. Don't miss the historic Eastbourne Pier, which is just a stone's throw away!

Insider tip: try the ice cream made on site, it's a treat! Nearby Beachy Head offers stunning cliff views, while Sovereign Harbour, a little further east, is a hub for restaurants and shopping. A wonderful mix of nature and city fun awaits you!

Eastbourne Beach
Eastbourne Beach, Eastbourne BN21 3EL

Monday - Sunday: Open 24 hours
11. Beachy Head Cliffs
A visit to Beachy Head Cliffs is an absolute must in Eastbourne! From their breathtaking height you have a stunning view of Eastbourne and the English Channel. Be mesmerized by the stunning white chalk cliffs that have been created over thousands of years. Experience a magical sunset that bathes the cliffs in heavenly hues. Don't miss the charming, historic lighthouse of Beachy Head, bravely standing against the waves. Nearby, the idyllic Seven Sisters Cliffs also beckon, offering a scenic hike for the adventurous.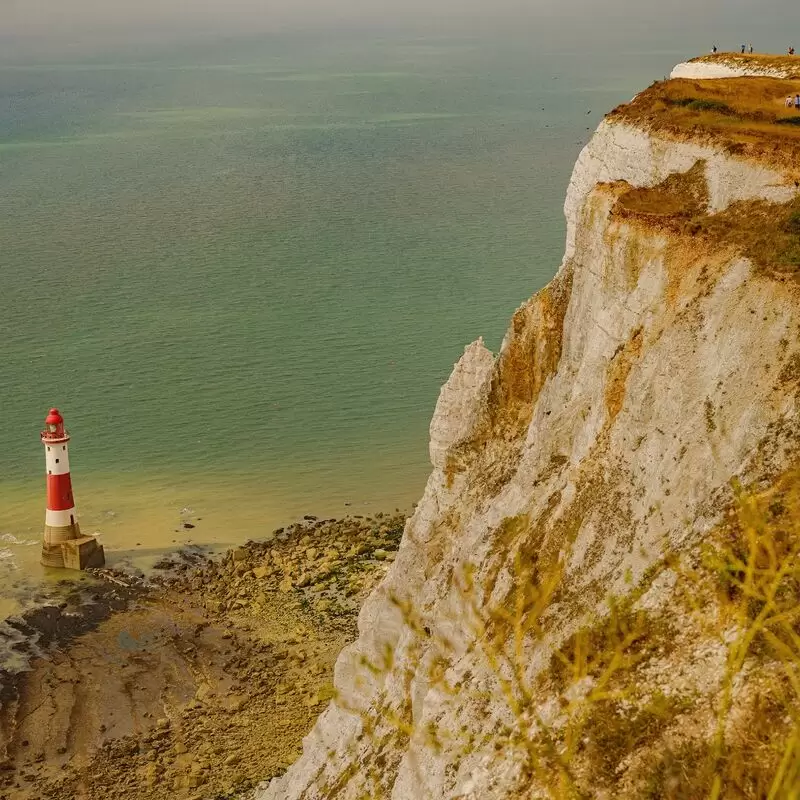 Beachy Head Cliffs
South Downs Way, Eastbourne
Monday - Sunday: Open 24 hours
12. Helen Garden
Helen Garden in Eastbourne is an oasis of tranquility, offering stunning panoramic sea views. The classic rolling lawns are perfect for a peaceful picnic, while the lovingly tended Italian-style gardens are a riot of color. Impressive art sculptures are scattered throughout the grounds, a hidden gem reminiscent of the city's artistic heritage. Just a leisurely stroll away you'll find the epic Beachy Head cliffs, another must-see natural wonder with awe-inspiring views.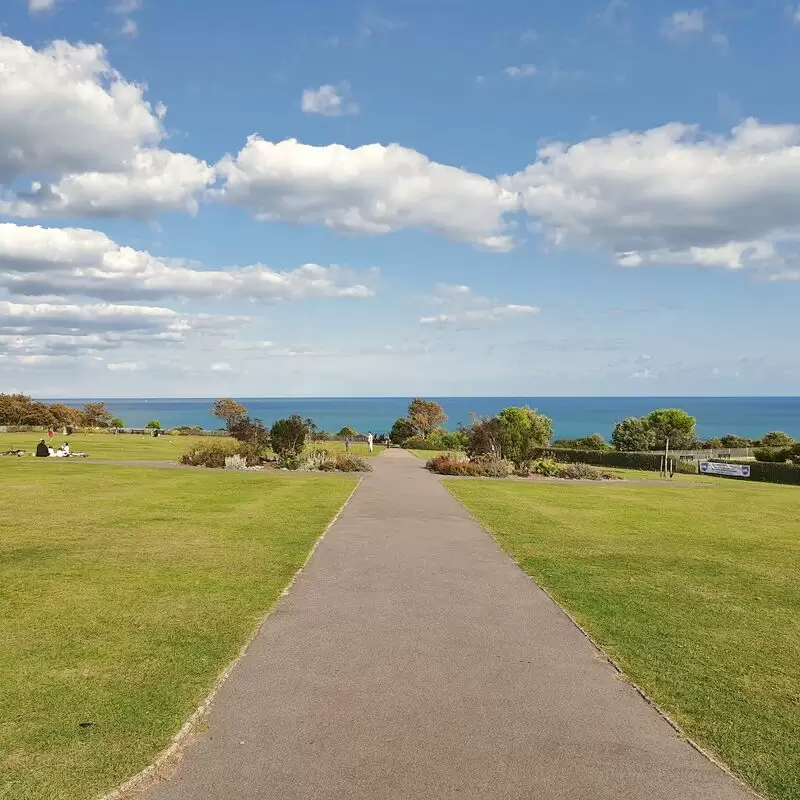 Helen Garden
King Edward's Parade, Eastbourne BN20 7XL
Monday - Sunday: Open 24 hours
13. Towner Eastbourne
The Towner Eastbourne, a contemporary gallery with world-class exhibitions, is a must-see. Be enchanted by the unique art collections, including famous works by Henry Moore and Eric Ravilious. Delight in the Towner's South Downs-inspired exhibitions; its deep connection to the landscape gives it a unique local flavor. Just around the corner, you'll find the Devonshire Park Theatre, which hosts a variety of performances. Don't miss the cozy gallery store with exclusive artwork. Be sure to take time for a refreshing coffee in the elegant café overlooking the park.
Towner Eastbourne
Devonshire Park, College Road, Eastbourne
Monday: Closed
Tuesday - Sunday: 10:00 AM – 5:00 PM
14. Long Man of Wilmington
Discover the ancient mystery of Eastbourne, Wilmington's Long Man. This tantalizingly obscure chalk figure etched into the South Downs Hillside is hundreds of years old. Numerous theories surround its origin, from prehistoric symbolism to 16th century creation. Take a photo of the spectacular 30-meter-long man from a distance and feel the energy surrounding this fascinating mystery. Nearby is Arlington Reservoir, a hidden gem for bird watching and quiet walks.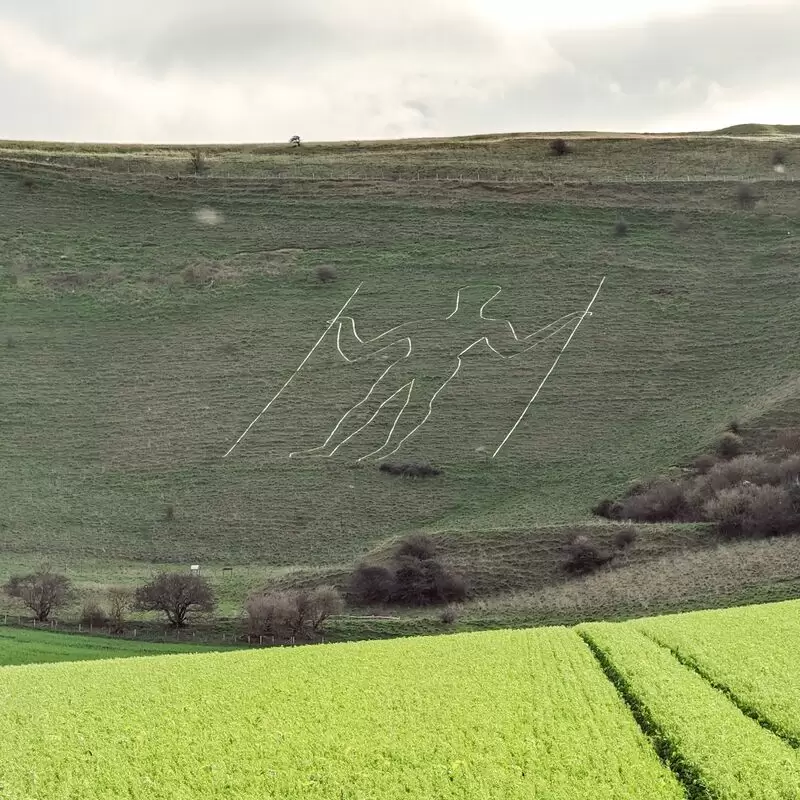 Long Man of Wilmington
South Downs Way, Wilmington, Eastbourne
Monday - Sunday: Open 24 hours
15. RAF Bomber Command Memorial
Discover the moving story of the RAF Bomber Command Memorial in Eastbourne, a moving tribute to the brave heroes who flew during World War II. Be swept away by the impressive atmosphere with engraved plaques commemorating their brave deeds. It's an awe-inspiring experience that goes beyond an ordinary tour and offers insights into local history. Just a short walk away, you can soak up the atmosphere in peaceful Princes Park or the fascinating Eastbourne Redoubt, proving that Eastbourne is more than just coastline and cream tea!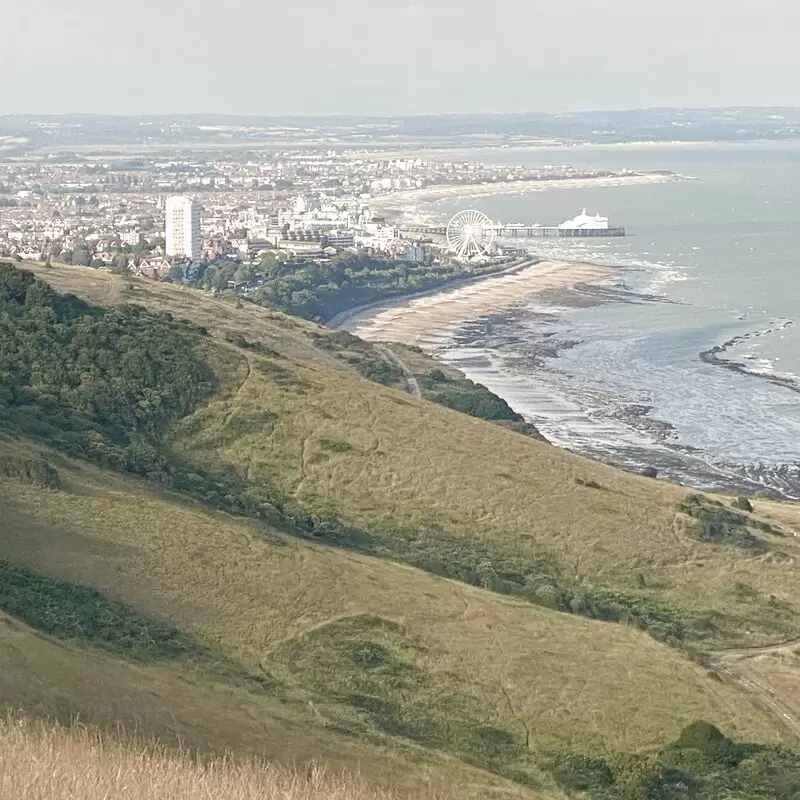 RAF Bomber Command Memorial
Beachy Head Road, Eastbourne
Monday - Friday: 8:00 AM – 5:00 PM
Saturday - Sunday: Closed
16. Wish Tower
Wish Tower in Eastbourne is a true cultural gem not to be missed. Its historic charm tells a compelling story about England's past struggles. Wish Tower is one of only 74 Martello towers left in England that were built to defend against a Napoleonic invasion. It's a fascinating opportunity to step back in time and then take a relaxing stroll along the adjacent sun-drenched Eastbourne Beach. Also nearby is the world-famous Towner Art Gallery, an art lover's paradise showcasing an eclectic mix of contemporary and classical art.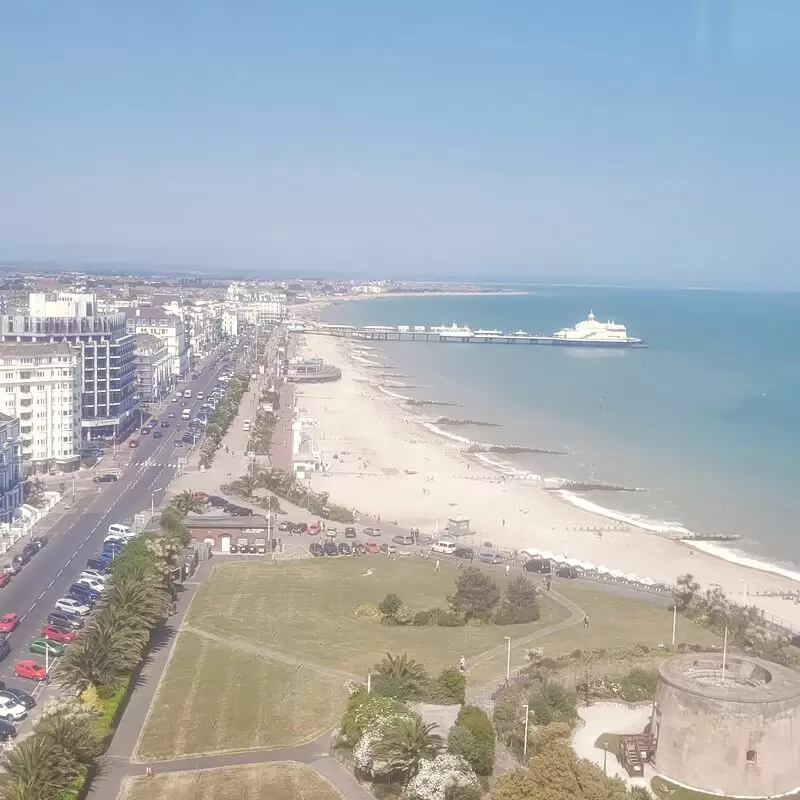 Wish Tower
5 King Edward's Parade, Eastbourne
Monday - Sunday: Open 24 hours
17. Gildredge Park
Venture off the beaten path and explore Gildredge Park - a charming oasis in the middle of Eastbourne. Write secret messages on the Wishing Trees or enjoy a relaxing game on the well-maintained tennis courts. There are numerous picnic areas for leisurely afternoons enjoying local delicacies. Admire the nearby Manor Gardens, a real hidden gem just a stone's throw away that boasts beautiful floral displays and historic architecture. End your vacation with a round on the traditional putting green. Adventure and tranquility await you in equal measure.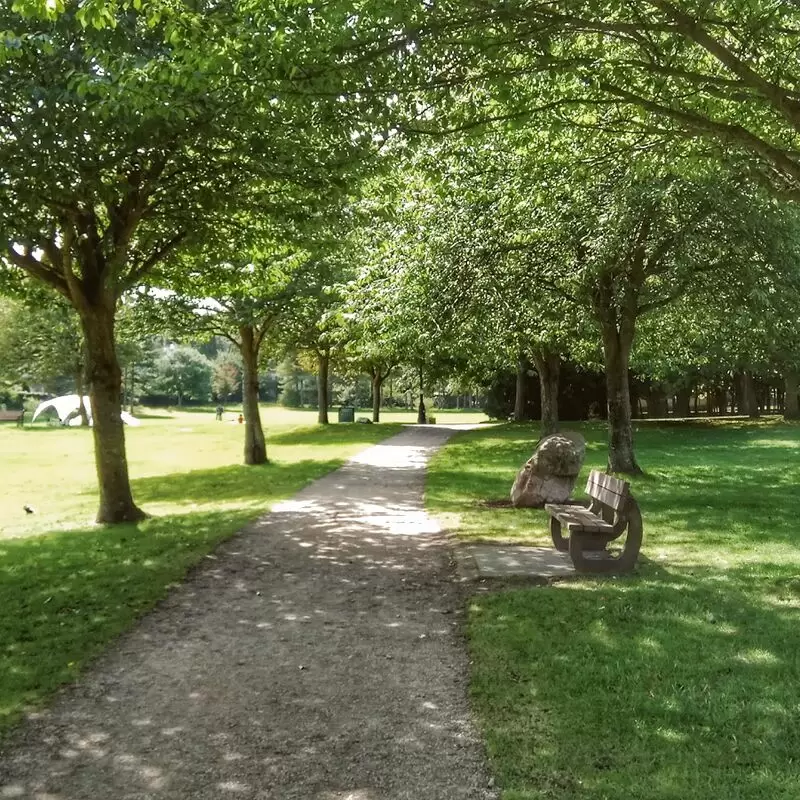 18. Butts Brow
Visit Butts Brow for stunning 360-degree panoramic views of the South Downs, Eastbourne and the English Channel. It is ideal for walkers and nature lovers as there is plenty of native wildlife and wildflowers. Don't forget your picnic basket, as this is Eastbourne's best kept secret for lunch in picturesque surroundings. If you are interested in history, you can combine your excursion with a visit to the nearby mystical Willingdon Hill, famous for its Bronze Age burial mounds.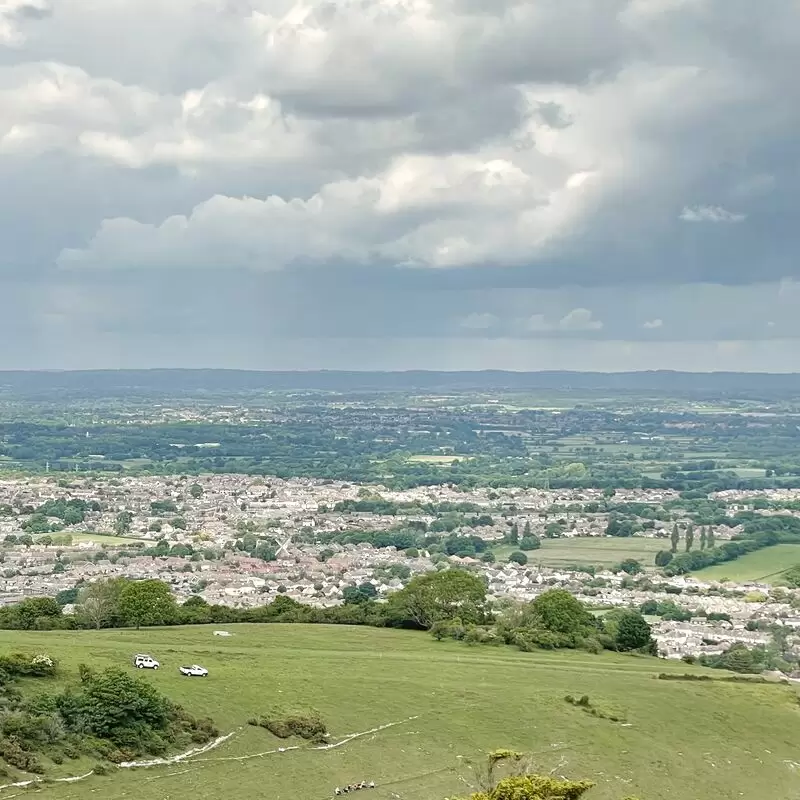 Butts Brow
Butts Lane, Eastbourne
Monday - Sunday: Open 24 hours
19. Treasure Island Adventure Park
Visit Treasure Island Adventure Park - a fun adventure for kids of all ages! Be thrilled as you walk the plank in Pirate's Adventureland, experience a mystical fantasy in Adventure Golf, and have indoor fun in Rocky's Adventure Castle. When in Eastbourne, don't miss the breathtaking views from Cliff Beach, which is just a short walk away. Remember, easterly winds make for the calmest pirate ship rides on the park's deck!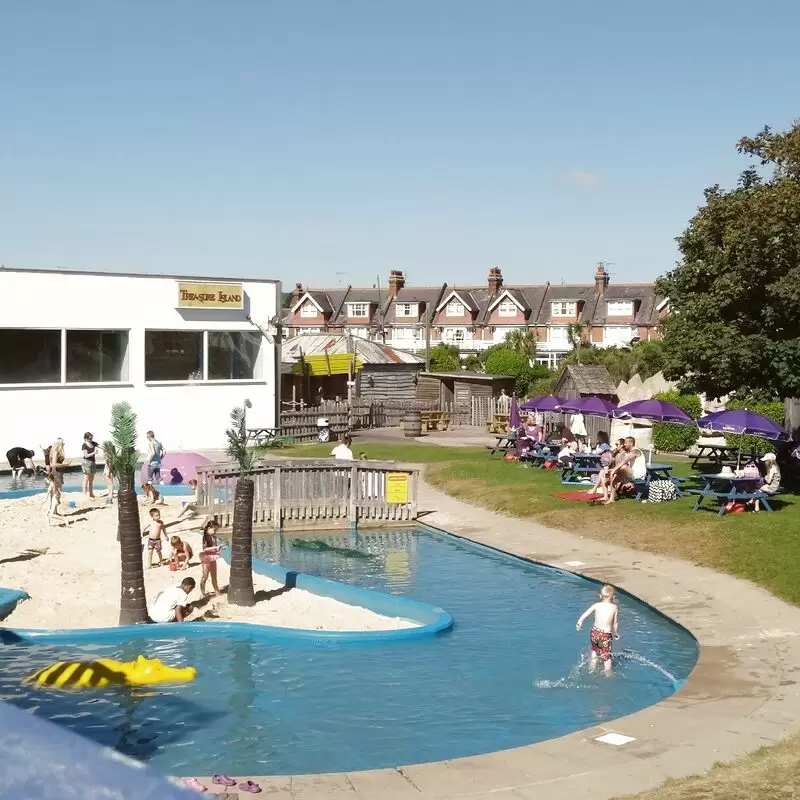 Treasure Island Adventure Park
5 Royal Parade, Eastbourne
Monday - Sunday: 9:30 AM – 6:00 PM
Best Time to Visit Eastbourne
The best time to visit Eastbourne, UK, is during the summer months, especially from June to September. During this time you can enjoy warm temperatures, outdoor activities and the popular annual events such as the Eastbourne International Airshow and the Aegon International Tennis Championship.
Annual Weather in Eastbourne
Eastbourne 3-Day Forecast
Thu, 21 September
Night
60 °F
15 °C
68%
Morning
58 °F
14 °C
70%
Afternoon
62 °F
17 °C
81%
Evening
58 °F
15 °C
52%
Fri, 22 September
Night
57 °F
14 °C
92%
Morning
54 °F
12 °C
64%
Afternoon
61 °F
16 °C
0%
Evening
57 °F
14 °C
72%
Sat, 23 September
Night
52 °F
11 °C
0%
Morning
50 °F
10 °C
0%
Afternoon
58 °F
15 °C
0%
Evening
56 °F
13 °C
0%
Questions & Answers

What currency is used in Eastbourne?

The currency used in Eastbourne, as in the rest of the United Kingdom, is the British pound sterling (£). It is commonly referred to simply as the "pound". It is denoted by the symbol "£" and its currency code is GBP (Great British Pound). Banknotes are issued in denominations of £5, £10, £20 and £50, while coins are available in denominations of 1p, 2p, 5p, 10p, 20p, 50p, £1 and £2.

Is Eastbourne safe for solo travelers?

Yes, Eastbourne is relatively safe for solo travelers. It is a small coastal town in the UK with a low crime rate. As with any destination, you should take general safety precautions, such as being aware of your surroundings and not walking alone at night in less crowded areas. Overall, however, Eastbourne offers a quiet resort with numerous attractions, hospitable locals, and tourist-friendly amenities that ensure a pleasant stay for solo travelers.

How can I get around the town?

Eastbourne (United Kingdom) is a coastal town with an efficient transport network that makes getting around a breeze. Short distances are best covered on foot or by bike to enjoy the panoramic view of the city by the sea. The city also offers local buses that connect different places, as well as cab services. If you want to explore the city further, there are trains at the Eastbourne train station that connect you to other British destinations. A special experience is the Dotto Train, a hop-on hop-off service along the seafront.

Are locals friendly and open to tourists?

Yes, the residents of Eastbourne, United Kingdom, are known for their friendliness and warm hospitality towards tourists. They are usually very helpful and enthusiastically share information about their city. Eastbourne thrives on tourism, so the residents are very hospitable and make visitors feel comfortable and enjoy their stay. The politeness and charm of the people, as well as the quiet location of the town, often make tourists want to come back.

What type of food is Eastbourne known for?

Eastbourne, located on the southeast coast of England, has a rich culinary scene that reflects Britain's coastal heritage. The town is especially known for its fresh seafood, including fish and chips, a quintessentially British dish. Its proximity to the countryside means that local pubs often serve hearty traditional English dishes such as Sussex pie and roast beef. The city's cosmopolitan influence is evident in a variety of international dishes, including Italian, Indian and Thai cuisine. Visitors can enjoy these dishes while overlooking the beautiful English Channel.

What languages are commonly spoken in Eastbourne?

The main language spoken in Eastbourne, United Kingdom, is English, as the city is part of an English-speaking country. However, due to the diverse population and the fact that the city is a center for international students, several other languages are also spoken in Eastbourne. While English is mainly used for communication, you can hear a number of different languages such as Polish, French, Spanish and others that represent the nationality of the international residents and visitors.

How expensive is it to live in Eastbourne?

Living in Eastbourne, United Kingdom, can be considered moderately affordable. Accommodation costs can vary, but an average one-bedroom apartment in the city center costs around £600 to £800 per month. Other expenses such as food, transportation, and entertainment are relatively close to the UK average. However, the cost of living depends on personal lifestyle habits and choices. It is always advisable to plan finances wisely according to individual needs.

Are there any local customs I should know about?

As a visitor to Eastbourne (United Kingdom), it is customary to respect all public signs and regulations, especially when it comes to preserving the natural beauty of places like the South Downs National Park and Beachy Head. The British generally appreciate polite and friendly conversation. Queuing is an integral part of British culture, so be respectful and patient in lines. And remember that the UK has left-hand traffic if you choose to drive.

What kind of outdoor activities are common in Eastbourne?

Eastbourne, located on the southeast coast of England, is a nature lover's paradise. Visitors enjoy hiking on the picturesque white cliffs of Beachy Head or strolling along the beautiful Victorian seafront. Many also bird-watch at Seven Sisters Country Park, tee off on one of the many golf courses, or play a match on the lawn tennis courts where international tournaments are held. Because of its oceanfront location, the city offers a variety of water sports, including boating, windsurfing, and fishing.

What is the history of Eastbourne?

Eastbourne, located on the south coast of England, has a rich history. Originally a modest fishing village, it developed into an elegant Victorian seaside resort in the 19th century. It became an elegant Victorian seaside resort in the 19th century. Its growth was fueled largely by the influence of the Duke of Devonshire, who commissioned some of the most important architectural marvels. Eastbourne survived the bombardments of World War II to become a favorite retreat for visitors, retaining its charm with notable attractions such as the Beachy Head cliffs, the Towner Gallery, and Eastbourne Pier.

How can I interact with the local community?

Immerse yourself in the local community during your stay in Eastbourne by visiting the regular farmers markets and local events. Join meetings or groups interested in outdoor activities, as the town is close to the South Downs National Park. Visit the Towner Art Gallery and Eastbourne's many historic sites to interact with history buffs. The local pubs and cafes are also good places to strike up a conversation with the locals.

Can I rent a bike in Eastbourne?

Yes, you most certainly can. There are several bike rental services in Eastbourne. Some of these services offer a variety of bikes for different needs, from mountain bikes for adventurous routes to comfortable hybrids for city traffic. There are also offers for children's bikes and accessories such as helmets and maps. This is a great way to explore Eastbourne's many bike paths, picturesque seafront and the surrounding South Downs National Park.

Is there any wildlife I should look out for in Eastbourne?

Yes, Eastbourne is a great place to experience British wildlife. Beachy Head and the South Downs National Park offer views of diverse birdlife, including kestrels, peregrine falcons, and skylarks. Marine life such as dolphins and seals can also be spotted off the coast. The city's parks and gardens, including Hampden Park, are ideal for spotting squirrels, various species of ducks, and other pond dwellers.

What is the tipping etiquette in Eastbourne?

In Eastbourne, as elsewhere in the UK, tipping is common but not obligatory. Generally, in restaurants, a tip of 10-15% of the bill is considered a reasonable amount if the service is not already included. For cab services, it is common to round up the fare or add 10%. For other services such as hotel staff or hairdressers, tipping is less common, but a small tip for exceptional service is always appreciated.

Do they provide tourist information in other languages?

Yes, Eastbourne offers tourist information in several languages. Visitors can get information brochures and travel guides in different languages such as French, German, Spanish and Italian. The tourist information staff can also help you in these languages. In addition, Eastbourne's official tourism website provides translation facilities to help non-English speaking tourists plan their visit.

Is it common to negotiate prices in Eastbourne?

In Eastbourne, and the UK in general, it is not common to negotiate prices in established businesses such as stores, restaurants or hotels, as prices are usually fixed. However, at informal events such as flea markets or car trunk sales, you may be able to negotiate on price. It's best to be discreet when negotiating prices and go with local conditions.

Can I drink tap water in Eastbourne?

Yes, the tap water in Eastbourne, like the rest of the UK, is safe to drink. It undergoes rigorous testing and treatment to ensure it meets the high safety standards set by the Drinking Water Inspectorate. So you can fill up your bottle from the tap without worry. However, like many places, the taste of tap water can vary due to the different minerals in the local water supply.

What are some local dishes I must try?

When in Eastbourne, you must try the traditional British fish and chips, best enjoyed by the sea. Try the Sussex Cream Tea, a heartwarming delicacy with scones, strawberry jam and clotted cream served with tea. Don't miss the Sussex Pond Pudding, a buttery dessert made with local lemon. Enjoy locally made cheeses paired with a glass of excellent sparkling wine from the vineyards of the South Downs. Try a glass of traditional Sussex Ale to round out the experience.

Do I need any special types of clothing when I visit Eastbourne?

Eastbourne, a coastal town in England, generally has a temperate maritime climate with relatively mild winters and cool summers. Therefore, pack layers of clothing that you can take on or off depending on temperature changes, including light sweaters or cardigans. Don't forget waterproof jackets and umbrellas in case it rains. If you plan to take a walk on the beach or hike in the nearby South Downs, pack comfortable shoes or sneakers. Dress code is generally casual, but can be a bit more formal at luxury restaurants or events.

Are there any famous personages tied to Eastbourne's history or culture?

Eastbourne is associated with several famous people. Charles Dickens, the famous writer, often vacationed in Eastbourne. He even mentioned the Lamb Inn, a pub in Eastbourne, in one of his novels. Aleister Crowley, a famous occultist, was born here. Musically, the lead singer of the band The Cure, Robert Smith, hails from Eastbourne. The charming seaside town maintains a rich literary and musical culture, which makes it an attraction for culture lovers.

Feedback

I hope you found this article informative and helpful. I'm eager to improve the content and make it even more valuable for you. If you have any feedback or suggestions, I would love to hear from you.

Do you have any tips or hidden gems that you think should be added to the list? Are there any areas that you feel could use more explanation or clarification?

Your input is greatly appreciated and will help us to continue providing high-quality content that meets your needs and interests. Please feel free to share your thoughts.