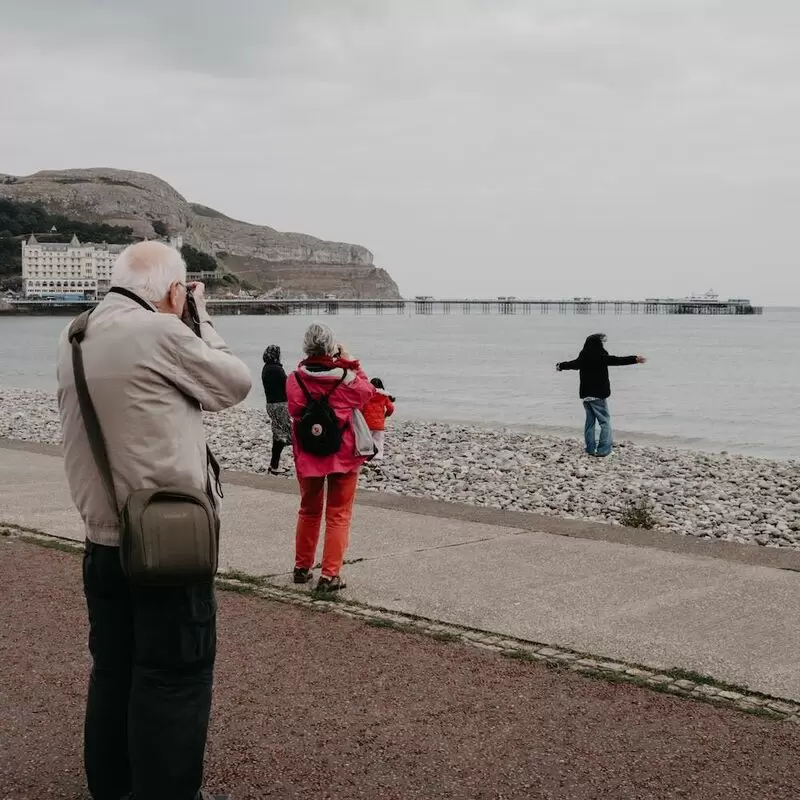 1. Y Gogarth Great Orme Country Park
Discover the unspoiled beauty of Y Gogarth Great Orme Country Park, a wildlife paradise where panoramic views meet fascinating history. Watch the free-grazing cashmere goats, delight in the unique butterfly species, or explore the underground Bronze Age copper mines. A streetcar or cable car will literally take you to the top! On clear days, you can see the Isle of Man almost to the clouds! Just a few steps away is Llandudno's Victorian pier, a nostalgic walk back in time.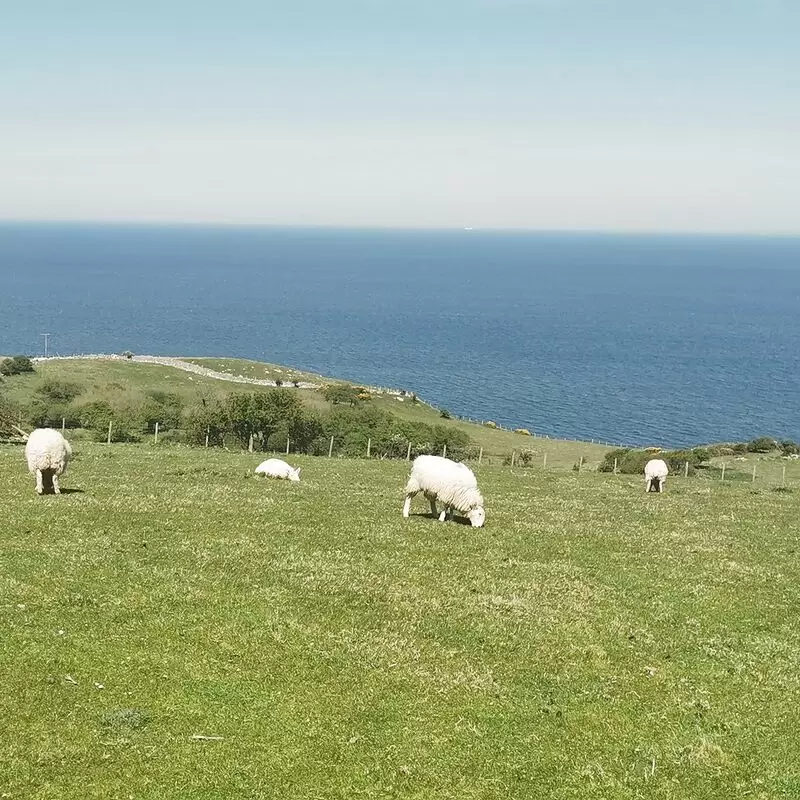 Y Gogarth Great Orme Country Park
Llandudno LL30 2BW
Monday - Sunday: Open 24 hours
2. Llandudno Pier

Experience the Victorian architecture and heartwarming ambiance of Llandudno Pier. This picturesque gem offers panoramic views of the Irish Sea and the Great Orme. From the old-world charm stores to the pier's amusement attractions, history buffs and thrill-seekers alike will get their money's worth.

An insider tip: Don't miss the "Pier End" where you can experience mesmerizing sunsets. Just a short walk away, you can explore the Happy Valley Botanical Gardens for an added nature experience! A walk along the pier is a must in Llandudno.

Llandudno Pier
North Parade, Llandudno

Monday - Sunday: 8:00 AM – 10:30 PM
3. Llandudno Promenade
The promenade of Llandudno is an absolute must. It offers breathtaking views of the expansive bay and charms with its Victorian elegance, inviting you to take a leisurely stroll. Llandudno Pier, a charismatic extension of the promenade, is adorned with lively stores and quaint eateries. Don't miss the popular Punch and Judy show, a fixture in town since the 1850s. Just around the corner is the Great Orme Tramway, which offers a thrilling ride up a limestone hill for a touch of adventure.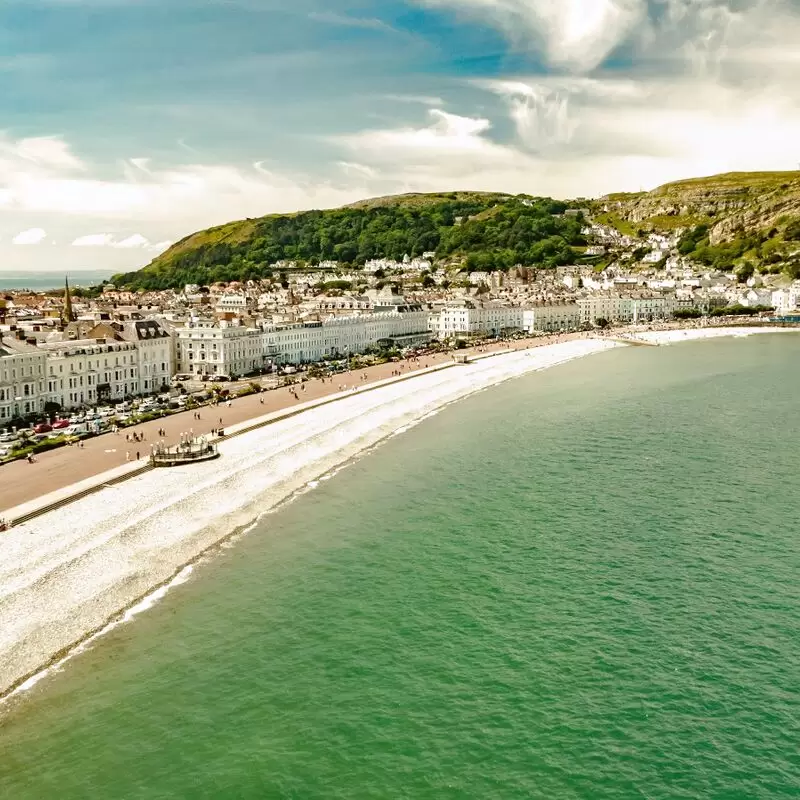 Llandudno Promenade
Gloddaeth Crescent, Llandudno
Monday - Sunday: Open 24 hours
4. Great Orme Mines
Dive deep into the Bronze Age at Great Orme Mines, Llandudno's living history! It's not just a mine, but a time capsule where you'll walk through 4,000-year-old tunnels and learn about ancient mining techniques. The kids can pan for gold while you enjoy the panoramic view. The tranquility compared to the bustling Llandudno promenade just a few miles away is palpable. After your mining adventure, the historic Llandudno Pier just minutes away is a must-see.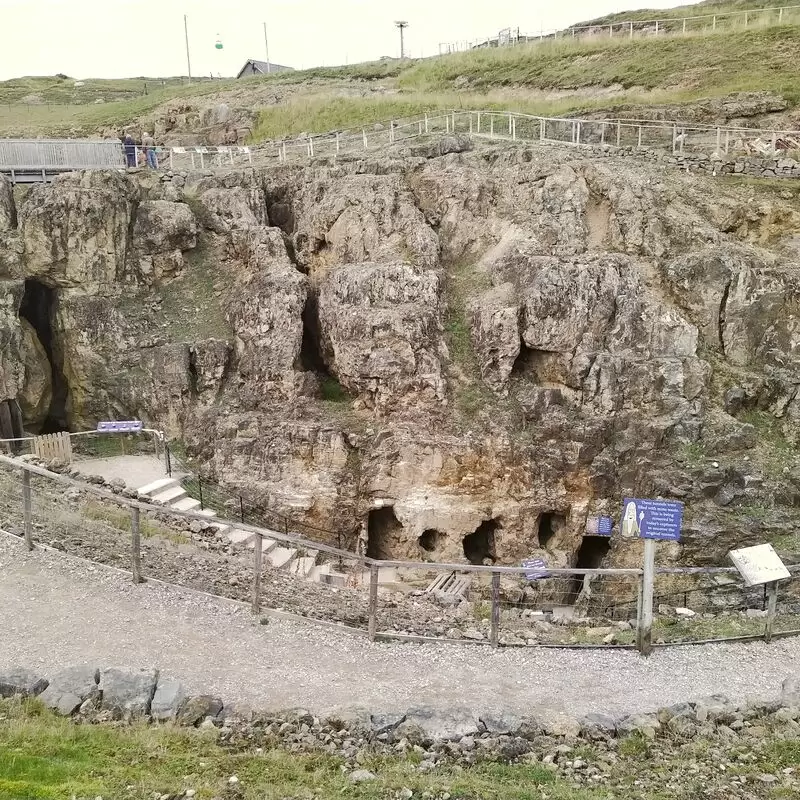 Great Orme Mines
Llandudno
Monday - Sunday: 9:30 AM – 4:30 PM
5. Great Orme Tramway Victoria Station)
Experience a unique ride on the Great Orme Tramway, Llandudno's time-honored attraction. Discover panoramic views of Snowdonia National Park as the old tramway takes you skyward. Ask the friendly operators about the streetcar's rich history, which dates back to 1902, for an overview. Pro-tip: At the summit, visit the Iron Age remains and the Orme Lighthouse Café, where you can enjoy delicious Welsh cakes. Two steps away, in Great Orme Country Park, you can watch the wild cashmere goats.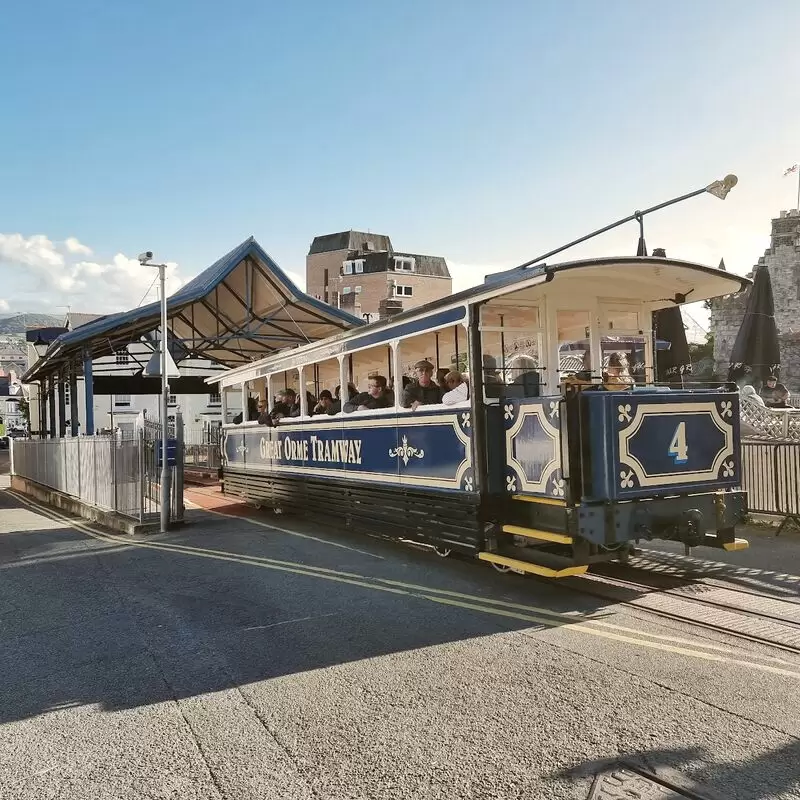 Great Orme Tramway Victoria Station)
Victoria Station, Church Walks, Llandudno
Monday - Sunday: 10:00 AM – 5:00 PM
6. Porth Dyniewaid Angel Bay
Porth Dyniewaid, or Angel Bay, is a wildlife lover's dream! This secluded bay is home to a seal colony that is best viewed during the breeding season from August to November. Take a leisurely picnic along the trail and watch the seals from above. Just a stone's throw away is Little Orme, a well-known spot for bird watching. Don't miss the fascinating sight of guillemots, razorbills and kittiwakes nesting. The secret corners of Llandudno are waiting for you!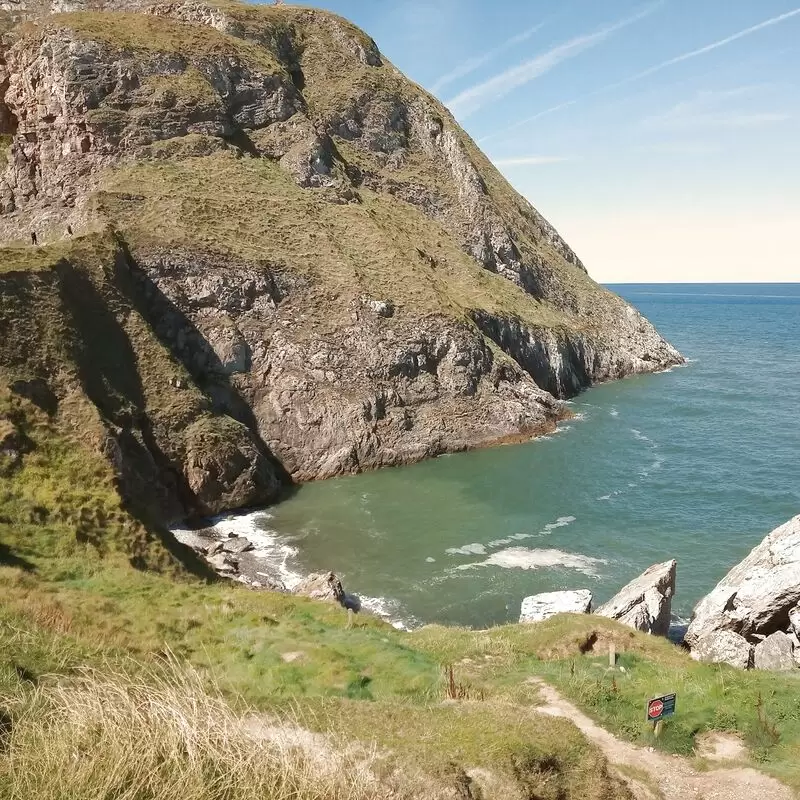 Porth Dyniewaid Angel Bay
116 Penrhyn Beach East, Penrhyn Bay, Llandudno
Monday - Sunday: Open 24 hours
7. West Shore Beach
Pack your picnic basket and head to Llandudno's quieter cousin, West Shore Beach! Away from the bustling town center, this sandy oasis offers stunning views of Anglesey, the mountains of Snowdonia, and enchanting sunsets. The secluded spot is perfect for quiet walks, cycling, kite-flying, or just sticking your toes in the sand. Also nearby is the fascinating Great Orme, a limestone headland whose dramatic cliffs can be ascended by funicular. An ideal place for stunning Instagram posts!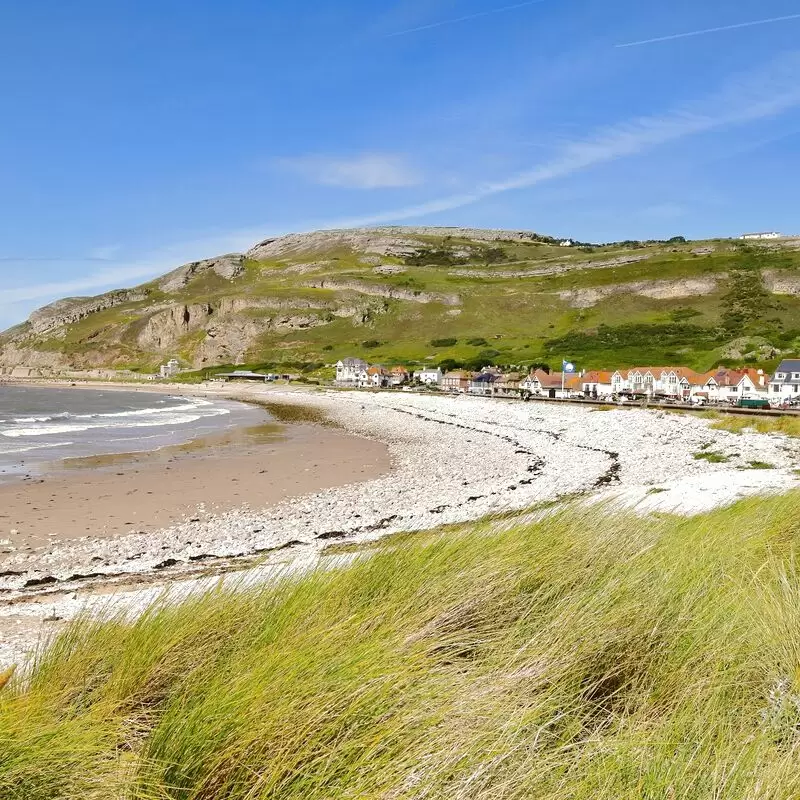 West Shore Beach
West Shore Beach, Llandudno
Monday - Sunday: Open 24 hours
8. North Shore Beach
A visit to North Shore Beach in Llandudno is like a postcard from Victorian times. The whimsically decorated pier, stunning sea views and unique Punch and Judy theaters that still retain their old charm. Don't miss an early morning walk to enjoy the quiet sands at low tide. Just around the corner is the famous Great Orme's Headland, a paradise for hiking enthusiasts. A charming blend of British coastal tradition and natural beauty!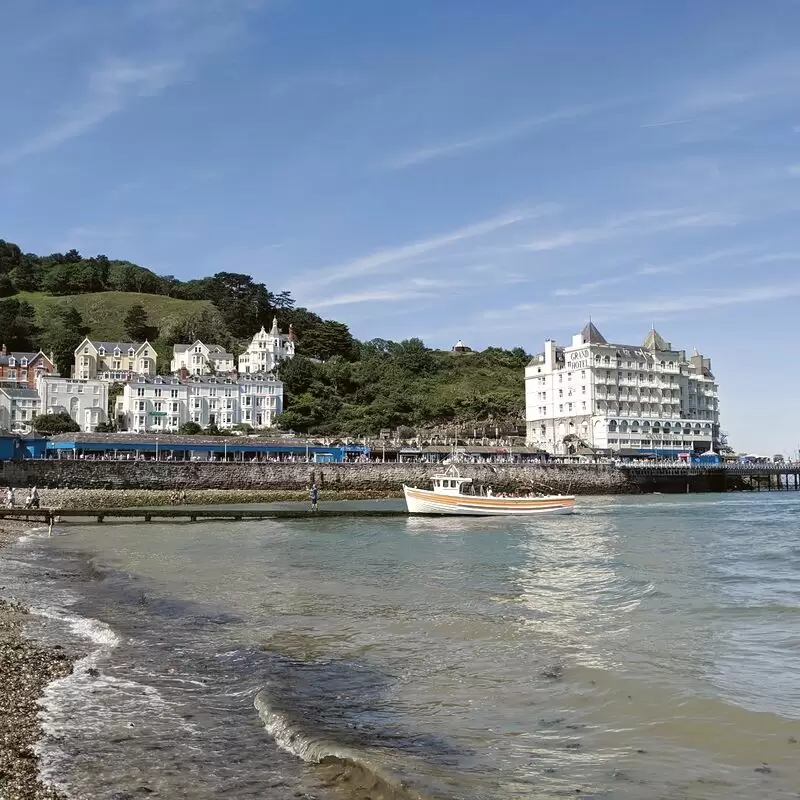 North Shore Beach
North Shore Beach, Llandudno LL30 2LN
Monday - Sunday: Open 24 hours
9. Happy Valley Botanical Gardens
Happy Valley Botanical Gardens is a feast for the senses. It's wrapped in charming Victorian charm and offers an abundance of living plants, enchanting floral displays, and tranquil woodland walks. Pretend you're Alice in Wonderland as you stroll the stone terraces and encounter fascinating wildlife. This is a "hidden gem" for those who admire the breathtaking beauty of the landscape. And don't miss the opportunity to explore the nearby "Fairy Glen" to complete your magical journey.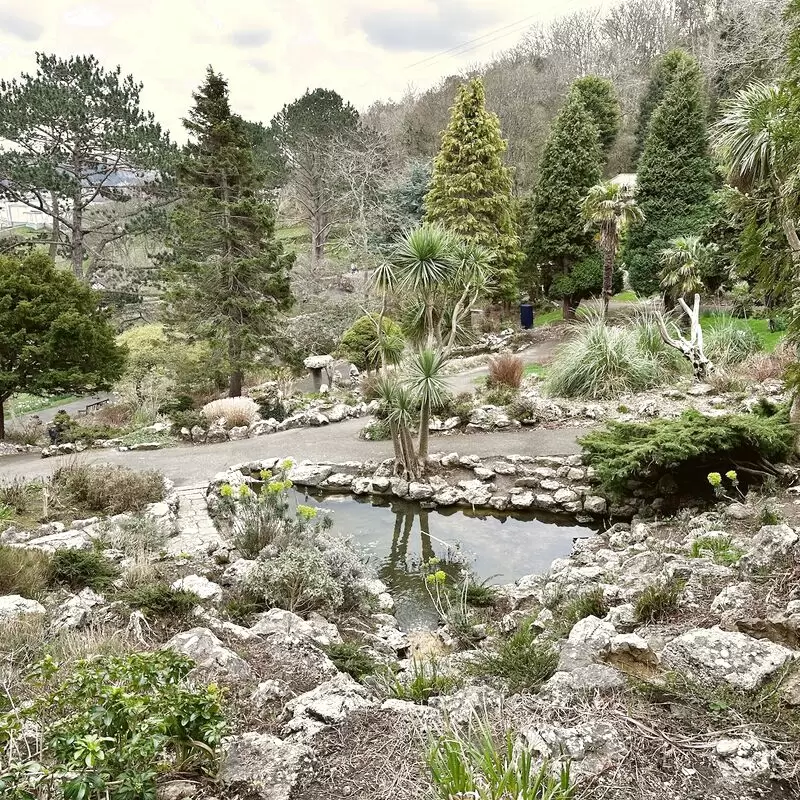 Happy Valley Botanical Gardens

10. Venue Cymru

Visit Venue Cymru, an epicenter of Welsh arts and culture that pulsates with exciting performances by national and foreign ensembles. Nestled between Llandudno's vibrant promenade and stunning Ormes Bay, Venue Cymru offers breathtaking views from its panoramic windows. In addition to music, drama and dance, you can also indulge in culinary delights at the Y Review Restaurant.

An insider tip: Visit the artisan market held monthly in the conference area. Just a walk away is the Great Orme, an ancient limestone hill that offers panoramic views of the seaside town.

Venue Cymru
The Promenade, Penrhyn Crescent, Llandudno

Monday - Saturday: 10:00 AM – 7:45 PM
Sunday: Closed
11. Bodafon Farm Park

Venture off the beaten path and discover Bodafon Farm Park!

This beautiful farm is an insider tip in Llandudno. Here you can get up close and personal with friendly animals, from fascinating owls to cute little lambs. Don't miss the opportunity to feed the resident red and fallow deer. For the foodies among you, there's a home-cooked meal in a charming country-style café. Plus, Llandudno's picturesque promenade is just a short walk away. You'll leave with warm memories and a camera full of cuteness.

Bodafon Farm Park
Bodafon Road The Promenade, Llandudno

Monday - Tuesday: Closed
Wednesday - Sunday: 10:00 AM – 5:00 PM
12. RSPB Conwy
A visit to the Conwy RSPB is like a visit to a birdwatcher's paradise. This wetland on the banks of the Conwy Estuary is a haven for numerous bird species. With quiet walking trails, scenic views and an eco-friendly visitor center, it offers a tranquil retreat. Don't miss the sight of a tidal lagoon at sunset - a truly breathtaking experience. Medieval Conwy Castle is just a short drive away and is a UNESCO World Heritage Site that will delight history buffs.
RSPB Conwy
Llandudno Junction, North Wales Expressway, Conwy
Monday - Sunday: 9:30 AM – 5:00 PM
13. St. Tudno's Church
Whether you're interested in history, love breathtaking views, or are looking for a quiet retreat, St. Tudno's Church is a must-see. Perched atop the Great Orme, this charming 12th-century church is steeped in history. Take a tour to admire the ancient yew trees or take in the sweeping views of Llandudno Bay. And don't miss the nearby Orme's Copper Trail, which gives an insight into the fascinating history of copper mining in the region!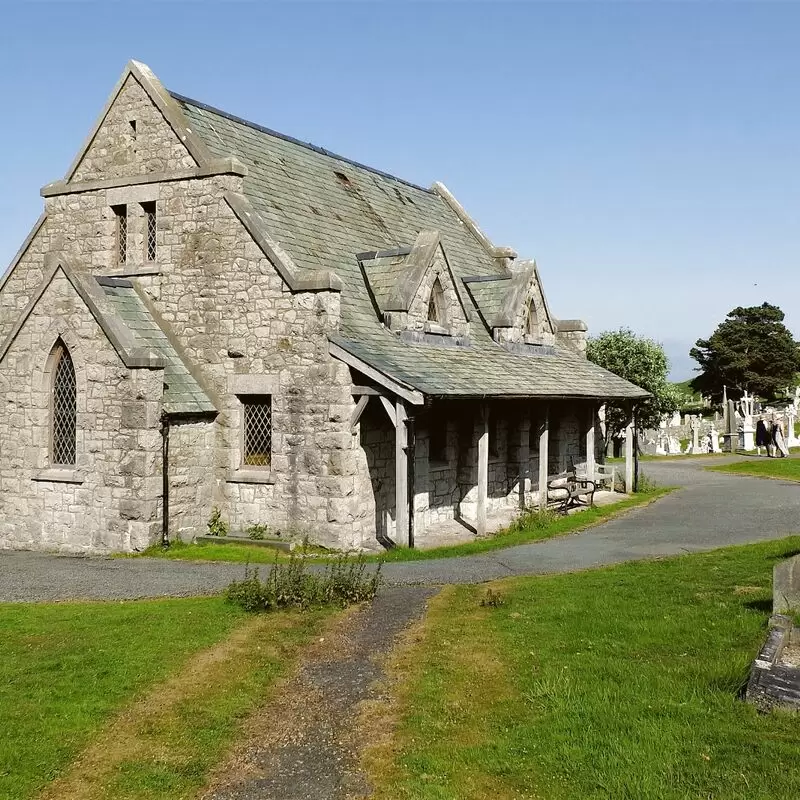 St. Tudno's Church
2HL, Saint Tudno's Road, Llandudno
14. Home Front Museum
Immerse yourself in history at the Home Front Museum in Llandudno and be transported back to wartime Britain. This unique museum includes a realistically recreated air raid shelter. Feel the creeping horror as sirens wail and power outages occur. Admire the collection of wartime memorabilia that evokes strong emotions of a turbulent past. Take a look at the storefront from the World War II era. Don't miss the magnificent Llandudno Pier, just a short walk away, for an idyllic end to the day.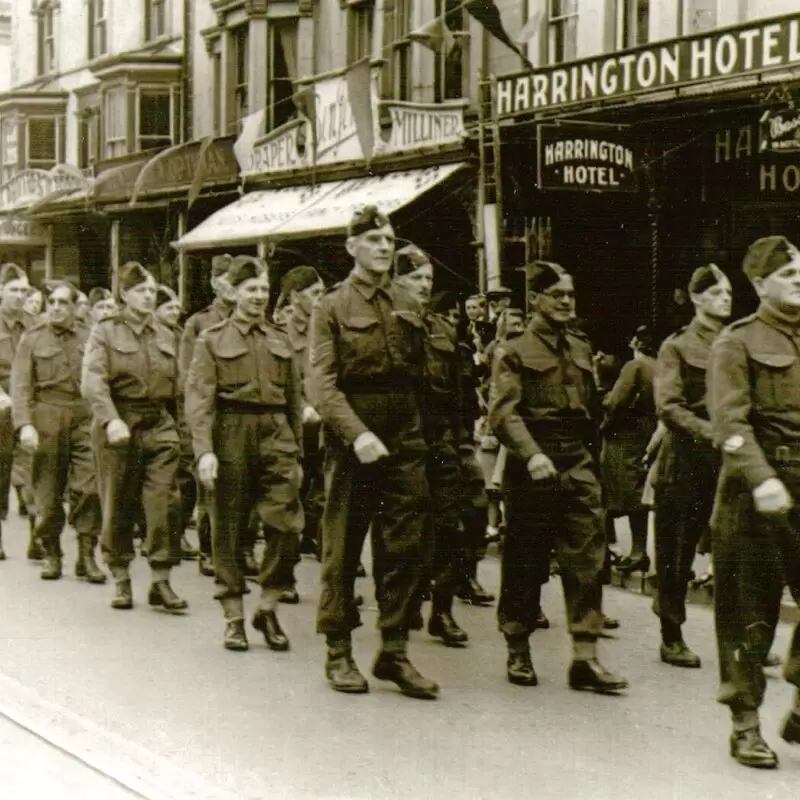 Home Front Museum
New Street, Llandudno LL30 2YF
Monday - Saturday: 9:30 AM – 4:00 PM
Sunday: Closed
15. Great Orme Summit Complex
Discover the hidden gem of Llandudno: the Great Orme Summit Complex. A true paradise for adventurers, it offers breathtaking panoramic views, rare wildlife sightings, a charming café and a historic Bronze Age copper mine. Don't miss a ride on the delightfully old-fashioned streetcar to the summit, which offers a unique, rustic yet exhilarating experience. Nearby is the charming Victorian Pier of Llandudno, another must-see attraction known for its charming architecture and rides!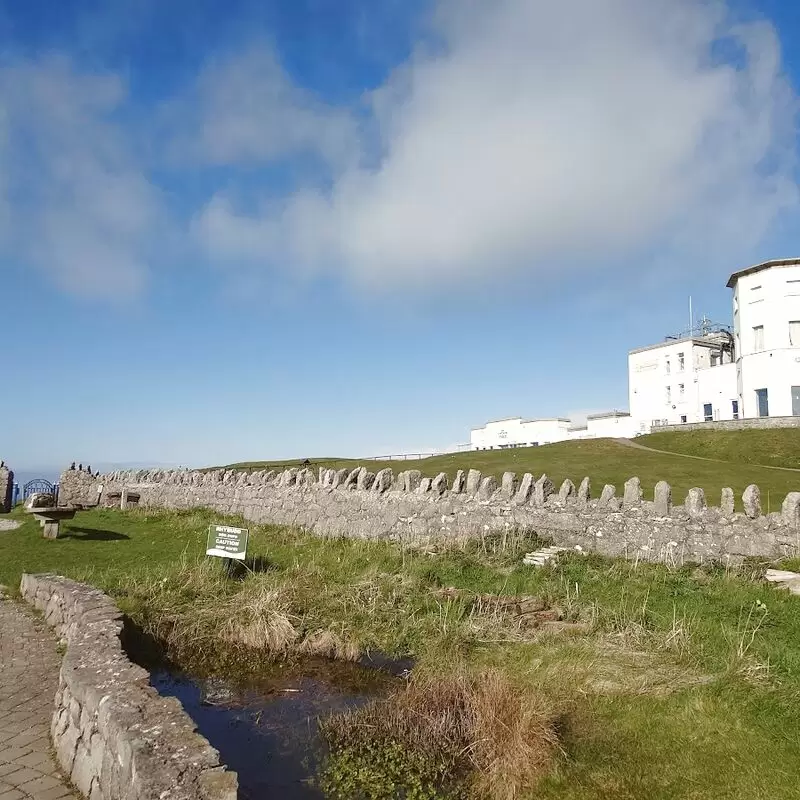 Great Orme Summit Complex
Bishop's Quarry Road, Llandudno
Monday - Sunday: 10:00 AM – 5:00 PM
16. Summit Cable Car Station
While exploring Llandudno, don't miss the opportunity to experience the historic charm of the Summit Cable Car Station. It offers unobstructed, breathtaking views of the town, the bay, and the surrounding natural beauty, and has been called the longest passenger cable car system in the UK. Float above the spectacular, manicured gardens of Happy Valley. Following this ride, visit the nearby Great Orme ancient copper mine for an insight into the Bronze Age - an unbeatable combination for history and nature lovers alike.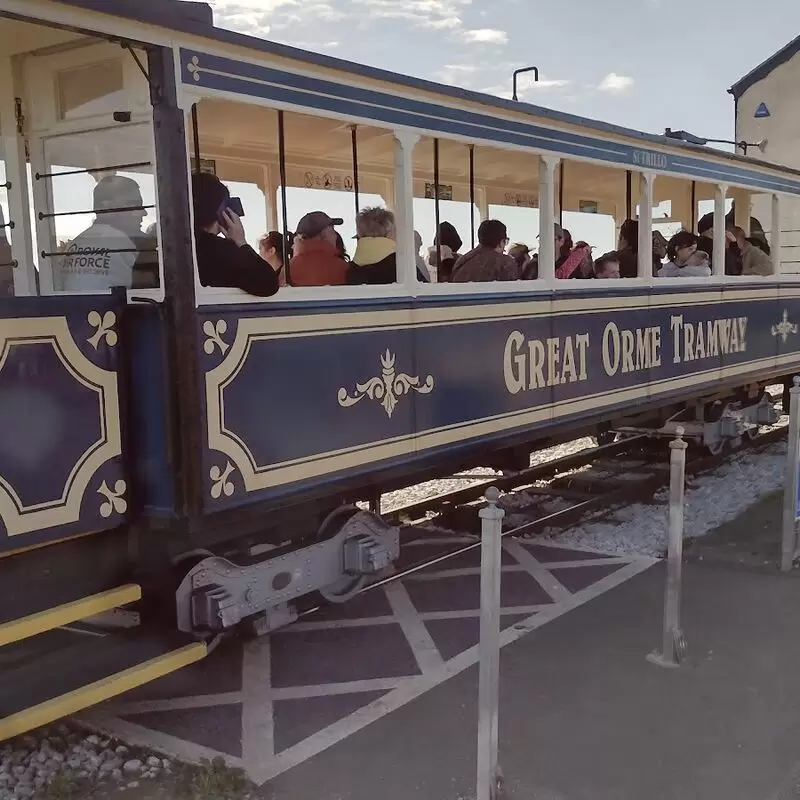 17. Haulfre Gardens
If you like serene, tranquil landscapes, you must visit Haulfre Gardens. It is a Victorian garden with picturesque winding paths dotted with lush foliage and a variety of charming animals. From the hills, you even have a breathtaking panoramic view of Llandudno Bay. It's secretly said that locals love to spend quiet reading hours there precisely because of its calming aura. And the best part? It's just around the corner from the charming old Llandudno Cable Car, which promises a comprehensive, memorable tour.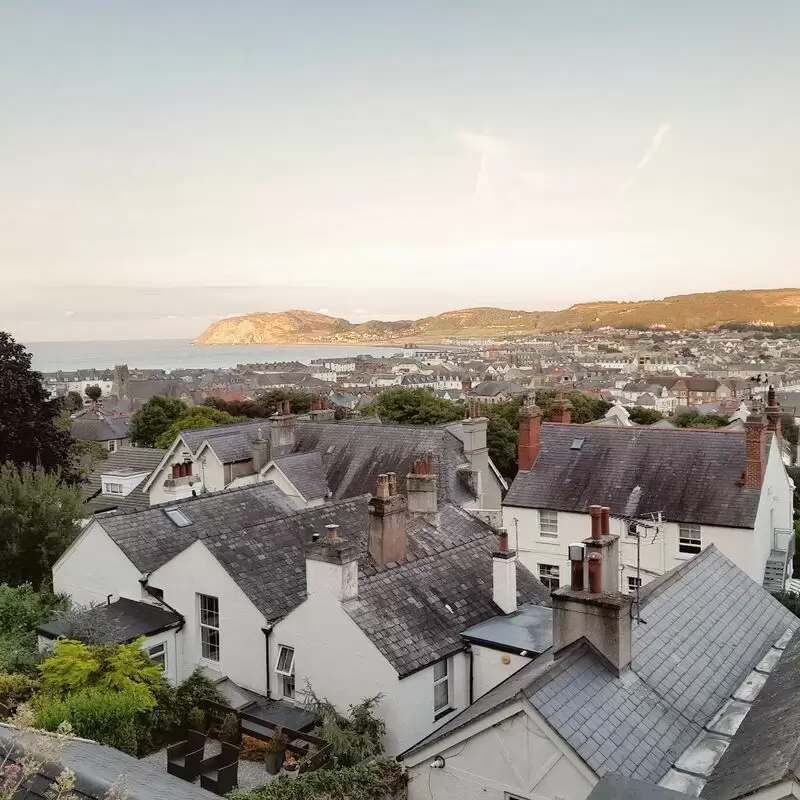 Haulfre Gardens
Cwlach Road, Llandudno
Monday - Sunday: Open 24 hours
18. The Owls Trust
The Owls Trust in Llandudno is a hidden gem for nature lovers. It offers the opportunity to learn about, interact with, and even adopt these magnificent birds. This sanctuary is home to a fascinating variety of owls from around the world. It is also located in Bodafon Farm Park, where families can enjoy beautiful surroundings, animal feedings and a farm-to-table meal. Just around the corner is the Great Orme Tramway, so you can enjoy stunning views over Llandudno after your visit.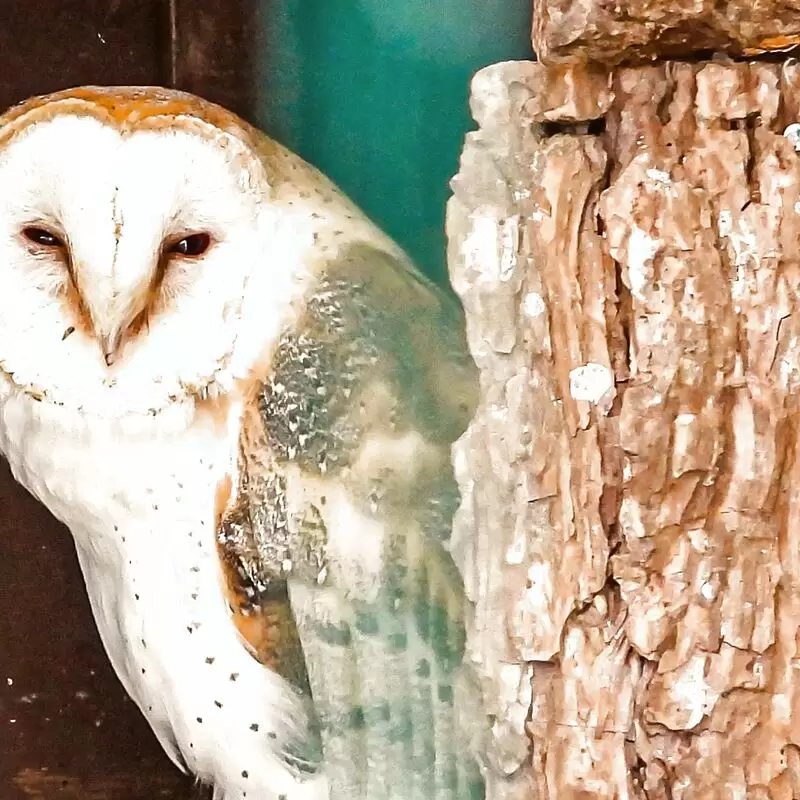 The Owls Trust
Bodafon Farm Park, Bodafon Road, Llandudno
Monday - Sunday: 11:00 AM – 3:00 PM
19. Adventure Tour Snowdonia.
The Adventure Tour Snowdonia is an unforgettable experience. Unleash your inner adventurer as you traverse the stunning landscapes of Wales' highest mountain and immerse yourself in its rich history and breathtaking beauty. Knowledgeable guides will keep you safe with captivating stories and add a special touch. Just a stone's throw away is the picturesque Bodnant Garden, a horticultural gem in the valley that is another highlight along your way. Personal tip: Don't forget your camera! You'll be treated to remarkable sights at every turn.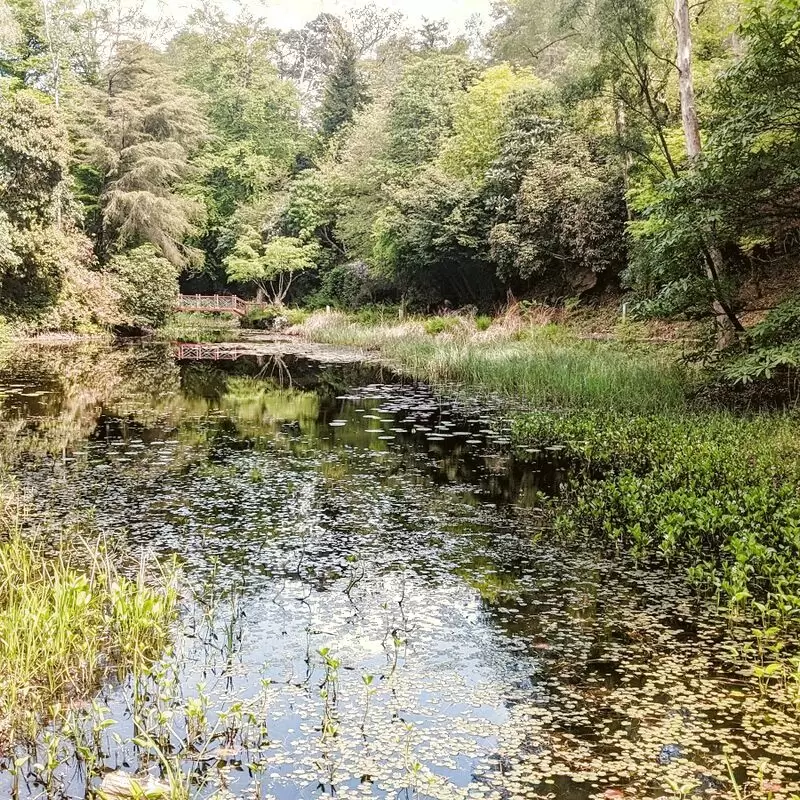 Adventure Tour Snowdonia.
Outside, Red bus stop, Llandudno Railway Station, Augusta Street, Llandudno
Monday - Sunday: 8:00 AM – 6:00 PM
Best Time to Visit Llandudno
The best time to visit Llandudno, United Kingdom, is between late spring and early fall, from May to October, when the weather is relatively warm and pleasant. During this time you can fully enjoy outdoor activities such as the Victorian Extravaganza in May or the Arts Weekend in October.
Annual Weather in Llandudno
Llandudno 3-Day Forecast
Tue, 26 September
Night
52 °F
11 °C
0%
Morning
53 °F
12 °C
79%
Afternoon
61 °F
16 °C
0%
Evening
56 °F
13 °C
65%
Wed, 27 September
Night
51 °F
11 °C
0%
Morning
53 °F
12 °C
0%
Afternoon
60 °F
16 °C
69%
Evening
55 °F
13 °C
77%
Thu, 28 September
Night
51 °F
11 °C
0%
Morning
47 °F
8 °C
0%
Afternoon
61 °F
16 °C
0%
Evening
56 °F
13 °C
63%
Questions & Answers

What is the local language in Llandudno?

The local language in Llandudno, United Kingdom, is predominantly English. However, since Llandudno is in Wales, the Welsh language, Cymraeg, is also widely spoken and has official status. There are bilingual signs and information boards in English and Welsh throughout the town. There are also some locals who are bilingual or prefer to speak Welsh.

Are there any unique local customs I should be aware of?

As a visitor to Llandudno, you should know that residents are proud of their Welsh heritage, which is often evident in the use of the Welsh language, traditional events such as the annual Victorian Extravaganza, and a love of rugby. It is considered respectful to adhere to local customs, such as waiting politely in line in public places, respecting the beautiful surroundings by not littering, and being considerate of local places and traditions. Try to learn a few words of Welsh, it is much appreciated. People are very friendly and welcome visitors.

What's the local cuisine like in Llandudno?

Local cuisine in Llandudno, United Kingdom, exudes a charming British flair with a Welsh twist. It consists of hearty traditional dishes like Welsh lamb and Welsh rarebit, a savory blend of gooey cheese on toast. Seafood is plentiful, including freshly caught mussels and fish. Llandudno also has a number of bakeries known for their Bara Brith, a rich fruit bread, and Welsh Cakes, a mix of cookies and scones. Local pubs serve traditional British cuisine as well as local beers and ciders.

How safe is Llandudno for tourists?

Llandudno, as a popular tourist destination in the United Kingdom, is known for its overall safety. The local police work effectively to ensure a low crime rate. As with any other place, it is always advisable for tourists to take the usual precautions, such as watching out for personal belongings and being vigilant in crowded areas. Nevertheless, Llandudno is a welcoming and quiet place that both solo travelers and families can enjoy without worry.

What is the public transportation system like in Llandudno?

Llandudno in North Wales is well connected to public transport. The town has a railroad station with direct connections to major cities such as Manchester and Crewe. Arriva Buses Wales provides extensive bus services in the city. A ride on the historic Great Orme Tramway is a special experience. Cars and cabs are available, but not always necessary given the city's compact size and pedestrian accessibility. Although a small coastal town, Llandudno has a well-developed public transportation network.

What is the currency used in Llandudno and where can I exchange money?

The local currency in Llandudno is the British pound (£). To exchange money, you can visit the nearest banks, post offices or exchange offices. Many banks can be found in the city center. You will also find ATMs in the city where you can exchange cash directly in the local currency, usually at a favorable exchange rate. Credit cards are also widely accepted in this part of the UK.

Does Llandudno have any famous local dishes I should try?

In Llandudno, be sure to try Welsh cuisine staples, such as Bara Brith, a traditional fruit bread, or Welsh Rarebit, a delicious dish of Welsh cheese melted on toast. Being a seaside resort, the city also offers excellent seafood dishes. Be sure to also try the succulent Welsh lamb dishes offered in local restaurants. The local cuisine in Llandudno reflects the flavors of Wales and will give you a true taste of the Welsh culinary heritage.

Can I drink tap water in Llandudno?

Yes, the tap water in Llandudno and generally throughout the United Kingdom is safe to drink. The water is regularly treated and tested to ensure its quality and safety according to strict standards set by the UK government. Whether you are in a hotel or a local's home in Llandudno, you can drink the tap water without hesitation.

Are there any wildlife conditions to be aware of?

Llandudno is pretty safe when it comes to wildlife. Wildlife enthusiasts can see birds, seals and occasionally dolphins near the coast. There are no known harmful or threatening wildlife species in the area. However, as with all outdoor activities, it is advisable to respect natural habitats, not feed wildlife, and keep a safe and respectful distance from them.

Are credit cards widely accepted in Llandudno?

Yes, credit cards are widely accepted in Llandudno, United Kingdom. Most businesses, including stores, hotels and restaurants, accept major credit cards such as Visa, MasterCard and American Express. However, it is advisable to carry some cash for small purchases as there may be a minimum purchase for card transactions, especially in small stores or rural areas. Note that foreign cards may incur foreign transaction fees.

Is it customary to tip in Llandudno?

In Llandudno, as in the rest of the UK, tipping is encouraged but not mandatory. It is customary to tip about 10-15% of the bill in restaurants if you were satisfied with the service. In some establishments, tipping is automatically included in the bill, especially for larger groups. In pubs and bars, tipping is not as common, but you can round up your change or buy the bar staff a drink. Tipping is also common for cab drivers and hotel staff.

What unique wildlife is there to see in/around Llandudno?

Llandudno in the United Kingdom offers nature lovers a rich variety of unique wildlife. Of particular note is the Great Orme, home to the rare cashmere goats descended from Queen Victoria's own herd. The diverse birdlife includes jackdaws and ravens. Just a short drive away, at Conwy RSPB Nature Reserve, visitors can see a variety of bird species including warblers and lapwings. Seals can also often be seen along the Llandudno coastline, especially in Angel Bay.

Are there specific local laws tourists should be aware of?

Although the UK, including Llandudno, is generally tourist-friendly, you should be aware of some local laws. Alcohol consumption in public places is regulated, and in some areas it is banned altogether. Litter and discarded cigarette butts are taken seriously and can be punished. Smoking in public buildings and workplaces is also strictly regulated. Noise regulations should also be observed, especially in residential areas. Using a cell phone while driving is strictly prohibited. Remember that crosswalks are commonplace and that motorists must always yield the right of way to pedestrians.

What is the healthcare system like in Llandudno?

Llandudno, like the rest of the United Kingdom, benefits from the National Health Service (NHS), a publicly funded healthcare system that provides largely free healthcare to all residents. The town has a well-equipped local hospital, Llandudno General Hospital, which provides a range of services. For non-emergency care, there are several general medical practices in the city. NHS Direct Wales also offers free health advice by telephone. Private health care is available, although less common.

Are there any vaccination requirements for traveling to Llandudno?

There are currently no mandatory vaccinations for Llandudno, United Kingdom. However, it is advisable for travelers to brush up on routine vaccinations such as measles, mumps, rubella (MMR), diphtheria-tetanus-pertussis, varicella (chicken pox) and annual flu shots. It is also recommended that you consult your physician or visit a travel clinic for personalized advice based on your travel plans and medical history.

How is the nightlife in Llandudno?

While Llandudno is primarily a family town, its nightlife also has its charms. There are numerous traditional pubs and cozy bars everywhere, offering a range of local beers and spirits. The city is also home to several excellent restaurants where you can eat late into the night. If you're in the mood for a show, Venue Cymru offers a variety of entertainment including theater, music and comedy. However, Llandudno is not known for loud club scenes; the nightlife is mainly characterized by its quiet, welcoming atmosphere.

Are there any scenic driving routes available nearby?

The Llandudno Great Orme Drive is an absolute must for travelers visiting Llandudno. This spectacular 4-mile drive offers impressive views of the town and nearby beaches. Further afield, the drive from Llandudno to Betws-y-Coed via the A470 is highly recommended. This scenic route takes you through the Conwy Valley, past impressive castles, picturesque villages and the verdant Snowdonia National Park.

Do I need a power plug adapter in Llandudno?

Type G sockets are used in Llandudno, United Kingdom. If your appliances use a different type of plug, you will need an adapter. The standard voltage is 230 V and the frequency is 50 Hz. Pay attention not only to the shape of the plug, but also to the voltage of your appliances, especially if you come from a country with a different standard, such as the USA or Canada.

What kind of sports or outdoor activities are popular in Llandudno?

Llandudno is known for its stunning natural beauty and offers numerous opportunities for outdoor sports and activities. Walking and hiking are very popular, with routes along the stunning Great Orme headland and the Victorian Llandudno Pier. Water sports, especially sailing and swimming, are also popular thanks to the city's North Shore and West Shore beaches. In addition, golf is very popular in Llandudno, with spectacular courses overlooking the sea for even the most experienced golfer.

Where can I find local music performances in Llandudno?

Local music events are held at Venue Cymru, a major center for live entertainment in Llandudno. The theater regularly hosts a variety of shows, from regional music groups to international orchestras. If you're looking for a more cozy setting, check out the "3rd Space at The Great Orme Brewery." This unique venue combines a love of craft beer with live performances and offers a wide variety of musical genres. A visit is a must to experience the city's music culture firsthand.

Are there any interesting local legends or stories about Llandudno?

Certainly! Llandudno is said to be the home of the White Rabbit from Alice in Wonderland, as Lewis Carroll's young muse Alice Liddell spent her summers here. There is also the legend of St. Tudno, a hermit who lived in the caves of the Great Orme. In addition, the town is reputedly associated with the myth of the Lady of the Lake, who is said to have escaped from the Llyn Maelog, offering a mystical insight into the town's rich folklore and hidden history.

What kind of flora can I see in Llandudno?

In Llandudno you can discover a colorful world of plants. The Happy Valley Botanical Gardens showcase a wide range of plants, including roses, hydrangeas and colorful bedding plants, as well as various types of shrubs and trees. Up on the Great Orme, rare wildflowers such as white rock rose and spotted rock rose thrive. In residential areas, beautiful private gardens often feature native flowers, trees and shrubs. Each season produces different flora bursting with color and fragrance.

How to get a local SIM card in Llandudno?

When you arrive in Llandudno, you can buy a local SIM card in retail stores or supermarkets in the city. Tesco, Sainsbury's and ASDA supermarkets sell SIM cards for self-pay. In addition, you can also visit stores of mobile operators such as Vodafone, EE or O2. Be sure to bring ID for registration. You can then top up the SIM card at various retail outlets or online via the network's website.

Can you tell me more about the Victorian heritage of Llandudno?

Llandudno is often referred to as the "Queen of Welsh seaside resorts" and is considered one of the best preserved Victorian seaside towns in the United Kingdom. Its Victorian heritage dates back to its establishment as a vacation resort during the boom of the Victorian era. Notable structures include Llandudno Pier, beautifully designed with wrought iron, and the Great Orme Tramway, designed in a captivating Victorian style. Throughout the city you will find charming Victorian architecture and character.

How eco-friendly is Llandudno?

Llandudno is an incredibly eco-friendly city, offering a variety of green transportation, lodging and dining options. The city has made great strides in promoting cycling and walking to reduce carbon emissions. Several hotels and guesthouses in Llandudno have been awarded Green Tourism certification, which means they emphasize sustainable practices. In addition, the wide range of locally sourced food available in restaurants helps to reduce the environmental footprint. The city's strict recycling policies also contribute to its green status.

What's the cultural scene like in Llandudno?

Llandudno has a rich cultural scene with a Victorian ambience. The town is known for its theatrical productions at Venue Cymru, which hosts opera, ballet, and comedy shows. Art lovers can admire artworks at Mostyn Gallery, while history buffs can enjoy a visit to the Victorian-era Great Orme. The city also hosts various festivals throughout the year, presenting a mix of music, art and literature and celebrating the cultural identity of Wales.

Feedback

I hope you found this article informative and helpful. I'm eager to improve the content and make it even more valuable for you. If you have any feedback or suggestions, I would love to hear from you.

Do you have any tips or hidden gems that you think should be added to the list? Are there any areas that you feel could use more explanation or clarification?

Your input is greatly appreciated and will help us to continue providing high-quality content that meets your needs and interests. Please feel free to share your thoughts.