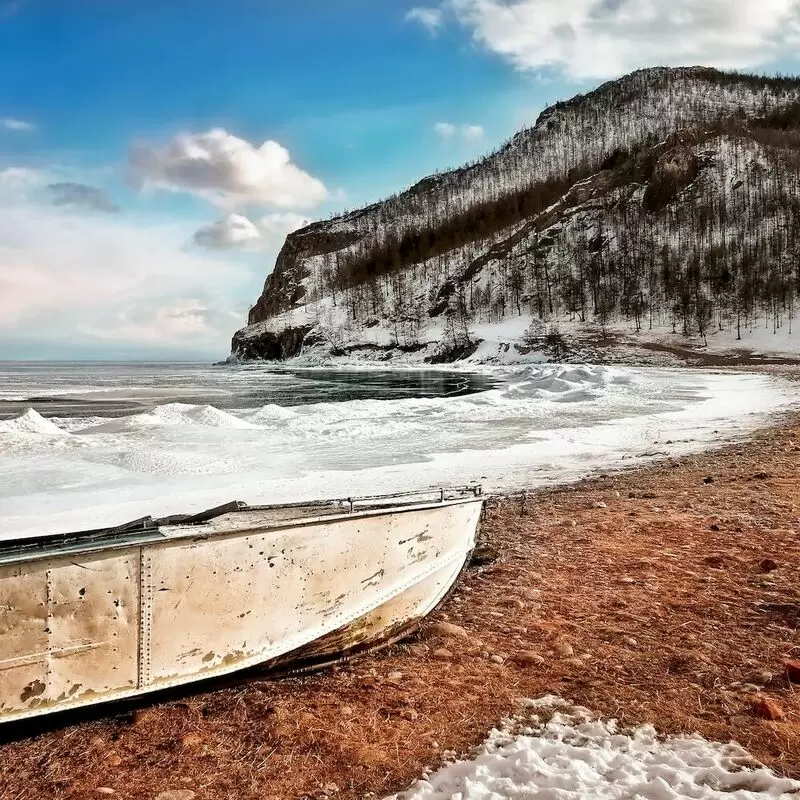 1. V&A Waterfront
Experience the vibrant pulse of Cape Town's cultural center at the V&A Waterfront. Here you'll find shopping, restaurants serving delicious local cuisine, historic sites and breathtaking views of Table Mountain. Watch the seals frolicking on the harbor or enjoy the talented street performers. Just a stone's throw away are the Cape Town Diamond Museum and the Two Oceans Aquarium - a hidden gem that houses numerous marine animals. A visit to the V&A Waterfront is more than an ordinary tourist excursion; it's an authentic local experience.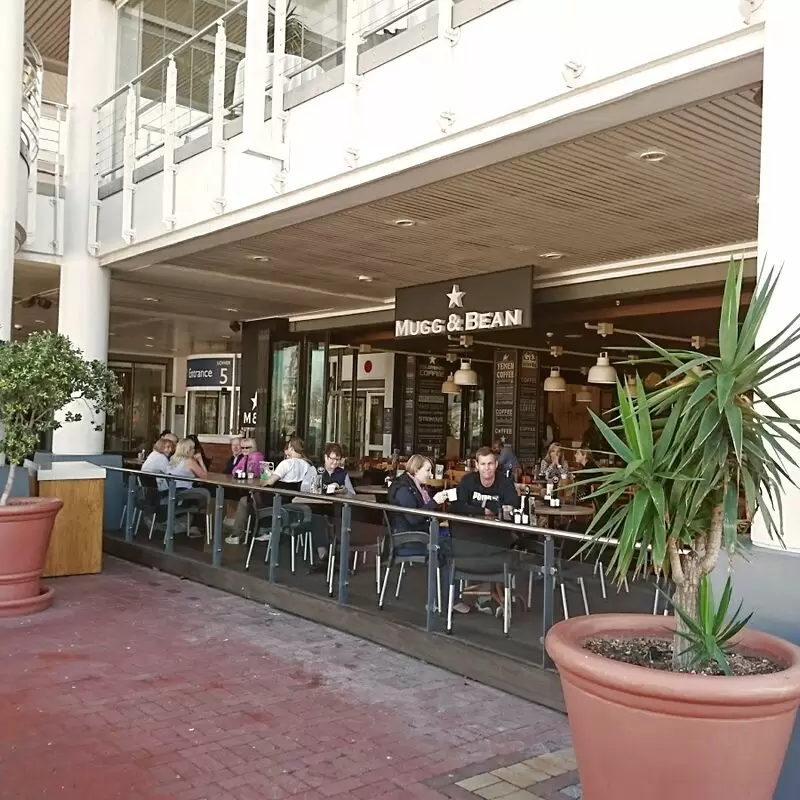 V&A Waterfront
Cape Town
Monday - Sunday: 9:00 AM – 9:00 PM
2. Boulders Beach
Escape to the enchanting Boulders Beach, beautifully nestled in the Cape Peninsula, not far from Strand. The beach is world famous for its thriving colony of African penguins. These charismatic creatures playfully waddle across the pristine sand and dive into the sparkling water - an unforgettable sight. Combine this experience with the fascinating rock formations that give the beach its name, creating secluded coves for a unique swimming experience. Nearby, you can visit the historic Seal Island or the majestic Table Mountain, which are within easy reach and will enchant your senses.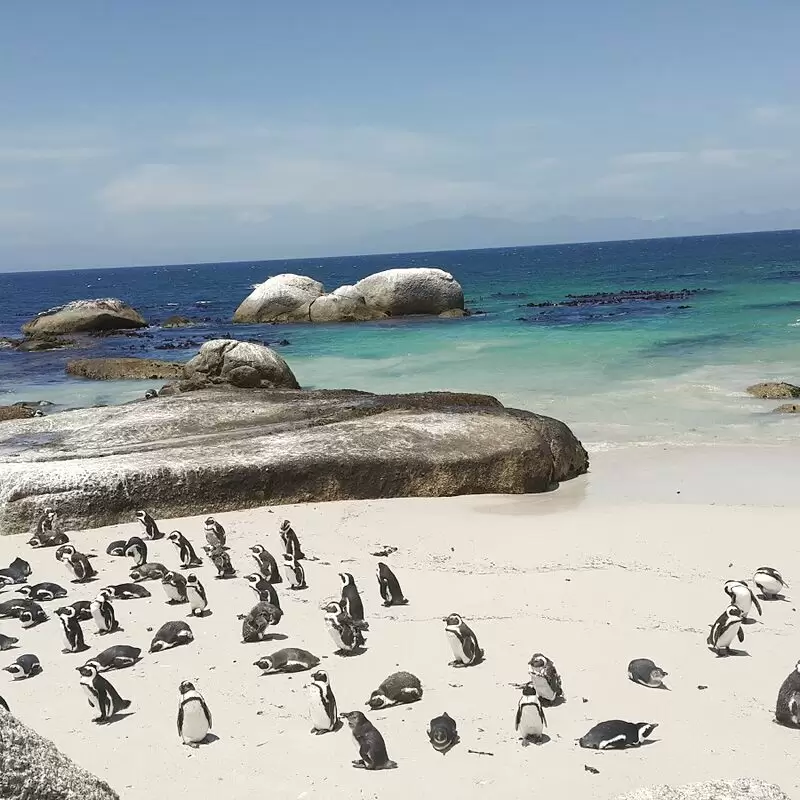 Boulders Beach
Simon's Town, Cape Town
Monday - Sunday: 8:00 AM – 5:00 PM
3. Castle of Good Hope
Immerse yourself in history at the Castle of Good Hope, South Africa's oldest colonial building. This late 17th-century star-shaped fortress offers a vivid snapshot of Cape Town's past. Explore the historic battlements, admire Flemish tapestries and take a spookily entertaining ghost tour at dusk. After immersing yourself in history, relax on the charming De Kat Balcony, a well-kept secret with panoramic views of the city. The nearby Iziko Museum and St. George's Cathedral further enrich your cultural discovery tour.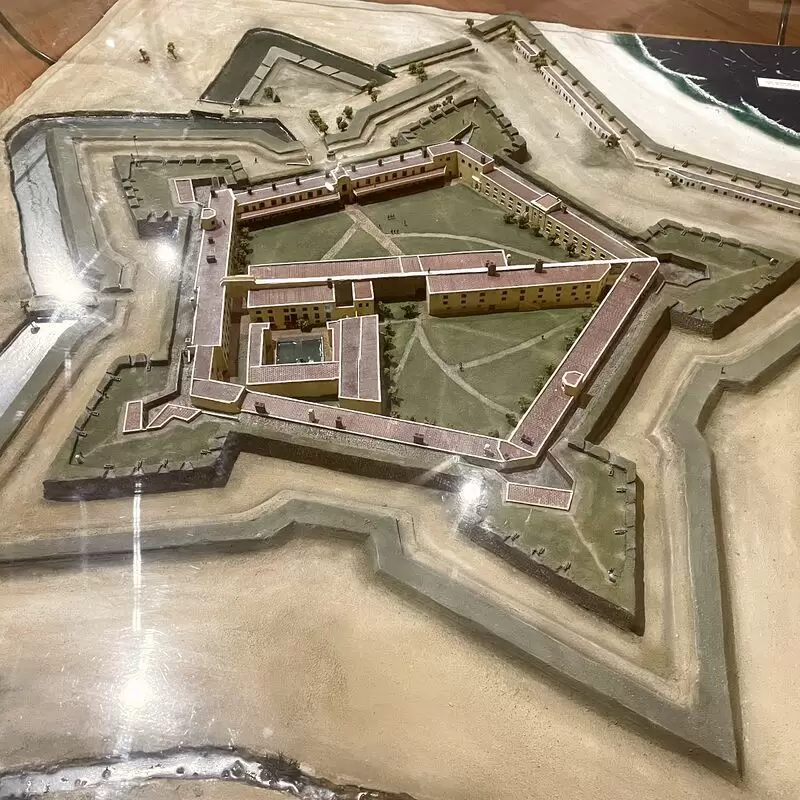 Castle of Good Hope
Darling St & Buitenkant St, Foreshore, Cape Town
Monday - Sunday: 9:00 AM – 5:00 PM
4. World of Birds Wildlife Sanctuary & Monkey Park

Imagine immersing yourself in South Africa's vibrant birdlife at the World of Birds Wildlife Sanctuary & Monkey Park. Be enchanted by the kaleidoscope of over 300 bird species and mischievous monkeys.

An insider tip is the morning feedings, where you can see these wonderful creatures up close. Just a short trip away, you can ride the waves at Bikini Beach in Gordons Bay and enjoy the beauty of the Blue Flag beach. The kaleidoscope of nature awaits you in Strand.

World of Birds Wildlife Sanctuary & Monkey Park
Valley Rd, Hout Bay, Cape Town

Monday - Sunday: 9:00 AM – 5:00 PM
5. Tygerberg Nature Reserve
Visit the Tygerberg Nature Reserve and experience the enchanting biodiversity of the Cape. Here you will find an oasis of tranquility among 562 different plant species and a panoramic view of Table Mountain and False Bay. You can enjoy nature on the 7.5 km long trails. If you are lucky, you may spot some small antelope species native to the area. Just a stone's throw away is the Durbanville Wine Valley, where you can end your day of exploration with a sip of the local wine.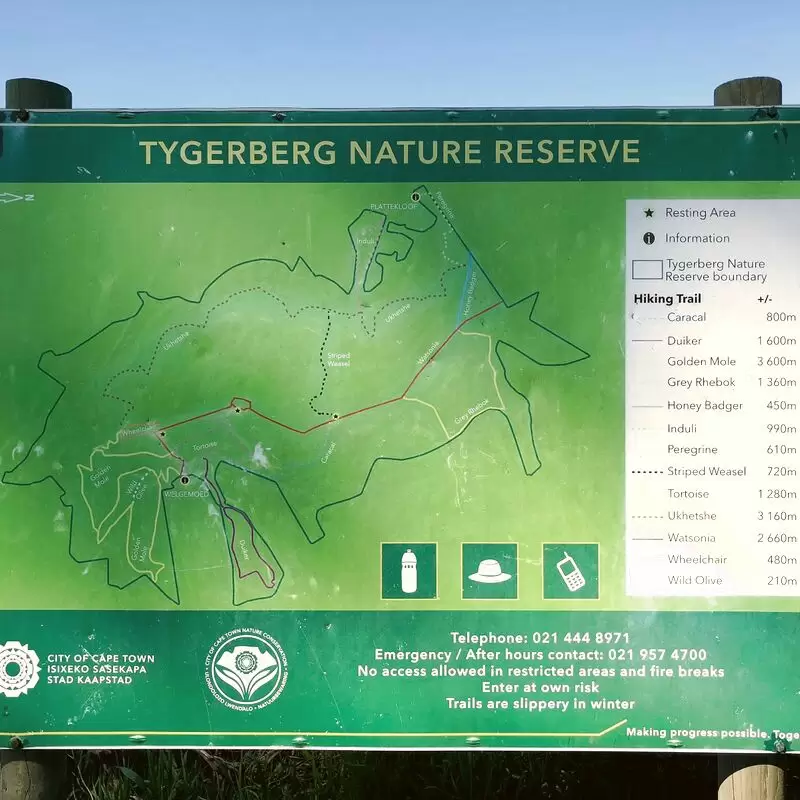 6. Root 44 Market and Wine Emporium
Set amidst beautiful vineyards with majestic mountain backdrops, the Root 44 Market and Wine Emporium is a vibrant food, wine and craft center. It is a treat for all the senses! Let your taste buds dance with a variety of artisan foods, discover a wide selection of handmade products or simply enjoy the lively atmosphere. Don't forget to sample the delicious local wines. Just a stone's throw away is the Audacia Manor Boutique Hotel, known for its breathtaking views and luxurious accommodations.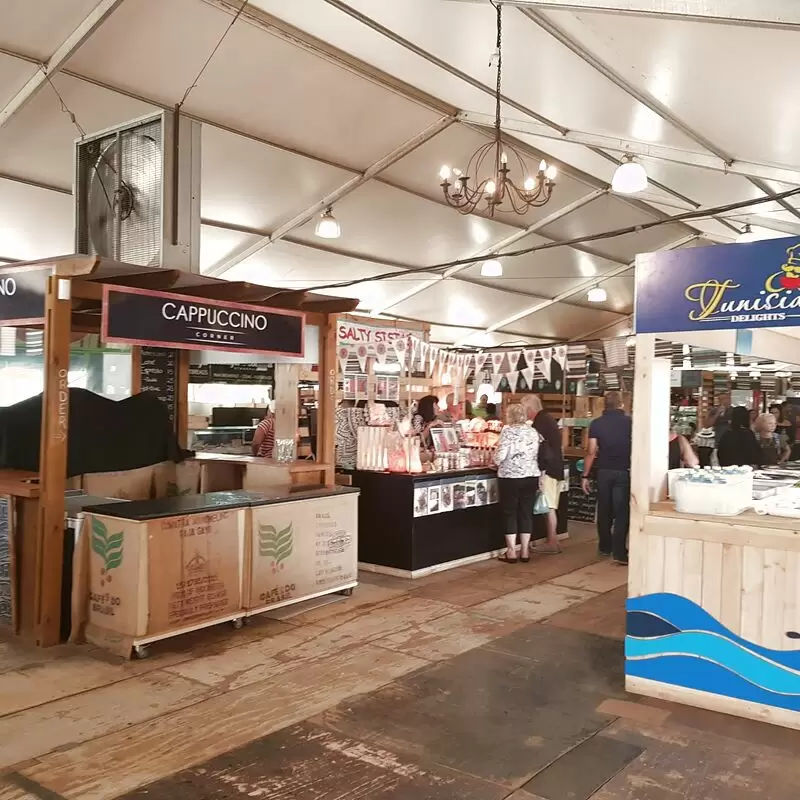 Root 44 Market and Wine Emporium
Corner of R44 and, Annandale Rd, Stellenbosch
Monday - Tuesday: Closed
Wednesday - Saturday: 9:00 AM – 9:00 PM
Sunday: 9:00 AM – 6:00 PM
7. New Cape Point Lighthouse
The New Cape Point Lighthouse, just an hour's drive from Strand, is an iconic lighthouse overlooking two oceans. The spectacular panoramic view from a height of 87 meters is unparalleled and offers impressive images for avid photographers and unforgettable impressions for nature lovers. Adventure seekers can climb the 120 steps to the top and be rewarded with a breathtaking view. Pro tip: Arrive early to avoid crowds - the fresh light of dawn is great for photos. Nearby is the famous Cape of Good Hope, which invites further exploration.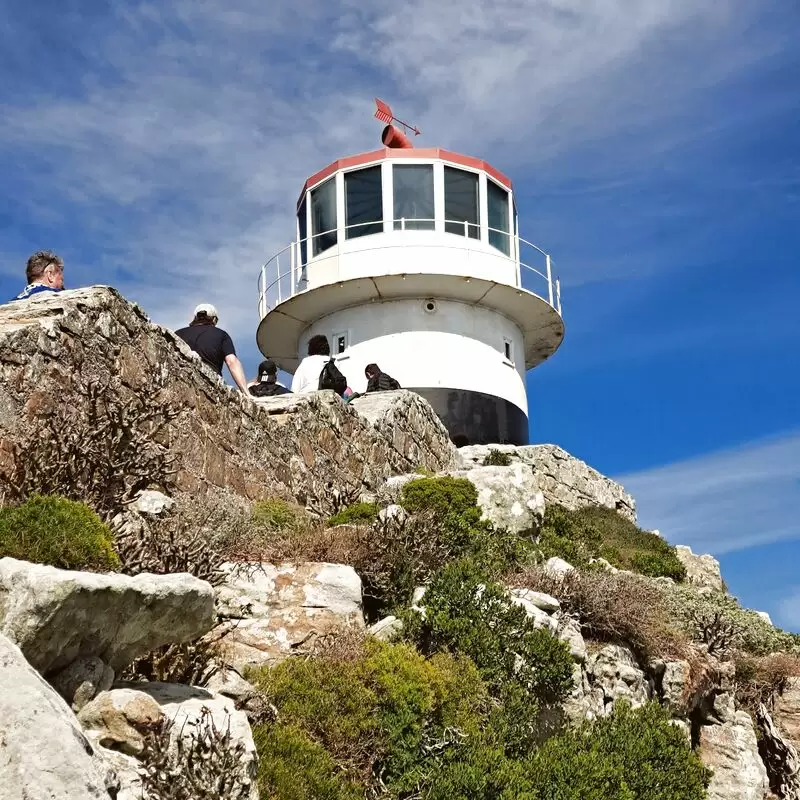 New Cape Point Lighthouse
Cape Peninsula, Cape Town
Monday - Sunday: 8:00 AM – 5:00 PM
8. Le Bonheur Reptiles and Adventures
Le Bonheur Reptiles and Adventures is not only about observing exotic creatures, but also about adventurous interactions. Dive into a crocodile cage and observe these magnificent creatures up close. Explore the interactive snake exhibits and learn fascinating facts. There's a quiet picnic area at this location - perfect for relaxing. And what's more? Just 15 minutes away is the famous Spier Wine Farm. Incredible wine tastings and picturesque vineyards await you. If you want to combine thrills, education and relaxation, Le Bonheur is the place to go!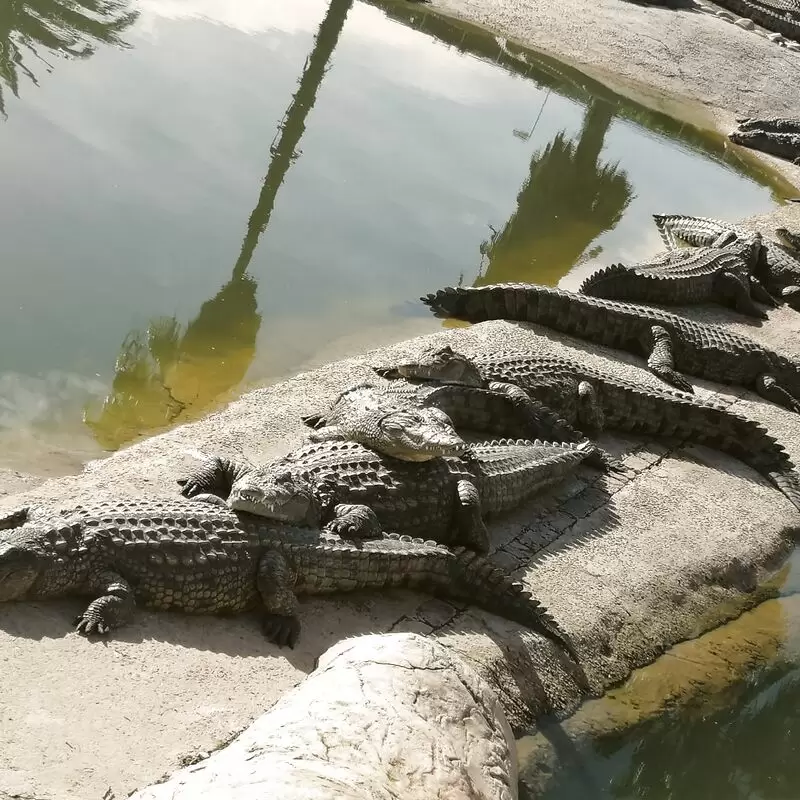 Le Bonheur Reptiles and Adventures
Simondium, Suider Paarl
Monday - Sunday: 9:00 AM – 5:00 PM
Saturday: 5:00 AM – 5:00 PM
9. Walker Bay Nature Reserve Office
In Strand, the alluring Walker Bay Nature Reserve Office is an unparalleled center of natural beauty. This pristine location offers unspoiled and breathtaking views of South Africa's majestic landscape. The office offers useful insights into the seasonal visits of rare and unique species, such as Southern Right Whales to the bay. It is a small paradise for nature lovers. Nearby is the famous Kleinrivier Mountains, with its magnificent hiking trails for added thrills to your adventure. Experience nature at its best!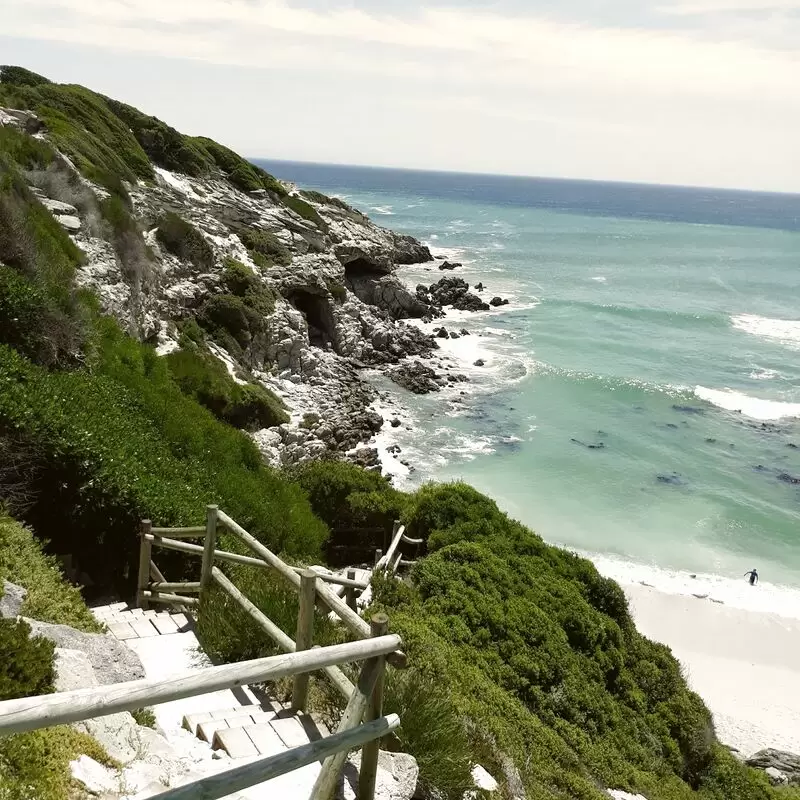 Walker Bay Nature Reserve Office
16 17th Ave, Hermanus
Monday - Friday: 7:30 AM – 4:00 PM
Saturday - Sunday: Closed
10. St James Beach
A hidden gem in Strand, South Africa, is St. James Beach. Known for its colorful beach huts that contrast vividly with the azure sea, it's more than just a place for a refreshing swim. On this corner of the False Bay coast, you'll find a tranquil spot perfect for family outings and scenic walks. Nearby, you can explore the invigorating Harmony Park and the 18th-century octagonal Posthuis. The breathtaking landscapes of South Africa are far beyond your sight as you discover the true beauty of Strand.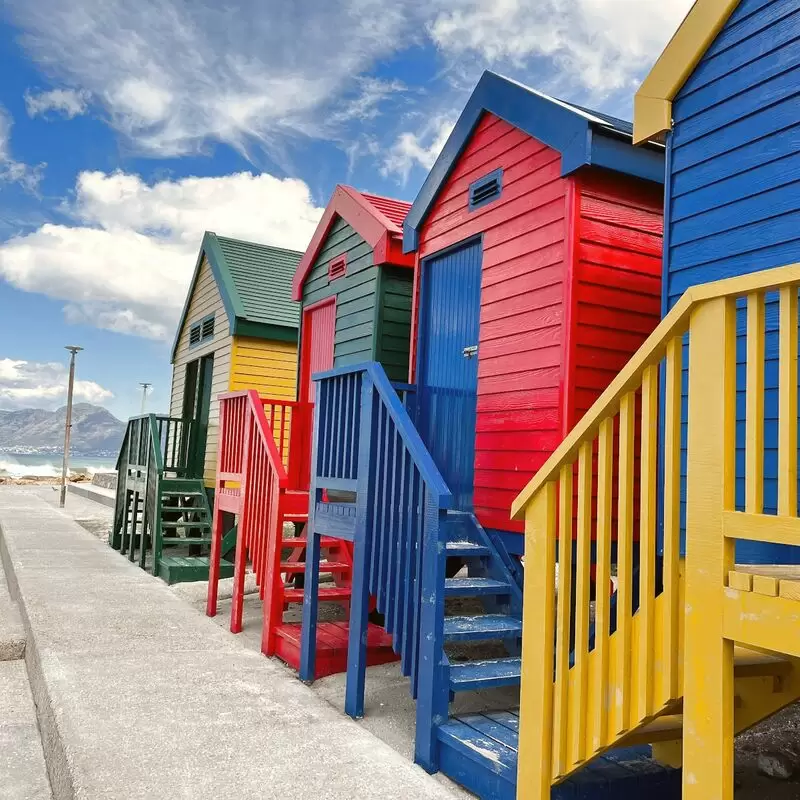 St James Beach
St James Beach, Main Rd, St James, Cape Town
Monday - Sunday: Open 24 hours
11. Steenbras Lookout Point
Venture to Steenbras Lookout Point, the pristine jewel of beach that offers breathtaking panoramic views of False Bay. Nature lovers can watch whales in the azure ocean here, while adventure seekers can enjoy the exciting hiking trails. Don't miss out on the secret: Visit the island at sunset to capture the magnificent spectacle of the sun-kissed ocean. Just a 20-minute drive away is the picturesque Hottentots Holland Nature Reserve, a paradise of South Africa's diverse flora and fauna.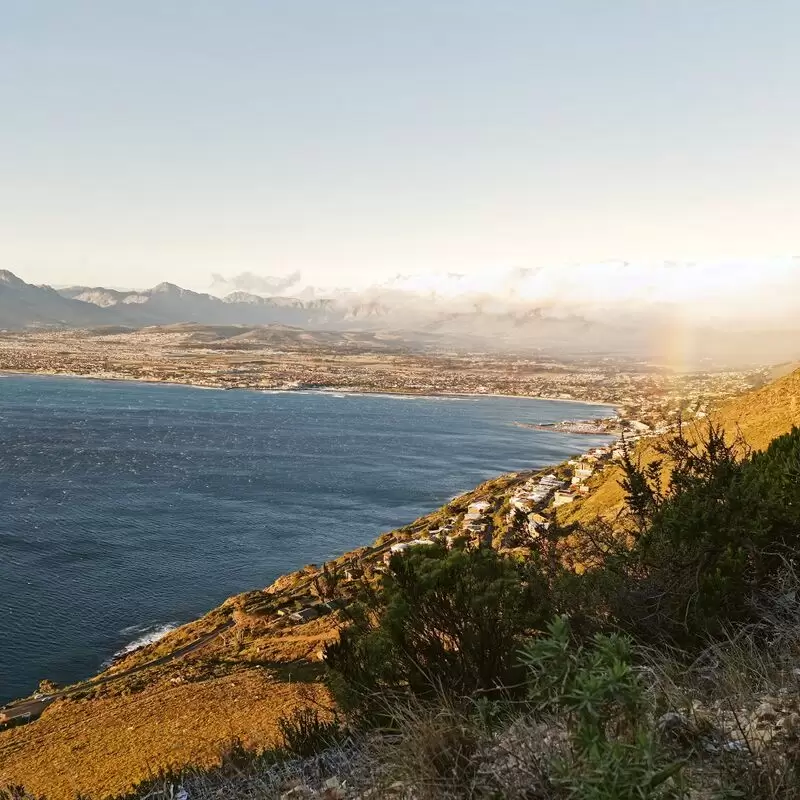 Steenbras Lookout Point
Unnamed Rd, Mountainside, Cape Town
Monday - Sunday: Open 24 hours
12. Strand Beach

At Strand Beach you can sunbathe in stunning scenery overlooking the ocean - perfect for sunbathers and water lovers. This Blue Flag beach is a paradise for swimming and surfing, with guarded swimming areas for added safety. Walk along the soft sandy beach and see the famous Table Mountain in the distance.

Insider tip: Don't miss the ice cream truck for a sweet local treat. Visit the nearby Helderberg Wine Route for an unforgettable tasting experience that showcases Strand's lush natural beauty.

Strand Beach
Strand Beach, Strand, Cape Town
13. Whale Lookout Point
Whale Lookout Point in Strand offers you a stunning spectacle of majestic whales displaying their acrobatic skills during migration season. The well-placed benches are perfect for a picnic while you enjoy the dramatic seascapes on the horizon. Why not bring a pair of binoculars to observe the gentle giants up close. Don't forget to capture these unforgettable moments in photos. Attractions nearby? Don't miss the Helderberg Nature Reserve for a refreshing swim in the lap of nature after your fascinating whale session!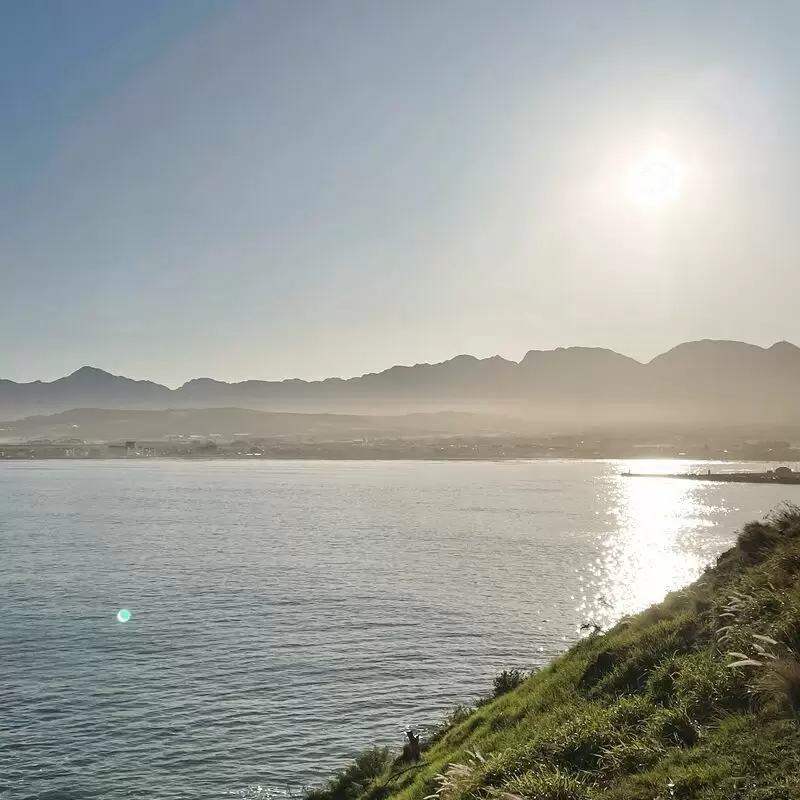 Whale Lookout Point
127 Faure Marine Dr, Mountainside, Cape Town
14. Cape Canopy Tour
For adrenaline junkies, the Cape Canopy Tour in Strand is a must! Delight in the majestic Hottentots Holland Nature Reserve as you swing across 13 impressive platforms. This 4-hour adventure offers an unparalleled bird's eye view of waterfalls and the Western Cape landscape. Some of the thrilling slides are over 300 meters long! Just a short drive away, you can sink your feet into the sand of Bikini Beach, another local Blue Flag gem. Discover in beach the perfect mix of adventure and relaxation!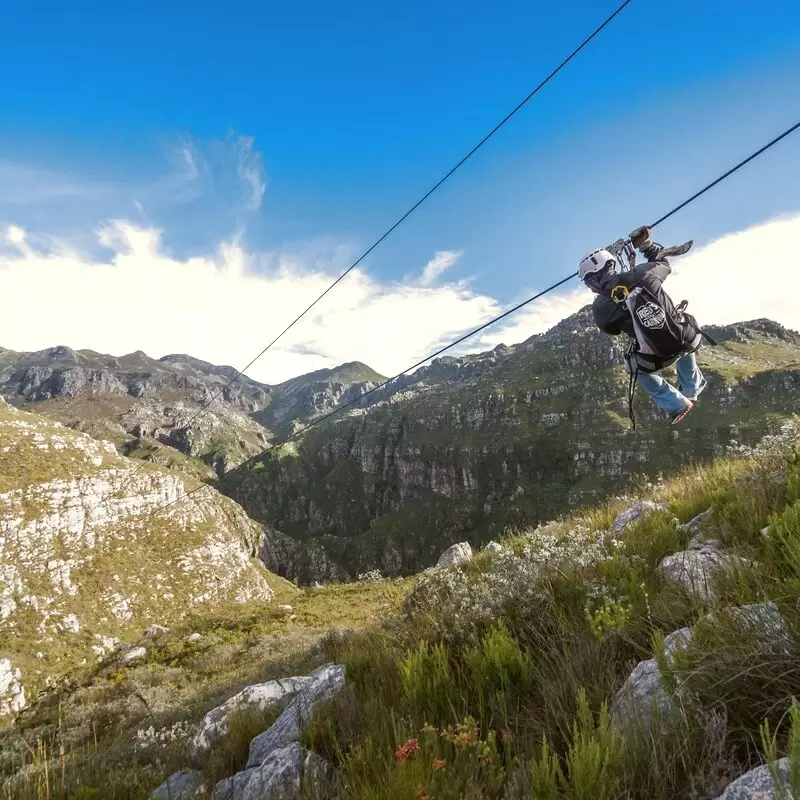 Cape Canopy Tour
Forestry Rd, Grabouw, 7160
Monday - Sunday: 9:00 AM – 4:00 PM
15. South African Naval Museum
The South African Naval Museum in Strand is an irresistible feast of knowledge and splendor for history buffs and sea lovers alike. Immerse yourself in South Africa's rich maritime history through fascinating exhibits such as naval weapons, model ships and authentic uniforms. Don't miss the Oberon-class submarine model - a popular attraction! Just a short drive away is Harmony Park, a tranquil retreat famous for its mineral baths and perfect for relaxing after an enlightening history tour.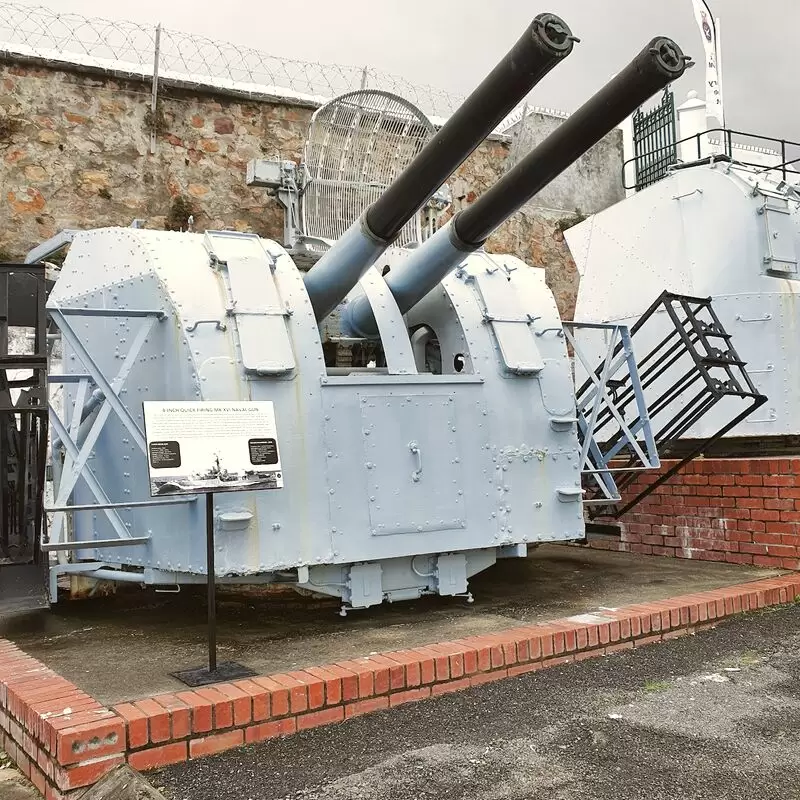 South African Naval Museum
St George's St, Simon's Town, Cape Town
Monday - Sunday: 9:30 AM – 3:30 PM
16. Klipgat Caves

Visit the Klipgat Caves, just a stone's throw from Strand, where the history of mankind takes place. The artifacts discovered date back 70,000 years, making the cave a world-class archaeological site. Be prepared to be dwarfed by the sea in these spacious, white sand-covered caves. Plus, nearby De Kelders offers breathtaking whale-watching opportunities.

Insider tip: Visit the cave at low tide for an even more intense experience. Immerse yourself in prehistoric times with this prehistoric jewel.

Klipgat Caves


Monday - Sunday: 7:00 AM – 7:00 PM
17. Gordon's Bay Main Beach
Gordon's Bay Main Beach in Strand is a must-see with its stunning mountain backdrop and enchantingly clear blue waters. It's perfect for a family picnic, as the calm waters are ideal for swimming and safe for children. Grab an ice cream from the local vendors, which is refreshing after a warm day. And don't miss the small bookstore on Beach Road, a book lover's paradise. The nearby Steenbras Dam lookout offers a breathtaking panoramic view. This is the beach experience you should not miss.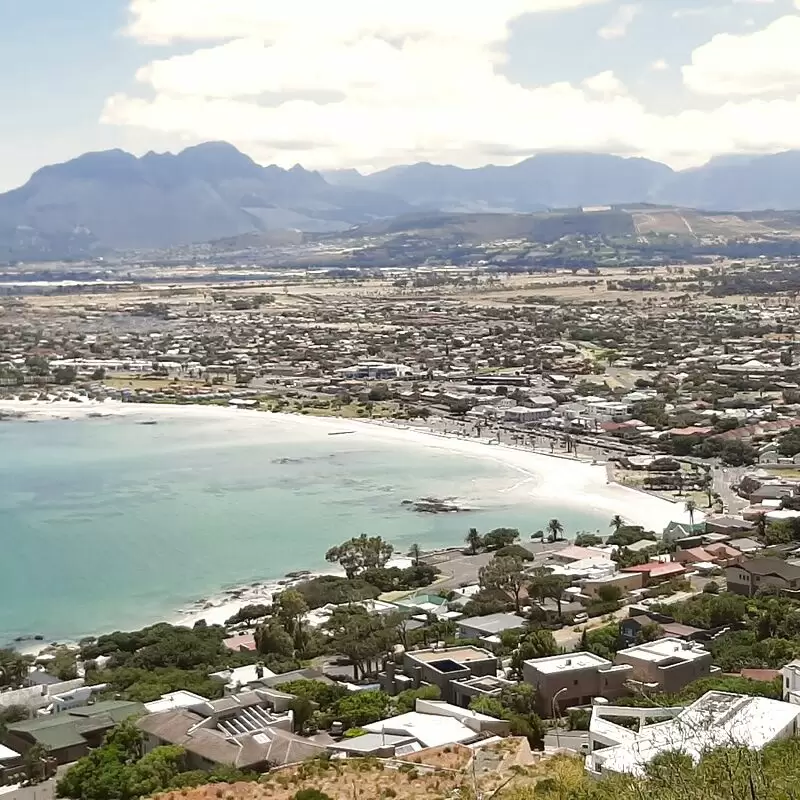 Gordon's Bay Main Beach
34°09'30. 18°52'03., 2"S 4th St, Rusthof, Cape Town
Monday - Sunday: Open 24 hours
18. Dappat Se Gat

Discover "Dappat Se Gat" in Strand, a surfer's paradise known for its impressive waves and beautiful coastline. Watch intrepid surfers brave the waves, or join them if you dare! Nature lovers can observe the diverse underwater world from the shore. If you are lucky, you can watch the breathtaking spectacle of whales roaring during migration season. Nearby is the fascinating Kogelberg Biosphere Reserve, a biodiversity hotspot with rare and endangered species.

An insider tip: try the local delicacies from the food trucks on the beach.

Dappat Se Gat
R44, Helderberg Rural, Cape Town

Monday - Sunday: Open 24 hours
19. Cape Town Holocaust & Genocide Centre
A visit to the Cape Town Holocaust & Genocide Centre is an emotional but essential journey into the past, a poignant reminder of human resilience in the midst of horror. Experience captivating exhibitions and hear powerful accounts from survivors - a humbling experience that promotes awareness and understanding. The center was designed by renowned South African architect Anya van der Merwe. After visiting the center, it's just a short drive to the Helderberg Nature Reserve, which offers a serene contrast with its stunning biodiversity.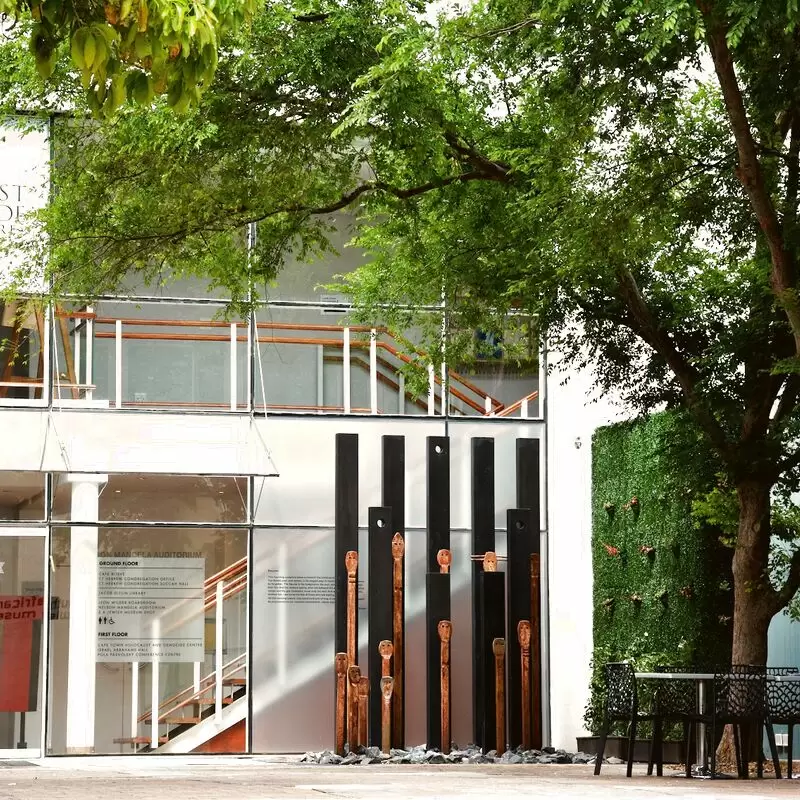 Cape Town Holocaust & Genocide Centre
88 Hatfield St, Cape Town City Centre, Cape Town
Monday - Sunday: 10:00 AM – 5:00 PM
Friday: 10:00 AM – 2:00 PM
Saturday: Closed
20. Foxy Beach Penguin watching
Experience the enchanting charm of nature at "Foxy Beach Penguin watching" in Strand. The colorful sunsets highlight the whimsical migration of African penguins - an unforgettable spectacle. The less crowded hours of early morning or dusk provide ideal opportunities for photography. Spend a day away from city life and immerse yourself in the purity of wildlife. Be touched by the enchanting beauty of the Helderberg Nature Reserve located in the mountains. Enjoy the serenity and breathtaking views!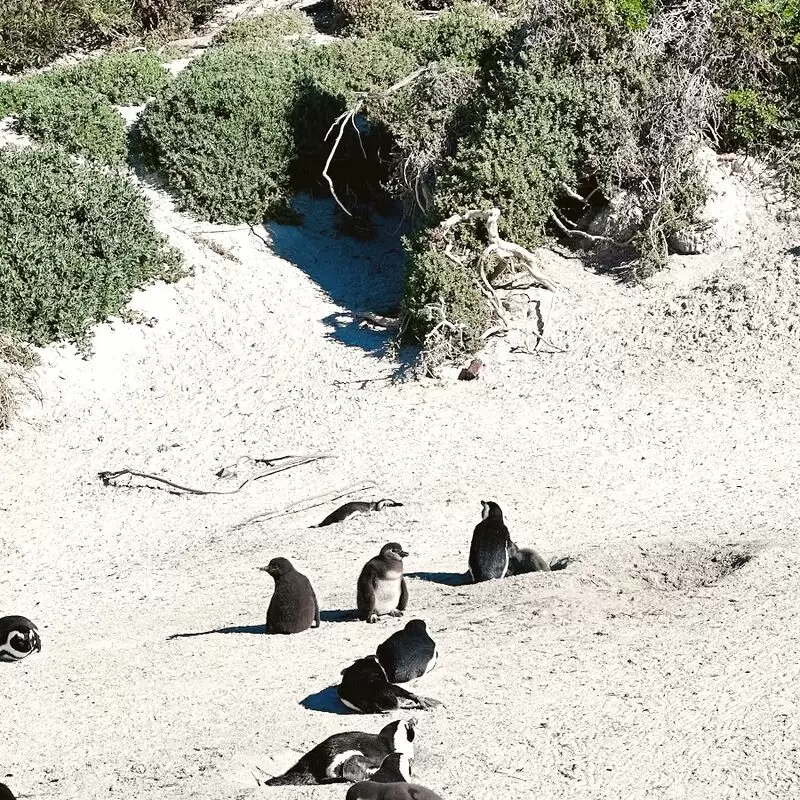 Foxy Beach Penguin watching
Kleintuin Rd, Simon's Town, Cape Town
21. Seaforth Beach
Seaforth Beach is an example of the exquisite beauty of the coast of Strand. It is famous for its quiet, rather private atmosphere, ideal for families and couples in love looking for a quiet retreat. You can often spot the adorable African penguins here, a rare experience associated with nature. Grab your picnic basket and sip South African wine as the sun sets - a truly blissful moment. Nearby, explore historic Simon's Town, which boasts a rich maritime heritage and quaint stores.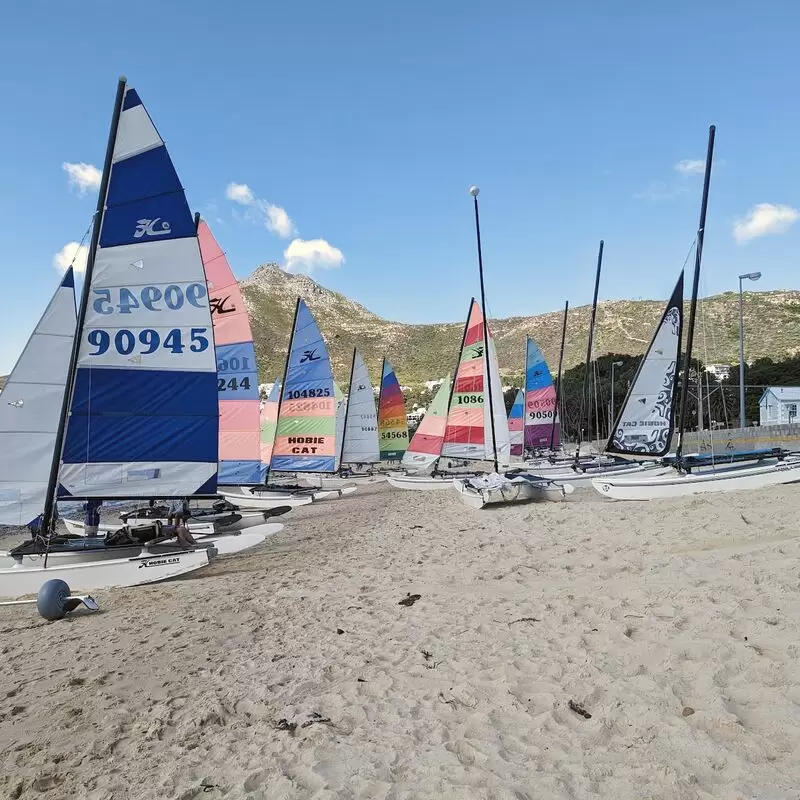 Seaforth Beach
Simon's Town, Cape Town
22. Silvermine Waterfall
The Silvermine Waterfall in Strand offers an unforgettable spectacle. After a refreshing hike through the lush area, you will stand before the thundering waterfall, an oasis amidst the fynbos vegetation. The waterfall is rich in native wildlife and provides a must-see birding opportunity. Frequent rainfall results in a thundering waterfall - a magnificent sight! Nearby Hottentots Holland Nature Reserve is an excellent addition with beautiful hiking trails and panoramic views of the region. A charming, eco-friendly adventure awaits you!
Silvermine Waterfall
Silver Mine (Nature Reserve), Cape Town
Monday - Sunday: 8:00 AM – 6:00 PM
23. Skulpiesbaai
Visit Skulpiesbaai for an authentic, local experience in Strand, South Africa. This hidden gem, a picturesque bay nestled between mountains, is teeming with shells - hence the name "Shell Bay." It's a secret paradise for nature lovers with abundant birdlife, indigenous flora and mesmerizing sunrises over the sea. Don't miss the Preekstoel rock formation, an unexpected sight that makes a perfect souvenir photo! Right next to Skulpiesbaai is Jongensfontein, another picturesque place famous for its rock pools - so you have two exquisite sights at once!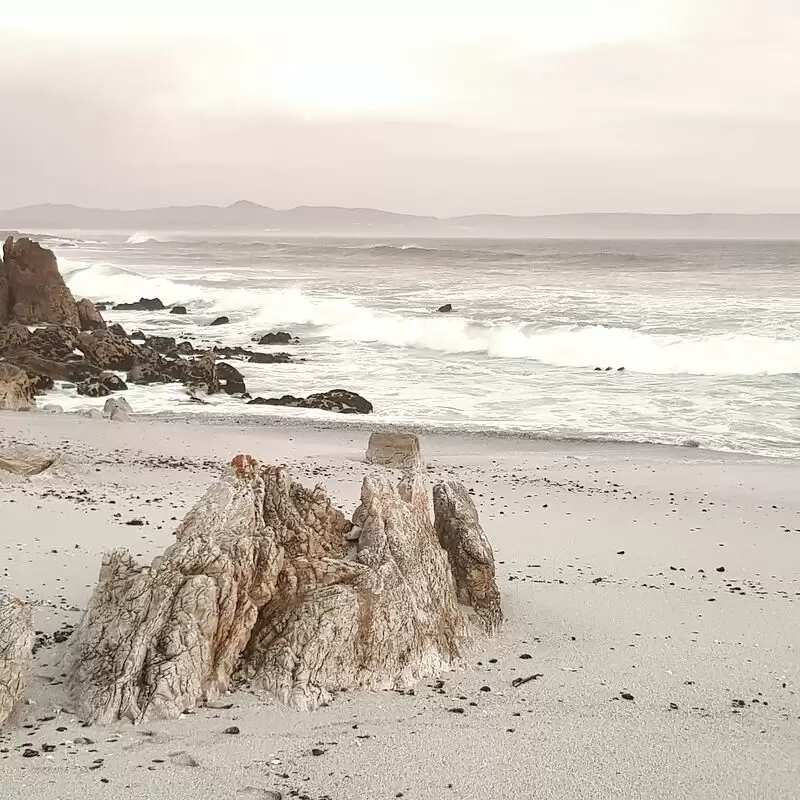 Skulpiesbaai
Poole St, Hermanus
Monday - Sunday: Open 24 hours
24. Sunset Bay Spur Steak Ranch
In a family-friendly atmosphere, Sunset Bay Spur Steak Ranch in Strand, South Africa, serves sizzling, delicious steaks cooked to perfection. In the lively setting, you can learn about the South African tradition of braai (barbecue). A hidden gem loved by the locals - the cozy fireplace on cold winter nights adds to its charm! After dinner, you can take a quiet walk on the beach. The restaurant is located near the beach, which is breathtakingly beautiful and perfect for watching fascinating sunsets.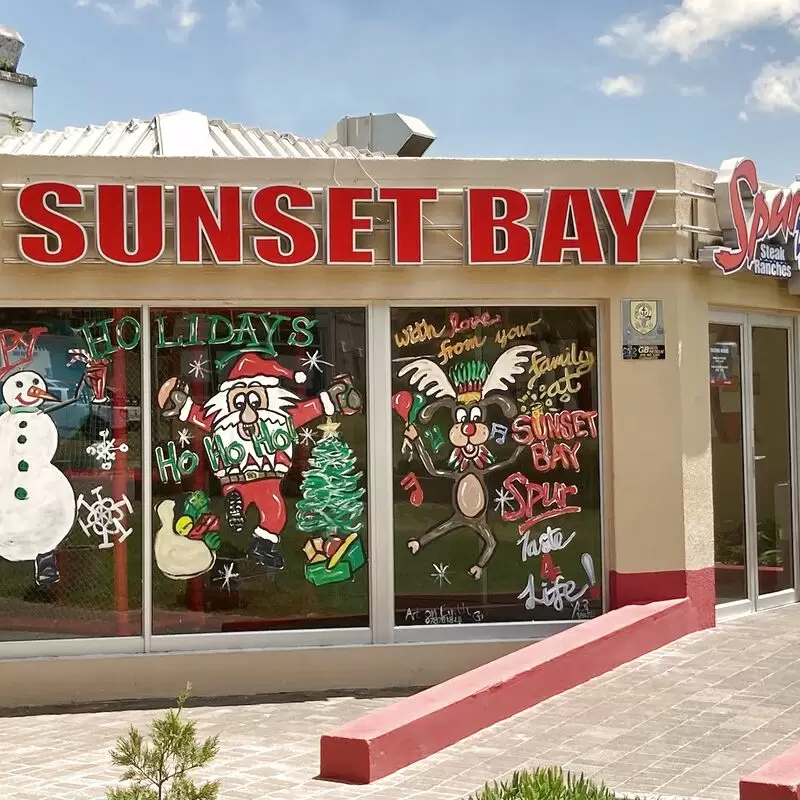 Sunset Bay Spur Steak Ranch

25. Shark Spotters Lookout Point Observation Deck
Venture to Shark Spotters Lookout Point / Observation Deck for an unparalleled, adrenaline-pumping experience. See majestic great white sharks in their natural habitat while staying safely above. Expand your knowledge of these misunderstood predators and their conservation efforts here. Pro-tip: Bring binoculars to get the best view of the animals! Nearby, Harmony Park is a scenic area with barbecue areas, a tide pool, and a children's playground - perfect for unwinding after an exciting shark watch. Here in Strand, South Africa, excitement meets relaxation.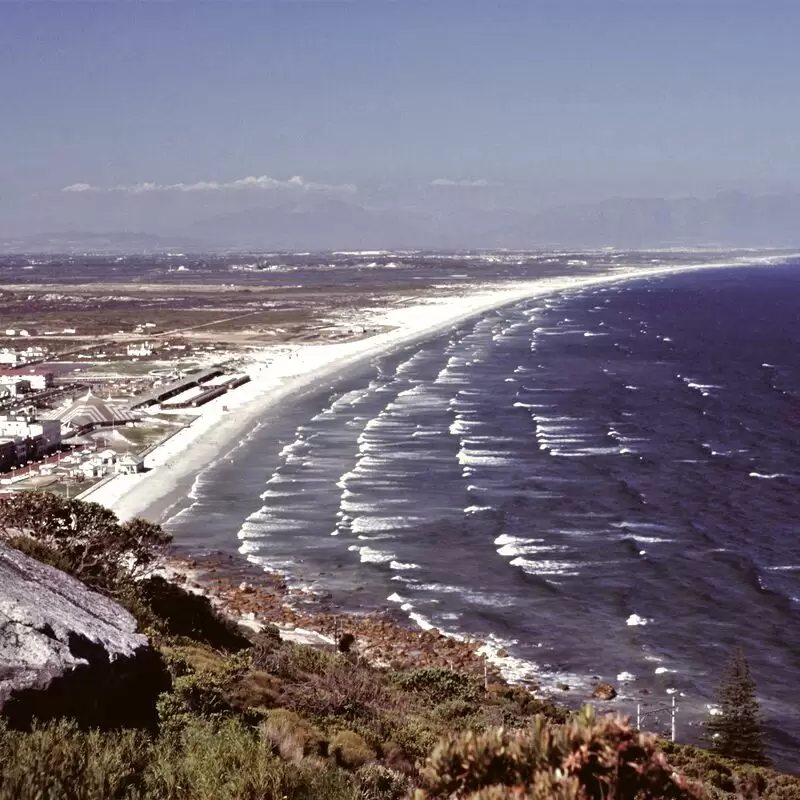 Shark Spotters Lookout Point Observation Deck
113 Boyes Dr, Silver Mine (Nature Reserve), Cape Town
Monday - Sunday: 8:00 AM – 6:00 PM
26. Rondevlei Nature Reserve
Enjoy the incomparable tranquility of Rondevlei Nature Reserve, the hidden gem of Strand. It is an idyllic haven for nature lovers and is home to over 230 species of birds, making it a birdwatching paradise. Don't miss the hippos, the only place in Cape Town where you can encounter these majestic animals. The reserve's hiking trails offer breathtaking views of the sand dunes, wetland and lake. Visit the nearby Monkey Town Primate Centre and experience wildlife up close.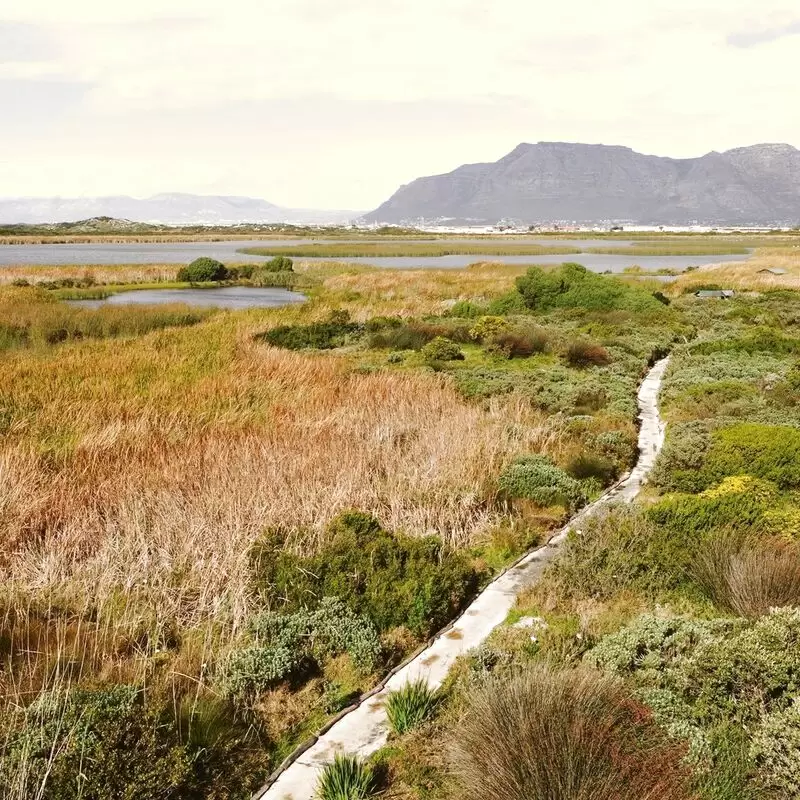 Rondevlei Nature Reserve
Pelikan Park, Cape Town
Monday - Sunday: 7:30 AM – 5:00 PM
27. Waterworld Strand

Embark on an exciting family trip to Waterworld Strand! This lively water park offers exciting slides, cozy, inviting pools, and a wonderful play area for kids. Your little adrenaline junkies will love the Zoom Flume and Super Tube.

An insider tip: try out the miniature golf course - overlooked by many, but a real gem. Just around the corner is Strand Beach, known for its shimmering shoreline - a perfect place to soak up some sun after your water adventure. Discover the fun that Strand, South Africa has to offer!

Waterworld Strand
opposite #195, Beach Rd, Strand, Cape Town
28. Meulwater Botanical Garden
Discover nature's hidden treasures at Meulwater Botanical Garden in Strand, a tranquil haven teeming with native flora. It's a birdwatcher's paradise with numerous feathered species cavorting in the treetops. The views of the Hottentots Holland Mountains are simply incomparable. Why not try spotting the elusive green-breasted sunbird? Just a short drive away is the Helderberg Nature Reserve, which adds another layer to your nature experience.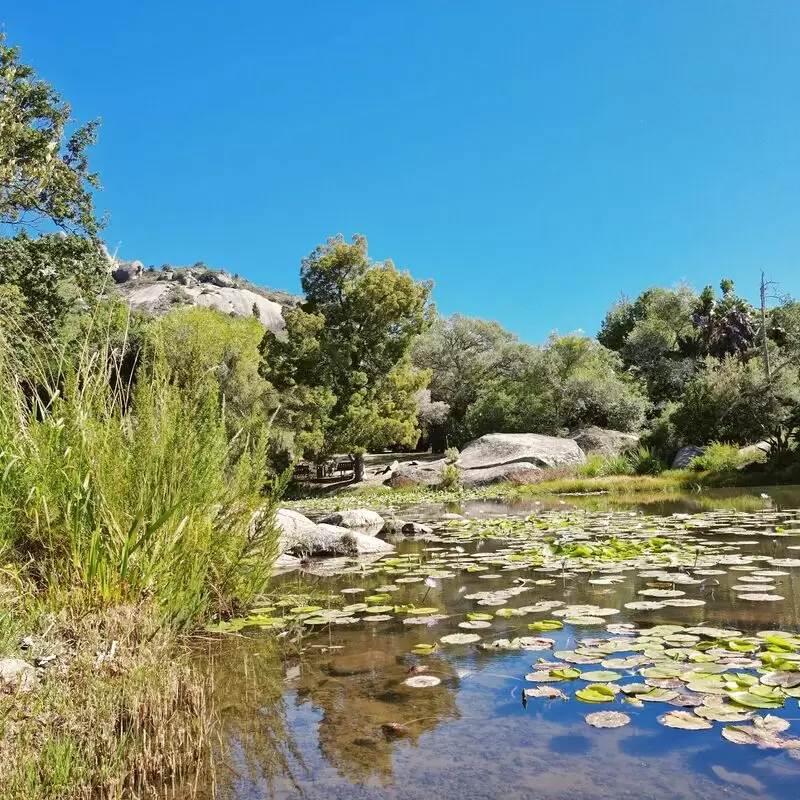 Meulwater Botanical Garden
Paarl, 7620
29. Bossa Strand Pavilion
Bossa Strand Pavilion is a premier place to relax in the heart of Strand, South Africa. It offers a fantastic view of the sea, delicious cuisine and a lively atmosphere that reflects the local culture. Spend your evening here sipping one of the signature cocktails and watching the sun disappear below the horizon. Don't forget to try the famous Bossa Burgers or the juicy ribs. Nearby you will find the picturesque Strand Beach and the Hottentots Holland Mountain Range, which offer endless exploration possibilities.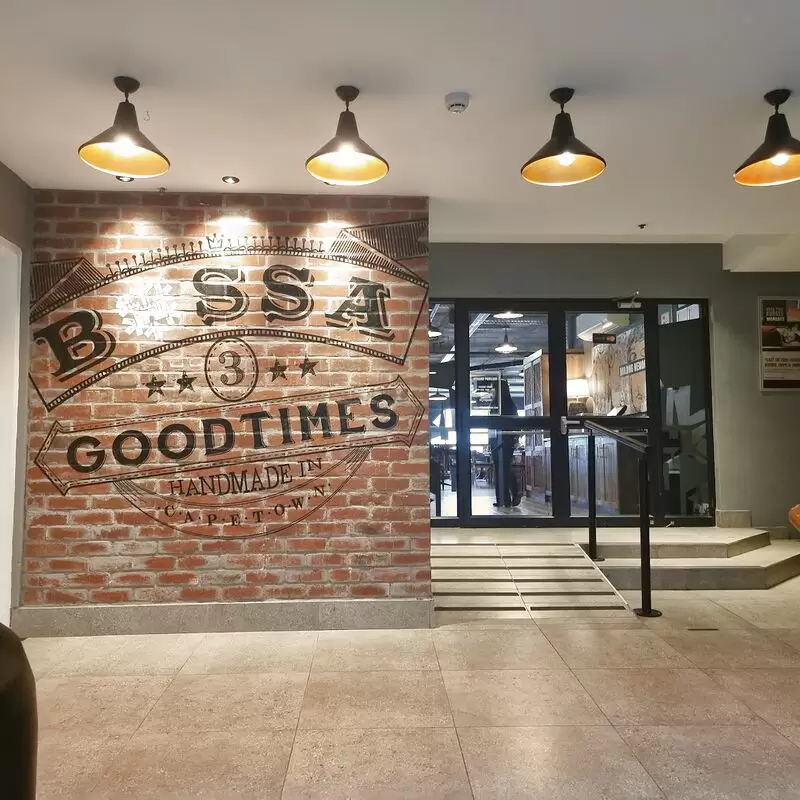 Bossa Strand Pavilion
Shop 10-12 Strand Pavilion Centre, Beach Rd, Strand, Cape Town
Monday - Sunday: 8:00 AM – 11:00 PM
Friday - Saturday: 8:00 AM – 12:00 AM
Best Time to Visit Strand
The best time to visit Strand, South Africa, is between December and February during the summer. The weather is warm and ideal to enjoy the beautiful beaches. However, if you want to avoid the peak tourist season, consider visiting between March and May or September and November when the weather is still pleasant.
Annual Weather in Strand
Strand 3-Day Forecast
Wed, 27 September
Night
49 °F
9 °C
0%
Morning
47 °F
8 °C
0%
Afternoon
67 °F
19 °C
0%
Evening
61 °F
16 °C
0%
Thu, 28 September
Night
52 °F
11 °C
0%
Morning
52 °F
11 °C
0%
Afternoon
71 °F
22 °C
0%
Evening
62 °F
17 °C
0%
Fri, 29 September
Night
57 °F
14 °C
0%
Morning
58 °F
14 °C
0%
Afternoon
67 °F
19 °C
0%
Evening
58 °F
14 °C
27%
Questions & Answers

What language is commonly spoken in Strand?

The most commonly spoken language in Strand, South Africa, is Afrikaans, followed by English and Xhosa. Afrikaans is widely used in daily communication, business, and the media, while English is used primarily in government and official dealings. Xhosa, an indigenous Bantu language, is also spoken by some of the population. It is common for residents to be multilingual and able to switch between languages.

How safe is Strand for tourists?

Strand, South Africa, generally enjoys a reputation for being safe for tourists. Violent crimes are rare, especially in areas frequented by tourists. However, as in any other place, it is advisable to exercise caution in your surroundings. Avoid secluded areas at night and keep your belongings safe to prevent crimes of opportunity. Travelers are also advised to follow local security advisories. Overall, Strand is a worthwhile destination for tourists with its quiet beaches and charming town.

Are there any specific local customs I should be aware of?

South Africans value politeness, punctuality and respect, so it is customary to greet others in a friendly manner and show courtesy. A simple handshake is a common gesture. At social gatherings, it is appropriate to bring a small gift for the host. Since Strand is a coastal town, there is a strong tradition of beach activities such as paddle skiing, surfing, sailing, etc., which are part of the local culture. Please be mindful of the protection of local wildlife and the environment when visiting.

Is it necessary to tip in restaurants and taxis in Strand?

Although tipping is not required by law in Strand, South Africa, it is common and greatly appreciated. For good service in restaurants, a tip of 10-15% of the total bill is customary. Cab drivers are also generally expected to round up the fare or tip 10%. This is considered a polite gesture to show appreciation for the service received. It is not obligatory, but it is common in the service industry.

What is the local cuisine like?

In Strand, South Africa, local cuisine is a tantalizing mix of flavors that reflect the multicultural heritage. Dishes featuring locally sourced meats, including game and beef, are often served on the table, complemented by local fruits and vegetables. Thanks to Strand's oceanfront location, seafood is also a staple. Braai (barbecue), boerewors (spicy sausage) and bunny chow (hollowed-out bread filled with curry) are popular. The region is also known for its excellent wineries, which offer world-class wines, especially Cabernet Sauvignon and Chenin Blanc.

How easy is it to get around Strand by public transportation?

Strand, South Africa, while not known for an extensive public transportation system, offers options such as local cabs and minibuses to help get around town. For longer distances, the MetroRail train runs through Strand, connecting it to Cape Town and other nearby cities. Car rentals and bicycle rentals also offer more flexibility. However, it is always advisable to check current schedules and plan ahead.

Are credit cards widely accepted in Strand?

Yes, most places in Strand, South Africa, accept credit cards as a form of payment. These include hotels, shopping malls, restaurants and most service establishments. However, it is always advisable to have some local currency on hand for small merchants or in case an establishment does not accept cards. Please inform your bank before traveling to ensure uninterrupted service.

Is Strand a family-friendly destination?

Beach is definitely a very family-friendly destination. It offers plenty of activities to keep every member of the family entertained. There are beautiful and safe swimming beaches for children and a range of outdoor activities such as hiking and bird watching for adults. There are also many family-friendly accommodations and restaurants that cater to people of all ages. Come and enjoy the beautiful landscapes and warm, friendly atmosphere of Strand.

Can I drink the tap water in Strand?

Yes, the tap water in Strand, South Africa, is considered safe to drink. The water in Strand, like the rest of South Africa, undergoes strict quality controls to ensure that it meets international safety standards. However, if you have a sensitive stomach or are not used to drinking tap water, it is better to stick to bottled water to avoid possible discomfort.

Are there any health concerns or vaccinations needed for Strand?

No special vaccinations are required for Strand, South Africa. However, general travel vaccinations such as hepatitis A and B, typhoid and routine vaccinations such as MMR are recommended for all travelers. Visitors should also be aware of the risk of malaria in certain parts of South Africa, but Strand is not located in a malaria risk area. It is always advisable to seek medical advice before traveling.

What is the local dress code in Strand, if any?

In Strand, South Africa, there is no specific dress code. People often dress according to the weather, which is usually warm. Light, casual clothing is recommended for daytime, while a light jacket can be useful for cooler evenings. It is also common for locals and visitors to dress a little fancier in the evenings. Nevertheless, the overall dress code is relaxed and comfortable, reflecting the laid-back atmosphere of the beach town.

Is there active wildlife in the Strand area?

Yes, there is wildlife in Strand, South Africa, but more in the surrounding areas than in the city itself. The nearby Helderberg Nature Reserve is home to several species of native wildlife, including zebra, antelope and a wide variety of birds. The Cape Winelands are home to wildlife and picturesque vineyards. However, for larger wildlife such as the Big Five, you will need to travel further afield to game reserves such as Aquila or Sanbona.

What local festivals are worth experiencing in Strand?

Strand, South Africa, offers a number of festivals that are well worth a visit. These include the Helderberg Wine Festival, where local wineries showcase their world-class wines amid live music and magnificent views. Equally attractive is the Strand Food and Craft Market, which celebrates local entrepreneurship with a variety of stalls offering intriguing handicrafts and tempting food. The local music events and beach festivals in summer are also a hit, with live performances, games and a joyful atmosphere.

How is the nightlife in Strand?

The nightlife in Strand, South Africa, exudes a relaxed and friendly atmosphere. It mainly includes beachfront restaurants and bars where you can enjoy live local music, a good selection of wine, cocktails and delicious food. Most establishments close around 10pm and are geared towards a relaxed crowd who want to enjoy the evening without turning it into a long night. On the whole, Strand offers a quiet but pleasant nightlife, perfect for those who prefer a relaxed evening.

Are there any rules or regulations for beach usage in Strand?

In Strand, South Africa, certain rules apply to beach visitors. Visitors must respect the environment by not littering and by following safety rules, which include swimming only in designated areas. Lifeguards are present at certain times and their instructions should be followed. Building fires and spending the night are not permitted. Protection of wildlife is critical, so please do not harass marine life. Please remember that responsible use of alcohol is required and avoid taking glass onto the beach.

How does the South African Rand convert to my currency?

As a travel guide, I would advise you to use an online currency converter to get real-time conversion rates from the South African Rand to your currency, as rates fluctuate due to the dynamics of the international currency market. These tools usually provide accurate conversions and take into account any daily changes. Always check this immediately before making a transaction to get the most accurate rate.

Are ATMs easily accessible in Strand?

Yes, ATMs are easily accessible in Strand, South Africa. The city is well equipped with both bank-operated and stand-alone ATMs for convenient cash withdrawals. Major locations for these ATMs include shopping malls, gas stations and banks. These ATMs accept most international cards and provide tourists with easy access to cash. However, travelers should be careful when using ATMs in less crowded or poorly lit areas, especially at night.

Is Wi-Fi readily available in public places in Strand?

In Strand, South Africa, Internet access is not as widespread as in some other regions. Although some restaurants, hotels and public facilities offer free Wi-Fi, it is not available in all public places. Visitors are advised to check with their accommodation for internet facilities or consider purchasing a local SIM card to ensure a secure connection.

Can English-speaking tourists navigate easily in Strand?

Yes, English-speaking tourists can easily find their way around Strand, South Africa. English is one of the most widely spoken languages in the region, and most signs, restaurant maps and other information are regularly provided in English. In addition, Strand residents are generally bilingual and can communicate in English, so they can assist tourists with directions, recommendations, and other help.

What's the surf like in Strand?

Beach, in South Africa, offers a generous wave rhythm for different surf levels. Surf conditions are influenced by the Atlantic Ocean, resulting in a mix of beach and reef breaks. The beach, also known as "Pipe", is ideal for beginners and advanced surfers and is especially known for its consistent waves. The conditions at this spot can change drastically depending on the wind and wave direction, offering an adventurous surfing experience every time.

Is there a local emergency number I should be aware of?

Yes, in case of an emergency in Strand, South Africa, you can dial 112 from any cell phone, regardless of the network. This will connect you to an operator who can help in emergencies such as medical problems, accidents or fires. If you use a landline phone, you can dial 10111 for the police. Keep these numbers for immediate help.

How can I respect the local culture in Strand?

When visiting Strand, South Africa, respect local customs by dressing modestly, especially in religious or cultural spaces. Refrain from littering in any form to maintain cleanliness. Avoid negative remarks about politics, society or culture. Learning a few words of Afrikaans as a visitor can show that you are making an effort to socialize. Finally, you can contribute to the community's economy by supporting local businesses.

Are there places in Strand that require advance booking?

Yes, there are places in Strand, South Africa that need to be booked in advance. Popular attractions such as Harmony Park Nature Reserve or wine tasting in the Helderberg region often require reservations due to their popularity. If you want to play a round at the Strand Golf Club, it is also advisable to book in advance, especially during the high season. Some restaurants also require reservations in order for you to get a table. It is best to check with individual establishments to find out their reservation policies.

What kind of power outlet adapter do I need in Strand?

In Strand, South Africa, there are type M sockets, which is identical to the rest of South Africa. This type of outlet has three prongs and accepts a power plug with three round prongs. If your appliances use a different type of plug, you will need a travel adapter suitable for Type M outlets to use them in Strand. Make sure your device is suitable for the local 230V power supply.

Are there opportunities for outdoor activities like hiking or biking in Strand?

Beach in South Africa offers numerous opportunities for outdoor activities. Lovers can hike through the picturesque Helderberg mountain range and enjoy breathtaking views of the sea and vineyards. The beach is ideal for cycling, walking, and other sports with its 5 km long promenade. In addition, nearby nature reserves, such as the Kogelberg Biosphere Reserve, offer cycling trails in pristine wilderness that are an exciting adventure for any outdoor enthusiast.

Is Strand generally crowded with tourists?

Strand, South Africa, is a popular tourist destination known for its beautiful beach and warm climate. It can get relatively crowded, especially during the South African summer months (December to February) when local and international tourists flock to enjoy the coastline. However, the size of the island often provides enough space for everyone. Things tend to be a bit quieter in the off-season, but the charm of the town is still there.

How well-illuminated are Strand's streets at night?

Strand, South Africa, is generally well lit at night, especially in main areas such as Beach Road and areas near the shopping centers. The city has made remarkable efforts to maintain good street lighting for safety and comfort. However, in some less crowded residential areas, lighting may be weaker. For safety reasons, it is advisable to stay in well-lit, populated areas at night.

What type of wildlife can I expect to see in the area around Strand?

In and around the beach you can see a variety of marine life, including dolphins, seals and the occasional whale. The nearby Helderberg Nature Reserve is home to the Cape mountain leopard and several species of deer. Birdwatchers will be delighted to see species such as the African penguin and Cape sugarcock. In addition, unique insects and reptiles can be seen amidst the unique fynbos flora. The presence of baboons is also notable in the region and adds an exciting element to the nature experience.

Can I expect to encounter any dangerous wildlife in Strand?

Beach, South Africa, is primarily a beach destination and is not normally associated with dangerous wildlife. The ocean has risks such as currents, tides, and possibly sharks, but these are generally well regulated for the safety of swimmers. As in any urban area, you may encounter common creatures such as birds, dogs or cats. Larger or potentially dangerous wildlife, such as the Big Five, live in wildlife reserves or parks that are not beachfront. Always follow the guidelines and warnings of local authorities or tour operators.

Can I use public transportation to travel to nearby towns from Strand?

Strand in South Africa definitely has a well-developed public transport network that makes it easy for you to travel to the surrounding cities. You can use the Metrorail train that connects Strand with Cape Town. The MyCiti and Golden Arrow buses are other convenient options. There are also several minivan cab services. These not only offer regular schedules, but are also an inexpensive way to explore the area.

Feedback

I hope you found this article informative and helpful. I'm eager to improve the content and make it even more valuable for you. If you have any feedback or suggestions, I would love to hear from you.

Do you have any tips or hidden gems that you think should be added to the list? Are there any areas that you feel could use more explanation or clarification?

Your input is greatly appreciated and will help us to continue providing high-quality content that meets your needs and interests. Please feel free to share your thoughts.