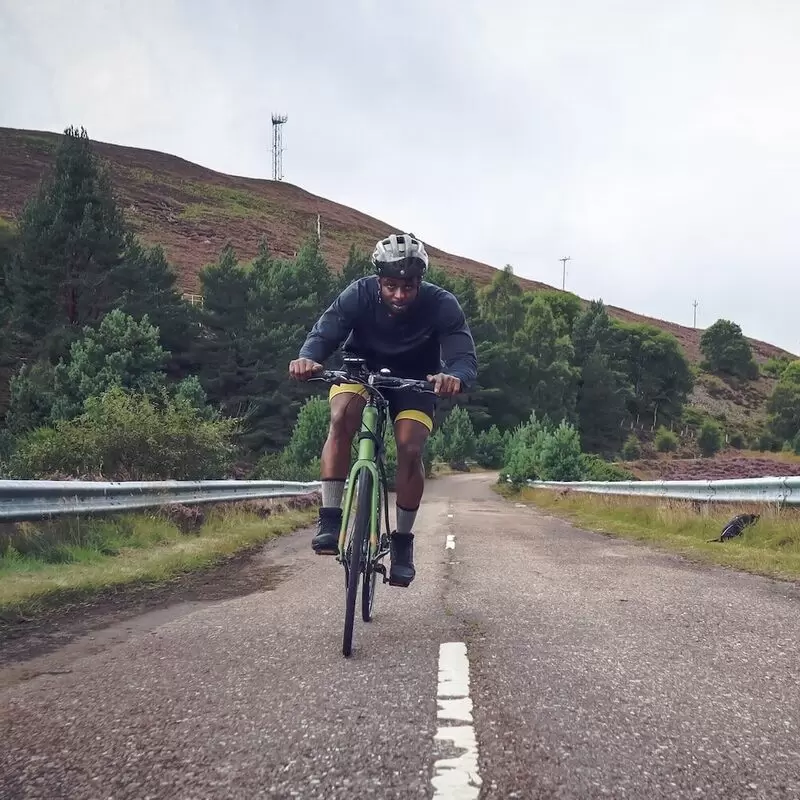 1. Glenmore Forest Park
Glenmore Forest Park in Aviemore is a nature lover's paradise, offering endless trails through coniferous forests and rushing lochs. Marvel at ancient Caledonian pines, charter a boat on Loch Morlich, or spot the rare red squirrels and elusive Scottish crossbills. After a day of exploring, enjoy a cozy fire at Pine Marten Bar, a hidden gem popular with locals. The dramatic landscapes of the Cairngorms National Park are just a short drive away, making Aviemore the ideal base for all your outdoor activities.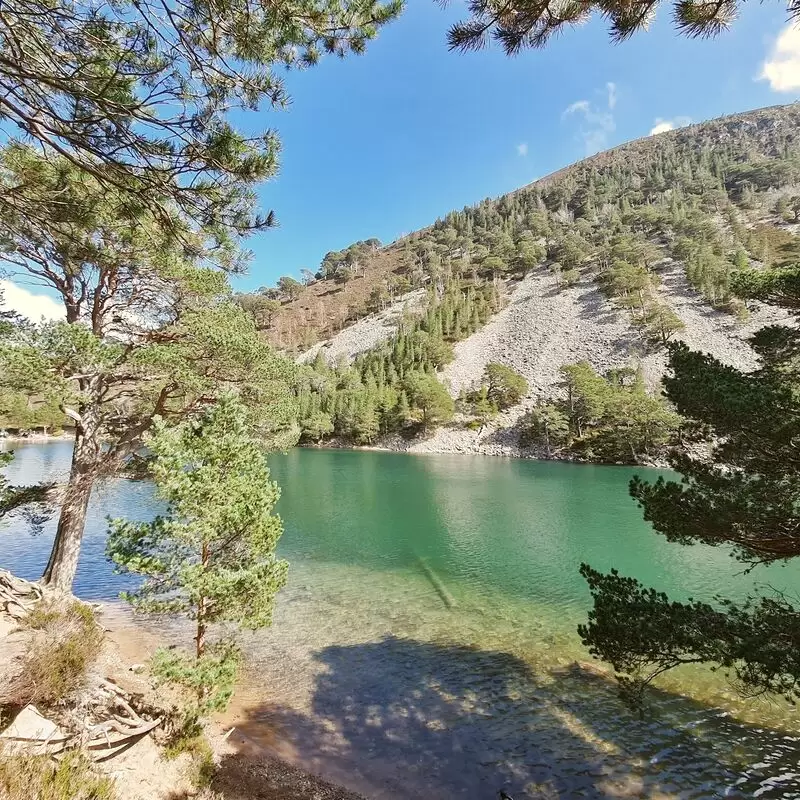 Glenmore Forest Park
Glenmore, Aviemore
Monday - Sunday: Open 24 hours
2. Landmark Forest Adventure Park
Immerse yourself in the thrills of Landmark Forest Adventure Park in Aviemore. Try your hand at thrilling water rides, high-speed roller coasters and climbing walls. This natural wonderland is set amidst ancient Scottish pine forest and also offers captivating forest walks. Don't miss the "Bamboozeleum" - a unique interactive experience only found here. Just a short drive from the park, you can visit the stunning Rothiemurchus estate and enjoy an authentic Highland experience.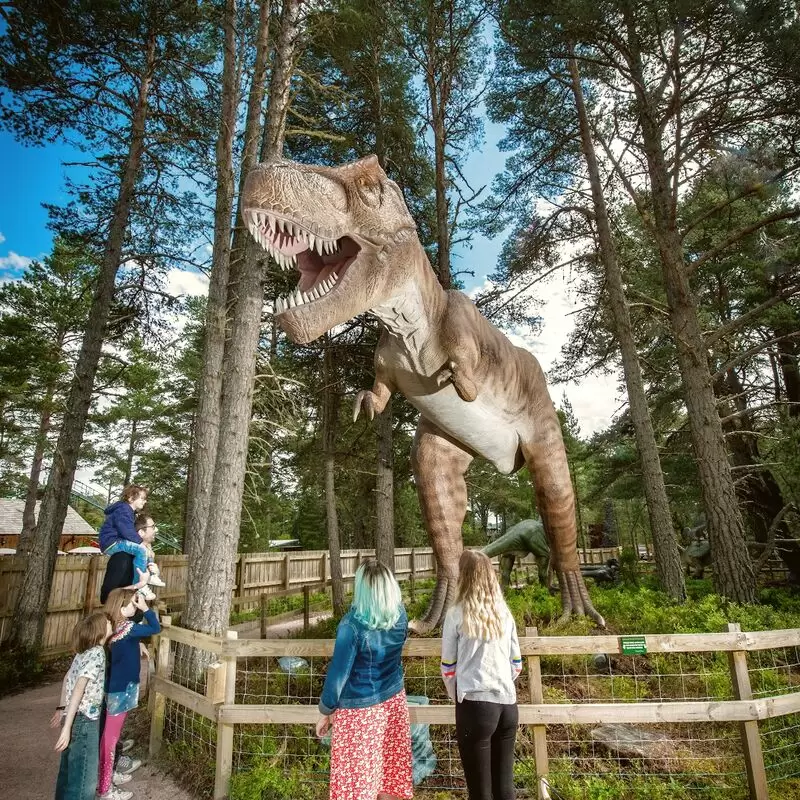 Landmark Forest Adventure Park
B9153, Carrbridge
Monday - Sunday: 10:00 AM – 5:30 PM
3. Highland Folk Museum

Delve into the heart of Scottish culture at the Highland Folk Museum. Steeped in history, the museum recreates historic rural life and features a vibrant, sprawling timeline from 1700 to the present. Free admission makes it a must-see! Real houses, a schoolroom, a blacksmith shop - each tells a story.

Insider tip: Feel history under your feet in the traditional thatched-roof houses. Want more? Next door is the "Clan Macpherson Museum" where you can immerse yourself in the extraordinary history of a clan! The past comes alive in Aviemore!

Highland Folk Museum
Aultlarie Croft, Kingussie Rd, Newtonmore

Monday - Sunday: 10:00 AM – 5:00 PM
4. Loch an Eilein Rothiemurchus
Venture to the Loch an Eilein in Rothiemurchus, a hidden gem in Aviemore! The tranquil views and stunning ruins of a rocky island castle make for an enchanting visit. The site is known for its abundant wildlife, especially birds, and is perfect for quiet contemplation and relaxing walks - the path around the loch is excellent. Pro-tip: Don't miss sculptor Frank Bruce's charming open-air gallery in the nearby woods. Remember that Rothiemurchus is just a stone's throw from the spirited Cairngorms National Park.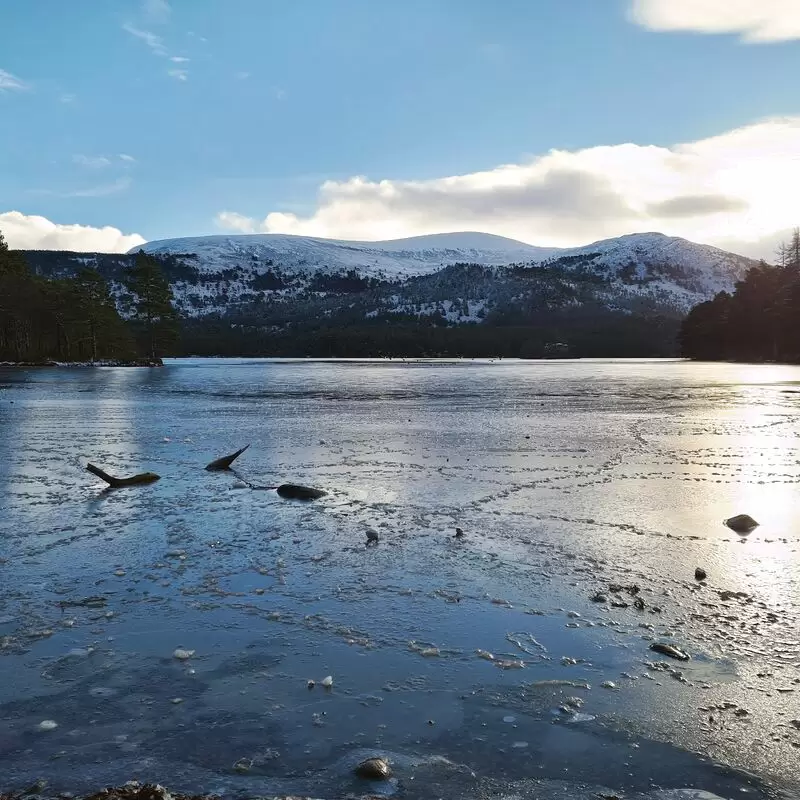 Loch an Eilein Rothiemurchus
Loch an Eilein Rothiemurchus, Aviemore
Monday - Sunday: 9:00 AM – 8:00 PM
5. Cairngorm Reindeer Herd

Take a trip to the majestic Cairngorm Mountains in Aviemore, home to the unique Cairngorm herd of reindeer. Petting and feeding these friendly animals against a backdrop of breathtaking scenery will be one to remember.

This experience, unique in Scotland, becomes even more authentic when you walk with the reindeer through their natural habitat - an insider tip: visit them in winter for a magical, snow-covered view. Just a stone's throw away is Loch Morlich Watersports, where you can enjoy an exciting water adventure after meeting the reindeer.

Cairngorm Reindeer Herd
Reindeer House, Glenmore, Aviemore

Monday - Sunday: 10:00 AM – 5:00 PM
6. Old Pack Horse Bridge
Visit the Old Pack Horse Bridge - a charming piece of history in Aviemore. This picturesque 18th century stone bridge over the River Dulnain is a landmark of the region's rich past. Photographers and nature lovers will be delighted by the idyllic setting. It is a little known secret that you should not miss. It's also close to the bustling Aviemore Centre, so you can shop and dine nearby after enjoying the rustic charm!
Old Pack Horse Bridge
Dulnain Bridge, Carrbridge
Monday - Sunday: Open 24 hours
7. Strathspey Railway Aviemore Station)

Experience a nostalgic journey aboard the Strathspey Railway in Aviemore. Enjoy the picturesque landscapes of the Highlands with its heather-clad hills, quaint villages and Scottish wildlife in a historic train compartment. The railroad also offers Christmas and Halloween themed rides, making it a unique, year-round attraction.

Insider tip: Don't miss the scenic boat from Garten, which is just a puff of steam away! You can combine this ride with a visit to the nearby Rothiemurchus Forest.

Strathspey Railway Aviemore Station)
Station, Dalfaber Road, Aviemore
8. Rothiemurchus
Experience an authentic piece of Scotland at Rothiemurchus in Aviemore - a stunning property that offers numerous outdoor activities, from exciting quad tours to tranquil nature tours. Don't miss The Barn restaurant, which serves delicious locally sourced dishes. Just 15 minutes away, you'll find the Loch an Eilein Gallery, which showcases exquisite local arts and crafts. For avid hikers, Cairngorm Mountain is just a stone's throw away and offers breathtaking panoramic views from its summit.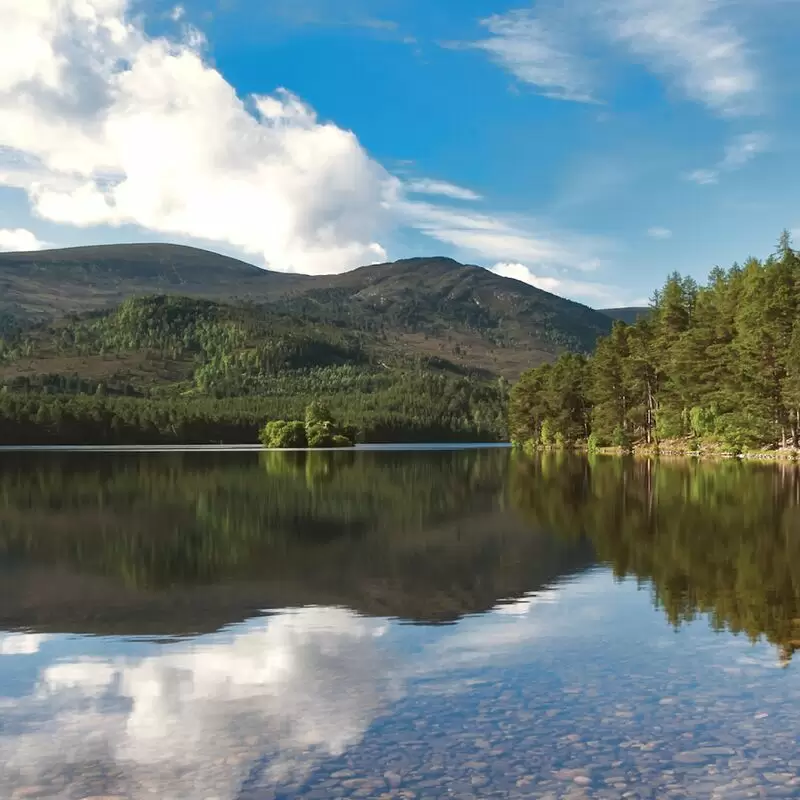 Rothiemurchus
Rothiemurchus Centre, Aviemore PH22 1QH
Monday - Sunday: 9:45 AM – 4:30 PM
9. Loch Morlich Watersports
Loch Morlich Watersports offers an unparalleled water adventure in Aviemore. Nestled in the Cairngorm Mountains, it is the ideal place for sailing, windsurfing and canoeing. Marvel at the sandy beach against the breathtaking backdrop of the Highlands, which provides a perfect backdrop for thrilling escapades. Enjoy an unforgettable boating experience under expert guidance. True insiders know to arrive early to enjoy a peaceful morning cruise. Nearby, the enigmatic reindeer herd awaits, heralding an intimate encounter with these affectionate animals. Aviemore is definitely a paradise for nature lovers and thrill seekers!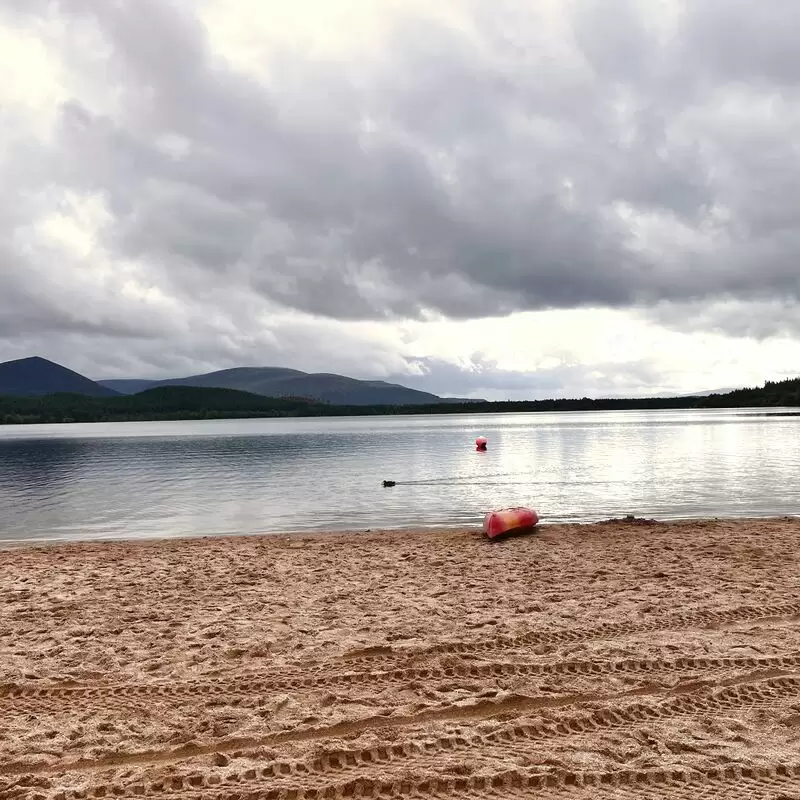 Loch Morlich Watersports
Glenmore Forest Park, Aviemore Glenmore Forest Park, shire, Inverness
Monday - Sunday: 10:00 AM – 5:00 PM
10. Craigellachie National Nature Reserve Entrance)
Craigellachie National Nature Reserve offers a truly unique experience. Here you can explore different habitats and immerse yourself in the splendor of Scottish wildlife. Enjoy breathtaking panoramic views from the lookout point. Remember to walk quietly - you may catch a glimpse of a red squirrel or deer! Nearby is Carrbridge, with the oldest stone bridge in the Highlands, and if you love whisky, take a trip to Speyside, Scotland's famous whisky region, just a few miles away!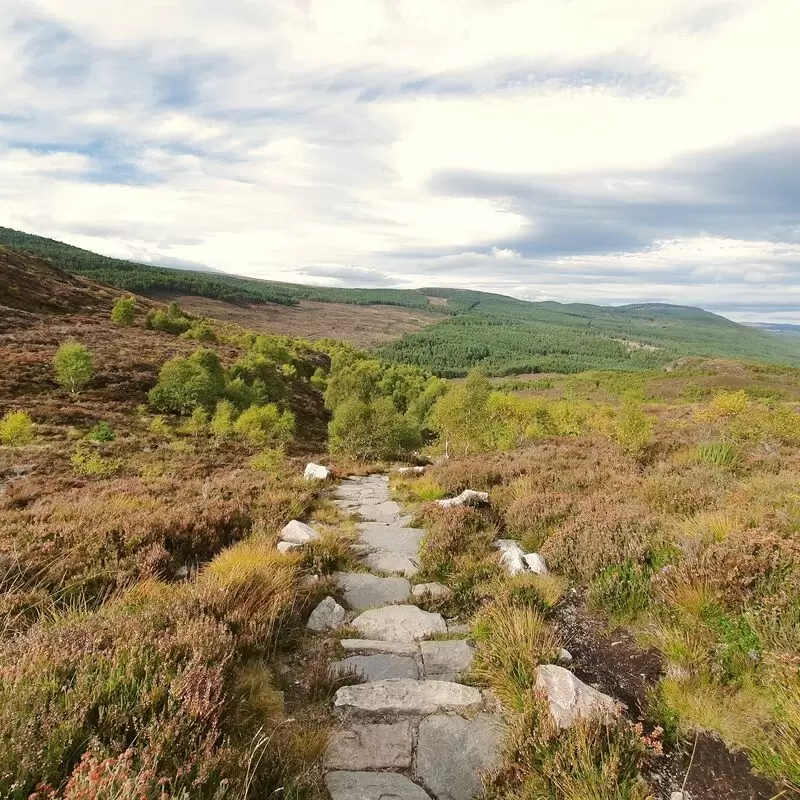 Craigellachie National Nature Reserve Entrance)
Aviemore
Monday - Sunday: Open 24 hours
11. Loch an Eilein
At the "Loch an Eilein" in Aviemore you can experience a piece of untouched nature. A walk around the loch offers picturesque views of ancient pine forests, rugged mountains and a unique 13th century castle set on an island. The loch has a secret - it was voted the best picnic spot in the UK! Nearby Rothiemurchus Forest offers quiet trails for hiking and wildlife spotting - a true paradise for outdoor enthusiasts. Put on your boots and don't miss this tranquil treat!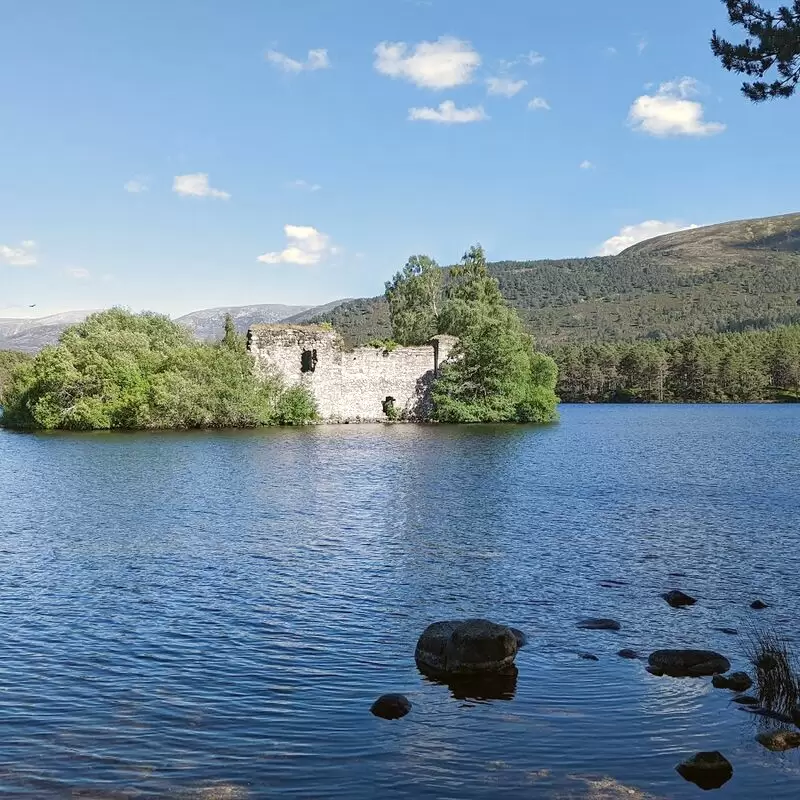 Loch an Eilein
Loch an Eilein, Aviemore
12. Zip Trek Adventure Park Aviemore
For thrill seekers and nature lovers alike, Aviemore Zip Trek Adventure Park offers an unforgettable experience. Swing among the ancient Caledonian pines and get a bird's eye view of Scotland's beauty. Did you know you can soar over 2 km above the ground on the zipline? After your adventure, take a short drive to the nearby Cairngorms National Park, where breathtaking scenery and countless outdoor activities await you. A must-see adrenaline-filled attraction in the heart of the Scottish Highlands!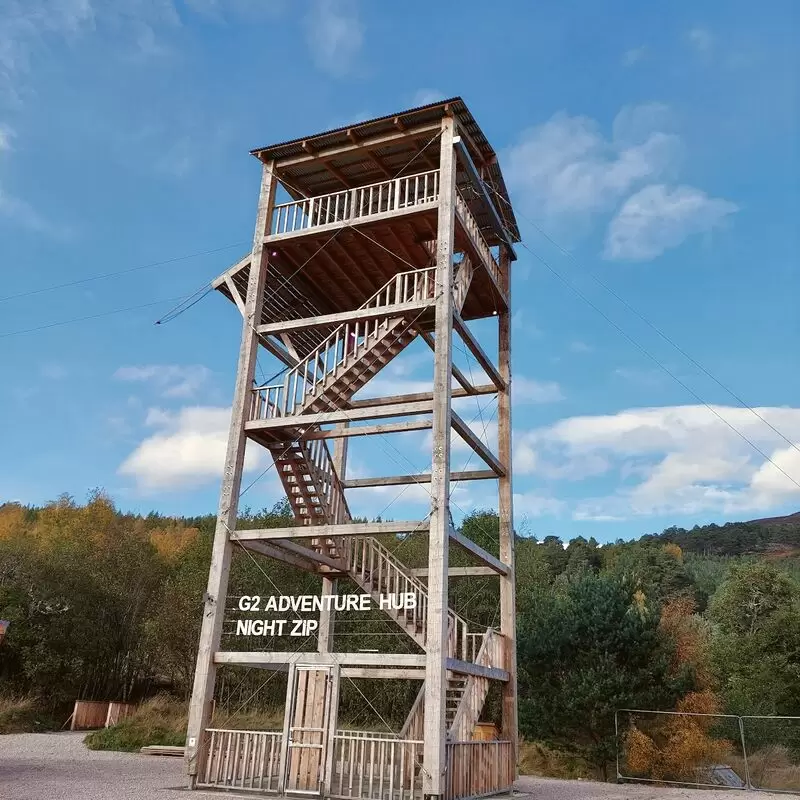 Zip Trek Adventure Park Aviemore
Delfour Hatchery, Alvie Estate, Aviemore
Monday - Sunday: 9:00 AM – 5:00 PM
13. Quad Bike Treks Aviemore
Quad Bike Treks, Aviemore, offers an adrenaline-pumping thrill in the historic Scottish Highlands. Navigate the terrain under the care of guides and enjoy the beautiful scenery, including red deer and the famous golden eagles. Don't forget to try "The Graveyard," a challenging trail popular with locals. Nearby, you can relax at the Cairngorm Brewery or ride the Strathspey Steam Railway to continue your Scottish adventure.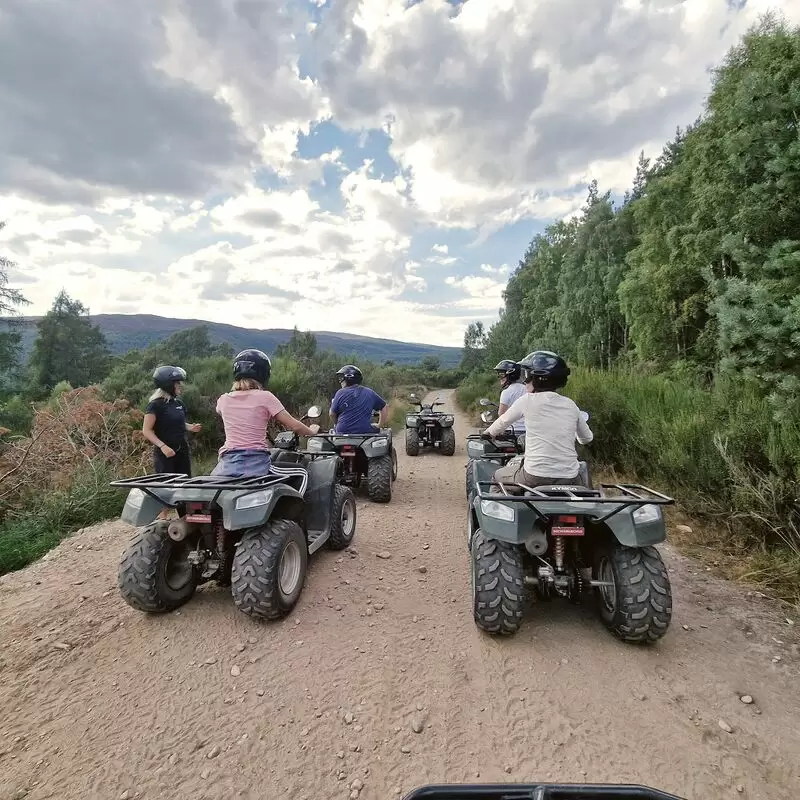 Quad Bike Treks Aviemore
Rothiemurchus, Aviemore
Monday - Sunday: 10:00 AM – 4:00 PM
Best Time to Visit Aviemore
The best time to visit Aviemore in the UK is usually between June and August. During this time, the weather conditions are mild and ideal for exploring the surrounding Cairngorms National Park. However, if you like winter sports, you should come between December and February for skiing and snowboarding.
Annual Weather in Aviemore
Aviemore 3-Day Forecast
Wed, 27 September
Night
45 °F
7 °C
0%
Morning
41 °F
5 °C
0%
Afternoon
43 °F
6 °C
69%
Evening
42 °F
5 °C
67%
Thu, 28 September
Night
47 °F
8 °C
0%
Morning
42 °F
6 °C
0%
Afternoon
47 °F
9 °C
0%
Evening
46 °F
8 °C
60%
Fri, 29 September
Night
46 °F
8 °C
50%
Morning
48 °F
9 °C
78%
Afternoon
49 °F
9 °C
80%
Evening
48 °F
9 °C
0%
Questions & Answers

What is the best way to get around Aviemore?

The best way to get around Aviemore depends on your personal preferences. The town is small, so it is easy to explore on foot or by bike. There is also a local bus service that runs regularly throughout the day and goes to the main attractions. In addition, there are cab services that are ideal for longer distances or for convenience. Considering the natural beauty of the city, many visitors choose to bike or walk as their primary mode of transportation to properly explore the area.

What local customs and traditions should I know about?

In Aviemore, Scotland, traditional Highland customs such as the Highland Games with bagpiping, drumming, dancing and Scottish swordplay are maintained. The tradition of ceilidh - a social event featuring Scottish folk music and dancing - is also popular. The Scots are known for their hospitality and friendliness, so don't hesitate to mingle with the locals. Finally, whisky tasting is an integral part of Scottish culture, and Aviemore is located in the Speyside region and offers ample opportunity to indulge in this custom.

Where can I get a taste of the local cuisine?

In Aviemore, the Old Bridge Inn is a charming place to enjoy local cuisine. Famous for its rustic ambiance and hearty cuisine, it serves traditional Scottish dishes made with local, seasonal ingredients. You can also head to The Winking Owl, a pub owned by the Cairngorm Brewery, which offers classic Scottish dishes with a modern twist. For a sweet treat, the Mountain Cafe serves delicious homemade cakes and pastries. These delicious and cozy eateries that showcase the best of Scotland's pantries are not to be missed.

Is Aviemore safe for tourists?

In any case, Aviemore is very safe for tourists in general. It is a small, welcoming town known primarily for its outdoor activities. As with any destination, tourists should use common sense when it comes to personal belongings; however, violent crimes are extremely rare. Most visitors experience locals as friendly and helpful when asking for advice or directions. Regular police patrols contribute to overall security and ensure a peaceful and enjoyable stay for all visitors.

Are there guided tours of the town?

Absolutely! Aviemore, located in the heart of the Scottish Highlands, offers a variety of guided tours from which to choose. From impressive walking tours that explore the town's rich history to exciting cycling tours through the breathtakingly beautiful Cairngorms National Park, there's something for everyone. Visitors can also opt for wildlife watching tours contrasted with visits to local distilleries for a true taste of Scotland. These tours vary in length to suit all preferences and generally need to be booked in advance.

What is the local language spoken in Aviemore?

English is the main language spoken in Aviemore. However, Scotland, where Aviemore is located, has its own variant of the English language, Scottish English. The pronunciation, vocabulary and grammar of this language are unique. In addition, Scots and Scottish Gaelic can also be heard, especially in more rural areas or among older people. However, the vast majority of interactions are understood and spoken by locals in Standard English.

Is tap water safe to drink?

Yes, the tap water in Aviemore, United Kingdom is absolutely safe to drink. The quality of drinking water is strictly monitored and regulated in the United Kingdom. So, you can be sure that the water you get from the tap meets high standards of hygiene and cleanliness. Not only is it safe, but it is also cost-effective and environmentally friendly compared to bottled water. However, the taste may differ from what you are used to due to the different mineral content.

What local wildlife could I encounter in Aviemore?

In Aviemore you can encounter a rich array of wildlife. Among the best-known residents are red squirrels, badgers and deer. Birdwatchers will appreciate the local species, including ospreys, grouse, and golden eagles. At nearby Loch Garten, you'll have a chance to see the elusive Scottish crossbill, the UK's only endemic bird species. In the surrounding Cairngorms National Park, you can spot red deer, mountain hares and, if you're lucky, the rare and majestic Scottish wildcat.

Where can I experience local Scottish music?

For a heartwarming experience of Scottish music, visit The Old Bridge Inn. This traditional pub on the banks of the River Spey offers live music with local musicians playing traditional and modern Scottish songs. It is an ideal place to experience the cultural essence of Aviemore while enjoying a refreshing drink. It is not uncommon for guests to join in these events, making them an unforgettable community experience.

What is the currency in Aviemore and where can I exchange money?

The currency in Aviemore, United Kingdom, is the British pound (£). Money exchange facilities are available in the nearby city of Inverness, where there are several exchange offices. You can also exchange your currency at the airports, several major hotels or most banks in Aviemore. It is advisable to compare prices to get the best deal.

What standard of healthcare can I expect if necessary?

Aviemore, like the rest of the United Kingdom, offers high quality health care. The area benefits from both public and private healthcare facilities, including general practices, dentists, and pharmacies. The National Health Service (NHS) provides free on-site medical care to residents. However, visitors from outside the United Kingdom may incur charges for some treatments. It is recommended that you take out suitable travel insurance to cover medical care. Emergency services are efficient and easily accessible.

Is there a dress code to respect when visiting religious sites?

In Aviemore, United Kingdom, modest clothing is generally recommended when visiting religious sites such as churches or cathedrals. This usually includes clothing that covers the shoulders and knees. Hats should be removed when entering. Each venue may have its own policies, so it is advisable to check in advance. In addition, quiet and respectful behavior is expected in all religious sites.

Is there a readily available and reliable taxi service?

Yes, there are several reliable cab services in Aviemore. The two most popular are Aviemore Taxis and Cairngorm Taxis, which are known for their professionalism, punctuality and knowledgeable drivers who can also act as guides during the journey. They offer their services around the clock and can be easily booked in advance or stopped on the spot. The well-maintained vehicles ensure safety and comfort and offer visitors a stress-free travel experience.

What's the altitude of Aviemore?

Located in the United Kingdom, Aviemore sits at a modest altitude. Nestled in the scenic Cairngorms National Park in the Scottish Highlands, this charming village is about 216 meters above sea level. It is important to note that this altitude can rise considerably as you venture into the surrounding mountainous terrain, especially towards the Cairngorms Mountains.

How can I prepare for midges, Scotland's famous insect?

In preparation for mosquitoes in Scotland, especially in Aviemore, pack an insect repellent - preferably with DEET content. Try not to wear dark clothing, as this is known to attract mosquitoes. You might consider light, long-sleeved clothing and hats or mosquito nets. Mosquitoes are also weak fliers, so staying in well-ventilated or windy areas can help avoid them.

Are credit cards widely accepted?

Yes, credit cards are widely accepted in Aviemore, UK. Most businesses, including hotels, restaurants and stores, accept major credit cards such as Visa, MasterCard and American Express. However, smaller establishments or those in rural areas may prefer cash, so it is advisable to keep a small amount on hand for emergencies or unexpected situations. Inform your bank of your travel plans to avoid interruption of service due to suspicious activity reports on your account.

Where is the nearest international airport?

The closest international airport to Aviemore in the United Kingdom is Inverness Airport, which is located about 40 miles north of Aviemore. This airport offers a variety of domestic and international connections, making it easily accessible for international travelers. Travel time by car or cab from Aviemore is usually about an hour. There are also regular bus services.

Can I hire camping gear or sports equipment locally?

Yes, you can rent a wide range of outdoor equipment in Aviemore. Many local adventure sports companies offer equipment rental for activities such as skiing, biking or climbing. For camping enthusiasts, there are specialized outdoor stores that rent camping gear, from tents to cooking equipment. Whether you are planning a mountain hike, a bike ride, a ski vacation or a camping trip, you can easily rent the equipment you need in Aviemore.

How can I get to Loch Ness from Aviemore?

From Aviemore you can take the A95 towards the Boat of Garten, then the A938 and the B9150 leading onto the A82 to Loch Ness. The journey takes about 1 hour and 30 minutes by car. Alternatively, you can take the train or bus to Inverness, which takes about 40 minutes, and then continue to Loch Ness by bus or cab.

How reliable is public transportation in Aviemore?

Aviemore is part of the UK's robust public transport network. The town is easily accessible with reliable services such as buses, trains and cabs. Stagecoach buses run regularly, connecting Aviemore with surrounding towns and attractions. In addition, Aviemore's train station on the Highland Main Line provides regular service to larger cities such as Edinburgh and Inverness. Conventional cab services and Uber are also available. Overall, public transportation in Aviemore is reliable and makes it easy for visitors to explore the city.

Where can I get a sim card or mobile data?

SIM cards and mobile data plans are available in Aviemore from a variety of providers. The nearest Vodafone store is located in Inverness and offers a variety of SIM cards and tariffs to suit your needs. In addition, there are several supermarkets and grocery stores in Aviemore, such as Tesco, that sell prepaid SIM cards. Alternatively, you can order a SIM card online before your visit and have it conveniently delivered to your home.

Is there any local wine or beer that I must try?

Absolutely! Be sure to try the craft beers from the Cairngorm Brewery, located right in Aviemore. They make a wonderful selection of cask and bottled beers, all inspired by the stunning Highland environment. Their Trade Winds Ale has won several awards and is highly recommended. Wine is not made in the town, but the local restaurants offer a fantastic selection of Scottish and international wines that perfectly complement the local cuisine.

What's the best way to travel from Aviemore to Edinburgh?

The most comfortable way to travel from Aviemore to Edinburgh is by train. With a journey time of about 3 hours, the train offers both comfort and beautiful Scottish scenery along the way. Take the ScotRail train directly from Aviemore to Edinburgh's Waverley Station, which is located in the heart of the city. Alternatively, you can rent a car if you prefer to drive yourself the 125 miles, which takes about 3 hours depending on traffic.

Are there many English-speaking locals?

Yes, in Aviemore most of the locals speak English, as the town is located in the United Kingdom, where English is the main language. The locals are usually friendly and open to visitors. Since Aviemore is a popular tourist destination, they are used to tourists and are happy to help with directions or recommendations in English.

What food specialty is Aviemore known for?

Aviemore, located in the heart of the Scottish Highlands, is traditionally known for its excellent Scottish cuisine. Scottish beef, lamb, game and seafood, especially salmon and shellfish, are the main ingredients in the region's specialties. A favorite local treat is the hearty "Cullen skink," a thick soup of smoked haddock, potatoes and onions. For dessert, don't miss the "cranachan," a delicious mixture of whipped cream, whiskey, honey and fresh raspberries, a true Scottish classic.

Feedback

I hope you found this article informative and helpful. I'm eager to improve the content and make it even more valuable for you. If you have any feedback or suggestions, I would love to hear from you.

Do you have any tips or hidden gems that you think should be added to the list? Are there any areas that you feel could use more explanation or clarification?

Your input is greatly appreciated and will help us to continue providing high-quality content that meets your needs and interests. Please feel free to share your thoughts.