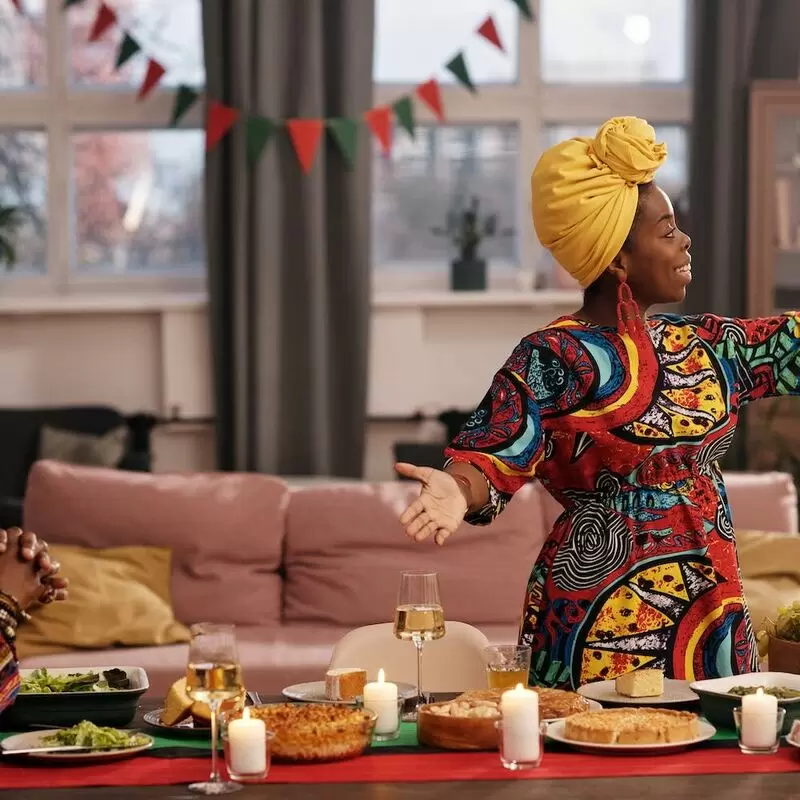 1. Shimla Reserve Forest Sanctuary
Experience the wilderness at the Shimla Reserve Forest Sanctuary in Kufri. The sanctuary boasts fascinating biodiversity, including exotic birds and animals unique to the region. Walk along secret trails known only to a few tourists to catch a glimpse of rare wildlife and breathe in the clean, fresh air. Also nearby is Mahasu Peak, Kufri's highest point, known for its panoramic views and scenic hiking trails. A truly enticing destination for nature and adventure lovers alike.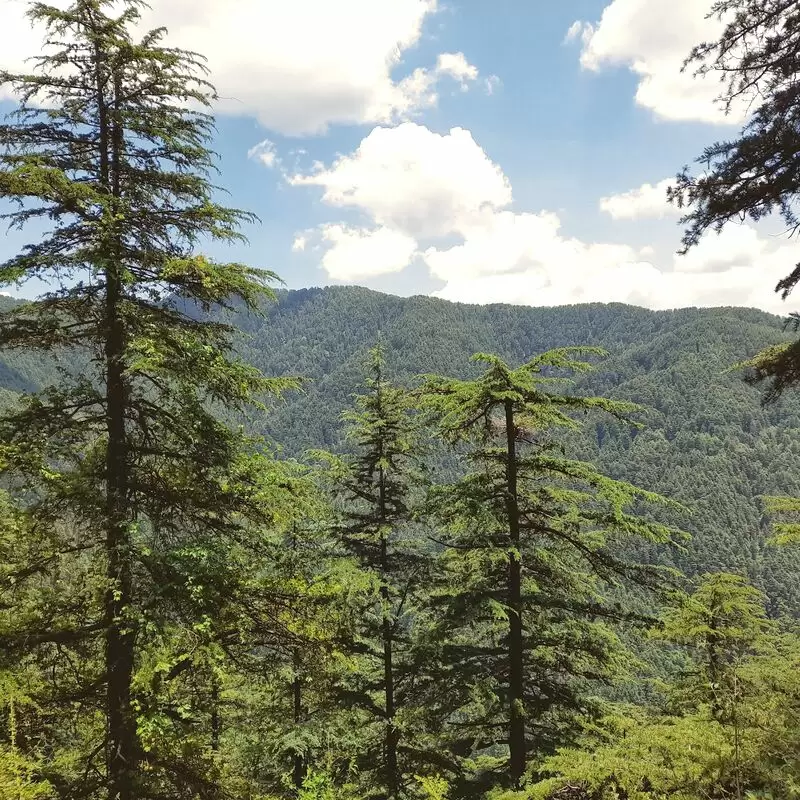 Shimla Reserve Forest Sanctuary
36XW+XGC, NH 22, Charabra, Mashobra
Monday: Closed
Tuesday - Sunday: 9:00 AM – 5:00 PM
2. Chail Sanctuary
A visit to Chail Sanctuary in Kufri is an absolute must for any nature and wildlife lover. This sanctuary is home to diverse flora and fauna, including the rare Barking Deer and the beautiful Kalij Pheasant. Exploring the Chail Sanctuary will be rewarded with a fascinating variety of birds and animals in their natural habitat. On a silent walk, you may even spot a leopard, which is rarely seen. Barely 45 minutes away is the majestic Kali Ka Tibba, the icing on the cake of your wildlife excursion!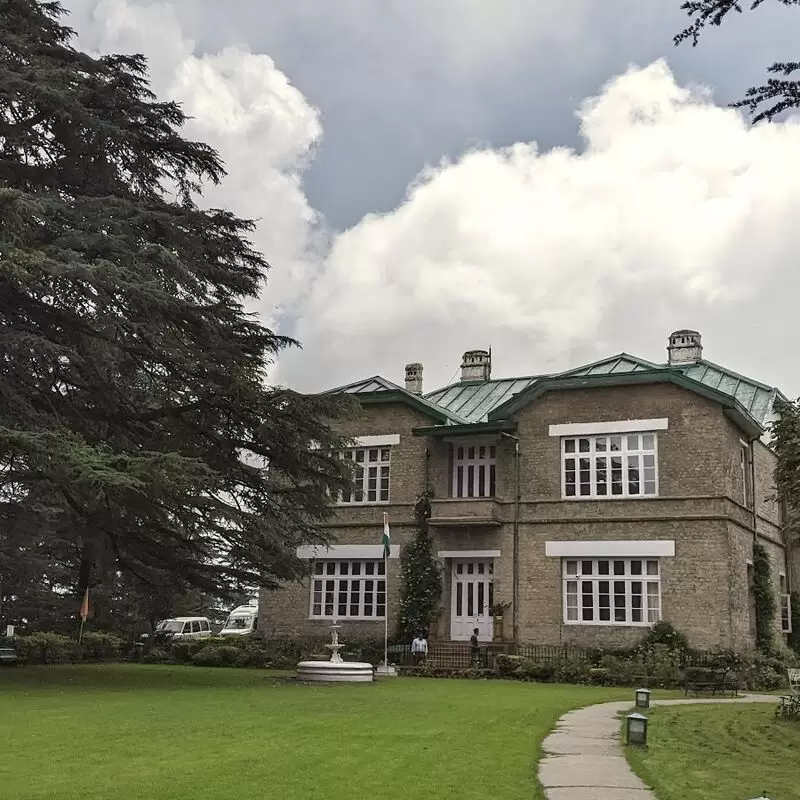 Chail Sanctuary
2642+342, Sadhupul
Monday - Sunday: Open 24 hours
3. Green Valley
The Green Valley in Kufri is a natural paradise - a visual treat with spectacular views of green hills, sweeping landscapes and dense forests. This area of unparalleled beauty is home to several species of wildlife, captivating your senses and offering an unparalleled experience. Locals often see yaks roaming around here. Nearby is the Kufri Zoo, home to numerous species of wildlife. Strengthen your adventurous side with the exciting horseback rides in Green Valley, a true paradise for adventure seekers!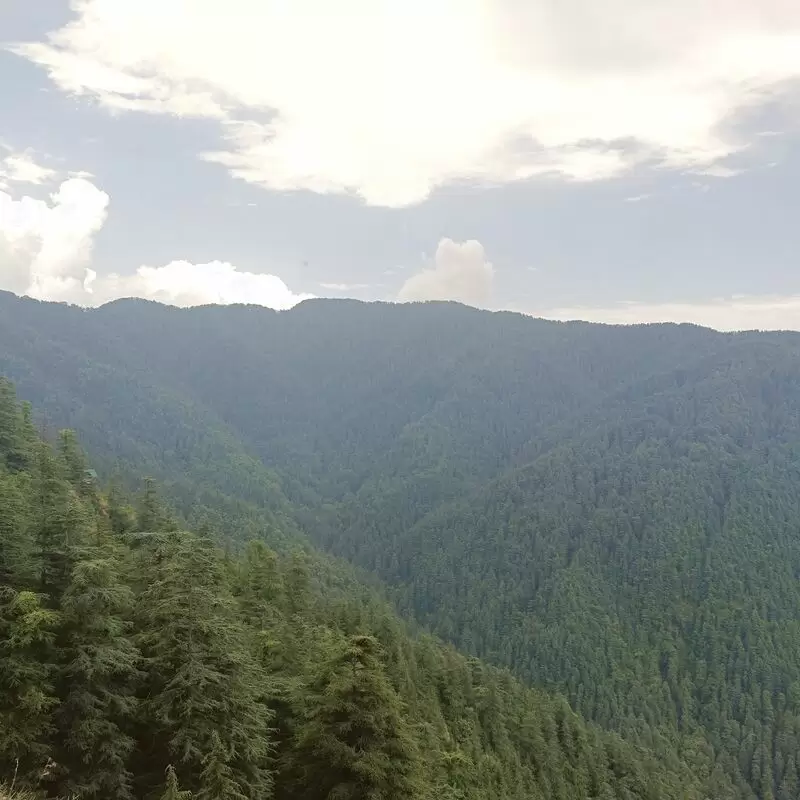 Green Valley
37X9+44W, Kufri
Monday - Sunday: 6:00 AM – 6:30 PM
4. Himalayan Nature Park Kufri

Discover the richness of the Himalayan flora and fauna in the "Himalayan Nature Park". During a walk through this biodiversity hotspot you can observe around 180 bird species and 20 mammal species, including the rare musk deer.

An insider tip: don't miss the magnificent panoramic view of the entire Himalayan range from the park's watchtower. Relax at the tranquil Indira Tourist Park - just a kilometer away. A trip to Kufri is not complete without these two experiences.

Himalayan Nature Park Kufri
Kandaghat-Chail-Kufri Road, 37X7+87F, Kufri

Monday - Sunday: 9:00 AM – 6:30 PM
Tuesday: Closed
5. Haseen Valley
Immerse yourself in the unspoiled beauty of nature at Haseen Valley in Kufri. It is a hidden gem in Kufri, where enchanting landscapes of lush greenery and the pleasant sound of chirping birds offer incredible tranquility. Photography enthusiasts and nature lovers will find the perfect selfie or moment of solitude here. The place is hardly known by tourists and offers a fresh breath away from crowded places. Very close to Haseen Valley, a short hiking adventure awaits at Mahasu Peak, the highest point of Kufri, which offers spectacular panoramic views.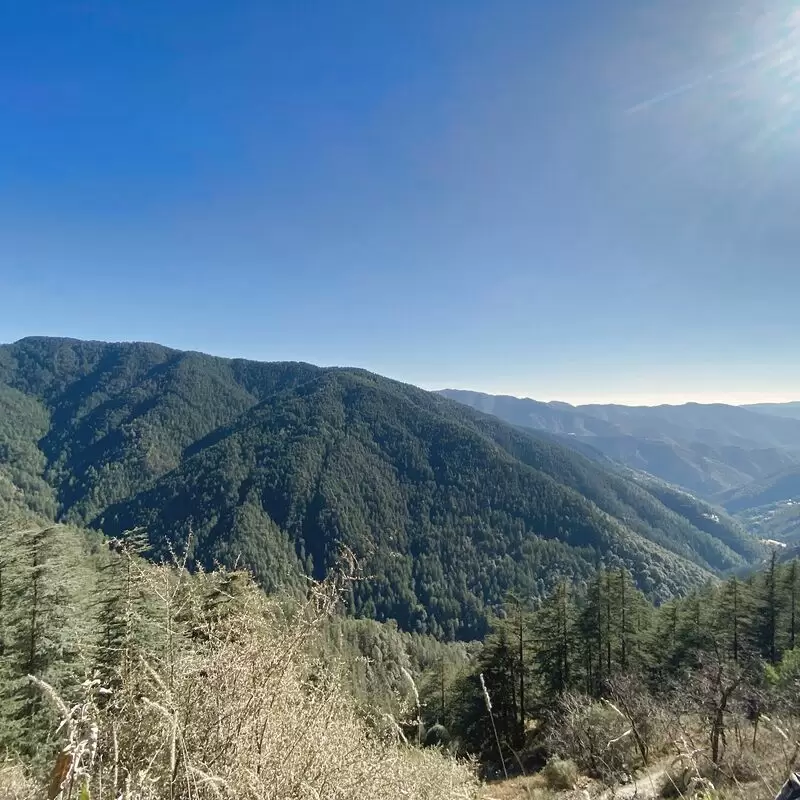 Haseen Valley
467F+R9J, NH 5, Dhalli, Himachal Pradesh 171012
Monday: Closed
Tuesday - Sunday: 10:00 AM – 4:00 PM
6. Kufri Fun World

Kufri Fun World is an amusement park full of adventure for thrill seekers and families alike! Located at the top of the Himalayas, it offers a unique blend of thrilling rides at the highest altitude and features the highest go-kart track in the world.

Insider tip: Don't miss the panoramic view of the surrounding snow peaks from the Ferris wheel! Nearby is the Himalayan Nature Park - just a stone's throw away for wildlife lovers. In Kufri you have the opportunity to explore untouched wonders!

Kufri Fun World
37VG+GXC, NH 22, Kufri

Monday: Closed
Tuesday - Sunday: 9:30 AM – 6:30 PM
7. Jakhu Ropeway Shimla
Unleash your spirit of adventure at Jakhu Ropeway Shimla in Kufri. No trip is complete without the breathtaking zipline ride. It soars over the lush landscapes and offers a panorama you won't find anywhere else. Experience the charm of Shimla from a completely different angle, as the Mahasu peak promises magnificent views on a clear day. An insider's tip? Try to visit the peak on weekdays to avoid the crowds. Nearby, you can explore the venerable Jakhu Temple, an incomparable combination of spirituality and scenery.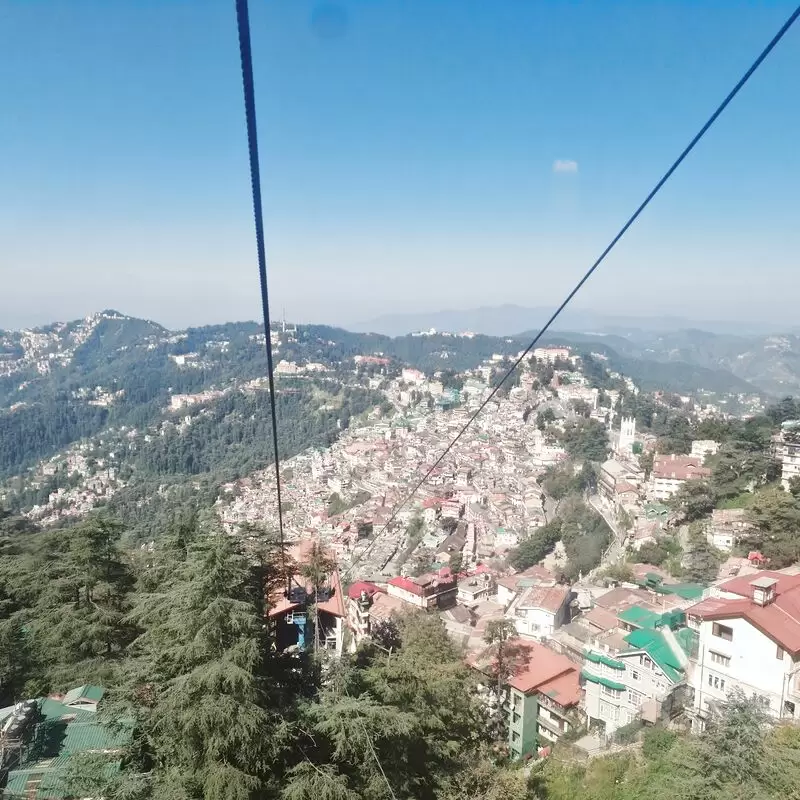 Jakhu Ropeway Shimla
The Ridge, Ridge To US Club, Bemloi, Shimla
Monday - Sunday: 9:30 AM – 5:30 PM
8. Adventure Resorts
Adventure Resorts in Kufri are action-packed havens for adventure seekers. Experience the rush of ziplining, climbing walls, and riding river rafts amidst nature. Note that even the locals are excited about the midnight stargazing opportunities. Nearby, you can also wander through the apple orchards and strawberry farms of Fagu village, a charming spot off the typical tourist trail. Kufri offers an invigorating blend of adventure and tranquil beauty that is simply not to be missed.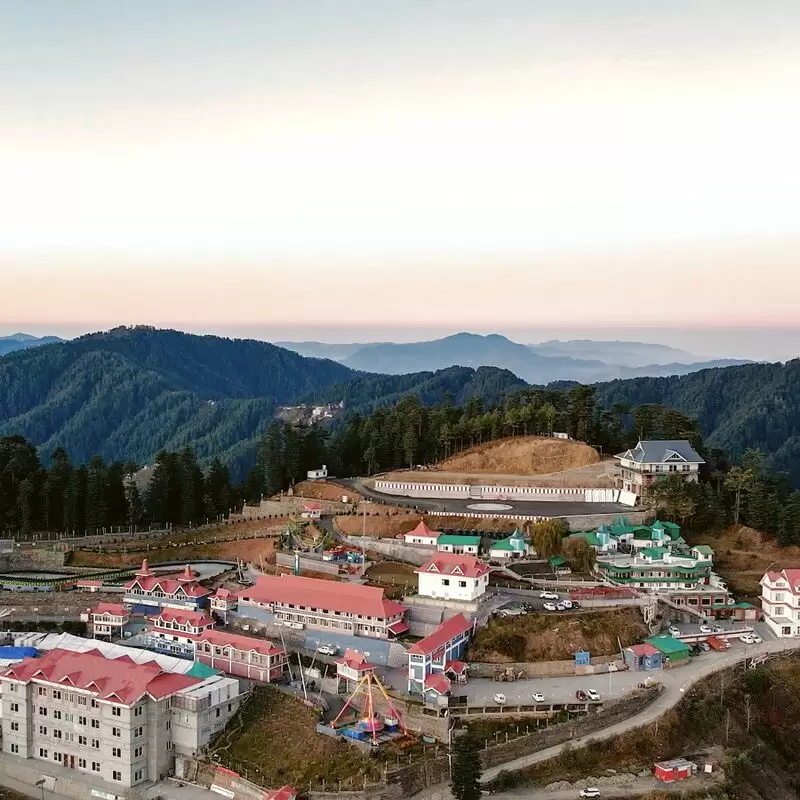 Adventure Resorts
Hills, New, Galu, Kufri
Monday - Sunday: 9:00 AM – 6:00 PM
9. Carignano Nature Park
The tranquil Carignano Nature Park in Kufri lets you immerse yourself in the silence of green nature and spectacular views of the Himalayas. A must visit is the historic Villa Carignano, once the summer residence of an Italian count. Here you can hear the soothing chirping of birds. Nearby is Kufri Fun World, an amusement park that offers a fun contrast to the tranquility of the natural park. Look forward to a real mountain retreat that offers both relaxation and adventure!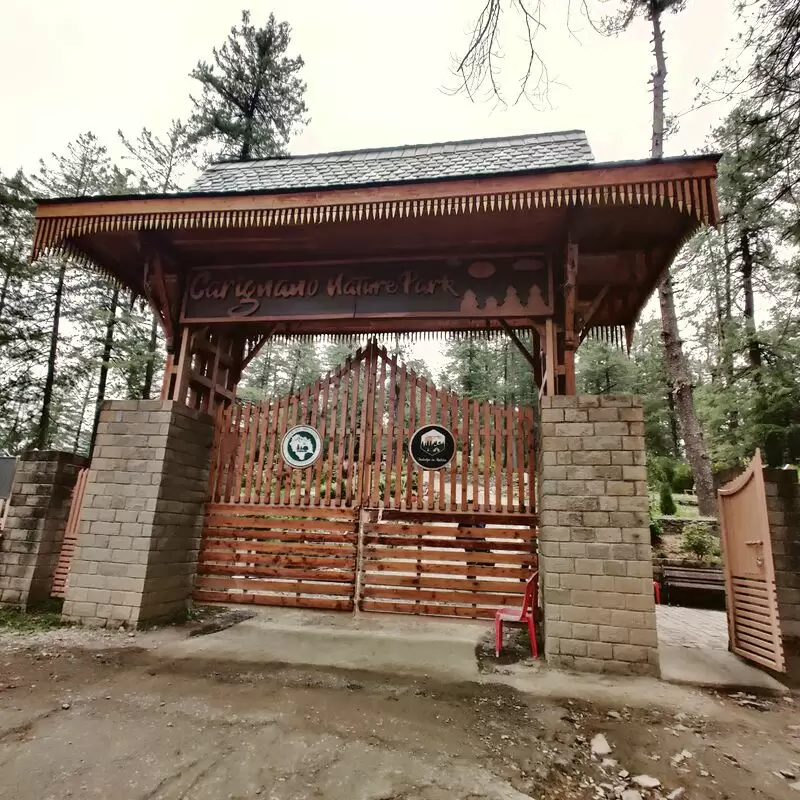 Carignano Nature Park
5637+2WR, RHRS, Mashobra
Monday - Sunday: 10:00 AM – 5:30 PM
10. Nagsons Amusement Park Hip Hip Hurray
Reward your spirit of adventure with a visit to Nagsons Amusement Park Hip Hip Hurray in Kufri. It is a paradise for thrill seekers and features rides, an indoor play zone, a virtual reality show, a 5D cinema and restaurants. Enjoy the adrenaline-pumping experience of skiing on the snow-covered hills. The unique ride on an ox cart is also a must! Just a short drive away, the Flora Fauna Mini Zoo beckons with its diverse Himalayan wildlife. A truly unique jewel hidden in Kufri!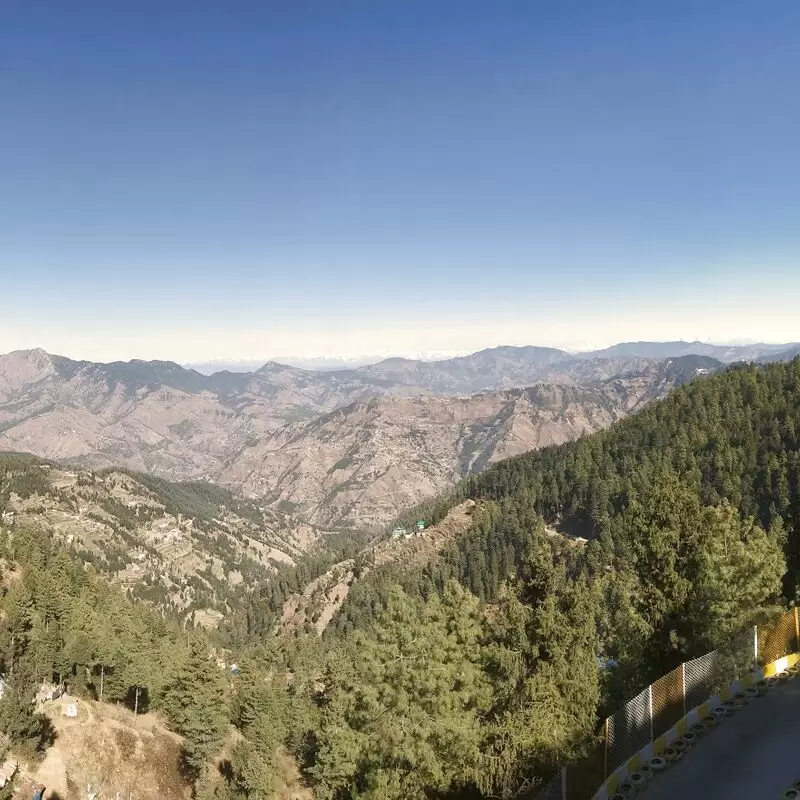 Nagsons Amusement Park Hip Hip Hurray
Fagu Road 200mts From Kufri Main Bazar, Kufri
Monday - Sunday: 8:00 AM – 7:30 PM
11. Royal Tulip Luxury Hotel Kufri Shimla
Royal Tulip Luxury Hotel is an enchanting retreat amidst the tranquil beauty of Kufri. With its breathtaking views of the Himachal mountain ranges, the picturesque valley and the fascinating local fauna, it offers an unparalleled retreat. The lavish hotel features elegant rooms, in-house restaurants offering culinary delights, a relaxing spa and an exciting play area. Relax, enjoy and explore! Just a stone's throw away are attractions like Indira Tourist Park and Kufri Fun World, so your stay is full of adventure and splendor.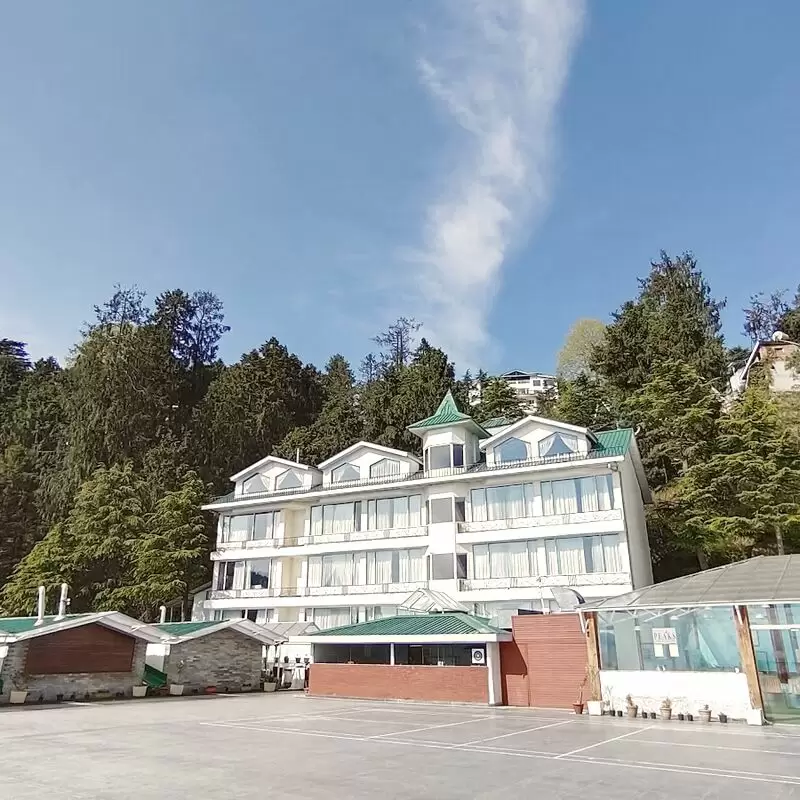 Royal Tulip Luxury Hotel Kufri Shimla
37X9+G9W, National Highway 22, Kufri
Monday - Sunday: Open 24 hours
12. Kufri Holiday Resort
A visit to Kufri Holiday Resort is a must! This elegant resort in the mountains offers panoramic views of the snow-capped peaks of the Himalayas and lush cedar forests for those seeking some peace and quiet. Indulge your palate at one of the many restaurants serving local specialties! For the adventurous, skiing opportunities are just a stone's throw away. Few people know it, but the resort is home to a secret garden, a surprising and tranquil oasis. Also, with a short trip you can reach the famous Mall Road of Shimla for a lively experience.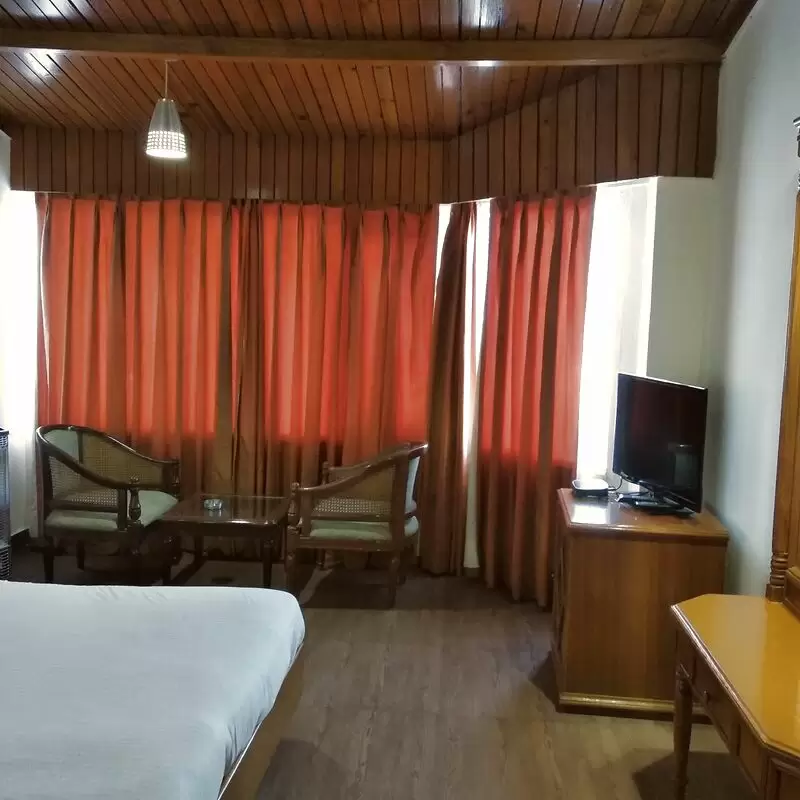 Kufri Holiday Resort
Kufri Hills, zoo or Mahasu peak, near chini bunglow, Kufri
Monday - Sunday: Open 24 hours
13. Kufri Adventures
Kufri Adventures is a paradise for thrill seekers. It offers a variety of activities such as ziplining, bungee jumping and rock climbing that will test your adrenaline. The popular "Valley Crossing" is unique, offering breathtaking views of the Himachal countryside. And it's not just about the wild ride; the tranquil atmosphere of Kufri enhances the overall experience. It's also just a stone's throw from the famous Himalayan Nature Park, a must-see for wildlife and nature lovers.
Kufri Adventures
4728+5QX, NH 5, Kufri
Monday - Sunday: 9:00 AM – 6:00 PM
14. Apple Point
Apple Point" is the hidden gem of Kufri, known for its vast apple orchards. The tranquil setting and rows of apple trees offer you an extraordinary journey into the heart of nature. The trees, laden with lush red apples during the season, make for a mesmerizing sight. A perfect change from the usual tourist spots. Join a guided tour and even pick apples if you come during harvest time! Nearby, you can also explore the Himalayan Nature Park for an extra dose of exotic Himalayan fauna.
Apple Point
37WG+382, Kufri
Monday - Sunday: 9:00 AM – 8:00 PM
15. Rani Jhansi Park
Discover the secret pleasure of Kufri, the "Rani Jhansi Park". This beautiful garden, named after the famous warrior queen, is adorned with stunning flower beds and impressive sculptures. Don't miss the light and sound show that reveals the queen's bravery. Walk the hidden paths, enjoy the tranquility, and occasionally observe the local wildlife. Pro tip: Climb to the top for a panoramic view that's a feast for the eyes. Just around the corner you'll find Kufri Fun World, an amusement park for all ages.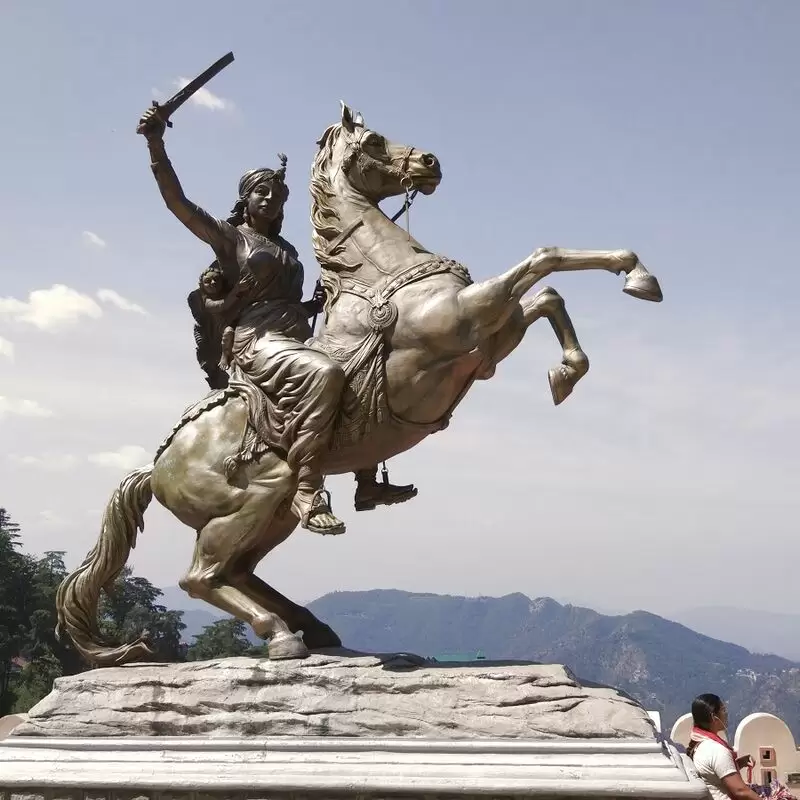 Rani Jhansi Park
453G+8XC, Mall Rd, Lakkar Bazar, Shimla
Monday - Sunday: 6:00 AM – 7:00 PM
16. Kufri Pacific Resort

Escape the noise and immerse yourself in the dramatic scenery of Kufri Pacific Resort, set amidst the tranquility of Kufri's romantic charm. Indulge in the cozy, tastefully decorated rooms with panoramic views of the Himalayas. Savor delicious local dishes, sip warm drinks by the crackling campfire, or treat yourself to a rejuvenating spa treatment.

An insider tip: attend the captivating cultural performances! Just minutes away is the fascinating Kufri Fun World, India's highest amusement park with the country's only toboggan run. A complete mountain retreat awaits you!

Kufri Pacific Resort
Kufri, Kufri - Chail Rd, Mundaghat

Monday - Sunday: Open 24 hours
17. Woodays Resort
Imagine waking up to panoramic views of the towering Himalayas at Kufri's own Woodays Resort. This luxurious retreat brims with understated elegance and offers unique experiences like authentic Himachal Pradesh cuisine, walks through lush apple orchards, and adrenaline-pumping snow activities. Enjoy the enchanting sunset from the graceful garden setting. Just 2.4 km away is Kufri Fun World, an amusement park with the highest go-kart track in the world! Immersing yourself in the tranquil atmosphere of Woodays Resort is the true mountain stay!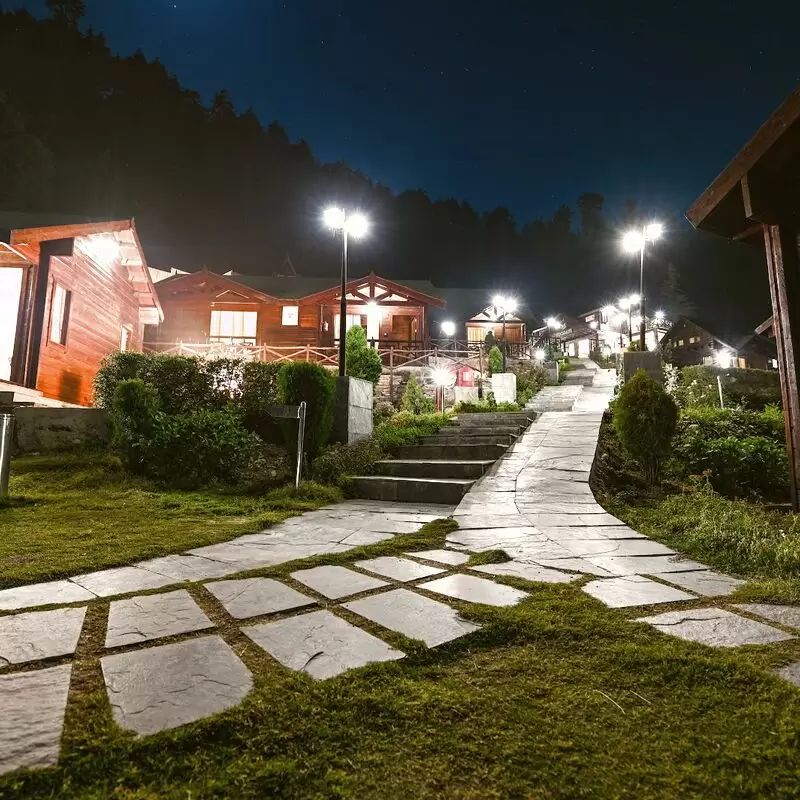 Woodays Resort
NH-22, near AMUSEMENT PARK Dochi, Lambidhar, Kufri
18. Hawa Ghar

Embark on an exciting adventure to Hawa Ghar in Kufri, an enigmatic viewpoint with panoramic views of the mighty Himalayan Mountains. It is affectionately known as "the wind house" as the zephyrs blow away the hustle and bustle of the city here. Enjoy sunrise or sunset with magnificent views of snow-capped mountains, emerald green landscapes and a brilliant blue sky.

Insider tip: This place is a photographer's paradise! Just a stone's throw away, you can also visit Kufri Fun World, an amusement park with the highest go-kart track in the world.

Hawa Ghar
453G+V6M, Ridge, The Mall, Shimla

Monday - Sunday: Open 24 hours
19. Shimla Tourist
Visiting "Shimla Tourist" in Kufri is a breathtaking experience. Amidst the lush greenery and snow-capped mountains, Kufri promises paradisiacal beauty. "Shimla Tourist" is famous for guided walks and night camping activities. A nature walk and a spectacular sunset view from Mahasu peak is a unique experience. After admiring Kufri, seek spiritual solace at the nearby Tara Devi Temple in Shimla, a tranquil retreat with panoramic views. Explore the unknown dimension of the Indian Himalayas with "Shimla Tourist".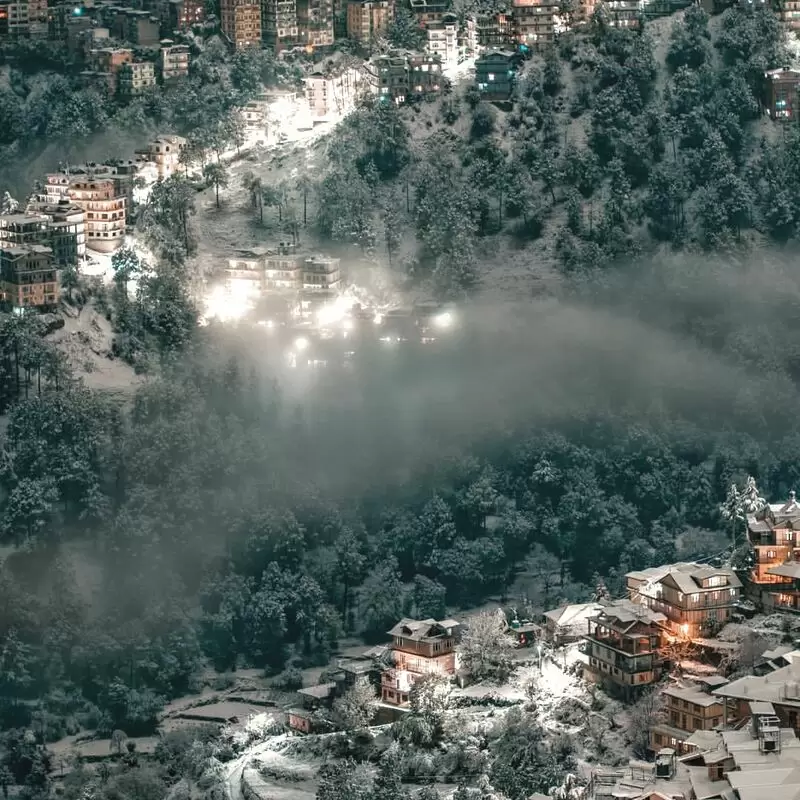 Shimla Tourist
4559+RVH, Shimla
20. Shimla Water Catchment Wildlife Sanctuary

Exploring the Shimla Water Catchment Wildlife Sanctuary in Kufri will captivate you with its rugged beauty. This sanctuary is a hidden gem with dense forests and a wide variety of species. Experience majestic leopards, roaring deer or various rare bird species. Remember the rule: leave nothing but footprints. After this wildlife adventure, you can visit Mahasu Peak, just 3 km away, for a breathtaking panoramic view.

An insider tip: don't forget to bring binoculars to spot elusive animals!

Shimla Water Catchment Wildlife Sanctuary
NH 22 Charabra Mashobra, Shimla

Monday: Closed
Tuesday - Sunday: 10:00 AM – 4:00 PM
21. View Point
On top of Mahasu Peak, the highest point of Kufri, the "View Point" offers a panoramic view of the endless expanses of the mighty Himalayas that will take your breath away. Nestled in lush greenery, it is a peaceful retreat away from the hustle and bustle of city life. For an even more immersive experience, you can take a captivating horseback ride to the top! Nearby, you can explore the fascinating Himalayan Nature Park with its indigenous flora and fauna to complete your high-altitude Indian adventure.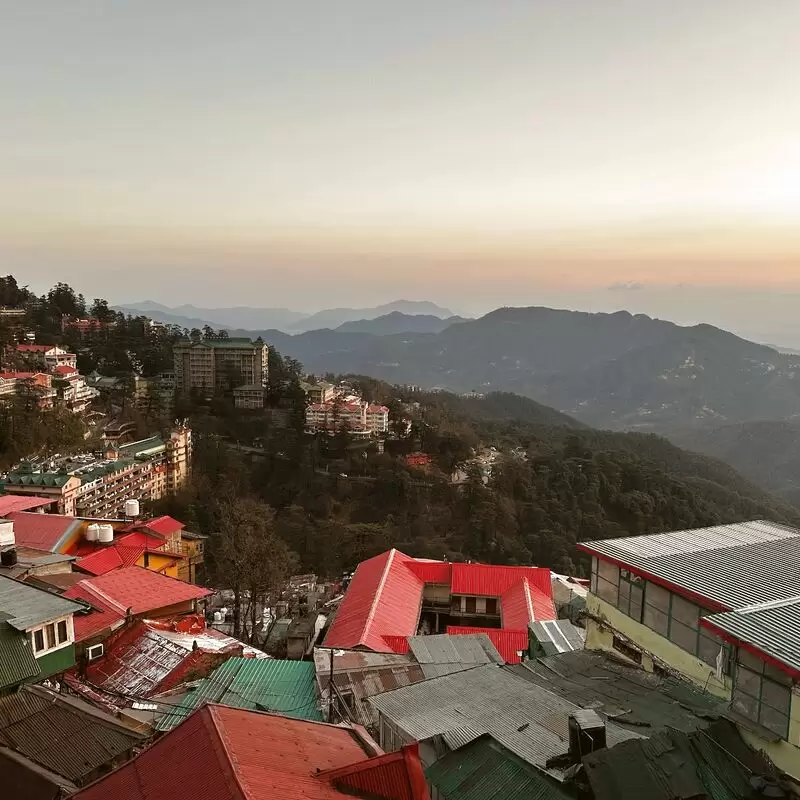 View Point
52, Mall Rd, The Mall, Shimla
22. Bantony Castle
Immerse yourself in a royal experience and be enchanted by European architecture at Bantony Castle, a grand historical monument in Kufri. This enigmatic castle, set amidst deodar trees, was the summer residence of the former British Raj and exudes a unique vintage charm. Rare wood carvings inside the castle add to its extraordinary charm. Don't miss the curated exhibitions that offer a fascinating glimpse into the region's past. Just a stone's throw away, you can also explore the Himalayan Nature Park and experience authentic wildlife.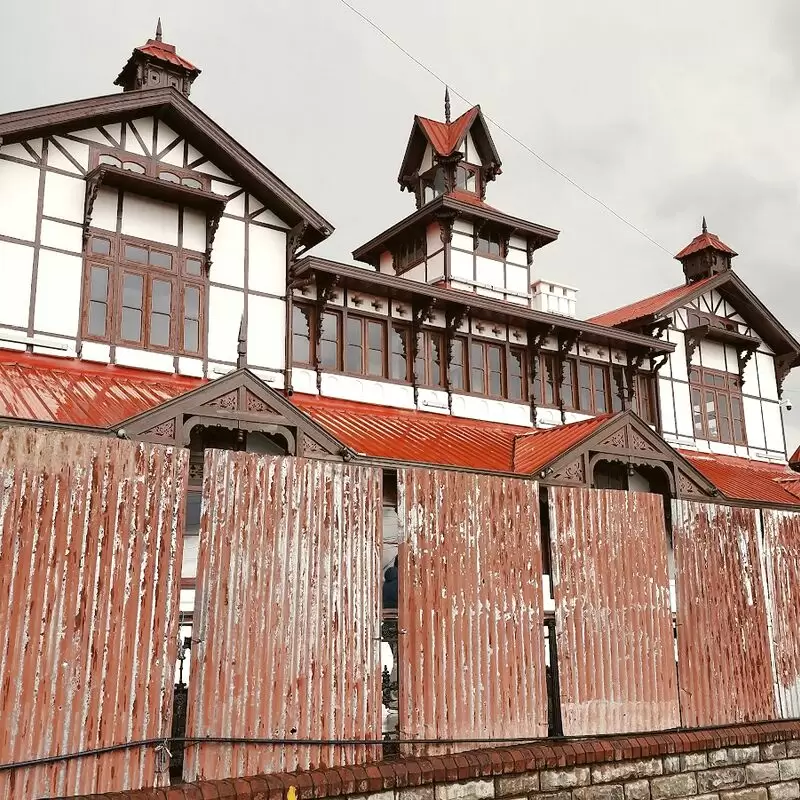 Bantony Castle
4549+FQP, Kali Bari Rd, The Mall, Shimla
23. The Jungle Mountain Retreat Kufri
Jungle Mountain Retreat in Kufri is the perfect blend of adventure and serenity, nestled in snowy splendor. This retreat is a must for those seeking tranquility and the thrill of outdoor activities such as trekking, camping and mountain biking. Don't miss enjoying the panoramic sunrise views from the cozy wood-fired cabins! Just 10 km away is the picturesque Kufri Valley, which beckons with its lush greenery and majestic mountain peaks. A true paradise for nature lovers!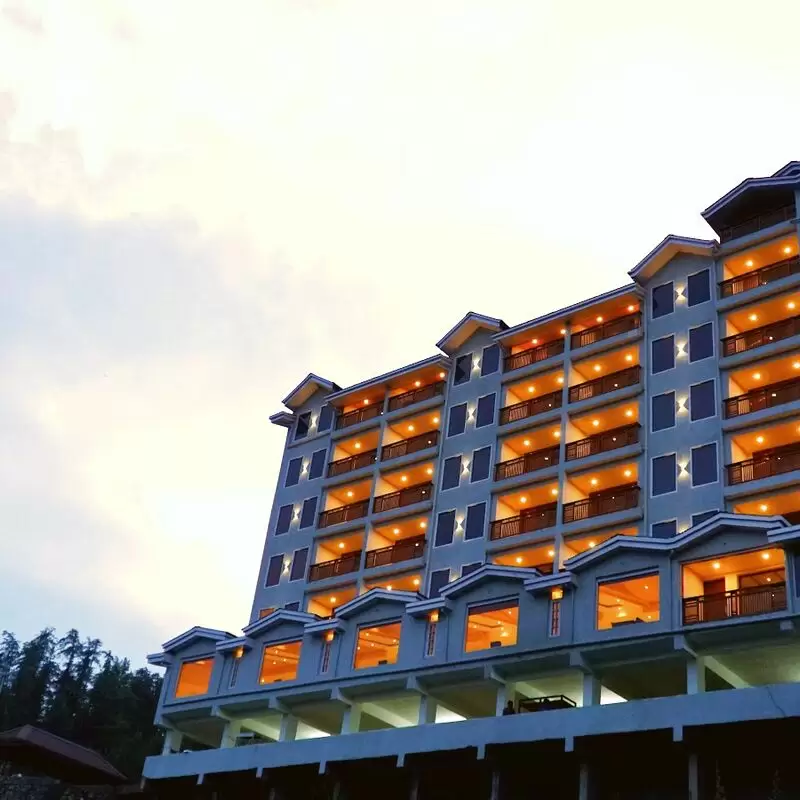 The Jungle Mountain Retreat Kufri
Post Office - Mundaghat - Village - Nambreli, Kufri - Chail Road, Distt, Teh, Kufri
Monday - Sunday: 7:00 AM – 10:30 PM
24. Chadwick Falls
The "Chadwick Falls" should not be missed during a visit to Kufri. The spectacle of this waterfall dancing from a height of 1586 meters and fading into misty magic is simply captivating. Surrounded by lush deodar and pine trees, this hiker's paradise doubles your pleasure with the serene view and melodious lapping of the water. During the monsoon, it is at its freshest, making it a true adventurer's delight. Also, don't forget to explore nearby Hattu Peak for panoramic views of the Himalayan Mountains! The journey is as enchanting as the destination.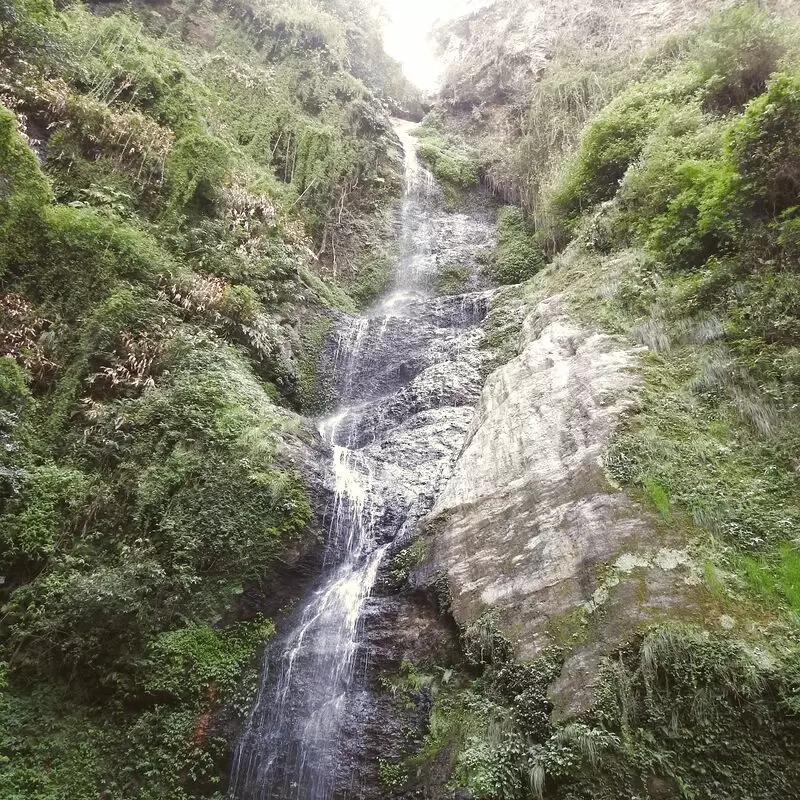 Chadwick Falls
449Q+VH3, Shimla
Monday - Sunday: Open 24 hours
25. Kufri
Visit Kufri, the crown jewel of Himachal Pradesh. Enjoy the serenity of the emerald green landscapes and snow-capped mountains. A hidden paradise for nature lovers and adventurers, Kufri offers thrilling rides on Mahasu Peak and exotic wildlife viewing in the Himalayan Nature Park. Don't miss out on sampling the traditional Himachali cuisine. Nearby Fagu, a picturesque village just 6 km from Kufri, offers unparalleled views of the Himalayas and lush apple orchards. Kufri is tranquility and adventure in an Indian microcosm.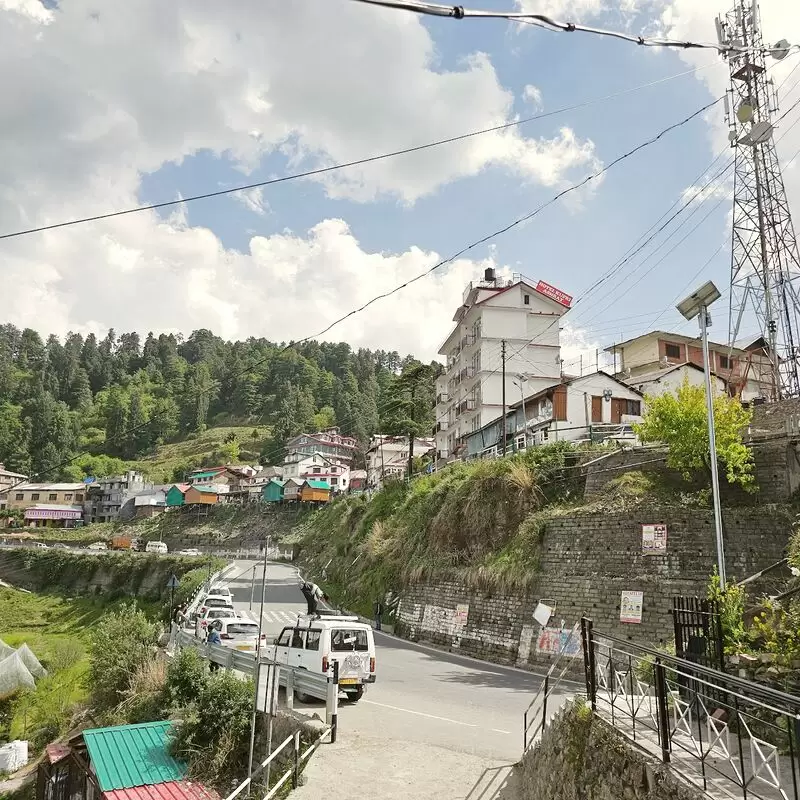 Kufri
26RX+855, Kufri - Chail Rd, Koti
26. Kufri Adventure Park
A trip to Kufri, India, would be incomplete without visiting the "Kufri Adventure Park". With its adrenaline-pumping activities like ziplining, horseback riding and go-karting, this park stands for fun amidst a serene landscape. The park is in a prime location, surrounded by breathtaking snow-capped mountains, and is a paradise for adventure seekers and nature lovers. Don't miss the exclusive sky swing experience. Only about 2.5 km away, you can combine this adventure with a visit to the Himalayan Nature Park.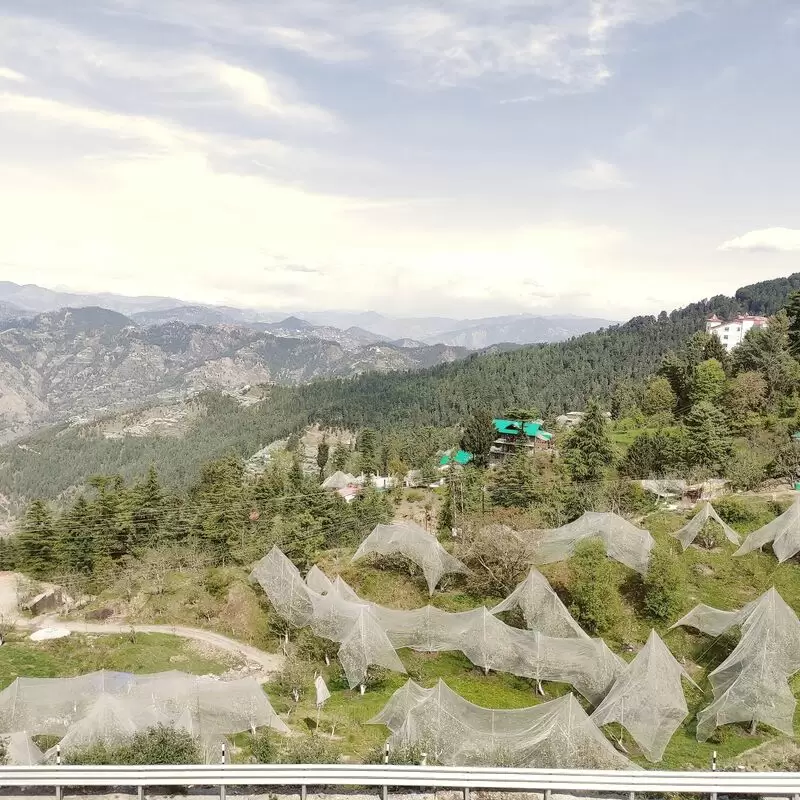 Kufri Adventure Park
37VH+6V3, Apple Point Rd, Kufri
27. Nag Temple Kufri
Visiting the Nag Temple in Kufri is much more than ticking off a religious site; it is stepping into an element of serenity amidst Himachali's beautiful landscape. The 800-year-old temple is nestled in the hills and offers a magnificent mountain panorama. It is not only a pilgrimage site but also a destination for nature lovers. Near the Nag Temple you can visit Kufri Fun World, an amusement park that offers various fun activities and panoramic views of the surrounding landscapes.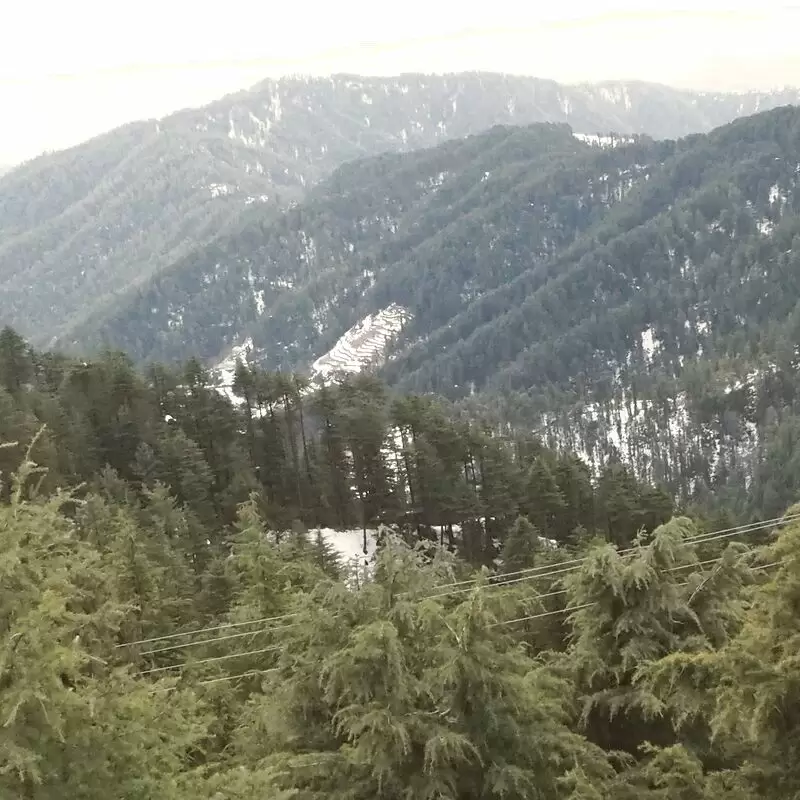 Nag Temple Kufri
37VG+J9W, Apple Point Rd, Kufri
28. Green Valley
Immerse yourself in the emerald beauty of Green Valley in Kufri, an enchanting attraction known for its unique flora and fauna. Here you can observe rare animals in their natural habitat - an experience you will never forget. Get your camera ready for panoramic views that reflect the serene mountain charm of Himachel Pradesh. This beautiful place is a must-visit and just a stone's throw away from Kufri Fun World, an amusement park that will round up your exceptional visit with thrilling rides and fun!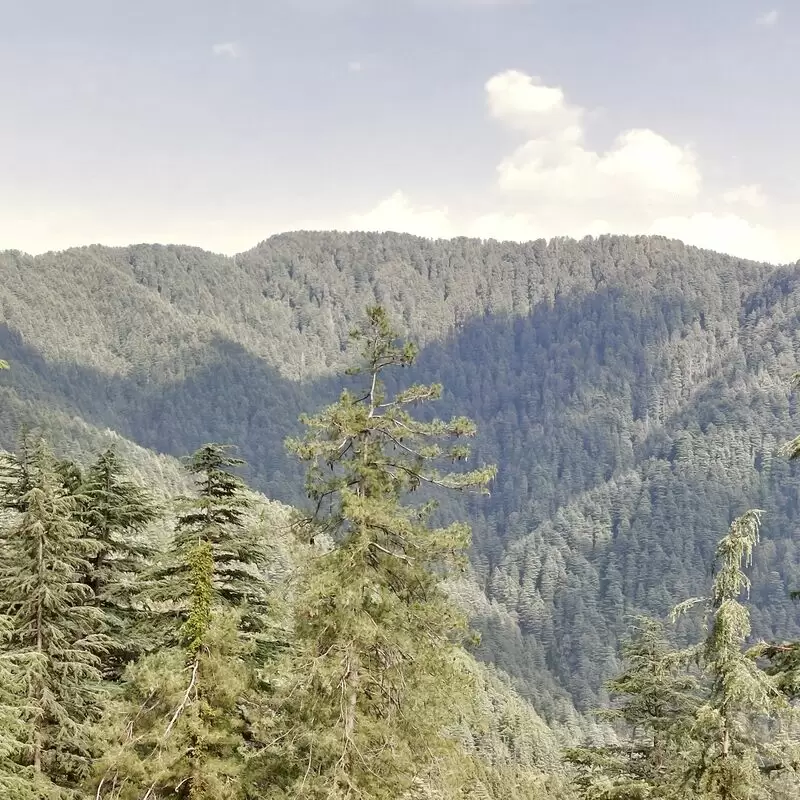 Green Valley
466C+J2G, National Highway 22, Himachal Pradesh 171012
29. Mahashu Peak Kufri
Mahasu Peak, the highest point in Kufri, is a true hiker's paradise that beckons with scenic beauty and exciting adventures. As you cross the dense Deodar forests to reach the summit, you will experience a panoramic view of the majestic Himalayan Mountains that will leave visitors in awe. Don't miss the ancient Mahasu Devta Temple, which is full of folklore. A short drive away is Kufri Fun World, an amusement park set amidst the snow-capped peaks that is perfect for thrill seekers and families alike.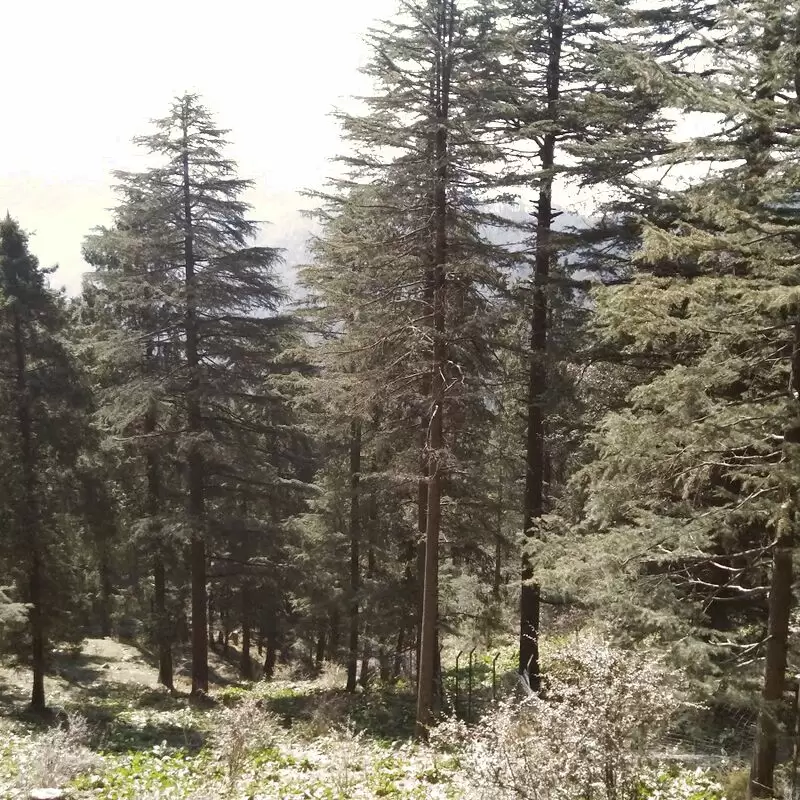 Mahashu Peak Kufri
Mahashu Peak, Kufri, Kufri
30. Kufri
Pack your bags for Kufri, a "heaven on earth" nestled in the Himalayas. Tucked away from the hustle and bustle of the world, this tranquil hill station promises fresh mountain air, snow-capped views, and exciting adventure sports like skiing and horseback riding. Visit the Himalayan Nature Park to observe the flora and fauna hidden in the mountain forests, or visit Kufri Fun World, one of the highest amusement parks in the world. Nearby, explore Jakhoo Hill, the highest mountain peak in Shimla, which offers breathtaking panoramic views.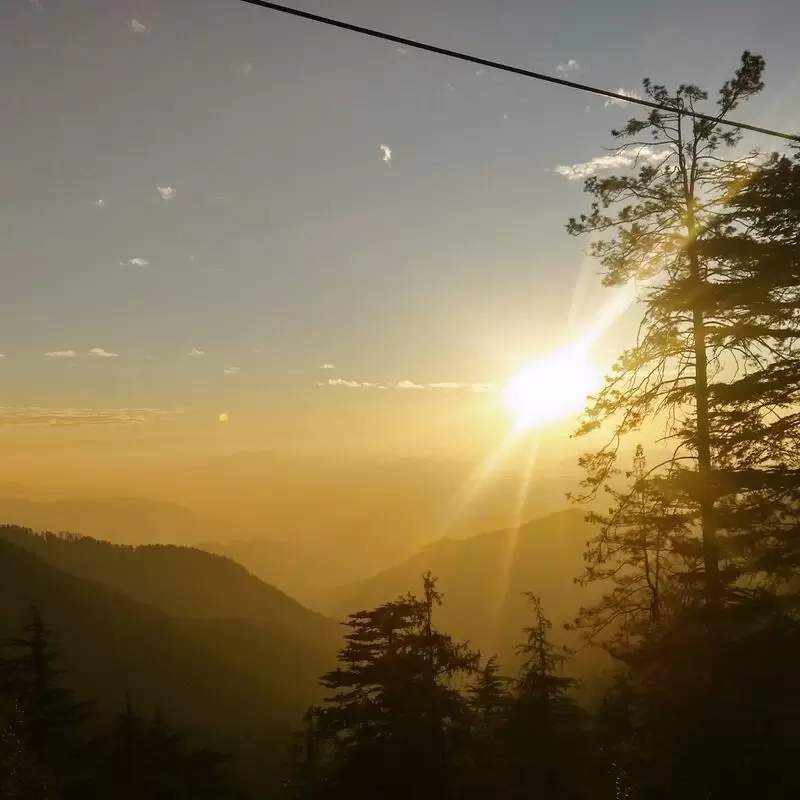 Best Time to Visit Kufri
The best time to visit Kufri, India is during the summer months of April to June when it is summer. This time is perfect for outdoor activities. For snow lovers, the ideal time is in winter, from December to February, when the city is covered with snow.
Annual Weather in Kufri
Kufri 3-Day Forecast
Thu, 21 September
Night
60 °F
15 °C
73%
Morning
66 °F
19 °C
0%
Afternoon
81 °F
27 °C
0%
Evening
71 °F
21 °C
0%
Fri, 22 September
Night
59 °F
15 °C
0%
Morning
65 °F
18 °C
0%
Afternoon
81 °F
27 °C
0%
Evening
70 °F
21 °C
0%
Sat, 23 September
Night
59 °F
15 °C
0%
Morning
65 °F
18 °C
0%
Afternoon
77 °F
25 °C
0%
Evening
69 °F
21 °C
0%
Questions & Answers

What language is spoken in Kufri?

The main language spoken in Kufri is Hindi, as it belongs to the state of Himachal Pradesh in northern India, where Hindi is the official language. However, there are also a number of people who speak Punjabi and English. The locals, who are mainly Himachali tribes, also converse in Pahari, a dialect of Hindi. However, many locals and vendors who address tourists usually speak English as well.

Is Kufri safe for tourists?

Yes, Kufri is generally considered safe for tourists. As with any destination, it is important to be aware of your surroundings and take precautions if necessary. The local population is friendly and accustomed to tourists, and local authorities make every effort to ensure safety in the area. However, it is always advisable to avoid remote areas late at night and not to leave valuables unattended. Also, for your own safety, it is essential to follow instructions and guidelines when engaging in adventurous activities.

What are the unique foods to try in Kufri?

Kufri is a focal point for foodies in northern India, offering visitors a delicious taste of Himachali cuisine. Don't miss the siddus, a local dish of steamed bread stuffed with opo squash and dry fruits. Another must-try is babru, a Himachali variation of kachoris filled with black chickpea paste. Enjoy them with aromatic madra or chana madra, a popular chickpea curry of the region. End your culinary adventure with mittha - a sweet rice dish with dried fruits.

How can I reach Kufri from Shimla?

Kufri is easily accessible from Shimla as it is only 13 kilometers away. You can hire a cab or take a local bus from Shimla to Kufri for a scenic drive through the hills and valleys. The ride takes about 30 to 45 minutes. If you are an adventure lover, you can also take a horseback ride from Shimla to Kufra for a unique experience in the mountainous landscape.

Is it preferable to hire a guide for Kufri?

Although Kufri is a small hill station, a guide can greatly enhance your experience. A guidebook can provide comprehensive information about the history, fauna and flora of the region. He can also help you find hidden gems and local attractions not normally found in guidebooks. Hiring a guide is especially useful when hiking or walking in nature, both for safety reasons and to gain local knowledge. Ultimately, the decision depends on your personal preferences and your enjoyment of exploring new places.

Are there any trek routes in Kufri?

Absolutely. Kufri, known for its picturesque beauty, offers several amazing trekking routes. The popular trail from Kufri to Mahasu Peak is a must, as it offers breathtaking views of Badrinath and Kedarnath. Another trekking route from Kufri takes you through green forests and lush surroundings to Chail, and for the adventurous, trekking through the beautiful snow-covered path from Kufri to Shimla is also a good option. These treks offer an unforgettable experience with fascinating views.

What type of clothing should I pack for Kufri?

The weather in Kufri can be quite unpredictable, so wearing layers is important. In summer, bring light woolen clothes for the cool mornings and evenings. Rainwear is also useful, as showers can occur. Winters in Kufri are bitterly cold and snowy. So pack thick woolens, thermal underwear, hats, scarves, gloves and good sturdy boots for the snow. Make sure you also have sunglasses to protect your eyes from the blinding reflections of the snow.

Can I take a road trip to Kufri from Delhi?

Yes, you can definitely take a road trip from Delhi to Kufri. The drive takes about 9 hours and covers a distance of 357 kilometers via NH9. The route offers scenic beauty with a mix of hills and plains. Make sure your vehicle is in good condition as the hilly terrain can be challenging. Along the way, you can enjoy local cuisine and make interesting stops along the way. Always check the weather before planning your trip.

Are there any animal-related activities or attractions in Kufri?

Kufri is definitely famous for its Himalayan Nature Park, which covers 90 hectares and provides habitat for a variety of wildlife. It is home to over 180 species of birds and rare animals such as the Himalayan Thar, the antelope and the snow leopard. You can also go horseback riding here and ride yaks while enjoying the beautiful mountain views. It is a paradise for animal and nature lovers!

How far is Kufri from Chandigarh?

Kufri, a popular tourist destination known for its scenic views and adventurous activities, is located about 127 kilometers from Chandigarh, the capital of Punjab and Haryana. This distance can be covered in about 3 to 4 hours depending on the mode of transportation. The journey passes through lush green landscapes and mountainous areas and offers a visually appealing experience. Keep in mind that travel times may vary depending on weather and traffic conditions.

What wildlife can I expect to see in Kufri?

Kufri, India, is known for its rich biodiversity. During your visit, you can observe a variety of birds, including Himalayan Monal and pheasants, in the Himalayan Nature Park. Mahasu Peak is home to Asiatic black bears and musk deer. Nearby is also Chail Sanctuary, where sambar, goral and other Himalayan wildlife can be seen. However, wildlife sightings are unpredictable and require a bit of luck.

Are there direct flights to Kufri?

Kufri is a small but picturesque hill station in Himachal Pradesh, India. There are no direct flight connections to this quiet place as it does not have its own airport. The nearest airport is Shimla Airport, which is about 20 km away. From there, you can either hire a cab or take a bus to get to Kufri. Alternatively, you can first land at Chandigarh International Airport, which is about 134 km away and has better connectivity, and then reach Kufri by road.

How to arrange for skiing in Kufri?

Skiing in Kufri is quite easy to organize. This activity is possible especially during the winter season from late December to early February. Many local tour operators and hotels offer ski packages that include equipment rental and training sessions. Usually, you will be guided by professionals to ensure a safe and enjoyable experience. Due to high demand, it is recommended to book these packages in advance. One can also visit the State Ski Institute to receive official ski lessons.

Is there any horse riding facility in Kufri?

Yes, horseback riding is one of the most popular activities that tourists can enjoy when visiting Kufri. The city offers exciting horseback rides that go all the way to Mahasu Peak, the highest peak in Kufri. The ride offers a wonderful opportunity to enjoy the beautiful scenery and test your riding skills at the same time. Local guides will ensure the safety of the riders and help them navigate the terrain. This form of transportation offers a unique and exciting experience in the great outdoors.

Is tap water safe to drink in Kufri?

Although India has made significant progress in water treatment, tap water in Kufri is generally not considered safe for tourists to drink. The water may contain bacteria, viruses or parasites that can cause illness, especially for those who are not accustomed to the water. It is advisable to drink bottled or filtered water and avoid ice cubes in drinks to avoid health problems during your stay.

What currency is used in Kufri?

The currency in Kufri, as in the rest of India, is the Indian rupee, abbreviated INR. Coins are available in denominations of 1, 2, 5 and 10 rupees, while banknotes are available in denominations of 10, 20, 50, 100, 200, 500 and 2000 rupees. The rupee is issued and controlled by the Reserve Bank of India. It is advisable to keep some cash on hand for small transactions, although credit and debit cards are accepted in most places.

Does Kufri have a nightlife scene?

Kufri, a small hill station in Himachal Pradesh, India, has no vibrant nightlife like you might find in big cities. Instead, its charm lies in the quiet, serene nights with star-filled skies and cool mountain breezes. After sunset, life slows down in Kufri. It is ideal for those seeking a peaceful retreat away from the hustle and bustle of city life. Nighttime activities include bonfires, long walks, or just relaxing in your hotel.

Are there any emergency helpline numbers in Kufri?

Absolutely. In case of emergency in Kufri, you can dial 100 for police, 102 or 108 for ambulance service, and 101 for emergency fire department. It is also advisable to have the contact number of your local embassy if you are a foreign traveler. The nearest hospital is Theog Hospital, about 9 km from Kufri. By following these numbers, you can get immediate help for any emergency that may occur during your trip and ensure your safety.

What kind of medical facilities are available in Kufri?

Kufri is a popular tourist destination and has basic health care with local clinics and pharmacies equipped for general health issues. For specialized treatment or emergencies, there are better equipped hospitals and medical centers with highly qualified doctors in Shimla, 20 kilometers away. For visitors with special medical needs, it is advisable to carry their own medications. Always make sure you have appropriate travel insurance to cover all possible medical expenses.

How is the local transport system in Kufri?

The mass transit system in Kufri is efficient but simple, relying mainly on government buses and private cabs. Buses provide an affordable way to get around and connect Kufri with nearby cities and towns. Cabs are good for visiting local landmarks and getting to certain out-of-the-way attractions. In small areas, it is best to walk to experience the tranquility and natural beauty. If you want to travel more comfortably and flexibly, you can also rent a car. There are no train or subway connections in Kufri.

Does Kufri offer camping options?

While Kufri itself does not offer many camping opportunities, it is surrounded by areas perfect for such activities. About a 30-minute drive away is the pristine country of Theog, known for its tranquil landscape where you can camp amidst apple orchards and dense forests. Adventure campsites in Kufri can help you organize a camping experience that includes campfires, stargazing, trekking, and local sightseeing. However, please research carefully and make sure you obtain the appropriate permits before camping in a particular area.

Is there wifi/internet available in Kufri?

Yes, there is WiFi and internet in Kufri, India. Several hotels and restaurants offer free WiFi service to their guests. However, the availability and speed of the internet connection can vary. It may not be as stable as in larger cities, but it is usually sufficient to surf, use social media, and write emails. It might be advisable to sign up for local mobile data plans to get an uninterrupted connection when visiting remote locations or hiking.

Can I get vegetarian food in Kufri?

Yes, finding vegetarian food in Kufri is not a problem at all. There are many restaurants and eateries that serve delicious North Indian vegetarian cuisine. You will be able to try a variety of dishes prepared from fresh local products. The choices range from hearty breakfasts to multi-course dinners, including local Himachali delicacies and popular Indian dishes. Even global cuisine restaurants offer vegetarian options. The food here is known for its flavors and use of natural ingredients.

Is Kufri child friendly?

Kufri in India is definitely a kid-friendly destination. It offers a plethora of exciting activities to keep children entertained and enthralled. There is Kufri Fun World, an amusement park with numerous adventurous rides and games. A visit to the Himalayan Nature Park offers children the chance to see rare wildlife. Older children can enjoy adventure sports like skiing and tobogganing. Kufri thus offers fun, education and adventure all in one, making it ideal for families with children.

What is Kufri famous for?

Kufri is a popular hill station in the Indian state of Himachal Pradesh. It is known for its breathtaking panoramic views of the surrounding alpine landscape and for its ski slopes. Kufri is also home to the Himalayan Nature Park, where rare species of antelopes, cats and birds can be seen. Another great attraction is Kufri Fun World, which offers a variety of adventures and entertainment activities for tourists. Kufri is a great destination for nature lovers and adventure seekers alike.

Are there any local market/flea markets in Kufri?

Although Kufri is known for its natural beauty, it also has a beautiful market that exudes charm and local culture. The market offers many unique items such as handmade crafts, local woolen clothing, artifacts and traditional jewelry. In addition, vendors also offer organic products such as locally grown fruits, honey and teas. The market is lively and colorful and offers a glimpse into the rich culture of the region. It is a must for travelers who love shopping and discovering local products.

Are credit cards widely accepted in Kufri?

Credit cards are accepted in most major locations in Kufri, such as upscale hotels, shopping stores and established travel agencies. However, smaller stores, local markets or street vendors may not accept cards. Therefore, it is recommended to always carry some cash for these smaller expenses. Since Kufri is a lesser known destination in India, you should plan your finances accordingly to ensure a smooth trip.

Do I need any particular vaccinations before coming to Kufri?

Before traveling to Kufri, India, it is recommended to brush up on routine immunizations, including measles-mumps-rubella vaccination (MMR), diphtheria-tetanus-pertussis, chickenpox, polio and the annual flu shot. Vaccinations against hepatitis A and typhoid are also recommended, as food and water in India may be contaminated. Please consult your local doctor or a travel vaccination center to discuss your personal health circumstances and needs.

How common is English language in Kufri?

English is not the main language in Kufri, but it is quite common among locals due to its importance in the tourism industry. Many hotel staff, tour operators, and local business owners have a good command of English to serve international travelers. However, English proficiency varies, with older generations generally less fluent than younger ones. Communication should not be a major problem for English-speaking visitors, but knowing some Hindi phrases can be helpful.

Can we book activities in Kufri online?

Yes, numerous online platforms make it easy to book activities in Kufri, India. You can plan and book activities like horse riding, sledding, skiing and trekking as per your convenience. These pre-booked activities allow tourists to experience the natural beauty and adventurous side of Kufri without any hassles. Just choose your preferred activities, pay securely online, and then just come and enjoy the experience.

Feedback

I hope you found this article informative and helpful. I'm eager to improve the content and make it even more valuable for you. If you have any feedback or suggestions, I would love to hear from you.

Do you have any tips or hidden gems that you think should be added to the list? Are there any areas that you feel could use more explanation or clarification?

Your input is greatly appreciated and will help us to continue providing high-quality content that meets your needs and interests. Please feel free to share your thoughts.