1. Pedro Infante Museum
Are you a fan of Mexican cinema and music? Then you should definitely visit the Pedro Infante Museum in Mexico. This museum is dedicated to the life and legacy of legendary singer and actor Pedro Infante, a popular figure in Mexican pop culture. In the museum you'll find a collection of personal artifacts, including his guitars, photographs and costumes from some of his most famous movies. You can also watch his films and listen to his music in special exhibition rooms. Fun Facts: Pedro Infante was known for his fondness of airplanes, and the museum has a replica of the plane in which he died in a tragic accident. The museum is located in the beautiful city of Culiacan, which is also known for its delicious cuisine and impressive colonial architecture. Be sure to include the Pedro Infante Museum in your itinerary, as it is a unique and unforgettable experience.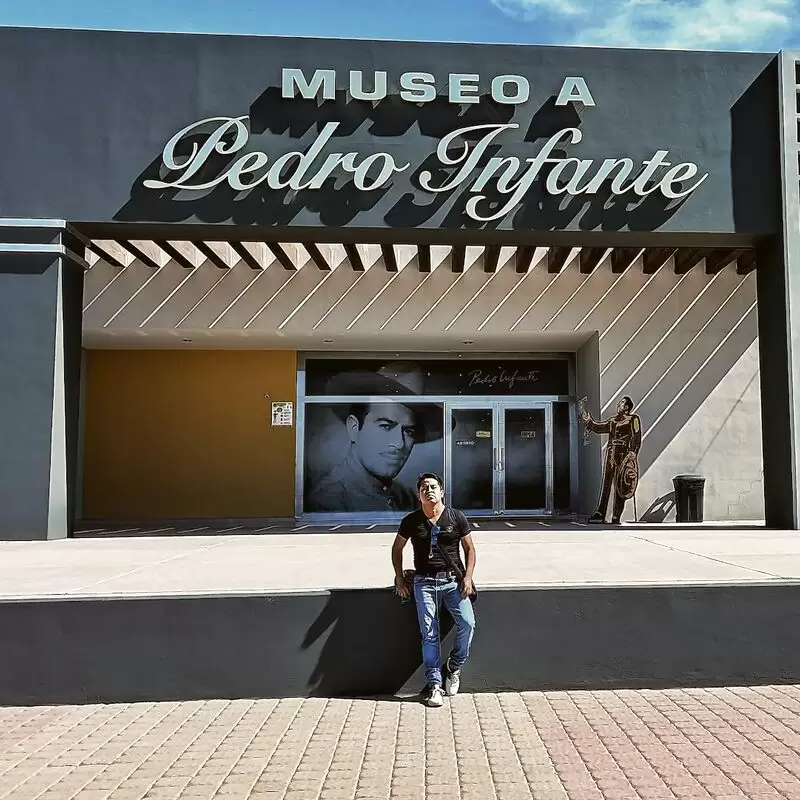 Pedro Infante Museum
Av Mariano Matamoros Nte SN, Lomas del Valle, 81410 Guamúchil
Monday: Closed
Tuesday - Sunday: 9:00 AM – 6:00 PM
Best Time to Visit Mexico
The best time to visit Mexico is during the dry season, which lasts from December to April. During this time you can expect warm and dry weather, perfect for activities such as sightseeing and water sports. However, if you want to experience Mexico's vibrant cultural festivals, such as Dia de los Muertos and Independence Day, you should plan your visit accordingly. The rainy season in Mexico lasts from May to October, so be prepared for occasional downpours and higher humidity.
Annual Weather in Mexico
Mexico 3-Day Forecast
Fri, 22 September
Night
82 °F
28 °C
0%
Morning
78 °F
26 °C
0%
Afternoon
101 °F
38 °C
0%
Evening
101 °F
38 °C
0%
Sat, 23 September
Night
82 °F
28 °C
0%
Morning
78 °F
26 °C
0%
Afternoon
102 °F
39 °C
0%
Evening
103 °F
40 °C
0%
Sun, 24 September
Night
82 °F
28 °C
0%
Morning
79 °F
26 °C
0%
Afternoon
96 °F
36 °C
0%
Evening
102 °F
39 °C
0%
Questions & Answers

Do I need a visa to enter Mexico?

For most travelers, a visa is not required for entry into Mexico. Visitors from most North and South American countries, as well as many European and Asian countries, can enter Mexico with a valid passport or travel document. However, visitors from some countries may require a visa. It is recommended that you check with the Mexican Embassy or Consulate in your home country to determine if a visa is required for your particular situation.

Is it safe to travel to Mexico?

Mexico is generally a safe country to travel to, however there are certain areas that are prone to violence and crime. It is important to be aware of your surroundings and take precautions in tourist areas. Some popular destinations, such as Cancun, Puerto Vallarta and Cabo San Lucas, are generally considered safe. It is recommended not to travel alone at night, not to carry large amounts of cash, and not to leave valuables unattended. It is also important to follow local laws and regulations.

What is the currency in Mexico?

The currency in Mexico is the Mexican peso. It is often abbreviated as MXN or simply "$" when prices are quoted. The peso is divided into 100 smaller units called centavos. The current exchange rate between the peso and the U.S. dollar is about 20 pesos for 1 U.S. dollar, but can fluctuate depending on market conditions. Cash is widely accepted in Mexico, although credit cards are also accepted in many places, especially in larger cities and tourist areas.

How do I get around in Mexico City?

Mexico City has an extensive public transportation system that includes the Metro (subway), Metrobus (rapid bus system), and regular buses. Cabs and ride-sharing services are also widely available. Walking and biking are good ways to get around in some areas, especially on weekends when certain streets are closed to traffic. However, traffic jams are not uncommon in the city, and visitors should plan accordingly. It is important to take safety precautions when using public transportation, such as taking care of your belongings and not traveling alone at night.

What are some popular dishes in Mexico?

Mexican cuisine is known for its rich and vibrant flavors with a blend of cultural influences. Popular dishes include tacos al pastor, made with pork and a blend of spices; chiles en nogada, a seasonal dish of stuffed peppers and walnut cream sauce; mole poblano, a sauce of chilies, chocolate, nuts and spices; and ceviche, a dish of marinated seafood and fresh vegetables. Other popular dishes include tamales, enchiladas and guacamole.

What should I pack for my trip to Mexico?

When packing for your trip to Mexico, think about the climate and the activities you will be participating in. Lightweight and breathable clothing and comfortable walking shoes and sandals are recommended. Sunscreen, insect repellent and a hat are essential for outdoor activities. If you are traveling in mountainous areas, pack a sweater or light jacket. It's also a good idea to carry a small backpack or fanny pack for daily excursions. Don't forget to pack any important medications and a copy of your passport and travel documents.

Can I drink the tap water in Mexico?

It is generally not recommended to drink tap water in Mexico, as it may contain harmful bacteria or parasites that cause illness. It is recommended to drink purified bottled water or bring a water filtration system. Ice in restaurants is usually safe, but it is still advisable to check with the waiter. It is also recommended not to brush your teeth with tap water. Be sure to stay hydrated, especially in hot weather.

How do I order food in a restaurant in Mexico?

When you enter a restaurant, you wait until you get a table. In some restaurants, you will be greeted by a host or hostess. Then a waiter or waitress will come to your table to take your order. They may ask you "¿Qué le puedo traer?" (What can I get you?), or you may signal to the waiter or waitress that you would like to come by saying "por favor" (please). Look at the menu, ask questions if you are unsure, and place your order. In Mexico, it is customary to refer to your tablemates as "amigos" (friends).

Do people in Mexico speak English?

Although Spanish is the official language of Mexico, many people speak some degree of English in popular tourist destinations and in areas where they frequently interact with foreigners. However, it is recommended for travelers to know some basic Spanish phrases in order to navigate the country. In more remote or traditional areas, English may not be spoken as frequently, so it is important to prepare accordingly. It can also be helpful to have a translation app or dictionary on hand.

What is the tipping culture in Mexico?

The tipping culture in Mexico is widespread and it is expected to tip between 10-15% of the total bill in restaurants, cafes and bars. It is also common to tip hotel staff, cab drivers and tour guides, usually between 20-50 pesos, depending on the service. However, tips are not obligatory and ultimately depend on the quality of the service provided.

Feedback

I hope you found this article informative and helpful. I'm eager to improve the content and make it even more valuable for you. If you have any feedback or suggestions, I would love to hear from you.

Do you have any tips or hidden gems that you think should be added to the list? Are there any areas that you feel could use more explanation or clarification?

Your input is greatly appreciated and will help us to continue providing high-quality content that meets your needs and interests. Please feel free to share your thoughts.