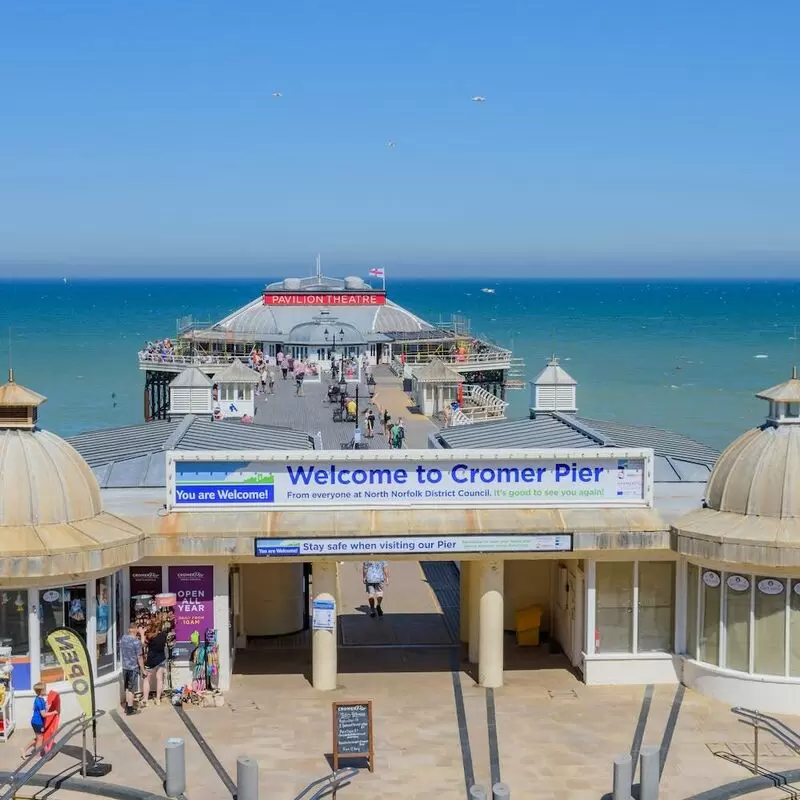 1. Cromer Pier & Pavilion Theatre
The iconic Cromer Pier & Pavilion Theatre is a cultural highlight that must be seen! Watch a traditional variety show or enjoy the breathtaking view of the sunset over the North Sea. By the way, it's one of only five pier variety theaters in the UK! Nearby is the Cromer Crustacean Museum, just a crab's crawl away. This charming museum houses fascinating exhibits about the local history of fishing and the marine life native to the area. Enjoy the cultural heritage, admire the beauty of nature and be transported to another time!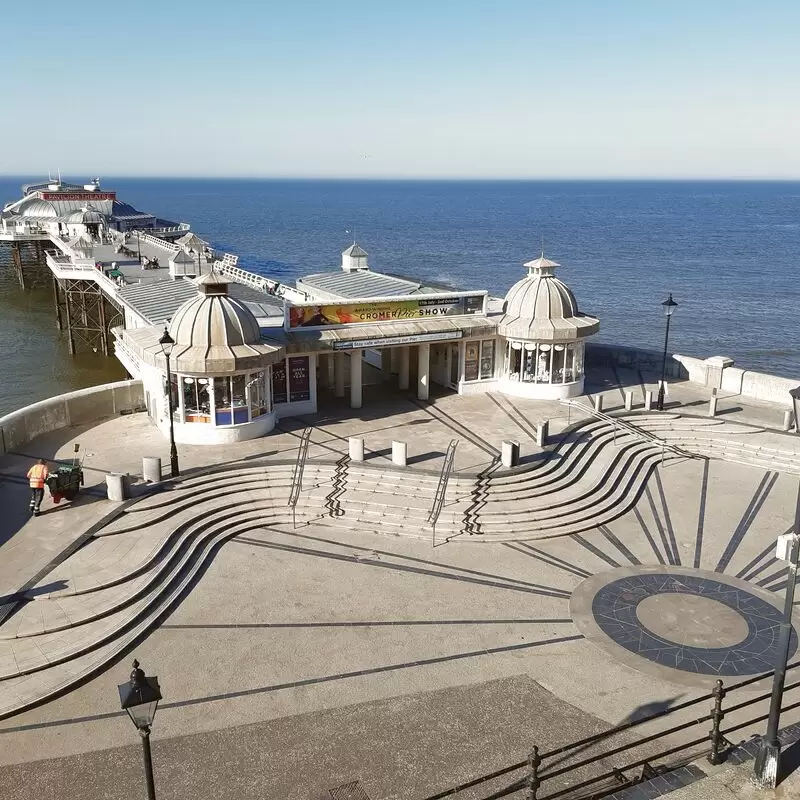 Cromer Pier & Pavilion Theatre
Promenade, Cromer
Monday - Sunday: 10:00 AM – 6:00 PM
Tuesday - Saturday: 10:00 AM – 10:30 PM
2. Cromer Beach
Cromer Beach is an absolute must-see for immersing yourself in the British coastal tradition. From the spectacular Victorian pier with its world-famous pavilion theater to the fragrant fish and chip stores that line the breezy promenade, Cromer Beach has a nostalgic charm all its own. Don't forget to go in search of the "Cromer Crab," as these special crustaceans are a local delicacy. Just a few blocks away, you can visit the Amazona Zoo to see another side of North Norfolk, teeming with exotic South American species. Enjoy Cromer, where the past meets the present!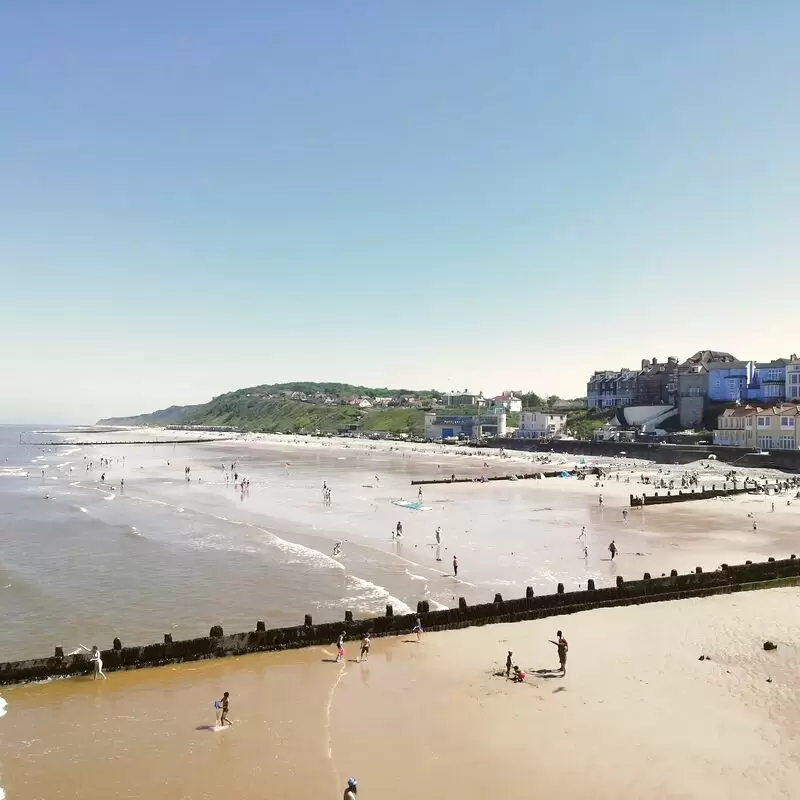 Cromer Beach
41 Runton Road, Cromer
Monday - Sunday: Open 24 hours
3. Amazona Zoo
A charming oasis in Cromer, Amazona Zoo captivates visitors with its variety of South American wildlife. Marvel at jaguars, monkeys, flamingos and more on the 15-acre grounds, including a tropical house teeming with tropical birds and reptiles. Not only is there something to see at the zoo, but there's also a fascinating indoor soft play area for younger visitors. Just a stone's throw away is the iconic Cromer Pier, which exudes a delightful coastal charm, making it perfect for a day out in North Norfolk, which has two locations.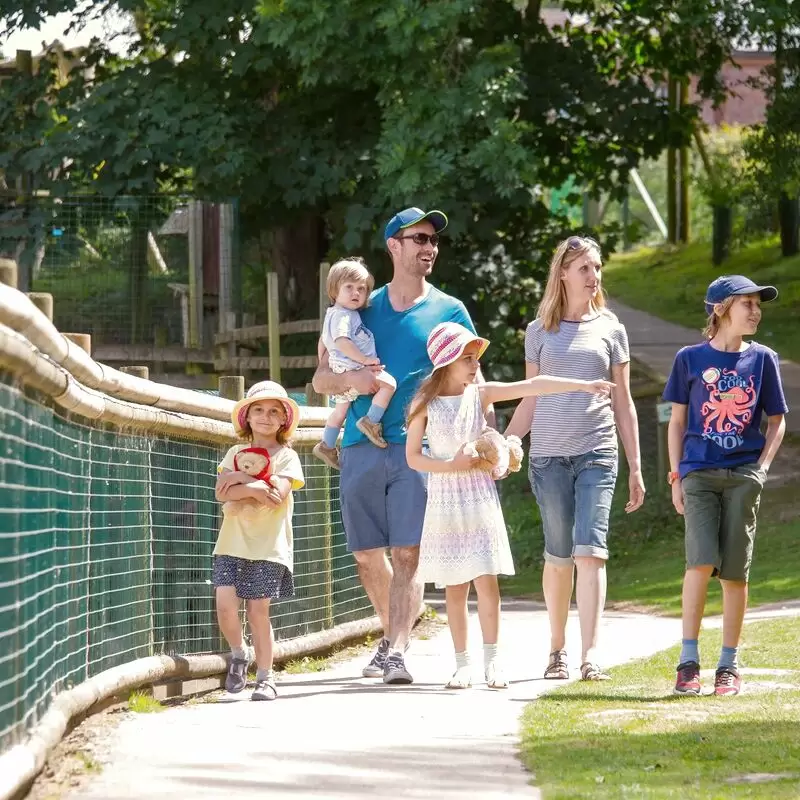 Amazona Zoo
Hall Road, Cromer NR27 9JG
Monday - Sunday: 10:00 AM – 5:00 PM
4. Cromer Parish Church St Peter and St Paul)

In the heart of Cromer, you can visit the majestic Cromer Parish Church (St Peter and St Paul). Its 160-foot tower - the tallest in Norfolk - offers panoramic views of this charming seaside town. Admire the beautiful stained glass windows and medieval stonework, silent witnesses to centuries of history.

An insider tip: don't miss the guided tour, it's full of surprising stories. Interestingly, it's just a stone's throw from the Cromer Museum, a treasure trove of local history.

Cromer Parish Church St Peter and St Paul)
The Church Office Cromer Parish Hall, 65 Church Street, Cromer

Monday - Sunday: Closed
Thursday - Friday: 9:00 AM – 5:00 PM
5. Cromer Pier
Immerse yourself in a classic British seaside experience at Cromer Pier. Famous for its traditional end-of-pier shows, Cromer Pier is considered the jewel of the Norfolk coast. Take a perfect snapshot of the historic lifeboat station, relax in the café, or try your luck at crabbing - a popular pastime in Cromer! And nearby, you can visit the iconic RNLI Henry Blogg Museum, a tribute to Cromer's most heroic lifeboat man. The unique charm of Cromer and its iconic pier is a must-see British adventure.
Cromer Pier
Cromer Pier, Cromer
Monday - Sunday: 10:00 AM – 4:00 PM
Friday - Saturday: 10:00 AM – 10:00 PM
6. Royal Cromer Golf Club
Unleash your inner golf enthusiast at the renowned Royal Cromer Golf Club. Set amidst the picturesque Norfolk coastline, this 18-hole cliff-top course, established in 1888, promises a challenging but rewarding golf experience. Enjoy unparalleled views of the famous Cromer Lighthouse as you perfect your swing. Don't miss the fabled 14th hole with its exhilarating ocean views. Nearby, explore stately Felbrigg Hall Castle or immerse yourself in Britain's railroad heritage at the North Norfolk Railway.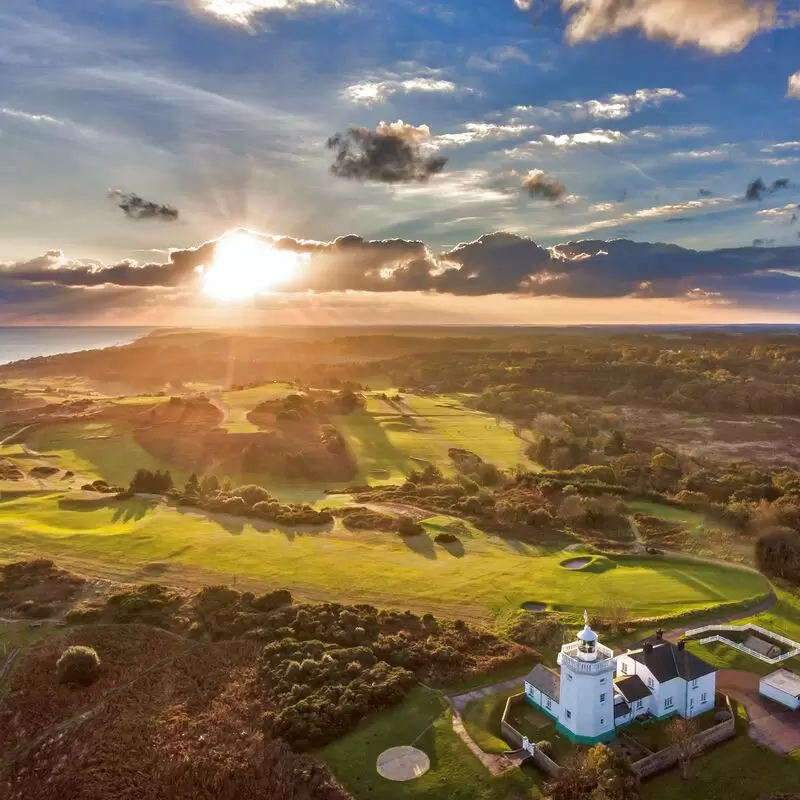 Royal Cromer Golf Club
145 Overstrand Road, Cromer
Monday - Sunday: 7:30 AM – 9:00 PM
7. Cromer Beach
Cromer Beach, a jewel on the North Norfolk coast, beckons with its golden sands and azure waters. Famous for crabbing, it's a must-see for seafood lovers. Explore the Victorian pier, which houses a unique theater at the end of the pier. Don't forget to come in August for the traditional Cromer Carnival. Nearby, discover the stunning Felbrigg Hall, a 17th-century country house set in sprawling grounds - a hidden gem that's home to rich history and enchanting woodlands. An authentic British coastal experience awaits you in Cromer!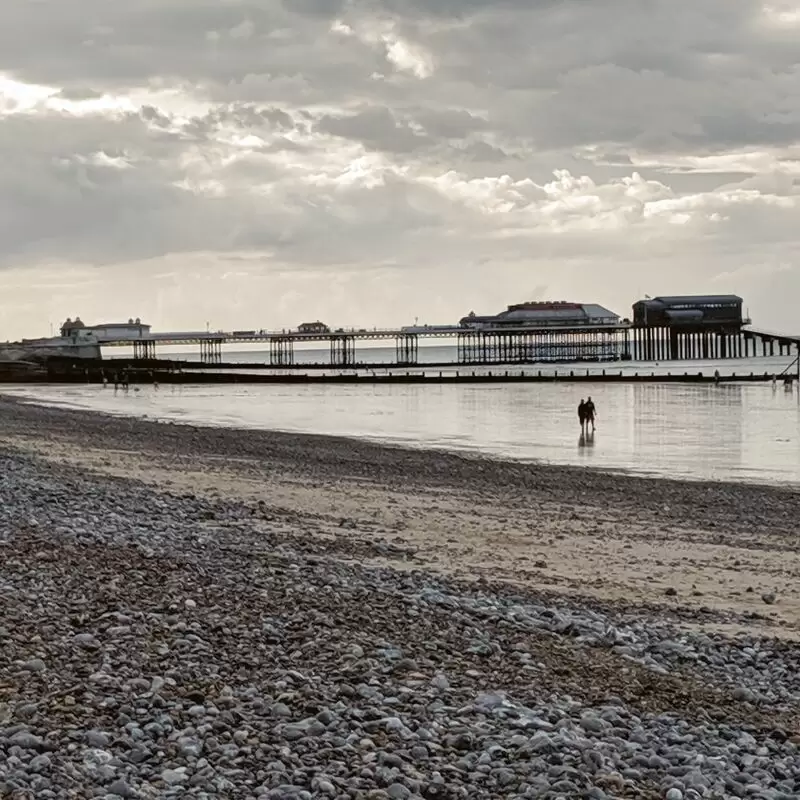 Cromer Beach
Cromer Beach, The Warren, Cromer
8. North Lodge Park
When you visit North Lodge Park in Cromer, you'll be immersed in a slice of tranquil Victorian charm. The park not only offers breathtaking views of the sea, but also a colorful array of flowers, a tranquil pond, and a charming thatched teahouse offering delicious homemade treats. A hidden gem is the picturesque sunken garden - a secluded enclave of peace and beauty. Just a stone's throw away is Cromer Pier, a classic British seaside attraction known for its iconic theater and historic lifeboat station.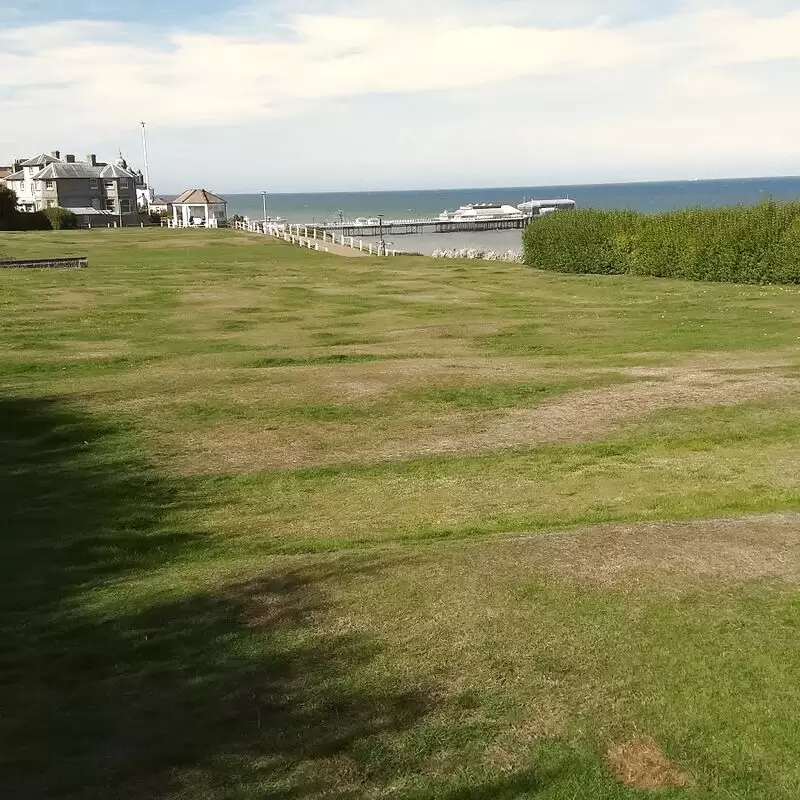 North Lodge Park
6 Overstrand Road, Cromer
Monday - Sunday: Open 24 hours
9. RNLI Henry Blogg Museum
Immerse yourself in the heroic history of sea rescue at the RNLI Henry Blogg Museum. Marvel at the incredible stories of courage presented through detailed exhibits, interactive displays and authentic artifacts. A hidden gem is the moving tribute to Henry Blogg, the most famous lifeboat man. Afterward, treat yourself to a quiet lunch at the Rocket House Cafe next door. Just a stone's throw away is the stunning Cromer Pier for an unforgettable sunset.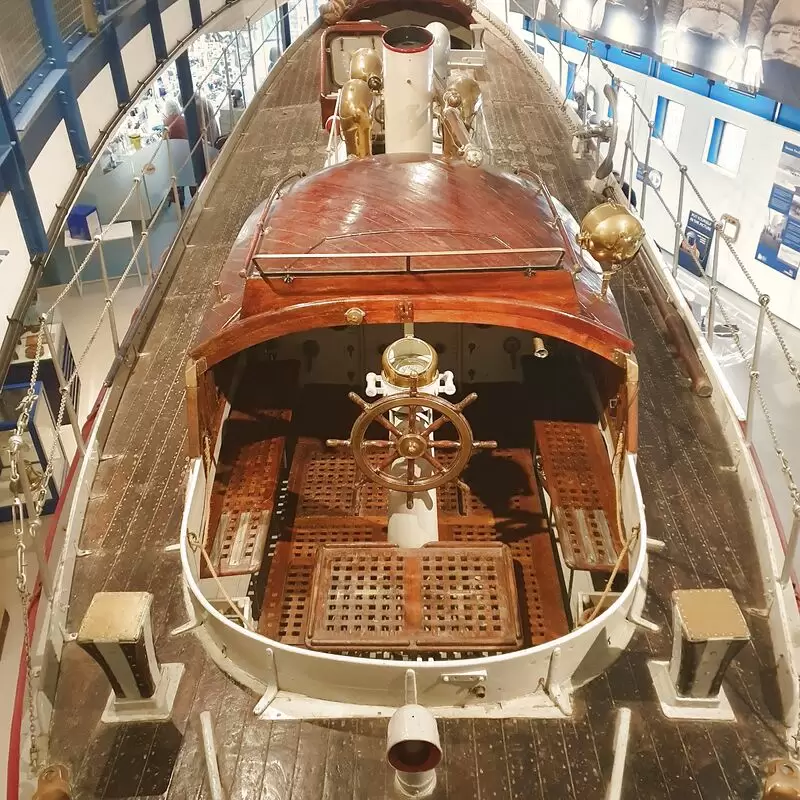 RNLI Henry Blogg Museum
The Rocket House, The Gangway, Cromer
Monday: Closed
Tuesday - Sunday: 10:00 AM – 5:00 PM
10. East Runton Beach
East Runton Beach is a hidden treasure of Cromer, featuring beautiful scenery and tranquility. A pristine, dog-friendly haven where visitors can unwind and enjoy the breathtaking sea views. A special feature is the geological oddity "West Runton Elephant", an ancient skeleton discovered nearby. A short walk along the coast will take you to charming Cromer Pier, a marvel of Victorian architecture that dominates the North Norfolk skyline.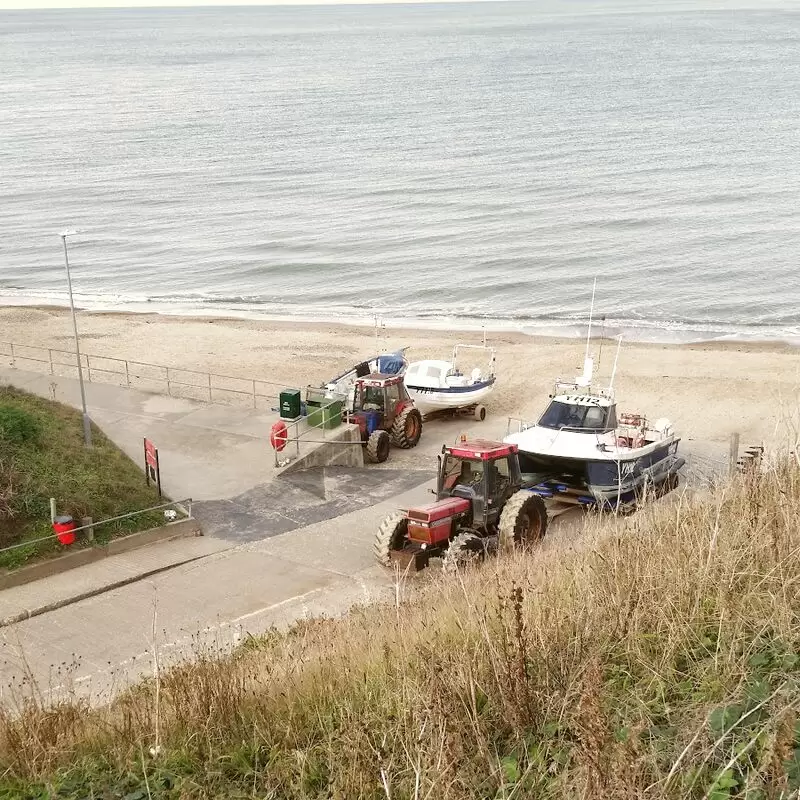 East Runton Beach
Corner House, Beach Road, East Runton, Cromer
Monday - Sunday: Open 24 hours
Best Time to Visit Cromer
The best time to visit Cromer (United Kingdom) is from late spring to early autumn, roughly between May and September. During this time you can enjoy the pleasant weather, scenic beauty and local events such as the Cromer Carnival in August.
Annual Weather in Cromer
Cromer 3-Day Forecast
Wed, 27 September
Night
58 °F
14 °C
0%
Morning
55 °F
13 °C
0%
Afternoon
61 °F
16 °C
88%
Evening
64 °F
18 °C
67%
Thu, 28 September
Night
55 °F
13 °C
0%
Morning
53 °F
12 °C
0%
Afternoon
52 °F
11 °C
60%
Evening
54 °F
12 °C
0%
Fri, 29 September
Night
54 °F
12 °C
0%
Morning
52 °F
11 °C
0%
Afternoon
60 °F
16 °C
0%
Evening
60 °F
16 °C
0%
Questions & Answers

What is Cromer famous for?

Cromer, a charming town in the United Kingdom, is known for its historic, listed pier, which is home to the iconic Pavilion Theatre. As a center of the fishing industry, the city is most famous for the Cromer crab, a culinary delicacy that is very popular among seafood lovers. One can also explore the natural wonders of the city, with its beautiful sandy beaches and stately cliffs that offer breathtaking views. The town's rich Victorian heritage is reflected in the architectural splendor of buildings like Cromer Parish Church.

How can I reach Cromer from London?

The easiest way to reach Cromer from London is by train. There are regular trains from London Liverpool Street station, which take about 3 hours with a change in Norwich. If you prefer to drive, you can reach Cromer via the A11 and A140 freeways, which will take you about 3.5 hours, depending on traffic. If you are looking for a nice view, you can also take a bus ride to the beautiful coastal town.

Are beaches in Cromer safe for swimming?

Yes, the beaches in Cromer, United Kingdom, are considered safe for swimming. The water quality is generally good and the beaches are regularly monitored and maintained. However, swimmers are always advised to respect the power of the sea and beware of potential hazards such as strong tides or hidden rocks. Lifeguards are usually on duty during the summer months to ensure safety. Be sure to follow the signs and the instructions of the local authorities.

Is Cromer a good place for families?

Cromer is undoubtedly an excellent choice for families. This picturesque seaside town offers a wide range of activities for all ages, including beach visits, wonderful walks, and a fascinating local history to explore. The RNLI Henry Blogg Museum and Cromer Pier make the town particularly appealing. Cromer also has many good, family-friendly restaurants, making it an ideal place for family outings.

Are there any traditional Cromer foods I should try?

One delicacy that visitors to Cromer must try is Cromer crab, a sweet and delicate variety that is unique to the area thanks to the chalk soil. Cromer crabs are often made into delicious dishes like Crab Bisque or Crab Cakes in local restaurants. Another must-try treat is the traditional Norfolk Shortcake, a melt-in-the-mouth buttery pastry often served with tea or coffee in local cafes.

Can I see seals in Cromer?

Yes, you can see seals in Cromer (United Kingdom) on the beaches and often in the sea. However, if you want to get an even closer look at these wild animals, you can take a boat trip to Blakeney Point, a seal colony not far from Cromer. These excursions provide an excellent opportunity to observe the seals in their natural habitat. An unforgettable experience that nature and animal lovers are sure to enjoy.

What's the best way to travel around Cromer?

Cromer is a small, walkable city. This makes getting around on foot the most common and enjoyable mode of transportation. The town is picturesque with its historic architecture and scenic views, allowing visitors to enjoy the beauty of the town at their leisure. Bicycles are also a popular alternative, especially for longer distances. For trips outside of Cromer, there are local bus and train services.

Does Cromer have a nightlife?

Although Cromer is not exactly known for its vibrant nightlife, there are some delightful options. There are a number of inviting pubs, such as The Red Lion and The White Horse, which exude a warm, cozy atmosphere. There's also the Pavilion Theatre on the Pier, which hosts a number of performances, including the famous Cromer Pier Show. Despite its tranquil nature, Cromer offers a relaxed evening atmosphere that is hard to beat.

How far is the North Norfolk coastline from Cromer?

The town of Cromer is located right on the North Norfolk coast, so there is no distance between them. A classic coastal town, Cromer nestles beautifully on this stretch of coastline. From Cromer, it is easy to explore the distinctive beauty of the North Norfolk coastline with its wide sandy beaches, dunes, marshes and quaint fishing villages. Overall, Cromer is an ideal base from which to experience the unique appeal of the North Norfolk coast.

Is the water quality in Cromer good?

Yes, the water quality in Cromer is exceptionally good. Popular with locals and tourists alike, Cromer beach often wins awards for its cleanliness. Swimming in the sea is safe, and water sports like surfing are very popular. The fine sand and clear waters make Cromer an ideal destination for those seeking a traditional swimming experience. Water tests conducted throughout the year confirm the cleanliness and safety of the water.

How far is the nearest airport from Cromer?

The nearest airport to Cromer, United Kingdom, is Norwich International Airport, located about 20 miles south of Cromer. Depending on the route and the means of transportation, the travel time can vary from 35 to 50 minutes. This makes it easily accessible for both international and domestic travelers visiting Cromer. It is advisable to check the airport's schedule for direct and connecting flights.

Is Cromer suitable for a weekend trip?

Cromer is an ideal place for a weekend getaway. The charming Victorian architecture, historic pier, and delicious crabs make Cromer an ideal place for a short vacation by the sea. You'll have plenty of opportunity to explore the picturesque coastline, visit the lighthouse, and stroll through the beautiful gardens. Cromer is steeped in history with fascinating museums and churches, and the area's natural beauty offers numerous walking trails. Cromer's vibrant arts scene and friendly locals are sure to make your weekend visit a memorable one.

Is Cromer easy to navigate?

Yes, Cromer is quite easy to explore. The small Norfolk coastal town is compact, and most attractions, including Cromer Pier, Cromer Museum, and a variety of stores and restaurants, are within walking distance. There is also a good bus service linking Cromer with other nearby towns and villages. The town is manageable, making it easy for visitors to explore and enjoy the charming coastal ambiance.

Are dogs allowed on Cromer beach?

Yes, dogs are allowed on the beach in Cromer. However, there are seasonal restrictions, as from May to September dogs are not allowed on certain parts of the beach. It is always advisable to check the signs for these specific areas. Outside of these times and areas, your four-legged friends are welcome to accompany you on your trips to the sea. Make sure to keep the beach clean for everyone to enjoy.

Can I rent a bike in Cromer?

Yes, it is possible to rent a bike in Cromer. The city offers several bike rentals where you can choose from a wide range of bikes. Whether you are looking for a road bike to ride along the coast or a mountain bike to explore the scenic trails of Cromer, the rentals will meet all your needs. A bike tour of Cromer is a great way to explore the sights and traditional coastal town.

Is Cromer a quiet place?

Cromer, located on the North Norfolk coast, is a relatively peaceful town known for its relaxed atmosphere. It is not particularly busy or noisy, making it a great place for those seeking tranquility. With its picturesque views, green open spaces, and exceptional coastline for beautiful walks and bird watching, Cromer is an ideal place for people who prefer quiet places away from city noise and crowds. However, in the height of summer the place can attract many tourists, which makes for a bit more liveliness.

Is Cromer a walkable town?

Yes, Cromer is a very walkable town thanks to its small size and compact layout. Visitors can explore the beautiful beaches, the famous pier, and the various stores and restaurants on foot. The Norfolk Coast Path also runs through the city, making it a popular spot for walking enthusiasts. Moreover, a leisurely walk along the cliffs allows you to enjoy the charming views of the coast and see the famous Cromer Lighthouse. So, walking is one of the best ways to discover Cromer.

Does Cromer have a pier?

Yes, Cromer is home to one of England's most famous Victorian structures - Cromer Pier. The pier is an iconic representation of England's coastal heritage. It houses numerous amenities such as a bar, cafes and a famous pavilion theater. The pier is also the perfect place to watch the sunset over the English Channel. It has stood the test of time and remains a symbol of the coastal town of Cromer.

What famous landmarks are in Cromer?

In Cromer, the jewel of North Norfolk, the most striking landmark is the Victorian-era Cromer Pier, which stretches majestically into the North Sea. Also worth seeing is the magnificent Cromer Parish Church, one of the tallest churches in Norfolk, which offers breathtaking views. The Henry Blogg Museum is dedicated to the heroic local lifeboat man. In addition, Amazona Zoo offers a unique experience of South American wildlife. Another highlight is the Royal Cromer Golf Club, which offers breathtaking views of the sea from the cliffs.

Are there vegan or vegetarian options in Cromer's restaurants?

Absolutely. There are many places in Cromer that offer vegetarian and vegan dishes. At The Grove you'll find a variety of plant-based dishes, and Upstairs at No1 has vegan fish and chips. The Tea Shed in East Runton is known for its vegan cakes and soups. These and several other eateries ensure that plant-based diners in Cromer have a wide and tempting choice.

Is Cromer suitable for seniors?

Yes, Cromer is suitable for seniors. The city offers easy to traverse landscapes and facilities such as elevators at major landmarks for people with mobility issues. The town is known for its tranquility and beautiful coastal scenery, offering many opportunities for leisurely beach walks, relaxing picnics and bird watching. The famous Cromer Pier offers fantastic views of the sea, while the Cromer Museum is a good place for anyone interested in history or geology.

Are public restrooms easily available in Cromer?

Yes, there are public toilets in Cromer. These are strategically located throughout the city, including in popular tourist spots like the promenade near the pier and near the bus station and train station. They are generally open during the day, but note that a small fee may be charged for the use of some restrooms. Facilities for the disabled are also available. However, facilities may be closed for maintenance, so it is advisable to have some spare change on hand for emergencies.

Is there a train station in Cromer?

Yes, Cromer does indeed have a train station, located in the heart of the city. Cromer train station is well connected and provides a convenient link for visitors. It connects Cromer with various destinations in the United Kingdom, including Norwich. The station itself has important facilities and is in close proximity to various amenities, making it a convenient base for exploring Cromer.

Is there any local transportation in Cromer?

Yes, Cromer offers several local transportation options to visitors and residents. The town is well served by bus routes operated by Sanders Coaches and Norfolk Green, which provide connections to nearby towns and villages. The town also has a train station, Cromer Station, which provides regular train service to Norwich. Cabs and bicycle rentals are also available, making it easy to explore the charming seaside town and surrounding area.

Can I rent a car in Cromer?

Yes, you can rent a car in Cromer. There are several car rental agencies in the city that offer a range of options - from compact vehicles for solo travelers to larger vans for families. Availability is limited, however, so booking in advance is highly recommended. When you rent a car, you can explore the beautiful coastal scenery of Cromer and the wider Norfolk area at your own pace. Don't forget your valid driver's license and credit card.

Feedback

I hope you found this article informative and helpful. I'm eager to improve the content and make it even more valuable for you. If you have any feedback or suggestions, I would love to hear from you.

Do you have any tips or hidden gems that you think should be added to the list? Are there any areas that you feel could use more explanation or clarification?

Your input is greatly appreciated and will help us to continue providing high-quality content that meets your needs and interests. Please feel free to share your thoughts.