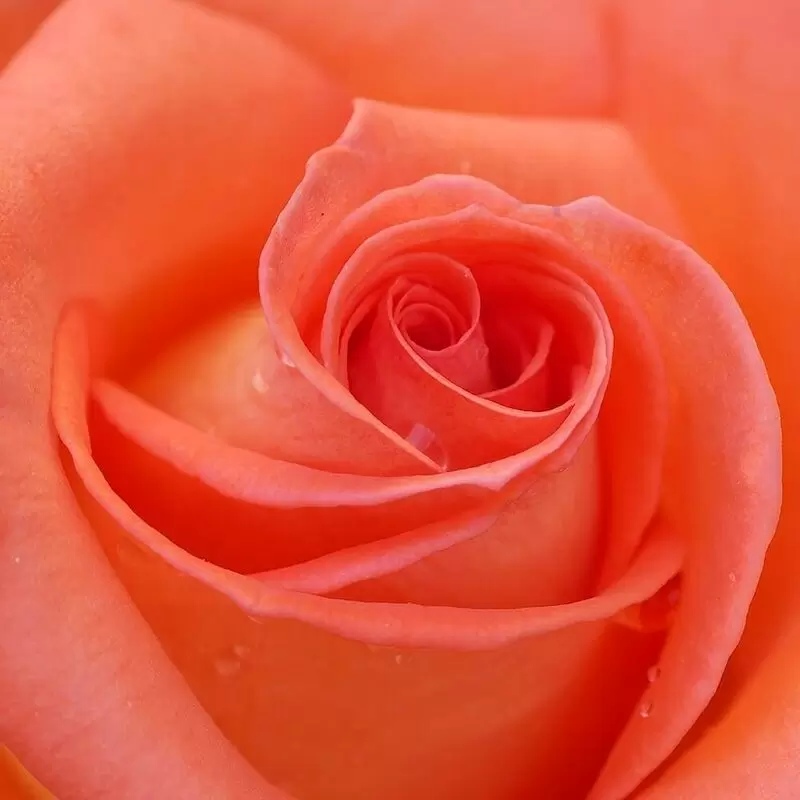 1. The Marmalade Cat

The Marmalade Cat in Darling is a must for any traveler looking for a charming and unique experience. Known for its delicious food and extravagant decor, the quaint eatery also has a small gift store that offers a range of local crafts. Don't miss the famous carrot cake!

Insider tip: Take time for a leisurely stroll to nearby Evita se Perron, a whimsical theater and garden of political satire across from the city's train station.

The Marmalade Cat
19 Main St, Darling

Monday - Sunday: 8:00 AM – 4:30 PM
2. Darling Sweet
Indulge your sweet tooth at Darling Sweet, one of Darling's biggest highlights, offering delicious handmade toffees. Founded in 2013, the iconic candy store offers a behind-the-scenes look at the art of making toffee. Get excited about the unique flavors - try the Tannie Evita's Classic Toffee for an exclusive Darling taste. Just a short walk away, you can immerse yourself in the rich flora of the Darling Wildflower Show or enjoy a performance at the famous Evita Se Perron Theatre.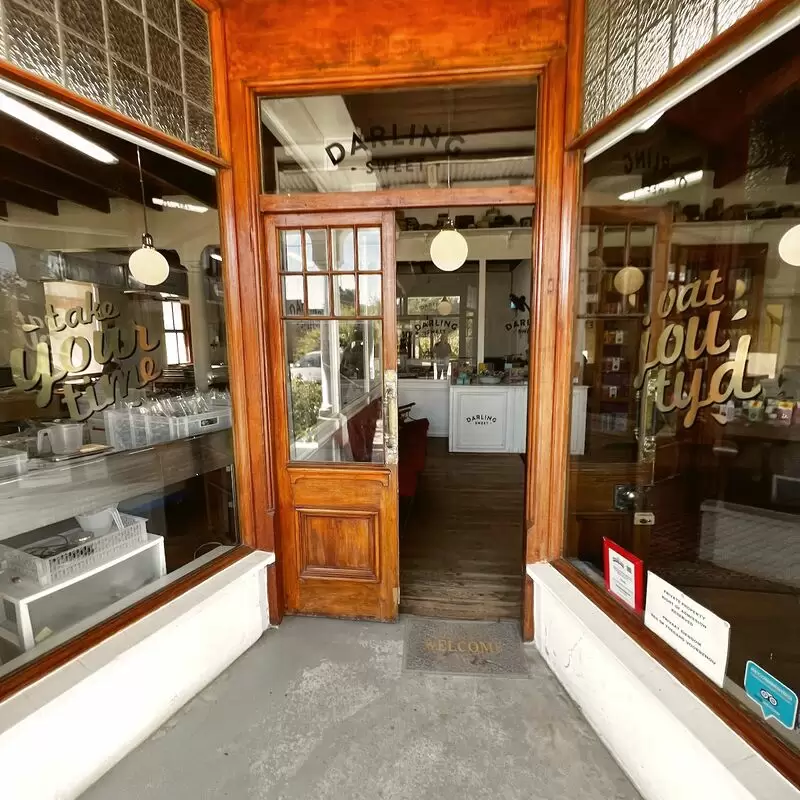 Darling Sweet
7A Lang St, Darling
Monday - Friday: 8:00 AM – 5:00 PM
Saturday - Sunday: Closed
3. Darling Museum
Discover the fascinating history of South Africa at the Darling Museum. This gem in the heart of Darling showcases the rich agricultural lifestyle of the 19th century, including a carefully restored Victorian house. Take a look at rare exhibits like the old barber's corner and Darling's first telephone exchange that spice up the museum. Just a stone's throw away is the Evita se Perron, where satirical shows provide exhilaration. The Mandela statue in front of the station is also not to be missed!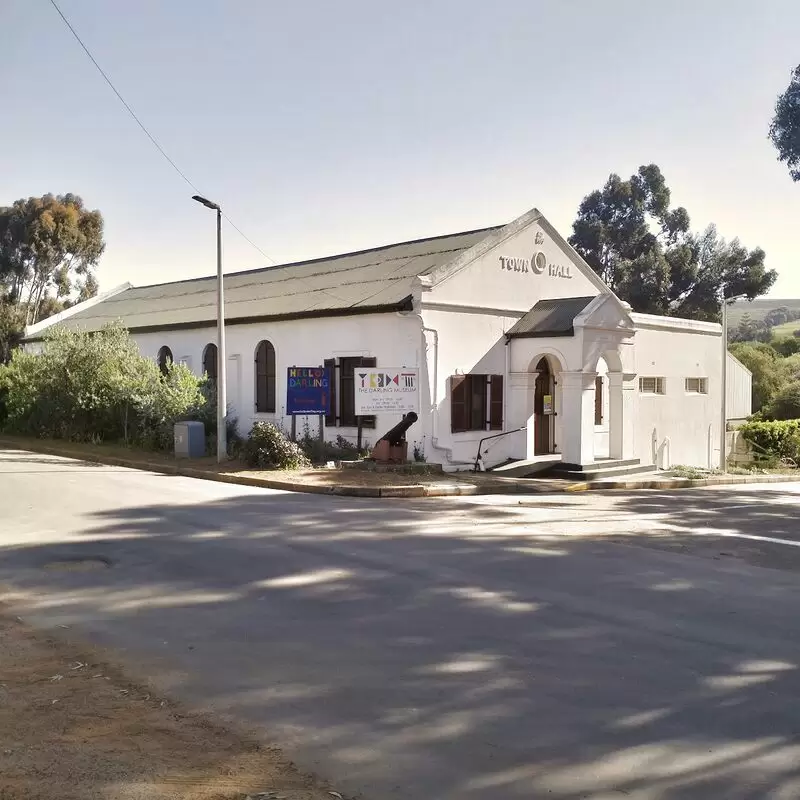 Darling Museum
20 Hill St, Darling
4. Ormonde Private Cellar
A visit to Ormonde Private Cellar in Darling, South Africa, is a must for wine lovers. A fertile terroir with a cool maritime influence makes it possible to produce award-winning premium wines. In addition, it is not only a winery, but also an ambassador for Darling's culture. Take a guided tour of the vineyards and learn more about grape growing and winemaking. Don't miss the rare opportunity to taste the exclusive Theodore Eksteen range. Just around the corner you'll find the Darling Wildflower Reserve, a vibrant spectrum of local flora.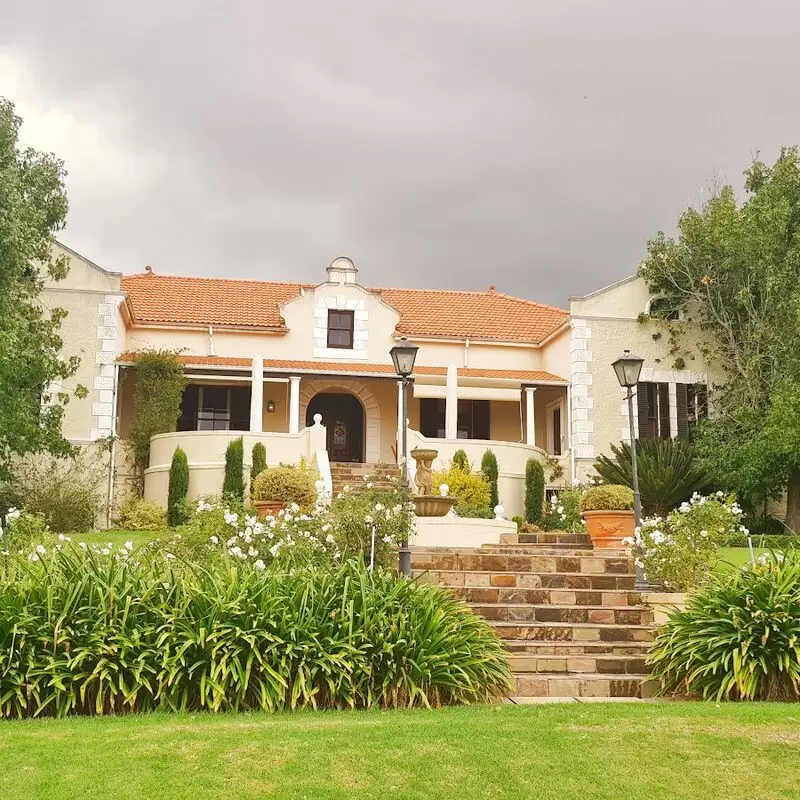 Ormonde Private Cellar
Mount Pleasant St, Darling, 7345
Monday - Friday: 9:00 AM – 4:00 PM
Saturday: 9:00 AM – 3:00 PM
Sunday: Closed
5. Darling Lodge Guest House PTY Ltd
Immerse yourself in the quaint charm of Darling Lodge Guest House PTY Ltd. This renovated Victorian home features elegantly appointed rooms and offers each guest personal attention in a relaxed atmosphere. Admire the beautiful artwork by local artists that adorns the guest house while enjoying a hearty breakfast under the ancient pepper tree. The lodge is an ideal base for exploring Darling's many attractions, including the famous Evita's Perron Theater, just a short walk away.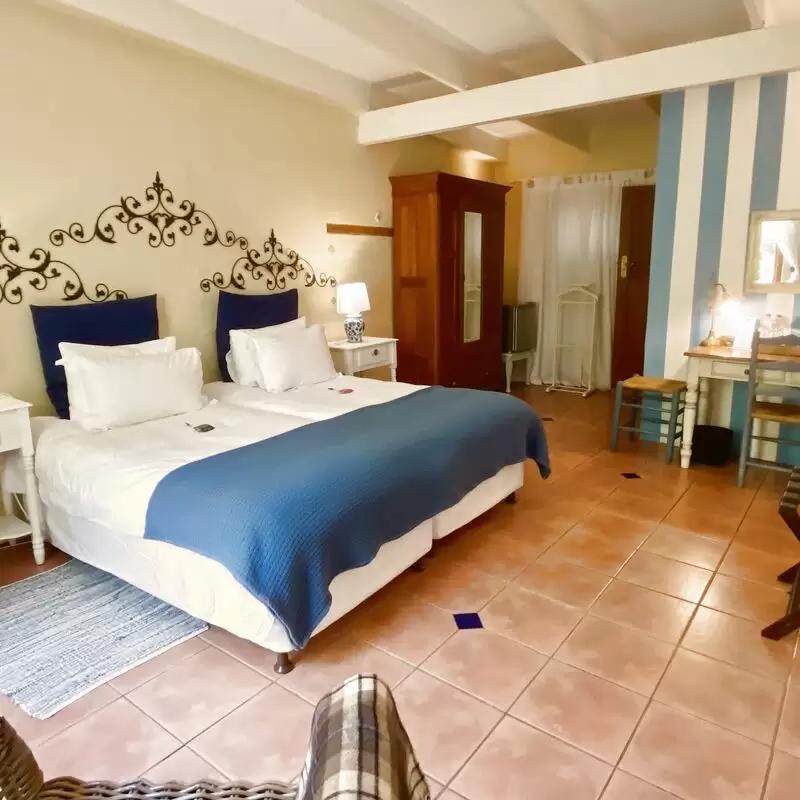 Darling Lodge Guest House PTY Ltd
22 Pastorie St, Darling, 7345
Monday - Sunday: 8:00 AM – 6:00 PM
6. Darling Olives CC
Indulge your senses on a delicious journey through Darling Olives CC. One of South Africa's best certified organic olive farms, it offers informative tastings that introduce visitors to the intricacies of olive and olive oil production - a real treat for foodies. Only a local would know that olives, olive jam and even olive chutney are also produced here. Just a stone's throw away are Ormonde Vineyards, where exquisite wine tastings paired with picturesque views round out your Darling experience.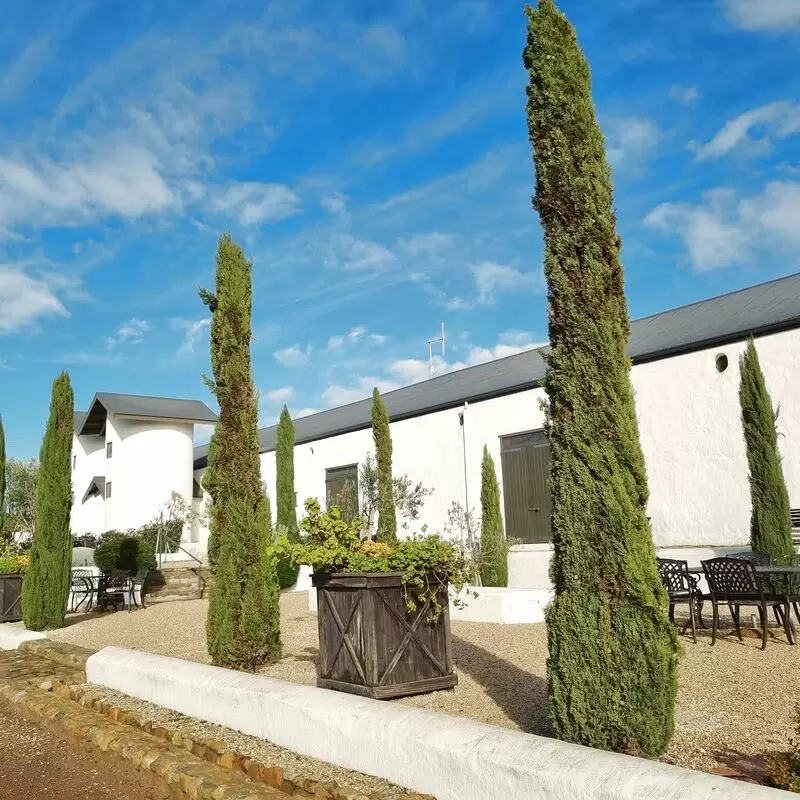 Darling Olives CC
R315 (Yzerfontein Road, 3km outside of Darling), Alexanderfontein Estate, Darling
Monday - Friday: 9:00 AM – 4:00 PM
Saturday: 9:00 AM – 1:00 PM
Sunday: Closed
7. Doornfontein Darling Western Cape
Take a trip to the picturesque village of Doornfontein, Darling, full of charm and unspoiled natural beauty. Explore the lush vineyards, enjoy spectacular mountain views or experience the magic of blooming wildflowers in spring. It's a perfect place to escape the hustle and bustle of city life and experience the warm hospitality of the locals. Don't miss nearby Darling Brew, a gem for craft beer lovers. A visit here, off the beaten path, offers a truly enchanting South African experience.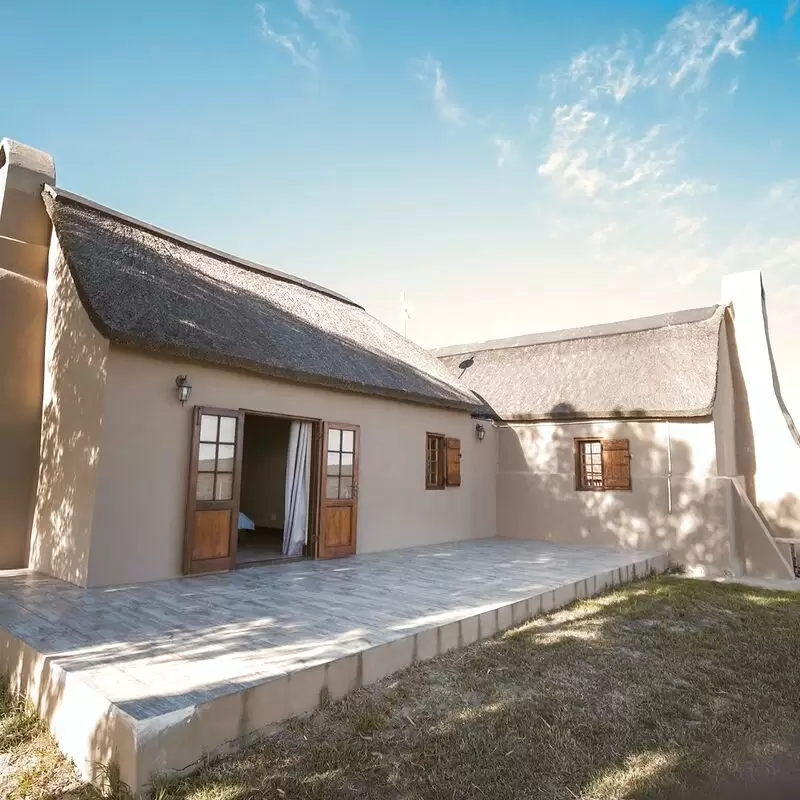 Doornfontein Darling Western Cape
Langfontein St, Darling
Monday - Sunday: Open 24 hours
8. Waylands wild flower reserve
Become one with Mother Nature at the idyllic Waylands Wild Flower Reserve in Darling. It's an Eden of unparalleled flora and fauna with over 300 species of flowers! This wildflower spectacle, which blooms in full glory between August and October, will take your breath away. Be enchanted by the colorful carpets and relax with a typical South African sundowner. Just a stone's throw away you'll find a hidden gem, the Darling Wine Shop, where you can enjoy a world-class wine tasting. Local tip: An early morning visit guarantees enchanting dew-kissed blossoms.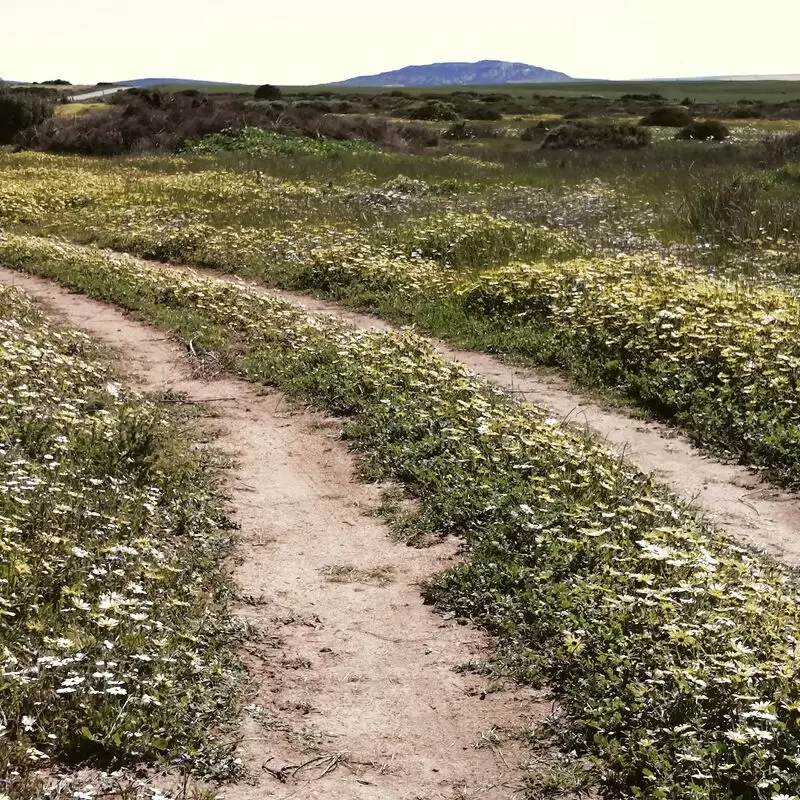 Waylands wild flower reserve
Waylands Farms, Darling
9. Disa Lodge

Immerse yourself in the tranquil world of Disa Lodge, a gem in the quiet town of Darling. This charming guesthouse, with its beautiful Victorian architecture, offers old-world comfort and charm. At nearby Darling Wildflower Reserve, you can lose yourself in a floral spectacle.

The insider tip? Ask for a room with a veranda so you can have a view of the gorgeous garden full of birds while you eat breakfast. Just steps away is the Evita se Perron Theatre, an absolute treat for art lovers.

Disa Lodge
22 Lang St, Darling

Monday - Saturday: 8:00 AM – 5:00 PM
Sunday: 8:00 – 11:00 AM
10. Darling Wildflower Show

Immerse yourself in the radiant sights and aromas of the Darling Wildflower Show, an annual wildflower season spectacle that erupts the quiet city into a riot of color. It's more than just a treat for the senses: enjoy educational tours, arts and crafts, and culinary offerings that attract locals and international visitors alike.

Insider tip: Your visit isn't complete without sampling Darling's local beers and wines at nearby Groote Post Vineyards.

Darling Wildflower Show
4 Jakaranda St, Darling
Best Time to Visit Darling
The best time to visit Darling, South Africa, is in the spring (August to October) when the wildflowers are in full bloom. This is also the time when the annual Darling Wildflower Show and the Darling Music Experience take place, offering a lively cultural experience.
Annual Weather in Darling
Darling 3-Day Forecast
Wed, 27 September
Night
51 °F
11 °C
0%
Morning
49 °F
9 °C
0%
Afternoon
68 °F
20 °C
0%
Evening
64 °F
18 °C
0%
Thu, 28 September
Night
56 °F
14 °C
0%
Morning
54 °F
12 °C
0%
Afternoon
73 °F
23 °C
0%
Evening
67 °F
19 °C
0%
Fri, 29 September
Night
60 °F
15 °C
0%
Morning
60 °F
15 °C
0%
Afternoon
69 °F
21 °C
0%
Evening
60 °F
16 °C
26%
Questions & Answers

What is the local language spoken in Darling?

The main language spoken in Darling, South Africa, is Afrikaans. Afrikaans is one of the 11 official languages of South Africa and is derived from various Dutch dialects brought to South Africa during colonization. In addition to Afrikaans, English is also spoken and understood in Darling, as it is the common language of government and business in South Africa.

What kind of cuisine can I expect to encounter?

In Darling, South Africa, you can expect a fusion of traditional local and modern international cuisine. The food here is inspired by the rich, diverse South African culture with a strong influence from the culinary styles of the Cape Malay, Dutch and English. Look forward to sumptuous meals featuring locally sourced ingredients such as ostrich, springbok and freshly caught seafood. It's not uncommon to see dishes enhanced with local flavors like rooibos tea and native fynbos. The region is also known for its excellent wine.

How safe is Darling for tourists?

Darling is generally considered a safe destination for tourists. Like many small towns in South Africa, it has a low crime rate. It is a friendly town with a welcoming community that prides itself on keeping its heritage and surroundings safe. However, as with any other vacation spot, it is always advisable to be vigilant and watch your belongings. Emergency services and the local police are quickly on hand if needed, ensuring a pleasant travel experience.

Is public transportation easily accessible?

Yes, public transportation in Darling, South Africa, is easily accessible. The city is served by regional bus lines and cab services that connect it to larger cities like Cape Town. The main public transportation in Darling is minibus cabs, which are often used by locals. However, they might be a bit confusing for tourists, so car rental might be a better option if you prefer comfort and convenience during your trip.

Are credit cards widely accepted?

Yes, credit cards are widely accepted in Darling, South Africa. Most restaurants, hotels and stores accept major international cards such as Visa and MasterCard. However, it is advisable to have a certain amount of cash on hand, as some small stores or informal merchants may not accept cards. ATMs are also readily available for cash withdrawals. Please note that American Express and Diners Club cards may not be accepted everywhere. Always inform your bank of your travel plans to avoid problems.

How is the nightlife in Darling?

Darling, South Africa, offers a relaxed and tranquil nightlife that focuses mainly on enjoying sumptuous meals and local wines in the town's quaint restaurants and pubs. A particular highlight is the famous Evita se Perron with its cabaret shows and performances. For those looking for a quiet evening, a walk under the stars or a moonlit picnic amidst the stunning scenery of the Western Cape is ideal. But overall, Darling offers a more laid-back nightlife.

Are there any particular local customs that I should be aware of?

As a visitor to Darling, South Africa, it is important that you adopt a respectful attitude toward the locals. It is customary to greet each other with a firm handshake and to say "molweni" (hello) or "enkos" (thank you) when appropriate. Darling is best known for its diverse blend of Afrikaans and English culture; locals maintain a relaxed lifestyle that often translates into warm hospitality and friendliness. You will always appreciate the warmth and welcoming feeling, as the value of community is deeply rooted in Darling's culture.

Is tap water safe to drink?

In Darling, South Africa, tap water is generally safe as it undergoes a rigorous purification process. However, for travelers who are not used to the local water, it is advisable to use bottled water that is readily available to avoid possible stomach upset. It is also recommended to check with your accommodation provider about the purity of the water in that particular place.

What is the typical dress code for locals?

In Darling, South Africa, the typical dress code for locals is casual, reflecting the region's warm climate and relaxed lifestyle. During the day, people generally wear light clothing such as shorts and T-shirts, while in the evening they may wear a light sweater or jacket. Traditional African dress is occasionally worn for celebrations or festivals. Visitors are advised to dress modestly and comfortably, taking into account the hot weather and the possibility of cool evenings.

Is tipping customary in Darling?

Yes, tipping is common in Darling, South Africa. It is customary to tip restaurant waiters, bartenders, cab drivers, tour guides and hotel staff. The usual tip amount is 10-15% of the total bill. However, it is important to remember that tipping is a personal choice and appreciated, but not mandatory. Always make sure that the service received deserves a tip.

Are there any endemic diseases to take note of?

Although South Africa generally has a safe disease profile for travelers, it is advisable to exercise caution with common diseases such as malaria, hepatitis, and tuberculosis. Although not endemic, cases have been reported. Since Darling is in the Western Cape, it is malaria-free, but it is still necessary to get routine vaccinations before traveling. Maintain good hygiene and consume safe food and water to avoid foodborne illness. Always consult your doctor before traveling.

Are English signs common in Darling?

Yes, English signs are common in Darling, South Africa. Since English is one of the official languages of South Africa, most of the information and signs you encounter in Darling are in English. This includes signs on streets, public places, tourist attractions, restaurants and stores. Even if you speak only English, you should have no trouble finding your way around Darling and communicating.

What kind of wildlife can I expect to see?

In Darling, you can see a variety of stunning wildlife. The Darling region is home to several bird species, including the Blue Crane, South Africa's national bird. You may also see the lesser grey rhebok and other antelope species. If you visit the nearby West Coast National Park, you may be lucky enough to see elands, Cape mountain zebras, and a variety of marine wildlife such as whales and dolphins.

Are there any local wines to taste?

In any case, Darling is known for its excellent wines. Visitors can enjoy tastings at local wineries such as Darling Cellars and Ormonde Vineyards. These wineries are known for their award-winning red and white wines. There you can sample delicious Chenin Blanc or Shiraz, among other wines, while enjoying the breathtaking panoramic views of the vineyards. Besides wine, you can also enjoy local products such as olives and cheese.

What kind of budget is suitable for Darling?

Darling, South Africa, is a relatively affordable destination where budget travelers can comfortably get by on about $30 to $40 (USD) per day, including accommodations, meals, and activities. Travelers seeking mid-level luxury can expect to spend between US$50 and US$80 per day, while high-end travelers are likely to spend over US$100 per day, depending on the level of luxury chosen. Included in these estimated costs are lodging, meals and participation in local attractions such as wine tastings or nature preserves.

Is hiking popular in Darling?

Yes, hiking is very popular in Darling, South Africa. The region is known for its biodiversity and natural beauty, making it an ideal place for outdoor enthusiasts. The area offers several scenic hiking trails that range from easy to challenging, making them suitable for all hikers. These routes often pass through breathtaking scenery, wildflower preserves, and bird-rich wetlands. They offer a great way to discover the city's unique flora and fauna, as well as spectacular views.

Can I rent a bicycle to explore Darling?

Yes, you can rent a bike in Darling. Exploring the city by bike is an ideal way to experience the charm of this beautiful place. There are several stores on site that rent bikes. Depending on which route you prefer, you can cycle through vineyards, olive groves and the breathtaking landscapes Darling is known for, such as the famous wildflower reserves.

Is there any local music scene?

Yes, Darling, South Africa, has a vibrant local music scene centered around the Voorkamerfest. This unique festival brings together local and international artists and encompasses various genres from folk and jazz to pop and tribal music. In addition, the popular Evita se Perron venue hosts regular musical performances. It is also worth mentioning that Darling is the birthplace of the famous South African rock band Fokofpolisiekar, which further emphasizes the city's close connection with music.

Is Darling child-friendly?

Yes, Darling is a kid-friendly destination in South Africa. The town offers plenty of family-friendly activities, such as visiting the Darling Museum, which showcases local history from the Victorian era, exploring Darling's nature reserves, and outdoor activities like picnicking and biking. Plus, the annual Darling Scarecrow Festival will delight kids of all ages!

Is Darling a good spot for birding?

Darling in South Africa is a true paradise for bird lovers. In particular, it is home to the Darling Bird Route on the Darling Hills Road, an area teeming with countless bird species. From majestic birds of prey to charismatic shorebirds, the beauty and diversity of the local birdlife is indeed a sight to behold. Whether you're an experienced birder or a casual enthusiast, the Darling area will not disappoint with its outstanding birding spots.

Can I easily hire a car in Darling?

Yes, it is quite easy to rent a car in Darling, South Africa. There are several reputable car rental companies in the region. They offer a wide range of vehicles, from small cars that are perfect for solo travelers or couples, to larger vehicles that are suitable for families or groups. Before renting, check if you meet the requirements, which may include a valid driver's license and minimum age.

Do I need to worry about snakes and other wild creatures?

Although South Africa is home to a variety of wildlife, Darling is a small town and a relatively safe destination. It is always advisable to be aware of your surroundings and respect all wildlife. Encounters with dangerous animals such as snakes are rare but possible, especially in wild walking areas. However, in populated areas, in the vineyards, or when participating in local festivals and events, dangerous wildlife is not a major problem. Always seek advice from local authorities when venturing out on nature trails.

Do people in Darling speak English?

Yes, people in Darling, South Africa speak English. English is one of the 11 official languages of South Africa and is widely spoken. However, Afrikaans is the predominant language in Darling. While many locals can communicate in Afrikaans, they are also proficient in English, especially in the service and tourism industries. So as a tourist, you can comfortably navigate the city in English.

Are there any local festivals I should be aware of?

Yes, Darling is known for its arts and entertainment scene. The Darling Music Experience is a multi-day classical music festival featuring local and international artists. In addition, the Voorkamerfest is a unique arts festival that takes place in residents' living rooms. In addition, the Darling Wildflower Show and Darling Brew Extreme are highly anticipated annual events celebrating local flora and craft beer, respectively. It is recommended to check event dates online in advance.

Can I go whale watching in Darling?

Darling, South Africa, while offering a variety of attractions such as wine farms, the Darling Wildflower Show, and wildlife preserves, does not have a coastline where whale watching is possible. However, it is not far from the coast where such activities are possible. A short drive to nearby coastal towns such as Yzerfontein or Langebaan offers whale watching opportunities at the appropriate times of year.

Can I find vegetarian/vegan food options in Darling?

Absolutely! Darling has a number of restaurants that cater to vegetarians and vegans. The popular Evita se Perron has a menu with a variety of vegetarian and vegan options, while Darling Brew offers several vegan-friendly craft beers. You'll also find great plant-based dishes at the local markets. Darling's welcoming atmosphere and appreciation for diverse tastes make it a great destination for people with different dietary needs.

How to respect local customs and traditions?

When traveling in Darling, South Africa, it is important to show respect for the locals and their customs. Dress modestly, avoid offensive language and always ask permission before taking photos. Also respect local cultural events, especially the Darling Wildflower Show and the Evita se Perron Theater. Be willing to try local food and drink, and treat locals respectfully. Be grateful for any hospitality and remember that a smile is appreciated by all.

Are there opportunities for stargazing in Darling?

Yes, Darling offers wonderful stargazing opportunities. Thanks to low light pollution, the night sky is highly visible and offers an impressive stargazing spectacle. You can visit local observatories or embark on a self-guided stargazing adventure. Spread out a blanket, lie back, and take in the overwhelming beauty of the cosmos. Overall, Darling is a perfect place for astronomical exploration and contemplation of the mysteries of the universe.

How can I access emergency services?

In Darling, South Africa, you can reach emergency services at certain numbers. For the police, dial 10111 from a landline or 112 from a cell phone. For medical emergencies, dial ER24 on 084124. If you need the fire department, contact Yzerfontein Fire & Rescue on 022 451 3344. Please provide clear information about the nature of the emergency and your location.

What is the health care system like in Darling?

Darling, a small town in South Africa, has access to basic health services, including clinics and pharmacies. However, for specialized medical services, residents may need to travel to larger cities such as Cape Town. The quality of health care can vary, with private health care generally offering better services than public health care. It is advisable for travelers to purchase comprehensive health insurance that covers all medical emergencies and needs.

Feedback

I hope you found this article informative and helpful. I'm eager to improve the content and make it even more valuable for you. If you have any feedback or suggestions, I would love to hear from you.

Do you have any tips or hidden gems that you think should be added to the list? Are there any areas that you feel could use more explanation or clarification?

Your input is greatly appreciated and will help us to continue providing high-quality content that meets your needs and interests. Please feel free to share your thoughts.