1. Nagoya Castle
Nagoya Castle is a stately structure full of history and cultural significance. Discover the golden "Shachi-hoko," tiger-headed fish statues designed to protect the castle from fire. Inside, a museum offers a rare glimpse into Edo period life. As a bonus, you can enjoy a tranquil Japanese garden right inside. And guess what? The charming Osu shopping district is just a short walk away, where old meets new. Visit it and immerse yourself in Japanese history, architecture, and shopping culture.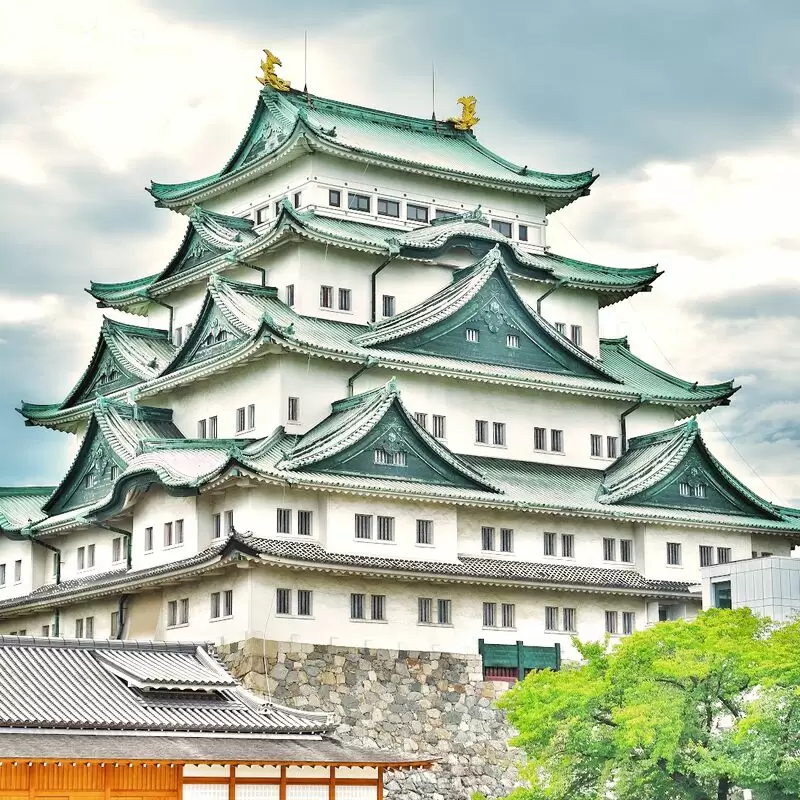 Nagoya Castle
1-1 Honmaru, Naka Ward, Nagoya, Aichi 460-0031
Monday - Sunday: 9:00 AM – 4:30 PM
2. Atsuta Jingu
Discover the spiritual heart of Nagoya at Atsuta Jingu, a tranquil Shinto shrine set in a 2,000-year-old sacred forest. Considered one of Japan's most important shrines, it houses the Kusanagi-no-Tsurugi, an imperial regalia sword. Don't miss the fascinating rituals and sample a local dish, kishimen, at Atsuta Horaiken, hidden within the temple grounds. Not far away is the jewel of nature: the Shirotori Garden, a masterpiece of traditional landscaping. Let yourself be enchanted by Nagoya's tranquil charm!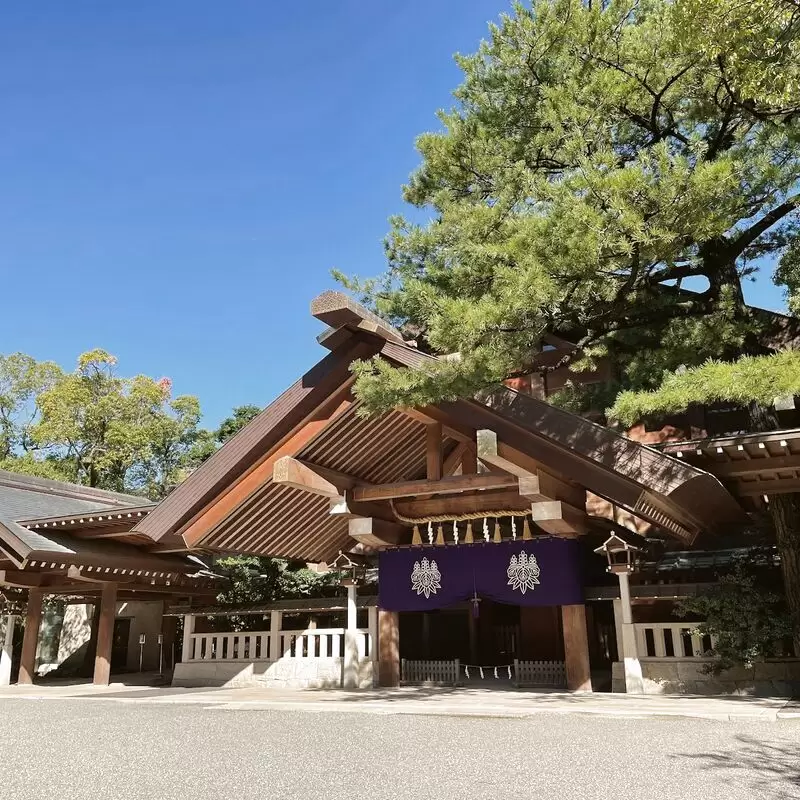 Atsuta Jingu
1-chōme-1-1 Jingū, Atsuta Ward, Nagoya, Aichi 456-8585
Monday - Sunday: Open 24 hours
3. Port Of Nagoya Public Aquarium
Immerse yourself in the underwater world at the Port of Nagoya Public Aquarium! Encounter the vibrant underwater world, including the enchanting dolphins and orcas that participate in enchanting daily shows - a magical experience for children and adults alike. You won't want to miss feeding the marine animals at certain times. Plus, the park is very close to Nagoya Castle and Legoland, so your day is a triad of history, fun and marine wonder. So immerse yourself in the mysteries of nature in Nagoya. There is no better way to enrich your Japan adventure!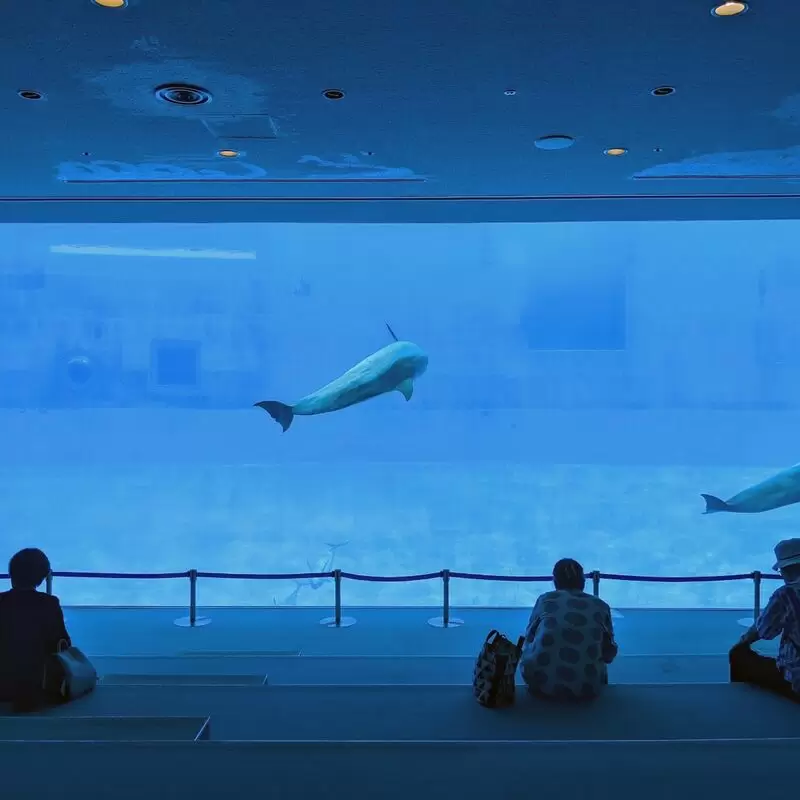 Port Of Nagoya Public Aquarium
1-3 Minatomachi, Minato Ward, Nagoya, Aichi 455-0033
Monday: 9:00 AM – 5:30 PM
Tuesday - Sunday: 9:30 AM – 5:30 PM
4. SCMaglev and Railway Park
A visit to the SCMaglev and Railway Park in Nagoya is a must for any railroad enthusiast. The museum houses 39 decommissioned trains, including models of the Shinkansen (bullet train), which holds the world record. Experience maglev train technology, driving simulators and even a Shinkansen cockpit. When you've had your fill of trains, head to nearby Minato Ward to visit Nagoya's incredible harbor with an aquarium and picturesque garden. Lovers of Japanese culture, families and technology enthusiasts will not be able to resist this combination!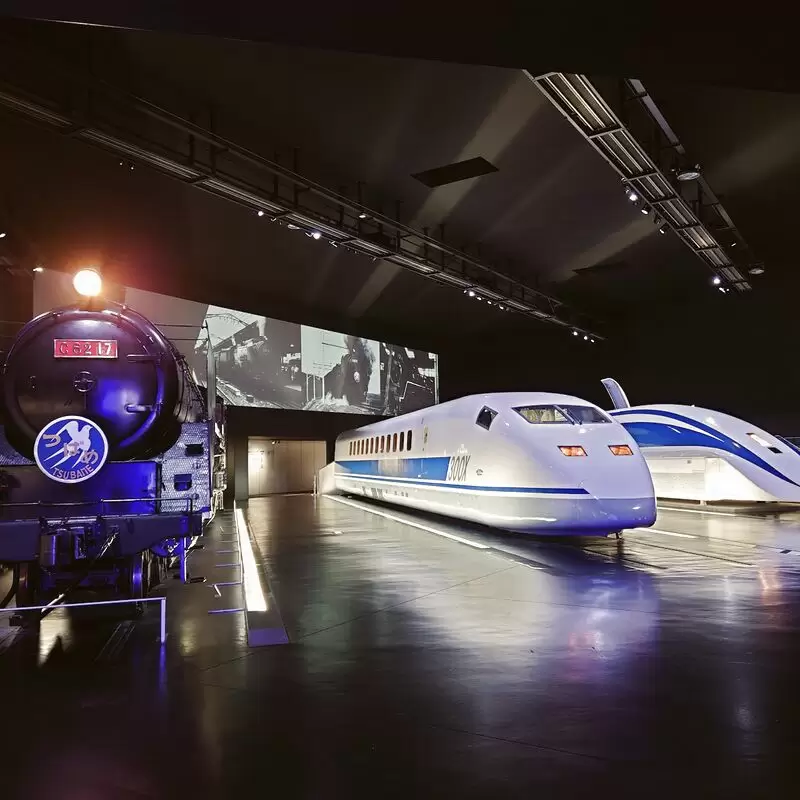 SCMaglev and Railway Park
3-chōme-2-2 Kinjōfutō, Minato Ward, Nagoya, Aichi 455-0848
Monday - Sunday: 10:00 AM – 5:30 PM
Tuesday: Closed
5. Higashiyama Zoo and Botanical Gardens
Experience the breathtaking thrill of the Higashiyama Zoo and Botanical Garden in Nagoya! Here you can see over 125 species of animals and 7000 unique plants. Experience the zoo's main attraction - Shabani, the photogenic gorilla that has captured hearts internationally. Enjoy a leisurely stroll through the beautiful gardens, which are a hidden gem at the time of cherry blossom. Not far away is the enchanting Higashiyama Sky Tower, from which you can enjoy a panoramic view of Nagoya - an ideal end to your extraordinary day of adventure.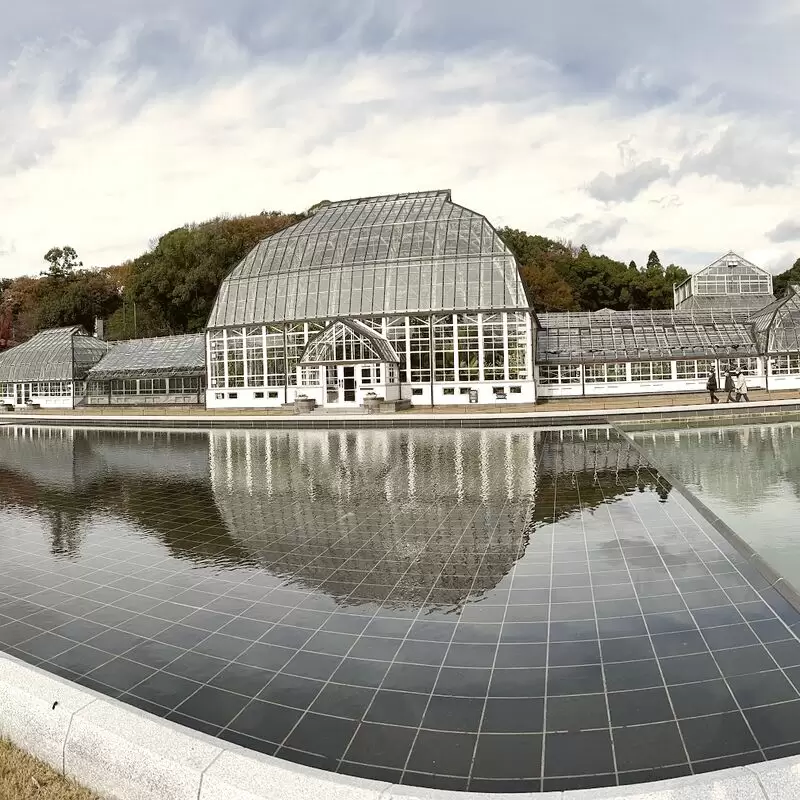 Higashiyama Zoo and Botanical Gardens

Monday: Closed
Tuesday - Sunday: 9:00 AM – 4:30 PM
6. Museum Meiji Mura

Immerse yourself in history at the Meiji-Mura Museum, a sprawling open-air museum in Nagoya that captures the essence of Meiji-era Japan. Stroll through more than 60 preserved buildings and experience the atmosphere of the era. Don't miss the stagecoach ride that will take you back to 19th century Japan! Nearby is the fascinating Inuyama Castle, which offers a magnificent view of the Kiso River.

Insider tip: Be sure to visit the Starbucks, housed in a century-old post office!

Museum Meiji Mura


Monday - Sunday: 9:30 AM – 5:00 PM
7. Nagoya City Science Museum

Unleash your inner explorer at the Nagoya City Science Museum! Here you can marvel at the world's largest planetarium and engage with interactive exhibits from a variety of scientific fields. The exhibits are bilingual, perfect for international visitors.

Insider tip: Don't miss the live tornado demonstration! And just 10 minutes away is Noritake Garden, a perfect blend of lush greenery and stunning porcelain artwork. Education and fun are combined in Nagoya.

Nagoya City Science Museum
芸術と科学の杜・白川公園内

Monday: Closed
Tuesday - Sunday: 9:30 AM – 5:00 PM
8. Legoland Japan Resort
Experience the thrill of immersing yourself in a life-size Lego world at Legoland Japan Resort in Nagoya. Let your creativity run wild as you explore themed areas, enjoy rides, and see iconic Japanese landmarks made of millions of colorful Lego bricks. Tip: Be sure to check out Miniland Japan! And don't forget that SCMAGLEV and Railway Park are just a stone's throw away - a must-see for train fans. With or without kids, a day at Legoland promises endless fun and imagination.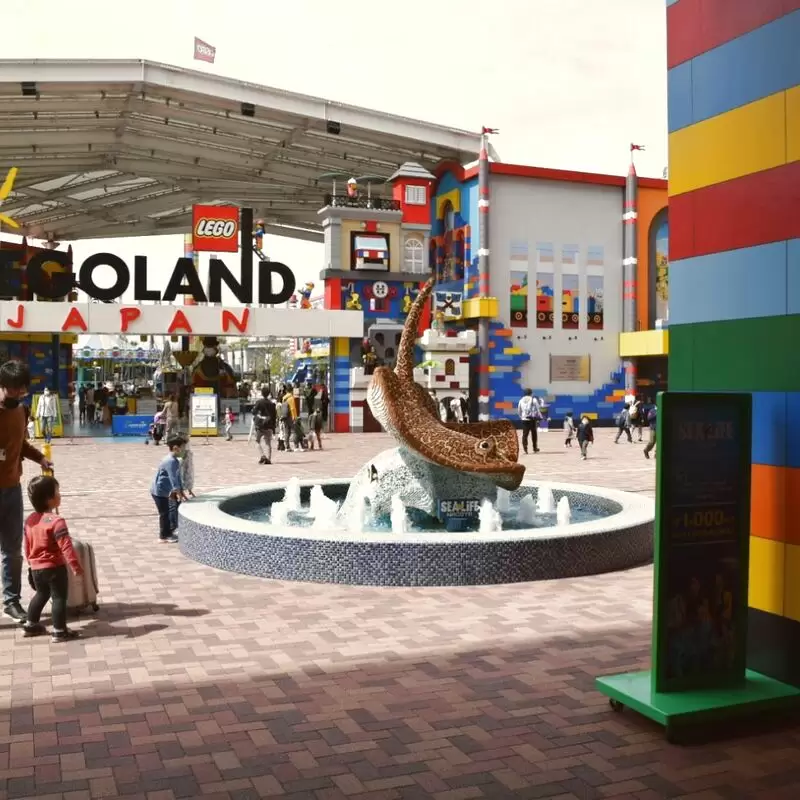 Legoland Japan Resort
Nagoya-shi, LEGOLAND Japan Limited, 1 Kinjoufutou, 2丁目-2 金城ふ頭 港区 名古屋市 愛知県 455-8605
Monday - Friday: 10:00 AM – 4:00 PM
Saturday - Sunday: 10:00 AM – 5:00 PM
9. Tokugawa Park
Be swept away by the tranquility of Tokugawa Park in Nagoya! This park is home to the magnificent Tokugawa Art Museum, which displays heirlooms of the Tokugawa samurai family, and offers a beautiful Japanese landscape garden where time seems to stand still. An insider's tip: In spring, a visit at dusk will reward you with a mesmerizing view of the brilliant cherry blossoms. Don't forget to stop by the adjacent Hosa Library for a look at Japan's rich history. This oasis of serenity is a year-round wonder in Nagoya!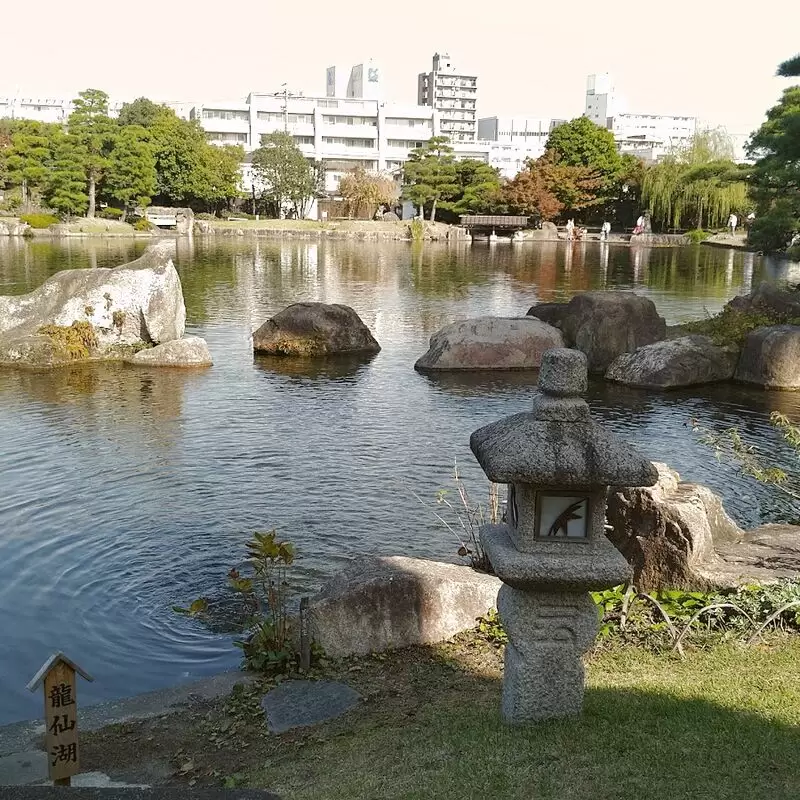 Tokugawa Park
1001 Tokugawachō, Higashi Ward, Nagoya, Aichi 461-0023
Monday: Closed
Tuesday - Sunday: 9:30 AM – 5:30 PM
10. Osu Kannon
Embark on a cultural adventure and visit Osu Kannon, one of the largest Buddhist temples in Nagoya. It is known for its striking red architecture and houses the famous Shinpukuji Library with 15,000 classical Japanese and Chinese works. Experience the lively flea market held every month on the temple grounds. And just around the corner? The charming shopping street Osu! It's full of pop culture, vintage stores, and delicious street food. A visit to Nagoya is incomplete without Osu Kannon on your list!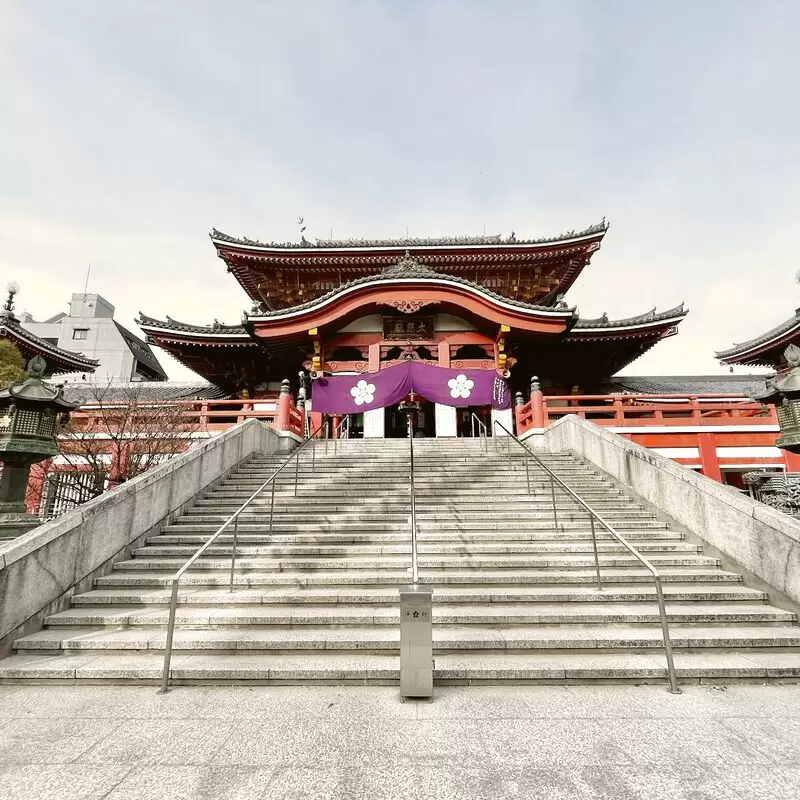 Osu Kannon
2-chōme-21-47 Ōsu, Naka Ward, Nagoya, Aichi 460-0011
Monday - Sunday: 6:00 AM – 7:00 PM
11. Nagoya Station

Experience the thrill of Japan's railroad epicenter, Nagoya Station! The largest station in the world by area, it houses the popular Takashimaya department store with a variety of shopping and dining options. Be enchanted by the station's intricate architecture or enjoy the view from the Observatory Deck of the JR Central Towers. Just steps away is Nagoya Castle, a historic landmark dating back to the Edo period.

Insider tip: Don't miss the underground shopping center "Chica" in the station.

Nagoya Station
1-chōme-1-4 Meieki, Nakamura Ward, Nagoya, Aichi 450-0002
Best Time to Visit Nagoya
The best time to visit Nagoya, Japan, is spring (March to May) and autumn (September to November). These periods offer mild weather and stunning scenery, including cherry blossoms in spring and colorful fall foliage. Avoid the rainy season in June and the high heat and humidity in midsummer.
Annual Weather in Nagoya
Nagoya 3-Day Forecast
Tue, 26 September
Night
72 °F
22 °C
0%
Morning
69 °F
20 °C
0%
Afternoon
83 °F
28 °C
0%
Evening
79 °F
26 °C
0%
Wed, 27 September
Night
75 °F
24 °C
0%
Morning
72 °F
22 °C
0%
Afternoon
82 °F
28 °C
0%
Evening
81 °F
27 °C
0%
Thu, 28 September
Night
77 °F
25 °C
0%
Morning
75 °F
24 °C
0%
Afternoon
85 °F
30 °C
0%
Evening
81 °F
27 °C
60%
Questions & Answers

How do I use public transportation in Nagoya?

Public transportation in Nagoya is excellent and user-friendly. The main options are the subway, buses and cabs. Buy a Manaca card, an integrated circuit card available at subway stations, to pay for your rides. English signage abounds, but remember to use the Google translate app for translation purposes. Cabs are conveniently available, but more expensive. To get the most out of Nagoya's efficient public transportation system, always have a map handy.

Is it necessary to know Japanese to get around?

While it is not essential to know Japanese to get around Nagoya - as in many modern cities, most important signs are posted in both Japanese and English - it is helpful to learn some basic phrases. Many locals, especially the elderly, may not be fluent in English. However, technologies such as translation apps can help overcome the language barrier. Overall, a basic knowledge of the Japanese language can certainly enhance your experience, but it is not a prerequisite for a successful visit.

What are some local dishes I should try?

One of Nagoya's must-try culinary delights is hitsumabushi, a grilled eel dish that can be prepared in three different ways. Another must-try is Nagoya Cochin, a local breed of chicken used in various dishes for its rich flavor. Don't miss miso katsu, a variation of tonkatsu with a savory miso sauce. For noodle lovers, Nagoya-style tebasaki and Taiwan ramen, a spicy, garlicky noodle dish that originated in Nagoya, are absolutely delicious. Finally, you can round off your meal with the sweet Uiro dessert.

What is the currency used in Nagoya?

The currency used in Nagoya, Japan is the Japanese yen, usually symbolized as "¥". The yen is the third most traded currency in the foreign exchange market after the U.S. dollar and the euro. Coins come in denominations of ¥1, ¥5, ¥10, ¥50, ¥100 and ¥500, while banknotes are available in denominations of ¥1,000, ¥2,000, ¥5,000 and ¥10,000. Currency exchange is readily available at banks, post offices and international airports.

Are credit cards widely accepted?

Yes, credit cards are widely accepted in Nagoya, Japan. Most major establishments such as hotels, restaurants and department stores accept credit cards, including international cards such as Visa, MasterCard and American Express. Nevertheless, there are some small stores, especially in traditional areas, that only accept cash. It is also a good idea to have some cash on hand for public transportation. Even though you can rely on credit cards in Nagoya, it is always advisable to carry a certain amount of cash as well.

Are there specific cultural customs I should be aware of?

In Nagoya, bowing is a form of greeting and is also used to show respect or gratitude. It is important to arrive on time for meetings, as punctuality is highly valued. Japanese society is group-oriented, so consensus decisions are important. The exchange of business cards is an indispensable ritual in professional life, with both hands always receiving and giving. Publicly maintaining harmony ("wa") and respect for elders and hierarchy are core components of Japanese culture. Modesty and politeness are encouraged.

Could you suggest some traditional Japanese restaurants?

I would definitely recommend a visit to Maruya Honten in Matsuzaka. It is known for serving high quality Matsuzaka beef prepared according to traditional methods. Another must-visit is Hitsumabushi Bincho Nagoya E-mae, where you can enjoy a regional specialty - grilled eel on rice prepared in three different ways. Sushi lovers should visit Nishiki Sushi Shin. The restaurant is known for its wide selection of fresh seafood and is second to none. For a traditional kappo-style meal, Hatsune is the place to go.

Does Nagoya have a nightlife?

Definitely! Nagoya has a lively nightlife with a range of experiences for all types of adventurers. There are a variety of bars, clubs, pubs and lounges in the city. Whether you want to dance the night away at a high-energy nightclub like "iD Cafe," sip a cocktail at an upscale bar like "The 300 Bar," or enjoy live music at "Plastic Factory," Nagoya's nightlife offers something for everyone. In addition, the city's izakaya (Japanese taverns) offer unique local experiences.

Is Nagoya safe for tourists to explore alone?

Yes, Nagoya is generally considered a safe city for tourists to explore on their own. The crime rate is relatively low compared to other major cities around the world. However, as in any city, it is advisable to be cautious and follow standard safety practices. Be aware of your surroundings in busy areas where pickpocketing or scams may occur. Also, respect local customs and traditions. Thanks to the well-developed public transportation system and hospitable locals, it is quite comfortable to travel alone in Nagoya.

Is Nagoya a pedestrian-friendly city?

Yes, Nagoya is a pedestrian-friendly city. The city has wide and clean sidewalks, traffic lights with sufficient crossing time, and well-marked pedestrian zones. Many of the city's major attractions, such as Nagoya Castle, Osu Shopping Street, and the Sakae area, are within easy walking distance. In addition, there are numerous underpasses and overpasses for pedestrians to get around easily and safely. The city also has a reliable public transportation system for longer distances.

How prevalent is English in Nagoya?

Nagoya is a popular tourist destination, but English is not widely spoken. Many residents have some knowledge of English due to mandatory schooling, but may not be able to converse. Larger hotels, airports, and train stations have signs in English, and staff understand a smattering of English. Outside of these areas, however, communication can be difficult. It is recommended to learn basic Japanese phrases and/or use a translation app to make communication smoother.

What type of clothing should I pack?

The clothes you should pack for Nagoya depend on the time of year you visit the city. In spring and fall, you should pack light layers such as T-shirts, light sweaters or jackets. For summer, light, breathable fabrics are recommended due to the high humidity. In winter, prepare for colder temperatures with thermal clothing: warm coats and thicker sweaters. Regardless of the season, comfortable shoes are essential for sightseeing. An umbrella or raincoat is advisable because of the occasional rain.

How can I stay connected (internet-wise) in Nagoya?

Staying connected in Nagoya is easy. You can rent a pocket Wi-Fi router that lets you access the Internet anywhere. Most hotels, cafes, shopping malls, and even some public places like Nagoya Castle offer free Wi-Fi. Prepaid SIM cards with data are available at most electronics stores and are another good option for staying on the Internet.

How to handle medical emergencies in Nagoya?

In the event of a medical emergency in Nagoya, dial 119 for an ambulance. Services are available around the clock, but please note that English-speaking personnel are limited. For minor cases, visit a local clinic or "klinikku." For serious cases, go to a larger hospital or "byouin". Emergency medical care is usually good but expensive, so you should purchase travel insurance to cover the cost. Take your identification and contact information for relatives with you. Many hospitals have affiliated pharmacies where you can fill prescriptions.

Are there any areas in Nagoya I should avoid?

Although Nagoya is generally safe, caution is advised in entertainment districts such as Sakae, especially at night. Although incidents are rare, there are some nightlife spots in this district that can attract petty crime. Lover's Lane, a narrow street of love hotels, is also a place to avoid as a single person, especially late at night. Always be vigilant, respect local customs and laws, and follow worldwide travel advice. Remember that different areas have their own unique atmosphere, so be mindful of your well-being as you explore.

What is the drinking age in Nagoya?

In Nagoya, as in the rest of Japan, the legal drinking age is 20. This is strictly enforced, so it is important for young travelers to know the local laws. Both the purchase and consumption of alcohol by those under this age are prohibited. Remember to carry identification if you look young, as establishments may want to verify your age. It is also worth noting that Japan has very strict laws about drinking and driving, with a zero tolerance policy.

How does tipping work in Nagoya?

Tipping is not common in Nagoya, Japan, as it is neglected throughout the country. It is not common to tip in restaurants, cabs, or hotels, as Japanese culture considers good service to be standard. Instead of tipping, a service charge is sometimes added to the bill. Overall, tipping can be seen as disrespectful. If you receive exceptional service and want to express your appreciation, a small gift or kind words are more acceptable.

Is Nagoya expensive to visit?

Visiting Nagoya, Japan can be moderately expensive depending on your lifestyle and choices. The cost of accommodation, food and transportation is generally high compared to other Asian countries. Food can also be expensive, especially if you want to enjoy Nagoya's famous cuisine. However, there are plenty of options for travelers on a budget, such as affordable restaurants, public transportation, and inexpensive accommodations. Major attractions such as Nagoya Castle, Atsuta Shrine and Osu Shopping Street offer cheap or free admissions.

How do I respect Japanese traditions and customs in Nagoya?

During your stay in Nagoya, respect Japanese customs and avoid loud or disruptive behavior. Remember to bow when greeting people, as this is an important part of etiquette. Always follow the rules when visiting temples, remove your shoes when requested, and avoid pointing directly at things. The proper use of chopsticks is also appreciated. Finally, respect the Japanese concept of "Wa," which means harmony and is central to the Japanese lifestyle. Appreciate their culture by observing it without judging or imposing.

Where can one experience traditional Japanese tea ceremony in Nagoya?

In Nagoya, you can experience a traditional Japanese tea ceremony at Nagoya-jo Castle. Here, the Omotenashi Bushotai holds the ceremony in the castle's premises and serves matcha green tea in an authentic setting. In addition, the Nagoya International Center offers group tea ceremony classes where participants can learn more about the history and culture of this unique practice, making for a truly immersive Japanese experience.

How do I activate a SIM card in Japan?

To activate a SIM card in Japan, you must first purchase a SIM card from an authorized dealer. After you insert the SIM card into your phone, follow the instructions on the package to activate it. Usually, you will need to go to a specific website or call customer service to do this. Make sure you have your passport with you for identity verification. Note that some SIM cards require an unlocked phone to work properly.

Are there any famous local festivals?

Nagoya is known for its vibrant local festivals that showcase the city's rich cultural heritage. Among the most popular is the Atsuta Festival, an event celebrated at the Atsuta Shrine and known for traditional music and dance performances. Another important event is the World Cosplay Summit, which attracts anime and manga enthusiasts from around the world. Nagoya also celebrates the Nagoya Matsuri, which features samurai parades and processions that are popular with locals and tourists alike.

What typical etiquette should tourists know in Nagoya?

In Nagoya, as in the rest of Japan, tourists should be careful not to tip, as this is not customary and can be considered rude. Instead, people should express their gratitude verbally. In addition, visitors should remove their shoes when entering houses, traditional restaurants, temples or ryokan. It is also important to respect queues and avoid loud or disruptive behavior, especially on public transportation. As a sign of respect, use both hands when giving or receiving anything, especially money or cards.

Are there any unique cultural experiences in Nagoya?

In Nagoya you can participate in a traditional Japanese tea ceremony or enjoy the art of ikebana (Japanese flower arrangement). The city also hosts the Nagoya Festival, which features traditional music and dances. For history buffs, Atsuta Shrine and Nagoya Castle offer glimpses into Japan's historical past. Or visit the Scmaglev and Railway Park, where you can get a unique glimpse of Japan's advanced railroad technology. Foodies will appreciate local culinary delights such as hitsumabushi (grilled eel dish) and miso katsu (breaded pork cutlet with red miso sauce).

Feedback

I hope you found this article informative and helpful. I'm eager to improve the content and make it even more valuable for you. If you have any feedback or suggestions, I would love to hear from you.

Do you have any tips or hidden gems that you think should be added to the list? Are there any areas that you feel could use more explanation or clarification?

Your input is greatly appreciated and will help us to continue providing high-quality content that meets your needs and interests. Please feel free to share your thoughts.