1. Christ the Redeemer

The iconic statue of Christ high atop Corcovado Mountain is a must-see for any visitor to Rio de Janeiro. With its breathtaking panoramic view of the city and the sea, it is no wonder that more than two million tourists visit this statue every year.

Insider tip: The best time to visit is early morning, when the crowds are not yet so numerous and the light is perfect for Instagram photos. During your visit, don't miss the funicular ride up the mountain. This train is more than a century old, and the breathtaking views are unforgettable. Don't leave Rio before visiting the nearby Botanical Garden to see the incredible variety of Brazilian flora and fauna.

Christ the Redeemer
Parque Nacional da Tijuca - Alto da Boa Vista, Rio de Janeiro

Monday - Sunday: 8:00 AM – 7:00 PM
2. Tijuca National Park

Right in the heart of Rio de Janeiro lies the stunning Tijuca National Park - a must-see for any nature lover. This lush rainforest offers a number of hiking trails, waterfalls, and breathtaking views that are the perfect escape from the busy city streets. Be sure to keep an eye out for the park's resident wildlife, including monkeys and toucans.

Insider tip: Visit early in the morning to escape the crowds and enjoy the quiet beauty of the park. The famous Christ the Redeemer statue is also located nearby.

Tijuca National Park
Estr. da Cascatinha, 850 - Alto da Boa Vista, Rio de Janeiro

Monday - Sunday: 8:00 AM – 5:00 PM
3. Botanical Garden of Rio de Janeiro
Imagine a tranquil oasis in the middle of a bustling city - that's the Rio de Janeiro Botanical Garden. With over 8,000 species of plants and trees from around the world, the garden is a nature lover's paradise. One of the highlights is the Avenue of Royal Palms, which towers over visitors at an impressive 300 feet tall. Tucked away in a corner is a tranquil Japanese garden that invites you to take a peaceful stroll. Nearby, you can also visit Lage Park, a beautiful public park known for its mansion designed by Italian architect Mario Bernadelli.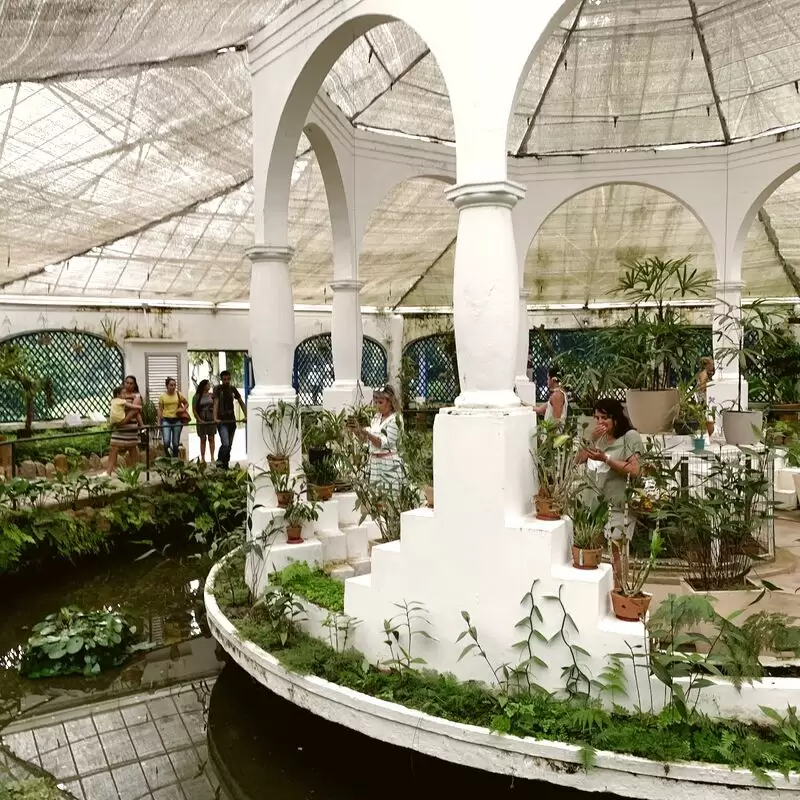 Botanical Garden of Rio de Janeiro
R. Jardim Botânico, 1008 - Jardim Botânico, Rio de Janeiro
Monday - Sunday: 8:00 AM – 5:00 PM
Wednesday: Closed
4. Parque Lage

Enter the lush paradise of Parque Lage, located at the foot of Corcovado in Rio de Janeiro. This park, with its natural beauty and architectural splendor, is a must-see for nature lovers and art enthusiasts alike. Take a guided tour of the stately Lage mansion, originally built as a private home in the 1920s and now a center for arts and culture. You can take a relaxing walk through the majestic gardens and enjoy the tranquil lagoon surrounded by mountains. Don't forget to bring your camera, because the panoramic view of Rio de Janeiro is simply breathtaking.

Insider tip: The park is a good starting point for hikes in the Tijuca Forest. Don't miss the opportunity to experience the harmony between nature and art!

Parque Lage
R. Jardim Botânico, 414 - Jardim Botânico - Jardim Botânico, Rio de Janeiro

Monday - Sunday: 9:00 AM – 5:00 PM
5. Escadaria Selarón
Get ready to dive into the bright colors of the "Escadaria Selarón"! This iconic staircase is not only an architectural marvel, but also one of the hottest places in Rio to take great photos. It's covered in vibrant ceramic tiles, and each step is unique - an ode to vibrant Brazilian culture. You can even spot small tiles with the flags of different countries - a testament to the universal nature of the art. Be sure to visit the nearby Santa Teresa neighborhood, which is another hidden gem.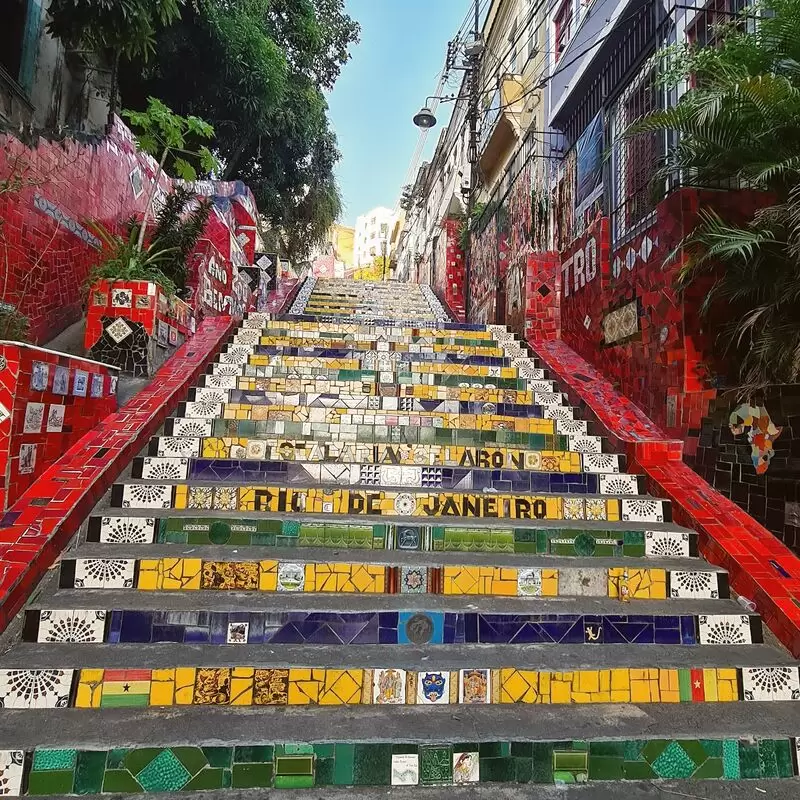 Escadaria Selarón
R. Manuel Carneiro - Santa Teresa, Rio de Janeiro
Monday - Sunday: Open 24 hours
6. Municipal Theater of Rio de Janeiro
The Municipal Theater, a true masterpiece of architecture and one of the most popular cultural destinations in Rio de Janeiro, is a must-see for all travelers. The famous architect Francisco de Oliveira Passos designed it in the French style. The interiors will amaze you with its large halls, paintings and sculptures. The theater is known for its famous performances and concerts, including ballets, operas and classical music concerts. Be sure to attend a performance or take a guided tour to learn more about the rich history of this iconic building. The National Library is just a stone's throw away.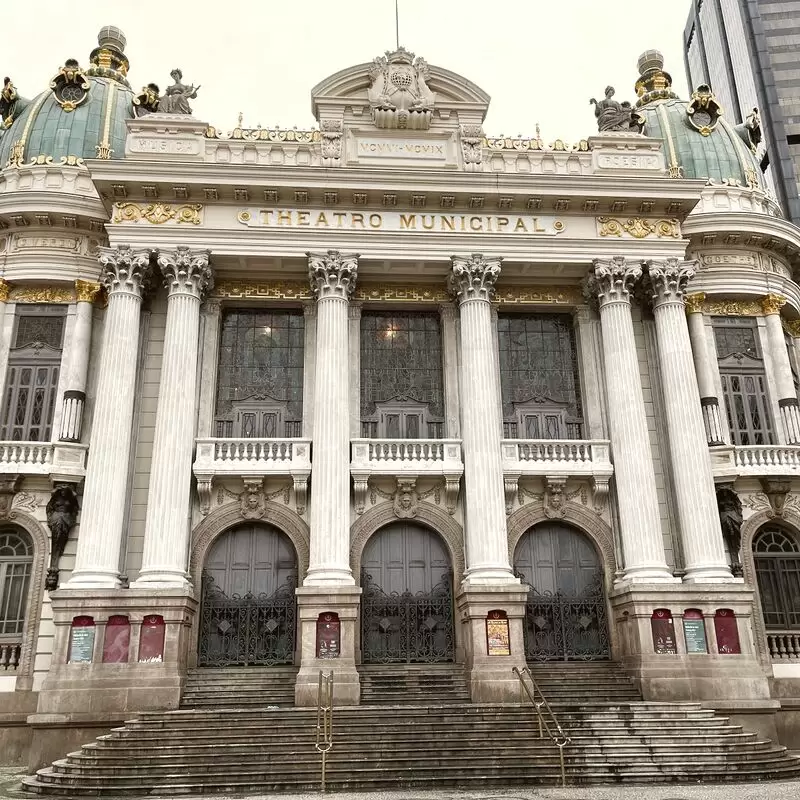 Municipal Theater of Rio de Janeiro
Praça Floriano, S/N - Centro, Rio de Janeiro
Monday - Friday: 10:00 AM – 5:00 PM
Saturday: 11:00 AM – 2:00 PM
Sunday: Closed
7. Quinta da Boa Vista

Quinta da Boa Vista in the heart of Rio de Janeiro is a must-see for all history and nature lovers. This former imperial palace turned park offers visitors a glimpse into Brazil's royal past while providing a tranquil escape from the bustling city. Take a stroll through the lush gardens, admire the palace's intricate architecture, and learn about the former inhabitants of this stately estate.

Insider tip: Don't miss the National Museum, located on the grounds of the park. Here you will find an extensive collection of artifacts, including rare dinosaur fossils.

Quinta da Boa Vista
Av. Pedro II, s/n - São Cristóvão, Rio de Janeiro

Monday - Sunday: 7:00 AM – 6:00 PM
Thursday: 6:00 AM – 6:00 PM
8. Catedral Metropolitana de São Sebastião do Rio de Janeiro
The Catedral Metropolitana de São Sebastião do Rio de Janeiro is a stunning architectural masterpiece that every tourist visiting Rio de Janeiro should not miss! This stunning cathedral is located in the heart of the city center and stands out for its unique conical shape and beautiful stained glass windows. Inside the cathedral, you'll be amazed by the sheer size and beauty of the space, with its towering columns and striking minimalist design. Take a moment to admire the impressive artwork, including bronze sculptures by artist Francisco Brennand. After your visit, take a walk to nearby attractions such as the National Library and the famous Arcos da Lapa.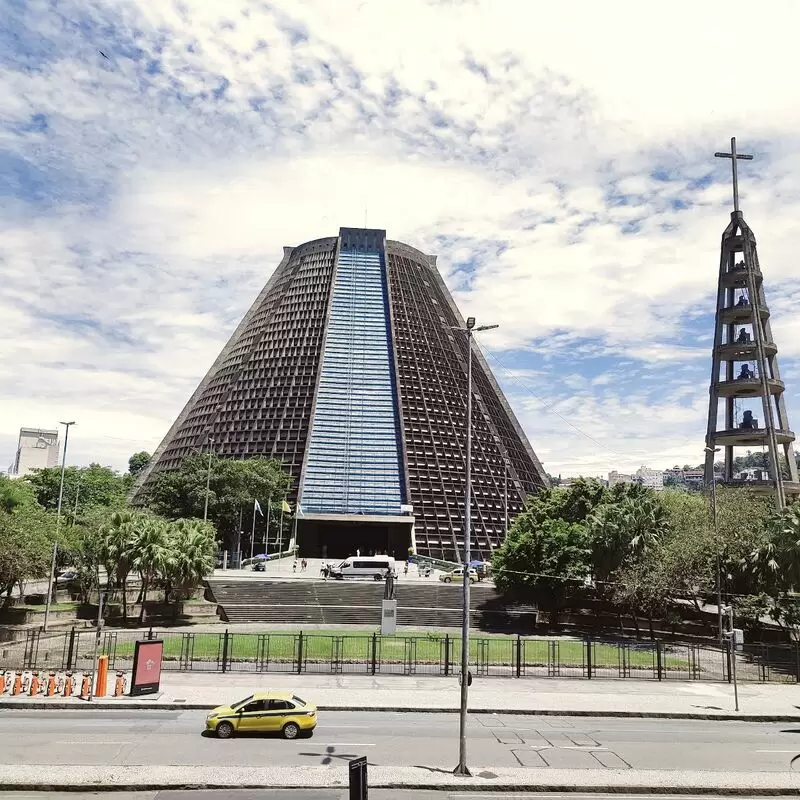 Catedral Metropolitana de São Sebastião do Rio de Janeiro
Av. Chile, 245 - Centro - Centro, Rio de Janeiro
9. Sugarloaf Mountain

If you visit Rio de Janeiro, you should not miss the famous Sugarloaf Mountain. This breathtakingly beautiful mountain formation is one of the city's most famous landmarks, and rightly so. The view from its summit is simply spectacular. You'll have an unobstructed view of Rio's stunning coastline, the city's unique landscape, and the surrounding mountains and islands. To really enjoy the experience, take the cable car to the top, where you can glide over the city and enjoy a panoramic view that will leave you impressed.

Insider tip: Try visiting Sugarloaf Mountain at sunset, when the city lights come to life and the view is simply magical. If you have time, visit the nearby Praia Vermelha beach for a swim or a walk.

Sugarloaf Mountain
Sugarloaf Mountain - Urca, Rio de Janeiro
10. Paquetá Island
If you want to spend a quiet day away from the hustle and bustle of Rio de Janeiro, be sure to visit Paquetá Island. This charming island is a hidden gem with beautiful scenery, colonial architecture and a car-free environment - the perfect place to take a walk and enjoy the island's tranquil atmosphere. Scattered throughout the island are small restaurants and cafes where you can grab a bite to eat, and beautiful beaches where you can relax. Don't forget to rent a bike or take a horse-drawn carriage to fully explore the island. And if you have time, be sure to visit the nearby small island "Ilha do Governador".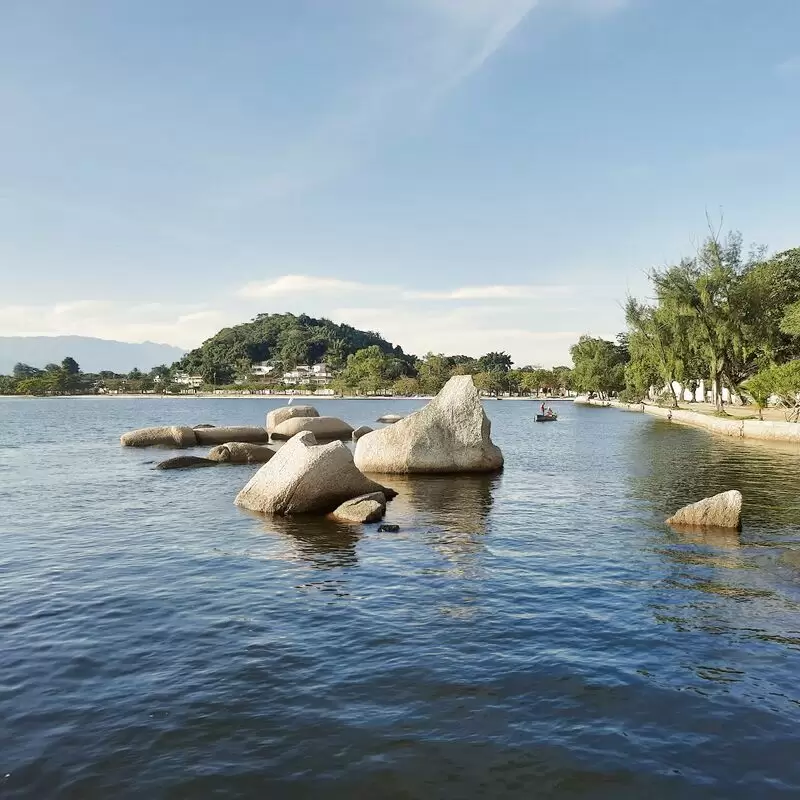 Paquetá Island
Paquetá Island - Paquetá, Rio de Janeiro
11. Leblon Beach

Leblon Beach in Rio de Janeiro is definitely one of the most beautiful places in the world. Surrounded by lush mountains and crystal clear waters, this beach is a must for anyone traveling to Rio. The upscale neighborhood of Leblon adds to the charm and sophistication of this stretch of beach.

Insider tip: Visit Jobi, a local bar and restaurant that has been a staple in the area for over 50 years. Don't forget to take a walk along the boardwalk and admire the breathtaking views of neighboring Ipanema Beach.

Leblon Beach
Av. Delfim Moreira, 710 - Leblon, Rio de Janeiro

Monday - Sunday: Open 24 hours
Best Time to Visit Rio de Janeiro Annual Weather in Rio de Janeiro Rio de Janeiro 3-Day Forecast

Sat, 23 September

Night

74 °F

23 °C

0%

Morning

71 °F

22 °C

0%

Afternoon

81 °F

27 °C

0%

Evening

74 °F

23 °C

0%

Sun, 24 September

Night

72 °F

22 °C

0%

Morning

72 °F

22 °C

0%

Afternoon

89 °F

32 °C

0%

Evening

82 °F

28 °C

0%

Mon, 25 September

Night

80 °F

27 °C

0%

Morning

74 °F

23 °C

0%

Afternoon

81 °F

27 °C

0%

Evening

75 °F

24 °C

0%

Questions & Answers

Is it safe to travel to Rio de Janeiro?

Like any other major city, Rio de Janeiro has to deal with crime and security problems. It is important to take precautions, such as avoiding certain areas at night, being vigilant in busy areas, and not displaying valuable items. Nevertheless, Rio has made significant efforts to improve security in recent years, including increased police presence and better lighting in public areas. As long as travelers take precautions and use common sense, they can safely enjoy all that Rio has to offer.

How much should I expect to pay for food and drinks?

Rio de Janeiro has a diverse dining scene with offerings for every budget. For a simple meal at a basic restaurant, expect to pay between R$20 and R$50. Mid-range restaurants typically charge between R$50 and R$100, while upscale restaurants can charge R$200 or more per person. Street food such as pastel, coxinha and acai bowls can be had for under R$10. Alcoholic drinks tend to be more expensive, with cocktails costing between R$20 and R$40 in bars and clubs. It is also worth noting that some restaurants do not include the service charge, which is usually 10%, in the bill.

Can I drink tap water in Rio de Janeiro?

It is not recommended to drink the tap water in Rio de Janeiro as it may not be safe for consumption. While the water in Rio de Janeiro is treated with chlorine to minimize the risk of waterborne diseases, it is still recommended to drink bottled or filtered water to avoid potential health problems. Also, use bottled water when brushing your teeth and do not add ice cubes to your drinks prepared with tap water.

What are the best beaches to visit in Rio de Janeiro?

Rio de Janeiro is famous for its breathtaking beaches, and there are some that you should not miss. Copacabana is one of the most famous beaches in the world, with a bustling promenade, bars and a lively atmosphere. Ipanema is another popular spot, known for its white sand, clear waters and beautiful sunsets. For those who like it quieter, head to Prainha, a secluded beach surrounded by nature, or Barra da Tijuca, a long sandy beach with great waves for surfing.

What type of currency is used in Rio de Janeiro?

The currency used in Rio de Janeiro and throughout Brazil is the Brazilian Real (BRL). It is divided into 100 centavos. The exchange rate can fluctuate daily, so it is advisable to check the current rates before exchanging. In Rio de Janeiro, you can exchange money at banks, exchange offices and some hotels. Most stores also accept credit and debit cards, especially those associated with international brands such as Visa and Mastercard. It is advisable to inform your bank before traveling abroad to avoid problems when using debit or credit cards.

Do I need to speak Portuguese to get around?

Most of the locals in Rio de Janeiro speak Portuguese. Therefore, it is helpful to have some basic knowledge of the language, especially when dealing with cab drivers, shopkeepers, and street vendors. However, English is also spoken and understood in many tourist areas, so with the help of a translation app, you can get by with minimal knowledge of Portuguese. It's always a good idea to take a map or use a GPS, especially if you plan to move outside the main tourist areas.

How do I get to Christ the Redeemer statue?

The Christ the Redeemer statue is located at the top of Corcovado Mountain. The most popular and easiest way to reach the statue is to take the cogwheel train from the Cosme Velho district, which takes about 20 minutes. Alternatively, you can take a van or bus from the city center to Paineiras Station and then transfer to another van that will take you to the top of Corcovado. Either option will give you a breathtaking view of the city along the way. It is recommended to buy tickets in advance to avoid long queues.

What's the best way to experience the Rio Carnival?

Rio Carnival is a world-renowned celebration that takes place every year in Rio de Janeiro, Brazil. To truly experience Carnival, immerse yourself in the elaborate parades and colorful costumes, as well as the lively street parties and musical events throughout the city. Visit the Sambadrome and watch the samba schools show off their incredible choreography and skills. Dance samba with locals and enjoy the festive atmosphere. It is also important to take safety precautions and be aware of your surroundings, especially in busy areas.

What's the history of the favelas in Rio de Janeiro?

The favelas in Rio de Janeiro have a complex history. They were originally founded in the late 19th century by soldiers and their families who had been evicted from their homes. The government then began forcibly evicting people from the city center and pushing them into informal settlements. In the mid-20th century, there was a significant increase in immigration to Rio de Janeiro, which led to the growth of the favelas. Today, about a quarter of the city's population lives there, and they continue to face problems such as poverty and violence.

Feedback

I hope you found this article informative and helpful. I'm eager to improve the content and make it even more valuable for you. If you have any feedback or suggestions, I would love to hear from you.

Do you have any tips or hidden gems that you think should be added to the list? Are there any areas that you feel could use more explanation or clarification?

Your input is greatly appreciated and will help us to continue providing high-quality content that meets your needs and interests. Please feel free to share your thoughts.