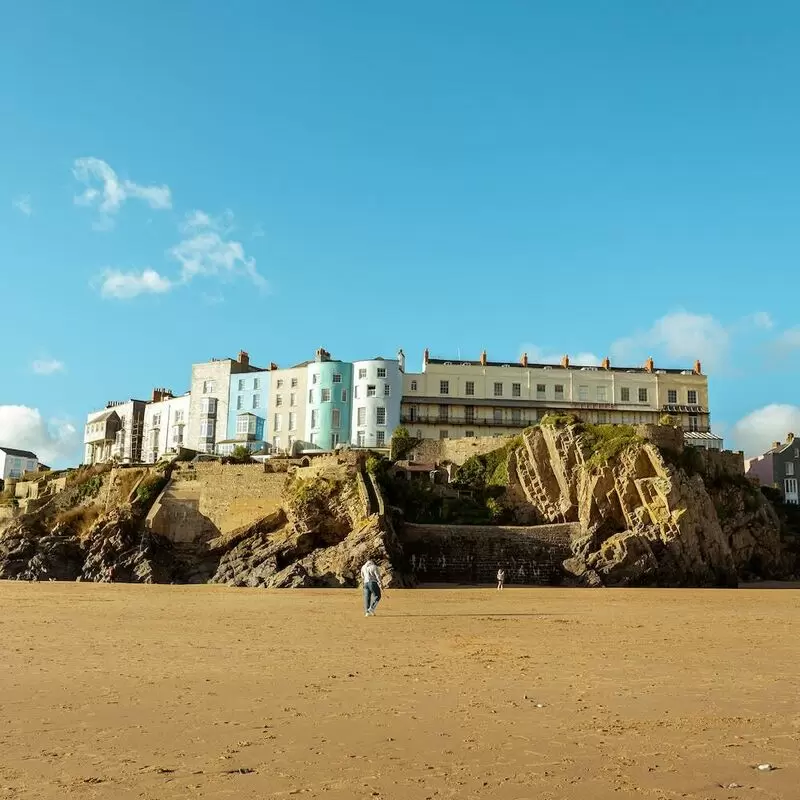 1. Carew Castle & Tidal Mill
Carew Castle & Tidal Mill is a must for history buffs and nature lovers alike. The Norman and Elizabethan style will captivate you at first sight, and the elegant swans in the mill pond will enchant you. Discover the hidden saga of the castle's "ghost monkey" as you explore. You're also within a 15-minute drive of picturesque Pembroke Castle, the birthplace of Henry VII, so you can experience the Middle Ages firsthand. This is the perfect escape in Tenby!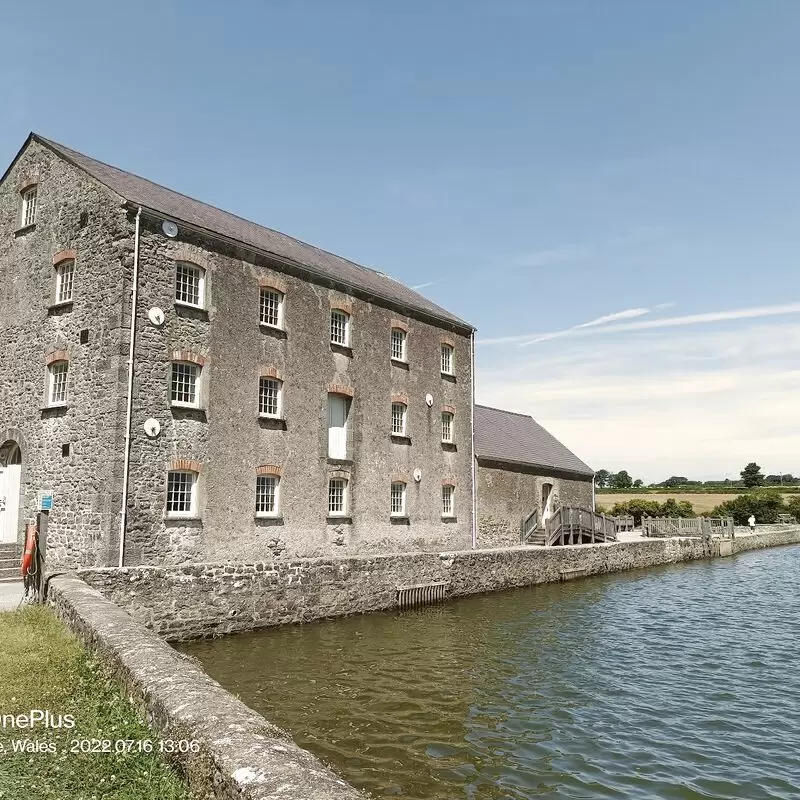 Carew Castle & Tidal Mill
Castle Lane, Carew, Tenby
Monday - Sunday: 10:00 AM – 4:30 PM
2. Manor Wildlife Park
A trip to Tenby wouldn't be complete without visiting Manor Wildlife Park, an animal lover's paradise. Unlike conventional zoos, here you can get up close and personal with exotic creatures like Sumatran tigers and playful meerkats. The park is not just an observation park, but a place of interaction, which makes it an extraordinary adventure. A hidden gem in its wooden valley, most don't know it's run by TV host Anna Ryder Richardson. Don't miss nearby Carew Castle, an epitome of Welsh heritage, just 15 minutes away by car!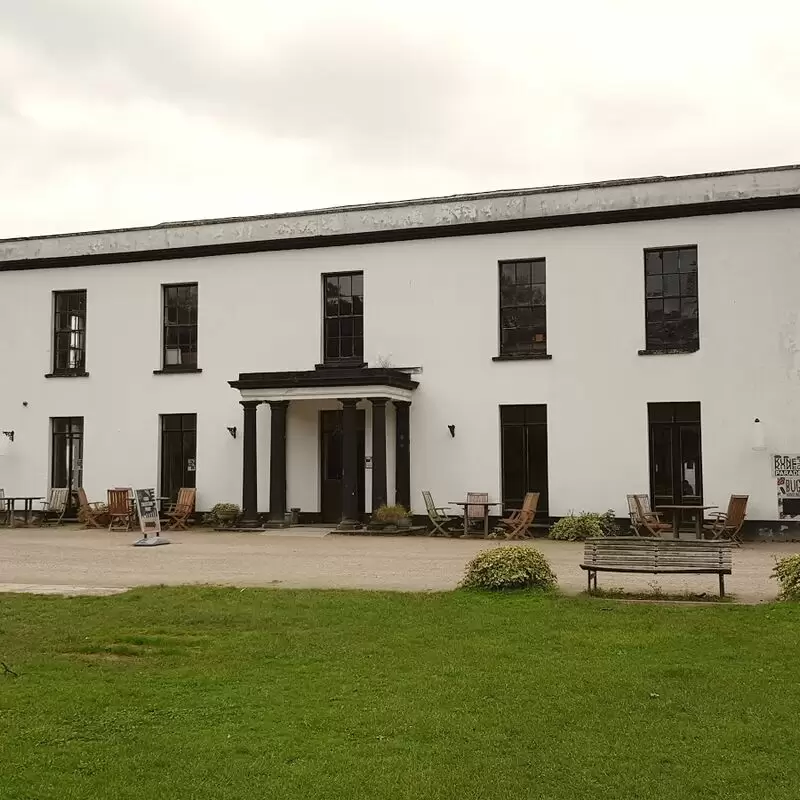 Manor Wildlife Park
St Florence, Tenby
Monday - Friday: 10:00 AM – 5:00 PM
Saturday - Sunday: 10:00 AM – 6:00 PM
3. Castle Beach
Castle Beach in Tenby is an idyllic place to relax. The Blue Flag beach is perfect for sunbathing, swimming or exploring the extraordinary tidal St. Catherine's Island. The views of Tenby Harbor are picture-perfect, and at low tide there's an endless expanse of golden sand. Don't miss exploring the rock pools, teeming with sea life! Just a few steps away is the charming town center of Tenby with its quaint stores, cafes and the charming ruined Tenby Castle.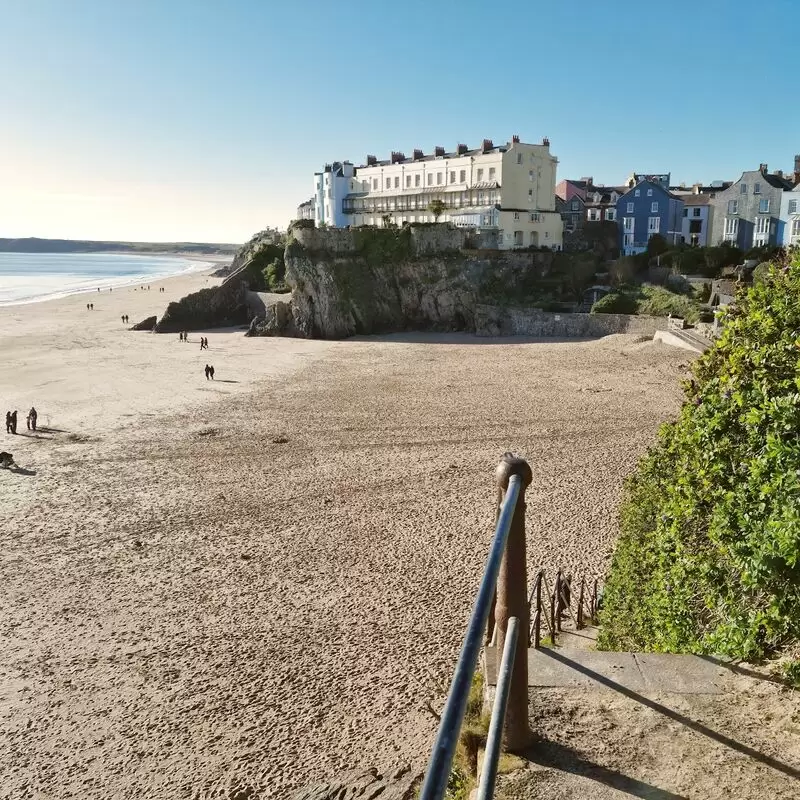 Castle Beach
Castle Beach, Bridge Street, Tenby
Monday - Sunday: Open 24 hours
4. Tenby South Beach
Be enchanted by the charm and beauty of Tenby South Beach - a true seaside gem in the heart of Tenby! The sandy beach stretches for two miles and offers stunning views of Caldey Island. Take a sunbath on the golden sands or try exciting water sports. And of course, don't miss the hidden treasure: Goscar Rock, a favorite among local photographers. Just a stone's throw away is the medieval Tenby Castle, whose ancient walls and towers await history buffs to explore.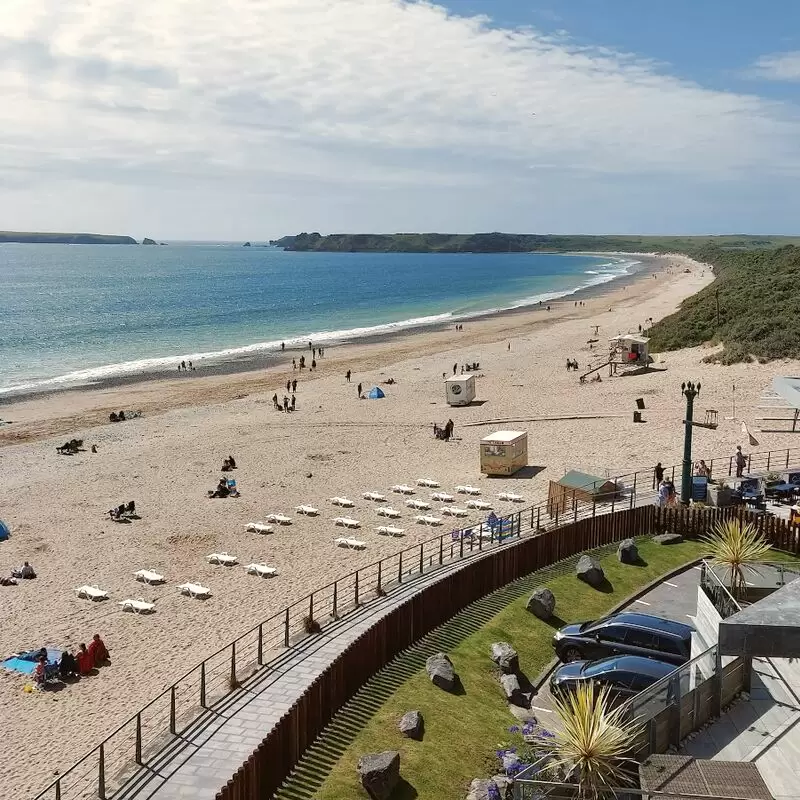 Tenby South Beach
The, Esplanade, Tenby
5. Manorbier Castle
Experience the regal appeal of Manorbier Castle in Tenby. This well-preserved 12th-century fortress, with its fairy-tale turrets and labyrinthine gardens, attracts history buffs and beauty lovers alike. As you explore the medieval corridors, you'll come across ghost stories and knightly deeds. Don't forget to bring your camera to enjoy the enchanting view from the battlements. Afterwards, take a trip to the surrounding area - an easy walk will take you to the quiet Manorbier Beach, a hidden gem overlooked by most tourists.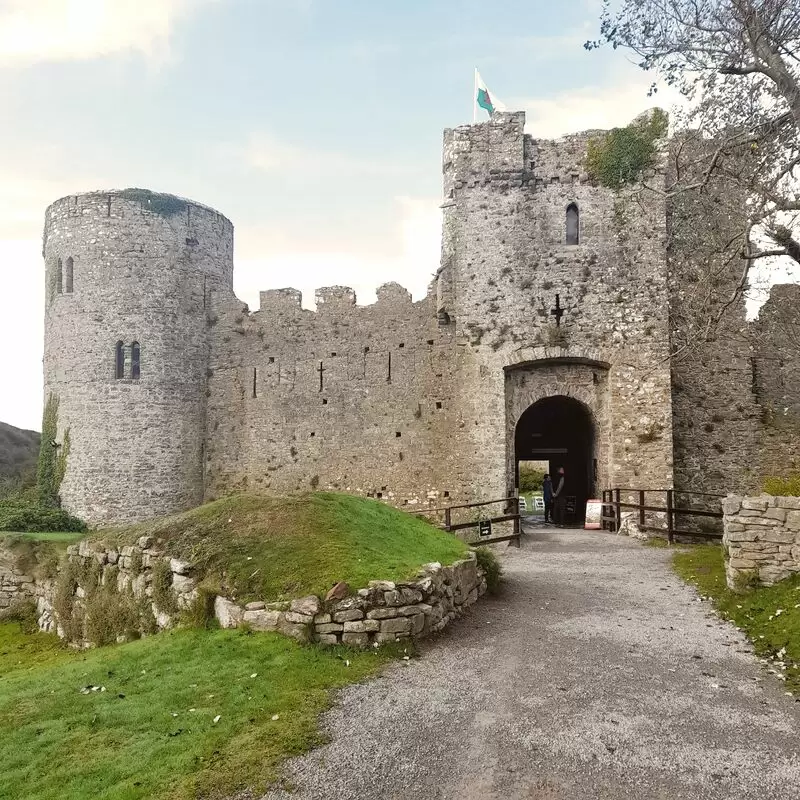 Manorbier Castle
Manorbier, Tenby
Monday - Sunday: 10:00 AM – 5:00 PM
6. Tenby Harbour
Tenby Harbour, nestled between pastel Victorian and Georgian houses, is an enchanting sight full of charm and history. At low tide, a pristine sandy beach emerges, perfect for sandcastles or a romantic walk by the sea. At high tide, the area transforms into a center for water sports enthusiasts. For authentic culinary experiences, try fresh lobster or crab from the fishing boats. Don't miss the opportunity to take a boat trip to Caldey Island, just a mile offshore, a gem with tranquil beaches and an amazingly well-preserved 12th-century priory.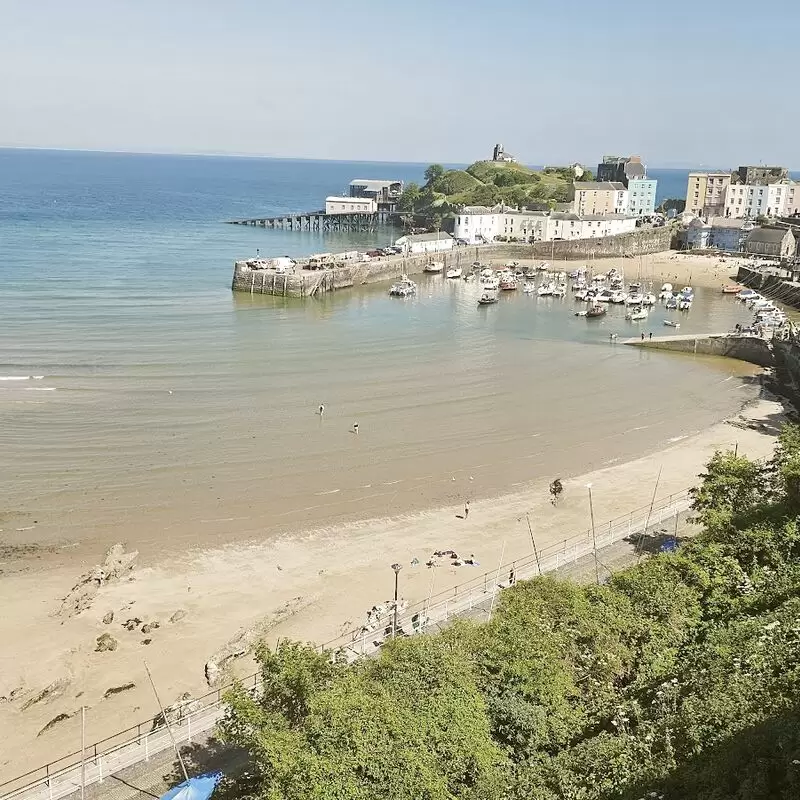 Tenby Harbour
Tenby Harbour, Tenby SA70
7. Tenby North Beach
Immerse yourself in Tenby's coastal charm and visit the stunning North Beach, known for its golden sands and famous Goskar Rock. This picturesque, crescent-shaped beach with its pastel-colored houses lining the cliffs offers captivating postcard views. Go early for a glorious sunrise, or take a leisurely evening stroll as the sun sets. Incidentally, the exciting Tenby Boxing Day Swim is held here every year. Just a short walk away is Tenby's medieval town walls - a historical treat for culture lovers.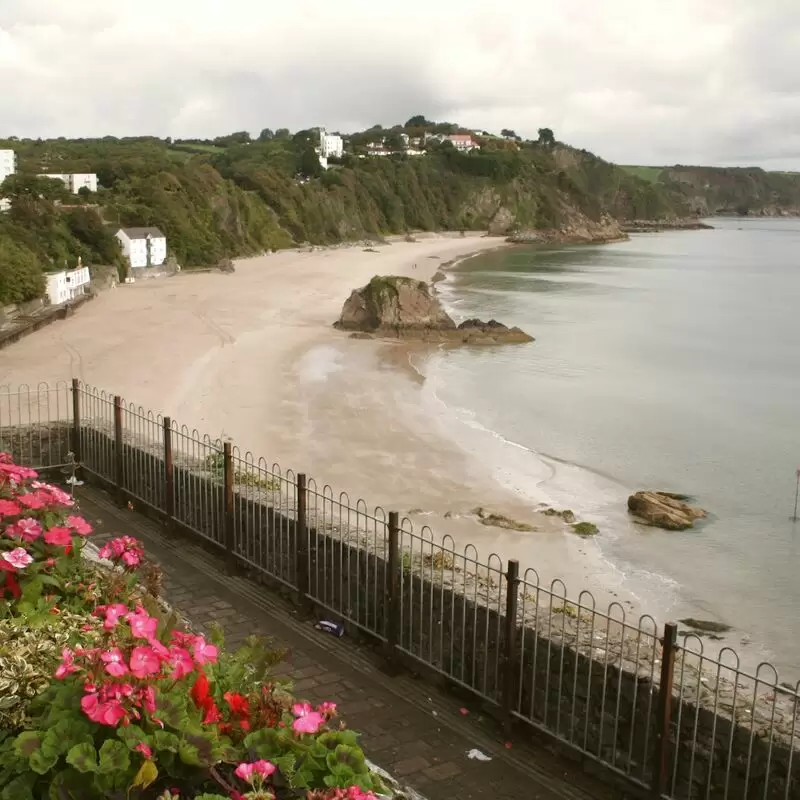 Tenby North Beach
Tenby North Beach
8. The Dinosaur Park Tenby
A visit to the "Dinosaur Park Tenby" is a must for all ages! This park lets your imagination run wild as it presents more than 30 species of dinosaurs in a wild forest landscape. Not only can you see dinosaurs here, but you can also experience interactive rides, an indoor play center, and a fossil hunt. Just 15 minutes away is Carew Castle, where history comes alive amid enchanting grounds. Combine these two experiences and Tenby becomes a versatile destination, perfect for your family vacation!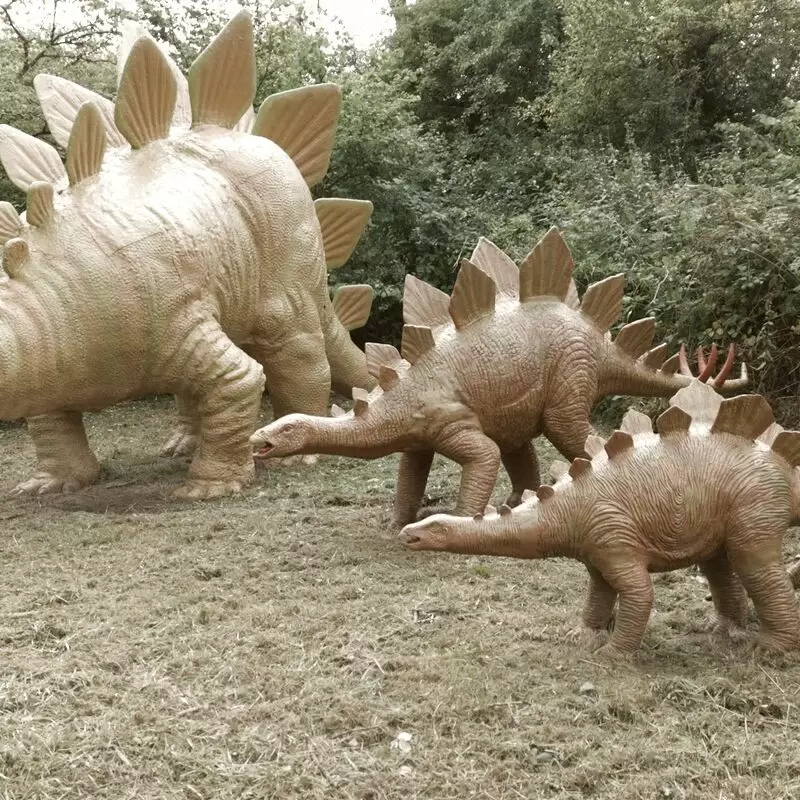 The Dinosaur Park Tenby
2 Gower View, Gumfreston, Tenby
Monday - Sunday: 10:00 AM – 5:00 PM
9. Heatherton World of Activities
Immerse yourself in the exciting world of fun at Heatherton World of Activities, Tenby. Take on the challenge of adventure golf, paintball, go-karts and even a high ropes course in the tree canopy. Enjoy a touch of thrill as you zipline through the park. Most importantly, the park is suitable for all ages, making it a hit with families. Just a stone's throw away, you should explore the impressive Iron Age settlement of Castell Henllys. An adventure like no other awaits you in Tenby.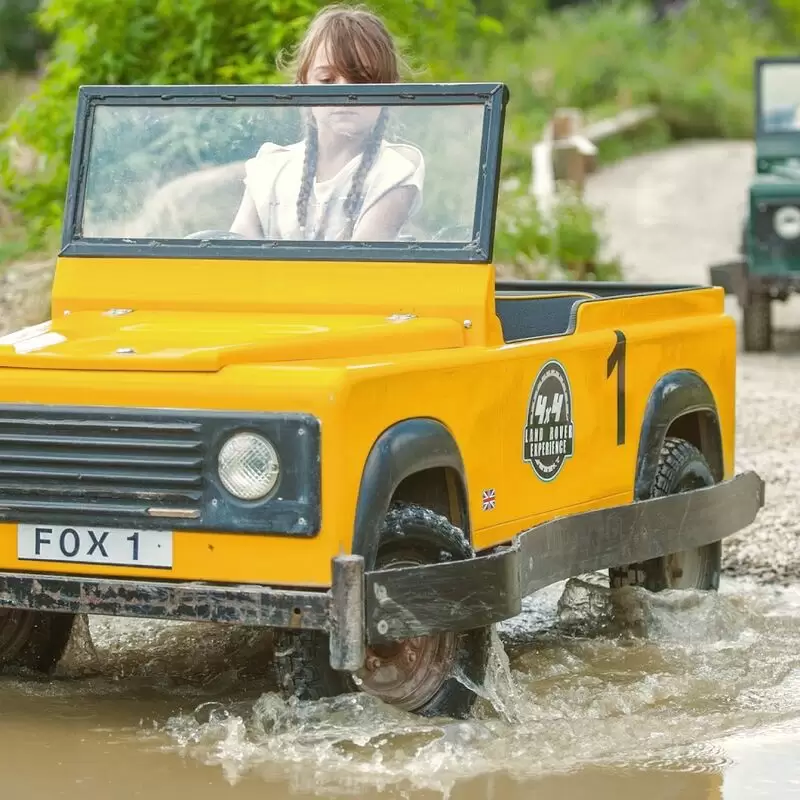 Heatherton World of Activities
St Florence, Tenby
Monday - Sunday: 10:00 AM – 5:00 PM
10. Caldey Abbey
Visit Caldey Abbey in Tenby to immerse yourself in serene spirituality on an island ruled by time and tide. The Cistercian monks lead a simple life of prayer and work, offering an intoxicatingly tranquil retreat. Be sure to sample the delicious homemade chocolates and perfumes that are unique to this sacred island. Also take some time to explore St. David's Church, a spiritual gem on the sandy shores of Caldey within walking distance of the abbey.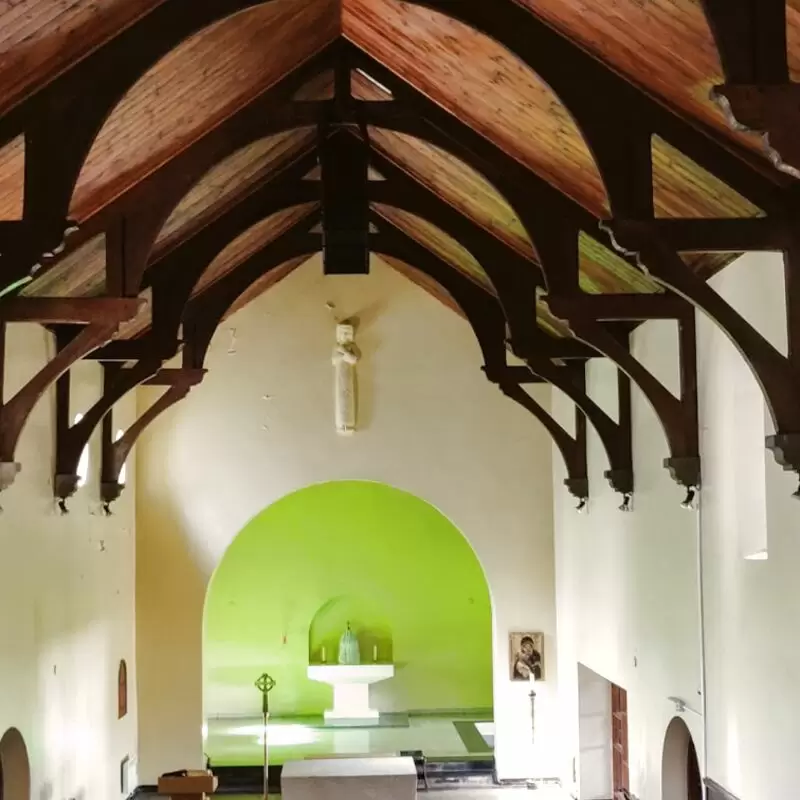 Caldey Abbey
2 The Cottages, Caldey Island, Tenby
11. Tenby Boat Trips
Experience an exciting day with Tenby Boat Trips! This adrenaline-pumping attraction lets you explore the picturesque Pembrokeshire coastline, its vibrant marine life, and enchanting islands like Caldey. Look out for seals playfully sunning themselves on the shores of the islands - a truly joyous sight. After your seafaring adventure, relax at nearby Tenby Castle, whose layered history provides a stark contrast to the vibrant seascape. This dynamic combination of land and sea exploration is an absolute must and an insider's tip not to be missed!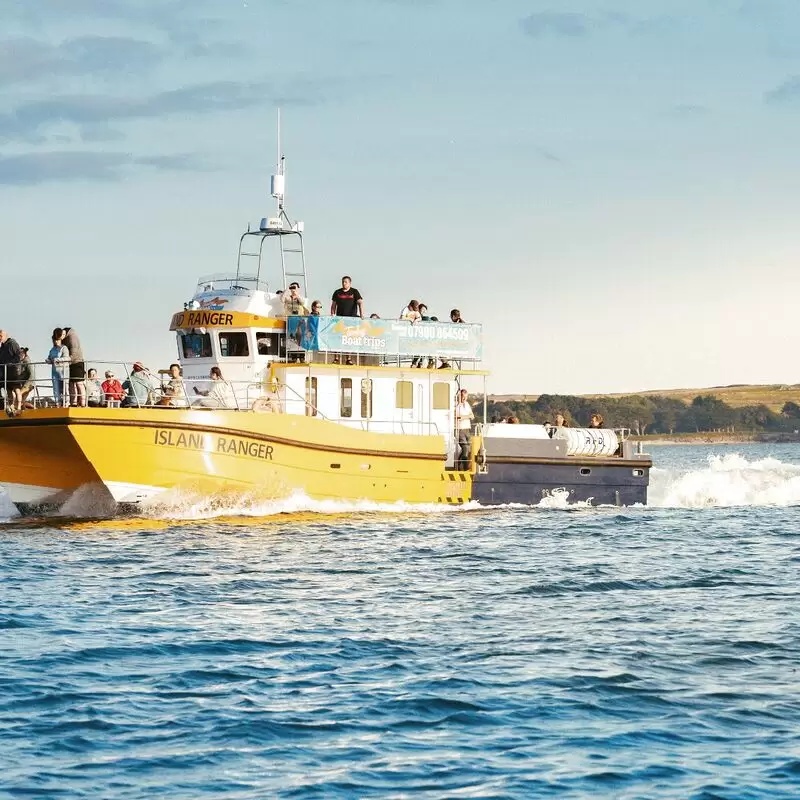 Tenby Boat Trips
Harbour, Castle Square, Tenby
Monday - Sunday: 9:00 AM – 6:00 PM
12. National Trust Tudor Merchant's House
Step inside the National Trust - Tudor Merchant's House and be transported to the 15th century. This beautifully preserved heritage site in Tenby gives an authentic feel of the period. Smell the herbs in the merchant's garden, marvel at the ornate woodwork or join in traditional games. Just around the corner is the Tenby Museum and Art Gallery, home to fascinating local artifacts and impressive art collections. A visit here promises an unforgettable glimpse into the past.
National Trust Tudor Merchant's House
Quay Hill, Tenby
Monday - Sunday: Closed
Tuesday - Saturday: 11:00 AM – 4:00 PM
Best Time to Visit Tenby
The best time to visit Tenby, United Kingdom, are the summer months, especially between June and September. The weather is warm, with average high temperatures of 20°C, and you can enjoy outdoor activities, beautiful beach walks, and exploring the town's colorful Georgian architecture. The Tenby Arts Festival also takes place in September and offers additional cultural experiences.
Annual Weather in Tenby
Tenby 3-Day Forecast
Tue, 26 September
Night
59 °F
15 °C
0%
Morning
60 °F
15 °C
79%
Afternoon
61 °F
16 °C
0%
Evening
59 °F
15 °C
0%
Wed, 27 September
Night
57 °F
14 °C
54%
Morning
59 °F
15 °C
60%
Afternoon
61 °F
16 °C
69%
Evening
57 °F
14 °C
0%
Thu, 28 September
Night
55 °F
13 °C
66%
Morning
56 °F
13 °C
62%
Afternoon
58 °F
14 °C
72%
Evening
58 °F
14 °C
65%
Questions & Answers

How can I travel around in Tenby?

In Tenby, you can explore the town mainly on foot, as it is compact and pedestrian-friendly. Charming cobblestone streets, beautiful beaches and historic sites are within easy walking distance. For longer distances, you can rent a bicycle or use a cab. If you'd like to take a delightful day trip, boats depart regularly from the harbor to nearby Caldey Island. Please note that there is limited access to the city center during the summer.

What is the local food I should try in Tenby?

When in Tenby, be sure to try the traditional Welsh cuisine. A famous local delicacy is Welsh Cawl, a hearty meat-based stew with root vegetables. Another must-try is Welsh Cake, a delicious treat made with flour, raisins and spices and traditionally baked on a griddle. Freshly caught seafood such as crab and lobster from the harbor is another highlight. Not to be forgotten is a pint of local ale served with the meal. An exquisite way to experience Tenby's culinary culture.

Is Tenby a family-friendly destination?

Absolutely. Tenby, United Kingdom, is an exceptionally family-friendly destination. It offers safe, pristine beaches where children can play and picturesque castle ruins that capture the imagination. There's also plenty of wildlife to see on the offshore islands, and there are zoos and theme parks on site. The town itself is lively with charming stores and restaurants that cater to all ages. It is a wonderful place for a successful family vacation.

Can I find vegetarian/vegan food in Tenby?

Yes, Tenby, a quaint seaside town in the United Kingdom, offers a variety of restaurants that cater to vegetarians and vegans. Several restaurants and pubs in town serve excellent vegetarian and vegan dishes that encompass a variety of cuisine styles. In addition to traditional British cuisine, you will also find international offerings, all catering to different dietary needs. So, you can be sure that your stay in Tenby will be a delicious culinary journey without compromising on your dietary preferences.

How do I reach Tenby from London?

From London, the easiest way to reach Tenby is by train. You can take a direct train from London Paddington to Tenby, which takes about 4.5 hours. Alternatively, you can travel by car. Traveling by car via the M4 and the A40 takes about 5-6 hours, depending on traffic. There are no direct flights from London to Tenby, but you can fly to Cardiff and then take the train or rent a car for the rest of the trip.

Do people in Tenby speak English?

Yes, absolutely. The predominant language in Tenby, as in the UK as a whole, is English. However, since Tenby is in Wales, there are also a number of locals who are bilingual and can speak Welsh. Nevertheless, you will have no problems finding your way around Tenby and communicating with the residents in English. Rest assured that language barriers will not prevent you from enjoying this picturesque seaside town.

Can I use my credit card in Tenby?

Yes, you can use your credit card in Tenby, United Kingdom. Many establishments such as restaurants, retail stores and hotels accept credit cards such as Visa, MasterCard and American Express. However, it can be useful to have some cash on hand for small purchases, as not all small merchants accept cards, especially in quieter, less touristy areas. Always check your bank's fees for foreign transactions to avoid unexpected costs.

How is the nightlife in Tenby?

Tenby, United Kingdom, offers a modest but entertaining nightlife. In this beautiful seaside town, evenings can be spent in traditional pubs where you can enjoy local beers and live music, and in cozy bars that offer a wide selection of spirits, wine, and cocktails. Tenby is not known for large, bustling nightclubs, but during the summer months, when tourists flock to enjoy the lively vacation atmosphere, the atmosphere stays lively late into the night. It is a charming place for a relaxing evening.

Is Tenby safe for solo travelers?

Yes, Tenby in the UK is considered a safe destination for solo travelers. The town is known for its friendly locals, low crime rate and clean, safe beaches. It is a popular destination for families, tourists and solo travelers alike. As always, it is important for any traveler to take the usual precautions, such as avoiding deserted areas at night and being careful of personal belongings.

How is the price level in Tenby?

As a seaside resort in Wales, price levels in Tenby can be somewhat higher than the national average, especially in high season. The cost of accommodation, food and leisure activities varies, with luxury offers available. However, there are also affordable deals for travelers on a budget. It is advisable to plan and book in advance to get cheaper deals. The cost of living and the cost of goods in supermarkets are similar to other parts of the UK. Despite its popularity, Tenby remains affordable for most tourists.

Can I do camping in Tenby?

Yes, Tenby is a great place for camping. It offers a wide range of camping options, from luxury glamping to traditional, nature-based campsites. Enjoy the spectacular scenery of the coast where you can hike, bike or just relax. You can pitch your tent at one of the nearby campgrounds or rent a caravan or lodge. Remember to respect the local environment and follow the posted camping rules.

What are the local festivals/Cultural events in Tenby?

Tenby is home to a number of cultural events and festivals. These include the Tenby Arts Festival, a week-long event featuring local and international artists, musicians and writers. The town also hosts the Tenby Blues Festival, which attracts blues fans across the mainland with its powerful blend of haunting tunes. Ironman Wales may be a sporting event, but it is embedded in the local culture and transforms the city into a festival-like atmosphere. In the coastal towns of Wales, St. David's Day is often celebrated with parades, concerts, and culinary feasts where you can immerse yourself in Welsh traditions.

Are there walker-friendly trails in Tenby?

Yes, Tenby offers several hiker-friendly trails suitable for all levels of ability. One popular route is the Pembrokeshire Coast Path, which offers breathtaking views of the coast and countryside. Local routes around the town of Tenby also allow walkers to explore the picturesque streets, historic buildings and quaint harbor. A little further afield, the trail from Lamplugh to Tenby passes through tranquil woodlands and along pretty riverbanks. Remember to wear suitable footwear and always be considerate of the local wildlife and their habitats.

Where can someone go clubbing in Tenby?

Tenby may be known for its beaches and historic sites, but its nightlife also has its own unique charm. The Lifeboat Tavern is a popular Tenby hangout known for its lively atmosphere, top-notch music, and wide selection of drinks. The Cove offers live music and DJ sets if you're more into music. However, for a full-fledged clubbing experience with dance floors and pulsating music, visitors will have to travel a bit outside Tenby to nearby larger cities like Swansea.

Can I bring a dog to Tenby?

Yes, you can of course take a dog with you to Tenby. However, be aware that dogs are not allowed on some of Tenby's main beaches during the summer months, usually from May to September. These include South Beach, North Beach and Castle Beach. Note Harbour Beach, which is dog-friendly year-round. Many accommodations and pubs in Tenby are also dog-friendly, so your furry friend is welcome.

Are there cycling lanes in Tenby?

Yes, Tenby in the UK has designated bike paths and routes that allow cyclists to explore the picturesque town and its surroundings. The town is well-equipped for cycling enthusiasts and offers a range of terrains and trails. Remember to always wear a helmet and follow all bicyclist safety rules as you move through the charming town. Enjoy the beauty of Tenby on two wheels!

What type of wildlife can I see in Tenby?

Tenby in the UK offers nature lovers a diverse range of wildlife viewing. On the coasts you can see seabirds such as guillemots, puffins and razorbills, while offshore seals and dolphins are occasionally spotted. Inland, you may encounter typical British wildlife such as badgers, foxes and various species of butterflies. The coast is also rich in rock pools, which makes it an exciting place for lovers of marine life.

Are drones allowed in Tenby?

The use of drones in Tenby, United Kingdom, is subject to the UK Drone Code, established by the Civil Aviation Authority (CAA). It stipulates that drones cannot be flown within 50 meters of people, 150 meters of busy areas or large gatherings of people, and must always be in the user's line of sight. Therefore, drone operators are allowed to fly their devices in Tenby as long as they adhere to these guidelines. It is always recommended to ask permission from the local council or property owner if you wish to fly a drone.

What is unique about Tenby architecture?

Tenby's architecture has strong roots in its past as a walled medieval town and popular Victorian seaside resort. Houses in vibrant pastel tones give the town a charming postcard character. The medieval walls, Victorian-era mansions, and colorful seaside homes reflect a rich architectural mix of eras and styles. Characteristic details such as cobbled streets, fortified towers and well-preserved fishermen's cottages add to the unique character and beauty of this architectural ensemble in Tenby.

Is Tenby suitable for elderly travelers?

Tenby is definitely a great destination for older travelers. It has a number of historical attractions such as the medieval walls of Tenby and the Tenby Museum and Art Gallery, which are easily accessible. The town is also known for its beautiful, clean beaches. In addition, the charming town center offers a variety of stores, cafes, and restaurants for a leisurely stroll. However, keep in mind that the city has some hilly areas. There are plenty of benches to rest on along the way, and cabs are also available.

Are smoking areas available in Tenby?

Yes, there are smoking areas in Tenby, but it is important to remember that smoking is generally not allowed indoors in public places due to UK health policy. While there are not designated smoking areas throughout the city, smoking is allowed outdoors in most pubs, restaurants and public places. However, with consideration for non-smoking passersby, people should refrain from smoking, especially in busy places such as beaches or parks.

Can I rent kayaks or surfboards in Tenby?

Of course, there are several places in Tenby where you can rent kayaks or surfboards for your adventurous needs. Some of these include Tenby Watersports and Pembrokeshire Sports and Kayaking. Located right on the beach, these facilities provide all the equipment you need for a day of fun on the water. Experienced staff are also on hand to instruct you on safety and make sure you have an enjoyable experience.

Are the beaches in Tenby clean?

Yes, the beaches in Tenby, United Kingdom, are well-maintained and clean. They are known for their exceptional cleanliness, clear water and soft sand. Moreover, some of the main beaches like Tenby North, South and Castle Beach have been awarded the Blue Flag, which is given to beaches with high environmental and quality standards. Thus, tourists can enjoy a relaxing and refreshing visit and be assured of the cleanliness of the environment.

Can I drink tap water in Tenby?

Yes, the tap water in Tenby, like the rest of the UK, is safe to drink. It is tested regularly and meets high safety standards, ensuring that it is perfectly suitable for consumption. However, if you have a sensitive stomach or prefer filtered water, bottled water is readily available in the city's stores. This way, you can drink water without worrying during your visit to Tenby.

Any forbidden things to do in Tenby?

In Tenby it is important to respect the heritage of the city and the coastal environment. Littering, especially on the beaches or in the city center, is strictly prohibited. It is also not allowed to damage or deface historical buildings and monuments. Barbecuing or lighting fires on the beach is strictly prohibited. Although activities on the water are very popular, safety precautions must be observed and restricted areas must be respected. Disturbing local flora and fauna, especially in nature reserves, is also prohibited.

Feedback

I hope you found this article informative and helpful. I'm eager to improve the content and make it even more valuable for you. If you have any feedback or suggestions, I would love to hear from you.

Do you have any tips or hidden gems that you think should be added to the list? Are there any areas that you feel could use more explanation or clarification?

Your input is greatly appreciated and will help us to continue providing high-quality content that meets your needs and interests. Please feel free to share your thoughts.