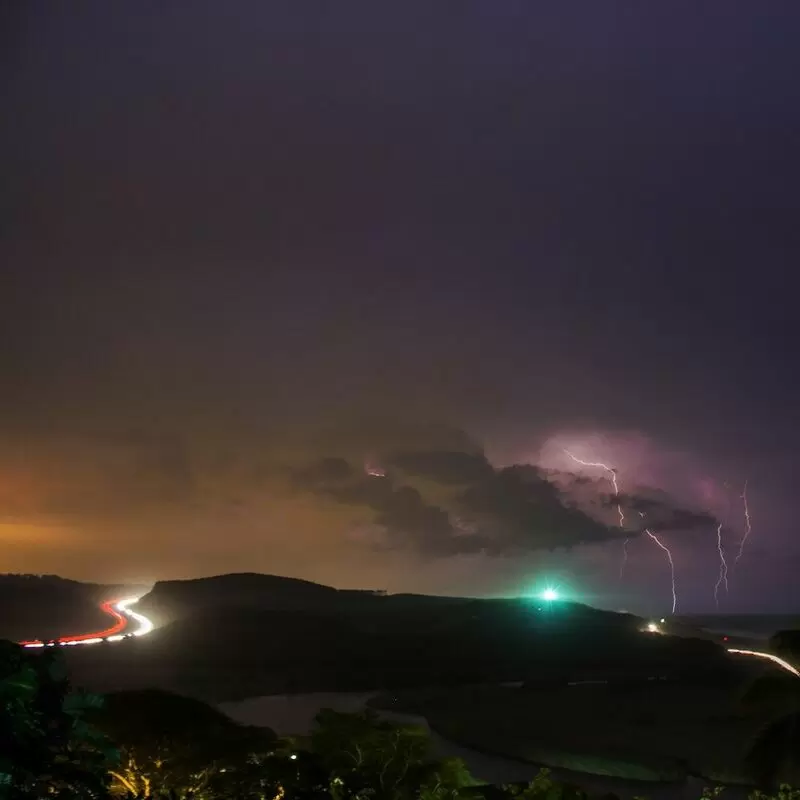 1. Shark Cage Diving KZN
Embark on a thrilling adventure at Shark Cage Diving KZN in Scottburgh - a heart-pounding, unforgettable encounter with one of nature's greatest predators. Including scuba gear and a dive course, even non-swimmers can experience this adrenaline rush. Marvel at blacktip and reef sharks that will impress you with their size and grace. The sheer excitement will keep you on the edge of your seat. Nearby, enjoy the tranquility of beautiful Scottburgh Beach or explore the indigenous Umdoni Park Reserve.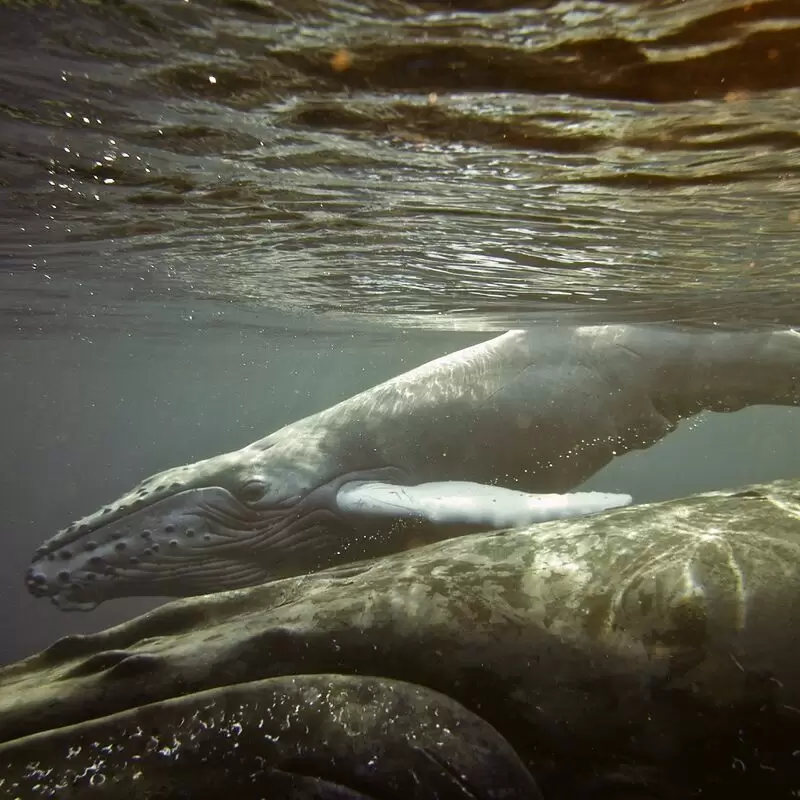 Shark Cage Diving KZN
No 1 Old Main Road, Rocky Bay Park Rynie, Durban
Monday - Sunday: 6:00 AM – 8:00 PM
2. Crocworld
A visit to Crocworld in Scottburgh is an exciting experience where you can meet crocodiles and other exotic animals. The lush tropical vegetation and ocean views will encourage your sense of adventure. You should also visit the Crocodilian Restaurant, which serves delicious dishes! Just a short drive away is the spectacular Scottburgh Beach, ideal for a refreshing swim after your wild adventure.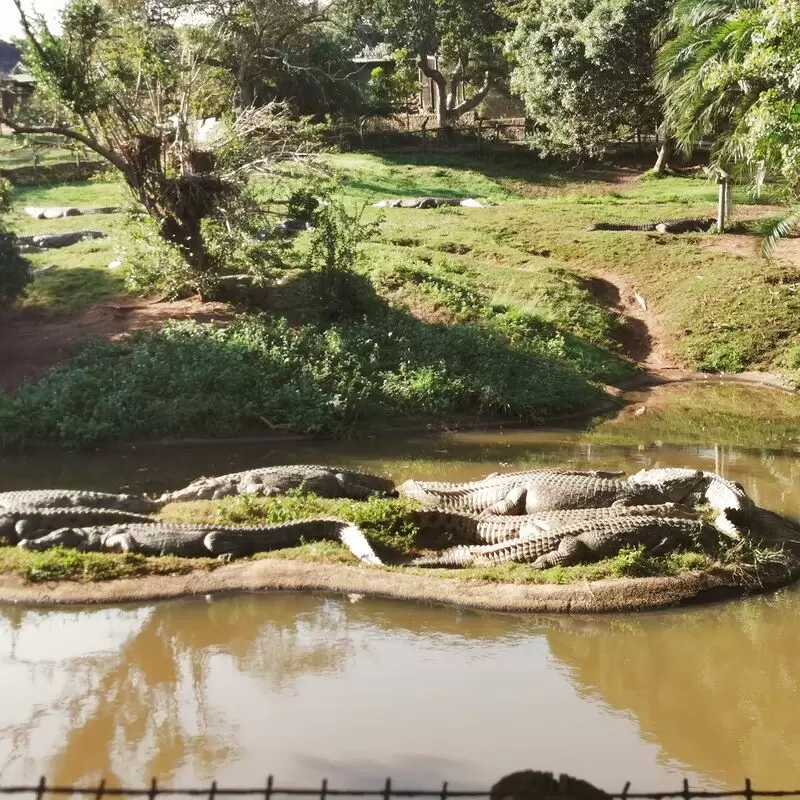 Crocworld
Old Main Road, Scottburgh, Clansthal, Scottburgh/Umzinto North
Monday - Sunday: 9:00 AM – 4:30 PM
3. Blue Marlin Hotel By Dream Resorts
A stay at Blue Marlin Hotel By Dream Resorts is a must when visiting Scottburgh, South Africa. This luxury hotel is set amidst tropical gardens and offers breathtaking ocean views directly from your room. Enjoy heavenly comfort and indulge in gourmet cuisine at the restaurant with its classic "Sidewalk Café" concept. Don't miss the insider experience of the daily "Fisherman's Wharf" market, which goes beyond the conventional hotel feel. You're also just a 15-minute drive from Aliwal Shoal, a world-class dive site not to be missed.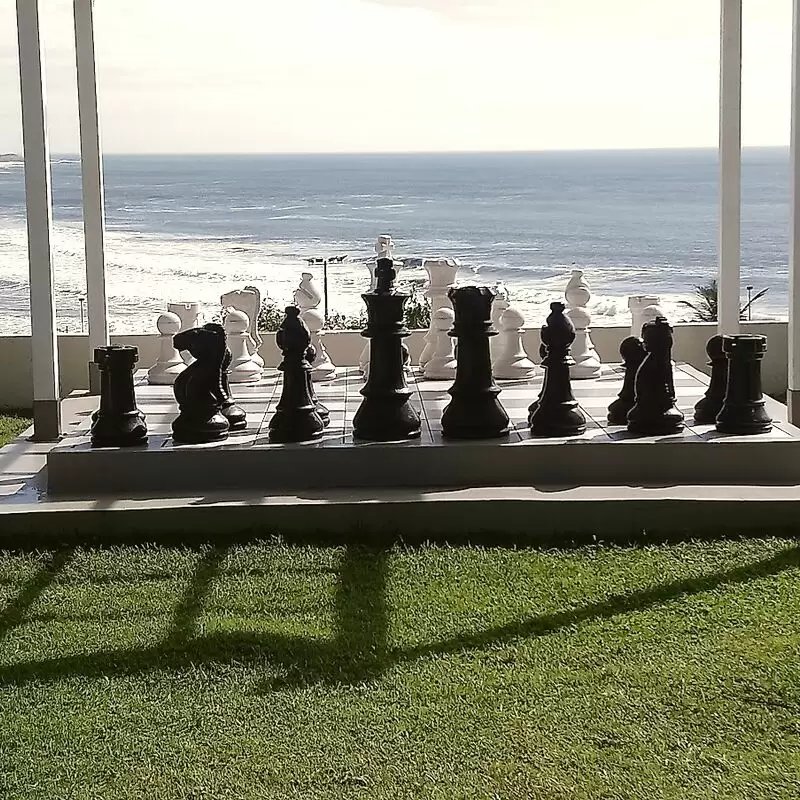 Blue Marlin Hotel By Dream Resorts
192 Scott St, Scottburgh
Monday - Sunday: Open 24 hours
4. Premier Resort Cutty Sark Hotel
The Premier Resort Cutty Sark Hotel in Scottburgh is a hidden gem with magnificent sea views and direct access to the beach. It's a haven for leisure enthusiasts and is perfect for both relaxation and adventure. Try your hand at local games or lounge by the two sparkling pools on site. Culture vultures can reach Scottburgh Golf Club and TC Robertson Nature Reserve within a 5-minute drive. When the sun goes down, find your oasis in the cocktail bar with panoramic views of the Indian Ocean. This is pure tranquility!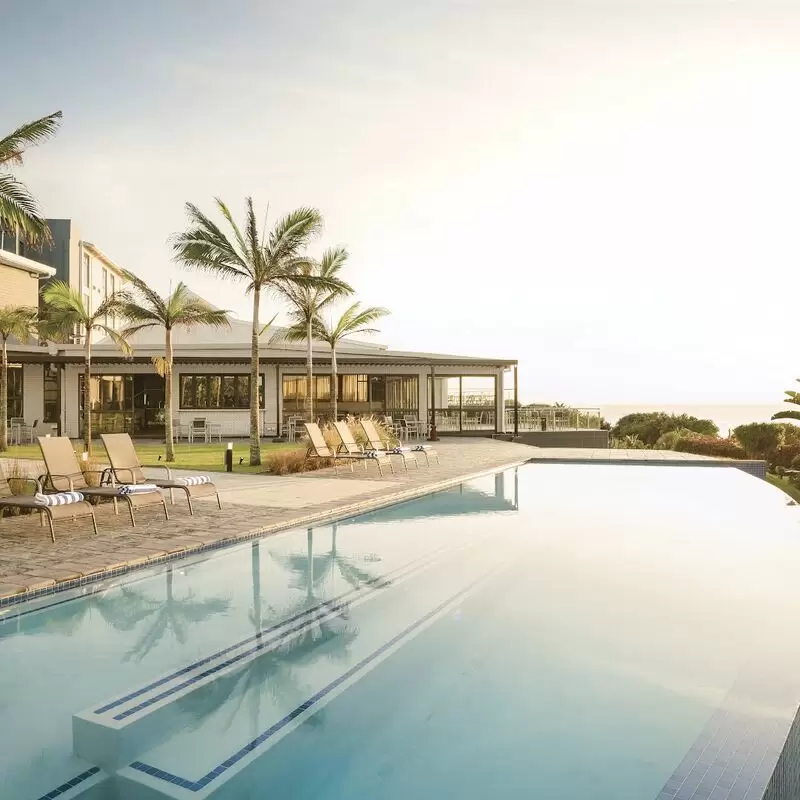 Premier Resort Cutty Sark Hotel
Old Main Rd, Scottburgh
Monday - Sunday: Open 24 hours
5. Scottburgh Caravan Park
Be sure to visit Scottburgh Caravan Park, a hidden gem that offers first-class camping facilities with a magnificent view of the beach. You'll appreciate the tranquil setting and lush greenery, making it a perfect spot for nature lovers. Not only that, it is also a hotspot for bird watching - a rarity at typical tourist destinations. It's also just minutes away from the stunning Mpambanyoni Conservation Park - a pristine wonder filled with wildlife and scenic hiking trails.
Scottburgh Caravan Park
Main Beach Drive, Scottburgh
Monday - Sunday: Open 24 hours
6. Scottburgh Beach

You can't leave Scottburgh without soaking up the sun at Scottburgh Beach. This golden sandy beach, washed by the warm Indian Ocean, is a paradise for surfers, swimmers and sunbathers alike. The beach is wheelchair accessible and safe for children, making it an ideal spot for families. Grab fish and chips at one of the local stands and watch the dolphins cavorting in the waves.

Insider tip: The best view is from the grassy hilltop above the beach - perfect for a sunset picnic! Don't forget to visit the nearby Crocworld Conservation Centre to observe the wildlife.
7. Scottburgh Beach
Scottburgh Beach is a true gem on the picturesque south coast of KwaZulu-Natal. This Blue Flag beach is known for its pristine coastline, golden sands and warm Indian Ocean waters that are perfect for surfing and snorkeling. Scottburgh Beach is not only a paradise for sun worshippers, but also a starting point for exploring the rich underwater world. Don't forget to watch the mighty Sardine Run between May and July. Nearby, hike the lush nature trails of TC Robertson Nature Reserve or visit the impressive Crocworld Conservation Centre.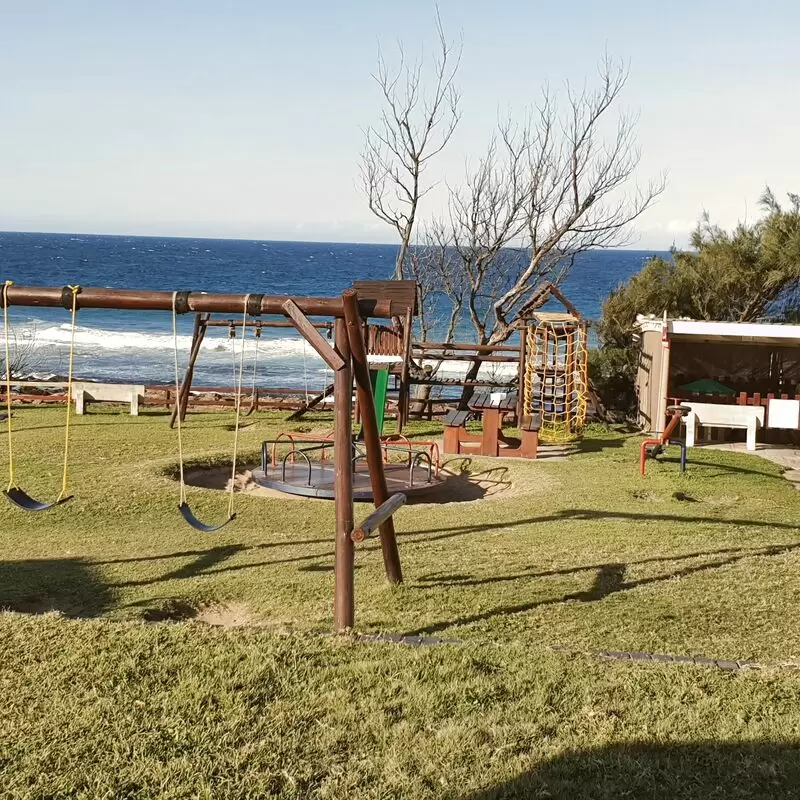 Scottburgh Beach
28 Marine Terrace, Scottburgh
Monday - Sunday: Open 24 hours
8. ScubaXcursion Diving
Dive into the exciting world of ScubaXcursion! This premier dive center will take you on a dive into the heavenly underwater landscapes of Aliwal Shoal - one of the top 10 dive sites in the world. Whether you're a beginner or a pro, here you can dive with a variety of marine life, including stunning coral formations, majestic sharks, and mysterious wrecks. Just a mile offshore, you can combine your underwater adventures with Scottburgh's pristine beach - perfect for a glorious afternoon in the sun.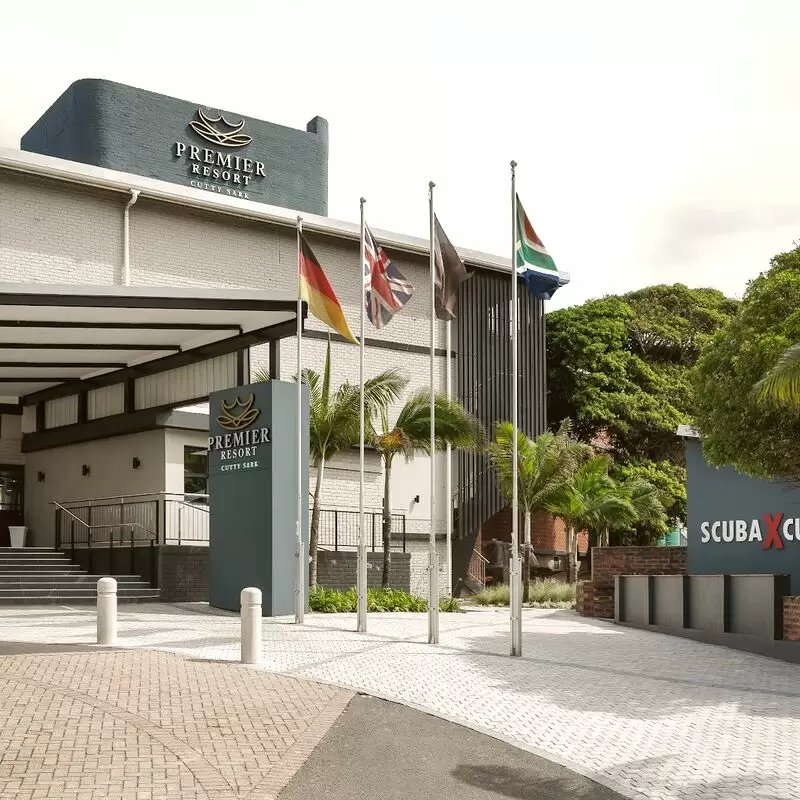 ScubaXcursion Diving
Green Lane, to Cutty Sark Hotel, Scottburgh
Monday - Friday: 7:00 AM – 4:00 PM
Saturday - Sunday: 6:00 AM – 3:30 PM
9. Scottburgh Mall
Scottburgh Mall in the heart of Scottburgh attracts a wide range of stores and eateries. It is the ideal place to stock up on beachwear, souvenirs and African handicrafts that you won't find anywhere else. Don't forget to grab a bite to eat at the famous food court, which features local delicacies - the rabbit food is especially popular! After your shopping spree, be sure to visit nearby Scottburgh Beach, a lovely picnic spot with warm Indian Ocean waves just a leisurely stroll away.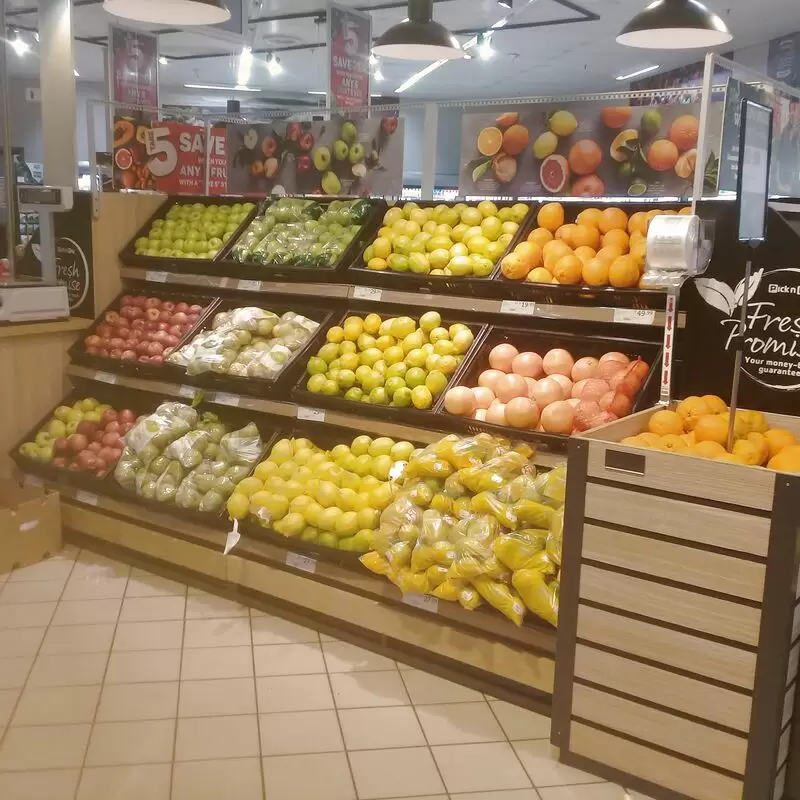 Scottburgh Mall
R102, Scottburgh
Monday - Sunday: 6:00 AM – 8:00 PM
Tuesday: 8:00 AM – 4:45 PM
Wednesday - Saturday: 8:00 AM – 6:00 PM
10. Gee Wizz B&B
Gee Wizz B&B is a charming little piece of home right in the heart of Scottburgh. This hidden gem is located in a quiet area and offers the epitome of a South African experience. Enjoy the personal atmosphere, stunning ocean views and delicious breakfasts. Even better, it's just around the corner from the Scottburgh Golf Course and a leisurely stroll from the beautiful sandy beaches. The warmth of Gee Wizz B&B makes every visitor a part of the Scottburgh family.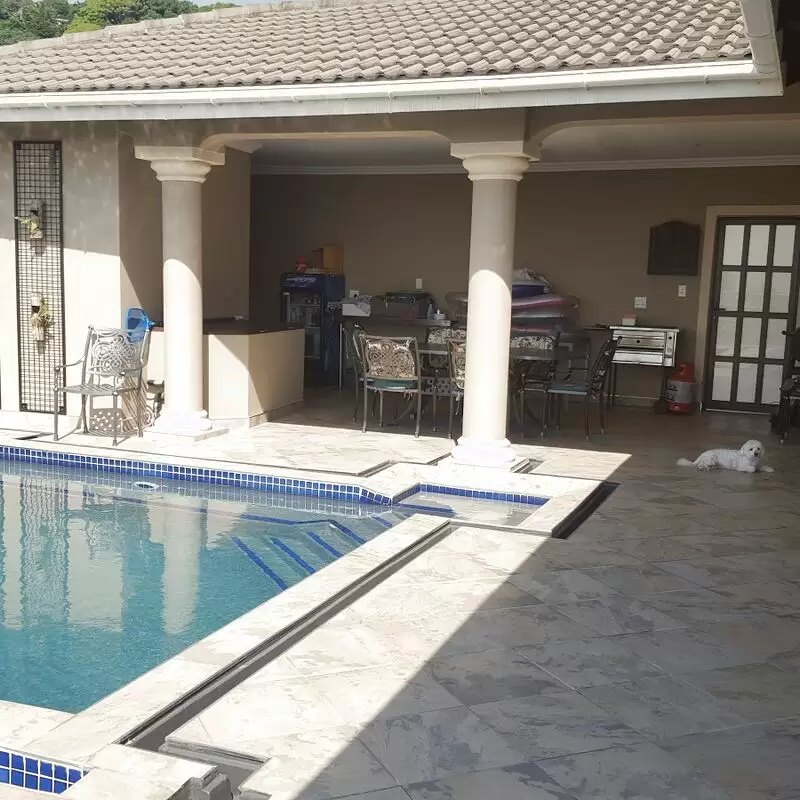 Gee Wizz B&B
33 Lagoon Dr, Freeland Park
Monday - Sunday: 6:00 AM – 8:00 PM
11. Scottburgh Golf Club
Set against the picturesque backdrop of South Africa's south coast, Scottburgh Golf Club is a must for golf lovers. Set amidst lush green vegetation, this 18-hole course is known for its beautifully manicured fairways and challenging greens. Aimed at both professionals and beginners, the club also offers unparalleled views of the Indian Ocean. Nearby is also the Crocworld Conservation Centre, where you can get up close and personal with African wildlife.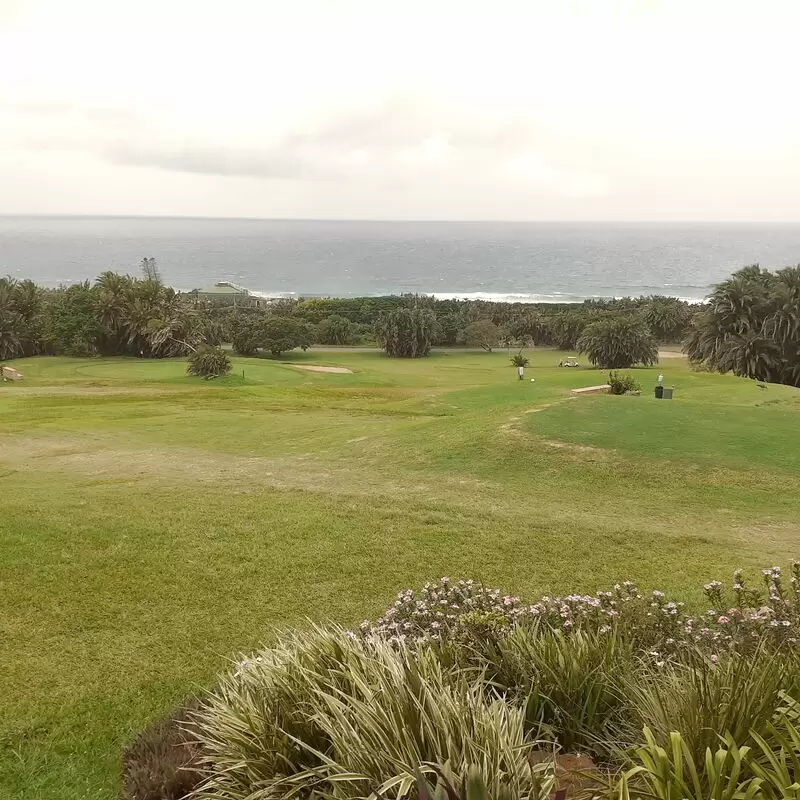 Scottburgh Golf Club
Williamson St, Scottburgh South, Scottburgh
Monday - Sunday: 7:30 AM – 5:30 PM
Friday: 7:00 AM – 6:00 PM
12. T.C. Robertson Nature Reserve
The T.C. Robertson Nature Reserve in Scottburgh is undeniably a must-see for any nature lover. It is the epitome of tranquility and unspoiled nature, and offers an excellent opportunity to view over 200 species of birds. If you take it easy, you can observe the elusive Blue Duiker in the dense bush. Spice up your visit with a riverside picnic under African skies. Just a stone's throw away is the Amber Valley, teeming with wildlife - an added sight that makes your South African adventure worthwhile.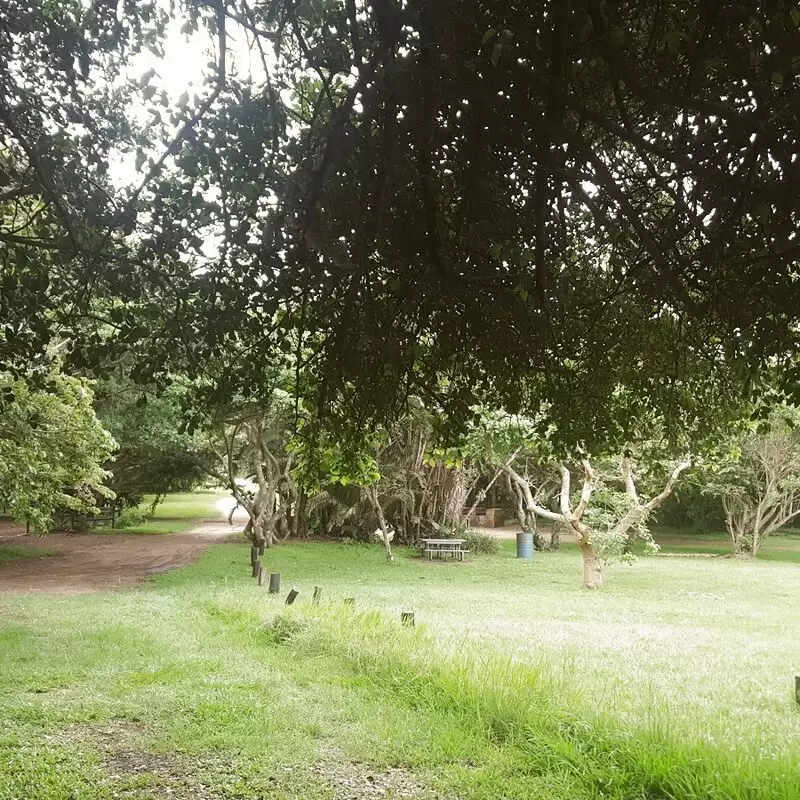 T.C. Robertson Nature Reserve
R102, Scottburgh
Monday - Thursday: 8:00 AM – 4:30 PM
Friday - Sunday: 8:00 AM – 5:00 PM
13. Pearly Shells
Pearly Shells has an attraction for curious travelers that is hard to resist. This resort promises a refreshing escape with panoramic ocean views right outside your front door. Relax by the outdoor pool, refresh your soul with walks along the golden sands, or take a dip in the warm, turquoise waters of the Indian Ocean. Nearby, the Crocworld Conservation Centre offers incredible educational tours with its variety of crocodiles and marine life. Also, if you like to play golf, don't miss the small but significant Scottburgh Golf Club nearby.
Pearly Shells
180 Williamson St, Scottburgh
Best Time to Visit Scottburgh
The best time to visit Scottburgh is between May and November, during the dry season. During this time the weather is warm and pleasant, with temperatures between 20 and 25 degrees Celsius, which is ideal for outdoor activities and beach visits.
Annual Weather in Scottburgh
Scottburgh 3-Day Forecast
Wed, 27 September
Night
65 °F
18 °C
79%
Morning
64 °F
18 °C
0%
Afternoon
70 °F
21 °C
0%
Evening
61 °F
16 °C
67%
Thu, 28 September
Night
61 °F
16 °C
62%
Morning
60 °F
15 °C
54%
Afternoon
65 °F
18 °C
64%
Evening
62 °F
17 °C
82%
Fri, 29 September
Night
62 °F
17 °C
49%
Morning
63 °F
17 °C
0%
Afternoon
74 °F
23 °C
0%
Evening
69 °F
21 °C
26%
Questions & Answers

What is the local cuisine like in Scottburgh?

Scottburgh, South Africa, offers a diverse dining scene heavily influenced by local Zulu, Indian and British cuisine. Popular dishes include "bunny chow," a curry dish served in a hollowed-out loaf of bread, and "bobotie," a baked minced meat dish with a topping of egg. The coastal location also ensures an abundant supply of fresh seafood, with barracuda and kingfish among the locals' favorites. The cuisine is rich in flavors and spices, reflecting the diverse cultures and history of the region.

Are there any traditional South African festivals celebrated in Scottburgh?

Scottburgh, South Africa, upholds the South African tradition of celebrating a variety of colorful and vibrant festivals throughout the year. The most famous is the Sardine Run, a unique marine spectacle in which billions of sardines migrate along the coast, attracting numerous dolphins, seals and birds. The event is celebrated with beach parties and markets. Another significant celebration is the Midmar Mile Open Water Swim, considered one of the largest open water swimming events in the world.

How safe is Scottburgh for tourists?

Scottburgh is generally a safe place for tourists and a popular seaside resort in South Africa. As with any destination, it is important to be aware of your surroundings and take the usual safety precautions. Violent crime is rare, but minor theft can occur, especially if you leave your belongings unattended. Always secure your valuables and lock your accommodations and rental car. Use only reputable tour operators and stay in populated areas, especially at night. Local law enforcement will ensure your safety.

Can I get around Scottburgh using public transportation?

There is little public transportation in Scottburgh, South Africa. City buses are not widely available. The most common forms of public transportation for locals are cabs and minibuses, which can be hailed at various locations around town. For visitors, however, it is often most convenient to rent a car or hire a bicycle to explore the coastal city and its surroundings. This is especially useful for visiting attractions further away.

Are there any local etiquette or customs that I should be aware of?

In Scottburgh, it is appreciated when locals greet you warmly with a handshake or a smile. It is customary to be on a first name basis after introducing yourself. Tipping is common in restaurants and for services, usually around 10-15%. At the beach, beachwear is acceptable, but in town, dress more conservatively. Respect for diversity is essential, as South Africa is known as a "rainbow nation" and has a wide range of cultures, languages and religions.

How is the nightlife in Scottburgh?

Scottburgh is not exactly known for its vibrant nightlife, as it is a family-friendly beach town. However, there are a few laid-back pubs and restaurants where you can relax after a day at the beach. Those looking for a livelier nightlife will have to head to the nearby vibrant cities like Durban. The place is perfect for those who prefer a quiet evening by the sea to a dynamic nightlife.

Is English widely spoken in Scottburgh?

Yes, English is widely spoken in Scottburgh, South Africa. As a popular tourist destination, the city caters well to international visitors. Most locals, business owners and service providers can communicate smoothly in English. In addition, signs and menus are often in English, so travelers can easily find their way around and understand them. So English-speaking visitors should have no trouble communicating during their stay in Scottburgh.

What is the local currency and where can I exchange my money?

The local currency in Scottburgh, South Africa, is the South African Rand (ZAR). You can exchange your money at several local banks in the city itself, such as ABSA and Standard Bank. In addition, you can also use the international exchange bureaus at King Shaka International Airport in Durban, the closest international airport to Scottburgh.

Is it customary to tip and how much is appropriate?

Yes, tipping is common in Scottburgh, South Africa, especially in restaurants, hotels and cabs. The standard tip is about 10-15% of your bill. However, this amount is only a guideline; you can give more if the service was exceptional. In cabs, it is customary to round up the fare. Remember that a tip is a token of appreciation for good service, but always give as much as you are comfortable with.

What type of clothing should I pack for Scottburgh?

For a trip to Scottburgh, South Africa, you should pack light clothing suitable for warm weather, such as shorts, T-shirts and sandals. An umbrella or light raincoat would be useful in case of sudden showers. Please remember to pack swimwear if you want to enjoy the beautiful beaches. A sun hat, sunglasses and sunscreen are essential as the sun is often strong in the region. Light layers or a light jacket are sufficient for the evenings, as it cools down moderately.

Is Scottburgh child-friendly?

Yes, Scottburgh is indeed a kid-friendly destination. The town has beautiful sandy beaches where children can build sandcastles, frolic in the shallow waters or learn to surf. It also has the Crocworld Conservation Centre, a wonderful place for kids to explore and learn about African reptiles, birds and other fascinating animals. The Green Point Lighthouse, parks and open spaces offer family-friendly activities and make Scottburgh an ideal vacation spot for families.

Are credit cards widely accepted in Scottburgh?

Yes, credit cards are widely accepted in Scottburgh, South Africa. You can expect most establishments, such as hotels, restaurants and major tourist attractions, to accept international credit cards. However, it is always advisable to carry some local currency for smaller merchants, local markets, or in the unlikely event that cards are not accepted. Also remember to inform your bank of your travel plans to avoid a card block due to suspicious foreign transactions.

Can I drink tap water in Scottburgh?

In Scottburgh, as in other parts of South Africa, tap water is generally considered safe because it is treated and meets World Health Organization standards. However, for tourists, it is often recommended to stick to bottled water if you have a sensitive stomach, as the mineral content may be different from what you are used to, which can cause mild stomach upset. Always make sure you are consuming water from a reliable source. When in doubt, opt for bottled water.

Are there any health facilities in case of emergencies?

Yes, Scottburgh has several health care facilities for emergencies. Residents and visitors have access to the Scottburgh Private Hospital, a modern healthcare facility with diagnostic and treatment capabilities. There are also numerous pharmacies and clinics in town. For more serious cases, nearby Durban offers modern medical facilities and specialist care. Travelers are always advised to take out comprehensive travel insurance to cover any medical expenses.

Is Wi-Fi readily available in Scottburgh?

Wi-Fi access varies in Scottburgh, South Africa. Some hotels, guesthouses and businesses offer free Wi-Fi to their guests or customers. However, it is not necessarily widespread or reliable throughout the city. Visitors should consider purchasing a local SIM card or taking out an international data plan to have uninterrupted Internet access. However, in more rural areas outside the city, even these options may offer limited connectivity.

What are the common souvenirs I can bring back home?

Popular souvenirs when visiting Scottburgh, South Africa, include locally made jewelry, pottery, hand-woven baskets and traditional African artwork. You can also buy rooibos tea, a local favorite, or a bottle of the famous South African wine. For a very special keepsake, look for unique pieces of living bead embroidery, an art form that has been passed down through generations in the Zulu tradition. Each piece is distinctively South African and will be remembered as a memento of your time in Scottburgh.

What type of power plug and voltage are used in Scottburgh?

In Scottburgh, South Africa, the standard voltage is 230 V and the standard frequency is 50 Hz. The plugs and sockets are type D, M and N. Type D has three round prongs, the middle of which is grounded, while type M has three large round prongs and type N has three round prongs. If you are traveling from another region, check to see if you need an adapter or voltage converter for these outlets.

Are there any unique local practices I should be aware of?

Like much of South Africa, Scottburgh is a melting pot of cultures. Always greet locals with a friendly "hello". With service providers such as waiters, cab drivers, porters, etc., a tip of 10-15% is customary. When visiting beaches, be aware of flags and bathing zones. Scottburgh beach is famous for the sardine run, expect crowds at this time. Casual dress is common, but in rural areas you should dress conservatively. African languages and English are spoken here. Try to learn a few local words to be able to communicate well.

Is it possible to rent a car in Scottburgh?

Yes, it is possible to rent a car in Scottburgh, South Africa. There are several car rental companies in the city that cater to the needs of tourists. They offer a wide range of vehicles, from small cars that are ideal for exploring the city to larger vehicles that are perfect for a family vacation. Check online or ask in person for details and to secure your booking.

Can I find vegan or vegetarian food options in Scottburgh?

Yes, there are some vegan and vegetarian dining options in Scottburgh. While there aren't many exclusively vegetarian or vegan restaurants, many places like Enzo Pizzeria and Belle's Patisserie have menus that cater to your dietary needs. Local supermarkets also offer a range of plant-based foods, making it easy to cook your own meals if you wish. It is always recommended to check the menus in advance to make sure they meet your needs.

Feedback

I hope you found this article informative and helpful. I'm eager to improve the content and make it even more valuable for you. If you have any feedback or suggestions, I would love to hear from you.

Do you have any tips or hidden gems that you think should be added to the list? Are there any areas that you feel could use more explanation or clarification?

Your input is greatly appreciated and will help us to continue providing high-quality content that meets your needs and interests. Please feel free to share your thoughts.