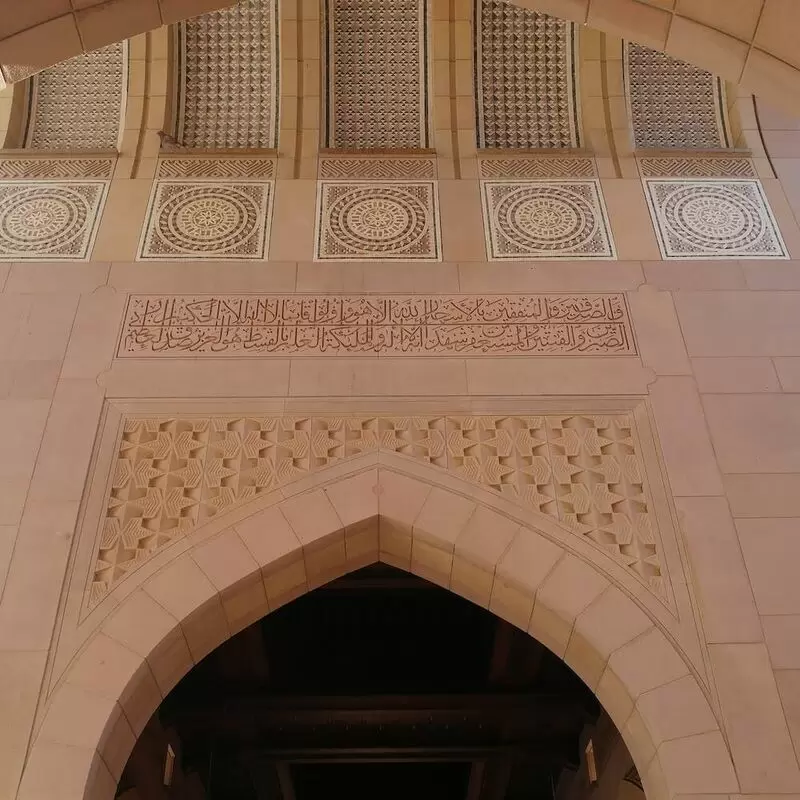 1. McCaig's Tower & Battery Hill
McCaig's Tower, affectionately known as Oban's "Coliseum in the Sky," is a must-see. Explore its tranquil gardens and enjoy panoramic views of Mull, Kerrera and beyond. Have your camera ready for the ever-changing sky, sunsets, and city lights at dusk. The lesser-known Battery Hill, with its fairy-tale houses, is worth the walk alone. Visit the nearby Oban Distillery, taste the legendary whisky and immerse yourself in the history of the city!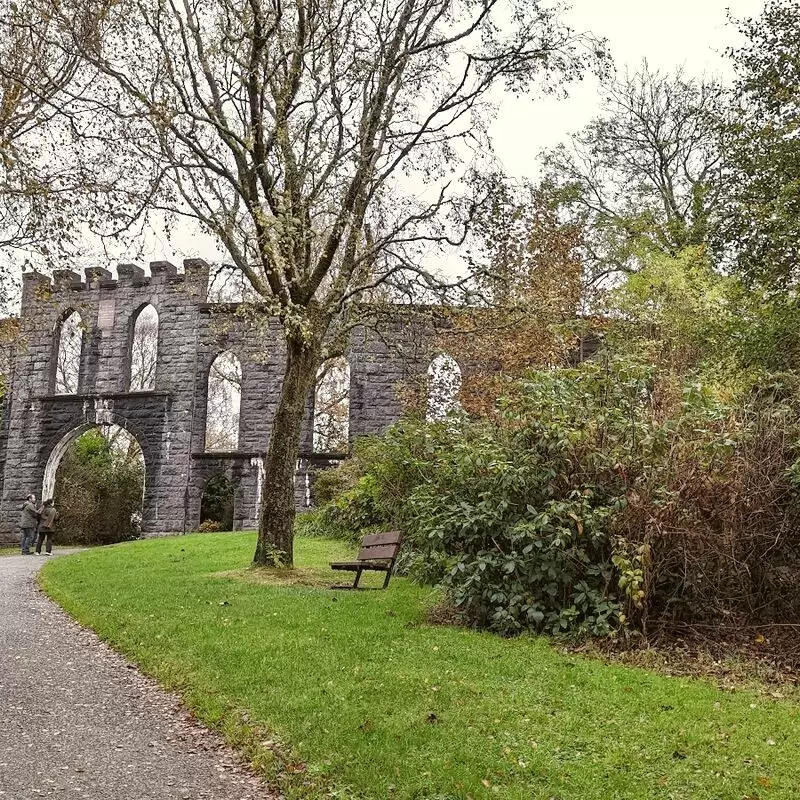 McCaig's Tower & Battery Hill
Duncraggan Road, Oban
Monday - Sunday: Open 24 hours
2. Dunstaffnage Castle and Chapel
Enjoy the wonder of Dunstaffnage Castle and Chapel, an essential stop in Oban. Built around 1220, the half-ruined fortress offers stunning sea views and a sense of history. Marvel at the artwork in the small, decorative chapel, and don't miss the whispering winds that are said to foretell the fate of the Stewart clan. The proximity to Loch Etive and the Firth of Lorn invites further exploration. And don't forget that just five miles away you can explore the heavenly splendor of the Oban Distillery!
Dunstaffnage Castle and Chapel
Castle Grounds, Dunbeg, Oban
Monday - Sunday: 9:30 AM – 5:30 PM
3. Oban Distillery
Unique, historic and a treat for all the senses - the Oban Distillery awaits you. Located in the heart of Oban, the distillery is one of the oldest sources of single malt Scotch whisky in Scotland. On a tour, you will gain insight into the traditional brewing process and enjoy the sweet smell of barley, oak and matured whisky. Don't miss the opportunity to sample an exclusive bottle from the distillery - a rare treat for whisky lovers. McCaig's Tower, just a 10-minute walk away, offers magnificent views of the city and the sea.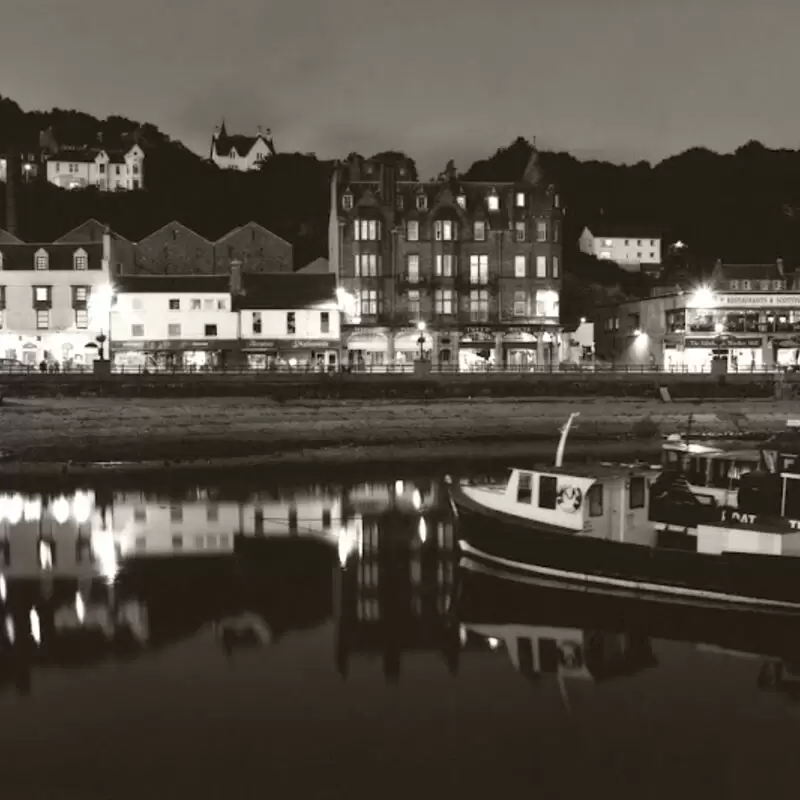 Oban Distillery
Stafford Street, Oban
Monday - Sunday: 10:15 AM – 5:00 PM
4. Dunollie Museum Castle and Grounds
Dunollie Museum, Castle and Grounds offer an authentic Scottish experience amid history and natural beauty. Perched on a hill, the 15th-century castle offers breathtaking views of Oban Bay. Inside, you can discover the rich heritage of Clan MacDougall. Don't miss the weaving workshop, where local crafts are on display. On a sunny day, the emerald grounds offer a tranquil picnic spot. Just around the corner is the Oban Distillery, another gem that adds to the town's Scottish charm.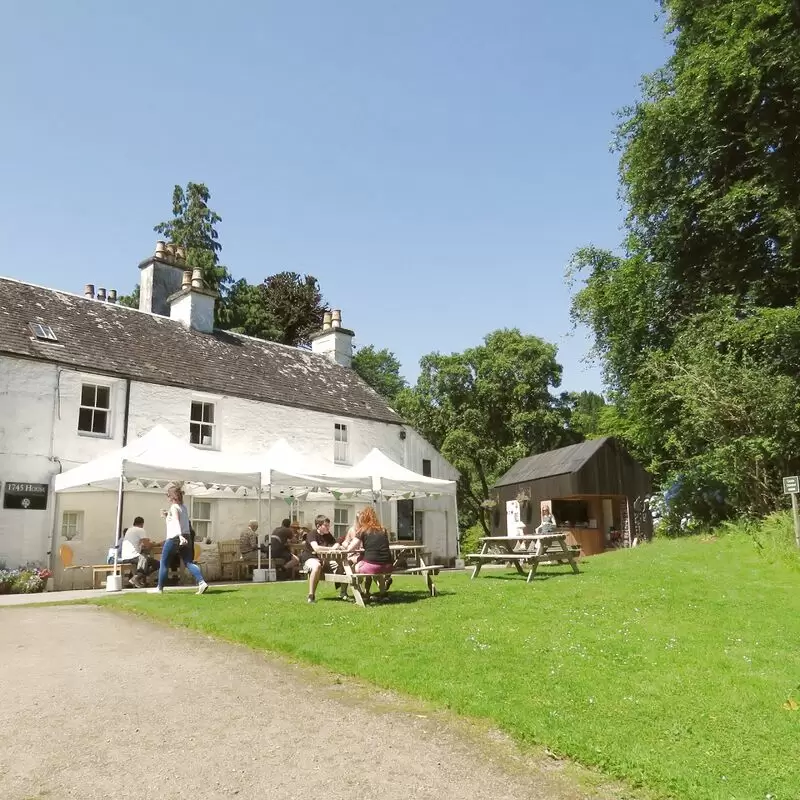 Dunollie Museum Castle and Grounds
Dunollie House, Oban
Monday - Sunday: 10:00 AM – 4:00 PM
Saturday: Closed
5. Ganavan
A visit to Ganavan is like a visit on a postcard. This hidden gem just outside Oban offers sandy beaches with crystal clear waters that are perfect for strolling or brave swimming. The stunning coastal walks offer panoramic views of the islands of Mull and Lorn. Feeling adventurous? Observe the local wildlife or discover World War II remains! Near Ganavan, you'll find Dunollie Museum, Castle, and Grounds - a remarkable journey into Scotland's past with its castle ruins and beautifully manicured gardens. Make the most of your Oban adventure!
6. Gylen Castle
Visit Gylen Castle in Oban for a touch of mystery and history! This 16th century castle offers a wonderful blend of scenic and cultural charm. The nineteenth-century castle offers breathtaking panoramic views of the rugged coastline. Although Gylen Castle is small, its charm lies in its haunting ruins with bullet holes reminiscent of war stories. And don't forget to visit the "King's Cave," an old smuggler's hideout. Just a boat ride away is the glittering island of Kerrera, a paradise for nature lovers. Witness history unfold amidst breathtaking scenery!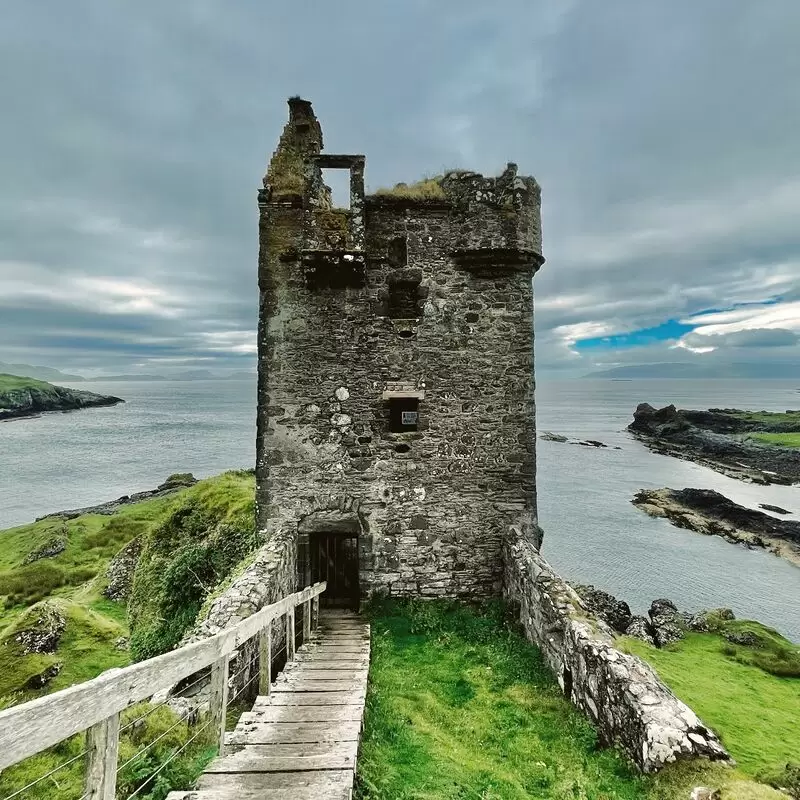 Gylen Castle
Kerrera, Oban
Monday - Sunday: Open 24 hours
7. Arduaine Garden
Arduaine Garden, a horticultural gem in Oban, invites you in with a symphony of vibrant blooms and lush greenery on 20 acres. Discover the mystery of subtropical species, admire the radiant azaleas or enjoy the tranquil views of the Sound of Jura. If you're lucky, you may see a red squirrel! It's a whimsical beauty that is often overlooked by tourists. A visit to historic Kilmartin Glen, a vast archaeological landscape with prehistoric monuments and artifacts, completes your trip to Oban.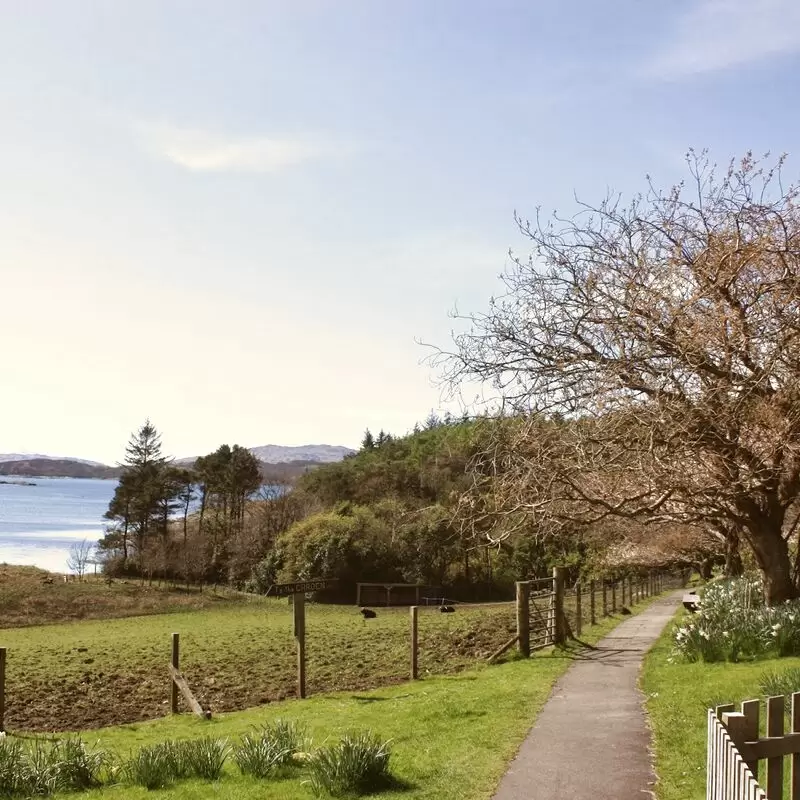 Arduaine Garden
Argyll, Arduaine, Oban
Monday - Sunday: 10:00 AM – 5:00 PM
8. Oban War Memorial
A visit to the Oban War Memorial is awe-inspiring, an impressive blend of history and scenic beauty. The memorial stands high on Battery Hill and offers a unique panoramic view of Oban Bay and the Atlantic Islands. It commemorates those who died in the two World Wars, embodying a significant part of history. Just a short walk away you will find the famous Oban Distillery. Immerse yourself in local lore where the fallen are remembered and the spirit of Oban remains alive.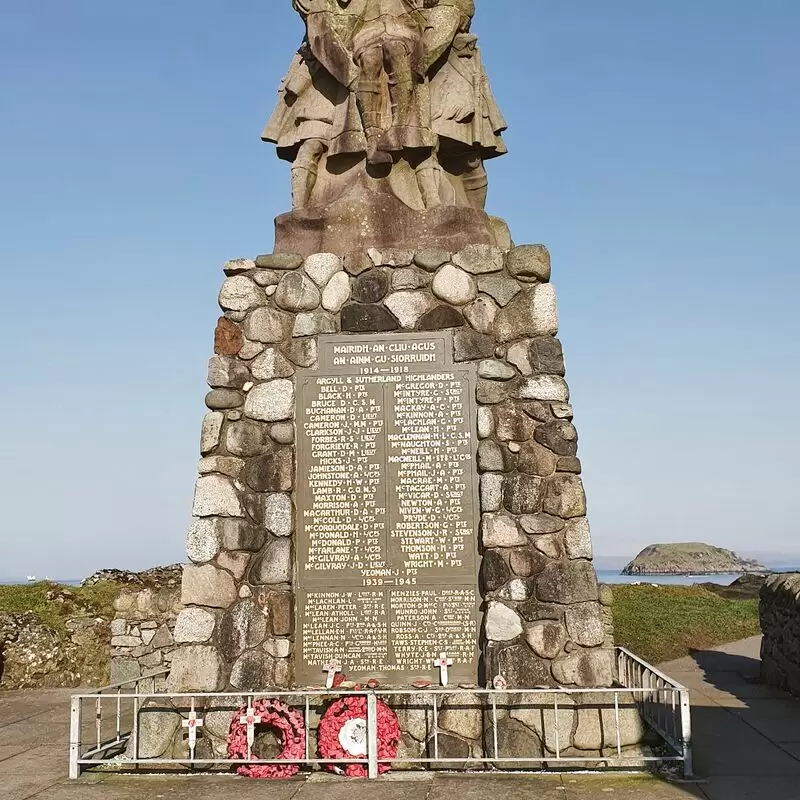 Oban War Memorial
200 Corran Esplanade, Oban
Monday - Sunday: Open 24 hours
9. Oban Promenade
The Oban promenade is a must-see, offering breathtaking views of the bay and the islands of Kerrera, Lismore and Mull. A leisurely stroll and a view of the colorful sunset is an unforgettable experience. Get the best ice cream in town at a lesser known place, "Nories". Nearby, don't miss McCaig's Tower, an iconic structure with panoramic views. Listen to the sounds of bagpipes, as local musicians often perform on the promenade. Experience Oban, feel its rhythm!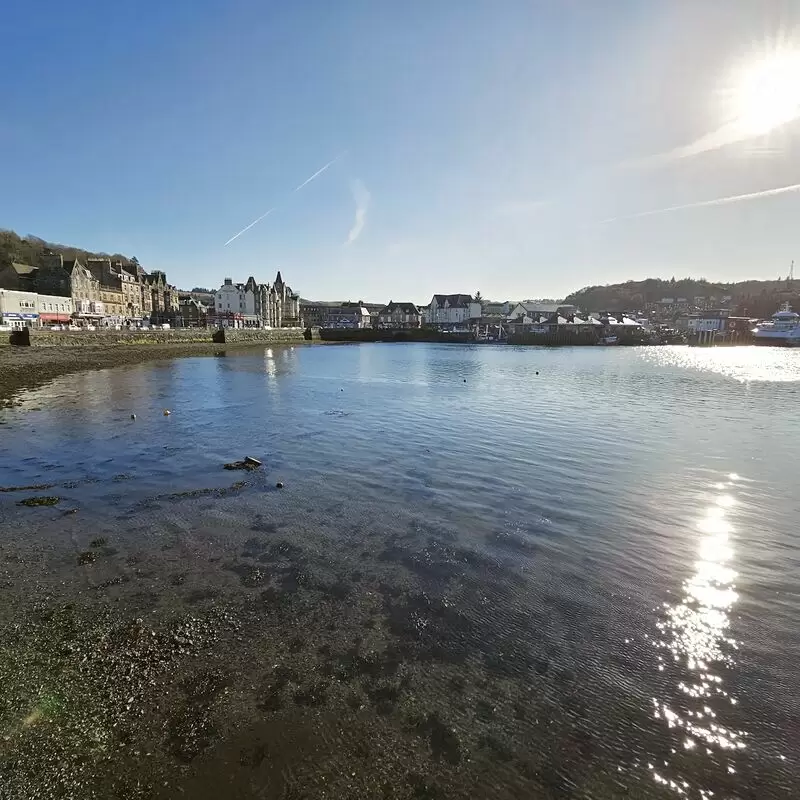 Oban Promenade
200 Corran Esplanade, Oban
10. CalMac Ferries Oban
A visit to CalMac Ferries Oban is like embarking on a maritime adventure. As Scotland's largest ferry company, it offers a unique perspective on the Hebridean Islands. Depart from Oban, often referred to as the "Gateway to the Islands." On your way to Mull or the Outer Hebrides, you may spot seals, porpoises or even whales. Enjoy the breathtaking coastal scenery and don't forget to try some classic Scottish dishes on board. The famous McCaig's Tower is also just a short walk away for an extra dose of historic local culture.
CalMac Ferries Oban
Oban Ferry Terminal, Alma Crescent, Oban
11. Ardchattan Priory
Experience the weight of history at Ardchattan Priory, a monastic gem tucked away in the charming surroundings of Oban. This authentic 13th-century priory offers a tranquil retreat where pristine gardens combine with verdant nature. Marvel at the centuries-old gravestones and enjoy the extraordinary views over Loch Etive. Unusually, the garden remains a private residence, creating an intimate atmosphere. Nearby, the atmospheric ruins of Castle Stalker await, where you can quench your thirst for medieval lore. Scotland's past is ready to be explored!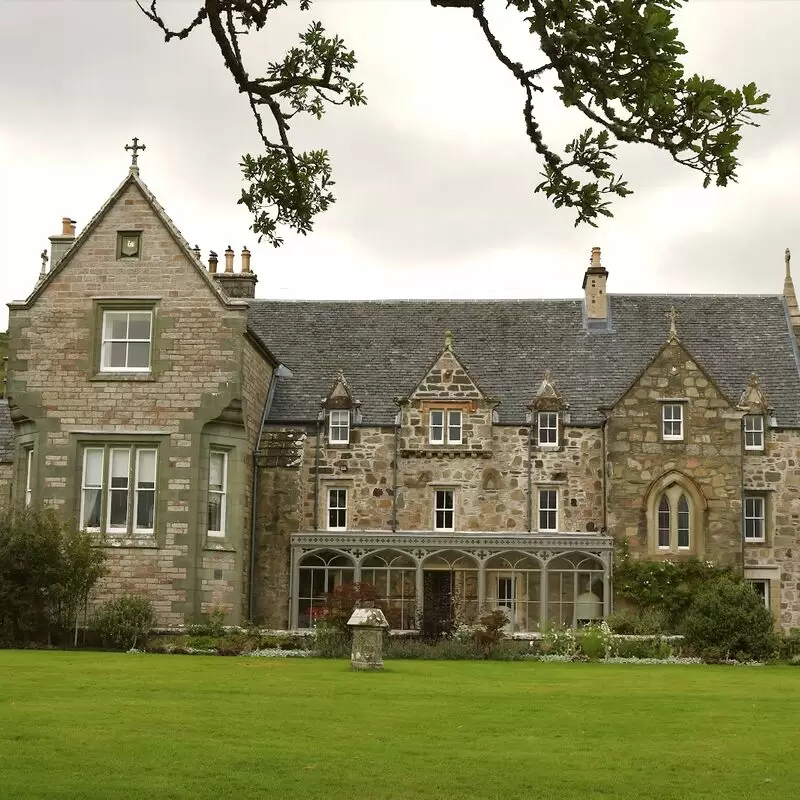 Ardchattan Priory
Ardchattan, Oban
Monday - Sunday: Closed
Wednesday: 9:30 AM – 5:30 PM
12. Oban Marina
Oban Marina offers an enchanting experience with breathtaking views of the Isle of Kerrera and the Firth of Lorn. It is the perfect base for unforgettable sea trips and exploring nearby islands such as Mull. First-class facilities, including a bistro serving freshly caught seafood daily, make this a haven for sailors and foodies alike. Don't miss nearby legendary McCaig's Tower, which offers panoramic views of Oban and is just a short walk away.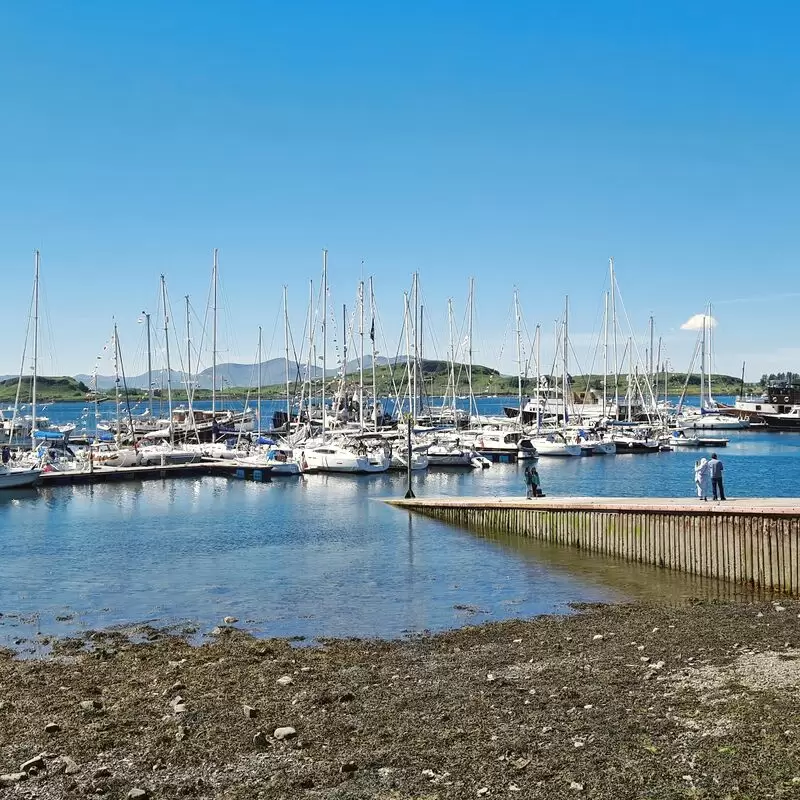 Oban Marina
North Pier Office, North Pier, Oban
Monday - Sunday: 8:30 AM – 6:00 PM
Friday: 8:30 AM – 6:30 PM
13. Oban War & Peace Museum
A trip to Oban is incomplete without visiting the Oban War & Peace Museum, a gem of local history! You'll be amazed at how war relics, old photographs and maritime items tell the fascinating story of Oban's past. The mystery of the Armistice Stone and intimate wartime cuisine make the museum even more captivating. Not far away is the majestic Oban Distillery, where you can reward your cultural exploration with a soothing sip of Scotland's finest whisky.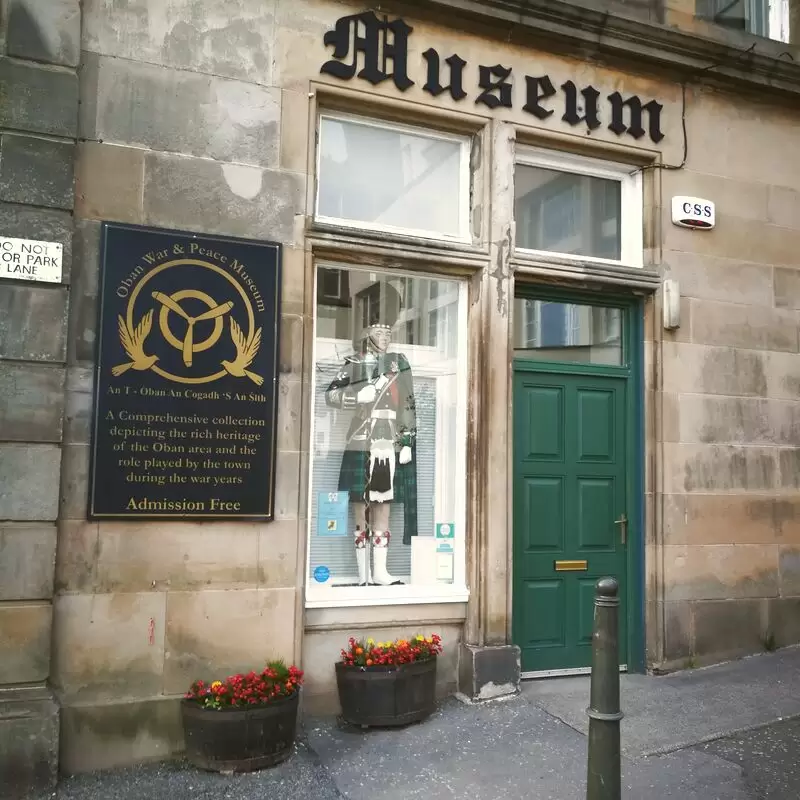 Oban War & Peace Museum
Old Oban Times Bldg, Corran Esplanade, Oban
Monday - Sunday: 10:00 AM – 4:00 PM
Best Time to Visit Oban
The best time to visit Oban, United Kingdom, is during the summer months from June to August when the weather is warmer and the days are longer. It is also the perfect time to enjoy outdoor activities and local events such as the Oban Games and the Argyllshire Gathering.
Annual Weather in Oban
Oban 3-Day Forecast
Wed, 27 September
Night
49 °F
9 °C
73%
Morning
50 °F
10 °C
69%
Afternoon
51 °F
10 °C
69%
Evening
51 °F
10 °C
88%
Thu, 28 September
Night
50 °F
10 °C
64%
Morning
48 °F
9 °C
62%
Afternoon
55 °F
13 °C
60%
Evening
51 °F
11 °C
58%
Fri, 29 September
Night
53 °F
11 °C
56%
Morning
51 °F
11 °C
54%
Afternoon
57 °F
14 °C
52%
Evening
51 °F
10 °C
68%
Questions & Answers

What is the local cuisine like in Oban?

Oban, often referred to as the Seafood Capital of Scotland, offers a remarkable culinary experience. Local cuisine features primarily delicious seafood, including fresh mussels, scallops, oysters, crab, lobster and fish straight from the waters surrounding this coastal town. Agricultural products also play an important role, with dishes often featuring lamb, game and flavorful cheeses. The whiskey distillery in Oban is well known and provides a pleasant complement to the local food.

How do locals commute within the town?

Oban is a fairly compact town, making it easy for locals to get around on foot or by bicycle. Public transportation includes local bus lines that connect different parts of the city and surrounding areas. Many residents also prefer to drive their own cars. For those living in more remote areas or on islands, ferries are an important mode of transportation. Cabs are also available for quick and convenient movement around the city.

Is Oban safe for tourists?

Oban, often called the "Gateway to the Islands", is very safe for tourists. It is a small, welcoming town in the UK known for its stunning landscapes and ancient history. The crime rate in the city is low, and the locals are generally friendly and helpful to visitors. However, as with any other destination, it is important that travelers take care of their personal property and take the usual precautions.

Are there any health advisories for visitors?

Although the UK has a robust healthcare system, visitors to Oban are advised to take out travel insurance to cover potential medical costs. It is important to have your routine vaccinations refreshed. Since Oban is near bodies of water, mosquitoes can be a nuisance in the summer, so it's a good idea to bring insect repellent. Also, the climate in Oban can be unpredictable, so pack appropriate clothing for cold, wet weather. Visitors should also follow local safety guidelines COVID-19.

What are the local customs and traditions in Oban?

Oban in the United Kingdom is deeply rooted in Scottish traditions. The town's customs include local folk music, dances and bagpipe performances, often presented at annual festivals. Gaelic culture is widespread, and many residents still speak the ancient language. Thanks to the city's coastal location, seafood such as lobster and scallops are a staple. Visiting whiskey distilleries is also a popular tradition, with the Oban Distillery a must for many.

How friendly are Oban locals to tourists?

The locals of Oban, also called "Obanites", are known for their warm hospitality and friendly nature, especially towards tourists. They are always willing to lend a hand or recommend the best places to visit. Their hospitality stems from the fact that they recognize the importance of tourism to the local economy. So as a traveler in Oban, you can expect smiling faces, friendly conversation and a vibrant local culture.

What's the cost of living in Oban?

The cost of living in Oban, UK, is generally relatively moderate. Prices for accommodation vary, with a one-bedroom apartment in the town center costing around £500 to £600 per month. Groceries and restaurant meals are slightly more expensive than the national average due to transportation costs in this remote region. However, services such as utilities and transportation are comparatively inexpensive. Overall, the cost of living in Oban is less expensive than in larger cities such as London, but more in line with other smaller coastal and rural areas in Scotland.

Can I easily avail medical facilities in Oban?

Medical facilities are readily available in Oban in any case. In case of an emergency or for general medical needs, there is Lorn & Islands Hospital in the town. It offers various health services, including an accident and emergency department, x-ray services, and other treatments. Several pharmacies can also be found in the city. For everyday health issues, several general practitioners and dentists are within easy reach.

How do I get to Oban from London?

To travel from London to Oban, you can either fly or take the train. If you choose to fly, the nearest airport is Glasgow, from where you can take a train or bus to Oban. If you prefer the train, there is a direct service from London Euston to Oban, with a change of trains in Glasgow. The journey can take between 7 and 10 hours. You can also go by car, but the trip would take about eight hours.

How well is English spoken in Oban?

Oban is located in Scotland and is a predominantly English-speaking region. Although the Scottish accent is sometimes strong and different from standard English, the locals speak English fluently. There is also a portion of the population that speaks Scottish Gaelic, but English is still the language of daily use. So tourists should have no problems communicating in English when visiting Oban.

Does Oban have a nightlife?

Oban has a lively nightlife to offer. The inviting seaside pubs, bars and restaurants are popular with locals and tourists alike. Some of these venues feature live music, while others serve locally brewed whiskey. Although Oban is not known for its vibrant club scene, it offers a quaint and lively atmosphere that visitors will appreciate. It is an ideal destination for those who prefer a relaxed evening with good food, drinks, pleasant company and occasional live entertainment.

Are there any unique wildlife or nature experiences in Oban?

Oban is the gateway to the magical Scottish islands, home to incredible wildlife. You can join a local nature tour to see wild red deer, playful otters or eagles soaring into the sky. The coastal location offers opportunities for adventurous boat trips where you can see porpoises, seals, or even minke whales! Wildlife aside, the Firth of Lorn and nearby Ben Cruachan offer breathtaking landscapes to explore - from rugged coastline to tranquil forests and majestic mountain peaks.

What's the best way to experience authentic local culture?

Immerse yourself in the local culture of Oban by exploring the charming seafront and local fishing ports. Visit local farmers markets to sample fresh produce or attend a traditional ceilidh, a Scottish event featuring folk music and dancing. A must-do is to immerse yourself in Highland culture at the Oban Distillery, discover Scottish history at the Dunollie Museum Castle and Grounds, and sample freshly caught seafood at one of the local restaurants.

Can I rent a bicycle or a local vehicle in Oban?

Of course, there are several options for renting a bike or local vehicle in Oban. Several stores offer bike rental, a perfect choice to explore the beautiful landscapes of the area at your own pace. If you prefer local vehicles, car rental companies are also available. They offer different types of vehicles to suit your travel needs, whether you are planning a city tour or an off-road adventure. With these car rentals, you have the freedom to explore not only Oban, but the entire region of Western Scotland.

What common courtesies should visitors be aware of?

Visitors to Oban, Great Britain, should respect local customs. It is polite to say "please," "thank you," and "excuse me." Be aware of the culture of queuing when waiting for services. It is customary to tip in restaurants, usually about 10-15%. It is rude to leave trash or speak loudly in public places. Respect personal space and privacy. Punctuality is highly valued in the UK, so make sure you arrive on time for any appointments or reservations.

What currency is used in Oban?

Oban, like the rest of the United Kingdom, uses the British pound as its official currency. This is denoted by the symbol £. Coins come in denominations of 1p, 2p, 5p, 10p, 20p, 50p, £1 and £2, while banknotes are available in denominations of £5, £10, £20 and £50. It is a strong, globally recognized currency used throughout Scotland and England.

Is there any local festival popular in Oban?

Yes, Oban is known for the Oban Games, also known as the Argyllshire Gathering. This event is a classic Highland Games festival that attracts visitors from all over the world. Activities include traditional Scottish sports such as tug-of-war and Toss-O-War, as well as bagpipe and Highland dancing competitions. It is a great showcase of Scottish culture, enhanced by the picturesque setting of Oban.

Do I need a visa to travel to Oban?

Whether you need a visa to enter Oban, Scotland, United Kingdom, depends on your nationality. Citizens of the European Economic Area (EEA) and Switzerland do not require a visa. Other nationals should check their visa requirements with their local British Embassy, British High Commission or online at the British government website. Always ensure that your travel documents meet the necessary legal requirements.

Are there any COVID-19 related travel restrictions in Oban?

As a guide, I would recommend that travelers follow local government and health department guidelines for COVID-19 in Oban, United Kingdom. Guidelines may include wearing masks in enclosed public spaces, maintaining social distance, hand washing and frequent use of disinfectants. Pre-registration may be required for some attractions, and the number of people allowed at one time may be limited. I recommend checking for current travel restrictions before planning a trip.

Is vegan food easy to find in Oban?

Oban is not only known for its seafood, but also for its vegan cuisine. Several restaurants in town offer a variety of vegan-friendly options on their menus. In addition, local supermarkets have a variety of vegan ingredients if you prefer to cook for yourself. Finding vegan food in Oban, therefore, should not be much of a challenge for those on a plant-based diet. However, it is always a good idea to check restaurant menus online in advance.

How can I explore the scenic beauty in and around Oban?

As a guide to Oban, you can explore the breathtaking scenery by visiting McCaig's Tower, which offers panoramic views of the surrounding islands. A day trip to the Isle of Mull or the ancient nunnery on the Isle of Iona offers unspoiled natural beauty. A trip to Glencoe, just an hour from Oban, takes you through dramatic highland scenery. You can also enjoy the beauty of Oban with a tour of the local distillery and harbor front.

Can I access the Internet easily in Oban?

Yes, you can easily access the Internet in Oban. Many hotels, restaurants and cafes in the city offer free Wi-Fi to their guests. For those not staying in accommodations with Internet access, the Oban Library offers public Internet stations that can be used by appointment. However, as in many rural areas, the connection may not be as fast or reliable as in a larger city. It is always best to plan for occasional connection problems when staying in these areas.

Is tap water safe to drink in Oban?

Yes, the tap water in Oban, United Kingdom, is perfectly safe to drink. Water quality in Oban is subject to strict regulations and standard inspections by the Water Services Regulation Authority (Ofwat) and the Drinking Water Inspectorate (DWI) to ensure the water is safe for public consumption. Therefore, you can easily drink the tap water directly or use it for cooking, washing and brushing your teeth. It is both economical and environmentally friendly to drink tap water in Oban instead of bottled water.

Are credit cards widely accepted in Oban?

Yes, most businesses in Oban, including hotels, restaurants and stores, accept credit cards. Major cards such as Visa and Mastercard are widely accepted. However, some smaller stores or street vendors only accept cash. It is advisable to carry some cash for emergencies or small purchases. Always inform your card issuers about your travel plans to avoid possible problems with transactions.

Can I travel to other parts of Scotland easily from Oban?

Yes, from Oban you can easily travel to other parts of Scotland. The town has excellent public transport links with a train station providing connections to Glasgow and beyond. There are also regular bus services to the north and south. In addition, Oban is the gateway to the Isles, from where several ferries depart daily to various stunning Scottish islands such as Mull, Iona and Coll.

Feedback

I hope you found this article informative and helpful. I'm eager to improve the content and make it even more valuable for you. If you have any feedback or suggestions, I would love to hear from you.

Do you have any tips or hidden gems that you think should be added to the list? Are there any areas that you feel could use more explanation or clarification?

Your input is greatly appreciated and will help us to continue providing high-quality content that meets your needs and interests. Please feel free to share your thoughts.