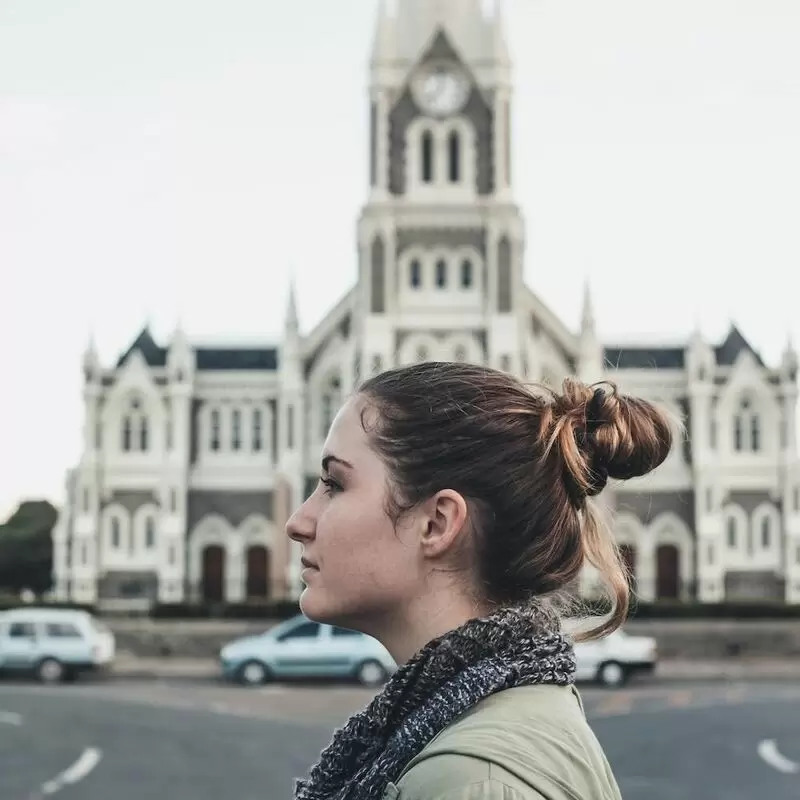 1. Camdeboo National Park
Experience the sheer, unspoiled beauty of Camdeboo National Park, a hidden gem in Graaff-Reinet. Famous for its otherworldly valley of desolation, the park offers breathtaking panoramas of sunset and moonlight over the Karoo plains. From your safari vehicle, you can catch an exclusive glimpse of herds of the lovable Cape buffalo. Nearby stands the majestic Dutch Reformed Church with its impressive architecture - a must-see during your visit to this must-see South African destination.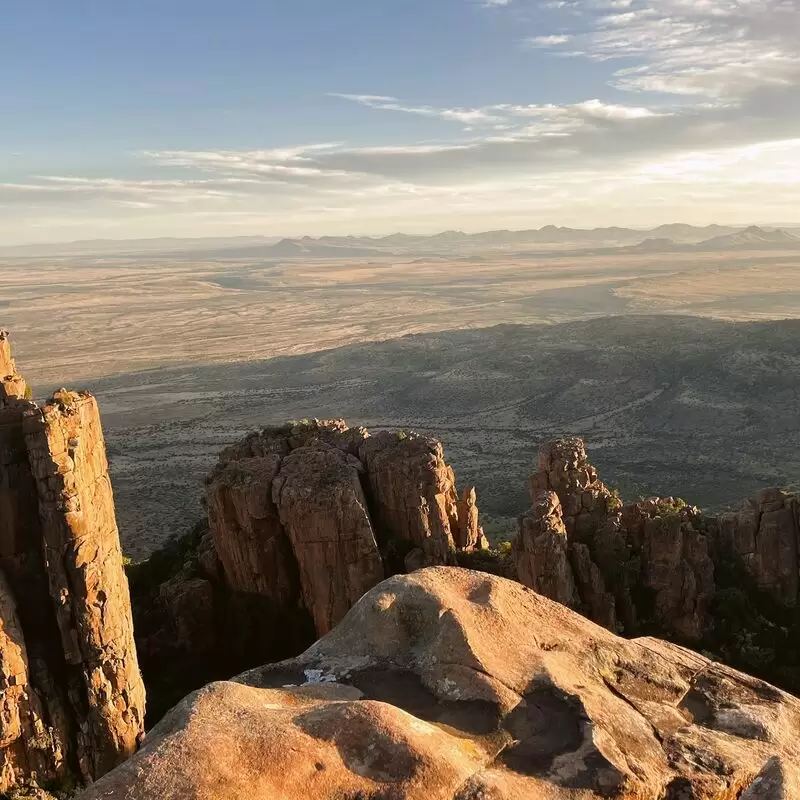 Camdeboo National Park
20 N9, Graaff-Reinet, 6280
Monday - Sunday: 6:30 AM – 7:30 PM
2. Valley of Desolation
A visit to the Valley of Desolation is like stepping into another world, where dramatic dolerite columns tower 120 meters high and bear witness to the volcanic and erosive forces of nature over a period of 200 million years. It is a place of unspoiled beauty and enchanting sunsets that will stay with you forever. This little-known gem is also the gateway to Camdeboo National Park, home to diverse wildlife, hiking trails and the Spekboom tree, a natural air purifier that improves the world's air quality. Immerse yourself in ancient history and stunning scenery on a journey!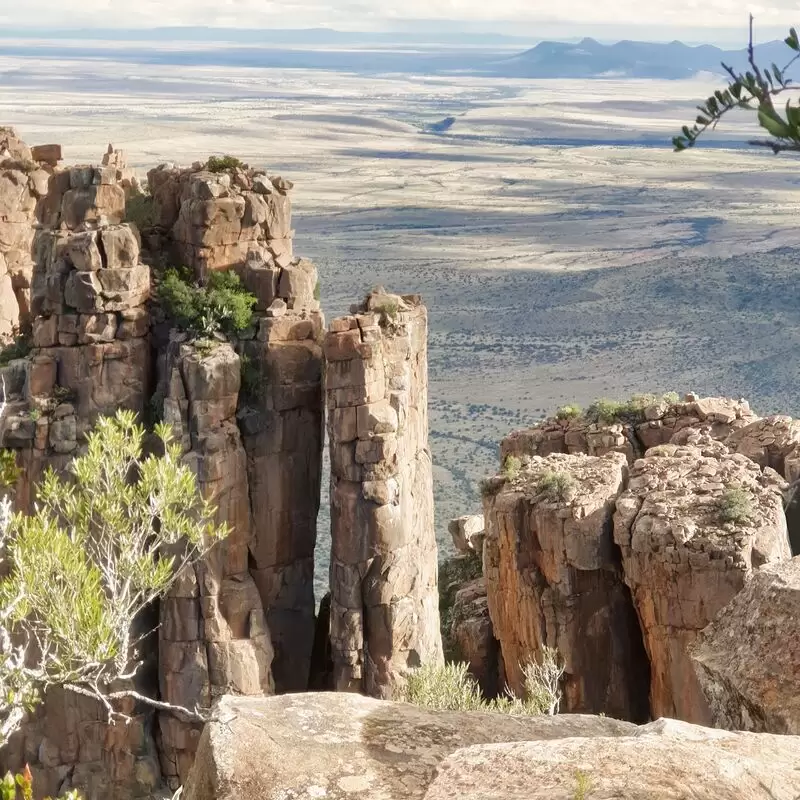 Valley of Desolation
Graaff-Reinet
Monday - Sunday: 6:30 AM – 7:30 PM
3. Drostdy Hotel Graaff Reinet
In the soulful heart of Graaff-Reinet you will find the famous Drostdy Hotel. A spectacle of classic Cape Dutch architecture, it makes you feel a bit like you've stepped back in time. It offers top-notch service, beautifully renovated historic-style rooms, and delicious cuisine. Did you know that the hotel has a beautiful spa to relax tourists' tired muscles? The stunning Valley of Desolation and Reinet House Museum are within walking distance, making your stay an additional scenic experience.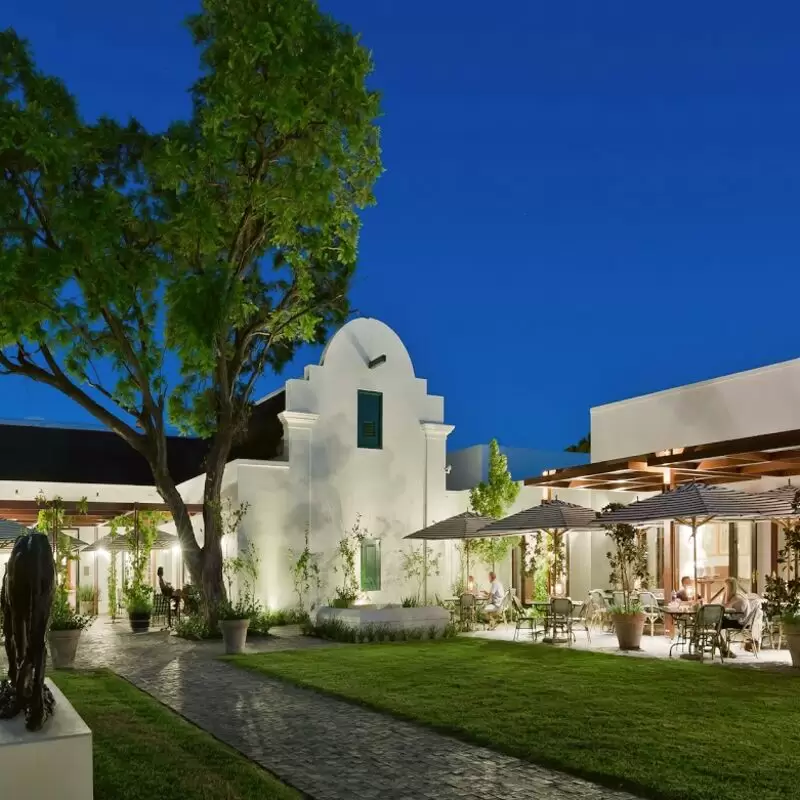 Drostdy Hotel Graaff Reinet

4. Groot Kerk Dutch Reformed Church Graaff Reinet)
Visit the "Groot Kerk - Dutch Reformed Church" and immerse yourself in the history of Graaff-Reinet. Admire the stunning example of neo-Gothic architecture and the fully functional organ. Enter the interior of the church and admire the impressively designed pulpit and beautiful stained glass windows. The centrally located church is an unmissable landmark. Just steps away, the well-preserved Reinet House and gardens offer a quiet retreat. Book your visit during Easter weekend to experience the "Easter Choir Festival" - a fascinating event held here annually.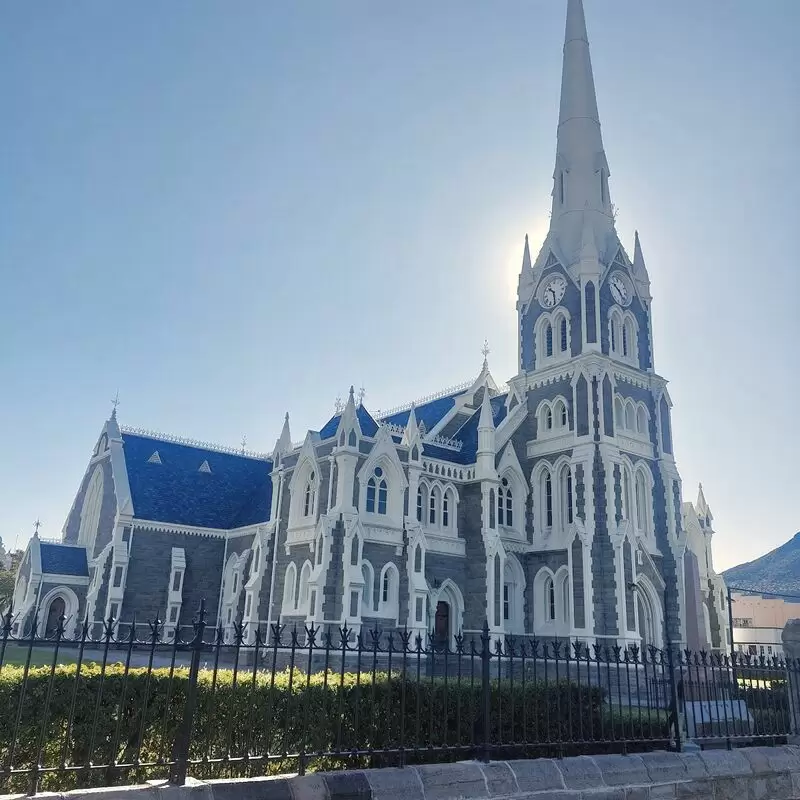 Groot Kerk Dutch Reformed Church Graaff Reinet)
35 Caledon St, Graaff-Reinet
5. The Village Graaff Reinet
Immerse yourself in the cultural jewel of Graaff-Reinet, home to more than 200 monuments and a feast for history lovers. Stroll through "The Village" in Graaff-Reinet for an authentic Karoo experience. An insider's tip: Visit the palatial Drostdy Hotel for a taste of old South African elegance! The nearby Valley of Desolation offers impressive geology. Don't miss Camdeboo National Park, where wildlife and natural beauty abound.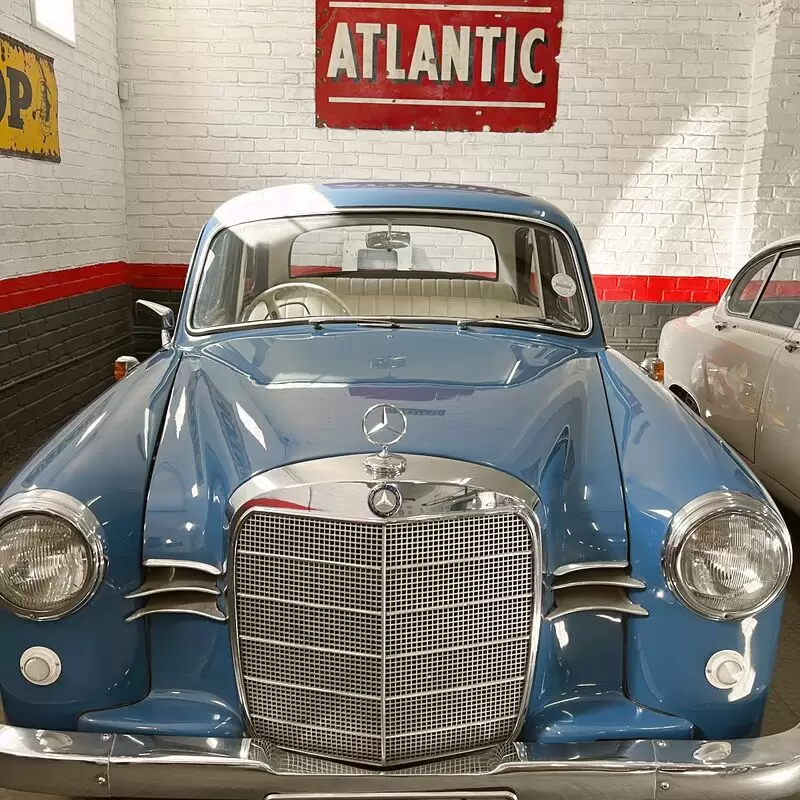 The Village Graaff Reinet
29 College Rd, Graaff-Reinet
Monday - Friday: 8:00 AM – 5:00 PM
Saturday: 8:00 AM – 1:00 PM
Sunday: Closed
6. Graaff Reinet Museum
A trip to Graaff-Reinet is not complete without a visit to the Graaff-Reinet Museum! It houses a magnificent collection that reflects the cultural and natural history of the region and offers a captivating insight into the way of life in the Karoo in the 19th century. Nineteenth Century. From a Victorian-era house with furniture from that era to fascinating fossils, there's something here for everyone. Don't miss the traditional karretjie, a sheepskin cart used by local shepherds! It's also very close to Reinet House, another impressive historic building. A must for history buffs!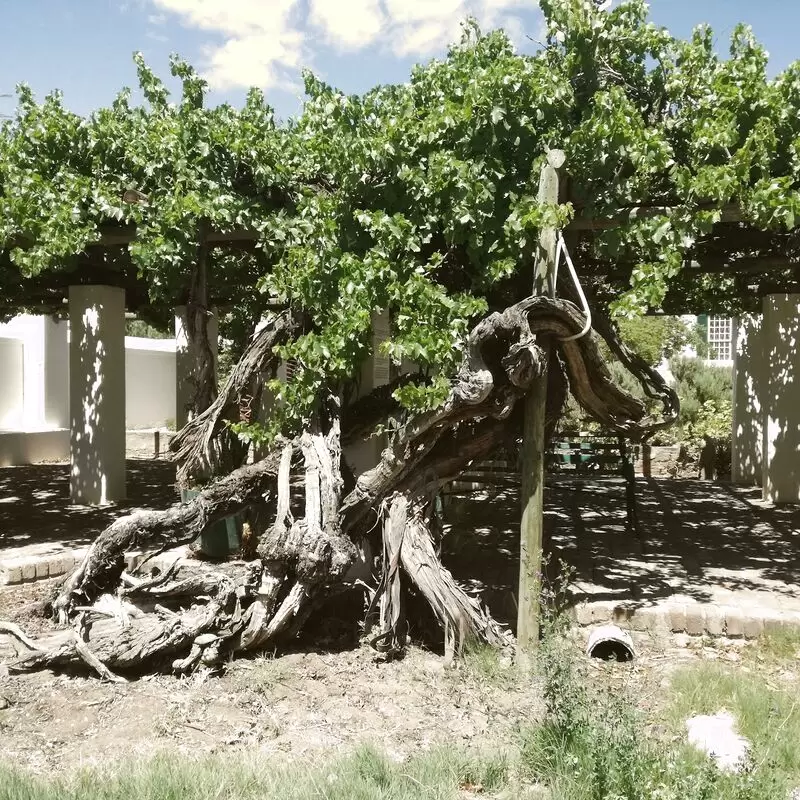 Graaff Reinet Museum
1 Murray St, Graaff-Reinet
Monday - Thursday: 8:00 AM – 4:30 PM
Friday: 8:00 AM – 4:00 PM
Saturday: 9:00 AM – 1:00 PM
Sunday: 9:00 AM – 1:00 AM
7. Graaff Reinet Tourism Bureau
At the Graaff-Reinet Tourism Bureau, you can get comprehensive guidebooks and special recommendations for local tours. Familiarize yourself with the charmingly curated, informative exhibits. Use the staff's in-depth knowledge to discover secret hiking trails or hidden historical treasures. Stroll to the nearby Drostdy Museum, just a stone's throw away, for a vivid introduction to the Victorian era, or to the John Rupert Theatre for a captivating cultural show. A visit guarantees a glimpse into the heart and soul of Graaff-Reinet.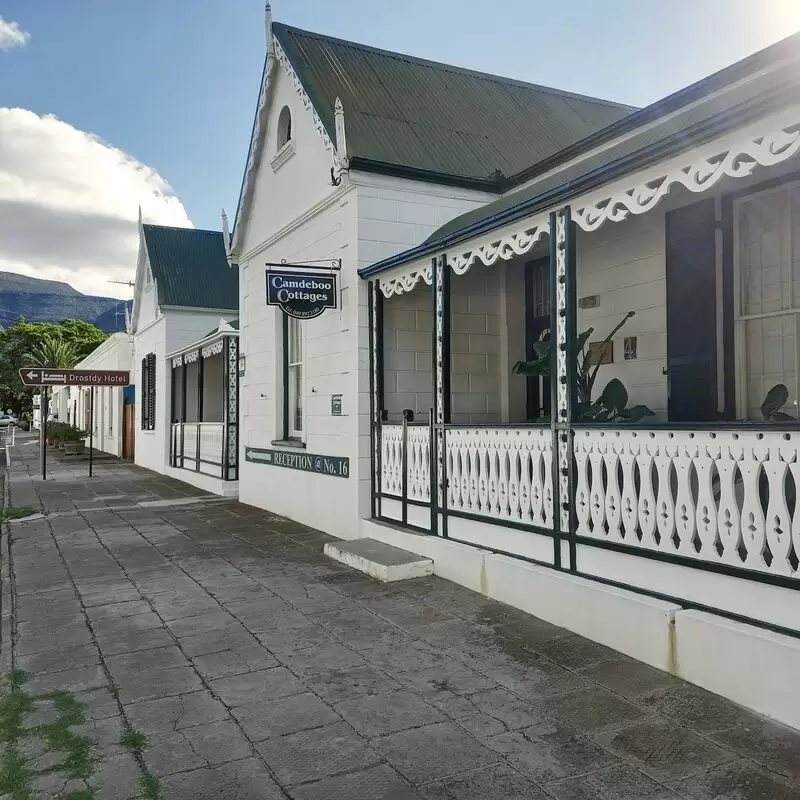 Graaff Reinet Tourism Bureau
17 Church St, Graaff-Reinet
Monday - Friday: 8:00 AM – 1:00 PM, 2:00 – 5:00 PM
Saturday: 9:00 AM – 12:00 PM
Sunday: Closed
8. Obesa Nursery
Known for one of the most magnificent collections of cacti and succulents in the world, Obesa Nursery is not only a nursery but also an eco-paradise. Since 1970, this impressive spectacle of over 7,000 species has added color and texture to the Graaff-Reinet landscape. It is an enchanting labyrinth that nature lovers will enjoy exploring. The nearby Camdeboo National Park, with its famous viewpoints in the Valley of Desolation, is another reason to visit this area with its breathtaking panoramic landscapes.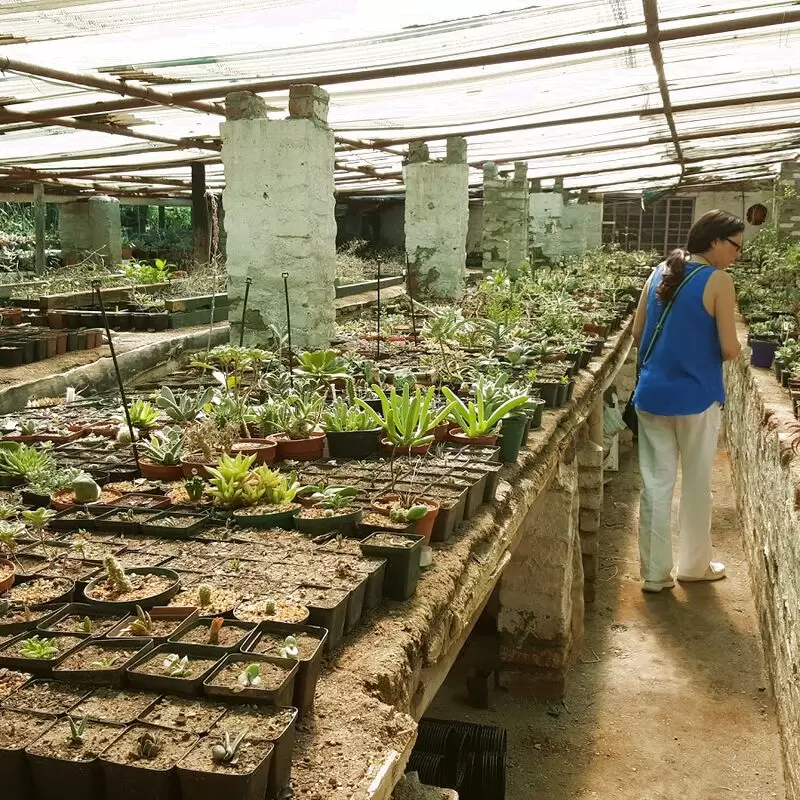 Obesa Nursery
49 Murray St, Graaff-Reinet
Monday - Friday: 7:00 AM – 12:00 PM
Saturday - Sunday: Closed
9. Buccara Wildlife Reserve Karoo
To truly experience the enchanting wilderness of South Africa, a visit to the Buccara Wildlife Reserve Karoo in Graaff-Reinet is a must. This vast and sprawling reserve is home to a variety of beautiful animals including lions, elephants and even the rare black impala. Get your heart racing as you embark on an exciting game drive, or enjoy the breathtaking views of the picturesque mountain landscapes. Nearby, you can also explore the stunning Valley of Desolation, formed by millions of years of erosion. This is the Karoo as you've never seen it before - wild, untouched and breathtakingly beautiful.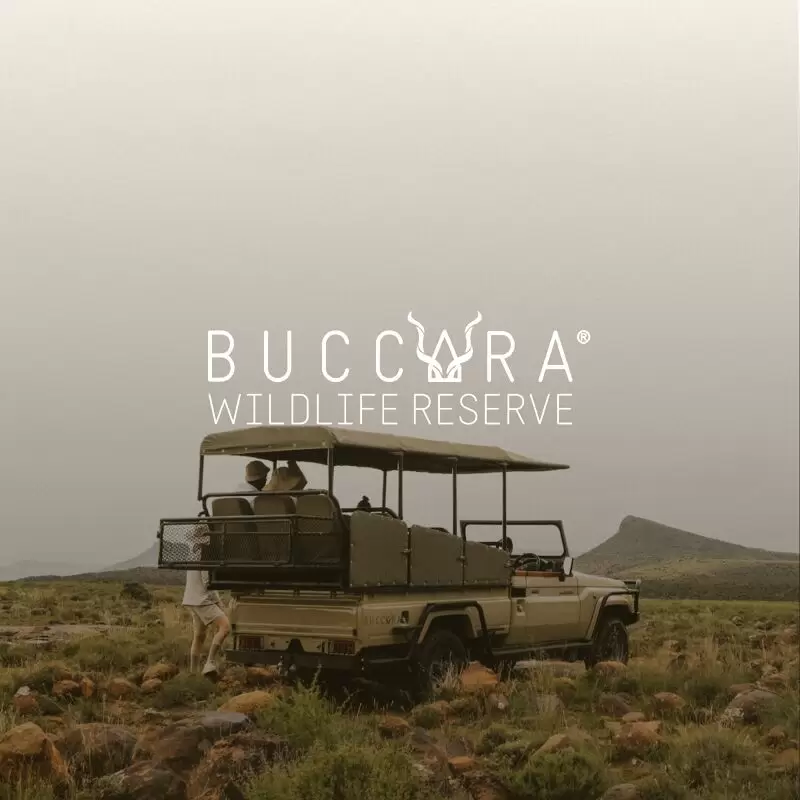 Buccara Wildlife Reserve Karoo
1 Pretoriuskloof Road, Graaff-Reinet
Monday - Sunday: 8:00 AM – 8:00 PM
10. Nqweba Campsite Graaff Reinet
Immerse yourself in the tranquil beauty of the Karoo at Nqweba Campsite in Graaff-Reinet. Nestled on Sunday's River, it's a dream destination for nature lovers, avid bird watchers and peace seekers. Your camera can't resist the blazing sunsets, and the heart-warming calls of the Karoo's endemic species make the experience even more intense. And the cherry on top? The magical night sky, dotted with constellations. Just a stone's throw away, you can explore the Valley of Desolation and its breathtaking viewpoints. A true treasure of the Karoo awaits you.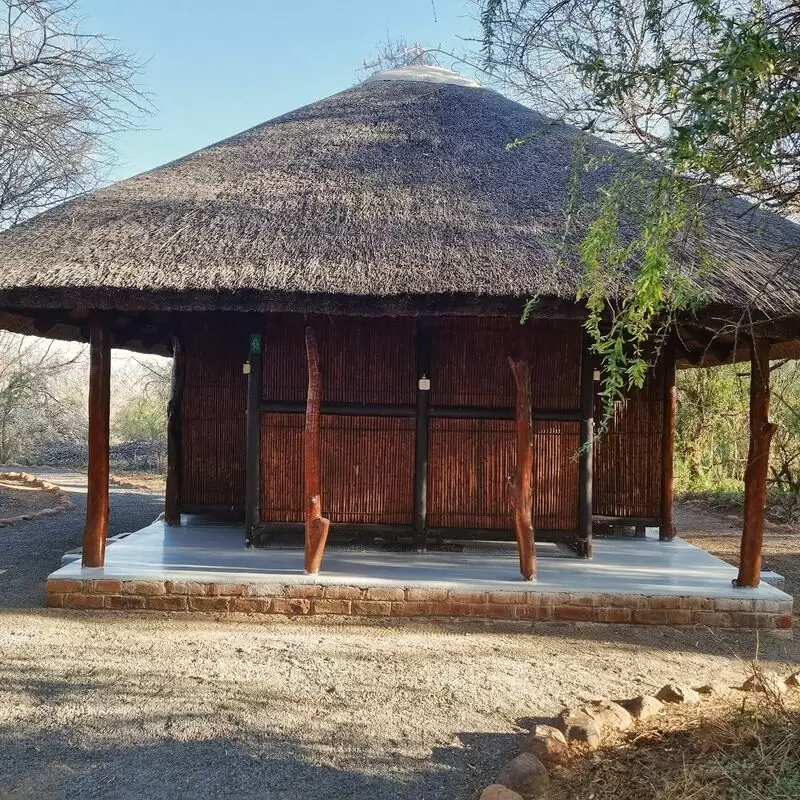 Nqweba Campsite Graaff Reinet
R63 Road, Graaff-Reinet
11. Graaff Reinet Old Cemetery
A trip to Graaff-Reinet is not complete without delving into the eventful past at the Old Graaff-Reinet Cemetery. Personalities from different eras are buried here, and each stone tells its own story. The cemetery is not only a resting place, but also a garden with beautiful flora and a variety of bird species that are only found in the Karoo. And just minutes away, the Valley of Desolation awaits with its breathtaking rock formations and majestic panoramas. A perfect pair for history buffs and nature lovers!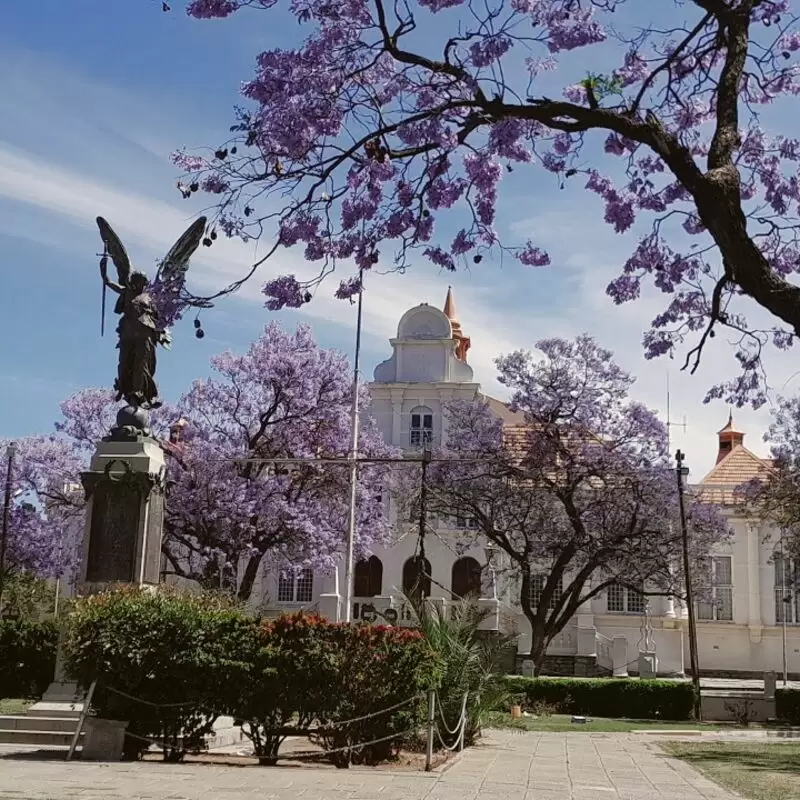 Graaff Reinet Old Cemetery
31 Stockenstroom St, Graaff-Reinet
12. Nqweba Dam
Venture into the wild serenity of the Nqweba Dam, the oasis of Graaff-Reinet. Refresh yourself by sailing or fishing in the wide waters or enjoy a quiet picnic on the shore. Don't miss the enchanting sunset over the dam, a sight coveted by photographers. Locals say if you listen closely, you can hear the haunting calls of ospreys. Nearby, just a short drive away, the sheer size of the Valley of Desolation offers rugged, untouched landscapes.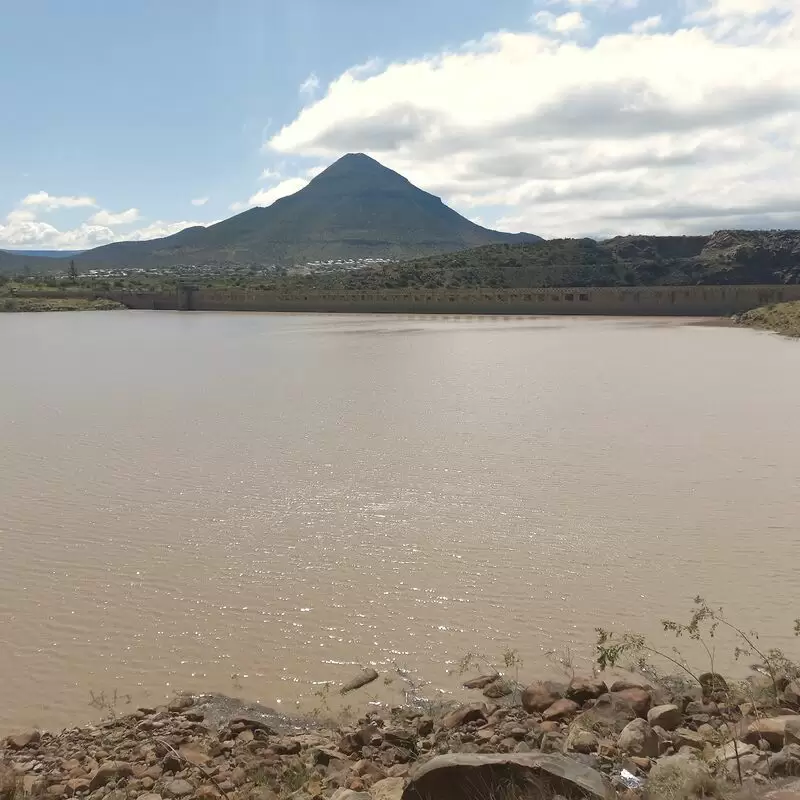 Nqweba Dam
Nqweba Dam, Graaff-Reinet
13. Reinet Antiques
Reinet Antiques is a hidden gem in the heart of Graaff-Reinet, a paradise for history buffs and treasure hunters alike. Amidst the architectural beauty and rich cultural heritage of the town, the antique store offers authentic memorabilia, beautiful old jewelry, antique furniture, and interesting curiosities, often with interesting backstories. To cap off your visit, be sure to visit the nearby Valley of Desolation, an impressive natural wonder located just a stone's throw from the antique store.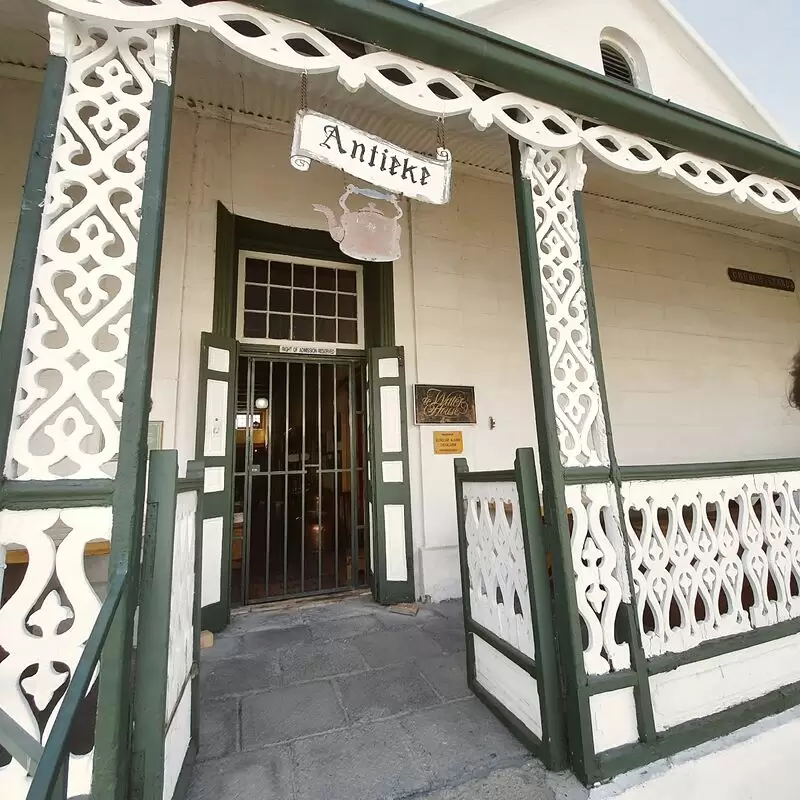 Reinet Antiques
15 Church Sq, Graaff-Reinet
Monday - Friday: 8:30 AM – 4:30 PM
Saturday: 9:00 AM – 12:00 PM
Sunday: Closed
14. Freedom Church
A visit to Freedom Church in Graaff-Reinet allows you to absorb biblical wisdom through vibrant African aesthetics and tradition. Its community-oriented ethos provides a rare glimpse into the city's rich cultural heritage. The diverse congregation, accompanied by captivating music, is a treat for spiritual seekers. It's also just steps from photogenic Church Street, home to South Africa's largest concentration of national monuments, and a short walk from historic Reinet House. An essential stop on your itinerary!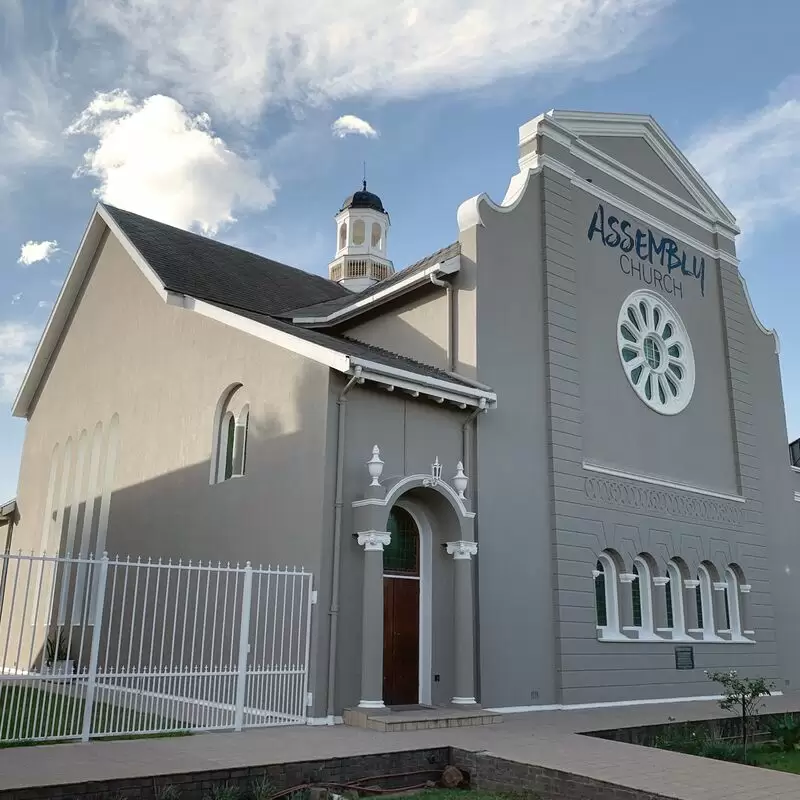 Freedom Church
60 Caledon St, Graaff-Reinet
Monday - Friday: 9:00 AM – 3:00 PM
Saturday: Closed
Sunday: 8:30 – 9:45 AM, 10:15 – 11:30 AM
Best Time to Visit Graaff-Reinet
The best time to visit Graaff-Reinet, South Africa, is spring (September-November) and autumn (March-May). During these periods, temperatures are pleasant for exploring the natural beauty and historic sites. Remember that spring is the rainy season, so pack accordingly.
Annual Weather in Graaff-Reinet
Graaff-Reinet 3-Day Forecast
Wed, 27 September
Night
48 °F
9 °C
63%
Morning
49 °F
9 °C
0%
Afternoon
58 °F
14 °C
0%
Evening
59 °F
15 °C
0%
Thu, 28 September
Night
50 °F
10 °C
0%
Morning
50 °F
10 °C
0%
Afternoon
65 °F
18 °C
0%
Evening
68 °F
20 °C
0%
Fri, 29 September
Night
59 °F
15 °C
0%
Morning
58 °F
14 °C
0%
Afternoon
81 °F
27 °C
0%
Evening
81 °F
27 °C
0%
Questions & Answers

What is the primary language spoken in Graaff-Reinet?

The main language spoken in Graaff-Reinet, South Africa is Afrikaans. It is a West Germanic language that has its roots in Dutch, having been brought by Dutch settlers during the colonial period. Afrikaans is generally spoken by the white and colored population in the region. Nevertheless, English is also widely used, especially in business and tourism. As in many areas of South Africa, multilingualism is widespread, with residents often fluent in several South African languages.

What is unique about the culture of Graaff-Reinet?

Graaff-Reinet, known as the "Pearl of the Karoo," has a distinctive culture shaped by its rich history and diverse peoples. The town's architecture is a blend of Cape Dutch, Victorian and Karoo styles, evoking its colonial past. The city also has strong ties to South Africa's indigenous communities through its unique rock art and storytelling traditions. Another cultural highlight is the local cuisine of Karoo lamb or game meat. Graaff-Reinet is known for its warm hospitality and offers an authentic South African experience.

Is Graaff-Reinet safe for solo travelers?

Yes, Graaff-Reinet is generally safe for solo travelers. This charming town in South Africa's Eastern Cape is rich in history and culture and very popular with tourists. As with any destination, it is important to use common sense when it comes to personal belongings and to be aware of your surroundings, especially at night. Check with local authorities for the latest advisories before visiting, but as a general rule, you should have no major safety concerns when visiting Graaff-Reinet alone.

What traditional food should I try in Graaff-Reinet?

A traditional dish that is a must-try in Graaff-Reinet is "Karoo Lamb," known throughout the country for its unique flavor, which is said to come from the endemic vegetation that the Karoo sheep feed on. Another local favorite is "bobotie," a spiced ground beef topped with an egg dish. And don't miss "biltong," a type of dried, cured meat that originated in South Africa. Pair your meal with some award-winning wines from the region for a complete culinary experience.

What local etiquette should I be aware of?

In Graaff-Reinet, as in the rest of South Africa, it is customary to greet people with a hearty handshake. If someone offers you something to eat or drink, accept it, as refusing can be considered rude. Always say "please" and "thank you"; South Africans value good manners. Respect for elders is also an important part of the culture. It is also worth noting that punctuality is not strictly observed - it is typical for events or meetings to start a little late.

How do I get around in Graaff-Reinet?

Getting around Graaff-Reinet, South Africa, is relatively easy and convenient. The town is small enough to explore on foot and see the beautiful Dutch architecture up close. However, cabs are available for longer distances or on hot days. A rental car is another alternative, especially to visit the surrounding areas such as the majestic Valley of Desolation. Remember that in South Africa you drive on the left side of the road!

Is Graaff-Reinet a user-friendly city for those with disabilities?

Graaff-Reinet has made significant efforts for inclusion: Public spaces and some accommodations are accessible to wheelchair users. However, due to the natural terrain, not all attractions and outdoor experiences are suitable for people with disabilities. Transportation can also be a challenge. Although Graaff-Reinet has made strides in accessibility, the needs of people with disabilities may not be fully met. It is recommended that you contact hotels and attractions in advance to ensure that special needs are met.

What's the famous local dish in Graaff-Reinet?

One of the most famous local dishes in Graaff-Reinet is Karoo lamb. It is famous for its unique, earthy flavor, which is said to be due to the lambs grazing on native shrubs such as spekboom and wild rosemary. Roasted or prepared as succulent stews and potjies, Karoo lamb is a local favorite. Another popular local dish is biltong, a type of dried, cured meat usually made from beef or ostrich and served as a snack or in a variety of local recipes.

Where can I exchange my currency?

In Graaff-Reinet, you can exchange money at local banks such as ABSA and First National Bank, both centrally located in the city. Keep in mind that not all South African banks exchange foreign currency, so it is best to contact them in advance. Western Union also operates in the area and offers currency exchange. Always prepare in advance, as smaller towns may not have as many exchange bureaus as larger cities.

Is tap water safe to drink in Graaff-Reinet?

Yes, tap water in Graaff-Reinet, South Africa, is generally safe to drink as it meets the standards of the South African National Standard for Drinking Water (SANS 241). However, for travelers with sensitive stomachs, it is advisable to stick to bottled water, as even safe tap water in a foreign country can sometimes cause mild stomach upset. For those who use tap water to brush their teeth or prepare meals, it is perfectly fine.

How is the nightlife in Graaff-Reinet?

Graaff-Reinet is a small, historic town that offers a low-key nightlife compared to larger cities. What it lacks in lively nightclubs, it makes up for with a selection of cozy pubs and a handful of restaurants serving delicious South African cuisine. Visit Polka Café or Karoo Werf Restaurant for a relaxing evening. For those looking for a quiet night under the stars, the clear skies offer an incredible display of constellations, adding a unique touch to the Graaff Reinet scene after dark.

Can I use my credit cards everywhere in Graaff-Reinet?

Although there are many establishments in Graaff-Reinet, South Africa that accept credit cards, it is important to remember that not all places accept this method of payment. Smaller, local stores, certain restaurants and vendors in more rural areas may only accept cash. I highly recommend keeping some local currency on hand for such cases. You can withdraw cash from ATMs if needed. It is also a good idea to inform your bank of your travel plans to avoid interruption of card services.

How to access health services in case of emergency?

In Graaff-Reinet, South Africa, health emergencies can be treated by contacting local health services. The Midland Hospital in the city offers emergency services around the clock. Dialing 112 from any cell phone will also connect you to emergency services such as police, fire or ambulance. Various general practitioners and pharmacies are also located throughout the city. Always make sure that your location is known so that you can be helped immediately.

Can I hire English-speaking tour guides?

Yes, English speaking tour guides can be hired in Graaff-Reinet, South Africa. These tour guides are well-versed in the city's rich history and multicultural heritage. Popular tours include exploring the Valley of Desolation, the historic town center with its Cape Dutch architecture, and Reinet House. Fluent in English, tour guides make it easy for international visitors to understand and enjoy the beauty and charm of Graaff-Reinet.

What wildlife can I expect to see in the area?

In Graaff-Reinet, your eyes will surely be delighted by a rich variety of wildlife. You are likely to see various antelope species such as kudu, springbok and hartebeest grazing on the plains. If you are lucky, you may also see the elusive cheetah. Bird lovers can enjoy the colorful species, including the majestic blue crane. The area is also known for its reptiles, especially the colorful South African Rock Agama.

How is the Wi-Fi connectivity in Graaff-Reinet?

Wi-Fi in Graaff-Reinet, South Africa, is quite accessible, especially in hotels, guesthouses and some restaurants. However, the internet speed may not be as fast and reliable as you are used to in big cities. In some rural areas around Graaff-Reinet, network coverage may be worse. It is advisable to take out a mobile data plan if you need to be constantly reachable during your trip.

How friendly are the locals towards foreign tourists?

The locals in Graaff-Reinet, South Africa, are generally very friendly and open-minded towards foreign tourists. They are proud of their culture and are happy to share it with visitors. There is a strong sense of community here, and tourists usually feel safe and accepted. They often show themselves to be very helpful and hospitable, and are willing to share directions, recommendations, or information about local history. This friendliness extends to local business owners as well, making your trip a real pleasure.

What local festivals are celebrated in Graaff-Reinet?

In Graaff-Reinet, the Hantam Vleisfees is a popular local festival that celebrates the rich heritage of livestock farming in the region. The event features barbecue competitions, local music and traditional dances. The Karoo Food Festival is known for its culinary delights, showcasing regional specialties. The city also celebrates the Namaqualand Flower Festival, an ode to the annual spring blooming of wildflowers that transforms the arid landscape into a spectacular display of colorful flora.

What should I wear when visiting Graaff-Reinet?

When visiting Graaff-Reinet, it is advisable to dress comfortably for warm, dry conditions - light clothing made of natural fabrics such as cotton would be ideal. Don't forget a wide-brimmed hat, sunglasses and sunscreen to protect yourself from the sun. In winter, the nights can be colder, so pack a warm jacket. Comfortable walking shoes are a must for exploring the city's attractions and extensive nature reserves.

Is there a dress code for religious or cultural sites?

When visiting religious and cultural sites in Graaff-Reinet, South Africa, it is generally expected that people dress modestly out of respect for local customs. Clothing that covers the shoulders and knees should be worn. Hats should be removed in churches or museums. However, specific dress codes may vary by location. It is always a good idea to research in advance or ask local guides for appropriate information.

How much should I tip for services in Graaff-Reinet?

In Graaff-Reinet, South Africa, it is customary to tip about 10-15% of the bill for good service in restaurants. For exceptional service, feel free to tip more. The amount of the tip is at the discretion of the guest and depends on the quality of the service. For cab drivers, rounding up to the nearest dime is usually appreciated. Always take some change with you to tip service staff such as hotel doormen or vehicle attendants. However, tipping culture can vary, so it is important to be aware of local customs.

Are there any specific laws that tourists should be aware of?

The laws in Graaff-Reinet, South Africa, as in the rest of the country, do not differ significantly from those in many Western countries. However, some distinctive features include: the prohibition of the use of illegal drugs, strict rules for participating in road traffic, especially driving under the influence of alcohol, conservation laws to protect wildlife, and restrictions on photography at certain government or military sites. Public indecency and smoking in public buildings or restaurants are also prohibited.

What kind of adapters do I need for my electronics?

In South Africa, the power plugs and sockets are type M. The standard voltage is 230 V and the standard frequency is 50 Hz. So if your appliances run on different settings or have different types of plugs, you will need a universal adapter or a type M plug adapter to use your appliances in Graaff-Reinet. It is also advisable to check if your device can handle 230 V power or if you need a voltage converter.

Do I need any vaccinations before traveling to Graaff-Reinet?

While no special vaccinations are required for Graaff-Reinet, it is recommended that all travelers to South Africa have their routine vaccinations such as measles, mumps, rubella, diphtheria, tetanus and pertussis refreshed. You should also get vaccinated against hepatitis A and typhoid, as you may come into contact with the virus through food or water. Depending on your specific activities and the places you plan to travel in the region, other vaccinations may be required, such as against malaria or yellow fever. Always seek medical advice before traveling.

What are the medical facilities available in Graaff-Reinet?

The town of Graaff-Reinet is home to the Graaff-Reinet Hospital, a government health facility providing emergency care. It is the main point of contact for medical assistance in the city and surrounding region. There are also private doctors and small clinics scattered throughout the city that provide medical assistance. However, for specialized treatment, residents often have to travel to the larger cities in the area.

Feedback

I hope you found this article informative and helpful. I'm eager to improve the content and make it even more valuable for you. If you have any feedback or suggestions, I would love to hear from you.

Do you have any tips or hidden gems that you think should be added to the list? Are there any areas that you feel could use more explanation or clarification?

Your input is greatly appreciated and will help us to continue providing high-quality content that meets your needs and interests. Please feel free to share your thoughts.