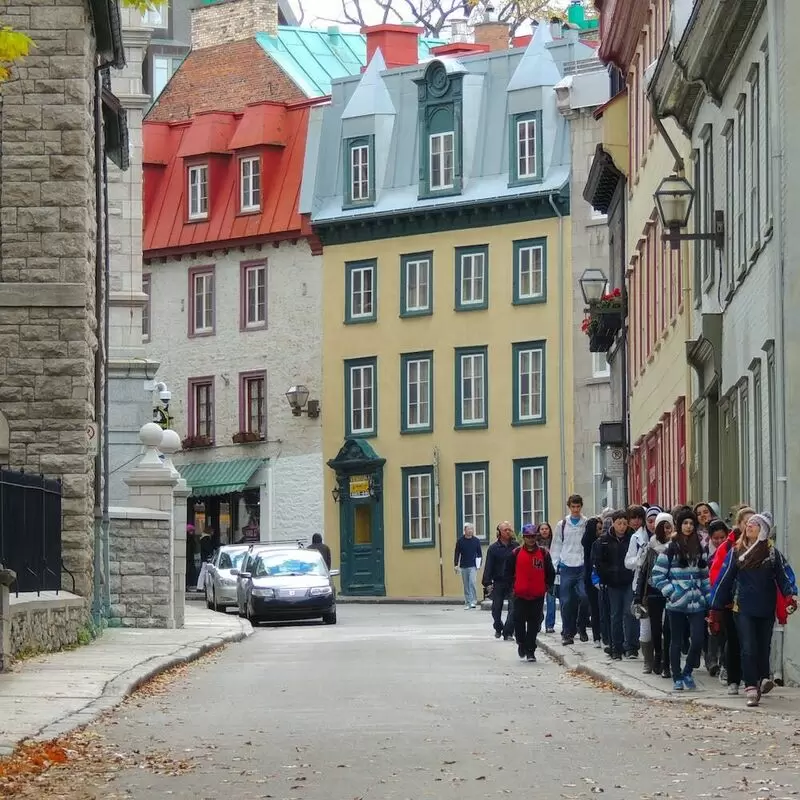 1. Montmorency Falls
A visit to Montmorency Falls is a must when in Quebec City. Montmorency Falls is higher than Niagara Falls and offers a fascinating view, especially from the suspension bridge that spans the crest. At night, the illuminated falls are a spectacular sight. The 487 steps of the staircase are a great workout against a breathtaking backdrop. Nearby is Boischatel, a quaint town with excellent Canadian cuisine. Old trees surround the falls - an insider's tip for nature lovers and bird watchers. Truly, a fantastic stop full of natural beauty!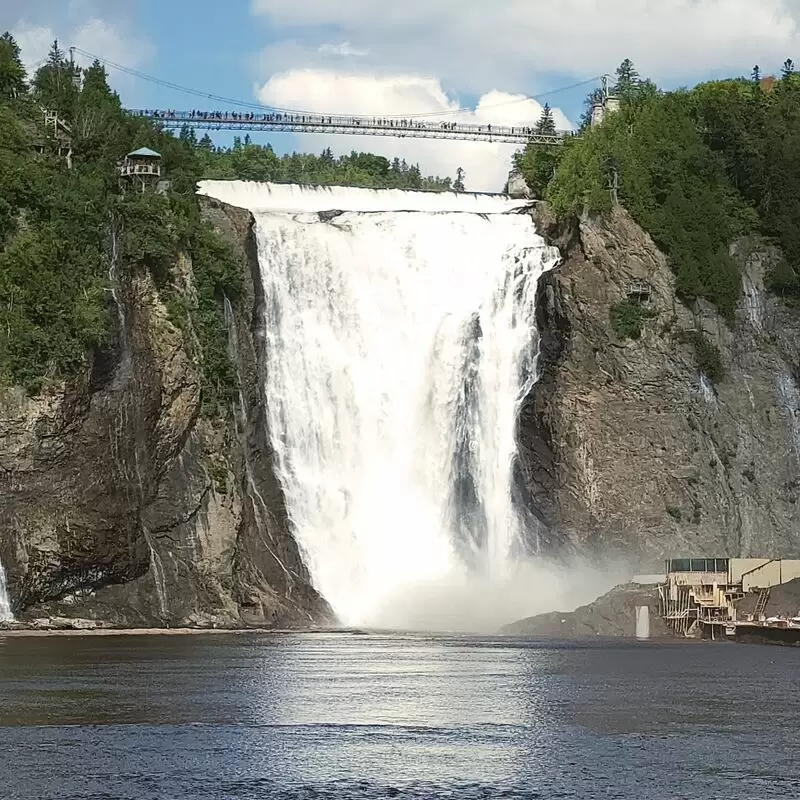 Montmorency Falls
2490 Ave Royale, Québec City
Monday - Sunday: 9:00 AM – 6:00 PM
2. Fairmont Le Château Frontenac
Immerse yourself in the historic splendor of the iconic Fairmont Le Château Frontenac. Perched high above the heart of Quebec City, the hotel's spectacular architecture and sumptuous interiors transport you to an era of regal luxury. Enjoy breathtaking views of the Saint Lawrence River from the famous terraces and discover the hidden nuances - the hotel was designed by Bruce Price. Just a stone's throw away, explore the quaint stores of the Petit Champlain District and climb the nearby Funiculaire du Vieux-Québec.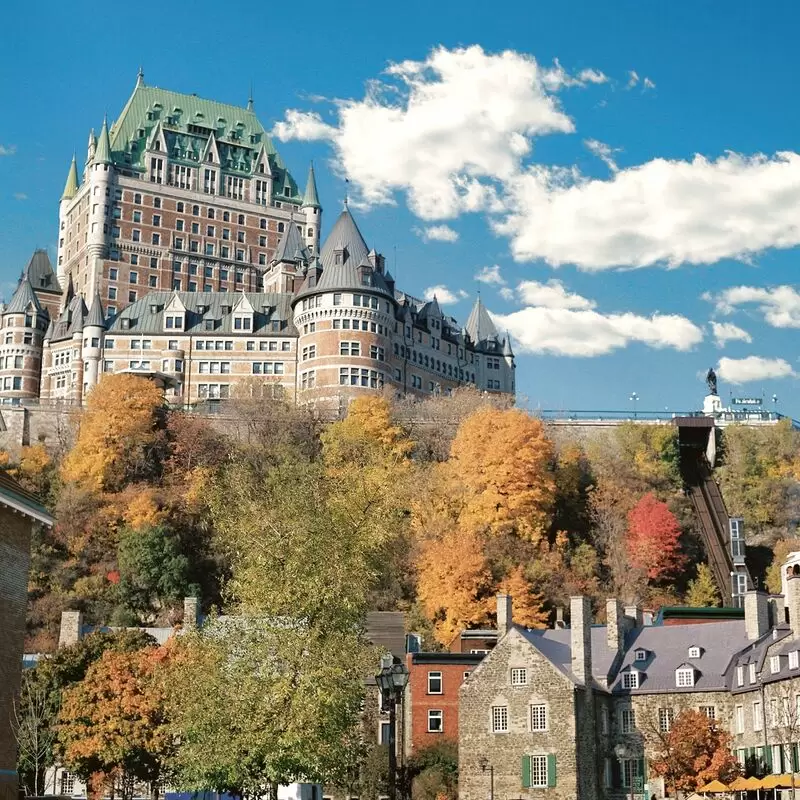 Fairmont Le Château Frontenac

3. Parc national de la Jacques Cartier
Venture off the beaten path to the Parc national de la Jacques-Cartier, a vast wilderness area with rugged terrain and diverse flora and fauna. Here, the Jacques-Cartier River has carved a 550-meter-deep channel that is a nature lover's paradise. On the trails you have the chance to spot moose, caribou or the elusive lynx. Don't forget to explore the charm of Quebec City's Old Town. This World Heritage site is home to historic architecture, quaint stores and French-inspired gastronomy.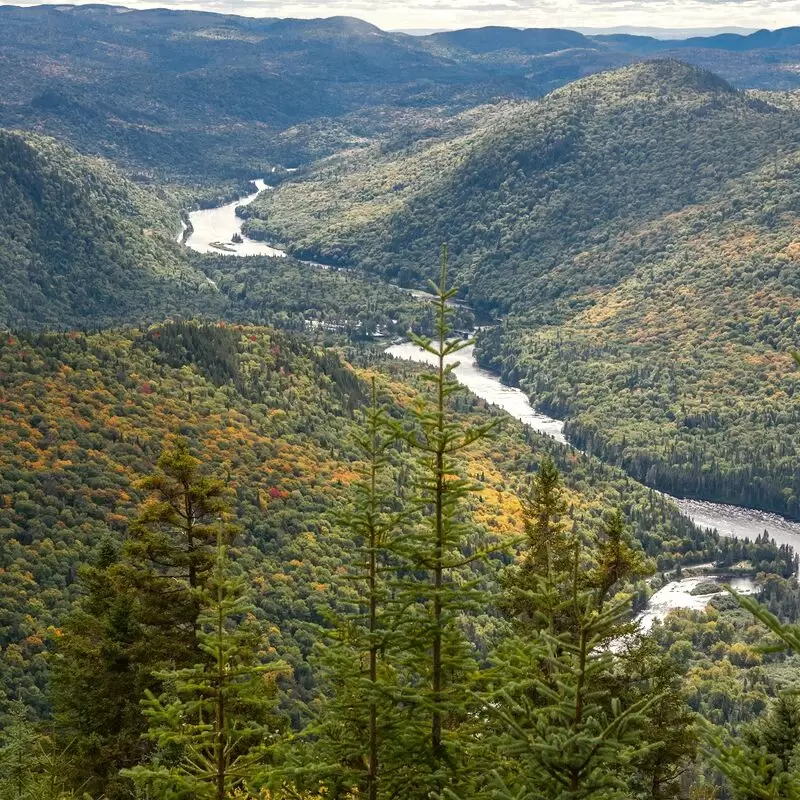 Parc national de la Jacques Cartier
103 Chem. du Parc-National, Stoneham-et-Tewkesbury
Monday - Sunday: Open 24 hours
4. La Citadelle de Québec
Visit La Citadelle de Québec and be enchanted by history! This active military base has a rich past dating back to 1820 and hosts the spectacular Changing of the Guard ceremony. Don't miss the impeccably maintained Governor's Garden - a horticultural recreation of 19th-century English gardens. Just a short walk away, the iconic Château Frontenac rises above the city, offering stunning views and classic architectural beauty. Visit it in July to witness the exciting cannon firings!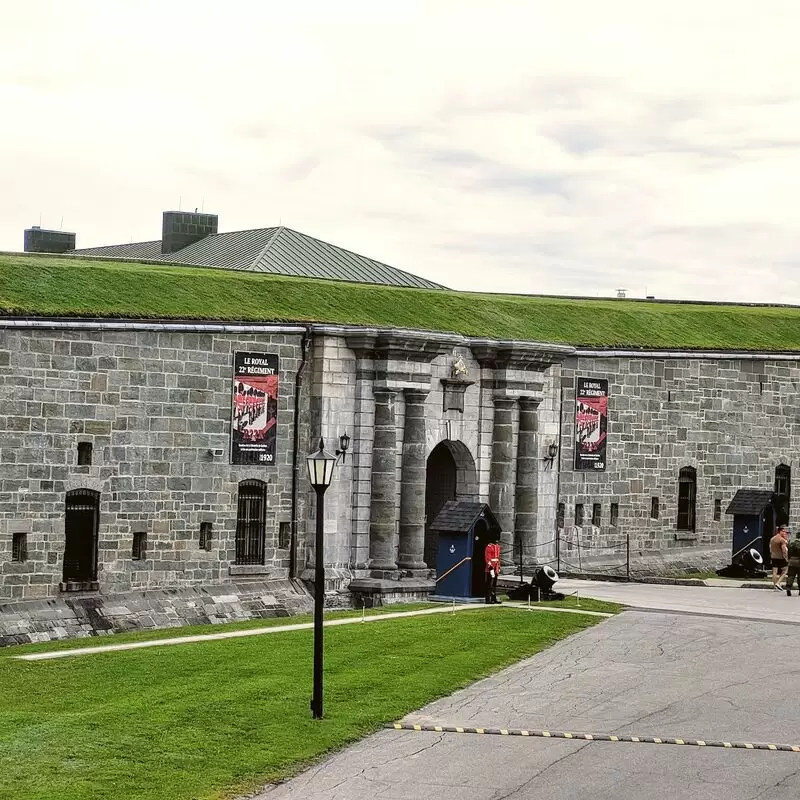 La Citadelle de Québec
1 Côte de la Citadelle, Québec City
Monday - Sunday: 9:00 AM – 5:00 PM
5. Sanctuaire Sainte Anne de Beaupré
Sanctuaire Sainte-Anne-de-Beaupré is more than just an impressive architectural marvel. Dedicated to St. Anne, this revered shrine exudes spiritual tranquility and inspiring devotion from the faithful. Marvel at the spectacular stained glass windows and ornate sculptures that bear witness to the high skill of the artists. Enjoy the tranquility of the outdoor prayer gardens. The nearby Cyclorama of Jerusalem, which features a 360-degree panorama of the holy city, adds to the religious triumph. The sizzling maple sugar shacks in the Beaupré area are a gastronomic delight.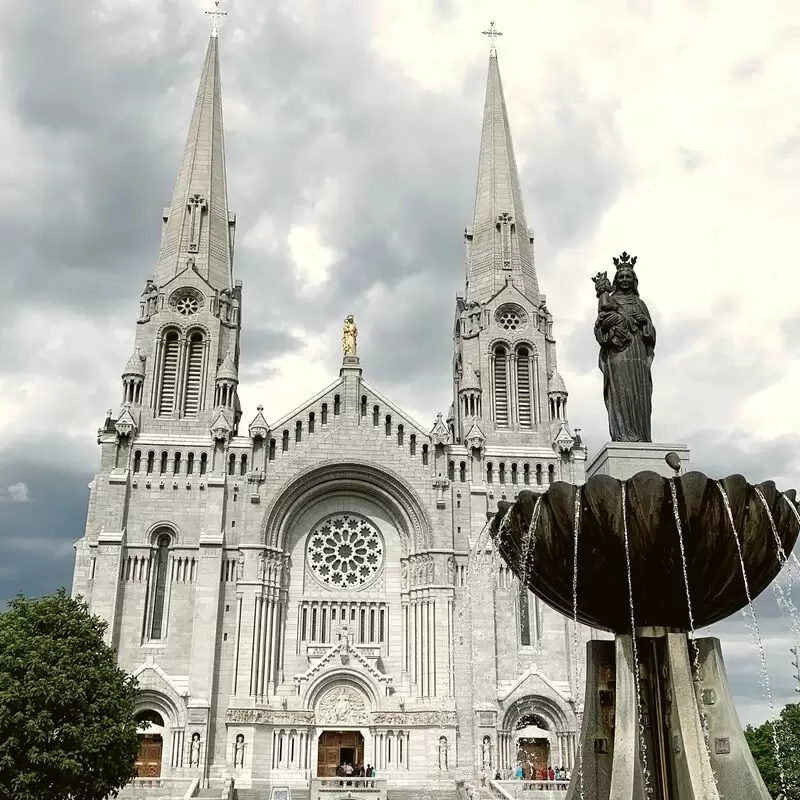 Sanctuaire Sainte Anne de Beaupré
10018 Ave Royale, Sainte-Anne-de-Beaupré
Monday - Saturday: 8:30 AM – 7:00 PM
Sunday: 7:30 AM – 7:00 PM
6. Plains of Abraham
Immerse yourself in the moving history of the Plains of Abraham, where the European empires met in 1759. Walk through the vast green spaces and marvel at the monuments and cannons. Take a guided tour and be transported back in time by military displays. A little further up, linger in the Garden of Joan of Arc, the floral jewel of Québec. Don't miss the nearby Musée national des beaux-arts du Québec, which houses remarkable collections of Québec art.
Plains of Abraham
Québec City
Monday - Sunday: Open 24 hours
7. Quartier Petit Champlain

In the Quartier Petit Champlain, a special gem of Quebec City, an incomparable fairy-tale charm awaits you. From the small boutiques offering unique handicrafts to the hypnotic aura of the Moulin à images, an enchanting picture show projected onto old silos. Just a stone's throw away is Place Royale, the birthplace of French civilization in North America, with its vibrant murals and charming European flair.

Insider tip: Don't miss the seasonal decorations - magical at Christmas time!

Quartier Petit Champlain
61 Rue du Petit Champlain, Québec City

Monday - Wednesday: 9:30 AM – 5:30 PM
Thursday - Friday: 9:30 AM – 9:00 PM
Saturday - Sunday: 9:30 AM – 5:00 PM
8. Aquarium of Quebec

A visit to the Aquarium of Quebec is like entering an aquatic wonderland that is home to Canada's marine life, from arctic foxes to walruses. The park spans 16 hectares and is home to some 10,000 marine animals. Experience the fascinating seal show or walk through the fascinating 360° ocean tunnel - the crowning glory of the facility.

Insider tip: Visit the park during feeding time for an interactive experience. Nearby, you can explore Parc de la Chute-Montmorency with its breathtaking waterfall that is higher than Niagara Falls!

Aquarium of Quebec
1675 Av. des Hôtels, Québec City

Monday - Sunday: 9:00 AM – 6:00 PM
9. The Battlefields Park
Experience the echoes of history at Battlefields Park, a 108-hectare area that was the site of crucial British-French conflicts. Walk, picnic and explore the site where the Battle of Quebec took place in 1759 with numerous activities. Relax in the soothing Joan of Arc Garden, a hidden gem that comes alive in summer with its colorful flowers. Just a stone's throw away is the monumental Quebec Parliament Building - an architectural marvel. Celebrate Canada's rich past here, where every corner tells a story of resilience and bravery.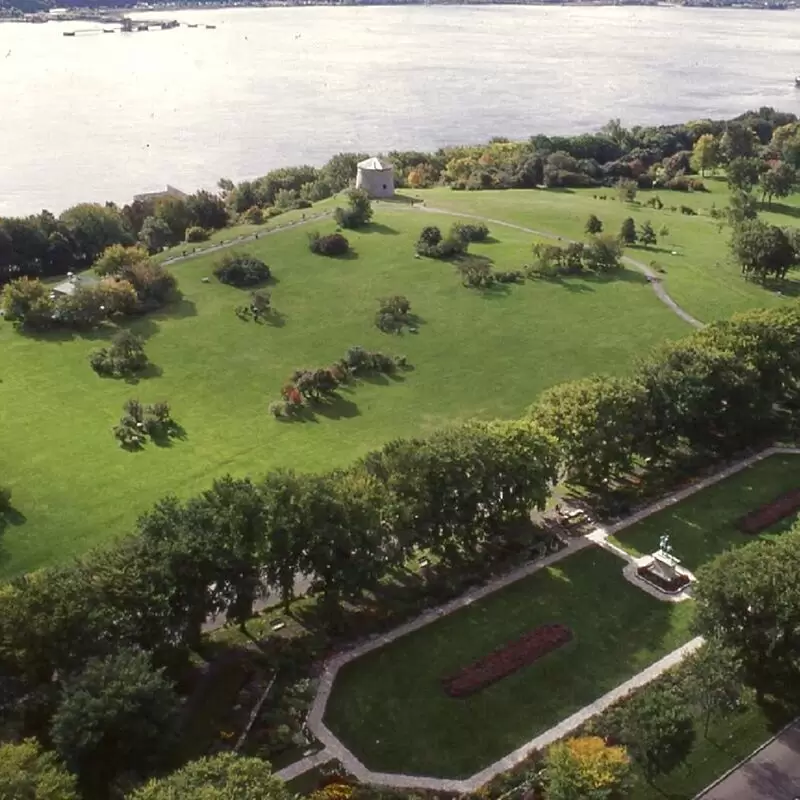 The Battlefields Park
835 Av. Wilfrid-Laurier, Québec City
Monday - Sunday: Open 24 hours
10. Notre Dame de Québec Basilica Cathedral
Immerse yourself in the rich history of Québec City by visiting the Basilica-Cathedral of Notre-Dame de Québec. As the oldest church in the Americas north of Mexico, it offers an impressive exploration of stunning architecture and intricate artistry. Don't miss the Holy Door, one of only seven in the world. Its fascinating, luminous stained glass windows are remarkable. Just steps away are the bustling Place Royale and the charming Petit Champlain neighborhood, another testament to the city's undiminished charm.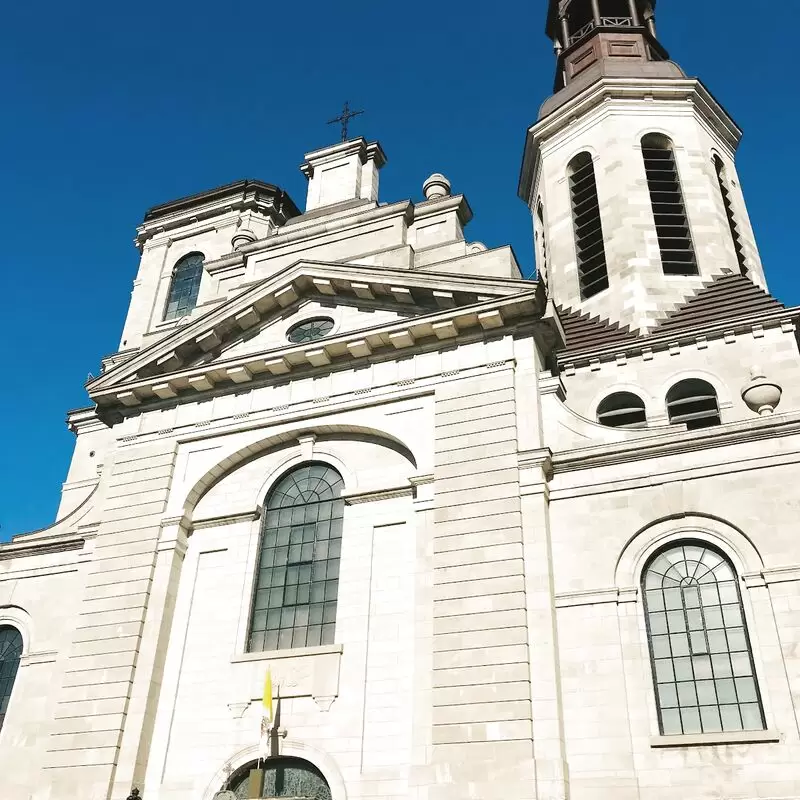 Notre Dame de Québec Basilica Cathedral
16 Rue De Buade, Québec City
Monday - Saturday: 7:30 AM – 4:00 PM
Sunday: 8:45 AM – 4:00 PM
11. Museum of Civilization
Immerse yourself in Canada's rich history at the Museum of Civilization in Quebec City and learn about Native cultures and European settlements. Marvel at the stunning architecture and impressive exhibits that showcase different civilizations. Another plus: the museum is located in the heart of Québec's charming Old Town, right next to Royal Square. An insider's tip? Take part in the interactive events and experience history firsthand. An adventure of historic proportions awaits you!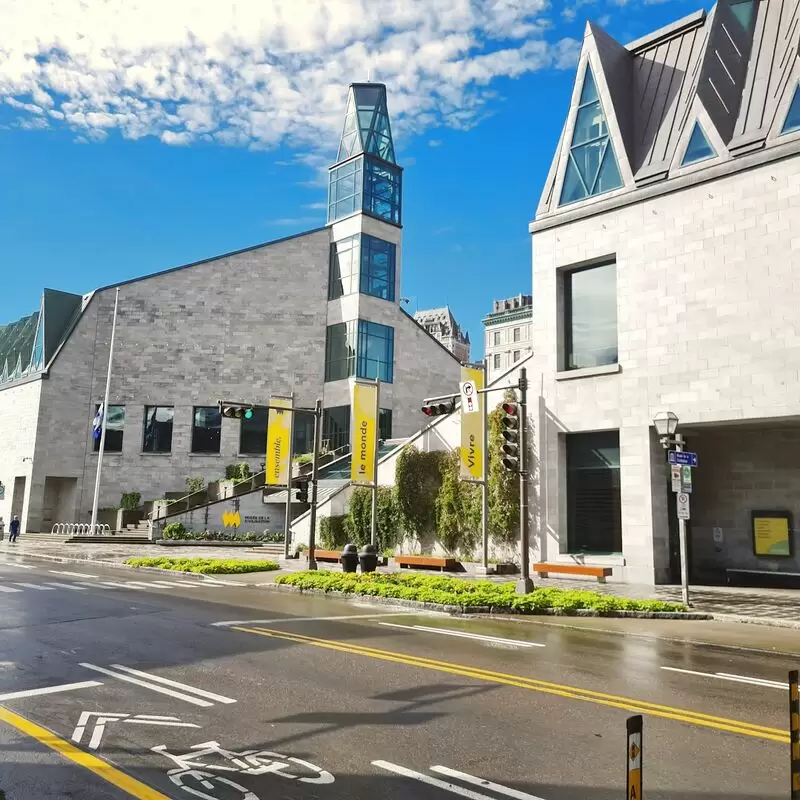 Museum of Civilization
85 Rue Dalhousie, Québec City
Monday - Sunday: 10:00 AM – 5:00 PM
12. Dufferin Terrace
A visit to Dufferin Terrace in Quebec City is like a visit to a picturesque postcard. The 671-meter-long boardwalk offers breathtaking panoramic views of the Saint Lawrence River and is the ideal place for a leisurely stroll. Spot street performers and artists nearby, and don't miss the iconic Chateau Frontenac nearby. For insiders, it's worth slowing down at dusk when the city lights begin to twinkle - an unforgettable sight! And don't forget that in winter, an exciting sleigh ride awaits!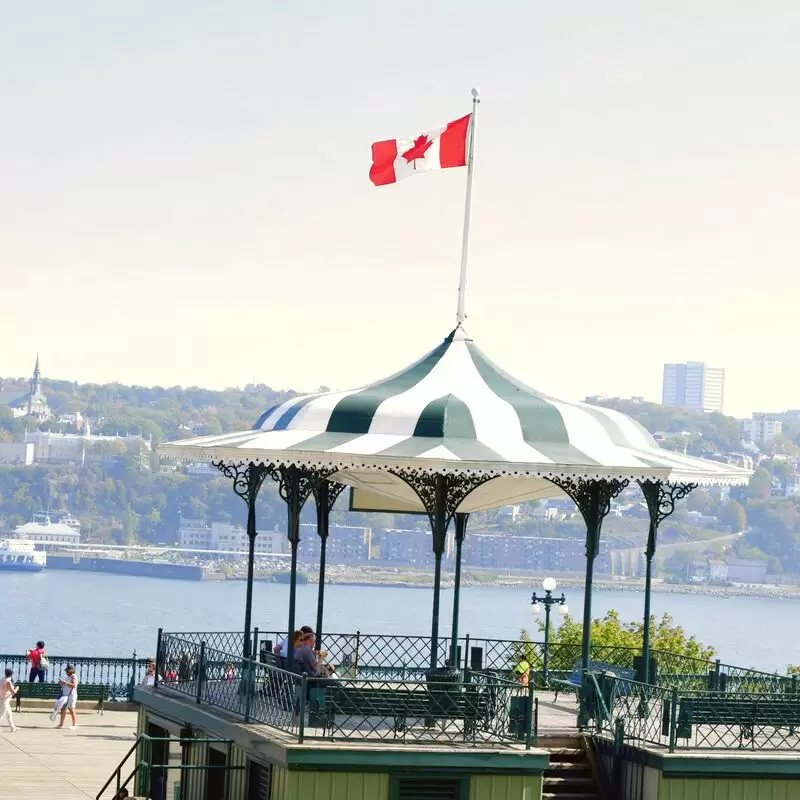 Dufferin Terrace
Rue des Carrières, Québec City
Monday - Sunday: Open 24 hours
13. Place Royale
The historic heart of Quebec City, Place Royale, is an absolute gem. The picturesque place is bursting with 17th- and 18th-century European charm and impresses with authentic, renovated facades. An insider's tip is the Fresque des Québécois mural, which depicts Québec's 400-year history. Just steps away is the vibrant Quartier Petit Champlain - the oldest business district in North America, festooned with fairy lights and offering charming boutiques and local eateries. Enjoy the essence of the city, captivating and unforgettable.
Place Royale
2-4 Rue des Pains Bénits, Ville de Québec, QC G1K Rue des Pains Bénits, Québec City
Monday - Sunday: Open 24 hours
14. Funiculaire du Vieux Québec

The Funiculaire du Vieux-Québec, an elegant glass cable car, offers a breathtaking and unique view of the historic city. Its nostalgic charm lures you into the breathtaking panorama of the St. Lawrence River and the Lower Town.

An insider tip: opt for a sunset ride and enjoy the mesmerizing views. After the ride, Dufferin Terrace is just steps away - an ideal place for a leisurely stroll with an ice cream.

Funiculaire du Vieux Québec
16 Rue du Petit Champlain, Québec City

Monday - Sunday: 9:00 AM – 10:00 PM
Best Time to Visit Quebec City
The best time to visit Quebec City is the summer (June to September) with its warm and pleasant weather, when the city hosts many outdoor festivals. But winter (December to February) can also be magical for winter sports enthusiasts and the famous Quebec Winter Carnival.
Annual Weather in Quebec City
Quebec City 3-Day Forecast
Wed, 20 September
Night
56 °F
13 °C
0%
Morning
51 °F
11 °C
0%
Afternoon
66 °F
19 °C
0%
Evening
65 °F
18 °C
0%
Thu, 21 September
Night
55 °F
13 °C
0%
Morning
45 °F
7 °C
0%
Afternoon
63 °F
17 °C
0%
Evening
60 °F
16 °C
0%
Fri, 22 September
Night
48 °F
9 °C
0%
Morning
46 °F
8 °C
0%
Afternoon
65 °F
18 °C
0%
Evening
61 °F
16 °C
0%
Questions & Answers

Is it necessary to speak French in Quebec City?

Although the main language in Quebec City is French, visitors do not necessarily need to know this language. Due to the city's popularity as a tourist destination, the majority of residents and service-oriented businesses speak English. Nevertheless, learning a few basic phrases in French can enrich your experience and show respect for the local culture.

How can I get around the city?

Quebec City offers a number of transportation options that make it easy for visitors to explore the city. The RTC city bus service is a popular choice with extensive routes to major attractions. Cabs are readily available, and Uber is an alternative for private rides. If you're looking for a more scenic alternative, rent a bike or walk - the city center is easily accessible on foot. If you want to go further afield, you can rent a car. Note that parking in the old town can be difficult.

What foods are unique to Quebec City?

Quebec City's culinary scene is strongly influenced by its rich French heritage. A must-try delicacy is poutine, a delicious combination of crispy fries, cheese curds and gravy. Tourtière, a traditional meat pie, is another typical Quebec dish. For those with a sweet tooth, there is Tarte au Sucre, a delicious sugar tart. Fresh seafood is abundant in Quebec thanks to its proximity to the Atlantic Ocean, so dishes are often prepared with ingredients from the region.

Is tipping customary in Quebec City?

Yes, tipping is common in Quebec City, similar to other places in North America. Service workers such as waiters, bartenders, cab drivers and hotel staff generally expect a tip. The standard amount is 15-20% of the total bill in restaurants, depending on the quality of service. For cabs, a tip of 10-20% is common. It is important to note that some establishments include a service charge in the bill, in which case additional tipping is not necessary.

Are credit cards widely accepted?

Yes, credit cards are widely accepted in Quebec City, Canada. Most establishments such as restaurants, stores, hotels and other businesses accept major credit cards such as Visa, MasterCard and American Express. It is also not uncommon for smaller establishments to accept card payments. However, it is always a good idea to keep some Canadian cash on hand for small vendors or tips. Be sure to inform your bank of your travel plans to avoid potential problems with foreign transactions.

Is Quebec City safe for tourists?

Yes, Quebec City is generally known as a safe destination for tourists. The crime rate in the city is low compared to other cities. However, as everywhere else, you should always be careful of your personal property and surroundings, especially in busy and touristy areas. Emergency services are quick and reliable should any problems arise. Therefore, visitors often feel safe while enjoying the city and its many fascinating sights.

How do I dress appropriately for Quebec City's weather?

There are four distinct seasons in Quebec City, so packing your suitcase depends on the time of year. In the winter, layers, a warm coat, gloves, a hat and boots are essential due to the snowy, freezing temperatures. In summer, the weather is pleasantly warm, so light clothing, a hat, sunglasses and sunscreen are advisable. In spring and fall, it can be quite chilly, so pack light layers, a mid-weight jacket, and comfortable shoes for exploring. Always check the weather forecast before packing.

Are there any customs or traditions I should be aware of?

In Quebec City, French is the main language and any attempt to use it is appreciated by the locals. Remember to greet with a hearty "Bonjour" (good day). Quebecers are very sociable and value politeness, so be sure to say "please," "thank you," and "excuse me." A popular tradition is the maple syrup season in the spring. It is also customary to tip 15-20% in restaurants. However, locals are very understanding and hospitable to tourists.

What are the typical business hours in Quebec City?

In Quebec City, typical business hours begin at 8:00 am to 9:00 am Monday through Friday and end around 5:00 pm to 6:00 pm. However, retail stores, restaurants and tourist attractions often have longer hours and stay open until around 9:00 pm. In addition, many establishments are also open on Saturdays and Sundays, although hours may be shorter. It is best to check in advance for exact opening hours.

How is the nightlife in Quebec City?

Quebec City offers a vibrant nightlife that appeals to a wide variety of tastes. From quaint, cozy pubs where craft beer flows freely to trendy clubs playing a mix of modern and classic sounds, there's something for everyone. The city's historic neighborhood, Quartier Petit Champlain, is full of hip bars and restaurants and is perfect for an evening stroll. Those looking for a cultural experience can enjoy evening concerts at the Grand Théâtre de Québec. The energy of the night scene in Québec City is infectious, reflecting both the city's historic past and vibrant present.

Is Quebec City family friendly?

Yes, Québec City is very family friendly and is ideal for family outings. The city offers a variety of attractions of interest to both adults and children, such as the Aquarium du Québec, the Observatoire de la Capitale, and the Old Quebec Historic District. There are also numerous family-friendly accommodations and restaurants. The locals are warm and welcoming, and the city itself is safe and easy to explore.

Can I drink the tap water in Quebec City?

Yes, the tap water in Quebec City is safe to drink. The city's water supply undergoes rigorous treatment and testing procedures to ensure it meets the highest quality standards. However, if you are sensitive to changes in the water source, you are better off using bottled water. If you are staying in a hotel, you can ask the staff about the water filtration system to ensure that the tap water is safe for consumption.

Is Quebec City wheelchair accessible?

Yes, Quebec City is mostly wheelchair accessible, although it is a historic city with many hills and cobblestone streets. Many tourist attractions such as the Museum of Civilization and Battlefields Park are wheelchair accessible. Public transportation such as buses and trains are also generally wheelchair accessible. However, certain areas in Old Quebec, especially the Upper Town, can be challenging due to hills and uneven terrain.

Are there any local festivals I should know about?

Certainly! Quebec City has some fascinating festivals to offer. The Winter Carnival is world famous for its ice sculptures and winter fun. The summer festival offers entertainment from around the world and is not to be missed. Of cultural interest is Saint Jean Baptiste Day, which showcases Québec's unique francophone culture and history. And foodies will appreciate the New France Festival, a gastronomic delight reminiscent of Québec's colonial past. Each of these events offers a unique insight into the cultural richness of Québec City.

How are the healthcare facilities in Quebec City?

Quebec City, Canada, offers quality healthcare with numerous well-equipped hospitals, clinics and pharmacies. The city has both publicly funded health care and private providers. Public healthcare is commendable, although accessing it can be time-consuming. Private clinics, on the other hand, offer faster care. However, foreign travelers are always advised to purchase travel insurance, as costs could be high. Overall, the city offers reliable and quality health services.

What is the smoking policy in Quebec City?

In Quebec City, smoking is prohibited in all indoor public places, including bars, restaurants and workplaces. Smoking is also prohibited in some outdoor public places, such as schoolyards, sports centers and health care facilities. The sale of tobacco products is restricted to persons over 18 years of age. Special smoking policies apply in most hotels, lodging and rental properties, some of which may allow smoking in designated areas.

Can I use my cell phone in Quebec City?

Yes, you can use your cell phone in Quebec City. However, it is advisable to check roaming charges with your service provider before you leave. Alternatively, you can opt for a local SIM card to avoid high international charges. There is also widespread Wi-Fi service in public places in the city that you can use to stay connected. Leaving your phone in airplane mode when you're not using it can also save you data costs.

How is the Wi-Fi connectivity in public places?

Quebec City offers fairly good WiFi connectivity in public places. Popular areas such as cafes, restaurants, shopping malls, hotels, and some parks offer free WiFi services, although speed and reliability can vary. Public libraries and facilities offer more reliable Internet access. However, it is recommended to purchase a local sim card or an international data plan to have an uninterrupted connection throughout your stay.

Is local transportation easily accessible?

Yes, Quebec City has an efficient and accessible public transportation system. The Réseau de Transport de la Capitale (RTC) operates numerous bus routes in the city and surrounding areas, including major tourist sites. Cabs and Uber are also available. For those who prefer active transportation, the city offers numerous rental bicycles, and due to its compact design, it is also possible to get around on foot. There are also ferries for crossing the St. Lawrence River.

Are there any culinary specialties I should try?

Quebec City's culinary scene is rich and varied. Be sure to try poutine, a local favorite that combines crispy fries, cheese curds and gravy. Tourtiere, a hearty meat pie, is another specialty. For dessert, indulge in a classic Tarte au Sucre, also known as sugar pie, made with pure maple syrup. Pair it with a locally brewed Spruce beer for a complete Quebecois experience.

Feedback

I hope you found this article informative and helpful. I'm eager to improve the content and make it even more valuable for you. If you have any feedback or suggestions, I would love to hear from you.

Do you have any tips or hidden gems that you think should be added to the list? Are there any areas that you feel could use more explanation or clarification?

Your input is greatly appreciated and will help us to continue providing high-quality content that meets your needs and interests. Please feel free to share your thoughts.