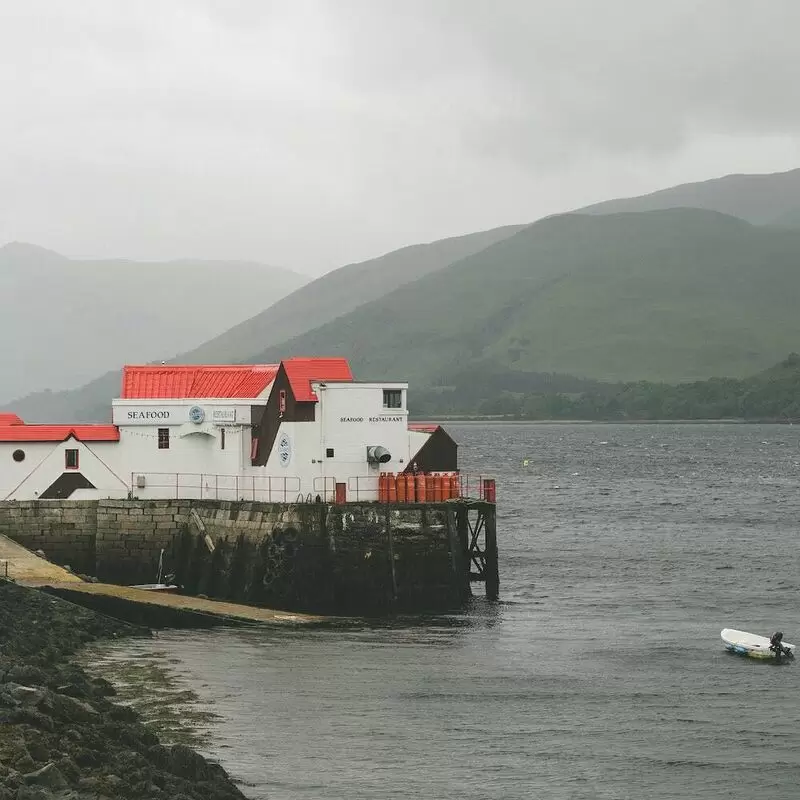 1. Commando Memorial
Visit the impressive Commando Memorial, a moving tribute to the soldiers of World War II. Set against the stunning backdrop of Ben Nevis, it offers breathtaking panoramas that will make any photographer's heart beat faster. Whisper a silent thank you to the brave souls at the three bronze soldiers. Tip: Discover the small Garden of Memory with its poignant personal mementos. Nearby, the charming Spean Bridge Mill offers interesting local crafts and proves that history and culture blend seamlessly in Fort William.
Commando Memorial
Spean Bridge PH34 4EG
Monday - Sunday: Open 24 hours
2. Steall Waterfall
Steall Waterfall, in the heart of visually stunning Glen Nevis, is the second highest waterfall in the United Kingdom. An enchanting hike through lush landscapes and narrow gorges will take you to this enchanting spectacle, where the thundering water cascading down from overwhelming heights is a captivating sight. Daredevils can cross the waterfall via a wire bridge for a unique, adrenaline-pumping view! Nearby is the heroic Mount Ben Nevis, which, once climbed, offers panoramic views of the idyllic surrounding highlands.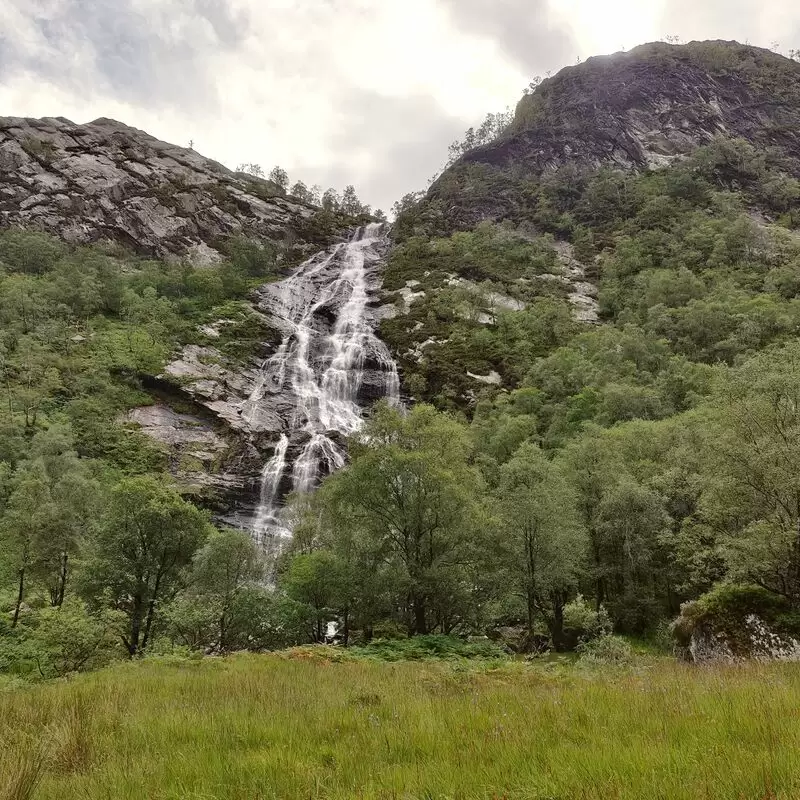 Steall Waterfall
Old Military Rd, Fort William
Monday - Sunday: Open 24 hours
3. Ben Nevis
Discover the breathtaking beauty of Britain's highest peak, Ben Nevis! This captivating spectacle in Fort William is an adventurer's paradise, offering challenging hikes for adrenaline addicts or a quiet gondola ride for tranquil panoramic views. Enjoy the breathtaking views from the summit; on a clear day, the view extends all the way to Northern Ireland. After exploring, relax and enjoy local food at the Ben Nevis Inn. Nearby, you can explore the enchanting Steall Waterfall, the second highest waterfall in Scotland, which nestles in the fascinating Nevis Gorge. Magical!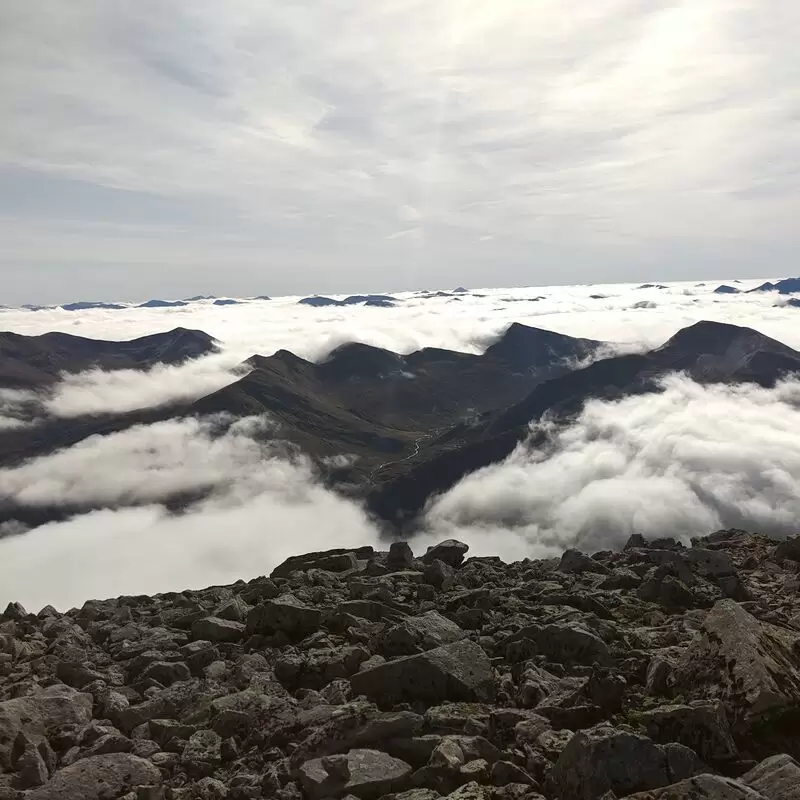 Ben Nevis
Ben Nevis, Fort William
Monday - Sunday: Open 24 hours
4. Nevis Range Mountain Resort
Take a trip to Nevis Range Mountain Resort for an exciting outdoor experience. Marvel at the breathtaking panoramic views from the summit of Aonach Mor, just a gondola ride away. Ski down snow-covered slopes in winter or bike along world-class mountain bike trails in summer. For thrill seekers, visit the High Wire Adventure - a high ropes course in the forest. Just a stone's throw from the resort, you can immerse yourself in Scottish history at Old Inverlochy Castle.
Nevis Range Mountain Resort
Torlundy, Fort William
Monday - Sunday: 7:30 AM – 11:00 PM
5. Neptune's Staircase
Travel to the marvel of Neptune's Staircase, an impressive staircase with eight locks on the Caledonian Canal. Marvel at the engineering feat built in the 1800s. Marvel at Britain's longest staircase of locks in existence. As the boats go up or down the locks, you'll have a captivating view of Ben Nevis. Enjoy a leisurely stroll to the charming town of Corpach, just a stone's throw away. Each September, local traditions come alive again during the popular annual Canal Festival. This is not to be missed!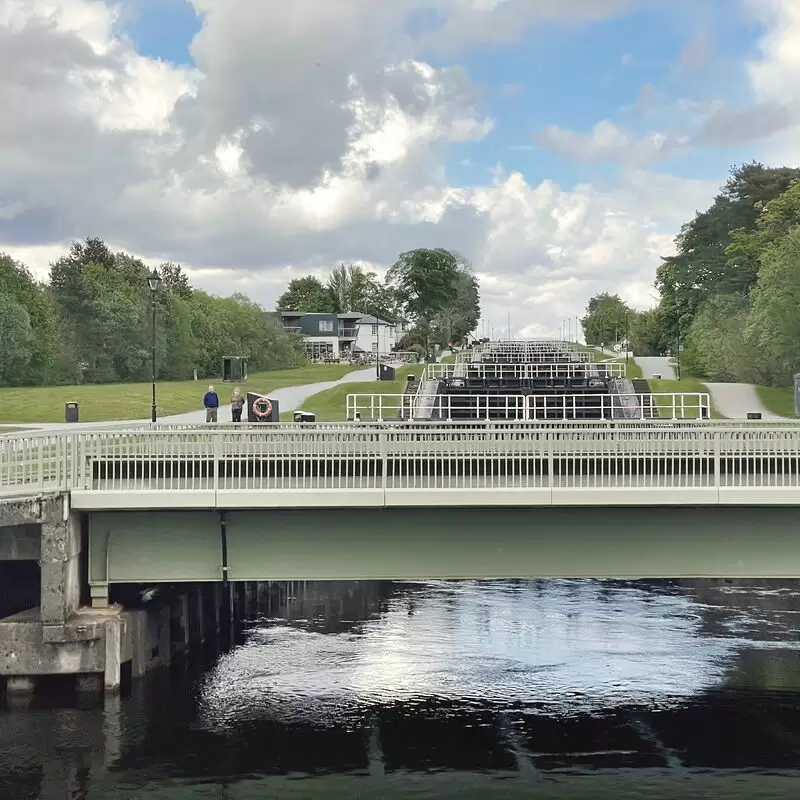 Neptune's Staircase
Banavie, Fort William
Monday - Sunday: Open 24 hours
6. Ben Nevis Visitor Centre
Visit the Ben Nevis Visitor Centre in Fort William, where invaluable knowledge and fantastic views await you. Here you will find vivid exhibits full of local history and environmental facts about the highest mountain in the British Isles. The center is also the starting point for the breathtaking mountain trail that leads to Ben Nevis. Don't miss the hidden waterfall at the back of the center, a local gem. Not to be missed is Castle Stalker, a picturesque feudal tower on a tidal island just a short drive away.
Ben Nevis Visitor Centre
Visitor Centre, Glen Nevis, Fort William
Monday - Sunday: 8:00 AM – 4:00 PM
7. Fort William
Fort William, nestled in the mystical Scottish Highlands, is the perfect adventure paradise! Visit the historic fort, which offers a living time portal to the 17th century. Nearby is the irresistible allure of Ben Nevis. The highest peak in the United Kingdom beckons with breathtaking panoramic views and hiking trails that offer an unparalleled experience. Experience the magic of the "Harry Potter" train over the Glenfinnan Viaduct. Don't miss local stories from friendly pub owners while enjoying a hearty meal! Scotland's outdoor capital makes for unforgettable memories!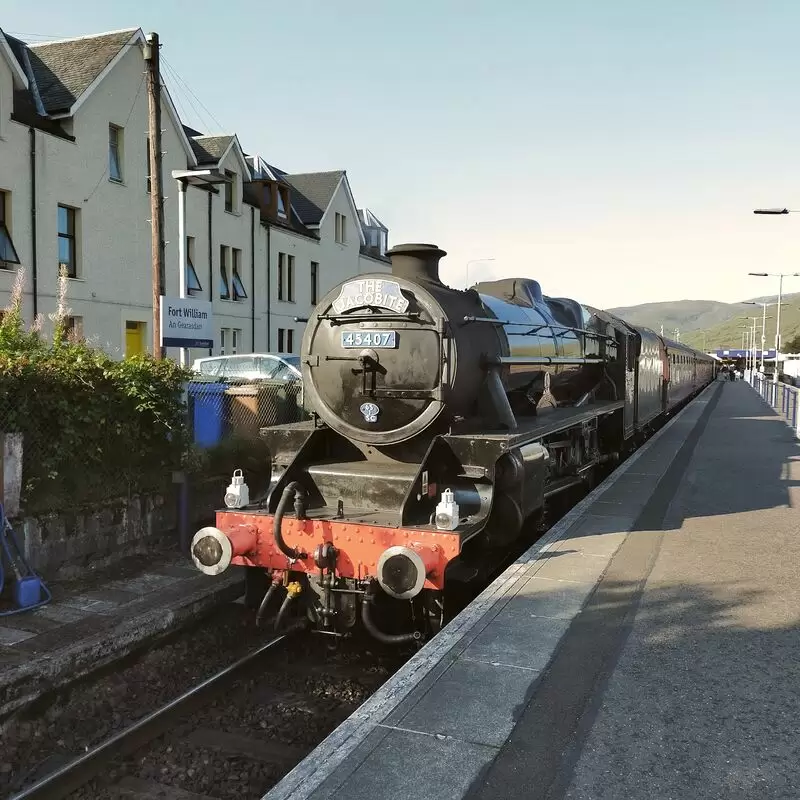 Fort William
Tom-na-Faire, Station Square, Fort William
8. Sgurr Finniosg aig
Sgurr Finniosg-aig is a hiker's paradise with impressive panoramic views of Fort William. A little known detail is that "Sgurr" means "peak" in Gaelic. On the way up you will find rare alpine flora that will make your trip magical. The summit is challenging even for experienced climbers, but it rewards you with mesmerizing views of neighboring Loch Ness and the famous Ben Nevis, just a stone's throw away. Grab your adventure gear now!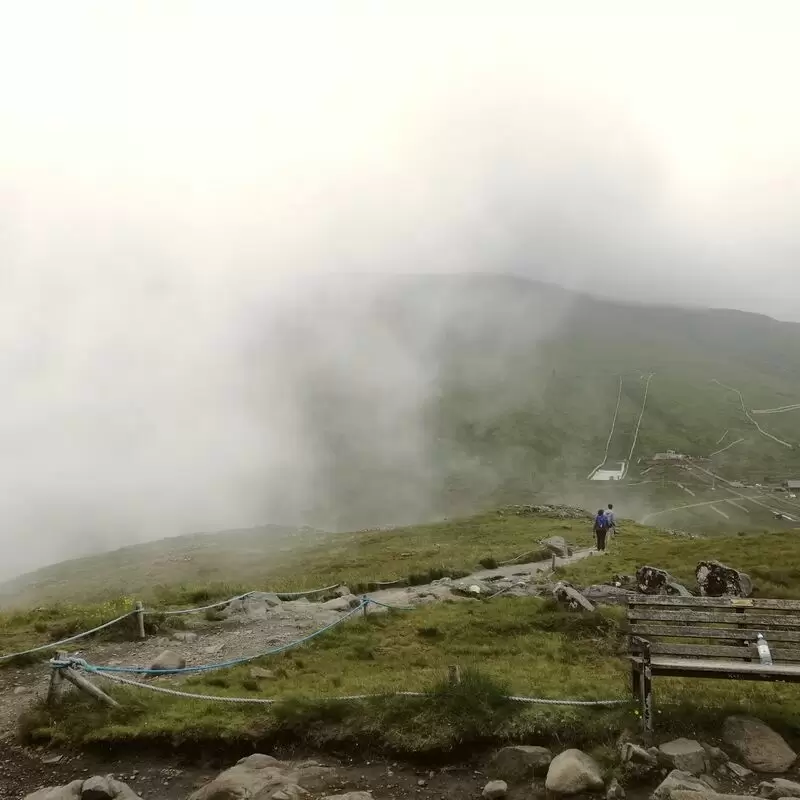 Sgurr Finniosg aig
Nevis Range, Inverness-shire, Scotland, Spean Bridge, Fort William
9. Old Inverlochy Castle
Immerse yourself in the history of Fort William and visit Old Inverlochy Castle. This "hidden gem" is less crowded and offers an intimate exploration of the 13th century ruins. Enjoy scenic views of Ben Nevis and the nearby River Lochy. The castle is also a movie set that was featured in the film "Braveheart." Bring your picnic blanket and some local snacks and enjoy the peaceful surroundings. Please note that the hostel is only 1 mile from the city center and close to the famous Caledonian Canal.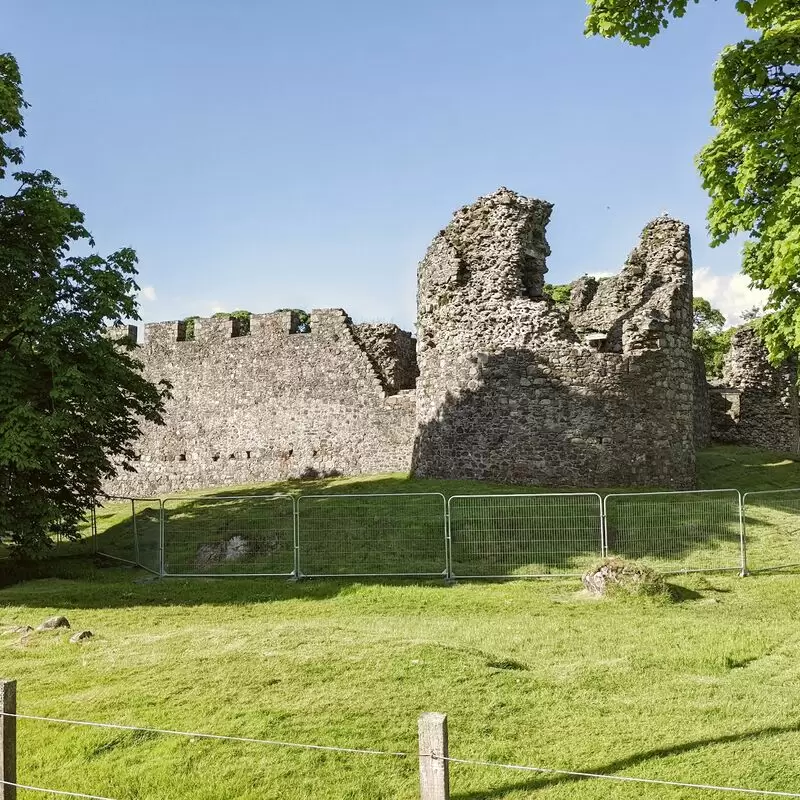 Old Inverlochy Castle
Fort William
10. Lower Falls
Immerse yourself in the serenity of Lower Falls, a must-see in Fort William! The impressive power of the waterfall provides a magical backdrop for a picnic or a quiet stroll. Be prepared for a little thrill as you cross the bouncing suspension bridge - a favorite of locals! It's also just a stone's throw to Glen Nevis, where lovers of beautiful panoramas can climb Britain's highest mountain, Ben Nevis. A naturally suitable route for nature lovers!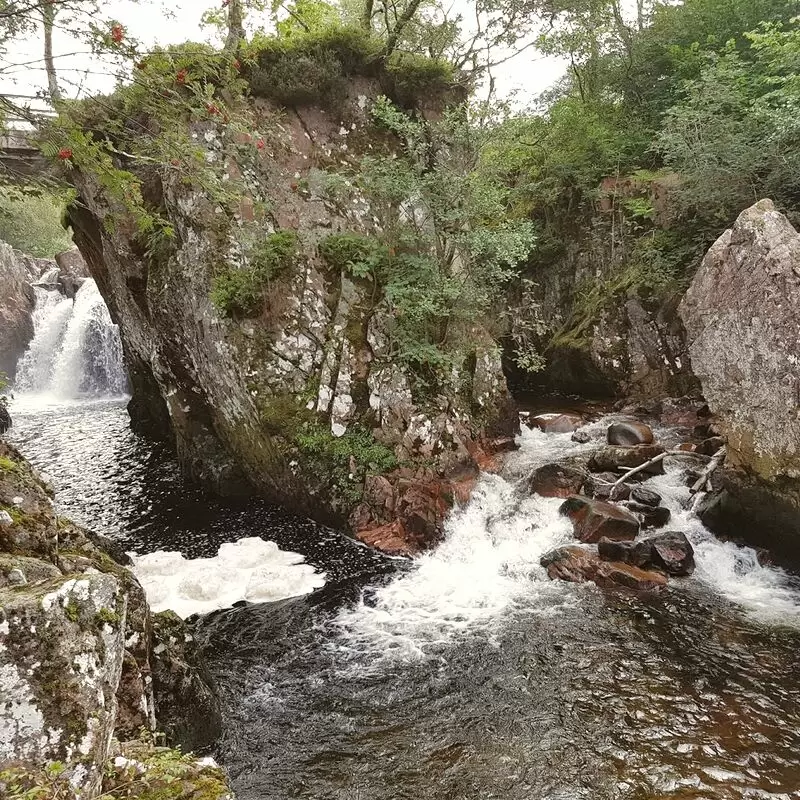 Lower Falls
Fort William
Monday - Sunday: Open 24 hours
11. Ben Nevis Viewpoint
Ben Nevis Viewpoint in Fort William offers breathtaking views of the UK's highest mountain, Ben Nevis. Here you can capture panoramic views or epic selfies with the snow-capped peak - perfect for sharing your adventures. Take a scenic walk along tranquil streams to reach the point - a hidden gem known by locals. Just a stone's throw away, you can explore the fascinating ruins of Inverlochy Castle and round off your visit with a touch of history. Breathtaking nature and a rich cultural heritage await you!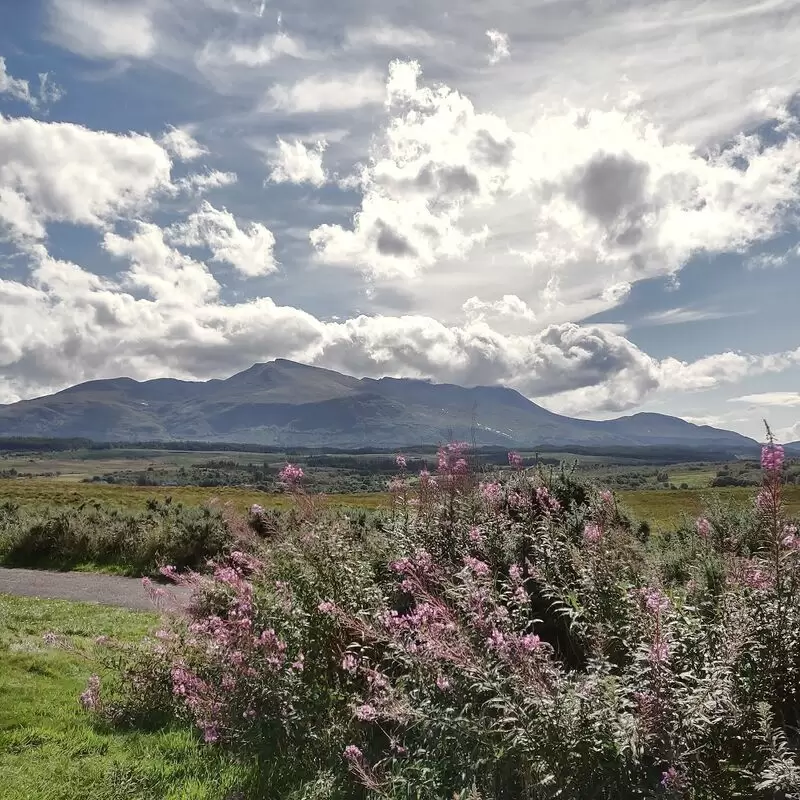 Ben Nevis Viewpoint
B8004, Spean Bridge
Monday - Sunday: Open 24 hours
12. Treasures of the Earth
Treasures of the Earth in Fort William is a gem for geology enthusiasts and curious souls. Step inside one of the finest private collections of gems, crystals and fossils in Europe, presented in a replica mine. Here you can explore the hidden wonders of the earth that fascinate children and adults alike. Nearby, the Neptune Staircase, the longest sluice staircase, is a picturesque sight. Occasionally, it is whispered that the mined treasures in the museum look even shinier and more attractive on rainy days.
Treasures of the Earth
treasure of the earth, Corpach, Fort William
Monday - Sunday: 10:00 AM – 6:00 PM
13. The Parade
Immerse yourself in local history with a visit to The Parade in Fort William, bursting with charm and antiquity. Famous for its memorial statue of Donald Cameron, a local war hero, it also hosts lively local markets selling local Scottish delicacies and wares. The bustling West End Square is just a five-minute walk away, an ideal spot for a warm Highland lunch. Don't forget to visit on market days to get a real taste of life in Fort William!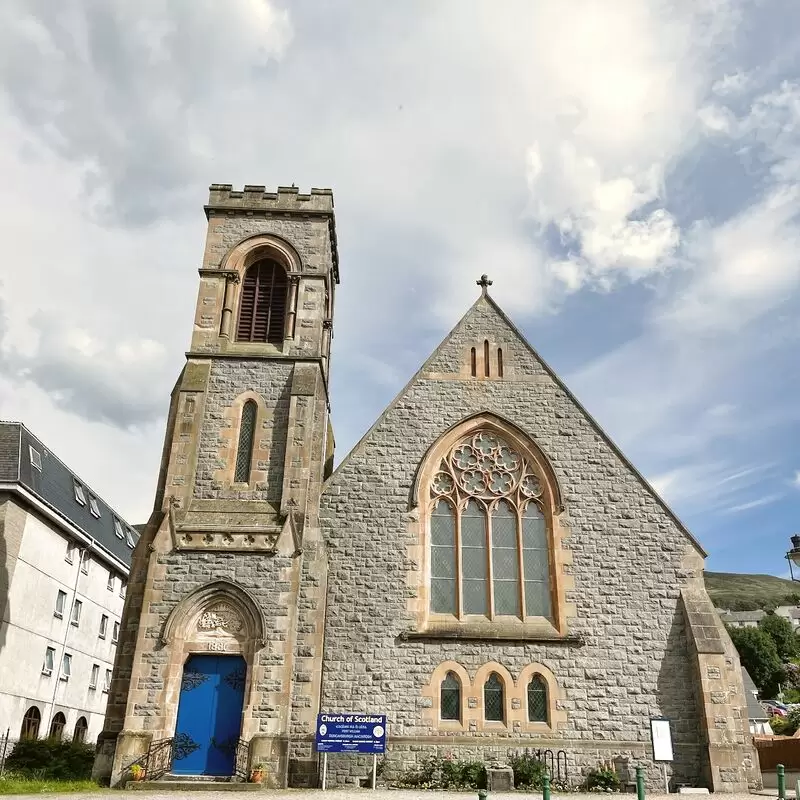 The Parade
Fort William
Monday - Sunday: Open 24 hours
14. Cruise Loch Linnhe
Take a cruise on Loch Linnhe and experience exciting wildlife watching. In the heart of Fort William, the cruise offers breathtaking views of the loch, remarkable islands and local marine life, including seals and porpoises! It's not just a boat ride, but an intimate journey into the Scottish landscapes. Just minutes away is the famous Ben Nevis, the highest mountain in the British Isles, also worth a visit for its exciting hikes and panoramic views.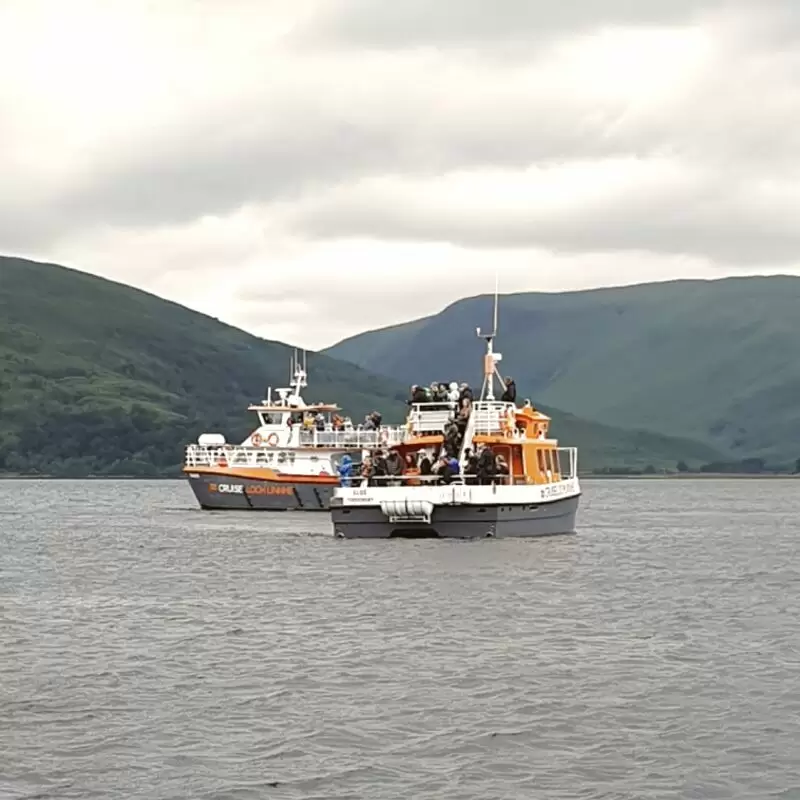 Cruise Loch Linnhe
Town Centre Pier, Fort William
Monday - Sunday: 9:30 AM – 5:30 PM
Best Time to Visit Fort William
The best time to visit Fort William is during the summer months from May to September, when the weather is warmer and daylight lasts up to 18 hours. Note, however, that July and August can be very crowded due to school vacations. September is also ideal for admiring the spectacular fall foliage.
Annual Weather in Fort William
Fort William 3-Day Forecast
Wed, 27 September
Night
48 °F
9 °C
63%
Morning
47 °F
8 °C
87%
Afternoon
48 °F
9 °C
69%
Evening
47 °F
8 °C
67%
Thu, 28 September
Night
47 °F
8 °C
68%
Morning
48 °F
9 °C
73%
Afternoon
55 °F
13 °C
60%
Evening
50 °F
10 °C
76%
Fri, 29 September
Night
50 °F
10 °C
56%
Morning
49 °F
10 °C
61%
Afternoon
54 °F
12 °C
52%
Evening
46 °F
8 °C
78%
Questions & Answers

What is the local cuisine of Fort William?

The local cuisine in Fort William offers mainly traditional Scottish dishes. Due to its location on the coast, fresh seafood such as mussels, salmon and haddock are widely available. Fort William is also known for its venison and other meats. Haggis, a hearty dish of sheep's heart, liver and lungs, is a regional specialty. Traditional Scottish desserts such as clootie dumplings and shortbread are also popular. Whisky and Scotch ale are popular local drinks.

How do I get around Fort William?

Fort William, a small town in the Highlands, is best explored on foot, as most of the sights are within walking distance. If you want to explore the surrounding area, you can use public transportation such as buses or trains. If you prefer to travel on your own, you can also rent a car or a bicycle. Remember that the car drives on the left side, and for places farther away you can even take water cabs to nearby islands, which is a scenic and unique way to travel.

What is the native language in Fort William?

The main language in Fort William is English. Although Scottish has its own accent, which can vary from region to region, it is widely understood by most visitors. Scotland also recognizes Scottish Gaelic as an official language, and although it is less commonly spoken in most urban areas, there are still some residents in the Highlands, including Fort William, who also speak Gaelic. Nevertheless, English is still the most commonly used language in everyday communication.

Are there safety concerns for tourists in Fort William?

Fort William, United Kingdom, is generally safe for travelers, with typically low crime rates. However, as with any destination, it is always advisable to be mindful of personal safety. The biggest concern in Fort William is for outdoor activities such as hiking, due to the rugged landscape. The unpredictable weather, especially on Ben Nevis, requires careful planning and proper equipment for safe hiking. Personal items should also always be kept safe to prevent theft.

Is tipping customary in Fort William?

Yes, tipping is common in Fort William, just as it is in most parts of the United Kingdom. Tipping is not obligatory, but it is a normal custom to show one's appreciation for good service. In restaurants, a tip of 10-15% of the total bill is usually given. For hotel service, small amounts are usually left for housekeeping, and cab drivers are usually given 10% of the fare. However, always make sure that a service charge has not already been added to your bill to avoid tipping too much.

Can I use credit card for transactions?

Yes, you will find that most establishments in Fort William, United Kingdom accept credit cards as a form of payment. This includes restaurants, hotels and major attractions. However, it is advisable to take some cash with you, as smaller stores or out-of-the-way places may not accept cards. Please remember to inform your bank about your travel plans to avoid interruption of your card services.

How can I access health services in case of emergency?

In case of an emergency in Fort William, you can dial 999 or 112 to reach an ambulance, the fire department or the police. For less urgent health problems, contact the NHS 24 helpline on 111. Medical help can be found at Belford Hospital, which offers accident and emergency services. Many nearby pharmacies can help with minor ailments. Make sure you have travel insurance to cover any medical expenses.

What is the history of Fort William?

Located in the Scottish Highlands, Fort William is named after a fortress built during the time of Oliver Cromwell. Later, the fort was renamed "Fort William" in honor of King William III. The area has a rich history associated with the Jacobite uprisings. Today it is known for Ben Nevis, the highest mountain in Britain, and as the gateway to the Glenfinnan Monument, known for its connection to the Jacobite uprisings and its appearance in the Harry Potter films.

Is there a dress code etiquette to follow?

When visiting Fort William, United Kingdom, there is no specific dress code that tourists must adhere to. However, it is advisable to wear comfortable clothes as the area offers numerous outdoor activities. Depending on the season, warmer clothes or rainwear may be required. If you are dining at a fancy restaurant or attending a formal event, dressy casual attire is generally acceptable. Remember that it is always good to respect local customs and traditions.

How to respect local traditions and culture?

In Fort William, the local culture is deeply rooted in Scottish traditions. Visitors can pay their respects by acknowledging local customs, such as wearing traditional Scottish dress on formal occasions, enjoying local music such as bagpipe music, and participating in cultural festivals. Polite behavior, refraining from littering, avoiding noise, and respecting public places and landmarks, especially historic and religious sites, is greatly appreciated. Remember that friendly and respectful behavior is always welcome and can go a long way in any culture.

What unique wildlife can I find in Fort William?

Fort William, nestled in the Scottish Highlands, offers diverse and unique wildlife. Discover the elusive red deer in its natural habitat in the mountains or watch golden eagles soar into the sky. Along the coast, you can often spot seals lolling on the rocks. If you're lucky, you'll even encounter otters and pine martens venturing out of the lush forests. Boat tours allow you to observe marine life, including porpoises, dolphins and the occasional minke whale - a truly unique and refreshing natural experience.

What are the local markets in Fort William?

Fort William is home to several local markets that offer the best of Highland produce. The Fort William Country Market is a popular market offering fresh vegetables, fruit, baked goods and local crafts. The Lochaber Farmers' Market is another attraction where you can buy directly from farmers and artisans. For seafood lovers, the fish market in Fort William is a must. There are also several independent stores in town that sell everything from Scotch whisky to traditional tartans.

Which is the nearest airport to Fort William?

The nearest airport to Fort William, United Kingdom, is Glasgow International Airport. It is located about 100 miles south of Fort William. The airport offers a wide range of domestic and international flights. To reach Fort William from the airport, you can take a train or a car, which takes about 2-3 hours. Alternatively, there are bus services.

What are the available transportation options from the airport?

Upon arrival at Glasgow Airport, the closest major airport to Fort William, you have several transportation options to choose from. You can hire a private cab, which is readily available, but keep in mind that it can be expensive. Other options include renting a car or taking a bus, which is less expensive. Alternatively, you can opt for a train ride from Glasgow to Fort William, which offers beautiful views along the way.

Can I drink the tap water in Fort William?

Yes, the tap water in Fort William, United Kingdom, is safe to drink. The water quality is monitored and regulated by Scottish Water, ensuring that it meets high safety standards. Many travelers and locals find the taste of Scottish tap water very refreshing, as it often comes from clean, natural sources. However, if for some reason you are unsure, bottled water is available throughout the city.

What are local public holidays in Fort William?

Fort William in the United Kingdom celebrates the typical British holidays. These include New Year's Day, which celebrates the start of the new year, and Christmas Day, which celebrates the birth of Jesus Christ. Other holidays include Good Friday and Easter Monday around Easter, May Day, and the spring and summer holidays. Local Scottish celebrations also include St. Andrew's Day in honor of the patron saint of Scotland and Burns Night in honor of the poet Robert Burns. Enjoy these holidays with local traditions and festivities!

Is camping allowed in surrounding areas?

Yes, camping is allowed in the Fort William area. However, it is subject to certain restrictions, especially in high traffic areas and during peak season to protect the local environment. There are designated campgrounds such as Glen Nevis Caravan & Camping Park that offer excellent facilities. Wild camping is also permitted under the Scottish Outdoor Access Code, as long as campers behave responsibly and follow the Leave No Trace principles.

What local experiences can I seek?

Fort William, nestled in the Scottish Highlands, offers a truly authentic local experience. It is a paradise for nature lovers who can climb the breathtaking Ben Nevis, take a leisurely stroll along the Caledonian Canal or explore the beautiful Glen Nevis. History buffs can delve into Scotland's rich past at Old Inverlochy Castle. End the day with a hearty meal in a traditional pub and enjoy local specialties like haggis and Aberdeen Angus beef.

Is there a local delicacy I should definitely try?

As a guide in Fort William, I can only recommend to try the traditional Scottish delicacies. You cannot leave without having eaten "haggis, neeps and tatties". This is a tasty dish consisting of haggis (a type of sausage prepared in a sheep's stomach), mashed turnips (neeps) and mashed potatoes (tatties). Don't forget to finish your meal with a shot of the finest local whisky to get a real taste of the Scottish Highlands.

Does Fort William have an active nightlife?

While Fort William is an adventurer's paradise during the day, things tend to be quieter at night. The focus is on local pubs and restaurants rather than clubs or late night party venues. Some pubs often have live music on the weekends, providing a lively atmosphere. Many visitors prefer to spend their evenings sampling the town's traditional Scottish cuisine or taking part in a pub quiz. Fort William does not have a distinct club scene, but it does have a cozy and sociable nightlife.

Is Fort William friendly for pedestrians or cyclists?

Fort William is quite friendly for both pedestrians and cyclists. The city center is easily walkable and has well-maintained sidewalks. For cyclists, there are several very popular bike paths around town. The Great Glen Way offers both walkers and cyclists breathtaking views of the surrounding highlands. However, during the peak tourist season, the roads can be busier and extra care should be taken for cyclists.

Are there specific rules for tourists?

As in any other place in the UK, tourists in Fort William are expected to respect public property and traditions. Littering is frowned upon and can result in fines. Special rules apply to wild camping and it is advisable to stick to designated campsites. Always walk on the left side of the trail and do not feed or disturb wildlife. Pay attention to the queue etiquette and remember that the minimum age for alcohol consumption is 18. Always be considerate of the environment and locals.

Where can I find the best local food?

In Fort William, you can enjoy great local dishes at Crannog Seafood Restaurant, which serves the freshest of the locally caught fish. The menu changes depending on the daily catch, making for a tasty exploration of Scottish seafood. Or try The Grog and Gruel, a traditional alehouse and pub with a mix of traditional Scottish and international cuisine. Finally, the Ben Nevis Inn and Bunkhouse is the ideal place for a leisurely meal after a long day exploring the nearby mountain scenery.

Is there any local festival I could attend?

Yes, one of the most popular local events in Fort William is the Lochaber Agricultural Show. It features a variety of animals and local produce, as well as food stalls, activities for children and other attractions. This festival is a wonderful opportunity to get a real taste of Scottish country life. Look for traditional Scottish music and dance performances during the festival. Please check the official website for exact dates and details during your visit.

Are there exchange currency centers, what's their working hours?

Yes, you can exchange money in Fort William. Centers such as post offices, banks and large department stores offer these services. Their opening hours are generally based on normal business hours, usually from 9:00 am to 5:00 pm on weekdays. However, it is recommended to check the exact opening hours, which may differ on weekends and holidays. Always check the current exchange rates and any additional fees before making a transaction.

Is Wi-fi readily available and accessible in the city?

Yes, Wi-fi is easily accessible in most parts of Fort William. Many hotels, cafes, restaurants and public areas offer free Wi-Fi to their guests. Some require a purchase or small fee to access their network. The quality of the connection can vary, especially in more rural areas outside of town. You can also get a local SIM card for reliable Internet access.

Are there any local social norms I should be aware?

In Fort William, as in the rest of the United Kingdom, politeness and patience are highly valued. Queuing and waiting your turn is expected in most contexts. In public places such as pubs or on walking trails, it is quite common to strike up a conversation with strangers. Tipping is also common in restaurants, often between 10% and 15%. Despite Scotland's reputation for whiskey, drunkenness in public is generally frowned upon and can lead to problems. Remember to drive on the left side of the road when renting a vehicle.

Can I drive with my foreign license in Fort William?

Yes, you can drive in Fort William, UK, with a foreign driver's license, especially if it is in English. However, this only applies to short-term visitors who are likely to stay for up to 12 months. If your license is not in English, an international driver's license may be required. It is always best to check the latest requirements from the UK Driver and Vehicle Licensing Agency.

What are emergency numbers to remember?

In the UK, the general emergency number for immediate help from the police, ambulance or fire department is 999. If you need non-urgent police assistance, dial 101. For medical advice in non-urgent situations, you can call the NHS 24 helpline on 111. Please remember that these numbers are for assistance within the UK only, including Fort William. Always assess the situation correctly before calling the number provided.

Is Fort William safe for solo travelers?

Yes, Fort William is considered safe for solo travelers. As with any other place, it is important to be aware of your surroundings and take the usual precautions, especially at night. Tourists praise the city for its friendly locals, well-organized public transportation, and easily accessible destinations. The Scottish city is a popular destination for solo travelers because of its scenic views, numerous historical sites, and outdoor activities like hiking and biking. Don't forget to enjoy the local cuisine and whisky tastings.

Feedback

I hope you found this article informative and helpful. I'm eager to improve the content and make it even more valuable for you. If you have any feedback or suggestions, I would love to hear from you.

Do you have any tips or hidden gems that you think should be added to the list? Are there any areas that you feel could use more explanation or clarification?

Your input is greatly appreciated and will help us to continue providing high-quality content that meets your needs and interests. Please feel free to share your thoughts.