1. Taman Safari Indonesia Bogor

At Taman Safari Indonesia Bogor, you'll feel like an intrepid explorer. Animals roam free in this stunning wildlife park just outside Jakarta. Amidst a breathtaking mountain panorama, you'll encounter everything from graceful giraffes to fearsome tigers. There's also a heartwarming conservatory for baby animals.

Insider tip: Take a safari ride during feeding times - it's an unforgettable experience! Not far from here, you can visit Puncak Tea Plantation, where you can enjoy serene green scenery and a real Indonesian cup of tea.

Taman Safari Indonesia Bogor
Jalan Kapten Harun Kabir No.724, Cibeureum, Kec. Cisarua, Bogor Regency

Monday - Friday: 9:00 AM – 5:00 PM
Saturday - Sunday: 8:30 AM – 5:00 PM
2. Taman Mini Indonesia Indah
Experience Indonesia in a nutshell at Taman Mini Indonesia Indah! This cultural theme park presents an impressive display of traditional houses from Indonesia's 33 provinces. Amid lush gardens, you can learn about different cultures, marvel at the unique flora and fauna in the bird park, or take a cable car for a panoramic view. For a glimpse into Indonesia's rich history, visit Museum Indonesia, just a short walk away. A hidden gem is the Al-Azhar Mosque with its ornate golden dome, which you should visit on your way.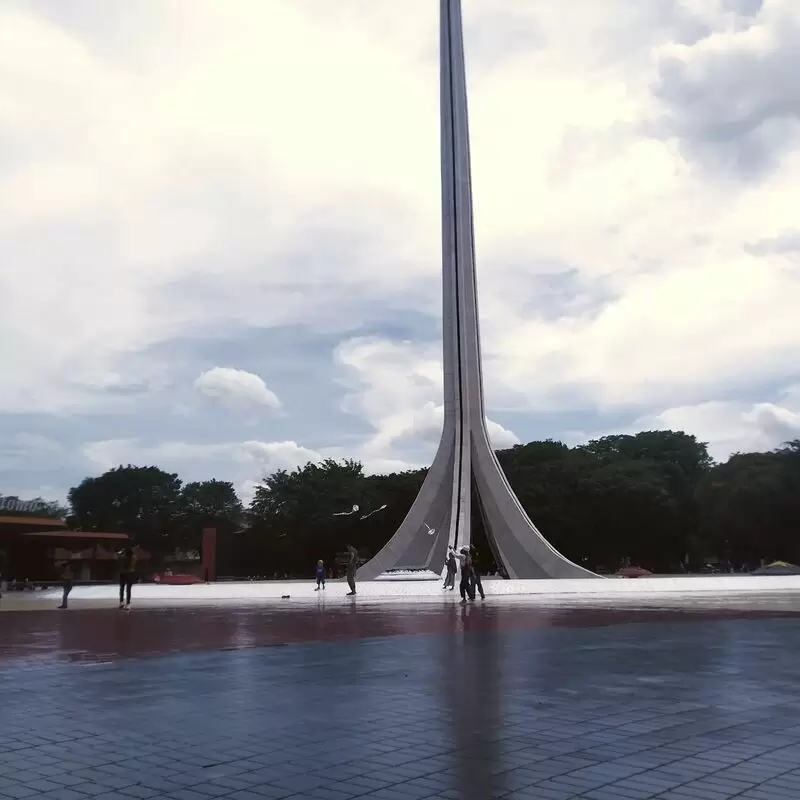 Taman Mini Indonesia Indah
TMII, Jl. Raya, Ceger, Kec. Cipayung, East Jakarta City
Monday - Sunday: 8:00 AM – 5:00 PM
3. National Monument
A visit to the towering National Monument or "Monas" is a must in Jakarta, as its iconic size symbolizes Indonesian independence. Admire the shimmering golden flame at the top, symbolizing the nation's never-extinguishing spirit, or ride the elevator for a bird's eye view of the sprawling city. Nearby are other attractive sights such as the National Museum and the Presidential Palace, so a history-filled day is just steps away. Sample local dishes in the surrounding park to complete your journey through Indonesia.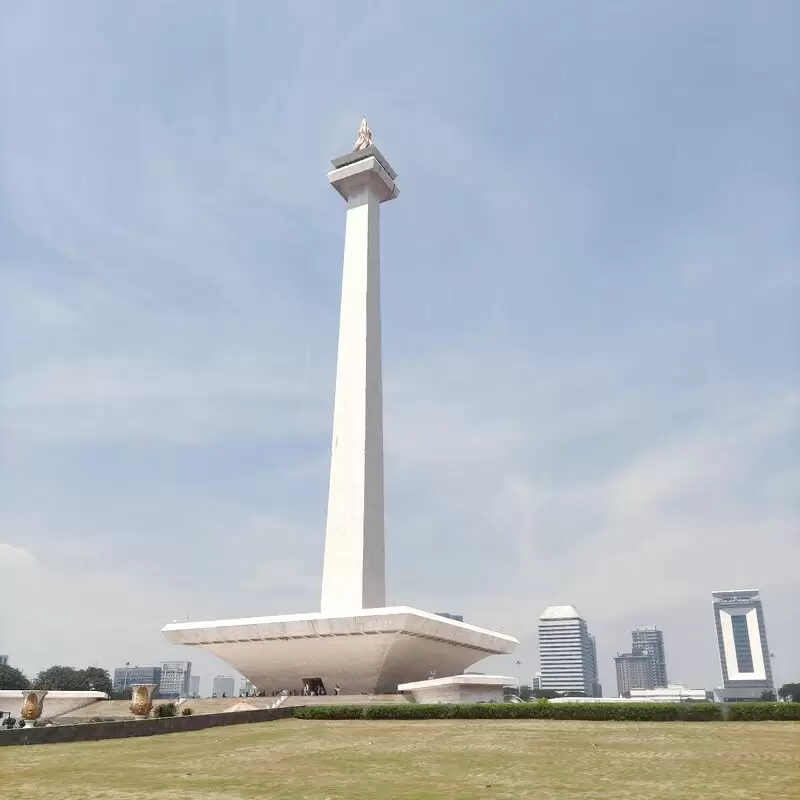 National Monument
RT.5/RW.2, Gambir, Kecamatan Gambir, Central Jakarta City
Monday: Closed
Tuesday - Friday: 8:00 AM – 4:00 PM, 7:00 – 10:00 PM
Saturday - Sunday: 8:00 AM – 4:00 PM, 7:00 PM – 12:00 AM
4. Ragunan Zoo
Immerse yourself in the wild beauty of Ragunan Zoo, Jakarta's largest protected area with over 3,000 species of animals. Encounter exotic animals, hike through the verdant landscape or have a picnic amidst the lush greenery. Enjoy the unique experience of the Schmutzer Primate Center, a must-see attraction for primate lovers. A cultural treat is the nearby Pasar Minggu, a bustling traditional market that exudes the charm and flavor of the region and invites you to shop for souvenirs. Don't forget to sample the local food stalls for an authentic Indonesian experience.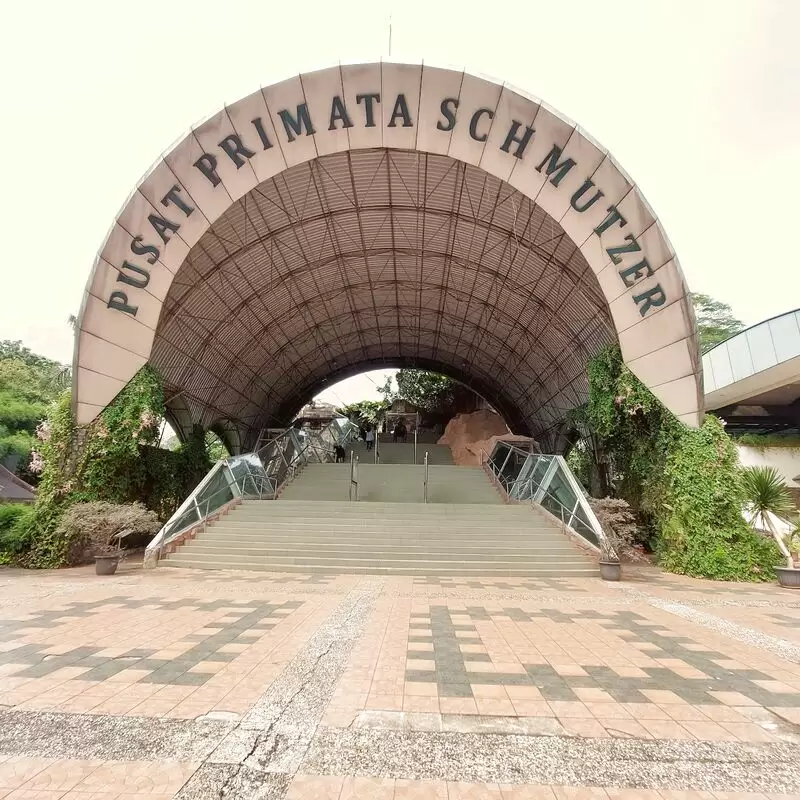 Ragunan Zoo
Jl. Harsono RM No.1, Ragunan, Ps. Minggu, South Jakarta City
Monday: Closed
Tuesday - Sunday: 7:00 AM – 4:00 PM
5. Dunia Fantasi
Dunia Fantasi in Jakarta is a world of fantasy and thrills. With its many exciting rides, including the famous Hysteria and Tornado, Dunia Fantasi thrills and entertains young and old. Indonesians often call it "Dufan", and it's not just about rides, but also a 4D cinema and a beautifully designed main street with delicious food. Also nearby is Ancol Dreamland, with a beautiful beach and a world-class golf course. An absolute must visit.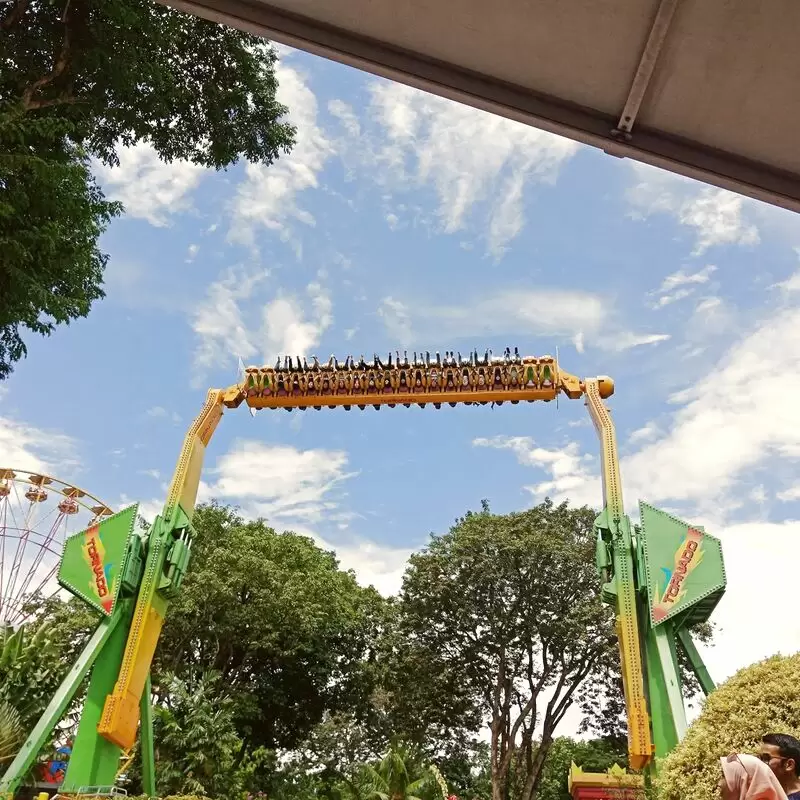 Dunia Fantasi
Jl. Lodan Timur No.7, Ancol, Kec. Pademangan, North Jakarta City
Monday - Friday: 10:00 AM – 6:00 PM
Saturday - Sunday: 10:00 AM – 7:00 PM
6. Taman Fatahillah
Immerse yourself in the historic charm of Taman Fatahillah, the main square of Jakarta's Old City. This lively place offers an authentic glimpse of Indonesia's colonial past, with Dutch-style buildings and a lively atmosphere. Visit top attractions like the Jakarta History Museum, Museum Wayang, and Museum of Fine Arts and Ceramics, which line up here. Try a ride on one of the colorfully decorated bicycles, an experience only available here. Just a short walk away is the famous Sunda Kelapa Harbor - don't miss it!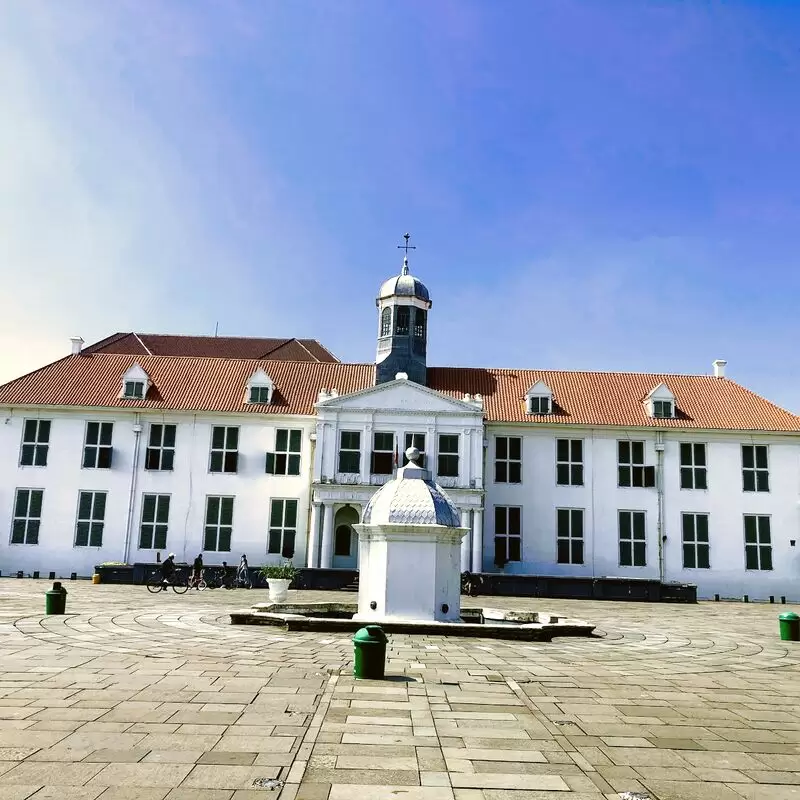 Taman Fatahillah
Jl. Lada Dalam No.7, RT.7/RW.7, Pinangsia, Kec. Taman Sari, West Jakarta City
7. Taman Impian Jaya Ancol
Taman Impian Jaya Ancol" or Ancol Dreamland is a place where the fun never stops. It offers sand, sea, rides, art and culture - all in one place. Dive into the thrilling rides at Dufan Theme Park or explore the marine life at SeaWorld. The open-air eco-park is a nature lover's paradise with its diverse wildlife. Don't miss Pasar Seni, an art market created from an old Dutch warehouse: an unclaimed treasure. Just a 10-minute drive away is the fascinating Sunda Kelapa Harbor.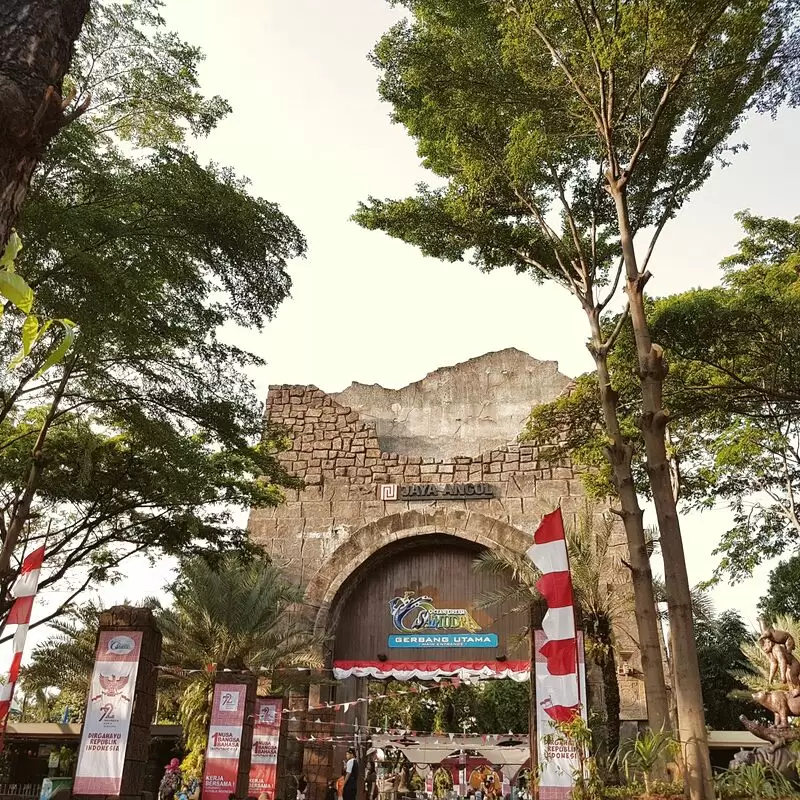 Taman Impian Jaya Ancol
Jl. Lodan Timur No.7, RW.10, Ancol, Kec. Pademangan, North Jakarta City
Monday - Sunday: 6:00 AM – 10:00 PM
8. Lapangan Banteng Park
Venture into Jakarta's Lapangan Banteng Park! Here, the city's colonial past and vibrant present meet in a harmonious blend. Delight in the stunning, multi-million dollar redesign that has rejuvenated this historic site. Marvel at the beautifully lit, inviting "Patung Pemuda Membangun" statue, an icon of local youth development. Nearby are Jakarta Cathedral and Istiqlal Mosque, the country's largest mosque, reflecting Indonesia's religious diversity. Experience the heart and history of Jakarta at Lapangan Banteng Park!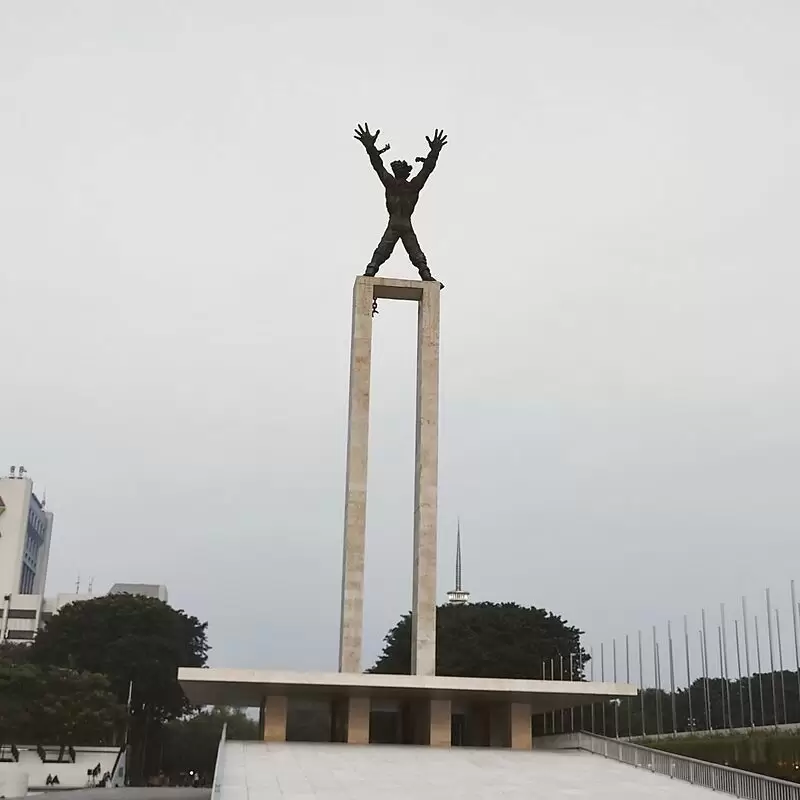 Lapangan Banteng Park
RRHP+Q2F, Pasar Baru, Sawah Besar, Central Jakarta City
9. Istiqlal Mosque
A visit to the Istiqlal Mosque in Jakarta is an enriching experience in the heart of Indonesia's spiritual culture. The largest mosque in Southeast Asia, its iconic design symbolizes the harmony between Islam and Indonesian identity. Watch the locals perform their daily rituals and immerse yourself in moments of serenity. Near Jakarta Cathedral, you can experience the harmony of religions and the diversity of Indonesian society. Don't miss the noon prayer on Friday for an authentic experience. Enjoy the cool marble floor - a secret respite from Jakarta's hustle and bustle.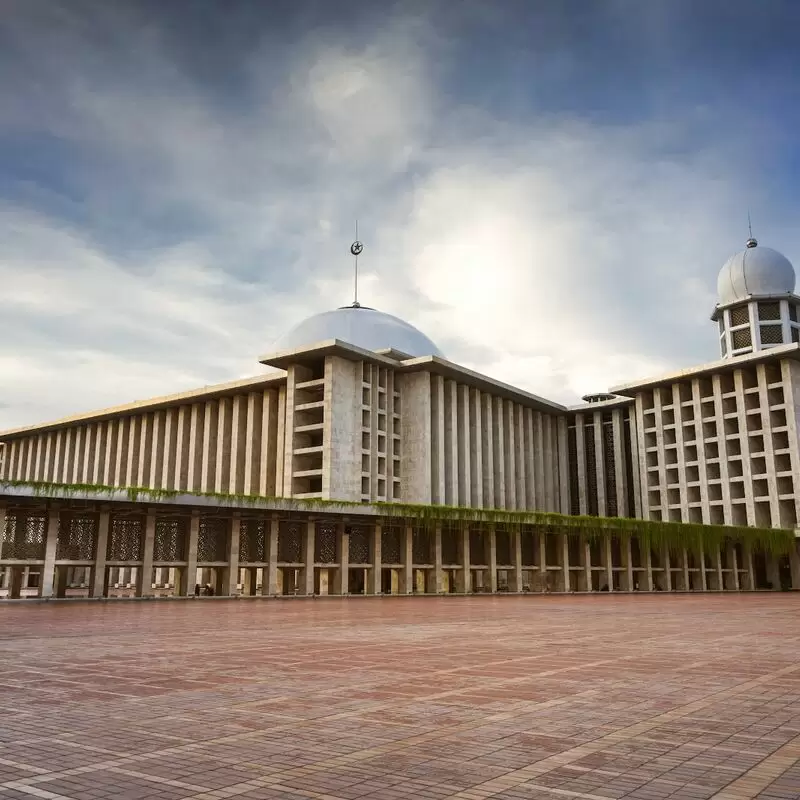 Istiqlal Mosque
Jl. Taman Wijaya Kusuma, Ps. Baru, Kecamatan Sawah Besar, Central Jakarta City
Monday - Sunday: 4:00 AM – 9:00 PM
10. Ancol beach
Ancol Beach, the so-called "Hawaii of Jakarta", is an absolute gem for those seeking relaxation. It is a stunning getaway that offers the perfect blend of golden sand and clear blue waters. If you get there early enough, you can take advantage of the stunning sunrise for an unforgettable experience. In addition to its natural beauty, Ancol Beach offers a plethora of attractions such as SeaWorld Ancol, Fantasy World, and Echo Park. Enjoy delicious local seafood and watch traditional puppet shows or musical performances. It's paradisiacal yet cultural.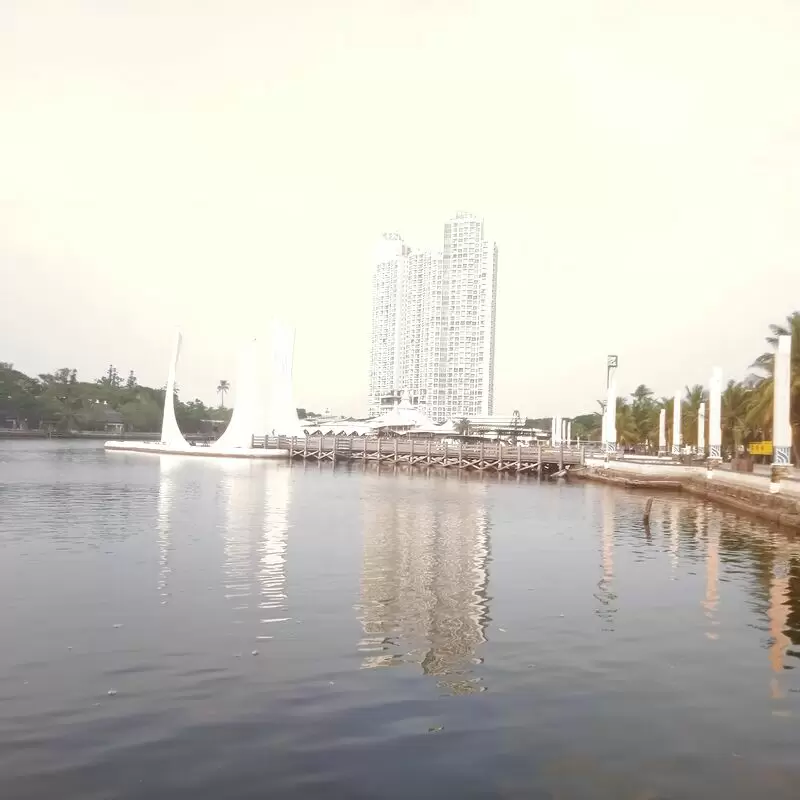 Ancol beach
Ancol beach, Jakarta
11. Gambir Station
Embark on a timeless journey at Jakarta's Gambir Station, an iconic gateway that combines historical nuances with modern functionality. Enjoy the hustle and bustle and admire the Dutch colonial architecture. Interestingly, this is one of Jakarta's busiest train stations, despite not being on the commuter line! Just a stroll away, you'll find the magnificent Presidential Palace and the charming National Monument, linking your modern travels to rich Indonesian culture and history.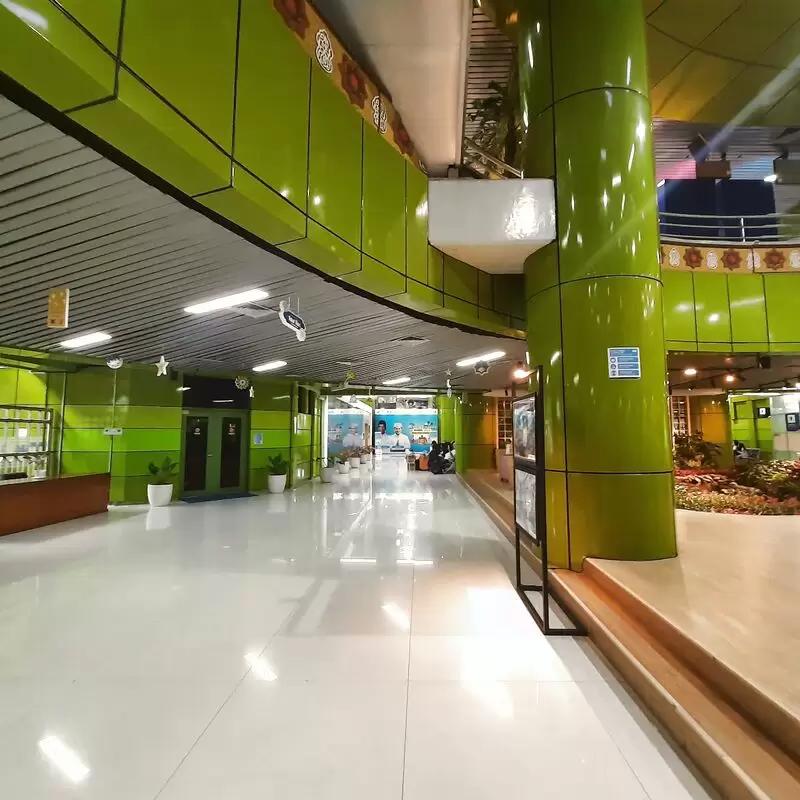 Gambir Station
Jl. Medan Merdeka Tim. No.1, Gambir, Kecamatan Gambir, Central Jakarta City
12. Selamat Datang Monument
Experience the essence of Jakarta at Selamat Datang Monument! Symbolizing Indonesian hospitality, this impressive sculpture makes for an exceptional photo opportunity. Located at the historic Hotel Indonesia traffic circle, this iconic landmark subtly tells stories of times past. Visit it in the evening when it is bathed in beautiful light. Just a stone's throw away is the luxurious Plaza Indonesia shopping mall, perfect for an extensive day out. Don't forget to try the delicious street food in the area!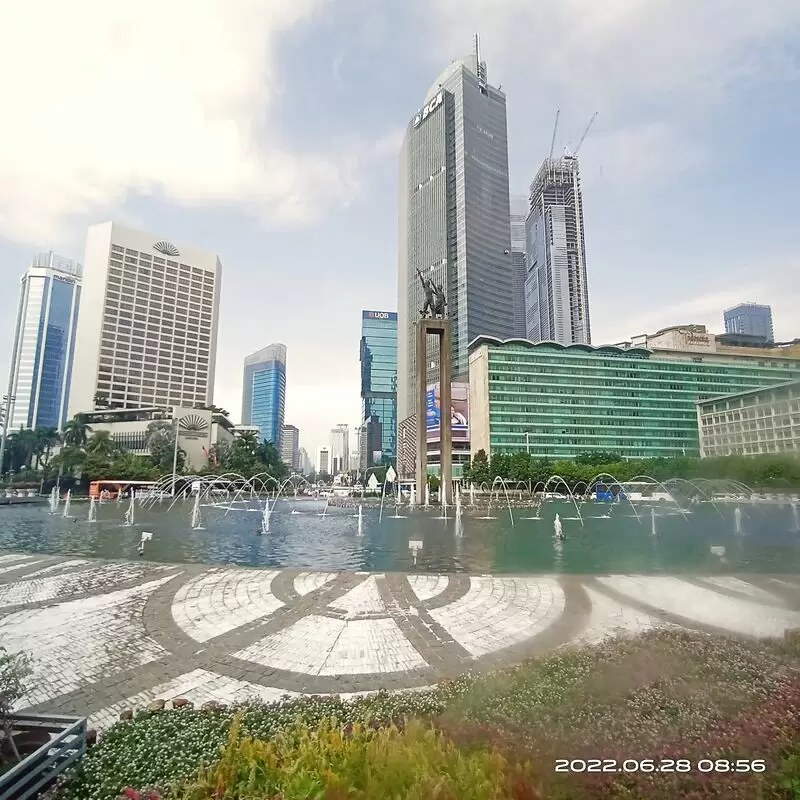 Selamat Datang Monument
Jl. Kebon Melati 1 No.5, RT.1/RW.5, Menteng, Kec. Menteng, Central Jakarta City
13. DoubleTree by Hilton Hotel Jakarta Diponegoro
Immerse yourself in the cosmopolitan atmosphere of the DoubleTree by Hilton Hotel Jakarta - Diponegoro. A wonderful blend of luxury and local culture, it features a stunning outdoor pool and six dining establishments serving authentic, tasty dishes. Monas Tower, Central Jakarta's famous monument, is just a short cab ride away. Don't miss the hotel's cookie tradition - a warm, sweet welcome that sets the tone for a truly fascinating experience in the heart of Indonesia's bustling capital.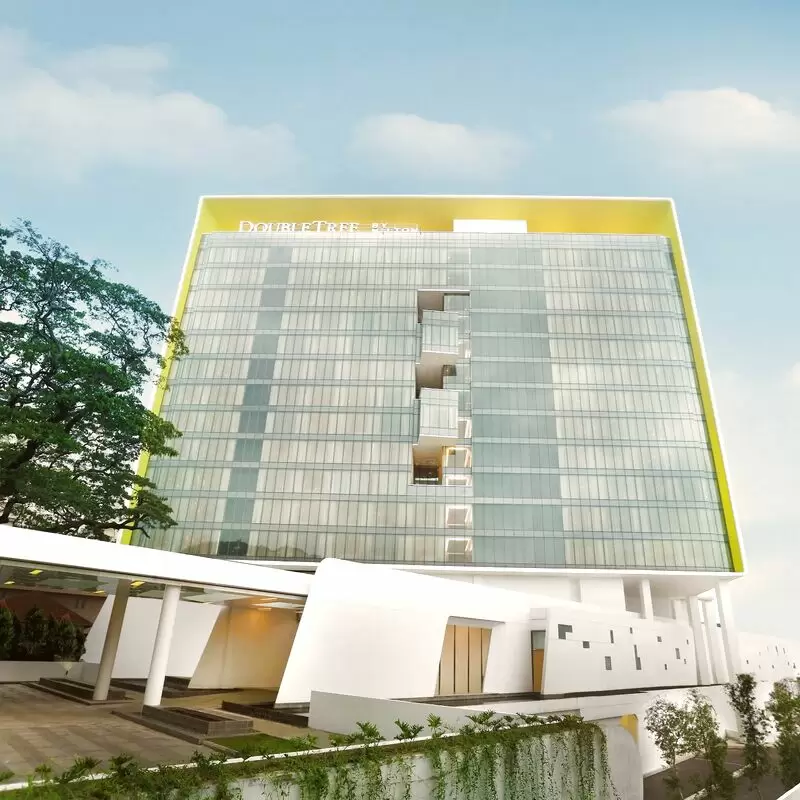 DoubleTree by Hilton Hotel Jakarta Diponegoro
Jl. Pegangsaan Timur No.17, Cikini, Jakarta, Central Jakarta City
14. National Monument Park
A visit to Jakarta is not complete without visiting the remarkable National Monument Park. This iconic symbol of Indonesian independence brightens the cityscape and offers panoramic views from its observation deck. Discover Indonesia's rich history through the intricate dioramas inside. Join locals practicing Tai Chi early in the morning. Nearby, continue your cultural exploration at the National Museum, which houses extensive archaeological and ethnographic collections. Enjoy local gastronomy at the Gambir Night Market, just a stroll away. Discover, feel and taste the soul of Jakarta!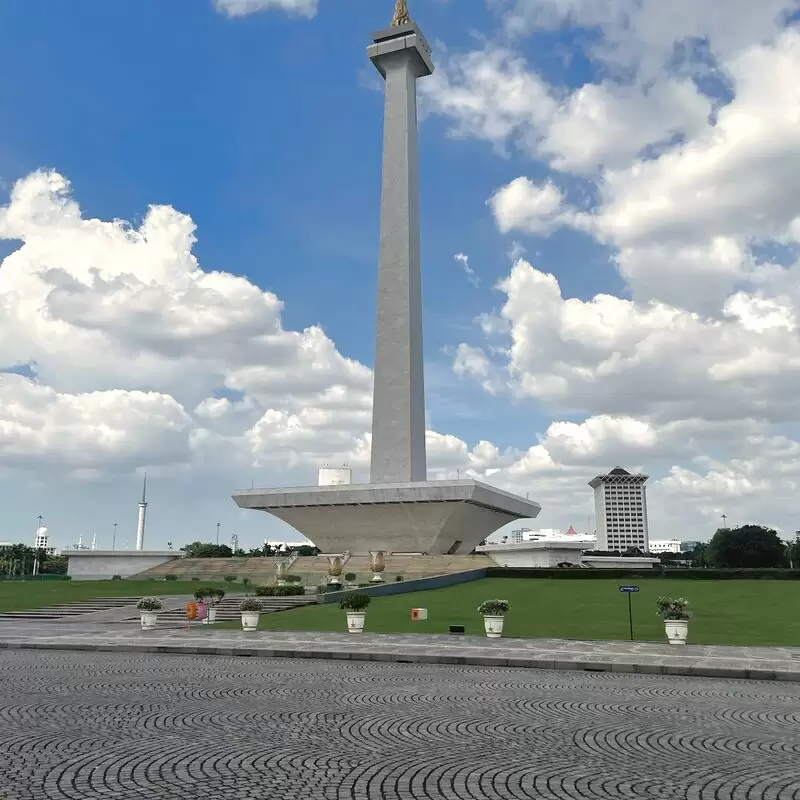 National Monument Park
5, Jl. Medan Merdeka Utara No.2, RT.5/RW.2, Gambir, Kecamatan Gambir, Central Jakarta City
15. Monas Dancing Fountain

Head to the heart of Jakarta to discover the stunning Monas Dancing Fountain. Pulsating with vibrant colors, the fountain transforms into a visual symphony at night, synchronized with enchanting melodies. It's a mesmerizing spectacle you won't want to miss!

Insider tip: Don't leave too early, the finale is truly breathtaking. Just a short walk away, you can visit the National Monument, which reflects Indonesia's historical development. Jakarta's vibrant night scene is indeed a feast for the eyes.

Monas Dancing Fountain
Merdeka Square, RT.5/RW.2, Gambir, Kecamatan Gambir, Central Jakarta City
Best Time to Visit Jakarta
The best time to visit Jakarta, Indonesia, is during the dry season from May to September. During this time, it rains the least, the humidity is lower, and there is plenty of sunshine, so visitors can enjoy outdoor activities and sightseeing to the fullest.
Annual Weather in Jakarta
Jakarta 3-Day Forecast
Tue, 26 September
Night
84 °F
29 °C
0%
Morning
82 °F
28 °C
0%
Afternoon
91 °F
33 °C
0%
Evening
87 °F
31 °C
0%
Wed, 27 September
Night
83 °F
28 °C
0%
Morning
80 °F
27 °C
0%
Afternoon
92 °F
34 °C
0%
Evening
87 °F
31 °C
0%
Thu, 28 September
Night
83 °F
28 °C
0%
Morning
81 °F
27 °C
0%
Afternoon
92 °F
33 °C
0%
Evening
88 °F
31 °C
0%
Questions & Answers

What's the local currency and exchange rate?

The national currency of Jakarta, Indonesia is the Indonesian Rupiah (IDR). The exchange rate fluctuates daily; at the time of my last update, you could usually expect to pay around 14,000-15,000 IDR for 1 US dollar. For the most up-to-date exchange rate, it is best to use a currency converter or check with a reliable financial news source. Please keep in mind that rates may vary at money changers and banks, and fees or commissions may apply.

Where can I sample authentic Indonesian cuisine?

Consider a visit to Lara Djonggrang. It offers authentic Indonesian cuisine in an ambiance that reflects Indonesia's rich cultural history. Showcasing royal Javanese, Sundanese and Balinese dishes, the restaurant takes you on a culinary journey through the country. The dishes are not only delicious, but also beautifully presented. Each room of the restaurant depicts a different element of Indonesian folklore, making your dining experience truly immersive and memorable.

Can I drink tap water in Jakarta?

Drinking tap water in Jakarta, Indonesia, is generally not recommended for health reasons. Although it is treated by local water authorities, water quality can be affected during distribution. It is safest to drink bottled water or boiled tap water. You should also use filtered or bottled water when brushing your teeth. Keep this in mind not only in Jakarta, but also when traveling through Indonesia.

What's the dominant religion in Jakarta?

The predominant religion in Jakarta, Indonesia's bustling capital, is Islam. The majority of the city's residents are Muslim, a result of the country's status as the most populous Muslim-majority nation. Jakarta is full of magnificent mosques that reflect Islamic culture and are not only places of worship, but also social and cultural centers. However, Christians, Buddhists, Hindus and other faith communities also live harmoniously side by side in the city.

What language do locals speak?

Jakarta's inhabitants mainly speak Bahasa Indonesia, the official language of Indonesia. However, since Jakarta is a diverse city with people from different ethnic backgrounds, other languages such as Javanese, Sundanese and Balinese are also spoken. In addition, the influence of expatriate communities has introduced foreign languages such as English, Mandarin, and Arabic into the language mix. Despite these multilingual interactions, Bahasa Indonesia remains the main means of communication in the city.

Is Jakarta safe for tourists?

Like any big city, Jakarta has its security problems, but in general the city is safe for tourists. The usual precautions apply: Avoid unlit or deserted areas at night, watch your belongings, and beware of pickpockets in crowded areas. The risk of civil unrest or natural disasters is relatively low. Locals are generally friendly and helpful to tourists. Tourists are advised to use reputable transportation and not to drink tap water.

How's the traffic in Jakarta?

Traffic in Jakarta tends to be quite heavy, especially during rush hours. The city's rapidly growing population and high number of vehicles often cause significant congestion on the roads. Although the local government is continuously taking measures to alleviate the problem, visitors should be prepared for possible delays. Using public transportation, such as the MRT or TransJakarta Busway, can often be a more efficient way to get around the city.

What's the common mode of transportation?

In Jakarta, public transportation is the most common mode of transportation in the city. The TransJakarta Busway is a popular choice, with an extensive network covering most areas of the city. In addition, the MRT and LRT, two newly built trains, provide fast travel around the city. Cabs are common, and motorcycle cabs, known as "ojek," are also frequently used, especially to move through Jakarta's often congested traffic. For shorter distances, cycling and walking are becoming more popular.

How do I respect local customs and traditions?

When visiting Jakarta, respect local customs by dressing modestly, especially at religious sites. It is customary to use your right hand for everything from eating to shaking hands. Remember to remove your shoes before entering a person's home or a mosque. Show respect to elders and avoid showing the soles of your feet, as this may be considered rude.

Are there dress codes for religious sites?

Yes, when visiting religious sites in Jakarta, Indonesia, it is important to dress modestly. Women should wear long skirts or pants that cover their knees and ankles, as well as their upper arms. Men should wear long pants and make sure their shoulders are covered as well. Before entering mosques, everyone must remove their shoes, and in some cases women are asked to wear a hijab. It is important to follow this dress code to show respect for the local culture and religion.

Where can I find traditional Indonesian arts and crafts?

You can explore traditional Indonesian handicrafts at the Textile Museum in Tanah Abang, which features a collection of unique patterns and designs from around the country. Then visit the Jalan Surabaya Antique Market in Central Jakarta, known for selling antique items and traditional handicrafts. Also visit the Pasar Seni Ancol Art Market, where artists both sell and make their own work, offering a comprehensive look at the city's art scene.

How reliable is the internet connection?

The reliability of Internet connections in Jakarta, Indonesia, varies. You will find reliable Wi-Fi or wired Internet access in many modern hotels, stores, shopping malls, and tourist areas. In addition, major cities like Jakarta are usually well covered with 4G mobile internet. However, the speed and stability of the connection can fluctuate depending on the location and the ISP. If you rely on a constant high-speed connection, consider purchasing a local SIM card with a generous data package.

Is there a tipping culture in Indonesia?

Tipping is not a traditional part of Indonesian culture, nor is it mandatory. However, in recent years it has become more common, especially in tourist hotspots and upscale establishments. Service staff and housekeepers may be happy to receive a small tip for their services, but this is entirely at your discretion. Always check your bill, as some restaurants charge a mandatory service fee of about 10%.

Can I use my credit card for most transactions?

Yes, most upscale stores, hotels and restaurants in Jakarta accept credit cards. However, smaller stores and local markets mainly accept cash. Therefore, it is advisable to have some local currency with you. ATMs are also widely available. Also note that some credit cards may charge a foreign transaction fee, which can add up quickly during your trip. Always inform your bank of your travel plans to avoid interruption of services.

What type of power outlet is used in Jakarta?

In Jakarta, Indonesia, there are sockets of type C and type F. The standard voltage is 230 V and the standard frequency is 50 Hz. Type C is a two-pin plug, also known as a "Euro" plug, which can be plugged into any outlet with round contacts of 4.0-4.8 mm. Type F, on the other hand, is a plug with two 4.8-mm round pins and a grounding pin. Visitors coming from countries that use other types of plugs may need to bring a travel adapter.

Are there any health and vaccination requirements?

Although Indonesia does not usually require specific vaccinations for tourists, it is recommended that all routine vaccinations be refreshed prior to travel. These include MMR, diphtheria-tetanus-pertussis, polio and the annual flu vaccination. You should also get vaccinated against hepatitis A and typhoid fever, as there is a risk of getting infected through food or water in Jakarta. Avoid mosquito bites to prevent diseases such as dengue and malaria. A yellow fever vaccination is only required if you are entering from a country with a yellow fever risk.

Can I find vegetarian or vegan food easily?

Yes, Jakarta is very accommodating to vegetarians and vegans. There are numerous restaurants and eateries that offer plant-based menus, including traditional Indonesian dishes that have been repurposed for vegetarians or vegans. Vegan-friendly eateries can be found all over the city, including in popular neighborhoods like Kemang, Senopati and Menteng. You can easily search for these eateries online. In addition, street stalls and local markets often offer fresh fruits, vegetables, and tofu dishes.

Is haggling accepted in marketplaces?

Yes, haggling is widely accepted and even expected in many markets in Jakarta, such as traditional markets, street stalls and some souvenir stores. Sellers usually set an initial price that is much higher than the actual selling price. As a visitor, you will have to negotiate to get a fair price. However, remember to do so politely and in a friendly manner to maintain respect and a good relationship. An important tip is to start your offer at half the initial price and work from there.

What's a SIM card provider you'd recommend for tourists?

In Jakarta, Telkomsel is a reliable SIM card provider that is popular among tourists. It provides seamless connectivity with its nationwide 4G coverage and high-speed Internet service throughout the city. Telkomsel offers a variety of affordable data packages to suit different needs and customer service in Mandarin and English. You can purchase the SIM card instantly at Soekarno-Hatta International Airport or any local store.

Where can I learn about Indonesia's history and culture?

One of the best places to learn about Indonesia's history and culture in Jakarta is the National Museum of Indonesia. Also known as the "Elephant Building" because of the iconic elephant statue at the entrance, the museum is a treasure trove of historical, prehistoric, archaeological and ethnographic aspects of Indonesia. The various collections range from textiles and ceramics to ancient Hindu-Buddhist art, offering a comprehensive overview of Indonesia's rich culture and history.

What's the situation for solo female travelers in Jakarta?

As in many busy metropolises, there are situations in Jakarta that require vigilance from women traveling alone. It is generally safe during the day, especially in the business and tourist districts. Women generally dress conservatively to respect local customs. There is petty crime, so it is advisable to be careful of personal belongings. Although Indonesians are generally friendly and helpful, unwanted attention may occur. It is recommended to use trusted transportation companies and stay in reputable accommodations. As always, it is important to be aware of your surroundings.

Are most signs written in English or Indonesian?

In Jakarta, the predominant language for signage is Bahasa Indonesia, the official language of Indonesia. However, due to the cosmopolitan nature of the city, many signs, especially in business and tourist areas, are also in English. Major hotels, restaurants and tourist attractions have signs in both languages. Some signs also feature other languages such as Chinese or Arabic, reflecting the diversity of Jakarta's population. Therefore, it is helpful to know some basic Indonesian terms when navigating the city.

Is it easy to find Wi-Fi in public places?

Yes, Jakarta is a modern and well-connected city where Wi-Fi is readily available in most public places. Most hotels, restaurants, shopping malls and even some public parks offer free Wi-Fi access to their visitors, especially in central areas. However, the speed and quality of these connections can vary. In some places, Internet access requires a purchase or a small fee.

Can I use Uber or other ride-sharing apps in Jakarta?

Yes, you can use ride-sharing services in Jakarta, Indonesia. However, Uber ceased operations in 2018 and was replaced by Grab. Grab offers a wide range of services, including cabs, rickshaws, motorcycle rides, and shuttle services. Another popular app is Gojek, which primarily offers motorcycle cabs, but also cars, food delivery and various other services. Keep local traffic in mind when planning a trip, as Jakarta is known for its heavy traffic congestion.

Is the city walker-friendly or is it better to use public transport?

Jakarta is a busy city with heavy traffic and not very walkable due to the lack of sidewalks in many areas. Therefore, it is better to use public transportation. The city has a comprehensive public transportation system that includes city buses, commuter trains and cabs. The TransJakarta Busway, a public bus system with dedicated lanes to avoid traffic, is particularly convenient. Be prepared, however, that buses can be crowded at peak times.

How easy is it to find English-speaking locals?

In Jakarta, English is taught in schools and is widely spoken in tourist-oriented establishments, in the service industry and among the younger generation. However, not all locals are fluent in English. Language skills vary, and some locals understand and speak only basic English. So it is likely that you will encounter some English speakers, but this is not the case in all areas. It is always beneficial to learn a few key phrases in Bahasa Indonesia to help you get around.

What are some local delicacies I should try?

Jakarta, the capital of Indonesia, offers a gastronomic course with local delicacies. Start with the famous Nasi Goreng, a savory fried rice with spices and meat. Try the sate ayam (chicken satay) with peanut sauce for a taste of street food. Seafood lovers should definitely try ikan bakar, a grilled fish. For a sweet touch, try the creamy dessert Es Teler, a mixture of avocado, jackfruit and coconut. These dishes reflect Jakarta's rich cultural heritage in every bite.

What's the emergency phone number?

In case of emergency, people in Jakarta, Indonesia, can dial 112 for general emergency services. This number will connect you with the police, fire department and ambulance service. Another important number is 118 for immediate ambulance assistance. For police assistance, you can dial 110. It is important to know these emergency numbers while visiting Jakarta to be able to respond quickly in urgent situations. They can be reached at any time and are free of charge.

Can I rent a car in Jakarta?

Yes, you can rent a car in Jakarta, Indonesia. There are numerous car rental companies that offer a range of vehicles to suit your needs. Car rental agencies often offer the option of renting a car with a driver, which is advisable if you are not familiar with the traffic and driving regulations in Jakarta. Please remember that foreigners need an international driver's license to drive in Indonesia.

Where can I see traditional Indonesian performances?

In Jakarta, you can experience traditional Indonesian performances at places like Gedung Kesenian Jakarta (Jakarta Arts Building), where traditional music and dance performances are often held. Another option is Saung Angklung Udjo in nearby Bandung, which is known for its Sundanese bamboo music. For a wholesome traditional experience, however, a visit to Taman Mini Indonesia Indah is highly recommended, where various cultural performances from across the Indonesian archipelago are showcased.

Feedback

I hope you found this article informative and helpful. I'm eager to improve the content and make it even more valuable for you. If you have any feedback or suggestions, I would love to hear from you.

Do you have any tips or hidden gems that you think should be added to the list? Are there any areas that you feel could use more explanation or clarification?

Your input is greatly appreciated and will help us to continue providing high-quality content that meets your needs and interests. Please feel free to share your thoughts.