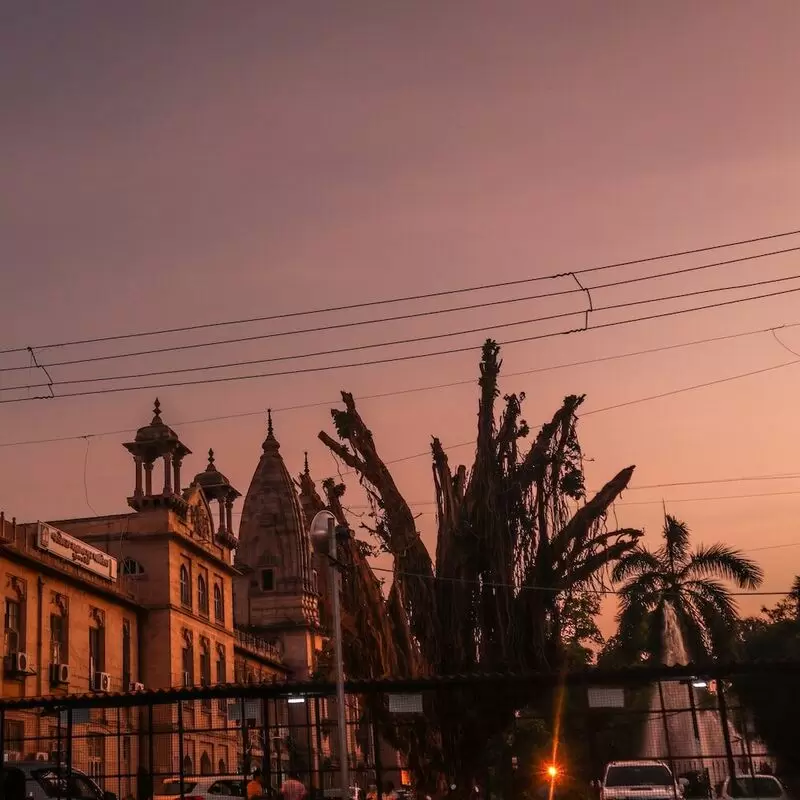 1. Sayaji Baug Zoo
Sayaji Baug Zoo, a paradise for wildlife lovers, is a must-see in Vadodara. It is a pleasure to observe Asiatic lions in their natural habitat, take a boat ride on the central lake, enjoy the rich flora of the botanical garden and get up close to various exotic birds. In close proximity to the zoo is the Baroda Museum & Picture Gallery, another gem for your exploration. Don't miss the ride on the "Toy Train" which gives you a comprehensive overview of the zoo!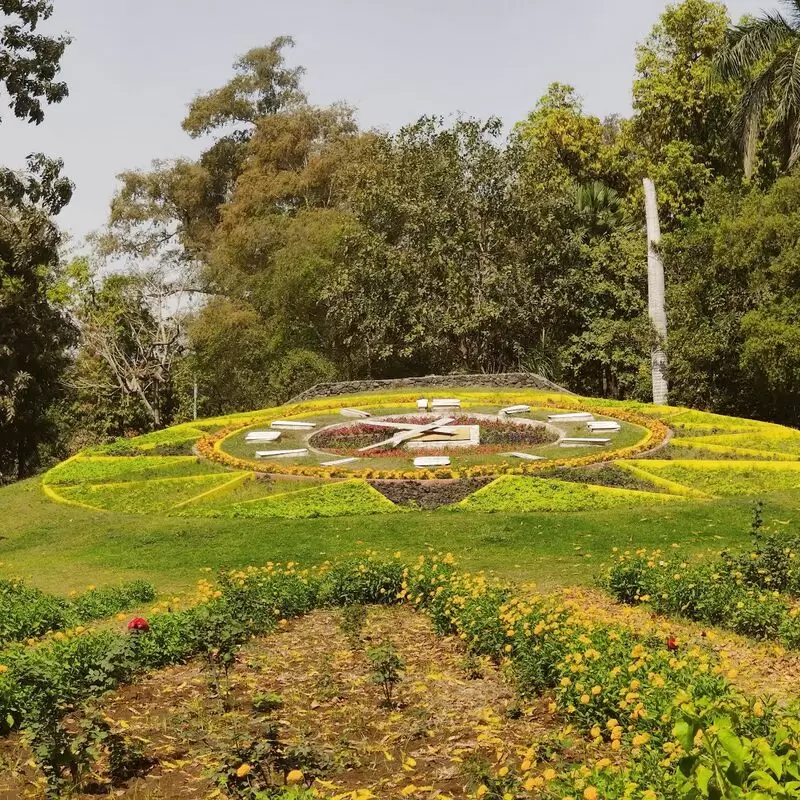 Sayaji Baug Zoo
Vinoba Bhave Rd, Near Kala Ghoda, Dak Bunglaw, Sayajiganj, Vadodara
Monday - Sunday: 10:00 AM – 5:00 PM
Thursday: Closed
2. Laxmi Vilas Palace
Visit Laxmi Vilas Palace in Vadodara - a majestic blend of Indian, Islamic, European and Gothic architectural styles. With its ornate interiors, fascinating frescoes and lush gardens, it is four times the size of Buckingham Palace! Don't miss the remarkable collection of ancient weapons and sculptures in the Palace Museum, either. Pro-tip: Take a guided tour and watch the peacocks strutting around the royal golf course. And the Baroda Museum & Picture Gallery is just a 10-minute drive away!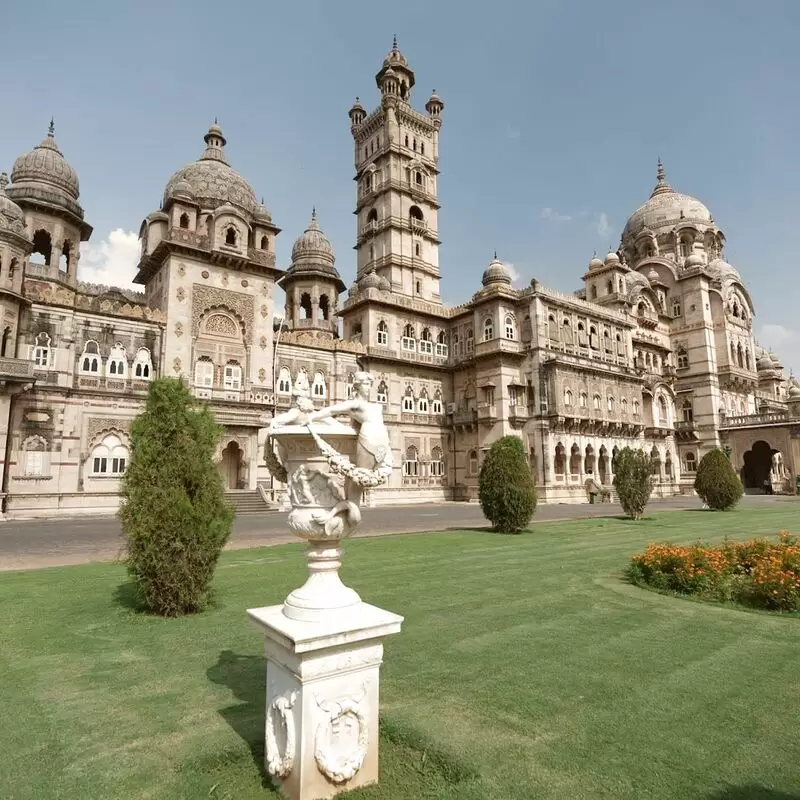 Laxmi Vilas Palace
J N Marg, Moti Baug, Vadodara
Monday: Closed
Tuesday - Sunday: 9:30 AM – 5:00 PM
3. Champaner Pavagadh Archaeological Park
Unleash your inner archaeology enthusiast at Champaner-Pavagadh Archaeological Park, a UNESCO World Heritage Site full of historical splendor. Discover prehistoric chalcoliths, impressive fortifications, fascinating palaces and breathtaking temples. Don't miss the Kalika Mata Temple, a mystical site dating back to the 10th century. For an exceptional experience, take a walk to the serene Pavagadh Hill, just a few kilometers away. The picturesque views and tranquil atmosphere are the perfect antidote to the hustle and bustle of the city. Remember that early morning visits are rewarded with fewer crowds and cooler temperatures!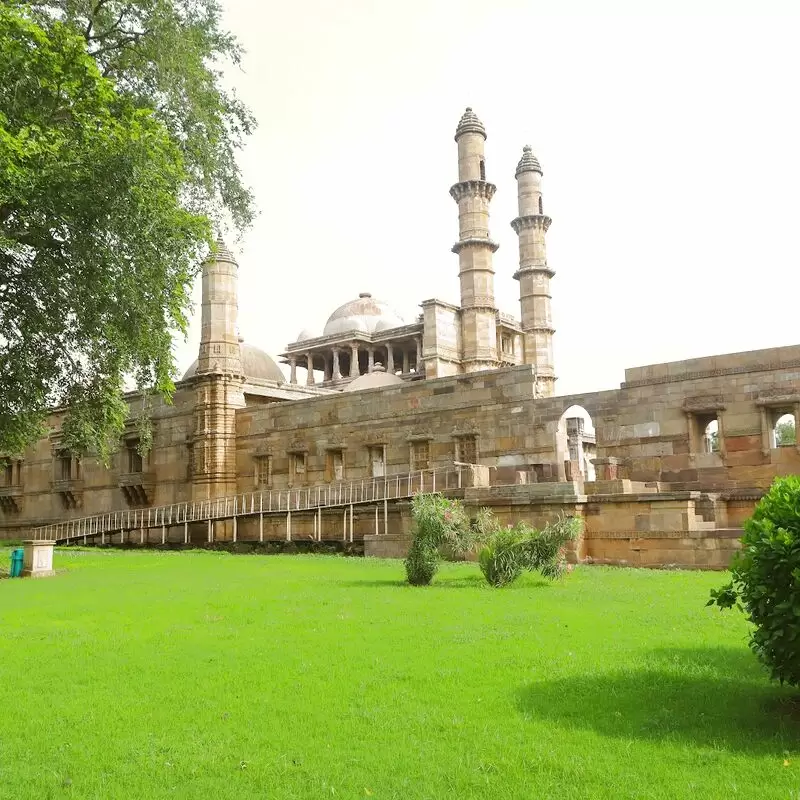 Champaner Pavagadh Archaeological Park
FGMJ+RXV, Champaner
4. Baroda Museum & Picture Gallery
A visit to the Baroda Museum & Picture Gallery in Vadodara is like a journey through time! It displays an exquisite collection of artifacts, artworks and antiques from around the world and is a testament to the city's royal heritage. Marvel at the Egyptian mummy or the skeleton of the blue whale - a sight few museums can match! Just a short walk will take you to Sayaji Baug, a sprawling garden where you can relax after your museum tour. Don't miss the fascinating Tibetan Art Department, a true hidden gem!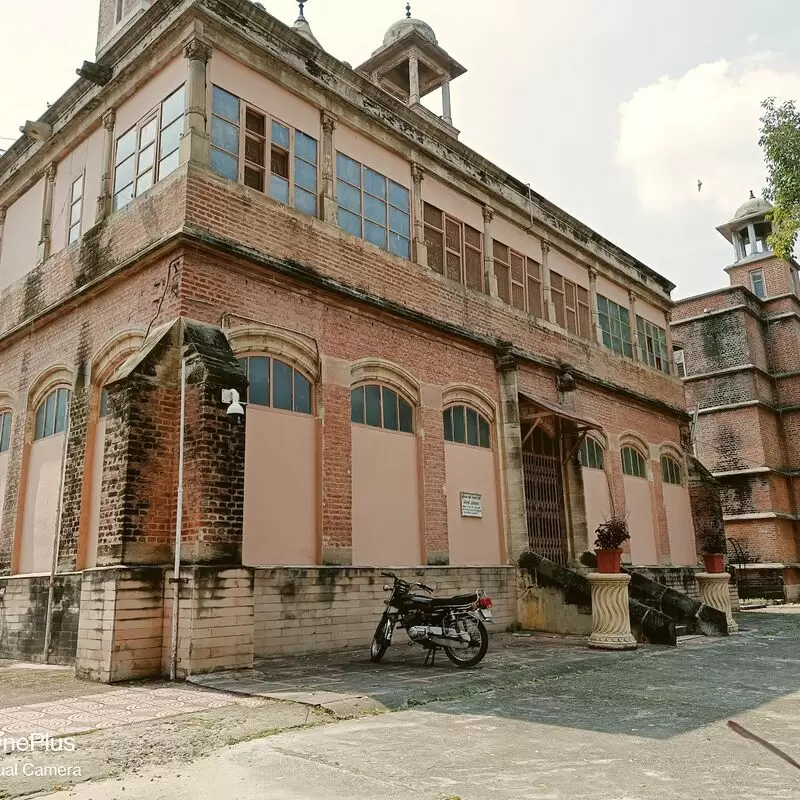 Baroda Museum & Picture Gallery
Kamatibaug, Dak Bunglaw, Sayajiganj, Vadodara
Monday - Sunday: 10:00 AM – 5:00 PM
Thursday: Closed
5. Sindhrot Check Dam
Known as the hidden jewel of Vadodara, Sindhrot Check Dam brings out the natural beauty of this city in an extraordinary way. It is a paradise for nature lovers - imagine strolling along the calm water and enjoying absolutely breathtaking sunsets. Locals often take romantic walks here. It is also a popular place for a local delicacy - "Corn Bhutta". Nearby attractions include "Kabirvad", a historic banyan tree located just 10 km from the road in a rural setting. Connect with nature and enjoy absolute serenity.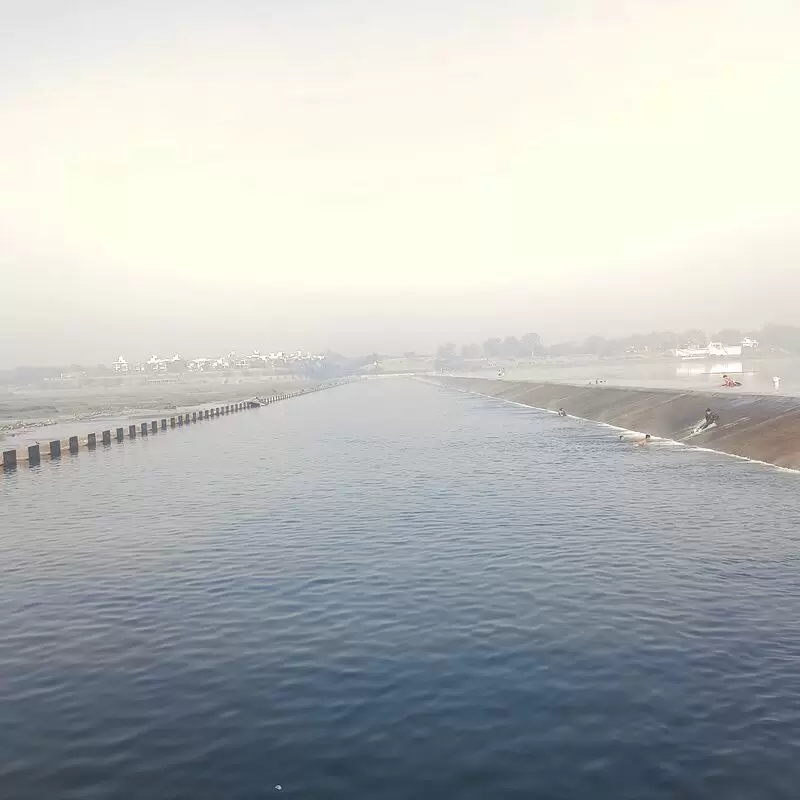 Sindhrot Check Dam
Mahi River, 83J5+7QM, Khadol
Monday - Sunday: Open 24 hours
6. Tapovan Temple Vadodara
A visit to Tapovan Temple is like stepping into an oasis of tranquility nestled in the vibrant city of Vadodara. With its lush greenery and divine spirituality, this temple is popular with devotees and tourists alike. Don't miss the iconic twin statue of Lord Swaminarayan, it is breathtaking to say the least. After a quiet visit, consider a short 20-minute drive to the famous Laxmi Vilas Palace, where you can witness magnificent architecture steeped in history.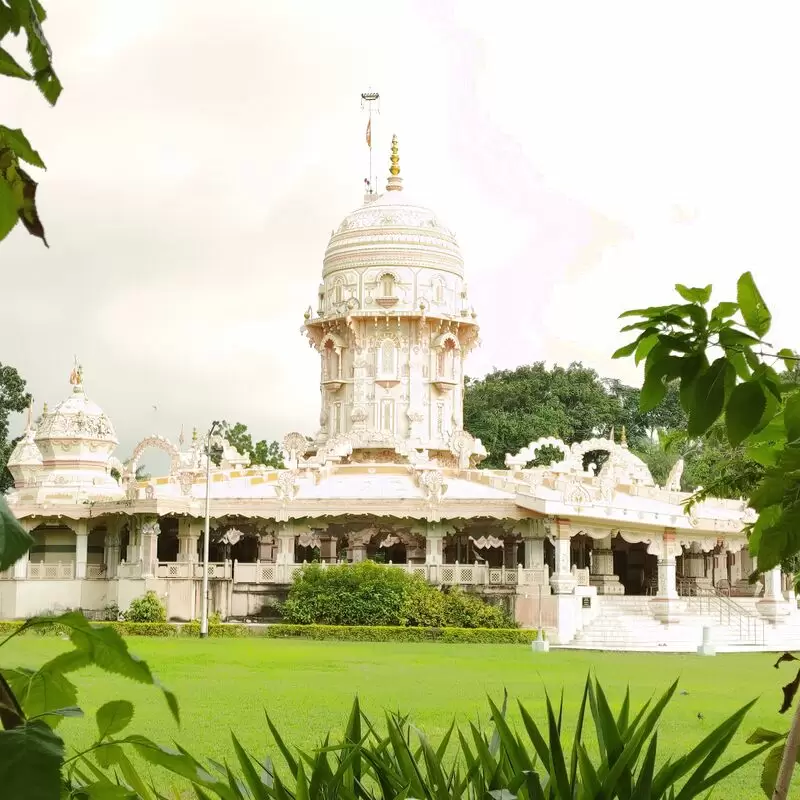 Tapovan Temple Vadodara
Gujarat Refinery Rd, Sector 1, Petrochemical Twp, Undera, Vadodara
7. Ajwa Garden
Ajwa Garden, also known as "Vrindavan Garden", is a green oasis that enchants with its fascinating floral clock, captivating sight of fountains illuminated at night and precise Japanese-style landscaping. The variety of exotic plants in the garden is a nature lover's paradise. In addition, the nearby Ajwa Water Park offers exciting water rides. A trip to the historic "Sardar Patel Planetarium", located just a few kilometers away, will make your visit even more interesting. Here you can marvel at the wonders of the cosmos.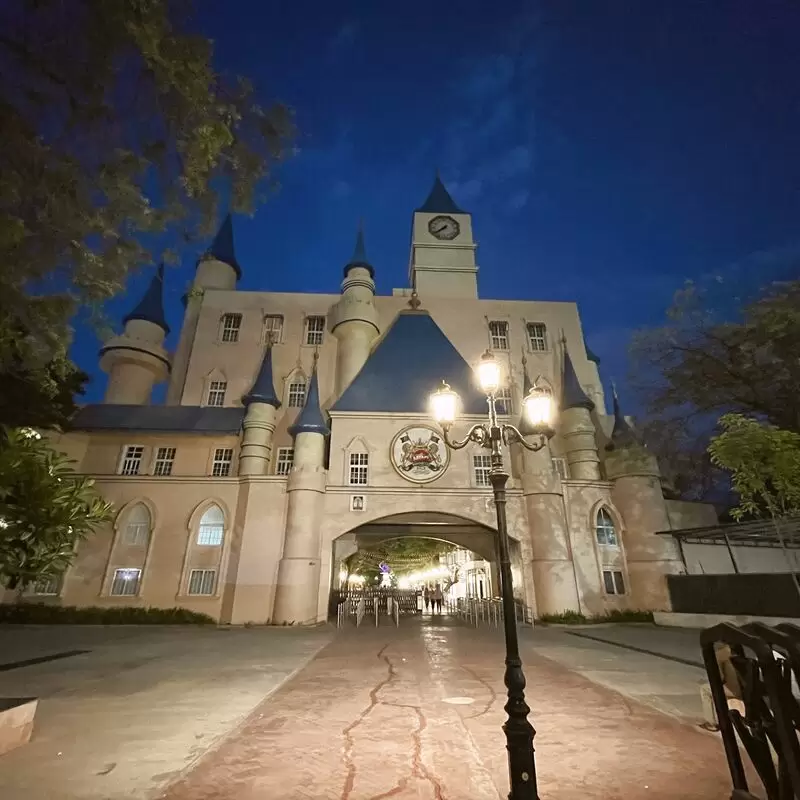 Ajwa Garden
Village, Vadodara
Monday - Sunday: 9:00 AM – 7:00 PM
8. Vidhyadhar Vaav Stepwell at Sevasi
The Vidhyadhar Vaav in Sevasi is a remarkable marvel of ancient architecture that truly symbolizes Indian heritage. Tucked away in the bustling city, the labyrinthine underground stairwell beckons with its enchanting aura and tranquil atmosphere. The intricate carvings on the sandstone walls tell timeless stories of Gujarat's rich history. While you're here, the locals' favorite spot, the tranquil Sevasi Lake, is just a short walk away. From here you can watch spectacular sunsets, which are a great ending to an eventful day.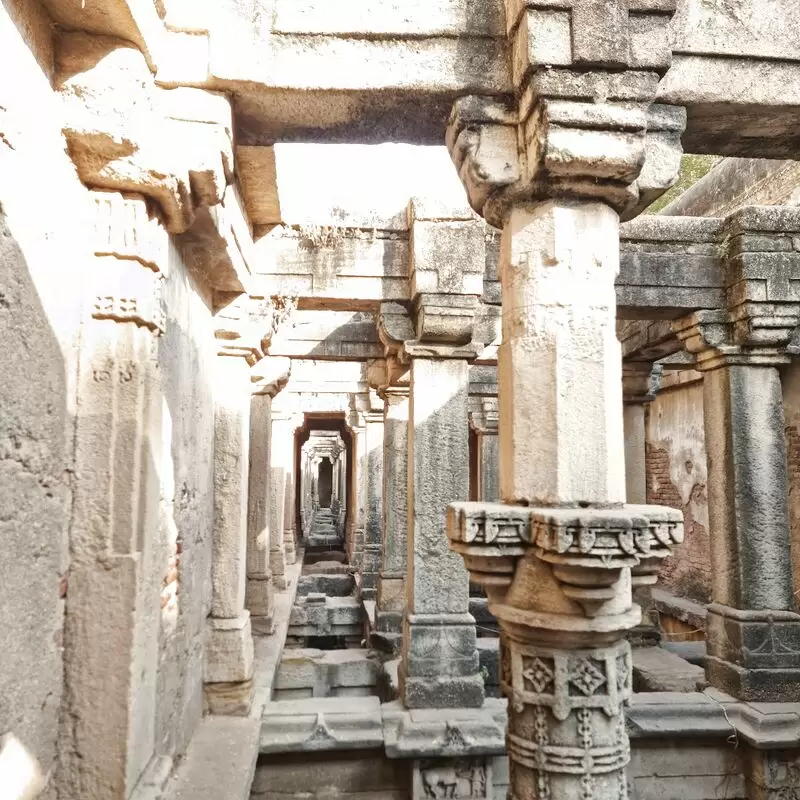 Vidhyadhar Vaav Stepwell at Sevasi
8499+7GM, Sevasi, Vadodara
Monday - Sunday: Open 24 hours
9. EME Temple

Experience the unique synergy of spirituality and architecture in the EME temple in Vadodara. Made entirely of aluminum, it is a rarity in the world. This geometric marvel is not only a place of worship, but also a testament to the extraordinary talent of the Indian Army Corps of Engineers.

A little insider tip: a quiet stroll through the lush, tranquil gardens after sunset is absolutely magical. Don't miss the fascinating Sardar Patel Planetarium nearby, which adds a cosmic dimension to your visit.

EME Temple
NR. EME TEMPLE, 85JR+GPV, Fatehgunj, Vadodara

Monday - Sunday: 9:30 AM – 5:00 PM
10. Mandvi Gate
Let your senses partake in the glorious historical aura of Mandvi Gate, a remarkable architectural marvel in Vadodara. Once a checkpoint of the ancient city, it now stands proudly as a landmark of the city's rich past. Feel the gentle curves of its arched entrances, and admire the beautifully lit gate in the evening hours. Just a stone's throw away, you can find tranquility at the lively Sursagar Lake. For foodies, there are delicious street foods in the area that reflect Vadodara's culinary heritage.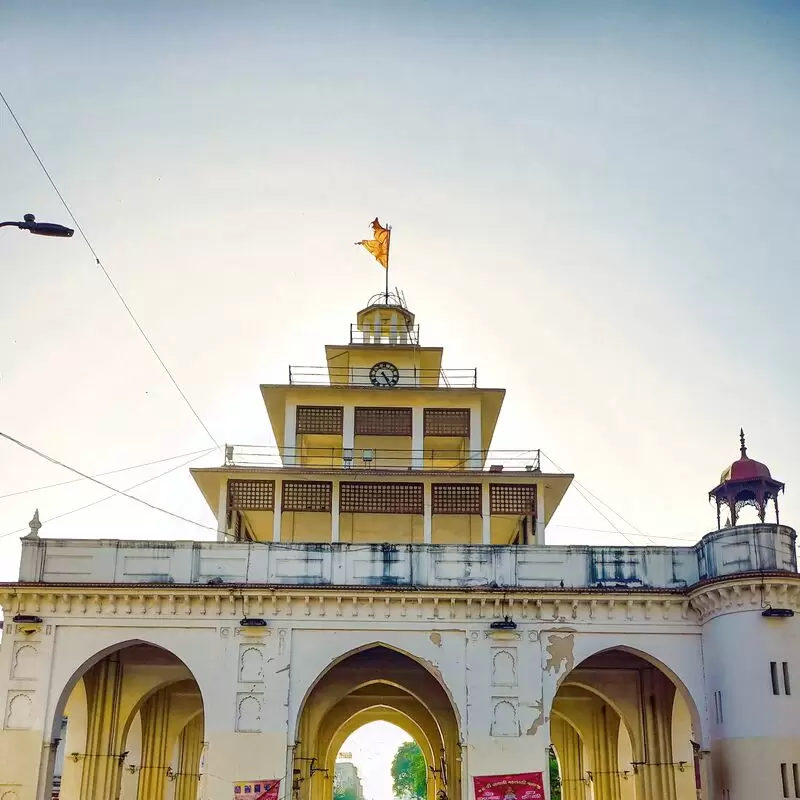 Mandvi Gate
Mandvi Cir, Sulemani Pol, Mandvi, Vadodara
Monday - Sunday: 10:00 AM – 10:00 PM
11. Sur Sagar Lake
Sur Sagar Lake, also known as Chand Talao, is a landmark of Vadodara. It houses a magnificent statue of Lord Shiva that stands 120 feet tall and is an eye-catcher for tourists. Evening walks along the illuminated waterfront are a fascinating experience. Secretly, locals feed the huge fish at the edge of the lake - a hidden treat not to be missed. Nearby, you can visit the famous Sayaji Garden and the Baroda Museum to learn about Vadodara's rich culture.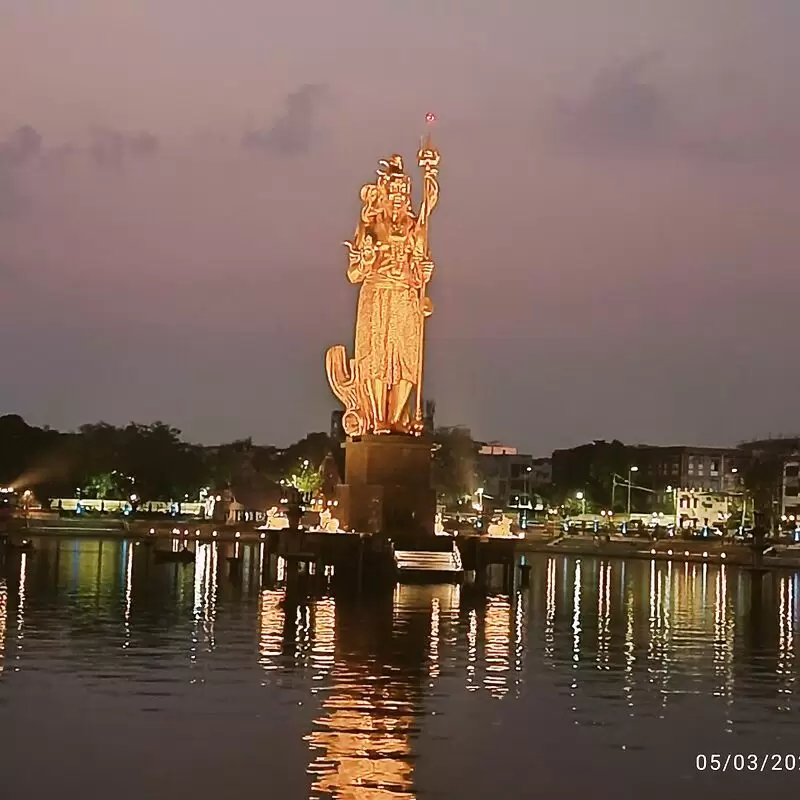 Sur Sagar Lake
Sur Sagar Lake, Vadodara
12. Kirti Mandir
Kirti Mandir, the Temple of Glory, is a must-see when you are in Vadodara. The majestic structure in the style of Gujarati architecture is dedicated to Mahatma Gandhi and his family. Insiders reveal that the urn containing Gandhi's ashes was kept here before being buried. Stroll through the photo gallery and library and be inspired by India's rich history. Just a kilometer away is the grand Baroda Museum, which displays rare artifacts and statues that tell centuries-old stories. Vadodara is more than just a city, it is an experience.
Kirti Mandir
Kirti Mandir, Kothi Rd, Dak Bunglaw, Sayajiganj, Vadodara
Monday - Sunday: 10:00 AM – 6:00 PM
13. Kirti Stambh
A visit to the "Kirti Stambh" in Vadodara is like a trip back in time. This majestic tower, meaning "Tower of Glory", is a symbol of the Maru Gurjara architectural style and has stood elegantly since the Jain period in the 12th century. The stone carvings are incredibly detailed and well worth a close look. A hidden gem is the breathtaking view of the city from the top, which is rewarding for the climb. Nearby attractions include the Champaner-Pavagadh Archaeological Park, a UNESCO World Heritage Site, which offers ancient ruins, temples, and fantastic hiking.
Kirti Stambh
Kirti stambh circle, Palace Rd, Shiyabaug, Kevdabaug, Vadodara
Monday - Sunday: Open 24 hours
14. Nimeta Garden
The Nimeta Garden in Vadodara is an enchanting oasis away from the hustle and bustle of the big city and is home to fascinating plant life that will amaze nature lovers. The garden's unique selling point is the eye-catching dancing fountain, which is illuminated by colorful lights and creates an enchanting atmosphere at dusk! Combine this with a visit to the nearby EME Temple, a modern architectural marvel. End your day with a breathtaking sunset over the mesmerizing musical fountain, a mysterious sight.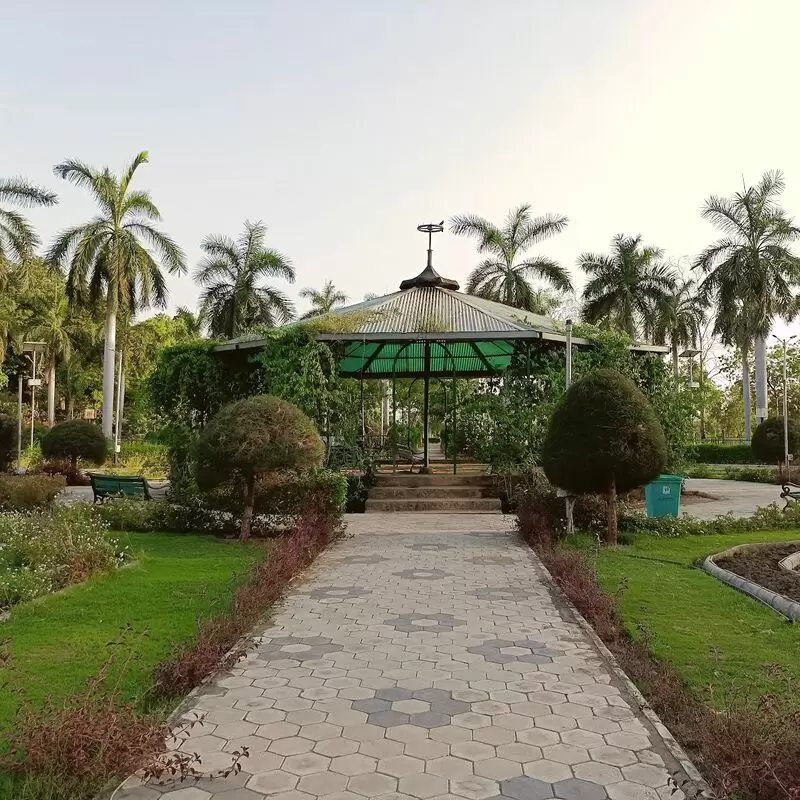 Nimeta Garden
9845+Q64, SH 63, Gujarat 391510
Monday - Sunday: 8:00 AM – 8:00 PM
15. Meer Nawab Shah Saiyed Qutubuddin Tomb
Immerse yourself in the tranquil atmosphere of the Meer Nawab Shah Saiyed Qutubuddin's Tomb, a historical spectacle from the Mughal era. This architectural marvel is full of historical intricacies and Persian influences, offering a glimpse into India's rich past. A little hidden gem is the picturesque garden, which invites you to take a leisurely stroll. Just a stone's throw away is the famous Nazmi Building, an exquisite symbol of Indian-Saracenic architecture that will add charm to your historical discovery tour.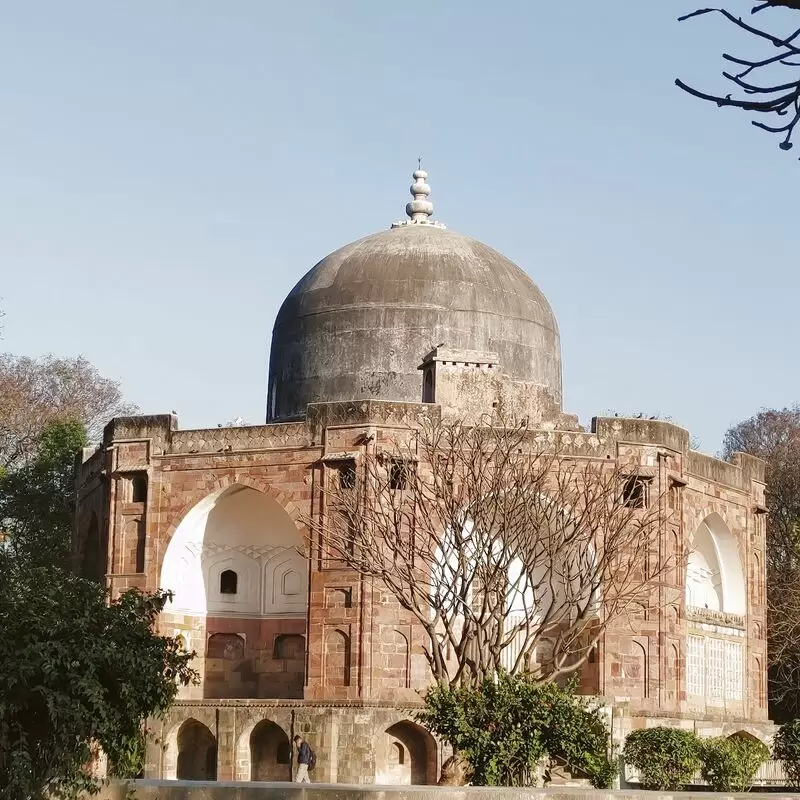 Meer Nawab Shah Saiyed Qutubuddin Tomb
76H4+4QG, ONGC, Danteshwar, Vadodara
Monday - Sunday: 10:00 AM – 7:00 PM
Best Time to Visit Vadodara
The best time to visit Vadodara, India, is during the winter months, from October to March. The climate is pleasant and favorable for sightseeing, exploring architectural wonders and participating in cultural festivals such as Navratri and Uttarayan.
Annual Weather in Vadodara
Vadodara 3-Day Forecast
Thu, 21 September
Night
81 °F
27 °C
0%
Morning
78 °F
25 °C
0%
Afternoon
90 °F
32 °C
65%
Evening
88 °F
31 °C
0%
Fri, 22 September
Night
82 °F
28 °C
0%
Morning
80 °F
27 °C
0%
Afternoon
87 °F
31 °C
63%
Evening
86 °F
30 °C
73%
Sat, 23 September
Night
80 °F
27 °C
0%
Morning
78 °F
25 °C
62%
Afternoon
87 °F
31 °C
81%
Evening
84 °F
29 °C
0%
Questions & Answers

What is the local language of Vadodara?

Vadodara is located in the Indian state of Gujarat and has Gujarati as its official and main language. It is spoken and understood by the majority of the population. This language has its roots in Sanskrit and can be written in the Gujarati script, which is a variant of the Devanagari script. In addition to Gujarati, the people of Vadodara are also fluent in Hindi and English to cater to national and international visitors.

Is it safe to travel around Vadodara at night?

Yes, in general Vadodara is considered a safe city to be out and about at night. The city has a low crime rate and is well policed. However, as everywhere, it is recommended to exercise the usual vigilance, especially in less crowded areas. It is advisable to use reputable transportation and avoid isolated areas, especially if you are alone or unfamiliar with the city. It is also an advantage to have the telephone numbers of emergency services handy.

What kind of food is popular in Vadodara?

Vadodara, also known as Baroda, has a rich culinary heritage. One of the most popular dishes is the savory and spicy snack sev usal, which consists of dried green peas cooked with spices and topped with sev. Khakhra, a crispy flatbread, and fafda-jalebi, a sweet-salty combination, are also popular staples. Undhiyu, a mixed vegetable dish, and ghari, a sweet delicacy, are also popular, especially on festive occasions. Overall, the cuisine of Vadodara reflects the flavors and diversity of Gujarati cuisine.

What is the preferred mode of transport in Vadodara?

As a guide, I would recommend auto-rickshaws, cabs and local buses for getting around Vadodara. Auto rickshaws are the most common and cheapest mode of transportation, ideal for short distances. Cabs are also available, though they are more expensive. The city also has an extensive local bus network, operated by the Vadodara Municipal Corporation, with routes covering most parts of the city.

Can I get guided tours in Vadodara?

Yes, you can. Vadodara offers a range of guided tours that allow visitors to explore the city's rich history and vibrant culture. Experts will guide you to popular landmarks such as the magnificent Laxmi Vilas Palace, the Kirti Mandir and the rich exhibits of the Vadodara Museum. For nature lovers, the Sayaji Garden Tour is a must. Various agencies offer flexible itineraries to suit different interests and schedules. Some even offer culinary tours where you can enjoy the diverse culinary delights of the region.

How economical is Vadodara for travellers?

Vadodara in Gujarat, India, is quite affordable for travelers. With an abundance of budget and mid-range accommodation options, inexpensive but delicious local cuisine, cheap public transportation, and a variety of free or very cheap sightseeing options, it won't break your budget. Vadodara has several historical sites, parks and museums whose entrance fees are affordable, so you can experience the city's rich culture and natural beauty without spending a fortune. The city is suitable for both luxury lovers and travelers on a budget.

Is Vadodara a vegetarian-friendly city?

Yes, Vadodara, also known as Baroda, is a very vegetarian-friendly city. It is part of the state of Gujarat, where the majority of the population follows Jainism or Hinduism and eats a vegetarian diet. There are numerous food streets and upscale restaurants in the city that offer a wide variety of delicious vegetarian dishes, including popular Gujarati snacks, traditional thalis, street food and sweet delicacies. However, non-vegetarian options are also available in large numbers.

What are the customs and traditions of Vadodara?

Vadodara, a cultural center in the Indian state of Gujarat, is known for its rich customs and traditions. The locals, mainly Guajarati, follow traditions deeply rooted in Hinduism. They celebrate many exuberant festivals, the most famous of which is Navratri, which includes dance styles such as Garba and Dandiya Raas. As true foodies, traditional Gujarati cuisine is a highlight of the community. Wearing colorful traditional clothing is also common. While the people of Vadodara respect the age-old customs, they are also familiar with the modern urban lifestyle.

Are there any local codes of conduct to understand?

As a visitor to Vadodara, it is important to respect local traditions and norms. Dress modestly, especially in religious places. Remove your shoes before entering a person's home or a religious site. Avoid public displays of affection, as this is considered indecent behavior. Always ask permission before taking photos, especially at religious sites or of people. Tipping is common in restaurants, hotels and for services. Also, always treat elders with respect, as this is an essential part of Indian culture.

How can I immerse myself in the local culture?

Immerse yourself in the vibrant culture of Vadodara by interacting with locals, sampling traditional Gujarati cuisine and participating in local festivals like Navratri. Visit various religious sites such as the EME Temple, Kirti Mandir or Jama Masjid. Immerse yourself in the textile tradition with Bandhni Tie and Dye, silk weaving or Kutch embroidery. Visit Maharaja Fateh Singh Museum, Baroda Museum & Gallery or Ajwa Nimeta Garden Library to boost your intellect. And don't miss the evening aartis at the famous Sursagar Lake.

Is tap water safe to drink in Vadodara?

Although the Vadodara Municipality provides treated water, tourists are generally advised not to drink tap water directly. This is mainly due to the different water treatment processes, which can cause stomach upsets for unaccustomed visitors. Instead, bottled water is readily available and recommended for drinking. Many restaurants and hotels also offer filtered or reverse osmosis purified water. It is important that visitors stay hydrated, especially during the summer months, but also that they do so safely.

How reliable is public transport in Vadodara?

Public transport in Vadodara is generally reliable and efficient. The city bus runs frequent routes through the city, while auto-rickshaws provide convenient short-distance travel. However, congestion or delays may occur during rush hours. Trains and long-distance buses provide connections to other Indian cities. Hiring a cab or using ride-sharing services such as Ola or Uber can also be convenient. Language can be an obstacle for tourists who do not speak Gujarati or Hindi, so it is advisable to have a translation app handy.

Can I find English speaking locals in Vadodara?

Yes, Vadodara has a diverse population with people who speak different languages, including English. Many people speak English as it is a compulsory subject in schools and most offices use English as a means of communication. Especially in the tourist-oriented areas, you will find locals, guides and shopkeepers who can help you in English.

Does Vadodara have a robust healthcare system?

Vadodara is known for its excellent healthcare system and has a number of renowned public and private hospitals offering quality medical services. The city has advanced medical facilities and renowned doctors. In addition to general healthcare, the city is also known for specialized fields such as cardiology, orthopedics and neurology. The hospitals, equipped with the latest medical technology, ensure top-notch treatment for both residents and tourists. Thus, Vadodara's healthcare system is very robust and efficient.

Are there any hiking or biking trails in Vadodara?

Vadodara, India, may not be known for its hiking and biking trails, but there are a handful of places to indulge in these activities. Champaner-Pavagadh Archaeological Park, about an hour from the city, offers hiking trails amid historic monuments. Cyclists can explore the trails in Sayaji Garden or take a ride around Sursagar Lake for a peaceful experience. Just outside of Vadodara, the forest area near Dabhoi also offers a few mildly challenging trails.

How is the nightlife in Vadodara?

While Vadodara is primarily a cultural center, it also offers a relatively little known but inviting nightlife. There are numerous lounges and bars that offer the right ambience for every taste. Most of them serve exquisite local and international cuisine accompanied by quality drinks. Nightlife in Vadodara is typically relaxed and is perfect for unwinding after a day of sightseeing. The city offers safety at night and is therefore suitable for all types of travelers.

Are credit cards widely accepted in Vadodara?

Yes, credit cards are widely accepted in Vadadara, especially in hotels, shopping malls and larger restaurants. However, it is advisable to carry some cash for transactions in small stores, street markets, or for transportation costs such as rickshaws and cabs, which usually do not accept credit cards. ATMs are readily available, but it is better to be prepared for smooth and convenient shopping.

What is the currency and can I exchange dollars in Vadodara?

The official currency of Vadodara, India is the Indian Rupee (INR). Foreign currencies, including the US dollar, can of course be exchanged in Vadodara. The city has several banks and exchange offices where this service is offered. It is also possible at the airport. It is strongly recommended to exchange money in authorized centers to ensure the best rates and safe transactions.

Is there a reliable taxi service in Vadodara?

Yes, Vadodara offers several reliable cab services for tourists and locals. The city has a range of cab options from regular cabs to luxury vehicles. Ola Cabs and Uber are very popular for their cleanliness, efficiency and competitive prices. Besides the apps, you can also hire cabs from local cab service providers who are also known for their reliability and fast service. Be sure to read the ratings and reviews before choosing a service.

Is there any local etiquette I should be aware of in Vadodara?

In Vadodara, it is customary to greet each other with a "Namaste", i.e. to put your hands together and bow your head slightly. It is important to dress modestly, especially at religious sites. Always remove your shoes before entering a person's home or a place of worship. Using your left hand to eat or hand over objects is considered unclean; therefore, use your right hand whenever possible. Finally, public displays of affection are generally frowned upon, so try to be discreet.

How safe is the street food in Vadodara?

Street food in Vadodara, as in most parts of India, can be a delicious gastronomic experience. However, it is important to exercise caution. The overall cleanliness of a food stall and the way the food is prepared can give clues as to its safety. It is safer to eat at popular and crowded stalls and to avoid raw foods. Travelers with sensitive stomachs should still stick to familiar restaurants or home-cooked meals. Overall, while risk can never be completely eliminated, prudent choices can help make the culinary adventure more enjoyable.

Can I wear western clothes in Vadodara?

Yes, you can wear Western clothes in Vadodara, as it is a cosmopolitan city that keeps up with modern times. However, modesty is generally appreciated, so overly revealing clothing could attract unwanted attention. Light cotton clothing is advisable given the climate. Although Western dress is widely accepted, wearing local clothing such as kurtas and saris can contribute to a holistic cultural experience. Respect the dress code of religious sites, which often require covering the head or removing shoes.

What is a must-try local dish in Vadodara?

Vadodara is known as the cultural capital of Gujarat and welcomes traditional Gujarati cuisine with open arms. A must-try here is the "Undhiyu," a mixed vegetable specialty in a spicy sauce. It is a one pot winter specialty packed with root vegetables and regional spices. It is cooked using the "dum" technique, which provides a rich and aromatic flavor. The dish is typically served with puris and represents the authentic taste of Vadodara's gastronomy. A culinary experience not to be missed when visiting Vadodara.

Is it easy to get a local SIM card in Vadodara?

Yes, getting a local SIM card in Vadadara is a simple process. You can buy a SIM card from numerous telecommunication stores in the city. Companies like Airtel, Jio and Vodafone Idea are the main providers. However, you will need to provide identification, such as your passport and a passport photo. Registration and activation can take up to 24 hours, so plan accordingly.

Are there any parts of Vadodara I should avoid?

As a guide, I would suggest that while Vadodara is generally a safe city, caution should be exercised in busy areas and markets, especially at night. As in any large city, minor crimes such as pickpocketing may occur. Respect local customs and culture to avoid confrontations. It is always advisable to be alert, avoid unlit alleys and less crowded places during the late night hours. Always have local emergency phone numbers handy.

Feedback

I hope you found this article informative and helpful. I'm eager to improve the content and make it even more valuable for you. If you have any feedback or suggestions, I would love to hear from you.

Do you have any tips or hidden gems that you think should be added to the list? Are there any areas that you feel could use more explanation or clarification?

Your input is greatly appreciated and will help us to continue providing high-quality content that meets your needs and interests. Please feel free to share your thoughts.