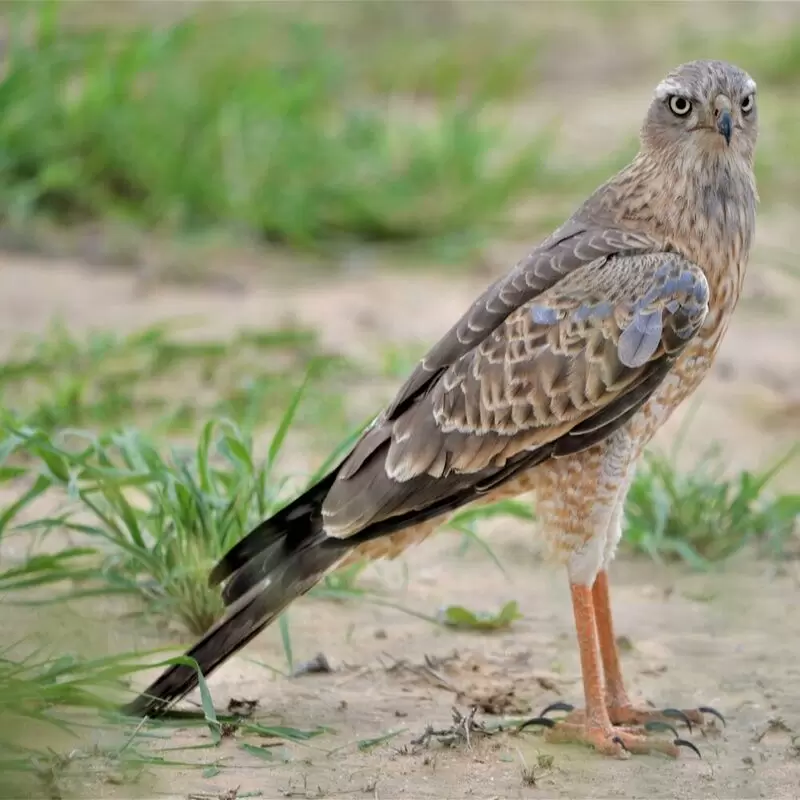 1. Sakkie se Arkie
Immerse yourself in the tranquil atmosphere of the Orange River on the legendary "Sakkie se Arkie". The scenic boat safari offers fascinating views of the sunset, complemented by a refreshing sundowner. Marvel at the bird species and, with a little luck, discover the river's enchanting wildlife. You will gain insight into local folklore, making the tour an authentic experience. Just a short drive away, Augrabies Falls National Park awaits, offering a true adventure with its thundering waterfalls and diverse wildlife. These experiences that reveal the true essence of Upington are not to be missed!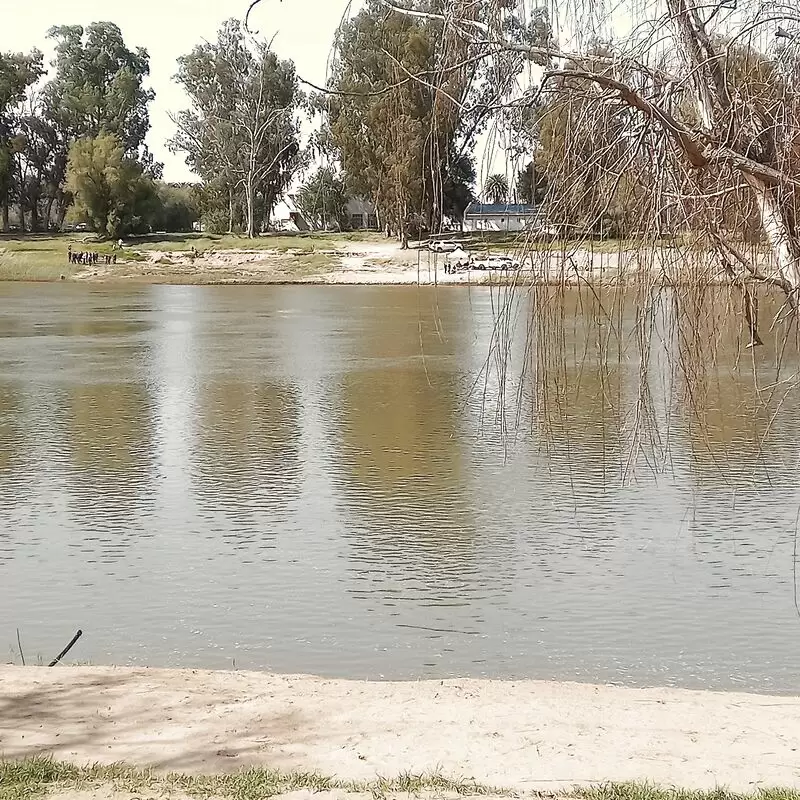 Sakkie se Arkie
Park St, Upington, 8801
2. River Place Manor

Embark on an exquisite journey to River Place Manor in Upington, where sprawling vineyards kiss the majestic Orange River. The award-winning accommodation offers tranquility, breathtaking views and abundant birdlife. Indulge in famous Kalahari lamb cuisine and sample local wines. For the adventurous, Augrabies Falls National Park, a thundering spectacle, is just an hour away.

An insider tip: don't miss the stunning sunsets that transform the river into a golden stream. The perfect mix of relaxation and exploration awaits you here!

River Place Manor
36 a Steenbok Ave, Middelpos, Upington

Monday - Sunday: Open 24 hours
3. Desert Palace Hotel & Casino Resort
Set amidst the rugged landscape of Upington, Desert Palace Hotel & Casino Resort offers a surreal blend of luxury, adventure and the authentic charm of Africa. An oasis of pleasure with a world-class casino offering thrilling escapades for all. Plus there's an abundance of gastronomic offerings, luxurious rooms and magnificent views of the Kalahari. Pro-tip: Don't miss the spectacular sundowners! Nearby, the enchanting Augrabies Falls beckon for a day trip. No visit to Upington is complete without a stop at this opulent desert gem.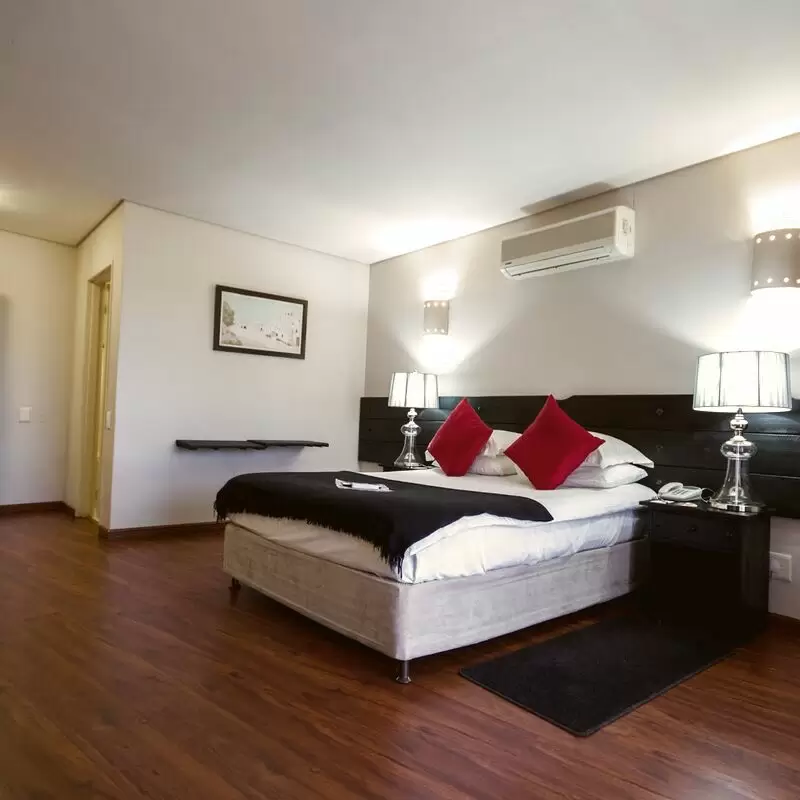 Desert Palace Hotel & Casino Resort
1 Olifantshoek Road, Keidebees, Upington
Monday - Saturday: 10:00 AM – 2:00 AM
Sunday: 10:00 AM – 11:00 PM
4. Belurana River Manor

Belurana River Manor is a must see in Upington! Offering stunning views of the Orange River and abundant birdlife, this charming guesthouse is a tranquil retreat in the middle of the arid Kalahari. The atmospheric rooms are beautifully furnished and reflect African warmth.

An insider tip: enjoy the unforgettable sunset boat ride. Nearby, you can visit the Kalahari Orange Museum, which showcases the rich history and culture of the region. An enriching experience awaits you at Belurana River Manor.

Belurana River Manor
2B Schroder St, Upington, 8801

Monday - Sunday: 2:00 – 6:00 PM
5. Upington Le Must Residence Guest House Hotel B&B
Enrich your stay in Upington with a stay at Le Must Residence. Enjoy the elegance of this riverside mansion, known for its beautiful interiors furnished with African antiques and its lush gardens. Culinary connoisseurs will be delighted by the impressive breakfast buffet and delicious homemade jams. The views of the Orange River are mesmerizing, inviting sunset strolls along the riverbank. Just an hour away is the remarkable Augrabies Falls National Park - perfect for a breathtaking day trip.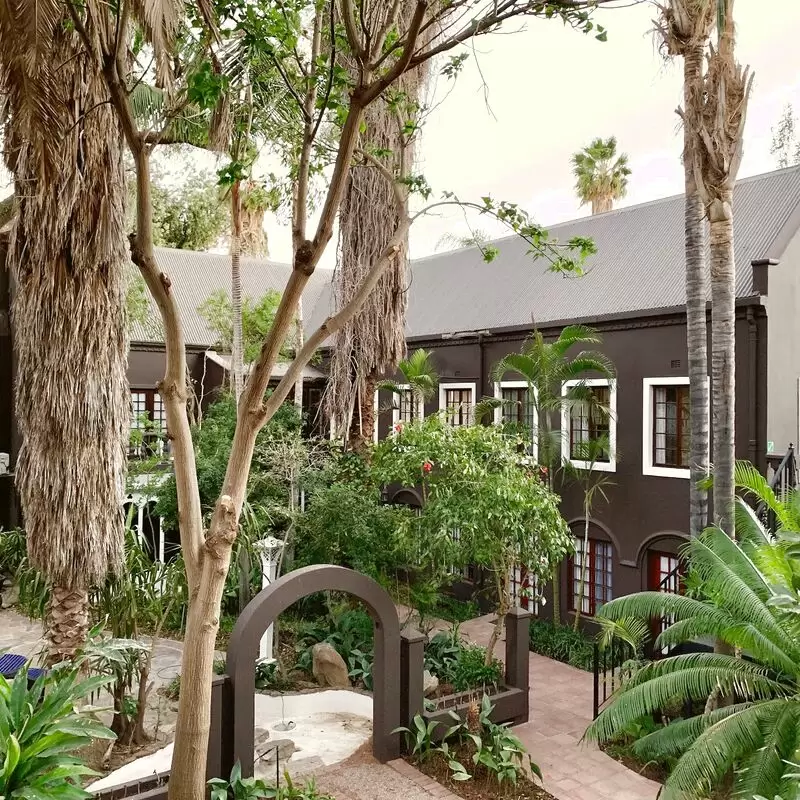 Upington Le Must Residence Guest House Hotel B&B
14 Budler St, Upington, 8800
Monday - Sunday: 7:00 AM – 7:00 PM
6. River Bank Lodge
Situated on the banks of the Orange River, River Bank Lodge is a tranquil oasis and a magical change from the arid Kalahari desert landscape. Experience rustic charm in comfortable accommodations with stunning river views as a bonus. Observe a variety of bird species or enjoy a leisurely river cruise. Exceptional wine tasting awaits at nearby Orange River Wine Cellars, the largest wine cooperative in Africa. For the adventurous, Augrabies Falls, a natural wonder, is just an hour away.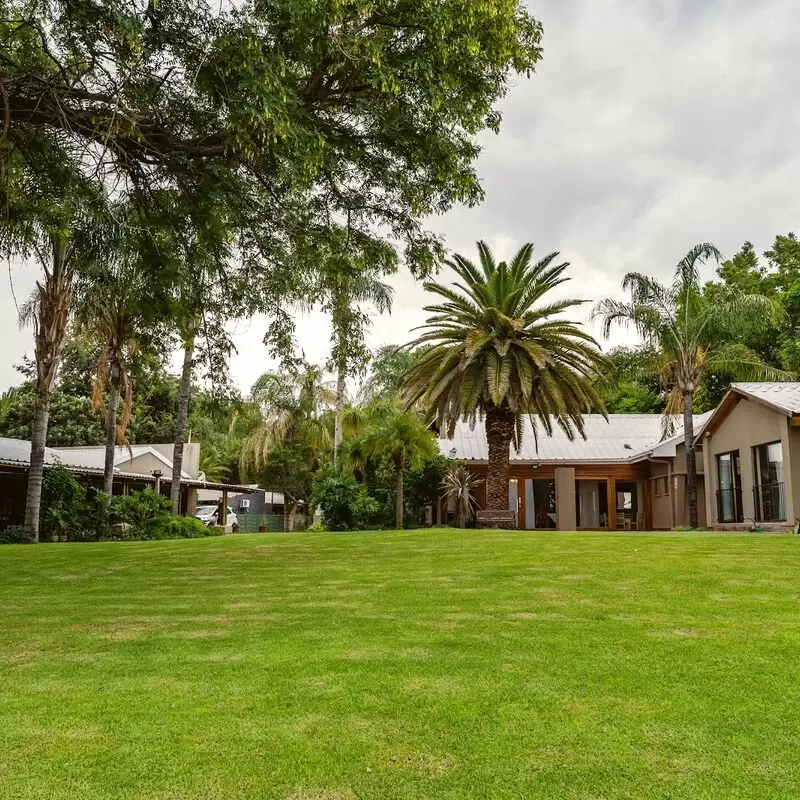 River Bank Lodge
20 Budler St, Upington, 8800
7. Kalahari Mall
Experience a mix of shopping fun and regional charm at Kalahari Mall in Upington. It's no ordinary mall - it's the heart of the city. The mall is an eclectic mix of more than 70 stores offering everything from local artwork to fashionable clothing, and a variety of restaurants offering a true South African culinary experience. Just a stone's throw away, you can also visit the majestic Orange River, which adds a special touch to your shopping trip!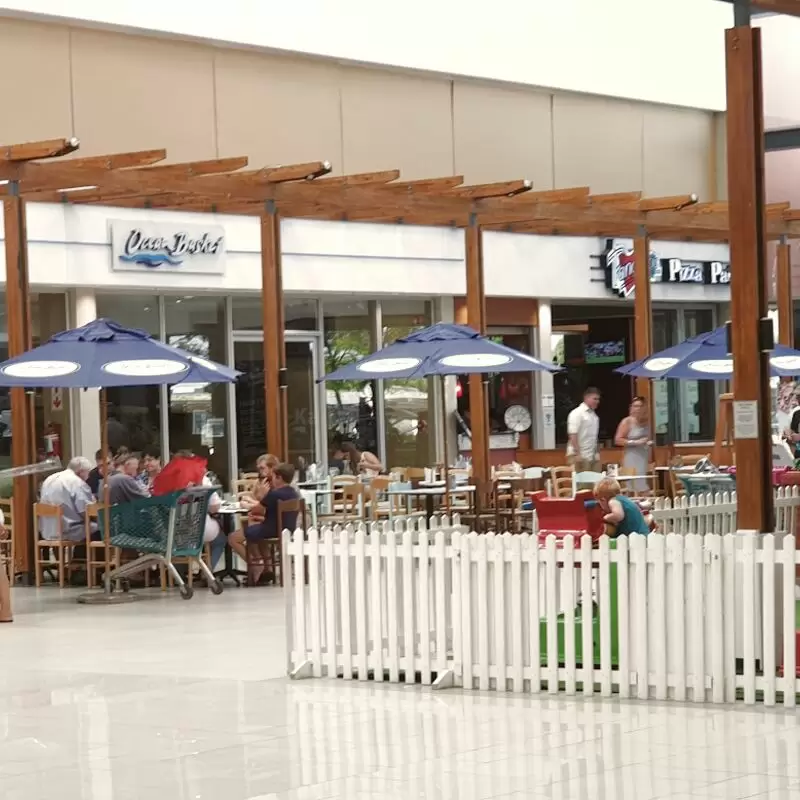 Kalahari Mall
25 Van Riebeeck St, Upington, 8801
Monday - Thursday: 9:00 AM – 6:00 PM
Friday: 9:00 AM – 7:00 PM
Saturday: 9:00 AM – 5:00 PM
Sunday: 9:00 AM – 2:00 PM
8. Moonriver Guest House

Visit the picturesque Moonriver Guest House in Upington for a tranquil retreat. This charming spot on the banks of the Orange River offers unparalleled sunset views, lush private gardens, and fascinating birdlife.

Indulge in local delicacies at the gourmet restaurant or take an eco-friendly river cruise - an insider tip. Just a short drive away, you can explore Augrabies Falls National Park, a spectacular natural wonder, making this combination a perfect escape into nature.

Moonriver Guest House
8801, 8 Murray Ave, Upington, 8801

Monday - Sunday: Open 24 hours
9. The Maxton Boutique Hotel Upington
Maxton Boutique Hotel Upington is an oasis of tranquility right in the heart of Upington. It is not just a hotel, but an experience that offers luxury and comfort in abundance. The Maxton is unique in its design, blending modern sophistication with local culture. From the al fresco dining options, to the serene pool, to the private rooms with en-suite bathrooms, your stay will be extra special. Just a stone's throw away is Orange River Cellar, the largest winery in South Africa, making it a dream destination for wine lovers.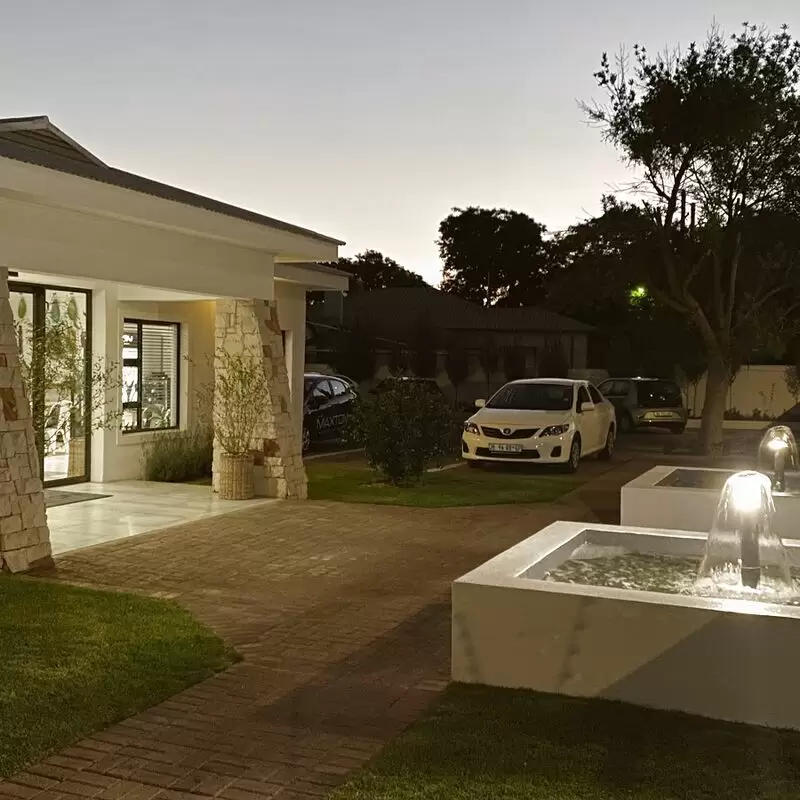 The Maxton Boutique Hotel Upington
122 Schroder St, Middelpos, Upington
10. Alucarni Guest House
Visit Alucarni Guest House, a hidden gem in the heart of Upington, South Africa, and enjoy comfort and hospitality at its best. Wake up to the soothing sounds of local birdlife and enjoy your home-cooked breakfast in the shaded garden. This place offers a true local experience, as each room has an authentic, homey touch. Just a short walk away is the tranquil Orange River for an evening stroll. And don't miss a visit to the nearby Kalahari Orange Museum, combining culture with relaxation.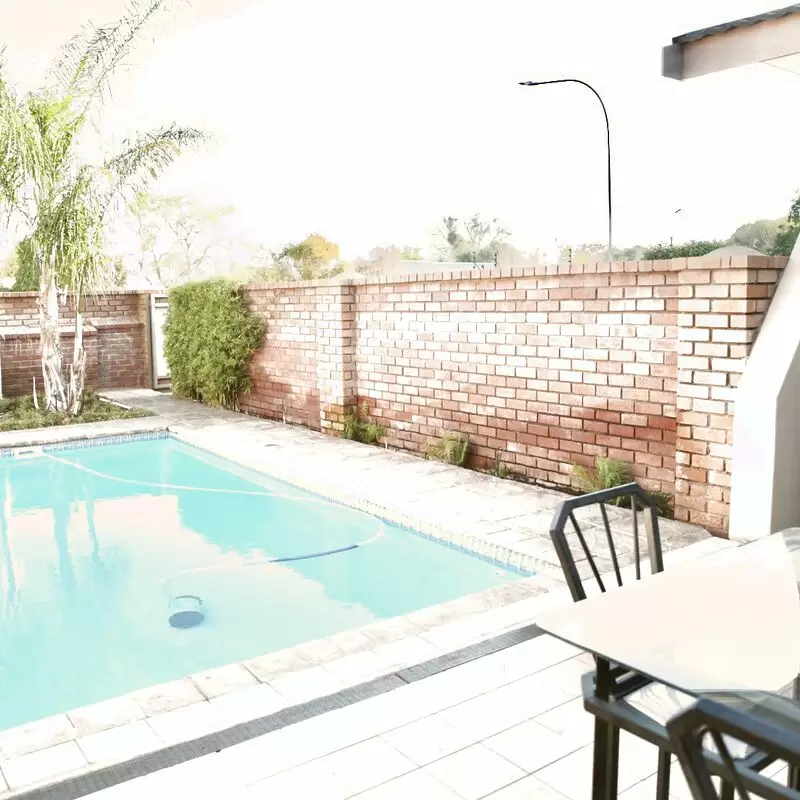 Alucarni Guest House
71 Rondom St, Blydeville, Upington
11. Bezalel Wine & Brandy Estate
Visit Bezalel Wine & Brandy Estate, a hidden treasure in the heart of Upington. This boutique winery not only produces delicious, locally made wines, but also offers a unique, award-winning brandy. The winery's location is exquisite and offers picturesque views. The peaceful picnic area in a meadow next to a duck pond is an added treat. In a rustic cellar dating back to 1929, you can sample the house specialties. Just around the corner, Upington's Desert Lyceum Theater offers an endearing cultural performance to end your day on an elegant note.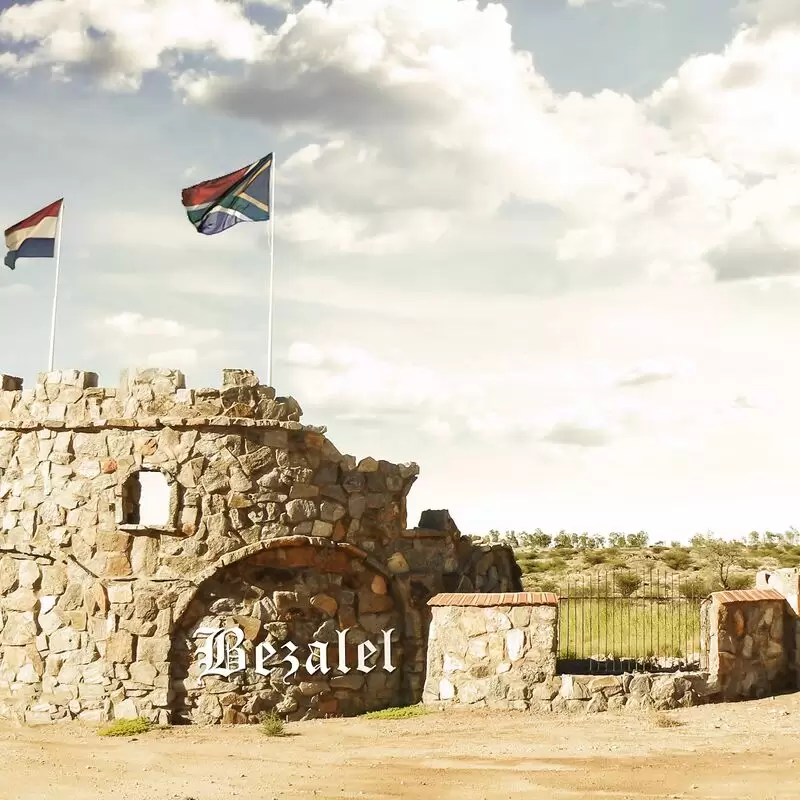 Bezalel Wine & Brandy Estate
N14, Dyasons Klip Settlement
Monday - Friday: 8:00 AM – 5:00 PM
Saturday: 9:00 AM – 5:00 PM
Sunday: Closed
12. Klijntje
A visit to the "Klijntje" in Upington is a delightful window into South African history, as the extensive collection of miniatures depicts life in the 19th century. Your attention to detail will be richly rewarded as you discover lifelike depictions of schoolrooms, stores and homes. Just minutes from the "Klijntje" is the meticulously maintained Kalahari Oranje Museum - another fascinating exploration of local history. Adventure seekers will enjoy the proximity to the Green Kalahari, an outdoor enthusiast's paradise.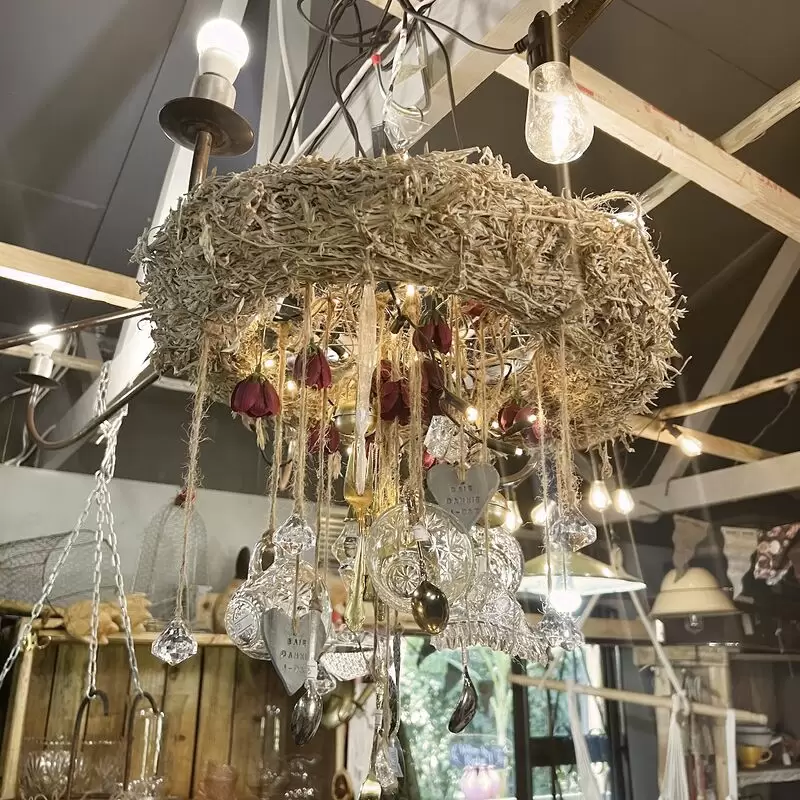 Klijntje
2 Slanghals Way, Keidebees, Upington
Monday - Friday: 10:00 AM – 5:30 PM
Wednesday: 10:00 AM – 5:30 AM
Saturday: 10:00 AM – 12:00 PM
Sunday: Closed
13. Victoria Manor Upington
Immerse yourself in a piece of Upington history at "Victoria Manor - Upington". This grand structure, over a century old, is flanked by exotic palms and cacti and reflects the richness of South African heritage. For book lovers, the mansion houses a charming library with rare collections. The cozy English-style pub is an inviting place to spend the evening. Nearby is the Kalahari Oranje Museum, which tells the fascinating story of the arid Kalahari Desert.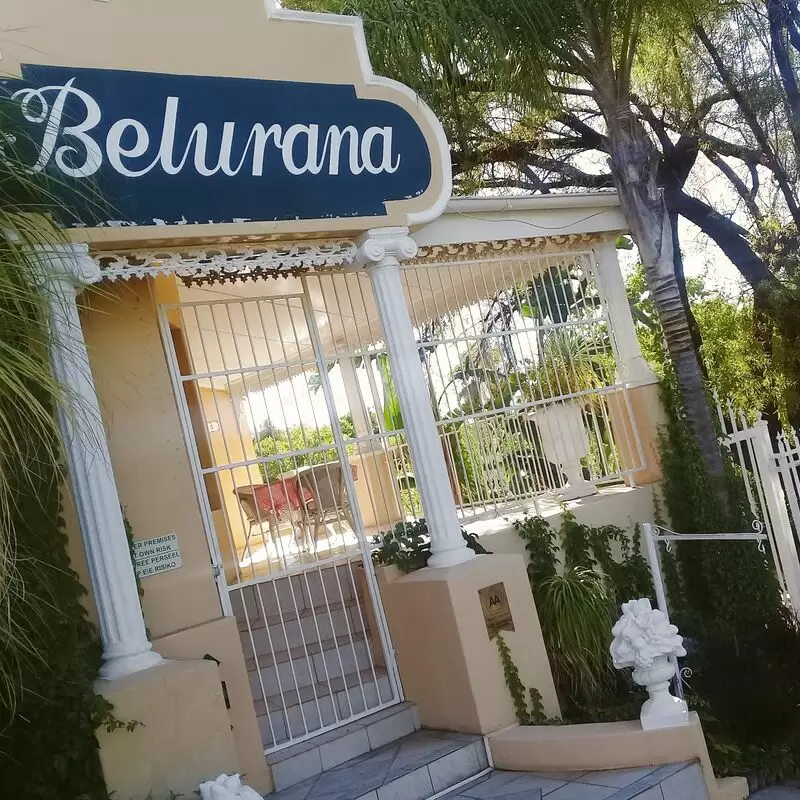 Victoria Manor Upington
25 Coetzee St, Die Rand, Upington
Monday - Sunday: 3:00 – 6:00 PM
14. Dreamstay Upington
DreamStay Upington is an enchanting retreat that will leave you spellbound. Unique in its charm, comfort meets style here, with sun-drenched rooms, refined furnishings and first-class service. Enjoy breathtaking views of the Orange River while enjoying a delicious breakfast. Nearby Bezalel Wine & Brandy Estate offers tastings of local varietals and spirits, accompanied by the hotel's own biltong - a bonus for wine lovers. Augrabies Falls, a breathtaking natural wonder, is also just an hour's drive away.
Dreamstay Upington
28 Wildebees St, Middelpos, Upington
Monday - Sunday: Open 24 hours
15. The Cape Lodge

A visit to "The Cape Lodge" in Upington is your ticket to ultimate luxury and relaxation against the backdrop of the breathtaking Kalahari Desert landscape. This oasis offers an intimate atmosphere, luxurious accommodations and first-class service.

An insider tip: don't miss the exclusive wine tastings showcasing the finest South African wines. Nearby, the Kalahari Oranje Museum and the famous Augrabies Falls National Park offer a glimpse into the region's rich history and spectacular natural wonders.

The Cape Lodge
18 Pelikaan Way, Keidebees, Upington

Monday - Sunday: Open 24 hours
Best Time to Visit Upington
The best time to visit Upington, South Africa, is between April and September, during the cooler months. The pleasant temperatures during this time provide comfortable conditions for sightseeing and outdoor activities, such as visiting Augrabies Falls National Park or exploring the local vineyards.
Annual Weather in Upington
Upington 3-Day Forecast
Sat, 23 September
Night
63 °F
17 °C
0%
Morning
61 °F
16 °C
0%
Afternoon
88 °F
31 °C
0%
Evening
82 °F
28 °C
0%
Sun, 24 September
Night
63 °F
17 °C
0%
Morning
66 °F
19 °C
83%
Afternoon
75 °F
24 °C
80%
Evening
62 °F
17 °C
0%
Mon, 25 September
Night
49 °F
9 °C
0%
Morning
47 °F
8 °C
0%
Afternoon
53 °F
12 °C
71%
Evening
54 °F
12 °C
75%
Questions & Answers

What local customs should I be aware of?

When traveling in Upington, South Africa, be sure to follow local customs. Common greetings include a handshake, a smile and eye contact, followed by a casual conversation about how you are doing. Being friendly and respectful to everyone is key. Don't take photos of people without asking permission. Finally, South Africans value time spent with family and friends and often gather for a braai (barbecue). Participating or showing interest in this communal food culture can enrich your contacts with the locals.

Are there any local foods I should try in Upington?

While in Upington, be sure to try biltong, a tasty South African dried meat. Boerewors, a type of sausage popular at barbecues, is also a delicious local dish. Don't forget to try malva pudding, a sweet, spongy apricot dessert often served with custard or ice cream. Finally, be sure to try some of the fine local wines from the vineyards around Upington.

Is English widely spoken in Upington?

Yes, English is widely spoken in Upington, South Africa. Although it is a multilingual area where Afrikaans is the predominant language, you will find that a large proportion of people are also fluent in English. Staff at tourist establishments such as hotels, restaurants and tourist attractions generally speak English well, making communication easier for English-speaking tourists. Travelers can therefore expect to find their way around and explore the city without any major language barriers.

Is it easy to navigate around the city?

Yes, navigating Upington, South Africa is quite easy. The city is well organized, and most local attractions are easy to reach. You can take cabs or hire cars to get around. Maps and signage are widely available. Centrally located places like the Kalahari Mall or the Orange River Wine Cellars are good landmarks. Locals are also generally helpful if you need directions. However, a GPS or map app on your phone will help you find your way.

How reliable is public transportation in Upington?

Public transportation in Upington, South Africa, is quite reliable. The city has a regular bus and cab system that runs throughout the day, providing locals and tourists with an inexpensive way to get around. However, the exact schedule can sometimes vary and may not cover all tourist destinations. While public transportation is generally reliable for short distances, consider a private cab or rental car for more convenience.

Are there any health precautions I should take before traveling?

Before traveling to Upington, South Africa, make sure you are up to date on routine immunizations such as MMR, diphtheria-tetanus-pertussis, varicella, polio and the annual flu shot. Other recommended vaccinations for South Africa include Hepatitis A and Typhoid to protect against contaminated food or water. If you plan to visit a game park, you should also get a rabies vaccination. Antimalarial medication is not required for Upington, but ask your health care provider for individualized advice.

How hospitable are the locals?

The locals in Upington, South Africa, are known for their warm hospitality. They are always ready to help their visitors whenever they need assistance, be it directions or recommendations for local cuisine or tourist destinations. They are friendly, down-to-earth and proud of their cultural heritage. By talking to the locals, you are sure to gain a better understanding of their vibrant culture and way of life.

What currency is used and where can I change money?

The official currency in Upington, South Africa, is the South African Rand (ZAR). Money can be exchanged at banks, post offices or authorized money exchange offices in the city. Some larger hotels also offer this service. It is advisable to carry some local currency for small items, although credit cards are accepted in most places.

Can I drink tap water in Upington?

Yes, tap water in Upington, South Africa, is generally considered safe to drink. The local government ensures that the water is treated sufficiently to meet safety standards. However, it is important to remember that water quality can fluctuate, especially in rural areas or during floods. So if you have a sensitive stomach or are unsure about the water, stick to bottled water, especially for children and the elderly.

Are credit cards widely accepted?

Yes, credit cards are widely accepted in Upington, South Africa. Most hotels, restaurants and stores accept international credit cards such as Visa and Mastercard. There are also ATMs throughout the city where you can withdraw local currency. However, it is advisable to carry some cash for local markets or smaller stores as they may not have credit cards. Always inform your bank of your travel plans to ensure uninterrupted service.

Is there a dress code I should respect?

Although there is no formal dress code in Upington, South Africa, it is advisable to dress modestly and respect the local culture. In summer, it can get extremely hot, so light clothing is recommended. To protect yourself from the sun, a hat, sunglasses and sunscreen are essential. In winter, temperatures can drop, so you may need a jacket or sweater. Remember that modest clothing may be required in some churches or cultural sites. Always inquire before your visit.

Is it safe to travel at night in Upington?

In Upington, like most places, there are safe and less safe areas. In general, it is considered safe, but as in any city, it is advisable to be vigilant, especially at night. Regular precautions should be taken, such as avoiding walking in deserted or poorly lit areas, not displaying expensive items, and observing the behavior of locals. As always, it is advisable to familiarize yourself with local conditions and seek advice from trusted sources such as hotel staff.

Can I rent a car in Upington and what are the driving rules?

Of course, you can rent a car in Upington, South Africa, from various rental agencies in the area. As far as driving rules are concerned, South Africa is a left-hand drive country. Seat belts are mandatory for all occupants and the use of cell phones while driving is strictly prohibited. Speed limits are generally 60 km/h in urban areas, 100 km/h on rural roads and 120 km/h on highways. Remember that driving under the influence of alcohol is illegal and taken very seriously.

What is unique about Upington's culture that I should know about?

Upington, South Africa, is a blend of cultural influences with a predominantly Afrikaans-speaking community. The unique culture is the result of a fusion of San, Nama and Xhosa ethnic groups. Visitors can experience rich cultural traditions, from indigenous art and Boere music to traditional foods such as "biltong" and "boerewors. The local vineyards also produce world-famous wines thanks to the fertile soil, making wine tasting a cultural experience not to be missed.

Are there any significant historical events of Upington?

Upington, South Africa, has great historical significance. The town was originally founded by missionaries in the 19th century and was first known as Olyfenhoudtsdrif. It was later renamed in honor of Sir Thomas Upington, a former prime minister of the Cape Colony. Notable events in the 1980s include the student protests against apartheid that marked the region's resistance to racial segregation. The region's rich heritage in viticulture demonstrates the influence of the Orange River on the development of elaborate wineries.

Are there any traditional music or dance I should look out for?

South Africa is known for its rich cultural diversity and traditional forms of music and dance. In Upington, you can hear the unique traditional music of the Khoi-San, an echoing blend of chants and rhythmic percussion that reflects the tribal history of the town. The most distinctive feature of their dances is the "Rieldans" or "Rieldance," a partner dance performed one after another. Experience these breathtaking performances at cultural festivals or community events.

What are some popular local festivals?

Upington has a vibrant cultural scene that hosts several local festivals throughout the year. The Orange River Wine Cellars Grape Festival is held in neighboring Keimoes, celebrating the wine industry. The Green Kalahari Mayoral Tourism Awards is an elaborate event honoring industry achievers. In addition, the Kalahari Kuierfees is a thriving community festival with music, food stalls, arts and entertainment highlighting the local treasures of Upington and its people.

Can I travel with pets to Upington?

Yes, you can travel to Upington, South Africa with pets. However, be sure to follow the special import regulations for pets enforced by the South African Department of Agriculture. Pets must be microchipped, vaccinated against rabies, and a South African veterinary health certificate must be completed. Some airlines offer travel with pets, and pet-friendly accommodations are available in Upington. So with proper planning and preparation, your pet can accompany you on your trip.

How economically sustainable is tourism in Upington?

Tourism in Upington contributes significantly to the economic sustainability of the city. The city's strategic location on the Orange River and near national parks favors various tourism activities such as safari tours, wine tourism, river rafting, and cultural attractions. These tourism activities generate significant income and support local businesses and job creation. In addition, efforts are made to promote responsible tourism that balances the needs of tourists, the environment and the local population to ensure the longevity of the industry.

Are there any dietary considerations in local cuisine?

South African cuisine, even in Upington, is largely meat-heavy, with dishes such as biltong, boerewors and potjiekos. Vegetarians need not worry, however, as there is a wide selection of fruit and vegetable dishes. South Africans also love their sweets, which can sometimes be very high in sugar and fat. Apart from any personal preferences or restrictions one may have, there are no significant cultural or religious restrictions.

What volunteer opportunities are available for tourists?

In Upington, South Africa, tourists can volunteer in a variety of remarkable opportunities. You can join local environmental organizations and help preserve and restore the breathtaking landscapes of the Kalahari Desert. Another popular volunteer opportunity is to support development initiatives that work to alleviate poverty or improve education. Animal lovers can take the chance to help with wildlife conservation projects, care for animals in local rescue centers, or help with research in national parks.

What outdoor activities are available in Upington?

In Upington, South Africa, visitors can enjoy a wealth of exciting outdoor activities. Embark on an unforgettable canoe trip on the Orange River, known for its breathtaking landscapes. For wildlife lovers, Augrabies Falls National Park is a must-see, where you can spot numerous species of animals. Wine lovers can explore the renowned vineyards that produce award-winning wines, and the Kalahari Orange Museum offers remarkable insights into local culture and history.

Do I need to tip in restaurants and cafes?

In South Africa, it is common to tip in restaurants and cafes, with the standard being 10 to 15% of the total bill. It reflects the satisfactory service of the waiters, as wages in the hospitality industry are generally low. For smaller services such as car attendants or gas station attendants, a tip of a few rands is also welcome. Tipping is not obligatory, but it is common and much appreciated.

What is the emergency number in Upington?

In case of an emergency in Upington, South Africa, you can reach the general nationwide emergency service by dialing 112 from any cell phone. You can also dial 10111 for the police. Medical emergencies can be reported by dialing 10177. Please note that it is always advisable to make a note of these numbers and keep them in a convenient place during your stay so that you can easily access them in case of an emergency.

Feedback

I hope you found this article informative and helpful. I'm eager to improve the content and make it even more valuable for you. If you have any feedback or suggestions, I would love to hear from you.

Do you have any tips or hidden gems that you think should be added to the list? Are there any areas that you feel could use more explanation or clarification?

Your input is greatly appreciated and will help us to continue providing high-quality content that meets your needs and interests. Please feel free to share your thoughts.