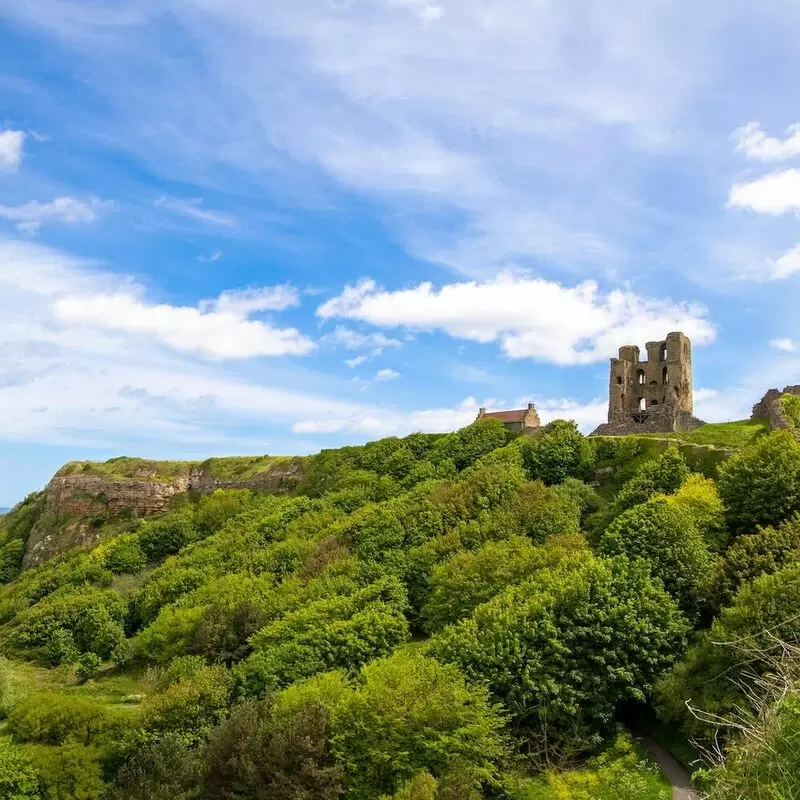 1. Scarborough Castle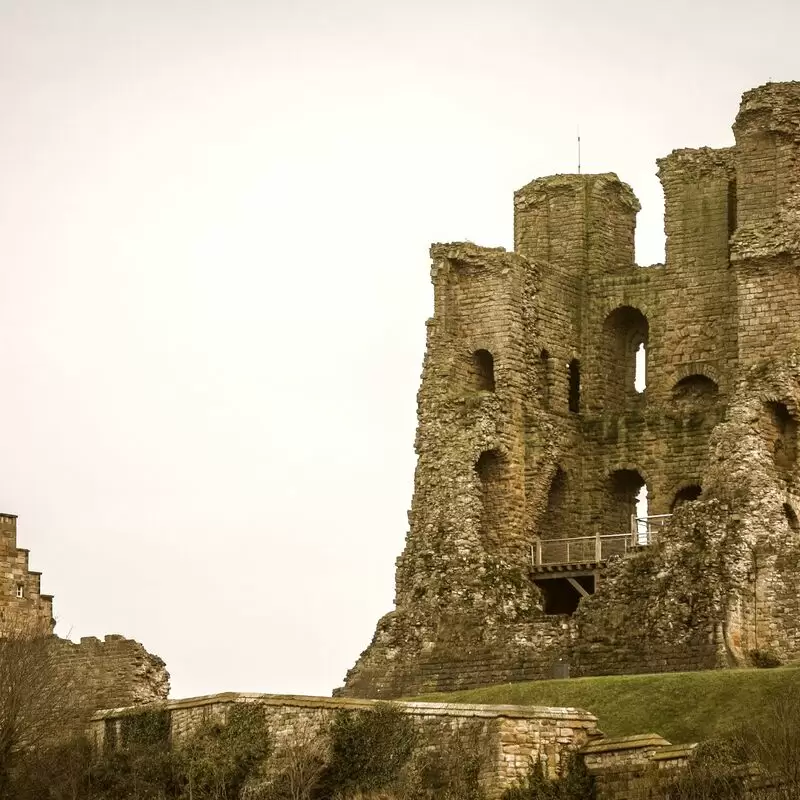 Scarborough Castle
Castle Road, Scarborough
Monday - Sunday: 10:00 AM – 5:00 PM
2. Peasholm Park
A visit to Peasholm Park in Scarborough is a must for any traveler! This charming, oriental-style park features a stunning pagoda, a tranquil lake, and picturesque bridges. Enjoy the tranquility as you stroll through the lush gardens and admire the resident wildlife and vibrant peacock population. Be sure to check out the famous naval warfare display and don't miss the delightful miniature railroad nearby. Just a stone's throw from North Bay Beach, Peasholm Park is the perfect addition to your Scarborough adventure!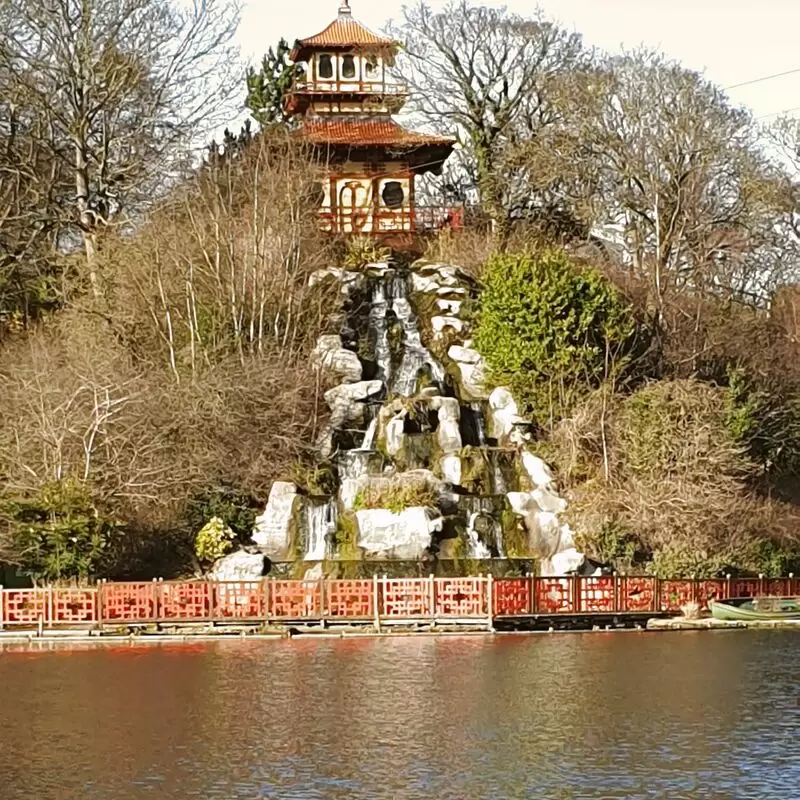 3. Scarborough Beach
Scarborough Beach is a must for beach lovers and adventure seekers alike! This award-winning golden sand beach offers breathtaking views of the picturesque coastline and excellent surfing opportunities. Don't miss historic Scarborough Castle, perched atop the cliff and providing a perfect backdrop for memorable vacation photos. A short walk will take you to the lively South Bay Promenade, which features arcades, ice cream parlors, and traditional seaside restaurants. Enjoy Scarborough's famous fish and chips, a true local specialty!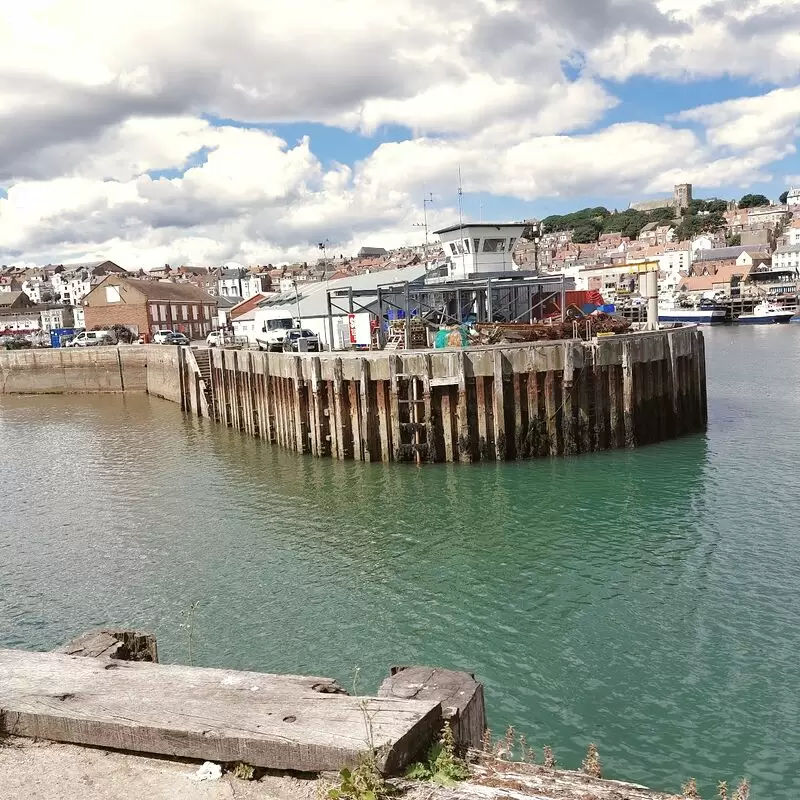 Scarborough Beach
Scarborough Beach, Scarborough YO11 2QE
Monday - Sunday: Open 24 hours
4. SEA LIFE Scarborough
Discover the wonders of marine life at SEA LIFE Scarborough! Immerse yourself in an underwater world home to more than 1,000 aquatic creatures, including playful Humboldt penguins and impressive sharks in the Ocean Tunnel. Don't miss the interactive Rockpool, where you can touch starfish and crabs. This family-friendly attraction also features seasonal events and a pirate-themed adventure golf course, perfect for a fun day out. Bonus: Take a scenic stroll through Peasholm Park, just a stone's throw away.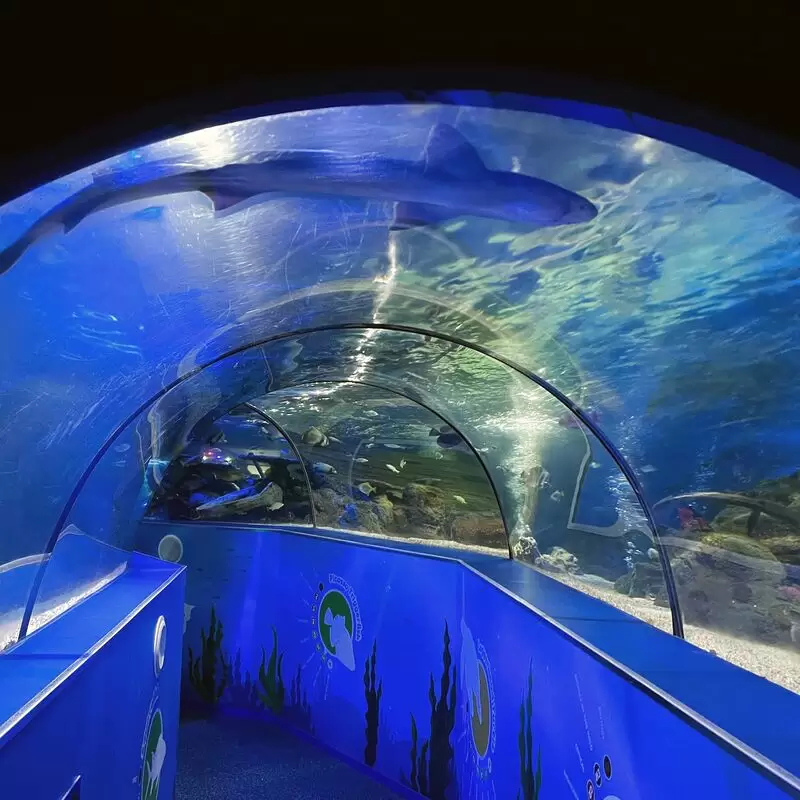 SEA LIFE Scarborough
Scalby Mills Road, Scarborough
Monday - Sunday: 10:00 AM – 3:00 PM
5. Scarborough Fair Collection & Vintage Transport Museum
Immerse yourself in the enchanting world of the Scarborough Fair Collection & Vintage Transport Museum, where the nostalgia of amusement rides, old-fashioned arcade games and vintage cars will captivate you. Marvel at the impressive collection of mechanical organs as the melodic sounds transport you to a bygone era. A hidden gem in Scarborough's Flower of May Holiday Park, this incredible museum is for history buffs and fun seekers alike. When you've had your fill, continue the adventure at nearby Cayton Bay Beach, a quiet seaside town that's perfect for relaxing.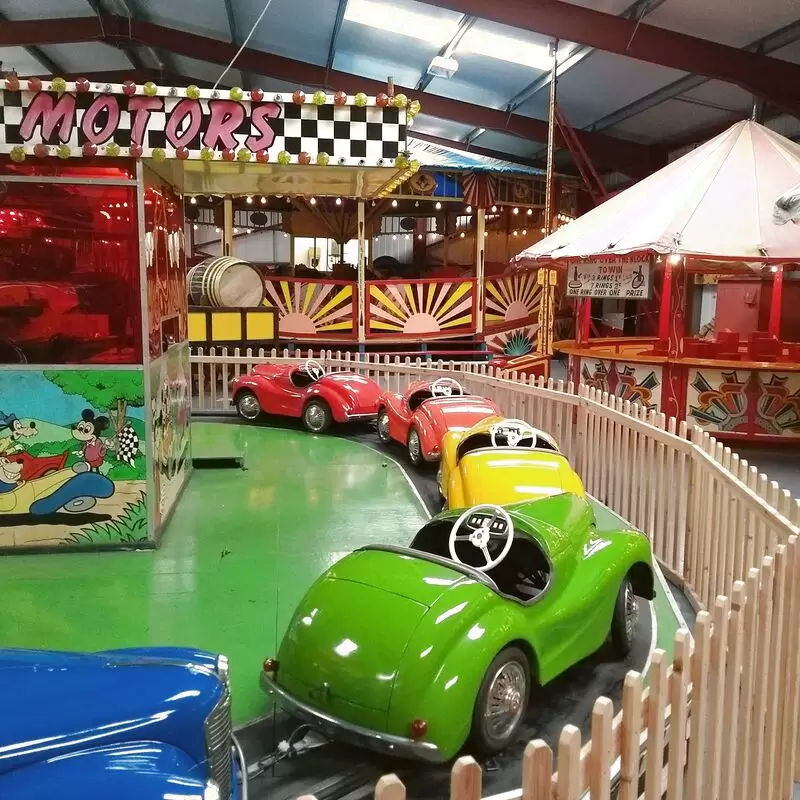 Scarborough Fair Collection & Vintage Transport Museum
Flower of May Holiday Park, Stone Pit Lane, Scarborough
Monday - Sunday: Closed
Wednesday - Saturday: 10:00 AM – 4:00 PM
6. North Bay Beach
With its golden sands and inviting waters, North Bay Beach in Scarborough offers the perfect seaside retreat. North Bay Beach is ideal for sunbathing, leisurely strolls, or exciting water sports. Pro tip: Walk along the scenic boardwalk and discover the iconic Freddie Gilroy sculpture, an amazing work of art that commemorates the area's rich history. Nearby, charming Peasholm Park promises a tranquil getaway amidst verdant nature and serene waterways!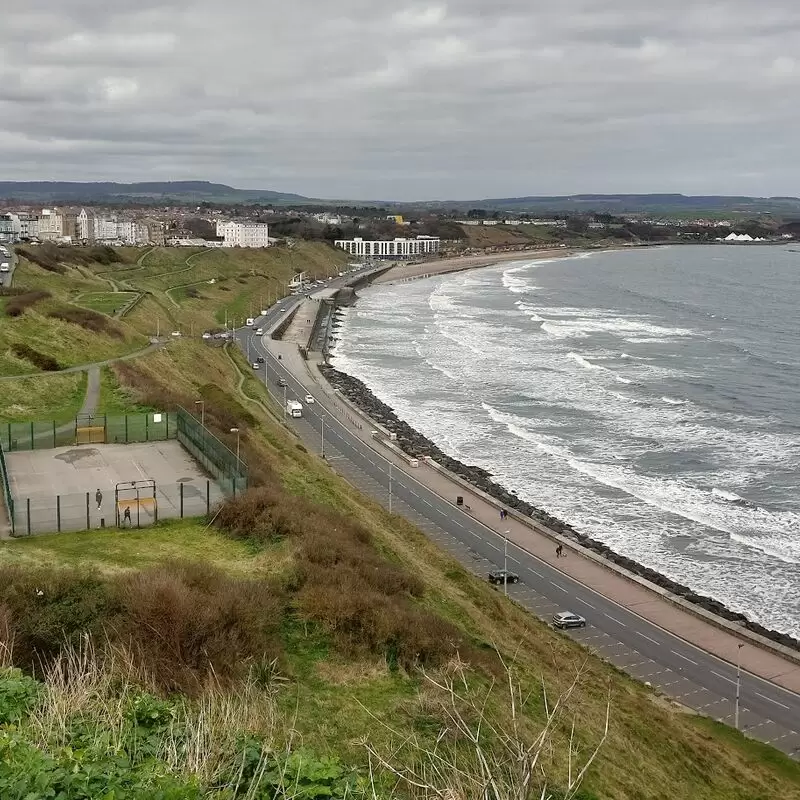 North Bay Beach
Scarborough YO12 7TN
Monday - Sunday: Open 24 hours
7. Scarborough Spa
Scarborough Spa is a must-see for any traveler looking for a mix of stunning architecture, rich history, and breathtaking sea views! Originally built in the 17th century for its healing waters, Scarborough Spa today offers revived Victorian grandeur with a modern concert hall. Experience world-class live entertainment from music to theater and admire the beautiful rose garden. And guess what? Just a leisurely stroll away is Scarborough Castle, offering panoramic views of this coastal gem!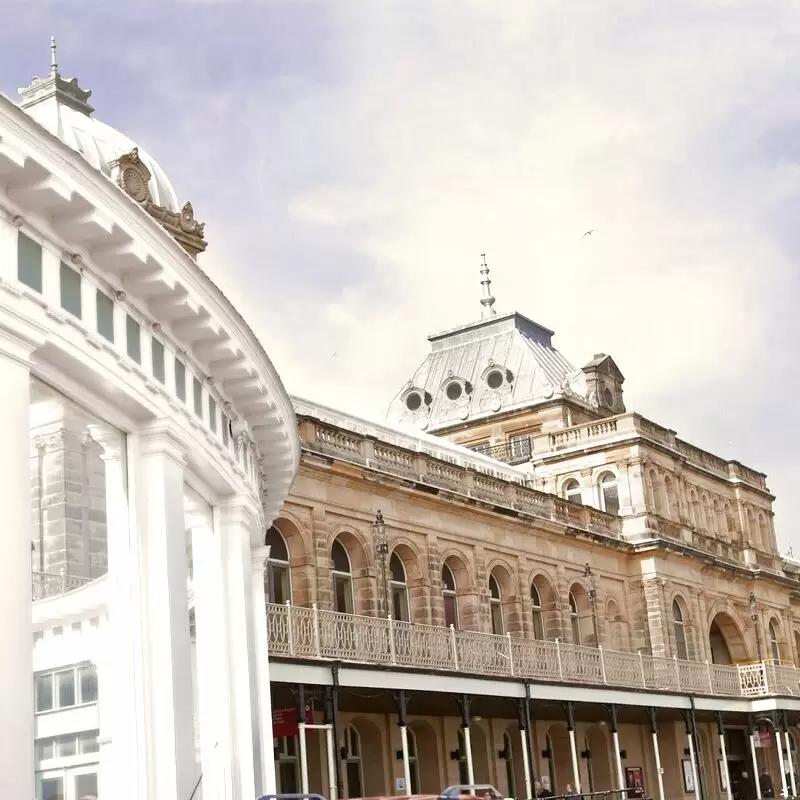 Scarborough Spa
South Bay, Scarborough YO11 2HD
Monday - Sunday: 10:00 AM – 4:00 PM
8. Playdale Farm Park
A visit to Playdale Farm Park is a must for families and animal lovers alike! Nestled in the picturesque Scarborough countryside, this charming farm park offers hands-on animal encounters, exciting indoor and outdoor play areas, and delightful tractor rides. Discover the fascinating meerkats, cuddly alpacas and sneaky ferrets as you wander through the farm. Just a stone's throw away is the majestic Scarborough Castle, perfect for history buffs. End your day at nearby Cayton Bay and enjoy a breathtaking sunset over the sea.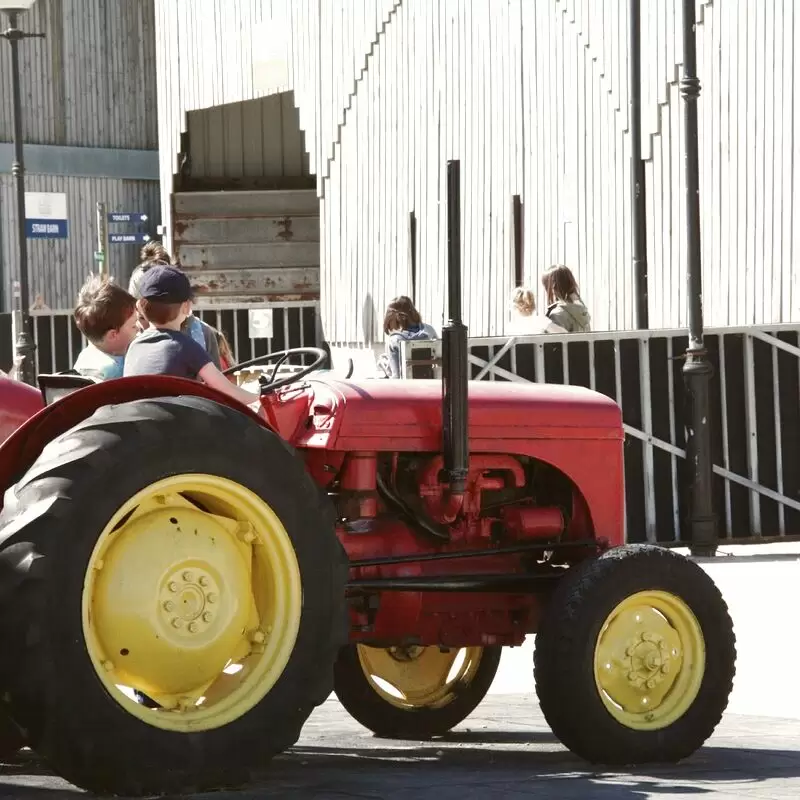 Playdale Farm Park
Carr Lane, Cayton, Scarborough
Monday - Sunday: 10:00 AM – 5:00 PM
Friday: Closed
9. Olivers Mount War Memorial and Viewing Point
Oliver's Mount War Memorial and Viewing Point offers breathtaking panoramic views of Scarborough's iconic coastline and lush countryside, and is an ideal spot for photographers and nature lovers. This well-maintained and inspiring war memorial honors the heroes of World War I and World War II and evokes a sense of history and gratitude. Just a short walk away are scenic spots like the Mere and forest trails that invite you to take a peaceful stroll amidst nature. A visit to this place is a must for an unforgettable and thought-provoking experience.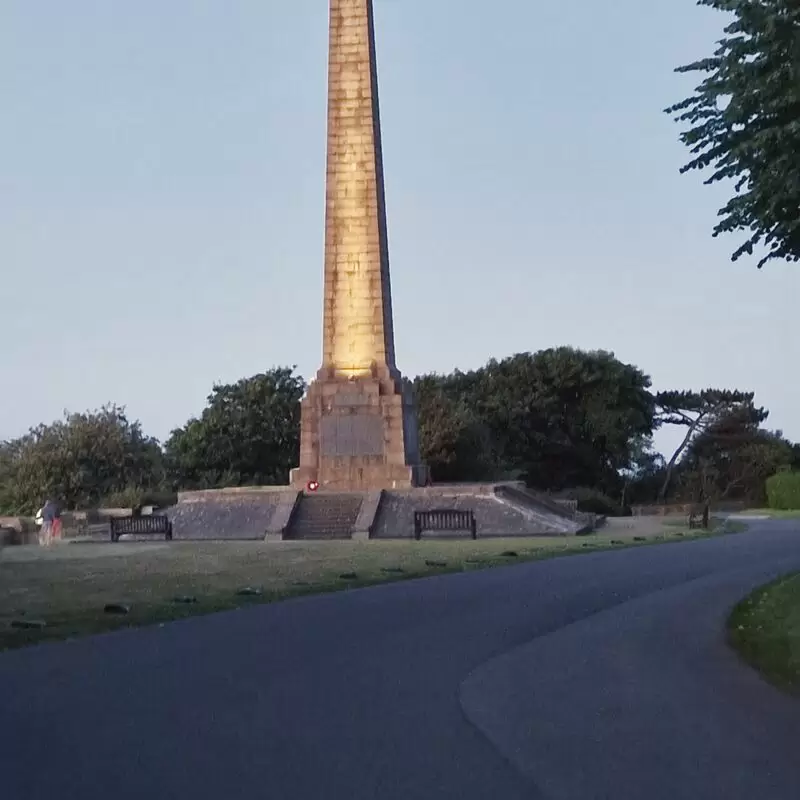 Olivers Mount War Memorial and Viewing Point
Scarborough YO11 2UG
Monday - Sunday: Open 24 hours
10. Italian Gardens

The enchanting Italian Gardens in Scarborough beckon for a tranquil and picturesque day trip. Designed in the early 20th century by Thomas Hayton Mawson, this Edwardian oasis on the South Cliff features artfully designed flower beds, picturesque sea views, and eye-catching pergolas.

An insider tip: don't miss the unique Pulhamite rocks or the fascinating Sunburst water feature! And just a short walk away you'll find beautiful South Bay Beach, perfect for a relaxing stroll along the coast.

Italian Gardens
47-49 Esplanade, Scarborough

Monday - Sunday: Open 24 hours
11. Scarborough North Bay Railway
A visit to the Scarborough North Bay Railway is an absolute must for anyone looking to combine historic charm with fun and excitement! This prominent attraction with its wonderful miniature railroad takes you on a scenic journey through picturesque gardens and offers views of the stunning coastline. The nearby Sky Trail Adventure lets you soar high and challenges your adventurous spirit. With a touch of classic British coastal charm, you can enjoy delicious fish and chips at the nearby North Bay Fisheries - a true hidden gem!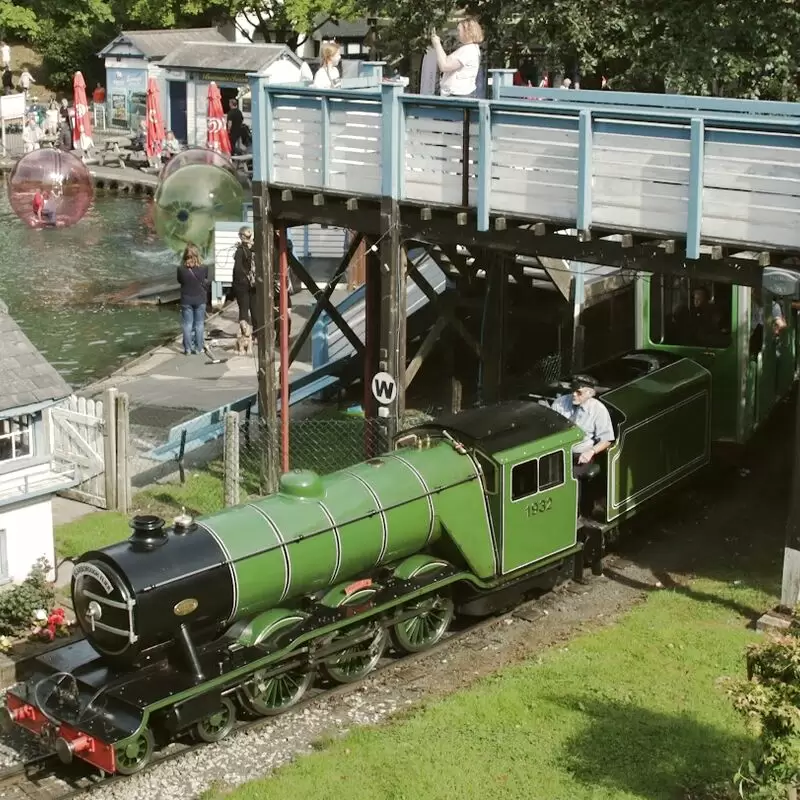 Scarborough North Bay Railway
Burniston Road, Scarborough
Monday - Sunday: 10:30 AM – 4:00 PM
12. Oliver's Mount Racing
Oliver's Mount Racing in Scarborough promises an adrenaline rush like no other! As the only natural road racing circuit in England, it attracts motorsport enthusiasts from all over the world. Be amazed as you watch bikers race through thrilling turns at high speeds while surrounded by breathtaking views of the countryside. Don't miss "The Jefferies Jump," a thrilling jump unique to this track. Nearby, you can take a relaxing walk through the beautiful South Cliff Gardens and enjoy picturesque views of Scarborough and its coastline.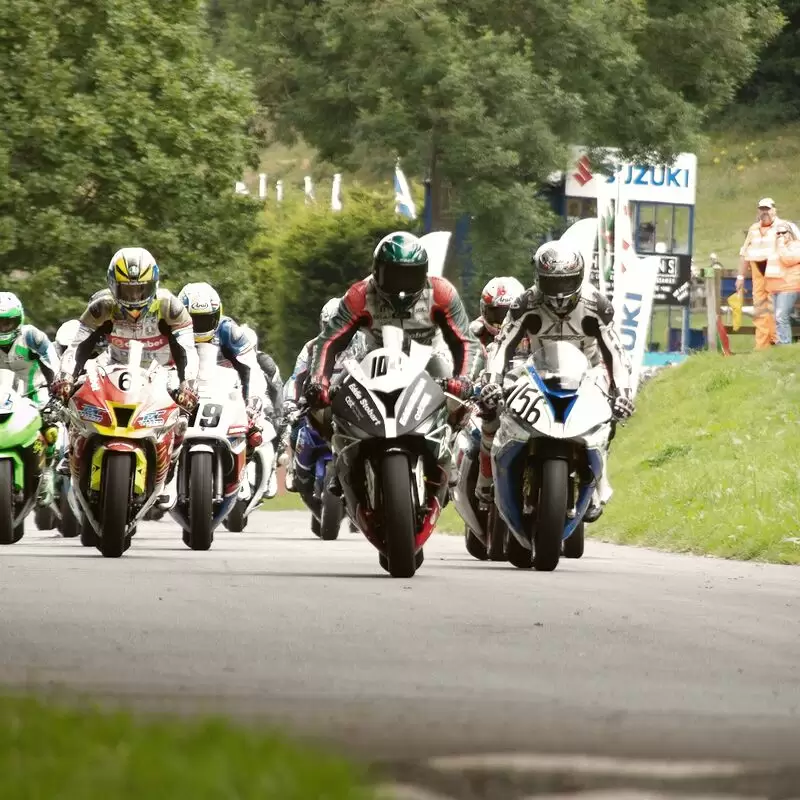 Oliver's Mount Racing
The Circuit Office, Oliver's Mount, Scarborough
Monday - Sunday: 9:00 AM – 6:00 PM
13. Olympia Leisure
A trip to Scarborough is incomplete without visiting Olympia Leisure, an exciting indoor amusement center that caters to families and fun seekers alike. Experience the adrenaline rush on thrilling rides, compete in arcade games or challenge your skills in the fun Escape Rooms. Don't miss the opportunity to try delicious traditional fish and chips at one of the nearby restaurants. Just a stone's throw away is Scarborough's South Bay Beach - a picturesque beach where it's great to relax after an action-packed day at Olympia Leisure!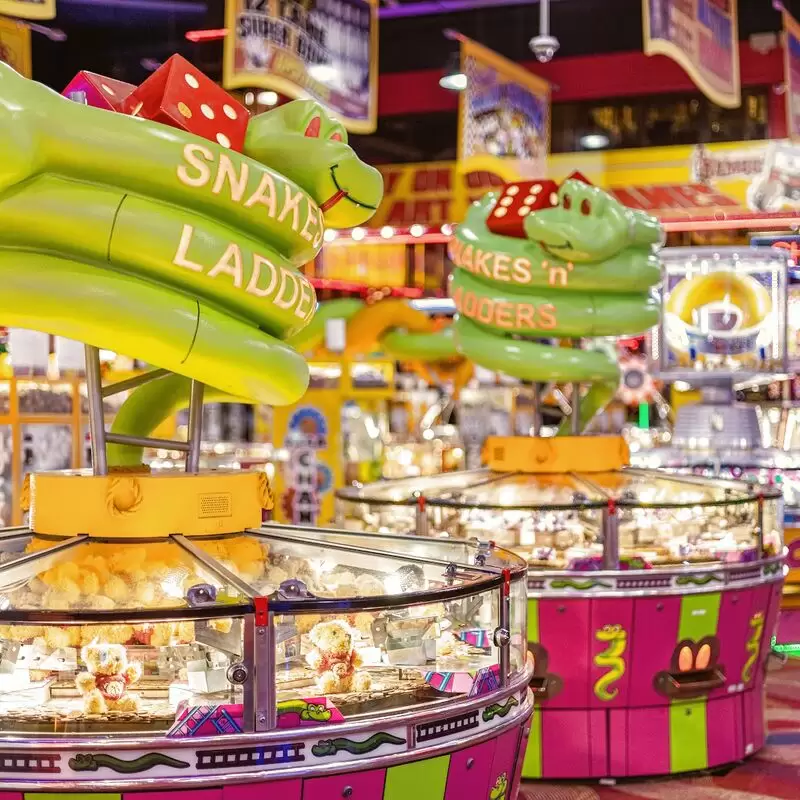 Olympia Leisure
Foreshore Road, Scarborough
Monday - Thursday: 10:00 AM – 9:00 PM
Friday - Sunday: 10:00 AM – 10:00 PM
14. Luna Park Scarborough
A visit to Luna Park Scarborough is a must for anyone looking for thrills and family fun! Located right on Scarborough's famous seafront, Luna Park offers a range of thrilling rides including the high-flying Sky Swinger and the adrenaline-pumping Sizzler Twist. Test your skills at arcade games, enjoy traditional seaside treats and take in panoramic views of the picturesque harbor. Just a stone's throw away is the SEA LIFE Centre, where a vibrant underwater world and exciting exhibits are waiting to be discovered.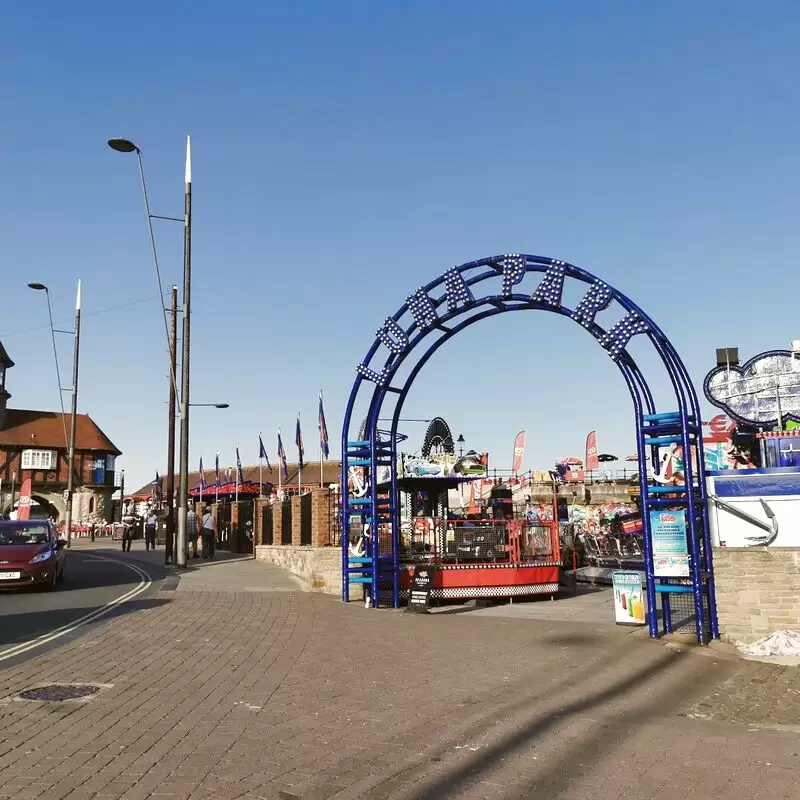 Luna Park Scarborough
Sandside, Scarborough YO11 1PG
Monday - Thursday: 1:00 – 5:00 PM
Friday: 1:00 – 6:00 PM
Saturday: 11:00 AM – 9:00 PM
Sunday: 11:00 AM – 8:00 PM
15. Steampuss Cat Lounge
A trip to Scarborough is not complete without a visit to the delightful Steampuss Cat Lounge. This quirky, steampunk-inspired oasis offers a cozy environment where you can enjoy a delicious cup of tea or coffee surrounded by adorable, friendly cats. Not only is it a cat lover's delight, but it's also a delicious experience with highly recommended mouth-watering cakes. Just a stone's throw away is the stunning Scarborough Castle, perfect for a day out.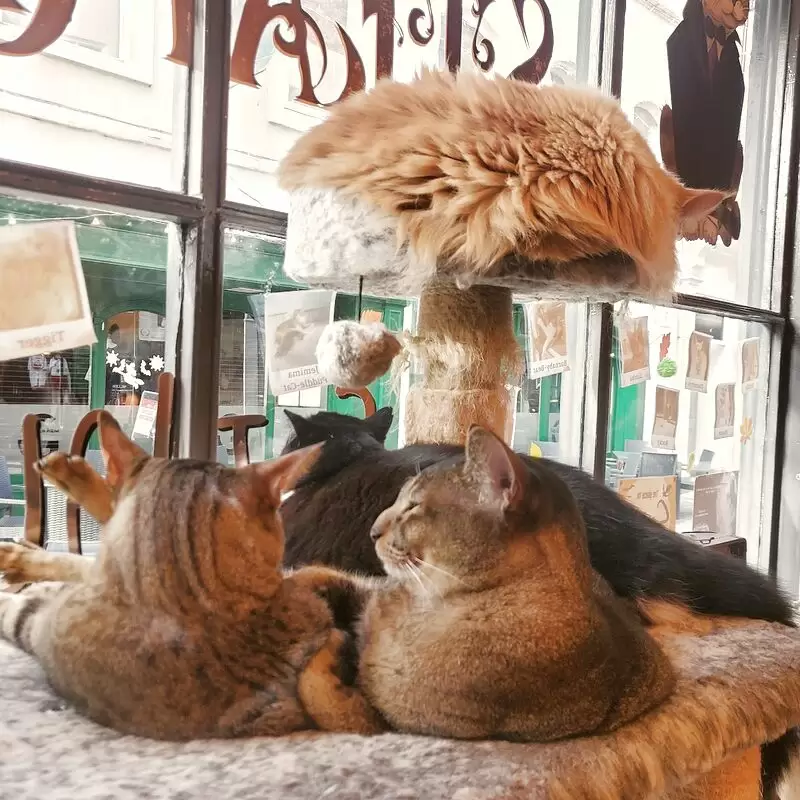 Steampuss Cat Lounge
22 Bar Street, Scarborough
Monday - Tuesday: Closed
Wednesday - Friday: 11:00 AM – 4:00 PM
Saturday - Sunday: 10:00 AM – 4:00 PM
Best Time to Visit Scarborough
The best time to visit Scarborough is between May and September, when the weather is warmer and sunnier. This period offers ideal conditions for beach activities, outdoor events and sightseeing. August, however, is the busiest month. So if you prefer less crowded times, consider visiting in late spring or early fall for a quieter experience.
Annual Weather in Scarborough
Scarborough 3-Day Forecast
Wed, 27 September
Night
53 °F
11 °C
0%
Morning
52 °F
11 °C
0%
Afternoon
57 °F
14 °C
69%
Evening
57 °F
14 °C
76%
Thu, 28 September
Night
53 °F
11 °C
0%
Morning
49 °F
9 °C
0%
Afternoon
59 °F
15 °C
0%
Evening
54 °F
12 °C
0%
Fri, 29 September
Night
53 °F
12 °C
0%
Morning
52 °F
11 °C
0%
Afternoon
59 °F
15 °C
83%
Evening
55 °F
13 °C
0%
Questions & Answers

What is the easiest way to get around Scarborough?

The easiest way to get around Scarborough is to use the town's public transport, mainly East Yorkshire Buses and Arriva North East. Scarborough's town center and seafront are well served by bus routes. Alternatively, short distances can be covered on foot or by bicycle, especially along the scenic coastline. Cabs and private hire are also available if you require a more personalized service or prefer to travel directly to your destination.

Is Scarborough safe for tourists?

Scarborough, United Kingdom, is generally considered a safe destination for tourists. As a popular coastal resort, it sees an influx of visitors every year who come to enjoy the beaches, parks and attractions. However, as with any other destination, it is still advisable to take the usual precautions and take personal safety precautions, such as looking after your belongings, staying in well-lit areas at night and keeping an eye on your drinks when socializing. Travelers should be aware of their surroundings and use common sense to ensure a pleasant stay.

Are there any local customs I should be aware of?

In Scarborough, it is important to be aware of the friendly and welcoming nature of the locals. When visiting pubs or stores, make polite conversation and greet others with a warm "hello" or "how are you?". In city centers, it is not uncommon to encounter street performers or buskers, and it is customary to give them some change if you like their performance. Finally, locals appreciate punctuality, so be sure to arrive on time for appointments and scheduled events.

What type of food is Scarborough known for?

Scarborough, a coastal town in North Yorkshire, United Kingdom, is known for its fresh seafood, especially cod, haddock, and shellfish, which visitors can enjoy at the many fish and chip shops in town. Traditional British cuisine is also popular with locals and tourists alike, with dishes such as Yorkshire pudding and Sunday roast featuring highly in the city's eateries. There are also a number of different international dishes that reflect the multicultural heritage of the region.

Can I swim in Scarborough's beaches?

Yes, you can swim on the beaches of Scarborough. Scarborough has two picturesque sandy bays, the North Bay and the South Bay. Both bays offer safe swimming and are patrolled by lifeguards during the summer season. South Bay is a busy, family-friendly beach with a variety of amenities, while North Bay is relatively quiet and surrounded by beautiful cliffs. Whichever beach you choose, you can enjoy a refreshing swim on the stunning coastline of Scarborough, United Kingdom.

Are there any guided tours available?

Yes, guided tours are available in Scarborough to help you discover the town's rich history, beautiful coastline and vibrant culture. Join a local guide to explore major landmarks like Scarborough Castle, the picturesque North Bay, South Bay and the harbor. Some tours also include stories about the city's past and visits to lesser-known gems. No matter what your interests, you'll find a tour that suits your preferences and helps you enjoy the best of Scarborough.

How can I learn about Scarborough's history?

Scarborough, a coastal town on the North Sea in North Yorkshire, has a rich history dating back to Roman times. It developed into an important medieval port and flourished as a spa town in the 17th century. The town is known for Scarborough Castle, a historic landmark with breathtaking views. To learn more about Scarborough's past, visit the Rotunda Museum, which displays archaeological artifacts and geological exhibits, or the Scarborough Maritime Heritage Centre, which showcases the town's fishing and maritime heritage.

Is public transport reliable in Scarborough?

Public transportation in Scarborough, United Kingdom, is quite reliable for visitors and locals. The town has a well-connected bus network that serves various routes to major attractions and facilities. In addition, Scarborough's train station provides train services within North Yorkshire and connections to larger cities such as York, Leeds and London. Although the frequency of public transportation is not as high as in larger cities, it does provide a convenient and efficient way to explore and navigate the town.

Are there any nearby villages worth visiting?

Yes, there are some charming villages near Scarborough that are worth a visit. Thornton-le-Dale is a quintessentially English village with a market square, picturesque thatched cottages and scenic walks. Hutton-le-Hole, known for its attractive village green and Ryedale Folk Museum, offers a peaceful retreat. Finally, Robin Hood's Bay, a coastal village with narrow streets and a smuggling past, is ideal for walking enthusiasts and offers stunning sea views.

Is Scarborough disabled-friendly?

Scarborough, a popular tourist destination in the United Kingdom, offers a range of disabled facilities and services. Many of the town's attractions, such as Scarborough Castle, Peasholm Park and the Sea Life Centre, are accessible to visitors with mobility impairments. The city also offers accessible public transportation, including buses and cabs. Some of the beaches are accessible to wheelchair users, and several hotels cater to the needs of disabled travelers. However, it is recommended to check the accessibility details before visiting.

Can I rent a bike in Scarborough?

Yes, you can rent a bike in Scarborough to explore the beautiful coastal town and its surroundings. Several local bike rentals offer a wide range of bikes for different preferences and needs. Whether you're looking for a mountain bike, a road bike, or a family-friendly model, these bike rentals cater to all customers. Enjoy a scenic ride along the coast, through scenic parks, or bike to nearby villages and attractions for a truly memorable experience in Scarborough.

Are there language barriers for non-English speakers?

English is the main language spoken in Scarborough. While most locals are used to dealing with tourists and understand some basic phrases in other languages, non-English speakers may encounter some language barriers. However, popular tourist attractions, hotels and restaurants often have staff who can communicate in different languages to help international visitors. It is advisable for non-English speaking tourists to learn some key English phrases or use translation apps to ensure a smoother experience during their visit.

What local delicacies should I try in Scarborough?

When visiting Scarborough, be sure to indulge in some local delicacies. Try the traditional and tasty fish and chips made from freshly caught fish, served in a crispy batter along with crispy fries. Don't miss the best seafood of the region, such as the delicious freshly caught crabs and lobsters. Try the delicious Yorkshire pudding, a versatile dish that can be served as a savory side dish with gravy or as a dessert with fruit and cream. Finally, indulge your sweet tooth with a slice of Yorkshire Curd Tart, a creamy dessert with a hint of nutmeg.

Are there any nice parks or gardens in Scarborough?

There are several beautiful parks and gardens in Scarborough, United Kingdom. One of the most popular green spaces is Scarborough Spa Ornamental Gardens, which offers stunning views of the sea and manicured landscapes. Another beautiful place is Peasholm Park, a Japanese-style park with tranquil waterways, an island pagoda and lush vegetation. Visitors can also enjoy the tranquility and natural beauty of South Cliff Gardens and the family-friendly Holbeck Gardens, both of which offer spectacular coastal scenery and scenic walking trails.

How expensive is Scarborough for tourists?

Scarborough, a popular coastal town in North Yorkshire, United Kingdom, offers a moderate cost level for tourists. Accommodations, restaurants and attractions are reasonably priced, making the town an affordable destination for most travelers. Visitors will find both budget and high-class alternatives. The city is known for its scenic beaches, historic castle, and beautiful parks, which offer many free or low-cost activities for all ages. In summary, Scarborough caters to a variety of budgets and guarantees an enjoyable stay for all types of travelers.

Is the tap water safe to drink in Scarborough?

Yes, the tap water in Scarborough, United Kingdom, is considered safe to drink. Water in the region is supplied by Yorkshire Water, which consistently maintains high-quality water standards and adheres to strict regulations. Chlorination and other treatments are used to remove harmful impurities, ensuring that tap water is free of contaminants that are hazardous to health. However, if you are not used to drinking tap water in foreign countries, or if you have a sensitive stomach, you should prefer to drink bottled water during your stay.

How do I find the tourist information center?

The Scarborough Tourist Information Center can be found in the town center, near the seafront. The center is located at Olympia Leisure, on Foreshore Road, near South Bay Beach. Here you will find helpful staff who can provide advice, maps and brochures on various attractions, events and accommodation in Scarborough. It is the perfect base for tourists who want to explore the town and make the most of their visit to this beautiful seaside town.

Can I travel with pets to Scarborough?

Yes, you can travel to Scarborough with pets. This coastal town offers a pet-friendly environment with plenty of accommodations, attractions, and restaurants geared toward furry friends. Dogs are allowed year-round at a variety of beaches, though there are seasonal restrictions at some beaches. Make sure the accommodation you choose allows pets, and follow local guidelines for leash requirements, waste disposal, and restricted areas so you and your pet have a safe and enjoyable stay in Scarborough.

Are there any public Wi-Fi hotspots in Scarborough?

Yes, there are several public Wi-Fi hotspots in Scarborough, United Kingdom. The most popular hotspots are located in the town's cafes, restaurants and hotels. Major attractions such as Scarborough Open Air Theatre, Scarborough Spa and Stephen Joseph Theatre also offer Wi-Fi for visitors. In addition, the main shopping district in the city center, as well as the North Bay and South Bay beaches, have Wi-Fi so tourists can stay connected while enjoying the beautiful seaside resort.

Is Scarborough's nightlife vibrant or laid-back?

Scarborough's nightlife offers a mix of lively and laid-back experiences. While it may not have the constant hustle and bustle of a big city, there is still plenty to do in this coastal town. You can spend a relaxing evening in a cozy pub, enjoy live music in intimate venues, or dance the night away in one of the city's lively clubs. In addition to these nighttime activities, there is also a selection of restaurants and bars where you can dine to your heart's content.

Are there any annual festivals or events?

Scarborough, United Kingdom, hosts several festivals and events each year to showcase the city's rich culture and heritage. Among the most popular is the Scarborough Seafest Maritime Festival, which celebrates the town's maritime history with live music, food stalls and traditional craft demonstrations. The Scarborough Festival of Cycling is another popular event that features professional and amateur races. In addition, the Scarborough GoldWing Light Parade is a charity event with illuminated motorcycles riding through the town, providing an impressive spectacle. The Great Yorkshire Fringe is another lively arts festival that takes place in the area.

How is communication and mobile coverage in Scarborough?

Communications in Scarborough, United Kingdom, are generally quite good, as the city is well served by major mobile providers such as EE, Vodafone, O2 and Three. Mobile coverage is not only very good in the city center, but also in most suburbs and rural areas around the city. In more remote areas, however, there may be occasional gaps in coverage. For reliable Internet access, tourists can use the widespread free Wi-Fi hotspots in cafés, restaurants and public facilities.

Feedback

I hope you found this article informative and helpful. I'm eager to improve the content and make it even more valuable for you. If you have any feedback or suggestions, I would love to hear from you.

Do you have any tips or hidden gems that you think should be added to the list? Are there any areas that you feel could use more explanation or clarification?

Your input is greatly appreciated and will help us to continue providing high-quality content that meets your needs and interests. Please feel free to share your thoughts.