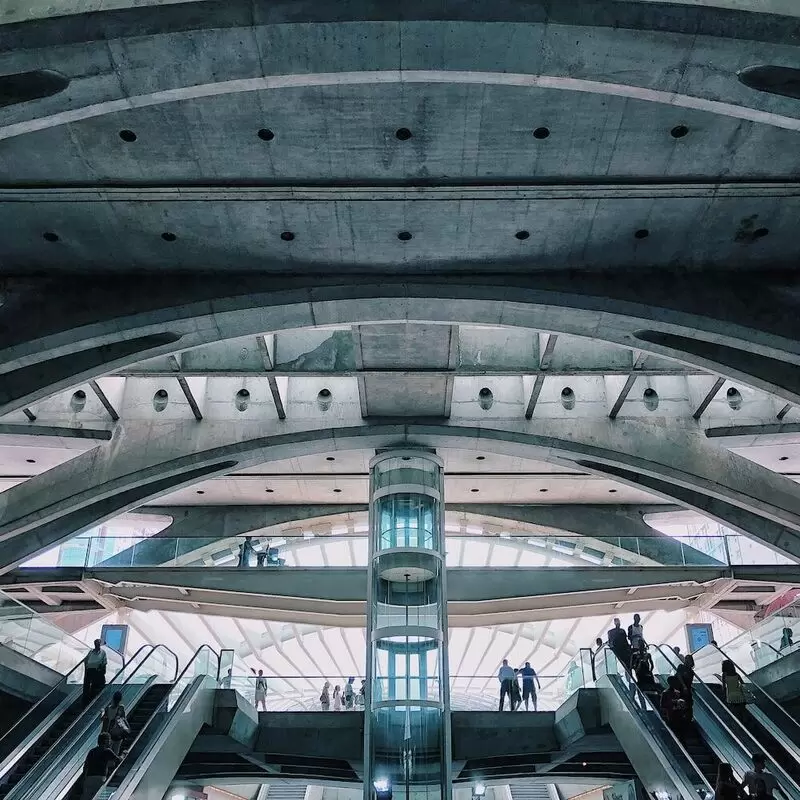 1. West Coast National Park
A visit to the West Coast National Park in Saldanha is a must for nature lovers. From here you have a breathtaking view of the lagoon, which in spring is adorned with a multitude of bright wildflowers. The abundant birdlife is a birdwatcher's paradise. Be sure to visit Kraalbaai, a secret gem on the Langebaan Lagoon. Not far away is the Postberg Flower Reserve, known for its extraordinary floral displays in bloom.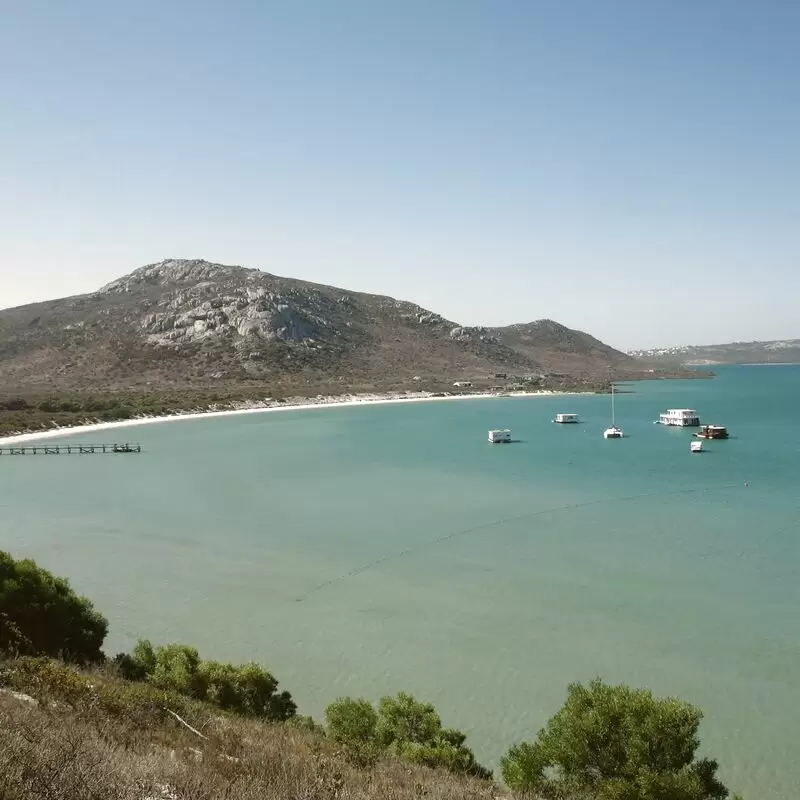 West Coast National Park
West Coast DC
2. West Coast National Park Marine Protected Area
Visit the marine reserve West Coast National Park and have an unforgettable experience. You'll be impressed by the park's pristine beaches and exceptionally clear waters, home to a diverse marine life. Take unforgettable snapshots of seals basking in the sun or an elegant flamingo in flight. For hikers and wildflower lovers, the neighboring Postberg Nature Reserve offers a colorful carpet of blooms during spring bloom, an added scenic bonus. An authentic South African experience awaits!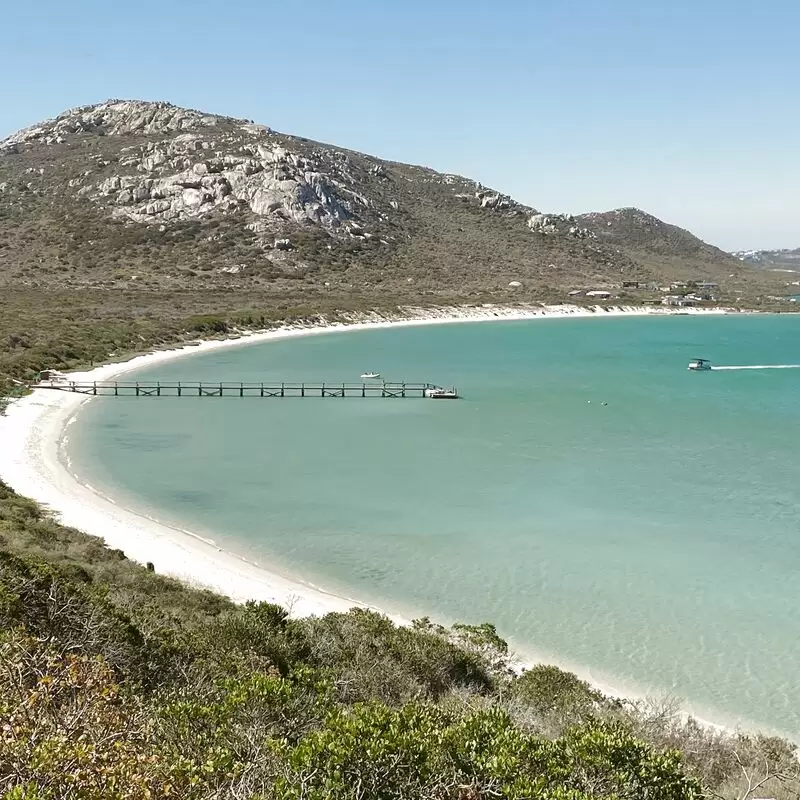 West Coast National Park Marine Protected Area
Langebaan
3. Blue Bay Lodge
Located on the azure waters of Saldanha Bay, Blue Bay Lodge offers a seaside retreat that exudes tranquility and charm. With its private beach, outdoor sports facilities and manicured gardens, it is a must-visit. The restaurant treats guests to delicious local cuisine. Another hidden gem, Schaap Island, is just a short walk away. Take a short walk and enjoy the balmy sea breeze and panoramic views the island offers.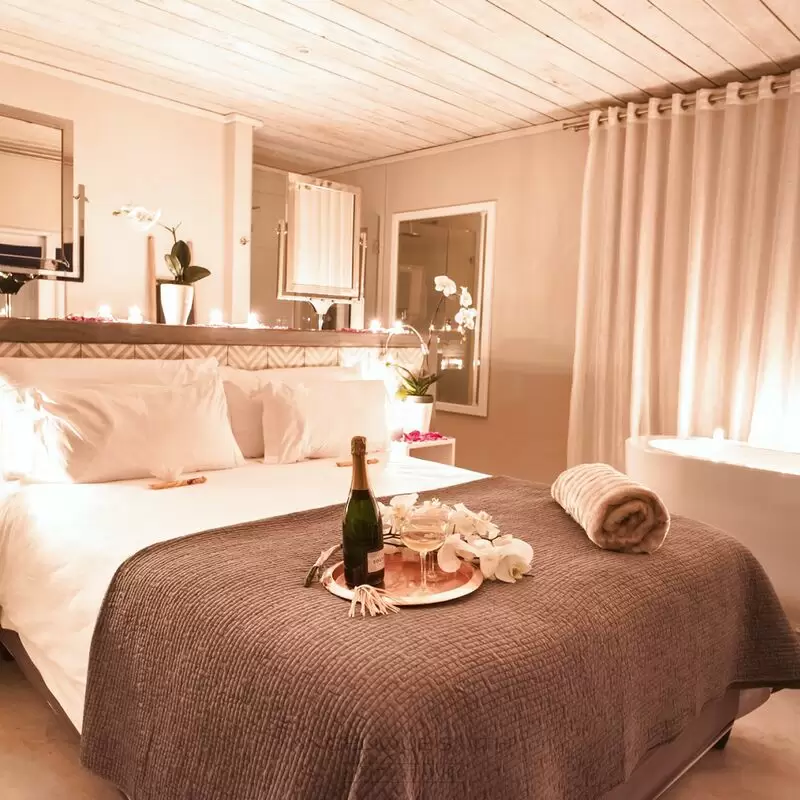 Blue Bay Lodge
48 Gracillaria Cresent, Blouwater Bay, Saldanha
Monday: 6:00 AM – 7:00 PM
Tuesday - Saturday: 6:00 AM – 8:00 PM
Sunday: 6:00 AM – 5:00 PM
4. Langebaan Beach
The "Langebaan Beach" is an exquisite jewel of Saldanha. The endlessly long, pristine sandy beach with turquoise waters is a paradise for water sports enthusiasts. It is teeming with exotic birds that attract ornithologists from all over the world. Many flamingos live here and it is a popular place for kite surfing, sailing and fishing. Just a stone's throw away is West Coast Fossil Park, a treasure trove of extinct animals. An undeniable attraction for adventure seekers, unfold the charm of Saldanha at Langebaan Beach!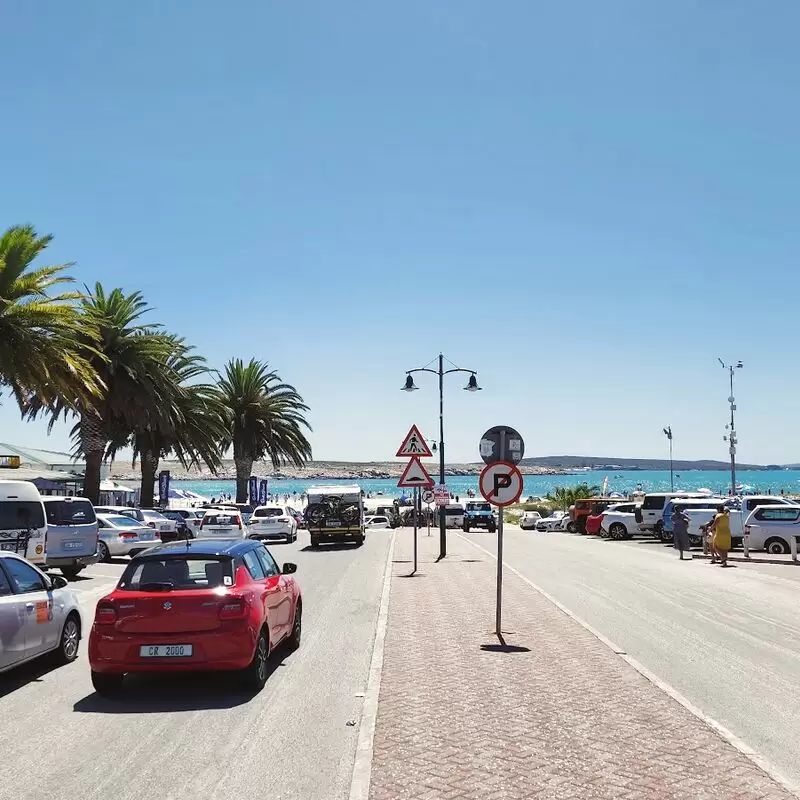 Langebaan Beach
Bree St, Langebaan
5. Saldanha Bay Hotel

Saldanha Bay Hotel is a delight for lovers of luxury and tranquility. It offers unparalleled views of the idyllic Saldanha Bay and is a paradise for water sports enthusiasts. First-class facilities, delicious cuisine and warm hospitality contribute greatly to the experience. Feel right at home amid elegant decor and modern amenities.

Insider tip: Don't miss the sight of the sun setting over the bay from your room. Visit West Coast National Park, just a few miles away, for unforgettable wildlife.

Saldanha Bay Hotel
51 Main Rd, Saldanha

Monday - Sunday: Open 24 hours
6. The Pixie and Fairy Village
Immerse yourself in the enchanting world of Pixie and Fairy Village in Saldanha. In this whimsical world, an enchanting miniature wonderland hides around every corner. Experience the magic firsthand and discover tiny fairies amidst mushrooms and forest creatures. It's an unforgettable trip that both kids and adults will love. And don't miss the quaint gift store that offers handmade souvenirs. Afterwards, visit the neighboring Blue Bay Lodge, an irresistible coastal retreat, and enjoy a leisurely lunch.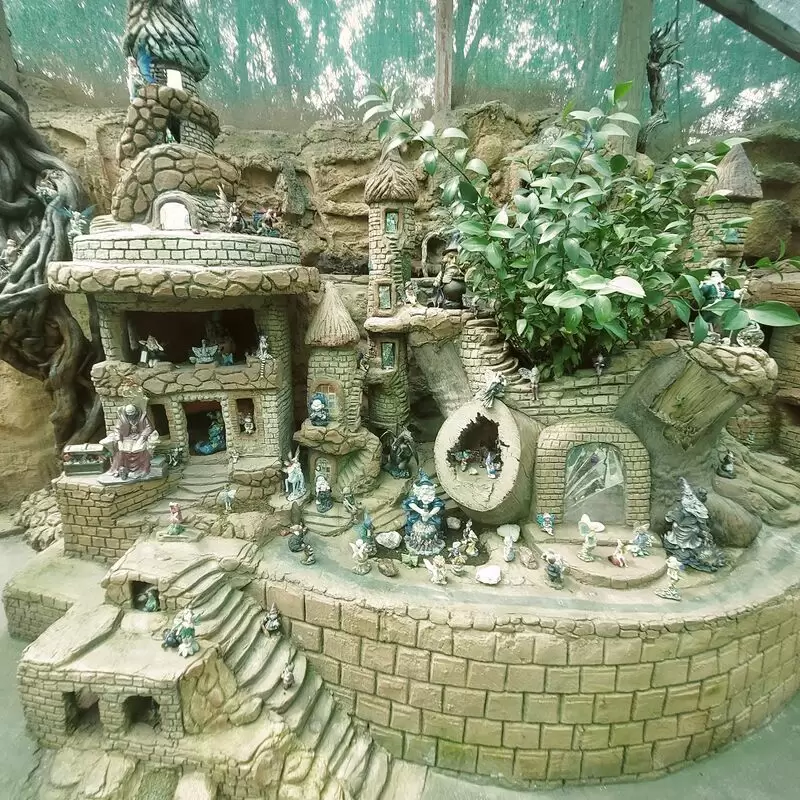 The Pixie and Fairy Village
Plot, 307 Main Rd, Jacobs Bay, 7380
Monday - Sunday: 9:00 AM – 5:30 PM
7. Sunnypark Fun Park Langebaan
Discover Sunnypark Fun Park Langebaan in Saldanha and experience a perfect family adventure with exciting rides, mini golf and various games! The park is known to only a few, but it offers an enchanting view of the sunset over the picturesque lagoon of Langebaan, making it a romantic insider's tip. After an exciting day, you can drive just 5 minutes to the quiet Calypso Beach, a less crowded place where you can watch dolphins and sunbathe.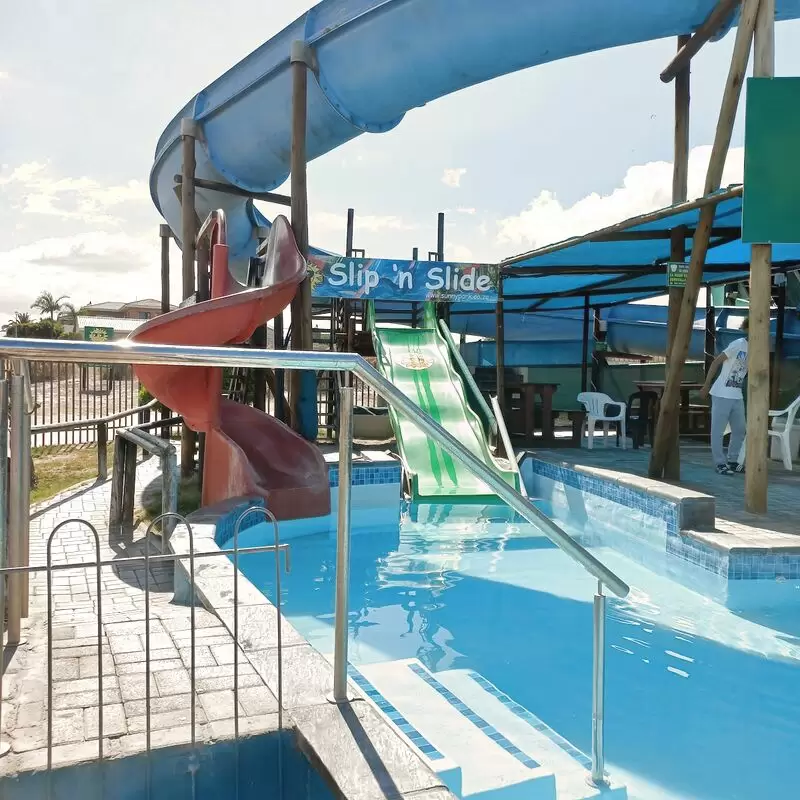 Sunnypark Fun Park Langebaan
1 Padrao St, Langebaan
Monday - Sunday: 10:00 AM – 5:00 PM
Tuesday - Friday: Closed
8. Hoedjiesbaai Hotel
You'll love the Hoedjiesbaai Hotel in Saldanha, perched perfectly above the bay and offering stunning ocean views. Its unique structure, partially above the water, is a spectacle in itself. Enjoy excellent seafood at the Eigebraai restaurant. Watch the flamingos fly by from your ocean-view room. Just a short drive away is the fascinating West Coast National Park, a haven for biodiverse fauna and flora. While you're in the area, be sure to visit SAS Saldanha Nature Reserve for an authentic African bush experience.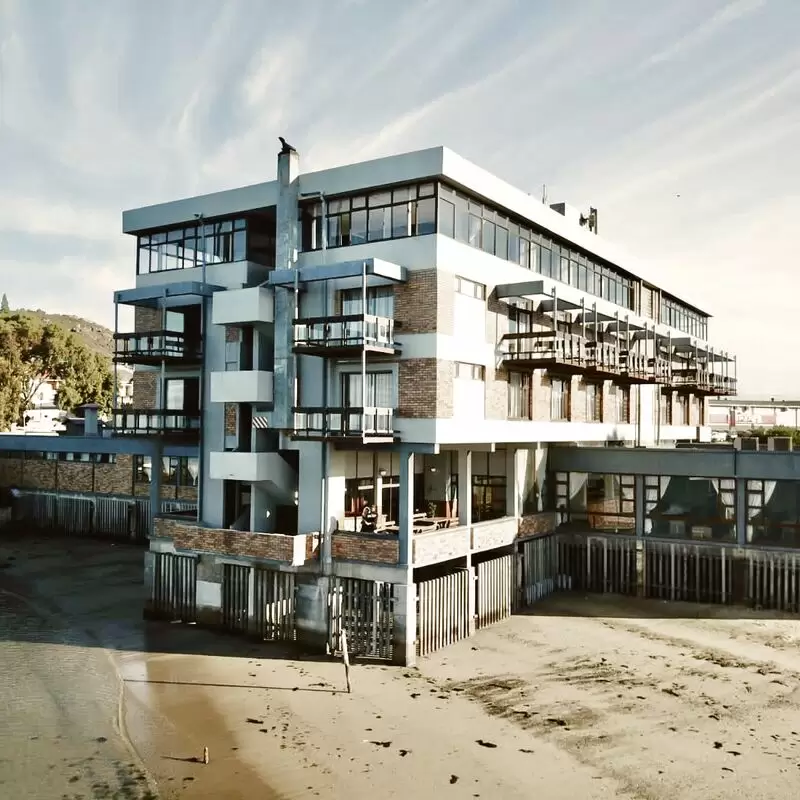 Hoedjiesbaai Hotel
38 Main Rd, Saldanha
Monday - Sunday: Open 24 hours
9. Cape Columbine Nature Reserve
Adventures await you at Cape Columbine Nature Reserve, the hidden gem of Saldanha. Marvel at the rugged coastline, lighthouse, and abundant flora and fauna. Watch the whales and sea lions frolic. Explore the coves and rock pools teeming with marine life. Walk through a variety of wildflowers that bloom in the spring. This is a must-see spot that is rarely visited by tourists and offers a unique, secluded atmosphere. Afterwards, head to nearby Paternoster, a quaint fishing village, to soak up the traditional South African charm. Join us to discover the extraordinary in the ordinary.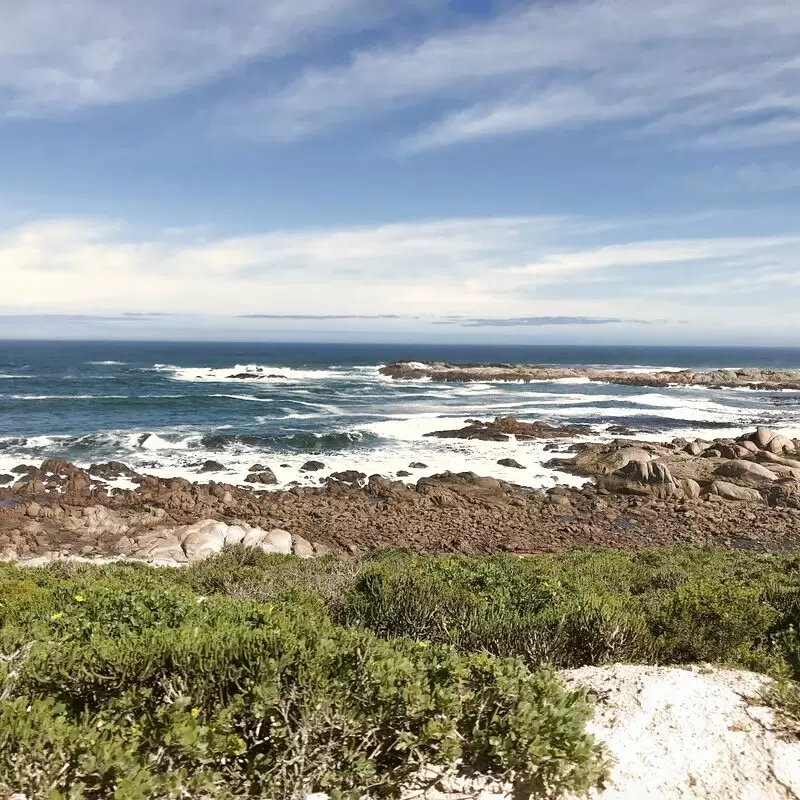 Cape Columbine Nature Reserve
Unnamed Road, West Coast Peninsula
10. Port of Saldanha
A visit to the port of Saldanha promises an extraordinary experience! The view of the largest natural harbor in the southern hemisphere is a true spectacle. Here you can observe the daily life of the vibrant fishing industry, adding a touch of local color to your trip. Don't miss the Saldanha Bay oysters, a heavenly treat! Nearby, the Saldanha Nature Reserve awaits you with magnificent wildflower blooms in spring and breathtaking panoramas of the bay. Explore and enjoy Saldanha like a true insider!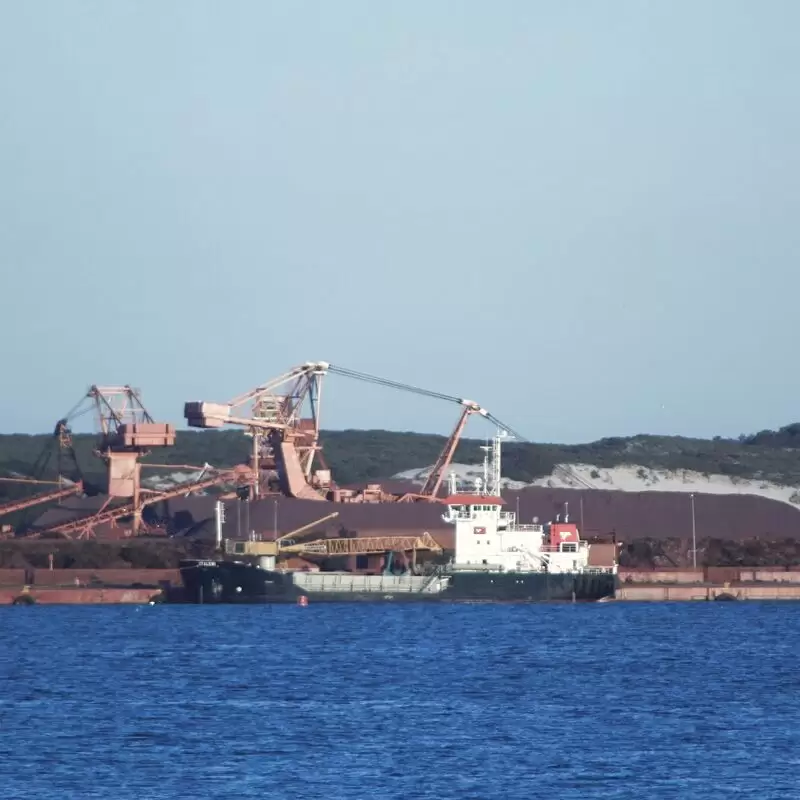 Port of Saldanha
Transnet Port Terminals,Saldanha Terminals,Port of Saldanha, Saldanha
Monday - Sunday: 12:00 AM – 12:00 PM
11. Eagles Rest Saldanha
Imagine waking up to sweeping ocean views and cool sea breezes at Eagles Rest Saldanha - an unparalleled vacation spot. Situated on the shores of Saldanha Bay, these charming chalets promise pure relaxation. With barbecue facilities for warm evenings and bird watching opportunities for nature lovers, it offers a unique blend of leisure and adventure. Just a short drive away, you can explore the historic Saldanha Bay naval base. Early risers can often spot dolphins in the bay - an insider's tip for an unforgettable experience.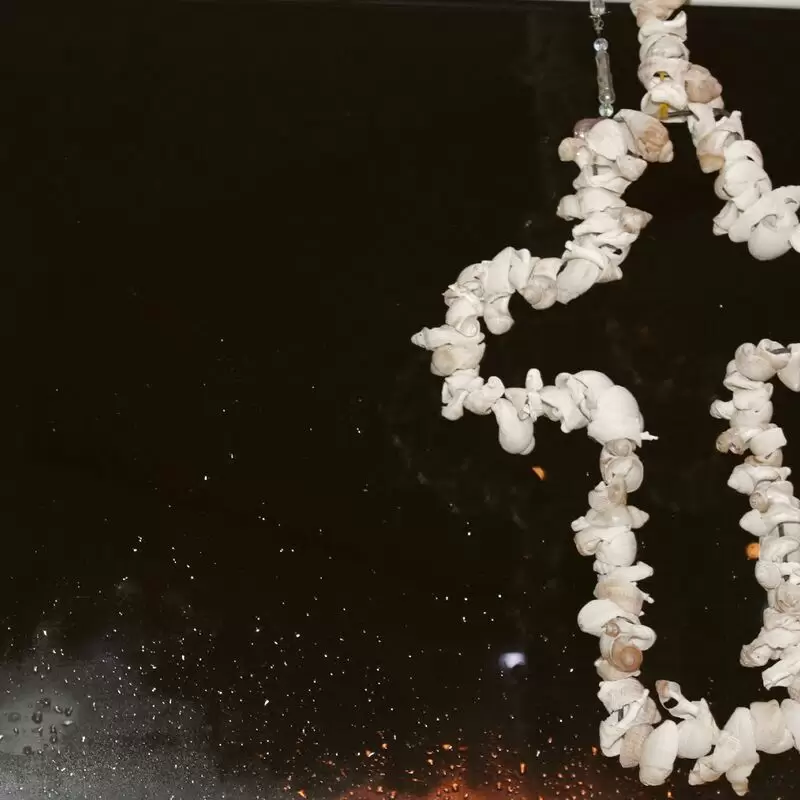 Eagles Rest Saldanha
Blue Water Bay, 13 Henry Wicht Dr, Blouwater Bay, Saldanha
12. Lêplek Guest House
At Lêplek Guest House, a hidden gem in Saldanha, you will find peace and serenity. Its central but quiet location promises a relaxing retreat. Admire the breathtaking panorama from the beach, just a stroll away, or immerse yourself in local culture at nearby West Coast National Park. Each of the clean, sunny rooms is steeped in local charm and generations-old hospitality. Indulge in the house's delicious cuisine and wake up each morning to the smell of freshly baked bread!
Lêplek Guest House
51 Merestyn Rd, Saldanha
Monday - Sunday: Open 24 hours
13. Pikkie Cottage B & B
Pikkie Cottage B&B embodies the charm of Saldanha with its quaint architecture, personalized service and breathtaking bay views. This exclusive property offers comfortable accommodations near spectacular beaches. Enjoy delicious fresh seafood, tickle your adventurous instincts with various outdoor activities amidst nature, or enjoy the tranquil beauty. Just a stone's throw away is the amazing Saldanha Bay Oyster Company, where you can learn more about oyster farming and, of course, taste them! A true west coast vacation at its best!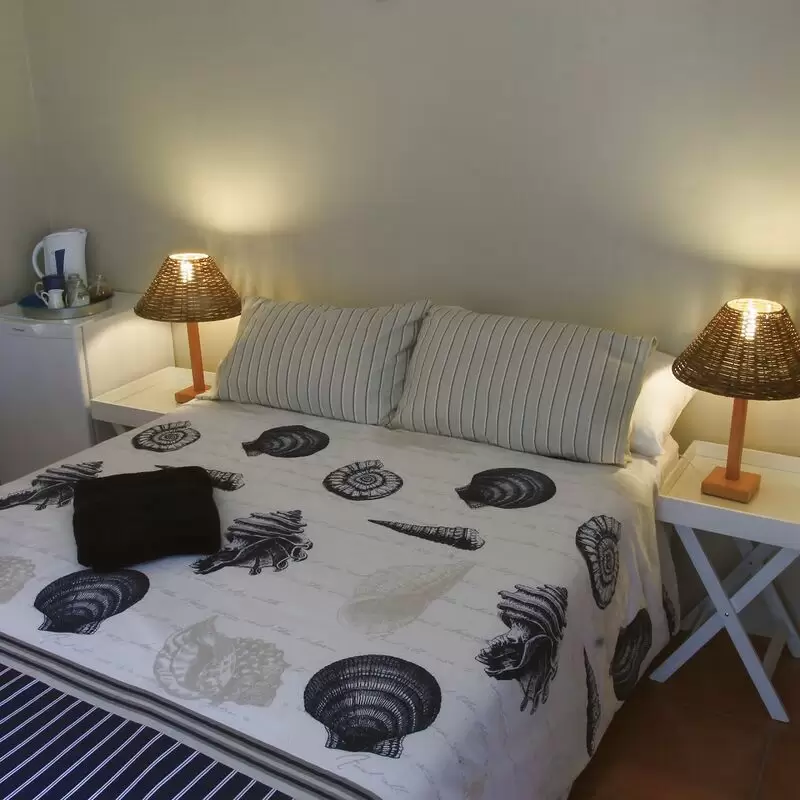 Pikkie Cottage B & B
19 7th Ave, Saldanha
Monday - Sunday: 8:00 AM – 7:00 PM
14. Saldanha Bay Yacht House
A visit to the Saldanha Bay Yacht House is a must! This well-kept secret offers a breathtaking view of the bright blue waters of Saldanha Bay. Here you can admire the bobbing yachts and enjoy a warm South African sunset. The sailing club is a paradise for those who love the sea, and also offers yacht charters for an adventurous sailing trip. Just a short walk away, you will find the unique World War II military facilities at the "SAS Saldanha" naval base, which offer a glimpse into the history of the South African Navy. Enjoy history and beauty all in one at Saldanha!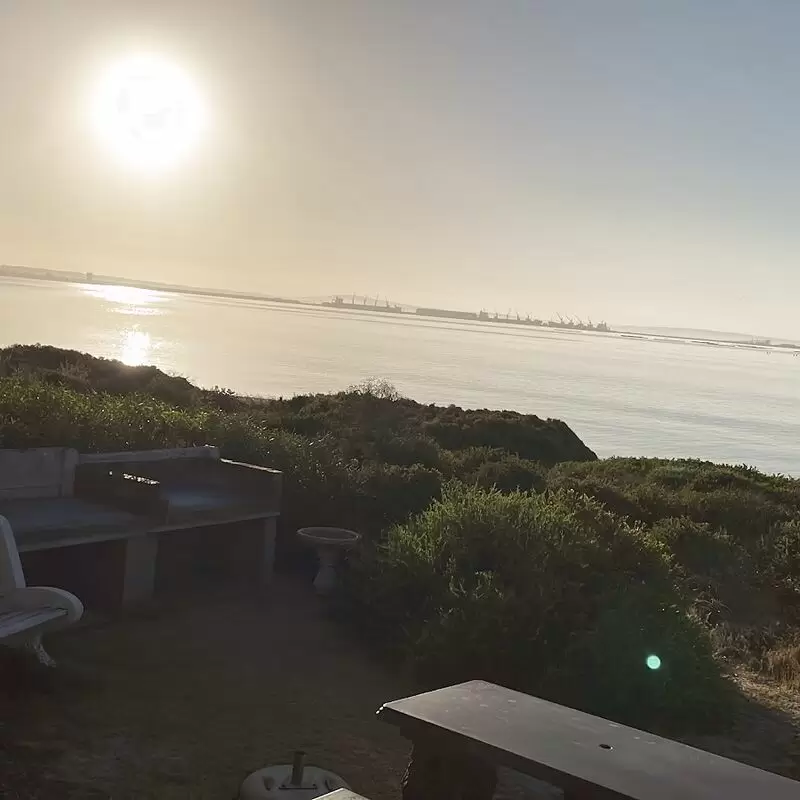 Saldanha Bay Yacht House
13 Parker Cres, Parkersdorp, Saldanha
Monday - Sunday: 8:00 AM – 5:00 PM
15. North Head Lighthouse

The North Head Lighthouse in Saldanha is a beacon steeped in history and offers panoramic views of the bay. Step back in time as you explore the old architecture and feel the coastal breeze.

An insider tip: the lighthouse offers breathtaking sunsets - perfect for photographers and romantics. Just a little further down the road, you'll find historic Schaapen Island, another unique attraction worth visiting. Prepare yourself for a cultural experience you won't forget.

North Head Lighthouse
Military, Saldanha
16. Hoedjieskop Museum
At the Hoedjieskop Museum you can take a trip back in time to the life of fishermen in the 19th century. This provincial heritage site displays artifacts and photographs that vividly depict the rich history of the local fishing community of Saldanha. Housed in an old fisherman's house, the museum provides an excellent opportunity to learn about the area while enjoying a magnificent view of the bay. Just a short walk away, don't miss Eve's Footprint, which has additional historical significance!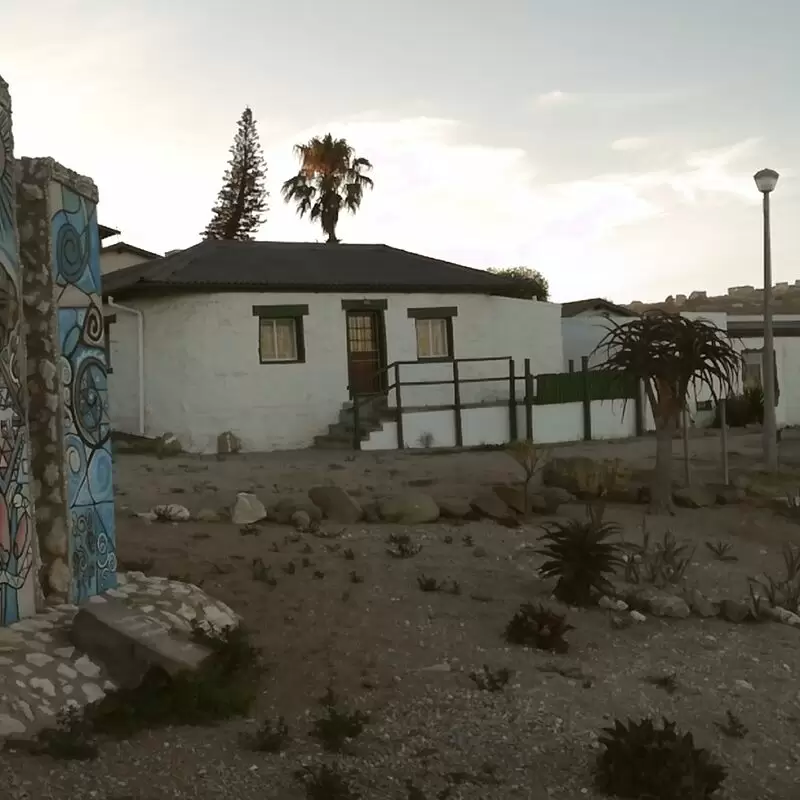 Hoedjieskop Museum
12 Diaz St, Saldanha
Monday - Sunday: 10:00 AM – 4:15 PM
Tuesday - Saturday: Closed
Best Time to Visit Saldanha
The best time to visit Saldanha, South Africa, is during the warmer months from November to March, when temperatures range from 20°C to 30°C. However, if you prefer a quieter visit, the low-traffic months from April to October offer a cooler climate and fewer crowds.
Annual Weather in Saldanha
Saldanha 3-Day Forecast
Wed, 27 September
Night
56 °F
13 °C
0%
Morning
53 °F
11 °C
0%
Afternoon
64 °F
18 °C
0%
Evening
62 °F
17 °C
0%
Thu, 28 September
Night
59 °F
15 °C
0%
Morning
57 °F
14 °C
0%
Afternoon
69 °F
21 °C
0%
Evening
66 °F
19 °C
0%
Fri, 29 September
Night
62 °F
17 °C
0%
Morning
61 °F
16 °C
0%
Afternoon
64 °F
18 °C
0%
Evening
61 °F
16 °C
24%
Questions & Answers

What is the local cuisine like in Saldanha?

In Saldanha, local cuisine is strongly influenced by its seaside location and offers an abundance of fresh seafood. Oysters, crayfish and mussels are often on the menus and are prepared in traditional Cape Malay style with bold spices and rich flavors. Seafood braais (barbecues) are popular outdoor gatherings, while local bistros serve classic South African dishes such as biltong (cured meat) and boerewors (country sausage). The area is also known for its excellent wineries, which offer tastings of award-winning South African wines.

How safe is Saldanha for tourists?

Saldanha is generally safe for tourists and has a relatively low crime rate compared to other regions in South Africa. As with any destination, it is recommended to be vigilant, especially after dark, and to follow basic safety protocols, such as not displaying expensive items or carrying large amounts of cash. Pickpocketing and casual theft can occur, especially in busy places, but these are common in most locations worldwide and the risk can be largely mitigated with common sense and caution.

What is the main language spoken in Saldanha?

The main language spoken in Saldanha, South Africa, is Afrikaans. This language is a derivative of Dutch and is considered the native language for the majority of the population in Saldanha. However, due to its importance as an international language and its widespread use in South African education and media, English is also widely spoken and understood in the region.

Is it easy to get around Saldanha?

Yes, getting around Saldanha is quite easy for visitors. The city is small, so you can reach many places on foot or by bike. For more distant destinations, it is best to hire a cab or rental car. Public transportation is available, but limited. Roads are well maintained and signage is clear, so you can easily get behind the wheel yourself. Please note that driving in South Africa is on the left side of the road.

How expensive is Saldanha?

Saldanha, South Africa, is relatively inexpensive compared to other South African destinations. The cost of accommodation, food, and transportation is generally reasonable, making it affordable for budget travelers. However, prices can vary depending on the season and certain activities such as guided tours or adventure sports. As with any destination, there are luxury options for a higher price. The flexibility and variety of prices make Saldanha suitable for a range of budgets.

What's the culture like in Saldanha?

Saldanha, a port city in South Africa, embodies a relaxed coastal lifestyle combined with a rich local culture. The city is a melting pot of different traditions, strongly influenced by fishing. Seafood plays an important role in the cuisine. Locals are known for their friendliness and hospitality and are always ready to share stories about their city. Community events and colorful festivals, often related to local traditions and the sea, capture the spirit of this idyllic coastal town.

What is the biggest local holiday or festival in Saldanha?

The most important local festival in Saldanha, South Africa, is the Saldanha Bay Seafood Festival. This event showcases the city's rich maritime culture and tradition. Visitors enjoy a variety of locally caught seafood, culinary demonstrations and live entertainment. It is a highly anticipated event where locals and tourists alike can enjoy the gastronomic delights of the region while experiencing the vibrant community spirit of Saldanha.

What's the local dress of Saldanha?

In Saldanha, South Africa, there is no specific traditional dress due to the diverse population. However, South African clothing is often characterized by its bright colors and symbolism. One popular traditional clothing is shweshwe, a printed, dyed cotton fabric. The people of Saldanha generally wear more casual and modern Western clothing for their daily lives. Fashion here is highly influenced by the climate and cultural background of the people. However, comfortable clothing, including a sun hat and light jacket, is advisable due to the weather.

How is the nightlife in Saldanha?

In Saldanha, the nightlife is perhaps not as vibrant as in the big cities; there is a calm and serene atmosphere. Nevertheless, there are charming local bars and restaurants along the coast for those who want to spend a relaxing evening. These establishments offer delicious cuisine, often with live music or karaoke nights. Nightlife in Saldanha is not exhaustive, but it is definitely entertaining, especially if you appreciate a relaxed, cozy atmosphere.

Are there any local etiquettes or customs I should be aware of?

In Saldanha, as in many parts of South Africa, respect and courtesy play a crucial role in social interaction. It is customary to greet others warmly, often with a handshake, before starting a conversation. Locals value patience, so avoid rushed interactions or activities. When invited to a home, it is customary to bring a gift such as wine or flowers. Although English is widely spoken, it is appreciated if visitors make the effort to learn a few words of local languages such as Afrikaans or Xhosa.

What is the tipping etiquette in restaurants in Saldanha?

In South Africa, including Saldanha, it is customary to tip waiters in restaurants. The typical amount is 10-15% of the total bill. It is always appreciated if you tip in cash, as this goes directly to the staff. Tipping is not mandatory, but it is a sign of satisfaction with the service provided. In some establishments, a service charge may be included in the bill, in which case an additional tip is not necessary.

Are there any common scams to look out for in Saldanha?

Although Saldanha is generally considered safe for tourists, it is advisable to always be vigilant. Common scams include cab drivers overcharging tourists, people begging for money or food, and street vendors trying to sell overpriced goods. Also watch out for theft and pickpocketing in crowded public places. Always keep your personal belongings close by and negotiate prices for services or items in advance to avoid becoming a victim of such a scam.

How is the internet connectivity in Saldanha?

In Saldanha, internet connectivity varies, but is generally reliable. There are several service providers offering a range of options, from mobile data solutions to fixed broadband Internet. Wi-Fi access is also widely available, especially in hotels, restaurants and other public places. However, speeds and connectivity can vary in more remote areas, and there may be occasional disconnections. Overall, the service is sufficient for checking e-mail, surfing, and performing important online tasks.

What's the drinking age in Saldanha?

Saldanha, as part of South Africa, adheres to national laws regarding the minimum age for alcohol consumption. The legal minimum age for alcohol consumption in the country, which also applies to Saldanha, is 18. This means that individuals must be at least 18 years old to purchase, consume or possess alcoholic beverages. It is important that you, as a visitor, comply with these age restrictions to avoid legal complications.

How reliable is public transport in Saldanha?

Public transportation in Saldanha, South Africa, is relatively reliable and offers several options, including cabs, trains and buses. Cabs tend to be the most convenient, as they are available around the clock. Trains and buses run on regular schedules, but can sometimes be delayed due to traffic or weather conditions. Overall, local transportation is reliable, but it is advisable to plan your trip and allow extra time for possible delays.

What is the emergency contact number in Saldanha?

In case of emergencies, the first contact number in Saldanha, South Africa, is 10111, the national emergency number for the South African Police Service. For medical emergencies, dial 10177. These numbers will connect you to the appropriate emergency services that will provide immediate assistance. Remember that these numbers should only be dialed in situations of immediate danger or life-threatening emergencies. Always provide clear and accurate information about your location when calling.

Are credit cards widely accepted in Saldanha?

Yes, credit cards are widely accepted in Saldanha, South Africa. Most restaurants, hotels and retail stores accept major international credit cards such as Visa, MasterCard and sometimes American Express. However, it is recommended that visitors also carry a moderate amount of cash for smaller establishments, street vendors or emergencies.

Are there spaces for outdoor activities in Saldanha?

Absolutely! Saldanha in South Africa offers a wealth of outdoor activities. Here you can explore the breathtaking Hoedjieskop Nature Reserve, which is full of rare local flora and fauna. Experience relaxing hikes with panoramic views of the bay. In addition, the beautiful beaches of Saldanha offer opportunities for swimming, sailing, fishing or just enjoying a sunny day. You can also visit the fascinating Sasol Art Museum, housed in an old 19th century rectory.

Is Saldanha a family-friendly destination?

Saldanha is definitely an ideal family-friendly destination. With its quiet sandy beaches, it is an excellent place to relax with your loved ones. Saldanha offers opportunities for activities such as fishing, boating, bird watching and hiking, which are interesting for both youngsters and adults. Saldanha is the seafood capital of South Africa, so families can enjoy fresh, delicious meals together here as well.

Are English-speaking guides available in Saldanha?

Yes, English speaking tour guides are readily available in Saldanha, South Africa. These professional guides are well versed in the history, culture and attractions of the city. They are willing to share their knowledge with visitors and can introduce both popular and lesser-known attractions. Whether you are interested in bird watching, history, or the beautiful flowers that bloom in the spring, there is an English-speaking guide who can provide you with an unforgettable experience.

What local plants or animals can I see in Saldanha?

In Saldanha, South Africa, you can observe a variety of local fauna and flora. The area is home to several species of birds such as flamingos and Cape gannets. Marine life is also abundant, and dolphins and seals are often spotted. Plant lovers will get their money's worth in the surrounding West Coast National Park, which has an abundance of wildflowers, especially in the spring. The vegetation is predominantly fynbos, a unique type of vegetation found only in the Western Cape. Despite its arid appearance, this region is a hotspot of biodiversity.

How does Saldanha handle recycling and waste management?

Saldanha, South Africa, uses a combination of public facilities and private organizations for recycling and waste management. Households and businesses are encouraged to separate their waste, which is then collected and taken to recycling facilities. At these facilities, recyclable materials are effectively processed, simultaneously reducing the amount of waste sent to local landfills. For non-recyclable waste, Saldanha uses landfills that ensure minimal environmental impact. In addition, initiatives to raise public awareness of waste prevention and recycling are continuously promoted.

Do I need any vaccinations before travelling to Saldanha?

Before traveling to Saldanha, it is recommended to brush up on routine vaccinations, such as measles-mumps-rubella (MMR) and diphtheria-tetanus-pertussis. Vaccinations against hepatitis A and typhoid fever, which can be transmitted through contaminated food or water, are also often recommended. Vaccination against yellow fever is not required unless you come from a region where it is endemic. However, it is always advisable to discuss with your doctor what preventive measures are necessary for your individual health condition.

Are there places for vegetarian or vegan food in Saldanha?

In Saldanha, South Africa, vegetarians and vegans get their money's worth. Blue Bay Lodge, for example, offers a variety of delicious vegan and vegetarian dishes. Vyge Valley Farmstall, about a 40-minute drive away, is also known for its many vegan and vegetarian delicacies. Saldanha may seem small, but when it comes to providing visitors with diverse food options, it really delivers.

How to respect and follow local traditions in Saldanha?

When visiting Saldanha, South Africa, one should show a genuine interest in local traditions and customs. Common manners include greeting people with a friendly smile and a handshake. Learn simple words in the local language such as "hello" or "thank you." Dress respectfully and modestly, especially in rural areas. Admiration for local cuisine and music can also help build rapport. Always get permission before taking photos of locals to respect their privacy.

What are the working hours of local markets in Saldanha?

Local markets in Saldanha are generally open from early morning at 8:00 am until late afternoon or early evening at 5:00-6:00 pm. This is true Monday through Saturday, although some may be open for shorter hours on Sundays. However, it is best to inquire in advance about each market's hours, as they may vary. These local markets offer a variety of local products, handicrafts and various other goods that embody the vibrant South African culture.

Does Saldanha have a day dedicated to local markets?

As a guide, I would say that while Saldanha does not have a special day dedicated to local markets, the bustling town is known for its fresh seafood, especially mussels, oysters and fish, sold by local vendors throughout the week. You can sample these delicacies at various locations and restaurants around town. In addition, nearby towns like Langebaan often host craft and food markets that are definitely worth a visit.

What's the local wine or beer in Saldanha?

In Saldanha, South Africa, Darling Cellars' Sauvignon Blanc is one of the region's most popular wines. This winery is located nearby, and its wines express the region's unique terroir. Beer lovers will appreciate the craft beer from local microbrewery Charlie's Brewhouse. The selection of craft beers includes a range of flavors, from traditional lagers to adventurous ales. The influence of the sea and local flavors can be tasted in both wine and beer in Saldanha.

What seafood is popular in Saldanha?

Saldanha, South Africa, is known for its abundance of seafood, especially mussels and oysters. These mollusks, farmed right in the bay, are distinguished by their fresh, sublime flavor, which is due to the nutrient-rich, cold Atlantic waters. Also popular in Saldanha are crayfish, snoek and hake. Whether you dine at a local restaurant or go on a fishing trip, seafood will undoubtedly be a delicious highlight of your Saldanha experience.

Can I drink tap water in Saldanha?

Tap water in Saldanha, South Africa, is generally considered safe to drink. However, the taste and quality may vary depending on the region and season. If you have a sensitive stomach or are not used to drinking tap water, it is advisable to use bottled water for drinking and brushing your teeth. It is always important to stay hydrated and take care of your health when traveling.

Feedback

I hope you found this article informative and helpful. I'm eager to improve the content and make it even more valuable for you. If you have any feedback or suggestions, I would love to hear from you.

Do you have any tips or hidden gems that you think should be added to the list? Are there any areas that you feel could use more explanation or clarification?

Your input is greatly appreciated and will help us to continue providing high-quality content that meets your needs and interests. Please feel free to share your thoughts.