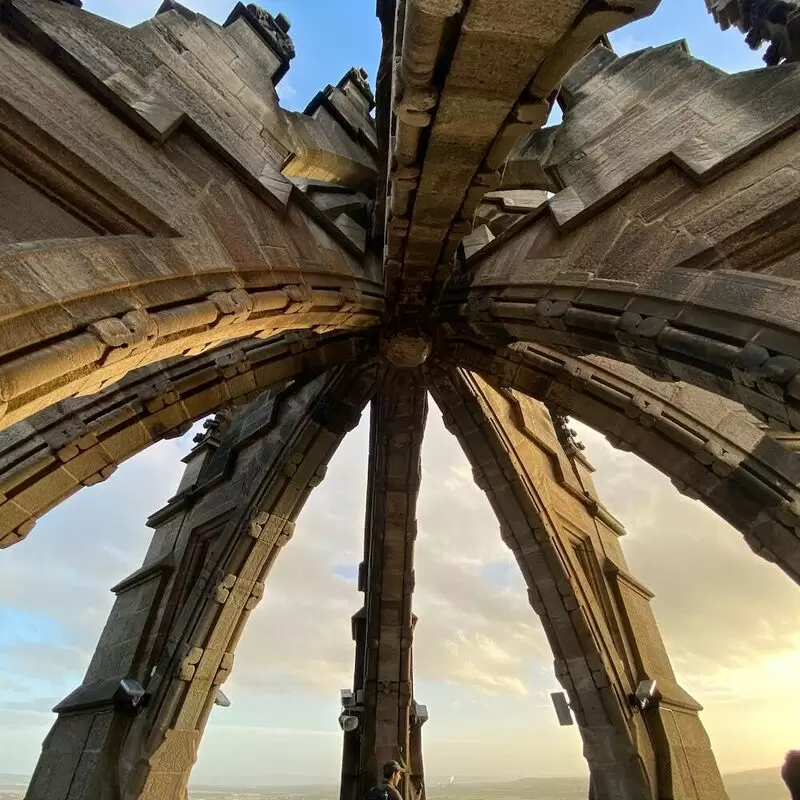 1. Stirling Castle
Discover the boundless history of Stirling Castle, where monarchical decadence meets breathtaking panoramic views. Walk through the royal Renaissance palace and stroll where Scottish kings and queens once walked. Don't miss the Stirling Heads Gallery, filled with massive oak roundels. Immerse yourself in the lives of past residents with interactive exhibits. Just a short walk away, explore Argyll's Lodging - Scotland's most magnificent 17th-century townhouse. At dusk, take in stunning views of the city from the castle's esplanade. A trip here is not just a visit, but a time travel adventure.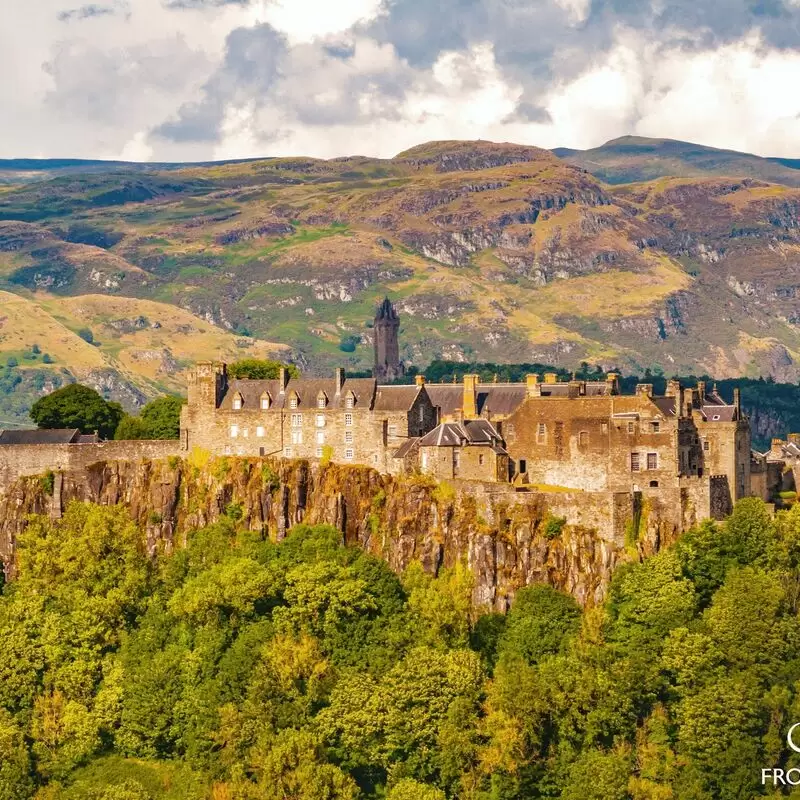 Stirling Castle
Castle Wynd, Stirling
Monday - Sunday: 9:30 AM – 6:00 PM
2. Blair Drummond Safari and Adventure Park
At Blair Drummond Safari and Adventure Park, you can venture into the wild and experience free-roaming animals up close. Meet lions, monkeys and giraffes or take part in an animal feeding session. A special insider detail is the boat ride to Chimpanzee Island. Kids will love the adventure zone with a giant Astroglide. Just 10 minutes away is the Battle of Bannockburn Visitor Centre, where Scotland's history comes alive!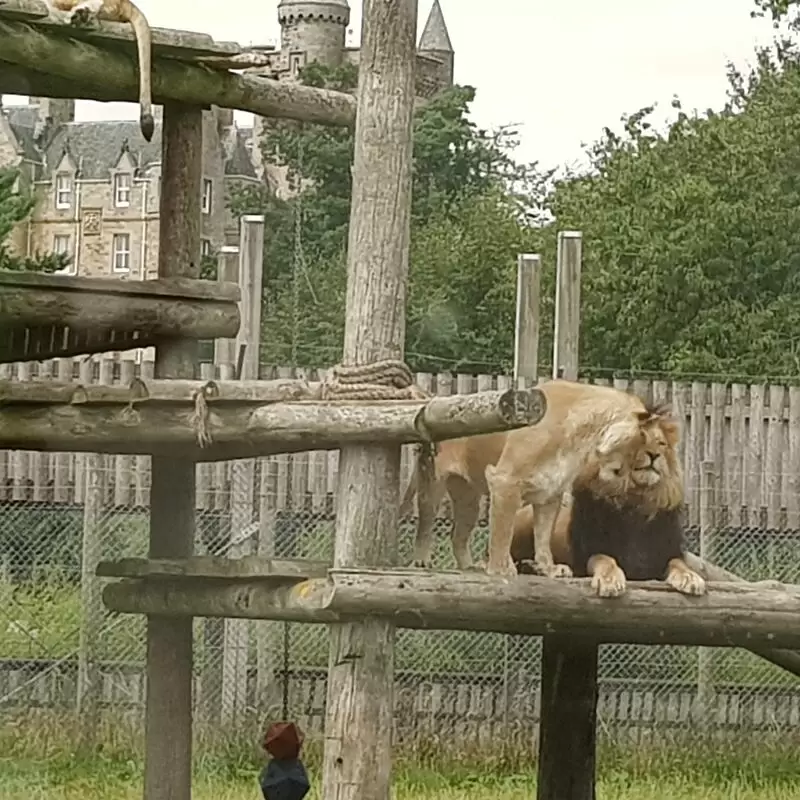 Blair Drummond Safari and Adventure Park

3. The National Wallace Monument
The National Wallace Monument is an absolute must-see! This towering testament to Sir William Wallace offers an unparalleled 360° view of Stirling. Explore the Hall of Arms and immerse yourself in Scotland's turbulent past through exhibits. Did you know that many of the monument's stones were hand-carved by prisoners from Dunblane? Nearby, you can continue your historical journey at Stirling Castle, just a short drive away, whose regal aura and magnificent gardens will amaze you.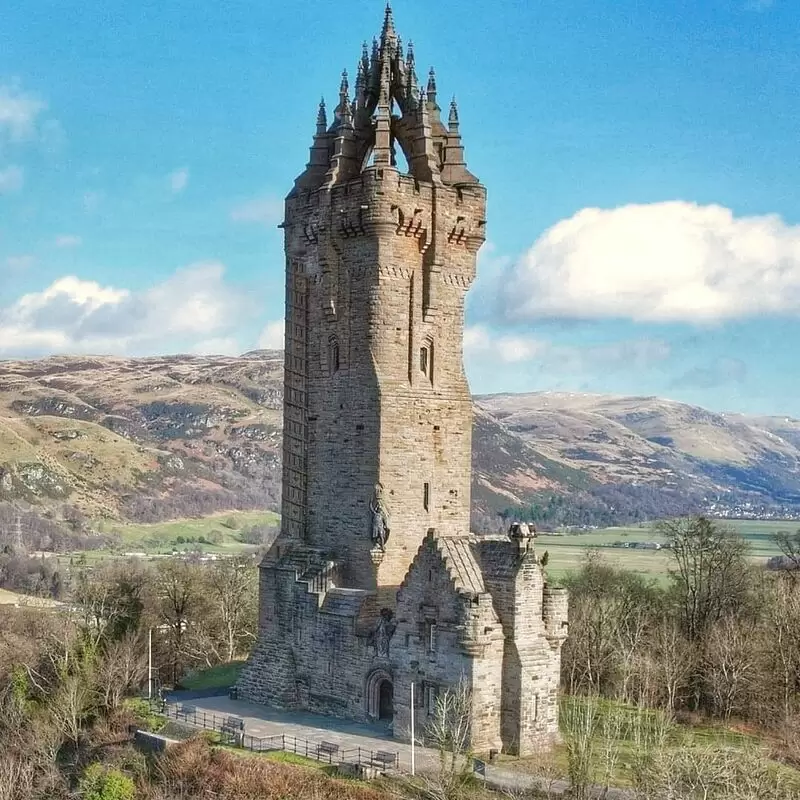 The National Wallace Monument
Abbey Craig, Hillfoots Road, Stirling
Monday - Sunday: 9:30 AM – 6:00 PM
4. Doune Castle
Doune Castle, a medieval fortress near Stirling, is not to be missed. You can explore the massive central keep, the towering gatehouse, and the superbly preserved great hall. The castle exudes a charming Scottish history, but might also look familiar to you, as it was filmed as Leoch Castle in "Outlander." Be inspired by Monty Python, as this is also where "The Holy Grail" was filmed! Don't miss the nearby Deanston Distillery - a whisky lover's paradise. A visit to these marvels promises a day of adventure and entertainment.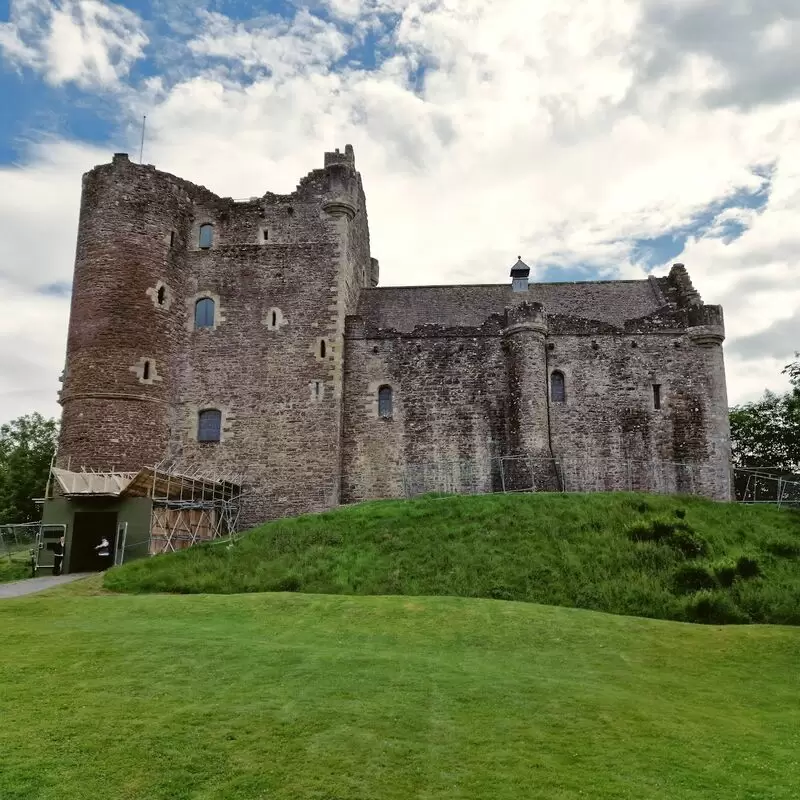 Doune Castle
Castle Hill, Doune
Monday - Sunday: 9:30 AM – 5:30 PM
5. The Battle of Bannockburn Visitor Centre
The Battle of Bannockburn Visitor Centre is a great trip down memory lane! Experience 14th century Scotland through immersive 3D content that brings the blood-soaked battle to life. Guided tours reveal secrets you won't find anywhere else. Not far away is Stirling Castle, another gem. Perfect for history buffs!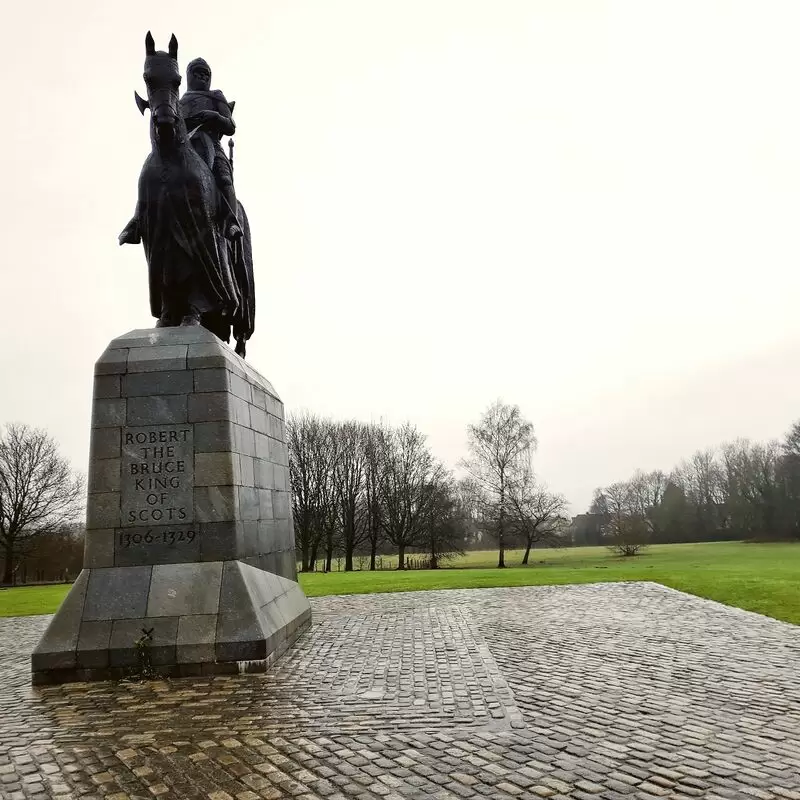 The Battle of Bannockburn Visitor Centre
Glasgow Road, Whins Of Milton, Stirling
Monday - Sunday: 10:00 AM – 5:00 PM
6. Stirling Old Bridge
Enter the old bridge of Stirling and feel the centuries of history under your feet! This gem, used by Robert Bruce in the Battle of Stirling Bridge, is more than just a crossing, it's a portal through time. Shop and dine on the Back Walk, a path that runs along the walls of the old town, just around the corner. For a special experience, visit at dusk, when the old stone bridge is transformed into a magical spectacle by the light of Stirling Castle.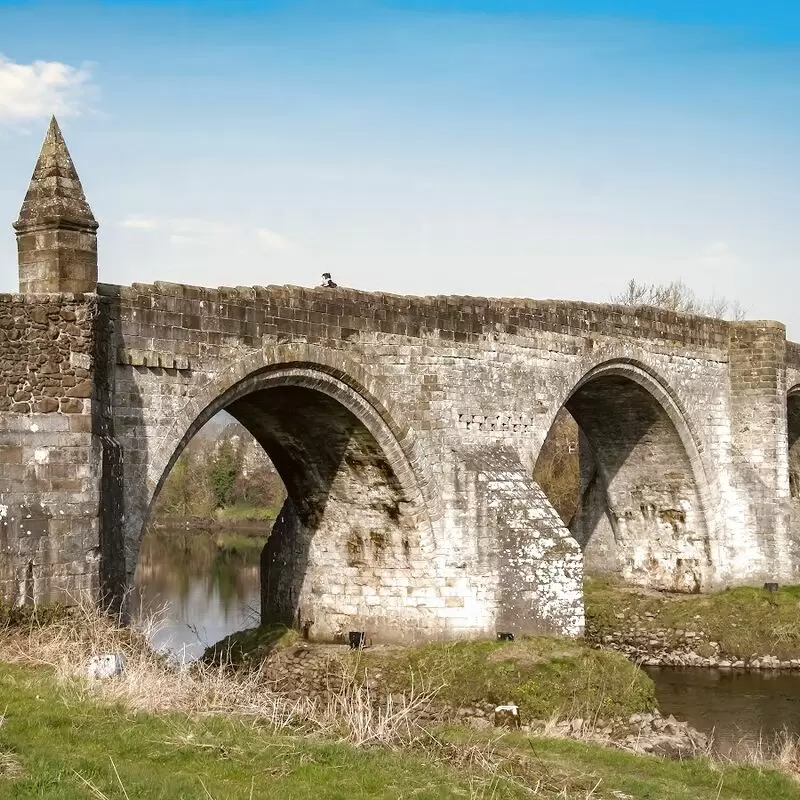 Stirling Old Bridge
River Forth, Stirling FK8 1AQ
Monday - Sunday: Open 24 hours
7. Holy Rude
Experience 900 years of fascinating history at Stirling's Holy Rude, the city's second oldest building after the castle. Marvel at the teardrop-shaped windows, which few similar buildings still have. Feel the breath of the Scottish Reformation, which began here. Stirling Castle and the Old Town are just steps away, rounding out your heritage journey. End your day with a look at the intertwined towering Celtic tombs in the churchyard, a beautiful testament to historical coexistence.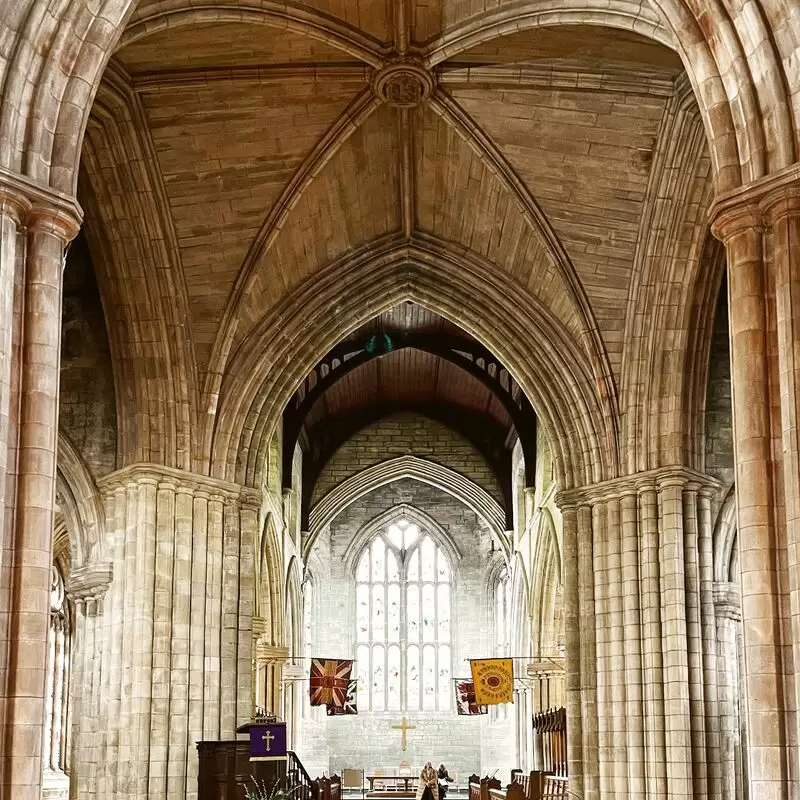 Holy Rude
Saint John Street, Stirling
Monday - Sunday: 10:00 AM – 4:00 PM
8. Robert the Bruce Statue
Visiting the towering statue of Robert the Bruce in Stirling is a leap back in time. As you admire the majestic statue, relive the brave deeds of the Scottish hero at the Battle of Bannockburn. Marvel at the detailed and robust sculpture of his muscular warhorse and his determined gaze toward the horizon, and let history take over. Conveniently, Stirling Castle is just a short walk away, so you can continue your historical journey with stunning scenery and architecture. These two sites form a perfect tandem for a historic day trip.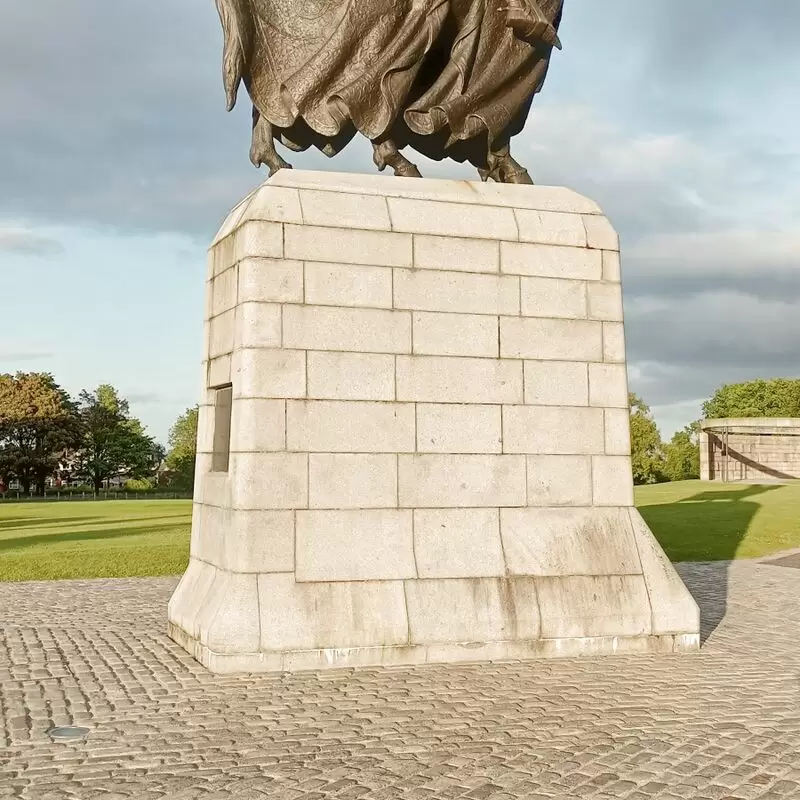 Robert the Bruce Statue
35 Borestone Place, Stirling
Monday - Sunday: Open 24 hours
9. Stirling Old Town Jail

Delve into the dark side of Stirling's history at Stirling Old Town Jail. Experience an interactive tour with charismatic actors who guide you through the horrific conditions the inmates were subjected to and the captivating stories from the 19th century.

An insider tip: don't miss the panoramic view over Stirling from the Observation Tower! And don't forget that the haunting Stirling Castle is just a 5-minute walk away, giving you a comprehensive picture of the city's medieval past.

Stirling Old Town Jail
Saint John Street, Stirling

Monday - Sunday: 10:00 AM – 6:00 PM
10. Cambuskenneth Abbey
Discover Scotland's rich history on a visit to majestic Cambuskenneth Abbey in Stirling, the tranquil resting place of King James III. The iconic bell tower offers panoramic views that provide the perfect snapshot of your adventure. Experience the quiet hum of a bygone era, heard only at the Abbey. This monument, associated with Robert the Bruce, will increase your historical understanding. Also nearby is the world famous Stirling Castle, just a short scenic walk away.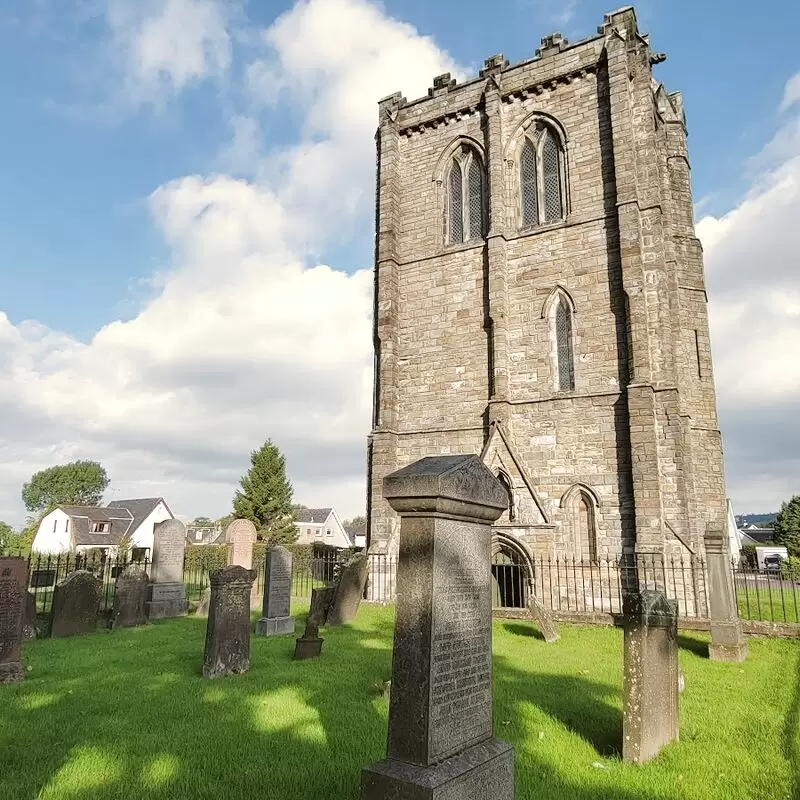 Cambuskenneth Abbey
Ladysneuk Road, Cambuskenneth, Stirling
Monday - Sunday: 9:30 AM – 5:30 PM
11. King's Park
King's Park has been a royal playground since the 12th century and offers stunning views of Stirling Castle. It is the place where James II practiced his archery! The Victorian park has a colorful playground, tennis courts, and lush green lawns - perfect for picnics. Don't miss the "King's Knot," a mysterious garden dating back to the 1600s, accessible from the park. And don't forget that the Old Town Jail is just a short walk away, adding a fascinating historical touch to your visit!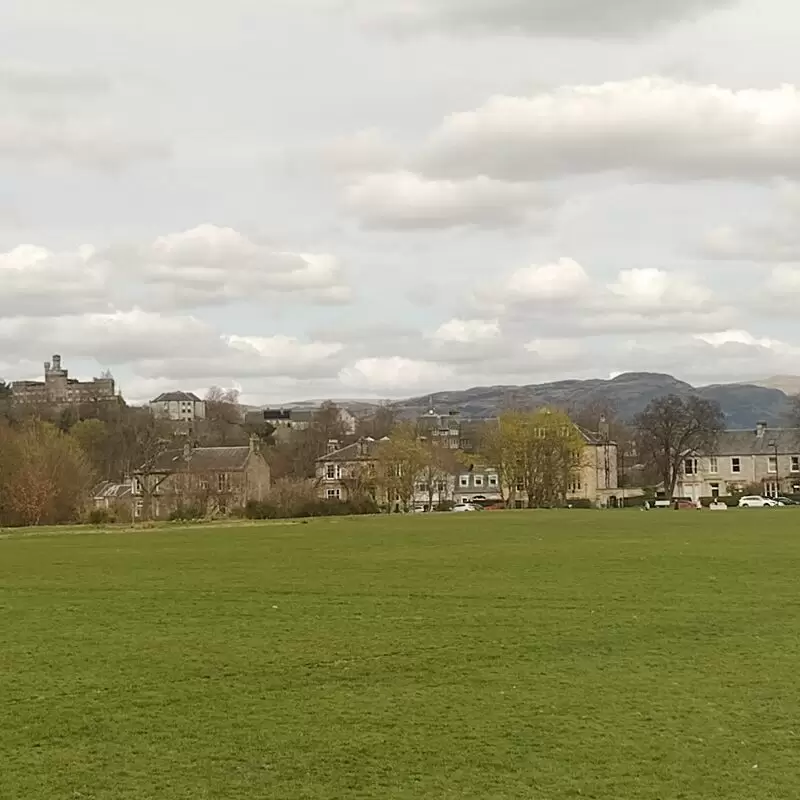 12. The Stirling Smith Art Gallery & Museum
The Stirling Smith Art Gallery & Museum is a treasure trove of fascinating local history. A visit here reveals Stirling's rich and complex past through captivating exhibits ranging from art and archaeology to cultural artifacts. The beautiful Victorian garden provides a refreshing cool down after soaking in the knowledge. Plus, it's just a pebble's throw from monumental Stirling Castle - a real insider's tip. This is history in a remarkable setting, an absolute gem for the curious!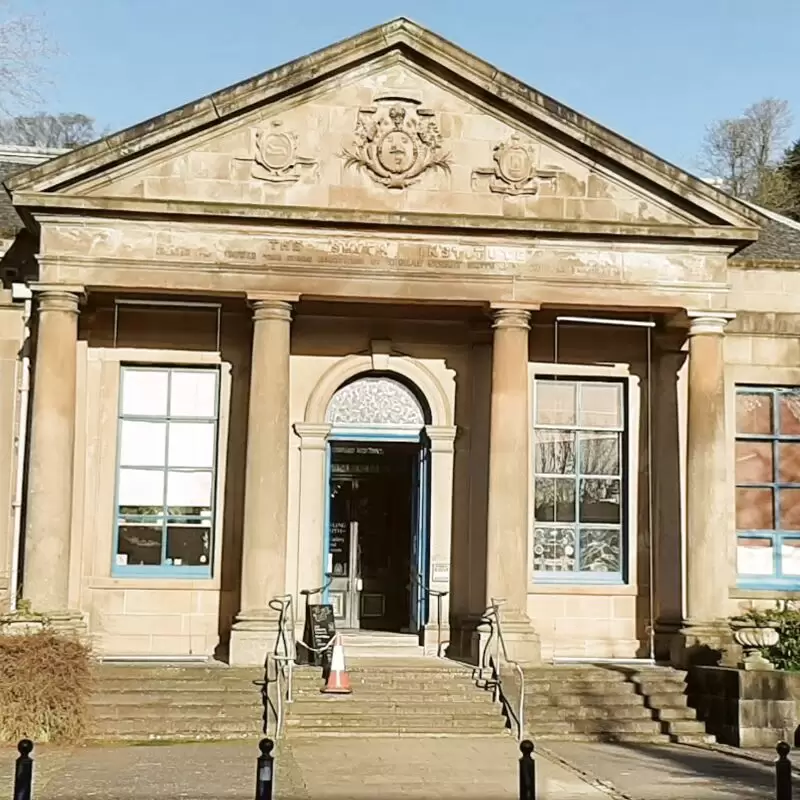 The Stirling Smith Art Gallery & Museum
40 Albert Place, Stirling
Monday - Tuesday: Closed
Wednesday - Sunday: 10:00 AM – 5:00 PM
13. Beheading Stone.
Be enveloped in the mystery of the "Beheading Stone" in Stirling, a beacon of Scottish history with unsolved mysteries. Perched atop Gowan Hill, it tells stories of ancient death sentences. It's a sight that inspires reflection, intrigue and understanding of Stirling's complex past. Take a quiet stroll here after visiting nearby Stirling Castle, just a short walk away. But remember, the mystical stone is off the beaten path and quietly awaits history buffs who dare to go deeper.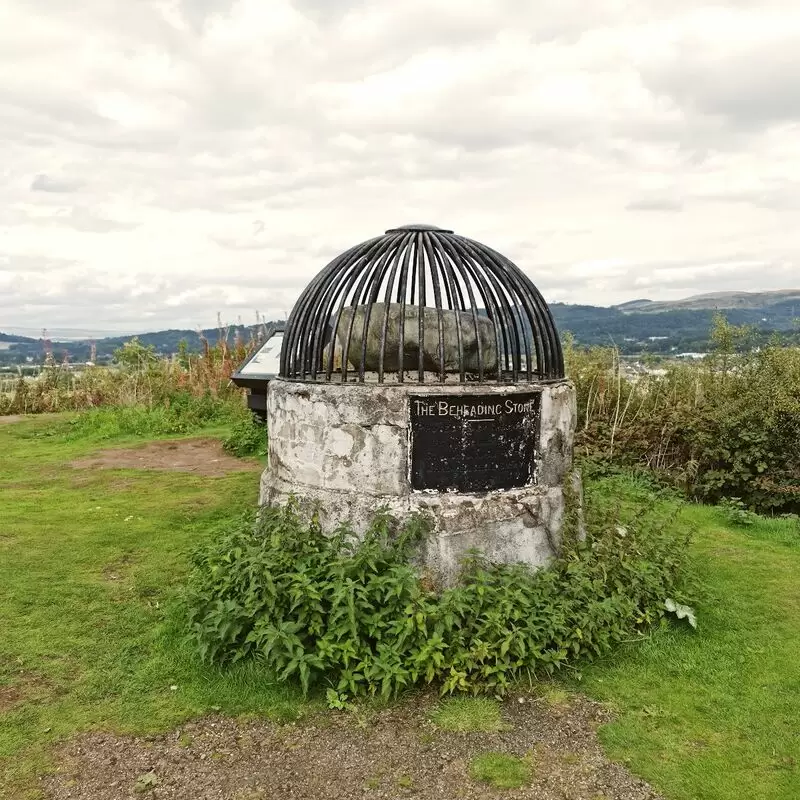 Beheading Stone.
Stirling FK8 1AA
Monday - Sunday: Open 24 hours
14. Argyll and Sutherland Highlanders Regimental Museum
A visit to the Argyll and Sutherland Highlanders Regimental Museum is like a trip to the heart of Scottish military history. Learn about the brave soldiers and their important role in the world wars, and see the uniforms, weapons and other artifacts on display. The museum is housed in Stirling Castle and offers magnificent views of Stirling and the castle's grandeur. The museum's artillery collection is an underrated gem. Pro tip: Combine the museum with a visit to the nearby Smith Art Gallery and Museum for a culture-filled day.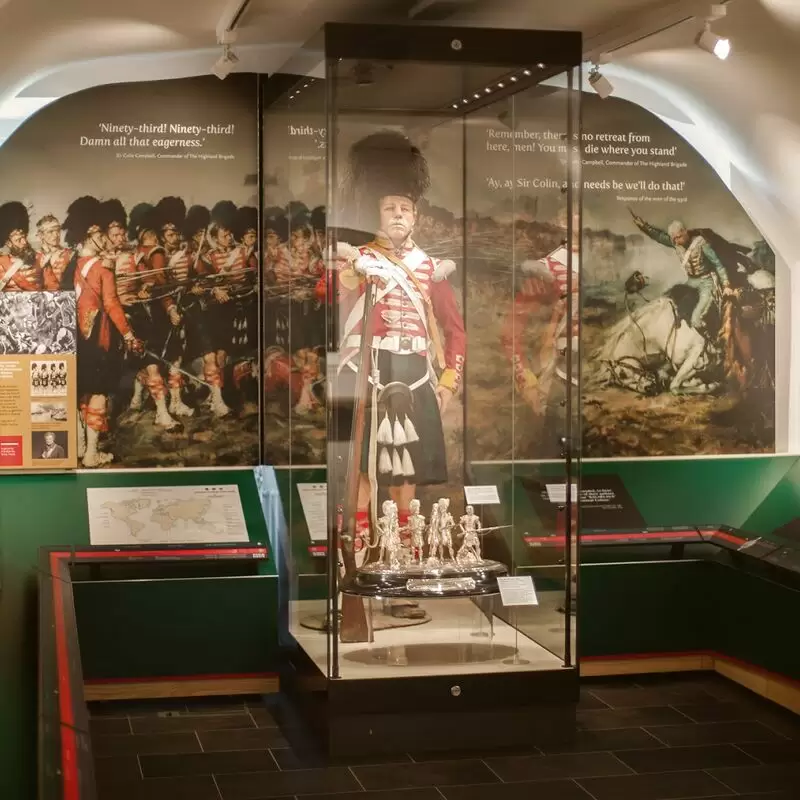 Argyll and Sutherland Highlanders Regimental Museum
The Castle, Stirling
Monday - Sunday: 9:30 AM – 5:30 PM
15. The King's Knot
Immerse yourself in the lush greenery of "The King's Knot", an impressive geometric garden used by monarchs for royal sports since the 12th century. It was used as a royal sports field in the seventeenth century. You will feel the aura of history at this place with UNSECO status, once visited by Mary Queen of Scots. Be sure to explore the mysterious lawn mounds, believed to be a model of a lost labyrinth! This garden, located just below Stirling Castle, is perfect to combine with a castle tour for a day full of Scottish heritage.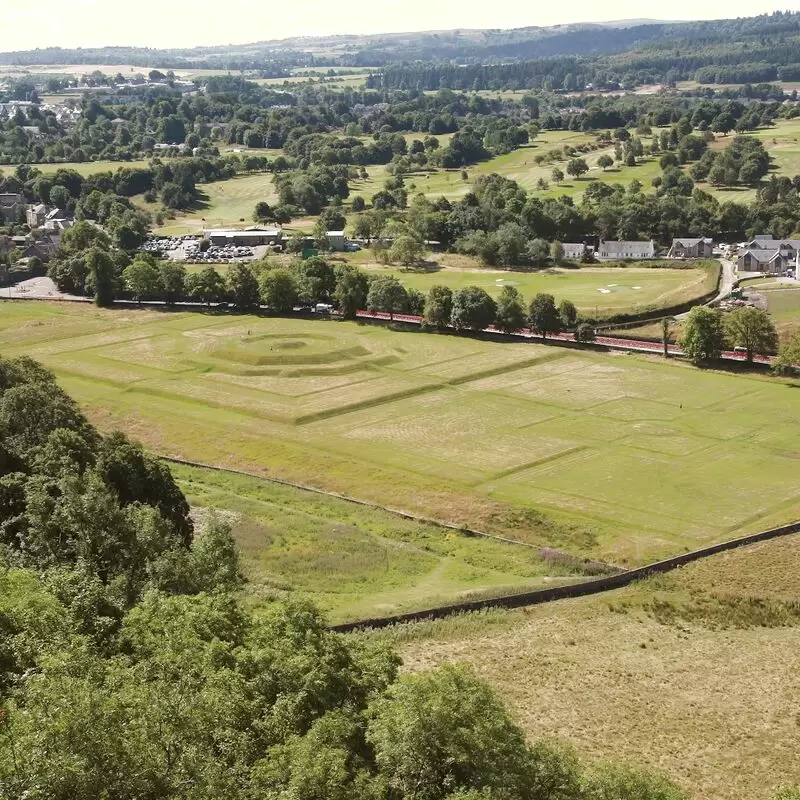 The King's Knot
Scotland, Stirling FK8 1ED
Monday - Sunday: Open 24 hours
16. Hollywood Bowl Stirling

Have a fun family experience at Hollywood Bowl Stirling! This is not just about bowling, but also about neon lights, happy music and laughter echoing through the air. If you're looking for a break from the historic sites, you'll find modern entertainment with retro charm. Just steps away is Peak Trampoline Park for even more fun.

And an insider tip: early weekday mornings are quieter, so you can enjoy your game undisturbed!

Hollywood Bowl Stirling
Forth Street, Riverside, Stirling FK8 1UE

Monday - Sunday: 10:00 AM – 10:00 PM
Friday - Saturday: 10:00 AM – 12:00 AM
Best Time to Visit Stirling
The best time to visit Stirling, United Kingdom, is from late spring (May) to early fall (September). During these months, the weather is mild and great for outdoor exploration. Summer, especially July-August, is popular for various festivals and events.
Annual Weather in Stirling
Stirling 3-Day Forecast
Wed, 27 September
Night
45 °F
7 °C
0%
Morning
46 °F
8 °C
0%
Afternoon
51 °F
11 °C
69%
Evening
50 °F
10 °C
67%
Thu, 28 September
Night
49 °F
9 °C
0%
Morning
48 °F
9 °C
66%
Afternoon
57 °F
14 °C
85%
Evening
51 °F
11 °C
89%
Fri, 29 September
Night
51 °F
10 °C
50%
Morning
50 °F
10 °C
89%
Afternoon
56 °F
13 °C
79%
Evening
50 °F
10 °C
0%
Questions & Answers

What is the key historical significance of Stirling?

Stirling is widely regarded as a central place in Scotland's history. Its central location and strategic position near the River Forth made it a flashpoint for conflict, especially during the Scottish Wars of Independence. The city's landmark, Stirling Castle, was a seat of royal power where important events such as royal coronations took place. The famous Battle of Stirling Bridge, in which William Wallace led the Scots to victory, also took place here. Its rich history has earned Stirling the title of "Gateway to the Highlands".

Where can I find traditional Scottish food?

If you're looking for traditional Scottish cuisine, be sure to check out The Birds and Bees Restaurant. This charming eatery serves a variety of Scottish dishes, including haggis, neeps and tatties, and Cullen skink. Another excellent spot is Hermann's Restaurant, which serves innovative interpretations of Scottish classics. For an unforgettable culinary experience, the Stirling Highland Hotel offers a fabulous restaurant serving typical Scottish dishes in a historic setting.

How easy is it to use public transport in Stirling?

Using public transportation in Stirling is relatively easy and convenient. The city has a well-developed network of buses, trains and bike paths. The bus connects the city with the surrounding areas, while the train connects Stirling with cities like Edinburgh and Glasgow. Cycling is also popular thanks to numerous bike paths. Stirling is compact and pedestrian friendly, so it is easy to get around on foot.

How safe is Stirling for tourists?

Stirling is generally a safe place for tourists, with a low crime rate comparable to that of many small towns in the UK. As everywhere, it is important that visitors be aware of their surroundings and take the usual precautions, especially at night. Emergency services are reliable and easily accessible. Tourists should feel safe exploring the city's historic sites, restaurants, and stores, and the hospitable locals are usually happy to help visitors with directions or advice.

Is Stirling expensive to visit?

The cost of visiting Stirling, United Kingdom, really depends on personal travel style and preferences. While it is possible to enjoy an inexpensive trip with budget accommodations and inexpensive meals, there are luxury options as well. Notable expenses include entrance fees to attractions such as Stirling Castle or the Wallace Monument. In general, Stirling is considered relatively affordable compared to larger British cities like London or Edinburgh. Calculate your budget taking into account factors such as accommodation, food, attractions and transportation.

What is the local language spoken in Stirling?

English is spoken in Stirling, as it is in the rest of the United Kingdom. However, you will hear Scottish accents, which can be quite different from those in other regions of the UK. Scotland also has its own Gaelic language, though it is spoken much less frequently and is found mainly in the Highlands and Islands. Nevertheless, as a tourist, you should not have any language problems if you want to communicate in Stirling.

Are there guided tours available in Stirling?

Yes, there are several guided tours offered in Stirling. These include walking tours around Stirling Castle, ghost tours of the old town and historical tours to the site of the Battle of Bannockburn. There are also whisky tours for spirits lovers and nature tours of the beautiful Scottish countryside. These tours are offered by several local companies that provide professional guides to make your visit educational and fun.

Is it easy to navigate around Stirling by foot?

Yes, Stirling has a compact and pedestrian-friendly city center that is easy to get around on foot. Major attractions such as Stirling Castle, the Old Town, and the Wallace Monument are within easy walking distance. Shopping, restaurants, and local transportation hubs are also close by. The city is a bit hilly, especially toward the castle, but the scenic views add to the appeal of a walk. Don't forget to wear comfortable walking shoes!

Do people in Stirling speak English?

Yes, people in Stirling, United Kingdom, speak mostly English. It is the most commonly spoken language, not only in Stirling, but throughout the United Kingdom. There may be differences in accents and regional dialects, but the language itself remains the same. So if you speak English, you should have no trouble communicating when you visit Stirling. However, like many places, there are people who speak other languages, reflecting the diverse and multicultural population.

How is the nightlife in Stirling?

Nightlife in Stirling ranges from laid-back British pubs with live local musicians to lively dance clubs. Most of these venues are within walking distance of each other in the city center, making it easy to wander the pubs. You can sample authentic whiskeys in the traditional Scottish bars, and dance the night away in the modern clubs. Due to the high percentage of students, parties and social events are often held here, which makes the nightlife in Stirling lively and vibrant.

Is it customary to tip in restaurants in Stirling?

Yes, tipping in restaurants is common in Stirling, UK. It is common to tip about 10-15% of the total bill. However, tipping is not compulsory and if you are unhappy with the service, you are not obliged to tip. Always check your bill carefully to make sure that a service charge has not already been added, in which case a tip is not required.

What is the local dress code in Stirling?

In Stirling, as in the rest of the United Kingdom, there is no specific dress code. Residents wear modern Western clothing, as found in other European cities. As a rule, people dress casually when out and about, but they may dress more formally for work and special occasions. The weather in Stirling can be cool and damp, so it is advisable to bring several layers, a waterproof jacket and comfortable shoes for sightseeing. Warm clothing is especially necessary during the winter months.

Does Stirling have any famous local festivals?

Yes, Stirling hosts several popular festivals throughout the year. The Bloody Scotland Festival is a thrilling mystery event that attracts writers and fans alike. The Stirling Fringe Festival, modeled after the famous Edinburgh Fringe, features a variety of theater and comedy performances. However, the city is best known for the Stirling Highland Games, a traditional event that features iconic Scottish competitions such as caber tossing and Highland dancing.

How can I interact with locals in Stirling?

To get in touch with locals in Stirling, visit popular places like cafes, restaurants or public parks where locals often spend their free time. Take part in local events or festivals that take place in the city. Scots are known for their warmth and friendliness, so don't be afraid to strike up a conversation. Ask them questions about their city or Scottish culture. Try using some simple Scottish phrases to make yourself even more personable. Enjoy your stay in the charming city of Stirling!

What local delicacies should I try in Stirling?

When in Stirling, be sure to try the Scotch Pie, a double-crust pastry traditionally filled with mutton or lamb. Don't miss trying haggis, a hearty pudding made with sheep's beef (heart, liver and lungs), usually served with neeps (turnips) and tatties (potatoes). A delicious treat is the Dundee Cake, a rich fruit cake sprinkled with almonds. To wash it all down, try the local Scotch whisky, which is truly incomparable.

Does Stirling have good access for people with disabilities?

Yes, Stirling is easily accessible to people with disabilities. Many buildings, restaurants, and attractions have provisions to improve accessibility. Public transportation such as buses and trains also have facilities to assist people with mobility issues. The city's main historic site, Stirling Castle, has made significant efforts to ensure that most areas of the castle are accessible to wheelchair users. However, as with any city, it is always best to check the accessibility policies of individual venues before visiting.

How close is Stirling to Edinburgh or Glasgow?

Stirling, often referred to as the gateway to the Highlands, is significantly closer to Glasgow than to Edinburgh. The distance between Stirling and Glasgow is about 26 miles (42 km), which means a travel time of about 40 minutes, depending on traffic conditions. Conversely, the distance between Stirling and Edinburgh is about 37 miles (59 km), which usually means about an hour's travel time, again depending on traffic conditions.

Can I rent a bike in Stirling?

Yes, it is quite possible to rent a bike in Stirling, United Kingdom. The city offers several bike rentals that allow visitors to explore the beautiful landscapes of Stirling. Renting a bike is a great way to explore the city, its historic sites and natural surroundings at your own pace. Check with a bike rental shop in advance for availability and rates.

Is Stirling a child-friendly city?

Stirling is indeed a child-friendly city with a rich historical heritage that offers numerous opportunities for education and fun. Attractions like Stirling Castle and the National Wallace Monument, as well as interactive exhibits like the Battle of Bannockburn Visitors Centre, can spark children's imaginations and bring history to life. At nearby city parks and Blair Drummond Safari Park, children can enjoy the outdoors, engage in outdoor activities and encounter wildlife. The city's quiet and safe environment adds to its kid-friendly appeal.

How is the WiFi connectivity in Stirling?

Stirling, a modern city with a rich history, offers a variety of reliable and fast WiFi options. From popular cafes, restaurants, hotels, and public libraries to major tourist attractions like Stirling Castle, most places offer free WiFi. Even the city center is equipped with public WiFi, making it easy for visitors to stay connected. However, when you move to more rural areas, WiFi strength can decrease slightly, but overall Stirling offers good connectivity.

Is it possible to see Highland games in Stirling?

Stirling, located in the heart of Scotland, is often the site of the famous Highland Games. These events, spread throughout Scotland, offer a traditional Scottish day out with heavy sports competitions, dancing, music and pipe bands. Each town has its own games, with unique local features, so there's always something new to experience. A lively and historic spectacle, not to be missed when visiting Stirling.

What are the important local customs I need to be aware of in Stirling?

As in much of the United Kingdom, the people of Stirling place a high value on politeness, and common manners such as "please" or "thank you" are expected. In addition, Scottish traditions are incredibly important to the locals. Examples include the Highland Games, St. Andrew's Day celebrations, and Burns Night dinners. Respecting these traditions is greatly appreciated. Tipping is also common for good service in restaurants, and respectful queuing is an established custom throughout the UK.

How safe is it to travel alone in Stirling?

Stirling is generally safe for solo travelers, as it is considered a quiet, bustling university town with low crime rates. Occasional petty crimes such as pickpocketing may occur, especially in busy areas, but are relatively rare. As everywhere, it is advisable to take regular safety precautions: Avoid poorly lit areas at night, keep your personal belongings safe, and be aware of your surroundings. Despite these minor concerns, the friendly locals and accessible public transportation make Stirling a safe and welcoming destination for solo travelers.

Can I use credit cards everywhere in Stirling?

Yes, in Stirling you can use your credit card for most transactions in stores, restaurants, hotels and tourist attractions. Most major credit cards such as Visa and MasterCard are widely accepted. However, please note that some small stores or pubs in the countryside prefer cash. For such cases, it is advisable to carry a small amount of local currency. Always check with your bank about foreign transaction fees to avoid surprises.

Are there facilities for camping in or around Stirling?

Yes, there are several camping options in the Stirling area that offer picturesque views of the Scottish countryside. At these sites, you can fully enjoy the natural beauty of the area. Some campgrounds also offer amenities like stores, playgrounds and Wi-Fi. Some even offer the option of pitching tents on site or renting caravans or cottages. Whether you're looking for a traditional camping experience or modern comforts, campgrounds in Stirling will meet your needs.

What's the wildlife like in and around Stirling?

In and around Stirling, the wildlife is quite diverse. Visitors can see common species such as red foxes, squirrels, and numerous bird species such as kingfishers and owls. Nearby Gartmorn Dam Country Park is home to a variety of waterfowl and amphibians. In surrounding areas such as Trossachs National Park, roe deer and red deer roam freely, while higher elevations are home to mountain hares and golden eagles. Marine life includes seals and otters, which are just a short drive from the coast.

Is drinking tap water safe in Stirling?

Yes, tap water in Stirling and throughout the United Kingdom is safe to drink. The water supply in the United Kingdom is subject to high standards that are maintained by regulatory agencies to ensure that the water is clean, safe and nutritious. It is generally considered to be among the best in the world. Nevertheless, people who are not used to the region's water may experience mild stomach upsets due to the varying mineral content. It is also recommended to run the tap cold first if the water has not been used for a while.

Are the museums in Stirling free?

While some attractions in Stirling, United Kingdom, such as the Stirling Smith Art Gallery & Museum and the Argyll and Sutherland Highlanders Regimental Museum, offer free admission, others like Stirling Castle or the National Wallace Monument may charge an entrance fee. It is always a good idea to check directly with each facility to get up-to-date information on admission prices and opening hours.

Do I need to know Gaelic to visit Stirling?

No, it is not necessary to know Gaelic to visit Stirling. Although it is one of the oldest languages in Scotland, very few people speak Gaelic on a daily basis. English is the main language spoken in Stirling and throughout Scotland. There are numerous information sources and tourist centers in this city that offer services in English. Most locals, tour operators and hotel staff also speak English, so it is easy for international tourists to communicate.

Where can I try haggis in Stirling?

In Stirling, try authentic Scottish dishes like haggis at The Portcullis, a traditional pub known for its homemade, melt-in-your-mouth haggis, neeps, and tatties. Located near the city center, below Stirling Castle, this atmospheric pub offers guests a lively historic ambiance to accompany them on their culinary journey of discovery. Don't forget to wash down your meal with a fine selection of Scottish ales.

Feedback

I hope you found this article informative and helpful. I'm eager to improve the content and make it even more valuable for you. If you have any feedback or suggestions, I would love to hear from you.

Do you have any tips or hidden gems that you think should be added to the list? Are there any areas that you feel could use more explanation or clarification?

Your input is greatly appreciated and will help us to continue providing high-quality content that meets your needs and interests. Please feel free to share your thoughts.