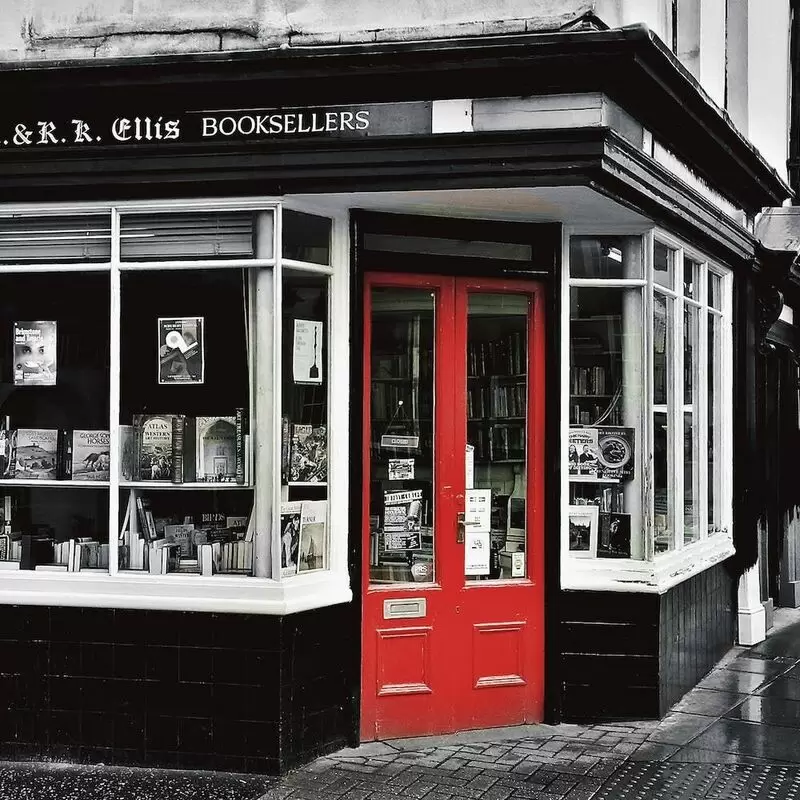 1. The Broads
Discover the magical wonderland of the Broads, the perfect vacation spot in the heart of Norwich. Immerse yourself in a unique network of rivers and lakes, surrounded by picturesque landscapes and rich biodiversity. Get off the beaten path, rent a boat, or explore the many hiking trails while spotting rare wildlife. Don't forget to visit charming villages like Horning and Wroxham nearby. Relax over a traditional lunch in a country pub and experience quintessential English charm in this stunning oasis.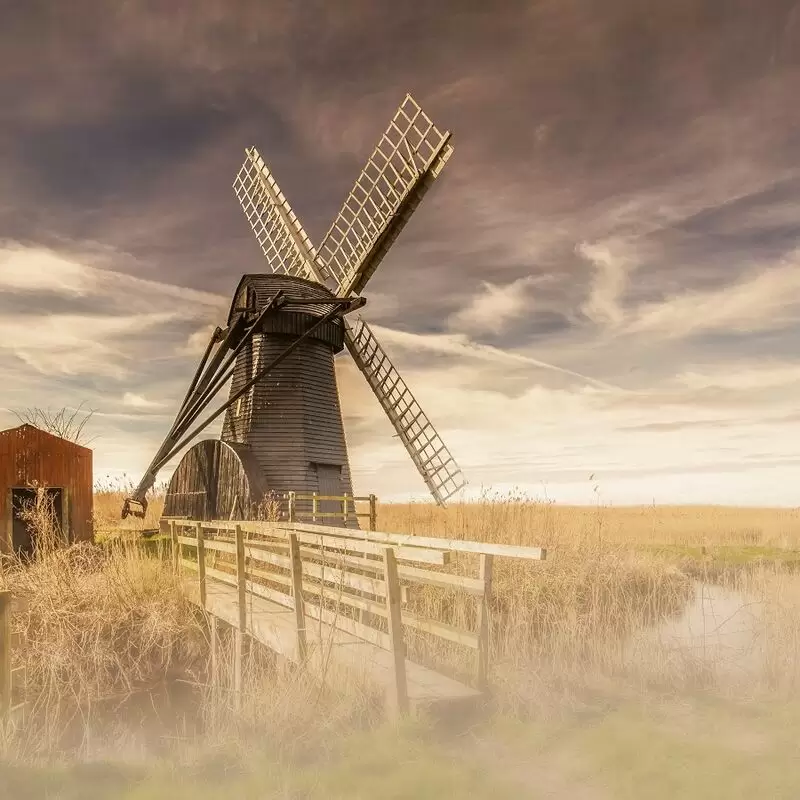 2. Norwich Cathedral
A visit to Norwich Cathedral is an absolute must for history buffs and architecture lovers! The magnificent 900-year-old Norman building has the second tallest spire in England and exquisite medieval stonework. Discover hidden chapels and stunning stained glass windows on your tour, and be sure to visit the tranquil cloister with its stunning ceiling. Just a stone's throw away is Elm Hill, a cobblestone street lined with historic buildings that makes for a leisurely stroll and a quintessential Norwich experience.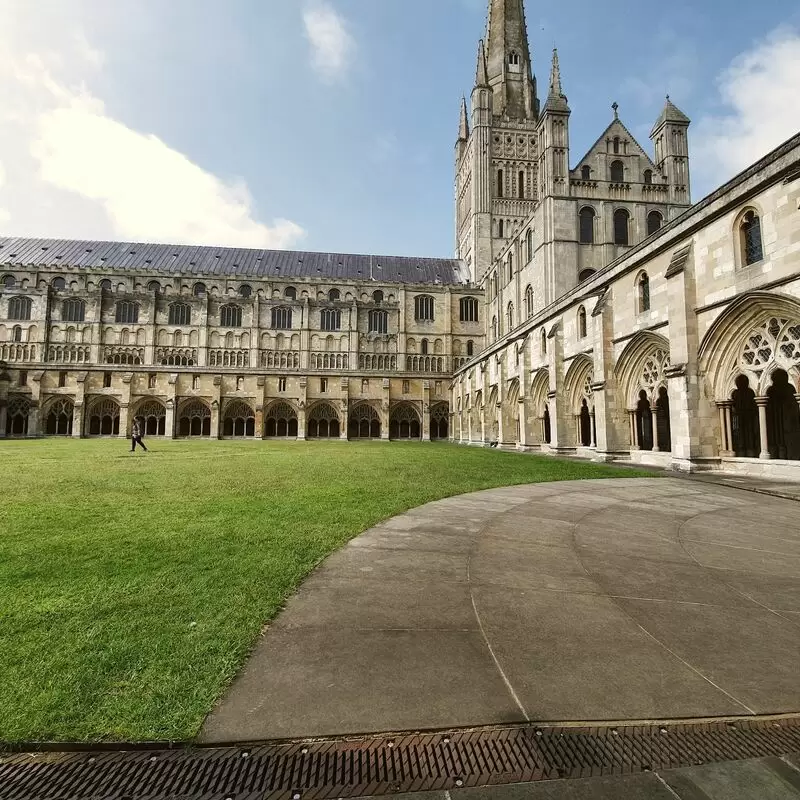 Norwich Cathedral
65 The Close, Norwich
Monday - Sunday: 7:30 AM – 6:30 PM
3. Eaton Park
Eaton Park is a must-see in Norwich if you're looking for a refreshing outdoor experience. This picturesque park spans 80 acres and features beautiful flower beds, green gardens, expansive playgrounds, and a relaxing boating pond. For families and sports enthusiasts, there is a miniature train for children, several sports fields and a skateboard park. Don't miss the enchanting Rose Garden and look out for the Secret Sculpture Trail, a unique gem in the area!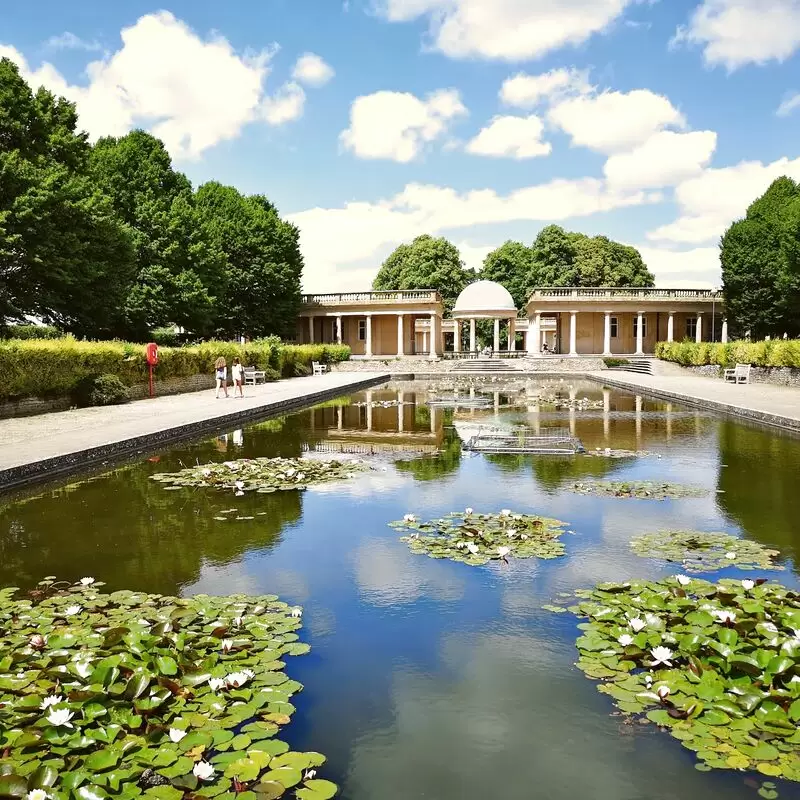 Eaton Park
2 South Park Avenue, Norwich
Monday - Sunday: Open 24 hours
4. National Trust Felbrigg Hall Gardens & Estate
Discover the enchanting world of Felbrigg Hall, Gardens & Estate in Norwich! This stunning 17th-century country house boasts ornate interiors, lush gardens, and a sprawling estate to explore. Stroll through the beautiful Orangery Paradise and admire the large walled garden. Don't miss the secret door hidden in the library. After exploring Felbrigg, head to the nearby Blickling Estate for more breathtaking scenery and a glimpse into the life of Anne Boleyn, as it was once her family home.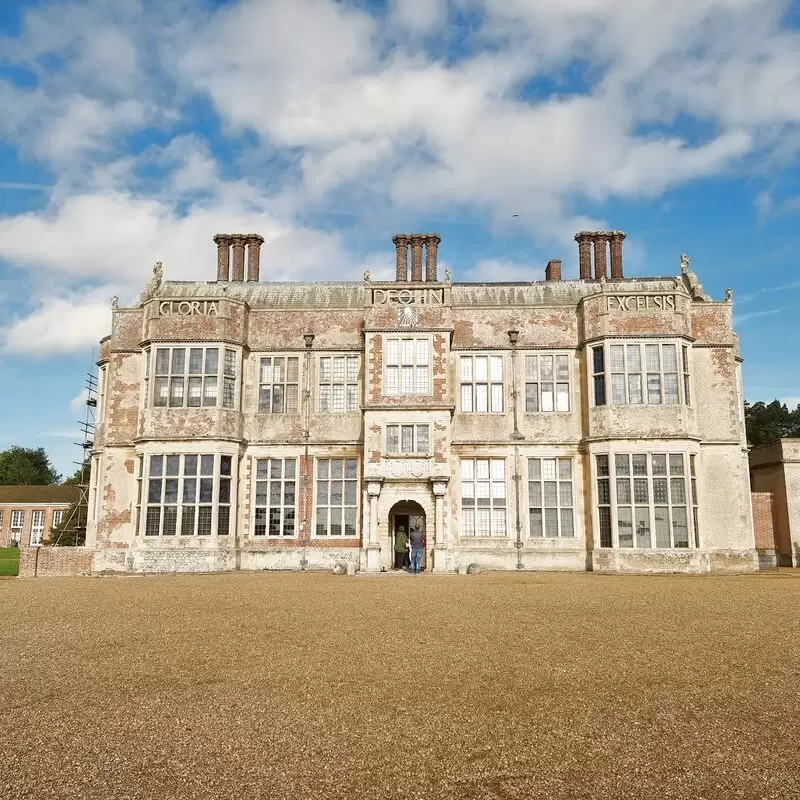 National Trust Felbrigg Hall Gardens & Estate
Felbrigg, Norwich
Monday - Sunday: Open 24 hours
5. The Plantation Garden
Immerse yourself in the enchanting atmosphere of The Plantation Garden, a hidden gem in Norwich with its Victorian charm and picturesque landscape. As you stroll through the ornate garden, admire the restored rustic bridge, Italianate terrace, and Gothic fountain. This serene oasis is just a stone's throw from Norwich's famous cathedral, making it a delightful and unexpected experience. Enjoy a picnic in the garden or attend one of the popular open-air summer events!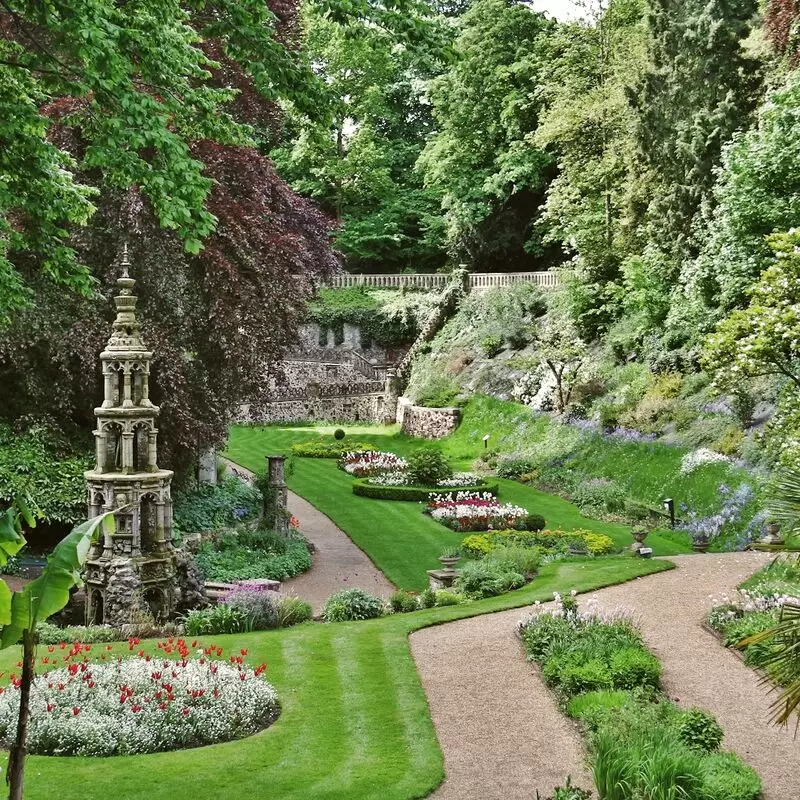 The Plantation Garden
4 Earlham Road, Norwich
Monday - Sunday: 9:00 AM – 6:00 PM
6. Norwich Castle
A visit to Norwich Castle is an absolute must for history and art lovers alike! Delight in the splendor of this magnificent 12th-century Norman fortress, which now serves as a museum and art gallery, displaying captivating exhibits ranging from natural history to decorative arts. Admire the breathtaking panoramic views of the city from the castle's battlements and get a glimpse of medieval life during fascinating guided tours. Afterwards, take a leisurely stroll to nearby Norwich Cathedral, where you can admire even more impressive architecture and heritage.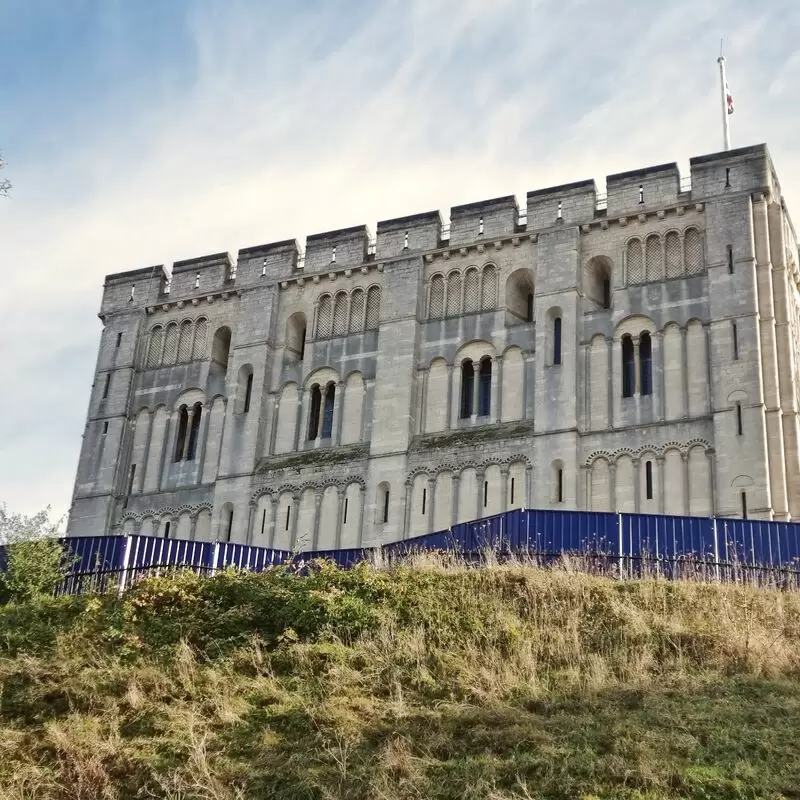 Norwich Castle
Castle Street, Norwich
Monday - Saturday: 10:00 AM – 4:30 PM
Sunday: 1:00 – 4:30 PM
7. Norwich Market
A visit to Norwich Market is an absolute must during your stay in the city! One of the largest and oldest open-air markets in the UK, it has a history dating back over 900 years. With more than 200 stalls selling everything from delicious street food to locally made crafts and unique vintage finds, it's a true shopper's paradise. Try a traditional Norfolk delicacy like the famous "Cromer Crab." You can also explore the impressive Norwich Castle and beautiful cobblestone Elm Hill nearby.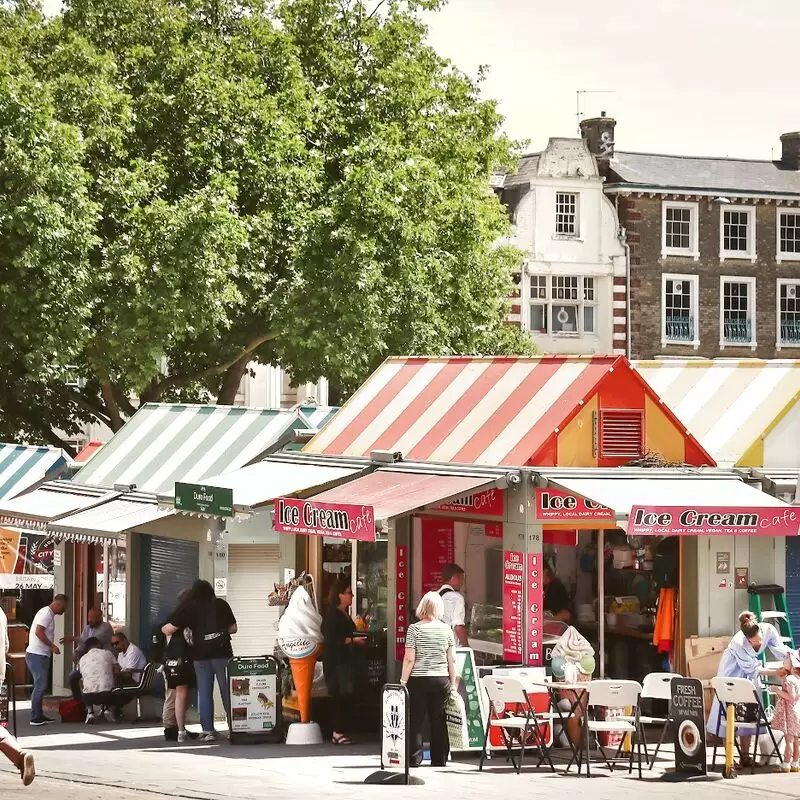 Norwich Market
1 Market Place, Norwich
Monday - Friday: 8:00 AM – 5:00 PM
Tuesday - Saturday: 10:00 AM – 7:00 PM
Sunday: Closed
8. Whitlingham Country Park
Visit Whitlingham Country Park for a perfect outdoor day filled with nature and adventure! Unleash your spirit of discovery as you stroll through the lush woodlands, enjoy serene views of Whitlingham Broad, and discover abundant wildlife. Don't miss the charming visitor center, a beautifully restored barn that features interesting exhibits about local ecology. For added adventure, the Whitlingham Adventure Centre offers exciting water sports and climbing activities. Nearby is the impressive Norwich Cathedral, a historic gem that you must visit.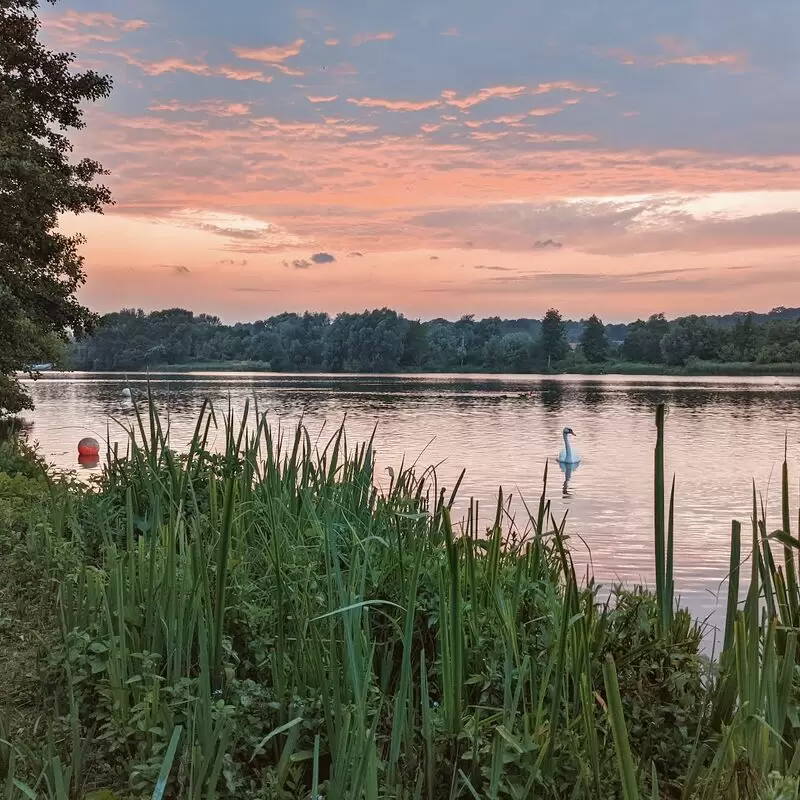 Whitlingham Country Park
Whitlingham Lane, Norwich
Monday - Sunday: Open 24 hours
9. BeWILDerwood Norfolk
BeWILDerwood Norfolk is an award-winning, action-packed adventure park full of whimsy and wonder! Immerse yourself in a fantastic world filled with tree houses, zip lines and mystical creatures. BeWILDerwood offers hours of imaginative play for all ages, with enchanting stories and hands-on crafts that create unforgettable experiences for the whole family. Just 40 minutes from Norwich, you can visit the famous Broads National Park nearby and discover breathtaking scenery and protected wildlife.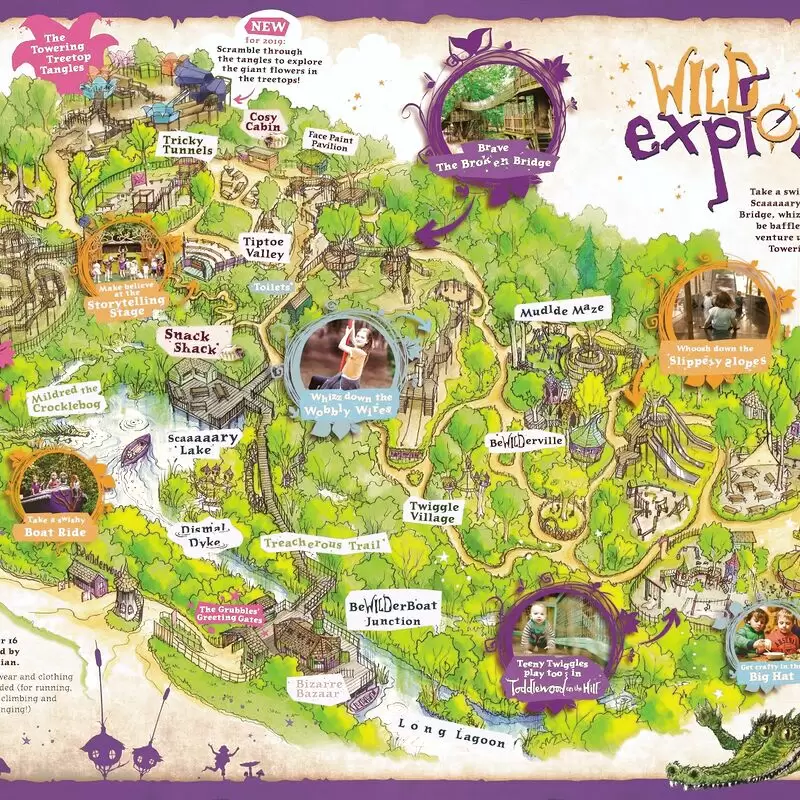 BeWILDerwood Norfolk
Horning Road, Hoveton, Norwich
Monday - Sunday: 10:00 AM – 5:00 PM
10. The Cathedral of St John the Baptist
Explore the impressive architecture of the "Cathedral of St. John the Baptist" in Norwich! Admire the intricate stained glass windows, exquisite stonework, and stunning high vaults. Attend a traditional Mass or simply stroll through the tranquil gardens and immerse yourself in history. Don't miss the hidden chapel of St. Peter and St. Paul, accessible from the north aisle. Just a short walk away is the magnificent Norwich Cathedral, which is also a must-see!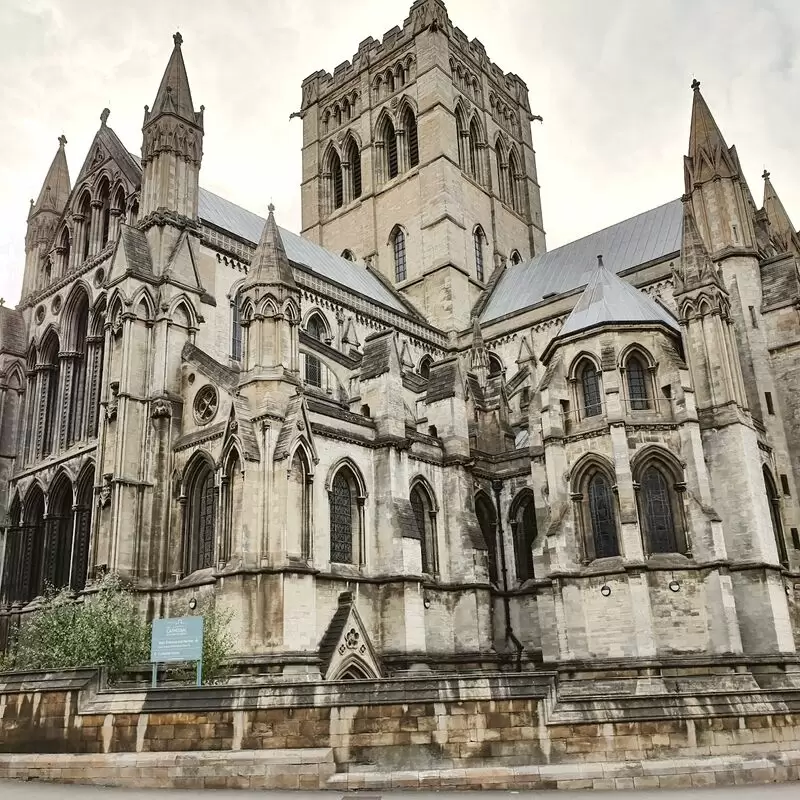 The Cathedral of St John the Baptist
Unthank Road, Norwich
Monday - Sunday: 7:30 AM – 7:30 PM
11. Sainsbury Centre
A visit to the Sainsbury Centre in Norwich is a must for art and architecture lovers! Designed by world-famous architect Norman Foster, this masterpiece houses a remarkable collection of global art spanning 5,000 years. The fusion of contemporary creations with ancient treasures will capture your imagination. Don't forget to explore the magnificent Sculpture Park nearby, with its stunning masterpieces set in the lush countryside, for an unforgettable art experience in the heart of East Anglia.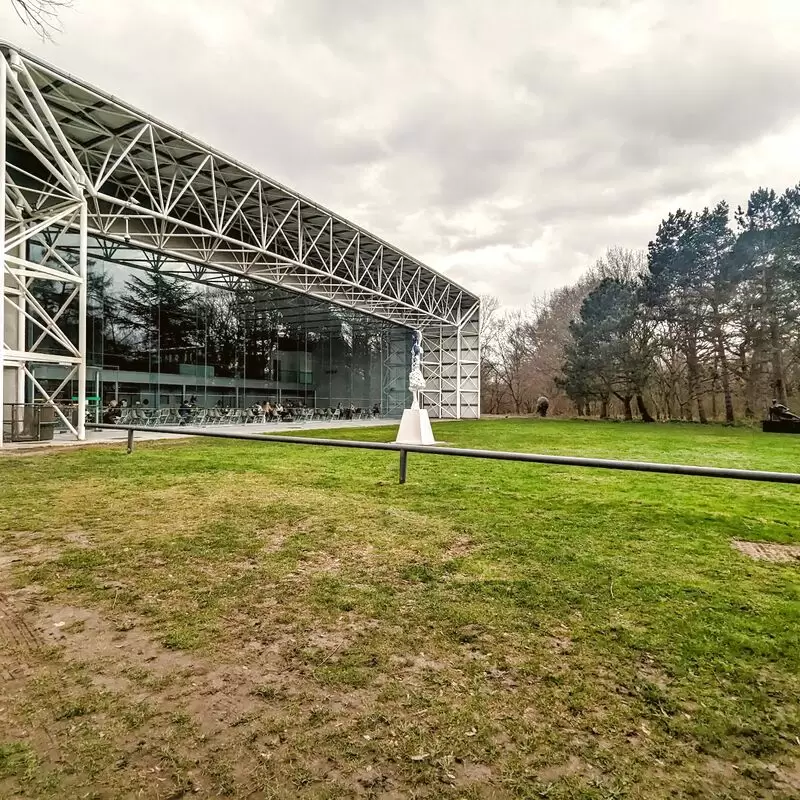 Sainsbury Centre
Norfolk Road, Norwich
Monday: Closed
Tuesday - Friday: 9:00 AM – 6:00 PM
Saturday - Sunday: 10:00 AM – 5:00 PM
12. City of Norwich Aviation Museum
A visit to the City of Norwich Aviation Museum is a must for aviation and history buffs. Immerse yourself in the impressive collection of military and civilian aircraft, including the legendary Vulcan bomber, the Nimrod and the Lightning. Don't miss the fascinating indoor exhibits showcasing Norwich's rich aviation heritage and the opportunity to speak with knowledgeable volunteers. Pro tip: Combine your visit with a trip to the nearby village of Horsham St Faith to expand your cultural experience in the Norwich region.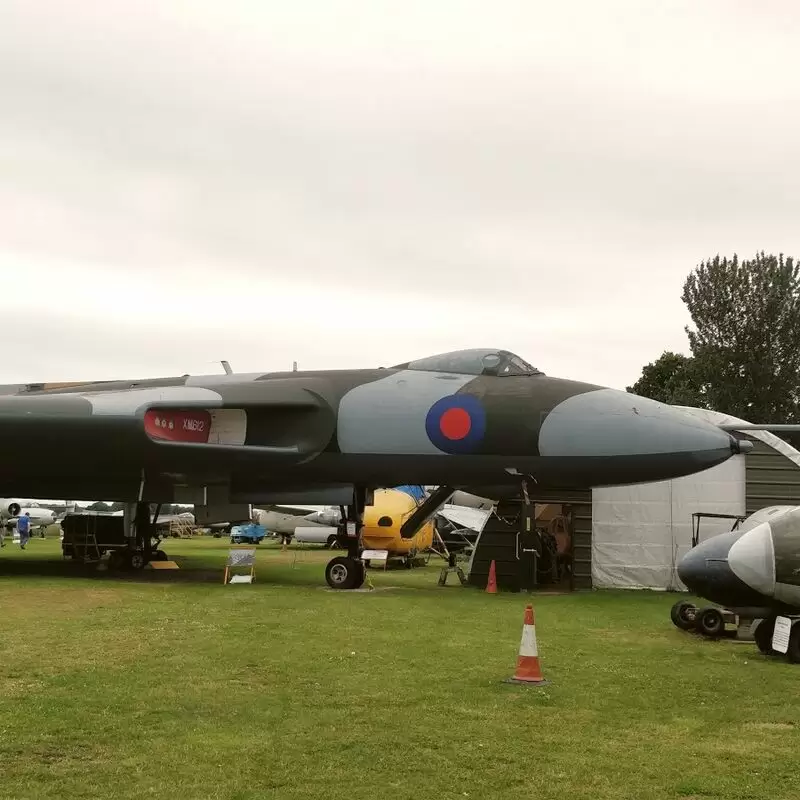 City of Norwich Aviation Museum
Old Norwich Road, Horsham St Faith, Norwich
Monday: Closed
Tuesday - Saturday: 10:00 AM – 5:00 PM
Sunday: 12:00 – 5:00 PM
13. Waterloo Park
Waterloo Park is a true gem in Norwich that must be seen! This beautifully landscaped park with its lush floral displays is ideal for a leisurely stroll or a memorable picnic. The lush green spaces, gorgeous art deco architecture, and even the sensory garden are a feast for the senses. Don't miss the popular bandstand events that showcase local talent. Plus, the picturesque Plantation Garden, with its stunning Gothic fountain, is just a short walk away.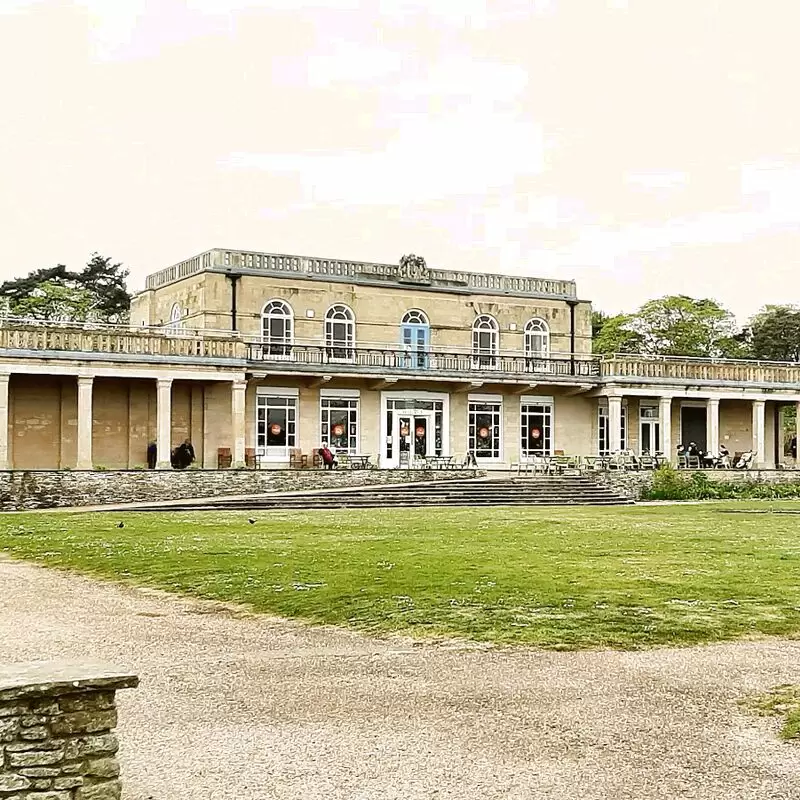 Waterloo Park
Angel Road, Norwich
Monday - Sunday: 8:00 AM – 6:45 PM
14. The Museum of Norwich at the Bridewell
A visit to the Museum of Norwich at the Bridewell is an unforgettable journey through Norwich's rich history. Housed in a former 14th-century prison, this impressive museum will captivate you with fascinating stories of the city's trade and textile industry. Explore the magnificent collection of artifacts, including the legendary snapper, the dragon, and delve into the hidden world of the city's lesser-known inhabitants. Just a stone's throw away, you can explore medieval Elm Hill and its charming cobblestone streets and experience Norwich like a picture book.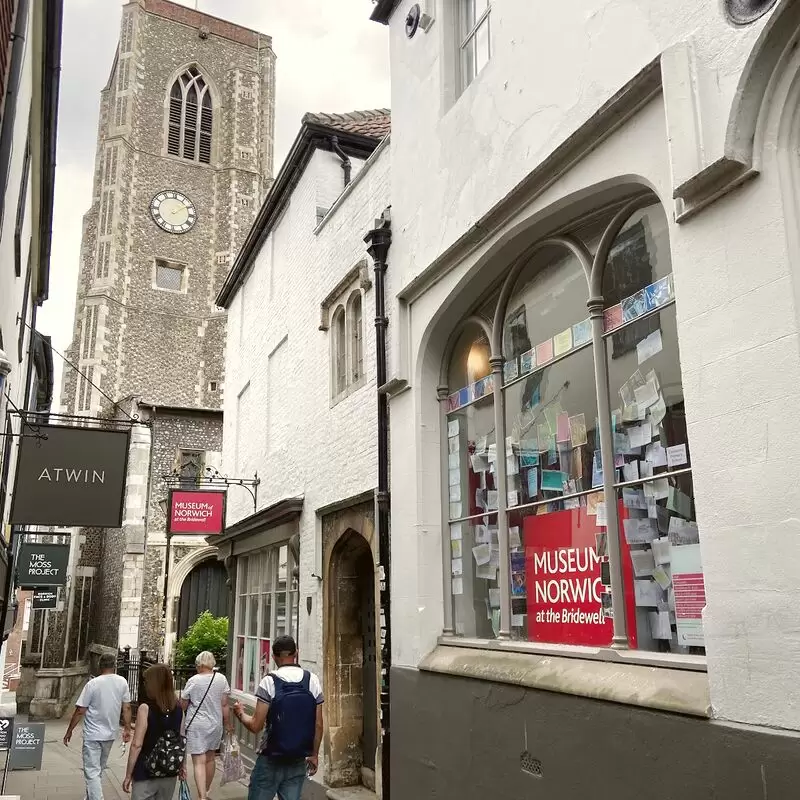 The Museum of Norwich at the Bridewell
Wild Man, 5 Bridewell Alley, Norwich
Monday - Sunday: Closed
Tuesday - Saturday: 10:00 AM – 4:30 PM
15. Pull's Ferry
Discover the picturesque Pull's Ferry, a historic 15th century lock located on the charming Wensum River. Pull's Ferry dates back to the 15th century on the Wensum River. This iconic flint building features a charming arched gateway and tells tantalizing tales of ferries and stone shipments for nearby majestic Norwich Cathedral. Stroll through this tranquil spot, take in the peaceful atmosphere and capture the fondest memories. Also, don't miss Cathedral Close, which is just a stone's throw away and awaits your exploration with its exquisite medieval architecture.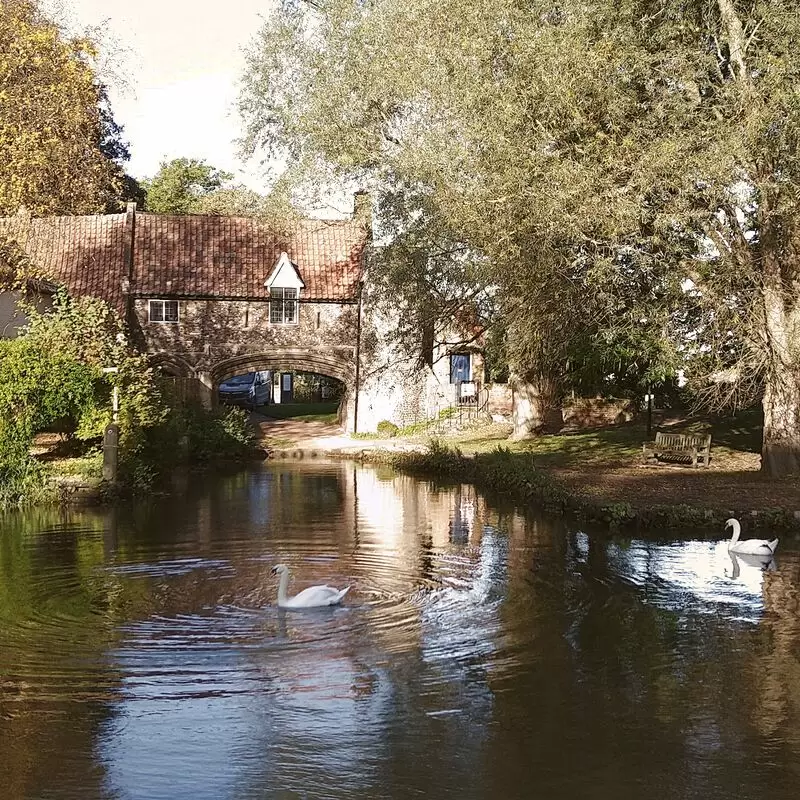 Pull's Ferry
29 Ferry Lane, Norwich
Monday - Sunday: Open 24 hours
16. Mousehold Heath
A visit to Mousehold Heath is a must when staying in Norwich! This lush, picturesque woodland and heathland offers stunning views of the city and Norwich's famous cathedral. Perfect for a leisurely stroll, casual bike ride, or relaxing run, this hidden gem is also home to the historic site where Robert Kett led Kett's Rebellion in 1549. Don't miss the captivating local legend of Black Dick's Pond, which is the subject here. And not far away, the charming village of Thorpe St. Andrew is waiting for you to explore.
Mousehold Heath
Heartsease Lane, Norwich
Monday - Sunday: Open 24 hours
Best Time to Visit Norwich
The best time to visit Norwich is from late April to early October. The weather is pleasant, with warm temperatures and longer daylight hours. May, June and September usually offer the most pleasant conditions for exploring the city and enjoying outdoor events without the summer crowds.
Annual Weather in Norwich
Norwich 3-Day Forecast
Wed, 27 September
Night
56 °F
13 °C
0%
Morning
53 °F
12 °C
0%
Afternoon
62 °F
17 °C
63%
Evening
64 °F
18 °C
67%
Thu, 28 September
Night
52 °F
11 °C
0%
Morning
53 °F
11 °C
0%
Afternoon
52 °F
11 °C
78%
Evening
54 °F
12 °C
0%
Fri, 29 September
Night
51 °F
11 °C
0%
Morning
50 °F
10 °C
0%
Afternoon
62 °F
17 °C
0%
Evening
57 °F
14 °C
0%
Questions & Answers

How do I get to Norwich from London?

To get from London to Norwich, you can either take a train or a bus. The fastest and most convenient option is to take the Greater Anglia train from London Liverpool Street station, which takes about 1 hour and 50 minutes. Alternatively, you can book a National Express bus from London Victoria Coach Station, which takes about 3 hours. Both options offer multiple trips per day, so you can be flexible with your travel plans. Check current schedules and ticket prices when planning your trip.

Where can I find local maps or guides?

In Norwich, city maps and guidebooks are easily available at the Norwich Tourist Information Centre in the Forum on Millennium Plain. The friendly staff there will provide you with a wide range of maps, guides and brochures covering the city and surrounding area, as well as tips on popular attractions, activities and events. You can also find brochures and maps at many hotels, public libraries and train stations throughout the city.

What is Norwich famous for?

Norwich is famous for its rich history, well-preserved medieval architecture and vibrant arts scene. The city boasts UNESCO City of Literature status, thanks to its thriving literary community and notable writers such as Julian of Norwich. Highlights include Norwich Castle and Cathedral, picturesque Elm Hill, a lively outdoor market, and a variety of museums. The city is also known for its strong commitment to the arts, particularly its many galleries, theaters, and the renowned University of East Anglia.

Are there any guided tours available?

Yes, several guided tours are available in Norwich, United Kingdom. Popular options include walking tours that explore the city's rich history, such as Norwich Cathedral, Elm Hill and Norwich Castle. Other options include themed tours such as ghost walks and literary tours that focus on famous local authors. There are also guided tours of the Norfolk Broads, which offer scenic views of the waterways, wildlife and surrounding countryside. Norwich offers a wealth of sightseeing opportunities to suit any interest and make your visit a memorable one.

How walkable is the city?

Norwich is an easily walkable city with a compact layout, so visitors can easily explore its charming medieval streets, historic castle, and famous cathedral on foot. The city center offers well-preserved alleys, pedestrian shopping areas, and scenic riverside walkways. With its pedestrian-friendly atmosphere, Norwich invites visitors to explore its many attractions, museums, galleries, parks and cozy cafes at a leisurely pace - a delightful experience for walkers and strollers.

What public transportation options are there?

Norwich offers residents and visitors a variety of public transportation options. These include buses, which run on several routes within the city, connecting popular locations and suburbs. Train services are also available, with Norwich Station providing regional and national connections. In addition, the city has a park-and-ride system that allows passengers to park their cars at a designated location and take a bus to the city center. Cycling is also popular in Norwich, as there are several bike paths and bike sharing systems.

Are there any safety concerns for tourists?

Norwich is generally considered a safe city for tourists with a low crime rate. However, as with any other destination, it is advisable to take the necessary precautions. Be vigilant and watch your personal belongings, especially in busy areas or at night. Avoid being out alone late at night in unfamiliar or poorly lit areas, and always use reputable transportation. It is also recommended that you carry emergency contact information and follow standard travel advice.

Can I rent a bike to explore Norwich?

Yes, you can rent a bike to explore Norwich and experience the beauty of the city at your own pace. There are several bike rental companies that offer a variety of bikes for different abilities and needs. You can choose from hourly, daily, or weekly rentals depending on your schedule. A Norwich bike tour is a fantastic way to explore the historic sites, charming medieval streets, picturesque parks, and vibrant cultural scene while staying active and enjoying the fresh air.

How much is a typical taxi fare?

The typical cab fare in Norwich, United Kingdom can vary depending on factors such as distance, traffic and time of day. On average, the fare starts at around £3.50 for the first ride, followed by £1.50 to £3.50 per mile. The total fare for a short ride within the city can range from £5 to £15. Keep in mind that late evening and weekend rides may incur additional charges. Therefore, be sure to check with the cab service for exact prices for the ride you plan to take.

Where can I try traditional Norwich food?

For an authentic taste of traditional Norwich cuisine, visit The Last Wine Bar & Restaurant, located in a historic building on St. George's Street. The menu features locally sourced produce and dishes that reflect the region's culinary heritage, such as Norfolk Game Pie and Cromer Crab. In addition, you can sample local beer from Woodforde's Brewery and cheeses such as Binham Blue and Norfolk Dapple while enjoying the warm atmosphere and historic charm of the pub.

Are there any places for live music or entertainment?

Norwich has a vibrant live music and entertainment scene. The Waterfront is a popular venue that hosts a variety of bands and DJs catering to a wide range of musical tastes. The Norwich Arts Centre offers an eclectic mix of music, comedy and theatrical performances. The LCR, located in the University of East Anglia, is a well-known venue for lively performances that attract both local and national talent. In addition, smaller pubs such as The Brickmakers, The Rumsey Wells and The Birdcage often host intimate music and open-mic nights.

Is it easy to find a vegetarian or vegan option in restaurants?

Yes, it's relatively easy to find vegetarian and vegan options at restaurants in Norwich, UK. The city has seen significant growth in its vegetarian and vegan-friendly restaurant scene in recent years. Many local restaurants, cafes and pubs offer a variety of plant-based dishes to accommodate different dietary preferences. Some establishments even specialize in serving only vegetarian and vegan dishes. Overall, Norwich is a welcoming city for those who enjoy vegetarian and animal-free dining.

Are there any unique local customs or etiquettes to be aware of?

When visiting Norwich, it is important to know the typical British customs and manners. Locals value politeness, punctuality, and standing in line when waiting for services. Personal space is valued, so avoid standing too close to someone. Greeting with a handshake is common, and friendly conversation about the weather is a good way to start. Tipping in restaurants is not mandatory, but it is a nice gesture to give about 10% of the bill for good service.

What is the city's nightlife like?

Norwich's nightlife offers a diverse scene to suit all tastes. The city offers a lively atmosphere with a mix of traditional pubs, stylish bars and live music venues featuring local and international artists. There are numerous clubs offering different genres of music, from electronic dance music to indie rock. There are also theaters, comedy clubs and cinemas for those seeking alternative evening entertainment. Norwich's compact size makes it easy to navigate between nightlife hotspots, making it an enjoyable experience for all.

Are there any day trip suggestions from Norwich?

From Norwich, a day trip to the stunning North Norfolk coast is a must. Visit the charming seaside towns of Cromer and Sheringham, where you can explore sandy beaches, enjoy classic fish and chips, or hike the scenic coastal paths. Or head to beautiful Broads National Park and hire a boat for the day or join a guided tour to explore the unique and picturesque landscape of this extensive network of waterways and nature reserves, where wildlife takes center stage.

Can I drink tap water in Norwich?

Yes, the tap water in Norwich, United Kingdom, is safe to drink. The water supply in the city is managed and regulated by Anglian Water, ensuring it meets the strict quality standards set by the Drinking Water Inspectorate of England and Wales. Residents and visitors can enjoy the high-quality tap water without worry, as it is regularly tested and treated to provide clean, great-tasting water that is suitable for drinking and everyday use.

How early do most places close?

In Norwich, most stores follow a typical British operating pattern. Generally, stores and retail outlets close around 5:30 or 6 p.m. on weekdays and Saturdays, and around 4 p.m. on Sundays with shortened opening hours. Restaurants and cafes generally stay open until 10 or 11 pm. Pubs and bars usually stay open until midnight or later, especially on weekends. It is recommended to check the exact opening hours, as they may vary depending on the venue and the time of year.

Are there any local festivals or events worth attending?

Norwich is home to several notable festivals and events. The Norfolk & Norwich Festival, a renowned arts festival, showcases local and international talent in a variety of art forms, including music, theater, dance and visual arts. The Norwich Film Festival showcases independent films and emerging artists, while the Norwich Beer Festival celebrates the vibrant local brewing scene. Finally, the Lord Mayor's Celebration offers fun for the whole family with a lively parade, street performances and fireworks.

Where can I find local art and culture?

Norwich has a rich offering of local arts and culture. The University of East Anglia's Sainsbury Centre for Visual Arts hosts world-class exhibitions, while Norwich Castle Museum & Art Gallery houses an extensive art collection. Elm Hill is a historic cobblestone street lined with craft stores, galleries and studios. You can also visit Norwich Cathedral, which houses medieval art and impressive architecture. The thriving creative scene also includes theaters such as the Maddermarket Theatre and the Norwich Playhouse, which offer a mix of traditional and contemporary performances.

Is Norwich a family-friendly destination?

Yes, Norwich is indeed a family-friendly destination. This charming medieval city offers a mix of rich history, cultural attractions and outdoor recreational activities suitable for all ages. Families can explore the well-preserved Norwich Castle, visit the beautiful Norwich Cathedral, or take a leisurely stroll through the city's picturesque streets and parks. There are also several museums, theaters, and family-friendly festivals to keep you entertained throughout the year. The warm and welcoming atmosphere of the city makes for a pleasant and memorable experience for families.

Feedback

I hope you found this article informative and helpful. I'm eager to improve the content and make it even more valuable for you. If you have any feedback or suggestions, I would love to hear from you.

Do you have any tips or hidden gems that you think should be added to the list? Are there any areas that you feel could use more explanation or clarification?

Your input is greatly appreciated and will help us to continue providing high-quality content that meets your needs and interests. Please feel free to share your thoughts.