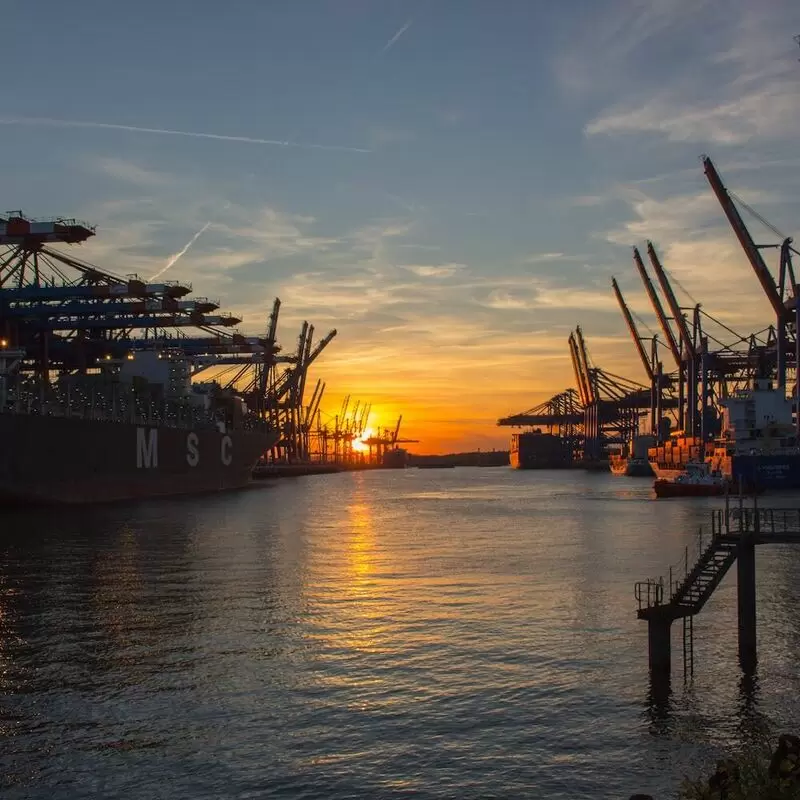 1. Miniatur Wunderland
Unleash your inner child and immerse yourself in the world's largest model railroad at Miniatur Wunderland. True to detail, it shows the diversity of landscapes from the port of Hamburg to the Swiss Alps. The Twilight Zone, which switches from day to night, adds a magical touch. And don't miss the little hidden scenes like criminal cases or superheroes in action. Fascinating! Nearby, you can explore Hamburg's historic Speicherstadt, the largest of its kind in the world.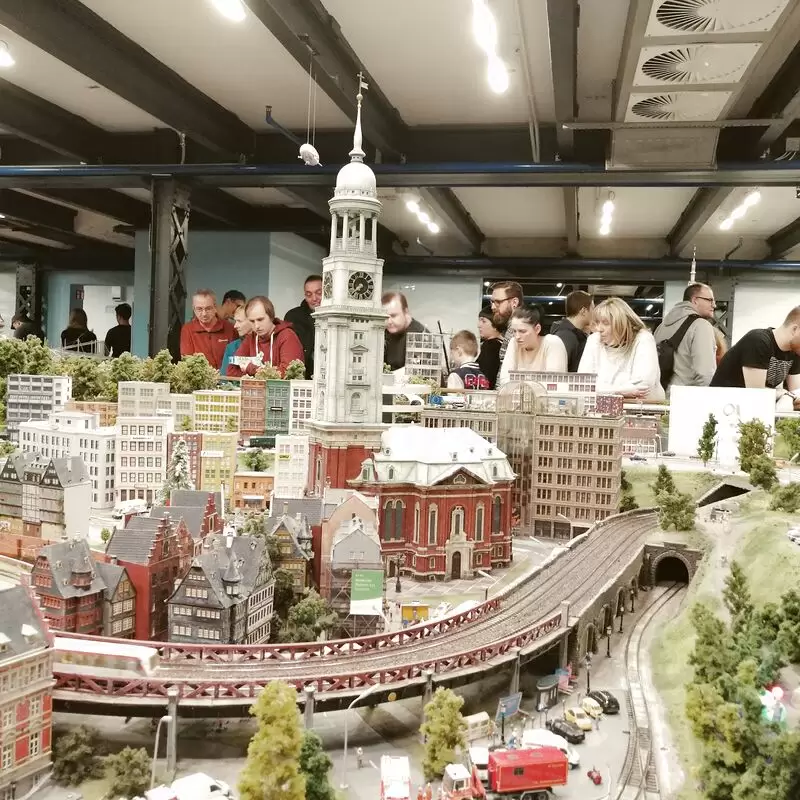 Miniatur Wunderland
Kehrwieder 2/Block D, 20457 Hamburg
Monday - Thursday: 9:30 AM – 6:00 PM
Friday: 9:30 AM – 7:00 PM
Saturday: 8:00 AM – 9:00 PM
Sunday: 8:30 AM – 8:00 PM
2. Elbphilharmonie Hamburg
Experience the heartbeat of Hamburg at the magnificent Elbphilharmonie Hamburg, a masterpiece of architecture and acoustics rolled into one. With the largest concert hall in Europe, music at the Elbphilharmonie is an enchanting experience that goes beyond the usual orchestral experience. The plaza offers panoramic views of the city and harbor - a secret only locals know! Nearby, you can stroll along the Elbe River or explore HafenCity, a unique neighborhood known for its stunning modern architecture. Visit the Elbphilharmonie and experience an unforgettable piece of Hamburg!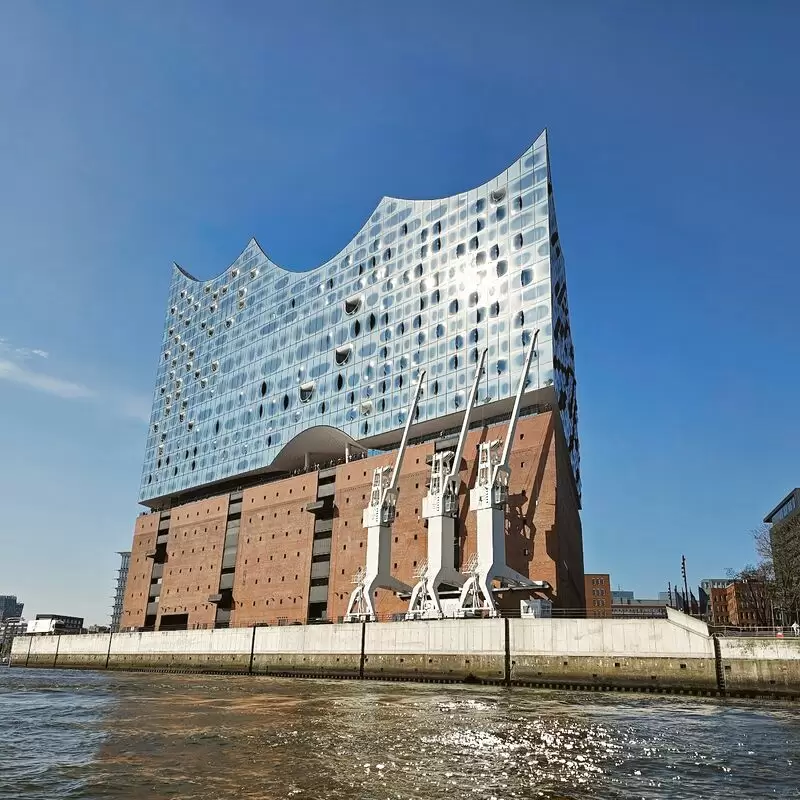 Elbphilharmonie Hamburg
Platz d. Deutschen Einheit 4, 20457 Hamburg
Monday - Sunday: 10:00 AM – 11:45 PM
3. Tierpark Hagenbeck
A trip to Hamburg would not be complete without a visit to Hagenbeck Zoo, Hamburg's famous zoo. It has been delighting animal lovers since 1874 and is home to over 1850 animals from all over the world. Uniquely, the animals roam freely without cages. Don't miss the charming gate in the shape of an elephant, donated by Carl Hagenbeck Jr. Nearby is the Hagenbeck Tropical Aquarium, which features bizarrely beautiful aquatic and tropical species that illuminate the darkest corners of the animal kingdom.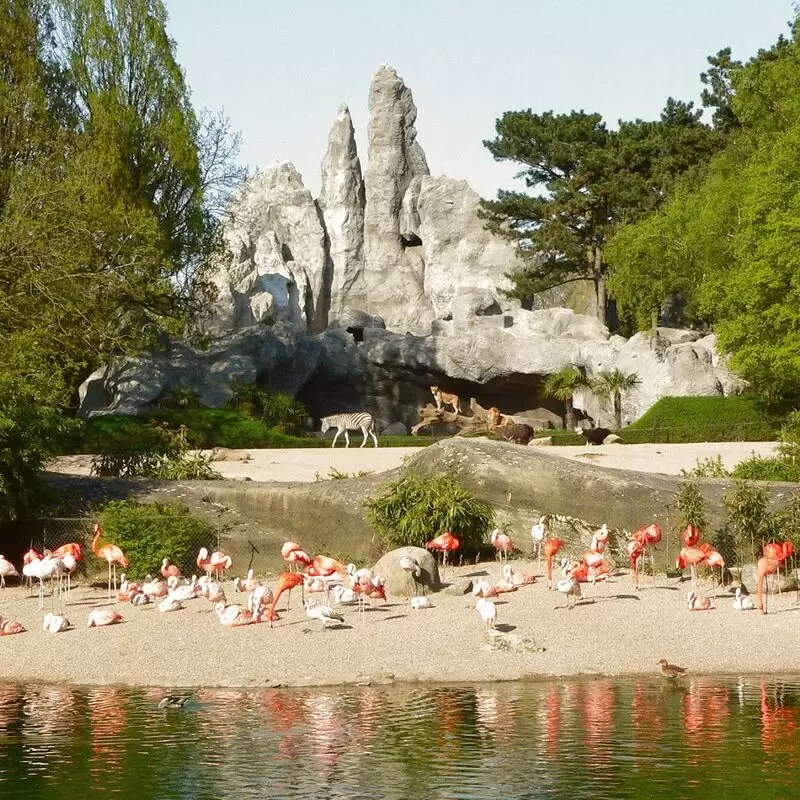 Tierpark Hagenbeck
Lokstedter Grenzstraße 2, 22527 Hamburg
Monday - Sunday: 9:00 AM – 6:00 PM
4. Plants and Flowers
Visiting "Planten un Blomen" in Hamburg is like stepping into a botanical paradise. The 47-hectare park surprises with amazing greenhouses full of tropical and subtropical plants, a fragrant rose garden with over 300 varieties and even a Japanese tea house where you can enjoy authentic cultural experiences. In winter, you can admire the ice skating performances on the park's lake. Nearby you can also visit the Hamburg TV Tower or the historic Hamburg Fair and Congress.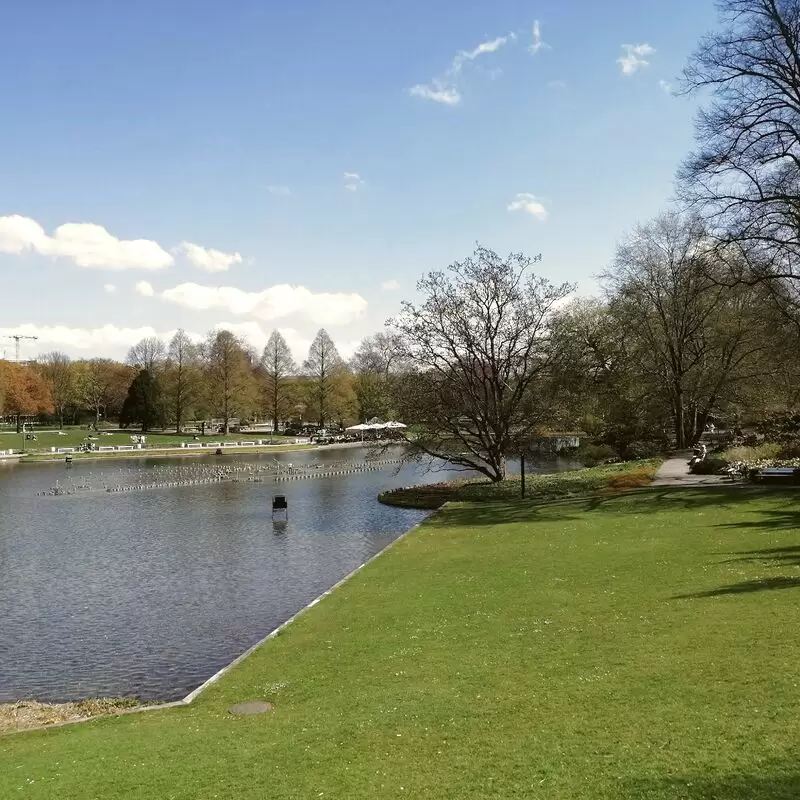 Plants and Flowers
Marseiller Promenade, 20355 Hamburg
Monday - Sunday: 7:00 AM – 11:00 PM
5. St. Michael's Church
Ascend to the heights of Hamburg at St. Michael's Church! Don't miss the breathtaking 360° view from the 106-meter high platform, a secret vantage point known among connoisseurs of the city. The baroque architecture is not only impressive in detail, but also steeped in history: it dates back to the 18th century. And just a stone's throw away is the historic Speicherstadt, which exudes a charm all its own.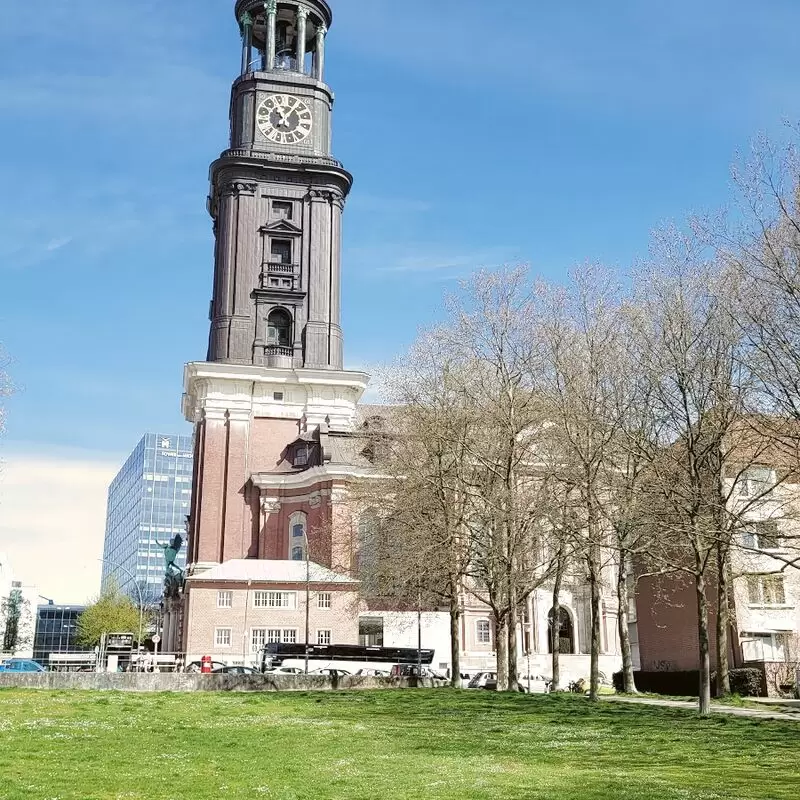 St. Michael's Church
Engl. Planke 1, 20459 Hamburg
6. Alter Elbtunnel
Head under the Elbe to the historic "Old Elbe Tunnel". Opened in 1911, this landmarked structure offers a fascinating glimpse into industrial history combined with the rugged charm of German engineering. Adorned with Art Nouveau designs and beautiful tile artwork, the tunnel is more than just a pedestrian and bicycle tunnel. The south entrance takes you directly to Steinwerder, where you can enjoy a tantalizing panoramic view of the Hamburg skyline - a setting not to be missed. Neighboring attraction: The beautiful Hamburg harbor is just a few steps away.
Alter Elbtunnel
Bei den St. Pauli-Landungsbrücken, 20359 Hamburg
Monday - Sunday: Open 24 hours
7. Loki Schmidt Garden Botanical of University Hamburg
Immerse yourself in nature at the Loki Schmidt Botanical Garden in Hamburg. Explore the 25 acres of lush landscapes dotted with more than 14,000 plant species from around the world. Be fascinated by the "Systematic Section," where plants are arranged according to their evolutionary relationship - a unique approach to presenting botany. Best of all, it's free to visit! The nearby picturesque Wandsbek Park offers beautiful hiking trails and picnic areas to perfectly round off your day in nature.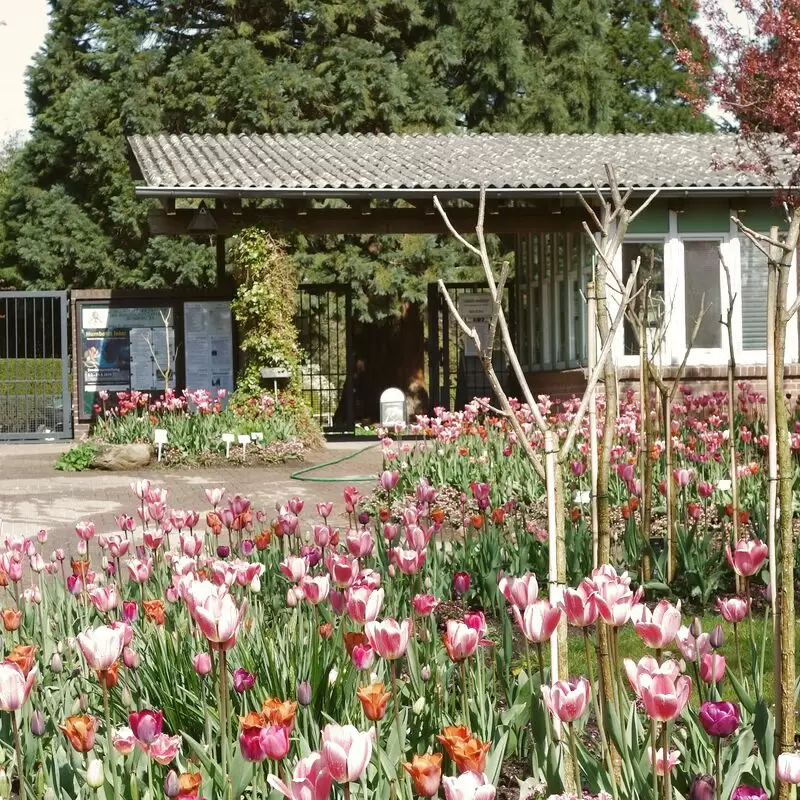 Loki Schmidt Garden Botanical of University Hamburg
Ohnhorststraße (ohne, Hausnummer, 22609 Hamburg
Monday - Sunday: 9:00 AM – 8:00 PM
8. Hamburg Townhall

A visit to Hamburg is certainly incomplete without seeing the magnificence of Hamburg City Hall. This stunning structure is an important symbol of Hamburg's past, present and future. Discover its rich history on a guided tour and admire the opulent interiors.

An insider tip: try to spot the little devil in the facade. Afterwards, stroll to the nearby Alster, which invites you to take a leisurely stroll while soaking up the vibrant atmosphere of the city. Because your Hamburg trip is not over yet, it has just begun.

Hamburg Townhall
Rathausmarkt 1, 20095 Hamburg

Monday - Sunday: 8:00 AM – 6:00 PM
9. St. Pauli Piers
Immerse yourself in the maritime spirit of Hamburg at St. Pauli Piers, the largest dock in the Port of Hamburg. Watch the majestic ships sail by while enjoying the famous German bratwurst. Don't miss the Old Elbe Tunnel, an impressive 426-meter engineering feat just a short walk away. When evening falls, soak up the electric atmosphere on the nearby Reeperbahn, known as Hamburg's liveliest nightlife district. The St. Pauli Piers are truly the pulse of this exciting city.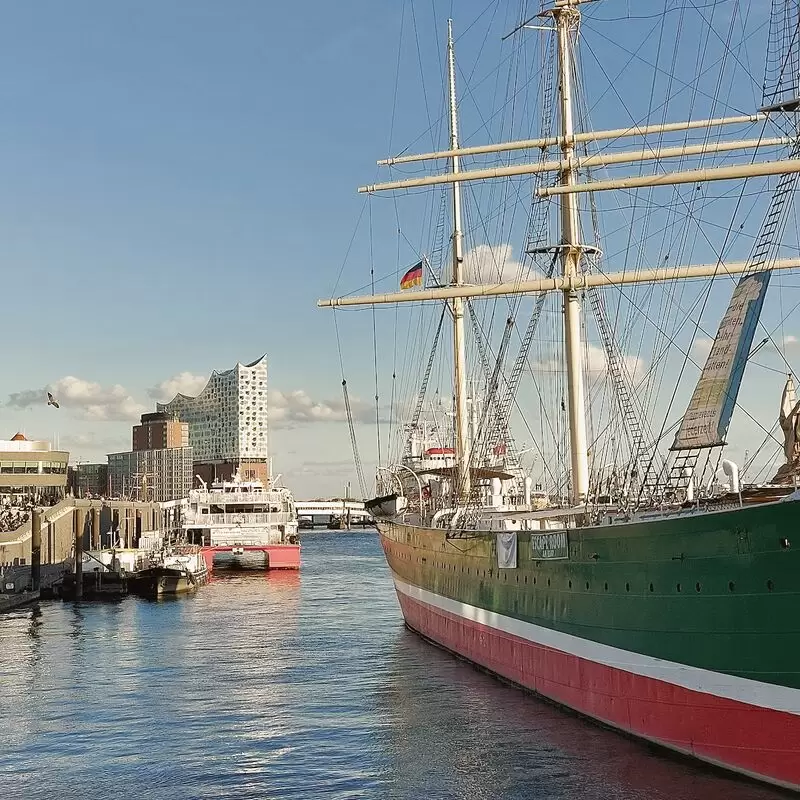 St. Pauli Piers
Bei den St. Pauli-Landungsbrücken 8, 20359 Hamburg
Monday - Sunday: Open 24 hours
10. Hamburger Kunsthalle
Visit the Hamburger Kunsthalle, Hamburg's best-known fine arts museum, and immerse yourself in classic and contemporary works of art. Ride the wave from medieval art to modern masterpieces through three architecturally diverse buildings. Play "I Spy" with Rembrandt's hidden self-portrait. Don't forget the breathtaking view from the Contemporary Art Gallery! Exhausted from the visual feast? You're in luck! Planten un Blomen, a dreamy garden with a Japanese tea house, is just a short walk away!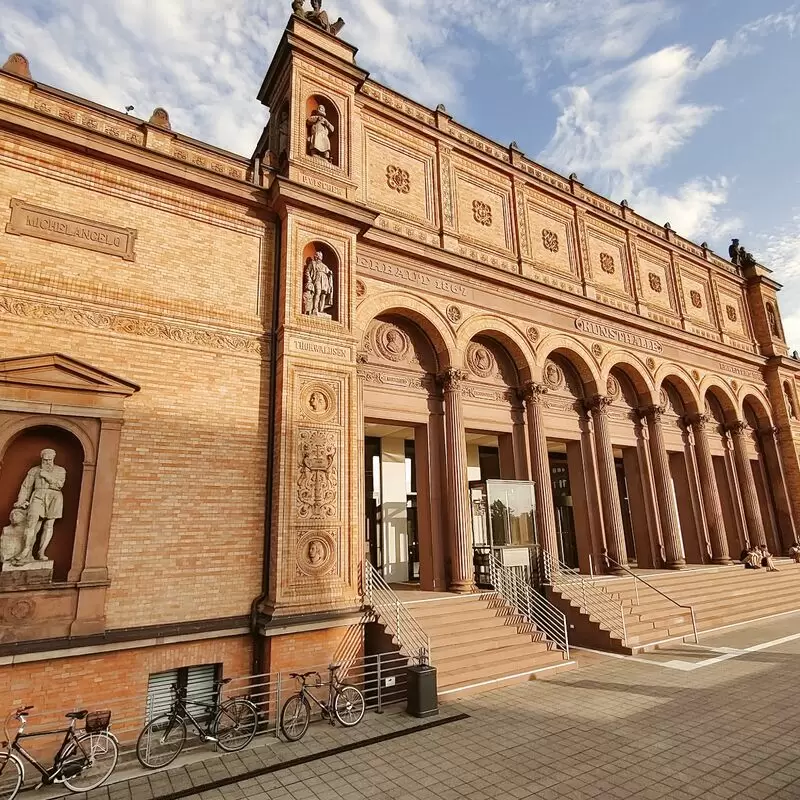 Hamburger Kunsthalle
Glockengießerwall 5, 20095 Hamburg
Monday: Closed
Tuesday - Sunday: 10:00 AM – 6:00 PM
Thursday: 10:00 AM – 9:00 PM
11. International Maritime Museum
Fancy an exciting sea voyage? Immerse yourself in the rich history of seafaring at the International Maritime Museum in Hamburg. Located in atmospheric HafenCity, this nine-story museum is a treasure trove of 40,000 exhibits and 1 million photos. Marvel at a replica of the Santa Maria or discover tiny, intricate ship models. Afterward, nearby Miniatur Wunderland, the world's largest model railroad, is just a stone's throw away. An opportunity to explore the maritime and miniature worlds in one train!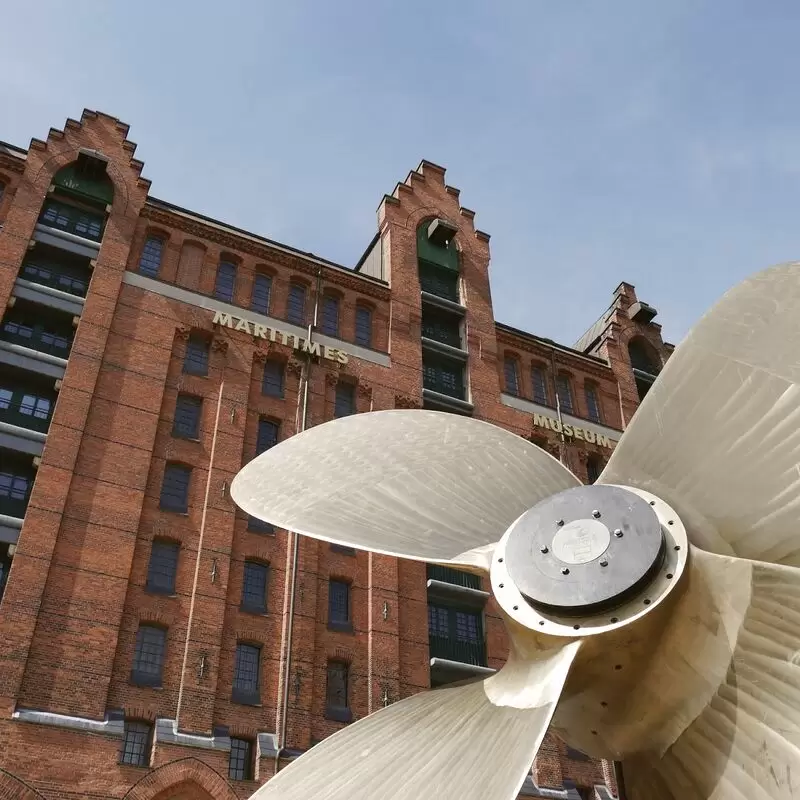 International Maritime Museum
Koreastraße 1, 20457 Hamburg
Monday - Sunday: 10:00 AM – 6:00 PM
12. St. Nikolai Main Church
Immerse yourself in history at the main church of St. Nikolai, a poignant reminder of the horrors of war. Marvel at the impressive Gothic architecture and climb the church spire, the fifth highest in the world, for unbeatable views of Hamburg. Inside the ruins is an exhibition about the devastation of World War II. A unique experience that awakens emotions. Nearby, there is the charming Speicherstadt and the Miniatur Wunderland to discover.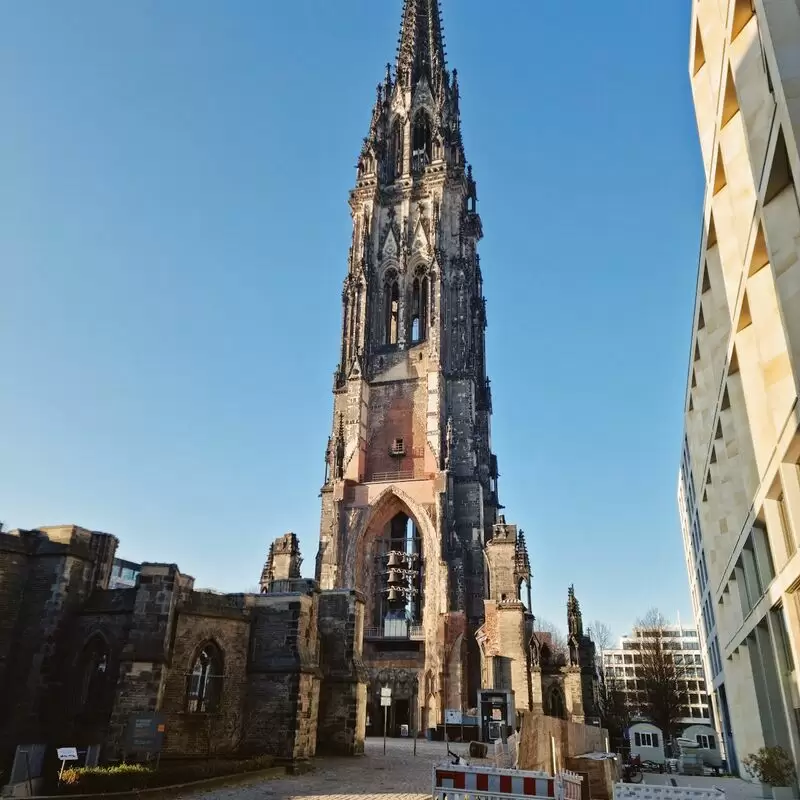 St. Nikolai Main Church
Willy-Brandt-Straße 60, 20457 Hamburg
Monday - Sunday: 10:00 AM – 6:00 PM
Tuesday: Closed
Thursday - Saturday: 10:00 AM – 10:00 PM
13. Port of Hamburg
Experience the beating heart of Europe at the Port of Hamburg, a must-see attraction on your trip to Hamburg! It is not only a bustling commercial center, but also a dramatic spectacle of incessant activity, cranes and containers. Take a boat tour to understand the size of the port. Delve deeper into Hamburg's maritime tradition and marvel at the architectural jewel - the Elbphilharmonie Concert Hall nearby. On Sundays, early risers can visit the famous fish market, a living tradition since 1703, not to be missed!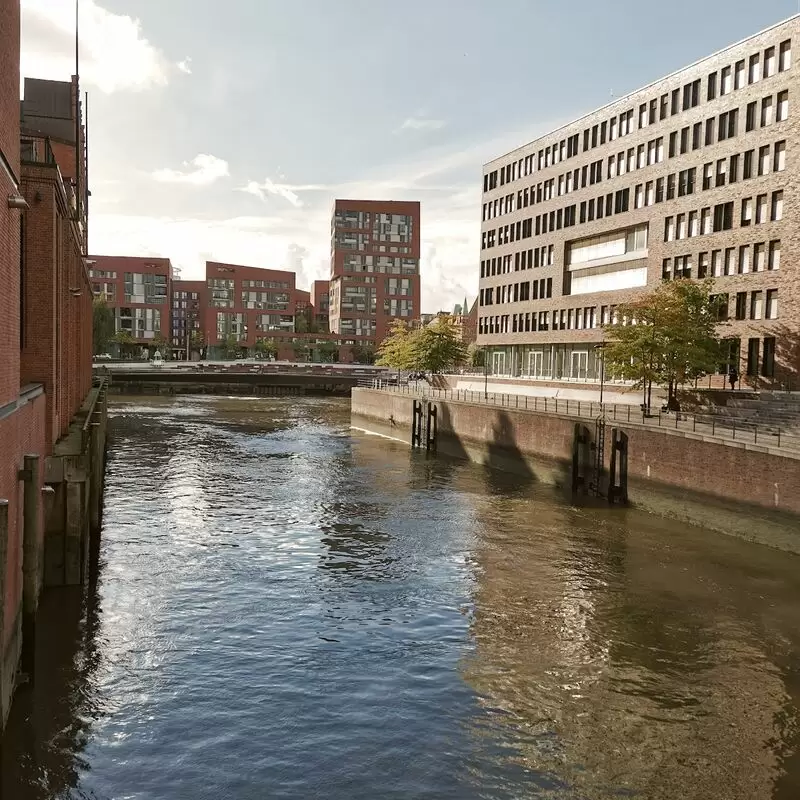 Port of Hamburg
Port of Hamburg, Hamburg
14. Panoptikum
A trip to Hamburg would not be complete without a visit to Panoptikum, Germany's oldest wax museum. The extensive collection includes celebrities, royalty, historical figures and even notorious criminals. And an absolute must-see? The eerily realistic wax figure of Albert Einstein. Plus, the museum is right in the vibrant heart of St. Pauli, just a stone's throw from the infamous Reeperbahn - perfect for enjoying Hamburg's pulsating nightlife after exploring!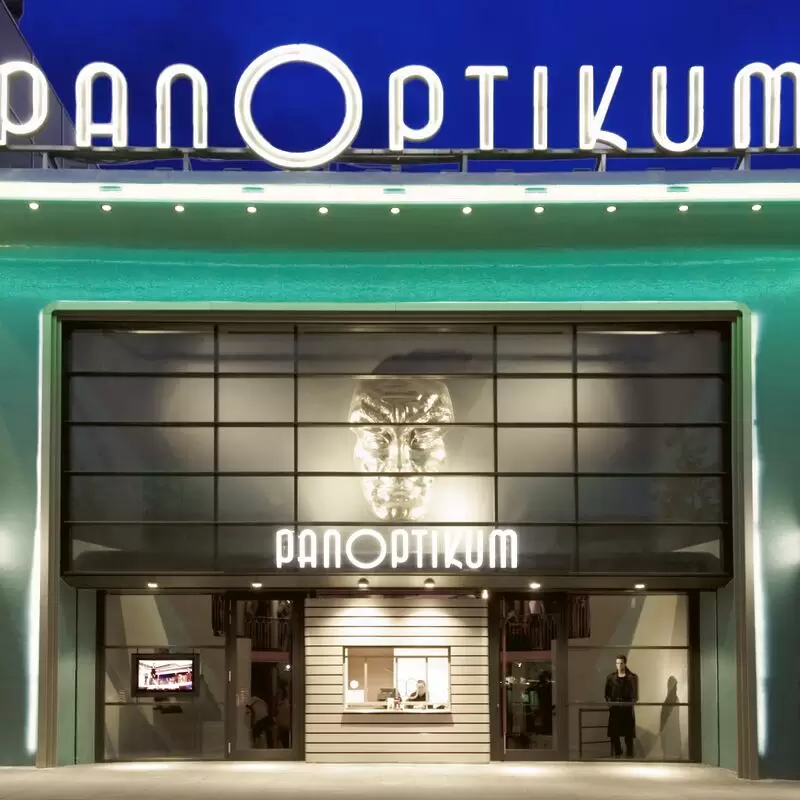 Panoptikum
Spielbudenpl. 3, 20359 Hamburg
Monday - Sunday: 10:00 AM – 8:00 PM
Saturday: 10:00 AM – 10:00 PM
15. Altonaer Balkon
The Altona Balcony is a hidden gem in Hamburg and offers a breathtaking view over the Elbe River and the harbor. It is located directly above the chic and lively Ottensen district, known for its trendy restaurants and cozy cafes. Imagine watching the huge container ships sail by while enjoying a picturesque sunset! Don't forget to bring some local delicacies for a delicious picnic. Nearby you will also find the fish market, which is another typical Hamburg experience.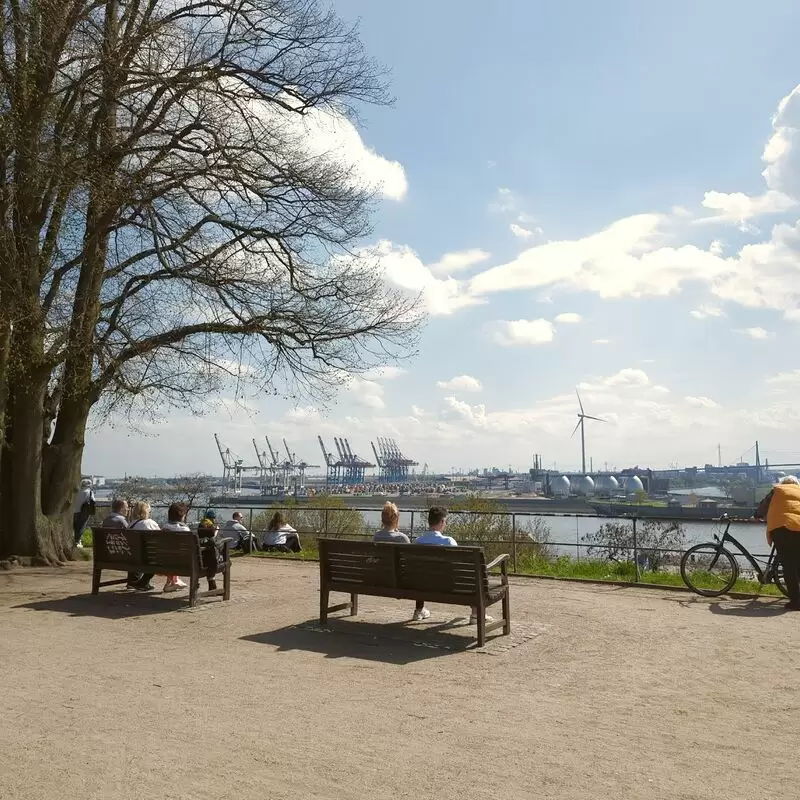 Altonaer Balkon
Palmaille, 22767 Hamburg
Monday - Sunday: Open 24 hours
16. Museumshafen Oevelgönne e.V.
The Museumshafen Oevelgönne is a living piece of Hamburg's shipping history. It is an absolute must-see, offering a number of historic ships that you can actually step on, which is a unique experience. Enjoy the peaceful atmosphere right on the Elbe River, which doubles as a picturesque view of the ships passing by. The picturesque fishing village offers a perfect postcard motif. Don't forget to refuel at a nearby beach café. Right next door is the Elbe beach, an ideal place for a relaxing walk after your visit.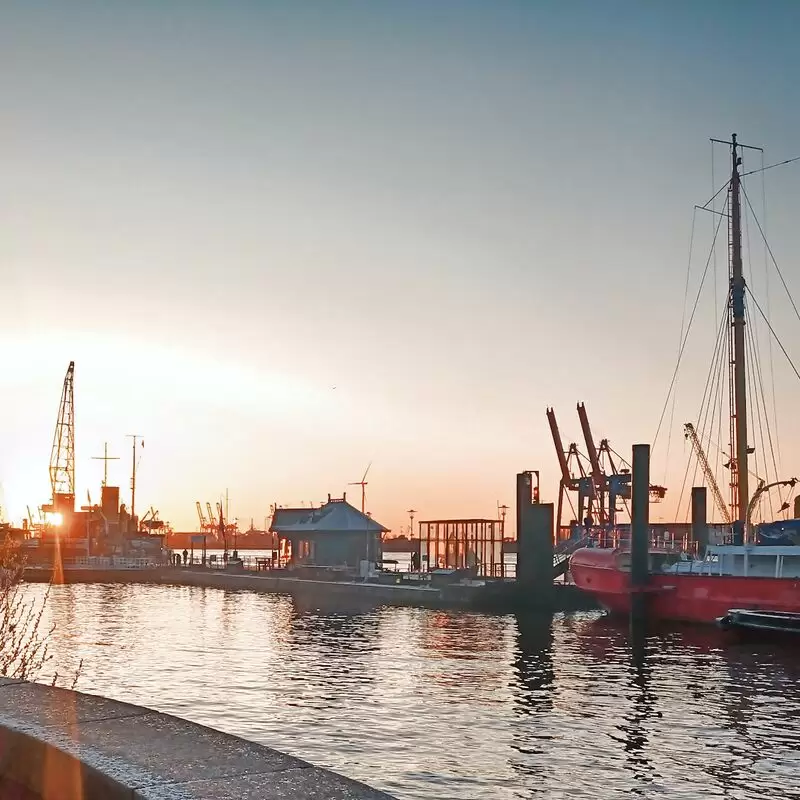 Museumshafen Oevelgönne e.V.
Fähranleger Neumühlen (ohne, Hausnummer, 22763 Hamburg
Monday - Sunday: Open 24 hours
Best Time to Visit Hamburg
The best time to visit Hamburg, Germany is from May to September. During these months, the weather is usually warm and pleasant, ideal for outdoor activities and sightseeing. Be prepared for occasional rain showers. Also, during the summer months, the city hosts numerous festivals and events to enhance your travel experience.
Annual Weather in Hamburg
Hamburg 3-Day Forecast
Tue, 26 September
Night
53 °F
12 °C
0%
Morning
51 °F
11 °C
0%
Afternoon
69 °F
20 °C
0%
Evening
63 °F
17 °C
0%
Wed, 27 September
Night
57 °F
14 °C
0%
Morning
55 °F
13 °C
0%
Afternoon
70 °F
21 °C
0%
Evening
64 °F
18 °C
0%
Thu, 28 September
Night
67 °F
19 °C
0%
Morning
64 °F
18 °C
0%
Afternoon
66 °F
19 °C
0%
Evening
60 °F
15 °C
72%
Questions & Answers

How do I use the public transport in Hamburg?

In Hamburg, public transportation is easy to find. This network, known as HVV, includes trains, buses and ferries. You can buy tickets from ticket machines or via the HVV app. Daily or weekly tickets offer unlimited rides and are often cheaper. Always validate your ticket before boarding. Stations are well signposted and most lines run every 10 minutes during the day. Always make sure you are on the right platform and going in the right direction before boarding.

Is Hamburg safe for tourists?

Hamburg is generally considered safe for tourists. As in many large cities, there is a certain amount of crime, but it is usually concentrated in certain areas and directly affects tourists. It is always advisable to take the usual safety precautions, such as not leaving valuable items unattended and avoiding poorly lit areas at night. Locals are friendly and helpful, and the authorities maintain a strong presence to ensure public safety. All in all, Hamburg is a welcoming and safe destination for travelers.

Can I pay with credit cards everywhere?

Yes, you can usually pay by credit card in many stores, hotels and restaurants in Hamburg. However, it is worth noting that some small stores, restaurants, local markets and other establishments can only accept cash or a local EC card. This is quite common in Germany. It is always advisable to have some local currency (Euros) with you just in case. All major credit cards such as Visa and MasterCard are usually accepted.

Is English widely spoken in Hamburg?

Yes, English is spoken relatively frequently in Hamburg, especially in international companies, in tourist areas and among the younger population. Many people in Hamburg have a basic to good understanding of English, especially those who work in the hospitality and service industries. However, it is still an advantage to know a few basic phrases in German. It is always an advantage to learn a little of the local language when you travel.

What kind of local food should I try?

In Hamburg you should not miss to try the traditional dish Labskaus. Originally a sailor's meal, it is made with corned beef, onions and potatoes and often served with pickled gherkins and a fried egg. Fish sandwiches, freshly caught fish from the region, are also a staple. Last but not least, you should try a real Franzbrötchen, a sweet, cinnamon-tasting pastry that goes perfectly with your morning coffee.

Are there any local customs I should know about?

One of the most important customs in Hamburg and throughout Germany is the importance of punctuality. Germans value showing up on time for appointments, meetings, and even social occasions. When meeting someone for the first time, a firm handshake and direct eye contact is the norm. When dining out, tipping is essential. As a rule, people tip around 10-15%. Finally, Sundays are considered days off, so many stores and restaurants may be closed - respect this custom.

How can I get to Hamburg from Berlin?

There are several ways to travel from Berlin to Hamburg. The most comfortable way is by train, which takes about 1.5 to 2 hours by ICE. Trains depart regularly from Berlin's main station. Alternatively, you can travel by car; the distance is about 280 km and takes about 3 hours via the A24 and A1 freeways. There are also buses, but they take much longer. Flights between the two cities are also an option, but less environmentally friendly.

Where can I find good local beer?

Excellent local beer can be found in Hamburg at Ratsherrn Brewery, located in the vibrant Schanzenviertel district. The brewery is known for its diverse selection of craft beers that reflect the spirit of Hamburg's brewing tradition. Enjoy a tasting tour that introduces you to German Pilsners, Pale Ales, lagers and more. In a historic setting, you can also visit Blockbräu, which offers stunning views of the Elbe River and locally brewed beers. Don't forget to pair your beer with traditional German snacks to complete the experience.

Should I tip at restaurants in Hamburg?

In Hamburg, as in the rest of Germany, tipping is considered a polite gesture, but it is not obligatory. As a rule, most people give about 10% of the total bill as a tip. However, it is considered polite to give the tip directly to the waiter instead of leaving it on the table. In restaurants, service is usually included in the bill, so tipping is an additional way to say thank you for good service.

Are there any local festivals in Hamburg?

Yes, Hamburg hosts a variety of local festivals every year, which are attended by numerous visitors. One of the most important events is the Hafenjubiläum, a maritime festival that celebrates the city's harbor birthday. Another is the Reeperbahn Festival, which features a variety of international music artists. For film lovers, the Hamburg Film Festival offers a wide range of films. Also, the colorful Hafengeburtstag and Christmas markets are worth a visit for an authentic Hamburg experience.

Is drinking tap water safe in Hamburg?

Yes, Hamburg's tap water is not only safe to drink, but also of excellent quality. The city's drinking water comes from the Geestsee and Elbe rivers and is then filtered through several processes. The quality of the water is constantly monitored. The hardness of the water is moderate, so it is also excellent for making tea or coffee. Bottled water is readily available, but not necessary for health reasons.

How is nightlife in Hamburg?

Hamburg has a lively and diverse nightlife that appeals to a variety of tastes. The area around the Reeperbahn is a popular meeting place for nightlife with numerous bars, clubs and live music venues. Things are a bit quieter in the trendy Sternschanze district, where there are plenty of cozy pubs and cocktail bars. In HafenCity, you'll find upscale bars with breathtaking views. In addition, the city's vibrant LGBTQ+ scene offers a variety of inclusive venues. The party usually lasts until dawn, making Hamburg ideal for night owls.

Is the city bike-friendly, can I rent a bicycle?

In any case, Hamburg is known for being extremely bike-friendly. The city has an extensive network of bike paths that make it easy to get around the city. There are numerous bike rental services throughout Hamburg. These range from traditional rental stores to more modern offerings like StadtRAD Hamburg, a citywide bike-sharing program. It's convenient and ideal for both short and long distances, and is a great way to explore the city and its beautiful sights.

What are the working hours of museums in Hamburg?

Museums in Hamburg usually open at 10 or 11 a.m. and close around 5 or 6 p.m. from Tuesday to Sunday. However, opening hours can vary greatly depending on the institution. Some museums may stay open until 9pm on certain days, usually Thursdays. Keep in mind that most museums in Hamburg are closed on Mondays. It's best to check the official website or call to find out the current opening hours of each museum you plan to visit.

How is healthcare in case of an emergency?

In Hamburg, Germany, your health is taken seriously, especially during emergencies. The city is home to several highly rated hospitals and clinics that offer 24/7 services. The German healthcare system is known worldwide for its quality and efficiency. You also have access to well-equipped ambulances, rescue services and emergency pharmacies. Medical personnel are usually fluent in English. In case of a medical emergency, dial 112 and they will guide you through the procedure either by phone or in person.

How does garbage recycling work in Germany?

In Germany, recycling is carefully organized. Households separate their waste into different categories: Packaging, organic waste, paper, plastics, glass, metals and general waste. Each category is collected in color-coded garbage cans that vary by city: yellow for packaging waste, blue for paper and cardboard, green/brown for compostable organic waste, and black/gray for non-recyclable waste. These bins are collected on a regular basis. Many stores also have recycling stations for batteries and old light bulbs. This comprehensive system ensures that the majority of waste is recycled.

Can I swim in the Elbe river?

Swimming in the Elbe may sound tempting, but it is generally not recommended due to strong tides and busy shipping traffic. Water quality can also fluctuate, which can pose health risks. Numerous ferries and river cruises offer the opportunity to be on the water without the risks associated with swimming. Still, there are beaches within Hamburg, such as Elbstrand, where you can indulge your water cravings in a safer way. Make sure you only swim in officially approved swimming areas and follow the safety guidelines.

Where can I take a boat cruise in Hamburg?

One of the best places for a cruise in Hamburg is the city's port on the Elbe River. The port offers various cruise options, including sightseeing tours of the historic Speicherstadt and the modern HafenCity, or cruises on the Elbe towards the North Sea. Another location for boat tours is the Alster, from where you can enjoy a breathtaking view of the city skyline.

What should I wear in Hamburg?

In Hamburg, be prepared for a temperate oceanic climate characterized by mild summers and moderately cold winters. Wear layers such as breathable shirts, comfortable pants and sweaters or light jackets that are easy to put on and take off. In the colder months, warmer clothing such as wool sweaters, insulated jackets, scarves and hats are necessary. Waterproof shoes and an umbrella or rain jacket can protect you from frequent rainy days, while comfortable walking shoes are important for exploring the city.

Is it easy to get a taxi in Hamburg?

Yes, it is quite easy to get a cab in Hamburg. The city has numerous cabs available 24 hours a day. You can hail a cab on the street, find it at designated cab stands, or order one via a phone call or mobile app. Most cabs are cream-colored and equipped with taxi meters, making them a convenient mode of transportation for residents and visitors. However, keep in mind that traffic during rush hours can affect availability.

Feedback

I hope you found this article informative and helpful. I'm eager to improve the content and make it even more valuable for you. If you have any feedback or suggestions, I would love to hear from you.

Do you have any tips or hidden gems that you think should be added to the list? Are there any areas that you feel could use more explanation or clarification?

Your input is greatly appreciated and will help us to continue providing high-quality content that meets your needs and interests. Please feel free to share your thoughts.