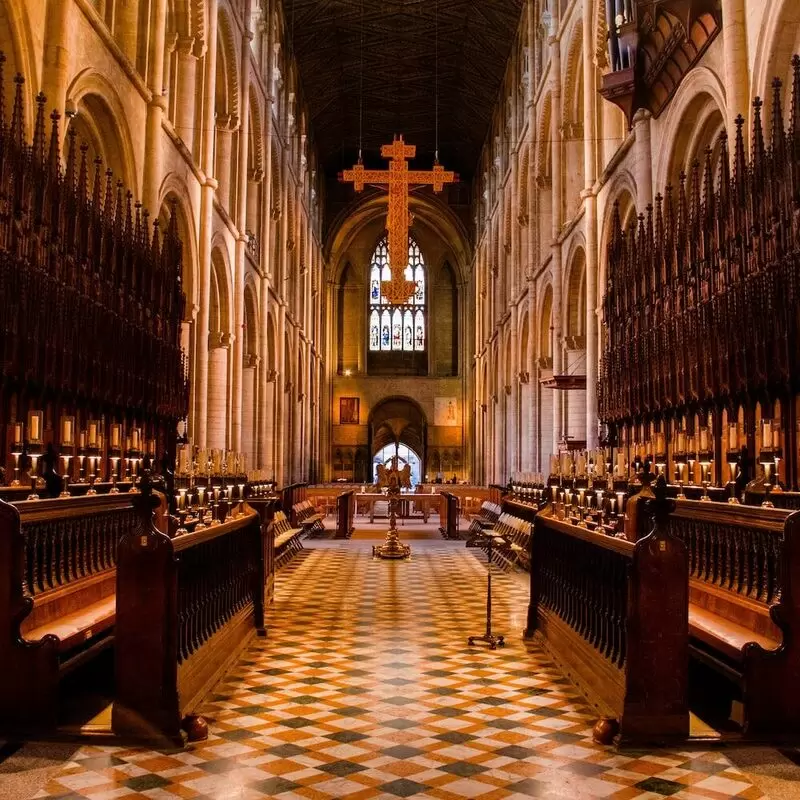 1. Peterborough Cathedral
Peterborough Cathedral, an impressive architectural marvel, simply cannot be missed! Its unique triple-vaulted facade has impressed visitors for over 900 years. It doesn't stop at incredible Norman architecture, though. The cathedral houses the tomb of Catherine of Aragon and is believed to be the first burial place of King Mary, Queen of Scots. Don't forget the Whispering Gallery with its amazing acoustics designed to keep secrets! Nearby, the charming Ferry Meadows Country Park awaits you for a peaceful stroll.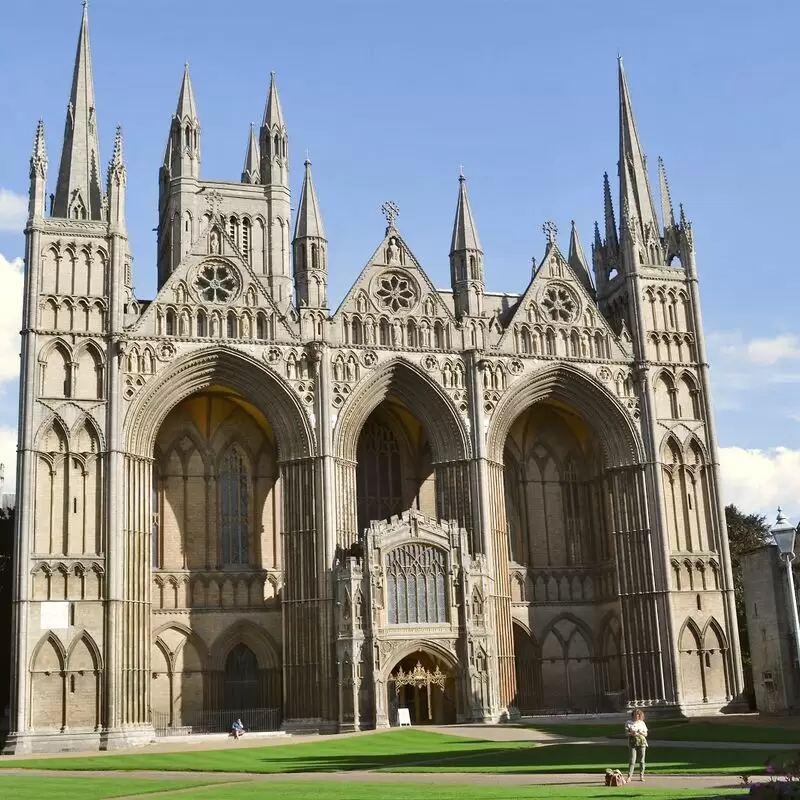 Peterborough Cathedral
Minster Precinct, Peterborough
Monday - Saturday: 10:00 AM – 5:00 PM
Sunday: 12:00 – 3:00 PM
2. Burghley House
Immerse yourself in English heritage at Burghley House in Peterborough. The house features Elizabethan architecture at its finest and its collection of beautiful artworks in 35 large rooms will captivate any art lover. Explore the lavishly decorated state rooms and the unique "Staircase to Hell." But that's not all! The sculptural Garden of Surprises and the tranquil Deer Park offer an unforgettable outdoor experience. Just around the corner is the historic Peterborough Cathedral, a masterpiece of Gothic architecture to explore.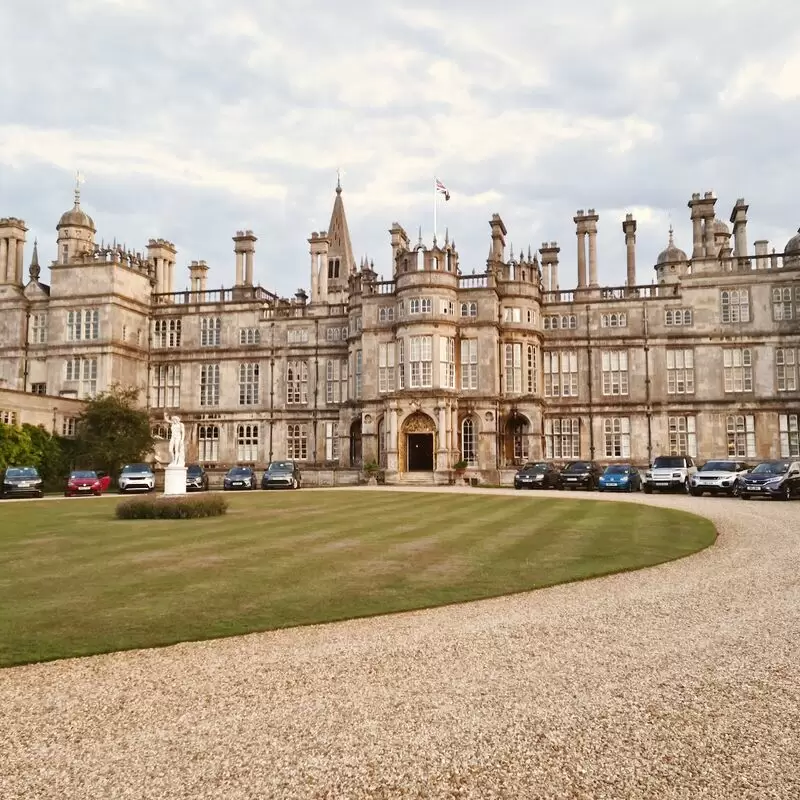 Burghley House
Burghley House, Peterborough, Stamford
Monday - Sunday: 10:30 AM – 4:30 PM
Friday: Closed
3. Ferry Meadows in Nene Park

Immerse yourself in the heart of nature at Ferry Meadows, Nene Park, Peterborough. Immerse yourself in bird-filled forests, enticing playgrounds and tranquil lakes perfect for water sports. Take a walk or bike ride along scenic routes, join a wildlife tour or picnic by the river.

An insider tip: Look for the miniature train, popular with locals and tourists alike. Just a short bus ride away is the historic city center with its magnificent cathedrals and museums that add a cultural touch to your trip to the countryside.

Ferry Meadows in Nene Park
Ferry Meadows Country Park, Ham Lane, Peterborough

Monday - Sunday: 6:30 AM – 8:00 PM
4. Queensgate Shopping Centre
Visit the Queensgate Shopping Centre in Peterborough, a shopper's paradise with over 90 stores. Here you'll find everything from high-priced fashion to unique boutiques. Take a break from shopping at one of the countless restaurants serving international cuisine! The building is architecturally unique and houses the imposing bronze sundial by Peter de Mornay. Just a stone's throw away, you can visit Peterborough Cathedral, a masterpiece of Gothic architecture. Don't miss this great mix of shopping and culture!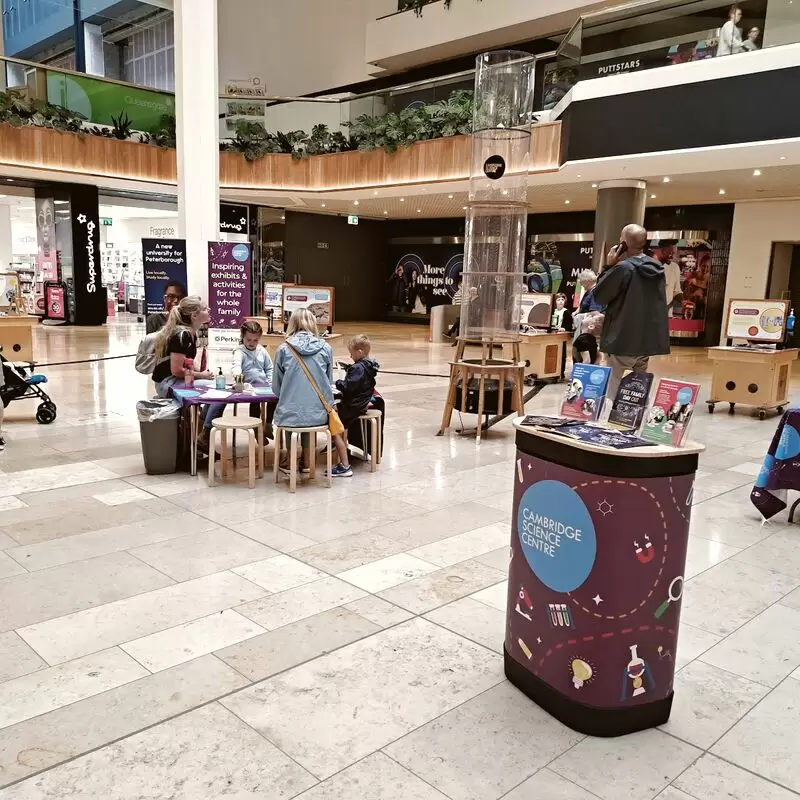 Queensgate Shopping Centre
Queensgate Centre, Long Causeway, Peterborough
Monday - Friday: 9:00 AM – 5:30 PM
Thursday: 9:00 AM – 8:00 PM
Saturday: 9:00 AM – 6:00 PM
Sunday: 10:30 AM – 4:30 PM
5. Barnwell Country Park
Escape to tranquil Barnwell Country Park, a hidden treasure in Peterborough. With 37 acres of varied landscapes, the park offers scenic lakes, vibrant meadows filled with wildlife, and quiet, undisturbed woodlands. Here you can get lost on nature trails, bird watch or just sit by the water. For families, the adventure playground is a welcome change. Don't miss the quiet corner of the Kingfisher Café with its delicious treats. Explore the nearby historic village of Barnwell, whose charming stone cottages are well worth a visit!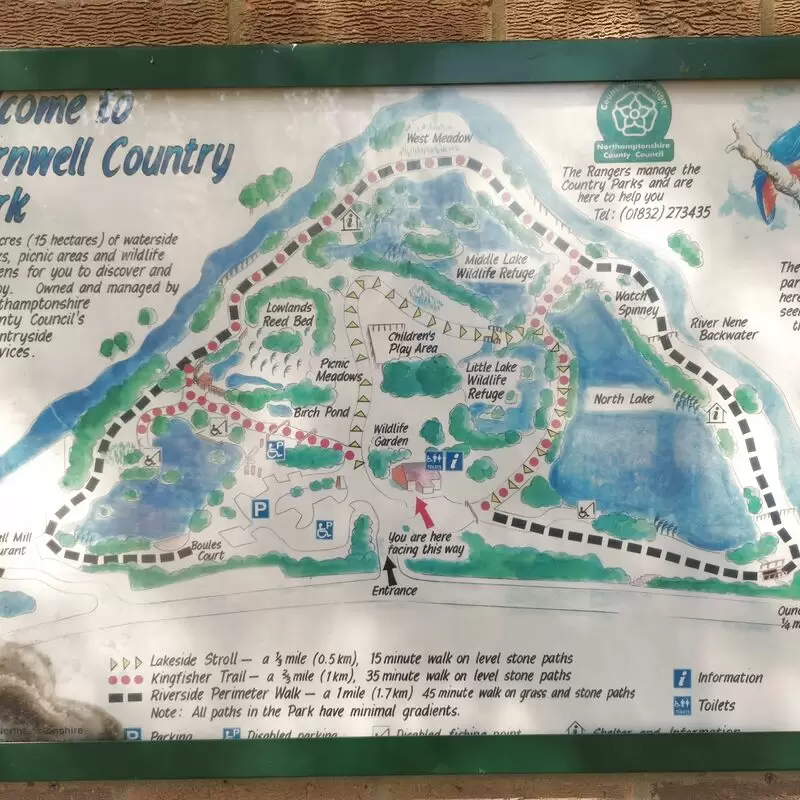 Barnwell Country Park
Barnwell Road, Oundle, Peterbrough
Monday - Sunday: Open 24 hours
6. Holme Fen National Nature Reserve
Holme Fen National Nature Reserve is an extraordinary environment with great biodiversity. Imagine yourself standing in the middle of the lowest natural point in England - a rare experience indeed. A walk through ancient forests and glistening birch trees promises a peaceful experience. Don't miss the Great Fen Project, which adds even more wildlife to the area. And an added bonus: Visit the charmingly preserved Ramsey Rural Museum, just 10 minutes away, for a glimpse into local history and tradition.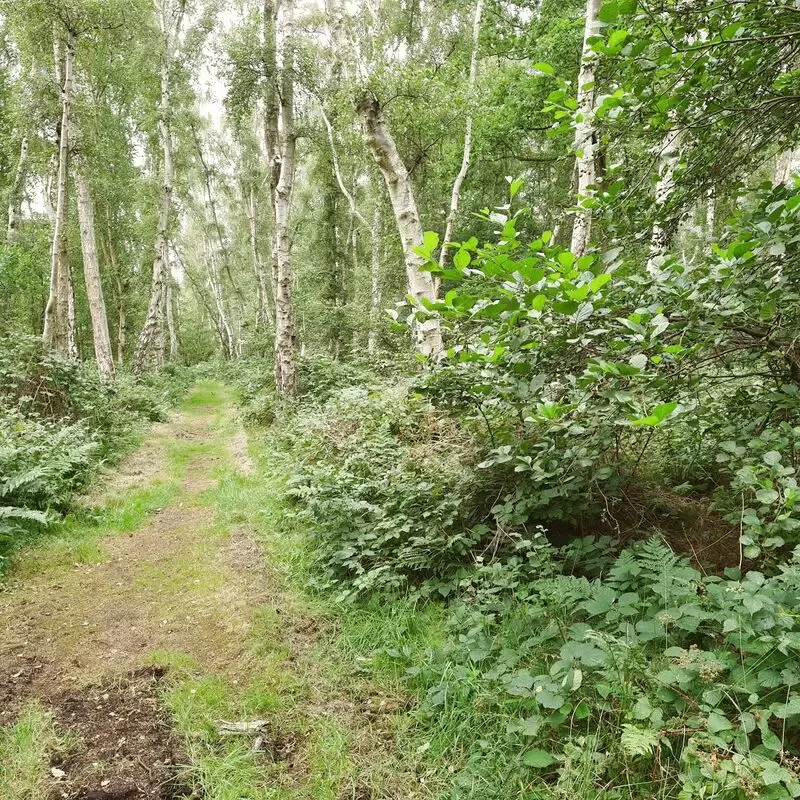 Holme Fen National Nature Reserve
Heights Drove Road, Ramsey Heights
Monday - Sunday: Open 24 hours
7. Sacrewell Heritage Farm and Country Centre
Experience British country life at Sacrewell Heritage Farm and Country Centre in Peterborough! This place is teeming with cute farm animals, idyllic picnic areas, and fascinating historic mill tours. Don't miss the adorable Shire horses, a favorite among visitors. As a bonus, you can have a blast at the Watermill, an 18th-century gem! Nearby is the stunning Burghley House, a truly grand 16th-century English home that offers a glimpse into history. A perfect day out for the whole family!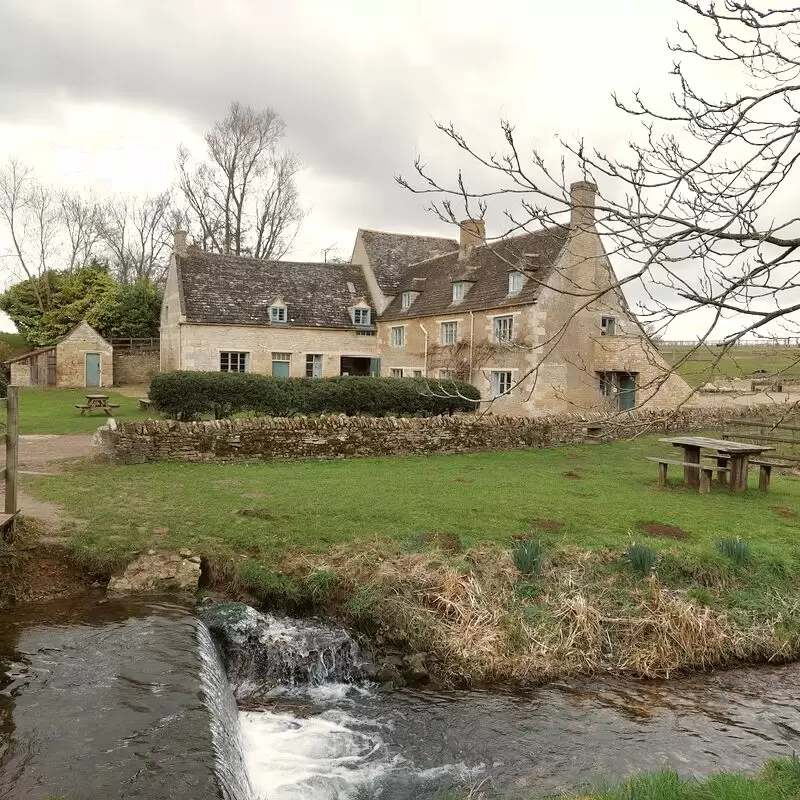 Sacrewell Heritage Farm and Country Centre
Thornhaugh, Peterborough
Monday - Sunday: 9:00 AM – 4:30 PM
8. Peterborough Museum & Art Gallery
A visit to Peterborough would not be complete without learning about the city's history at the Peterborough Museum & Art Gallery. The 15 galleries are filled with a fascinating variety of objects, ranging from art to archaeology. The building itself is a gem: originally a private mansion dating back to the 16th century, it's a journey into the city's past. Don't miss the eerie old prison cells, a true hidden treasure. Just a five-minute walk away is Peterborough Cathedral, another must-see historical site.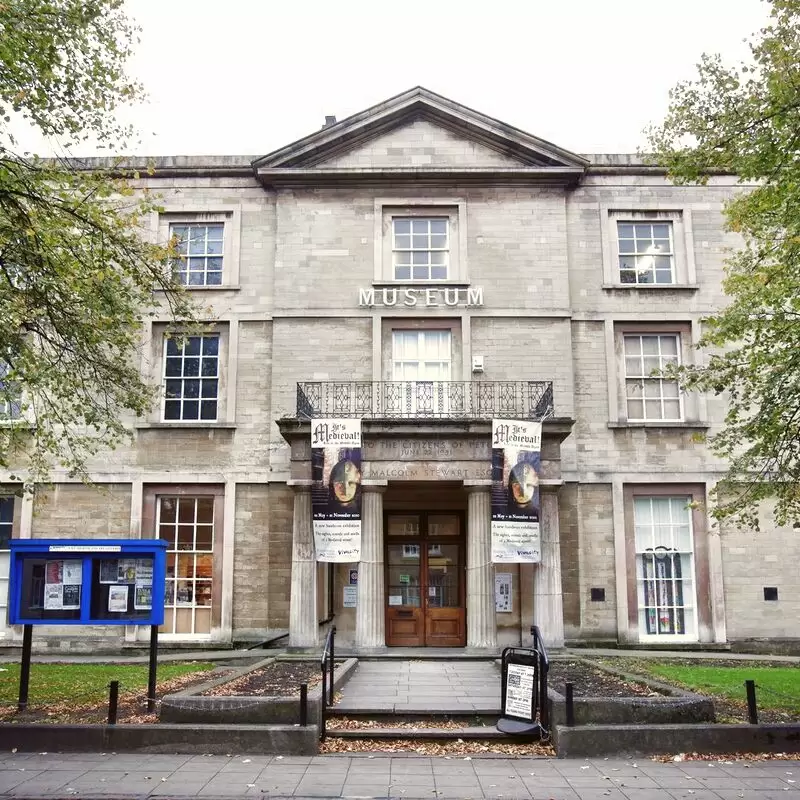 Peterborough Museum & Art Gallery
51 Priestgate, Peterborough
Monday - Sunday: Closed
Tuesday - Saturday: 10:00 AM – 4:00 PM
9. Crown Lakes Country Park
Immerse yourself in the natural oasis of Crown Lakes Country Park, your city retreat. You can relax or watch fascinating birds at the expansive lakes. The thrill of fishing is not to be missed, and the park is popular with locals. It is the epitome of tranquility amidst the urban sprawl of Peterborough. Nearby, you can explore the medieval architectural marvel that is Longthorpe Tower, which is just a short drive away. Your stay in the UK would be incomplete without enjoying these scenes.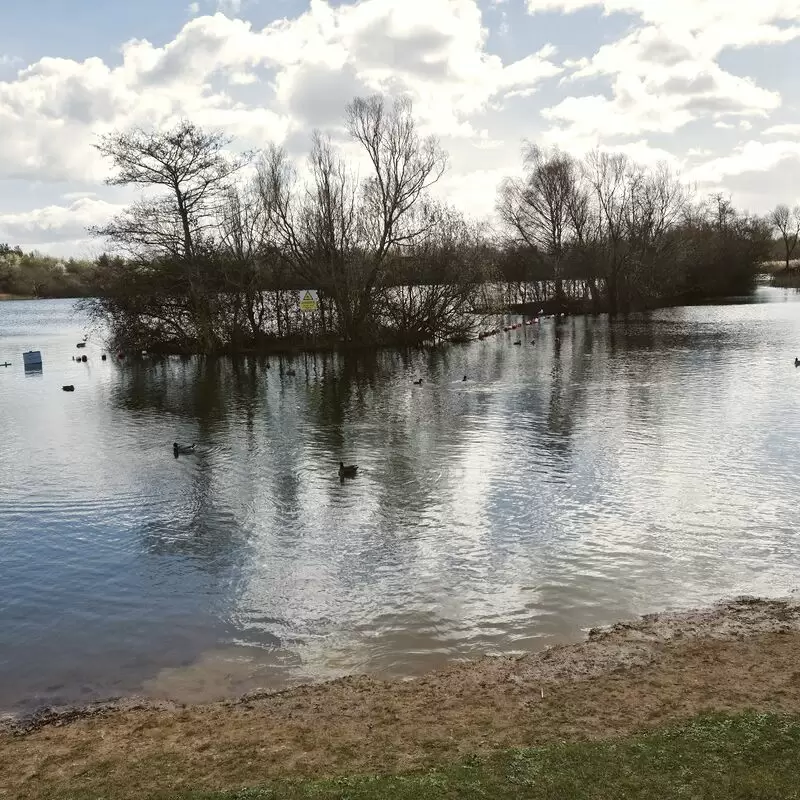 Crown Lakes Country Park
Haddon Way, Peterborough
Monday - Sunday: Open 24 hours
10. Crowland Abbey
Crowland Abbey is a mystical treasure steeped in history. Once a prosperous monastery, it still exudes otherworldly charm. Wander through the preserved ruins, feel the echoes of the past, and marvel at Trinity Bridge, a medieval gem. Nearby is the Fenland town of Spalding, known for its stunning floral displays. Don't miss the "carving" inside the abbey, believed to depict Ethelbald, the abbey's founder. It is a journey into the ancient world of England that promises a unique experience.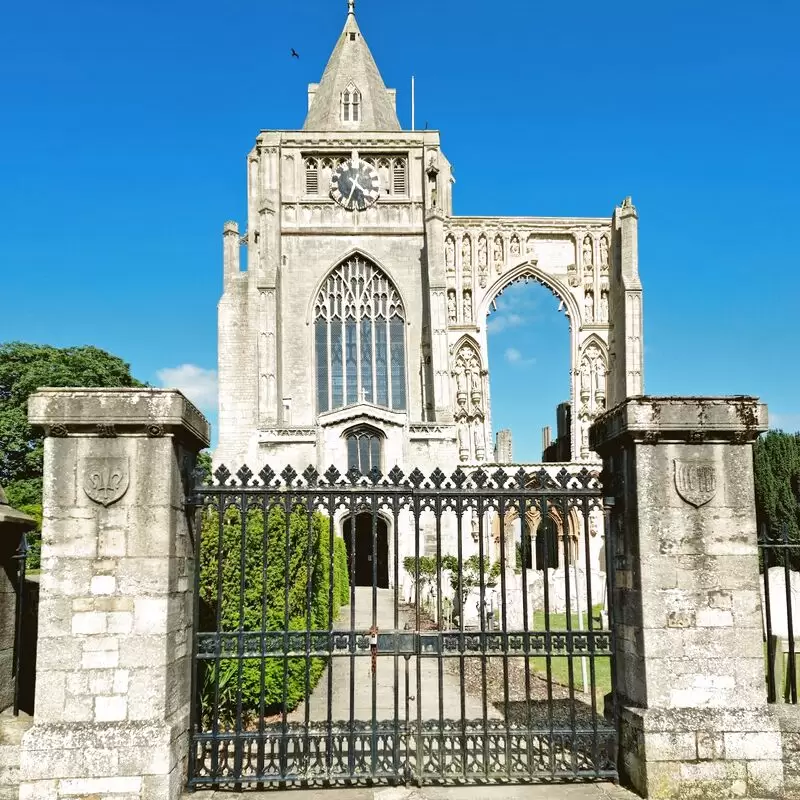 Crowland Abbey
46 East Street, Crowland, Peterborough
Monday - Sunday: 11:00 AM – 4:00 PM
11. Flag Fen Archaeology Park
Immerse yourself in ancient British history at Flag Fen Archaeology Park in Peterborough. Discover the mysteries of the Bronze Age here with Britain's oldest wheel, preserved wooden causeways and numerous archaeological finds. Explore the mysterious, millennia-old past through the impressive artifacts. The nearby Bronze Age Centre brings history to life with interactive exhibits. Don't miss the Fen's tranquil wildlife and charming Celtic roundhouses! As a bonus, Peterborough Cathedral is just a short drive away, so you can enjoy its Gothic architecture afterwards.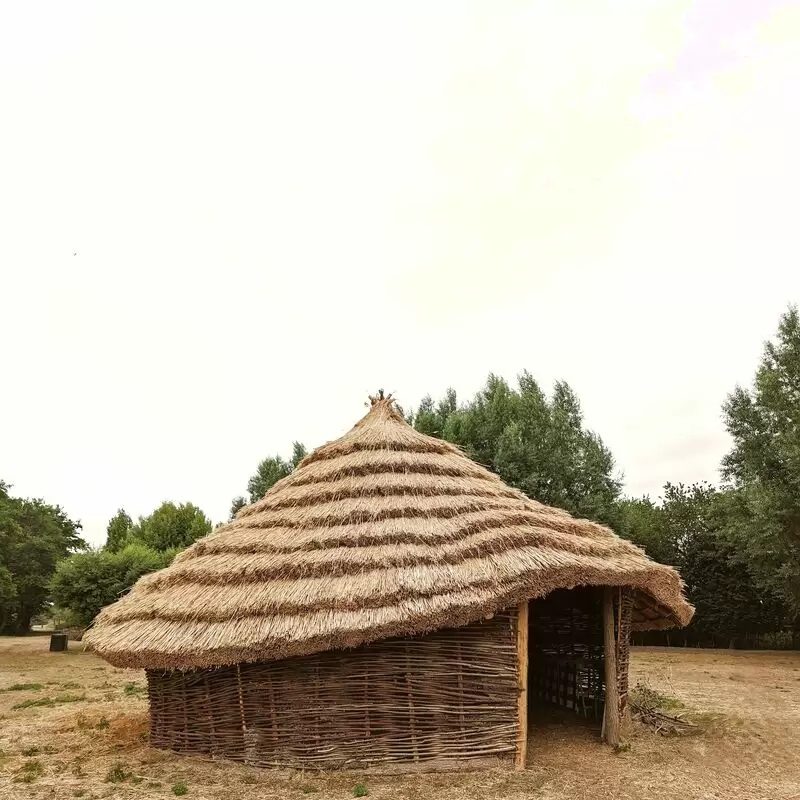 Flag Fen Archaeology Park
The Droveway, Northey Road, Peterborough
Monday - Tuesday: Closed
Wednesday - Sunday: 10:00 AM – 4:00 PM
12. Lyveden Manor
Discover the centuries of history at Lyveden Manor, a hidden gem in Peterborough. Stroll through the unfinished Elizabethan summer house, admire the water garden, and enjoy the tranquil nature trails. Discover the fascinating story of the builder, Sir Thomas Tresham, and his secret commitment to Catholicism during a time of religious persecution. Nearby, you can also visit the charming Lyveden New Bield, an unfinished garden house that offers a unique glimpse into Elizabethan garden design.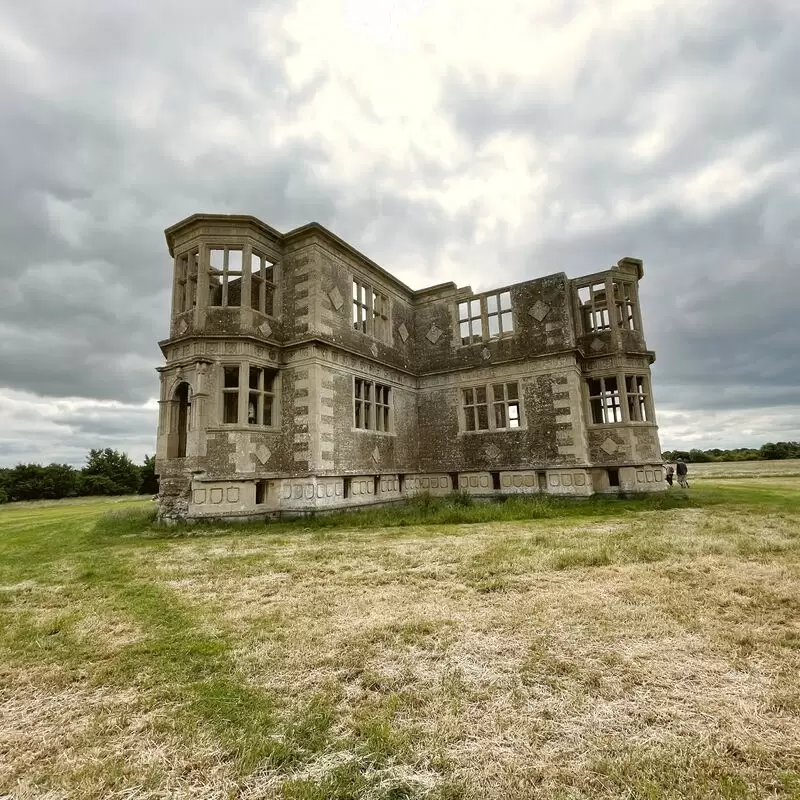 Lyveden Manor
Peterborough
13. Railworld Wildlife Haven
If you're passionate about trains and the outdoors, Railworld Wildlife Haven in Peterborough is your paradise. This hidden gem has an impressive model railroad, historic locomotives and a fascinating garden full of wildlife where bees buzz and birds chirp. Don't miss the 1894 Finnish steam locomotive, a rare piece of railroad history. Just a stone's throw away, you can immerse yourself in urban wildlife at Boardwalks Nature Reserve. End your day with a view of the sunset over the Nene River, just a stone's throw away.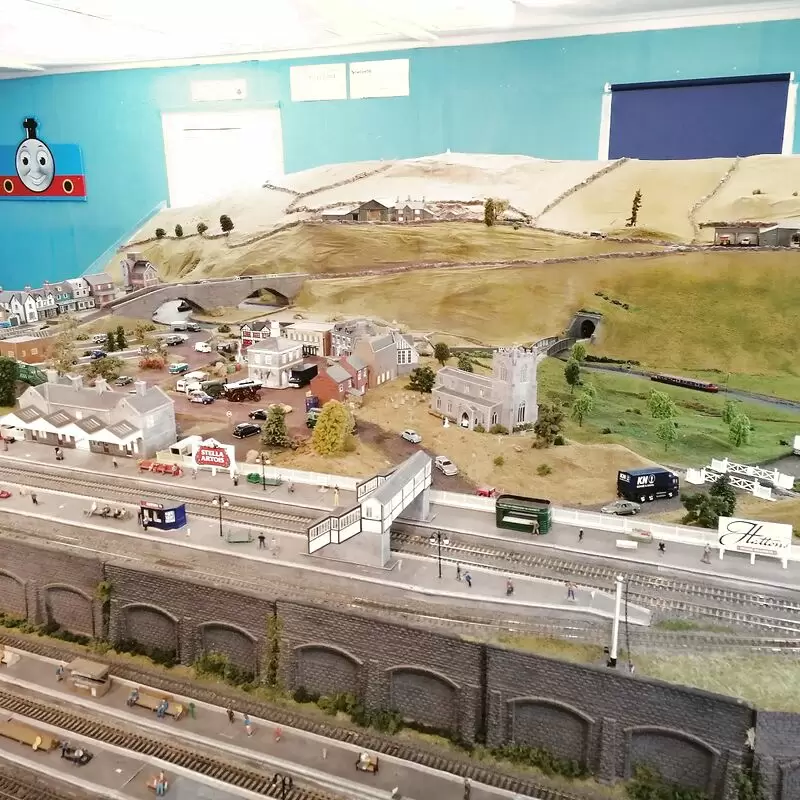 Railworld Wildlife Haven
City Council Fair, Meadow Car Park, Oundle Road, Pleasure Fair Meadow Road, Peterborough
Monday - Friday: Closed
Wednesday - Sunday: 10:30 AM – 4:00 PM
14. Fotheringhay Castle
Immerse yourself in British history and visit Fotheringhay Castle in Peterborough, where Mary Queen of Scots met her tragic end. Located on the River Nene, the site offers breathtaking views and a fascinating trip back in time. The castle may be in ruins, but the atmospheric site is full of information. Just around the corner, check out St Mary and All Saints Church, where Richard III was born. Here's a tip: the church's tower is great for panoramic photos! In May, visit the Fotheringhay Festival, which features local music for all tastes.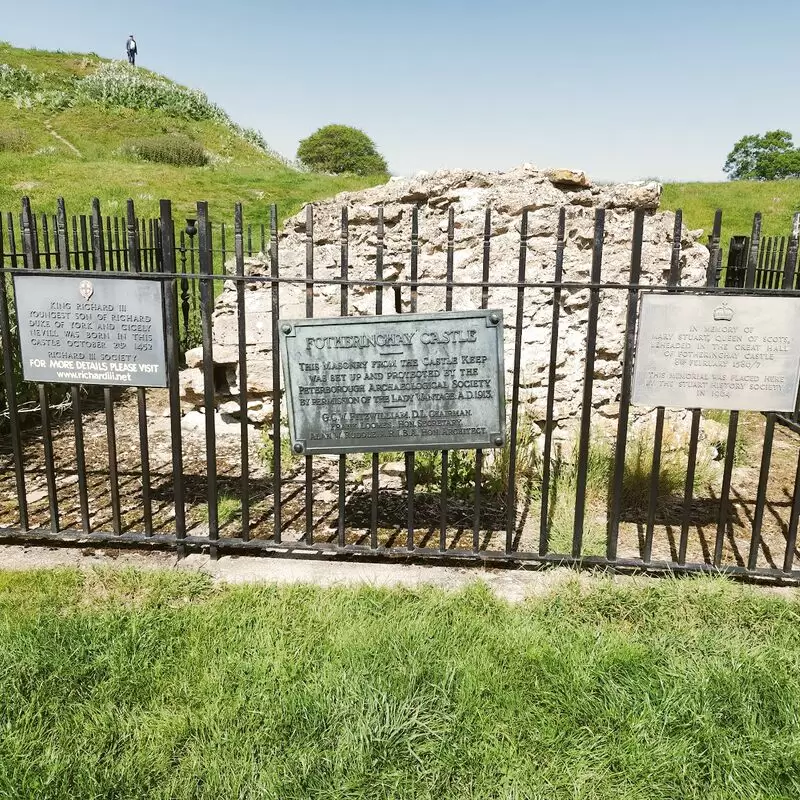 Fotheringhay Castle
Fotheringhay, Peterborough
Monday - Sunday: Open 24 hours
15. Nene Valley Railway Overton for Ferry Meadows Station)
Immerse yourself in the timeless atmosphere of the Nene Valley Railway. A jewel in Peterborough's crown, this charming historic railroad brings nostalgia to life with its vintage steam locomotives and carefully restored carriages. Ride the station's miniature train, take a stroll in Ferry Meadows Country Park just steps away, or enjoy a cup of tea at the on-site café. Fun Facts: The station is Britain's premier international railroad, with carriages from several European countries. Nearby, you can visit Peterborough Cathedral and take a journey through history.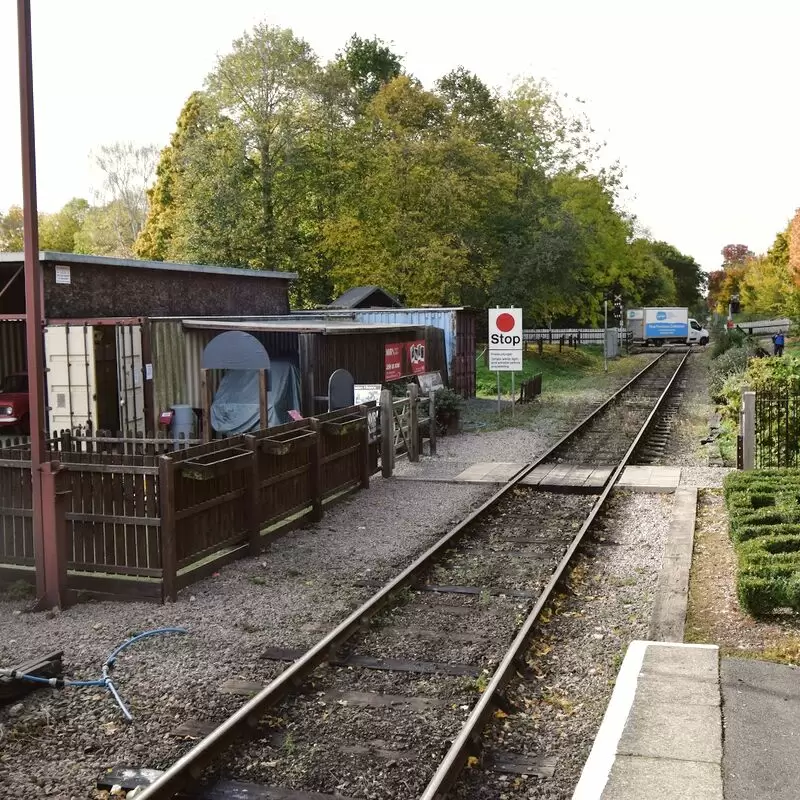 Nene Valley Railway Overton for Ferry Meadows Station)
Overton, For Ferry Meadows Station, Nene Valley Railway Ltd, Orton Wistow, Peterborough
Monday - Thursday: Closed
Wednesday - Sunday: 10:00 AM – 4:00 PM
16. Key Theatre
Immerse yourself in the vibrant arts scene at the Key Theatre in Peterborough. Enjoy world-class performances ranging from riveting dramas to lively musicals. This riverside venue also offers stunning views of the River Nene. You may even see a famous face, as many top British acts perform here! Just around the corner, you can visit the historic Peterborough Cathedral, a marvel of medieval architecture that is often featured in movies. Stroll through the lush Bishop's Gardens, just a stone's throw away and perfect for a quiet retreat. Don't forget to enjoy a first-class meal at Chubby Castor, a nearby culinary gem.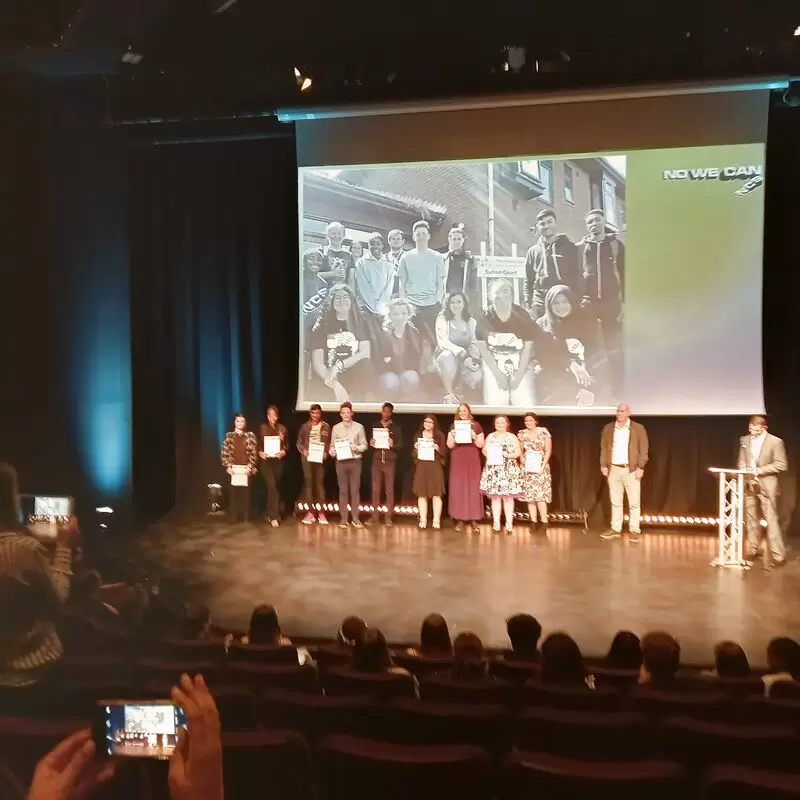 Key Theatre
Embankment Road, Peterborough
Monday - Saturday: 10:00 AM – 6:00 PM
Sunday: Closed
Best Time to Visit Peterborough
The best time to visit Peterborough, United Kingdom, is between late spring and early fall, especially from May to September, when the weather is warmer and the city offers a variety of cultural and musical events. The city's gardens and parks are also in full bloom during this time.
Annual Weather in Peterborough
Peterborough 3-Day Forecast
Tue, 26 September
Night
56 °F
14 °C
0%
Morning
54 °F
12 °C
0%
Afternoon
68 °F
20 °C
82%
Evening
63 °F
17 °C
0%
Wed, 27 September
Night
54 °F
12 °C
0%
Morning
53 °F
12 °C
0%
Afternoon
61 °F
16 °C
68%
Evening
58 °F
15 °C
0%
Thu, 28 September
Night
51 °F
11 °C
0%
Morning
52 °F
11 °C
0%
Afternoon
53 °F
12 °C
56%
Evening
54 °F
12 °C
0%
Questions & Answers

How do I navigate public transportation in Peterborough?

Peterborough's public transport network consists mainly of trains and buses. The train station is located in the city center and provides connections to the main destinations in the UK, while the buses provide connections within the city. Tickets can be purchased online, at the station or on the bus. The PlusBus ticket allows you to take unlimited buses around the city. To navigate routes, use public transport apps like Stagecoach or the National Rail website for trains.

What food delicacies should I try?

Peterborough, United Kingdom, offers a mix of traditional British and international delicacies. Be sure to try the classic fish and chips, made with locally sourced, sustainable fish. Experience hearty British cuisine with dishes like Shepherd's Pie and Cornish Pasty. For dessert, treat yourself to Sticky Toffee Pudding, an iconic sweet. If you're craving international dishes, Peterborough is known for its Italian and Indian restaurants. Pasta dishes, Italian style pizza or a rich Indian curry are a must when visiting this city.

How far is Peterborough from London?

Peterborough is located about 76.4 miles (122.9 kilometers) north of London. The distance depends on the chosen travel route. By road, the most direct route via the A1 expressway takes 1.5 to 2 hours, depending on traffic. By train, the journey from London's King's Cross station takes about 50 minutes on average, making Peterborough easy to reach from the capital.

Can you suggest a good neighborhood for stay?

Definitely. In Peterborough, the Cathedral Square area is a fantastic place to live. It is centrally located, with the famous Peterborough Cathedral, cultural institutions and nice restaurants nearby. The neighborhood exudes historic charm, yet is lively with cafes and stores. It offers excellent access to other parts of the city, making it easy for tourists to explore other attractions. It is a lively area, ideal for those who like to be in the heart of the city.

Is it safe to wander around Peterborough at night?

In general, Peterborough is a safe city. However, as in any city, it is important to use common sense and take precautions when walking around the city at night. Stick to well-lit and busier areas to ensure your safety. While the downtown area is usually busy in the evening, less populated areas can be quieter and possibly less safe. Be aware of your surroundings and do not display valuables, especially at night.

Where can I rent a bike?

In Peterborough, you can rent bikes at Rutland Cycling Peterborough near Ferry Meadows Country Park on Ham Lane. With a wide range of bikes for adults and children, you can explore the parkland, riverside and more. Their services also include guides for local routes. Another option is Outspoken Cycles in Orton Southgate, where you can rent bikes for longer periods if you need a bike for your entire stay in the city.

How to get from Peterborough to Cambridge?

Getting from Peterborough to Cambridge is easy by public transport. It is a one-way train ride from the main train station in Peterborough directly to the train station in Cambridge. This journey usually takes about 50 minutes. Alternatively, you can drive, which takes about 1 hour and 10 minutes via the A14 and A1(M). Please note that travel times may vary depending on the time of day and traffic.

Are guided city tours available?

Yes, guided city tours are available in Peterborough, United Kingdom. These tours offer a comprehensive exploration of the city's rich history and vibrant culture. Guests can expect to visit notable sites like Peterborough Cathedral, Nene Park and Burghley House. Tours usually last a few hours and offer an in-depth look at Peterborough's heritage. Some tour operators even offer customizable private tours. Whether you're interested in history, art or nature, there's a guided tour in Peterborough to suit your interests.

Is it easy to get a taxi in Peterborough?

Yes, it is generally easy to get a cab in Peterborough. The city offers numerous cab services, including private hire cabs and black cabs, which are readily available for both locals and visitors. You can hail a cab on the street, book it in advance by phone or through cab company apps, or find it at dedicated cab stands around the city, especially near popular attractions and transportation hubs.

What is the local language?

The local language spoken in Peterborough, United Kingdom is English. However, due to the diverse multicultural population, other languages such as Polish, Lithuanian, Latvian, Russian, Italian and Urdu are also spoken by various communities. Despite this diversity, all official communication, signage and public services are predominantly conducted in English. Therefore, it is advisable for visitors to have a basic knowledge of English.

What currencies are accepted?

In Peterborough, United Kingdom, the accepted currency is the British Pound Sterling (GBP). Credit and debit cards are accepted in most stores, hotels and restaurants. While some stores accept other currencies such as the Euro or the US dollar, this is not common and exchange rates may not be very favorable. It is advisable to carry local currency for small merchants, transportation, or places where cards are not accepted.

Is there any dress code to follow in religious places?

In religious places in Peterborough, United Kingdom, such as cathedrals or churches, visitors are asked to wear respectful clothing. This means that shorts, miniskirts, bare shoulders or a bare torso are not appropriate. Hats or caps should be removed upon entering, especially for men. The point is to respect the sanctity of the place. However, these are guidelines rather than strict rules. At conservative services, you can generally expect to be dressed more formally than at casual services.

Can I drink tap water in Peterborough?

Yes, the tap water in Peterborough, like the rest of the United Kingdom, is safe to drink. It meets the high safety standards set by the Drinking Water Inspectorate. However, the taste may vary slightly due to differences in treatment and local supply of water. It is always a good idea to take a reusable water bottle with you to minimize your environmental impact when traveling.

How can I get from the airport to the city center?

Once you land at London Stansted Airport, the closest major airport to Peterborough, you can take the direct CrossCountry train towards Birmingham New Street, which will take you to Peterborough train station in about 2 hours. If you prefer a more direct route, you can also book a cab or private transfer, although this option might be more expensive. From Peterborough train station, the city center is just a short walk away.

What are the COVID restrictions in Peterborough?

In Peterborough, people are advised to follow national regulations for COVID-19 precautions, including wearing masks in stores and on public transportation, maintaining social distance, and washing hands regularly. Worldwide travel restrictions may also apply, depending on the country of origin. It is recommended that people isolate themselves and take a PCR test if symptoms of COVID-19 appear. Different rules may apply to vaccinated individuals. Visitors should check regularly for the latest UK government guidelines, as restrictions can change quickly.

Are there many vegan or vegetarian restaurants?

Yes, Peterborough offers a diverse selection of vegan and vegetarian-friendly restaurants. Local favorites include the all-vegetarian cafe Resist Vegan Kitchen and When Polly Met Fergie, which are known locally for their creative plant-based dishes. Popular chains like Pret A Manger also have an extensive vegan menu. In addition, many traditional restaurants in Peterborough offer vegetarian and vegan options, making it easy for those who eat accordingly to dine out.

Is there free WiFi spots around the city?

Yes, Peterborough offers several free WiFi spots around the city. You can use the free internet access at public places like Queensgate Shopping Centre, Peterborough City Library and other local cafes and restaurants. Peterborough City Council also offers free WiFi at key locations like Cathedral Square. Whether you're strolling through the city's historic buildings, relaxing over a cup of coffee, or browsing the local stores, you can stay connected with the help of these wireless networks.

What power plug type does Peterborough use?

In Peterborough, United Kingdom, the standard power plug is type G. This plug has three rectangular pins in a triangular pattern. The standard voltage is 230 V with a standard frequency of 50 Hz. If you are traveling to Peterborough from a country that uses a different plug type, voltage, or frequency, you may need to use a power plug adapter or converter.

What's the tipping etiquette in Peterborough?

Tipping is not obligatory in Peterborough, United Kingdom, but it is quite appreciated for good service. Generally, people tip about 10-15% of the bill in restaurants. Tipping bartenders is not common, but you may want to give cab drivers or hotel staff a pound or two for exceptional service. Make sure you always have some cash with you, as not all establishments accept tips by card.

Can I find guided tours for Peterborough's historic sites?

Of course, guided tours of Peterborough's historic sites are a popular way to explore the city. There are numerous tour operators that offer a detailed look at the city's rich history. These include fascinating tours of Peterborough Cathedral, a jewel of Norman architecture, and Flag Fen Archaeology Park, a Bronze Age site. You can also visit Burghley House, one of England's most magnificent Elizabethan houses. Each tour is narrated by experts and includes anecdotes and insider knowledge.

How can I access emergency services in Peterborough?

In Peterborough, United Kingdom, emergency services are easy to reach. You can dial 999 to get immediate help from the police, ambulance or fire department. In less urgent situations, you can dial 101 to get non-emergency police assistance. Always remember to give clear and accurate details of your location when calling. For health problems, Peterborough City Hospital offers an accident and emergency department for urgent treatment.

Is the city wheelchair friendly?

Yes, Peterborough in the United Kingdom is largely wheelchair accessible. There are gentle slopes and ramps in most areas, making the city easy to navigate. The city offers accessible public transportation, although advance booking is recommended for a smooth experience. Popular tourist attractions such as Peterborough Cathedral and Nene Park are also wheelchair accessible. However, some historic areas can be challenging due to their age and cobblestone streets.

Are the prices in Peterborough high compared to other cities?

Peterborough, United Kingdom, is quite affordable compared to other cities in the United Kingdom. The cost of living, including food, transportation and entertainment, is generally lower than in London or Manchester. Housing prices are also rather modest. However, as in any city, there is a mix of high-end and affordable options for different income groups. Overall, Peterborough is cost-friendly for both visitors and residents.

Are there any unique cultural traditions in Peterborough?

Peterborough in the United Kingdom is steeped in tradition and history. One unique cultural tradition for which the city is known is the Straw Bear Festival, originally a pagan ritual. During this event, a person is wrapped in a straw dress and paraded through the town to the accompaniment of traditional music and dancing. The festival symbolizes the beginning of the agricultural year and attracts many people every year. Other important traditions are the historical reenactments at the Peterborough Heritage Festival.

Are there any major sporting events in Peterborough?

Yes, Peterborough is known for its sporting events. Among the most famous are the soccer matches of Peterborough United FC, also known as "The Posh", at London Road Stadium. You can also experience speedway racing at the East of England Showground, home of the Peterborough Panthers. Another highlight is the rowing events at Thorpe Meadows, known for its rowing lake, which rounds out the city's vibrant sports scene.

Feedback

I hope you found this article informative and helpful. I'm eager to improve the content and make it even more valuable for you. If you have any feedback or suggestions, I would love to hear from you.

Do you have any tips or hidden gems that you think should be added to the list? Are there any areas that you feel could use more explanation or clarification?

Your input is greatly appreciated and will help us to continue providing high-quality content that meets your needs and interests. Please feel free to share your thoughts.