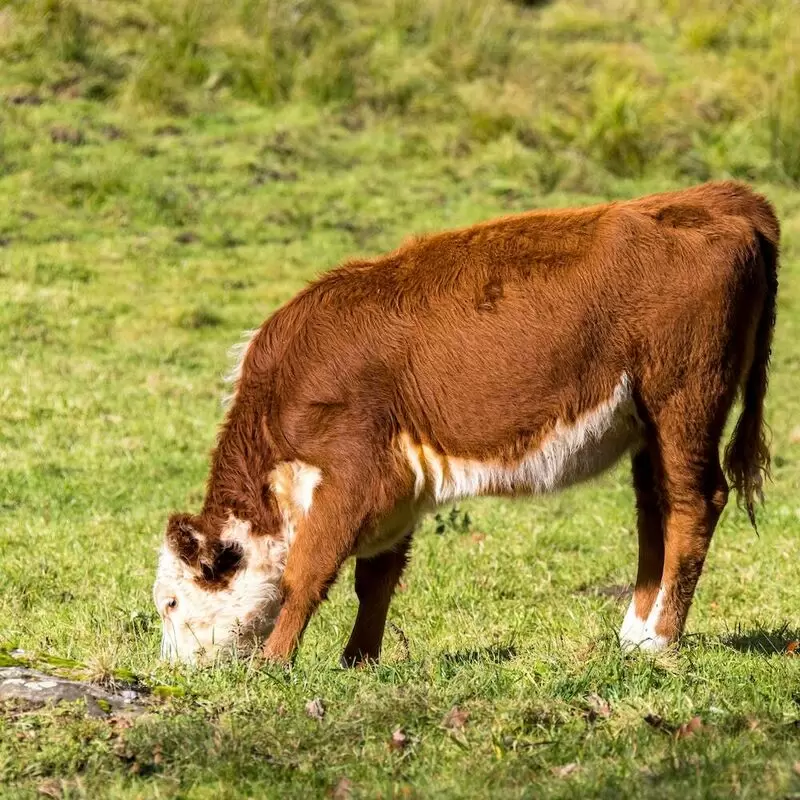 1. Goodrich Castle
A visit to Goodrich Castle in Hereford is like a trip back to the Middle Ages. Everything about the place breathes history, from the eerie dungeon to the echoing chapel. The castle offers stunning panoramic views of the surrounding countryside that are simply breathtaking. Be sure to try out the mini-model of the fortress for a fun insider detail. If you feel like exploring further after that, Symonds Yat Rock, famous for its remarkable views, is just a short drive away.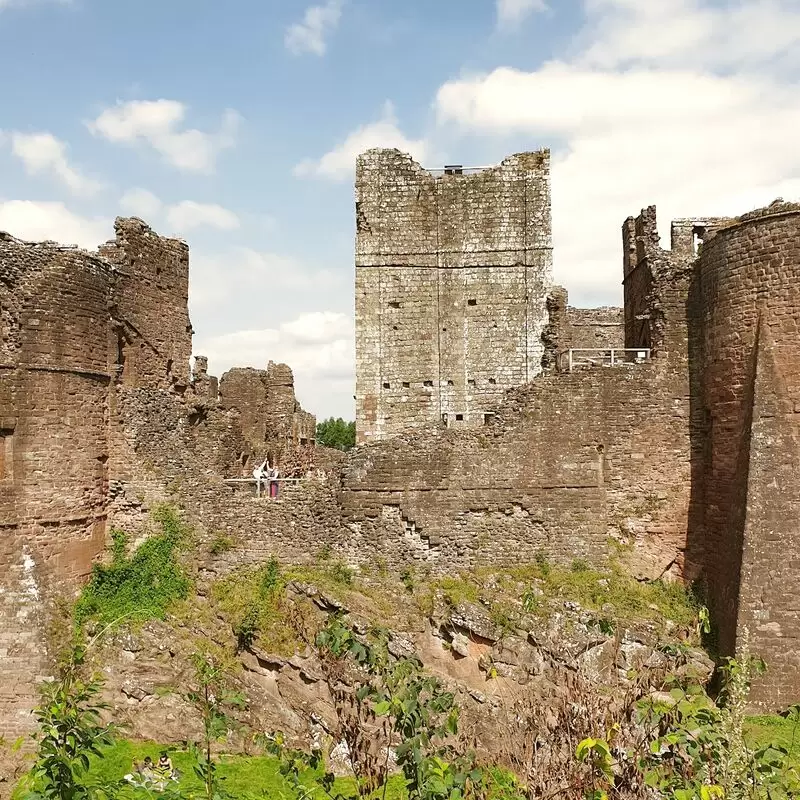 2. Hereford Cathedral
Embark on a journey through time with a visit to Hereford Cathedral! A symbol of Hereford's cultural richness, the Gothic-style cathedral houses the Mappa Mundi, the largest medieval map in the world, and the famous Chained Library, an icon of history. Admire the fascinating stained glass windows and Victorian restoration. Just a stone's throw away is the Old House Museum - a beautifully preserved Jacobean house where you can learn more about local history.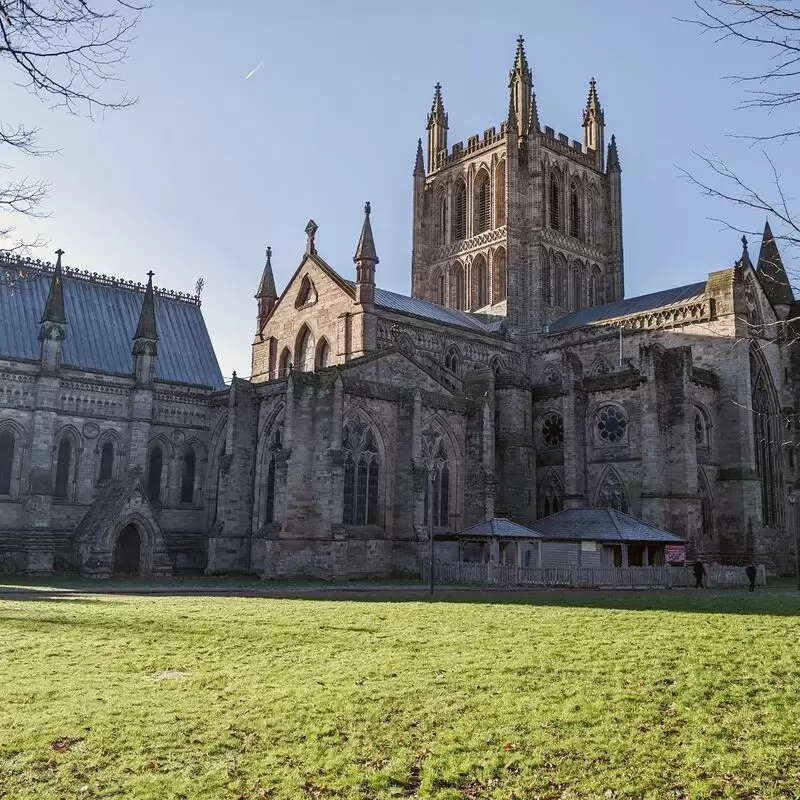 Hereford Cathedral
5 College Cloisters, Cathedral Close, Hereford
Monday - Sunday: 10:00 AM – 5:00 PM
3. National Trust Croft Castle and Parkland
Discover the true essence of Hereford at the National Trust - Croft Castle and Parkland. This centuries-old castle, nestled in beautiful parkland, offers an incredible glimpse into Britain's past. Marvel at the exquisite architecture and historic interiors filled with beautiful art and rare antiques. Spend a perfect day exploring scenic trails and even spot fallow deer in the park. Just a short drive away is another historic masterpiece, the charming Berrington Hall.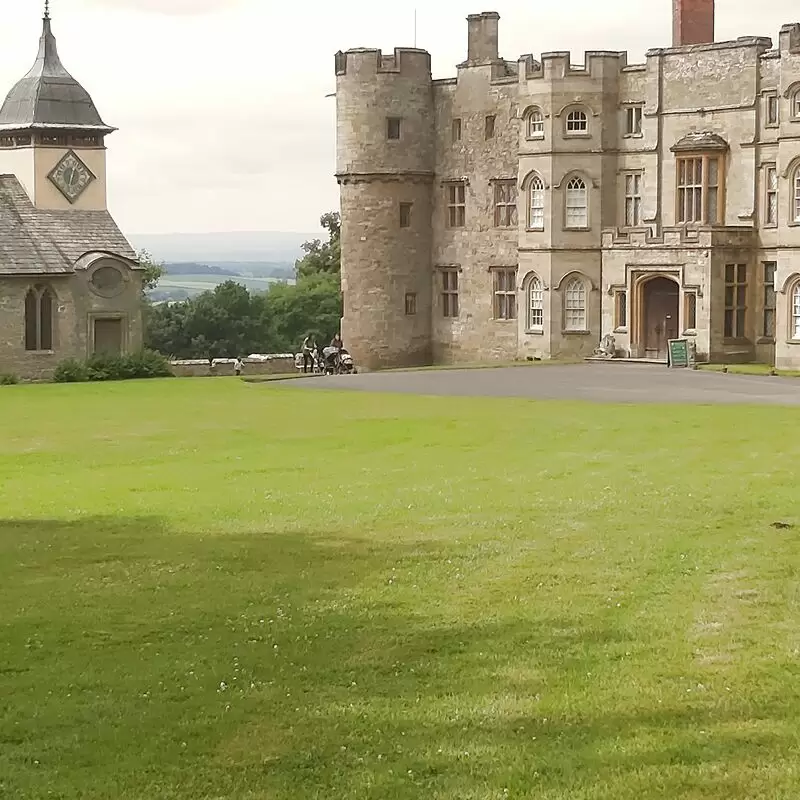 National Trust Croft Castle and Parkland
B4362, Yarpole, Leominster
Monday - Sunday: 9:00 AM – 5:00 PM
4. National Trust Berrington Hall
Take a trip to the National Trust - Berrington Hall, a hidden gem in Hereford. This Georgian mansion is the perfect place for history and nature lovers and houses an exceptional collection of art and period furniture. The mansion is located in the midst of "Capability" Brown's last landscaped masterpiece. Explore the secret garden, a haven often known only to regular guests. Nearby is Brockhampton Estate, a charming medieval manor house surrounded by orchards and woodland walks. Enjoy Hereford - a journey into the past!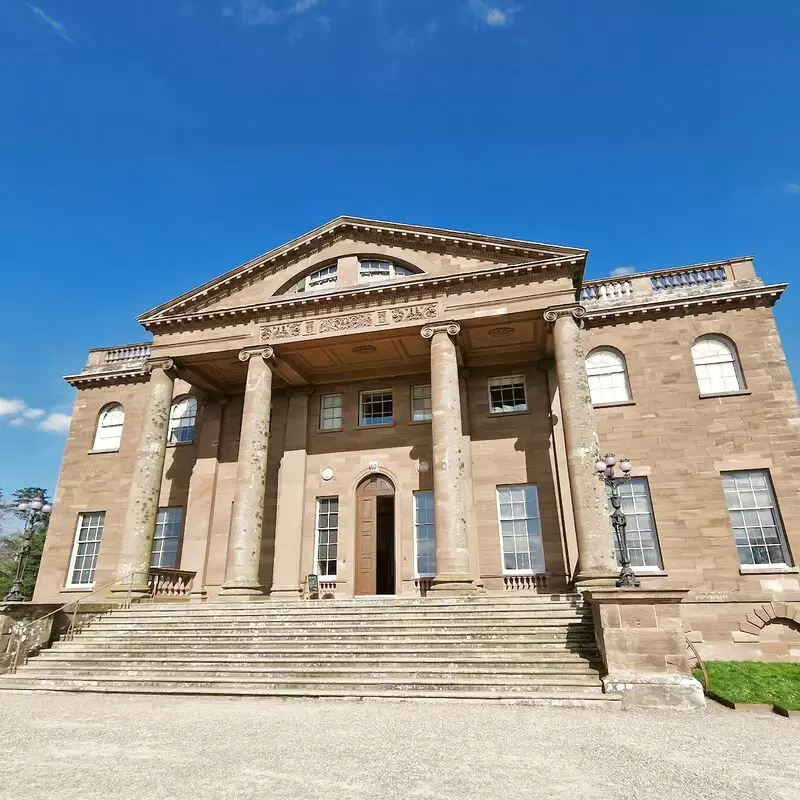 National Trust Berrington Hall
Berrington Hall near, Leominster
Monday - Friday: 10:00 AM – 5:00 PM
Saturday - Sunday: 10:00 AM – 4:00 PM
5. Hampton Court Castle
Experience the living history of Hampton Court Castle, a 15th century gem nestled in the charming Hereford countryside. Hampton Court is a 15th-century gem nestled in the charming Hereford countryside. Walk through the breathtaking gardens where stories of the past are told, or explore the maze and discover the secret tunnels and towers. Don't miss a scenic boat ride along the castle's tranquil waterways. Just a short drive away is another treasure, the Mappa Mundi & Chained Library, which houses unique medieval wonders.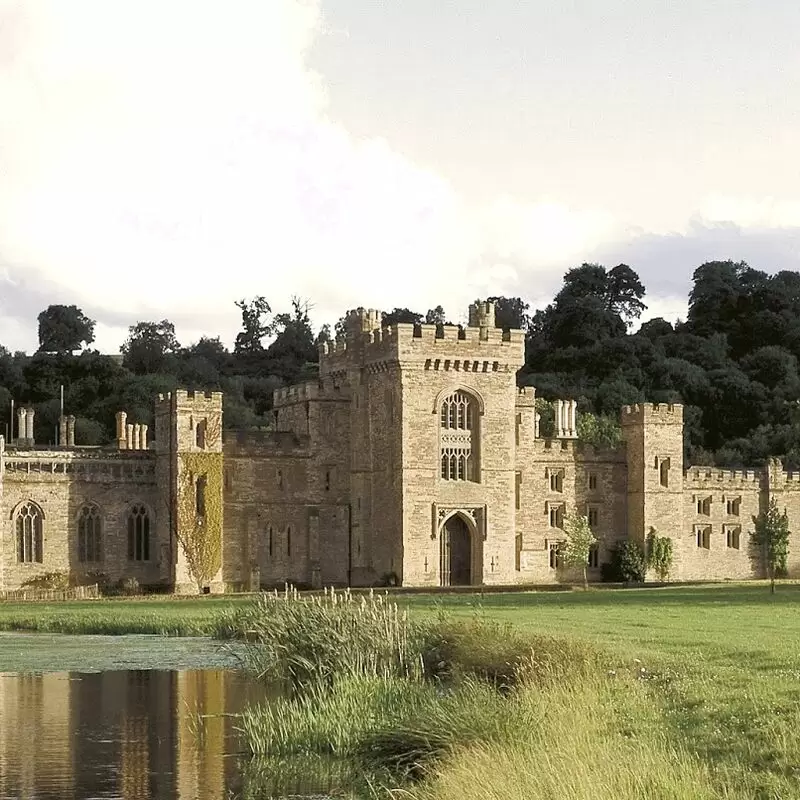 Hampton Court Castle
Hampton Court Castle, Hope under Dinmore, Leominster
Monday - Sunday: 10:30 AM – 5:00 PM
6. National Trust Brockhampton
Immerse yourself in the medieval charm of National Trust - Brockhampton, a remarkably well-preserved estate that exudes tranquility and history. Marvel at the timber-framed manor house framed by a charming moat and stroll through 1700 acres of beautiful countryside. Get a glimpse of traditional life during a visit to the estate's apple orchards. Remember, you may have the opportunity to sample some naturally grown produce in late summer! Just 15 miles away is Hereford Cathedral, another historic site you should definitely visit.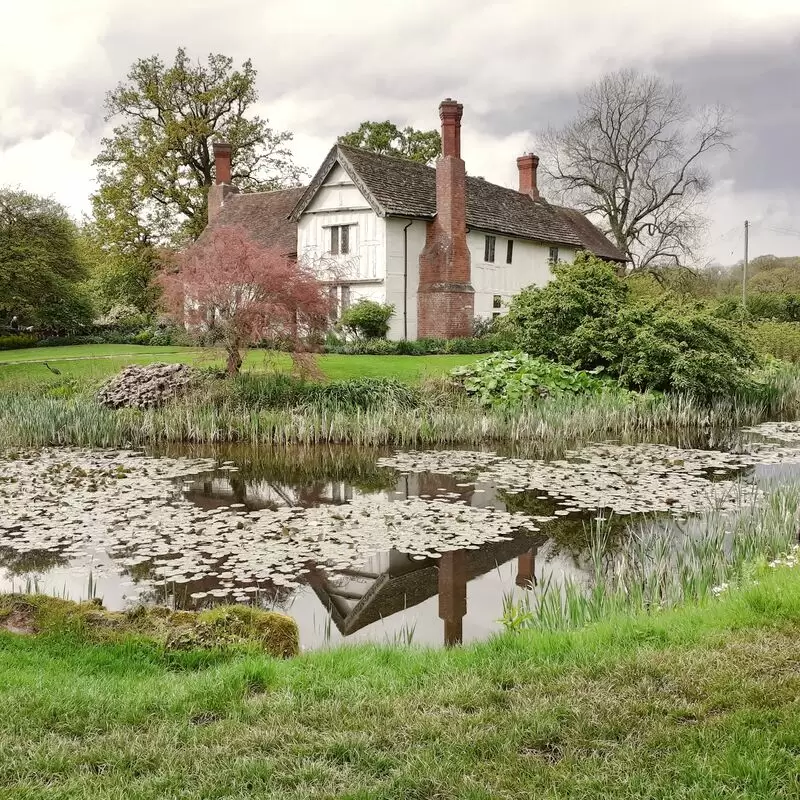 National Trust Brockhampton
Brockhampton Estate Bringsty near, Bromyard
Monday - Friday: 10:00 AM – 5:00 PM
Saturday - Sunday: 10:00 AM – 4:00 PM
7. Hergest Croft Gardens
Hergest Croft Gardens in Hereford is a must for nature lovers. This unique garden covers 70 acres and is home to over 5,000 rare species of plants, trees and flowers. It is a paradise, especially in the fall when the foliage offers a colorful panorama. You can explore six different areas, each with its own charm. Don't miss the eye-catching Maple Grove. And just a stone's throw away is historic Hergest Ridge, which inspired musician Mike Oldfield.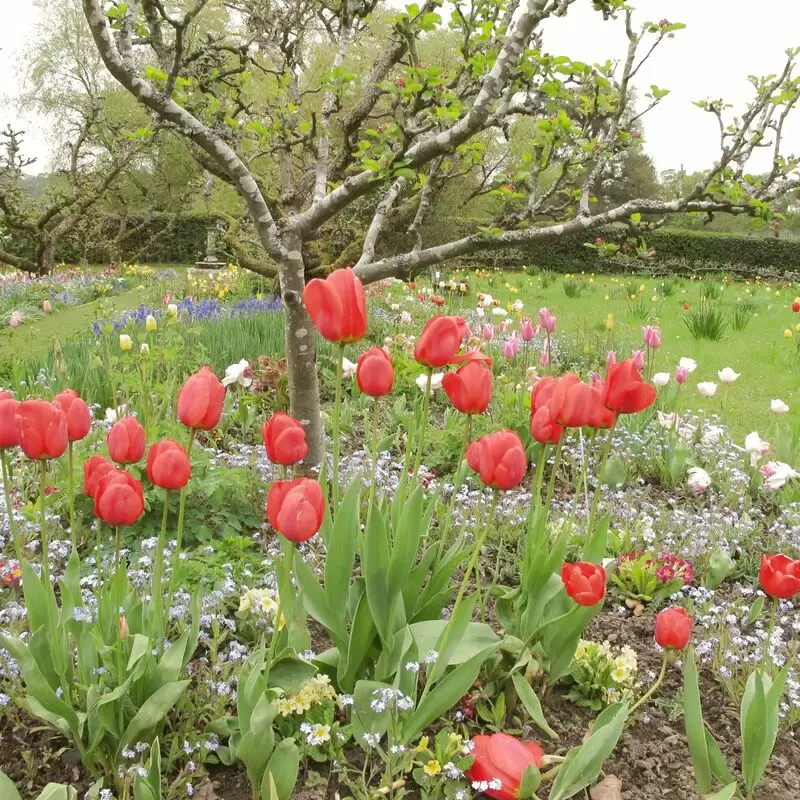 Hergest Croft Gardens
Ridgebourne Road, Kington HR5 3EG
Monday - Sunday: 11:30 AM – 5:00 PM
8. National Trust The Weir Garden
Experience the charm of The Weir Garden, a charming National Trust property in Hereford. This 1920s riverside oasis offers spectacular wildflower meadows, a vibrant vegetable garden, and peaceful woodland walks. Explore the remains of the Roman temple or catch a glimpse of otters and kingfishers along the River Wye. A hidden gem is the ancient "Swimming Pool Garden", not to be missed. Just a stone's throw away, you can also explore historic Weir House, which holds centuries of captivating history.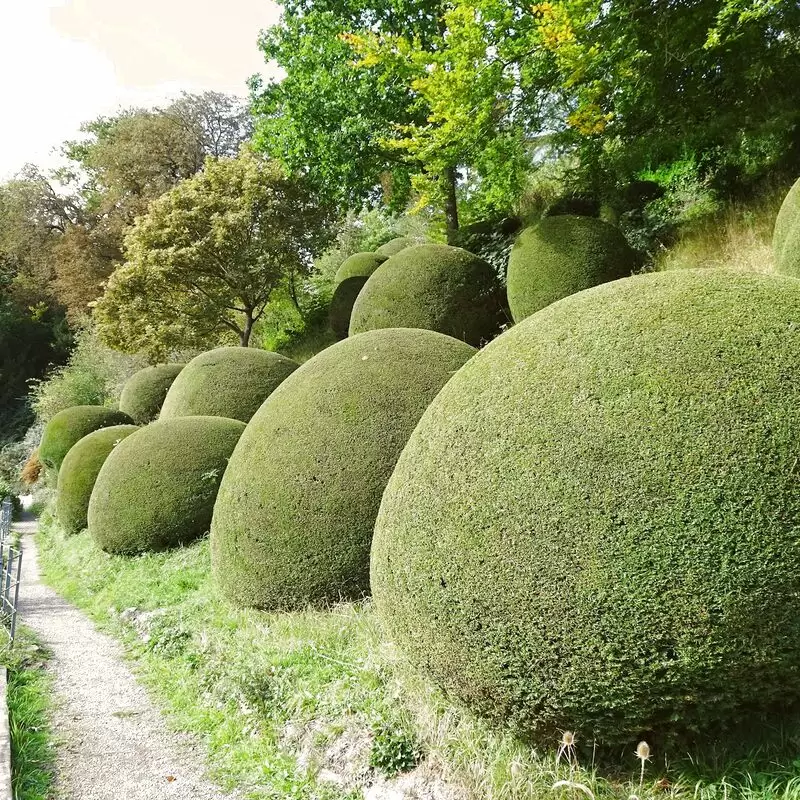 National Trust The Weir Garden
The Weir Garden, Swainshill, Hereford
Monday - Friday: 10:30 AM – 4:30 PM
Saturday - Sunday: 10:30 AM – 4:00 PM
9. Queenswood Country Park & Arboretum
Immerse yourself in the tranquil beauty of Queenswood Country Park & Arboretum - a nature lover's paradise! Be enchanted as you stroll among 1,200 exotic trees on 47 acres. Visit the park in autumn and experience a breathtaking display of colors. Enjoy majestic views from the top of Dinmore Hill. Don't miss the Gruffalo Trail - a young explorer's delight. Just a short drive away, you can explore an ancient wonder: Hereford Cathedral, home to the medieval Mappa Mundi.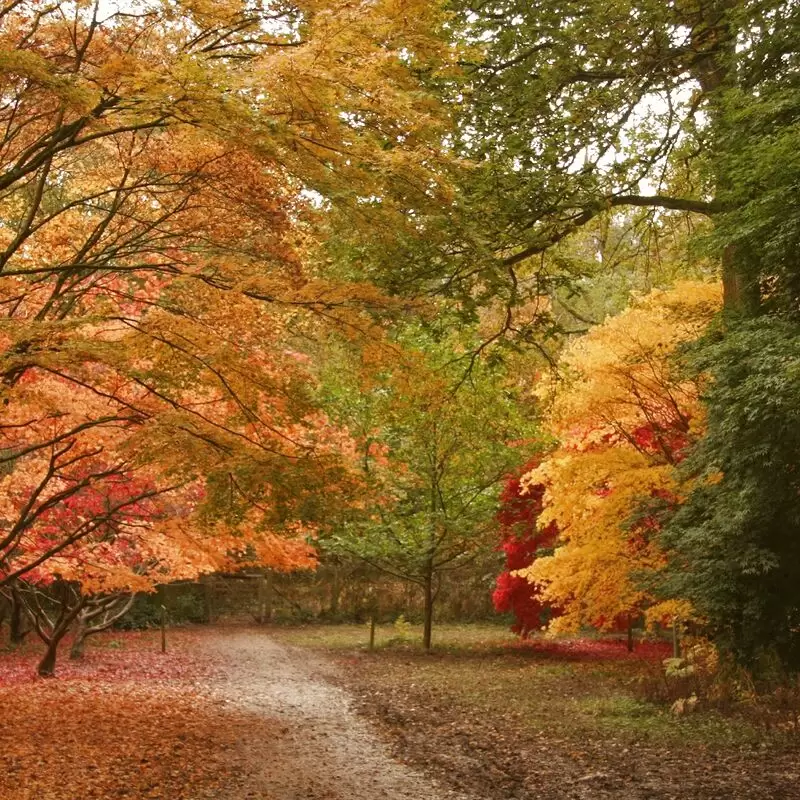 Queenswood Country Park & Arboretum
Dinmore Hill Leominster HR6 0PY, Leominster
Monday - Sunday: Open 24 hours
10. Hellens
Hellens, a magnificent Tudor mansion in Hereford, holds centuries of rich and turbulent history. Take a tour with passionate guides who share stories of romance, tragedy and scandal. Delight in the charming gardens and cider mill before relaxing in the tearoom with homemade scones. Nearby is St. Bartholomew's Church, known for its medieval architecture. For a true local experience, combine your visit with the annual "Garden Festival" held in June.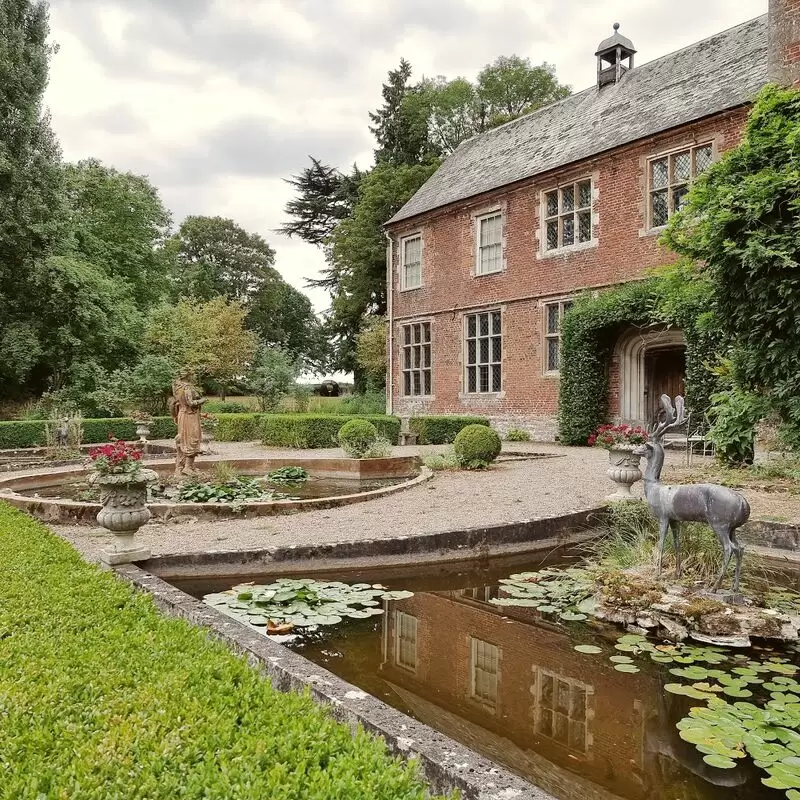 Hellens
Much Marcle, Ledbury
Monday - Saturday: Closed
Wednesday - Sunday: 10:30 AM – 5:00 PM
11. Westonbury Mill Water Gardens
Experience tranquility and whimsical charm at Westonbury Mill Water Gardens. Stroll among wildflowers and follies and discover the spectacular giant cuckoo clock or water tower. Be amazed at how children interact with the playful water features. And don't forget: birdwatchers will be fascinated by the resident kingfishers. Just a short, scenic drive away is the ancient hill fort of Arthur's Stone, another must-see Hereford gem. Marvel at the giant stones and enjoy panoramic views of the Golden Valley.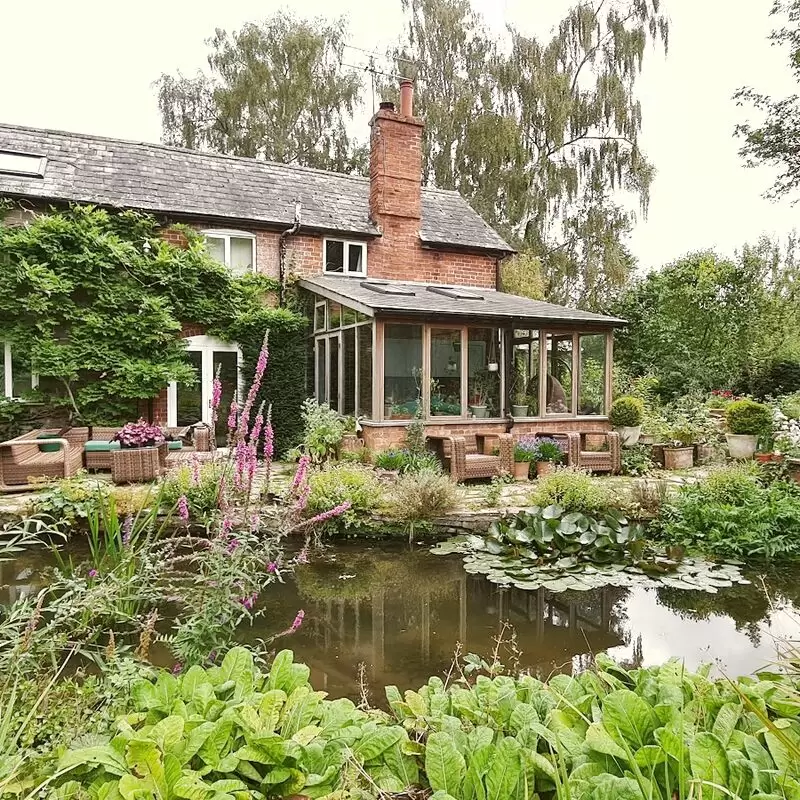 Westonbury Mill Water Gardens
Westonbury Mill, Pembridge, Leominster
Monday - Sunday: 11:00 AM – 5:00 PM
12. Museum of Cider
Steeped in centuries of tradition, the Museum of Cider is a must-see for lovers of British history and culture in Hereford. On your journey here, you'll discover fascinating exhibits that combine history, art and science, documenting the journey of cider from orchard to glass. Hear the intricate process explained during live demonstrations and tickle your taste buds with the best local ciders to finish your tour. Just a short walk away is Hereford's majestic cathedral, home to the Mappa Mundi, adding a historical aspect to your cider-themed visit.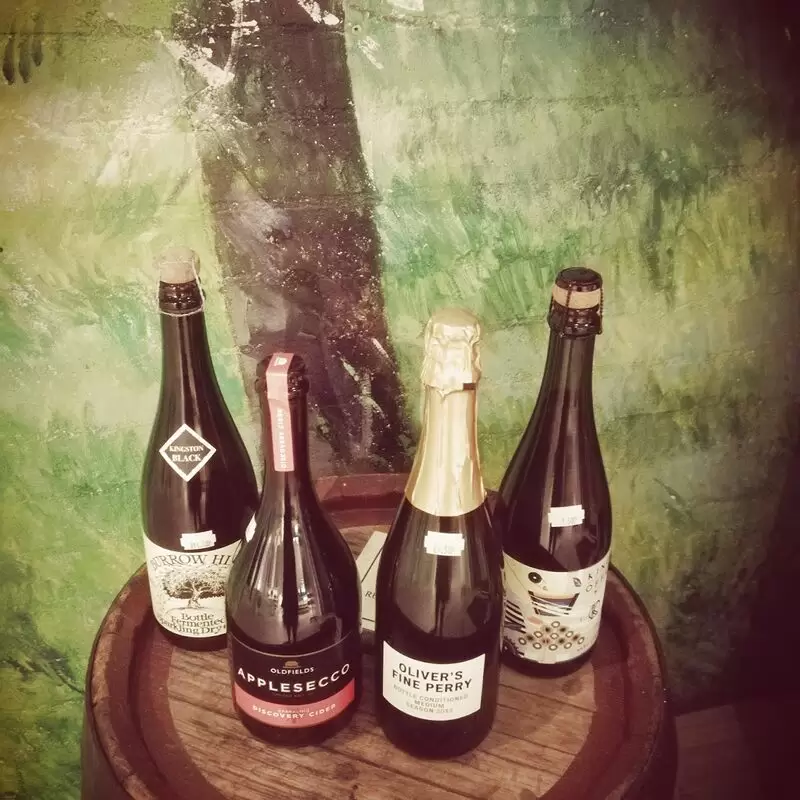 Museum of Cider
Cider Museum, Pomona Place, Hereford
Monday - Saturday: 10:30 AM – 4:30 PM
Sunday: Closed
13. Brobury House Gardens
Brobury House Gardens is a hidden gem in Hereford. The Victorian-style oasis with its lush flora is an exquisite place for nature lovers. Enjoy the breathtaking views of the Wye Valley and marvel at the picturesque water garden. Don't forget to take a look at the majestic oaks and secret garden! After your visit, explore nearby Bredwardine Church, which bears witness to local history and folklore and is just a leisurely stroll away. Experience tranquility and history in the heart of Hereford.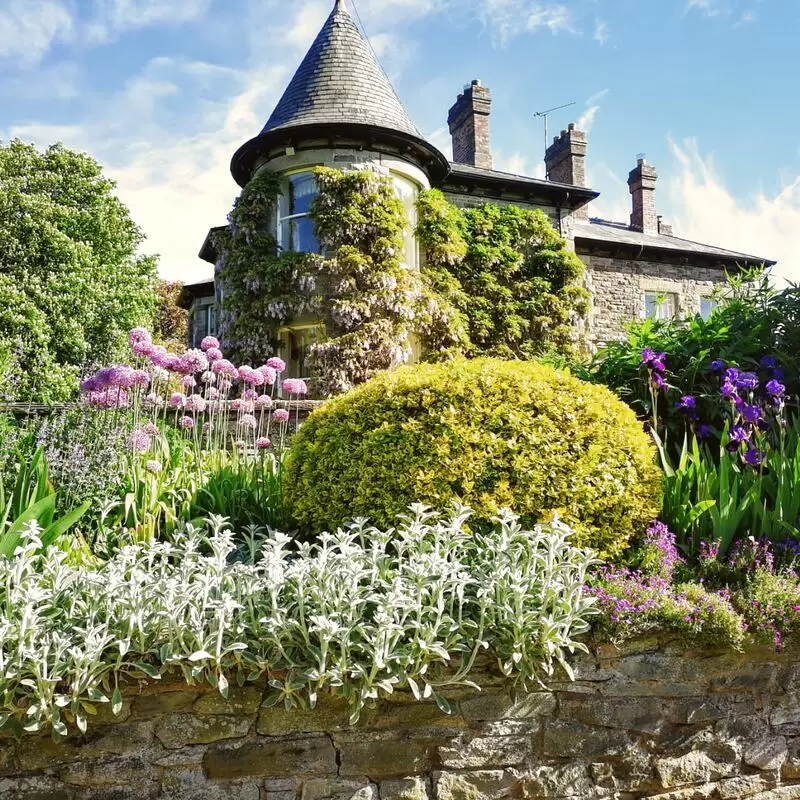 Brobury House Gardens
Brobury, Hereford
Monday - Sunday: 10:00 AM – 5:00 PM
14. Arthur's Stone
Explore the mystery of Arthur's Stone, a fascinating Neolithic chamber tomb full of folklore. Legend has it that this enigmatic monument was thrown by King Arthur himself! Marvel at the megalithic, finely balanced capstone and wonder at its ancient origins dating back to 2500 BC. Breathe in the magnificent views of Golden Valley, a stunning backdrop to this historic site. Just steps away, enjoy a pint at the quaint New Inn pub, a beacon of tranquility amid the verdant Herefordshire countryside.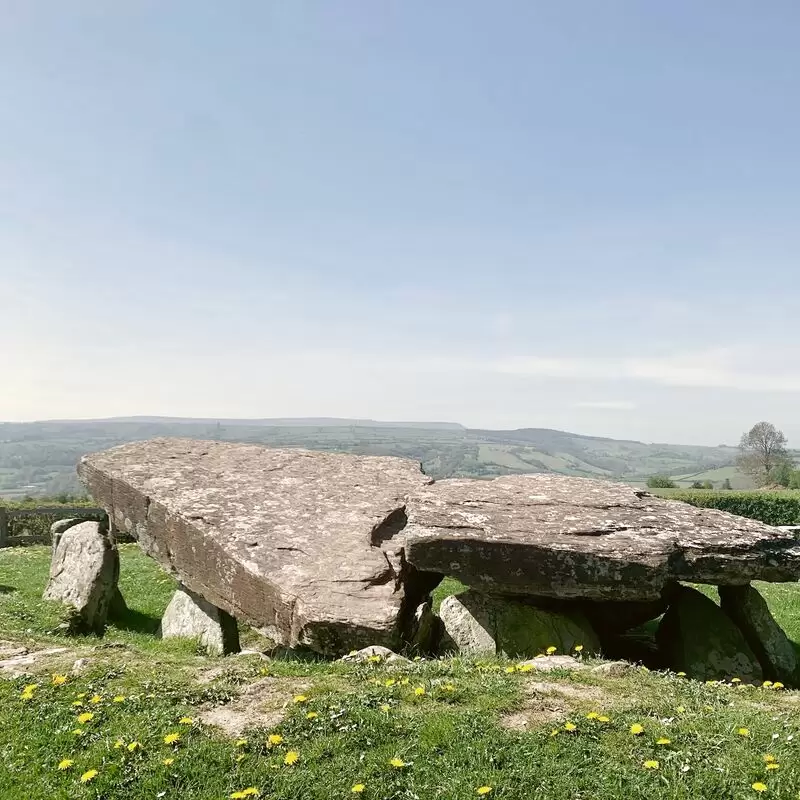 15. Old Market Hereford
Marvel at the stunning fusion of past and present in Hereford's bustling Old Market. As you stroll through the vibrant selection of opulent stores, trendy restaurants and elegant cafes, you'll feel the heart of Hereford beating beneath your feet. Tip: Keep an eye out for the cozy independent bookstore! After shopping, take a short walk to nearby Hereford's historic cathedral. The hushed tranquility of the cathedral harmonizes perfectly with the liveliness of the Old Market, making your visit to Hereford a harmonious one.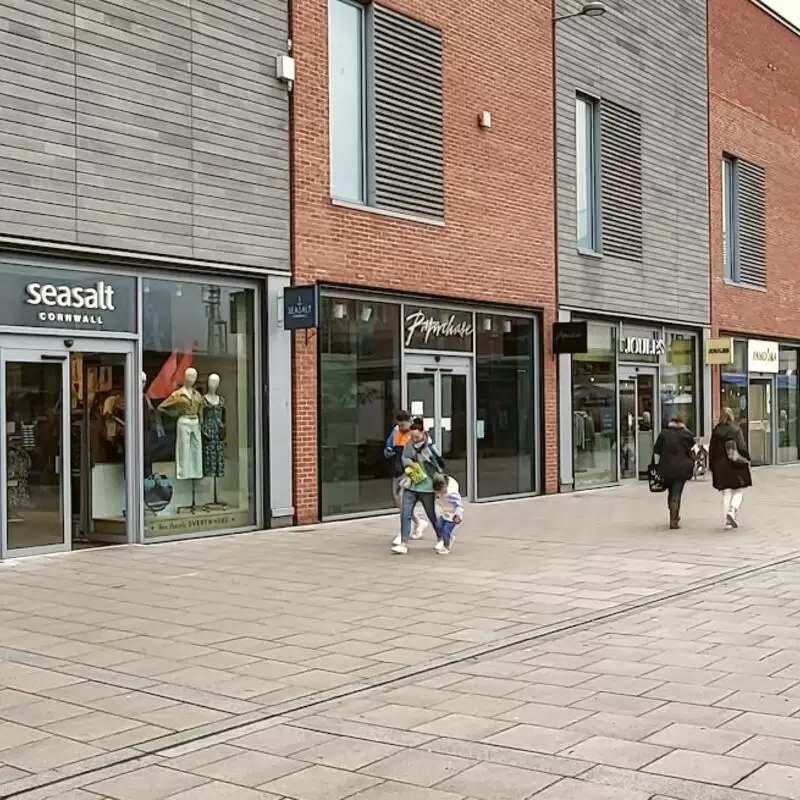 Old Market Hereford
Newmarket Street, Hereford
Monday - Friday: 9:30 AM – 8:00 PM
Saturday: 9:00 AM – 7:00 PM
Sunday: 11:00 AM – 5:00 PM
16. Hay Castle
Immerse yourself in history with a visit to Hay Castle, a historic gem in Hereford. The ancient Norman fortress and Jacobean manor house are a place where centuries of stories echo. Every hideaway has a story to tell, whether it's the medieval keep or the ghostly writings in the venerable library! Just around the next bend is the quirky town of Hay-on-Wye, the "City of Books," famous for its literary festival. Take your time and explore the town - history awaits!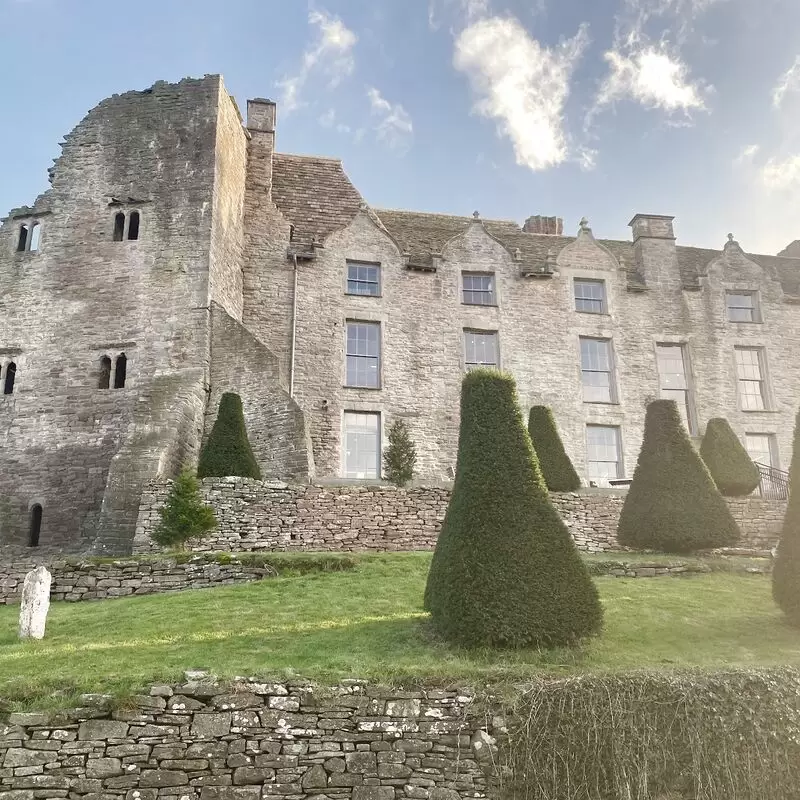 Hay Castle
HAY CASTLE, Oxford Road, Hay-on-Wye, Hereford
Monday - Sunday: 10:00 AM – 5:00 PM
Best Time to Visit Hereford
The best time to visit Hereford (United Kingdom) is late spring (May-June) and early autumn (September-October). During these months, the weather is mild, the countryside is at its best, and the city hosts many cultural events, including the Hereford Food Festival and the Three Choirs Festival.
Annual Weather in Hereford
Hereford 3-Day Forecast
Wed, 27 September
Night
49 °F
10 °C
0%
Morning
51 °F
11 °C
0%
Afternoon
59 °F
15 °C
69%
Evening
53 °F
12 °C
0%
Thu, 28 September
Night
46 °F
8 °C
0%
Morning
50 °F
10 °C
0%
Afternoon
54 °F
12 °C
0%
Evening
54 °F
12 °C
0%
Fri, 29 September
Night
49 °F
9 °C
0%
Morning
47 °F
8 °C
0%
Afternoon
61 °F
16 °C
83%
Evening
52 °F
11 °C
0%
Questions & Answers

How to get to Hereford from London?

Getting from London to Hereford is straightforward. The most direct connection is by train, which you can board at London Paddington station, changing at Newport or Cardiff Central. The journey takes about 3 hours. Alternatively, you can go by car. The journey takes about 3 hours and covers about 150 miles, usually via the M4 and A449 roads. Finally, there are also national bus services, which take a bit longer but are usually cheaper.

What is the main mode of transportation in Hereford?

The main mode of transportation in Hereford is by road, either by personal car or by public bus service. Hereford is well served by several national bus companies, and buses run frequently to and from the city center. The city also has a train station from which other major cities in the United Kingdom can be reached. Due to the city's compact size and scenic routes, cycling and walking are also popular.

Are there public transportation options available in Hereford?

Yes, Hereford offers several public transportation options. The city has an extensive bus network with regular routes connecting different parts of the city and nearby towns. Hereford's train station offers regular train services to cities such as London, Birmingham and Cardiff. Cabs and bicycle rentals are also available for intra-city transportation. This makes it easy for tourists and locals to get around the city and its surroundings.

Which are some great restaurants for local cuisine in Hereford?

The Beefy Boys is a must-visit in Hereford, UK, and famous for using local Herefordshire beef in its gourmet burgers. Another place is the Gardener's Kitchen, where you can enjoy a farm-to-plate experience, with the surrounding countryside adding to the atmosphere. The Rule of Tum Burger Shop is known for its menu based on local produce. Finally, Castle House Hotel offers fine dining with a focus on local produce sourced from their farm.

Can I find vegetarian or vegan food choices in Hereford?

Hereford in the UK is definitely well adapted to vegetarian and vegan diets. There are several cafes, pubs, and restaurants that offer a variety of plant-based dishes. Popular eateries include The Broadleys, which is known for its vegan cuisine, and Sensory & Rye, which offers organic and regional vegetarian dishes. Hereford also hosts regular farmers markets where you can find fresh fruits, vegetables, and local produce to make your own meals.

Where can I interact with locals in Hereford?

In Hereford, you can immerse yourself in the local culture by visiting The Bookshop on the main street. It is a wonderful meeting place where locals have lively conversations about various topics. Another place to interact with locals is The Barrels, a traditional pub known for its lively atmosphere and friendly patrons. The vibrant Old Market Shopping Centre is also worth a visit. Here you can mingle with other visitors and explore the various stalls and eateries.

Is it safe to walk around Hereford at night?

Yes, Hereford in the UK is generally considered a safe city for walking at night. As in any other city, it is advisable to be vigilant, especially when walking alone and in less crowded areas. It is best to stay in well-lit areas and avoid side streets whenever possible. As always, it is important to listen to local advice or warnings about specific locations. Keep your personal belongings safe at all times. Overall, Hereford offers a pleasant environment for walking both during the day and evening.

What are typical Herefordshire dishes and drinks?

Herefordshire cuisine is dominated by locally sourced produce, with the famous Herefordshire beef and lamb forming the main dishes. The county is also known for its high-quality cider, made from traditional apple varieties grown in local orchards. Specialties include Hereford Snails, a delicious dessert, and the infamous creamy Hereford Hop cheese. Perry, a pear cider, also comes from the region and offers a refreshing complement to savory dishes.

Can the locals in Hereford speak English?

In Hereford, United Kingdom, English is the main language. Locals converse in English and most signs, menus and information are also in English. Although the city has a rich heritage dating back to the 7th century, and some locals may speak other languages, if you are a visitor who only speaks English, you should not encounter a language barrier.

How is the nightlife in Hereford?

Hereford's nightlife offers a relaxed but engaging experience. It's peppered with traditional pubs, cozy inns, live music venues and late-night clubs. Here you can enjoy locally brewed cider, listen to fantastic live local music, or dance into the wee hours of the morning. While Hereford may not have the scale of a bustling city, it does offer an intimate atmosphere and a delightful mix of venues that make for a wholesome and enjoyable evening.

Is there a dress code to follow in Hereford?

No, there is no specific dress code in Hereford, United Kingdom. However, it is best to adapt your clothing to the changing weather, with warmer clothing in the colder months and lighter clothing in the warmer months. When visiting places such as churches or upscale restaurants, it is advisable to dress more formally. It is also advisable to dress appropriately for activities such as hiking. Always remember that comfort is the most important thing.

Are there guided tours in Hereford?

Of course, Hereford has a variety of guided tours for tourists. One of the most notable is the historic Hereford Guided Walks, an opportunity to explore the city's rich history under the guidance of local guides. You'll be blown away by the architectural beauty of Hereford Cathedral and can even experience a unique cider tasting at the local cider museum. Other tours focus on the city's cuisine and art scene.

What's unique about Hereford compared to other UK cities?

Hereford, known for its impressive Norman-era cathedral and world-famous Mappa Mundi, a medieval map of the world, exudes a timeless appeal that is unique in the United Kingdom. The city is also known for its Hereford cattle, a breed synonymous with quality beef worldwide. The city bridges the gap between city and countryside with its mix of historic landmarks, independent boutiques and charming landscapes. Hereford embodies the epitome of the English way of life with its rich history, picturesque countryside and vibrant gastronomic scene.

Can I rent a car/bicycle in Hereford?

Yes, you can easily rent a car or a bike in Hereford. Several companies offer car rentals and you can book online or on the spot. If you want to explore the city at a leisurely pace, you can also rent bicycles. Some local stores offer daily rentals, which are an environmentally and health-friendly way to enjoy the beautiful surroundings. Please remember to obey all traffic rules for the safety of all road users.

Is it easy to find free Wifi in Hereford?

Yes, finding free wifi in Hereford is pretty easy. Many cafes, pubs and restaurants, including well-known chains, offer free wifi to their guests. In addition, public buildings such as the Hereford Library and Museum and the Shirehall also offer free internet access. If needed, ask the staff for the name and password of the wifi network. This is a great benefit for travelers who want to check maps, do research, or contact family and friends.

How busy is Hereford during weekends?

Hereford, a picturesque cathedral city on the border with Wales, has a lively atmosphere at weekends as locals and tourists alike enjoy what the city has to offer. With the bustling food market in High Town, visits to Hereford's historic cathedral, or lovely walks along the River Wye, the city is moderately busy but never overly crowded. The local pubs and restaurants are also well attended, making the city a lively place for an eventful weekend.

Can I drink water from the tap in Hereford?

Yes, the tap water in Hereford, United Kingdom, is absolutely safe to drink. Water quality is strictly controlled by UK water suppliers according to the standards set by the European Drinking Water Directive. You will find that the United Kingdom has some of the highest standards for tap water in the world. Using a reusable water bottle can be a cost-effective and environmentally friendly choice when traveling here. However, if you have a sensitive stomach, you may prefer to use bottled water.

What's the emergency contact number in Hereford?

In Hereford, United Kingdom, the emergency number is 112 or 999, just like anywhere else in the UK. These numbers can be dialed in situations that require immediate help from the police, fire department or doctors. In less urgent situations, such as when you want to report a crime, you can call 101, the non-emergency number for the police. Always be sure to dial these numbers only in real emergencies so that the appropriate resources can be provided.

Where can I find a pharmacy in Hereford?

Hereford has several pharmacies that cater to your needs. Some of them are LloydsPharmacy at Eign Gate and Boots in the High Town shopping district. If you need round-the-clock service, the Asda Pharmacy in the Hereford Shopping Plaza is available 24/7 to help you with unexpected emergencies. All of these pharmacies are within easy reach of the city center, so you can take care of your medical needs while in Hereford.

Are credit cards widely accepted in Hereford?

Yes, credit cards are widely accepted in Hereford, United Kingdom. Larger establishments such as restaurants, hotels and stores accept credit cards like Visa, Mastercard and American Express. However, be aware that smaller stores, especially in more rural areas around the city, may only accept cash. Therefore, it is generally advisable to have some cash on you, especially for smaller purchases.

Are there hospitals in Hereford?

Yes, Hereford has healthcare facilities, most notably Hereford County Hospital, which is managed by Wye Valley NHS Trust. This hospital offers a wide range of services, from emergency rooms to maternity care and specialty care. There are also several small clinics and health centers in the city. Private health care facilities, such as Nuffield Health Hereford Hospital, provide additional medical services.

Do I need to tip at restaurants in Hereford?

Tipping is common in Hereford, United Kingdom, but not mandatory. The usual tip is about 10-15% of the total bill in restaurants, unless the service charge is already included. However, how much you tip is entirely up to you and should reflect the quality of service you received. Be sure to check the bill before you tip so that you do not double tip.

What's the standard of healthcare in Hereford?

Healthcare in Hereford, United Kingdom, is of a high standard and there are several medical facilities available to the public. The main healthcare provider is Hereford County Hospital, which is run by Wye Valley NHS Trust and offers a range of services from general medicine to surgery. There are also numerous general practices, dental services, physical therapy centers, and pharmacies in the city. The services offered are generally efficient and professional, ensuring that residents and visitors have access to quality health care when needed. Private health care options are also available.

Can I easily find ATMs in Hereford?

Yes, finding ATMs in Hereford, UK is not a problem at all. The city is well equipped with numerous ATMs located throughout the city center, shopping streets and major supermarkets. Banks such as NatWest, Barclays and HSBC also have their own ATMs. Regardless of where you are staying or spending your day in Hereford, an ATM should be conveniently accessible.

Which neighborhoods should I avoid in Hereford?

As a guide, I would like to emphasize that in Hereford, as in any other city, there are areas that are less recommended for safety reasons, especially at night. However, it is important to emphasize that Hereford is generally a safe, friendly and welcoming city known for its historic charm. If you have specific safety concerns, it is always a good idea to do some research and possibly check with local authorities or your accommodation provider to make sure you are staying and traveling in the safer parts of the city.

Feedback

I hope you found this article informative and helpful. I'm eager to improve the content and make it even more valuable for you. If you have any feedback or suggestions, I would love to hear from you.

Do you have any tips or hidden gems that you think should be added to the list? Are there any areas that you feel could use more explanation or clarification?

Your input is greatly appreciated and will help us to continue providing high-quality content that meets your needs and interests. Please feel free to share your thoughts.