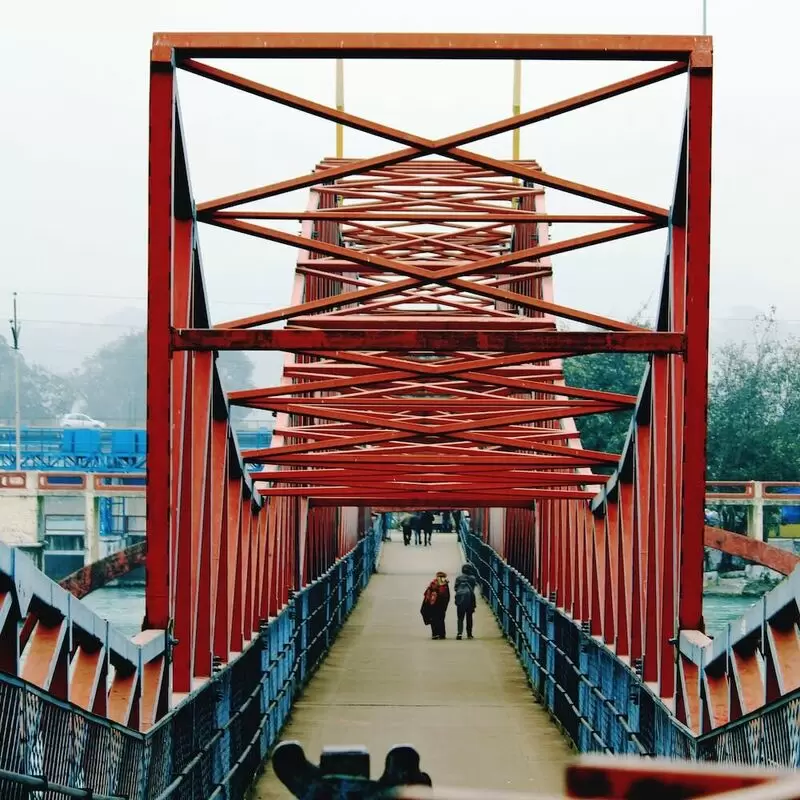 1. Har ki Pauri

Experience transcendence at Har Ki Pauri, the spiritual heart of Haridwar. This iconic ghat is where the holy river Ganges leaves the mountains, making every ritual performed here incredibly auspicious. Immerse yourself in the vibrant Aarti ceremony, awash in chants and bathed in light.

Insider tip: Secure a spot at Brahmakund, the most sacred place, for a closer look. Don't miss the vividly painted "Footprints of Lord Vishnu"! Nearby, the Mansa Devi Temple crowns the Bilwa Parvat hill and offers a magnificent panoramic view and a tranquil retreat.

Har ki Pauri
Shri Jairam Ashram No.1, Har Ki Pauri, Haridwar

Monday - Sunday: Open 24 hours
2. Rajaji National Park

Immerse yourself in the wilderness of Rajaji National Park in Haridwar, where the natural landscapes and wildlife offer an unforgettable experience. On a safari through the vast park, you can see elephants, tigers and over 300 species of birds. Nestled between the foothills of the Himalayas and the Indo-Gangetic Plains, the park boasts a rich biodiversity.

Bonus insider tip: witness the mesmerizing sunset in the park! End your visit with a side trip to Chandi Devi, a hilltop temple with panoramic views of the city just a few meters away.

Rajaji National Park
Uttarakhand

Monday - Sunday: 6:00 – 9:00 AM, 3:00 – 6:00 PM
3. Shri Mata Mansa Devi Mandir
Experience spiritual enlightenment at the Shri Mata Mansa Devi Mandir in Haridwar, a revered temple dedicated to Goddess Mansa Devi. Perched atop Bilwa Parvat, the temple offers a mesmerizing 360-degree view of Haridwar. The cable car ride up to the temple is one of the main attractions, offering breathtaking views. This sacred place is believed to grant wishes, which makes the trip very worthwhile. The temple's proximity to the famous Har Ki Pauri Ghats makes it a perfect place for spiritual exploration.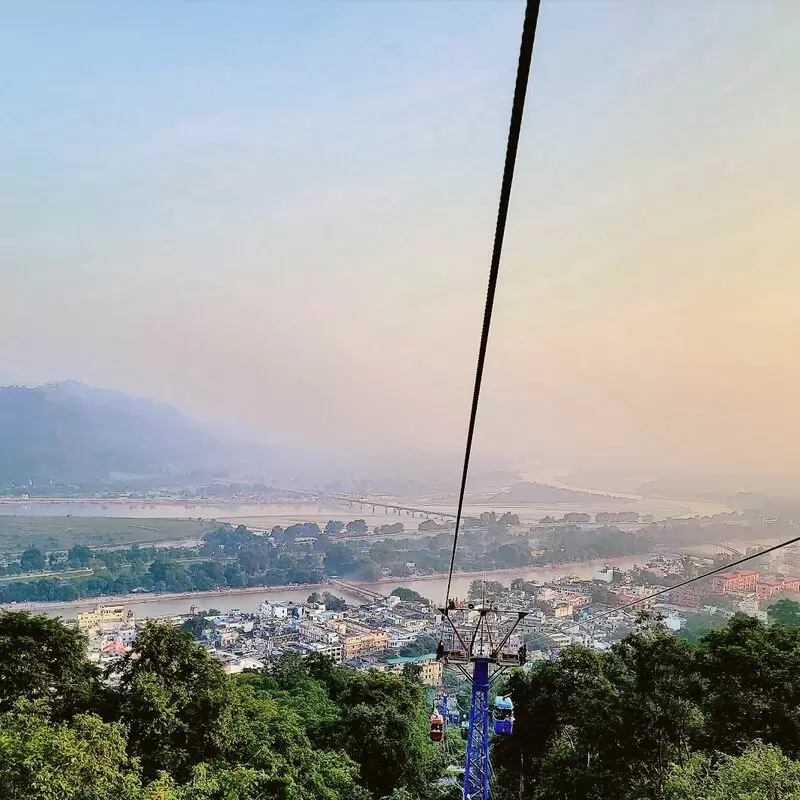 Shri Mata Mansa Devi Mandir
Haridwar
Monday - Sunday: 5:00 AM – 9:00 PM
4. Maa Chandi Devi Temple Haridwar District Uttarakhand India
Maa Chandi Devi Temple is an untouchable spiritual destination in Haridwar. Perched on the "Neel Parvat" of the Shivalik Ranges, it offers a mesmerizing panoramic view of Haridwar. Accessible via a scenic cable car, it exudes a divine aura that attracts devotees and tourists alike. Immerse yourself in a mythical era whispering of the victories of Goddess Chandi. Nearby, explore the historic Mansa Devi Temple or the tranquil Ganges River. The evening Ganga Aarti ceremony is not to be missed to enrich your soul!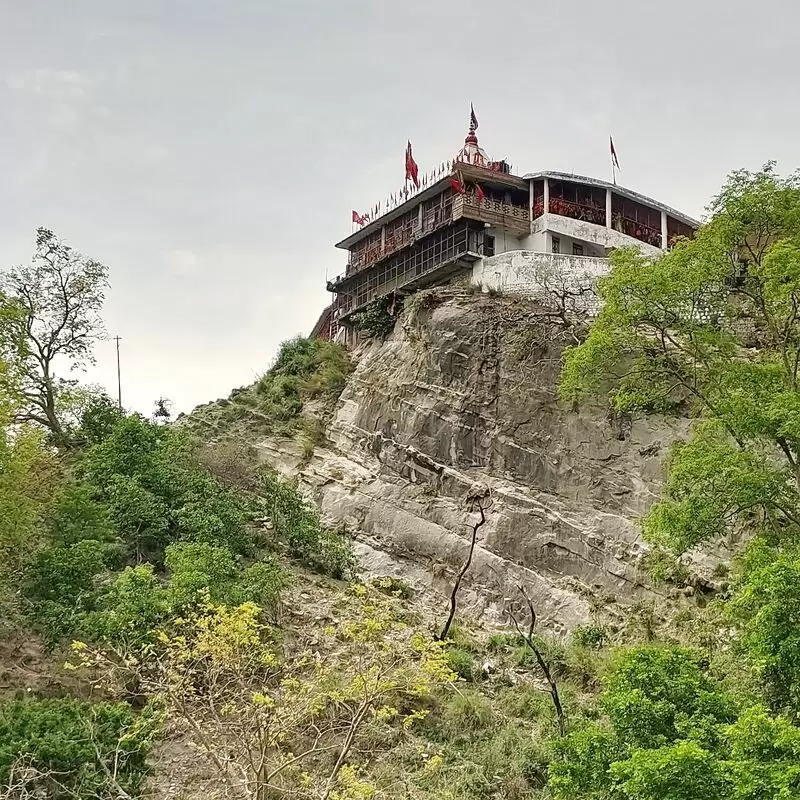 Maa Chandi Devi Temple Haridwar District Uttarakhand India
W5MJ+G63, Haridwar
Monday - Sunday: 5:00 AM – 5:30 PM, 6:00 – 7:00 PM
5. Shantikunj Gayatri Parivar
Discover the spiritual essence of India at Shantikunj Gayatri Parivar, a renowned spiritual center in Haridwar. Enjoy tranquility as you participate in daily yajna, find solace in guided meditation, or learn about the sacred Gayatri mantra. The verdant landscapes of the center, located on the Ganges River, offer a refreshing tranquility away from the hustle and bustle of the city. The Gayatri Museum, with its deep-rooted wisdom, and the Satsang Bhawan, with its walls decorated with murals, are not to be missed. Nearby, the Mansa Devi Temple awaits you with a breathtaking panoramic view of Haridwar.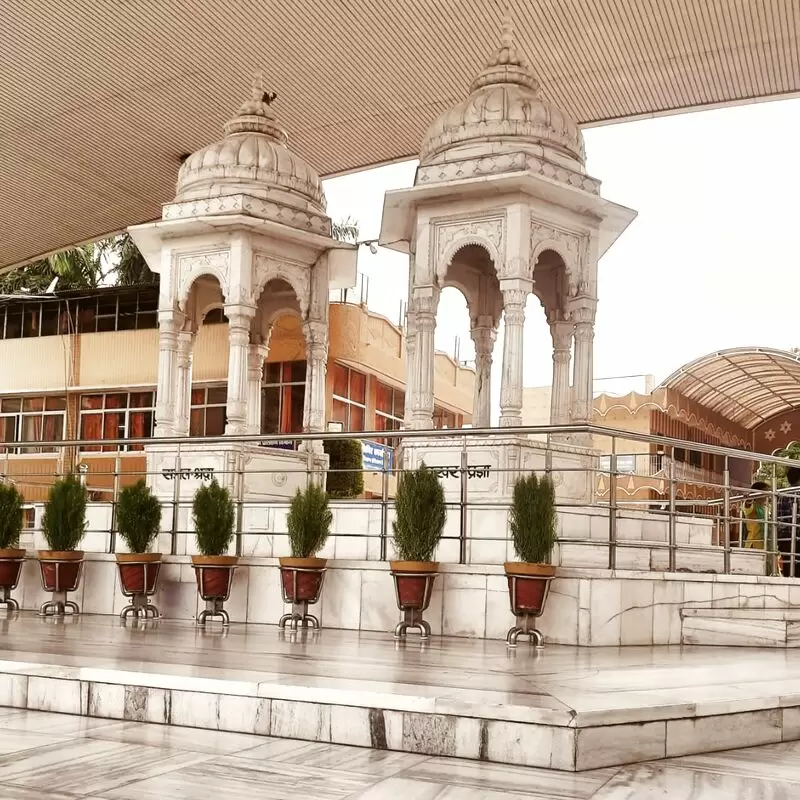 Shantikunj Gayatri Parivar
Shantikunj, Shantikunj Rd, Motichur, Haridwar
6. Bharat Mata Temple Haridwar
The Bharat Mata Temple in Haridwar is a unique spectacle of patriotism and spirituality. Built by Swami Satyamitranand Giri, its eight floors each showcase a different era or aspect of India's heritage, providing a breathtaking tour of the subcontinent's rich history and culture. This journey through time is not to be missed. Why not enrich your visit with a short walk to the Sapt Rishi Ashram, just 2 km away, where the mystical seven sages once meditated?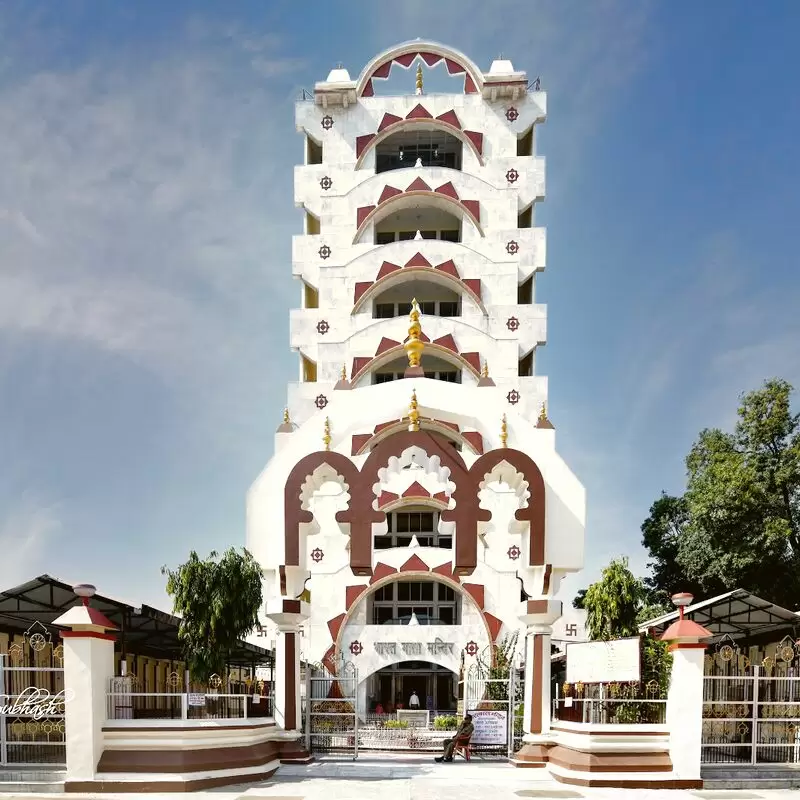 Bharat Mata Temple Haridwar
भारत माता मंदिर सप्त ऋषि, X5MV+R23, रोड, Bhoopatwala, Haridwar
7. Pawan Dham Haridwar
The Pawan Dham in Haridwar is a temple like no other. An architectural marvel, it is known for its intricate glasswork and striking motifs that take weeks to create. The ambience of the temple exudes tranquility and calms the senses. Nearby stands the Bharat Mata Mandir, an 8-story temple that showcases Indian heritage. Here's a tip: take a moment to admire the detailed artwork on each glass panel. The spectacle presented to you in the sunlight is absolutely stunning and a memory that will warm your heart long after you leave.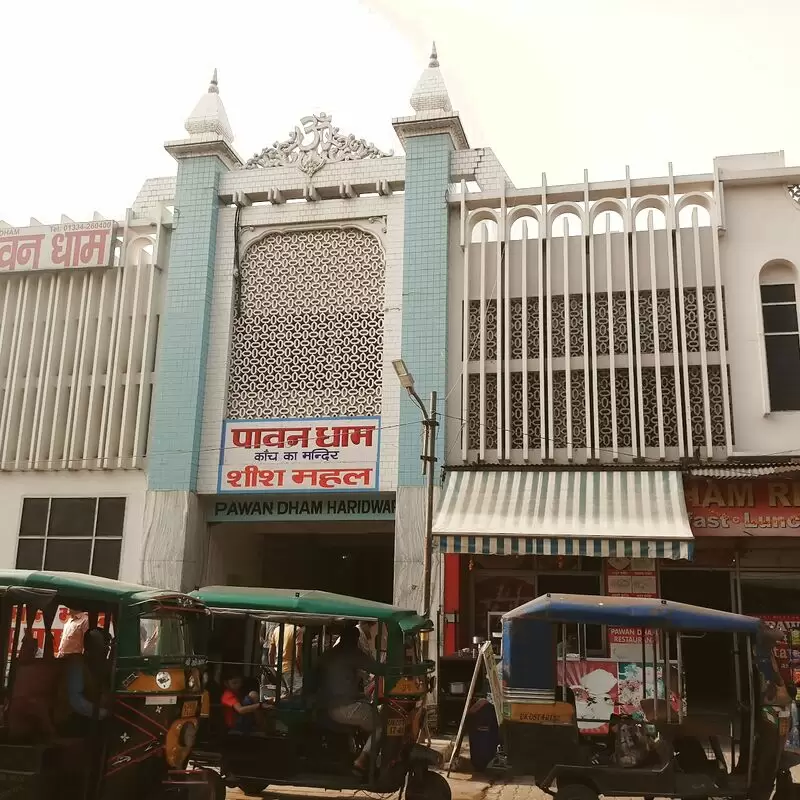 Pawan Dham Haridwar
Sapta Sarover Rd, Bhagirathi Nagar, Motichur, Haridwar
8. Crystal World

Dive into the frenzy at Crystal World in Haridwar, the most popular amusement and water park in the region. Get your heart racing on adrenaline-pumping rides or relax in the Lazy River - there's something for everyone. For kids, there's a dedicated children's area to keep them entertained.

Insider tip: Don't miss Hara Kiri, the death-defying waterslide. Just a short drive away, you'll find the divine Har Ki Pauri Ghat on the Ganges, which brings you closer to the cultural and exciting diversity of India.

Crystal World
Delhi Rd, Batedi, Haridwar

Monday - Sunday: 10:00 AM – 7:00 PM
9. Haridwar Ghat
Experience the spiritual fervor at Haridwar Ghat, the sacred bathing place on the banks of the Ganges. Arrive at dusk to witness the mesmerizing Aarti ceremony, where priests perform rituals with fire and flowers. As twinkling lanterns float down the river, you'll feel the stress fall away from you. Just steps away, the historic temples of Har Ki Pauri beckon, and Chandi Devi and Mansa Devi are accessible by cable car. Enjoy street food nearby and explore the bustling Bara Bazaar. Immerse yourself in spirituality, tradition and culture.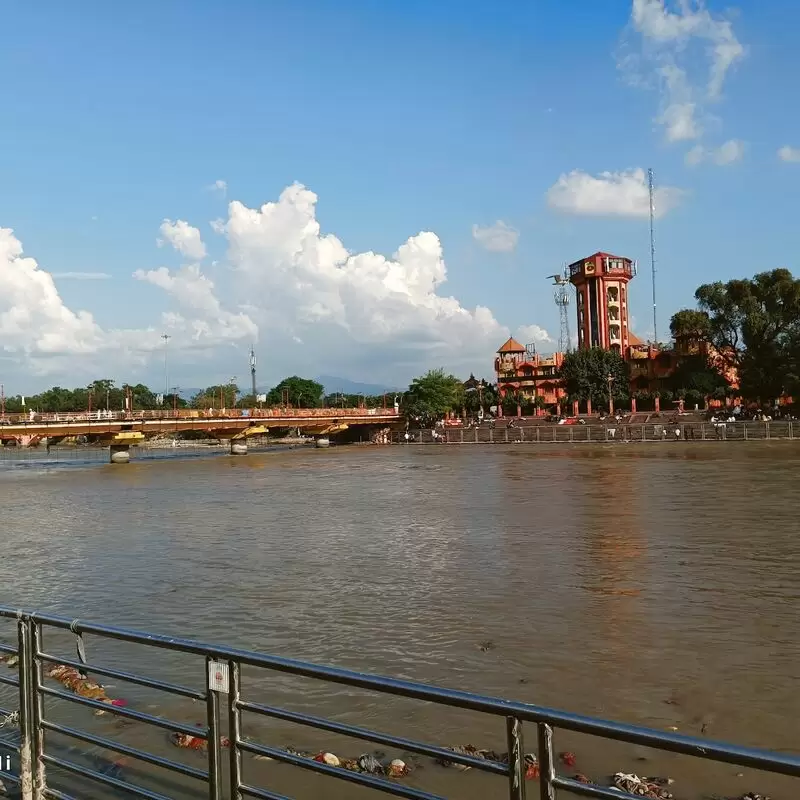 Haridwar Ghat
Rodi Belwala, Birla Ghat, Haridwar
Monday - Sunday: Open 24 hours
10. HARIDWAR Uttarakhand baluki bavan
Visiting the famous "HARIDWAR - Uttarakhand baluki bavan" is a step into the serene, heavenly beauty. Be enchanted by the evening aarti, where non-stop singing and drumming takes place, creating an atmosphere full of divinity. The "Baluki Bavan" is known for its wonderful carvings and artwork. The energy of this place of prayer cannot be described, only felt. Nearby, don't miss the opportunity to experience river rafting in Rishikesh, a paradise for adventure seekers. A truly sublime experience awaits you!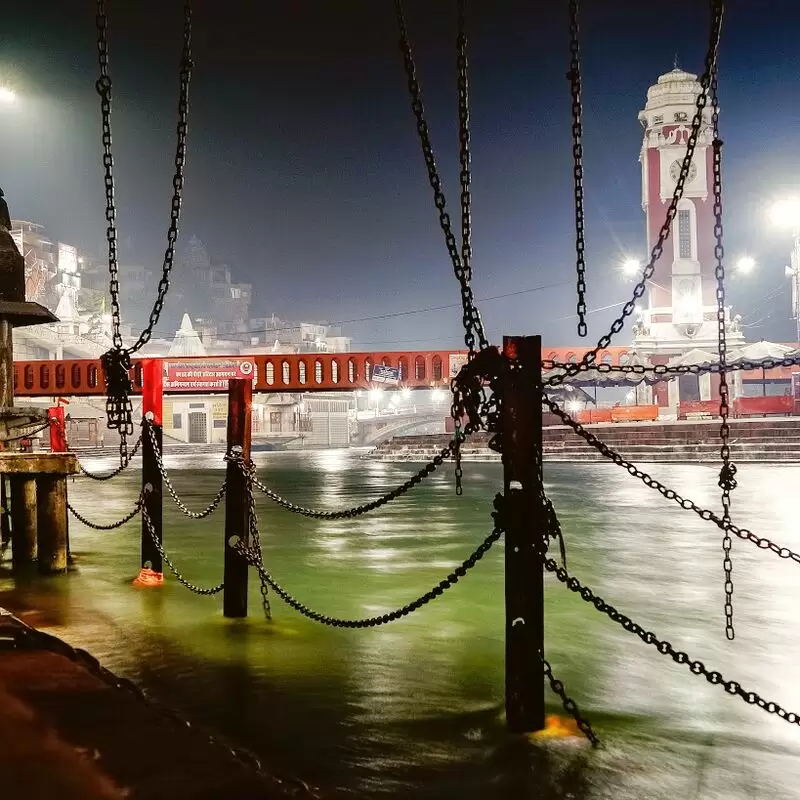 HARIDWAR Uttarakhand baluki bavan
W5J5+865, Unnamed Road, Haridwar
11. Shri Bilvkeshwar Mahadev Temple
Visiting Shri Bilkeshwar Mahadev Temple is an experience that enriches the soul. It is located amidst the serene surroundings of Haridwar and is known for its spiritual aura. Although underrated compared to Haridwar's more famous temples, it is a true gem. The panoramic view of the city from the temple is breathtaking. Visitors often find peace amidst the soothing chants of prayer. Just a stone's throw away are the famous Pawan Dham, known for its intricate glasswork, and the nearby Bharat Mata Mandir, a unique multi-story temple dedicated to India's patriotic heroes.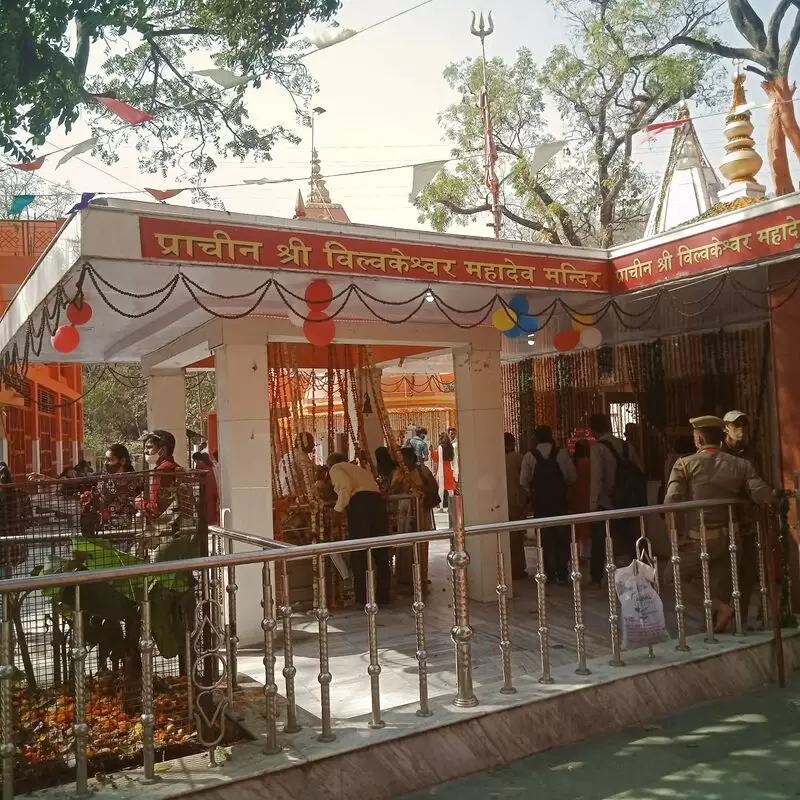 Shri Bilvkeshwar Mahadev Temple
Bypass Road, X534+M3W, Haridwar
Monday - Sunday: 5:01 AM – 4:01 PM
12. Shri Prem Nagar Ashram Haridwar
Explore the tranquil grounds of Shri Prem Nagar Ashram. Known as a spiritual retreat, the ashram is a place where you can rejuvenate and enjoy the awe-inspiring architecture, including a magnificent statue of Shiva. Immerse yourself in quiet yoga sessions, silent prayers, and philosophical conversations. The site is especially famous for the divine aarti of the River Ganga at sunset. Nearby is also the fascinating Sati Kund, another sacred site steeped in ancient myth and perfect for history and spirituality buffs. It is more than just an ashram, it is a journey into your own soul.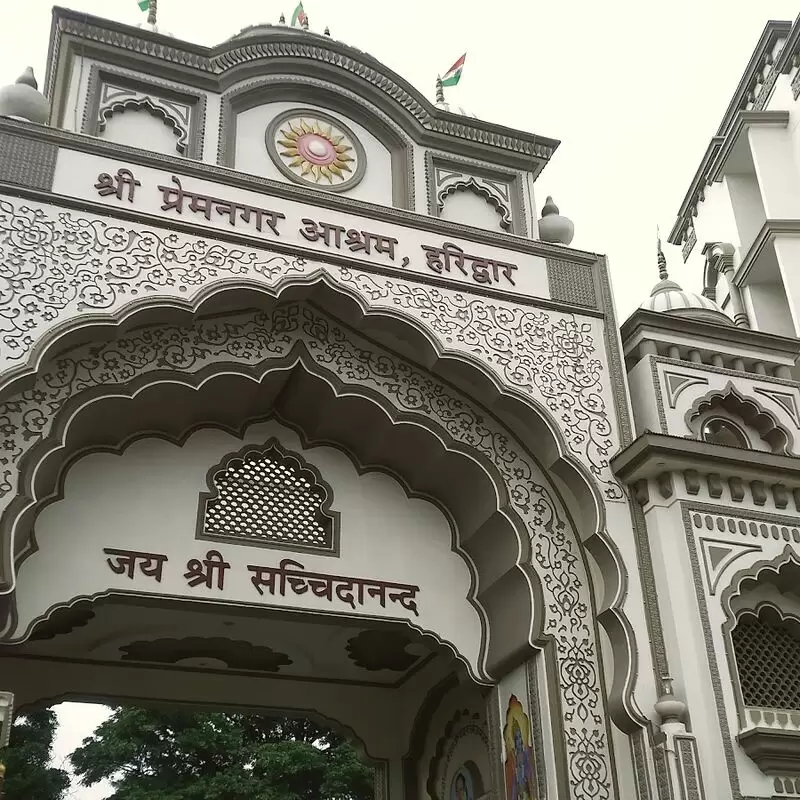 Shri Prem Nagar Ashram Haridwar
Jwalapur Rd, Prem Nagar, Haridwar
Monday - Sunday: 9:00 AM – 10:00 PM
13. Ganga Ghat Business
A visit to the Ganga Ghat Bazaar in Haridwar is an irresistible adventure for the senses. The iconic marketplace captures the vibrant spirit of Haridwar and features a variety of stores selling ornate handicrafts, religious artifacts, brassware and delicious local dishes. Don't miss the opportunity to try "peda", a local sweet delicacy. Immerse yourself in the hustle and bustle of locals and pilgrims alike. Just a stone's throw away is the impressive Har Ki Pauri Ghat, where you can watch the heavenly Ganga Aarti in the evening.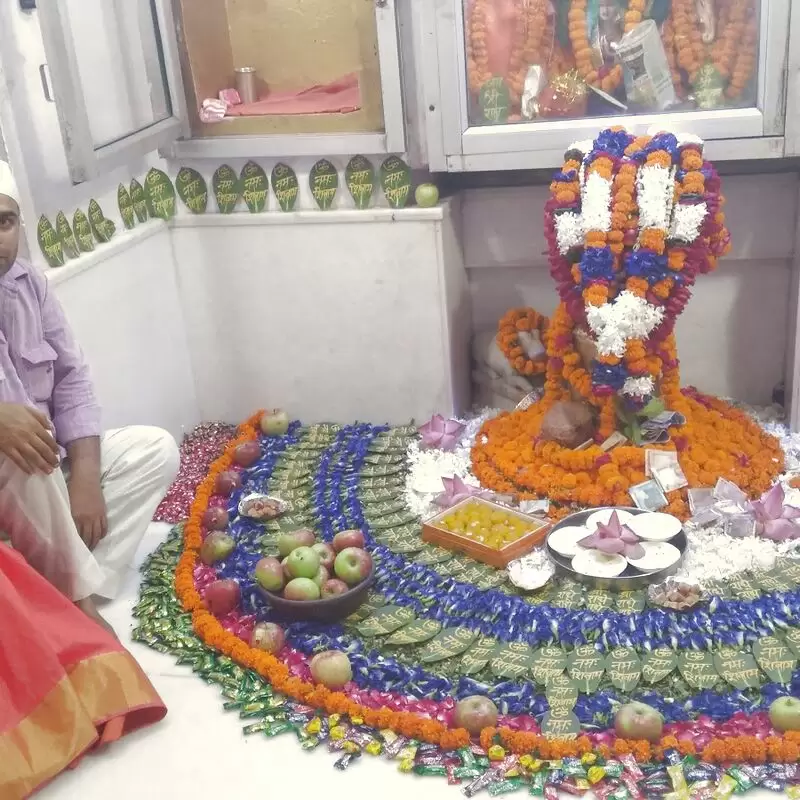 Ganga Ghat Business
Mayapur, Gulab Bagh, Gyan Lok Colony, Kankhal, Haridwar
Monday - Sunday: Open 24 hours
14. Amrapur Ghat Haridwar
Full of ancient spiritual anecdotes and timeless traditions, the Amrapur Ghat in Haridwar is a must-see for any visitor. This sacred place is the scene of the divine Ganga Aarti, which is simply surreal in nature. Try to come early to secure a good spot, it is worth every effort. Compared to Har Ki Pauri, this ghat is less crowded and offers a unique, tranquil experience. Plus, you're only about a five-minute walk from the famous Mansa Devi temple, which offers panoramic views of Haridwar.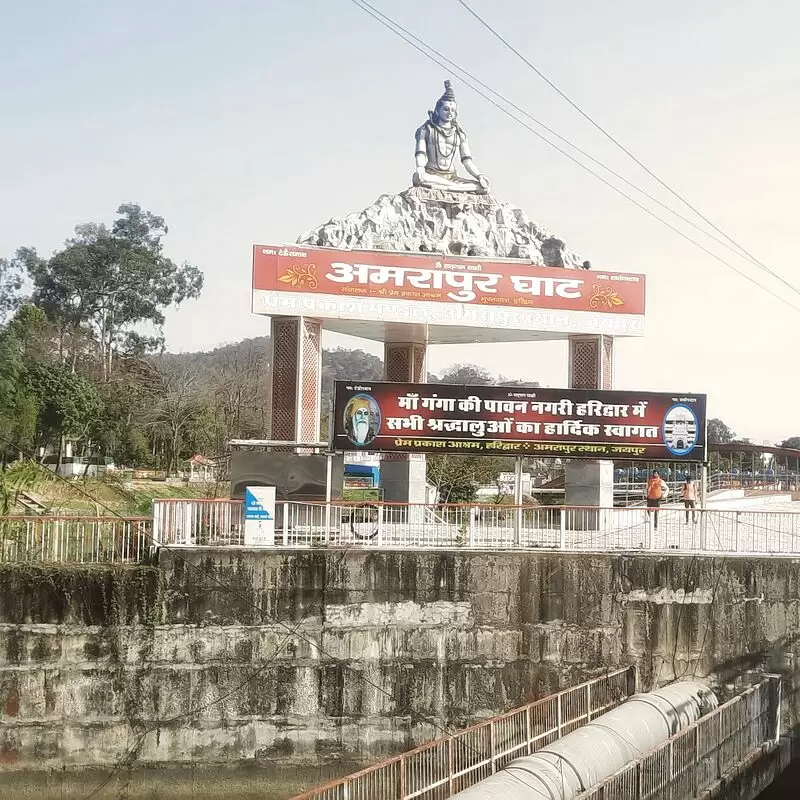 Amrapur Ghat Haridwar
Mayapur, Haridwar
Monday - Sunday: Open 24 hours
15. Shri Maya Devi Temple Haridwar District Uttarakhand India
Immerse yourself in the spiritual fervor of the ancient Shri Maya Devi temple in Haridwar. This revered shrine, which is part of the holy trinity (Mansa Devi, Chandi Devi and Maya Devi), holds a significant place in Hindu mythology. When you enter the shrine, you find yourself in the midst of a crowd fervently praying to the deity presiding over it. An insider's tip is the evening aarti, a captivating spectacle of lights and faith that you should visit after dark. Also, Har Ki Pauri, the city's holiest ghat, is nearby.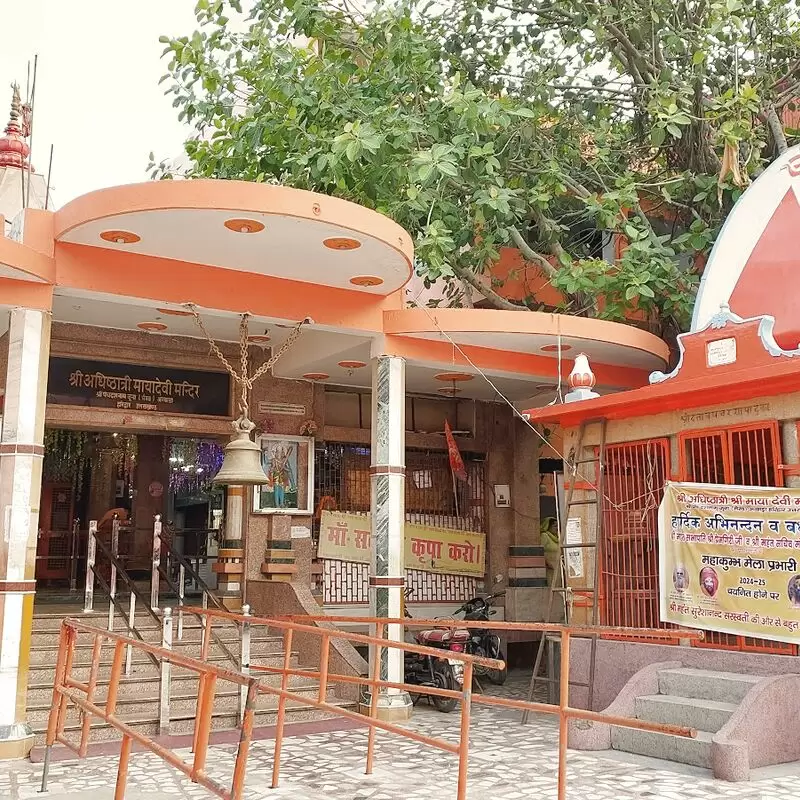 Shri Maya Devi Temple Haridwar District Uttarakhand India
Upper Rd, Birla Ghat, Haridwar
16. Book Jungle Safari in Rajaji National Park & Tiger Reserve

Embark on an unforgettable adventure at the "Book Jungle Safari in Rajaji National Park & Tiger Reserve". Be awed by majestic elephants, tigers and over 400 species of birds. The park is a testament to India's natural beauty and biodiversity. Immerse yourself in the local culture by visiting the tribal settlements within the park.

An insider tip: don't miss the elephants' evening retreat into the wild! Nearby, you should also admire Patanjali Yogpeeth, the largest yoga institute in the world.

Book Jungle Safari in Rajaji National Park & Tiger Reserve
Cheela Dam-Rishikesh Road, Chilla Range, Near power house, Haridwar

Monday - Sunday: 7:00 AM – 6:30 PM
17. Bhimgoda Barrage
Bhimgoda Barrage is an impressive water reservoir with picturesque landscapes that combine tranquility and the intoxicating charm of nature. The reservoir is just 1 km away from the famous "Har Ki Pauri" and is a popular place for photography enthusiasts who want to capture the scenery in pictures. The place is named after Bhima from the Mahabharata, who according to legend created this place. Visit the nearby Chandi Devi Temple, accessible by cable car, and enjoy the panoramic view of the mountains to uplift yourself spiritually. Haridwar promises a blend of serenity and mythology, with the Bhimgoda Dam as its centerpiece.
Bhimgoda Barrage
Bhimgoda barrage mod,, X54J+G4Q, Rishikesh Rd, Birla Ghat, Haridwar
Best Time to Visit Haridwar
The best time to visit Haridwar, India, is between October and February, when the weather is pleasant. This is also the time when the famous Kumbh Mela takes place, attracting millions of pilgrims. However, if you want to see the Ganga Aarti, you can visit the city all year round.
Annual Weather in Haridwar
Haridwar 3-Day Forecast
Thu, 21 September
Night
74 °F
23 °C
83%
Morning
74 °F
23 °C
0%
Afternoon
90 °F
32 °C
72%
Evening
80 °F
27 °C
79%
Fri, 22 September
Night
75 °F
24 °C
73%
Morning
73 °F
23 °C
0%
Afternoon
90 °F
32 °C
89%
Evening
79 °F
26 °C
53%
Sat, 23 September
Night
74 °F
23 °C
77%
Morning
72 °F
22 °C
67%
Afternoon
86 °F
30 °C
61%
Evening
79 °F
26 °C
0%
Questions & Answers

What is the significance of the Ganga Aarti?

The Ganga Aarti in Haridwar is a powerful spiritual ritual performed at the ghats of the river Ganga. It is a ritual of gratitude to the revered river and embodies the spiritual essence of ancient Indian culture. Thousands of glowing lamps are launched on the river, symbolizing devotion, purity and a connection to the elements of nature. Participating in this sacred ceremony, or even just observing it, lifts one's spirits and provides a sense of tranquility.

Can I visit the ashrams?

A visit to the ashrams of Haridwar can definitely be a very enlightening experience. These spiritual retreats offer a deep insight into Indian culture and Hinduism. Some popular ashrams include Shanti Kunj Ashram, known for its spiritual and social activities, and Sapt Rishi Ashram, famous for its tranquility. Many also offer yoga and meditation classes, giving visitors a truly transformative experience. However, adherence to ashram rules, which usually include observance of silence and decorum, is essential.

Is the Ganges river safe for bathing?

The Ganges River in Haridwar is considered sacred and is generally safe for ritual bathing. However, due to the level of pollution, it is advisable to take precautions. Various ghats in Haridwar like Har Ki Pauri provide regulated areas for bathing. Always take care of your health and hygiene, especially if you have sensitive skin or health problems. Please respect the spiritual and cultural significance of the river during your visit.

Are there proper facilities for changing after a dip in the Ganges?

Yes, there are facilities in Haridwar for pilgrims who want to change after a spiritual bath in the Ganges. Several changing rooms and lockers have been built near the ghats, providing security and privacy not only for pilgrims but also for tourists. These facilities are inexpensive or free and ensure a comfortable and hassle-free spiritual experience for all. However, cleanliness and upkeep may vary and it is recommended to take essentials with you.

What is the local cuisine I should try?

In Haridwar you should definitely try the vegetarian, tasty and nutritious local cuisine. You can enjoy the traditional Indian thali which consists of roti (Indian bread), dal (lentil soup), rice and vegetable curries. Don't miss the sweets like bal mithai and jhangora ki kheer. At the bustling eateries at Har Ki Pauri ghat, you can enjoy the flavors of freshly prepared puri with aloo sabji and kachoris, a local specialty. Finally, be sure to grab a cup of hot chai from a street vendor.

Is it safe to travel at night?

Haridwar is generally considered safe for tourists, even at night. However, as with any trip, it is advisable to take the usual precautions, especially in crowded places or when walking in less crowded areas. Although Haridwar is peaceful, travelers should be aware of their surroundings, keep their belongings safe, and avoid secluded places at night. It is also recommended to stick to well-lit, populated areas and avoid unnecessary nighttime travel outside of these areas.

Are public transports readily available?

Yes, public transportation in Haridwar India is numerous and includes options like local buses, auto-rickshaws, cycle-rickshaws and cabs. The Haridwar train station also offers extensive connections to popular destinations throughout the country. For travel within the city, the local bus service is quite reliable and cost-effective. Auto rickshaws and cabs are also readily available and are perfect for short distances, while cycle rickshaws are environmentally friendly and are generally used for shorter distances. These modes of transportation make it quite easy to explore the city.

Is it easy to hire a taxi or rickshaw?

Yes, it is quite easy to hire a cab or a rickshaw in Haridwar. This city offers several means of transportation like cabs, auto rickshaws and cycle rickshaws at affordable rates. Cabs can be hired from hotels or cab stands for sightseeing or reaching nearby tourist spots. Rickshaws are a popular choice for short distances, especially in crowded areas. They offer an adventurous way to navigate the city's winding streets and observe local life up close. Negotiate the fare in advance.

How can I reach the Har Ki Pauri?

Har Ki Pauri, the most famous ghat, is located in the center of Haridwar city. You can easily reach it via various local means of transportation. If you are staying in Haridwar, you can use an auto or cycle rickshaw. Alternatively, you can walk if your accommodation is nearby. If you are coming from outside Haridwar, you can take a train or bus to Haridwar and from there you can get to Har Ki Pauri via local transportation.

Do I have to follow any dress code at the temples?

There is no set dress code for the temples in Haridwar, but in general it is appreciated if visitors dress modestly out of respect for local customs and traditions. Both men and women are advised to wear clothing that covers the knees and shoulders. Avoid shorts, short skirts, sleeveless tops or other revealing clothing. You are also expected to remove your shoes before entering the temple grounds. No matter how hot the day gets, try to avoid overly casual beach attire.

Is Haridwar a vegetarian city?

Haridwar is considered a holy city in India, and due to religious beliefs, the food eaten there is mainly vegetarian. In the city, it is strictly enforced that no alcohol is drunk and only vegetarian food is eaten. Eating meat and drinking alcohol is considered a sin in this holy city. However, there are some places where non-vegetarian food is available outside the city for tourists who prefer it.

Are there any precautions for the crowded ghats?

Yes, some precautions should be taken while visiting the crowded ghats in Haridwar. First, you should always take care of your personal belongings and not carry too much cash or expensive jewelry. The crowds can get very large, so it is important to be vigilant and make sure you don't get lost. Secondly, wearing appropriate footwear is important as the ghats can be slippery. If you wish to take a holy dip, do so under the supervision of a local guide or an experienced swimmer, as the current of the river can be very strong. Always respect local customs and traditions.

Are there yoga courses available?

Haridwar, a major spiritual center in India, offers a variety of yoga courses for beginners and advanced students. Renowned yoga institutions such as the Patanjali International Yoga Foundation and Shanti Kunj Ashram offer comprehensive courses teaching traditional yoga forms. These courses typically include meditation, hatha yoga, and pranayama (breathing techniques) and deepen your knowledge of the spiritual practices native to India.

Is tap water safe to drink?

Although Haridwar is known for its religious significance and pristine Ganges River, drinking tap water in this region is generally discouraged. Even though the water is treated, it may still contain certain bacteria or contaminants unknown to visitors that can cause stomach upset or illness. It is advisable to drink bottled water and make sure it is sealed when purchased. Avoid ice cream and consume freshly cooked, hot foods whenever possible. Consult your travel doctor if you have any health concerns.

Can women travel alone in Haridwar?

Yes, women can indeed travel alone in Haridwar. It is a safe and pilgrim-friendly city where solo female travelers are not uncommon. However, as with any destination, safety precautions are advisable. These include avoiding deserted areas at night and choosing modest clothing that is in keeping with local customs. It is also advisable to stay in reputable accommodations and use reliable transportation to move around the city easily and safely.

How can I respect local customs and traditions?

When visiting Haridwar, it is important to respect the cultural customs and traditions. Dress modestly and cover your shoulders and knees, especially when visiting temples. Avoid displaying affection in public as this is considered disrespectful. Always remove your shoes when entering a temple or a person's home. Attend ceremonies such as the Ganga Aarti respectfully or observe them silently. Also respect dietary practices related to vegetarianism. Avoid touching objects with your left hand, as this is associated with impurity. Finally, always ask permission before photographing people or religious rituals.

Are there English-speaking guides available?

Yes, in Haridwar, India, English-speaking guides are available to take care of international tourists. They are well-trained professionals who can provide you with comprehensive and informative tours of the city. They can enrich your experience by explaining the historical, cultural and spiritual significance of the various sights, temples and ghats. They can also help you communicate with the locals and educate you about local customs and traditions.

Can I participate in local festivals?

Absolutely! Haridwar is home to many lively festivals in which visitors can participate. Some of the most popular are Kumbh Mela (a grand pilgrimage and festival), Ganga Dussehra (celebration of the descent of the river Ganges), and Kanwar Yatra (a pilgrimage of Shiva devotees). Participating in these festivals immerses you in the rich culture and religious practices of Haridwar. You should dress respectfully and follow local customs when participating.

Is there widely available internet connection?

Yes, internet connection is quite accessible in Haridwar, India. Most hotels and guesthouses offer Wi-Fi services, although the speed may vary from place to place. In addition, there are internet cafes in the city where you can access the internet. However, if you move to more rural and remote areas around Haridwar, the internet connection may become less reliable. It is advisable that travelers ensure that they have downloaded offline maps or necessary information in case of connection problems.

Do local shops accept credit cards?

Haridwar, while a major tourist destination, still retains much of its traditional Indian charm, which includes the local markets and street vendors. Many of these small retailers and vendors accept only cash due to their informal nature. However, larger establishments such as hotels, restaurants and more modern stores generally accept credit cards. It is advisable to carry some cash for smaller transactions and informal merchants.

How could I avoid tourist scams?

As a guide for Haridwar, I advise you to be careful but relaxed. Beware of people offering services at overpriced prices, always negotiate in advance and watch your belongings. Use trusted sources for tours and accommodations - official websites or recommendations from trusted acquaintances are best. Avoid giving money to beggars and keep your donations to reputable charities or temples. Always make sure you have your papers with you and respect local norms and customs.

Are there nearby cities worth visiting?

While staying in Haridwar, a visit to the neighboring town of Rishikesh is highly recommended. Rishikesh is known as the "Yoga Capital of the World" and offers spiritual experiences with its ancient temples, yoga ashrams, and serene views of the Ganges River. Another nearby city is Dehradun, known for its natural beauty, lush greenery and famous "Robber's Cave." Finally, Mussoorie, affectionately known as the "Queen of the Mountains," offers picturesque views, charming markets and colonial architecture. Each city offers a unique insight into India's rich and diverse culture.

Is it required to remove shoes in temples?

Yes, it is customary to remove your shoes before entering a temple in Haridwar, India. This is a sign of respect and part of Hindu ritual purity. Most temples have a designated area or shoe rack where visitors can leave their shoes. Some charge a small fee for this service. It is also recommended to wash your hands and feet before entering the temple grounds. This is a minor inconvenience to ensure religious sanctity and cleanliness.

Is Alcohol consumption allowed in Haridwar?

No, alcohol consumption is strictly prohibited in Haridwar, a holy city in India. Located on the Ganges River, this holy city is revered by people of the Hindu faith as a pilgrimage destination, so any behavior that is considered disrespectful to religious customs is prohibited. The sale of alcohol and non-vegetarian foods is prohibited within the city limits. Violations of these regulations may result in fines or imprisonment. Visitors are expected to observe decorum in order to preserve the spiritual purity of this revered city.

Are there any specific health precautions to take?

When traveling to Haridwar, it is advisable to get vaccinated against hepatitis A, typhoid and tetanus-diphtheria. Also, drink only bottled or purified water to avoid waterborne diseases. Street food should be avoided unless it is freshly cooked and served hot. Protect yourself from mosquitoes, as they can transmit dengue fever and malaria. Also, do not forget your medicines, if any, and a basic supply of medicines.

Do I need any vaccinations before travelling to Haridwar?

Yes, before traveling to Haridwar, India, it is recommended to get vaccinated against Hepatitis A, Hepatitis B, Typhoid and Tetanus. These are common travel vaccinations recommended for most places in India. Depending on the activities planned or other specific locations of your trip, you may also want to consider vaccination against Japanese encephalitis and rabies. Contact your physician at least six weeks prior to your departure for personalized advice.

Can I do a river rafting in the Ganges?

Yes, in Haridwar, India, you can definitely enjoy river rafting on the Ganges. The river flows with immense force that makes it a hotspot for adventurous river rafting experiences. There are several rafting camps in the area where professional guides and safety measures ensure an exciting yet safe adventure. From easy to challenging, there are several rapids that are suitable for both beginners and experienced riders. It is an exciting and unforgettable way to connect with the spiritual energy of this sacred river.

Feedback

I hope you found this article informative and helpful. I'm eager to improve the content and make it even more valuable for you. If you have any feedback or suggestions, I would love to hear from you.

Do you have any tips or hidden gems that you think should be added to the list? Are there any areas that you feel could use more explanation or clarification?

Your input is greatly appreciated and will help us to continue providing high-quality content that meets your needs and interests. Please feel free to share your thoughts.