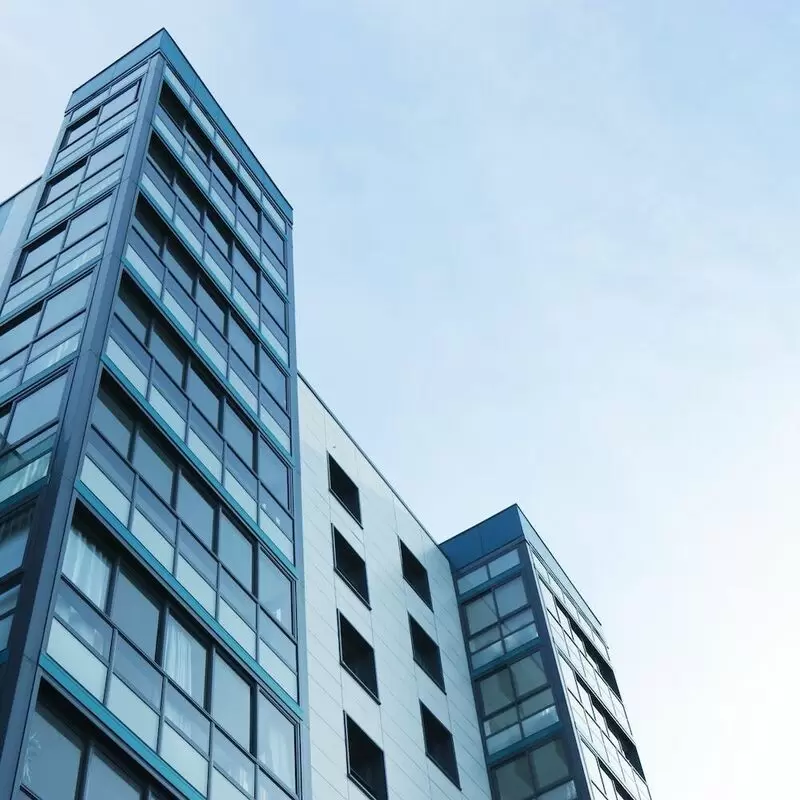 1. National Trust Brownsea Island
Escape to the tranquility of the National Trust's Brownsea Island! This gem in Poole Harbor is known for its vibrant natural beauty and is home to rare red squirrels and an impressive array of bird species. Visit the picturesque church or wander through the charming woodland paths. Also discover the birthplace of the Boy Scouts and Girl Scouts. Just a short boat ride away, it's an oasis of tranquility. Be sure to visit nearby Sandbanks Beach, known as "Britain's Palm Beach" and well worth a visit.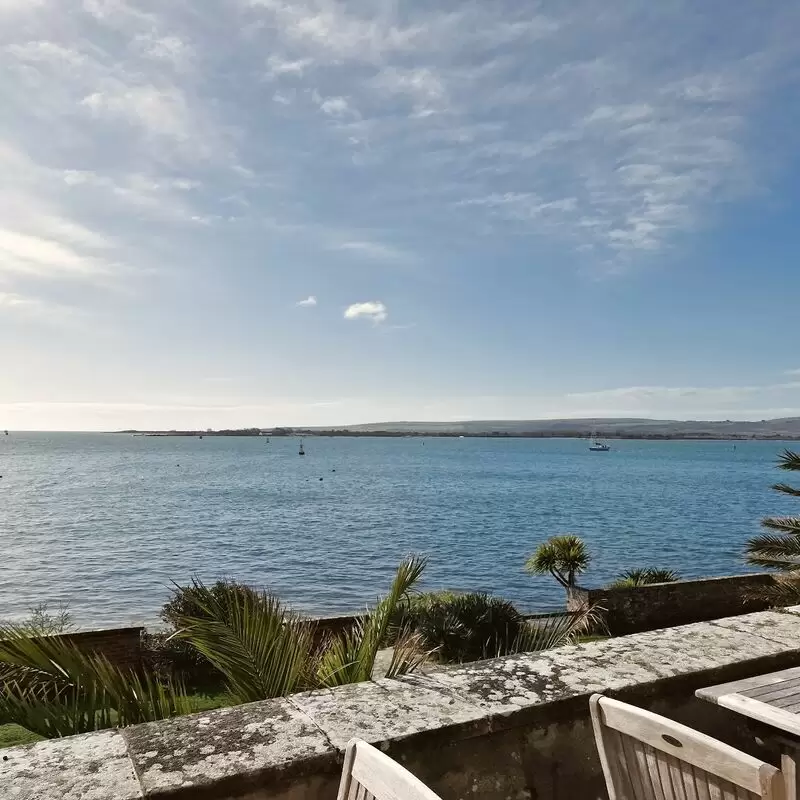 National Trust Brownsea Island
Harbour, Poole
Monday - Sunday: 10:00 AM – 5:00 PM
2. Bournemouth Parks Lower Gardens
Explore the relaxing Bournemouth Parks - Lower Gardens, a green gem right in the heart of Poole. Stroll through the beautifully manicured plant beds, take a peaceful boat ride on Bourne Brook, or simply relax amidst the beautiful natural surroundings. A unique work of art, the Whispering Bench, invites you to enjoy an unusual sound experience. Don't miss the enchanting small aviary and squirrel feeding, popular with animal lovers. Nearby, the Bournemouth Oceanarium and Bournemouth beach await for a complete swimming experience.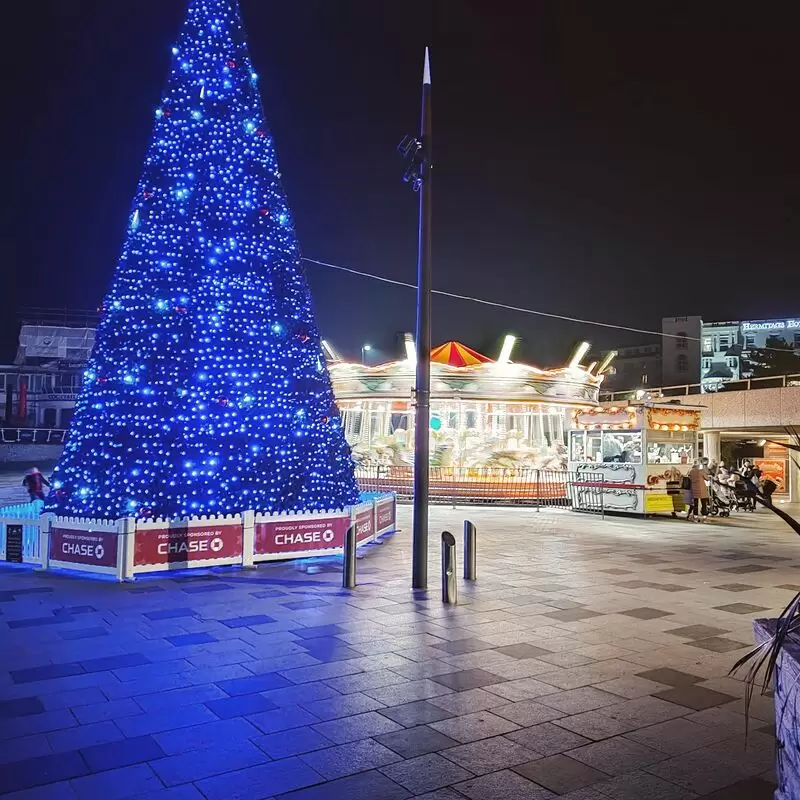 Bournemouth Parks Lower Gardens
Westover Road, Bournemouth
Monday - Sunday: Open 24 hours
3. Moors Valley Country Park & Forest
Visit Moors Valley Country Park & Forest, a green oasis with diverse wildlife, tranquil walking trails and exciting activities. Located just outside of Poole, this park offers a wealth of sights, from towering pines to shimmering lakes. Feel your pulse quicken on the treetop trail, or find peace amid the brightly blooming bluebells along the walking paths. Before you leave, take in the area's secret: the miniature railroad. Then visit the nearby town of Ringwood, known for its sparkling streams and picturesque streets.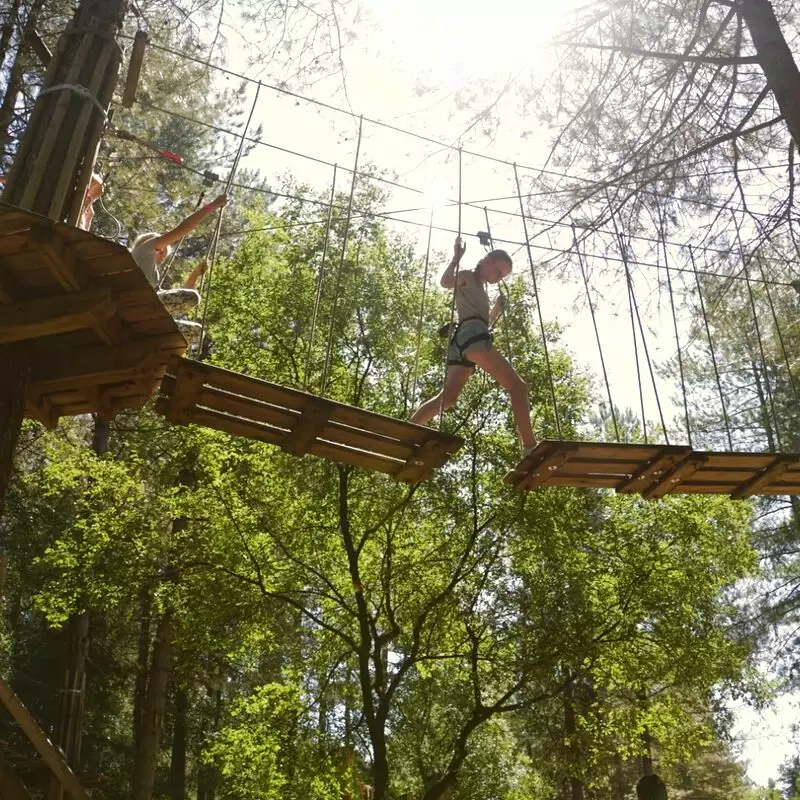 Moors Valley Country Park & Forest
Horton Road, Ashley Heath, Ringwood
4. Durlston Country Park and National Nature Reserve
Leave the city behind and spend a day at Durlston Country Park and National Nature Reserve! The park is undoubtedly a gift from nature, boasting 320 acres of wildlife habitats, stunning geological formations, and breathtaking coastal views. You can uncover fascinating wildlife secrets at the visitor center on the castle. Explorers can also follow the scenic trails that lead to the Great Globe, an impressive local monument. Don't miss the unforgettable sight of dolphins and seabirds at Tilly Whim Caves. Nearby, you can visit the historic Swanage Railway and take a nostalgic steam train ride.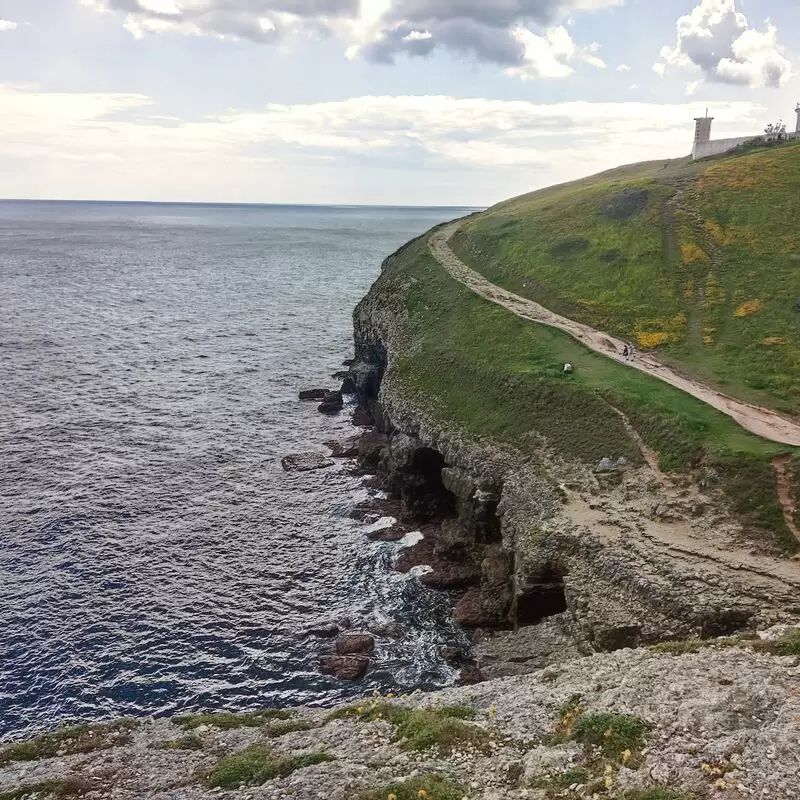 Durlston Country Park and National Nature Reserve
Lighthouse Road, Swanage BH19 2JL
Monday - Sunday: Open 24 hours
5. Sandbanks Beach

Sandbanks Beach in Poole is an unsurpassed beach with brilliant golden sand, first-class facilities, and magnificent sea views. The Blue Flag beach has clean, safe waters that are ideal for swimming. You can grab a bite to eat at the exotic beach cafes while enjoying a spectacular sunset.

An insider tip is to take a short ferry ride to explore nearby Brownsea Island. Wildlife, beautiful walks, and a glimpse of the birthplace of scouting are all worth a visit.

Sandbanks Beach
Banks Road, Poole

Monday - Sunday: Open 24 hours
6. Oceanarium
Dive into the depths at the Oceanarium in Poole for an unforgettable underwater adventure! Experience a vibrant underwater world with a variety of species from around the world, including turtles, otters and fascinating sharks! Don't forget to visit the interactive dive cage and virtual reality experiences, which are truly unique highlights. Located right on Bournemouth's seafront, this world-class aquarium is the perfect place to continue your coastal journey. Combine your trip with a visit to the nearby Bournemouth Pier and enjoy a day of marine magic.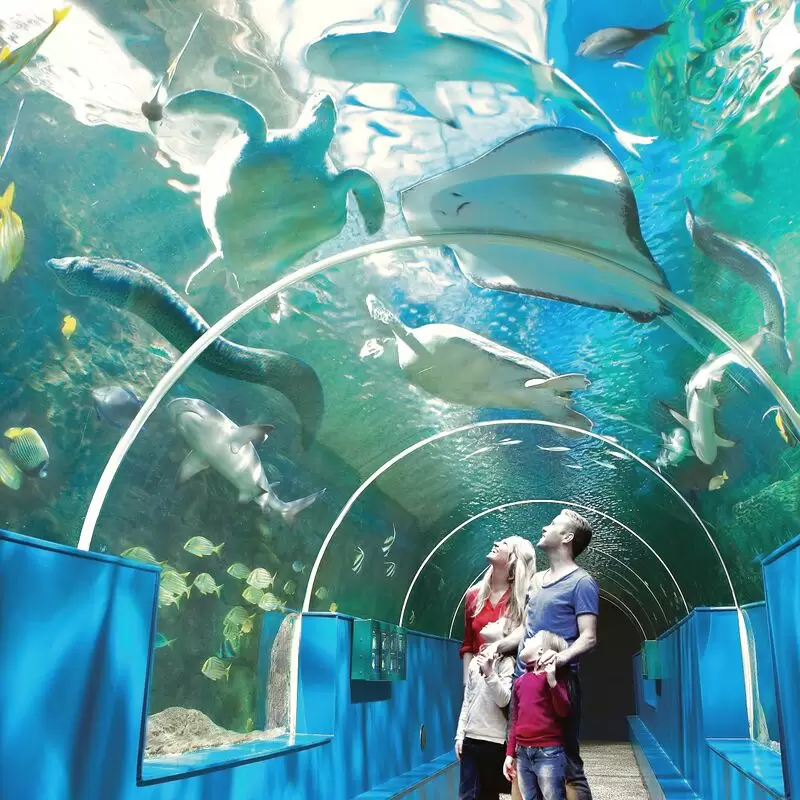 Oceanarium
Oceanarium, Bournemouth
Monday - Sunday: 10:00 AM – 6:00 PM
7. New Forest Wildlife Park
The New Forest Wildlife Park near Poole is a must-see, home to many native British animals amid lush forests. Encounter deer, otters, and lynx, and get up close and personal with playful wolves and badgers! Benefit from insightful keeper talks that give you a unique behind-the-scenes look. Don't miss the adventure playgrounds, perfect for little explorers. Just a stone's throw away, the Beaulieu Motoring Museum with its classic car collection is waiting for you to discover!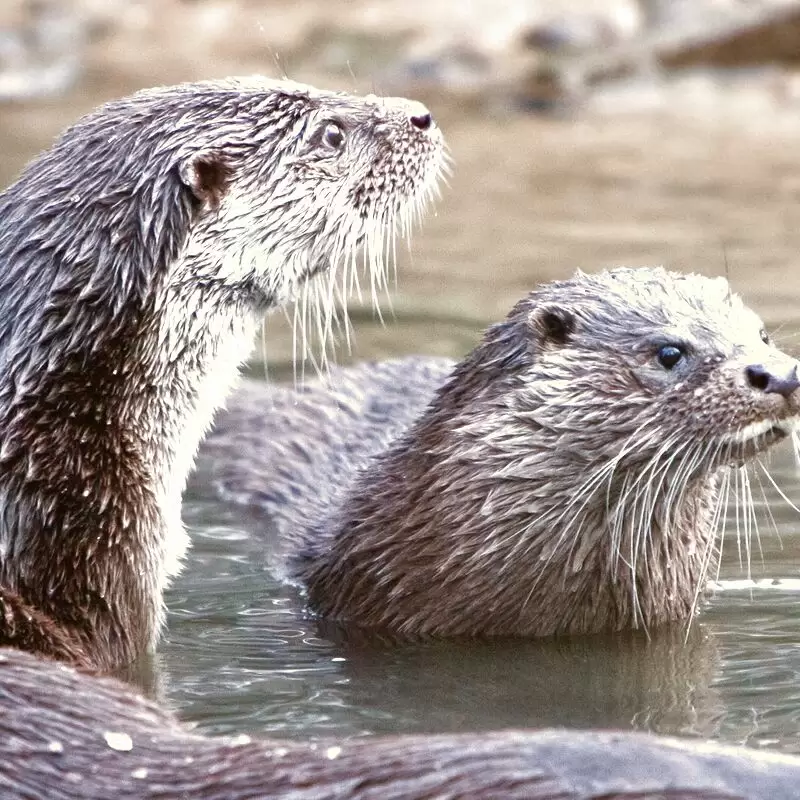 New Forest Wildlife Park
Deerleap Lane, Southampton
Monday - Sunday: 10:00 AM – 5:30 PM
8. Upton Country Park

Take a trip to Upton Country Park in Poole! The 100+ acre park features lush greenery, colorful flowers, a charming walled garden, and the magnificent Upton House with its Georgian architecture.

On-site duck feeders are available to help you get in touch with your feathered friends - an insider tip. And guess what? It's just a stone's throw from Poole Harbour, the largest natural harbor in Europe! Ready to trade concrete for the splendor of nature? Upton Country Park is waiting for you!

Upton Country Park
Poole Road, Upton, Poole BH17 7BJ

Monday - Sunday: 8:00 AM – 6:00 PM
9. Highcliffe Castle
Highcliffe Castle, a romantic and fascinating Victorian mansion, is a must-see. With its breathtaking beach views and enchanting charm, it's perfect for history and architecture buffs. Escape into the carefully renovated rooms with their magnificent stained glass windows that tell an enchanting story of love and solitude. It's rarely crowded and offers quiet, personal tours. It's also a hidden gem for photography enthusiasts. And with the New Forest just a few miles away, you'll have two attractions in one day!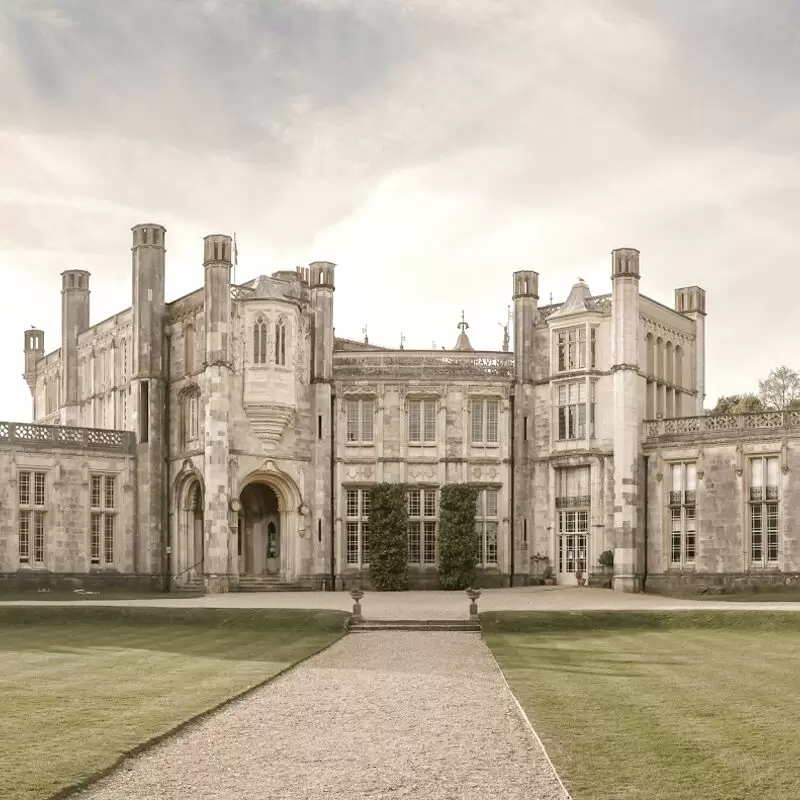 Highcliffe Castle
Rothesay Drive, Highcliffe, Christchurch
Monday - Sunday: 10:00 AM – 4:00 PM
Friday - Saturday: Closed
10. Bournemouth Upper Gardens
Bournemouth Upper Gardens, an enchanting green oasis, is a must-see in Poole. This Victorian-era park, known for its wildlife, charms with its enchanting walks through the trees. Seek tranquility amid performances of exotic birds, while the whispering melodies of the Pine Walk Art Exhibition wind chimes enhance the mood. An "insider" detail? Keep an eye out for the iconic red squirrels. Just a stone's throw away is Poole Harbour, a breathtaking spectacle with magnificent sea views. See Poole, feel the magic!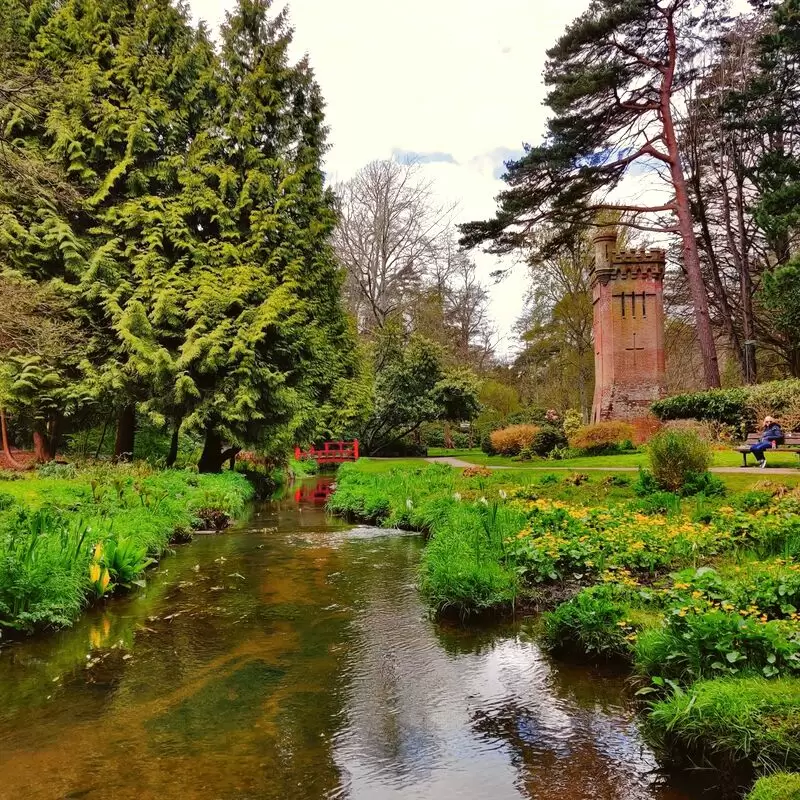 Bournemouth Upper Gardens
27a Surrey Road, Bournemouth
Monday - Sunday: Open 24 hours
11. Hamworthy Park
Visit Hamworthy Park and experience an authentic Poole! Relax among the greenery or head to the sandy beach and enjoy panoramic views of Poole Harbour. Discover the park's rich military history with its preserved World War II structures. For families, the wading pool is a must in the summer. Just a stone's throw away is Upton House, a fantastic landscaped park with a charming Georgian mansion. A true hidden gem in Poole!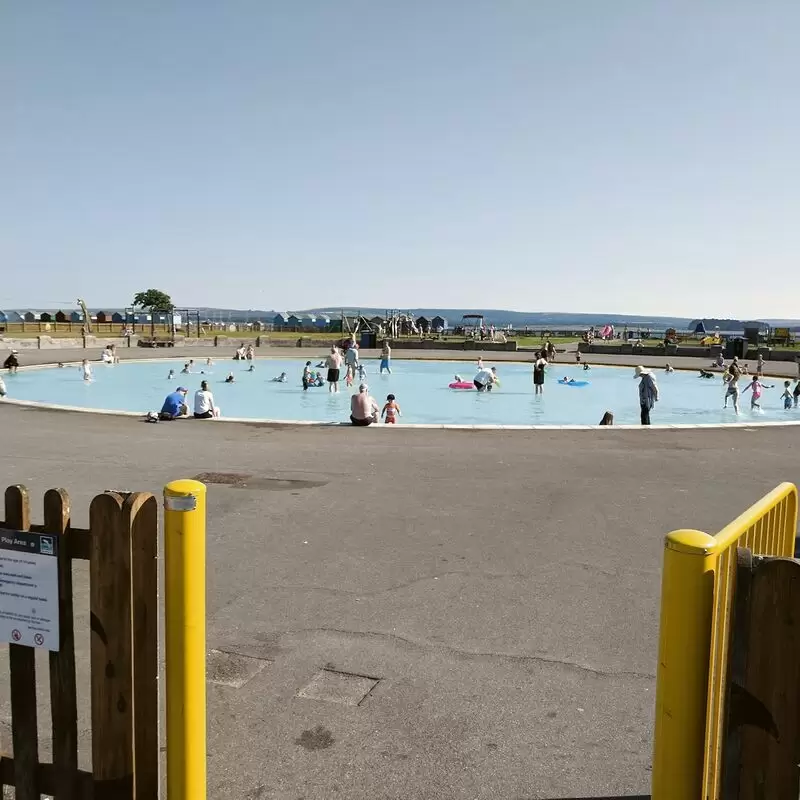 Hamworthy Park
Lulworth Avenue, Hamworthy, Poole BH15 4DH
Monday - Sunday: Open 24 hours
12. Farmer Palmer's Farm Park
Venture beyond the shores of Poole to Farmer Palmer's Farm Park, an interactive outing for families. This is no ordinary park! Kids can hand-feed the friendly farm animals, enjoy daily tractor rides and cool off in the water splash zone. Parents can squeeze in a little teaching during the interactive animal feeding and milking demonstrations. A well-kept secret is the hedge maze with wrong turns and a triumphant ending. Just a short drive away is the famous Corfe Castle, perfect for a day out in the Dorset countryside.
Farmer Palmer's Farm Park
Wareham Road, Organford, Poole, Organford, Poole
Monday - Sunday: 9:30 AM – 4:00 PM
13. Swanage Pier Trust
Swanage Pier Trust is an invisible jewel. Immerse yourself in the rich history of Victorian architecture. The café at the end of the pier offers panoramic sea views you won't soon forget. Send postcards from the charming little mailbox located right on the pier - a unique detail that visitors will appreciate. Just around the bay you'll find Old Harry Rocks, an impressive natural spectacle that you must visit to round out your amazing coastal experience.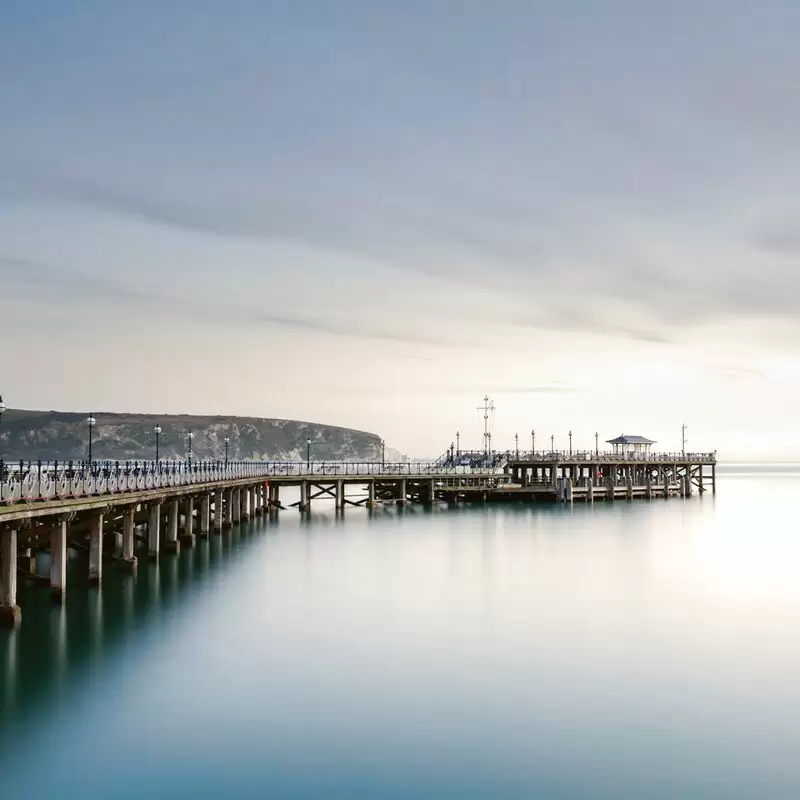 Swanage Pier Trust
Pier Approach, Swanage
Monday - Friday: 9:00 AM – 5:00 PM
Saturday - Sunday: 7:00 AM – 5:00 PM
14. Maiden Castle
Discover the ancient history of Britain at Maiden Castle, one of the largest and most complex Iron Age fortresses in Europe! Its deep earthen ramparts tell stories of centuries past and give you an unparalleled insight into prehistoric life. Protected by English Heritage, the site offers magnificent panoramic views of the Dorset countryside. It's also just a short drive from the Dinosaur Museum in Dorchester, where you can continue your historical explorations. Remember that the site is most atmospheric at sunrise or sunset, so plan accordingly.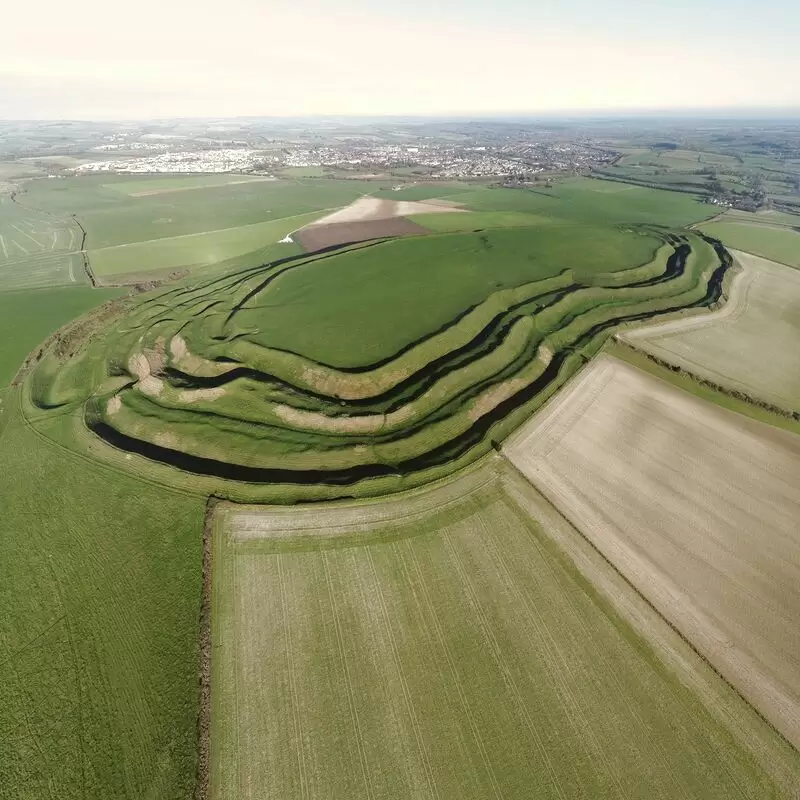 15. Poole Park
A visit to Poole Park is a must when in Poole, UK! It offers the perfect mix of nature, leisure and fascinating wildlife. Walk along the picturesque lake full of swans, sail model boats or simply enjoy a picnic amidst the lush greenery. There are well-equipped playgrounds for the little ones. The quaint Ark Restaurant secretly serves the best afternoon tea in town. And since the park is just a 10-minute walk from the bustling Quay, it's an ideal base for a day of adventure. Don't forget the unique miniature train. Pure pleasure!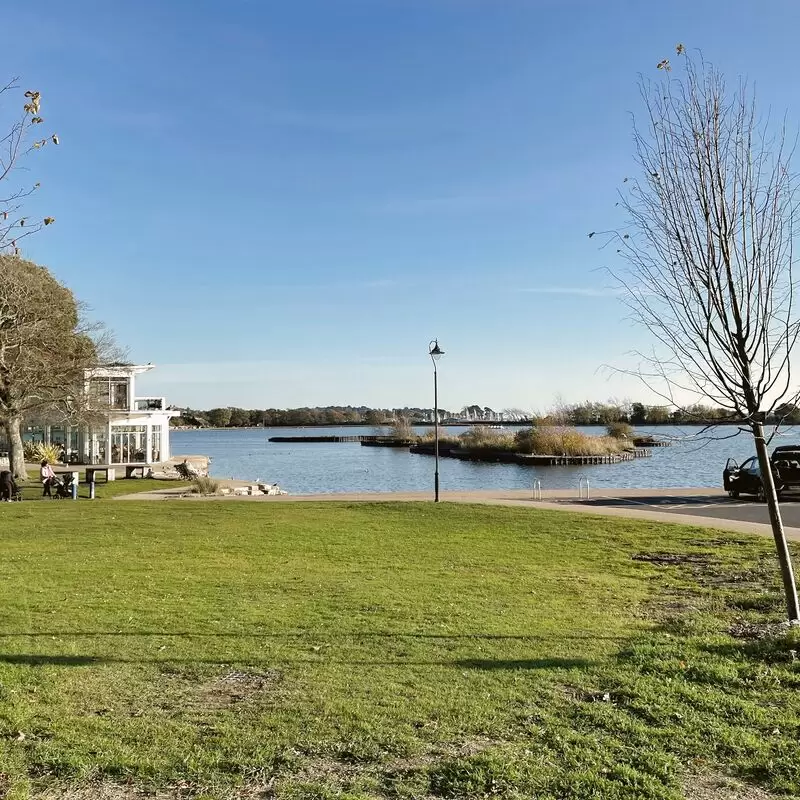 Poole Park
Poole Park, Poole
Monday - Sunday: Open 24 hours
16. Bournemouth Aviation Museum
Visit the Bournemouth Aviation Museum in Poole and discover a fascinating world of aviation history. The museum is a real gem and offers a unique collection of aircraft that you can climb inside! Ideal for families and enthusiasts alike. And the best part? It's just a stone's throw from the bustling beach and vibrant Bournemouth town center. End the day with a delicious seafood feast at one of the local restaurants. Indeed, a worthwhile visit!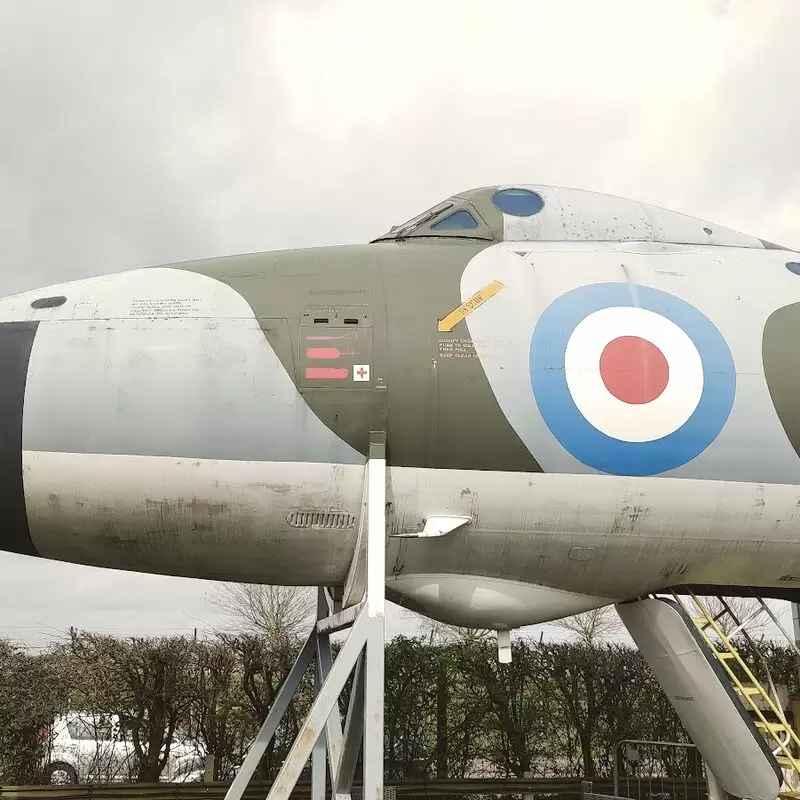 Bournemouth Aviation Museum
B3073, Merritown Lane, Christchurch
Monday - Sunday: 10:00 AM – 4:00 PM
17. Hengistbury Head Beach

Hengistbury Head Beach is an absolute must when visiting Poole! This unspoiled beach offers breathtaking panoramic views, a peaceful setting ideal for picnicking, and a lively center for water sports enthusiasts. The historical education center on the headland is well worth a visit, offering insights into the area's rich past. Rare wildlife makes the island a birdwatcher's paradise.

Insider tip: Don't miss the colorful beach huts and charming country draw. Nearby, explore 10,000-year-old Mudeford Quay and experience an exciting ferry ride.

Hengistbury Head Beach
Southbourne, Bournemouth BH6 4EW

Monday - Sunday: Open 24 hours
Best Time to Visit Poole
The best time to visit Poole, United Kingdom, is between late June and early September, when temperatures are warmest. However, if you prefer quieter times, visit Poole in late spring (April to June) or early fall (September to October) for pleasant weather and fewer crowds.
Annual Weather in Poole
Poole 3-Day Forecast
Wed, 27 September
Night
56 °F
13 °C
0%
Morning
60 °F
15 °C
0%
Afternoon
64 °F
18 °C
64%
Evening
58 °F
14 °C
0%
Thu, 28 September
Night
52 °F
11 °C
0%
Morning
54 °F
12 °C
62%
Afternoon
63 °F
17 °C
60%
Evening
56 °F
13 °C
0%
Fri, 29 September
Night
55 °F
13 °C
0%
Morning
52 °F
11 °C
0%
Afternoon
63 °F
17 °C
0%
Evening
57 °F
14 °C
0%
Questions & Answers

How do I travel from Poole to London?

The best way to travel from Poole to London is by train. The South Western Railway offers connections from Poole to London Waterloo station. The average travel time is about two hours. If you want to travel by car, you can take the M3 freeway, but travel times can vary greatly due to traffic. National Express also offers a bus service from Poole to London Victoria bus station, but the travel time is longer at about 3 hours and 40 minutes.

Where can I try the best local food in Poole?

Try the Ox, considered one of the best places for local food in Poole. The menu features dishes prepared from locally sourced ingredients. It is known for its excellent steaks and traditional British puddings and offers an authentic culinary experience in Poole. Or visit the Guildhall Tavern, known for its fresh seafood platters. These family-run eateries not only serve delicious food, but also offer a uniquely cozy atmosphere that makes dining even more enjoyable.

Are there any beaches in Poole?

Poole in the United Kingdom is rich in beautiful sandy beaches that stretch for miles along the picturesque coastline. Popular beaches include Sandbanks Beach, known for its soft sand and clear waters, ideal for water sports and relaxation. Canford Cliffs Beach is another quiet spot famous for its magnificent cliff views, while Branksome Dene Beach is a secluded spot popular with dog walkers and nature lovers. Each of these beaches has its own charm and adds to the scenic beauty of Poole.

What is Poole known for?

Poole in Dorset, United Kingdom, is known for its large natural harbor - one of the largest in the world. This picturesque seaside town is best known for its Blue Flag beaches, including the popular Sandbanks Beach. Poole is also proud of its rich history, which is reflected in the old town and the Poole Museum. In addition, the town is a base for exploring the Jurassic Coast and is known for its pottery, Poole Quay, and a variety of water sports.

Is Poole safe for tourists?

Yes, Poole is generally considered safe for tourists. As in any city, the usual precautions should be taken, especially in crowds or late at night. The city has a relatively low crime rate, especially compared to larger British cities. Visitors often feel comfortable exploring Poole's attractions, including its historic districts, beautiful harbor, and sandy beaches. Emergency services are reliable and quickly accessible when needed.

Can I travel around Poole by bike?

Yes, you can easily explore Poole by bike. The city is bike-friendly and has several dedicated bike paths and lanes that connect the major attractions. Poole also offers a variety of terrains suitable for all cyclists, from flat paths along the water to more challenging mountain rides. Tourists can also rent bicycles here. A bike ride around the harbor and through the historic wharf district is a nice way to discover the city's highlights. Remember to plan your routes before you travel.

How can I get a local SIM card in Poole?

When you arrive in Poole, you can buy a SIM card from several local mobile providers, including EE, O2, Vodafone and Three. These stores are easily accessible in the city center and most of them offer pay-as-you-go plans. You may need to show ID to make the purchase. Alternatively, you can buy SIM cards at local supermarkets and grocery stores.

What is the main language spoken in Poole?

The main language spoken in Poole, United Kingdom, is English. As part of England, Poole follows the linguistic trend of the nation. Although there are several other languages due to diversity and migration, English remains the predominant language in all aspects of life, including education, business, and everyday communication. The distinctive British accent is widespread, and regional dialects may also be heard.

Are there any nearby natural parks in Poole?

Yes, there are several nature parks near Poole, United Kingdom. Brownsea Island Nature Reserve in Poole Harbor offers a variety of wildlife and stunning scenery. Upton Country Park and Nature Reserve is another haven for nature lovers, with 120 acres of woodland to explore. The Dorset AONB is also nearby and offers magnificent panoramic views and beautiful walking trails. These parks offer a perfect blend of stunning nature and outdoor activities.

Can I see any wildlife in Poole?

Yes, Poole is rich in wildlife viewing opportunities. The city has stunning natural habitats, including Brownsea Island Nature Reserve, where visitors can spot red squirrels and a variety of bird species. You can also take a trip to Poole Harbour, one of the largest natural harbors in the world, to observe the diverse marine life. In these places, visitors can see otters, bats and even deer, among others.

Is currency exchange easy in Poole?

Yes, currency exchange in Poole is quite easy. There are numerous places in the city where you can exchange your money, including banks, post offices and independent exchange offices. Many of these places offer favorable rates. It is also worth noting that most stores, restaurants and hotels in Poole accept major credit cards, so sometimes it is not necessary to carry large amounts of cash. However, it is always a good idea to carry some local currency for small transactions or tips.

How do I find transportation in Poole?

There are plenty of transportation options in Poole. You can easily use the Morebus bus service, which connects Poole with Bournemouth and other local areas. Alternatively, Poole train station offers regular services to London and Weymouth. There are also numerous cab services in the town, some of which can be booked online or by phone. If you prefer to cycle or walk, Poole has an extensive network of cycle paths and pedestrian walkways.

Can I rent a car in Poole?

Yes, you can absolutely rent a car in Poole, United Kingdom. The city offers a variety of car rental services from recognized global chains to local companies. This gives you the flexibility to choose a service that suits your budget and needs. Renting a car is a great option if you want to explore the outskirts of Poole or travel to other cities in the United Kingdom. Make sure you have a valid driver's license and meet all the additional requirements of the rental company.

Is Poole wheelchair friendly?

Yes, Poole is very wheelchair friendly. The city offers a good number of accommodations, restaurants and attractions with wheelchair access. Public transportation such as buses are easily accessible for wheelchairs. The main shopping areas, such as the Dolphin Shopping Centre, are fully accessible. However, some areas in Poole have cobblestones or steep inclines that can be challenging. It is recommended that you check with each place you plan to visit to ensure accessibility.

What unique cultures exist in Poole?

Poole has a distinct maritime culture shaped by its history as a major seaport. The residents, known as Pooleites, have a unique connection to the sea that is reflected in their lifestyle and traditions. Seafood cuisine, boat building and sailing competitions embody the cultural heartbeat of this coastal town. A remarkable blend of nature, history and urban charm is evident in the local art, folk music and cultural festivals. The Old Quarter, with its historic architecture, underscores Poole's distinctive cultural character.

Do I need a visa to visit Poole?

Whether you need a visa to visit Poole, United Kingdom, depends on your nationality. Travelers from certain countries, including the United States, Canada, Australia, and many European Union countries, can enter the United Kingdom without a visa for stays of up to six months. However, if you are coming from outside these countries, you may need to apply for a visa in advance. Check the official UK government website for current entry requirements before you travel.

What are the medical facilities like in Poole?

Poole has excellent medical facilities, with the main healthcare provider being Poole Hospital NHS Foundation Trust. It offers a wide range of services, including accident and emergency, maternity, and pediatric care. There are also several general practices, private hospitals and pharmacies in the city. Dental services are also available in both the government and private sectors. The medical facilities are characterized by a high standard of care and the professionalism of the staff. Access to medical services is easy and efficient for residents and visitors alike.

Is there nightlife in Poole?

Yes, Poole, United Kingdom, offers a vibrant nightlife with a wide range of evening entertainment. The city has pubs, clubs and late-night bars where you can enjoy live music, DJ sets or just a quiet drink. The Brewhouse & Kitchen features craft beers and the Bermuda Triangle has a lively atmosphere. For those interested in culture, the Lighthouse, an arts center, offers regular evening performances.

Is tap water safe to drink in Poole?

Yes, the tap water in Poole, United Kingdom is safe to drink. Water quality is maintained at a high level by local water companies. They constantly monitor the water to ensure that it meets the safety standards set by the Drinking Water Inspectorate. However, the taste may vary due to the different mineral content of water in different regions, so you can opt for bottled water.

Are there public restrooms in Poole?

Yes, there are a number of public restrooms in Poole that you can use. These facilities are usually located in larger areas frequented by tourists, such as parks, shopping centers and beaches. Some of the restrooms have opening hours and it is advisable to inquire in advance. Facilities may include handicapped accessible restrooms and baby changing rooms, and in some cases a small fee is charged for maintenance. Please remember to maintain cleanliness in the interest of all users.

How good is the internet connection in Poole?

The Internet connection in Poole, United Kingdom, is excellent and therefore ideal for both locals and tourists. Since there are several providers, you can expect reliable broadband and fiber optic network coverage. High-speed internet services are available in both urban and residential areas. Whether you need the internet for work, streaming, or to stay connected, Poole offers a reliable connection. It should be noted that speeds can vary by provider and area in the city.

Are there nice picnic spots in Poole?

Absolutely! Poole is blessed with gorgeous outdoor spaces that are perfect for picnics. Poole Park is popular with families and offers beautiful scenery with its lakes and lush green spaces. Upton Country Park is another exceptional spot with wooded areas, a walled garden and views of the harbor. If you feel like going to the beach, visit Sandbanks Beach or Brownsea Island, where you'll find an idyllic picnic spot surrounded by nature.

Is English widely spoken in Poole?

Yes, English is the predominant language spoken in Poole, United Kingdom. As part of the country's native language, everyone speaks English, whether residents, business owners, service providers or public officials. All signs, information boards and public announcements are also in English. Therefore, travelers will not face any language barriers when visiting Poole.

Can I travel on ferry to Poole from nearby cities?

Yes, you can take a ferry to Poole from nearby cities. Condor Ferries offer regular services from Portsmouth, Weymouth and the Channel Islands to Poole. This is a scenic and convenient way to reach the city. In addition, Brittany Ferries also offers connections from France and Spain to nearby Portsmouth, which is a great alternative for travelers from mainland Europe. This makes commuting to Poole easier for those who enjoy the romantic appeal of a sea voyage.

What are the local customs and traditions in Poole?

In Poole, locals highly value their maritime heritage. The seaside town places great emphasis on boating traditions, including boat races, and is world famous for its pottery, the "Poole Pottery". Festive traditions include the "Seafood Fest," where local seafood is prepared. The "Folk on the Quay", a festival of folk and roots music, is also significant. Finally, like other Brits, Poole residents maintain the tradition of Afternoon Tea, often accompanied by local baked specialties. Poole is rich in customs and traditions that reflect its rich historical and cultural heritage.

Are credit cards widely accepted in Poole?

Yes, credit cards are widely accepted in Poole, United Kingdom. You can use them at most major shopping centers, restaurants, hotels and tourist attractions. However, it is recommended that you take some cash with you for smaller stores or outdoor markets where card payments may not be accepted. You should also check with your bank about international fees before you travel.

Do I need to tip in restaurants in Poole?

Tipping is not obligatory in Poole, United Kingdom, but it is common, especially for good service. In restaurants, it is common to tip 10-15% of the total bill. However, it is important to check the bill beforehand as some establishments automatically add a service charge. If you feel that the service was particularly good, additional tipping is optional and welcome. So you don't have to tip, but it is a good and common practice.

Feedback

I hope you found this article informative and helpful. I'm eager to improve the content and make it even more valuable for you. If you have any feedback or suggestions, I would love to hear from you.

Do you have any tips or hidden gems that you think should be added to the list? Are there any areas that you feel could use more explanation or clarification?

Your input is greatly appreciated and will help us to continue providing high-quality content that meets your needs and interests. Please feel free to share your thoughts.