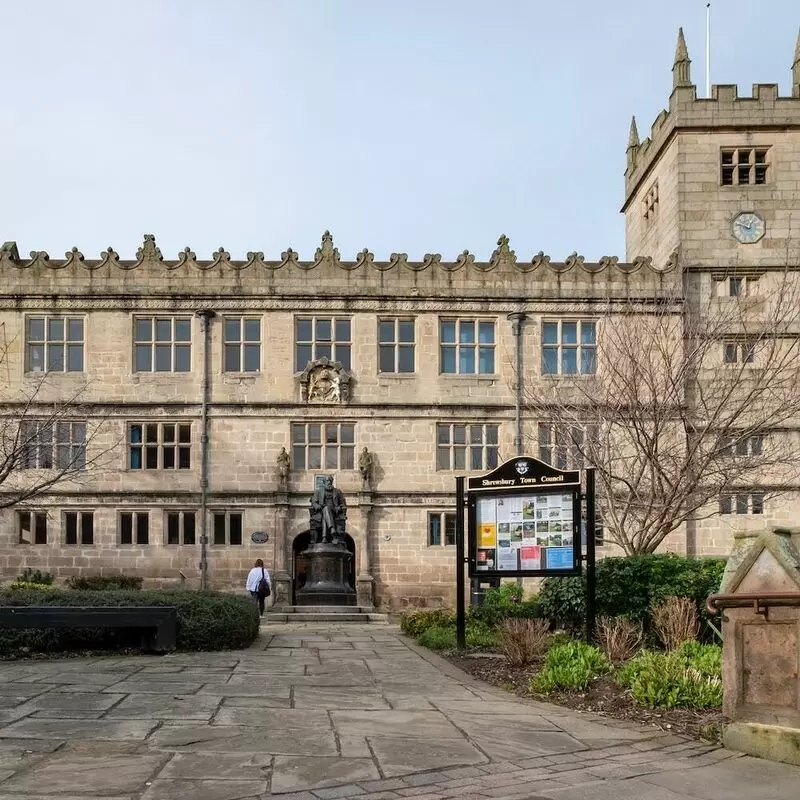 1. National Trust Attingham Park
Venture into the heart of the Shropshire countryside and experience National Trust - Attingham Park. Enjoy the majestic mansion known for its Regency interiors and picturesque wildlife park. Be enchanted by the walled garden or explore miles of tranquil walks. Don't miss the hidden World War II air raid shelter, a captivating piece of history! Nearby is Ironbridge Gorge, a UNESCO World Heritage Site, home to the world's first iron bridge.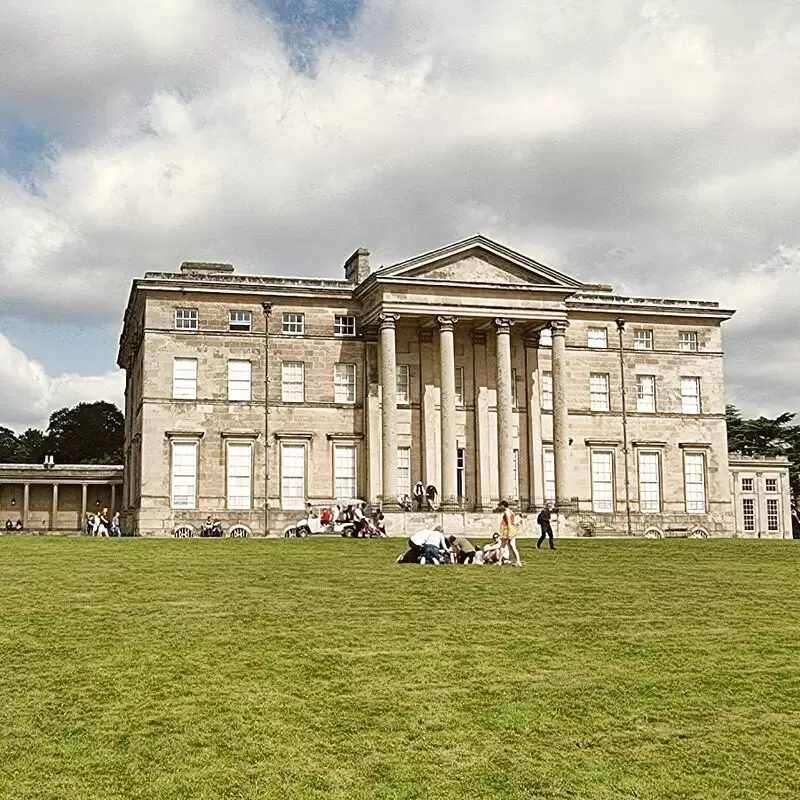 National Trust Attingham Park
Attingham Park, Atcham, Shrewsbury
Monday - Sunday: 8:00 AM – 5:00 PM
2. The Quarry

Experience a green oasis in the heart of Shrewsbury - The Quarry. This charming 29-acre park lives up to its name, with its floral splendor providing a perfect backdrop for your travelogue. The famous sunken Dingle Garden is a must-see. The tranquil River Severn, which surrounds the park, invites you to take walks along its banks.

A real insider tip - to participate in local rowing competitions. Just a stone's throw away are the extraordinary Shrewsbury Castle and the Shrewsbury Museum and Art Gallery. A town in a park!

The Quarry
Shrewsbury

Monday - Sunday: Open 24 hours
3. Hawkstone Park Follies
Immerse yourself in the magical world of Hawkstone Park Follies, an enchanting 100-acre park with dramatic cliffs, captivating caves and awe-inspiring monuments. Lose yourself in the labyrinthine landscape and follow enchanted paths through grottoes, across bridges and through forests. Hawkstone, whose history dates back to the 1700s, offers panoramic views from the top of the cliffs. Just a stone's throw away, the impressive Attingham Park manor house and extensive parkland are also well worth a visit. Remember to wear suitable footwear for the rough terrain!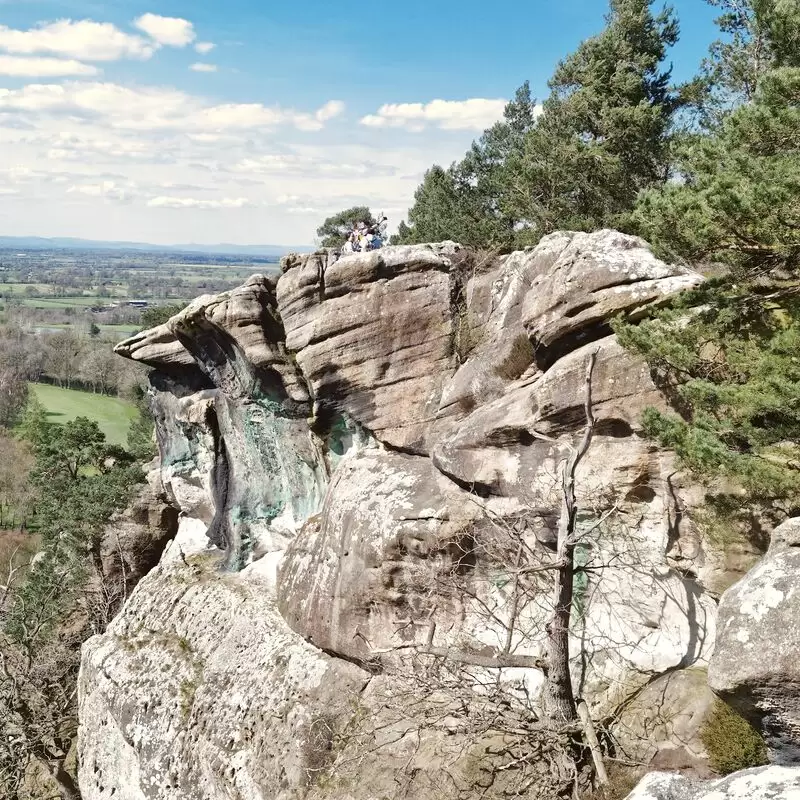 Hawkstone Park Follies
Shrewsbury
Monday - Sunday: 10:00 AM – 5:00 PM
4. Shrewsbury Prison
Immerse yourself in the exciting history of Shrewsbury Prison, where the past comes alive through fascinating guided tours. Experience firsthand the 200 years of heaving correction, prison conditions, and powerful stories of inmate life behind Victorian walls. Immerse yourself in the "world within the world" and experience the original cells and the horrific execution room. Just a stone's throw away is The Quarry, a tranquil park beautifully situated by the River Severn that provides a delightful contrast to exploring the prison. Don't forget your camera!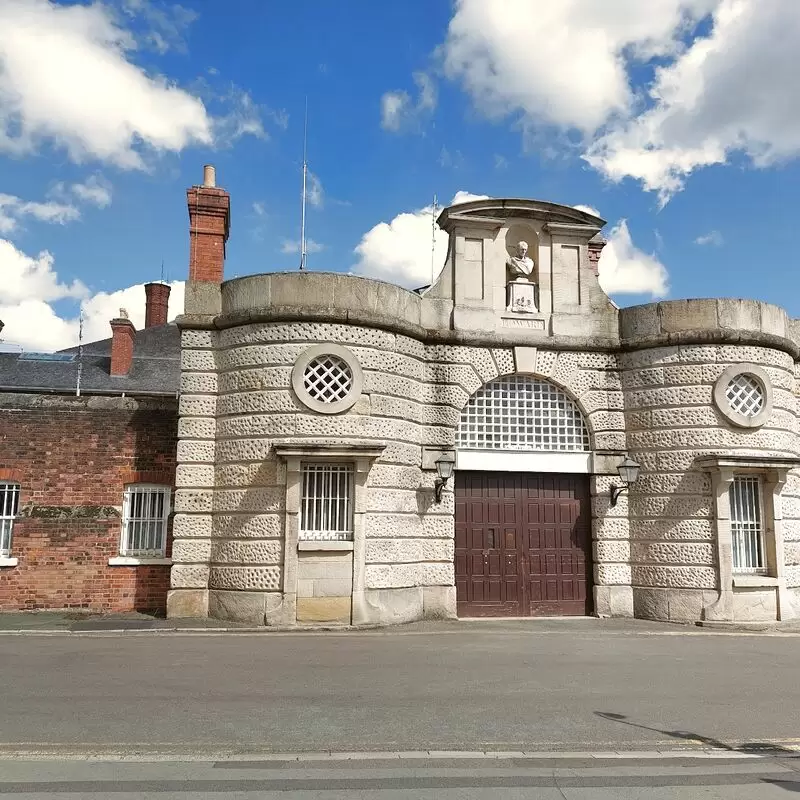 Shrewsbury Prison
The Dana, Shrewsbury
Monday - Sunday: 10:00 AM – 5:00 PM
5. Stiperstones National Nature Reserve
Embark on an adventure in the wilderness of Stiperstones National Nature Reserve! Discover rugged hills, precariously balanced quartzite towers, and rare flora. Birdwatchers will be thrilled to spot black grouse and curlews. Hikers should not miss "The Devil's Chair," a challenging but rewarding climb. The views are spectacular! After exploring Stiperstones, take a relaxing walk to nearby Mitchell's Fold Stone Circle, a mystical prehistoric site that holds a rich local history.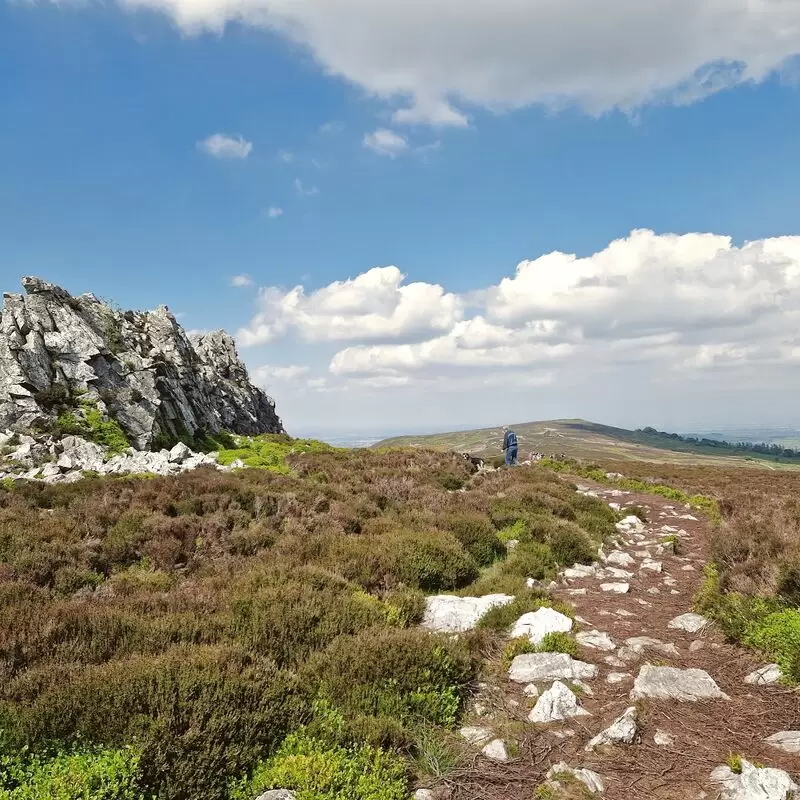 Stiperstones National Nature Reserve
Birch Tree House, 8 Gravels Terrace, Gravels, Minsterley, Shrewsbury
Monday - Sunday: Open 24 hours
6. Wroxeter Roman City
Wroxeter Roman City, once the fourth largest city in Roman Britain, is a must-see in Shrewsbury. Immerse yourself in ancient history and explore the architectural remains, including the largest freestanding Roman wall in the United Kingdom. Take a peek inside the reconstructed Roman townhouse, where you can experience Roman life firsthand. Wine lovers should visit the nearby Wroxeter Vineyard, where English wine is made in the Roman tradition. This will please not only your historical appetite, but also your palate.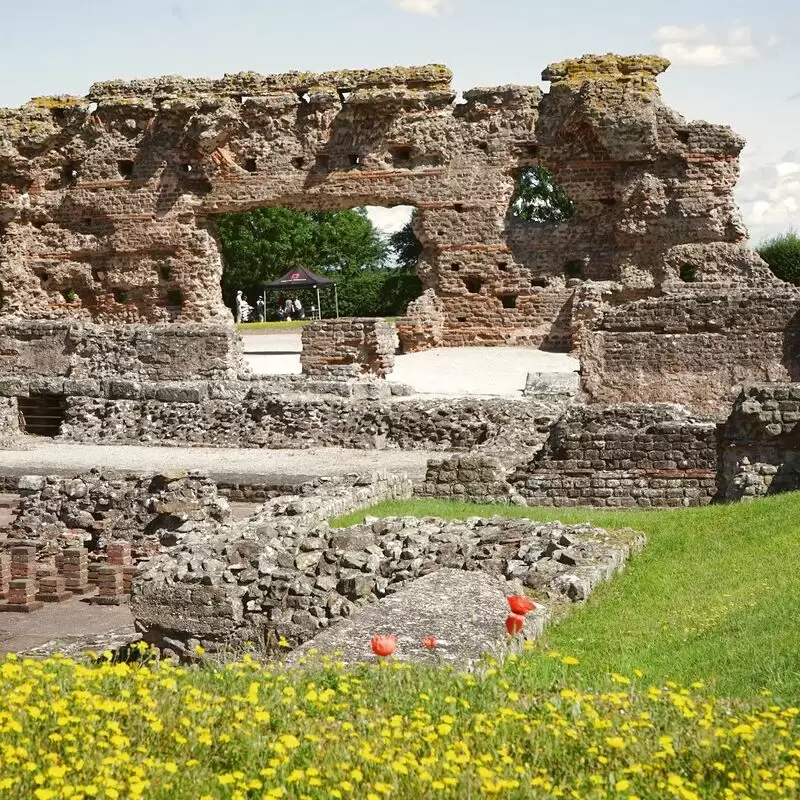 7. National Trust Attingham Park Estate Cronkhill
Visit to the National Trust - Attingham Park Estate: Cronkhill is an opportunity to step back in time to John Nash's Italianate architecture. This picturesque villa, not normally open to the public, is a hidden gem with a touch of Regency elegance and a unique dome design that will pique your curiosity. The surrounding countryside offers picturesque views and is perfect for a picnic. Just a short drive away, the Roman city of Wroxeter, the fourth largest city in Roman Britain, awaits to tell fascinating historical stories.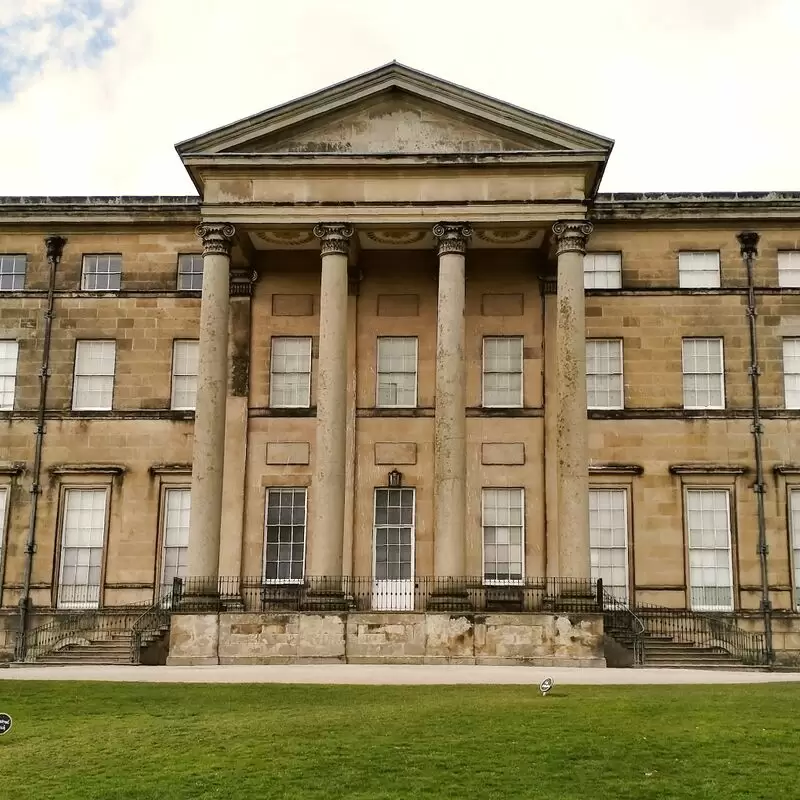 National Trust Attingham Park Estate Cronkhill
Cross Houses near, Shrewsbury
Monday - Saturday: Closed
Friday - Sunday: 11:00 AM – 4:00 PM
8. Moreton Corbet Castle
Discover the history of two eras at Moreton Corbet Castle. Explore the medieval fortifications and the impressive Elizabethan mansion - a unique combination rarely seen. The history of the Corbet family in the building makes fascinating reading. Marvel at the grandeur and architecture and find the fabled "cursed" inscription. Just a short drive away, you can also visit the tranquil and beautiful Hawkstone Follies, a historic landscape of dramatic cliffs, rocks, caves and forests. An absolute treat for history and nature lovers alike!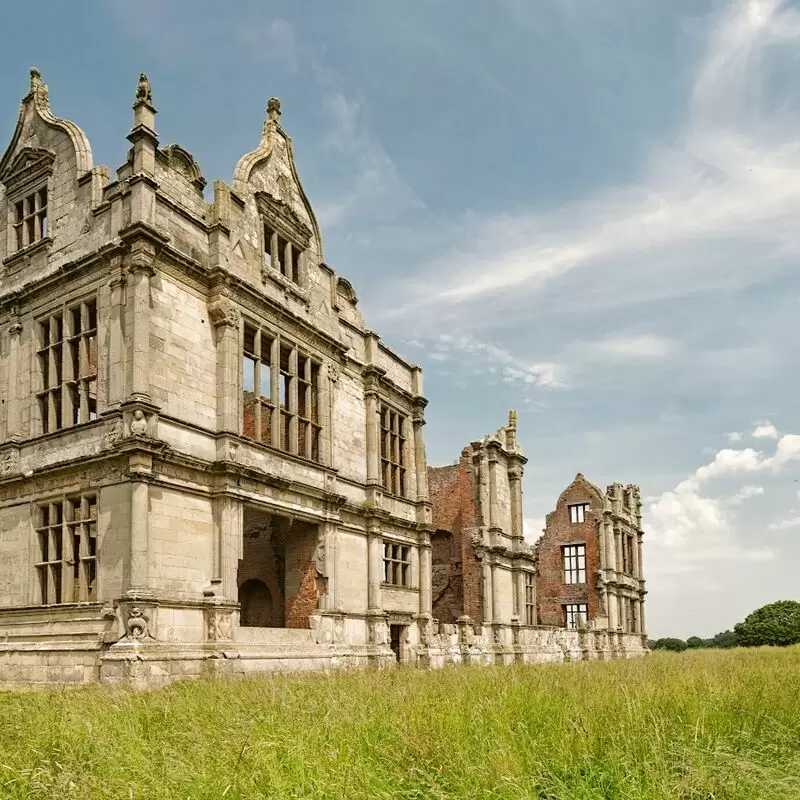 9. Haughmond Abbey

Discover the tranquil remains of Haughmond Abbey, a charming 12th century Augustinian monastery. Century. As you stroll through the charming ruins, you can imagine the monastic life of times past. Enjoy the picturesque panoramic views of the Shrewsbury countryside from the hilltop.

Insider tip: Try to find the Sheela-na-gig carved in stone, a medieval symbol believed to ward off death. Nearby, you can see more historic wonders at Moreton Corbet Castle or take a leisurely walk in the woodland of Haughmond Hill.
10. Shrewsbury Castle
Immerse yourself in the rich history of Shrewsbury and visit the famous Shrewsbury Castle. This striking red sandstone castle set in beautiful countryside is a historic gem. Dating back to the 1070s, the castle culminates in the Great Hall, which now houses the Shropshire Regimental Museum. Enjoy panoramic views of the city from Laura Tower. A stone's throw away is Shrewsbury Library, a picturesque building that originally served as Shrewsbury School. An intimate connection with the past and vivid architectural insights await you at these sites!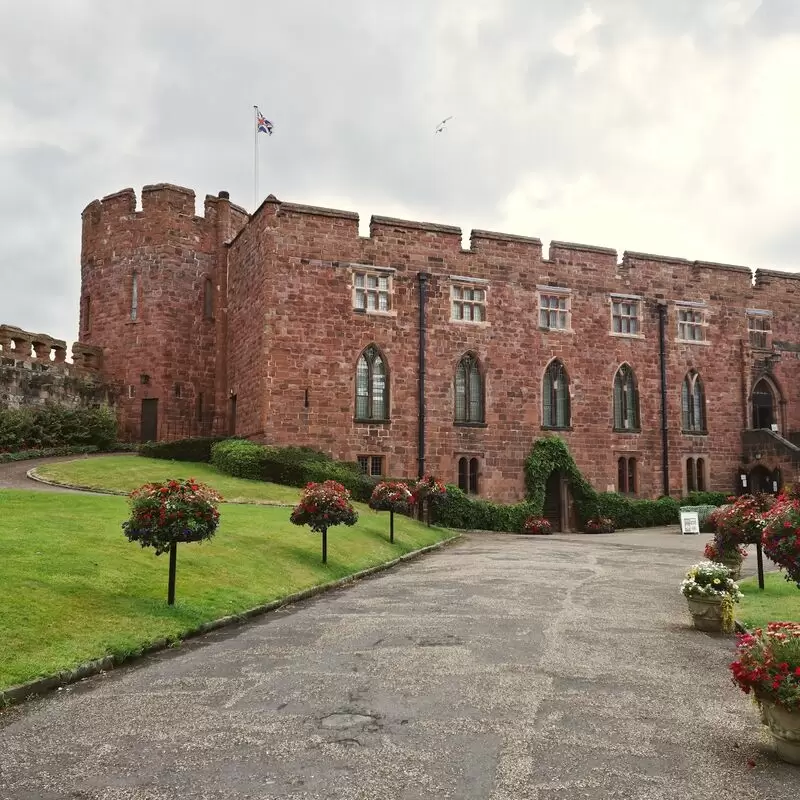 Shrewsbury Castle
Castle Street, Shrewsbury
Monday - Saturday: 10:30 AM – 5:00 PM
Thursday: Closed
Sunday: 10:30 AM – 4:00 PM
11. The Dingle
Immerse yourself in the vibrancy of "The Dingle," a charming sunken garden in Shrewsbury's popular Quarry Park. Stunning, colorful flowers, tranquil water features and perfect picnic spots make it a paradise for nature lovers and tranquility seekers alike. Don't miss the beautiful statue of Sabrina, the goddess of the River Severn. Pro tip: Visit in the early morning to listen to the heartwarming chorus of local birds. Just a stone's throw away is Porthill Bridge, a picturesque suspension bridge with breathtaking views of the river.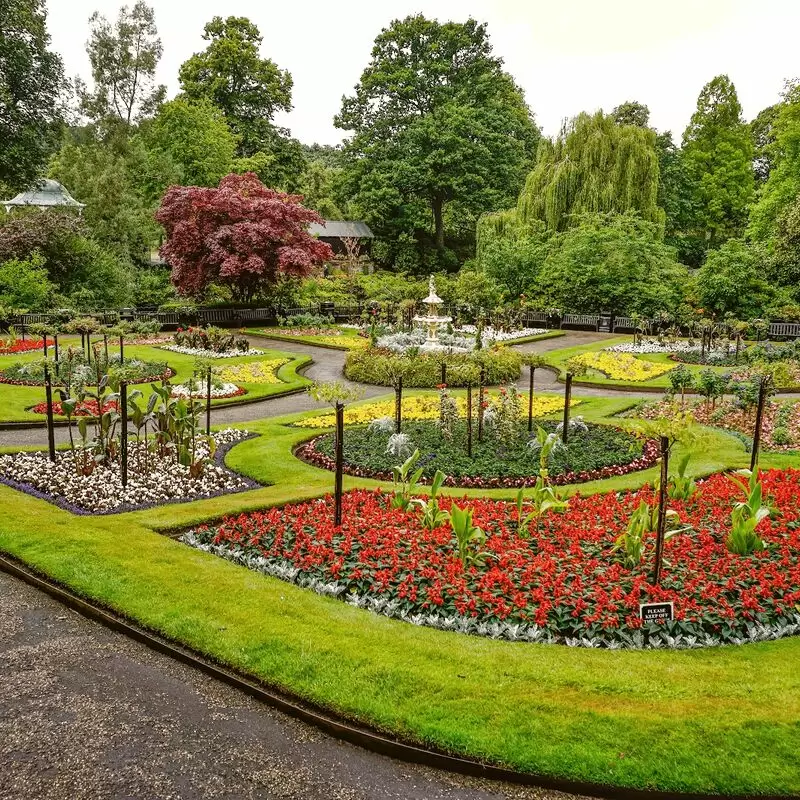 The Dingle
The Quarry, Shrewsbury SY1 1RN
Monday - Sunday: 8:30 AM – 5:30 PM
12. Shrewsbury Museum & Art Gallery
A visit to Shrewsbury Museum & Art Gallery is like a trip back in time. With an extensive collection of Roman artifacts and insightful displays on Shropshire history, culture and art, you can satisfy your historical fascination. The Shropshire Gallery, which displays artwork inspired by the surrounding landscapes, is also a feast for art lovers. The gallery is housed in a former Music Hall, which adds to its charm. Nearby is Shrewsbury Castle, another historic gem just a five-minute walk away.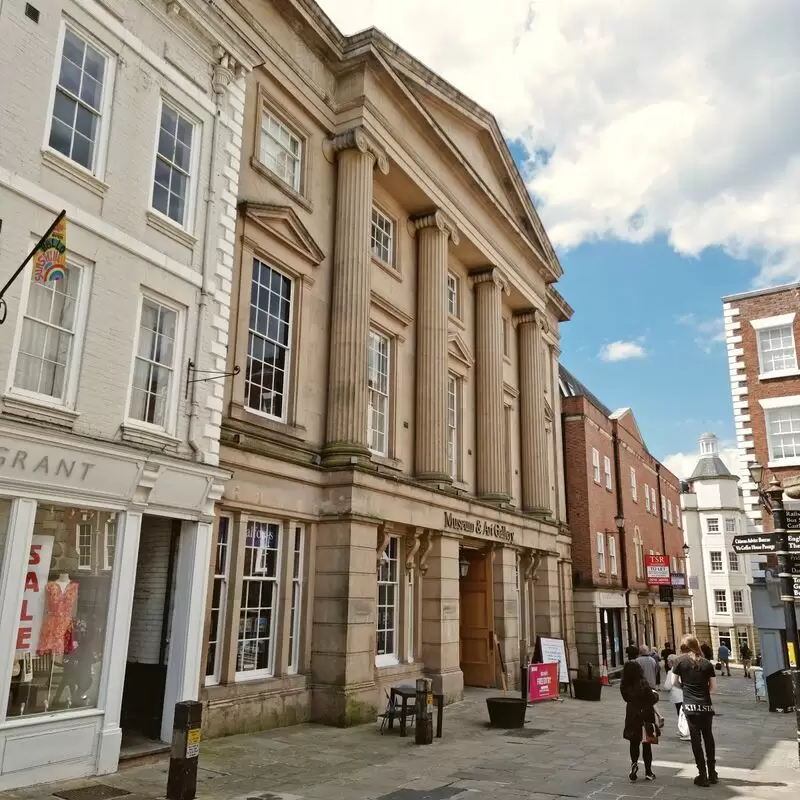 Shrewsbury Museum & Art Gallery
The Square, Shrewsbury
Monday - Saturday: 10:00 AM – 4:00 PM
Sunday: 11:00 AM – 4:00 PM
13. Shropshire Falconry Ltd
Unleash your wild side at Shropshire Falconry Ltd. Here you can not only watch, but also participate: imagine feeling the weight of a magnificent bird of prey on your arm! Popular with locals and visitors alike, the center offers first-hand experience in a safe and friendly environment. Just a stone's throw away are the picturesque Shropshire Hills, perfect for a leisurely stroll - but nothing beats the thrill of a flying display at the falconry. A hidden gem in Shrewsbury not to be missed!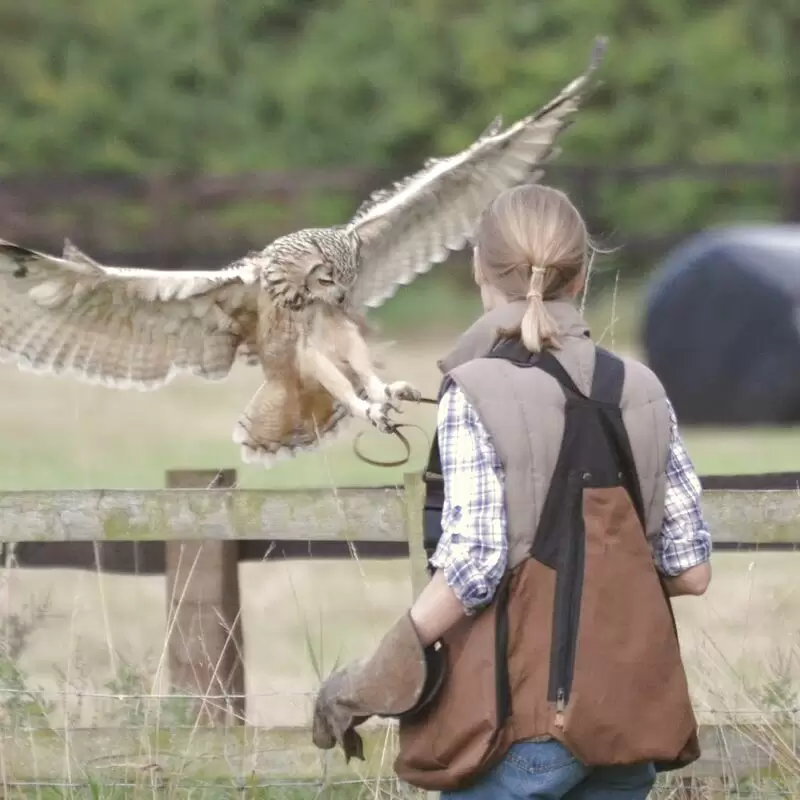 Shropshire Falconry Ltd
Holly Bank Foxholes, Wem, Paddolgreen, Shrewsbury
Monday: Closed
Tuesday - Sunday: 9:00 AM – 5:00 PM
14. Shrewsbury Abbey
Immerse yourself in the city's rich history at Shrewsbury Abbey, a magnificent 11th-century red-stone monument. As you explore the graceful architecture and magnificent stained glass windows, take a moment to admire the harmonious clash of Norman and Gothic architectural styles. Don't forget to keep your eyes peeled for hidden historical treasures like the carved wooden mice by famed furniture maker Robert Thompson. Just a stone's throw away is the charming Quarry Park, which invites you to take a stroll along the River Severn.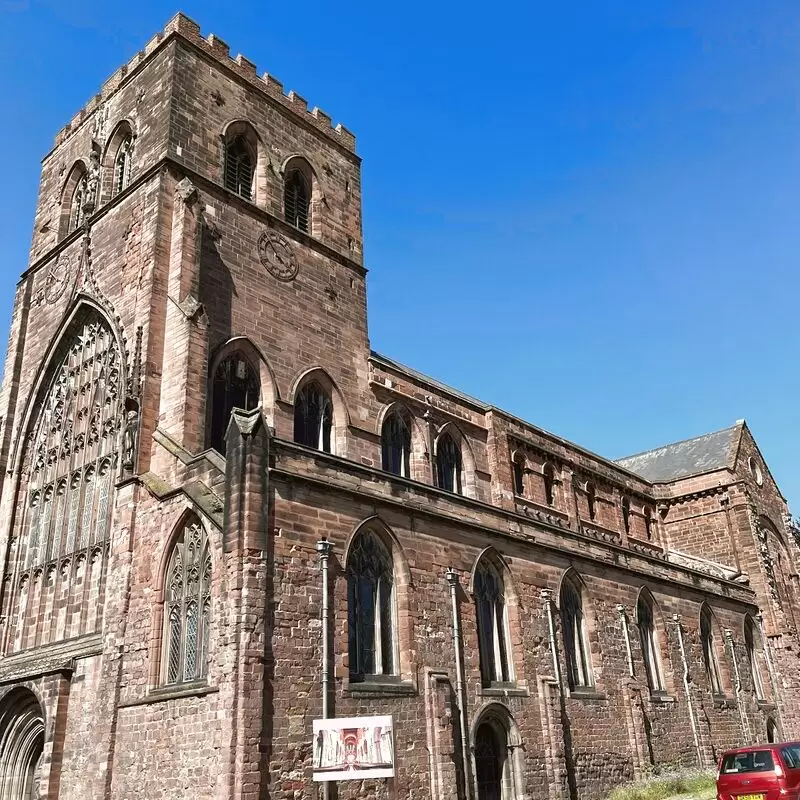 Shrewsbury Abbey
25 Abbey Foregate, Shrewsbury
Monday - Saturday: 10:00 AM – 4:00 PM
Sunday: Closed
15. Saint Chad's Church
Immerse yourself in historic splendor during a visit to Saint Chad's Church in Shrewsbury! Marvel at the famous round nave, rare in the UK. Marvel at the impressive organ loft and one of the finest playable organs in England. Look out for the monument dedicated to Charles Darwin and enjoy the tranquility of the beautiful garden for a moment of reflection. Just a short walk away, you'll find the charming Quarry Park as the next stop on your tour.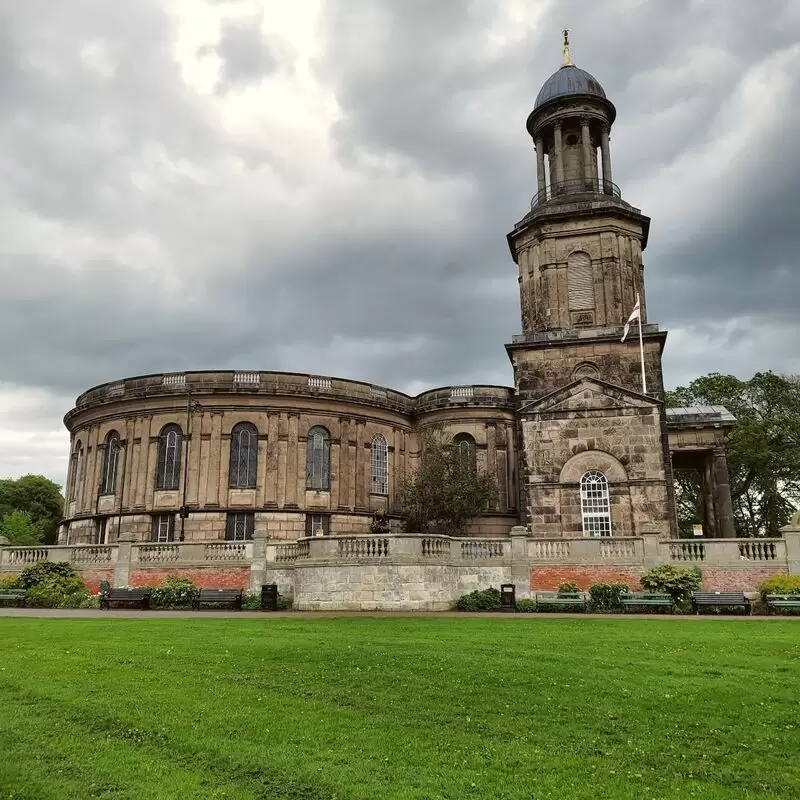 Saint Chad's Church
1 Saint Chad's Terrace, Shrewsbury
Monday - Saturday: 8:00 AM – 4:00 PM
Sunday: Closed
16. Home Farm Attingham
Head to the beautiful grounds of Home Farm Attingham, a historic site in Shrewsbury. Explore the historic architecture and verdant gardens that hide a fascinating agricultural history. Enjoy traditional farming techniques and interactive exhibits - a treat for kids and adults alike. Don't miss the tractor ride, a favorite among locals! Nearby is Attingham Park, a stately estate with stunning scenery and abundant wildlife, perfect for an afternoon stroll.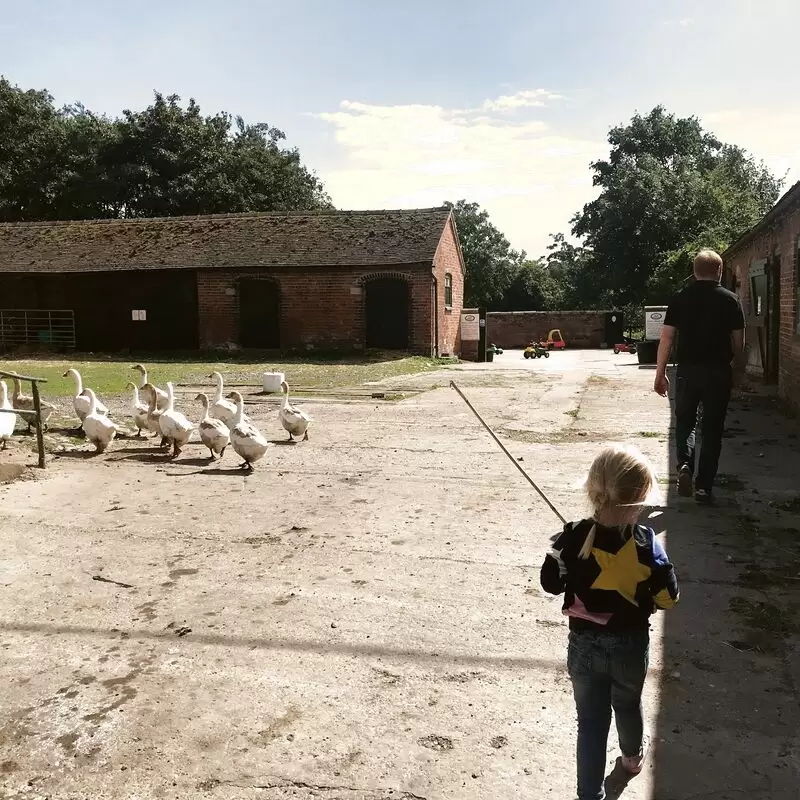 Home Farm Attingham
Shrewsbury
Monday - Sunday: 10:00 AM – 5:00 PM
17. Battlefield Bird of Prey Centre formerly Battlefield Falconry Centre
The Battlefield Bird of Prey Centre delights visitors with a variety of hawks, falcons and owls. Here you will have the opportunity to observe them up close and learn fascinating facts about these magnificent animals. The center is located in the heart of historic Shrewsbury and offers you the opportunity to experience nature amidst the old battlefields. The nearby 1745 House at Battlefield offers historical insights into the fierce Battle of Shrewsbury. It guarantees an unforgettable experience where history and nature are interwoven.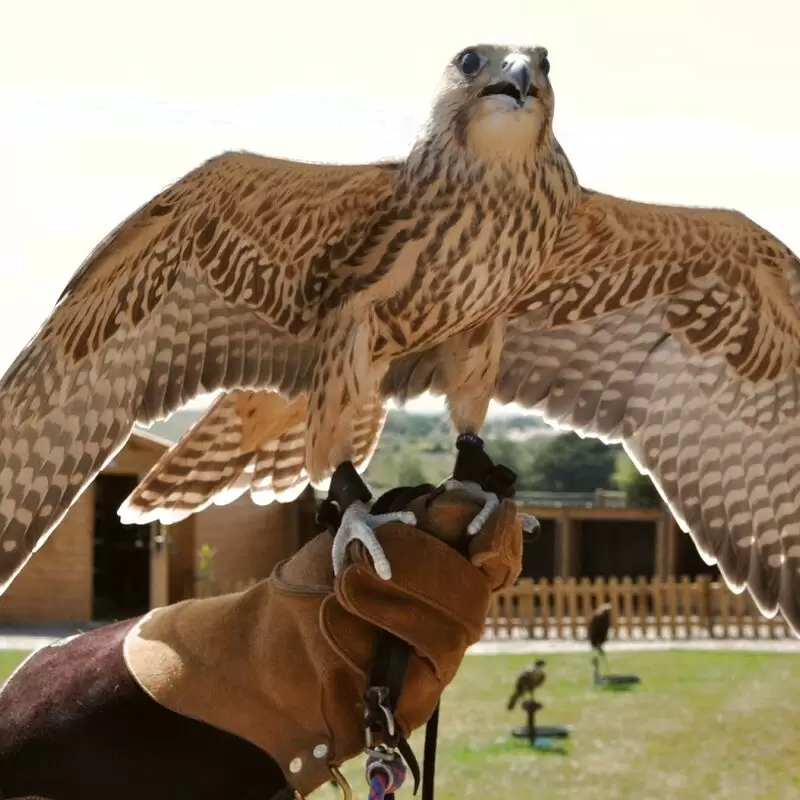 Battlefield Bird of Prey Centre formerly Battlefield Falconry Centre
Battlefield 1403, Shrewsbury
Monday - Tuesday: Closed
Wednesday - Friday: 11:00 AM – 2:00 PM
Saturday - Sunday: 10:30 AM – 2:30 PM
Best Time to Visit Shrewsbury
The best time to visit Shrewsbury, United Kingdom, is from late spring to early fall (May to September). During these months, the weather is usually mild and pleasant, and various events and festivals such as the Shrewsbury Flower Show (in August) take place, providing an enriching cultural experience.
Annual Weather in Shrewsbury
Shrewsbury 3-Day Forecast
Thu, 21 September
Night
49 °F
9 °C
0%
Morning
46 °F
8 °C
0%
Afternoon
60 °F
15 °C
75%
Evening
53 °F
12 °C
87%
Fri, 22 September
Night
46 °F
8 °C
0%
Morning
46 °F
8 °C
0%
Afternoon
57 °F
14 °C
80%
Evening
52 °F
11 °C
89%
Sat, 23 September
Night
50 °F
10 °C
71%
Morning
47 °F
8 °C
0%
Afternoon
57 °F
14 °C
0%
Evening
51 °F
11 °C
0%
Questions & Answers

What is the local cuisine like in Shrewsbury?

The local cuisine of Shrewsbury has a distinct British influence and is famous for traditional dishes such as the Shropshire Fidget Pie, a hearty, savory dish made with gammon, potatoes and apples. Also famous is the Shrewsbury Biscuit, a classic English dessert that is buttery and sweet. Local pubs often serve Shrewsbury gravy, a unique blend of fruits and spices that accompanies the roast. The rural influence is strong, and locally made cheeses, ciders and beers are very popular.

Are there any notable historical sites in the city?

In Shrewsbury you will find a variety of historical sites. Shrewsbury Castle, with its impressive architecture, houses the Shropshire Regimental Museum. Nearby Shrewsbury Abbey, a former Benedictine monastery, houses remains from the Middle Ages. The Quarry, also known as The Dingle, is a famous park that is frequently used for events and overlooks the River Severn. In addition, the Tudor-style Shrewsbury Museum and Art Gallery houses fascinating historical artifacts.

Can you tell me about the River Severn?

The River Severn is the longest river in the United Kingdom. It rises in the Welsh mountains, crosses the border into England and meanders through beautiful landscapes. In particular, it flows through Shrewsbury, a charming historic town, and forms one of its main landmarks. The river offers a range of cultural and recreational activities including boating, fishing and scenic walks along its banks. Its waters are also home to diverse wildlife, making it an important ecological asset. A visit to Shrewsbury would not be complete without exploring the River Severn.

How can I get around the city?

Shrewsbury is a compact and manageable town that is easy to explore on foot. For longer distances, buses run regularly from Shrewsbury bus station to various parts of the town and surrounding area. There is also a train station for connections to other cities. If you prefer a more private form of travel, cabs and rental cars are available. Cycling is also a popular mode of transportation, and there are numerous bike rentals in the area.

Is Shrewsbury a walkable city?

Shrewsbury is definitely a town that is easy to walk around. Its compact size combined with a variety of pedestrian paths and footbridges over the River Severn make it pleasant to explore on foot. The city center features a medieval streetscape with picturesque cobblestone streets and alleys. Notable landmarks such as Shrewsbury Castle, Shrewsbury Abbey and The Quarry Park are all within easy walking distance.

What currency is used in Shrewsbury?

The currency used in Shrewsbury, United Kingdom, is the British pound sterling, often referred to simply as the pound. It is the official currency of the United Kingdom. Banknotes come in denominations of £5, £10, £20 and £50, while coins are available in 1p, 2p, 5p, 10p, 20p, 50p, £1 and £2. ATMs are widely available at banks, supermarkets and in the city center for cash withdrawals.

What is the most famous local dish?

Among the local dishes in Shrewsbury, United Kingdom, the Shropshire Blue Cheese is the most famous. It is a semi-hard blue cheese, usually made from pasteurized cow's milk, with a rich and strong flavor that balances the blue veins and creamy texture. The cheese has an exquisite, slightly spicy and tangy aftertaste that is highly appreciated by gourmets. It is often used in local cuisine, making it an integral part of Shrewsbury's gastronomic identity.

How safe is Shrewsbury for travelers?

Shrewsbury is generally quite safe for travelers. As with any destination, it is advisable to be vigilant, especially in busy areas and at night. The crime rate is low compared to larger British cities. Local police are prudent and public services are reliable. As a result, tourists can usually explore the city's sights without worry. However, remember to take the usual precautions regarding personal belongings and travel documents.

Can you tell me about Shrewsbury's wildlife?

Shrewsbury is rich in wildlife and offers a beautiful mix of rural and aquatic habitats. The town is home to the headquarters of the Shropshire Wildlife Trust, which works to protect local species. The River Severn, which runs through Shrewsbury, provides habitat for water voles, otters, and a variety of bird species. The surrounding rolling countryside is home to many common and rare species such as hedgehogs, badgers and songbirds, which thrive in meadows, hedgerows and woodland.

What local customs should I be aware of?

In Shrewsbury, residents are proud of their local customs, which highlight the town's rich history and culture. Many stores and businesses keep traditional hours of 9 a.m. to 5 p.m., with shorter hours on Sundays. Always greet people with a polite "hello." The Shrewsbury Flower Show in August is a key event in the community. The British value personal space, so avoid standing too close in public places. In local pubs, it is customary to raise a glass and say "cheers" before drinking. Always thank your hosts before you leave.

Are there any cultural festivals I should know about?

Yes, several cultural festivals are held in Shrewsbury. The Shrewsbury Folk Festival is an iconic event that showcases traditional folk music and dance. Another important event is the Shropshire Oktoberfest, a beer festival with a selection of beers, wines and ciders. Shrewsbury is also home to the Shrewsbury International Cartoon Festival, which showcases some of the best cartoons and comic strips from around the world. Check local calendars for exact times and dates of these events.

Any famous residents from Shrewsbury's history?

One of Shrewsbury's most notable historical figures is Charles Darwin, the preeminent naturalist and biologist who proposed the theory of evolution. His work included groundbreaking discoveries about species and their adaptation through natural selection. Shrewsbury is also the birthplace of Mary Webb, a popular novelist and poet who set many of her works in the beautiful Shropshire countryside, giving readers an intimate glimpse into English country life.

What is the architecture style of Shrewsbury?

Shrewsbury is known for its impressive, well-preserved medieval architecture that runs through the winding streets and squares. There is a mix of Tudor-style half-timbered houses and Georgian buildings. The majestic Shrewsbury Castle and Abbey are excellent examples of Norman architecture. Shrewsbury town center is a mix of architectural styles: Elizabethan, Victorian, and modern buildings, all of which contribute a unique charm to the overall aesthetic of the town.

What is the city's history?

Shrewsbury, a historic market town in the United Kingdom, is deeply rooted in medieval history. It was founded by the Saxons and has always been an important trading center due to its location on the River Severn. It is famous for its black and white wooden houses, the famous Shrewsbury Abbey and the birthplace of Charles Darwin. The town boasts a distinct feudal past and has the only medieval covered market in England. Modern Shrewsbury beautifully combines its rich history with contemporary attributes.

Can I drink the tap water?

Yes, the tap water in Shrewsbury, United Kingdom is absolutely safe to drink. The water quality is controlled by the Drinking Water Inspectorate to high standards. It frequently undergoes rigorous testing to ensure its safety. Moreover, tap water in the United Kingdom is among the best in the world. However, if you have never traveled to appropriate geographical areas, changes in water composition can affect your digestion, so bottled water is a good alternative.

What's Shrewsbury's regional specialty?

Shrewsbury, the birthplace of Charles Darwin, is famous for its unique Shropshire Blue cheese. It is a semi-hard cheese with a rich and tangy flavor that is delicately blue-veined and has a deep orange-brown rind. The town is also known for "Shrewsbury Cakes" or "Shrewsbury Biscuits," traditional treats that are crisp and sweet with a subtle hint of lemon. With an abundance of local confectioners in town, Shrewsbury is a culinary delight for any visitor.

Are there any notable parks or gardens in the city?

Yes, there are several beautiful parks and gardens in Shrewsbury. A popular place is The Quarry with its 29 acres of parkland and the magnificent Dingle Flower Garden. Another interesting place is the Town Walls Tower Garden, which offers a magnificent view of the town. Reabrook Valley Nature Reserve also offers peaceful walks and abundant wildlife. If you're interested in historic sites, check out Hawkstone Park and Follies, a Grade I English Heritage listed landscape.

Where can I get additional information on the city?

More detailed information about Shrewsbury can be found on the official tourism website Visit Shrewsbury. The town's historic sites, such as Shrewsbury Castle and Shrewsbury Abbey, museums, as well as modern attractions and festivals are described there in detail. Reviews from travelers can be found on Tripadvisor. In addition, the local library and town council offer resources and maps. It is also worth contacting the Shrewsbury Visitor Information Centre for personal advice.

How prevalent is the Welsh language?

Although Shrewsbury is located near the border between England and Wales, the town is quintessentially English and the Welsh language is not widely spoken here. Some residents and visitors from nearby Wales may occasionally converse in Welsh, but day-to-day communication is predominantly in English. There may be a few signs or menus in Welsh, reflecting the town's proximity to Wales, but this is the exception rather than the rule.

Is Shrewsbury recognized for any unique arts or crafts?

Shrewsbury is particularly known for supporting and promoting individual artists and craftspeople. The town has a thriving arts scene with a variety of galleries and artists' studios. Shrewsbury hosts an annual event called Open Studios, where local artists and craftspeople open their studios to the public. The town is also known for Quarry Park Dingle, a beautifully landscaped garden filled with flowers and sculptures that symbolizes the town's commitment to aesthetics and artistry.

What is the population of Shrewsbury?

Shrewsbury, the beautiful county town of Shropshire in England, is home to about 72,000 people. It is a thriving area that combines deep historical significance with the charm of modernity. This vibrant city is home to a diverse community that offers a unique blend of lifestyles and cultures, making it an interesting place to live, work and visit. The population figure provides only a small glimpse into the heart of this dynamic city.

Is there a local market in the city?

Yes, Shrewsbury has a lively indoor market in the city center, the Shrewsbury Market Hall. The market is a bustling place with numerous stalls offering a wide range of products and services. Here you will find fresh local produce, artisan foods, crafts, antiques and a variety of international cuisines. The distinctive atmosphere, friendly vendors and unique finds make the market a must-see for tourists and locals alike.

What is unique about Shrewsbury?

Shrewsbury, a historic English market town, is famous for its unique collection of over 660 listed buildings and its elegant streetscape. As the birthplace of evolutionary scientist Charles Darwin, the town offers unique educational opportunities with its Darwin Trail. Situated in a loop of the majestic River Severn, Shrewsbury boasts Britain's oldest "dingle", a beautiful sunken garden and the distinctive round Shrewsbury Castle, and is known for its distinctive Tudor architecture, making Shrewsbury a unique and attractive destination.

Does Shrewsbury have a nightlife?

Shrewsbury, located in the heart of England, has a vibrant nightlife that appeals to a wide range of tastes. The town is known for its eclectic mix of traditional English pubs, sophisticated wine bars, and modern clubs that often feature live music. The Theatre Severn regularly hosts concerts, plays, comedy and dance events that add to the entertainment offerings. Whether you're looking for a quiet drink or a night of fun and dancing, Shrewsbury's nightlife has plenty to offer.

Any recommended bookstores or libraries?

Pengwern Books is a charming independent bookstore in the heart of Shrewsbury. Its extensive selection caters to all types of readers. If you're looking for a quiet place to read, visit Shrewsbury Library, an architectural gem that offers an extensive book collection and a tranquil setting. It is not just a library, but an integral part of Shrewsbury's historic landscape and is located in a former school building. Both locations offer locals and visitors a unique, literary experience.

Feedback

I hope you found this article informative and helpful. I'm eager to improve the content and make it even more valuable for you. If you have any feedback or suggestions, I would love to hear from you.

Do you have any tips or hidden gems that you think should be added to the list? Are there any areas that you feel could use more explanation or clarification?

Your input is greatly appreciated and will help us to continue providing high-quality content that meets your needs and interests. Please feel free to share your thoughts.