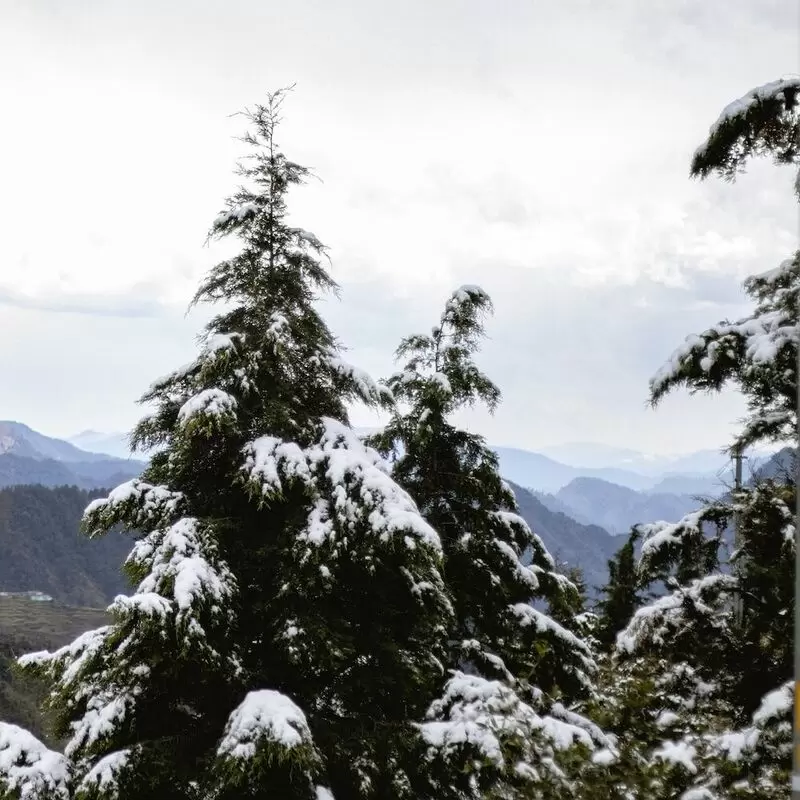 1. Surkanda devi temple
A trip to Dhanaulti is incomplete without a visit to the wonderful Surkanda Devi Temple. Set amidst dense forests and at an impressive altitude of 2510 meters, it offers a spectacular 360-degree view of the snow-capped Himalayas. Pilgrims also flock here during the Ganga Dusshera festival. The temple is famous in the region for wish fulfillment. Just 8 km away, you can explore the tranquil Eco Park, known for its lush greenery and exotic birdlife. Enrich your trip with deep spirituality and breathtaking panoramas!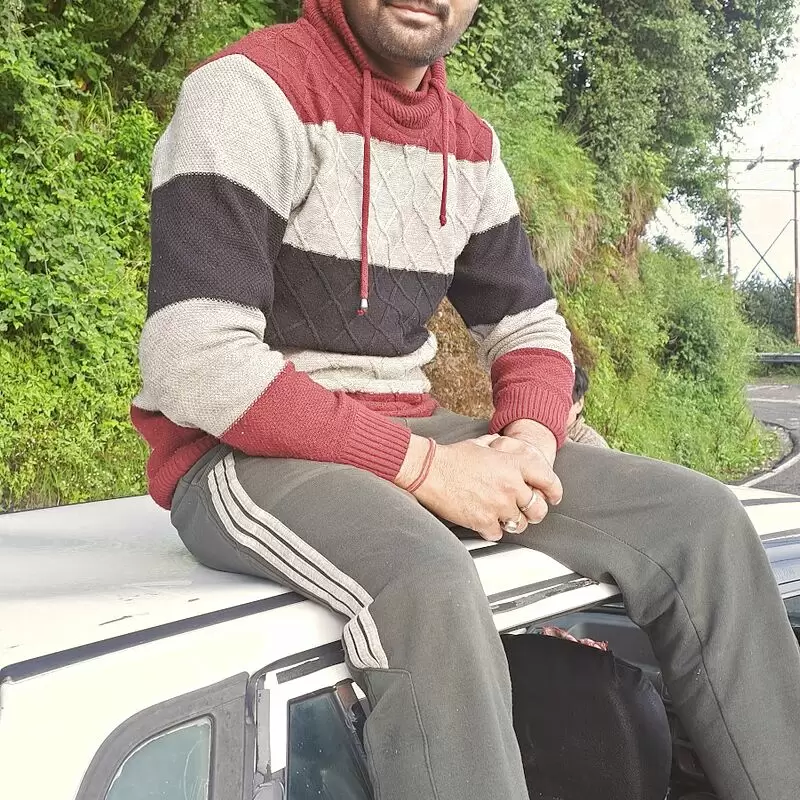 Surkanda devi temple
Kaddukhal surkanda hike start, Chamba, Saklana Range
Monday - Sunday: 5:08 AM – 10:09 PM
2. Lal Tibba Scenic Point
Indulge your senses with the magnificent charm of Lal Tibba Scenic Point in Dhanaulti. Being the highest peak in Mussoorie, it offers a breathtaking view of the Himalayas, the peaks of Kedarnath and Badrinath. View the panorama through a telescope, a unique feature not available anywhere else. Sip locally grown coffee while the British-era architecture gives off a nostalgic vibe. Just 40 minutes away is the Surkanda Devi Temple, another must-see that offers a spiritual high with breathtaking views of the Garhwal Himalayas.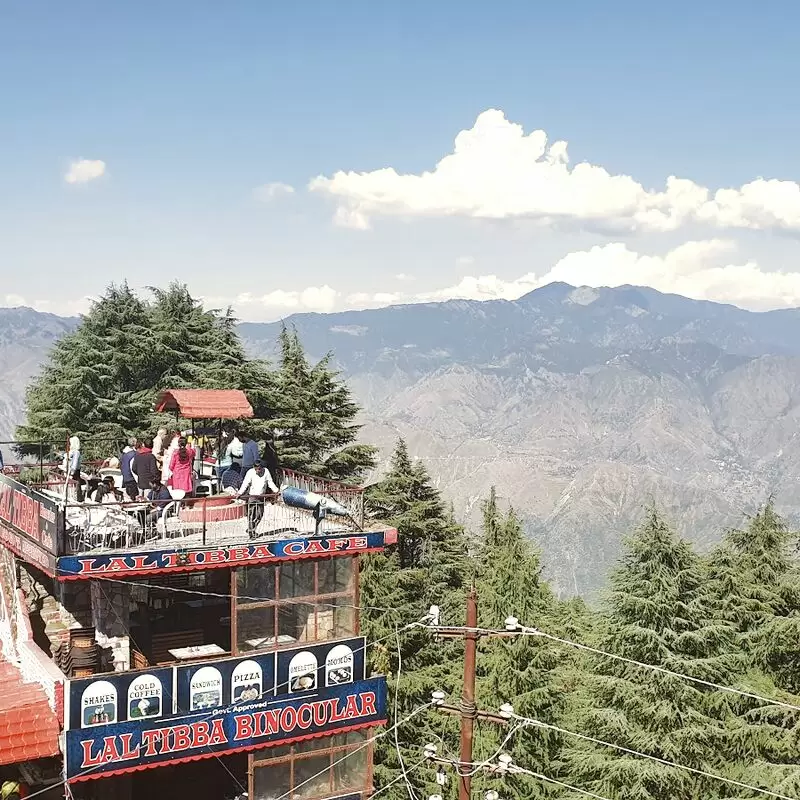 Lal Tibba Scenic Point
Lal Tibba Binoculars bazar, Road, Naya Mohalla, Landour, Mussoorie, Mussorie Range
Monday - Thursday: 7:30 AM – 7:00 PM
Friday - Saturday: 7:30 AM – 8:00 PM
Sunday: 7:00 AM – 8:00 PM
3. Tehri Dam
The Tehri Dam, an engineering marvel in Dhanaulti, is the tallest dam in India and one of the tallest in the world. Apart from the impressive structure itself, the dam forms a stunning lake with azure emerald waters. It's a must-see, especially for the stunning sunsets that silhouette the dam! Popular activities here include boating and jet skiing. Nearby Lake Tehri and the Kempty Waterfalls are also breathtaking and promise an eventful day.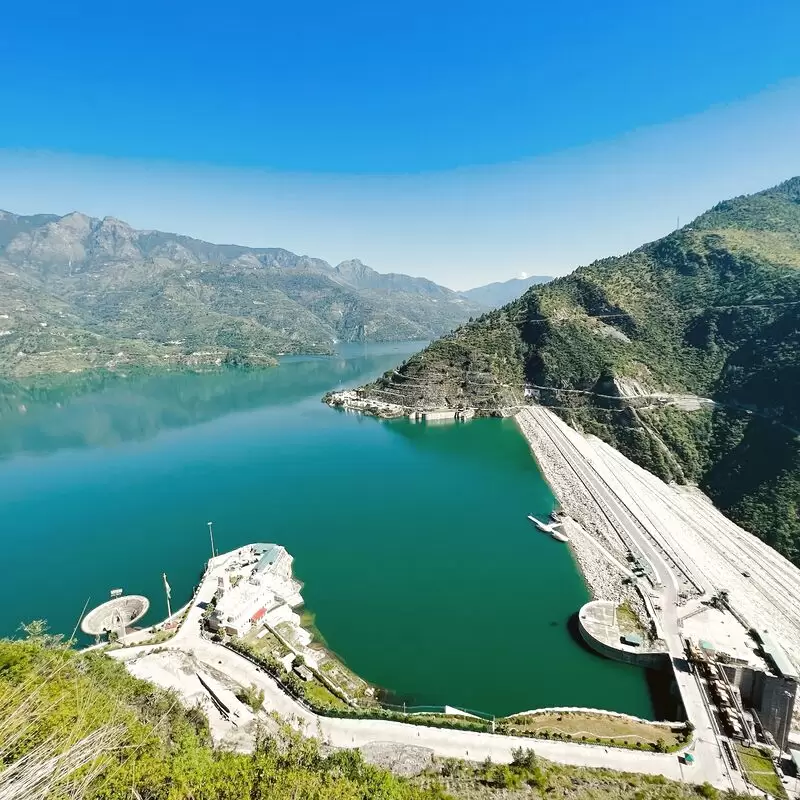 Tehri Dam
Tehri Dam, Chokhala
Monday - Sunday: Open 24 hours
4. Gun Hill
Gun Hill in Dhanaulti is the place to be for those who love high altitude thrills. It is the second highest peak and offers an exhilarating panoramic view of the misty Himalayan range and the Doon Valley. Especially worth mentioning is the cable car ride, where you can get a bird's eye view of the picturesque landscapes. Nearby, just a short walk away, is the popular Camel's Back Road, perfect for a leisurely stroll amidst unspoiled nature.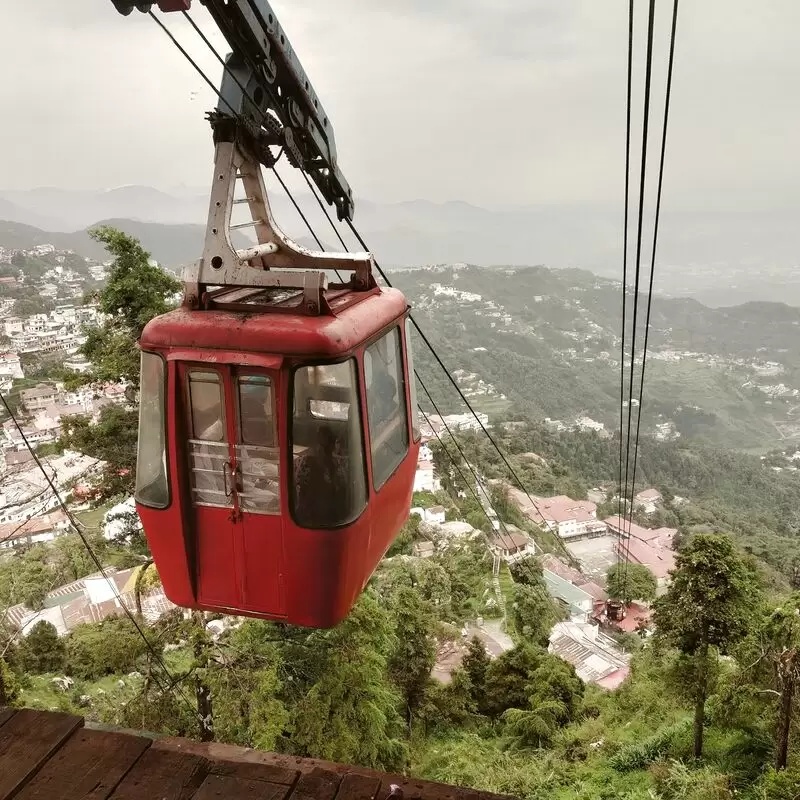 Gun Hill
F35F+PPC, The Mall Road, Mussoorie
Monday - Sunday: 10:00 AM – 6:00 PM
5. Dalai Hills
Dalai Hills in Dhanaulti is located in the seductive lap of the Himalayas and offers panoramic views that you have not seen before. They are easily reached via a 400m trek enveloped in local folklore - an experience in itself. Known for its bright rhododendrons, deodar trees and invigorating air, it is a place where serenity and nature come together. Don't forget to spot the Tibetan prayer flags fluttering amidst the rushing breeze. Nearby, you can visit the ancient Mahasu Devta Temple, a treasure of local spiritual beliefs.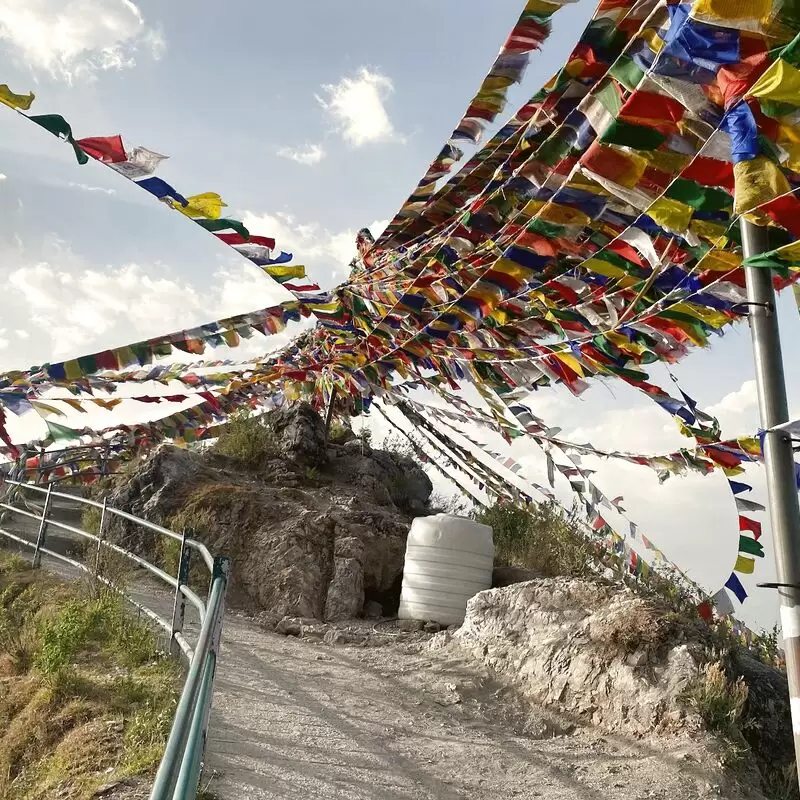 Dalai Hills
Dalahill, Charleville, Mussoorie, Mussorie Range
Monday - Sunday: Open 24 hours
6. Eco Park
The crown jewel of Dhanaulti is the eco-park, which offers exceptional views of the nearby Himalayan mountains. Its two sections, Amber and Dhara, are named after the "Deodar" tree or "divine tree" in Sanskrit. Visitors can plant their own tree for a small fee, a unique activity that is very rewarding. The Skywalk, a suspension bridge, offers exciting walks amidst the treetops. Just a short hike away is the picturesque Surkanda Devi Temple, where you can enjoy a panoramic view that will be etched in your memory forever. Enjoy the tranquility!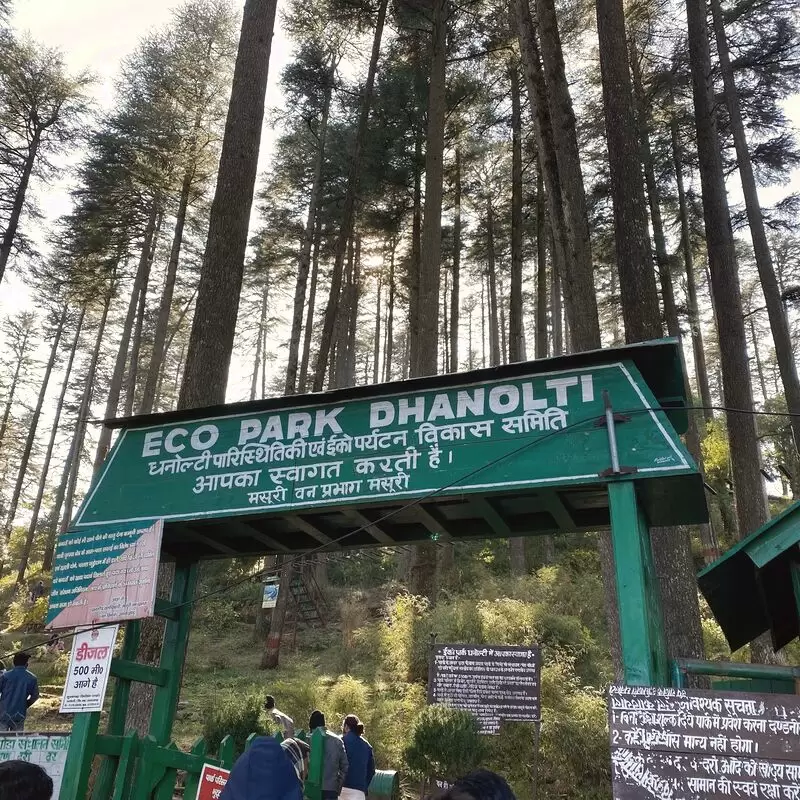 Eco Park
Chamba - Mussoorie Rd, Dhanolti
Monday - Sunday: 8:00 AM – 6:30 PM
7. Santura Devi Temple Nautha
A visit to the Santura Devi temple of Nautha is a divine experience amidst the lush tranquility of Dhanaulti. This sacred temple, which hosts a lively mela during the Navratras, embodies spirituality and faith. Admire the panoramic view of the picturesque Himalayan mountain range that this hilltop shrine offers! Don't miss visiting the nearby Barehipani and Joranda waterfalls and the Deogarh Fort, which add historical and natural aspects to your trip.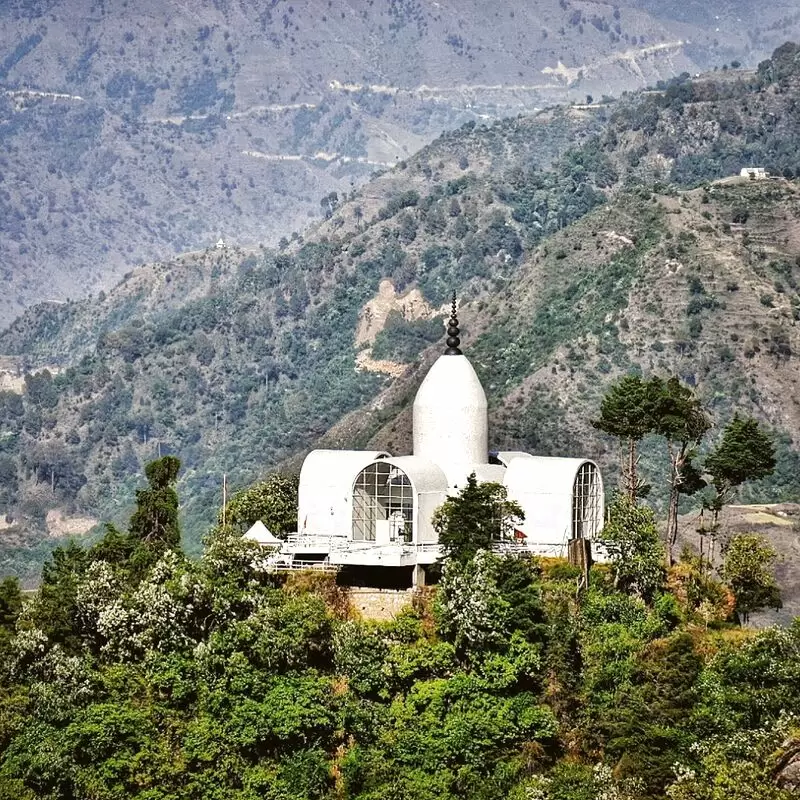 Santura Devi Temple Nautha
F3J3+974, Charleville, Nautha
Monday - Sunday: Open 24 hours
8. Burans Khanda
Discover the soul-soothing beauty of Burans Khanda in Dhanaulti, a well-kept secret amidst the enchanting green hills of Uttarakhand. Immerse yourself in a perfect harmony that only nature can provide. This unexplored delight is home to innumerable Burans trees, which bloom gloriously red in the spring and contrast beautifully with the verdant backdrop. Very close to this tranquil place is the Aloo Khet, a potato farm that offers an exceptional view of the sunrise and is also worth a visit.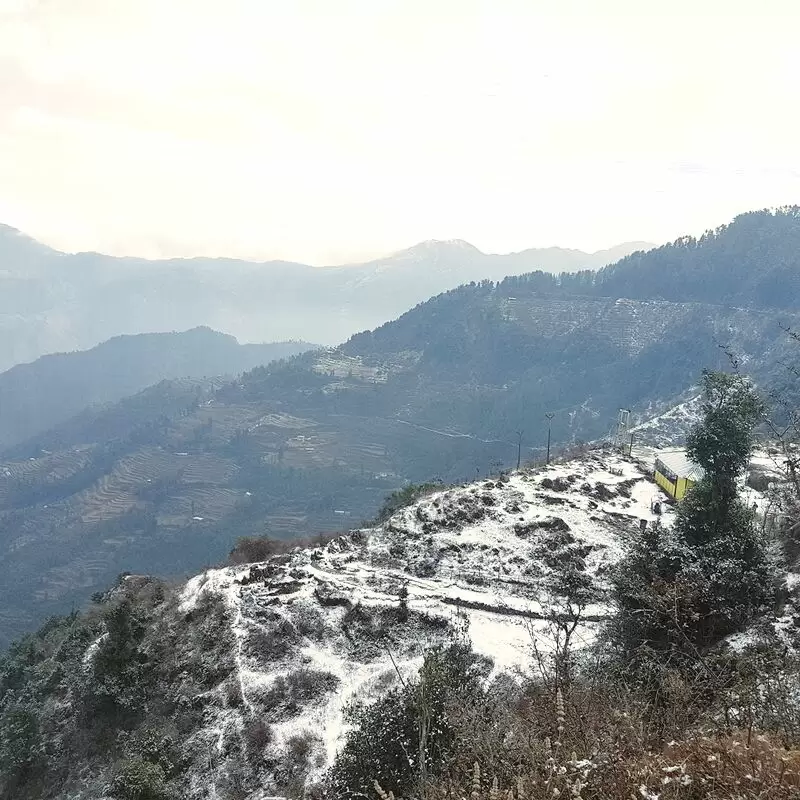 Burans Khanda
C6V3+W55, Kempty Range
Monday - Sunday: Open 24 hours
9. Glamwood Resort Dhanaulti Dhanaulti Hotels

Glamwood Resort Dhanaulti is a true gem set amidst the tranquil landscape of Dhanaulti. It offers mesmerizing panoramic views, impeccable service and opulent accommodations complemented by modern facilities. Those who want to enjoy a luxurious, eco-friendly stay in vintage-style lodges should not miss this resort. The tranquil atmosphere makes it a perfect place to escape the hustle and bustle of city life.

An insider tip: ask for rooms with direct mountain views! Nearby, you can explore the Eco Park, just 1.5 km away, which offers a beautiful green space and fun activities.

Glamwood Resort Dhanaulti Dhanaulti Hotels
Chamba - Mussoorie Rd, near ECO Park, Dhanolti, Kempty Range

Monday - Sunday: Open 24 hours
10. Jabarkhet Nature Reserve Mussorie
Visit the enchanting Jabarkhet Nature Reserve in Dhanaulti and be fascinated by this Himalayan biodiversity hotspot. Covering an area of 100 hectares, flora and fauna await you and you will have a chance to spot leopards, Himalayan black bears and numerous bird species! It is a paradise for nature photographers, and children can participate in the informative nature walks. Don't miss the spectacular sunset views. Bonus. The Landour Bakehouse, famous for its artisan desserts, is just a few miles away.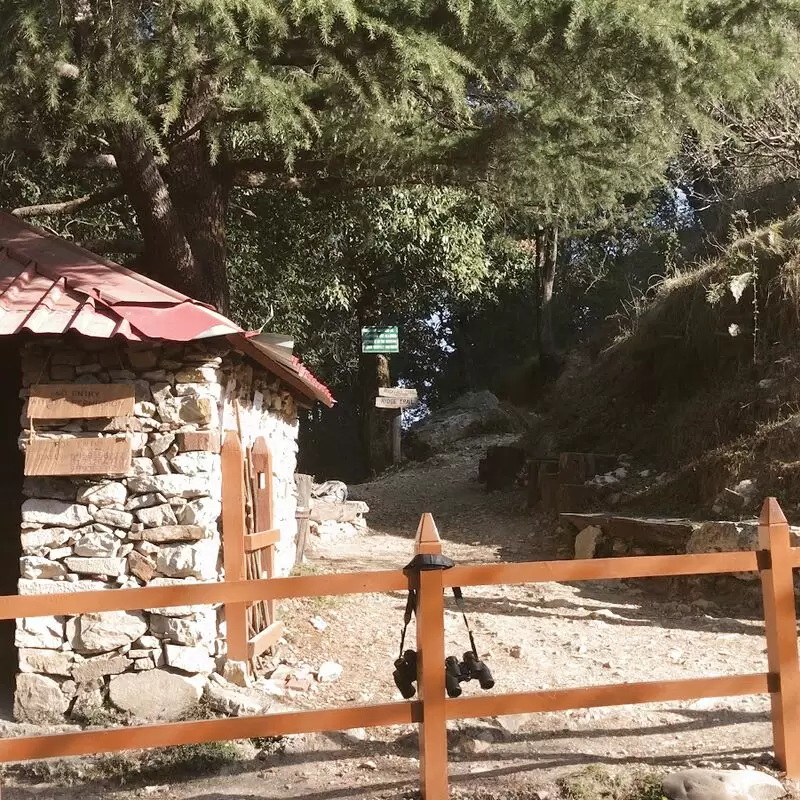 Jabarkhet Nature Reserve Mussorie
Nature Reserve, Jabarkhet, Landour, Mussoorie
Monday - Sunday: 6:30 AM – 6:00 PM
11. ViewToria Resort
Immerse yourself in the tranquility of the mountains at ViewToria Resort, set amidst the stunning flora of Dhanaulti. The magnificent greenery offers nature lovers access to the wilderness, while the breathtaking panoramic views make the resort a photographer's paradise. Each room offers a unique view of Dhanaulti's mesmerizing landscape. Nearby is the Eco Park, another treasure that offers breathtaking views of the Himalayan peaks. This park also rewards the adventurous with a whimsical, family-friendly ziplining experience.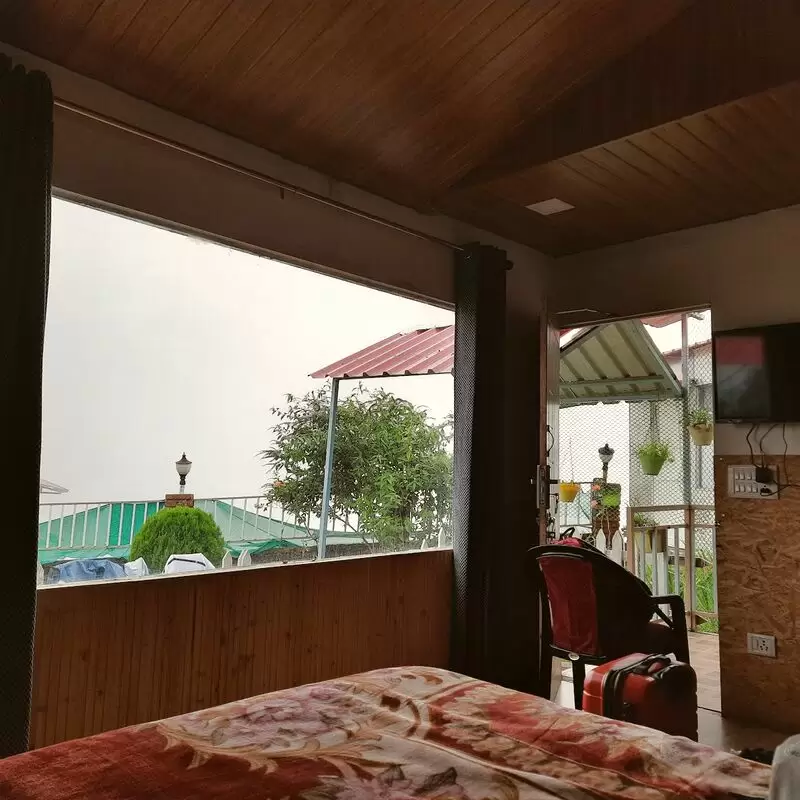 ViewToria Resort
Badwala, Dhanaulti, Dhanolti
Monday - Sunday: Open 24 hours
12. Jharipani Waterfall
Jharipani Waterfall in Dhanaulti is an exquisite natural spectacle not to be missed. It is an intimate and serene place where you can enjoy a picnic amidst pristine beauty. The scenic trekking route is a delight for nature lovers and photography enthusiasts. The subtle sounds of nature have a soothing effect on the soul, and if you're lucky, you can spot the vibrant local wildlife. Nearby, don't miss the divine Tapkeshwar Temple, a sacred Shiva shrine located in a natural cave.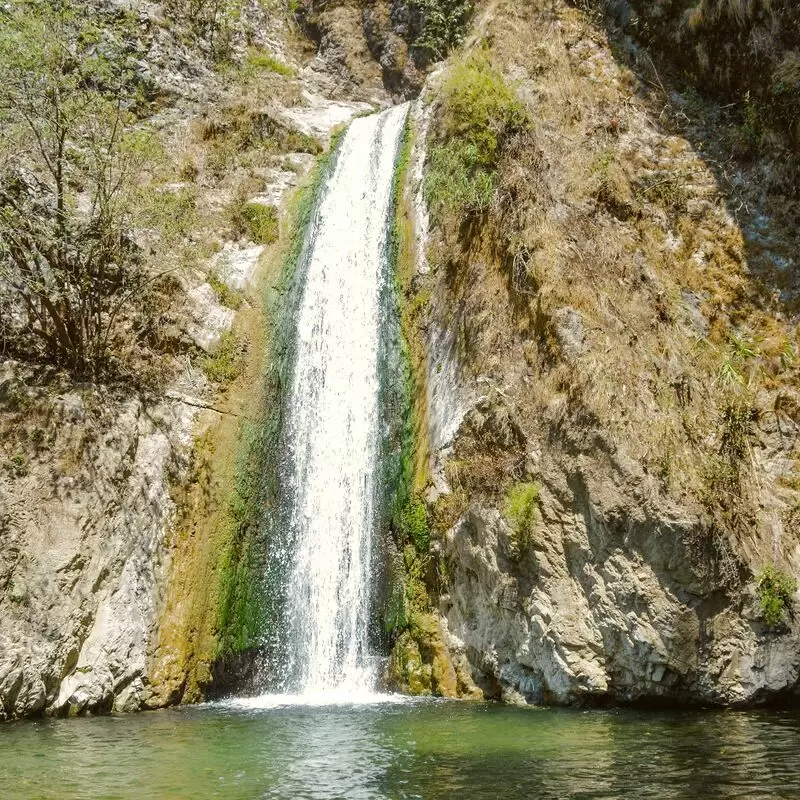 Jharipani Waterfall
C3GV+WFW, Barlow Ganj, Mussoorie, Chamasari
Monday - Sunday: 7:00 AM – 6:00 PM
13. Kaddu Khal Tehri
Discover a hidden gem in Dhanaulti - Kaddu Khal Tehri. With its breathtaking panoramic views of the Himalayan peaks and lush greenery, this hill station will take your breath away. Its serene atmosphere promises solace away from the hustle and bustle of the city. Hike the unbeaten trails adorned with rich flora and fauna - it's a hiker's paradise! Just a stone's throw away is the heavenly Surkanda Devi Temple, known for its breathtaking views at sunrise. This is Dhanaulti at its best!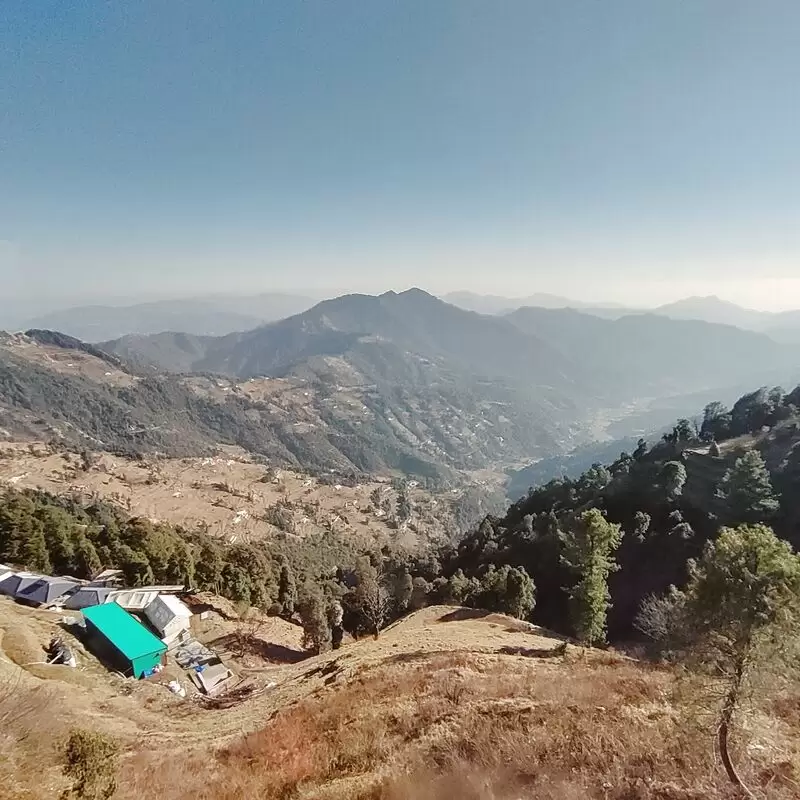 Kaddu Khal Tehri
C74Q+76Q, Chamba - Mussoorie Rd, Saklana Range
Monday - Sunday: Open 24 hours
14. Dhanolti Eco Park Amber

Dhanaulti Eco Park Amber is a paradise for nature lovers. Apart from the serene atmosphere, refreshing air and picturesque landscapes, the park also offers thrilling adventure sports to add to the thrill. This ecotourism project also has a nursery and trekking facilities. Besides, you can't miss the sensational sunrises and sunsets that add an extra touch of magic.

Just a few minutes away are the Surkanda Devi temple and the potato farm, insider tips that few tourists discover. This is Dhanaulti, the heavenly beauty of India.

Dhanolti Eco Park Amber
C6FX+86C, Chamba - Mussoorie Rd, Dhanolti, Kempty Range

Monday - Sunday: 8:00 AM – 6:00 PM
15. HOTEL GROOVE GARDEN Hotel in Dhanualti
Enhance your stay at Dhanaulti by making Hotel Groove Garden your base. The hotel is traditionally furnished and offers modern amenities for a comfortable stay. The panoramic view of the snow-capped mountains and lush green valleys makes the "Groove Garden" a popular destination. The delicious Garhwali cuisine served here is unparalleled. Just a short walk away is the Eco Park, an ecological greenhouse known for its deodar trees and picturesque landscapes. Enjoy the whimsical atmosphere of Dhanaulti to the fullest!
HOTEL GROOVE GARDEN Hotel in Dhanualti
Batwaldhar, Dhanolti, Saklana Range
Monday - Sunday: 9:00 AM – 5:00 PM
Saturday: Open 24 hours
16. ADVENTUREBAAZ Hotel Dhanaulti
A visit to "ADVENTUREBAAZ Hotel Dhanaulti" is a must for adrenaline junkies. It offers exciting adventure sports like ziplining, mountain biking and valley crossings. Enjoy the undisturbed beauty of the surrounding mountain forests coupled with panoramic views of the majestic Himalayas. Cool evenings, cozy campfires, local cuisine and handmade decorations are other highlights. Nearby, explore the eco-park just 2 km away with its numerous deodar trees for a more immersive experience of nature. Enjoy here Dhanaulti in its most original form!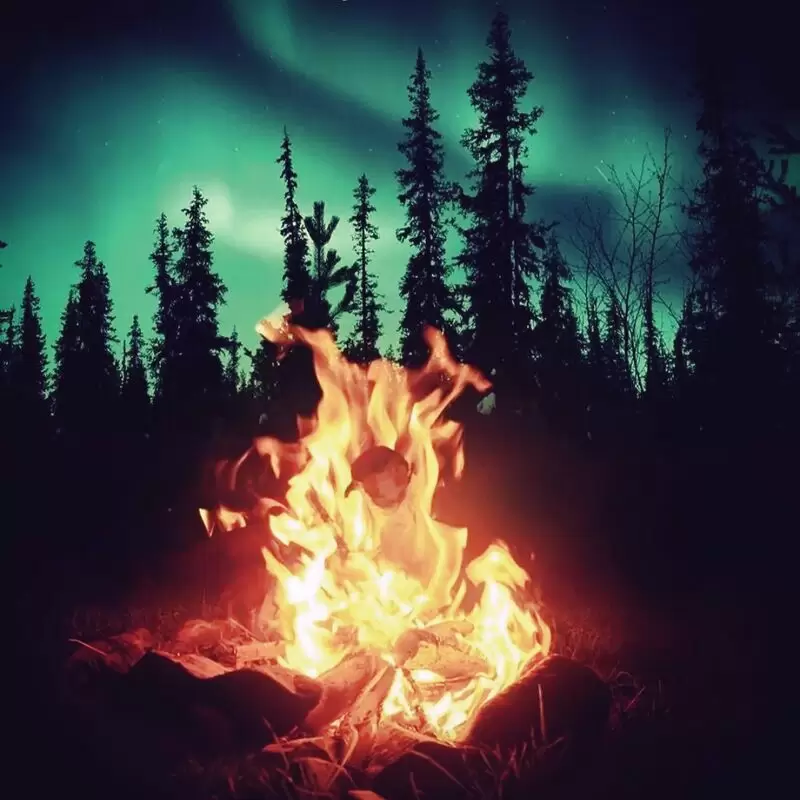 ADVENTUREBAAZ Hotel Dhanaulti
Batwaldhar, Chamba - Mussoorie Rd, Highway, Dhanolti, Saklana Range
Monday - Sunday: Open 24 hours
17. Kaudia Forest
Immerse yourself in the extraordinary tranquility of the Kaudia forest in Dhanaulti, where the dense canopy of tall deodar trees and their rustling evoke a mystical atmosphere. It is an ideal place for photographers, painters and writers seeking solitude, as well as for those simply seeking tranquility. The highlight is a private picnic among the trees. Not far away are the ecotourism nature parks Eco Park & Amber & Dhara, which invite further exploration of the forest.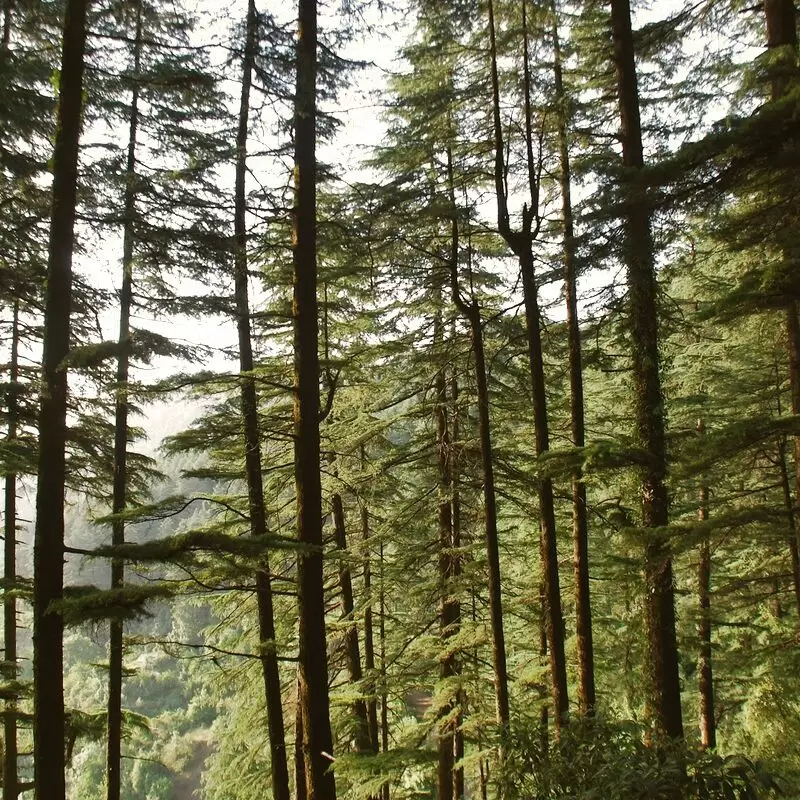 Kaudia Forest
C87W+F8W, Kanatal, Kaudia Range
Monday - Sunday: Open 24 hours
Best Time to Visit Dhanaulti
The best time to visit Dhanaulti, India is from September to June. During these months, the weather is pleasant and suitable for sightseeing and outdoor activities. Winters (December-February) can be quite cold, but offer breathtaking views of snow-capped peaks.
Annual Weather in Dhanaulti
Dhanaulti 3-Day Forecast
Thu, 21 September
Night
69 °F
21 °C
60%
Morning
62 °F
17 °C
0%
Afternoon
75 °F
24 °C
60%
Evening
66 °F
19 °C
0%
Fri, 22 September
Night
63 °F
17 °C
69%
Morning
61 °F
16 °C
0%
Afternoon
75 °F
24 °C
76%
Evening
65 °F
19 °C
64%
Sat, 23 September
Night
62 °F
17 °C
82%
Morning
61 °F
16 °C
85%
Afternoon
73 °F
23 °C
64%
Evening
65 °F
18 °C
66%
Questions & Answers

How can I reach Dhanaulti from Delhi?

Dhanaulti is about 300 kilometers from Delhi. The journey can be done by car or bus and takes about 7-8 hours. The nearest railroad station is Dehradun, about 60 kilometers away. From Dehradun you can take a cab or a bus to Dhanaulti. Alternatively, you can fly to Jolly Grant Airport, Dehradun, which is approximately 83 kilometers from Dhanaulti, then take the cab to Dhanaulti. The duration of the trip depends on the type of transport and traffic conditions.

Are there any direct flights to Dhanaulti?

Dhanaulti does not have its own airport. The nearest airport to Dhanaulti is Jolly Grant Airport in Dehradun, which is about 82 kilometers away. There are direct flights from major Indian cities to Dehradun. From the airport, you can hire a cab or take a bus to Dhanaulti. It is advisable to check with the airlines for the latest flight schedules.

What is the local cuisine like?

Dhanaulti is located in the northern Indian state of Uttarakhand and offers cuisine that is predominantly influenced by North Indian and Garhwali flavors. This region is known for its hearty, healthy meals that often include lentils, rice, and a variety of vegetables flavored with local herbs. Local cuisine includes dishes such as gahat dal, sisunak saag, a curry made with local greens, and kandalee ka saag. Stuffed Indian breads paired with homemade pickles and yogurt are common side dishes. Desserts are usually made from local produce such as fruits and milk.

Which local dishes should I try?

When you travel to Dhanaulti, you must try the local Garhwali cuisine. Try "Aloo Ke Gutke", a spiced potato dish flavored with local herbs. Enjoy "Kafuli," a curry with spinach and fenugreek, paired with hot rice. Don't miss the hearty "Garhwal ka Fannah," a lentil and rice dish. For dessert, try "Bal Mithai", a caramel-like sweet with sugar balls. These traditional dishes will surely give you a unique insight into the rich culinary heritage of Dhanaulti.

How to commute locally in Dhanaulti?

Dhanaulti is a small hill station that is best explored on foot to really enjoy the tranquil surroundings and panoramic views. Cabs are available for longer distances. The hilly terrain is also great for trekking and hiking. Local buses offer inexpensive transportation, but frequency could be a problem. Private cars are also an option, but the roads can be challenging for the inexperienced. It is advisable to hire local drivers who know their way around the winding and often foggy roads.

Are taxis readily available?

Yes, cabs are readily available in Dhanaulti. This service offers an easy and convenient way to get around this beautiful hill station and its surroundings. Usually, you can hail cabs at the hotels, tourist attractions or cab stands. However, since Dhanaulti is a small town, it is recommended to arrange cab rides in advance, especially for early morning or late night trips, to ensure availability.

Are there facilities for adventure sports?

Absolutely! Dhanaulti in India offers a variety of exciting adventure sports that will get your pulse racing. Adventure seekers can enjoy activities like ziplining, mountain biking, trekking, rock climbing and camping amidst the natural beauty. The rugged terrain and breathtaking landscapes provide the perfect backdrop for these sports. Eco Park is one such place where you can enjoy these activities. So if you are in the mood for adventure, Dhanaulti has a lot to offer.

What type of clothing should I pack?

Pack both light and warm clothes for a trip to Dhanaulti, as the climate there is very different. During the day, the weather tends to be mild, so casual clothing with a hat for sun protection is appropriate. However, by nightfall it can get quite cold, so pack several layers, such as sweaters, sweatshirts or light jackets. Don't forget to pack a sturdy pair of shoes for exploring the hilly terrain. An umbrella or raincoat can also be useful during the monsoon season.

Are there any cultural rituals that I should be aware of?

In Dhanaulti, it is important to respect local customs. Many locals practice Hinduism, so you are expected to remove your shoes before entering religious sites such as temples and dress modestly, especially women. It is also customary to receive and give with the right hand, as gestures with the left hand may be considered rude. Also, avoid public displays of affection (PDA) as this may be considered rude. It is important to respect local customs and traditions in order to maintain a good relationship with the locals.

Do people speak English in Dhanaulti?

The main languages spoken in Dhanaulti are Garhwali and Hindi, reflecting the cultural heritage of the place. However, due to the city's growing popularity as a tourist destination, a certain percentage of locals, especially those working in the tourism and hospitality sectors, also speak English to varying degrees. It should be noted that not all residents are fluent in English, so a basic knowledge of Hindi may be beneficial.

Is Dhanaulti safe for tourists?

Dhanaulti, India, is generally considered safe for tourists. As with all destinations, it is always advisable to take the usual safety precautions, such as keeping personal belongings safe and being aware of your surroundings. The locals are generally friendly and helpful to tourists. However, since it is a hill station, care should be taken when exploring mountain trails. Despite these minor concerns, Dhanaulti is a popular and peaceful resort for many travelers.

What is the native language spoken in Dhanaulti?

The native language spoken in Dhanaulti, India is Hindi, which is also the official language of India. However, the region is multilingual and locals also speak and understand Garhwali, a specific language of the state of Uttarakhand, where Dhanaulti is located. English is also well understood in Dhanaulti, especially in the tourist areas, hotels and stores.

Is there any emergency number for tourists?

Yes, in case of emergency, tourists can dial 112. This is India's central emergency number that connects you with the police, fire department, ambulance and rescue service. It is important for tourists to have this emergency number handy. In case of any tourist problems or queries, you can contact the Uttarakhand Tourism Development Board at +91-135-2559898, but keep in mind that this number is not manned 24/7. It is always advisable to have the contact details of your accommodation and local authorities ready as well.

Are there any medical facilities in Dhanaulti?

Yes, there are a number of medical facilities in Dhanaulti that provide important services. These include small clinics and health centers that provide immediate assistance in emergencies. The Govt. Hospital in Dhanaulti is one such facility that is equipped with basic amenities to cater to the medical needs of locals and tourists. For more advanced treatment options, one may have to travel to the nearest major city, Dehradun.

Are there vegan or vegetarian food options?

Yes, Dhanaulti, India, offers several vegan and vegetarian dishes. Indian cuisine naturally tends toward plant-based ingredients, which makes it easier to find vegan and vegetarian dishes. Most restaurants and cafes in Dhanaulti cater to different dietary preferences, offering a diverse menu that ranges from local Indian vegetarian delicacies to vegan-friendly recipes. Whether it's traditional Indian thali, vegetarian biryani, or a simple masala dosa, you're sure to find a vegetarian or vegan dish to suit your taste.

Can I drink tap water in Dhanaulti?

The tap water in Dhanaulti is purified, but it is usually recommended for tourists to drink bottled water. Indian water purification standards may be different from what your system is used to, which may cause a slight stomach upset. To avoid this, stick to branded bottled water. It is also safer to use bottled water when brushing your teeth or rinsing.

How can I access the internet in Dhanaulti?

In Dhanaulti, the internet connection may not be as stable as in big cities, but some hotels and resorts offer Wi-Fi options to their guests. You can opt for local SIM cards from providers like Airtel or Jio, which offer 3G and 4G services. However, network coverage can be patchy. Internet cafes are scarce in this region, so make sure you have offline backups of important data or maps you need.

Is it possible to see snowfall in Dhanaulti?

Yes, it is quite possible to experience snowfall in Dhanaulti, India. This picturesque town, nestled in the high peaks of the Himalayas, receives a lot of snowfall during the winter months. The entire city then turns into a winter wonderland, offering mesmerizing views of the snow-capped mountains. Snow lovers often choose Dhanaulti as a vacation destination to engage in snow activities, such as snowball fights and building snowmen. However, make sure to dress appropriately as temperatures drop significantly.

Are there public restrooms available in Dhanaulti?

Yes, there are public toilets for tourists in Dhanaulti. They are usually located near the main tourist attractions such as Eco Parks, Surkanda Devi Temple and along the main market. However, due to the difference in hygiene standards, it is advisable to carry essentials such as tissues and hand sanitizer. Some restaurants and hotels also allow the use of their toilets. However, unlike in big cities, these are not available everywhere, so you should plan your trip accordingly.

What is the typical dress code for women in Dhanaulti?

In Dhanaulti, the traditional dress of local women is a "Ghaghra Pichora", a long skirt combined with a blouse and a beautiful scarf. However, the dress code for visitors is not strict. Tourists should dress modestly to respect the local culture, covering shoulders and knees. Due to the generally mild weather in the region, light, loose clothing is recommended; warm layers may be required in the colder months. Note that Dhanaulti can be quite conservative compared to urban centers, so overly revealing clothing should be avoided.

Is it easy to hire a local guide?

Yes, it is relatively easy to hire a local guide in Dhanaulti, India. They are available at most tourist hotspots, including hotels and travel agencies. These guides are proficient in several languages and have extensive knowledge of the place, culture and history, ensuring that tourists have a memorable trip. However, it is always recommended to contact authorized tourist centers to ensure safety and reliable service.

Are ATMs easily available in Dhanaulti?

Dhanaulti, a quiet hill station in northern India, can present some challenges when it comes to easy access to ATMs. Since Dhanaulti is relatively remote compared to major cities, banking facilities such as ATMs are limited. It is advisable to carry enough cash when visiting Dhanaulti. However, there are a few ATMs in the area, the most reliable being in the nearby town of Mussoorie. Overall, you should plan your finances well in advance to experience a hassle-free trip.

What is the currency used in Dhanaulti?

The official currency in Dhanaulti, as in the rest of India, is the Indian rupee (INR). The rupee is available in denominations of 1, 2, 5, 10, 20, 50, 100, 200, 500 and 2000. Coins are also in circulation, in denominations of 1, 2, 5 and 10 rupees. International credit and debit cards are widely accepted in hotels, restaurants and stores. However, it is recommended to carry some cash for local markets and small merchants.

Is there any Wild-life sanctuary near Dhanaulti?

Yes, there is a significant wildlife sanctuary near Dhanaulti, the Benog Wildlife Sanctuary. Nestled between dense forests and snow-capped peaks, it is home to a variety of wildlife, including deer, leopards, and several species of birds. A popular spot for nature lovers, the sanctuary also offers breathtaking views of the majestic Himalayas. Please remember that visits are only possible with prior permission from the Forest Department. For those who want to explore this protected area thoroughly, guided walks are offered.

Can I hire a bicycle in Dhanaulti?

There are not many bike rental options in Dhanaulti due to the hilly terrain. The topography of the region is best explored on foot or by local cab. This destination is best suited for exploring eco-parks, trekking tours or temple visits. Instead of cycling, you can also indulge in exciting activities like horse riding, which is very popular in this region. Additional services like Garhwal cab service or private hire can also be arranged for longer distances.

Is Dhanaulti a child-friendly place?

Yes, Dhanaulti is a family-friendly destination that is suitable for all ages, including children. Known for its lush green forests and majestic mountains, Dhanaulti offers numerous activities that children will love, such as picnic outings, nature walks, and visits to eco-parks. The quiet and serene atmosphere of the place offers a welcome change from the hustle and bustle of city life. It is the perfect place for children to have fun and learn about nature at the same time.

I'm a photographer, are there any specific photography permits required?

No special permissions are required for photography in Dhanaulti, India. You are free to capture the beauty of this hill station without any restrictions. However, some commercially important locations and private properties may require permission from the owners or local authorities. It is always best to respect local customs and not photograph religious ceremonies or military installations without permission. Remember that the goal is to preserve the beauty of Dhanaulti and respect the rights and privacy of the locals while enjoying your photos.

Is it advisable to rent a car in Dhanaulti?

While renting a car in Dhanaulti gives you more flexibility, it is not usually recommended as the hilly, narrow and often busy roads in this region pose a challenge to inexperienced drivers. Most tourists prefer to hire a local cab or contact a travel agency that can provide a vehicle with an experienced driver who is familiar with the terrain. They can also guide you to the best local attractions, making the trip an enriching experience.

Are credit cards widely accepted?

Yes, credit cards are accepted in many areas of Dhanaulti, especially in larger hotels, restaurants and stores. Some of the popular markets also accept them as payment. However, it is recommended to have some cash on hand, as smaller establishments or remote areas may not have card facilities. Also, there are few ATMs in Dhanaulti, so it is best to stock up on enough cash before you start your trip. Since Dhanaulti is a hill station, traditional transaction methods still exist here.

Is it customary to tip in Dhanaulti?

Tipping is not obligatory in Dhanaulti, but is often appreciated. Visitors usually tip restaurants, guides, drivers and hotel staff, especially for personal services. The amount of the tip varies, but is usually between 10% and 15% of the bill in restaurants. Always remember that it depends entirely on your discretion and satisfaction with the service received.

What are the public transportation options?

Public transportation in Dhanaulti consists primarily of cabs and buses, which run at regular intervals and connect the city with nearby towns such as Dehradun, Rishikesh, and Haridwar. While local buses are a cost-effective mode of transportation, cabs are preferred for comfort and convenience. Alternatively, auto or cycle rickshaws are available for travel within the city. Public transportation does not cover all sights, so hiring a private cab for sightseeing might be a better choice.

Is Dhanaulti a crowded tourist spot?

Dhanaulti is not a crowded tourist destination compared to other popular destinations in India. It is often described as a picturesque and peaceful hill station, which makes it attractive to those who prefer a tranquil environment. Despite notable attractions such as eco-parks and ancient temples, Dhanaulti manages to maintain its peace and serenity, offering a relaxing vacation experience that is especially appreciated by those who want to escape the hustle and bustle of city life.

Are there any camping grounds in Dhanaulti?

Yes, there are several campsites in Dhanaulti that offer an exciting experience for adventure lovers. One such campsite is Kanatal Adventure Camp, which offers a picturesque view of the Himalayas along with an exciting camping experience. Another popular campsite is Camp Little Jaguar, which is located amidst an apple orchard and offers a perfect blend of adventure and tranquility. In these camps, you can indulge in activities like trekking, rope climbing, nature walks and bird watching.

Feedback

I hope you found this article informative and helpful. I'm eager to improve the content and make it even more valuable for you. If you have any feedback or suggestions, I would love to hear from you.

Do you have any tips or hidden gems that you think should be added to the list? Are there any areas that you feel could use more explanation or clarification?

Your input is greatly appreciated and will help us to continue providing high-quality content that meets your needs and interests. Please feel free to share your thoughts.