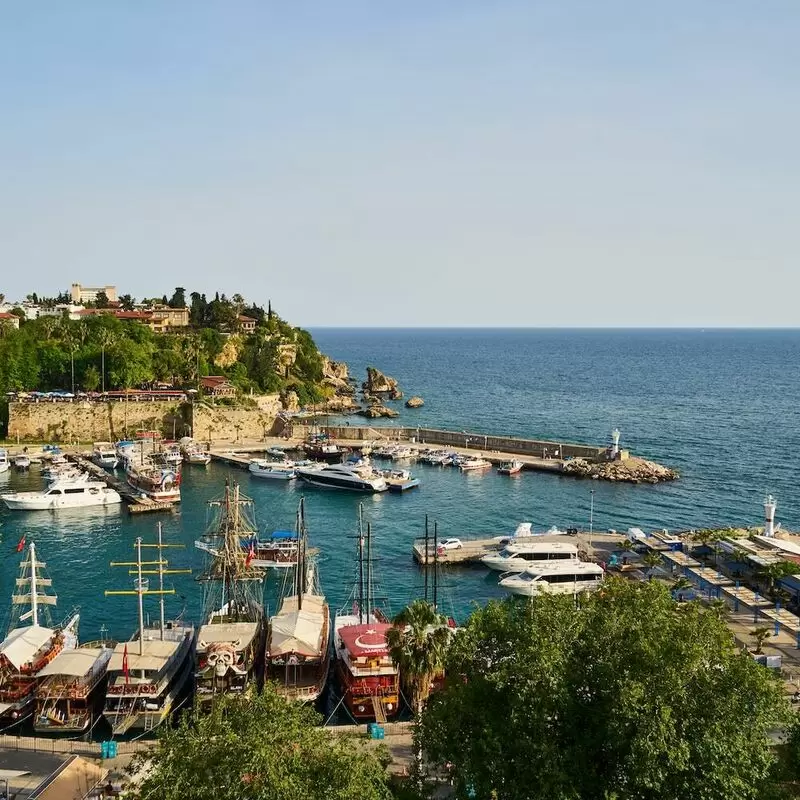 1. Apollon Temple
A visit to the fascinating Temple of Apollo in Antalya is a must for anyone who wants to take a journey through the rich history of ancient architecture. Dedicated to the Greek god of the sun, light and beauty, this impressive temple features remarkably well-preserved Hellenistic columns and ornate details. Explore the thriving art scene where local artists display their work. The nearby Temple of Athena offers another fascinating aspect of Antalya's ancient past waiting for you to discover!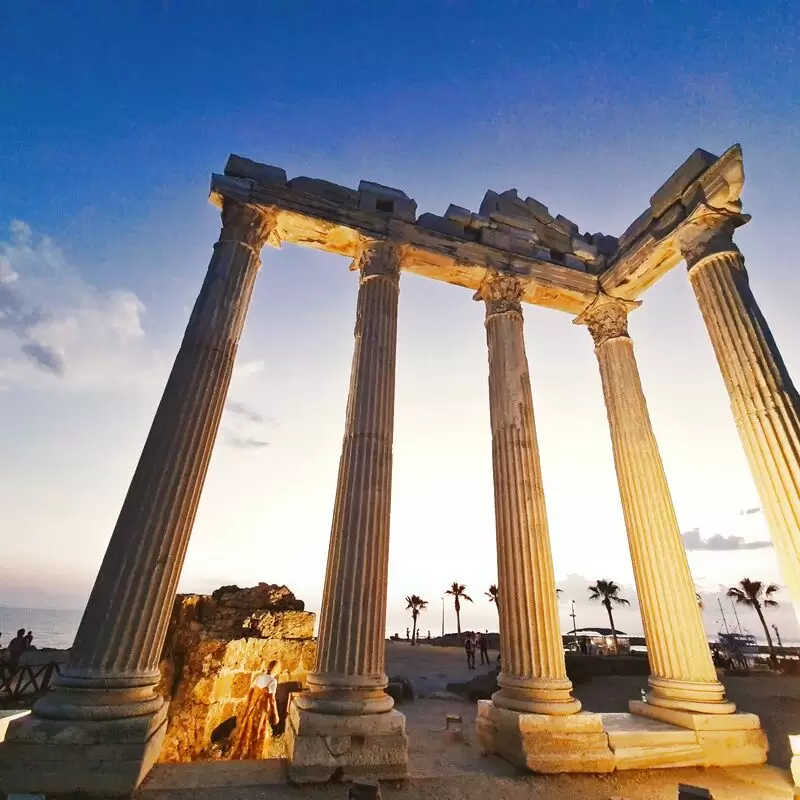 Apollon Temple
Side, Cumhuriyet Blv. No:50, 07600 Manavgat
Monday - Sunday: Open 24 hours
2. Duden Waterfalls
Visiting the fascinating Düden Waterfalls in Antalya is an absolute must for nature lovers and photographers! Experience the power and beauty of these cascades that plunge into the shimmering Mediterranean Sea from a height of 20 meters. Take a boat tour to explore the hidden and enchanting caves behind the falls, which are home to fascinating flora and fauna. Also, don't miss the nearby ancient city of Perge with its impressive Roman ruins and immerse yourself in Turkey's rich history.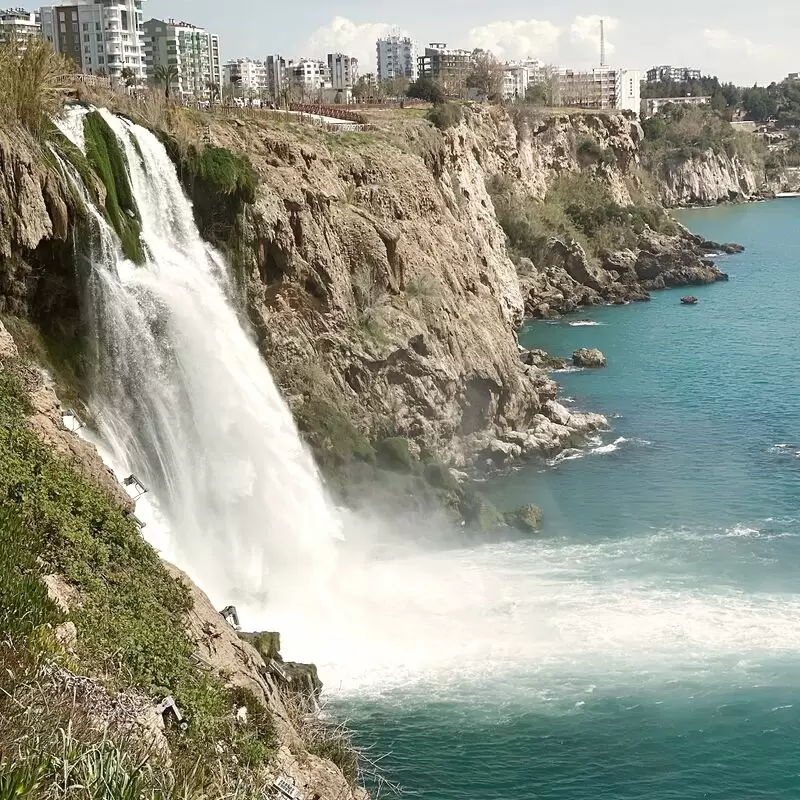 Duden Waterfalls
Varsak Mahallesi Düden Şelalesi Parkı içi, Habibler, 07320 Kepez
3. Antalya Archeology Museum

A visit to the Antalya Archaeology Museum is a must for history and art lovers, as it houses a fascinating collection of artifacts from ancient civilizations. Be captivated by the more than 5,000 works of art dating from prehistoric to Byzantine times.

Insider tip: Don't miss the intricately carved sarcophagi and the impressive statue of Hercules. Don't forget to explore Antalya's Old Town, just minutes away, where you can continue your historical journey through narrow, winding streets.

Antalya Archeology Museum
Bahçelievler, Konyaaltı Cd. No:88, 07050 Muratpaşa

Monday - Sunday: 8:30 AM – 8:00 PM
4. Aspendos Theater
The Aspendos Theater is a must-see for history and culture lovers in Antalya. This remarkably well-preserved Roman theater, dating back to 155 AD, offers an impressive atmosphere as you walk through its ancient steps. Enjoy the exceptional acoustics at the captivating concerts and ballet performances held here during the Aspendos International Opera and Ballet Festival. Visit the ancient site of Perge, just 8 km away, another historical gem with impressive ruins and great columns waiting for you to discover.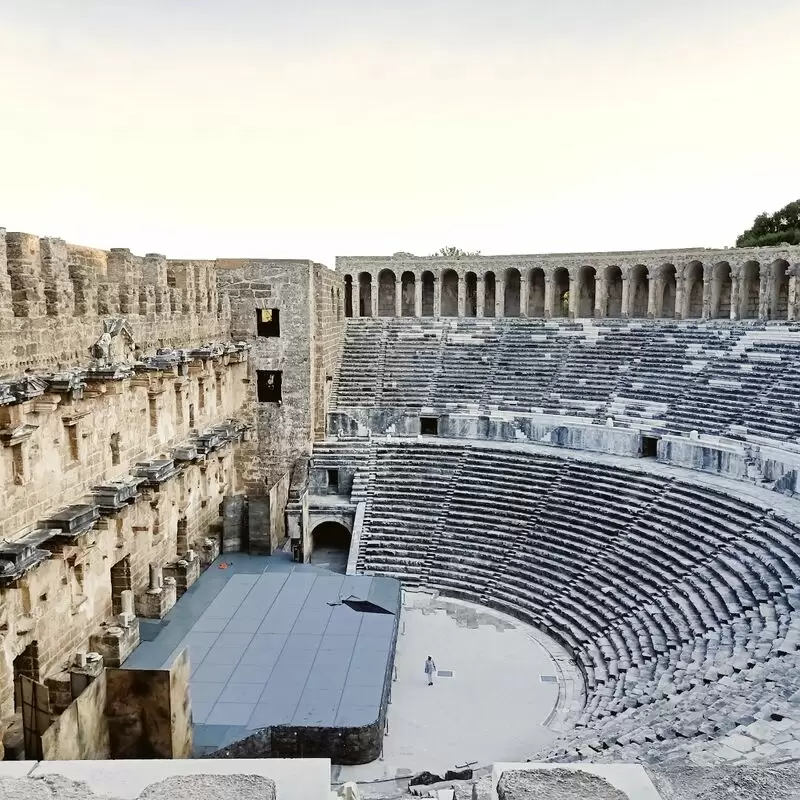 Aspendos Theater
Sarıabalı, Aspendos Yolu, 07500 Serik
5. Phaselis Ancient City
Awaken the history buff in you by exploring the fascinating ancient city of Phaselis in Antalya! Imagine walking through the well-preserved ruins of a once-thriving Lycian city, nestled between three pristine harbors. Marvel at the impressive theater, agora, and ancient streets while enjoying breathtaking views of the sea. Don't miss the opportunity to take a refreshing swim at nearby secluded Mermerli Beach. This treasure trove of ancient wonders and tranquil beaches will give you an unforgettable stay in Antalya!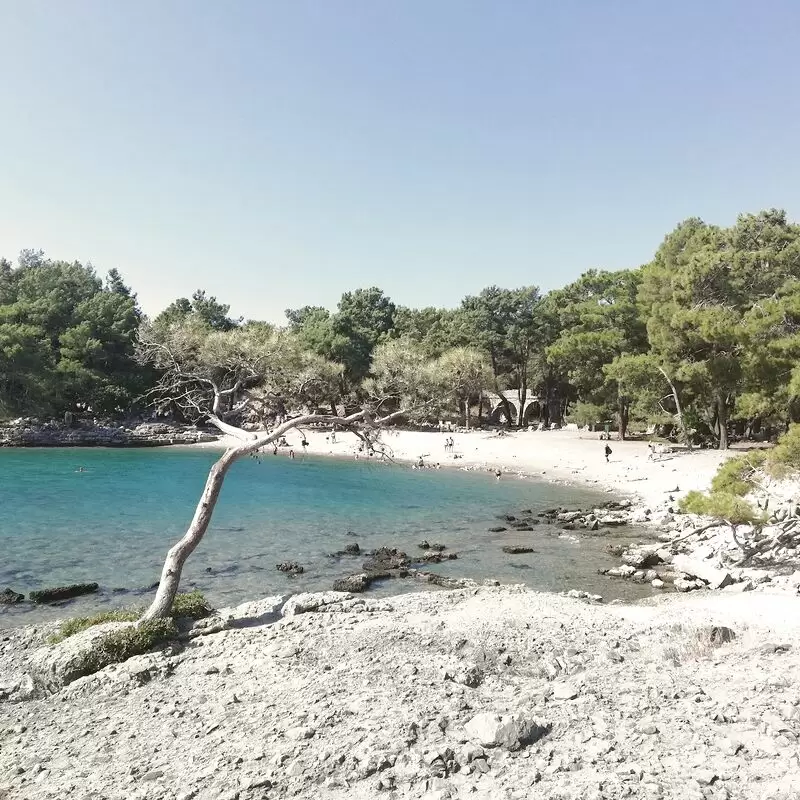 Phaselis Ancient City
Çamyuva, 07980 Kemer
Monday - Sunday: 8:00 AM – 7:00 PM
6. Antalya Kaleiçi Ancient City & Marina
A visit to Antalya Kaleiçi Ancient City & Marina is like a time capsule, immersing you in centuries of history and stunning architecture. Stroll through narrow, cobbled streets lined with Ottoman-era houses, vibrant markets and hidden gems like the Hıdırlık Tower, all leading to the picturesque marina. A must for unparalleled sunsets and leisurely boat rides. Don't forget to stop by the nearby Hadrian's Gate, an impressive Roman structure dating back to 130 A.D. Antalya Kaleiçi offers a unique blend of culture and beauty that you won't want to miss.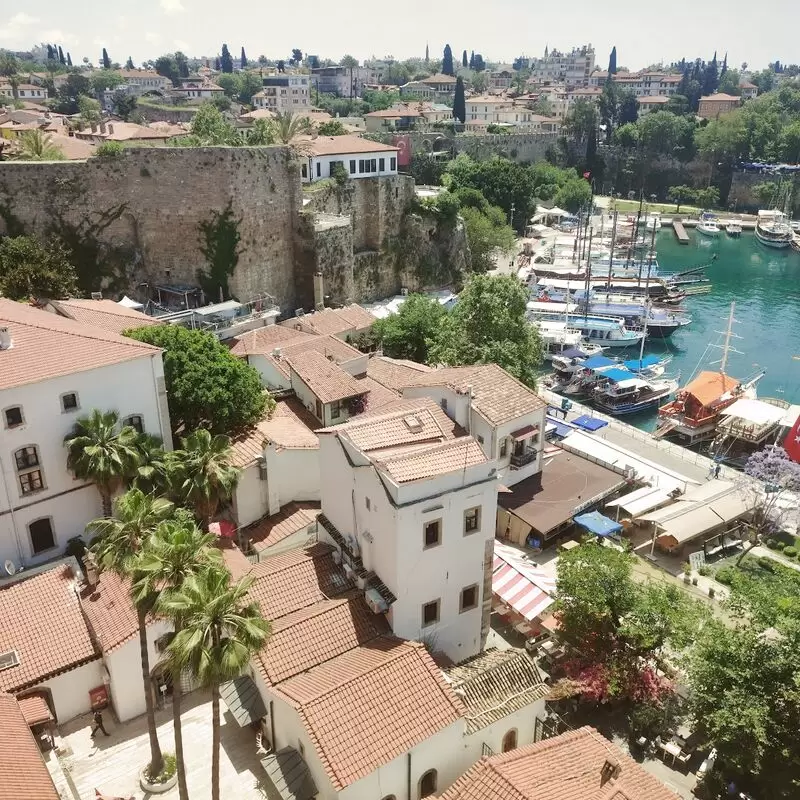 Antalya Kaleiçi Ancient City & Marina
Selçuk, Varyant Sk., 07100 Muratpaşa
Monday - Sunday: Open 24 hours
7. Perge Ancient City
Discover the fascinating ancient city of Perge, an archaeological gem in Antalya prized for its well-preserved Roman structures. Walk through the impressive ruins, marvel at the iconic Hellenistic gateway flanked by twin towers, and experience the grandeur of the ancient theater and stadium. Take unforgettable shots of the baths adorned with mosaic floors and capture the intricately carved reliefs with mythical figures. Meanwhile, explore nearby Aspendos and Side, both also impressive ancient sites with rich histories.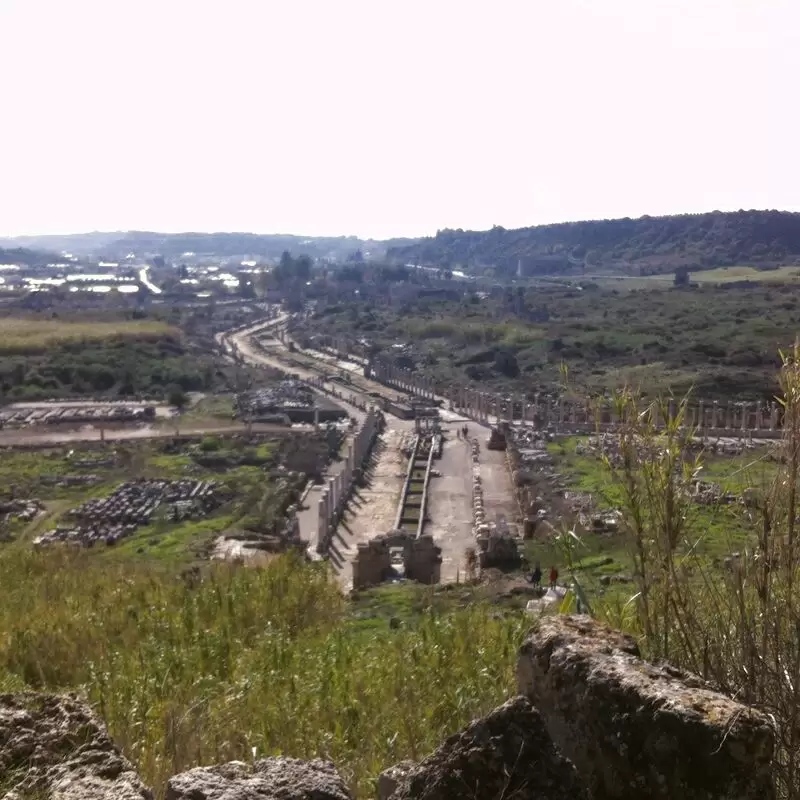 Perge Ancient City
Barbaros, Perge Yolu, 07112 Aksu
Monday - Sunday: 8:00 AM – 7:45 PM
8. Köprülü Canyon
Exploring Köprülü Canyon in Antalya promises an exciting adventure you will never forget! Marvel at the breathtaking beauty of nature on a raft ride on crystal clear waters or hike through pristine forests teeming with flora and fauna. Fascinated by history? Don't miss the ancient Roman Oluklu Bridge, where you can take stunning photos. For a complete experience, combine your visit with a side trip to the nearby ancient city of Selge, adorned with magnificent historical sights and ruins. Adventure, beauty and history await you at every turn!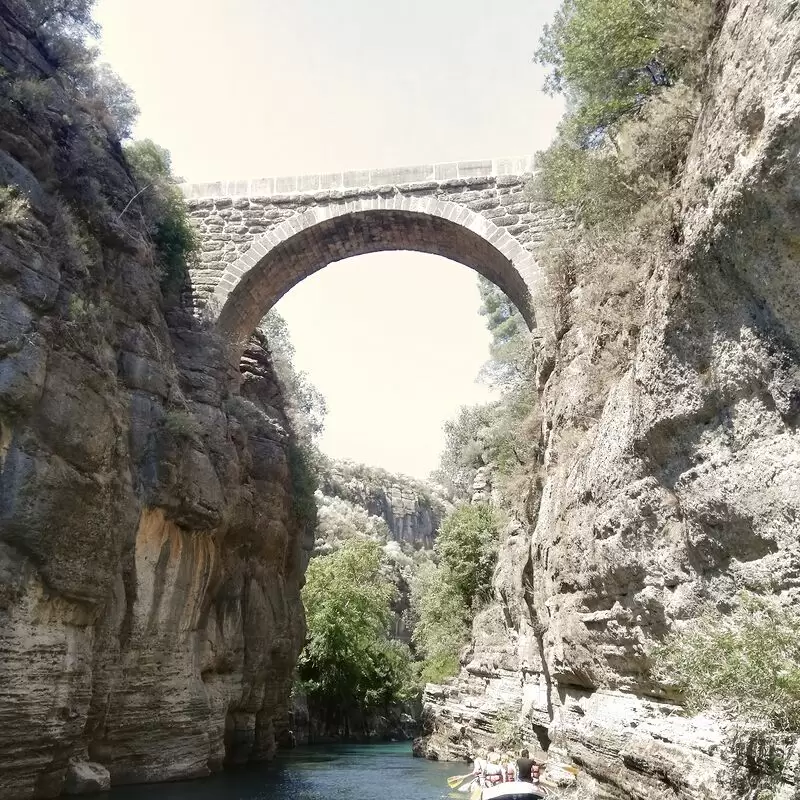 Köprülü Canyon
Bozyaka, 07550 Manavgat
Monday - Sunday: Open 24 hours
9. Karaalioglu Park
Karaalioglu Park is an indispensable oasis in the heart of Antalya, offering a magnificent view of the Mediterranean coast and the old Hidirlik Tower. This picturesque green space with its colorful flowers and palm trees adds a calming atmosphere to your vacation. Stroll through the park, watch the locals play backgammon or enjoy a refreshing drink in a cozy cafe. It's also just a few steps to the city's historical sights, such as Hadrian's Gate and Kaleiçi, Antalya's old town district.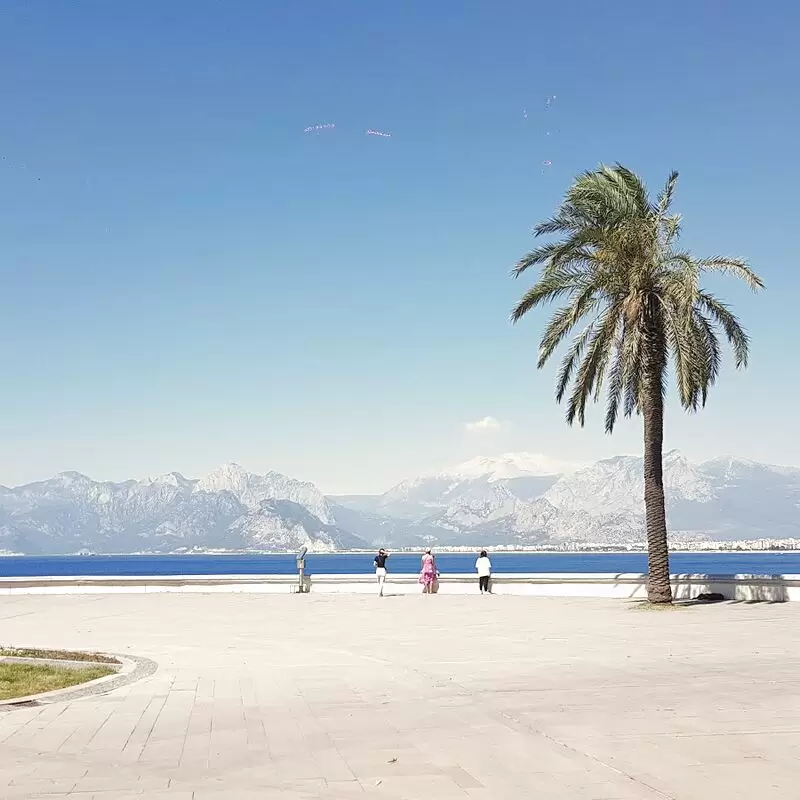 Karaalioglu Park
Kılınçarslan, Park Sk., 07100 Muratpaşa
Monday - Sunday: Open 24 hours
10. Green Canyon
A visit to Green Canyon in Antalya is an absolute must! This enchanting emerald wonder is a hidden gem of Turkey, with turquoise waters surrounded by lush forests and impressive cliffs. Experience the tranquility of driving through the canyon amidst birdsong and the sound of the breeze. For thrill seekers, try water sports or explore the depths of the canyon while scuba diving. Don't miss a visit to the nearby ancient city of Seleucia, where history and nature combine for a fascinating experience.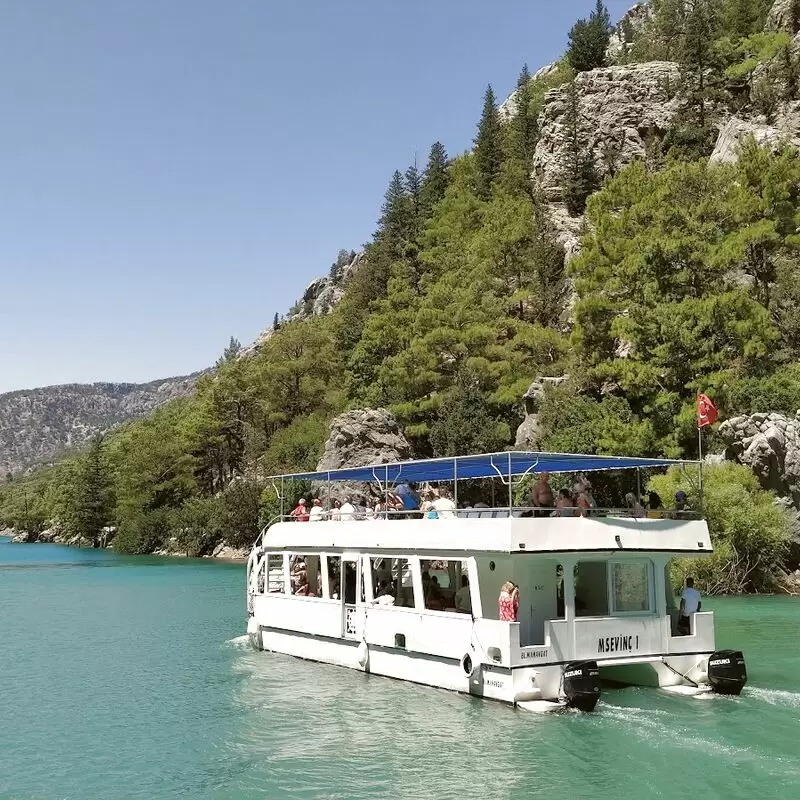 Green Canyon
Y. Hisar, Hastane Cd. No: 11/3, 07600 Manavgat
Monday - Sunday: 10:00 AM – 5:00 PM
11. Hidirlik Tower

A visit to the Hidirlik Tower in Antalya is a must for history and architecture lovers! This ancient Roman watchtower offers panoramic views of the harbor, the old city walls and the shimmering Mediterranean Sea.

Insider tip: Don't miss the colorful sunsets from above! After exploring Hidirlik Tower, stroll to Karaalioglu Park, a lush green oasis just minutes away, to relax and enjoy the regional flora and fauna - a truly unforgettable experience in the heart of the Turkish Riviera.

Hidirlik Tower
Kılınçarslan, Hıdırlık Sk. No:50, 07100 Muratpaşa

Monday - Sunday: Open 24 hours
12. Yivliminare Mosque
A visit to the Yivliminare Mosque in Antalya is an opportunity to see a remarkable piece of 13th-century Seljuk architecture. Its stunning minaret is 38 meters high and features an iconic fluted design decorated with bright turquoise tiles. Admire the mosque's intricate stonework and discover a hidden gem - the ancient Roman ruins beneath the mosque. Just a short walk away is the historic Kesik Minare, a unique blend of Roman, Byzantine and Seljuk heritage in the heart of Kaleiçi.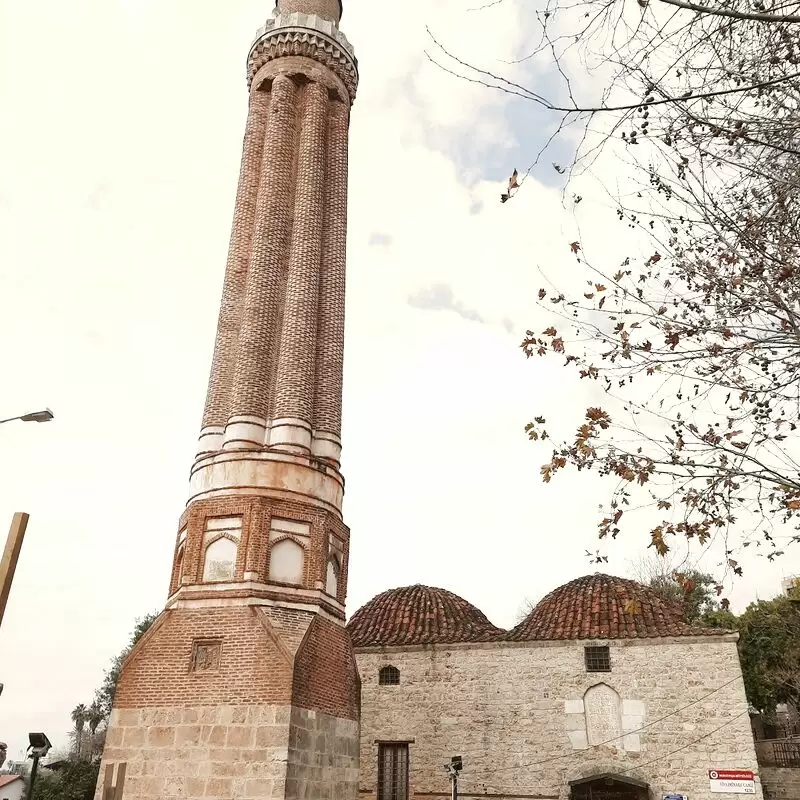 Yivliminare Mosque
Selçuk, Selçuk Mah, 07100 Muratpaşa
13. Konyaaltı Plajları
A visit to Konyaaltı Plajları in Antalya is a must for beach lovers! This stunning Blue Flag beach stretches for 7 km with mesmerizing turquoise waters and soft golden sand. Take a dip, enjoy sunbathing, or try your hand at exciting water sports. A special experience is an evening walk at sunset, where you can enjoy delicious Turkish cuisine in one of the charming beach cafes. Nearby attractions include the Antalya Aquarium and Ataturk Park, perfect for a fun day out in this beautiful coastal city.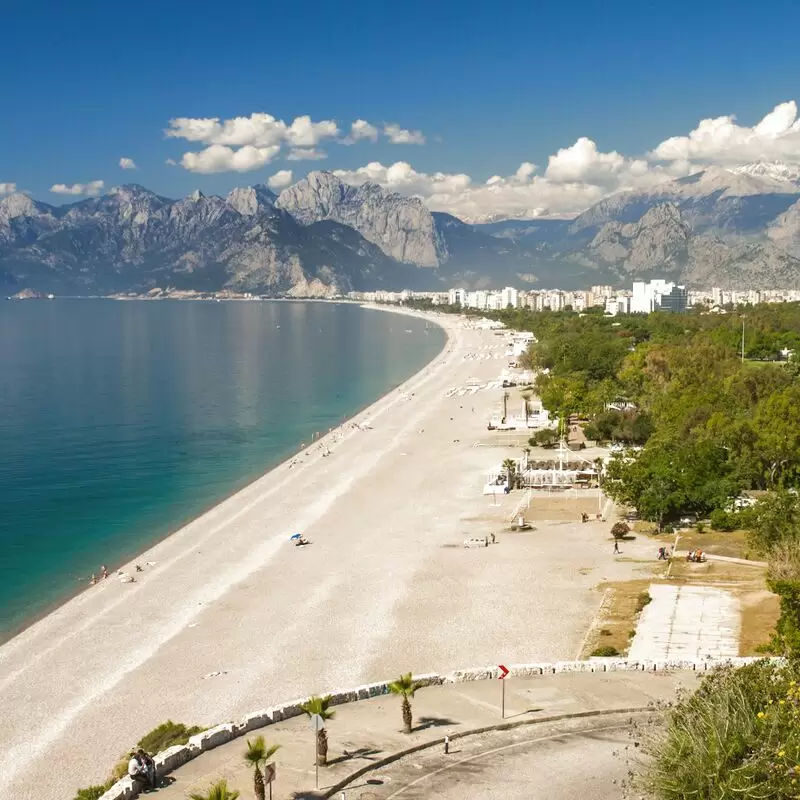 Konyaaltı Plajları
Konyaaltı Plajları, Meltem Mh., 07030 Muratpaşa/Konyaaltı
14. Republic Square
A visit to Republic Square (Cumhuriyet Meydanı) in Antalya is a must for anyone seeking a lively, vibrant atmosphere full of history and culture. The square is the heart of the city, adorned with an impressive statue of Atatürk, and is bustling with events and street performers. Be sure to enjoy an aromatic Turkish coffee at one of the sidewalk cafes or mingle with the locals playing tavla (backgammon). Just a short walk away you will find Hadrian's Gate, another historical landmark.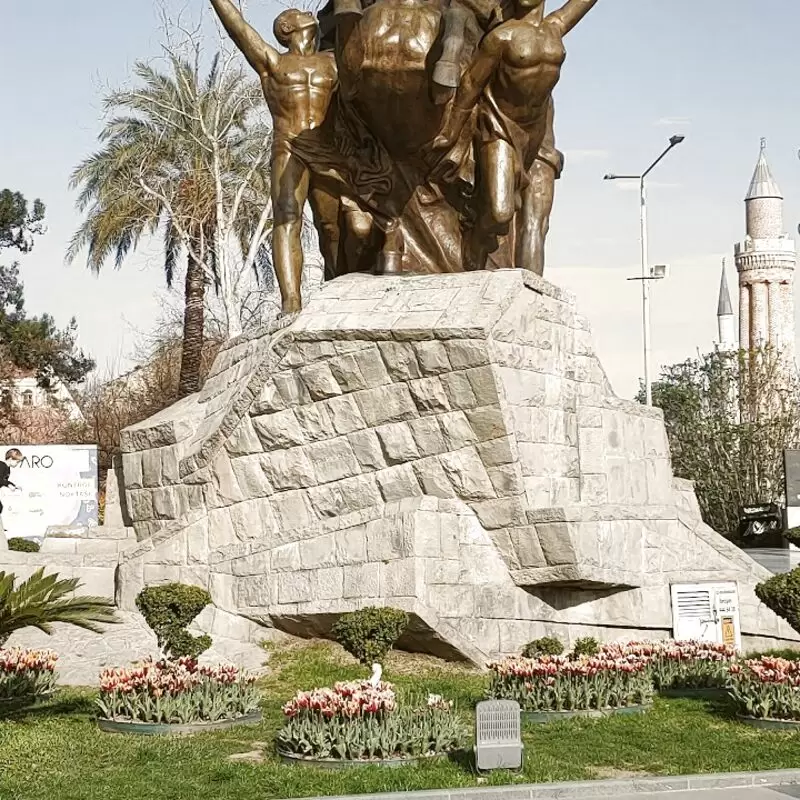 Republic Square
Deniz, Konyaaltı Cd., 07050 Muratpaşa
Monday - Sunday: Open 24 hours
15. Old City Marina
A visit to the Old Town Port in Antalya is like a trip back in time as you stroll through centuries-old streets lined with charming Ottoman-era houses, quaint stores and cozy cafes. This historic gem is not only a haven with idyllic views, but also offers a lively atmosphere with authentic Turkish cuisine and live music in the evening. Complete your unforgettable experience with a sunset boat tour - a sight made even better when you follow it up with a delicious kebab at one of the nearby eateries!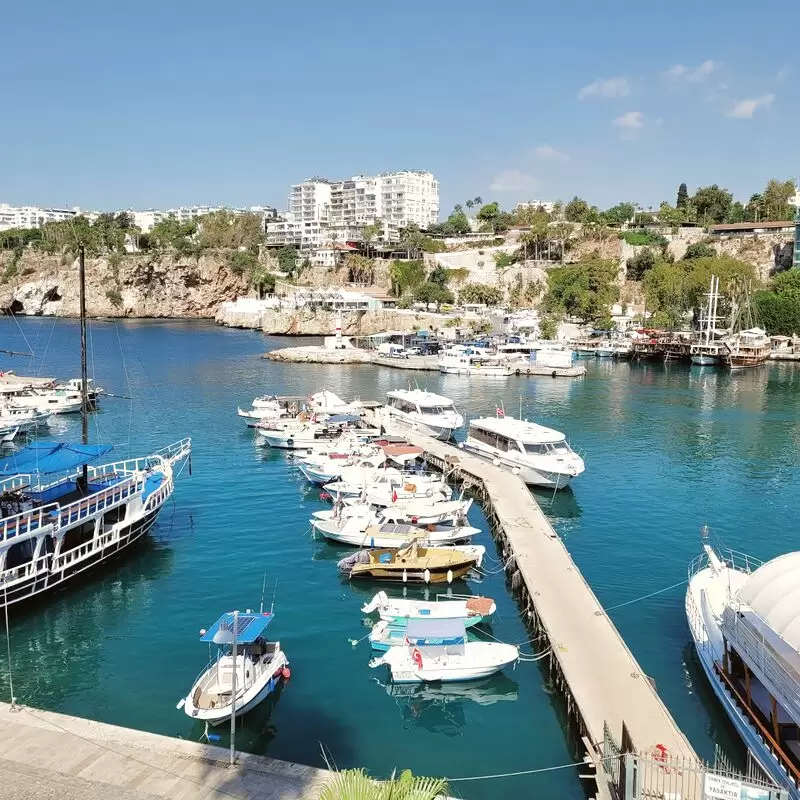 Old City Marina
Selçuk, Selçuk Mah 38/B, 07040 Muratpaşa
Monday - Friday: 8:00 AM – 6:00 PM
Saturday - Sunday: Closed
16. Lara Beach
Immerse yourself in the breathtaking beauty of Lara Beach, Antalya's premier coastal paradise! Known for its pristine golden sands and sparkling blue waters, this expansive beach is perfect for sunbathing or swimming in the warm, crystal clear Mediterranean Sea. For an authentic Turkish experience, enjoy traditional treats at nearby cafes and marvel at the unique landmarks sculpted in sand at the annual Sandland Festival. Surrounding Lara Beach are the enchanting Düden Waterfalls and the historic Hıdırlık Tower - places that will make your trip magical and unforgettable.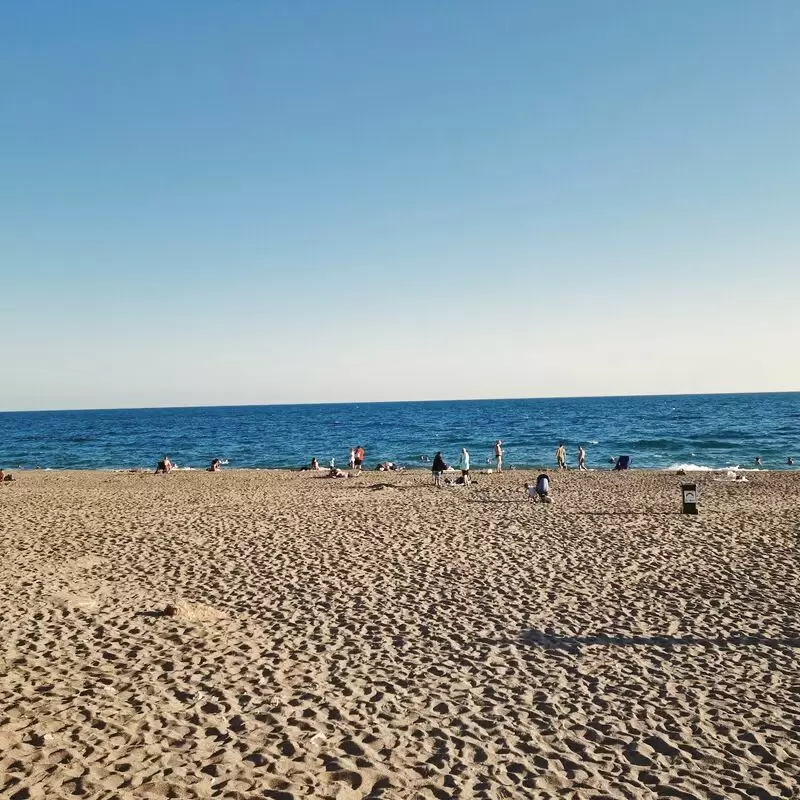 Lara Beach
Lara Beach, Antalya
17. Karain Cave
Embark on an adventurous journey to Karain Cave, one of Turkey's hidden treasures, located in Antalya. This prehistoric gem is a must-see for history and archaeology enthusiasts, revealing an impressive history of human habitation dating back hundreds of thousands of years! Marvel at the fascinating stalactite formations, enter the remote chambers and witness traces of ancient animal paintings. Don't miss to explore the nearby village of Yagca to experience an authentic Turkish rural life and enjoy the tranquil atmosphere amidst lush green landscapes.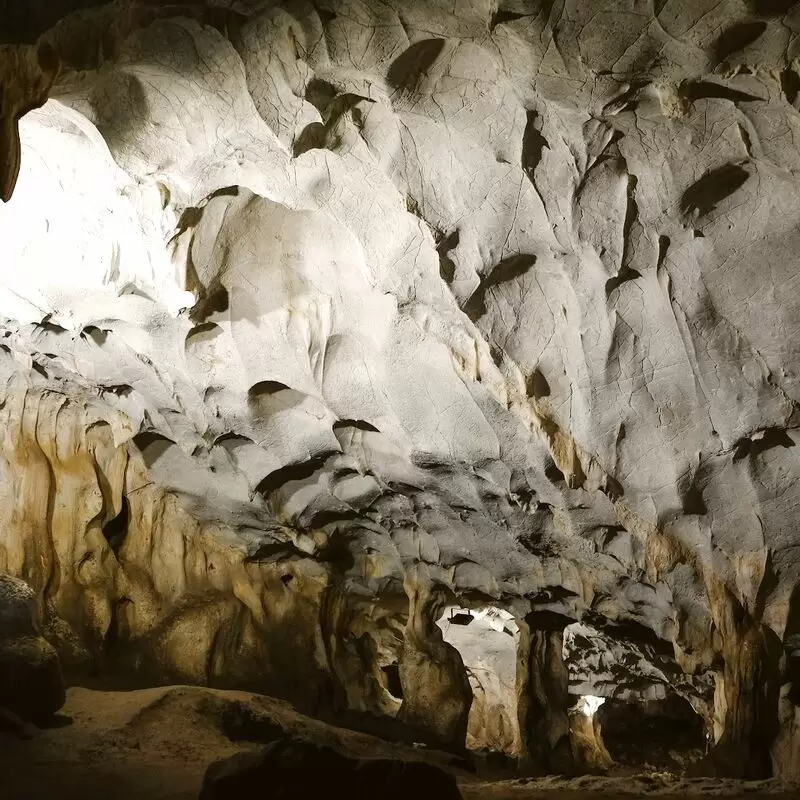 Karain Cave
Yağca, 07190 Antalya Merkez
Monday - Sunday: 8:00 AM – 4:30 PM
18. Upside down House
Visiting the Upside Down House in Antalya is an extraordinary experience you can't miss! Defy gravity as you enter this whimsical place where furniture, household items and even a car are turned upside down. Take amusing shots as you perform gravity-defying stunts while exploring the house. For an extra dose of fun, you can then head to the nearby Aktur Park, where adrenaline-pumping rides and delightful entertainment await you. Immerse yourself in the world of wonders at the Upside Down House of Antalya!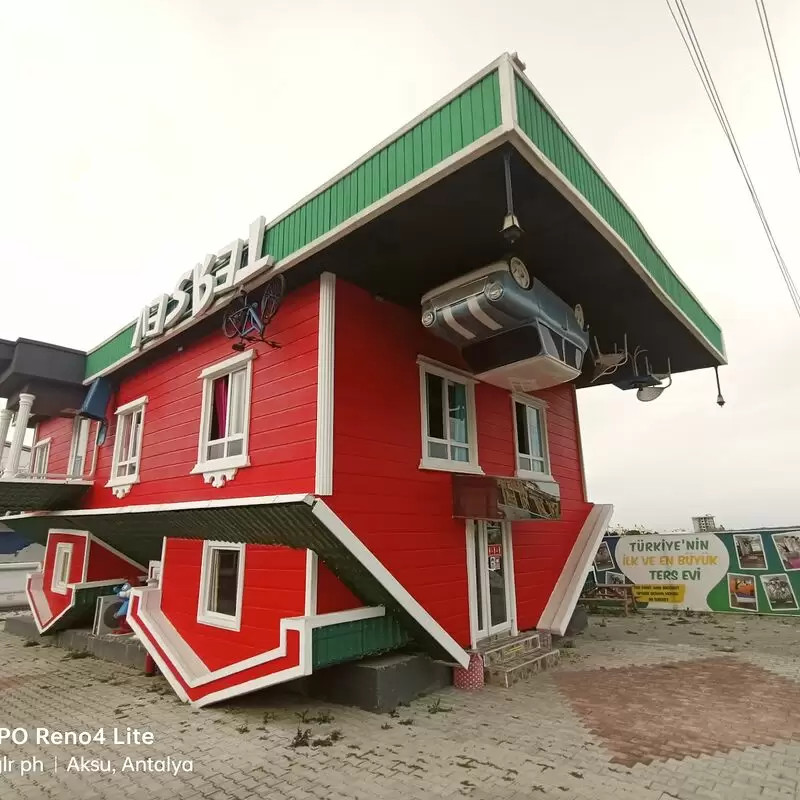 Upside down House
Altıntaş mah, Kardeş Kentler Cd. no 15, 07400 Aksu
Monday - Sunday: 10:00 AM – 8:00 PM
Best Time to Visit Antalya
The best time to visit Antalya is between April and October, with the peak season being from June to August. Spring and fall offer pleasant weather, fewer crowds, and cheaper accommodations, while the summer months offer warm seas and beach activities, but can be crowded and hot.
Annual Weather in Antalya
Antalya 3-Day Forecast
Tue, 26 September
Night
75 °F
24 °C
0%
Morning
74 °F
23 °C
0%
Afternoon
88 °F
31 °C
0%
Evening
76 °F
25 °C
0%
Wed, 27 September
Night
73 °F
23 °C
0%
Morning
71 °F
21 °C
0%
Afternoon
85 °F
30 °C
0%
Evening
76 °F
24 °C
73%
Thu, 28 September
Night
72 °F
22 °C
63%
Morning
67 °F
20 °C
79%
Afternoon
80 °F
27 °C
75%
Evening
74 °F
23 °C
60%
Questions & Answers

What currency is used in Antalya?

The currency in Antalya, as in all of Turkey, is the Turkish lira (TRY). The lira is divided into 100 kuruş. As a traveler, it is important to know and keep track of exchange rates as they can fluctuate. Many establishments in Antalya accept credit cards, but cash is more commonly used, especially in local markets and small stores. It is advisable to carry some Turkish Lira with you during your visit to Antalya.

Can I easily find English-speaking locals?

Yes, it should be relatively easy to find English-speaking locals in Antalya, as it is a popular tourist destination in Turkey. Many people involved in the tourism industry, including hotel staff, restaurant workers, and tour guides, are likely to speak English to welcome international visitors. The younger population and students may have a better command of English because of their exposure to it at school and on the Internet. However, it is important to note that not everyone in Antalya is fluent in English.

How safe is it to travel alone in Antalya?

Antalya is generally considered a safe destination for solo travelers. The city boasts a low crime rate and the locals are known to be friendly and hospitable. However, it is always important to take the usual safety precautions: Be aware of your surroundings, avoid poorly lit or secluded areas at night, and keep your belongings safe. As a popular tourist destination, be wary of possible scams. Overall, Antalya is an inviting and safe destination for solo travelers with its mix of beautiful beaches, historic sites, and vibrant culture.

What's the best way to get around the city?

The best way to get around Antalya is to use the public transport system, which includes streetcars, buses and Dolmuş (shared cabs). The Antray streetcar system connects the city center with major tourist attractions and the EXPO 2016 site, while buses serve almost every part of Antalya. Dolmuşes are a convenient and affordable option for short distances. Cabs are also available, but can be more expensive. It is highly recommended to explore the historic old town of Kaleiçi on foot to really enjoy its charm.

Are there any local customs or cultural norms I should be aware of?

In Antalya, Turkey, it is important to respect local customs and cultural norms. Dress modestly, especially when visiting religious sites, by covering your shoulders and knees. Greet people with a polite "merhaba" (hello) and always remove your shoes before entering a person's home or a mosque. Tipping is common for services, with 10-15% being standard. Turks place a high value on hospitality, so be open to offering food and drink at a social gathering. Finally, do not discuss sensitive topics such as politics and religion with locals.

Can I drink tap water in Antalya?

Although tap water in Antalya is treated and chlorinated to meet required standards, it is recommended that you do not drink tap water directly for health and safety reasons. Instead, you can opt for bottled or filtered water during your stay in Antalya. The taste and quality of tap water may differ from what you are used to, and in some cases it may cause mild stomach upset. To ensure a safe and enjoyable trip, stick to bottled water, which is readily available throughout the city.

Will I need a travel adapter for my electronics?

Yes, you will probably need a travel adapter for your electronic devices in Antalya, Turkey. The country operates on a 220-volt power supply and uses European type C and F outlets with two round pins. Bring a universal adapter or one specifically designed for Turkey to ensure that your devices can be charged and used without problems. It is also important to check that your electronic devices are compatible with the 220V power supply to avoid possible damage.

Are there any must-try local dishes?

In Antalya, be sure to try the delicious "peynirli pide", a cheese-filled flatbread that resembles a pizza. Another local favorite is "lahmacun", a thin crust topped with minced meat, vegetables and herbs. For seafood lovers, "şiş balık" (grilled fish on a skewer) is a coastal specialty. Don't miss "şakşuka", a delicious appetizer of sautéed vegetables in tomato sauce, or the sweet and syrupy "baklava" for dessert. Finally, be sure to try "tandır kebabı", slow-cooked lamb in a traditional clay oven.

What is the tipping culture like in Antalya?

The tipping culture in Antalya is similar to the rest of Turkey. It is common to tip waiters and hotel staff for good service, although not obligatory. It is common to tip about 10% of the bill in restaurants and cafes. For hotel staff, a few Turkish Lira (TRY) are welcome. Cab drivers do not usually expect a tip, but rounding up to the nearest lira or a reasonable amount is common. Overall, tipping is a gesture of gratitude, and the amount depends on satisfaction with the service provided.

Are credit cards widely accepted?

Credit cards are widely accepted in Antalya, Turkey, especially in tourist areas, hotels, shopping centers and upscale restaurants. Well-known card providers such as Visa, Mastercard and American Express are usually accepted. However, it is always a good idea to have some Turkish Lira ready in cash, as small local establishments, markets and street vendors may not have card payment options. Inform your bank of your travel plans to avoid a sudden blocking of your card due to suspected fraud.

Do I need a Visa to enter Turkey?

Whether you need a visa to enter Turkey depends on your nationality. Citizens of certain countries, such as the United States, the United Kingdom, Australia, Canada, and most European countries, require an e-visa, which can be applied for online before traveling. Nationals of other countries can enter Turkey without a visa for short-term tourism. Before planning your trip to Antalya, be sure to check the current visa requirements for your nationality with official Turkish government offices or your local embassy or consulate.

Is public transportation easily accessible?

Public transportation in Antalya is easily accessible and very convenient for both locals and visitors. The transport network includes streetcars, buses, minibuses (dolmuş) and cabs. The AntalyaKart, a prepaid card, can be used for streetcar and bus rides, making it easier to explore the city without having to worry about buying individual tickets. Overall, Antalya's public transportation system is an affordable and convenient way to get around the city and its surroundings.

Are there any dress code restrictions at historical or religious sites?

Yes, there are dress codes at historical and religious sites in Antalya, Turkey. When visiting mosques and other religious sites, both men and women should dress modestly and cover their shoulders and knees. Women should also cover their hair with a scarf. At historic sites, the dress code may be more relaxed, but it is still advisable to respect local customs and dress modestly so as not to cause offense. As a general rule, loose-fitting clothing, long pants or skirts, and tops with sleeves help to comply with the dress code.

How can I best experience local culture?

To best experience the local culture in Antalya, immerse yourself in the historic Kaleiçi district with its narrow streets, bazaars and cozy cafes. Visit the ancient Hadrian's Gate and the Antalya Museum to learn more about the city's rich history. Enjoy delicious Turkish cuisine at traditional restaurants and sample local tea at tea gardens. If possible, participate in local festivals and explore nearby villages where you can interact with locals and learn about their authentic way of life.

Where can I find medical assistance in case of an emergency?

In case of a medical emergency in Antalya, Turkey, you can visit nearby hospitals and medical centers, such as Antalya Training and Research Hospital, Anadolu Hospital or Akdeniz University Hospital. These facilities provide necessary medical support and emergency services. Alternatively, you can call an ambulance service at 112 for immediate assistance. Many medical facilities in Antalya have English speaking staff to help tourists with their medical concerns.

What kind of vaccines should I take before visiting Antalya?

Before visiting Antalya, be sure to have your routine vaccinations refreshed, such as against measles, mumps, rubella (MMR), tetanus, diphtheria and whooping cough. It is also advisable to get vaccinated against hepatitis A and typhoid, as these diseases can be transmitted through contaminated food or water. Vaccination against hepatitis B and rabies, while not essential, may be considered, especially if you are planning an extended stay or engaging in outdoor activities that increase the risk of animal bites. Always consult your physician before traveling.

How can I stay connected during my visit?

During your visit to Antalya, you have several options for staying connected. The city offers extensive 4G coverage, so using a local SIM card from providers such as Turkcell, Vodafone or Türk Telekom is a great way to access the Internet and make local calls. Free Wi-Fi is available in many public places, cafes and restaurants in the city. If you prefer a more reliable connection, you should rent a pocket Wi-Fi device to ensure uninterrupted Internet service during your stay.

Is haggling acceptable at local markets?

Yes, haggling is perfectly acceptable, and it's even an integral part of the shopping experience at local markets in Antalya, Turkey. Sellers expect buyers to bargain for a better price, especially in places like the Grand Bazaar and street markets. Being friendly and respectful can result in significant discounts or added value to your purchase. However, be careful and know the true value of the item you are interested in so you don't overpay.

Feedback

I hope you found this article informative and helpful. I'm eager to improve the content and make it even more valuable for you. If you have any feedback or suggestions, I would love to hear from you.

Do you have any tips or hidden gems that you think should be added to the list? Are there any areas that you feel could use more explanation or clarification?

Your input is greatly appreciated and will help us to continue providing high-quality content that meets your needs and interests. Please feel free to share your thoughts.