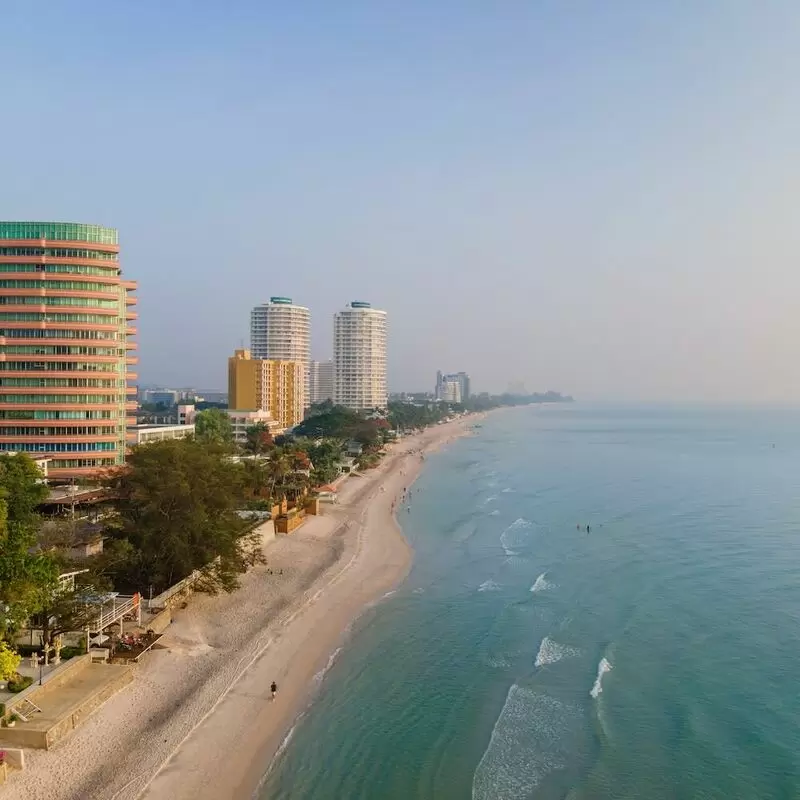 1. Wat Huay Mongkol
Immerse yourself in Thai culture at Wat Huay Mongkol, Hua Hin's famous Buddhist temple. Admire the colossal statue of the revered monk Luang Phor Thuad and participate in the local faith by placing a gold leaf on the statue. Don't miss the sculptures of mythical creatures, they bring good luck! Just 15 km away is the majestic Kaeng Krachan National Park, ideal for nature lovers. End your day with local dishes at one of the nearby countryside restaurants. Your Thai adventure is waiting for you.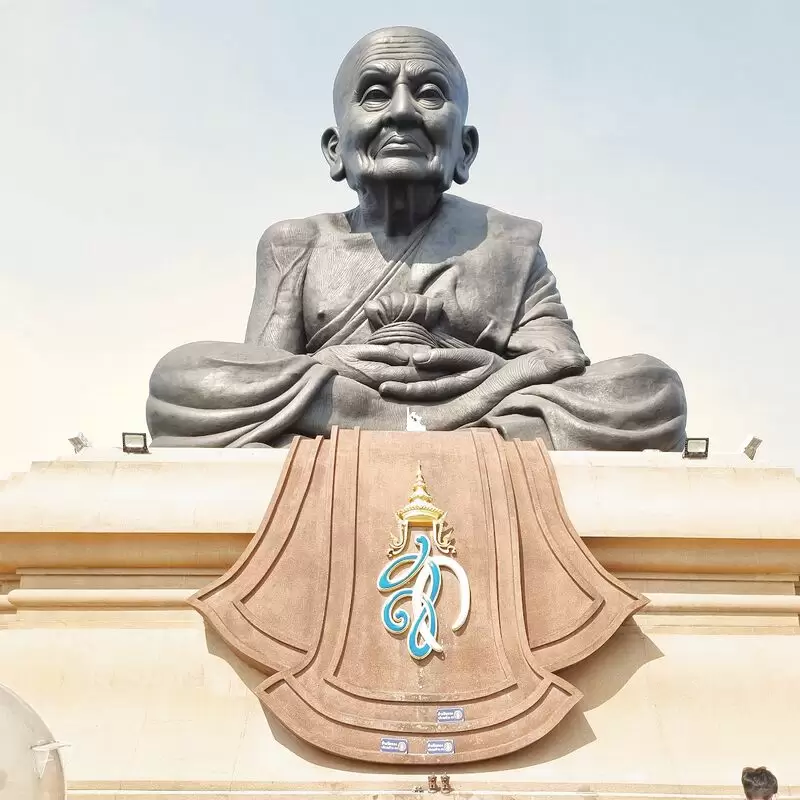 Wat Huay Mongkol
ทางหลวงหมายเลข 3219 Tambon Thap Tai, Hua Hin District
Monday - Sunday: 6:00 AM – 9:00 PM
2. Phraya Nakhon Cave
Adventure seekers and nature lovers should not miss a visit to the enchanting Phraya Nakhon Cave. Take a short, refreshing hike and be awed by the heavenly beauty of the vast cave. Admire the golden and green Khuha Kharuehat Pavilion, magically illuminated by a shaft of light. This well-kept secret of Hua Hin is simply a wonder! The picturesque Laem Sala beach nearby is also worth a relaxing visit, making your adventurous trip a mix of thrill and tranquility.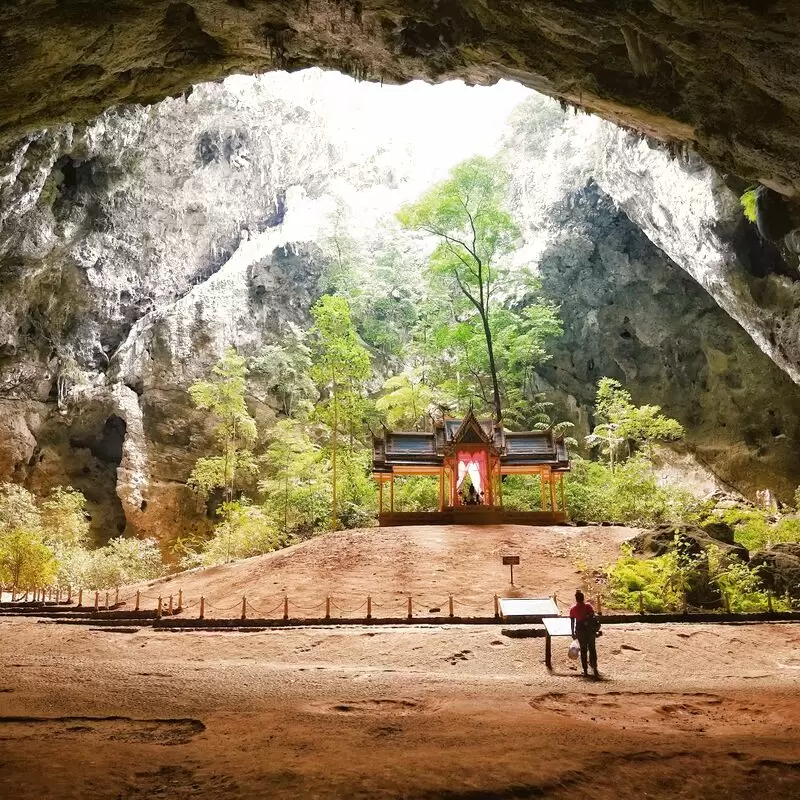 Phraya Nakhon Cave
บ้านเขาแดง Tambon Khao Daeng, Kui Buri District
Monday - Sunday: 8:00 AM – 3:00 PM
3. Cicada Market
Immerse yourself in the unique charm of Hua Hin's Cicada Market, a weekend night market bursting with creativity. Meet talented local artisans, buy unique souvenirs and enjoy delicious street food! Here art meets pleasure in open-air galleries, live performances and a pleasant atmosphere. Don't miss the extraordinary handmade artworks, a real treasure for collectors. Just a walk away is Tamarind Market, where delicious food and entertainment await you!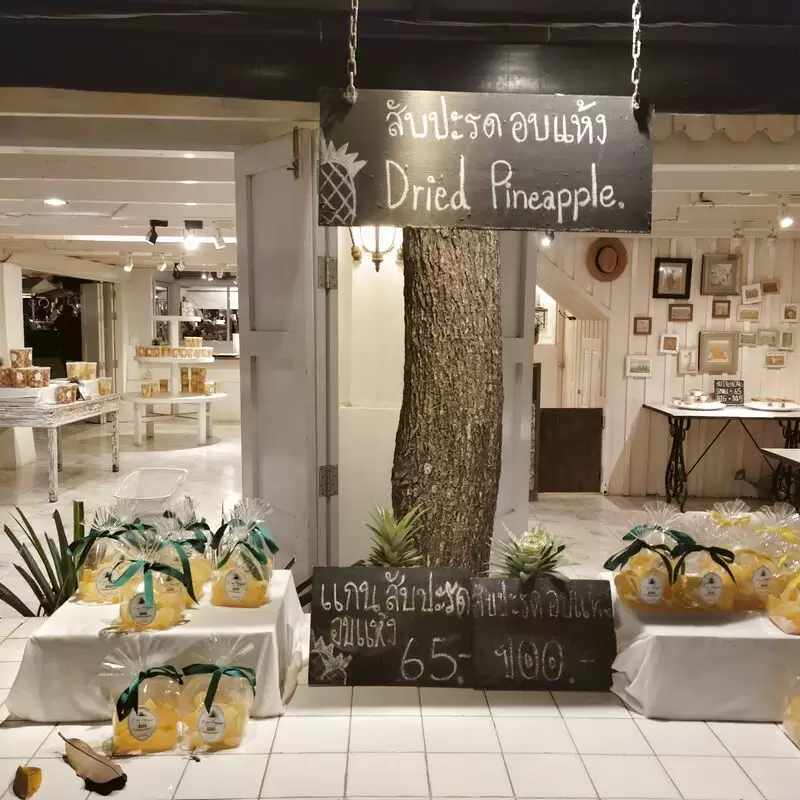 Cicada Market
83 159 ซอย หัวถนน 21 Tambon Nong Kae, Hua Hin District
Monday - Thursday: Closed
Friday - Sunday: 4:00 – 11:00 PM
4. Pran Buri Forest Park
Venture into the green oasis of Pran Buri Forest Park and experience nature up close. Here, a 1km boardwalk winds through a dense mangrove forest teeming with crabs and colorful birds. Adventure-seekers can rent bicycles and explore the nearby sandy beaches. Pran Buri is a must for nature lovers and is just a 30-minute drive from Hua Hin. The beauty of this park is unbeatable at sunrise, creating an authentic Thai atmosphere.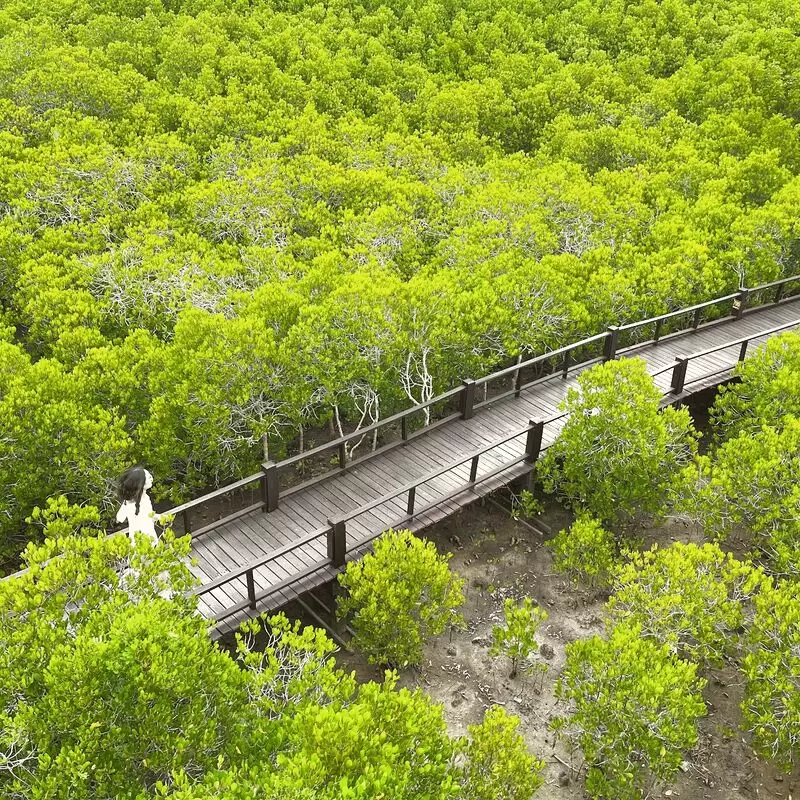 Pran Buri Forest Park
CX7P+86M, Pak Nam Pran, Pran Buri District
Monday - Sunday: 6:00 AM – 6:00 PM
5. Hua Hin Night Market
Experience the heart of Hua Hin at the lively Hua Hin Night Market. It's a feast for all the senses as the air fills with the aroma of delicious local delicacies sizzling at every stall. Shop for unique jewelry, ornate handicrafts, and custom-made clothing to commemorate your Thailand adventure. Discover the small seafood paradise where the catch of the day is prepared right before your eyes. Just a short walk away is the Hua Hin Railway Station, a beautiful piece of historic architecture not to be missed.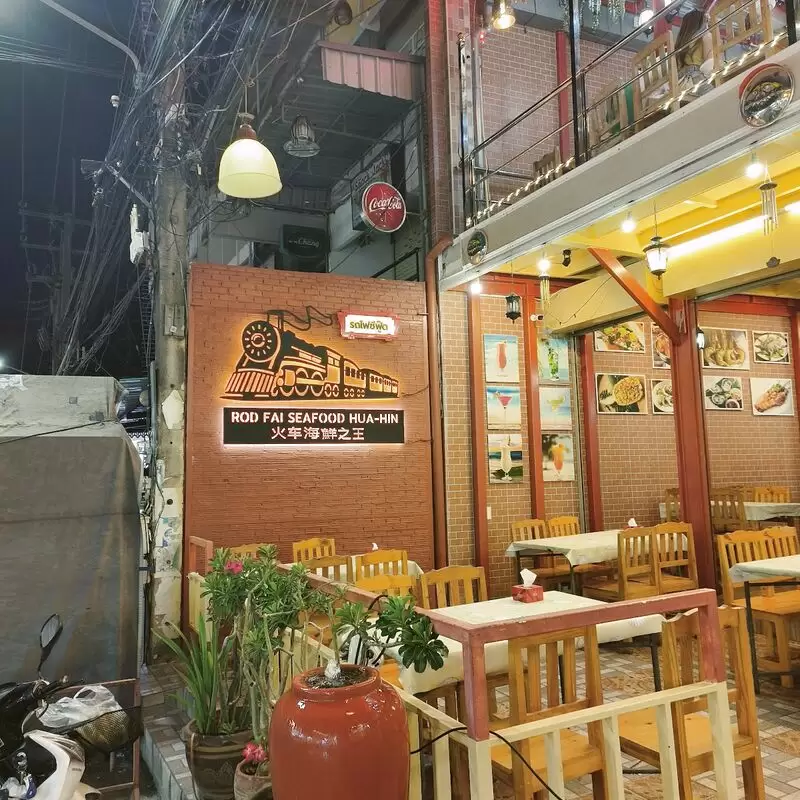 Hua Hin Night Market
ซ, หัวหิน 72 ตำบลหัวหิน Hua Hin District
Monday - Sunday: 6:00 PM – 12:00 AM
6. Hua Hin Beach

Hua Hin beach is a treasure trove of soothing views, white sand and stunningly clear waters. It's an oasis away from the hustle and bustle of city life and a haven for surfing, horseback riding, or simply relaxing with an enchanting sunset.

Insider tip: Don't miss the nearby Cicada Market, a vibrant arts and crafts hub with local vendors, street food, and live music. And just a stone's throw from the beach awaits Hua Hin's night market - an experience for shopping and gourmet addicts alike.

Hua Hin Beach
Hua Hin Beach, Prachuap Khiri Khan
7. Mrigadayavan Palace

A visit to Mrigadayavan Palace in Hua Hin is like stepping back in time to the reign of King Rama VI. Enjoy the distinctive combination of Thai and Victorian architecture that reflects the king's refined taste. As the sea breeze sweeps over the teak structures and magnificent gardens, the palace is a true poem!

Insider tip: Don't miss the king's living hall with its ornate latticework. Nearby, explore the tranquil Plearnwan Eco Vintage Village for an authentic Thai experience.

Mrigadayavan Palace
1281 เพชรเกษม Thanon Phet Kasem, Tambon Cha-am, Cha-am District
8. Vana Nava Water Jungle
Vana Nava Water Jungle is not only a water park, but also an eco-adventure! Ranked among the best in Asia, this oasis offers adrenaline-pumping slides, relaxing rides, and even an incredible high ropes course. Beyond the park, you can experience a unique night market at regular intervals. With over 200,000 plants and trees from all over Thailand, the park offers a perfect blend of exciting entertainment and lush nature. Nearby is the enchanting Rajabhakti Park with its colossal statues of seven former Thai kings.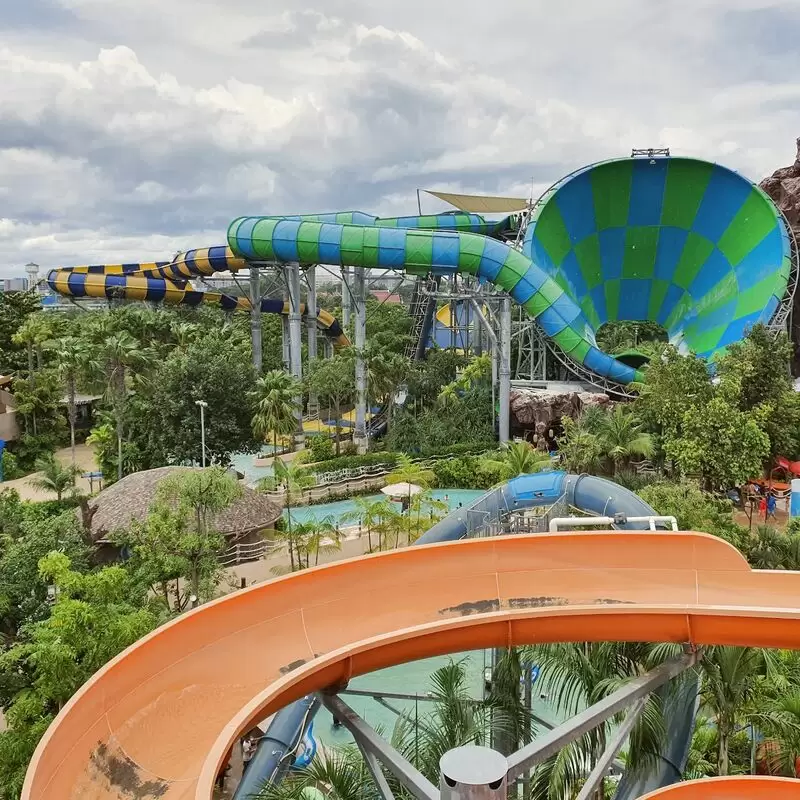 Vana Nava Water Jungle
129/99 หมู่บ้านหนองแก, ตำบล หนองแก Hua Hin District
Monday - Sunday: 11:00 AM – 5:00 PM
9. Market Village Huahin

Experience authentic Thai shopping culture at Market Village Huahin! This largest shopping complex in Hua Hin houses over 150 stores offering a wide range of fashion, food and tech products. Need a break from shopping? Catch a movie at one of the world-class cinemas. For foodies, there's a fabulous mix of local Thai restaurants and international chains.

For a real insider tip, don't miss the weekend night market with its handmade trinkets and street food. Just a stone's throw away is the lively Hua Hin Night Market, perfect for an evening stroll.

Market Village Huahin
234/1 Petchkasem Rd, Tambon Hua Hin, Hua Hin District

Monday - Sunday: 10:30 AM – 9:00 PM
Friday - Saturday: 10:30 AM – 10:00 PM
10. Swiss Sheep Farm
Experience a little piece of the European countryside in Thailand at Swiss Sheep Farm. Visitors love to stroll through the rustic barns, pet the cute sheep, and take heartwarming photos against the picturesque backdrop. The farm also houses a mini Amsterdam with Dutch windmills adding to its charm. With its proximity to Santorini Park and Camel Republic, Swiss Sheep Farm is a unique, family-friendly destination that offers more than the typical beach fun in Hua Hin.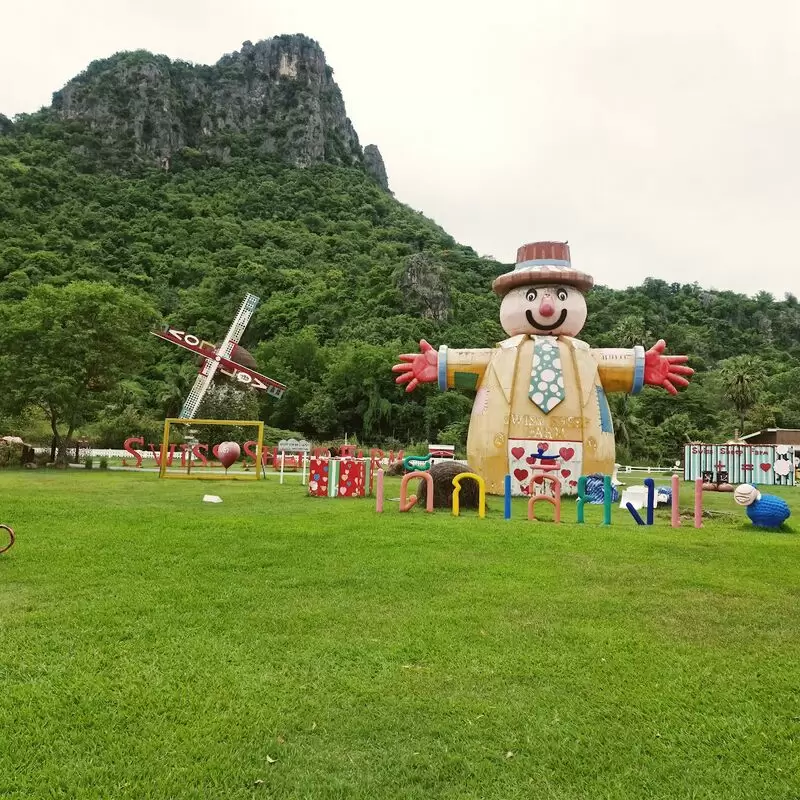 Swiss Sheep Farm
Petchkasem Rd, Tambon Khao Yai, Cha-am District
Monday - Sunday: 9:00 AM – 6:00 PM
11. Hua Hin

Hua Hin is a gem in Thailand that combines tranquility with vibrant street life. Known for its enticing sandy beaches, legendary night markets selling local Thai specialties, and iconic Thai temples, there is an abundance of enticing experiences.

An insider tip: Visit Hua Hin's historic train station for a glimpse into the past. Not far from Hua Hin is Khao Sam Roi Yot National Park, with its fascinating limestone formations, beaches, and diverse wildlife, which is a must-visit.

Hua Hin
ถนน สถานีรถไฟ Tambon Hua Hin, Hua Hin District
12. Wat Tham Khao Tao
A visit to Wat Tham Khao Tao should not be missed during a stay in Hua Hin. Hidden in a cave overlooking the sea, this impressive temple is adorned with majestic Buddha statues and visited by playful monkeys. Its location off the beaten path gives it a tranquil atmosphere. Plus, you can round out your spiritual journey here with a visit to nearby, enchanting Khao Tao Beach. Pro tip: Don't forget to explore the upper level of the cave, from where you'll have a breathtaking panoramic view of the sea framed by lush greenery.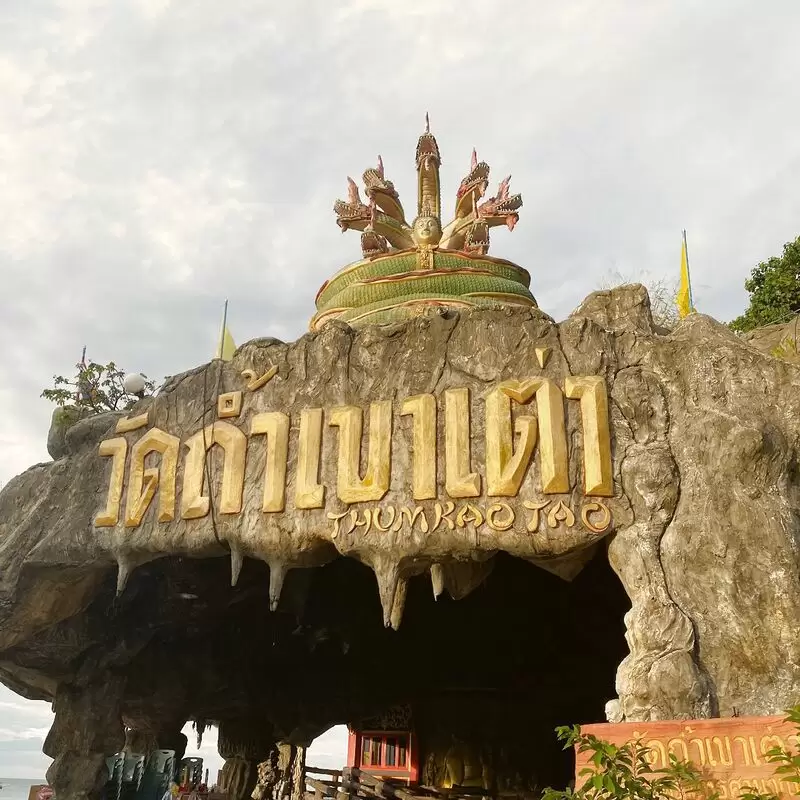 Wat Tham Khao Tao
FX4J+Q25, Nong Kae, Hua Hin District
13. Wat Khao Takiap
Visit Wat Khao Takiap in Hua Hin and experience a fascinating blend of culture, spirituality and scenic beauty. This sacred Buddhist temple sits atop the famous Monkey Mountain and offers spectacular panoramic views of the city. Experience the serenity of the resident monkeys, who add an unconventional twist to your spiritual journey. It's just a stone's throw from Hua Hin's stunning beach, making it a perfect place to combine leisure and exploration. Remember, however, that these monkeys are naughty - keep your belongings safe.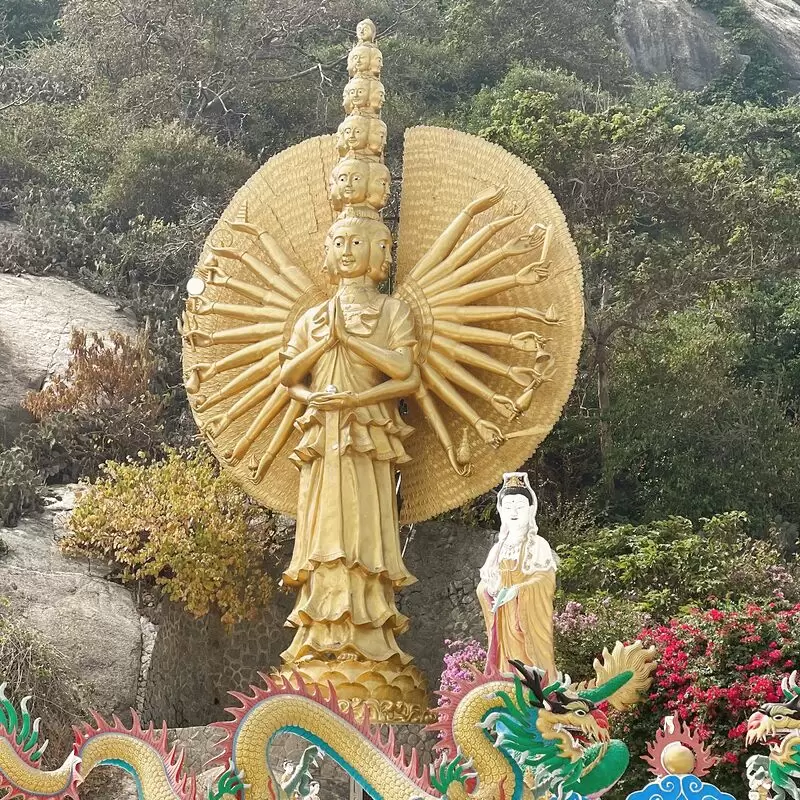 Wat Khao Takiap
123, 55 Nong Kae-Takiap, Tambon Nong Kae, Hua Hin District
14. Suan Son Pradipat Beach
Suan Son Pradipat Beach is the quiet jewel of Hua Hin, a serene escape from the bustling city. Cooled by the pine trees that provide shade throughout the day, it is ideal for spending a quiet beach day and enjoying the beautiful seascape. Owned by the Army Welfare Office, the beach is impeccably maintained. Pick up a fresh coconut from a local vendor and enjoy the salty breeze. Be sure to visit the nearby Khao Ta Kiab Temple, which has a spiritual touch and offers panoramic views of the coast!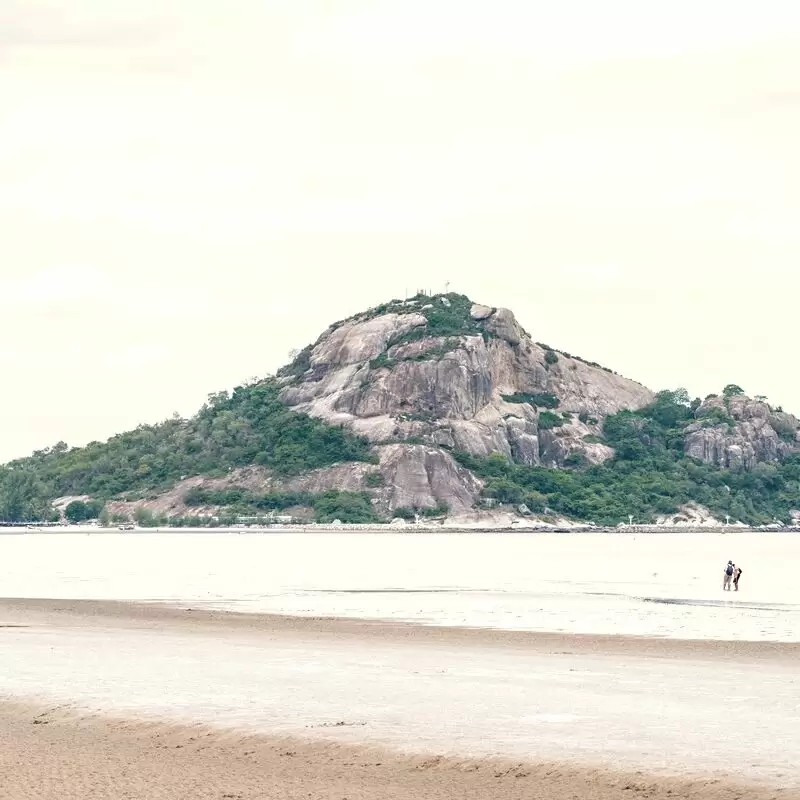 15. Pa La U Waterfall
Pa La-U Waterfall, a hidden treasure of Hua Hin, captivates with its lush beauty and tranquil setting. Spanning 11 steps, this waterfall is an experience for adventure seekers and offers excellent hiking opportunities. Don't miss the exotic sight of butterflies and birds or the stunning pool on the third level, home to wild carp. A visit to the nearby Kaeng Krachan National Park gives you the opportunity to experience nature up close.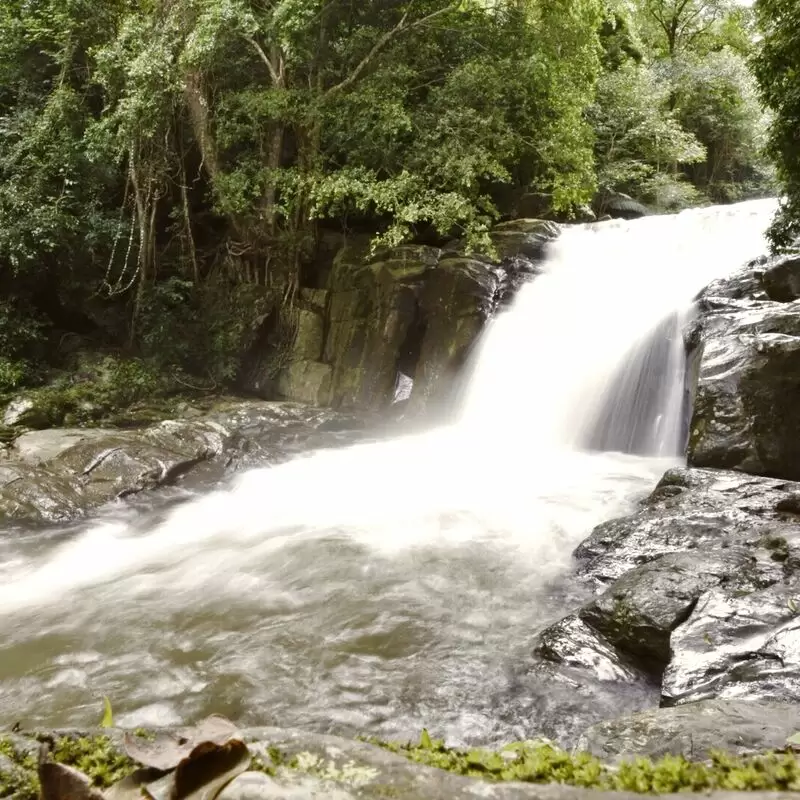 Pa La U Waterfall
GFQ7+6CV, Huai Sat Yai, Hua Hin District
16. Bluport Hua Hin Resort Mall

Experience a world-class shopping and dining experience at "Bluport Hua Hin Resort Mall". This ultra-modern mall offers everything from high-end luxury brands to charming local handicrafts and a variety of gourmet Thai restaurants. Known for its spectacular aquarium-style decor, Bluport is more than just a mall - it's an experience!

Insider tip: Don't miss the mesmerizing light show in the evening. Hua Hin's quiet beach is within walking distance, and you can explore it after shopping.

Bluport Hua Hin Resort Mall
8 89 Petchkasem Rd, Tambon Nong Kae, Hua Hin District

Monday - Sunday: 11:00 AM – 9:00 PM
17. Black Mountain Water Park

If you're looking for an adventurous getaway, don't miss Black Mountain Water Park in Hua Hin! Unleash your inner thrill on 9 exciting slides or just relax in the Lazy River. Dive into Thailand's largest wave pool while your little ones let off steam in the kid-friendly areas.

Insider tip: Venture up the 17-meter tower for unparalleled panoramic views! Nearby, tee off at Black Mountain Golf Club, an award-winning 18-hole golf course just a stone's throw away.

Black Mountain Water Park
1 หินเหล็กไฟ 2 Tambon Hin Lek Fai, Hua Hin District

Monday - Sunday: 11:00 AM – 5:00 PM
Wednesday: Closed
Saturday: 11:00 AM – 7:00 PM
18. Khao Hin Lek Fai
Escape to Khao Hin Lek Fai, an unbeatable vantage point with panoramic views of Hua Hin town and the sparkling gulf. This place captivates with its fertile landscapes and lush tropical foliage. The real gem? The early sunrise. It's a spectacle worth waking up for, especially with a breakfast picnic prepared. Just 3 kilometers from town, you'll find peace, birdsong and maybe a wild monkey or two! Walk to the six viewpoints or explore the nearby butterfly garden, a real treasure.
Khao Hin Lek Fai
527/3 ตำบล หัวหิน หัวเหล็กไฟ Tambon Hua Hin, Hua Hin District
Monday - Sunday: 6:00 AM – 8:00 PM
Best Time to Visit Hua Hin
The best time to visit Hua Hin is in the cooler months from November to February. The weather is pleasant with average temperatures between 20°C and 30°C, and there is little rainfall, making it perfect for beach activities and sightseeing. However, this is also the peak tourist season, so expect large crowds.
Annual Weather in Hua Hin
Hua Hin 3-Day Forecast
Tue, 26 September
Night
80 °F
27 °C
68%
Morning
78 °F
26 °C
0%
Afternoon
85 °F
29 °C
80%
Evening
79 °F
26 °C
77%
Wed, 27 September
Night
77 °F
25 °C
75%
Morning
76 °F
24 °C
73%
Afternoon
79 °F
26 °C
71%
Evening
77 °F
25 °C
53%
Thu, 28 September
Night
77 °F
25 °C
87%
Morning
77 °F
25 °C
0%
Afternoon
82 °F
28 °C
63%
Evening
77 °F
25 °C
61%
Questions & Answers

What local delicacies should I try in Hua Hin?

When in Hua Hin, be sure to try the Thai Seafood Basket, which includes a selection of seafood such as soft shell crabs, mussels and shrimp. Also enjoy the aromatic flavors of Pad Thai, which is prepared with local ingredients. For dessert, indulge in sticky mango rice, an iconic delicacy made from ripe mangoes and sticky rice cooked in sweet coconut milk. Finally, sip on the unique Thai iced tea, a sweet and creamy drink made from local tea leaves and spices.

Is it safe for solo travelers?

Yes, Hua Hin is generally considered safe for solo travelers. As with most destinations, it is important to be aware of your surroundings and take the usual precautions. Compared to other areas in Thailand, Hua Hin is a quieter and more relaxed town. The locals are generally friendly and helpful. Petty theft such as pickpocketing can occur, especially in busy areas, so keep your belongings safe. Stay in well-lit areas at night, especially if you are traveling alone.

How much cash should I carry?

The amount of cash you should carry depends on your daily spending habits. For a comfortable trip through Hua Hin, Thailand, including meals, sightseeing and other expenses, 1,500 to 3,000 Thai Baht per day per person is usually sufficient. However, always carry some extra cash for emergencies and remember that most places also accept credit cards. Always keep your cash safe and split it between your luggage and wallet to ensure safety.

Are credit cards widely accepted in Hua Hin?

Credit cards are generally accepted in Hua Hin, especially in larger hotels, restaurants and upscale stores. However, it is common for small stores, local markets and street vendors to accept cash only. Therefore, it can be useful to have some Thai local currency on hand to make small purchases and experience the local culture. Keep in mind that an additional 3-5% fee may be charged for credit card payments.

What kind of clothing should I pack?

Due to the tropical climate in Hua Hin, light, breathable clothing is recommended. Pack plenty of T-shirts, shorts and comfortable shoes for daily outings. A swimsuit is also a must if you want to enjoy the beach. Don't forget a hat, sunglasses and sunscreen to protect yourself from the sun. Light, loose clothing is best for the evenings. If you plan to visit religious sites such as temples, pack modest clothing that covers the shoulders and knees.

Is the tap water safe to drink?

Although tap water in Hua Hin, Thailand, goes through a purification process, tourists are advised not to drink it directly from the tap. Purification standards may not be the same as in your home country. It is always safer to drink bottled water, which is available in most stores in the city. Alternatively, you can boil the tap water or use a reliable water purification system to ensure that the water is safe for consumption.

Can I rent a vehicle in Hua Hin?

Yes, you can rent a car in Hua Hin, Thailand. Numerous rental companies offer a variety of options, from compact cars to SUVs. International visitors may need an international driver's license in addition to their home country's license. For a worry-free trip, it's a good idea to think about insurance. Whether you want to explore nearby national parks or travel along scenic routes, a rental vehicle is a good choice.

How good or bad is the traffic in the city?

Traffic in Hua Hin, Thailand, is generally manageable compared to other Thai cities like Bangkok. The roads are wide and well maintained, so traffic flows smoothly most of the time. However, during vacation periods, when locals and tourists flock to the city, traffic jams can occur. But overall, the traffic situation in Hua Hin is generally good, especially if you are used to driving in Southeast Asian cities.

Is English commonly spoken in Hua Hin?

Although Thai is the national language, English is spoken relatively frequently in Hua Hin due to its status as a popular tourist destination. Many locals, especially those working in the hotel, tourism and hospitality industry, have a good command of English. However, the level of proficiency can vary greatly. It is always a good idea to learn a few basic phrases in Thai to get around in non-touristy areas and to strike up conversations with locals.

What are the emergency numbers in Hua Hin?

In Hua Hin, Thailand, the nationwide general emergency number is 191. This number will connect you with the Thai police. In case of medical emergencies, you can dial 1669 to reach the emergency medical service. If you are a foreigner experiencing difficulties or security problems, you can contact the Tourist Police by dialing 1155. It is advisable to save these numbers in your phone to be prepared during your stay in Hua Hin.

Is there public transport available in Hua Hin?

Yes, Hua Hin has an accessible and functioning public transportation system for tourists to get around. The most popular means of transportation are songthaews, also known as mini-bus cabs, which run frequently around the city. Motorcycle cabs and tuk-tuks are also plentiful, and are ideal for short trips within the city. For long distance travel, there are regular train services and intercity buses.

How can I respect the local culture?

As a traveler in Hua Hin, Thailand, it is important to respect the local Thai culture. Dress modestly and behave politely, especially when visiting temples and shrines. Thai people value politeness and self-control, so try to show patience and avoid confrontation. Avoid pointing your foot at anything as this is considered disrespectful. Respect for the monarchy, which is deeply rooted in Thai society, is also essential.

How prevalent is bargaining in Hua Hin markets?

Bargaining is common in Hua Hin's markets, as it is in Thailand's local markets. Vendors expect customers to negotiate prices, especially for clothing, accessories and handicrafts. However, remember to negotiate politely and with a smile, as Thai culture values respect and good manners. Haggling is generally not accepted in large shopping malls or supermarkets where there are fixed prices.

How to avoid tourist scams?

In Hua Hin, it is important to always be alert to avoid becoming a victim of scams. Negotiate prices for tuk-tuks or cabs before your trip, check your bills at restaurants and stores, and don't leave your belongings unattended. Watch out for inflated prices - compare before you buy. Don't be pressured into accepting offers that are too good to be true. Taking out travel insurance for unforeseen events is also advisable.

Where can I find authentic Thai massage in Hua Hin?

One of the best places to experience an authentic Thai massage in Hua Hin is the Let's Relax Hua Hin 'Lavish Indulgence'. It is known for its tranquil ambiance and the expertise of its therapists. Located on the popular street of Night Bazaar, this spa offers a tranquil environment and fantastic treatments to unwind after exploring Hua Hin. The spa is known for its meticulous service and authentic Thai massages that offer a truly Thai relaxation experience.

What are some local customs or etiquettes I should be aware of?

In Hua Hin, Thailand, respect for the royal family is paramount. Disrespect is against the law. When meeting locals, a traditional Thai greeting or "wai" (putting hands together as if in prayer and bowing slightly) is the usual etiquette. Shoes should be removed before entering a house or temple. Remember to dress modestly, especially when visiting religious sites. Public displays of affection are frowned upon, and pointing with the feet is considered extremely disrespectful.

Is street food safe to eat in Hua Hin?

Street food in Hua Hin, like much of Thailand, is generally harmless. Many travelers enjoy the varied and delicious offerings of local stalls, such as Pad Thai, Som Tam, and various grilled seafood. However, it is advisable to eat at busy stalls where the turnover of food is high so that it is as fresh as possible. Pay attention to the vendor's hygiene measures to make sure the food is safe. If you have a sensitive stomach, drink plenty of fluids and avoid raw foods.

Do I need vaccinations before traveling to Hua Hin?

Although it is not mandatory for travel to Hua Hin, Thailand, it is generally recommended to keep up to date with routine vaccinations such as Hepatitis A and B, Typhoid, Tetanus and Measles, Mumps, Rubella. Depending on your activities and length of stay, you may also want to get vaccinated against diseases such as Japanese encephalitis and rabies. Always consult your doctor or a travel medicine specialist before your trip.

What's the local currency and where can I exchange money?

The local currency in Hua Hin, Thailand is the Thai Baht (THB). You can exchange your currency at various places, such as local banks, exchange offices and some hotels. It is advisable to compare prices to find the best deal. ATMs are also widely available and provide a safe and convenient way to obtain Thai Baht. There may be a fee for foreign transactions, so check with your bank beforehand.

Are there any cultural shows or performances happening in Hua Hin?

Hua Hin definitely offers several enticing cultural experiences. The Hua Hin Thai Show is a lively performance that showcases Thailand's rich culture and history with exquisite costumes, captivating dances and impressive acrobatics. Cicada Market is not only a shopper's paradise, but also entertains visitors with live musical performances and plays that give a glimpse into local arts and culture. You can also visit the Hua Hin Puppet Museum to see a fascinating puppet show. However, please inquire about the respective dates before your visit.

How's the nightlife in Hua Hin?

Hua Hin, known for its tranquility, offers a more relaxed nightlife compared to other Thai cities. Here you will find a range of evening entertainment, from night markets for food and souvenir shopping to sophisticated wine bars and jazz lounges for a relaxing night out. Beer lovers can cozy up in the lively beer bars, while those looking for a more energetic change of pace can enjoy music and dancing in the local nightclubs.

Can I easily find vegetarian or vegan food?

Certainly! In Hua Hin, Thailand, there are a number of restaurants that cater to vegetarians and vegans. Many local restaurants and eateries offer vegetarian Thai dishes, and you can also discover places that specifically serve vegan or vegetarian dishes. In addition, Thai cuisine is classically rich in fresh vegetables, fruits and herbs, making it easy to find sumptuous plant-based dishes. Don't forget to specify your dietary preferences when ordering.

Is Hua Hin LGBTQ+ friendly?

Hua Hin, like many popular destinations in Thailand, is largely LGBTQ+ friendly. The city embraces diversity and inclusivity with open arms, and you're likely to receive a warm welcome regardless of your sexual orientation. Although Hua Hin does not have as distinct an LGBTQ+ nightlife scene as Bangkok or Pattaya, there are still some gay-friendly bars and venues. Nevertheless, travelers are advised to respect local customs and traditions to ensure a smooth stay.

Are there any specific areas to avoid in Hua Hin?

Hua Hin is generally a safe and welcoming city for tourists, especially compared to other parts of Thailand. However, as in any other city, it is important to be vigilant in busy areas such as the night market to avoid pickpocketing. It is also recommended to avoid secluded or poorly lit areas during the night. Finally, do not go swimming during the monsoon season as the sea can get rough, especially in areas without a lifeguard station.

Is it easy to get a SIM card for my phone in Hua Hin?

But safe! Getting a SIM card in Hua Hin, Thailand is quite easy. Since Hua Hin is a popular tourist destination, many stores sell SIM cards for tourists, including at the airport and in stores like 7-Eleven. These SIM cards often come with a preloaded data or calling credit. However, in order to use a Thai SIM card, your phone must be unlocked. You often have to show your passport when buying such a card.

Feedback

I hope you found this article informative and helpful. I'm eager to improve the content and make it even more valuable for you. If you have any feedback or suggestions, I would love to hear from you.

Do you have any tips or hidden gems that you think should be added to the list? Are there any areas that you feel could use more explanation or clarification?

Your input is greatly appreciated and will help us to continue providing high-quality content that meets your needs and interests. Please feel free to share your thoughts.