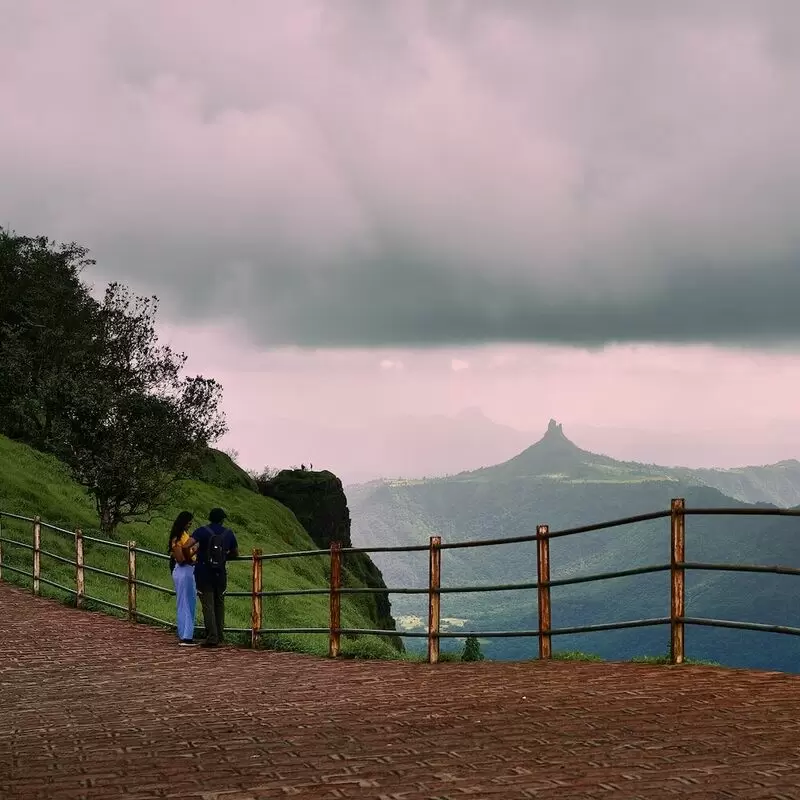 1. Matheran Hill Station
When you visit Matheran Hill Station, you can escape the stress of everyday life and breathe in the fresh, unpolluted air. Matheran is the only pedestrian hill station in Asia, which adds to its unique charm. Explore the 38 pristine viewpoints that offer magnificent panoramic views. Discover the diverse flora and fauna, not to mention the playful monkeys. Take a leisurely walk or rent a horse to make the city more exciting. Nearby, admire the architectural brilliance of Charlotte Lake and tranquil Echo Point. Pick up a local chikki for an authentic taste of Matheran!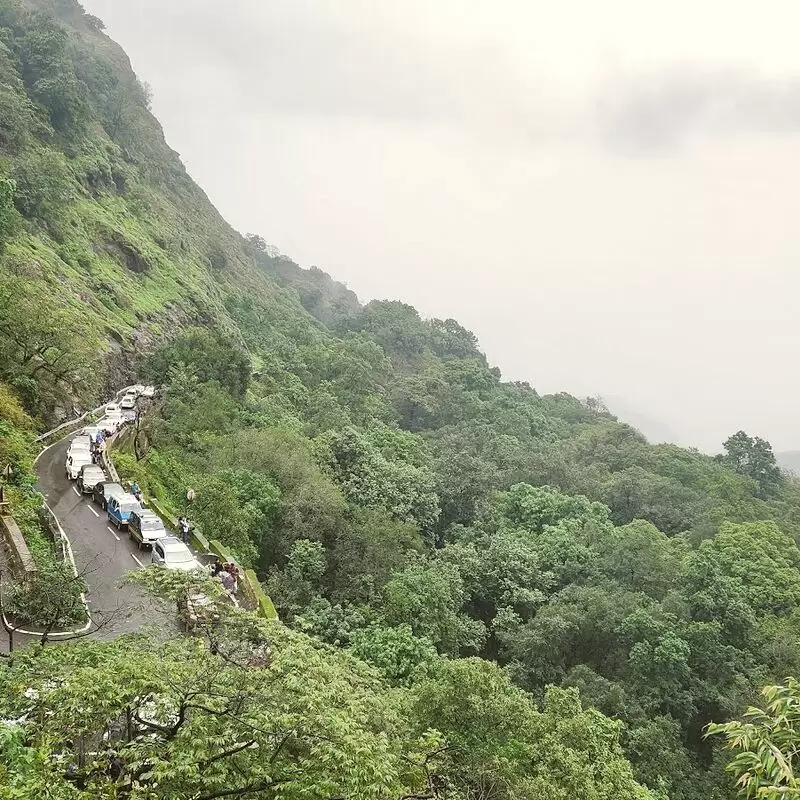 Matheran Hill Station
Kasturba Rd, Matheran
Monday - Sunday: Open 24 hours
2. Matheran Hills

Awaken the adventurer in you and experience the natural beauty of the "Matheran Hills". This highest hill station of Maharashtra offers breathtaking panoramic views. Indulge in the spirit of colonial times, with over 38 designated viewpoints. Unwind as you traverse the scenic trails without motorized vehicles.

Insider tip: Don't miss the picturesque sunrise at Louisa Point! Nearby, you can also explore tranquil Charlotte Lake, another Matheran gem.

Matheran Hills
Neral - Matheran Rd, Aman Lodge, Matheran
3. Echo Point Matheran
Experience the Echo Point of Matheran: the secret whispering gallery of India! Speak your heart out and hear the echo of the mountains back. Surrounded by lush greenery and tranquil valleys, Echo Point not only amplifies your voice, but multiplies the thrill! Just a short distance away is Charlotte Lake, another visual treat. Pro tip: Visit the lake in the morning to avoid the crowds and enjoy the mesmerizing sunrise, which adds even more beauty to your experience!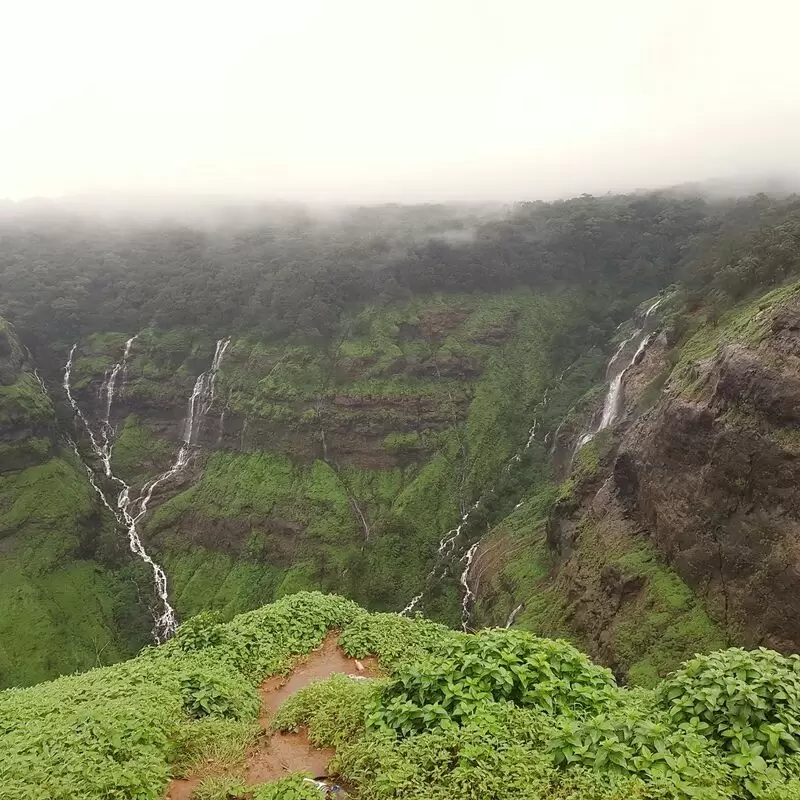 Echo Point Matheran
X7P6+GC9, Matheran
Monday - Sunday: Open 24 hours
4. Louisa Point Matheran
Exploring Louisa Point in Matheran opens up breathtaking panoramic views of the rugged Sahyadri Mountains and Prabal Fort. The place is a popular destination for sunrise and sunset lovers and offers breathtaking photo opportunities. If you listen closely, you can hear the wind-whispered stories of the fort. Pro-tip - bring your picnic basket and enjoy nature! Just a ride away, you can also visit Lake Charlotte, another serene and picturesque spot.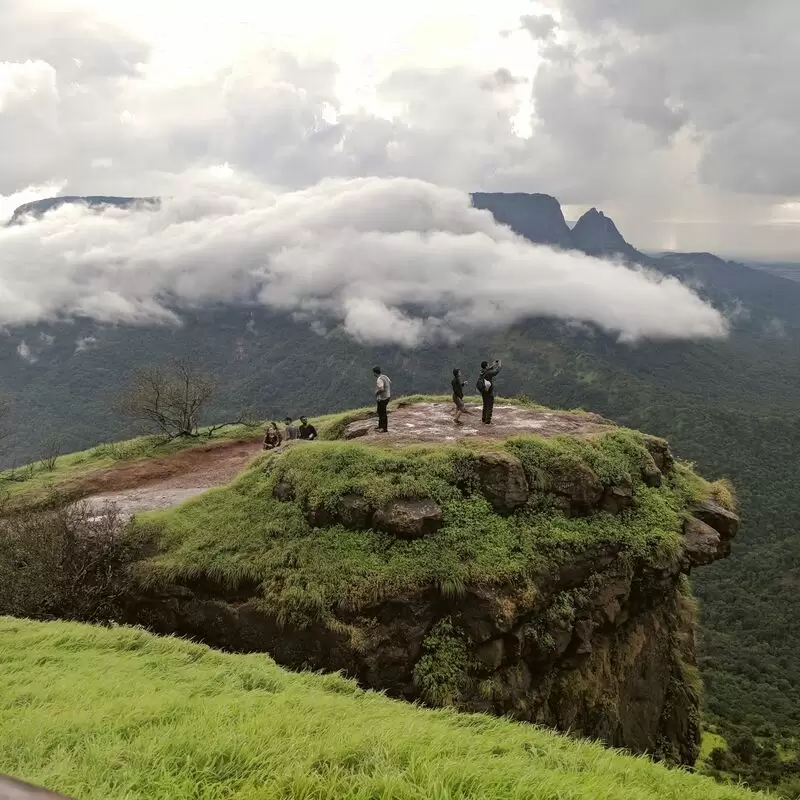 Louisa Point Matheran
Raigad District, X7P4+XF2, Matheran
Monday - Sunday: Open 24 hours
5. Lords Point Matheran
Experience the serene beauty of Lords Point, Matheran. Far from the chaos of the city, enjoy a breathtaking 360-degree view of the surrounding hills and valleys. Be sure to visit the place at sunset to witness an unforgettable natural spectacle. Explore the charming rustic trails that lead to Monkey Point, another must-see destination known for its captivating view of the deep precipice of Hart Cliff. Don't miss the calming atmosphere of this little-known paradise.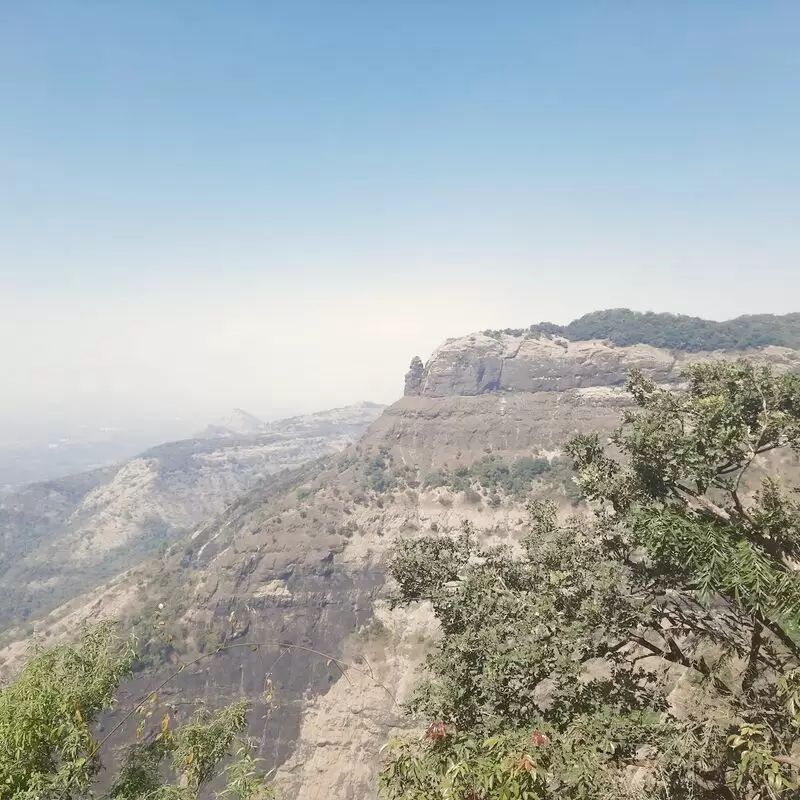 Lords Point Matheran
X7J6+447, Matheran
6. Sunset Point Matheran
Sunset Point offers a fascinating experience as the sun sinks behind the hills, bathing Matheran in a warm golden light. The panoramic view of the Western Ghats will leave you in awe. Local tip: Thanks to Matheran's eco-friendly environment, this place is ideal for stargazing after sunset. Just a short walk away is Louisa Point, another popular vantage point with breathtaking views of Prabal Fort.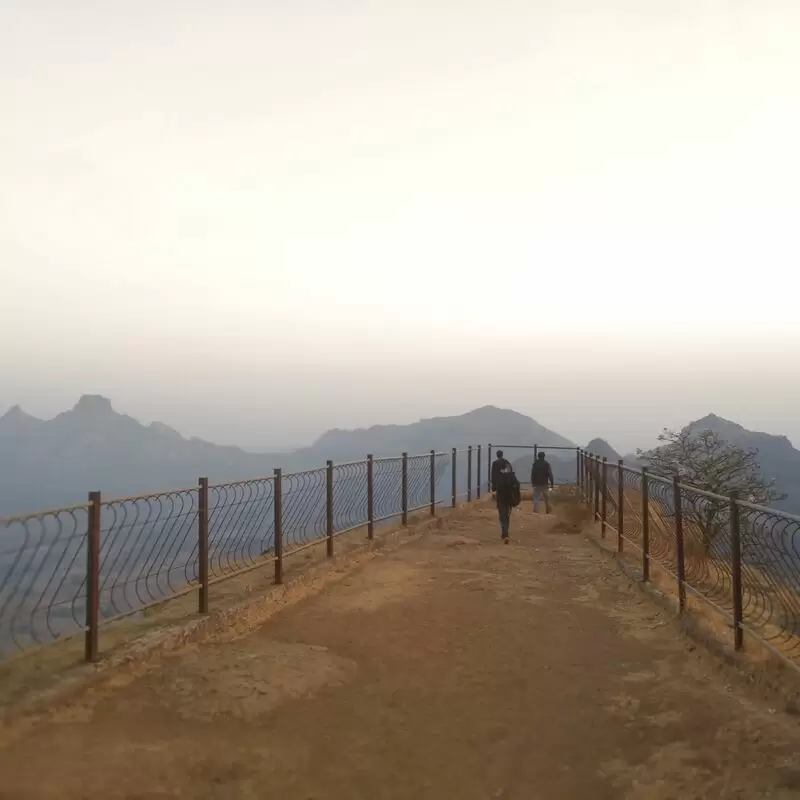 Sunset Point Matheran
Matheran
Monday - Sunday: Open 24 hours
7. Matheran Waterfall

Experience the tranquility of Matheran Waterfall, a hidden gem of Matheran! Here the water cascades down creating an enchanting mist. The surrounding greenery offers a surreal escape from the noisy city life.

Insider tip: Try to visit the waterfall during the monsoon season, when it is at its full force. While you're here, be sure to visit One Tree Hill Point, just a short walk away. It offers a magnificent panoramic view of the landscape.

Matheran Waterfall
222, Neral - Matheran Rd, Matheran

Monday - Sunday: Open 24 hours
8. Garbett Point

Garbett Point in Matheran offers breathtaking natural beauty that will leave you in awe. The magnificent views of misty valleys and lush green slopes offer an idyllic ambiance for nature lovers and hikers. It's also the perfect place to watch the sunrise or sunset bathe the sky in vibrant colors.

An insider tip: it's less crowded here, which makes for a peaceful experience. Just a stone's throw away is stunning Charlotte Lake, another gem that rounds out Matheran's scenic experience.

Garbett Point
Sondewadi

Monday - Sunday: Open 24 hours
9. Khandala Point
Khandala Point in Matheran is a must visit for nature lovers. Witness a mesmerizing array of sunsets where the sky meets the green valley. Often visited for its heart-stopping views of the flickering lights of nearby towns and cool breeze, Khandala Point certainly offers a tranquil respite from the hustle and bustle of life. Few know that it is also an ideal spot for birdwatchers! Echo Point, which offers breathtaking panoramic views and fun echo phenomena, is also nearby and adds an extra charm to your visit to Matheran.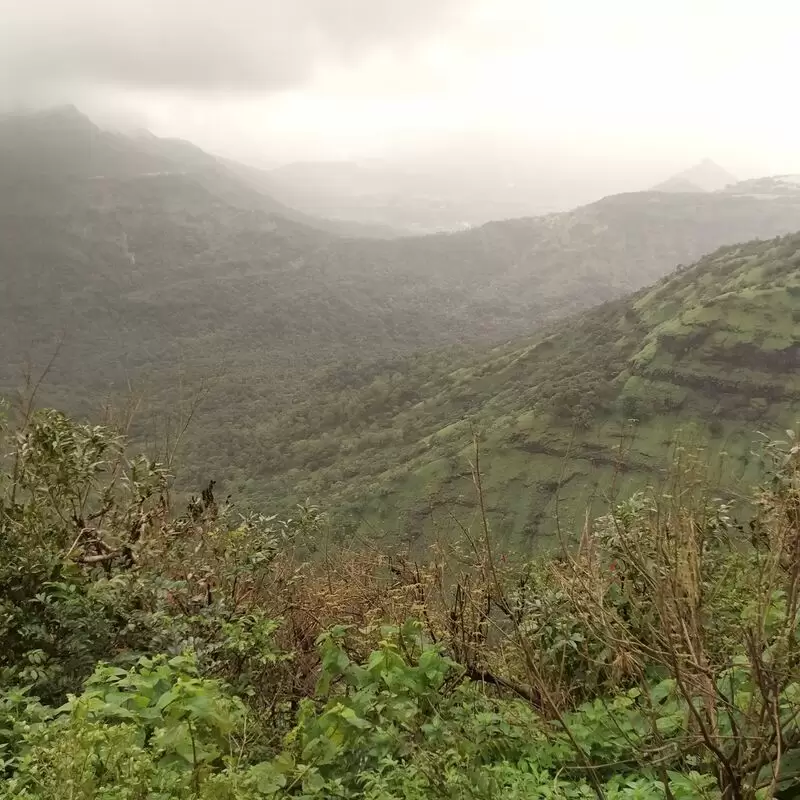 Khandala Point
X7MC+H9P, Matheran
Monday - Sunday: Open 24 hours
10. One Tree Hill Point

One Tree Hill Point in Matheran is a truly unique attraction that fascinates with its secluded location amidst the green beauty. A hike up here is a visual spectacle, the trail enchants with a mixture of different flora and fauna. The point itself offers a magnificent panorama over the valley, which is especially fascinating at sunrise or sunset.

An insider tip: bring a picnic, the tranquility here is made for it! Nearby, you can explore Echo Point, which adds to the majestic sounds of nature.

One Tree Hill Point
X777+53W, Matheran

Monday - Sunday: Open 24 hours
11. Panorama Point
Panorama Point is a true paradise for nature lovers. Imagine a 360-degree panoramic view of the serene Sahyadri Mountains, shrouded in lush greenery, with floating clouds touching its peaks. On an early morning visit, you'll enjoy sunrise views, while at dusk you'll be enchanted by the glowing sun setting behind the mountains. The wind blows a breath of silence. Just minutes away is Heart Point, a lesser known gem that adds to the magic of Matheran, with a distinct heart-shaped valley.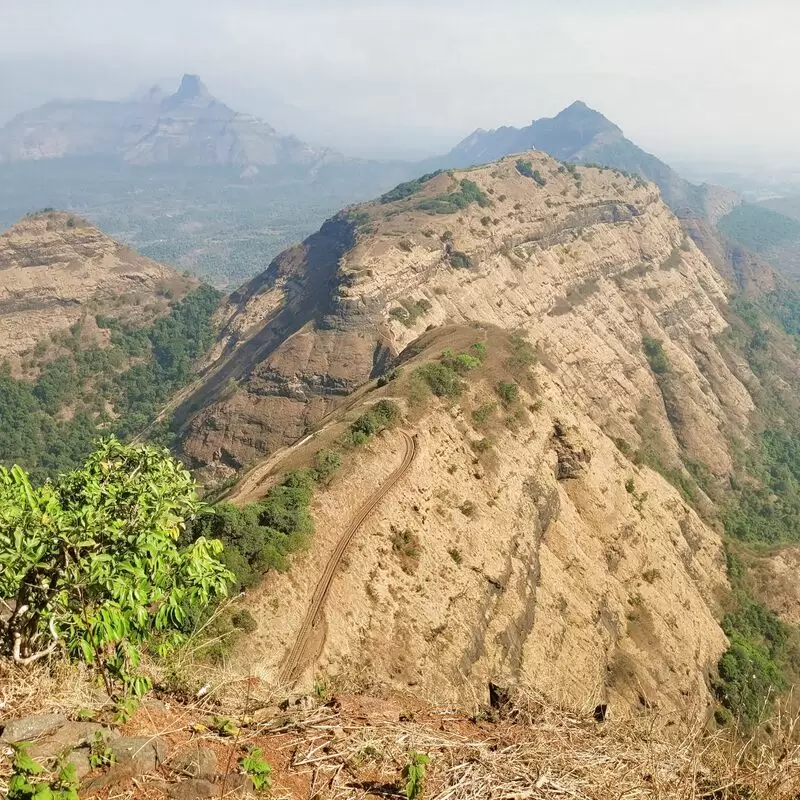 Panorama Point
279H+7XJ, Panorama Road, Matheran
Monday - Sunday: Open 24 hours
12. Matheran Stargazing Adventure Camp
The "Matheran Stargazing Adventure Camp" offers an exhilarating experience for cosmology enthusiasts and outdoor lovers alike. Breathe in the fresh, unpolluted air and be mesmerized by the clear view of celestial bodies in the open air. You might even see a shooting star! Specialized experts will enrich your adventure with fascinating cosmic stories. Nearby, a short walk will take you to Charlotte Lake, which reflects the starry sky and offers a double view of the heavens. An invigorating experience not to be missed!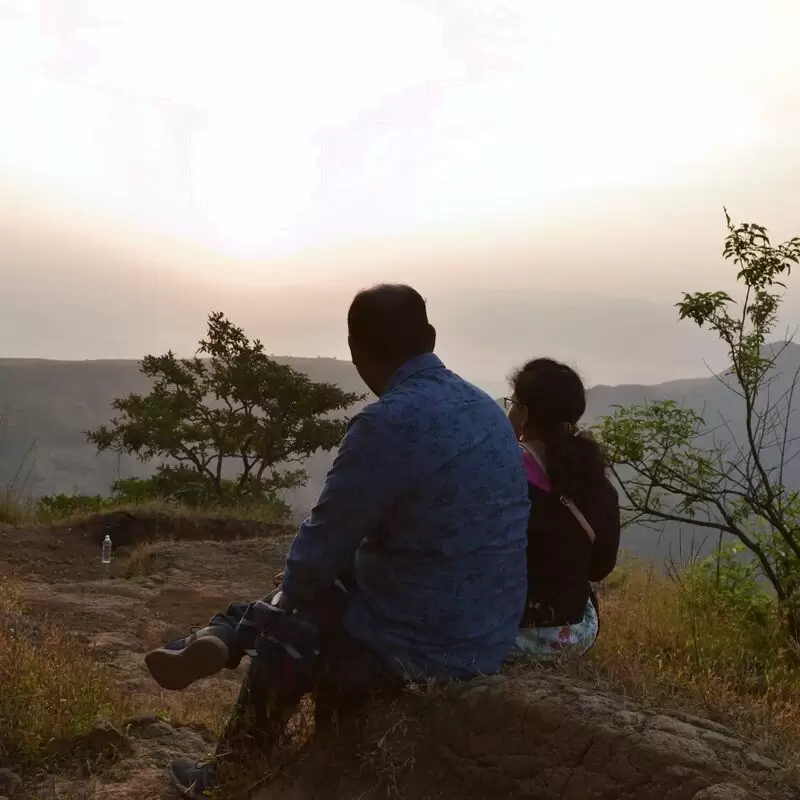 Matheran Stargazing Adventure Camp
Star gazing adventure, wallace banglow, gowshala, near matheran, Matheran
Monday - Sunday: Open 24 hours
13. Morbe dam

Immerse yourself in the tranquility at Morbe Dam in Matheran. Behind this attraction lies a vital source of water supply for Navi Mumbai. Not only is it an engineering marvel, it also offers captivating views of lush green panoramas perfect for nature photography.

Insider tip: Visit it during the monsoon season to experience it at its best. Nearby is Paymaster Park, a tranquil spot for picnic lovers. See the sun glistening on the waters of Morbe Dam and enjoy the atmosphere of Matheran!

Morbe dam
Morbe Dam, Maharashtra 410206

Monday - Sunday: Open 24 hours
14. Charlotte Lake
For a quiet getaway in nature, Charlotte Lake in Matheran is an incomparable place. Overlooked by Louisa Point, Charlotte Lake glistens enticingly, a sight that enchants all its visitors. An insider detail: it is the only water source for Matheran. Nearby is also a unique ecopoint known for its amazing echo phenomenon. The tranquil setting, punctuated by melodious birdsong, adds to the allure. A visit to the centuries-old Lord Point temple next to it is a must for culture lovers.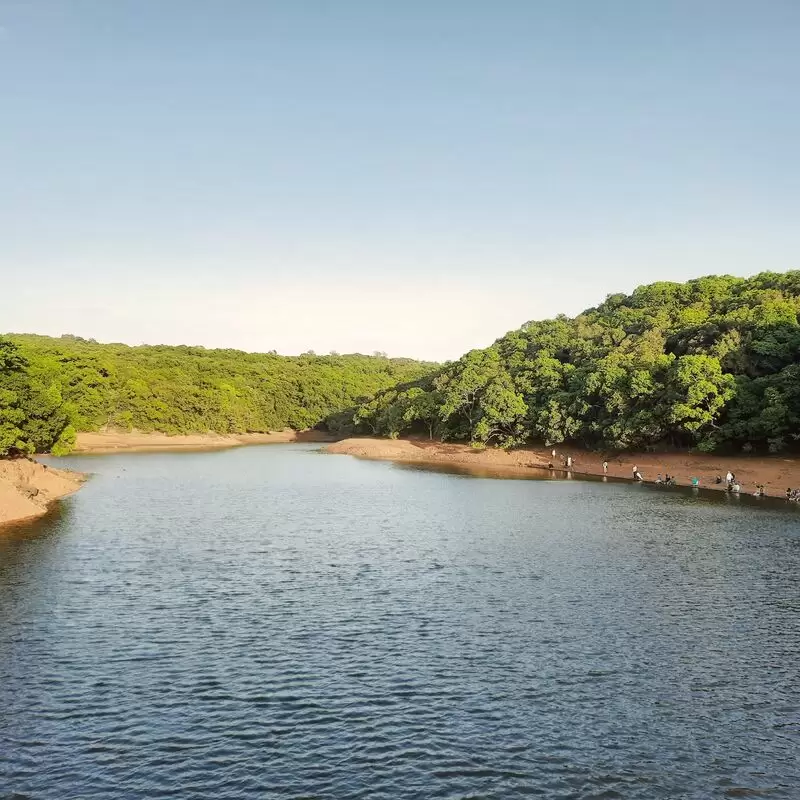 Charlotte Lake
Charlotte Lake, Matheran
15. Monkey Point
Venture to Monkey Point in Matheran and be enchanted by the panoramic view of the deep valleys. Feel the misty wind as you watch the cheeky monkeys hopping around in their natural habitat. Stay a while and enjoy the surroundings, which often intensify at sunrise or sunset. Just a short walk away is the fascinating Hart Point, from which you can see the illuminated city of Mumbai after dark. Remember to keep your distance from the monkeys, as they can be amazingly brazen when it comes to grabbing food!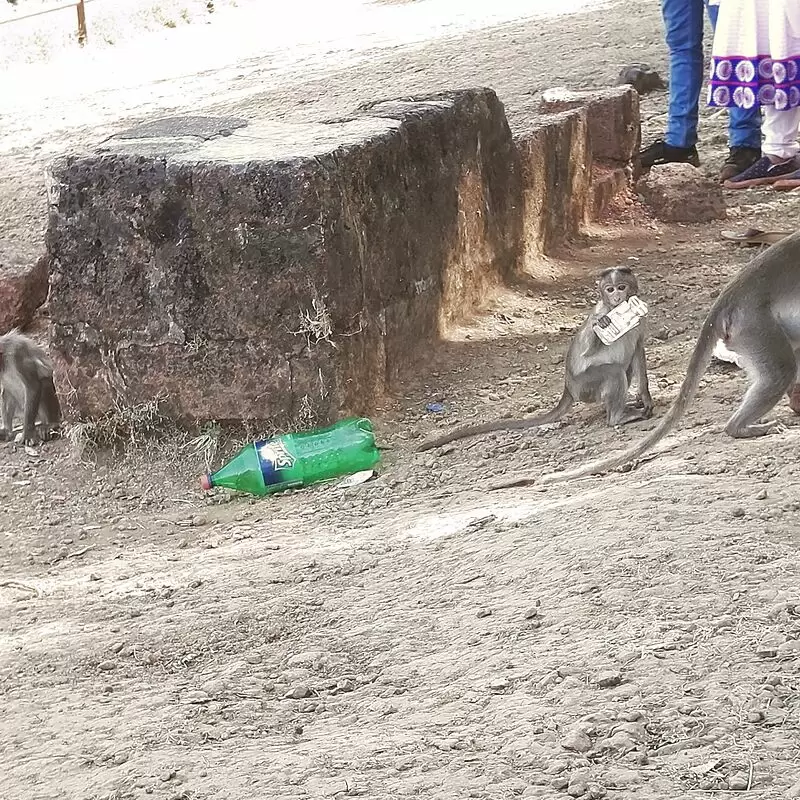 Monkey Point
273F+M4W, Maldunge
Monday - Sunday: Open 24 hours
16. Doodhani Waterfall

Take a trip to Doodhani Waterfall, a hidden gem in Matheran, for a mesmerizing experience. See the water cascade down the massive rocks, creating an enchanting sight. The hike to the waterfall through the dense forest is as exciting as it is rewarding. The water sports activities provide an adrenaline rush.

Insider tip: Take food and water with you. Visit nearby Charlotte Lake for mesmerizing sunset views - an ideal picnic spot to enjoy the tranquility of nature after an exciting day.

Doodhani Waterfall
Matheran

Monday - Sunday: Open 24 hours
17. Little Chowk Point Matheran
Be enchanted by the fascinating view of "Little Chowk Point" in Matheran, a pristine oasis away from the city stress. Its appeal lies in the diverse views of the picturesque panorama, including Harishchandragad, Roha Fort and the historic Peb Fort. Be enchanted by the sunrise or sunset that colors the sky in jewel tones. A little known fact is that the region is steeped in the echo phenomenon, which is a special treat for visitors. Don't miss the famous One Tree Hill Point, which is just a short walk away!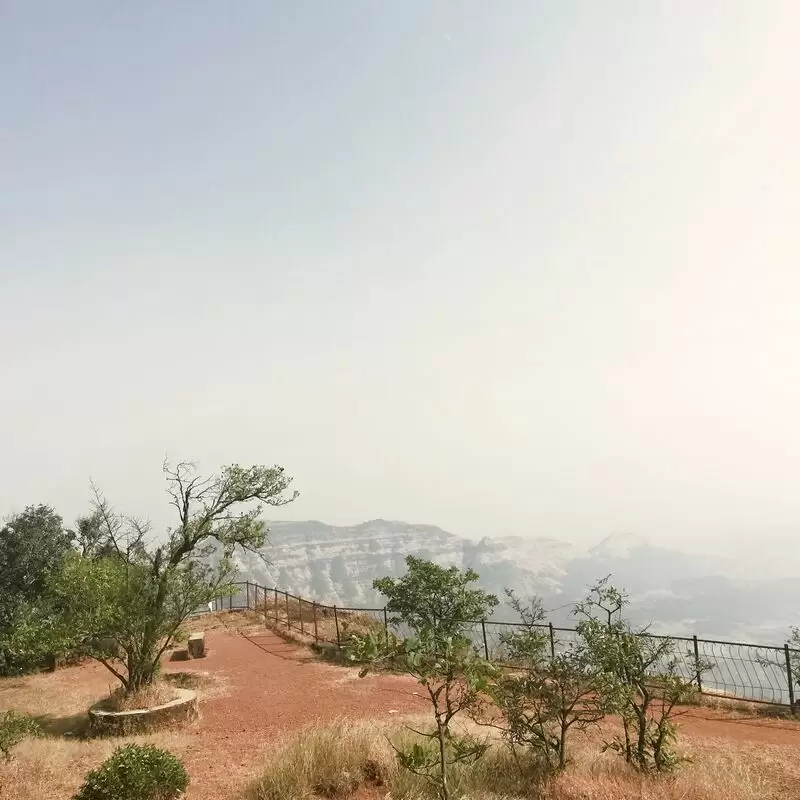 Little Chowk Point Matheran
Dist Raigad, X77C+49M, Matheran
Monday - Sunday: 6:00 AM – 7:00 PM
18. Rambaug Point
As a guide, I strongly recommend Rambaug Point, the hidden gem of Matheran. From here you have a fascinating panorama of Karjat town and Garbut Point. The exhilarating sunrise and sunset views are simply gorgeous! This quiet and unpopulated place offers a dose of relaxation in the midst of nature. If your trip allows for a little more adventure, visit nearby Echo Point, known for its natural echo phenomenon. Don't miss the authentic local food vendors offering delicious snacks - a delicacy for insiders.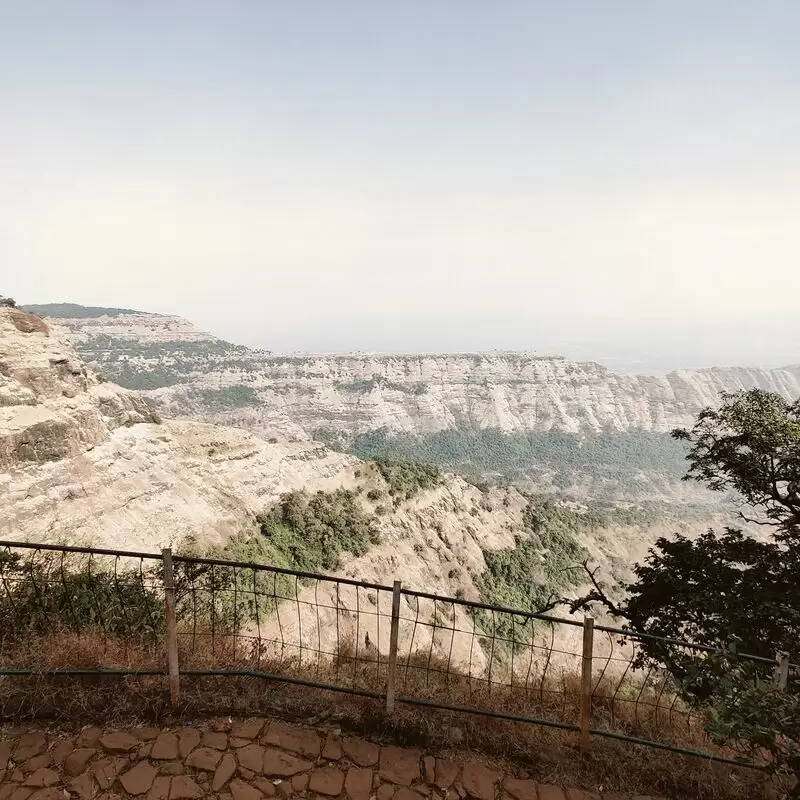 Rambaug Point
X7F9+MQH, Matheran
Monday - Sunday: Open 24 hours
Best Time to Visit Matheran
The best time to visit Matheran, India is during the months of October to May. During these months, the weather is pleasant and cool, ideal for outdoor activities and sightseeing. The monsoon season (June to September) also offers a captivating experience with lush greenery, but heavy rains can interrupt outdoor activities.
Annual Weather in Matheran
Matheran 3-Day Forecast
Thu, 21 September
Night
74 °F
23 °C
0%
Morning
75 °F
24 °C
87%
Afternoon
85 °F
29 °C
98%
Evening
77 °F
25 °C
72%
Fri, 22 September
Night
73 °F
23 °C
93%
Morning
73 °F
23 °C
91%
Afternoon
80 °F
27 °C
0%
Evening
78 °F
25 °C
0%
Sat, 23 September
Night
74 °F
23 °C
70%
Morning
75 °F
24 °C
70%
Afternoon
80 °F
27 °C
70%
Evening
76 °F
24 °C
79%
Questions & Answers

How to reach Matheran from Mumbai?

From Mumbai you can reach Matheran by train or by road. The nearest station is Neral, from where you can take the Toy Train. It offers a scenic ride up the hill to Matheran. Alternatively, you can drive or hire a cab by taking the Mumbai-Pune Highway and then take a turnoff to Karjat Road. When you reach Neral, take the road uphill to Dasturi Naka. From there, Matheran is a 30-minute walk or a short ride on horseback. The distance is about 90 kilometers.

How safe is Matheran for solo travelers?

Matheran is considered quite safe for solo travelers. This quiet hill station in India is populated by tourists all year round and offers a sense of safety and comfort. Hospitality is highly valued by the locals, and the well-organized tourism infrastructure ensures the safety of travelers. As anywhere in the world, it is always important to take the usual safety precautions, especially at night. The slow pace of life and quiet surroundings make Matheran a good choice for those exploring on their own.

Are there any restrictions on vehicle access in Matheran?

Yes, motor vehicles are completely banned in Matheran to preserve the tranquility and pristine environment. Anyone coming to Matheran must park their vehicle in Dasturi Park, located about 3 km from the city center. From there, visitors can travel on foot, on horseback or by hand-pulled rickshaw. Alternatively, one can take a mini train to Matheran. This unique policy helps to preserve the natural beauty of the area.

What is the local language spoken in Matheran?

The local language spoken in Matheran, India is Marathi, which belongs to the state of Maharashtra. It is the predominant language in the region. However, since Matheran is a popular tourist destination, most locals also speak Hindi and English. This multilingualism ensures effective communication with domestic and international tourists visiting Matheran, making their stay pleasant and comfortable. The diversity of languages spoken adds to the unique cultural essence of this picturesque hill station.

Can I get vegetarian food in Matheran?

You can definitely eat vegetarian food in Matheran. There are a variety of restaurants in the area that serve vegetarian dishes, including Indian, Chinese and continental cuisine. There are also several street snack bars that serve local specialties, many of which are vegetarian. So, it is not a problem to find tasty and filling vegetarian food in Matheran.

What is the popular local cuisine?

Matheran, India, offers a tasty array of Maharashtrian cuisine with a variety of vegetarian and non-vegetarian dishes. Popular local dishes include vada pav, a spicy potato filling sandwiched between bread, and pav bhaji, a thick vegetable curry served with soft bread. Misal Pav, a sprouted moth bean curry with bread, and Puran Poli, a sweet flatbread, are other popular dishes. Fresh local seafood, spicy chicken and mutton dishes are also high on the list. Together with a glass of refreshing solkadhi, the result is a complete gastronomic experience.

Is there any dress code required in Matheran?

There is no particular dress code prescribed in Matheran. However, since it is a hill station, it is advisable to wear something comfortable and appropriate for the weather. In summer, light clothing is appropriate, while in winter warmer clothing such as jackets or sweaters are necessary. Since Matheran is a car-free zone and most of the exploration is done on foot or horseback, comfortable footwear is recommended. Remember that your primary goal is to enjoy nature and the beautiful surroundings, so dress comfortably to make the most of your visit.

What are the modes of transportation within Matheran?

Matheran is a unique destination in India where vehicles are strictly prohibited to protect the pristine environment. Therefore, the main means of transportation within the town are horses and hand-pulled rickshaws. There is also a mini train that runs from Neral to Matheran, but only as far as the entrance. For convenient navigation, there are numerous well-marked pedestrian paths in the city that allow for a pleasant stroll through the tranquil surroundings.

How much should I budget for a day in Matheran?

The daily budget for a tourist in Matheran can vary depending on individual preferences. However, on average you should budget around 2000 to 3000 INR per day. This includes accommodation, meals, transportation within Matheran and entrance fees to attractions. Note that Matheran is mostly toured on foot or horseback, as motor vehicles are prohibited, which can reduce transportation costs.

Is Matheran wheelchair-friendly?

Matheran, a hill station in Maharashtra, India, is not entirely wheelchair accessible. The town is car-free, which means all transportation is on foot or horseback. The terrain is rough and has many inclines, making it difficult for wheelchair users. However, some hotels and resorts offer special amenities and accessibility features for people with disabilities. It is recommended to check with the accommodations before planning a visit and be prepared for any inconveniences.

Any popular local festivals in Matheran?

Although Matheran is a small hill station, it vividly participates in several traditional Indian festivals such as Diwali, Navratri and Holi, attracting visitors with its lively celebrations. The most notable is the Ganesh Chaturthi, where locals and visitors join together to honor the elephant-headed god Lord Ganesh. It is adorned with elaborate decorations, vibrant processions and captivating cultural performances that reflect the rich cultural heritage of the region. Due to Matheran's colonial past, Christmas is also festively celebrated with carol singing and special church services.

Are there ATMs available in Matheran?

Yes, there are some ATMs in Matheran, but their operation can be unreliable due to network connectivity issues that are common in hilly regions like Matheran. Therefore, travelers are advised to carry enough cash to cover their expenses during their stay. For emergencies, there are some banks where you can withdraw cash, but be prepared for possible delays or inconveniences.

Can I use credit cards in Matheran?

While some major establishments in Matheran accept credit cards, this is not a widespread practice due to the rural nature of the area. In addition, electronic transactions can occasionally be disrupted by network problems. Therefore, it is recommended to carry sufficient cash for amenities and local expenses. Exchange enough money before traveling to Matheran to avoid potential inconveniences.

What is Matheran famous for?

Matheran, in the Indian state of Maharastra, is famous for its breathtaking views, its cool and tranquil atmosphere, and its status as an eco-friendly destination. Matheran is known for being a car-free zone, which encourages people to explore the area on foot or horseback. This picturesque hill station offers majestic views of the Sahyadri mountain range and attractions like Charlotte Lake and the old Prabalgad Fort, a blend of natural beauty and history. It is especially known for its viewpoints such as Echo Point and Sunset Point.

Is there good medical service available in Matheran?

Matheran has basic medical services, including some government primary care centers and emergency clinics. However, more advanced or specialized medical services are not readily available. For severe emergencies or complex medical needs, the nearest well-equipped health facilities are in Mumbai, about 44 kilometers away. Travelers are therefore advised to take any needed medications and preventive materials with them.

Are there guides available for hire in Matheran?

Yes, there are numerous tour guides available for hire in Matheran for a comprehensive exploration of the region. The guides are well versed with the history, culture and geography of Matheran and can provide an enriching tour experience. With their knowledge in different languages, these guides ensure that tourists do not miss any important sights or experiences in the city. They are available at major tourist spots, hotels and online platforms and can be conveniently booked.

Can I drink the tap water in Matheran?

Although there is clean and drinkable tap water in Matheran, tourists should always use bottled water to be on the safe side. The local tap water may contain bacteria that can cause stomach upset or other health problems, especially for those who are not used to it. Besides, bottled water ensures that you stay hydrated during your adventurous excursions into the breathtaking nature of Matheran.

Is Matheran suitable for kids?

Matheran is undoubtedly a great family-friendly destination and especially suitable for children. They will love the ride on the toy train that leads to Matheran, the horseback rides through the hill station, and the beautiful picnic areas in the area. Matheran also offers many easy, scenic trekking routes for slightly older children. Being a pollution-free zone, Matheran is also very healthy and refreshing for the little ones. The quiet, serene environment contributes to a relaxing family vacation.

Are there any nature reserves or parks in Matheran?

Matheran is located in the Sahyadri mountain range and is often called the "green heart of India" because of its lush landscapes. The entire region is protected, so it resembles a large nature reserve. One of the main attractions is the panoramic view from Echo Point or Louisa Point. There are several trekking routes that lead to Charlotte Lake or to the historic site of One Tree Hill. Even though there are no official parks or reserves here, the natural beauty of Matheran is profound and omnipresent.

Does Matheran have internet connectivity?

Yes, there is an internet connection in Matheran. However, network reception and internet connection in this hill station may not be as stable as in urban centers due to its remote location. Many hotels and resorts offer Wi-Fi services to their guests, but the speed and reliability may not be constant. It is recommended to download the necessary information or maps for offline use before traveling. It is a perfect destination to disconnect from the digital world and get in touch with nature.

Are there any safety concerns in Matheran?

Matheran is generally a safe destination for tourists. However, as with any destination, it is advisable to exercise a certain amount of caution. Take care of your belongings to avoid theft. Also, be careful when trekking or horseback riding due to the hilly terrain. There is a possibility of encountering monkeys, so do not carry food openly. Medical supplies are limited, so it is important that you carry the necessary medications. Be sure to stay hydrated and protect yourself from sun exposure. However, taking out travel insurance is always essential.

Can I hire a bike in Matheran?

Unfortunately, motor vehicles, including bicycles, are banned in Matheran to protect the pristine environment. In fact, Matheran is the only car-free hill station in Asia. However, horses and hand-pulled rickshaws are available to get around, and you can also walk. Matheran offers a unique, refreshing and eco-friendly travel experience amidst tranquility and spectacular natural beauty.

What is the custom regarding tipping in Matheran?

In Matheran, India, tipping is not obligatory, but is highly appreciated as a reward for good service. In hotels, restaurants and cabs, a tip of about 10% of the total bill is considered appropriate. However, this should only be given if there is no service charge. For hotel staff such as bellboys and maids, a tip of between 20 and 50 rupees is appropriate, depending on the service. Always remember to carry cash for this purpose.

Feedback

I hope you found this article informative and helpful. I'm eager to improve the content and make it even more valuable for you. If you have any feedback or suggestions, I would love to hear from you.

Do you have any tips or hidden gems that you think should be added to the list? Are there any areas that you feel could use more explanation or clarification?

Your input is greatly appreciated and will help us to continue providing high-quality content that meets your needs and interests. Please feel free to share your thoughts.