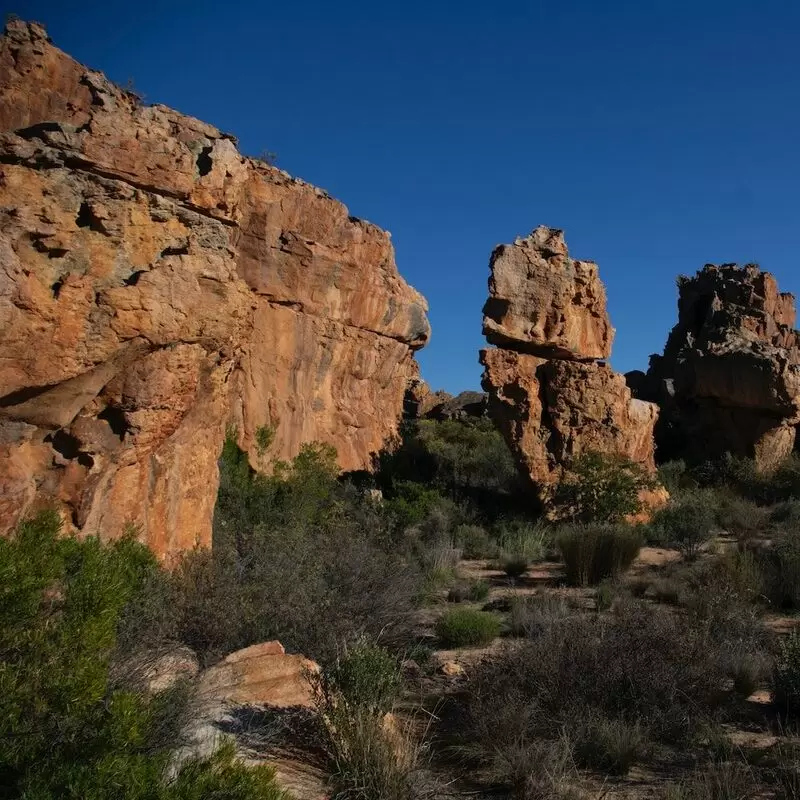 1. Cederberg Wilderness Area
Venture into the Cederberg Wilderness Area, where you can hike through enchanting rock formations sculpted over thousands of years. It's a wonderland for hikers with rich biodiversity. Because the wilderness is less traveled, it offers solitude and pristine landscapes. Take on the challenge of hiking to Wolfberg Arch, a hidden gem of the region. Don't miss the extraordinary Bushman artwork found along the trails. Nearby, soak in the natural hot springs at The Baths in Citrusdal - a relaxing end to your adventurous day.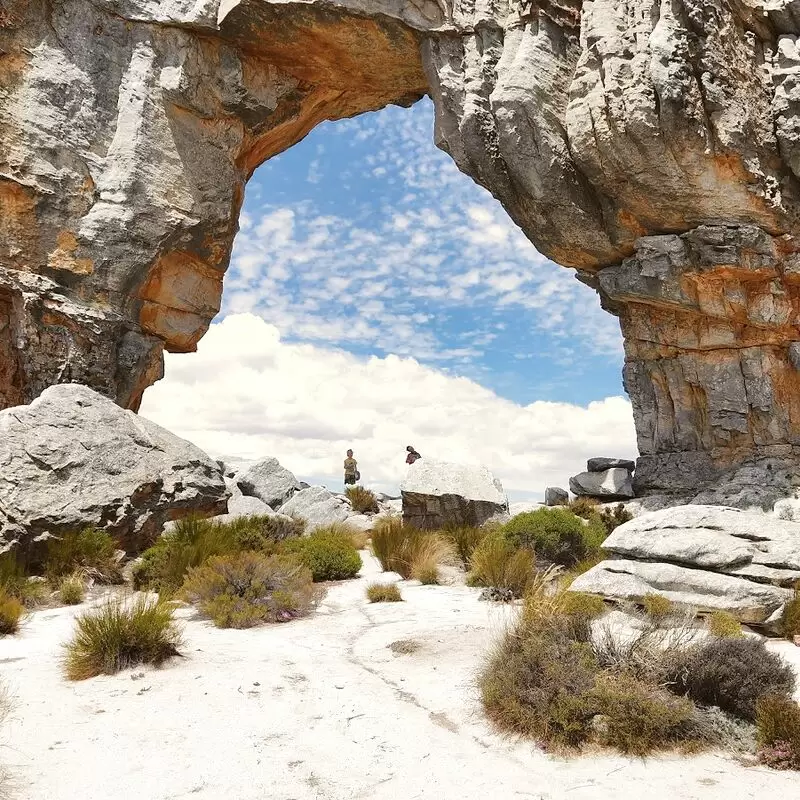 Cederberg Wilderness Area
West Coast DC
2. The Baths Natural Hot Springs

The Baths Natural Hot Springs in Citrusdal, a world-class spa, offers a truly unique outdoor experience. Relax in therapeutic waters known for their healing properties amidst the natural splendor of rock formations and lush vegetation. Private chalets and campsites provide rest and relaxation.

Insider tip: Don't miss stargazing from the outdoor pool at night - it's truly magical. Nearby, explore the Cederberg Mountains and the stunning Clanwilliam Dam for a diverse and relaxing vacation.

The Baths Natural Hot Springs
The Baths Farm, The Baths Road, 7340

Monday - Sunday: 8:00 AM – 5:00 PM
Saturday: 8:00 AM – 3:00 PM
3. Piekenierskloof Mountain Resort By Dream Resorts

Discover the tranquil beauty of the Cederberg Mountains at Piekenierskloof Mountain Resort. Nestled among vineyards and citrus orchards, this is the ultimate place to unwind. Crystal-clear swimming pools, breathtaking hiking trails, and ziplines through the treetops are just a few of the tangible attractions.

An insider tip: don't miss the sight of the sun bathing the mountains in golden hues in the late evening. The historic Citrusdal Baths, a thermal spa, are just a 25-minute drive away. A must for every visitor!

Piekenierskloof Mountain Resort By Dream Resorts
N7 Piekenierskloof Pass, Citrusdal

Monday - Sunday: 6:30 AM – 8:00 PM
4. Stadsaal Rock Art
Visiting the Stadsaal rock art in Citrusdal is an unforgettable journey into the past. This ancient Bushman art, estimated to be thousands of years old, is a silent testament to a bygone culture. It is not well known, which makes it a fascinating, unconventional stop on your journey of discovery. Nestled in stunning rock formations, the art truly tells a story. Nearby, don't miss the Wolfberg Arch and Cracks, a dramatic spectacle formed over millions of years. In Citrusdal, history and nature meet in a captivating way.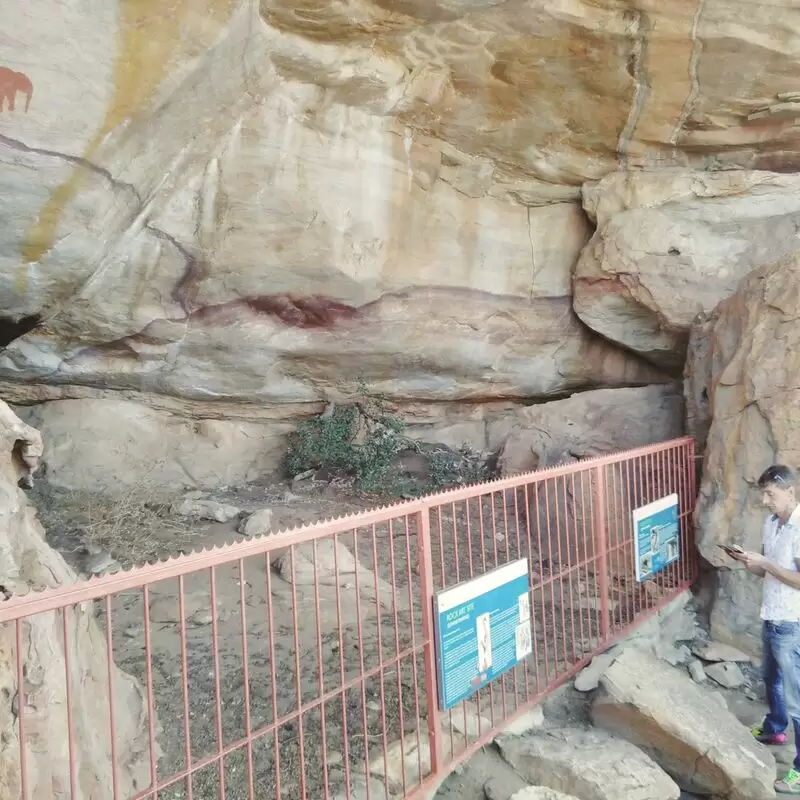 Stadsaal Rock Art
Citrusdal
Monday - Sunday: 7:00 AM – 7:00 PM
5. Stadsaal Caves
Immerse yourself in the fascination of prehistoric times on a visit to the Stadsaal Caves in Citrusdal, a surreal labyrinth of underground caverns containing ancient works of art magically hidden by the ancient Bushmen. The stories of these indigenous people echo throughout the caves and make for an exciting history lesson. Be sure to take a moment to visit the "Boerekraal", a natural pen created by rock formations. Just a stone's throw away, you can enjoy the breathtaking spectacle of rare wildflowers in the Cederberg Wilderness Area.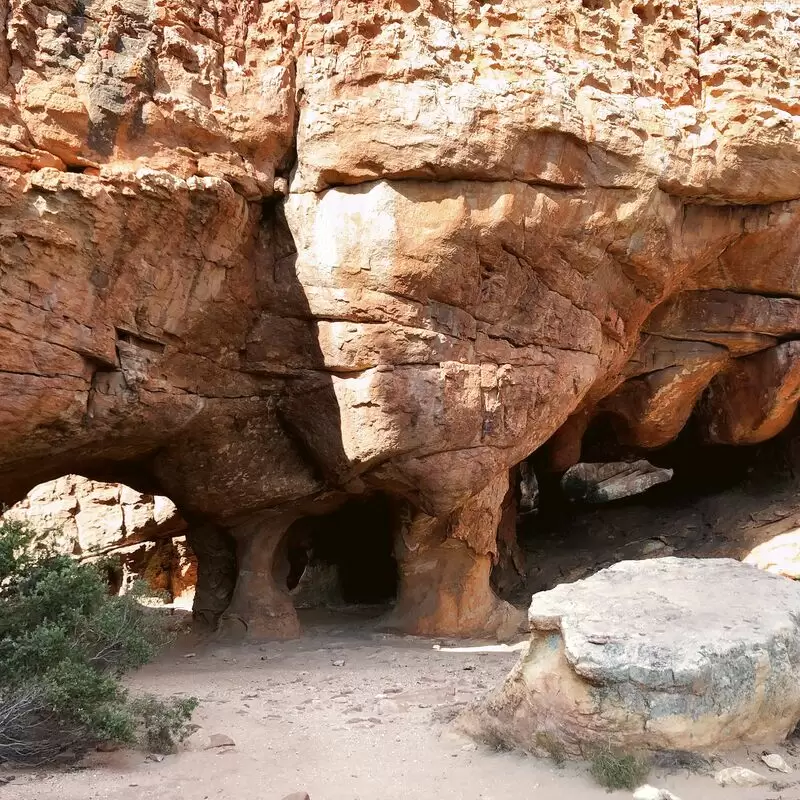 Stadsaal Caves
Cederberg Wilderness Area, West Coast DC, Western Cape
Monday - Friday: 7:30 AM – 4:00 PM
Saturday - Sunday: Closed
6. Matjiesrivier Nature Reserve
Immerse yourself in the rugged, natural beauty of Matjiesrivier Nature Reserve. Here, amidst the breathtaking fynbos and rugged cliffs, you can discover the rich biodiversity of Citrusdal, South Africa. The reserve lies in the heart of the extraordinary Cederberg Wilderness Area. Walk among fascinating rock formations, spot wild antelope, or escape the hustle and bustle of the city while watching the crystal clear skies. Don't miss the unique San rock carvings, a testament to the area's deep-rooted history. Nearby, the 18th-century Biedouw Valley awaits, where wildflowers bloom seasonally.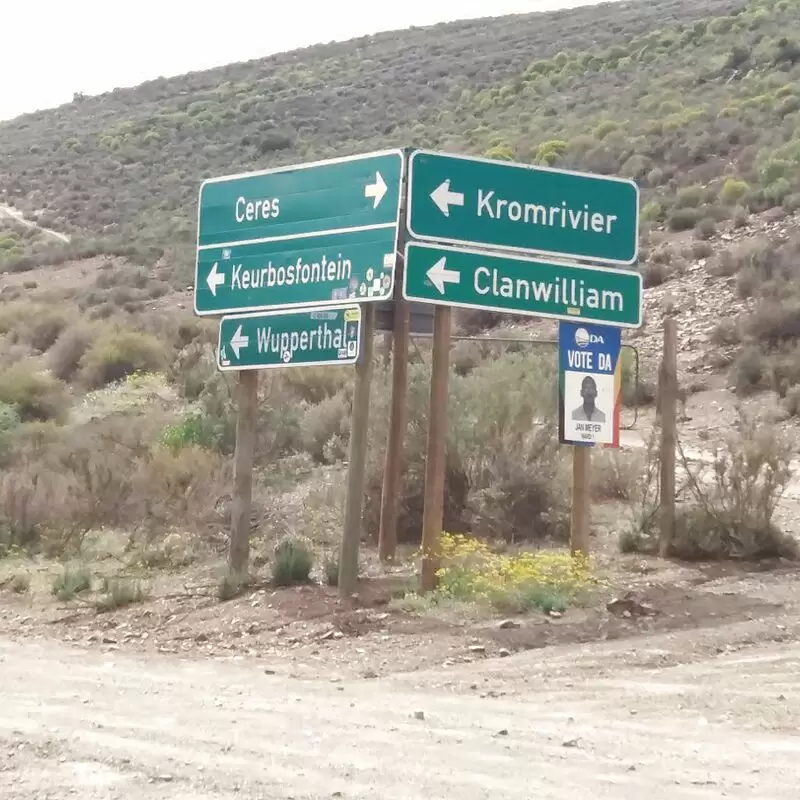 Matjiesrivier Nature Reserve

7. Truitjieskraal
Truitjieskraal, nestled in the sublime Cederberg Wilderness, is a fascinating journey back in time. Imagine a landscape adorned with fascinating sandstone formations, ornate San rock art and spectacular flora. Experience an unprecedented silence. Don't miss the captivating "Kissing Rocks" and "Rain Slab" formations. Just a stone's throw away is Grootfontein Private Nature Reserve, an underrated gem teeming with wildlife and dotted with prehistoric evidence. Adventures await you in this breathtaking landscape in the heart of Citrusdal.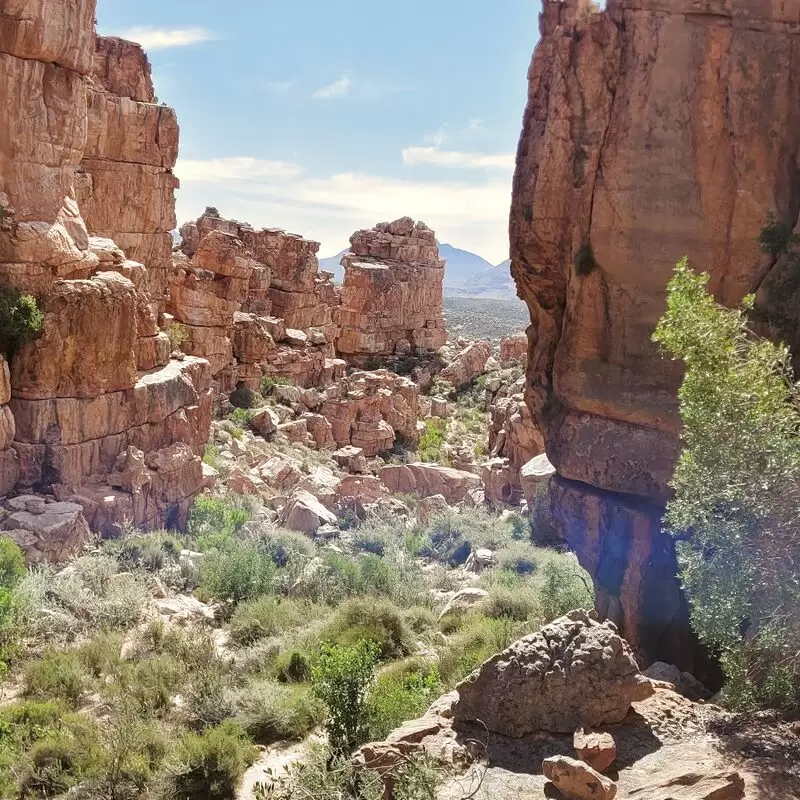 Truitjieskraal
Unnamed Rd
Monday - Friday: 7:30 AM – 4:30 PM
Saturday - Sunday: Closed
8. Jamaka Organic Farm & Resort

Immerse yourself in the tranquil beauty of Citrusdal and visit Jamaka Organic Farm & Resort. Experience traditional farm life while basking in unspoiled nature. Enjoy hand-picked organic produce or go on hikes that will let you in on the secrets of the Cape Fynbos. Unwind as the water cascades from the cliffs into cool mountain pools.

An insider tip: don't miss out on trying the farm's signature organic rooibos tea. Just 27 km away, the Cederberg Wilderness awaits extended exploration.

Jamaka Organic Farm & Resort
Farm Grootkloof, District Road DR 2182, Road To Algeria, Clanwilliam

Monday - Sunday: Open 24 hours
9. Cederkloof Botanical Retreat
Experience serenity at Cederkloof Botanical Retreat, an oasis of sustainable living in the fynbos-rich mountains of Citrusdal. Here, eco-friendly lodging meets rejuvenating hot springs for an ideal escape from city life. Take a trip to the surrounding botanical garden, home to thousand-year-old cedar trees. And don't forget to visit The Baths with its hot mineral water and invigorating cold pools just a stone's throw away. Here, nature, relaxation and sustainability combine for a refreshing South African experience.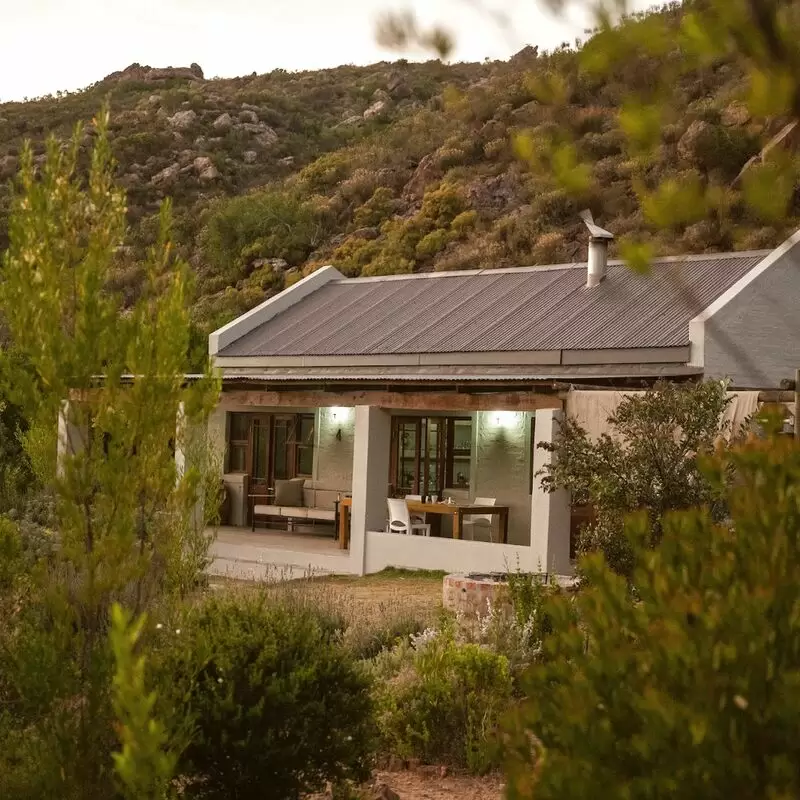 Cederkloof Botanical Retreat
R303, Regional Rd (The Baths), Citrusdal
10. Cederberg Algeria Campsite
Experience the great outdoors at Camping Cederberg Algeria. Set amidst remarkable mountain ranges, the campsite is an explorer's dream. Hiking enthusiasts will be delighted by the well-marked trails. Cool off in the refreshing swimming hole, a secret gem of the locals. Marvel at unique rock formations and ancient San rock art. Also plan a visit to the fascinating Stadsaal Caves, just a short drive away. This is the ultimate quiet retreat, offering a mix of adventure, cultural immersion and relaxation.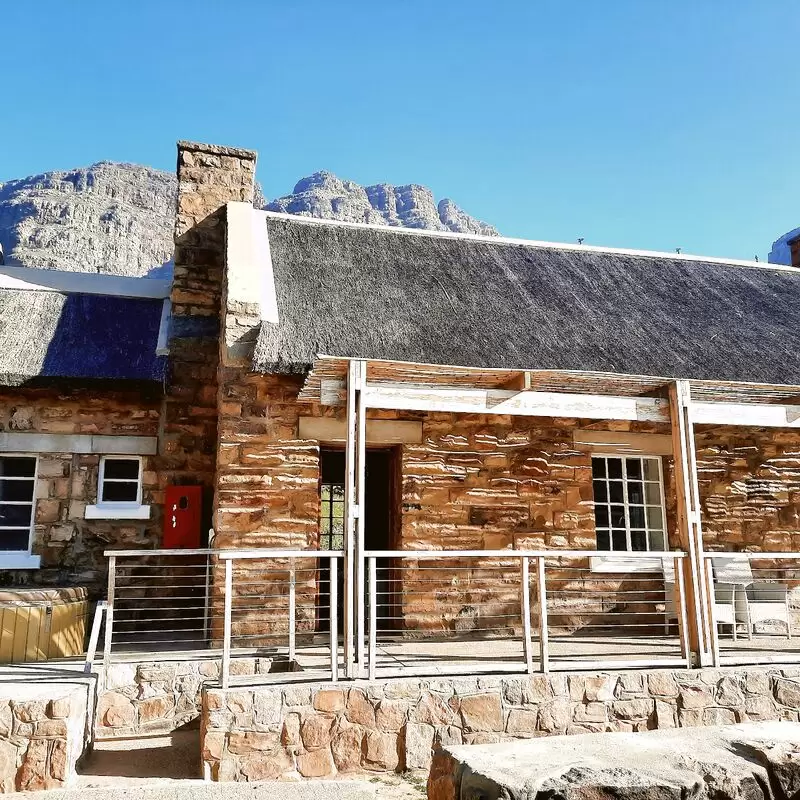 Cederberg Algeria Campsite
West Coast DC
Monday - Sunday: 7:30 AM – 8:00 PM
11. De Tol Farm Deli
De Tol Farm Deli in Citrusdal is a delightful stop to include on your itinerary. Enjoy local food and wine and soak up the charming atmosphere of the farm. Indulge in the unique selection of cheeses and charcuterie, and don't forget to try the homemade jams. It is an unexpected gourmet oasis hidden in the hilly landscape of Citrusdal. And after your visit, take a short drive to the stunning Cederberg Wilderness Area for an intense nature experience. A true farm-to-table and nature affair!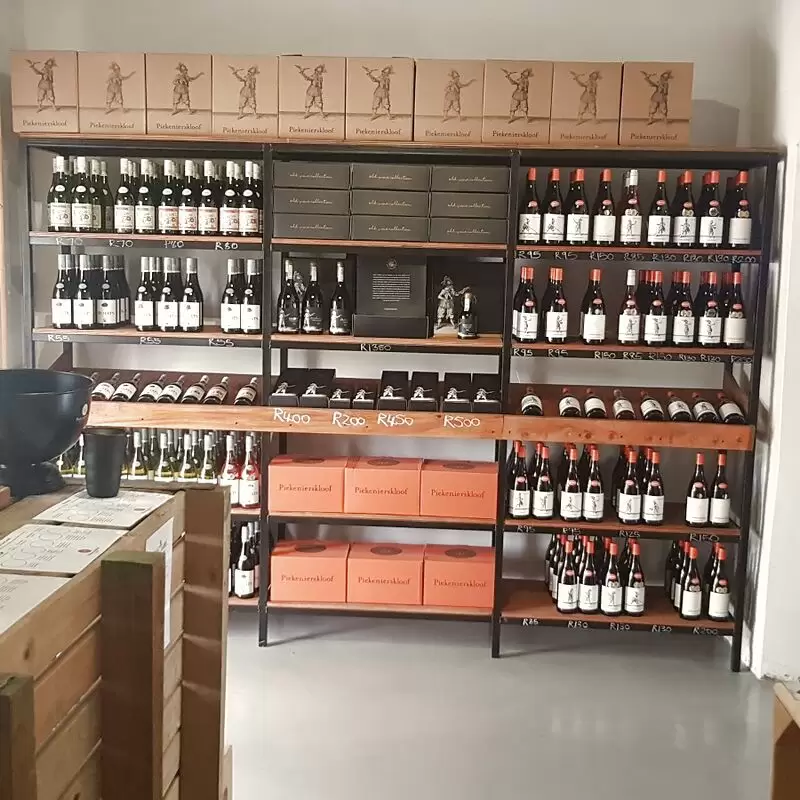 De Tol Farm Deli
Piekenierskloofpass N 7, Citrusdal
Monday - Saturday: 8:00 AM – 5:00 PM
Sunday: 8:00 AM – 3:00 PM
12. Sevilla Rock Art Trail
Enhance your travel experience with a visit to the Seville Rock Art Trail in Citrusdal! A 4km trail unlocks the mysterious world of the ancient Bushmen by unraveling their lives through captivating rock paintings. The tranquility and uniqueness of the trail are unparalleled, a truly immersive history lesson in the great outdoors. Be sure to explore the citrus-growing community of Citrusdal itself. And if you love the beauty of nature, the nearby Cederberg Wilderness Area is a must-see. Get ready for an unforgettable trip!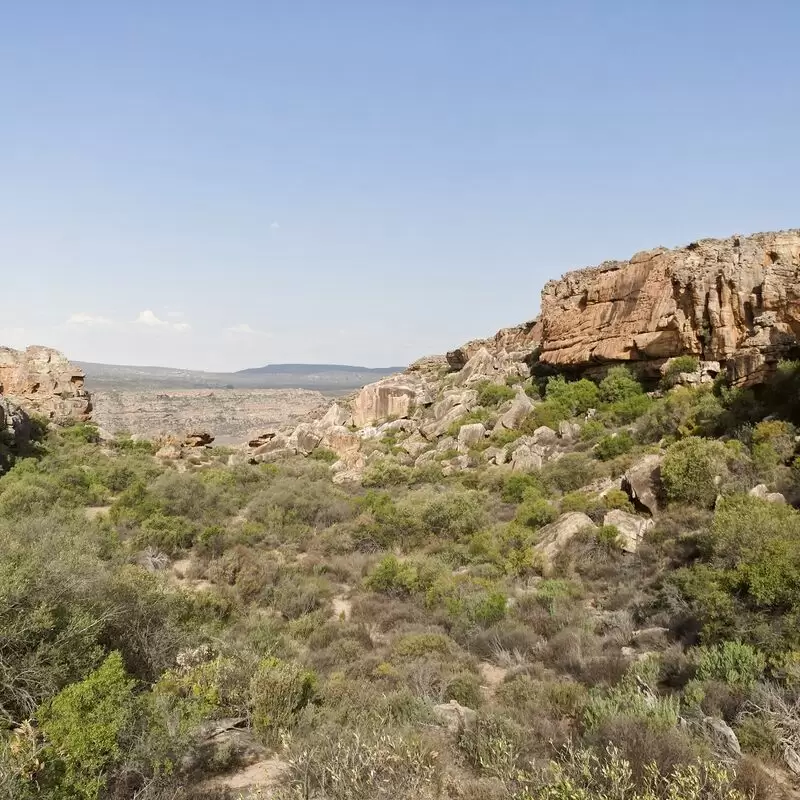 Sevilla Rock Art Trail
R364
Monday - Sunday: 8:00 AM – 6:00 PM
13. Salome's Grapevine
A visit to "Salome's Grapevine" in Citrusdal is an absolute must. This quaint B&B not only serves as a cozy retreat, but also offers a glimpse into the local culture. The owner, Salome herself, offers distinctive South African hospitality. There's a story behind every vintage piece in the house, and each room is named after a wine from the local vineyards. Plus, the house is just a short walk from the Citrusdal Baths - natural hot springs for an invigorating soak in the lap of nature.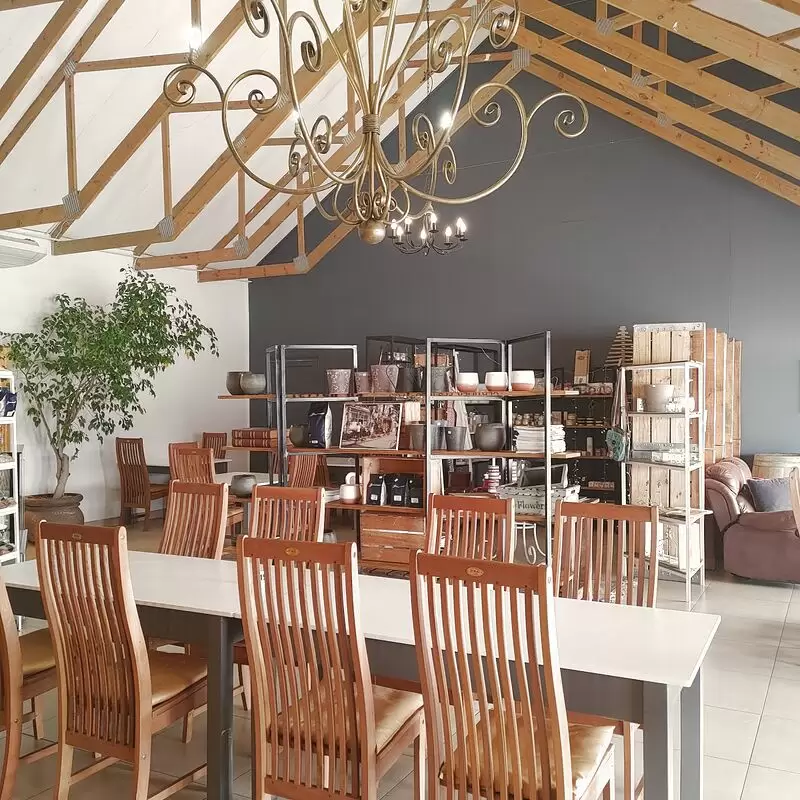 14. Wolfkop Camping Villages
Immerse yourself in the unspoiled beauty of the Cederberg Mountains at Wolfkop Camping Villages! Here you will experience a unique blend of undisturbed nature, comfortable accommodations and warm hospitality. Each campsite has a private hot tub, an ideal vantage point for stargazing. Be sure to try the region's famous citrus fruits! Also, don't miss the opportunity to visit the nearby Citrusdal Baths, famous for its hot springs, just a 10-minute drive away. This hidden gem promises a refreshing escape into the South African wilderness.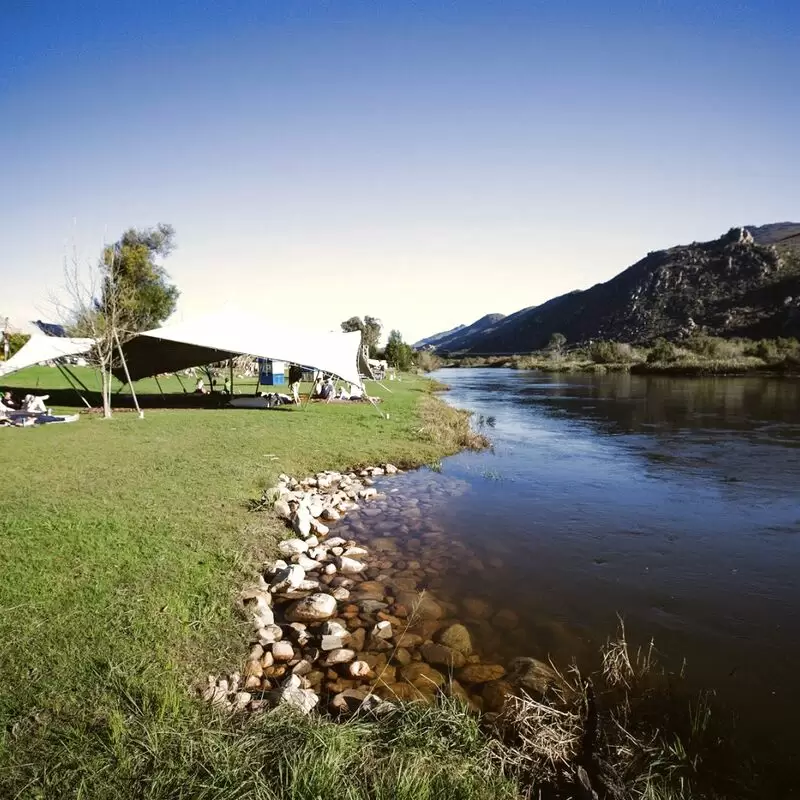 Wolfkop Camping Villages
59 Voortrekker St, Citrusdal, 7340
Monday - Sunday: Open 24 hours
15. Marcuskraal
Experience true tranquility at Marcuskraal, a rustic retreat in the wilderness of Citrusdal. This place offers an abundance of adventure, with exciting 4x4 routes, mountain bike trails, and winding hiking trails to explore. Wildlife lovers will be delighted by the diverse fauna amidst the native flora. Relax under the stars around a warm campfire - a nice contrast to the cool springs of the nearby Olifants River. The nearby Cederberg Wilderness offers dramatic landscapes and ancient rock art, a perfect complement to your Marcuskraal adventure.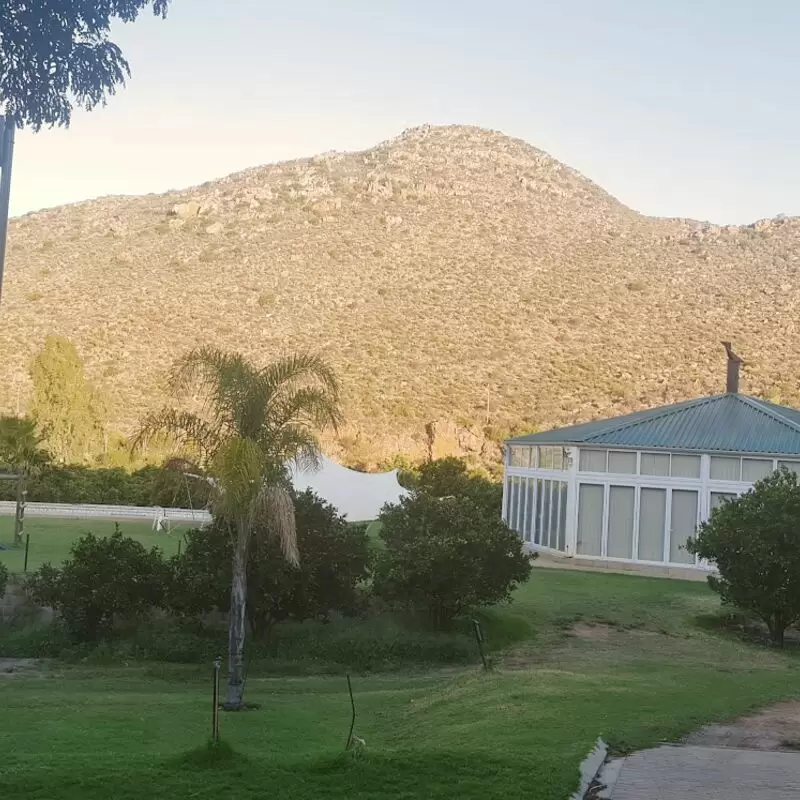 Marcuskraal
Marcuskraal, Citrusdal
Monday - Saturday: 7:00 AM – 7:00 PM
Sunday: 8:00 AM – 7:00 PM
16. Wolfkop Nature Reserve

Immerse yourself in the enchanting, untamed beauty of Wolfkop Nature Reserve! This nature reserve is a true gem in Citrusdal, captivating you with its lush landscapes and spectacular mountain ranges. Have fun hiking the trails, fishing on the Olifants River, or spotting exotic bird species. Don't forget to visit the area during wildflower season to take in all of nature's splendor!

Insider tip: Enjoy a breathtaking sunset from your luxury tent. The nearby Cederberg Mountains and Bushmanskloof Wilderness Reserve make your wilderness adventure even more intense.

Wolfkop Nature Reserve
Keerom St, Citrusdal
17. Bydidam Resort
Visit Bydidam Resort in Citrusdal and enjoy a peaceful stay with picturesque landscapes and soothing thermal baths. The resort, which reflects the natural beauty of the region, offers exciting adventure activities such as quad biking, as well as thermal baths that invite you to relax. Don't miss the "Bydidam Winkeltjie", an enchanting on-site store offering unique local crafts and products. Nearby is the stunning Cederberg Mountains, which offer breathtaking hiking trails and the opportunity to see local wildlife.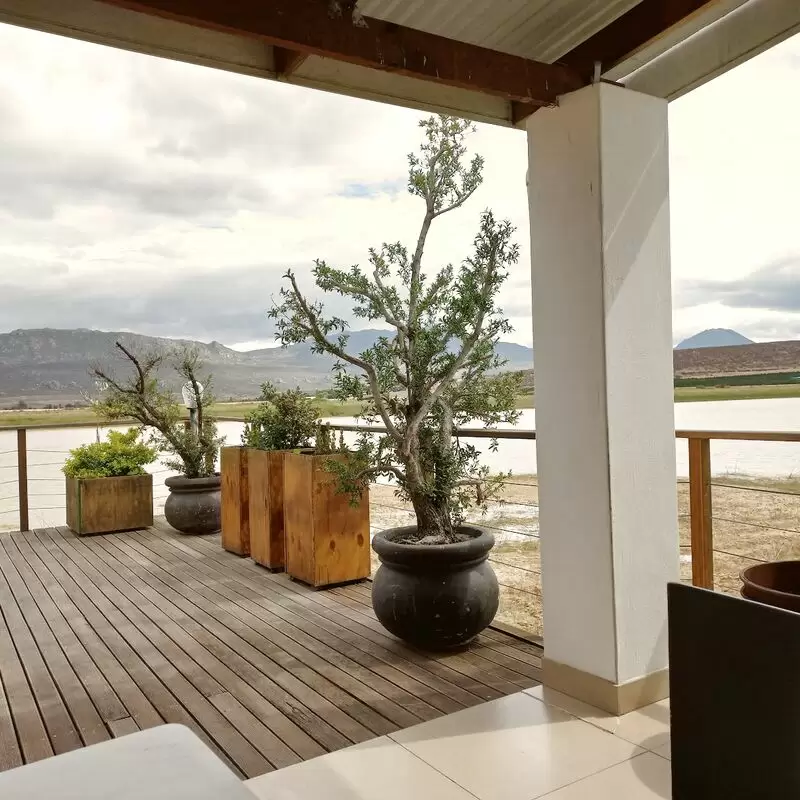 18. Petersfield
Petersfield" in Citrusdal is the centerpiece of orange groves and stunning mountain views. You will enjoy visiting this citrus farm, sampling local delicacies and participating in activities such as mountain biking and hiking. In high season, you can bask in the bright oranges of the fruit-bearing trees. Just a short drive away, you can also explore the majestic Ceder Mountains, a paradise of rock formations, ancient San art, and native wildlife.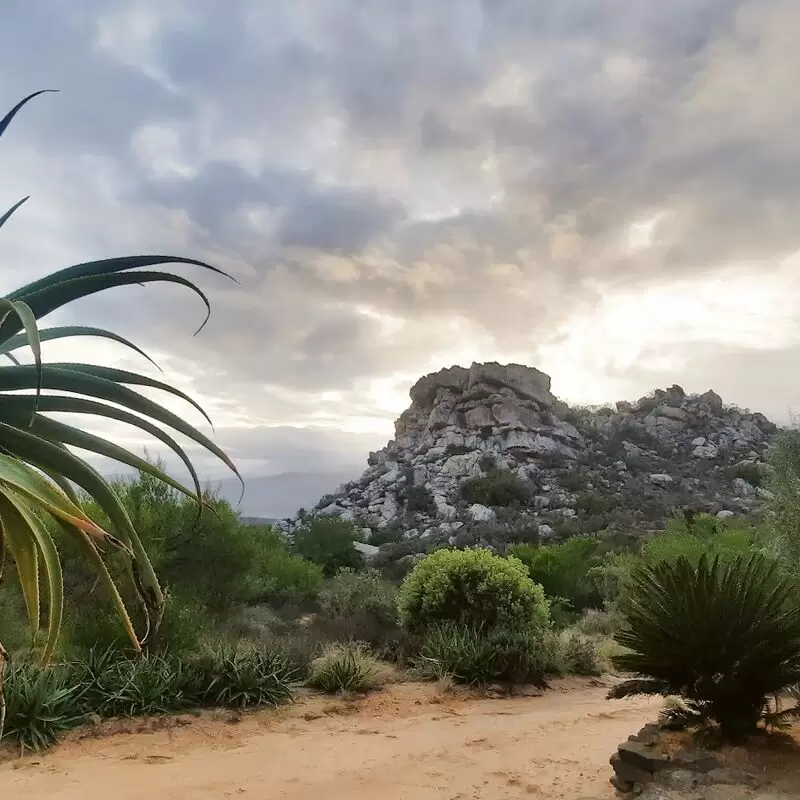 Petersfield
N7, Citrusdal, 7340
Monday - Sunday: 8:00 AM – 7:00 PM
Best Time to Visit Citrusdal
The best time to visit Citrusdal, South Africa, is between March and November. During this time, the weather is mild and pleasant, ideal for sightseeing and exploring the citrus farms. However, September and October are particularly good for experiencing the spring flowers in full bloom.
Annual Weather in Citrusdal
Citrusdal 3-Day Forecast
Wed, 27 September
Night
51 °F
10 °C
0%
Morning
53 °F
12 °C
0%
Afternoon
71 °F
21 °C
0%
Evening
68 °F
20 °C
0%
Thu, 28 September
Night
56 °F
13 °C
0%
Morning
60 °F
15 °C
0%
Afternoon
76 °F
25 °C
0%
Evening
73 °F
23 °C
0%
Fri, 29 September
Night
61 °F
16 °C
0%
Morning
67 °F
20 °C
0%
Afternoon
76 °F
24 °C
0%
Evening
69 °F
20 °C
0%
Questions & Answers

What is the local language spoken in Citrusdal?

The local language spoken in Citrusdal is largely Afrikaans, which dates back to the Dutch colonial heritage. Afrikaans is a West Germanic language that shares common roots with English and German. However, English is also widely spoken and understood in Citrusdal, as it is recognized as a world language. Other South African languages may also be spoken, but to a lesser extent. Understanding English or Afrikaans should be sufficient for effective communication in Citrusdal.

What is unique about Citrusdal's culture?

Located in South Africa's Western Cape province, Citrusdal has a unique culture deeply rooted in agriculture - particularly citrus growing, hence the name. The small farming town passionately celebrates its heritage with annual events and culinary festivals centered around citrus. The town is also noted for its warm hospitality, and the people embody a relaxed, rural lifestyle. The cultural offerings also include the rich history and heritage of the indigenous San people, which adds to the city's distinctive character.

Is Citrusdal safe for solo travelers?

Citrusdal, South Africa is generally safe for solo travelers. However, as with any destination, you should take certain precautions. Avoid lonely places at night, hide your valuables, and keep up with local news and warnings. The local population is friendly and hospitable, and farm stays and guesthouses are popular with tourists. The local police also ensure the safety of residents and tourists alike. A trip to Citrusdal offers a unique opportunity to explore the rich culture, stunning natural landscapes and lush citrus groves.

Can I see wild animals in their natural habitat in Citrusdal?

Yes, Citrusdal is located near the Cederberg Mountains and offers various nature reserves such as the Cederberg Wilderness Area, where you can observe various animal species in their natural habitat. You may be able to spot baboons, porcupines and various bird species here. The nearby Bushmans Kloof Reserve also offers the opportunity to see Cape mountain zebra, antelope and many other animals. Please remember to respect the wildlife and observe them from a safe distance.

What is the local food I should try in Citrusdal?

In Citrusdal, South Africa, be sure to try the local biltong, a type of dried, cured meat that is a popular snack. The region is also known for its citrus cuisine, especially jam and fresh orange juice. Boerekos, traditional African peasant cuisine, should also be sampled. These include potjiekos, a slow-cooked stew prepared in a cast-iron pot over an open fire, and the traditional braai, a South African barbecue. For those with a sweet tooth, koeksisters, a twisted pastry covered in syrup, are a real treat.

How do I get around Citrusdal?

Getting around Citrusdal, South Africa, is relatively easy. The town is manageable, making it easy to get around on foot and explore the local markets, stores and restaurants. For more distant destinations, such as the surrounding farms or popular hiking trails, a car is the most convenient option. Cabs and private transfer services are also available, although at a higher price. There is no public transportation in Citrusdal.

Is it easy to find Wi-Fi in Citrusdal?

Although Citrusdal is a small city, you can find Wi-Fi in select locations such as hotels, cafes, and certain public areas. It should be noted, however, that availability and signal quality may not be as consistent as in more urban areas. So, if constant connectivity is important to you, consider data options from mobile carriers.

What are the healthcare facilities like in Citrusdal?

Health care facilities in Citrusdal include a public hospital, Citrusdal Hospital, which provides basic health care services, including emergency care and maternity services. It serves the city and surrounding agricultural communities. In addition, there are private health care providers in the city, including general practitioners and dentists. However, for specialized health services, residents may need to travel to larger cities such as Cape Town. It is important for visitors to have health insurance, as there are few public health facilities in the region.

How friendly are the locals in Citrusdal?

The locals in Citrusdal, South Africa, are extremely hospitable and accommodating. They exude a warm hospitality that is deeply rooted in their culture, making visitors feel right at home. They are always willing to help those who need assistance and provide insightful tips about the area. This friendly attitude, combined with the city's tranquil setting, provides travelers with an unforgettable experience.

What are common local customs in Citrusdal?

In Citrusdal, South Africa, locals respect traditional Afrikaans values with a strong sense of community and hospitality. It is customary to greet each other with a friendly "Hallo, hoe gaan dit?" Social gatherings usually include a "braai," a South African barbecue that features locally sourced meat. In Citrusdal, it is also traditional to celebrate the citrus harvest, as the region is famous for its citrus fruits, with festivities that highlight the importance of agriculture.

What's the currency in Citrusdal and where can I exchange money?

The currency in Citrusdal, South Africa, is the South African Rand (ZAR). Many hotels and local banks can facilitate currency exchange, but for the best rates without excessive service charges, it may be more convenient to use ATMs, which are widely available in cities like Cape Town, before you reach Citrusdal.

What is the tipping etiquette in Citrusdal?

In Citrusdal, as in the rest of South Africa, tipping is common and appreciated. In general, you should tip restaurant servers 10-15% of the total bill. For other services such as cab drivers or tour guides, a 10% tip is considered standard. However, always make sure that the service was satisfactory before tipping. Please keep in mind that the amount of tip is a personal decision and may vary depending on the quality of the service.

What kind of clothes should I pack for Citrusdal?

For a trip to Citrusdal, South Africa, you should pack comfortable and breathable clothing suitable for outdoor activities such as hiking or swimming in hot springs. It is usually warm, so you should pack light clothing for the day, such as T-shirts and shorts. However, it can get cooler at night, so a light jacket or sweater is advisable. Shoes suitable for walking on uneven ground are also a must. Don't forget to pack a bathing suit for the hot springs.

Can I drink tap water in Citrusdal?

While drinking water in South Africa is generally safe, it can vary greatly depending on location and circumstances. In Citrusdal, tap water is generally safe, but there have been occasional problems due to droughts that have affected water quality. Bottled water is available if you are particularly sensitive or want to be extra cautious. Always confirm the safety of tap water with your accommodation provider.

Is Citrusdal a good destination for families with children?

Citrusdal is definitely a great destination for families with children. This small town in South Africa offers many family-friendly activities, including hiking, bird watching, and exploring the surrounding citrus orchards. The Citrusdal Baths, with its hot and cold pools, also promise family fun. Children can learn about local history and culture at the Citrusdal Museum. Comfortable family accommodations, including caravan parks and guest houses, ensure a memorable stay.

How to respect local culture and traditions in Citrusdal?

When visiting Citrusdal, be aware that the local culture values community, respect and courtesy. Always greet people politely and engage in friendly conversation. Dress modestly in public places to respect local sensibilities. Try to familiarize yourself with some common phrases in the local Afrikaans language as a sign of respect. Also, always ask permission before photographing locals, their homes or property. Also, remember to respect the beautiful nature that Citrusdal is known for.

Can I find vegetarian or vegan food in Citrusdal?

Yes, Citrusdal in South Africa offers a wide range of dietary preferences, including vegetarian and vegan fare. There are several restaurants in town that offer vegetarian and vegan dishes, such as organic salads, freshly prepared veggie wraps, and smoothies. Many restaurants use locally sourced ingredients, resulting in a unique taste of rich local produce. However, it's always good to check in advance. You can enjoy your meals surrounded by the fantastic scenery of Citrusdal, which makes your dining experience even more enjoyable.

Are the locals in Citrusdal fluent in English?

Yes, the locals in Citrusdal, South Africa speak English. English is one of the many official languages of South Africa, and is widely spoken along with Afrikaans. The local population in Citrusdal speaks mostly Afrikaans, but English is also well understood and spoken. This means that tourists should not have any communication problems during their visit. However, learning some Afrikaans phrases can improve interaction and contact with the locals.

Is it possible to rent a car in Citrusdal?

Yes, it is absolutely possible to rent a car in Citrusdal, South Africa. There are several car rental companies in and around Citrusdal offering a variety of vehicles to choose from. You can choose a car according to your needs and convenience. Car rental is a great way to explore the beauty of Citrusdal and nearby attractions at your own pace.

Can I use my credit card in most places in Citrusdal?

Yes, most places in Citrusdal, such as hotels, restaurants and stores, accept credit cards. However, it is advisable to have some cash with you in case you want to make purchases from small merchants or in situations where cards are not accepted. The South African currency is the South African Rand (ZAR). There are ATMs in the city if you wish to withdraw cash.

What are the rules for photography in public places in Citrusdal?

In Citrusdal, South Africa, photography in public places is largely free, so you can capture the beautiful landscapes and vibrant culture of the city. However, as with many places, it is good manners to ask permission before photographing people, especially for close-ups. Also, certain places such as museums or private establishments may have their own restrictions, so it is always advisable to check with an official representative or signage before proceeding.

Is Citrusdal LGBTQ+ friendly?

Citrusdal, like many other places in South Africa, has become an inclusive and accepting environment over the years. South Africa has progressive laws protecting LGBTQ+ rights, and while everyone's experience may vary, Citrusdal is generally considered a safe place for all. However, there may not be as many LGBTQ+-centric establishments such as bars or clubs here compared to larger cities. Be sure to treat everyone with respect and sensitivity, regardless of their sexual orientation or gender identity.

What is the cost of living in Citrusdal?

The cost of living in Citrusdal, South Africa, is quite affordable compared to larger cities such as Cape Town or Johannesburg. Expenses such as housing, food, transportation, health care and utilities are relatively low. Renting a decent apartment can cost between R4,000 and R6,000 depending on location and size. Dining out and recreational activities are also reasonably priced. However, prices may vary depending on personal preferences and lifestyle.

Feedback

I hope you found this article informative and helpful. I'm eager to improve the content and make it even more valuable for you. If you have any feedback or suggestions, I would love to hear from you.

Do you have any tips or hidden gems that you think should be added to the list? Are there any areas that you feel could use more explanation or clarification?

Your input is greatly appreciated and will help us to continue providing high-quality content that meets your needs and interests. Please feel free to share your thoughts.