1. Shree Vijaya Vitthala Temple
The Shree Vijaya Vitthala Temple in Hampi is an architectural masterpiece not to be missed! This 15th century marvel reflects the exquisite craftsmanship and rich cultural heritage of the Vijayanagara Empire. The iconic stone chariot and musical pillars that produce melodies when gently tapped impress visitors. Admire the intricate carvings on the walls of the temple, a testament to the ancient glory of Hampi. Just a short walk away, you'll find the fascinating Purandara Mantapa, a fabled riverside monument.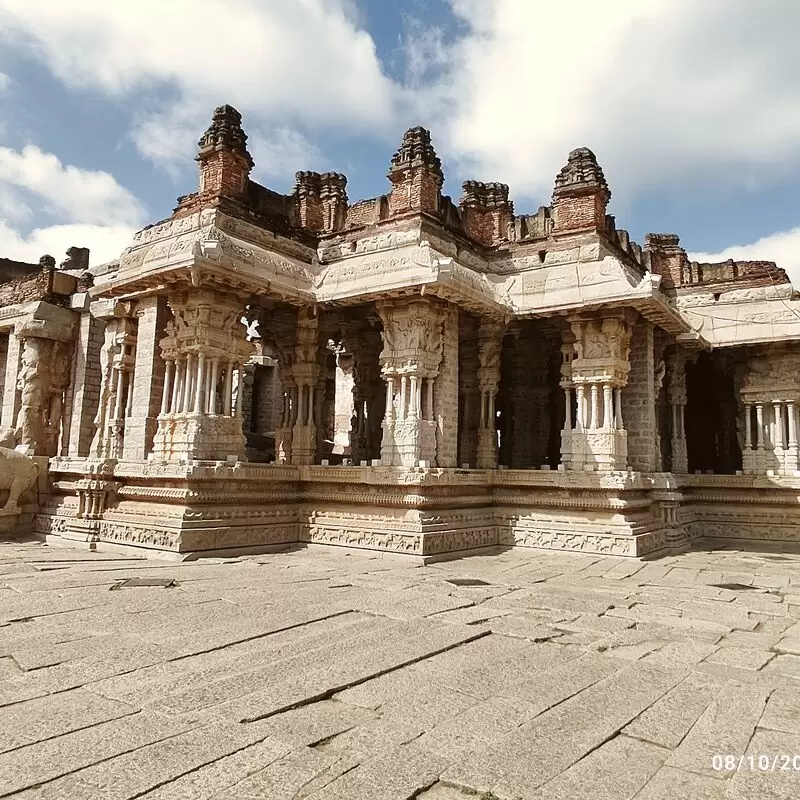 Shree Vijaya Vitthala Temple
8FRG+W3H, Hampi
Monday - Sunday: 8:30 AM – 5:00 PM
2. Virupaksha Temple Hampi
Visit the fascinating Virupaksha Temple in Hampi, an architectural marvel from the 7th century. Century. Dedicated to Lord Shiva, the temple boasts stunning stone carvings, magnificent spires, and a calming spiritual energy. Admire the iconic monolithic Nandi statue just outside the entrance. This UNESCO World Heritage Site also hosts the annual Hampi Utsav with great pomp and fervor. Don't miss the opportunity to explore nearby Hemakuta Hill, which offers spectacular views of the temple complex.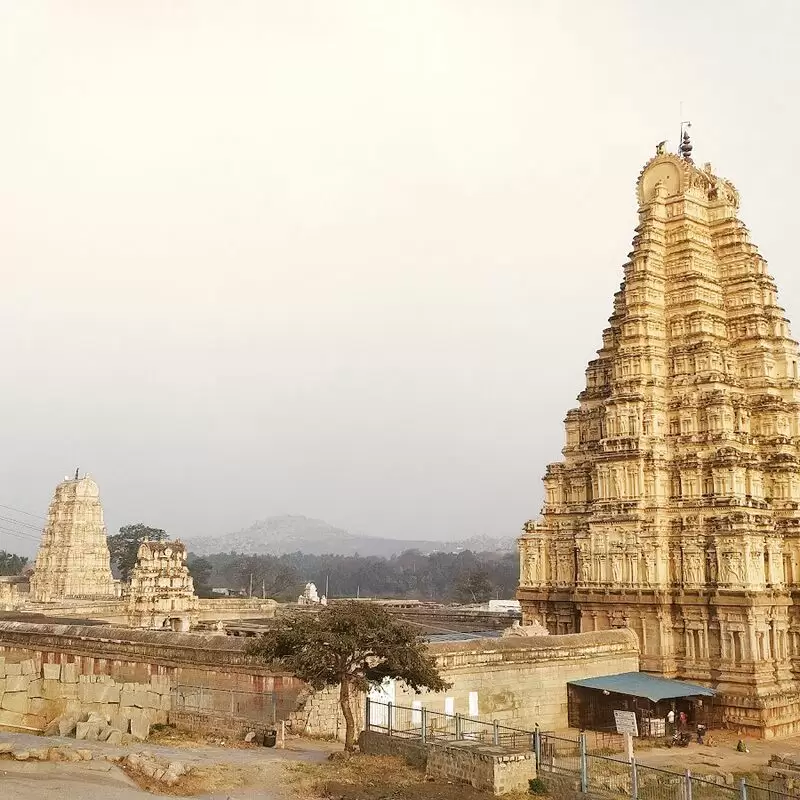 Virupaksha Temple Hampi
Hampi
Monday - Saturday: 6:00 AM – 7:00 PM
Sunday: Open 24 hours
3. Royal Palace
Visit the magnificent Royal Palace of Hampi, an architectural marvel that bears witness to the splendor of the ancient Vijayanagara Empire. Marvel at the Lotus Mahal carved in stone and be fascinated by the elephant stables - a royal shelter for their beloved animals. Explore the hidden underground passages and learn about the king's audience hall. Don't forget to admire the splendor of the nearby Hazara-Rama Temple, adorned with intricate carvings that tell the timeless stories of the Ramayana.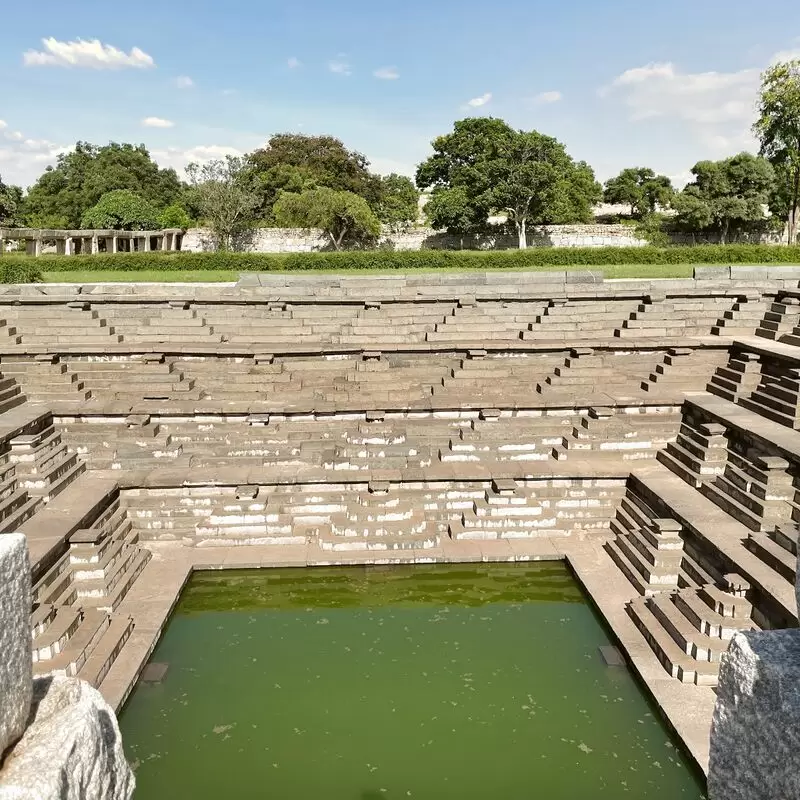 Royal Palace
8F8C+723, Karnataka 583239
Monday - Sunday: 6:00 AM – 6:00 PM
4. Anjanadri Hill
A visit to Anjanadri Hill in Hampi is an absolute must for adventure seekers and history buffs! Legend has it that this is the birthplace of the Hindu god Hanuman. Immerse yourself in spirituality as you climb the 575 steps to the top, where a breathtaking panorama of Hampi's picturesque landscape awaits you. Don't miss the ancient Anjeyanadri Temple, dedicated to Hanuman and offering a unique cultural experience. To top it off, witness a breathtaking sunset while eagles and langurs frolic around you. Explore the fascinating Sanapur Lake, just a short drive away.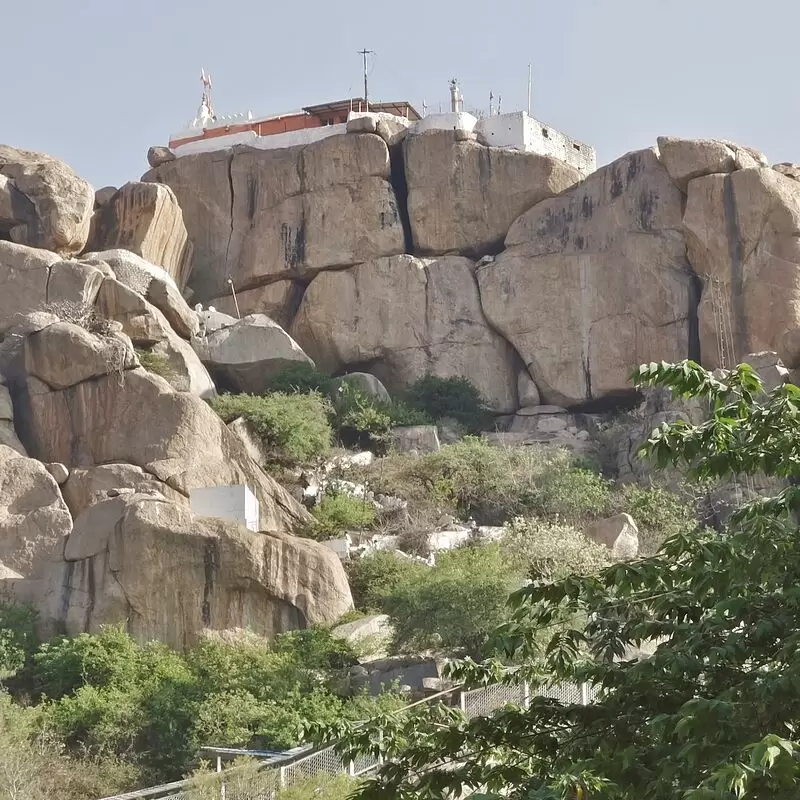 Anjanadri Hill
9F3C+54J, Hanumanahalli
5. Stone Chariot Hampi
Discover the stunning architectural wonder of the iconic "Stone Chariot" amidst the culturally rich Hampi! Adorning the famous Vijaya Vittala temple, this exquisite granite chariot is a testament to the craftsmanship of ancient India. Be captivated by the intricately carved details depicting compelling mythological stories. Delve deeper and discover the extraordinary gravity pillars nearby, which emit echoes just by touching them with your fingertips. Let yourself be surrounded by the mysterious atmosphere that surrounds these impressive wonders and makes your Hampi adventure truly unforgettable!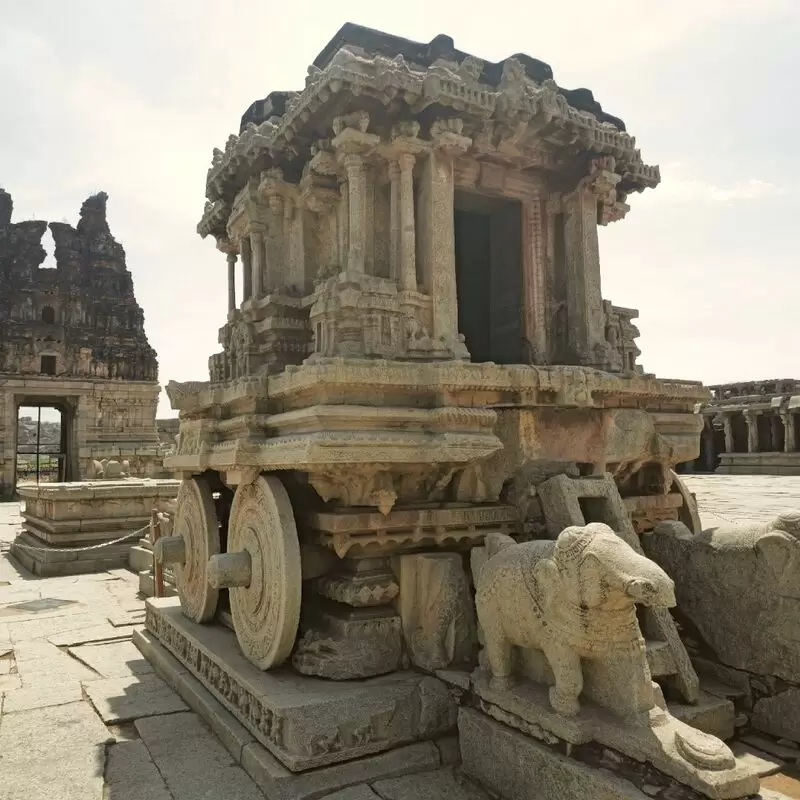 Stone Chariot Hampi
8FRG+W83, Nimbapura
Monday - Sunday: 8:30 AM – 6:00 PM
6. Lotus Mahal
Take a trip to Hampi, where the fascinating Lotus Mahal is set amid lush foliage. This phenomenal architectural gem combines the elegance of a lotus flower with the intricate details of Indian Islamic design. Delve into its history as a queen's resort during the Vijayanagara Empire. Continue to the impressive Elephant Stables, just a short walk away, and admire the harmonious blend of Hindu and Muslim architecture as you explore the lives of the ancient royal elephants.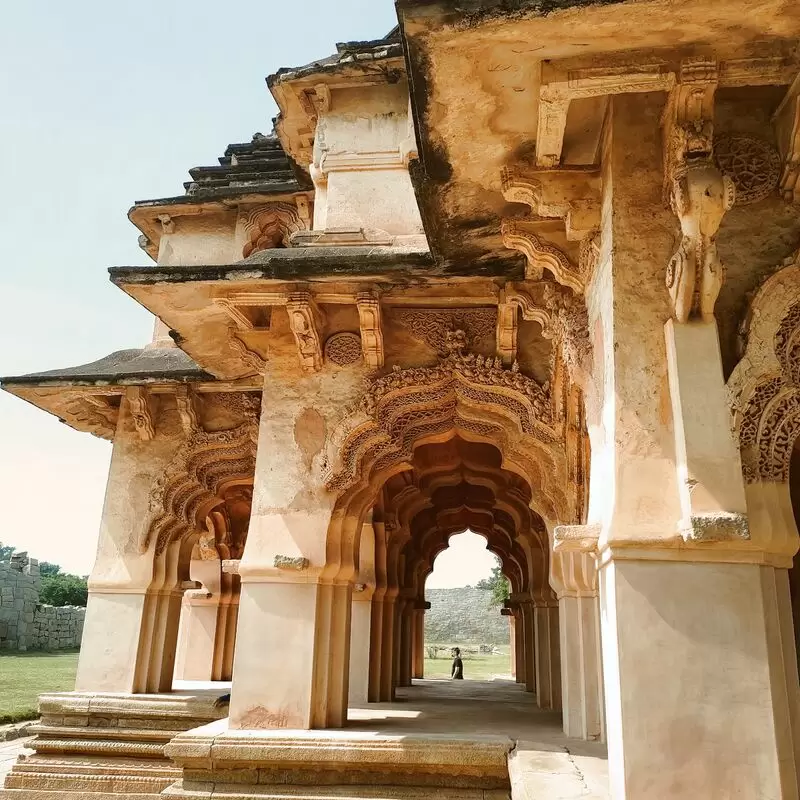 Lotus Mahal
8FCC+4G8, SH 131, Hampi
Monday - Sunday: 6:30 AM – 6:00 PM
7. Hampi Archeological Ruins
Discover the stunning archaeological ruins of Hampi - a UNESCO World Heritage Site nestled in a fascinating landscape of boulder-strewn hills and lush rice fields. Hampi has unparalleled historical treasures, from the magnificent Virupaksha Temple to the beautifully carved monolithic statues. Step back in time as you wander through the remains of the ancient Vijayanagara Empire, adorned with intricate stories of bygone eras. Don't miss the enchanting sunset from Hemakuta Hill or immerse yourself in local folklore with the captivating shadow play.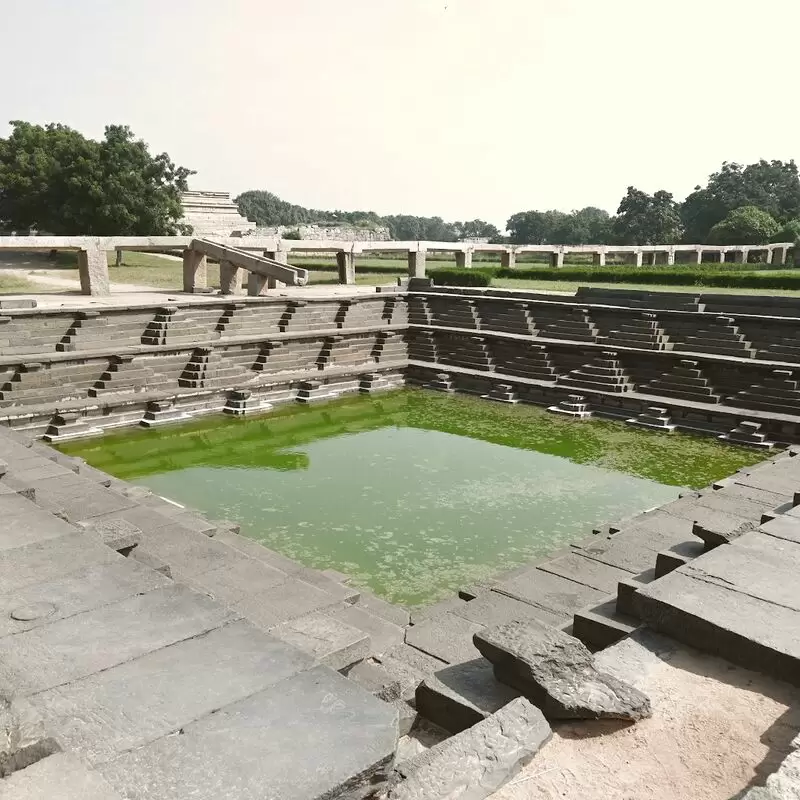 Hampi Archeological Ruins
8FM6+XQV, Hampi
Monday - Sunday: 6:00 AM – 6:00 PM
8. Hazara Raama Temple
Embark on a magnificent journey to the historic Hazara-Rama Temple in Hampi, a hidden gem that showcases the architectural ingenuity of the wealthy Vijayanagara dynasty. As you enter the temple, you'll marvel at the intricately carved bas-reliefs depicting the timeless charm of the epic Ramayana. Explore the temple's captivating history through the breathtaking depictions of processions, royal feasts, and divine encounters. Complete your adventure by visiting the nearby royal compounds and the Lotus Mahal to complete your cultural escapade at this enchanting UNESCO World Heritage Site.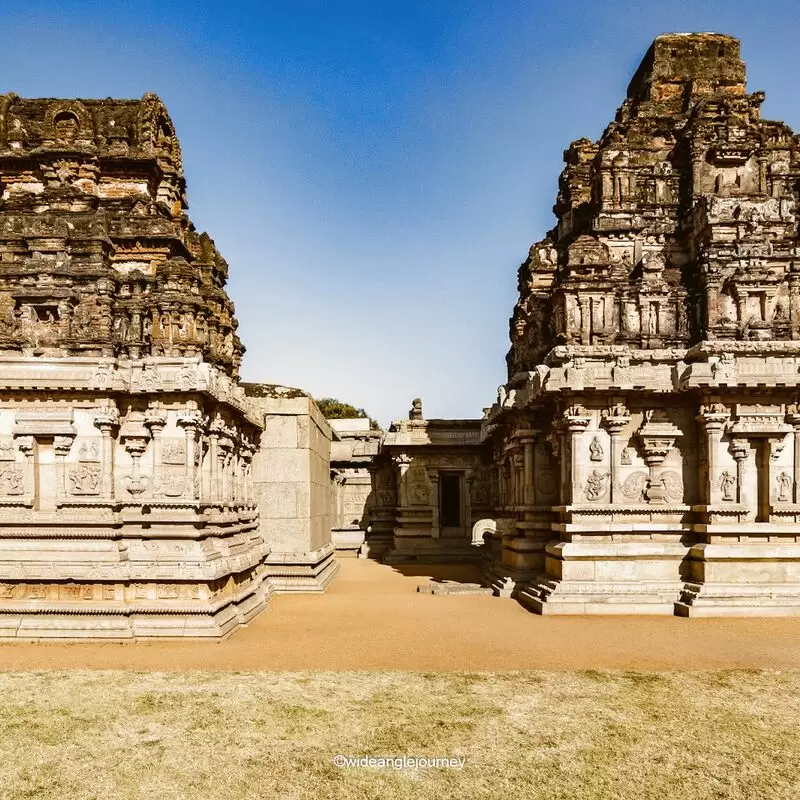 Hazara Raama Temple
8F99+4G2, Karnataka 583239
9. Queen's Bathhouse
A trip to Hampi would be incomplete without unraveling the mysteries of the Queen's bathhouse! This example of the architecture of the Vijayanagara Empire displays a marvel of engineering with its arched corridors, interconnecting pools, and ornate balconies. Take a step back in time as you explore the elaborate aqueduct system and the luxurious retreat of the royal ladies. Don't forget to stroll through the tranquil garden, as the secluded grounds guarantee maximum privacy. Pro-tip: Head to the nearby Royal Enclosure to continue your adventure of exploring the splendor.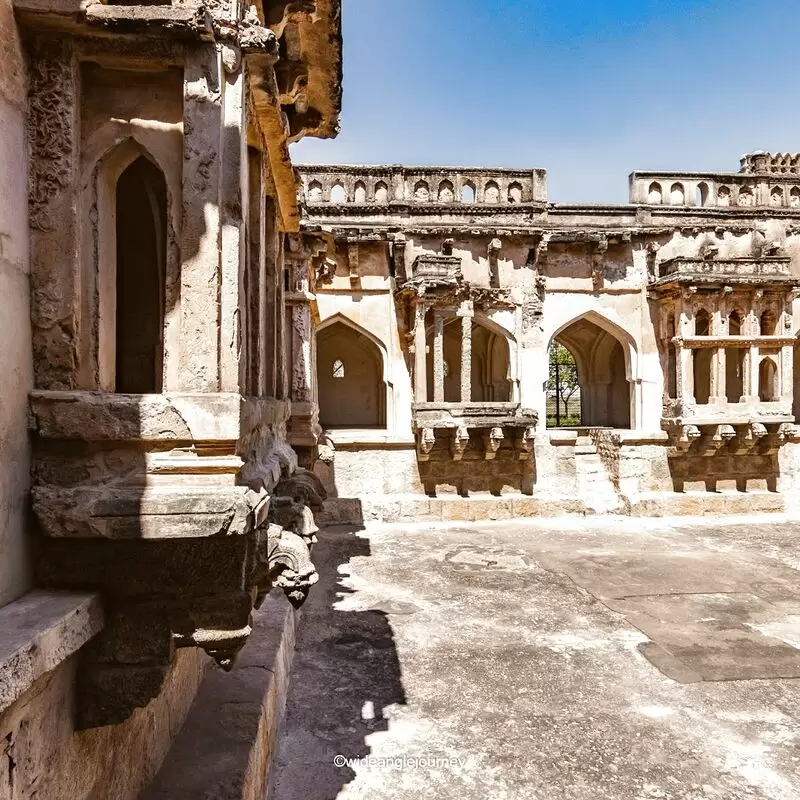 Queen's Bathhouse
8F7C+9X9, Karnataka 583239
Monday - Sunday: Closed
Tuesday - Saturday: 6:00 AM – 6:00 PM
10. Shri Achyutaraaya Swami Temple
A visit to the Shri Achyutaraaya Swami Temple in Hampi is a must for history buffs and spiritual seekers alike! Built during the glorious Vijayanagara Empire, this architectural marvel exudes an aura of grandeur and mysticism. Imagine wandering through the temple's ancient stone passageways, which are decorated with intricate carvings depicting mythological stories. Just a stone's throw away is the famous street of courtesans, once bustling with merchants and now adorned with beautifully carved pillars that offer a unique glimpse into Hampi's rich past.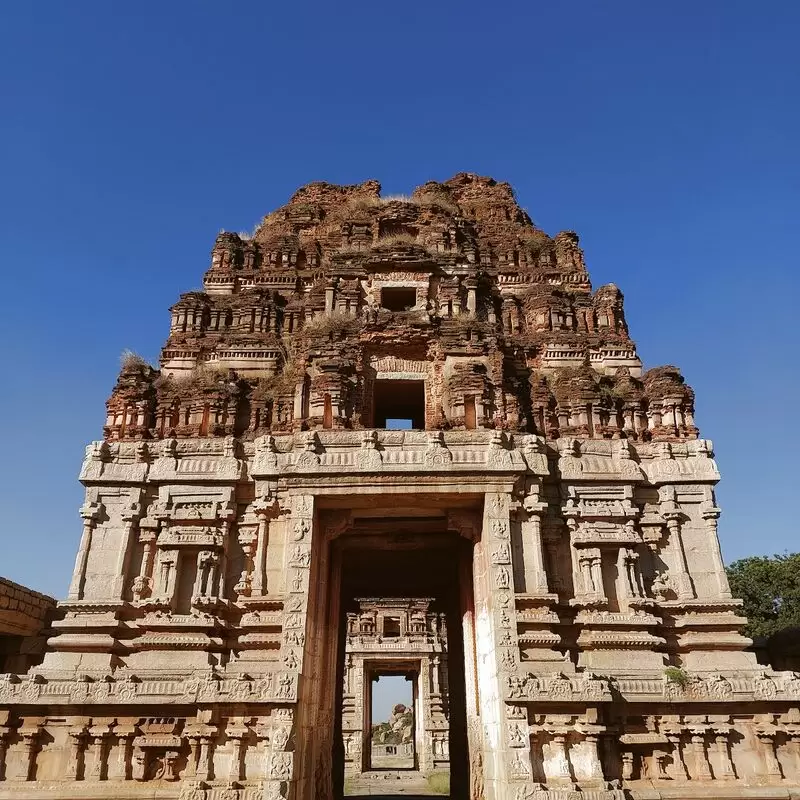 Shri Achyutaraaya Swami Temple
8FJC+Q26, Hampi
Monday - Sunday: 8:00 AM – 6:00 PM
11. Elephant Stables
Visiting the elephant stables in Hampi is like traveling back in time to the splendor of the Vijayanagara Empire! Marvel at the architectural masterpiece of these royal elephant quarters, which feature impressive domed chambers for 11 magnificent elephants. While admiring the blend of Indian-Islamic architecture, be sure to see the hidden pathways in rows. Nearby, explore the enchanting Lotus Mahal and the magnificent Pushkarni step tank to round out your classic Hampi experience!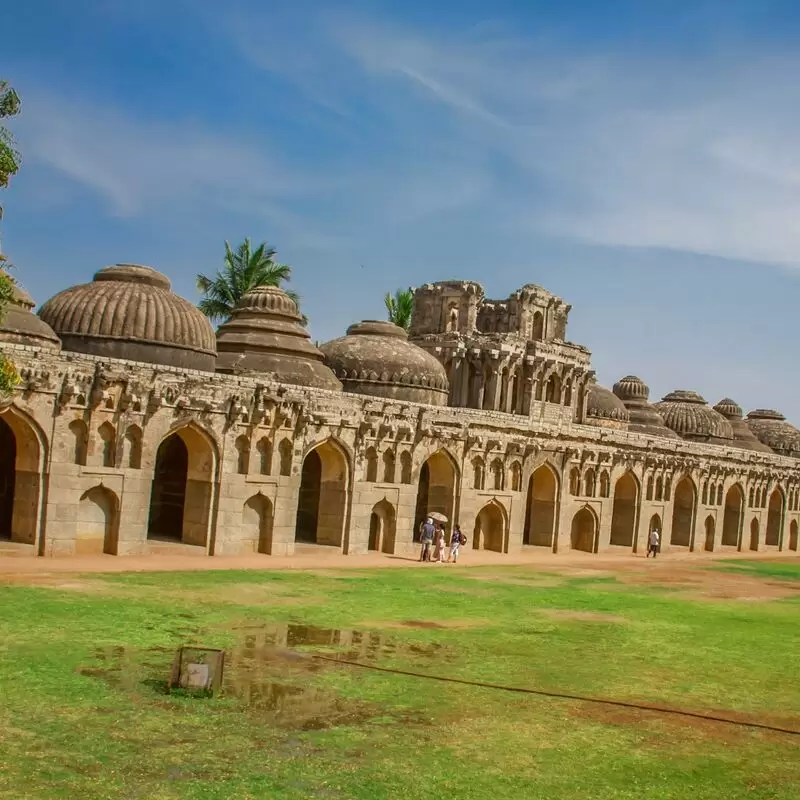 Elephant Stables
8FCF+C3X, Hampi
Monday - Sunday: 6:00 AM – 5:30 PM
Friday - Saturday: 9:00 AM – 5:30 PM
12. Hampi Shri Krishna Swami Temple
Visit the historic and awe-inspiring Hampi Shri Krishna Swami Temple, an epitome of architectural brilliance. This sacred landmark in the incomparable Vijayanagara style is dedicated to Lord Krishna. Marvel at the intricate carvings and sculptural depictions of mythological stories. Nearby, explore the majestic Virupaksha Temple, Hemakuta Hill, and the legendary stone chariot - all just a short walk away. Enrich your Hampi experience with this lesser-known gem and immerse yourself in its captivating atmosphere.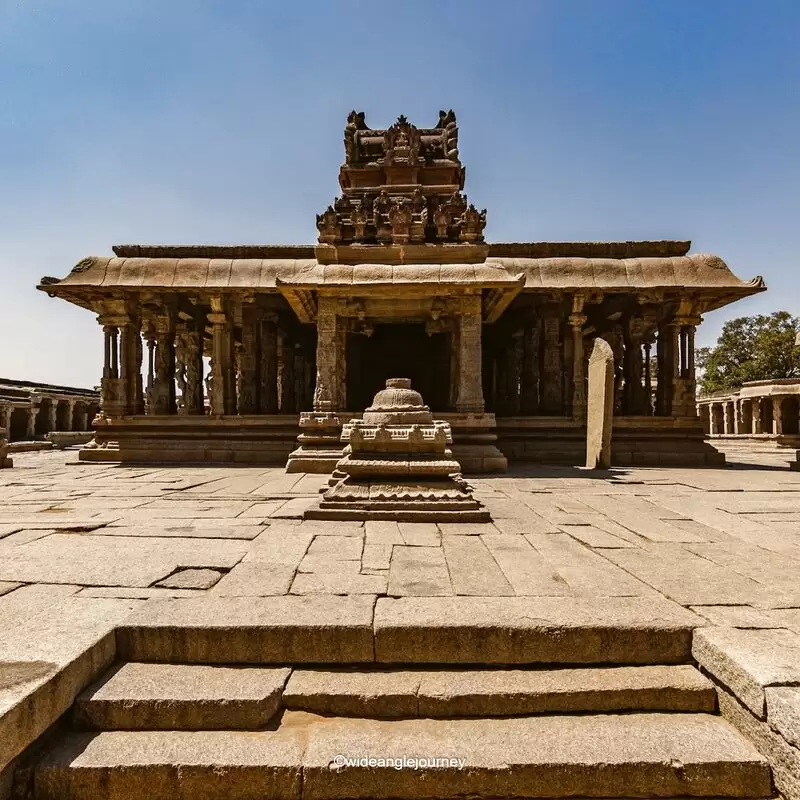 Hampi Shri Krishna Swami Temple
8FJ6+454, Hampi
Monday - Sunday: 6:00 AM – 6:00 PM
13. Matanga Betta
Discover the tranquil beauty of Matanga Betta, the hidden gem of Hampi, which offers breathtaking panoramic views of this ancient city. Climb to the top at sunrise or sunset and witness the mesmerizing play of colors that lays a magical aura over the surrounding ruins. Feel the tranquility of this place, often visited by locals for meditation and enlightenment. Don't miss the lesser-known Veerabhadra Temple at the top of the hill. Also discover the impressive Achyutaraya Temple, just a short walk away.
Matanga Betta
8FJ9+M83, Hampi
Monday - Sunday: Open 24 hours
14. Sanapur Lake
Sanapur Lake, hidden amidst the cliffs of Hampi, is a must for tourists seeking tranquility and adventure. Enjoy the refreshing atmosphere and be enchanted by the picturesque scenery. Take an exciting boat ride on the pristine waters that will leave you in awe. Mingle with the friendly locals and enjoy the exotic dishes they offer. Just a stone's throw away, you can visit the historic and spiritual Nava Brindavana Temple.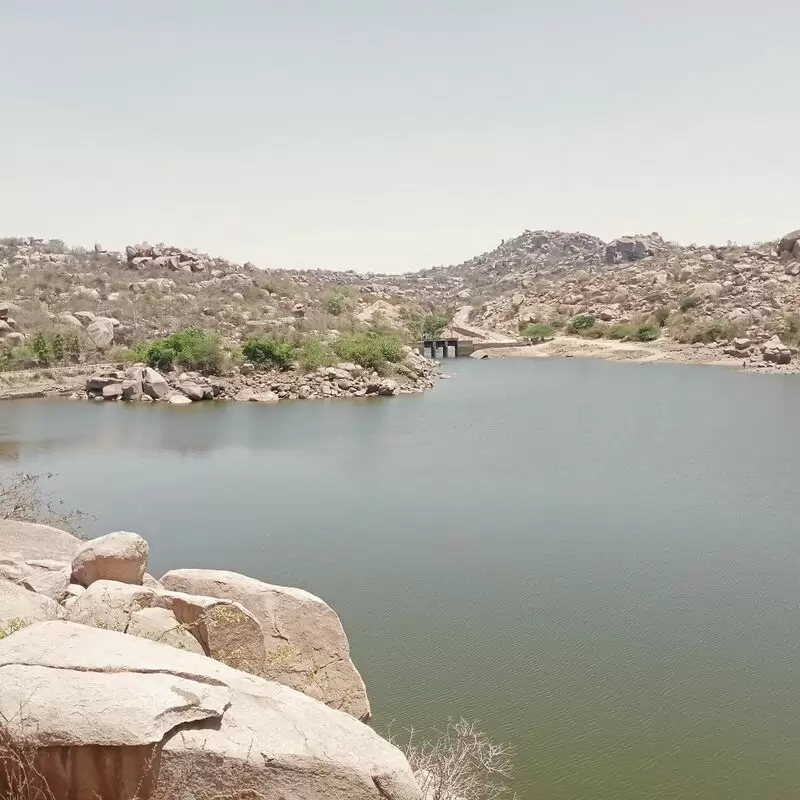 Sanapur Lake
Unnamed Rd, 9C4M+QX7, Sanapur
Monday - Sunday: Open 24 hours
15. Sunset point Hemakuta Gudda
The Hemakuta Gudda sunset point in Hampi is a must-see for its breathtaking views! As the sun sets over this UNESCO World Heritage Site, the sky glows in a symphony of colors, casting a golden hue on the ancient rocks and magnificent temples. For avid photographers, this is the opportunity to snap the perfect photo. While on Hemakuta Hill, don't forget to visit the nearby Virupaksha and Kadalekalu Ganesha temples - some of the fascinating jewels of Hampi!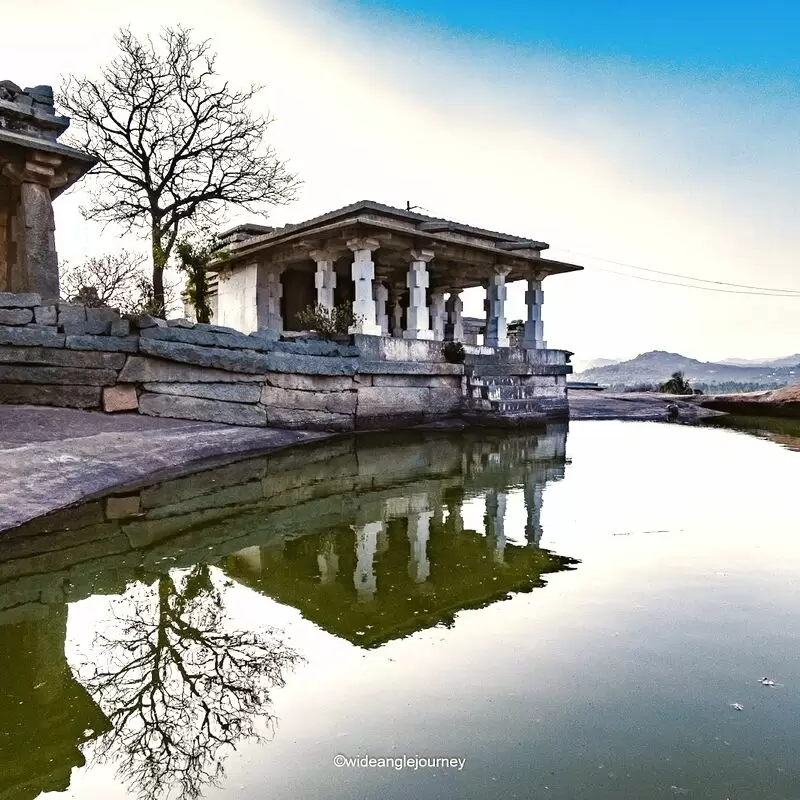 Sunset point Hemakuta Gudda
Hemakuta Hill, 8FJ5+XRQ, SH 131, Hampi
16. Saasivekaalu Ganesha
Discover the divine 8-foot-tall monolithic statue of Saasivekaalu Ganesha at Hampi, an impressive testament to the architectural prowess of the Vijayanagara Empire. The magnificent idol is adorned with intricate carvings and mythological narratives and was named after its mustard seed-like belly. Just a stone's throw away, you can visit the ancient stone chariot at the Vittala Temple and admire the grandeur and majesty of the UNESCO World Heritage site of Hampi.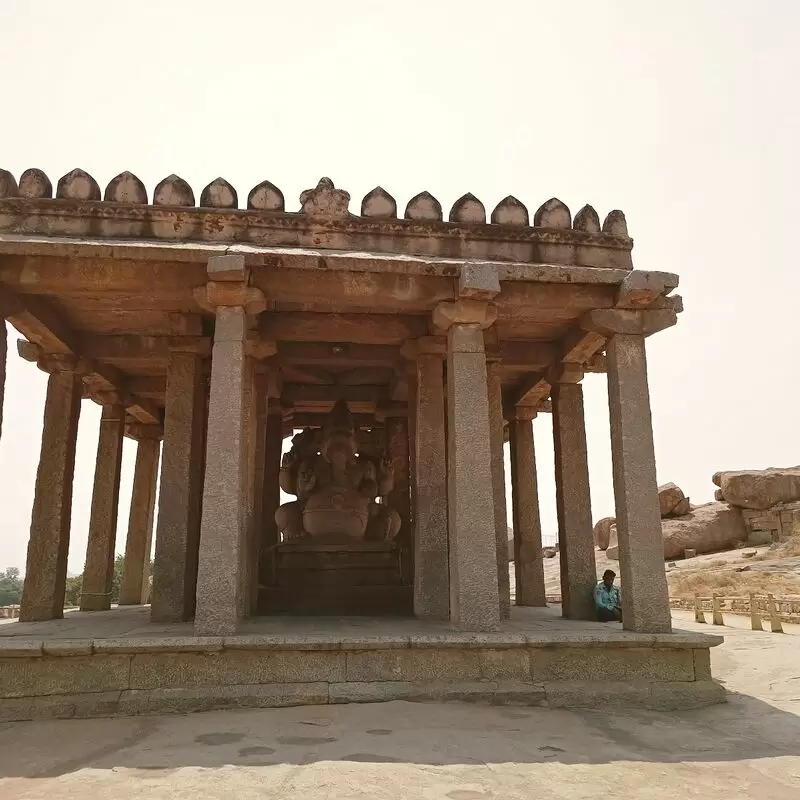 Saasivekaalu Ganesha
Hampi, 8FJ5+HXC, Krishnapura
Monday - Sunday: 6:00 AM – 6:00 PM
17. Mahaanavami Dibba Hampi
During your visit to Hampi, discover the fascinating Mahaanavami Dibba, a monumental platform that testifies to the grandeur of the Vijayanagar Empire. Admire the intricate carvings and imagine how royal ceremonies took place in the glory days. Be sure to climb the steps for a panoramic view, and later explore the nearby step-shaped "Pushkarani" tank where water rituals were held. Mix in history and discover Hampi's rich past with each captivating find!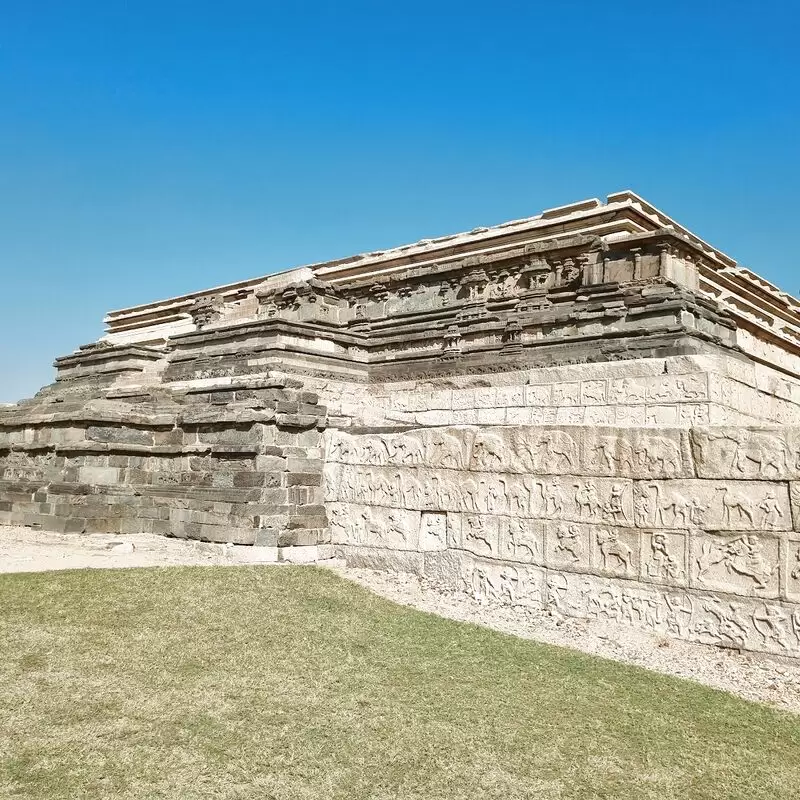 Mahaanavami Dibba Hampi
The Great Platform, Karnataka 583239
Monday - Sunday: 9:00 AM – 5:00 PM
18. Shree Badavilinga Gudi
Venture into the ancient wonder that is the Shree Badavilinga Gudi in Hampi and witness a majestic 3-meter tall Shiva Lingam eternally bathed in water, symbolizing divine energy. Surrounded by the mystical beauty of the breathtaking ruins of Hampi, this sacred marvel is located in a sanctuary without a ceiling, symbolizing timeless power. Also visit the nearby architectural marvel, Lakshmi Narasimha Temple, and admire the impressive monolithic Ugra Narasimha statue carved from a single colossal rock.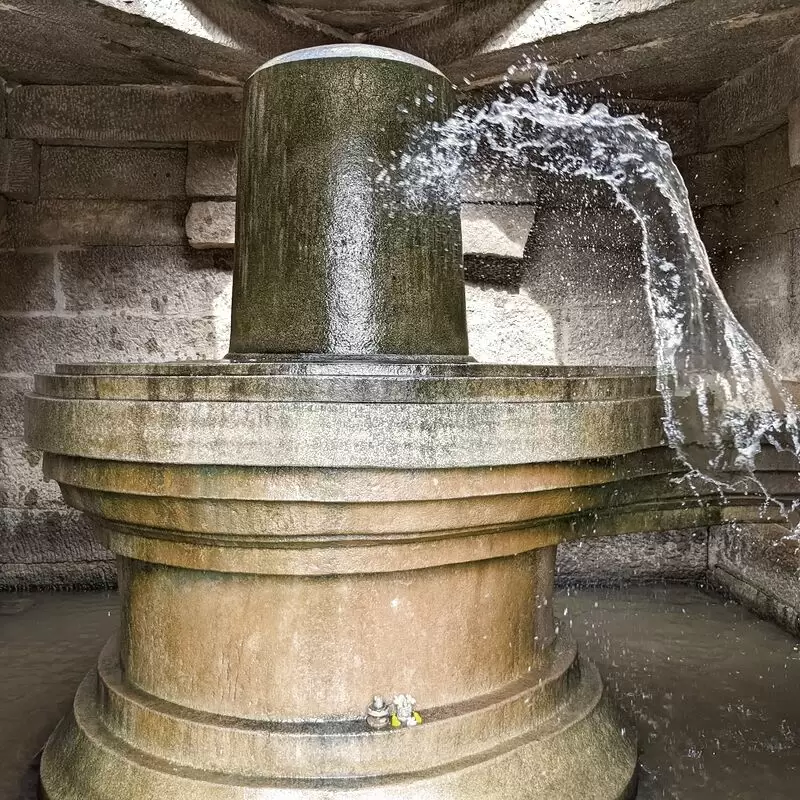 Shree Badavilinga Gudi
8FH5+PJG, Hampi
Monday - Sunday: 6:00 AM – 6:00 PM
Best Time to Visit Hampi
The best time to visit Hampi is during the cooler months of October through February, when the weather is pleasant for sightseeing. December and January are especially good for outdoor activities and exploring the architectural wonders of this UNESCO World Heritage Site.
Annual Weather in Hampi
Hampi 3-Day Forecast
Thu, 21 September
Night
73 °F
23 °C
0%
Morning
72 °F
22 °C
0%
Afternoon
84 °F
29 °C
0%
Evening
81 °F
27 °C
78%
Fri, 22 September
Night
73 °F
23 °C
0%
Morning
73 °F
23 °C
0%
Afternoon
86 °F
30 °C
0%
Evening
84 °F
29 °C
0%
Sat, 23 September
Night
74 °F
23 °C
60%
Morning
73 °F
23 °C
0%
Afternoon
86 °F
30 °C
0%
Evening
82 °F
28 °C
80%
Questions & Answers

How do I reach Hampi?

To reach Hampi, you have several options depending on where you start from. The nearest major train station and airport is in the town of Hospet, which is about 13 km away. After arriving in Hospet, you can take a local bus or hire a cab or auto-rickshaw to reach Hampi. If you are coming from nearby cities like Bangalore, Hyderabad or Goa, you can also reach Hampi directly by car via well-maintained state highways and national highways.

What is the permit cost for foreigners?

The cost of the permit to visit Hampi's attractions, especially the monuments protected by the Archaeological Survey of India (ASI), is around 600 INR (about 8 USD) per person for foreigners. This ticket allows access to major sites such as the Vittala Temple, the Lotus Mahal and other historic structures. The pass can be purchased at the ticket counters near the monuments. It is important that you carry the ticket with you at all times during your visit, as you may be asked to show it at various locations.

Are there local guides available?

Yes, Hampi has local guides to help you explore this destination steeped in history. These guides are well versed in the history, culture and architecture of the area and provide an insightful and enriching experience. You can hire a licensed local guide at the Hampi Bazaar or book one through your hotel or travel agent. These guides usually offer a variety of tour options, so you can choose the duration and itinerary according to your interests and preferences, making your visit to Hampi a memorable one.

Is it safe for solo travelers?

Yes, Hampi is generally safe for solo travelers. The welcoming atmosphere and friendly locals make it an attractive destination for solo travelers. However, solo travelers should definitely exercise caution and follow general safety rules. For example, avoid walking around late at night and always keep your belongings safe. It is advisable to stay in well-rated accommodations and socialize with other travelers or locals to ensure a safe and enjoyable trip.

What is the currency accepted in Hampi?

The currency accepted in Hampi is the Indian Rupee (INR). As Hampi is a popular tourist destination in India, it is advisable to carry sufficient cash, especially smaller amounts for everyday expenses such as entrance fees, transportation and meals. Although many hotels, restaurants and stores accept credit and debit cards, you can usually pay with cash only at local merchants and smaller stores. ATMs are limited in Hampi, so it is best to withdraw cash before visiting a larger city.

Are there ATMs in Hampi?

Although Hampi is a small village with historical ruins, there are some ATMs available for tourists. Major banks like State Bank of India and Canara Bank have placed their ATMs near Virupaksha Temple (Hampi Bazaar) and Hospet town. However, it is advisable to carry enough cash with you, as sometimes the ATMs may not have enough money or may be temporarily out of order due to network problems or maintenance. Also, credit or debit card acceptance may be limited in small stores and restaurants.

Are the historical sites well preserved?

Most of the historic sites in Hampi, India, are well preserved considering their age and exposure to the elements. The Archaeological Survey of India (ASI) and UNESCO have played an important role in the care and preservation of these sites. The ancient ruins, including the Vittala Temple, the Virupaksha Temple, and various palaces, bear witness to the splendor of the Vijayanagara Empire. However, some structures have fallen victim to the forces of nature and human intervention over time. Nevertheless, Hampi remains a timeless destination that offers visitors a fascinating glimpse into its rich history.

Is it necessary to hire a bicycle or bike for sightseeing?

Renting a bike to visit Hampi is not essential, but highly recommended. Hampi covers a large area with numerous historical sites worth exploring, and with a bicycle you can cover more distance comfortably and efficiently. Moreover, this mode of transportation gives you the independence and flexibility to visit the sites at your own pace and fully experience the picturesque landscapes and charming atmosphere of Hampi.

What are the dress code requirements for temples?

When visiting temples in Hampi, it is important to dress modestly out of respect for the sacred sites. Both men and women should wear clothes that cover their shoulders and knees. Loose and comfortable clothing made of breathable fabrics such as cotton is preferred. Avoid wearing revealing or tight clothing. When entering an active temple, it is customary to remove footwear. Wearing a light scarf or shawl may be useful to cover the head or shoulders when needed at certain religious sites.

Are there any language barriers?

When visiting Hampi, there may be language barriers as the local language is Kannada. However, since Hampi is a popular tourist destination, many locals and tourism service providers can communicate in English. In addition, there are often signs and information boards in English at popular tourist attractions. To overcome potential language barriers, it is advisable to learn a few key phrases in Kannada or use a translation app. Consulting a local tour guide can also help you better understand the culture and history.

Can I find vegetarian food options?

Absolutely! Hampi offers a wide range of vegetarian dishes. Many local restaurants and eateries serve delicious vegetarian dishes from Indian and international cuisines. Try South Indian dishes like dosas, idlis and vada, or enjoy homemade thalis with rice, vegetable curries and lentils. There are also cafes that cater to international tastes, serving vegetarian pizzas, pastas and sandwiches. The people of Hampi follow a predominantly plant-based diet, making the city a paradise for lovers of vegetarian food.

Is there nightlife in Hampi?

Hampi, a UNESCO World Heritage Site, is a relatively quiet and laid-back city known primarily for its historical and architectural wonders. Nightlife in Hampi is primarily limited to leisurely dinners at local restaurants and cafes, conversation with other travelers, or attending cultural programs such as traditional dance and music performances. There are no nightclubs or party scenes, as the quiet atmosphere provides a peaceful retreat and an opportunity to experience the rich history and spirituality of the region.

Is there a tourism office in Hampi?

Yes, there is a tourism office in Hampi managed by the Karnataka State Tourism Development Corporation (KSTDC). It is located near the entrance of the famous Virupaksha temple. The office provides valuable information, guidance and assistance to tourists visiting the UNESCO World Heritage Site. Tourists receive assistance in finding accommodations, local transportation, and sightseeing tours to explore the rich history and architectural wonders of Hampi.

Are the locals friendly and helpful?

Yes, the locals in Hampi are generally warm, friendly and welcoming, contributing to a pleasant travel experience for tourists. They are accustomed to the annual influx of tourists and are happy to help with directions, recommendations and tips for exploring Hampi's historic and picturesque landscapes. The people of Hampi, proud of their cultural heritage, create a hospitable environment and ensure that visitors have a comfortable and enjoyable stay.

Are there any tips for visiting the ruins?

When visiting the ruins of Hampi, leave early to avoid the heat and crowds. Prioritize the main sights such as the Virupaksha Temple, the Vittala Temple, and the Royal Complex. Hiring a local guide or renting an audio guide will add historical context to your experience. Dress modestly, wear comfortable shoes and take water, sunscreen and a hat. Always be respectful of the ancient structures and avoid touching or climbing on them. Buy a ticket at the first place so that you can easily access all the monuments.

Are there lockers or luggage storage facilities available?

Yes, there are luggage storage facilities in Hampi. Tourists can store their belongings in various homestays, guesthouses and hotels, which often offer luggage storage services to their guests. In addition, the nearby Hosapete (Hospet) train station offers a checkroom where luggage can be stored for a short period of time. It is always advisable to inquire about these services in advance and make sure your belongings are safe while exploring the historic and fascinating ruins of Hampi.

Can I drink tap water in Hampi?

It is not advisable to drink tap water in Hampi as it may not be safe, especially for foreign visitors who are not used to the local water supply. To avoid waterborne diseases or stomach problems, it is recommended to drink bottled or filtered water during your visit. Most hotels and restaurants in Hampi offer clean drinking water, and you can easily purchase bottled water at local stores. Remember to stay hydrated, especially in hot and dry weather.

Is it easy to navigate around Hampi?

Hampi is relatively easy to explore considering how compact the main attractions are. Many of them are accessible either on foot or with bicycles or mopeds that can be rented. Still, the rocky terrain and lack of clear signs might pose some challenges for first-time visitors. Hiring a local guide or using a GPS-based map can be especially helpful in navigating the narrow paths and exploring the beautiful, scattered ruins of this UNESCO World Heritage site.

Are there affordable transportation options?

Yes, Hampi offers affordable transportation options to visitors. The most popular and cost-effective option is to rent a bicycle or a moped to explore the ruins at your own pace. You can also use auto-rickshaws to visit the ruins, which are readily available and reasonably priced. In addition, local buses run frequently between Hampi and nearby towns, providing a cheap and convenient way to commute to and from Hampi.

Do I need to be cautious about monkeys in Hampi?

Yes, visitors to Hampi should indeed be wary of monkeys, especially near temples and other tourist sites. The monkeys in Hampi are known to be mischievous and naughty and might try to snatch food, water bottles or even belongings from the visitors. To avoid problems, keep a safe distance from the monkeys, do not carry food openly, secure your belongings and stay alert while exploring the fascinating historical sites in Hampi.

Feedback

I hope you found this article informative and helpful. I'm eager to improve the content and make it even more valuable for you. If you have any feedback or suggestions, I would love to hear from you.

Do you have any tips or hidden gems that you think should be added to the list? Are there any areas that you feel could use more explanation or clarification?

Your input is greatly appreciated and will help us to continue providing high-quality content that meets your needs and interests. Please feel free to share your thoughts.