1. Madonna & Child Waterfalls
The Madonna & Child waterfalls are a definite highlight in Hogsback, offering an ethereal beauty that leaves you in awe. The falls plunge into a heart-shaped pool and provide perfect picnic spots. The hike, accompanied by bird calls, takes you through native forests with ancient trees, moss-covered trails and tree ferns at every turn. It's a wonderful break from the stress of everyday life. Nearby, you can visit the highly esteemed Eco Shrine, which boasts unique artistic impressions and breathtaking panoramic views.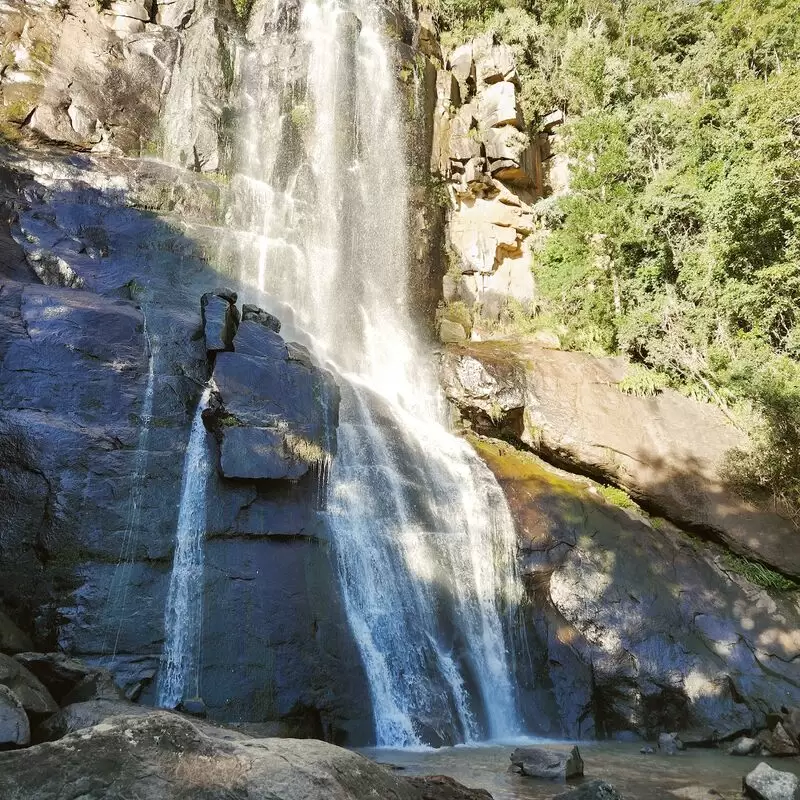 Madonna & Child Waterfalls
Hogsback State Forest, Hogsback, 5721
2. The Edge Mountain Retreat
Perched atop the mystical mountains of Hogsback, The Edge Mountain Retreat feels like touching the edge of the world. Famous for its breathtaking panoramic views of the dramatic cliffs and lush valleys below, it is an unparalleled nature retreat. The Edge's in-house labyrinth is a meditative journey for those on a quest. For stargazers, evenings are magical as the Milky Way stretches across the night sky. Nearby is the extraordinary Hogsback State Forest, a must-see for nature lovers.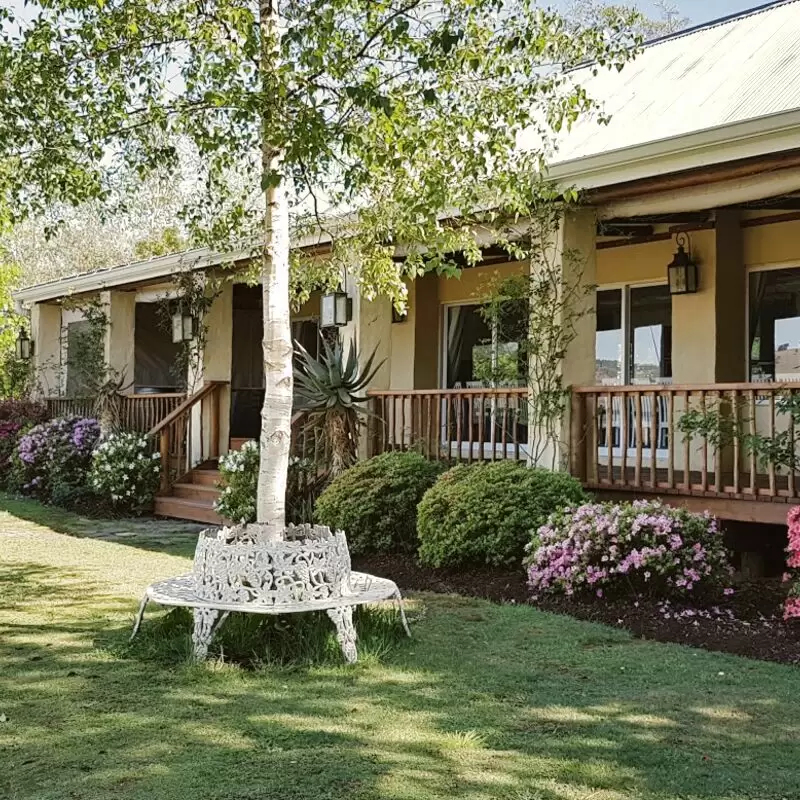 The Edge Mountain Retreat
Bluff End, Hogsback, 5721
Monday - Sunday: 7:00 AM – 6:30 PM
3. Away with the Fairies Nature Lodge
Bathing outdoors in a tub carved into the forest is a very special experience at Away with the Fairies - Nature Lodge in Hogsback. The lodge is set amid the Amathole Mountains and offers breathtaking views of majestic cascading waterfalls. The fairy-inspired cottages are whimsical and tranquil. The lodge is a cozy retreat for adventurers, who can share the lodge with monkeys, Cape parrots, and if you're lucky, a bushbuck. Nearby, you can explore Echo Caves and the enchanting Madonna and Child Waterfall.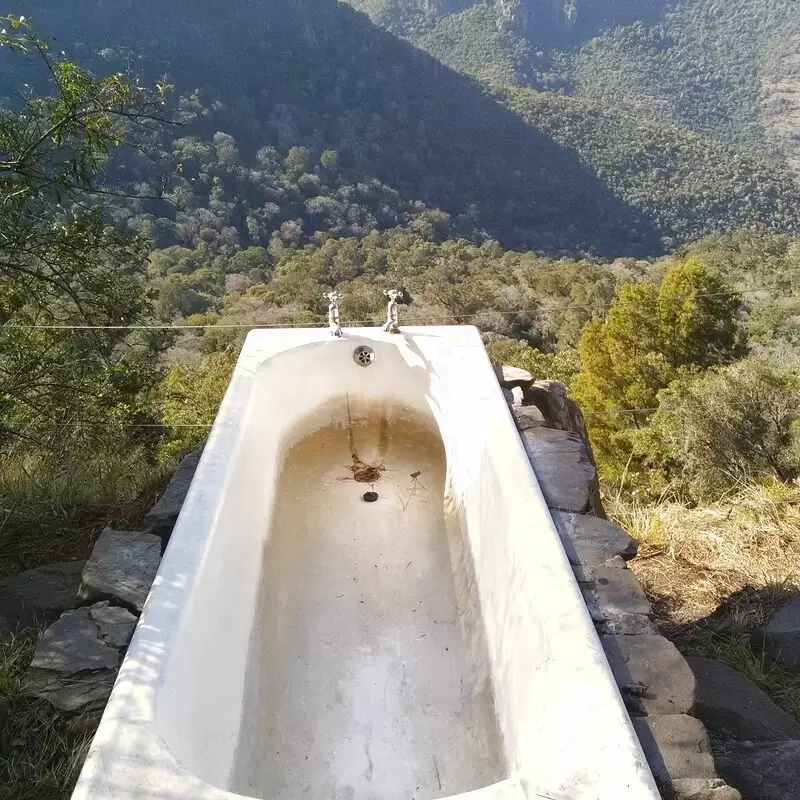 Away with the Fairies Nature Lodge
22 Hydrangea Ln, Hogsback
Monday - Sunday: 8:00 AM – 8:00 PM
4. 39 Steps Waterfall
Nestled in the enchanted forests of Hogsback, the 39 Steps Waterfall is a hidden gem waiting to be discovered. The waterfall is a spectacle of cascading water, peppered with exciting hiking trails that lead to breathtaking viewpoints. The waterfall, with its misty appeal, gets its name from the 39 steps you have to climb to reach it - each step offering a more breathtaking sight than the last! Nearby is the magnificent Labia Theater, a picturesque institution full of art and culture not to be missed!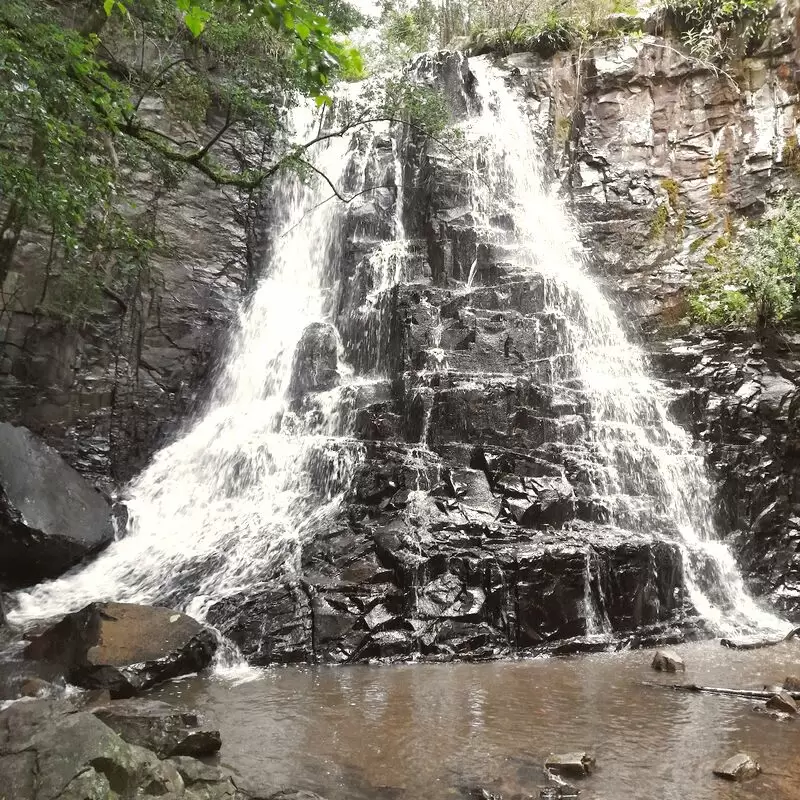 39 Steps Waterfall
Hogsback, 5721
5. Arboretum Hogsback
Visit Hogsback's heavenly arboretum, a green sanctuary with over 400 different species of trees. Enjoy the smells and sounds of a feast for a botanist's soul. Discover hidden trails covered in fall foliage, secret ponds, and rare birding opportunities. The whispering trees can tell you stories about the endangered Cape parrot. Plus, the venue is less than a mile from the enchanted Labyrinth at The Edge, another must-visit for mystical explorers.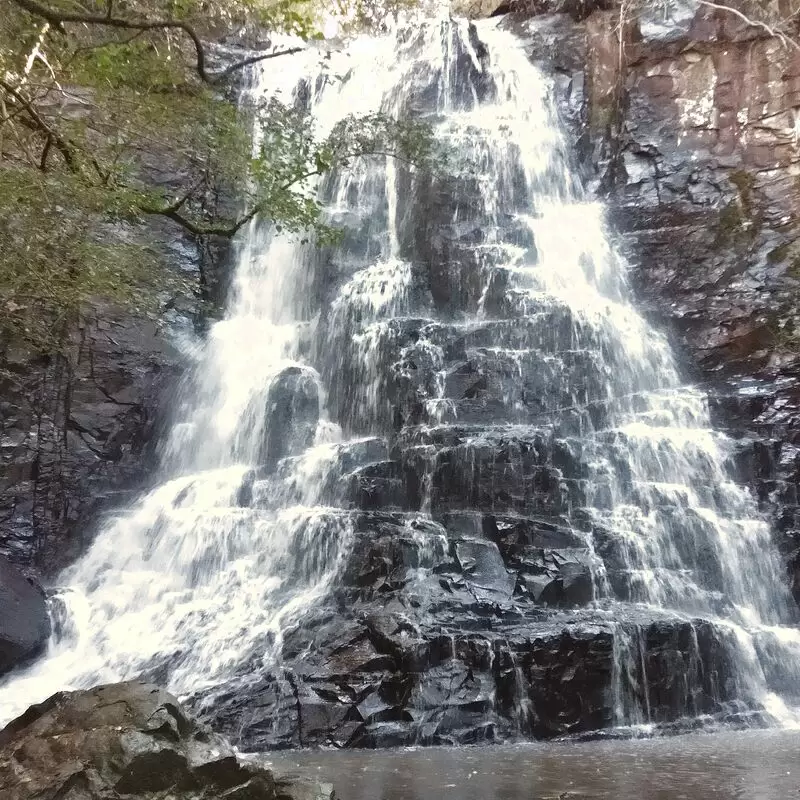 Arboretum Hogsback
15 R345, Hogsback
Monday - Sunday: 8:00 AM – 5:00 PM
6. Eco Shrine
The Eco-Shrine in Hogsback is an absolute must-see, an enchanting sanctuary that celebrates nature and art in harmony. Paintings, sculptures and breathtaking views coexist in this meditative space, allowing you to deeply merge with the environment. Remember that the shrine shines even more on full moon nights! After your visit, you can head to the nearby labyrinth and crystal corner to further enjoy the mystical charm of Hogsback. The eco-shrine will brighten your Hogsback experience and promises a soulful journey.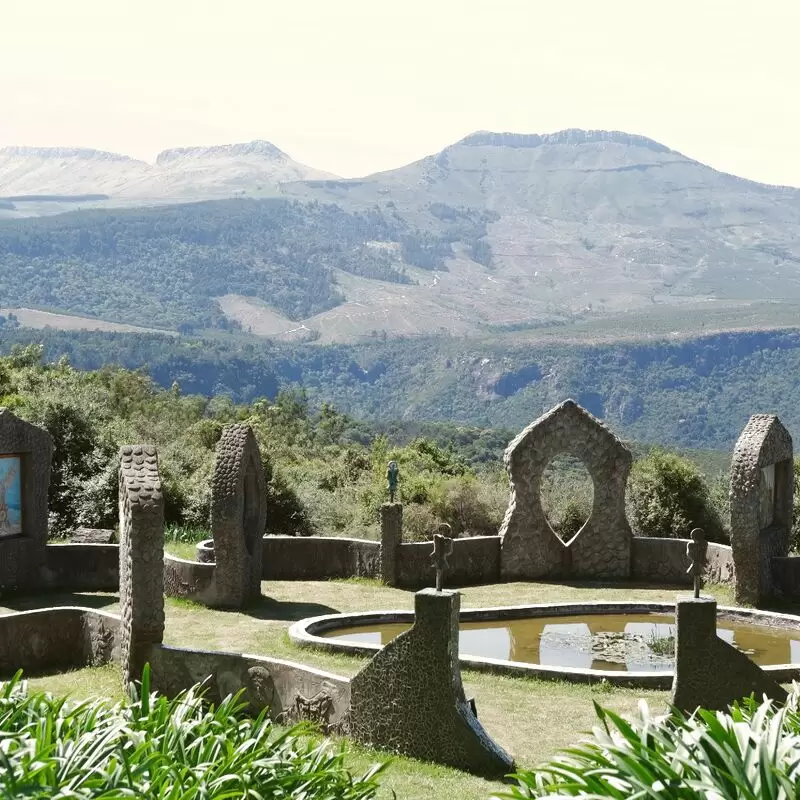 Eco Shrine
The Eco-shrine, 22 Summerton Dr, Hogsback
Monday - Thursday: Closed
Wednesday - Sunday: 9:30 AM – 3:30 PM
7. Historic Hogsback Inn
Immerse yourself in the magic of South Africa at Historic Hogsback Inn, located in the heart of the Amathole Mountains. This charming place offers Victorian-style cottages that combine comfort and vintage appeal. Enjoy an on-site restaurant serving local delicacies. Visit the rich Fairy Garden and try your hand at spotting the local wildlife. Visit the nearby Hogsback Library, an architectural gem, and immerse yourself in Hogsback's rich history. Immerse yourself in tradition and tranquility. Find peace. Find magic. Find Hogsback.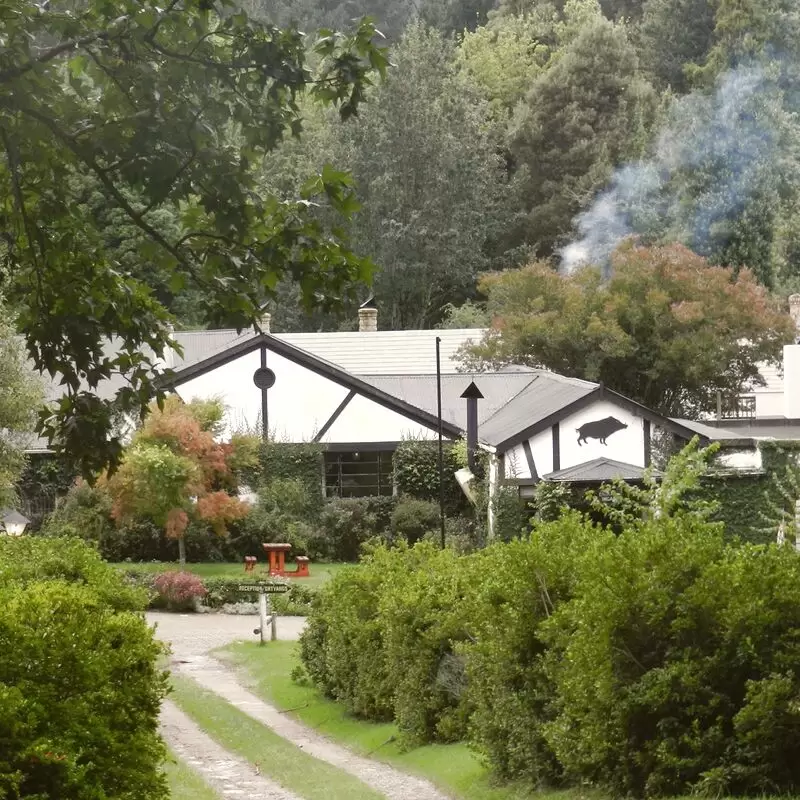 Historic Hogsback Inn
1 Wolfridge Rd, Hogsback
8. Maple Grove

Experience the enchanting world of "Maple Grove," a rustic log cabin in Hogsback surrounded by ancient maple trees and liquid amber. Here you can revel in the tranquility of nature, listen to the calls of rare birds, take scenic mountain hikes, or cozy up in front of a crackling fire. Nearby, you can explore the magical Eco Sanctuary, an outdoor art gallery inspired by the breathtaking transfigured view.

Insider tip: Visit the popular Hogsback Maze, a peaceful, meditative stone labyrinth nearby.

Maple Grove
3 Winding Ln, Hogsback, 5721
9. Crystal Corner
Unleash your inner treasure hunter at Crystal Corner, Hogsback! A mesmerizing wonderland of beautiful African gemstones, crystals and handcrafted jewelry. Sourced directly from the African earth, you may find your own personal lucky charm for your journey here. Located in the heart of the village, it's a treat for collectors and first-time visitors alike. Afterwards, be sure to visit the nearby eco-shrine, just a stone's throw away, for a spiritual experience.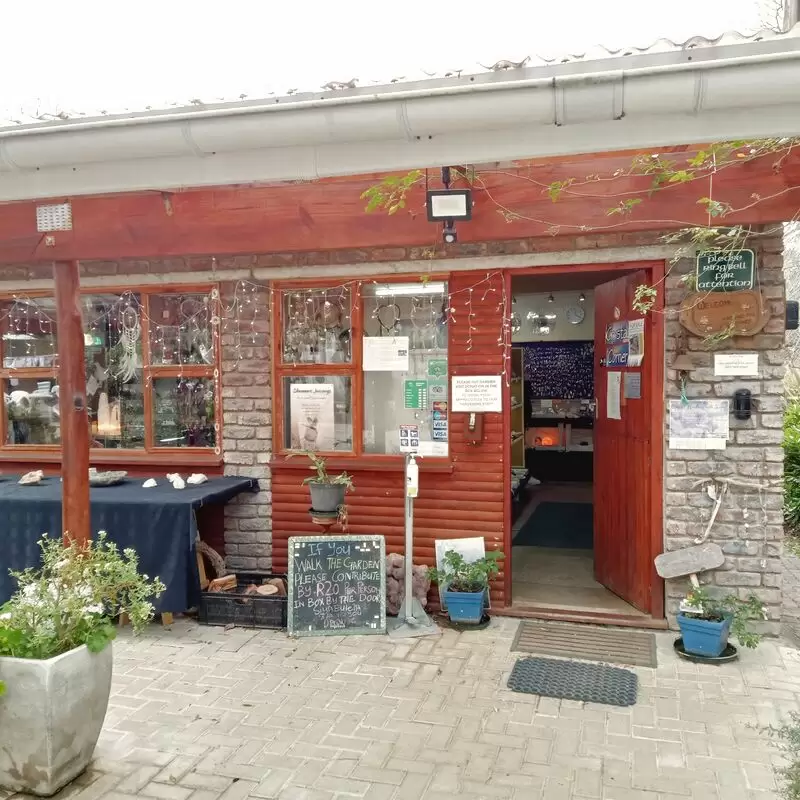 Crystal Corner
1 Bramble Close, Hogsback
Monday - Saturday: 10:00 AM – 4:00 PM
Sunday: 10:00 AM – 1:00 PM
10. Ilifu Self Catering Cottages in Hogsback
Set amidst breathtaking scenery, Ilifu Self Catering Cottages offer exceptional panoramic views that make it a retreat from urban chaos. This homey retreat offers an authentic South African experience with its rustic décor and intimate mountain setting. Be amazed by the mystique of the indigenous forests that surround you. Nearby Madonna and Child Waterfall offers nature lovers an unforgettable natural spectacle, accompanied by a melodic symphony of cascading waterfalls. The highlight? A hidden picnic spot below the falls, where you can have a picture-perfect lunch in complete seclusion.
Ilifu Self Catering Cottages in Hogsback
7 Winding Ln, Hogsback
Monday - Sunday: 8:00 AM – 5:00 PM
11. Laragh on Hogsback
Immerse yourself in the tranquility and natural beauty of "Laragh-on-Hogsback", a piece of paradise on earth. This charming accommodation offers woodland walks and bird watching right from the front door. It is just minutes from the envied Edge Mountain Retreat restaurant, known for its delicious local cuisine. Be sure to take a look at the fascinating eco-shrine expressing concern for the planet, just a short walk away. Enjoy the tranquility as you won't find a better place to get in touch with nature.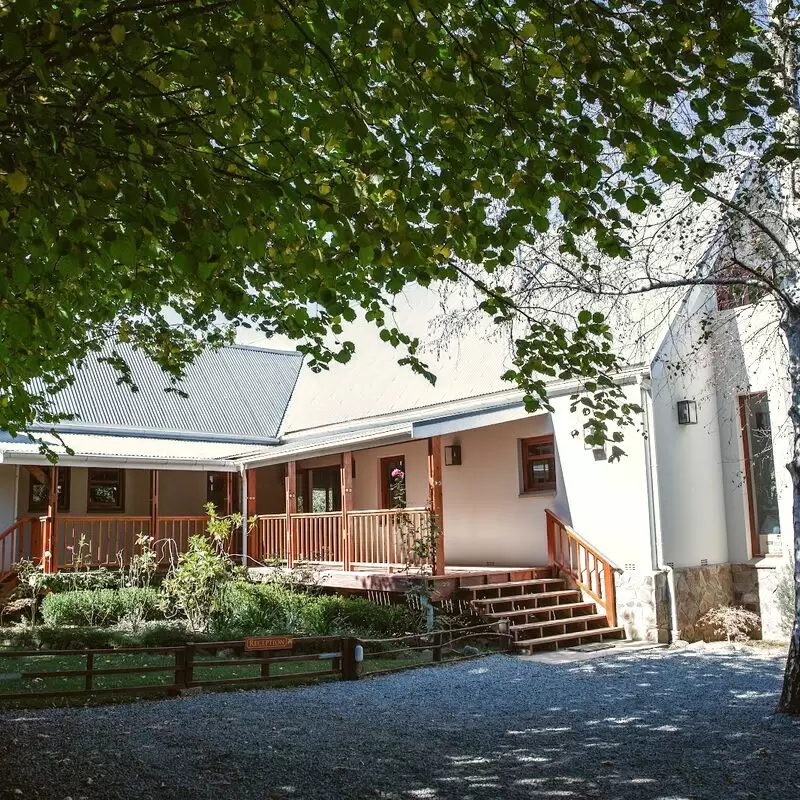 Laragh on Hogsback
1 Orchard Ln, Hogsback, 5721
Monday - Sunday: 8:00 AM – 6:00 PM
12. Hogrock Falls
Delight your senses at Hogrock Falls in Hogsback, the hidden gem of South Africa. This cascading spectacle offers you a tranquil retreat amid nature's melody. Take a refreshing dip in the clear pools or enjoy an impromptu picnic. Enjoy the breathtaking views, which are especially mesmerizing after a rain shower. Explore the winding paths of the nearby, ecologically valuable Indigenous Forest, a green wonder that becomes a healing experience. Experience this intimate corner of the world where nature displays its raw, unfiltered beauty.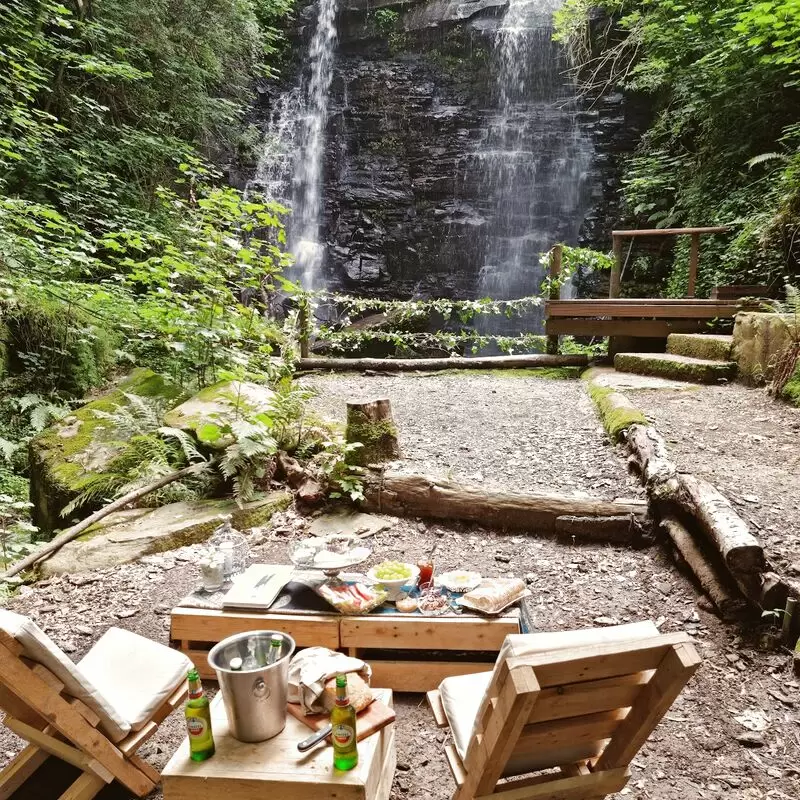 Hogrock Falls
42 Main Road, Hogsback
Monday - Sunday: Open 24 hours
13. Fourfields Hogsback
A visit to Fourfields Hogsback is an unforgettable experience. An unspoiled haven of natural beauty, this tranquil mountain retreat offers breathtaking views and unforgettable hiking trails with abundant birdlife. The scent of wildflowers in bloom and the fresh mountain air make it a place to relax. Nearby, you can also explore the magical Labyrinth at The Edge, a maze-like garden that promises a mystical journey. Also, don't miss the homemade apple pie, which is very popular in the region!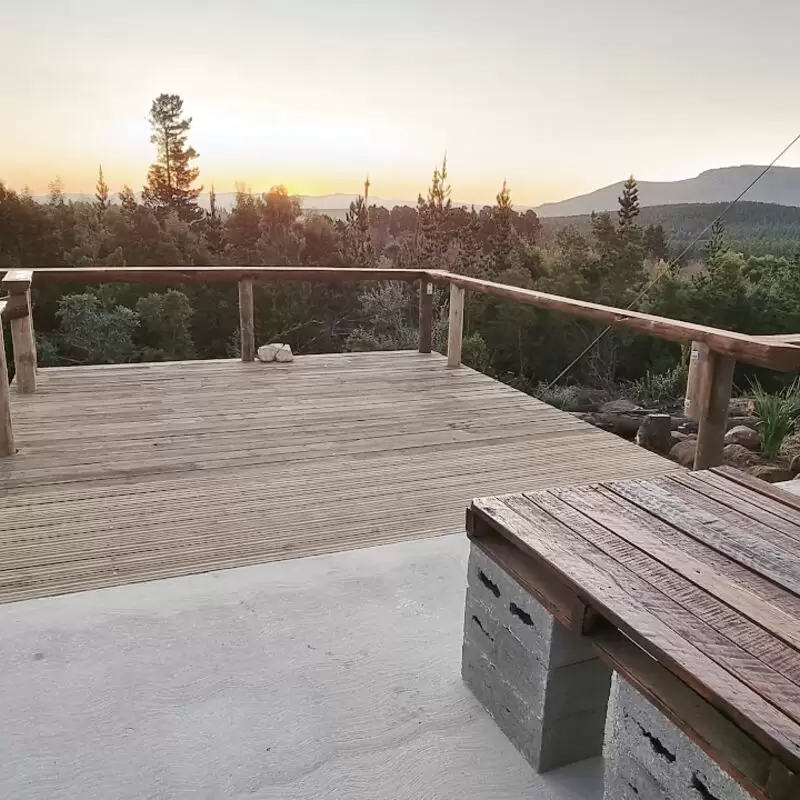 Fourfields Hogsback
Gaika Rd, Hogsback
Monday - Friday: 8:00 AM – 5:00 PM
Saturday - Sunday: 9:00 AM – 3:00 PM
14. Amatola Trails
A trip to the enchanting Amatola Trails in Hogsback, considered one of South Africa's most breathtaking long-distance hikes, promises days of immersion in magical forests with ancient trees and tumbling waterfalls. Hidden along the way, you'll encounter revered Yellowwood trees and mystical fairies said to live in the area. And just a stone's throw away, bask in the serenity of Eco Shrine, a remarkable landmark that honors nature and the interconnectedness of life.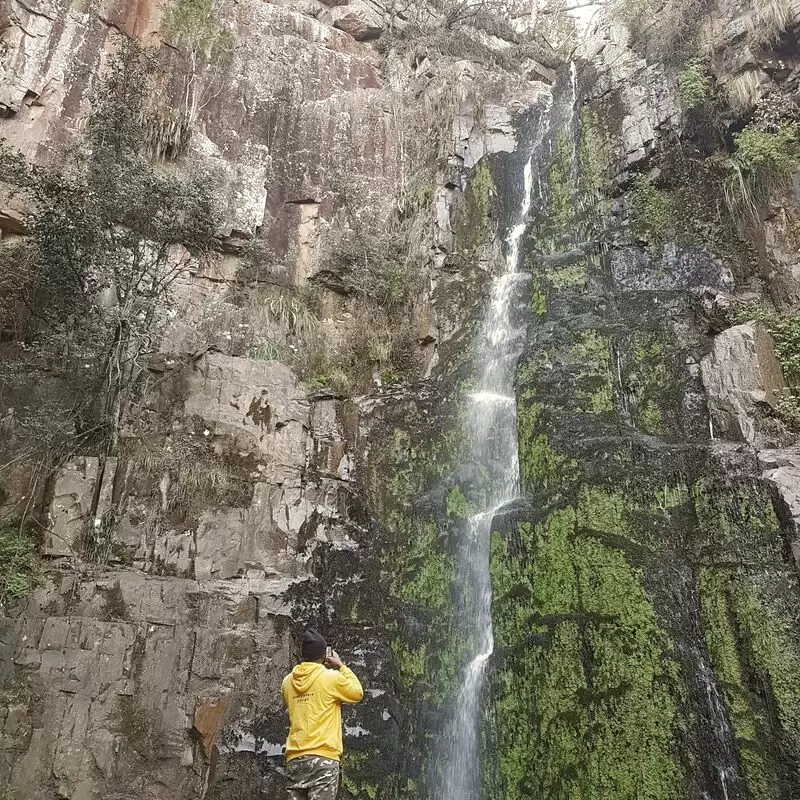 Amatola Trails
2 Main Road, Hogsback
15. Windrush on Hogsback
Experience the unspoiled beauty of Windrush on Hogsback, a tranquil nature retreat that offers more than just breathtaking views. The rustic wooden cabins are a warm retreat after a day spent hiking through native forests and discovering cascading waterfalls. Visit the eco-sanctuary, a tribute to Mother Earth, just a short walk away. Don't forget to keep an eye out among the towering yellowwood trees for the elusive samango monkeys and the enigmatic Cape parrot - a true paradise for nature lovers.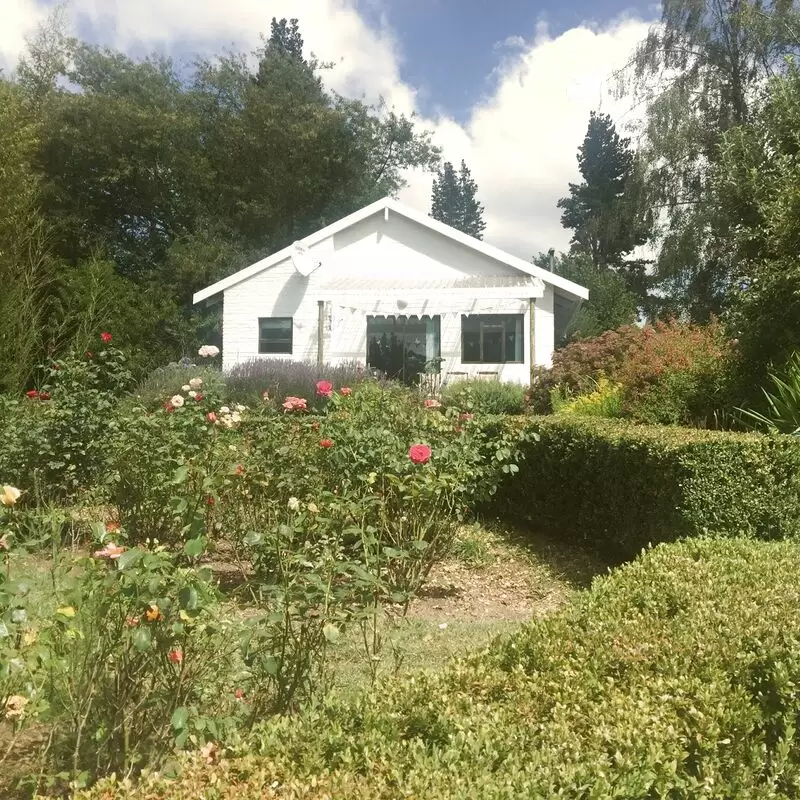 16. The Chocolate Shop
The enchanting charm of "The Chocolate Shop" in Hogsback is impossible to resist! Tucked away in the heart of the local woods, this little gem offers handmade, luxurious chocolates made from local ingredients and pure cocoa - a treat for the discerning chocoholic. Be sure to try the signature "Hogback Honey Nougat," a sweet souvenir of your visit! Just around the corner, you'll find the charming Eco Sanctuary, a whimsical blend of nature and art that rounds out a perfect, indulgent day.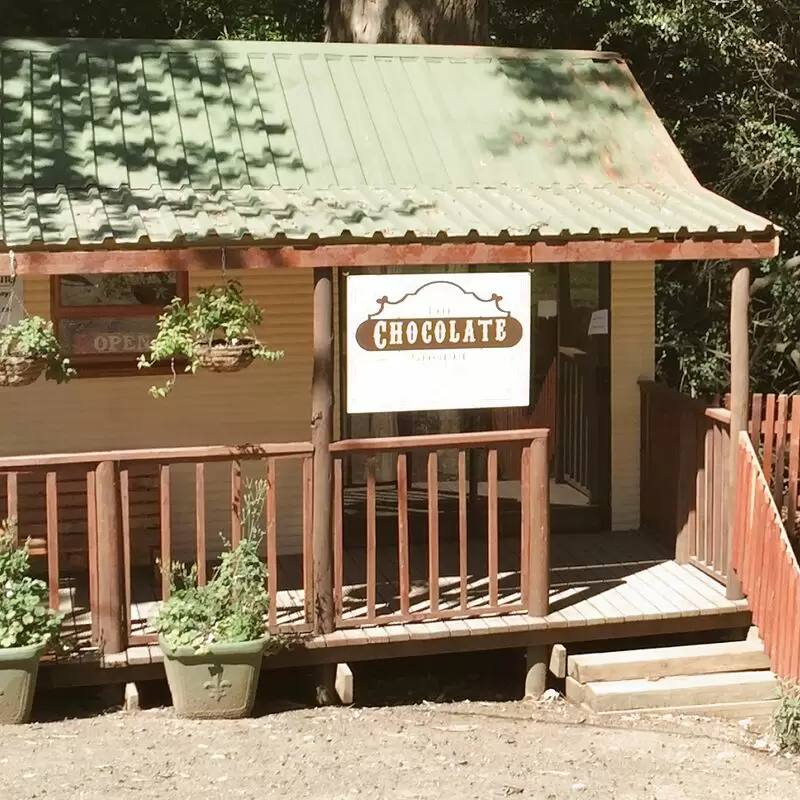 The Chocolate Shop
Main Road, Hogsback
Monday - Saturday: 9:00 AM – 4:00 PM
Tuesday: Closed
Sunday: 9:00 AM – 3:00 PM
17. Nutwoods Park

For nature lovers, a visit to Hogsback is incomplete without a stop at Nutwoods Park. The park offers a lush paradise of native trees, blooming flowers and active birdlife. Stroll along the meadows and across scenic boardwalks, relax at the mirror-smooth dams or bring a picnic lunch.

An insider tip: visit the park in spring to see the namesake walnut trees in full bloom! Don't miss the breathtaking views at Echo Corner lookout, just a short drive away.

Nutwoods Park
19 Nutwoods Dr, Hogsback
18. Hogsview
Venture to Hogsback's jewel - "Hogsview" - for a dreamy retreat. Amid granite peaks, lush forests and gushing waterfalls in the heart of the Amathole Mountains, you can unwind your soul. Hogsview, with its breathtaking views and mystical charm, is said to have inspired J.R.R. Tolkien's Middle Earth. Walk the unique labyrinth and whisper secrets in the famous Echo Corner. Explore the tranquil arboretum nearby or watch the birds at the Madonna and Child waterfall. Experience a pristine magic like never before!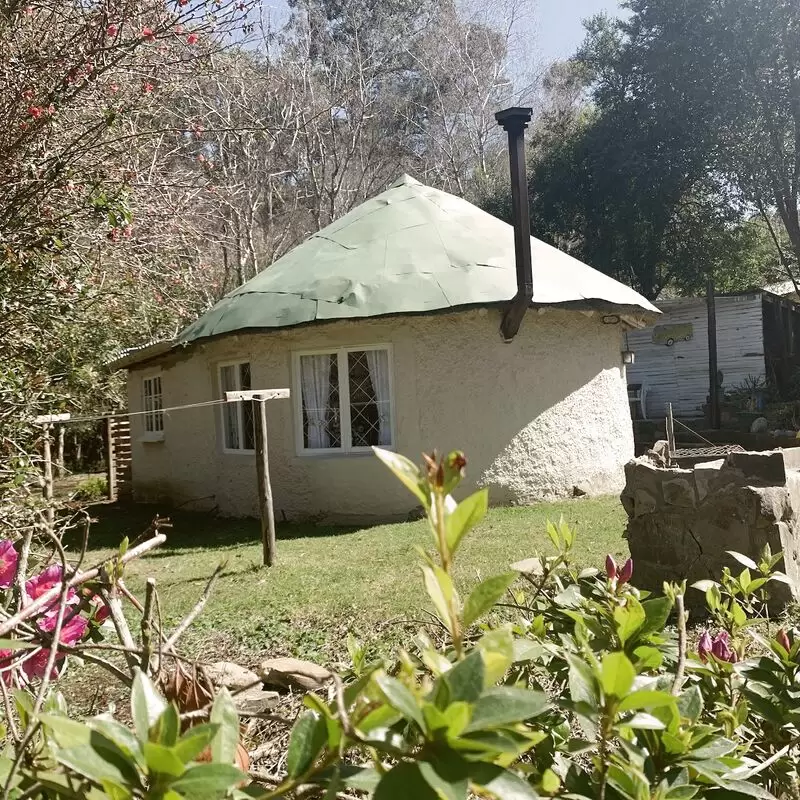 Hogsview
5 Main Road, Hogsback
19. Hogsback Adventures
Hogsback Adventures offers exciting experiences where you can explore the untamed natural beauty of Hogsback. Traverse the magical forests by mountain bike or rappel down a waterfall - a truly unique opportunity! The guides are local experts who have much to tell you about the myths and legends of Echo Corner. Just a short drive away, you can visit the enchanting Eco Shrine, an artful tribute to the divine in nature. A perfect blend of adventure for the adventurous and tranquility for nature lovers!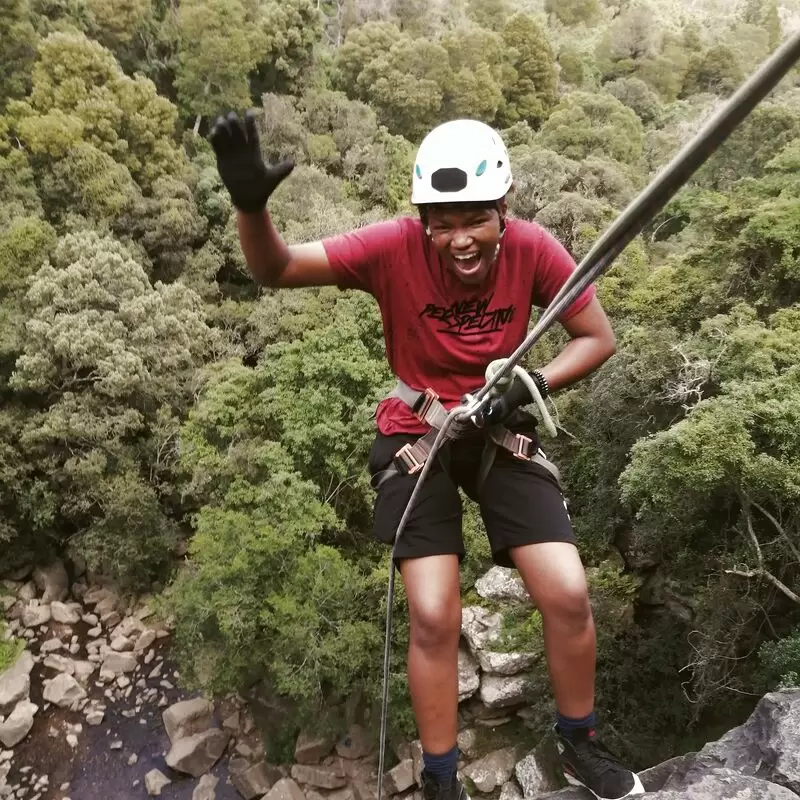 Hogsback Adventures
Corner of Main Road &, Woodlands Centre, Wolfridge Rd, Hogsback
Monday: Closed
Tuesday - Saturday: 9:00 AM – 3:00 PM
Sunday: 9:00 AM – 1:00 PM
Best Time to Visit Hogsback
The best time to visit Hogsback, South Africa, is from October to April. These months offer warm, pleasant weather perfect for outdoor activities such as hiking or horseback riding. The annual Hogsback Spring Festival in October is also highly recommended.
Annual Weather in Hogsback
Hogsback 3-Day Forecast
Wed, 27 September
Night
45 °F
7 °C
74%
Morning
44 °F
7 °C
68%
Afternoon
44 °F
7 °C
69%
Evening
45 °F
7 °C
70%
Thu, 28 September
Night
46 °F
8 °C
0%
Morning
46 °F
8 °C
0%
Afternoon
60 °F
16 °C
0%
Evening
54 °F
12 °C
0%
Fri, 29 September
Night
49 °F
10 °C
0%
Morning
52 °F
11 °C
0%
Afternoon
76 °F
25 °C
0%
Evening
73 °F
23 °C
0%
Questions & Answers

Is Hogsback accessible by public transport?

Hogsback does not have direct public transportation, but can still be reached by it. The nearest major city with bus services is Alice, which is about 30 km away. Alternatively, there are minibuses from East London to Fort Beaufort, from where you can then take a cab to Hogsback. However, please bear in mind that this journey can be time-consuming and less comfortable than using your own vehicle. Local shuttle services may also be available from nearby airports or cities.

What is Hogsback famous for?

Hogsback is known for its breathtaking scenery of densely forested mountains, waterfalls and trails that are often shrouded in mist. The enchanting surroundings are said to have inspired J.R.R. Tolkien to create Middle Earth in "The Lord of the Rings." The area is a paradise for nature lovers, artists and spiritual seekers. It is also popular for activities such as bird watching, horseback riding and mountain biking. The captivating mix of untouched wilderness, mythical magic and quiet retreat makes Hogsback unique.

Are there local guides available for treks and hikes in Hogsback?

Yes, there are local guides in Hogsback. They are experts in the area and offer comprehensive tours that highlight the region's beautiful nature, unique wildlife and rich cultural history. Tours range from easy walks to strenuous hikes, depending on your fitness level. A local guide not only ensures safety, but also enriches your hiking experience by introducing you to lesser-known facts and stories about this enchanting place.

Can you advise on safety precautions for Hogsback?

Even though Hogsback is a picturesque mountain village in South Africa, you should always be vigilant. Be careful with valuable items and have them insured. Do not hike alone and always use recognized trails when exploring. Check the weather forecast before any outdoor activity. Use caution when driving, especially in fog and rain. Avoid walking at night in less populated areas and keep an open line of communication with someone who knows your plans.

What unique flora and fauna can be seen in Hogsback?

In Hogsback, South Africa, you will find unique flora such as ancient yellowwoods, the endangered Hogsback oak, and an abundance of wildflowers, many of which are unique to the region. As for fauna, the area is home to several bird species, including the Cape Parrot, Knysna Turaco and Crested Eagle. Hikers can also spot the samango monkey and the elusive leopard cat on the green forest trails.

Are there any local dishes I should try in Hogsback?

While in Hogsback, South Africa, be sure to try local dishes such as biltong, a type of dried and cured meat often made from beef or game such as springbok. You should also definitely try bunny chow, a fast food dish that consists of a hollowed out loaf of bread filled with curry. Don't miss the opportunity to try boerewors. This traditional South African sausage is a popular barbecue dish and is usually served in a wrapped form.

Can I camp in Hogsback?

Yes, you can camp safely in Hogsback, South Africa. There are several beautiful campsites in this quiet mountain village, set in lush forests and beside scenic waterfalls. Some campsites offer amenities such as toilets, showers and kitchen facilities. Camping in Hogsback offers you the opportunity to enjoy the tranquility and mesmerizing natural beauty of the region. Remember to respect the natural environment during your stay.

Are there any photography restrictions in Hogsback?

In general, there are no restrictions on photography in Hogsback, South Africa. It is a picturesque village that offers ample opportunity for photography with its scenic beauty. However, out of respect, you should always ask permission before taking close-up photos of locals or private property. Certain places, such as galleries, may have their own guidelines for photography, so it is best to check locally. Please always adhere to ethical practices when taking photographs.

Can you advice on etiquette or local customs?

When visiting Hogsback, South Africa, it is important to respect local traditions and customs. Shaking hands is common among both men and women, but wait for the woman to shake your hand first. Look locals in the eye when speaking to show interest and respect. Tipping for good service is common, usually between 10 and 15%. It is also advisable to learn a few words in the local language, Xhosa, to show understanding and respect.

What is the myth behind Hogsback's name?

Hogsback takes its name from the three ridges of the Amathole Mountains, which resemble the bristles of a pig's back. There is a myth that the mountains inspired J.R.R. Tolkien's Middle Earth in The Lord of the Rings. Although this theory is unconfirmed, the enchanting forests, waterfalls and intricate network of trails certainly fit the image of a fantasy novel world.

Is Hogsback child-friendly?

Hogsback is definitely a great destination for families with children. The area offers numerous nature-inspired activities that kids would love, such as fairytale trails in the enchanting forests, nature walks, and horseback riding. There are also child-friendly accommodations equipped with all the amenities to make the stay enjoyable. The serene environment and the storytelling culture about mythical creatures like hobbits provide an adventurous and imaginative environment for children.

Are there any cooking classes for local cuisine?

Yes, during your stay in Hogsback, South Africa, you can learn how to prepare local cuisine at the many cooking schools in the area. In these classes, you will learn the art of preparing traditional South African dishes with local ingredients. You will probably learn dishes such as bobotie, biltong or boerewors. However, please note that course availability may vary and it is always advisable to check with individual cooking schools in advance.

Are there facilities for people with disabilities?

Yes, Hogsback in South Africa caters to people with disabilities to some degree. Many lodges, like the Away with the Fairies Backpacker Hostel, have handicapped accessible rooms with adapted bathrooms. Some restaurants and public areas are also easily accessible via ramps. However, due to the terrain and rural nature of the region, some outdoor activities may not be easily accessible to people with mobility impairments. It is recommended to check with each venue about their facilities.

Is there any unique wildlife that can be spotted in Hogsback?

Hogsback is a biodiversity hotspot and is home to a diverse range of wildlife. Visitors can see the endangered Cape parrot, samango monkeys and a variety of bird species such as Knysna turacos, African crowned eagles and several species of owls. The forest floor is home to interesting creatures such as the rare long-tailed dormouse and the colorful forest chameleon. African wild cats and spotted genet are also frequently sighted, especially at dusk.

How can I respect local culture during my visit?

To respect the local culture in Hogsback, South Africa, it is important to always ask before photographing people or private property, respect nature and the environment by not leaving litter, and try to learn a few words in the local languages - isiXhosa or Afrikaans. Avoid sensitive topics such as politics and apartheid. Show interest in local customs, traditions and history, and support local businesses by buying handicrafts and eating local food.

Can I rent a bike in Hogsback?

In fact, you can rent bikes in Hogsback. This picturesque village in South Africa has catered to the needs of outdoor enthusiasts and offers several local businesses that rent bikes. When you rent a bike, you can traverse the town's stunning landscapes at your own pace. You should take a good map and some water with you. Don't forget to respect nature while enjoying your cycling adventure.

Are there any historic sites in Hogsback?

Yes, Hogsback in South Africa is home to many historical sites. St. Patrick on the Hill Chapel is a picturesque and scenic site with a fascinating history. The Eco Shrine, a notable landmark, exhibits amazing artwork and offers breathtaking mountain views. In addition, The Bluff, a majestic rock formation, has historical significance to the Xhosa people. The Hogsback Library houses a collection of antiquarian books, a testament to the city's historic love of literature.

Is there any particular dress code in Hogsback?

There is no specific dress code for Hogsback, South Africa. Comfortable casual clothing is appropriate for the warm summer months, while warm clothing is recommended for the cold winter months, when it may even snow. If you plan to do numerous outdoor activities such as hiking, horseback riding, or rappelling, make sure you wear appropriate clothing and footwear for these activities. Also remember to pack sun protection items such as hats, sunglasses and sunscreen.

Do restaurants in Hogsback offer vegan or vegetarian options?

Yes, there are restaurants in Hogsback, South Africa that cater to both vegetarian and vegan diets. These include Butterfly Bistro and The Edge Mountain Retreat, which offer a range of delicious, plant-based dishes. You'll find a variety of dishes including salads, pastas, and even pizzas with vegan cheese. Please note that while the restaurants do their best to accommodate different dietary needs, it's always a good idea to inform the restaurant when booking.

Is it possible to visit the local artisans in Hogsback?

A visit to the local artisans in Hogsback can be a unique experience. The village is full of artists, craftsmen and creatives who add a vibrant creative spark to the community. You can enter their studios, view their work and learn about their craft, giving you a better understanding of the local culture. It's a wonderful opportunity to connect with locals and appreciate the authentic, rural aesthetic that makes Hogsback so unique.

Feedback

I hope you found this article informative and helpful. I'm eager to improve the content and make it even more valuable for you. If you have any feedback or suggestions, I would love to hear from you.

Do you have any tips or hidden gems that you think should be added to the list? Are there any areas that you feel could use more explanation or clarification?

Your input is greatly appreciated and will help us to continue providing high-quality content that meets your needs and interests. Please feel free to share your thoughts.