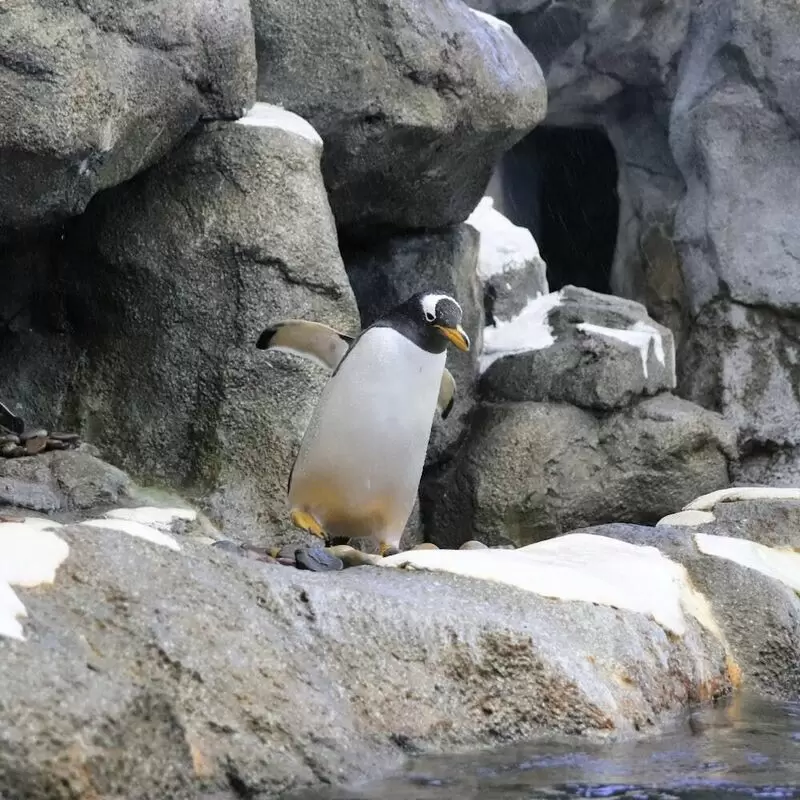 1. Calgary Zoo
A trip to Calgary is incomplete without a visit to the famous Calgary Zoo! It is the second largest zoo in Canada and is home to over 1,000 animals from all parts of the world. Stroll through the lush botanical gardens and take selfies with playful penguins or admire the unique architecture of the Enmax Conservatory. Don't forget to visit the exclusive Canadian Wilds, which showcases the wonders of Canada's wildlife. Just around the corner is the peaceful St. George's Island Park, which is a true urban oasis.
Calgary Zoo
210 St. George's Drive NE, Calgary
Monday - Sunday: 9:00 AM – 6:00 PM
2. Prince's Island Park
Prince's Island Park is a true oasis in the heart of Calgary, offering an idyllic escape from the bustling city. With its picturesque views of the Bow River, this city park is perfect for leisurely walks, picnics, and outdoor activities. The park is home to the popular River Café, making it an ideal destination for foodies to enjoy local dishes. It also hosts frequent cultural events and festivals, such as the Calgary Folk Music Festival. In the immediate vicinity is the iconic Peace Bridge, which is an aesthetic delight for photography enthusiasts.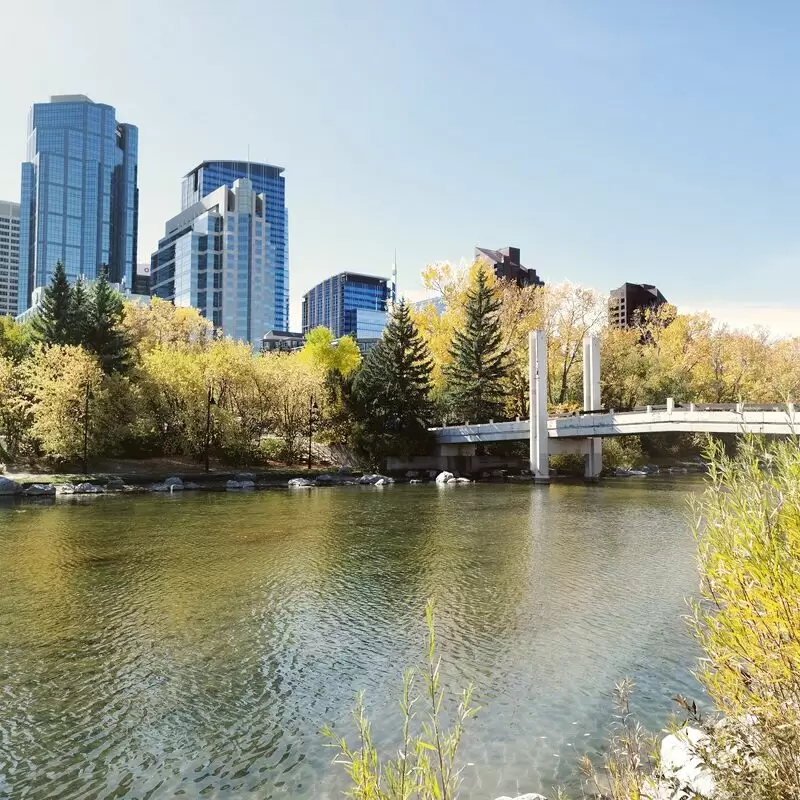 Prince's Island Park
698 Eau Claire Ave SW, Calgary
Monday - Sunday: 5:00 AM – 11:00 PM
3. Fish Creek Provincial Park
A visit to Fish Creek Provincial Park in Calgary is a must for any nature lover! This huge city park offers breathtaking landscapes, scenic hiking trails and diverse wildlife. As you stroll through one of the largest urban parks in North America, you'll experience authentic Canadian nature. Don't miss the opportunity to explore the historic site of the restored Ranche House or spot a beaver in the wetlands. Also nearby is the fascinating Sikome Aquatic Facility, which offers a refreshing change of pace on warm days.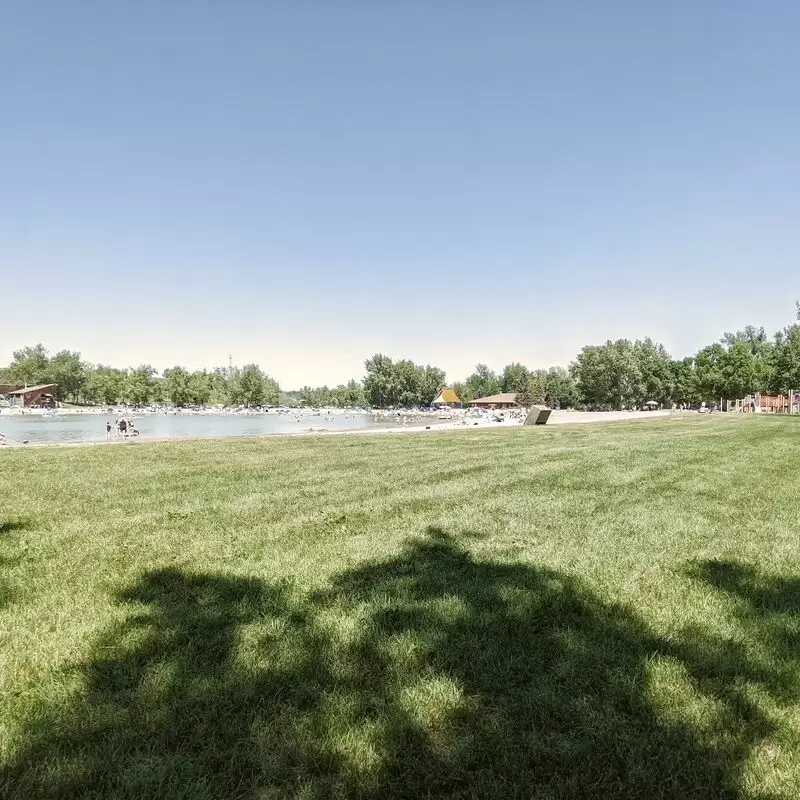 Fish Creek Provincial Park
Calgary
Monday - Sunday: 8:00 AM – 10:00 PM
4. Heritage Park
A visit to Heritage Park in Calgary is a must for history buffs and families alike! Step back in time and explore the largest living history museum in Canada, spanning 127 acres of interactive exhibits and engaging storytelling. Don't miss the popular and rare Steam Railway, the fascinating Gasoline Alley Museum or a tour on the paddle steamer S.S. Moyie. Nearby, Glenmore Reservoir adds even more charm to your trip back in time with its magnificent views and picturesque setting for a picnic.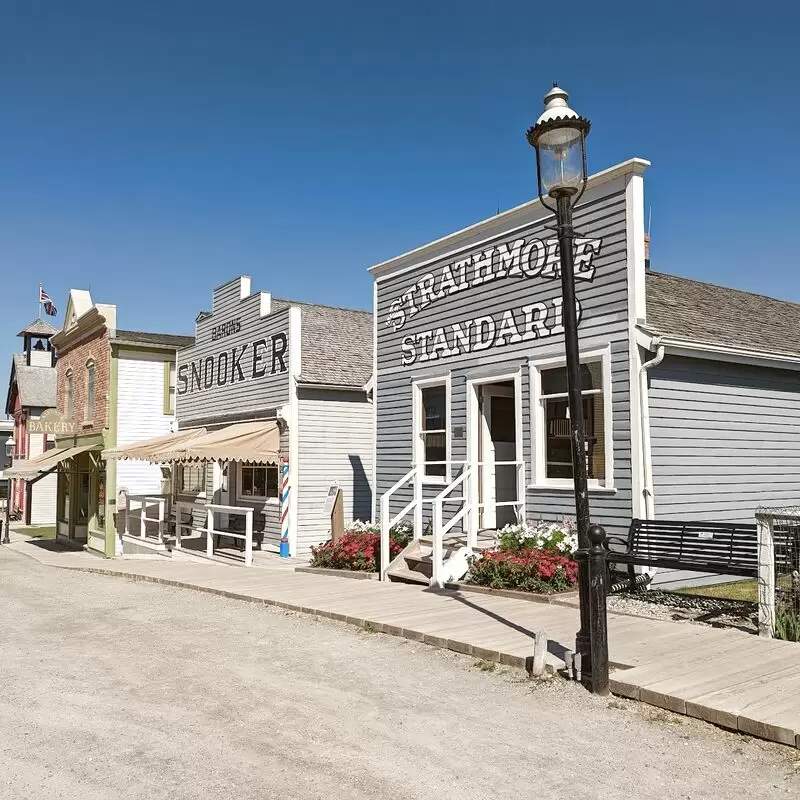 Heritage Park
1900 Heritage Dr SW, Calgary
Monday - Sunday: 10:00 AM – 5:00 PM
5. Calgary Stampede
A visit to the Calgary Stampede is a must for thrill seekers as well as culture vultures! Known as the "Greatest Outdoor Show on Earth," the event offers a unique blend of rodeo action, live music and delicious fair food. You'll marvel at world-class chuckwagon racing and traditional First Nations displays. Best of all, the iconic Calgary Tower is just minutes away, so you can get a taste of the city's modern structure and breathtaking panoramic views in between your stampede adventures.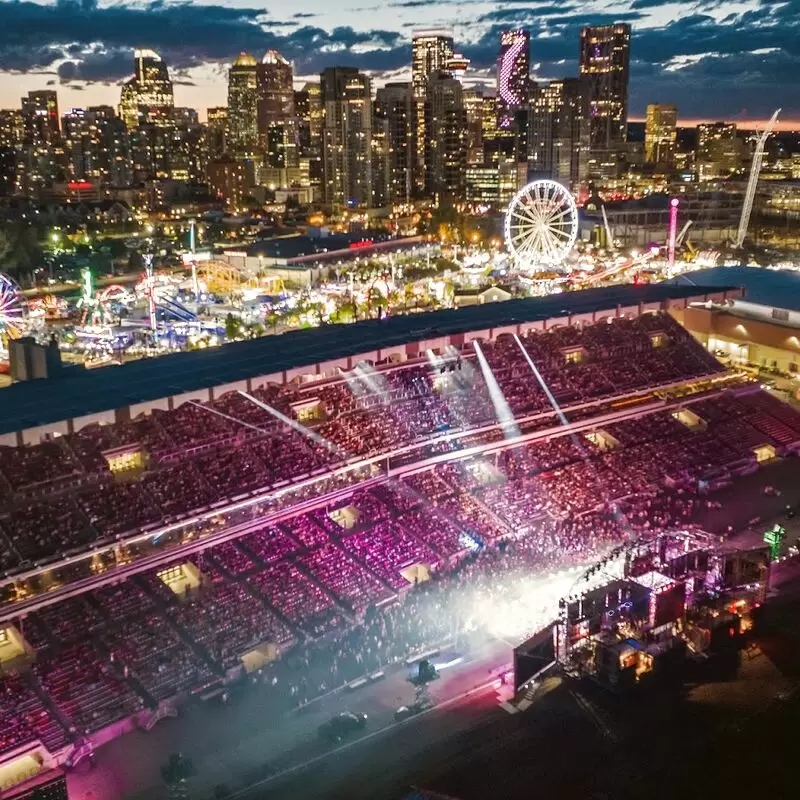 Calgary Stampede
1410 Olympic Way SE, Calgary
Monday - Friday: 8:30 AM – 4:30 PM
Saturday - Sunday: Closed
6. Bowness Park
Bowness Park in Calgary is a stunning natural paradise with lush greenery and the picturesque Bow River. Experience the tranquility of nature with a leisurely stroll or take a bike ride through the countryside. Rent a paddle boat, picnic by the shimmering lagoon, or ride the miniature train track. In winter, you can enjoy ice skating. Local tip: Visit the nearby marketplace, where you'll find quirky stores and treat yourself to a delicious ice cream at The Seasonal Sweets stand.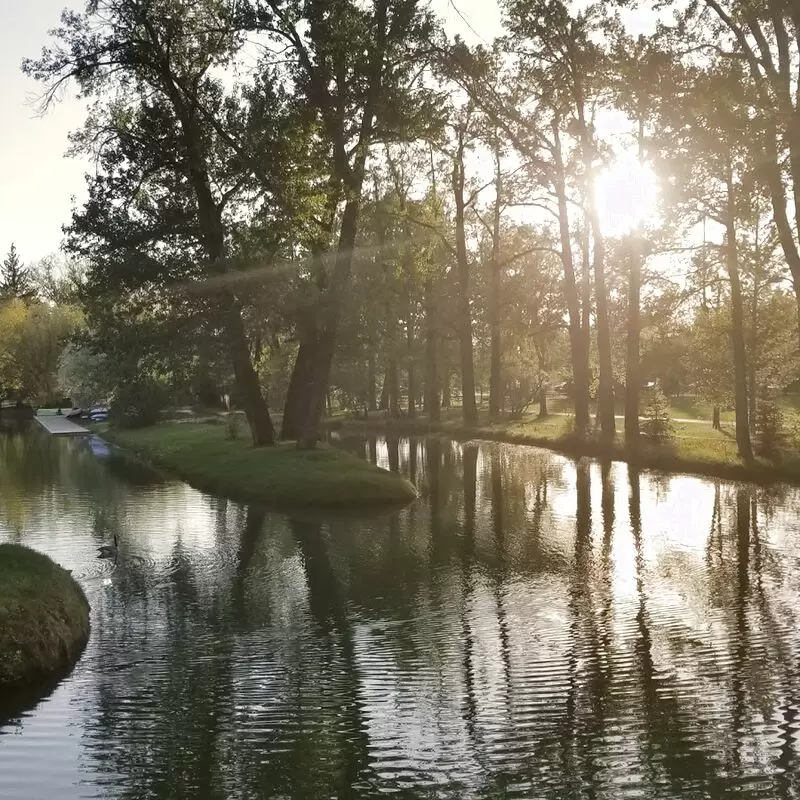 Bowness Park
8900 48 Ave NW, Calgary
Monday - Sunday: 5:00 AM – 11:00 PM
7. Calgary Tower
A visit to the iconic Calgary Tower is a must for any traveler! This 191-meter-tall freestanding observation tower offers unparalleled 360-degree panoramic views of Calgary's stunning skyline and the breathtaking Canadian Rockies. For thrill seekers, step onto the glass floor and experience the sensation of floating above the bustling city. Also, enjoy local delicacies at Sky 360 Restaurant, where you can dine while slowly rotating to enjoy an ever-changing backdrop. Just a short walk away you'll find the vibrant Arts Commons and the picturesque Olympic Plaza!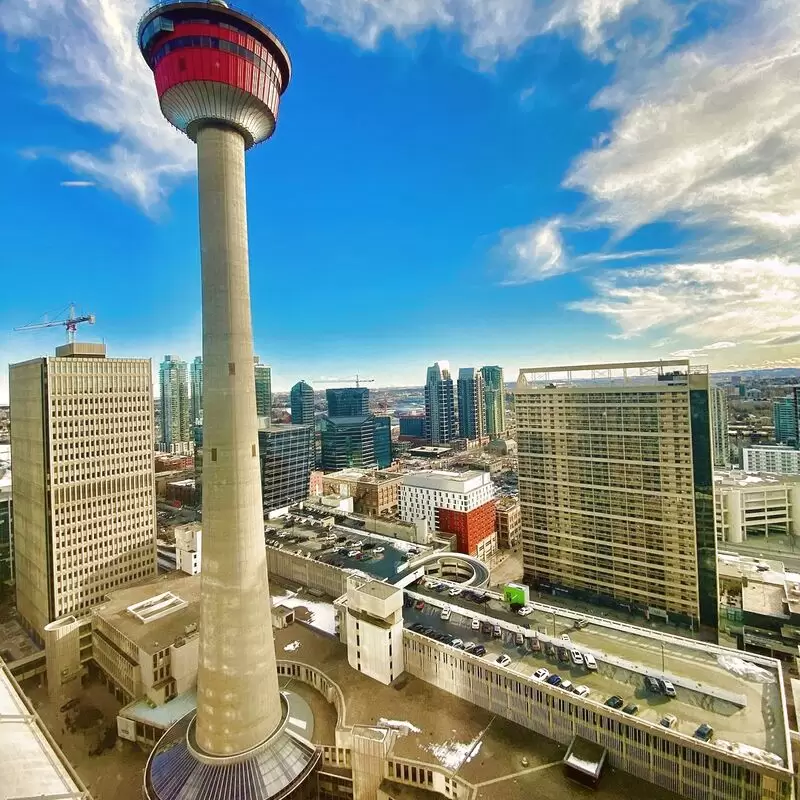 Calgary Tower
101 9 Ave SW, Calgary
Monday - Sunday: 10:00 AM – 9:00 PM
8. The Military Museums
Immerse yourself in Canadian military history at the Military Museums in Calgary! This is an amalgamation of eight museums that provide a fascinating glimpse into the valiant efforts of Canada's armed forces. Marvel at the historic uniforms, artifacts and memorabilia as you walk through the well-curated exhibits. A tip for locals: don't miss the landscaped memorial park that honors fallen soldiers. The proximity to Glenmore Reservoir makes for more scenic experiences nearby.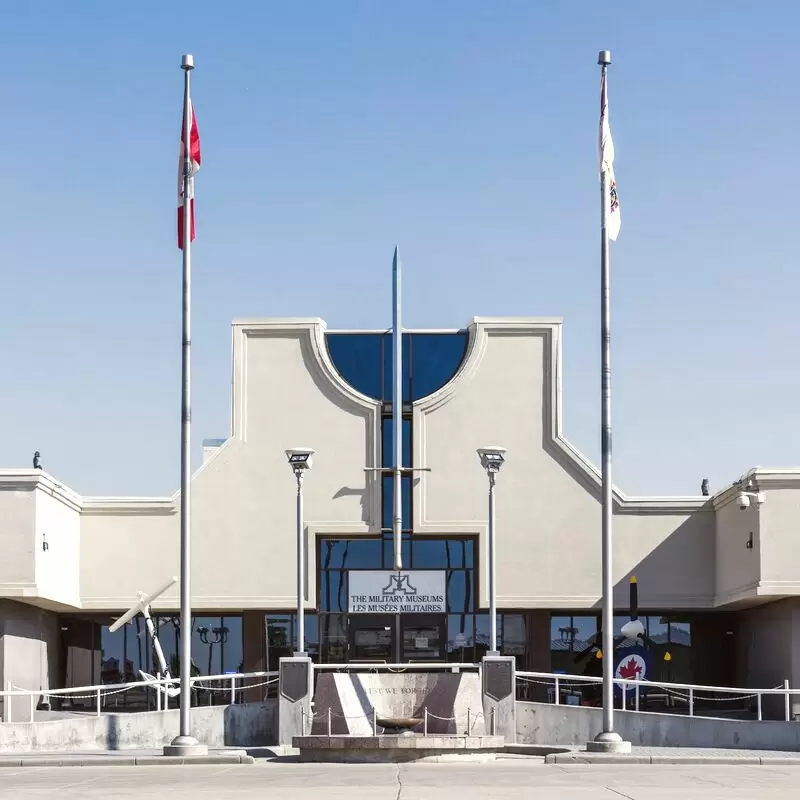 The Military Museums
4520 Crowchild Trail SW, Calgary
Monday - Sunday: 9:00 AM – 5:00 PM
9. Peace Bridge
Make your way to the famous Peace Bridge, an architectural marvel that spans elegantly over the vibrant Bow River. Admire its bright red color, futuristic design, and pedestrian-friendly path, perfect for a leisurely stroll or scenic bike ride. While there, enjoy a little-known secret: at night, the bridge transforms into a colorful beacon, reflecting dazzling LED lights into the water below. Nearby, you'll find plenty of green spaces like Prince's Island Park, a must-see in Calgary's urban playground!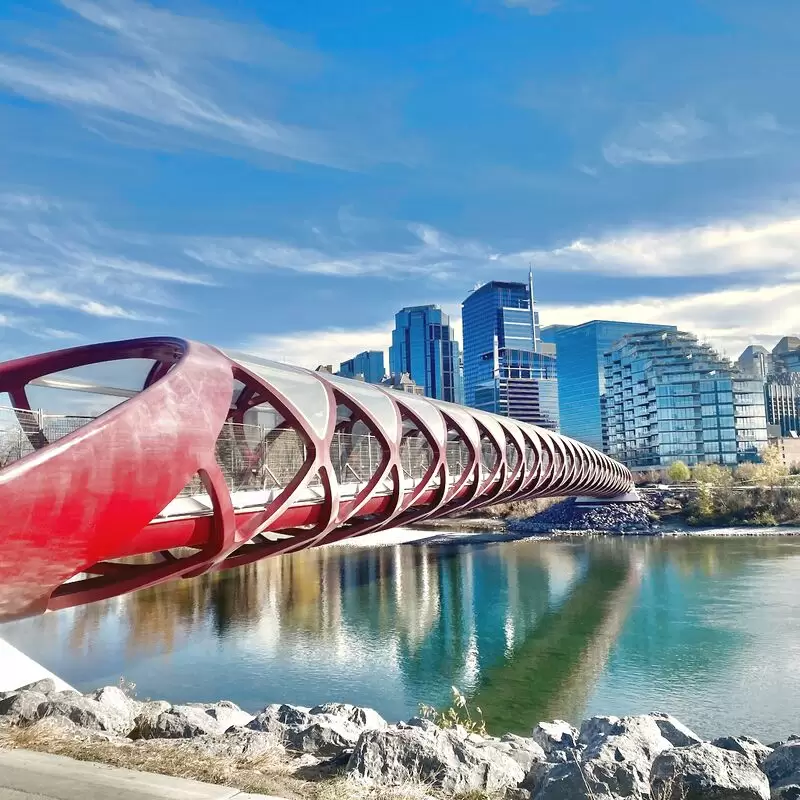 Peace Bridge
Peace Bridge, Calgary
Monday - Sunday: Open 24 hours
10. Studio Bell home of the National Music Centre

Discover the heart and soul of the Canadian music scene at Studio Bell, home of the National Music Centre. This architectural marvel is more than just a museum; it's an experience that celebrates music legends and local talent alike. Explore five floors of interactive exhibits, recording studios and rare instruments like the Rolling Stones' Mobile Studio.

Insider tip: After your visit, stroll along the beautiful RiverWalk or visit the charming East Village with its delicious restaurants and unique boutiques.

Studio Bell home of the National Music Centre
850 4 St. SE, Calgary

Monday - Tuesday: Closed
Wednesday - Sunday: 10:00 AM – 5:00 PM
11. Carburn Park
Carburn Park is a hidden gem in Calgary that offers a tranquil retreat from the bustling city. This picturesque urban oasis features two large ponds that invite park visitors to enjoy non-motorized boating or viewing local wildlife. The tree-lined trails are ideal for walking or biking and offer breathtaking views and peaceful picnic areas. In the winter, the park also offers a unique ice skating rink. After exploring Carburn Park, head to nearby Glenmore Reservoir for more scenic hiking trails and water sports!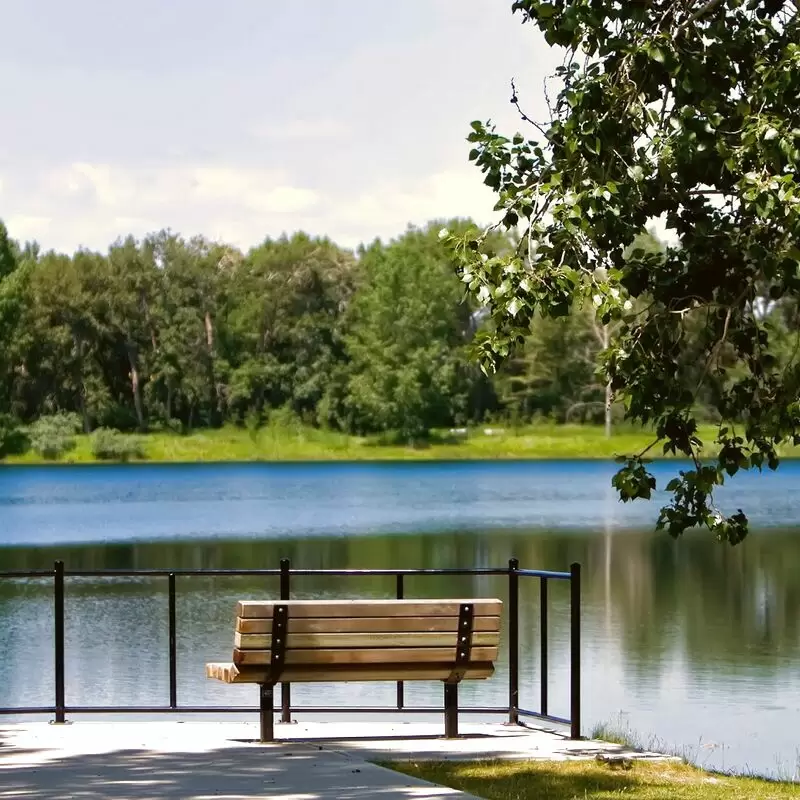 Carburn Park
67 Riverview Dr SE, Calgary
Monday - Sunday: 5:00 AM – 11:00 PM
12. WinSport
Get ready to unleash your spirit of adventure at WinSport in Calgary! This Olympic legacy offers exciting experiences year-round and is perfect for all ages. Experience adrenaline-pumping bobsled rides, feel like an Olympian while ski jumping, or hone your skills at the ice rinks and mountain bike park. Don't miss the Scenic Tower Experience at the base of the ski jump; the panoramic view of the city is simply breathtaking. Nearby, you can visit Canada's Sports Hall of Fame for additional inspiration.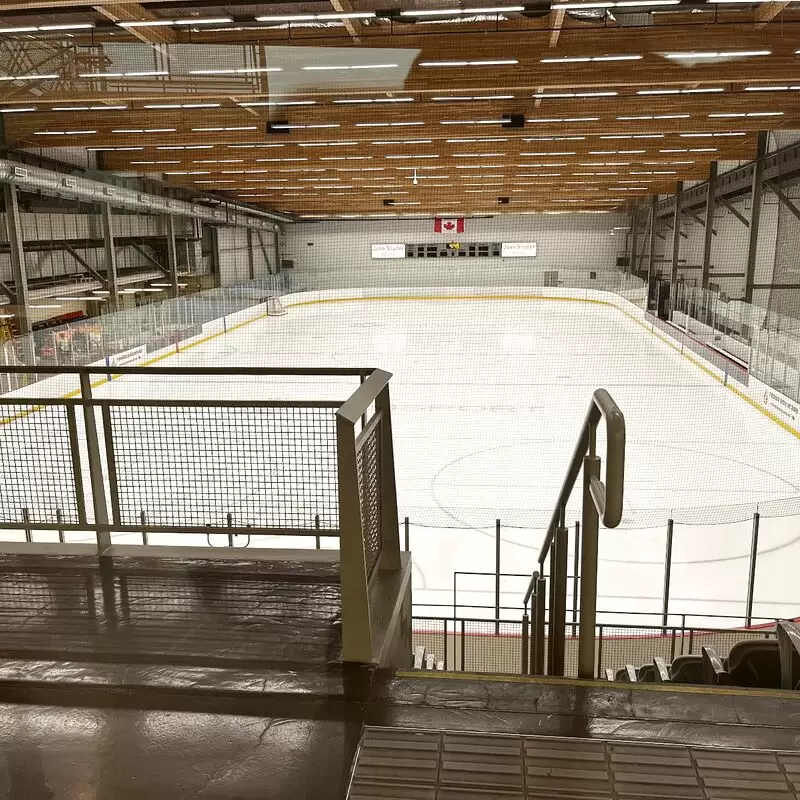 WinSport
88 Canada Olympic Rd SW, Calgary
Monday: 4:00 – 9:00 PM
Tuesday: 11:00 AM – 9:00 PM
Wednesday - Sunday: 9:00 AM – 5:00 PM
Friday: 11:00 AM – 5:00 PM
13. TELUS Spark Science Centre
Experience the wonders of science at the TELUS Spark Science Centre in Calgary! Unleash your inner scientist as you explore over 150 interactive exhibits, planetarium shows and live science demonstrations. The fascinating HD Digital Dome Theatre is a great adventure for the whole family and offers a unique experience to immerse yourself in. After exploring the center, take a short walk to the neighboring Calgary Zoo to continue your day of discovery and excitement. Don't miss this gem during your visit to Calgary!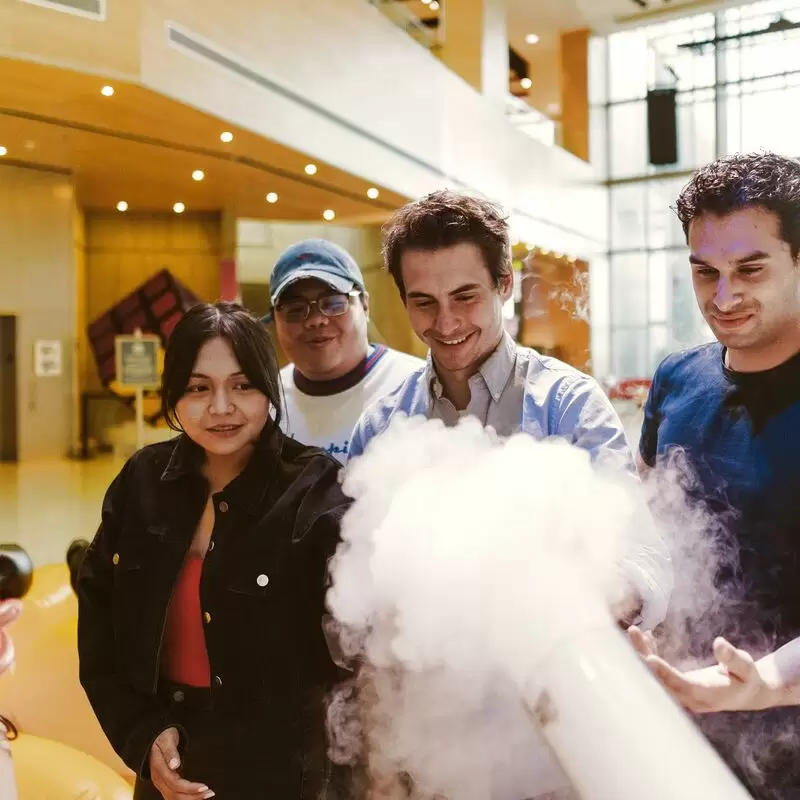 TELUS Spark Science Centre
220 Saint George's Drive Northeast, Calgary
Monday - Thursday: 9:00 AM – 4:00 PM
Friday - Saturday: 9:00 AM – 7:00 PM
Sunday: 9:00 AM – 5:00 PM
14. Inglewood Bird Sanctuary & Nature Centre

Discover the tranquil beauty of Calgary's Inglewood Bird Sanctuary & Nature Centre, a 36-acre natural paradise ideal for birdwatchers and nature lovers. Stroll along the tranquil trails and observe over 270 species of migratory birds. Amidst the lush greenery, you may even spot deer and rabbits. The sanctuary, which strives to preserve biodiversity, is a must-see with free admission!

An insider tip is the nearby Pearce Estate Park, which is another experience with its wetlands, fishing spots and stunning flora.

Inglewood Bird Sanctuary & Nature Centre
2425 9 Ave SE, Calgary

Monday - Sunday: 10:00 AM – 4:00 PM
15. Glenbow Museum
Discover the captivating Glenbow Museum, a must-see for any culture lover visiting Calgary. Immerse yourself in a world of fascinating art, history and artifacts, featuring exquisite indigenous collections and remarkable contemporary works. The museum offers interactive exhibits and hands-on activities, making it especially family-friendly. Don't miss the Maverick exhibit, which gives you a glimpse into the lives of Alberta's pioneers. Just a short walk away, after your visit to the museum, you can explore Calgary Tower, which offers breathtaking views of the city!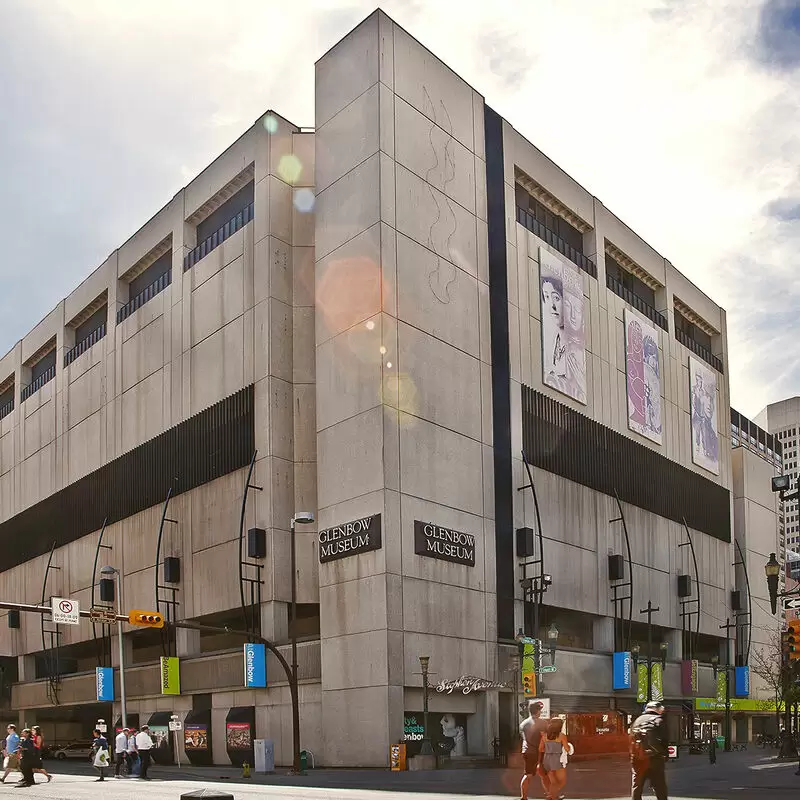 Glenbow Museum
130 9 Ave SE, Calgary
16. Spruce Meadows
Spruce Meadows, a world-renowned equestrian facility, is a must-see for horse lovers and nature enthusiasts alike. Experience the majestic beauty of horses at show jumping and dressage competitions, or simply enjoy the breathtaking scenery of the meticulously manicured grounds. Don't miss unique experiences such as a behind-the-scenes look at the barn or the manicured rose maze, all set against the breathtaking backdrop of the Rocky Mountains. Plus, Fish Creek Provincial Park is nearby, perfect for a scenic hike!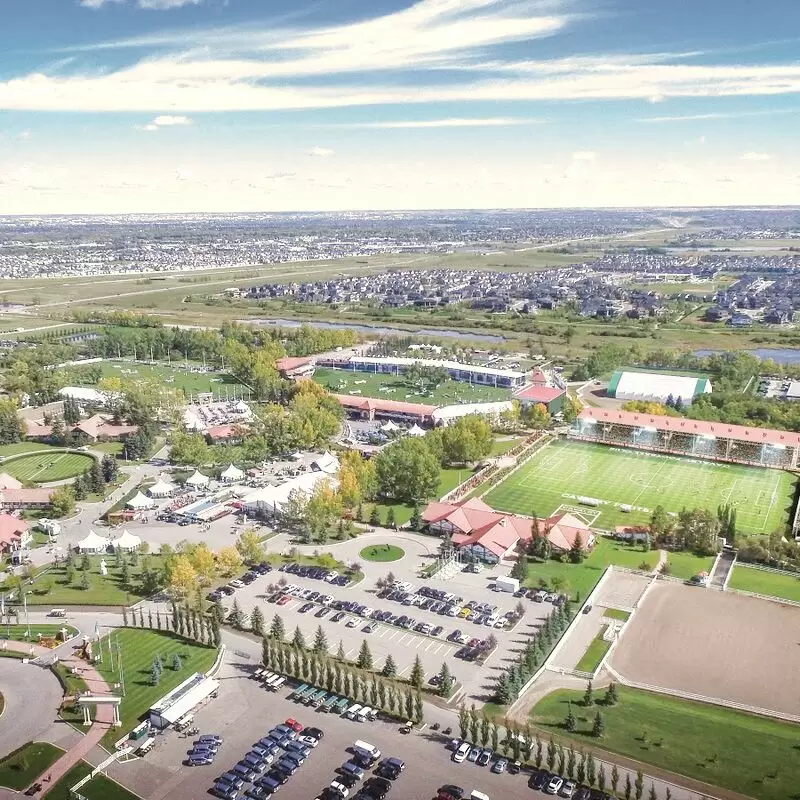 Spruce Meadows
18011 Spruce Meadows Way SW, Calgary
Monday - Friday: 9:00 AM – 5:00 PM
Saturday - Sunday: Closed
17. Fort Calgary
Discover the rich history of the fascinating city of Calgary at Fort Calgary, the birthplace of this vibrant metropolis. Located at the confluence of the Bow and Elbow rivers, this premier heritage destination offers interactive exhibits, engaging programs and a beautiful 40-acre riverfront park. Don't miss the opportunity to immerse yourself in the past while just a short walk to the iconic Wonderland sculpture and rejuvenating Prince's Island Park. Explore the fort and discover Calgary's best kept secrets!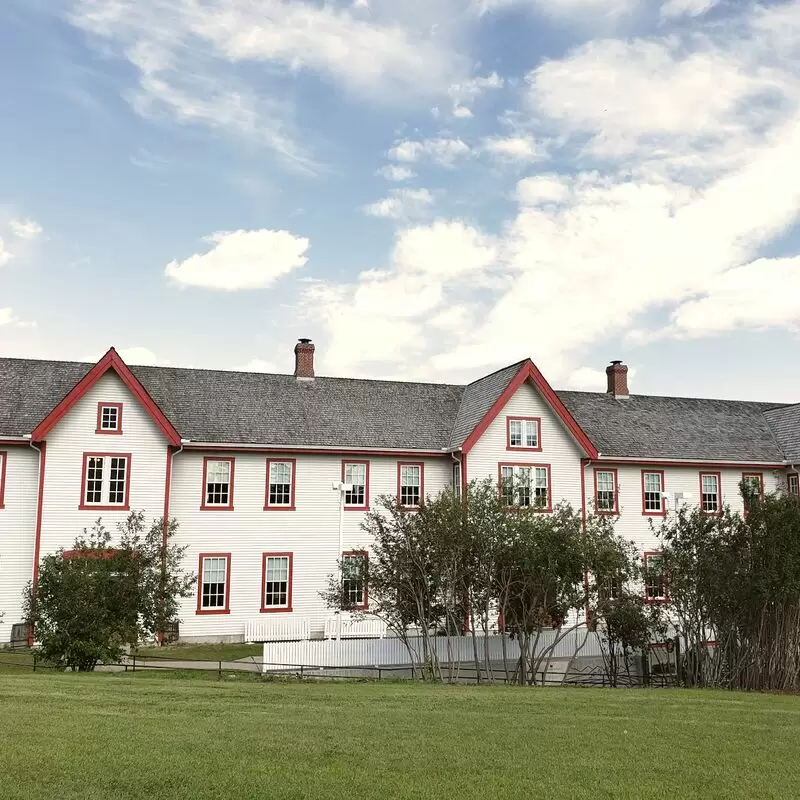 Fort Calgary
750 9 Ave SE, Calgary
Monday - Tuesday: Closed
Wednesday - Sunday: 10:00 AM – 5:00 PM
18. Scotsman's Hill
A visit to the iconic Scotsman's Hill is a must for any traveler exploring Calgary! This vantage point offers one of the best views of the skyline and allows you to capture breathtaking photos of the city's stunning architecture, the majestic Rocky Mountains, and the sparkling Elbow River. Locals often enjoy picnics and sunsets here, making this place a real experience. Plus, Stampede Park, where the famous Calgary Stampede takes place, is just a short walk away, so you can experience Calgary's best events and attractions!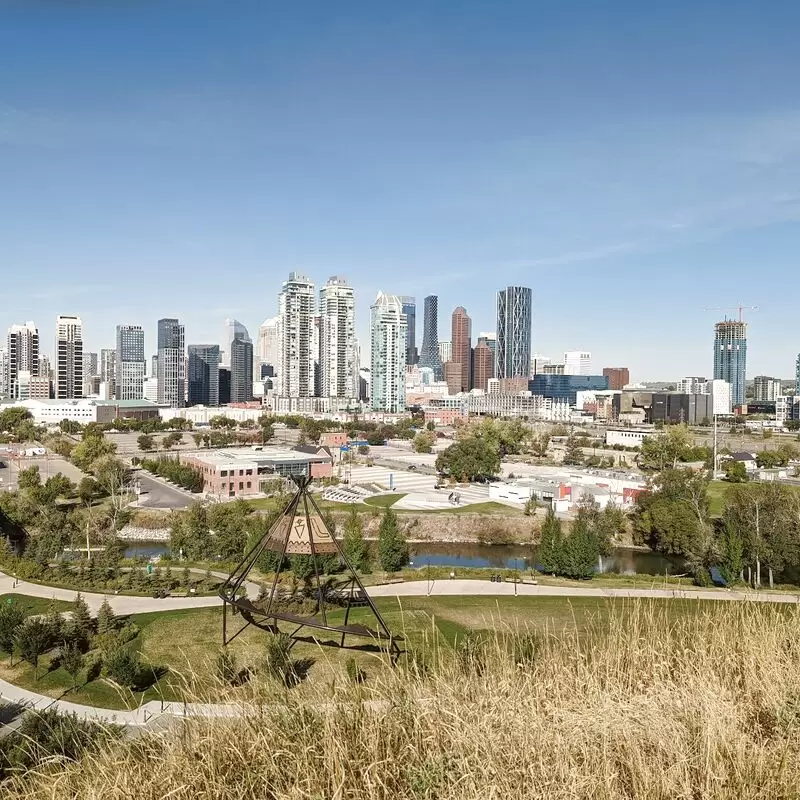 Scotsman's Hill
Ramsay, Calgary
Monday - Sunday: Open 24 hours
19. Gasoline Alley Museum
A visit to the Gasoline Alley Museum in Calgary is a nostalgic trip down memory lane, offering an exciting glimpse into the golden era of the automotive industry. As you marvel at the extensive collection of vintage cars and rare gas pumps, you'll appreciate the ingenuity and style of the past. Don't miss the assortment of retro memorabilia, ideal for sparking conversation and instilling a love of history. Afterwards, continue your adventure with a leisurely stroll through the charming grounds of the nearby Heritage Park Historical Village.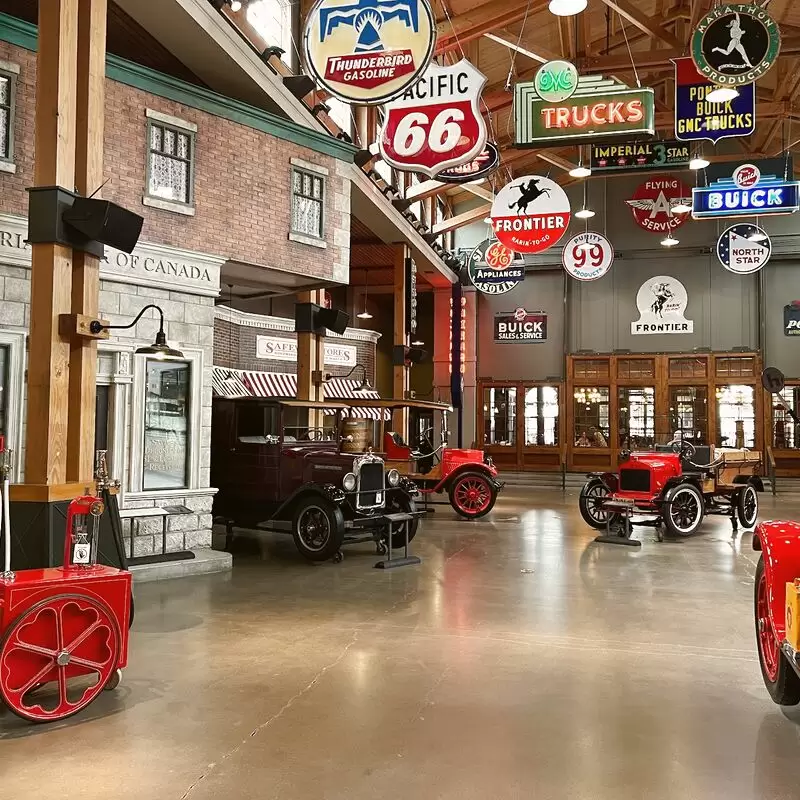 Gasoline Alley Museum
1900 Heritage Dr SW, Calgary
Monday - Sunday: 10:00 AM – 5:00 PM
Best Time to Visit Calgary
The best time to visit Calgary is from June to August, when the weather is warm and the city offers many popular events such as the Calgary Stampede and various outdoor festivals. For winter sports enthusiasts, Calgary's proximity to the Canadian Rockies makes it an ideal destination for skiing and snowboarding from December to March.
Annual Weather in Calgary
Calgary 3-Day Forecast
Thu, 21 September
Night
46 °F
8 °C
0%
Morning
44 °F
7 °C
0%
Afternoon
58 °F
15 °C
0%
Evening
65 °F
18 °C
0%
Fri, 22 September
Night
50 °F
10 °C
0%
Morning
47 °F
8 °C
0%
Afternoon
57 °F
14 °C
0%
Evening
69 °F
20 °C
0%
Sat, 23 September
Night
54 °F
12 °C
0%
Morning
49 °F
9 °C
0%
Afternoon
62 °F
17 °C
0%
Evening
71 °F
22 °C
0%
Questions & Answers

What is the currency used in Calgary?

In Calgary, Canada, the currency is the Canadian dollar (CAD). It is abbreviated with the dollar sign $, sometimes C$, to distinguish it from other dollar-denominated currencies. The Canadian dollar is divided into 100 smaller units called cents. Common denominations include coins worth 5, 10, and 25 cents, as well as $1 and $2 coins and bills worth $5, $10, $20, $50, and $100. It is advisable to change your currency into Canadian dollars to have a hassle-free stay in Calgary.

How do I use public transportation in Calgary?

In Calgary, public transportation is operated primarily by Calgary Transit, which provides bus and light rail transit (LRT) services. To use these services, you buy either a single fare ticket or a day pass from the ticket vending machines on LRT platforms or in select stores. You can also use the My Fare app for digital tickets. Validate your tickets before boarding LRT and keep proof of payment for random fare inspections. For schedules and route information, visit Calgary Transit's website or Google Maps.

Are there any local specialties to try?

When visiting Calgary, be sure to sample some local specialties like succulent, flavorful Alberta beef, best enjoyed as steak or in a hearty poutine. Indulge in the sweetness of a Saskatoon berry pie, a regional treat made from the region's unique berries. Try a plate of steaming ginger beef, a deep-fried, crispy Calgary classic, for a taste of local street food. Don't forget to quench your thirst with a local craft beer or a sip of locally made mead from a nearby cidery.

How safe is Calgary for tourists?

Calgary is considered quite safe for tourists, with a generally low crime rate and well-maintained public spaces. As in any city, it is important to exercise caution, especially in busy areas and at night. Make sure your belongings are safe, be aware of your surroundings, and avoid walking alone in unfamiliar or poorly lit areas. Emergency services are efficient and responsive, and locals are generally helpful and friendly, contributing to an overall safe and welcoming atmosphere for visitors.

Do people speak French and English in Calgary?

Yes, people in Calgary speak both English and French, but English is the main language. Although French is one of the official languages of Canada, it is more commonly spoken in the eastern provinces such as Quebec and New Brunswick. However, there are still some French-speaking communities in Calgary, and you may encounter French signage, especially in tourist areas. In addition, many public facilities and staff at major tourist attractions are often bilingual and can communicate with visitors in both languages.

Are there any local customs I should be aware of?

When visiting Calgary, it is important to respect local customs. Calgary residents are generally friendly, polite and helpful and appreciate visitors who display similar traits. Saying "please" and "thank you" is part of common courtesy. Remove your shoes when entering another person's home and be punctual at events and meetings. Tipping between 15% and 20% at restaurants and for services is common. Although cowboy culture is appreciated during the Calgary Stampede, do not dress like a cowboy outside of this event to avoid appearing disrespectful.

Is tipping expected in Calgary?

Tipping is generally expected in Calgary as it is common to reward service providers such as waiters, bartenders, hotel staff, cab drivers and hairdressers for their services. It is generally recommended to tip 15% to 20% of the amount before tax in restaurants and bars, while 10% to 15% may be considered appropriate for other services such as cabs. It is important to remember that while tipping is a sign of exceptional service, it is not mandatory and depends on individual preferences and satisfaction.

What is the sales tax in Calgary?

Calgary is located in the Canadian province of Alberta and has one of the lowest sales tax rates in the country. There is no provincial sales tax (PST) in Alberta. However, there is a 5% federal Goods and Services Tax (GST) on most goods and services. So, when traveling to or shopping in Calgary, visitors and residents should expect to pay a 5% surcharge on the listed prices for most items.

Can I drink tap water in Calgary?

Yes, you can drink tap water in Calgary. The city takes the quality of its drinking water very seriously and consistently meets or exceeds regulatory standards for safety and cleanliness. Calgary's tap water comes from the Bow and Elbow rivers and undergoes rigorous treatment at the Glenmore and Bearspaw water treatment plants before distribution. Regular testing ensures that the water is free of harmful contaminants, making it safe and fresh to drink.

Can I use my phone and data plan in Calgary?

Yes, you can use your phone and data plan in Calgary, Canada. Most international mobile carriers offer network coverage in the city. However, roaming charges may apply and connection quality may vary. It is advisable to check with your service provider about international roaming charges and compatibility before you travel. Alternatively, you can opt for a local sim card or a prepaid travel sim card when you arrive to avoid excessive roaming charges.

What are the emergency phone numbers in Calgary?

In Calgary, Canada, you can dial 9-1-1 for help from police, fire and ambulance services. In life-threatening situations or when immediate assistance is needed, be sure to dial this number. For other emergencies, you can call the Calgary Police Department at (403) 266-1234 and the Calgary Fire Department at (403) 268-2489. Remember that these numbers are for legitimate situations, so use them responsibly.

How far is Calgary from the Canadian Rockies?

Calgary is located about 80 kilometers (50 miles) east of the Canadian Rockies, making it an ideal base for exploring the beautiful mountain ranges. The drive to the nearest entrance of Banff National Park usually takes about 1 to 1.5 hours, depending on traffic and weather conditions. Visitors can easily access the stunning scenery, recreational activities and famous landmarks of the Canadian Rockies while enjoying the amenities and attractions of Calgary.

How do I get around within Calgary city?

The most efficient way to get around Calgary is to use the Calgary Transit system, which includes the C-Train (Light Rail Transit, LRT) and city buses. You can also opt for cabs, rental cars or ride-sharing services like Uber. If you want to be more eco-friendly and active, take advantage of the city's extensive network of bike paths or rent a scooter. In addition, downtown Calgary is very walkable.

Feedback

I hope you found this article informative and helpful. I'm eager to improve the content and make it even more valuable for you. If you have any feedback or suggestions, I would love to hear from you.

Do you have any tips or hidden gems that you think should be added to the list? Are there any areas that you feel could use more explanation or clarification?

Your input is greatly appreciated and will help us to continue providing high-quality content that meets your needs and interests. Please feel free to share your thoughts.