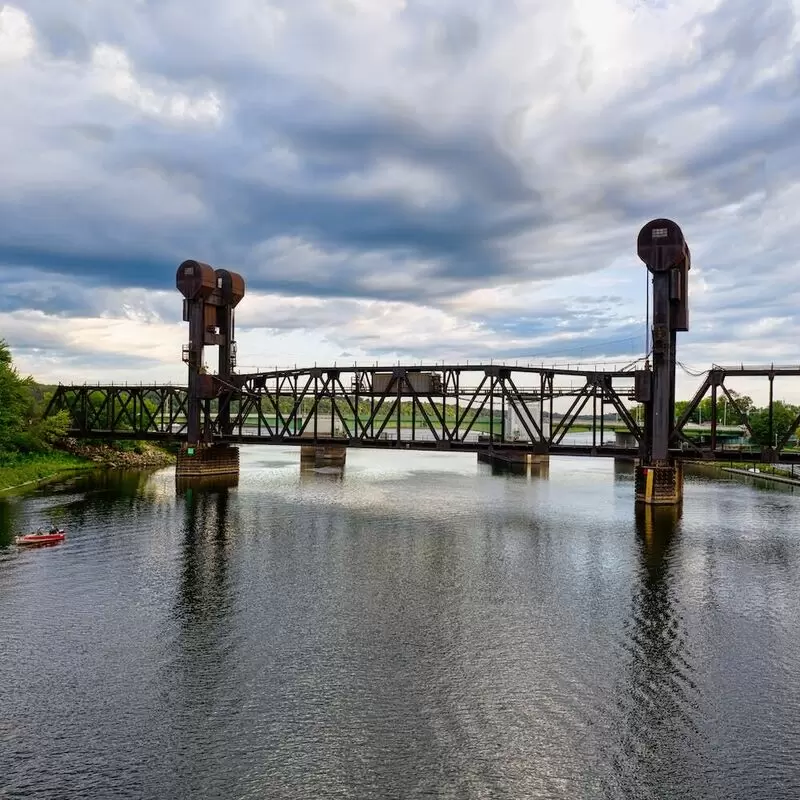 1. High Weald AONB
Experience the timeless beauty of the High Weald AONB, a stunning, historically significant landscape near Hastings. With its rolling hills, beautiful views and countless ancient woodlands, it's a nature lover's paradise. Don't miss the enchanting bluebells in the spring! Just a stone's throw from here is Bodiam Castle, one of Britain's best-preserved moated castles. A trip to the High Weald AONB is like stepping back in time, with majestic nature at your fingertips!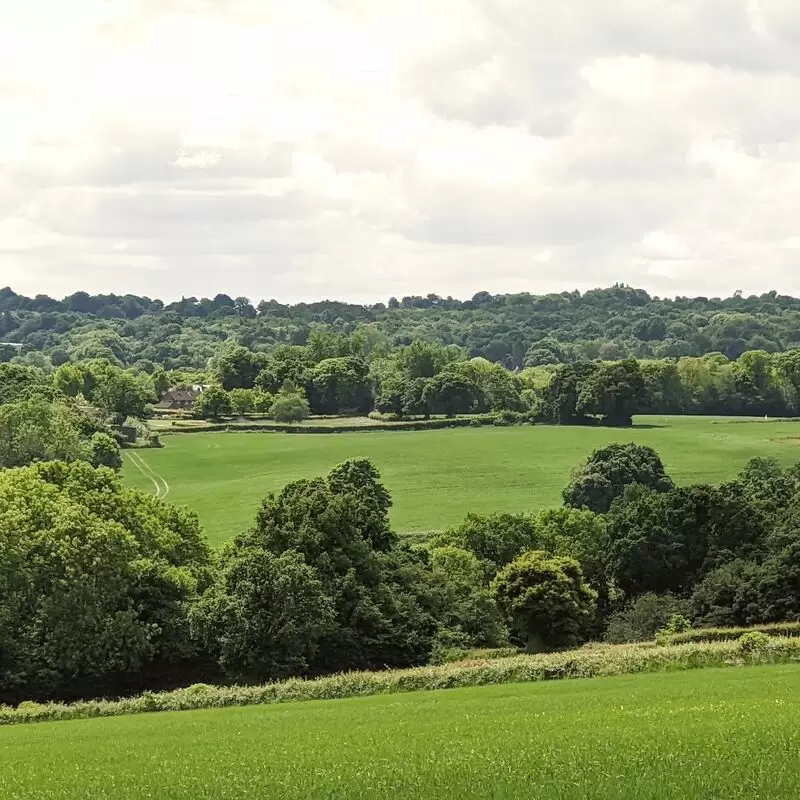 High Weald AONB
Flimwell, This is an administrative office address and is not open to the public, Woodland Enterprise Centre, Hastings Rd, Wadhurst
Monday - Friday: 9:00 AM – 5:00 PM
Saturday - Sunday: Closed
2. Great Dixter House & Gardens

Discover the medieval charm of Great Dixter House & Gardens, a picturesque 15th-century wooden house set amid stunning gardens. Known for its bold colors and original plantings, it's a garden lover's paradise. Explore the charming Great Hall or the yew topiary unique to Great Dixter.

An insider tip: Don't miss the Exotic Garden, a tropical dream in the English countryside. A charming side trip is the nearby historic town of Rye with its many antique stores.

Great Dixter House & Gardens
Northiam, Rye

Monday: Closed
Tuesday - Sunday: 11:00 AM – 5:00 PM
3. Herstmonceux Castle
Take a trip back in time to Herstmonceux Castle, a captivating blend of history and romance. It's considered one of the oldest significant brick buildings in England, and its exterior walls reveal 15th-century grandeur. Stroll through the enchanting gardens where rare and exotic plants grow. Experience living history as you stroll through the majestic rooms. Don't miss the unforgettable sight of Pevensey Castle, the Roman fortress where William the Conqueror moved in. For stargazers, the Observatory Science Centre awaits on the grounds of Herstmonceux. Be enchanted by the charm of world-class astronomy and science.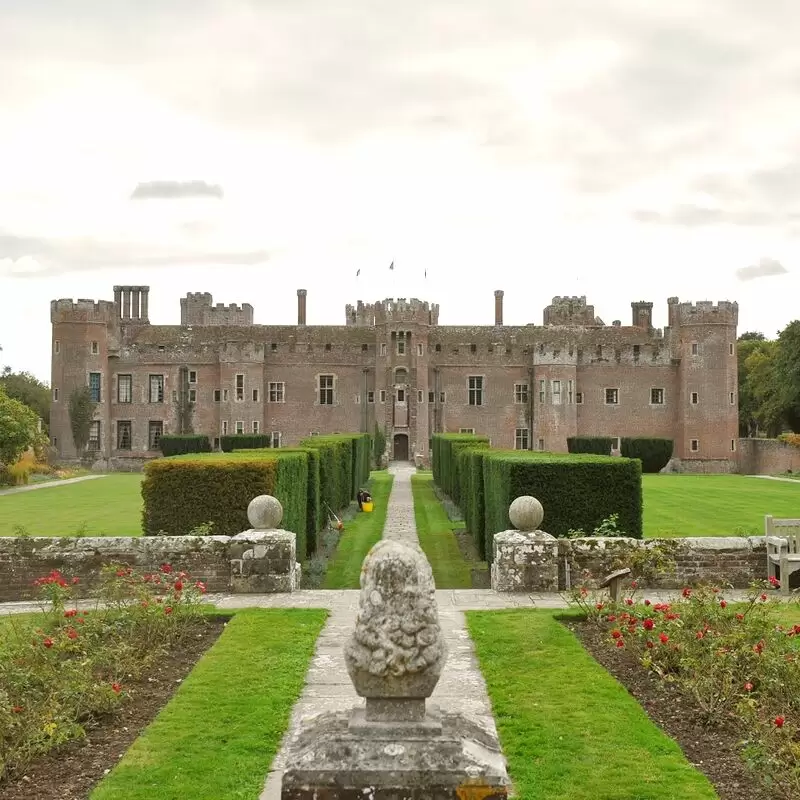 Herstmonceux Castle
Hailsham
Monday - Sunday: 10:00 AM – 5:00 PM
4. Alexandra Park
When you enter Alexandra Park, it feels like you're in a lush, green oasis. The park offers a tranquil escape from the hustle and bustle of Hastings, with 109 acres of captivating beauty and quiet charm. From ornamental gardens hiding playful squirrels and exotic birds to ancient structures offering picturesque scenes, Alexandra Park is a must-see. Just a short walk away, the Hastings Museum and Art Gallery beckons with fascinating exhibitions. Be sure to try the delicious ice cream at the quaint Park's Cafe, one of the city's most popular cafes!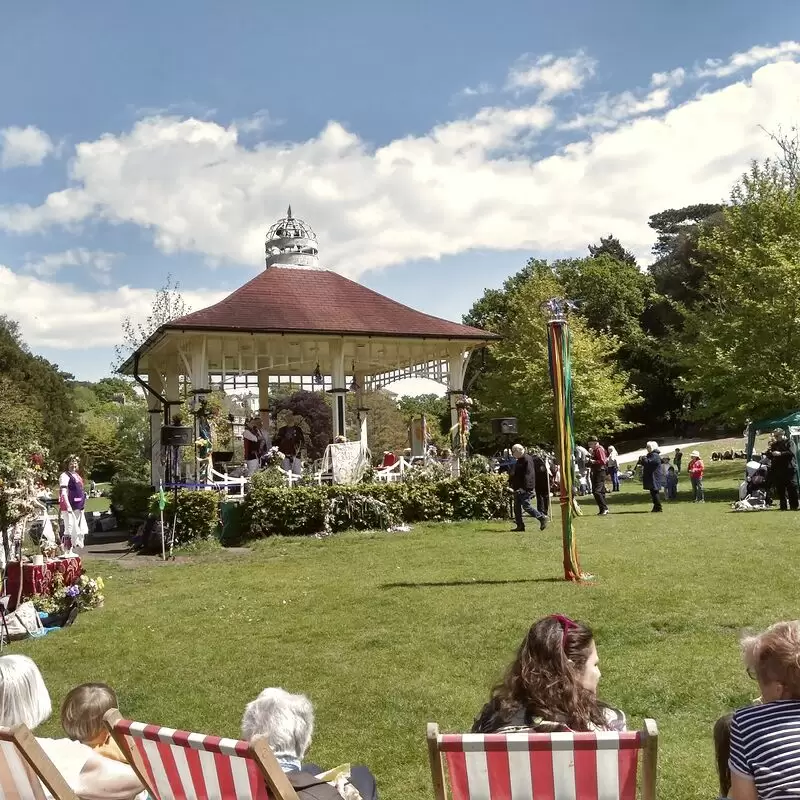 Alexandra Park
Saint Helen's Road, Hastings
Monday - Sunday: Open 24 hours
5. Hastings Pier

The iconic Hastings Pier is a must-see for architecture and history lovers. Beautifully restored after a fire in 2010, its striking minimalist design won the prestigious RIBA Stirling Award in 2017. Enjoy panoramic sea views, local cuisine at the Pavilion, and lively cultural events.

An insider tip: don't miss the old penny arcade machines. Just a stroll away is Hastings Old Town, with its charm, quirky stores, and old buildings.

Hastings Pier
1-10 White Rock, Hastings

Monday - Sunday: 9:00 AM – 10:00 PM
6. East Hill
East Hill in Hastings is an experience not to be missed. Climb the steepest funicular in the UK and enjoy panoramic views of the old town, the sea and the surrounding countryside. Explore the ancient woodland of Hastings Country Park, a birdwatcher's paradise. Have more time? Moments away is the Hastings Fishermen's Museum, which explains the town's deep connection to the sea. Remember to avoid Sundays, when the fishermen's cottages are closed.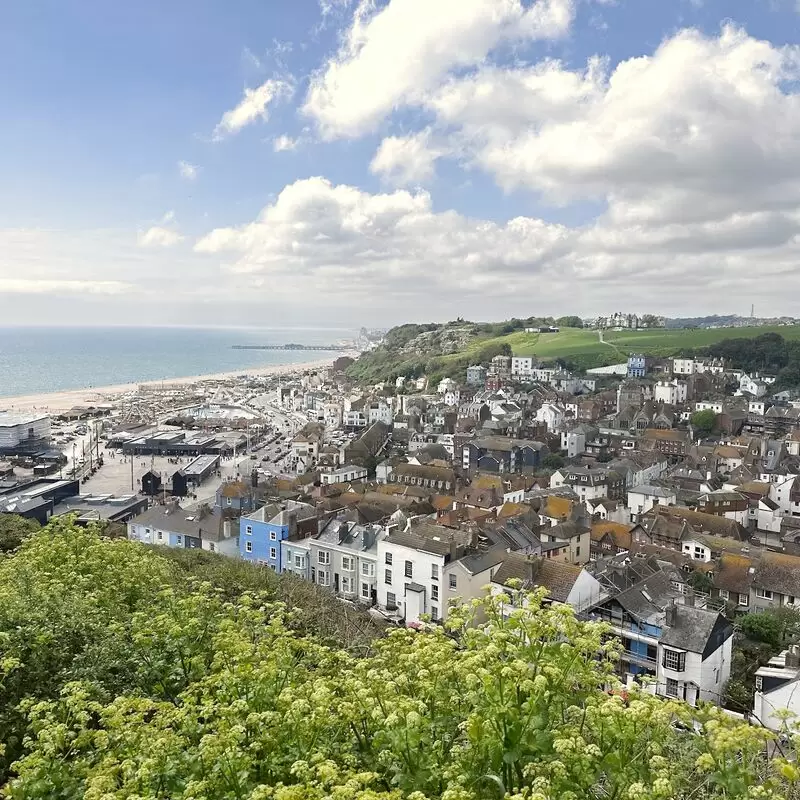 East Hill
East Hill, Hastings
Monday - Sunday: 10:00 AM – 5:30 PM
7. Hastings Castle
Visit historic Hastings Castle, perched high on a cliff overlooking the sea. Travel back in time through the ruins and immerse yourself in the history of 1066 with the enchanting Whispering Dungeons and captivating exhibits about the Battle of Hastings. Find the hidden chapel and feel like a local discovering the intimate secrets of the town. Just steps away, the Old Town awaits with unique boutiques and quaint pubs, while the nearby Smugglers Adventure offers an exciting underground escapade.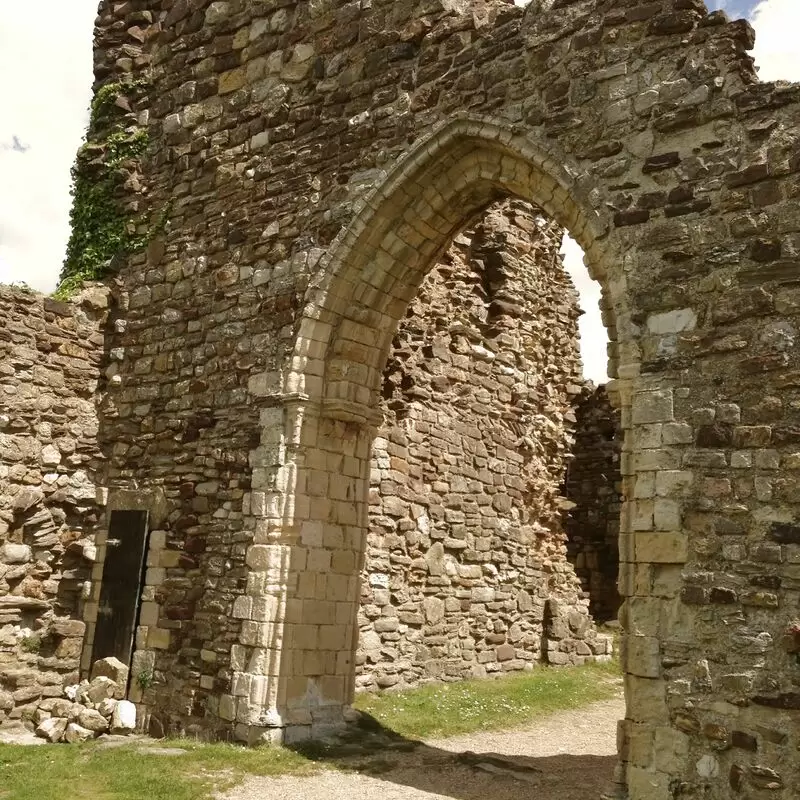 Hastings Castle
Castle Hill Road, Hastings
Monday - Sunday: 10:00 AM – 5:00 PM
8. Hastings Aquarium
Immerse yourself in the aquatic wonders of Hastings Aquarium! This underwater paradise is home to a treasure trove of marine life, from exotic, vibrant fish to captivating sea creatures like turtles and sharks. Don't miss the feedings, where the animals show off their natural behavior. Located near the picturesque Hastings Pier and Hastings seafront, you can combine your marine adventure with an idyllic seaside stroll. An unforgettable journey into the deep awaits you at Hastings Aquarium!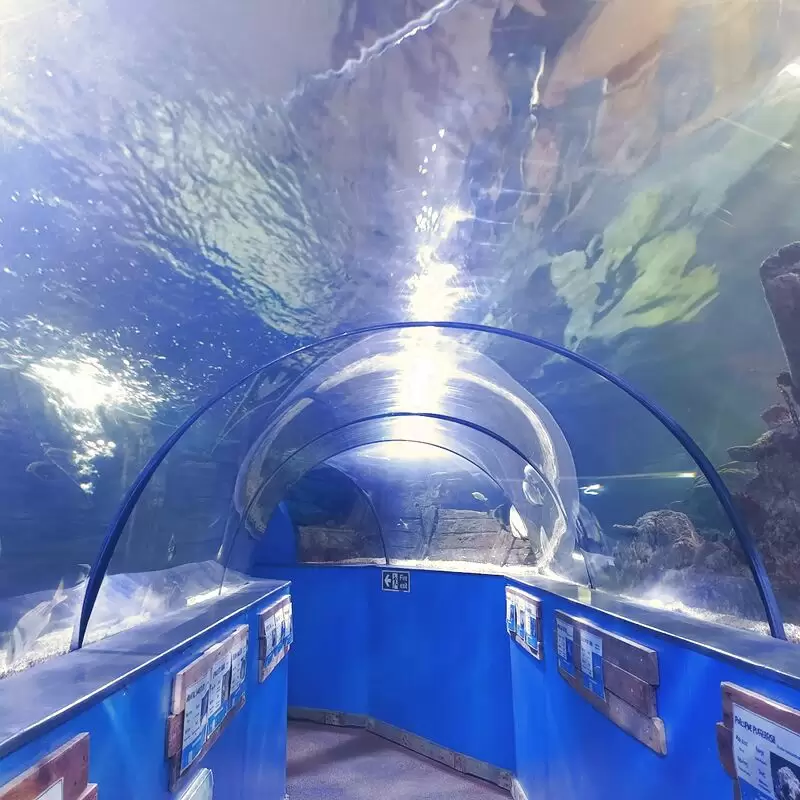 Hastings Aquarium
Rock-a-Nore Road, Hastings
Monday - Sunday: 10:00 AM – 5:30 PM
9. Hastings Beach
Hastings Beach is a small paradise of pebbles, offering magnificent views of the English Channel. Enjoy a leisurely stroll along the expansive promenade, a popular local hotspot. Take a dip in the designated swimming area or watch the iconic fishing fleet. Nearby are the enchanting St. Clement's Caves, a hidden retreat that boasts unique stalactites and stalagmites. Don't miss a visit to the old town, just a short walk away, where you'll find quirky antique stores and seaside eateries.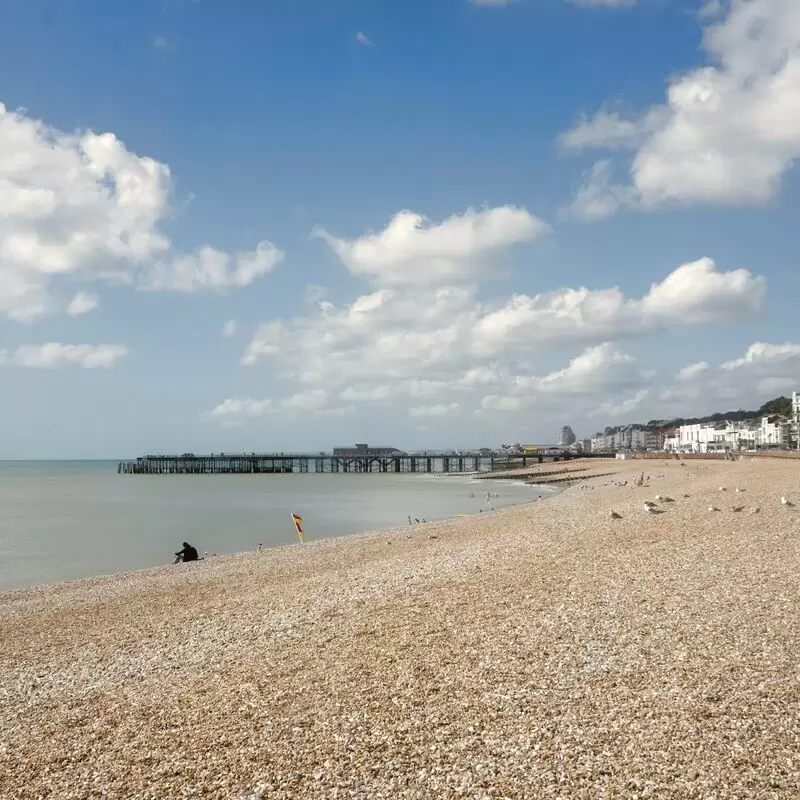 Hastings Beach
Hastings Beach
10. Hastings Country Park
Hastings Country Park is a quintessentially English getaway with verdant landscapes, sandstone cliffs and fascinating biodiversity. Take in the calming sea views from the Firehills, admire the beautiful broom blossoms, or watch exotic migratory birds. And while you're here, don't miss the old Fairlight Church, which gives you a deep insight into Hastings' past. Unleash your spirit of discovery and immerse yourself in the freshness of nature in this 660-acre beauty!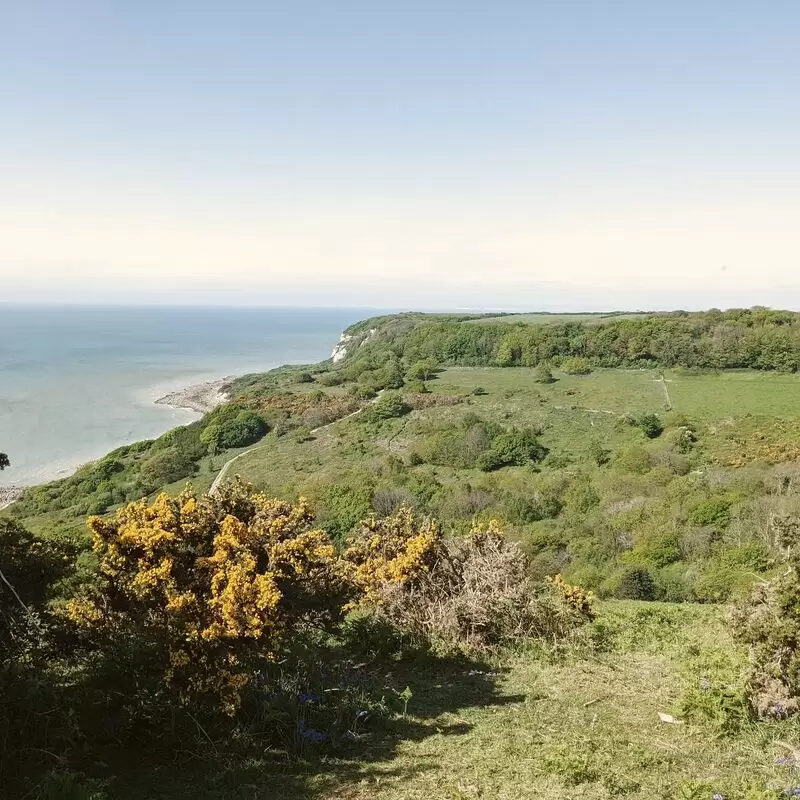 Hastings Country Park
148 Martineau Lane, Hastings
Monday - Sunday: Open 24 hours
11. Hastings Fishermen's Museum
Discover a piece of Hastings' rich maritime past at the Hastings Fishermen's Museum. Housed in a 19th century church, the museum will captivate you with fascinating stories of dangerous fishing expeditions, displays of antique boats, nets and other fishing paraphernalia. It's a journey into the heart of Hastings fishing, where the 27-foot tugboat "Enterprise" is a crowd-pleaser. Nearby, you can also explore the historic old town of Hastings and take a walk along the charming beach.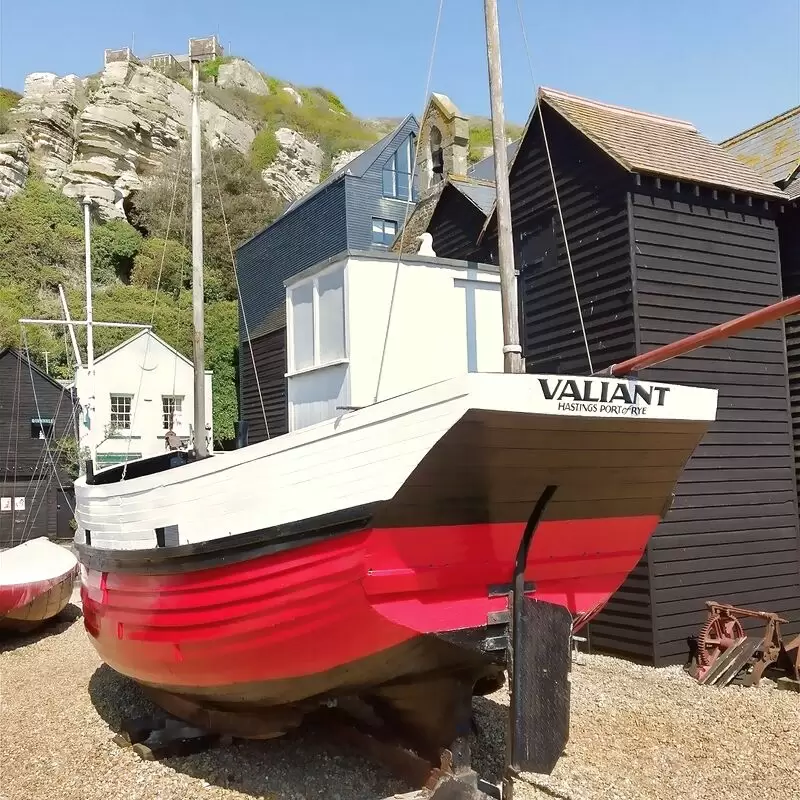 Hastings Fishermen's Museum
Rock-a-Nore Road, Hastings
Monday - Sunday: 11:00 AM – 5:00 PM
12. St. Leonards Gardens
St. Leonard's Gardens is a true diamond in the heart of Hastings, offering a romantic maze of pathways, statues, and a charming Victorian-style pond. This tranquil haven is perfect for a picnic, leisurely stroll, or a full day of sketching. Be on the lookout for the hidden pet cemetery, a whimsical gem for curious minds. Just a short walk away is chic St. Leonards-on-Sea, known for its vintage stores and seaside cafes. It's worth getting lost in Hastings!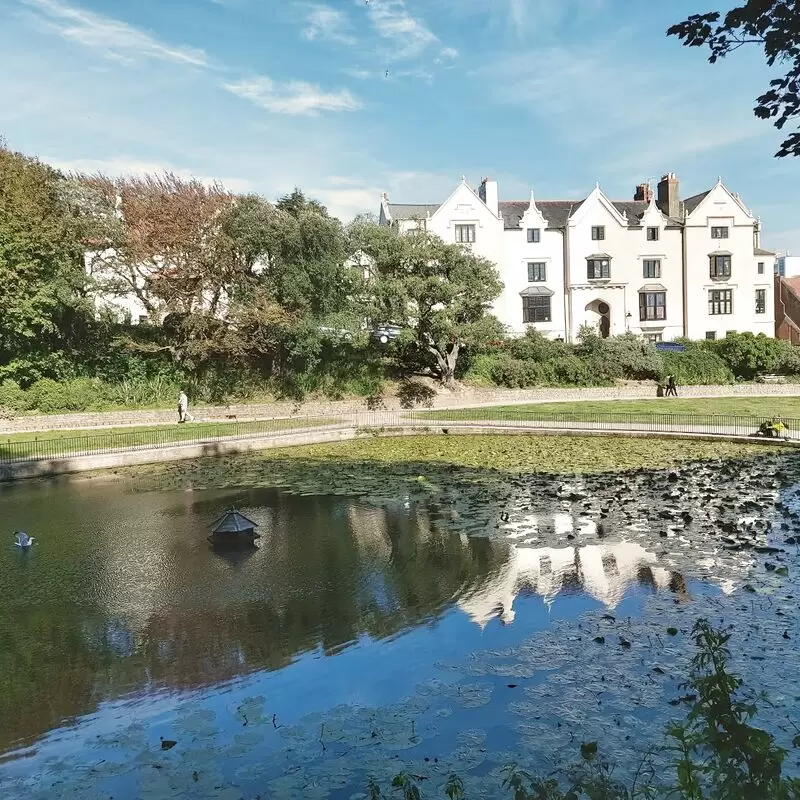 St. Leonards Gardens
Maze Hill, St Leonards, Saint Leonards-on-sea
Monday - Sunday: Open 24 hours
13. The True CRIME Museum
Immerse yourself in the shocking world of crime and punishment at the True CRIME Museum in Hastings. Located in 3,000 square meters of eerie underground caverns, the museum features a fascinating collection of criminal artifacts, including acid bath killers, deadly weapons, and more. It's a thrilling experience for budding detectives and mystery fans! After exploring, be sure to visit Hastings Castle, which is just a short walk away and offers breathtaking panoramic views of the city.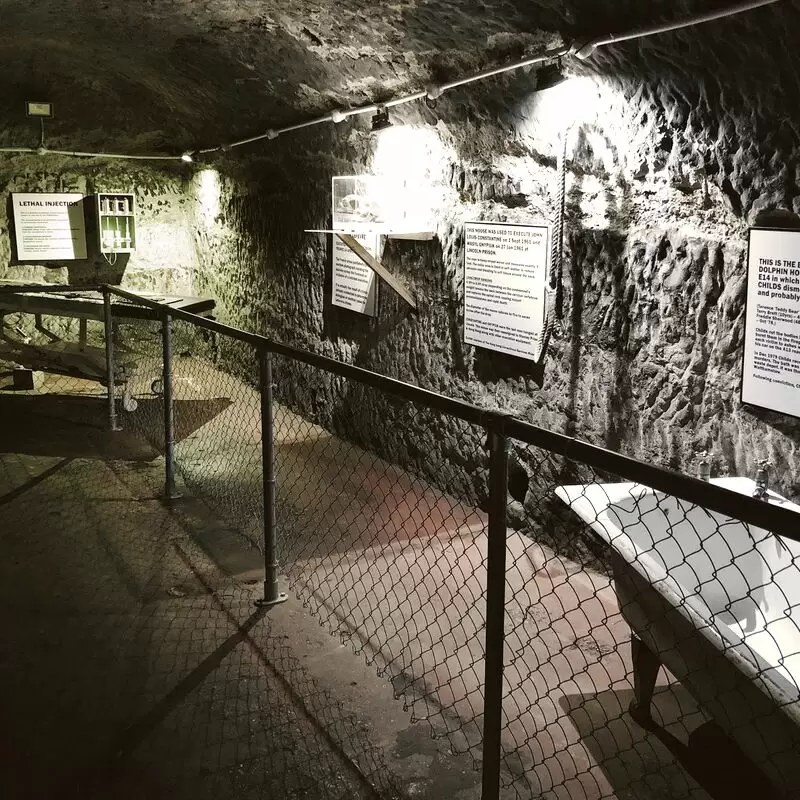 The True CRIME Museum
Palace Court, White Rock, Hastings
Monday - Sunday: 10:00 AM – 5:00 PM
14. Fairlight Hall
Fairlight Hall, a private estate in Hastings, is an architectural wonder worth visiting. A music festival is held here in the summer, and the walled garden envelops you in beguiling scents and vibrant colors. The view of the English Channel from "The Punch Bowl" is unforgettable. Nearby is The Firehills, an ideal place to walk and take in the breathtaking coastal scenery. Also, don't miss the opportunity to take a look at the neoclassical style of the manor house and the exotic plants in the Victorian greenhouses.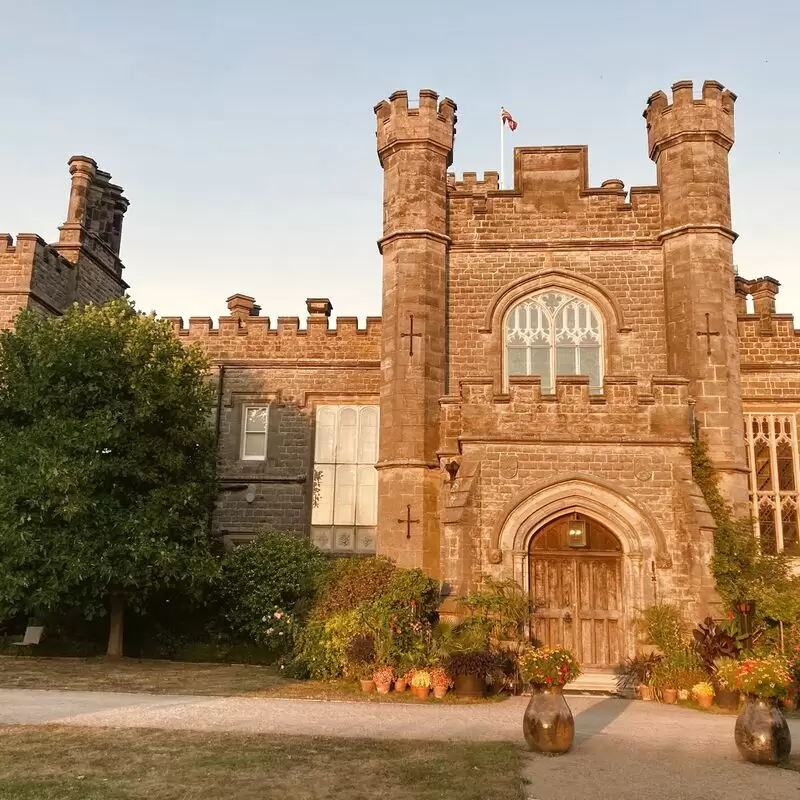 Fairlight Hall
Martineau Lane, Fairlight, Hastings
15. Hastings Museum & Art Gallery
Immerse yourself in the rich history, culture and art of the Hastings Museum & Art Gallery. The diverse collections range from fine art to dinosaurs to local history, and each exhibit tells a unique story. The museum is kid-friendly and offers special activities and interactive exhibits. It is located in the beautiful Indian-style Durbar Hall - an attraction in itself! Just a stone's throw away, you can also explore the stunning Hastings Pier and take in the mesmerizing sea views. A must for lovers of all ages!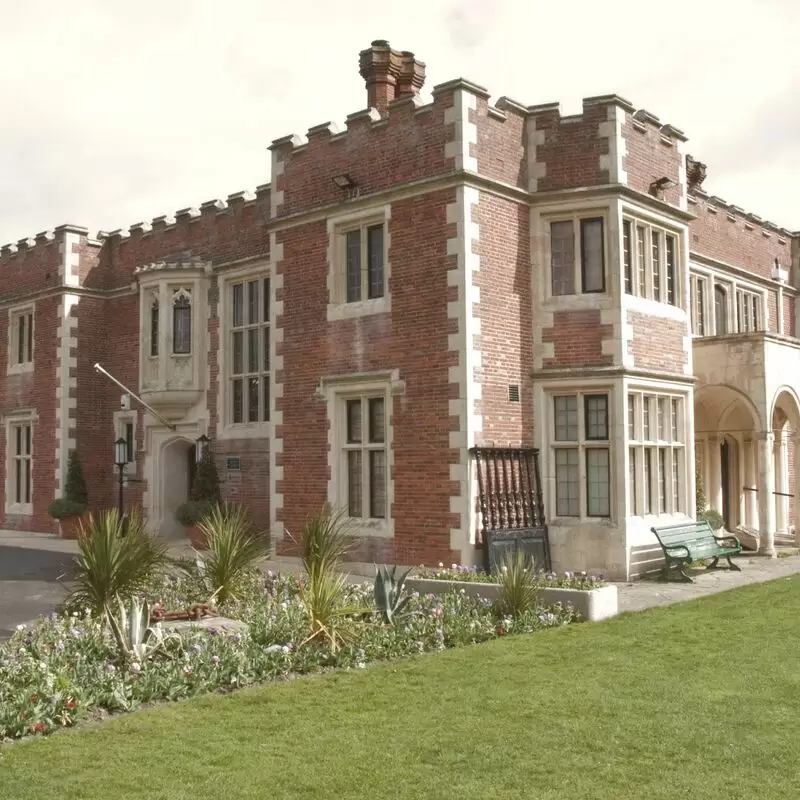 Hastings Museum & Art Gallery
John's Place, Bohemia Road, Hastings
Monday: Closed
Tuesday - Saturday: 10:00 AM – 5:00 PM
Sunday: 11:00 AM – 4:30 PM
16. Ecclesbourne Glen
Ecclesbourne Glen, a hidden gem in Hastings, is a true enchantment of nature with lush trees and stunning views of the English Channel. It is a paradise for birdwatchers, who can enjoy the songs of various bird species on inconspicuous paths. Don't miss the nearby historic cliff railroads and the famous hilltop ruins of Hastings Castle, which has centuries of history. Quench your thirst after your explorations at The Crown, an eco-friendly pub serving locally sourced dishes. Become part of Hastings' best-kept secret.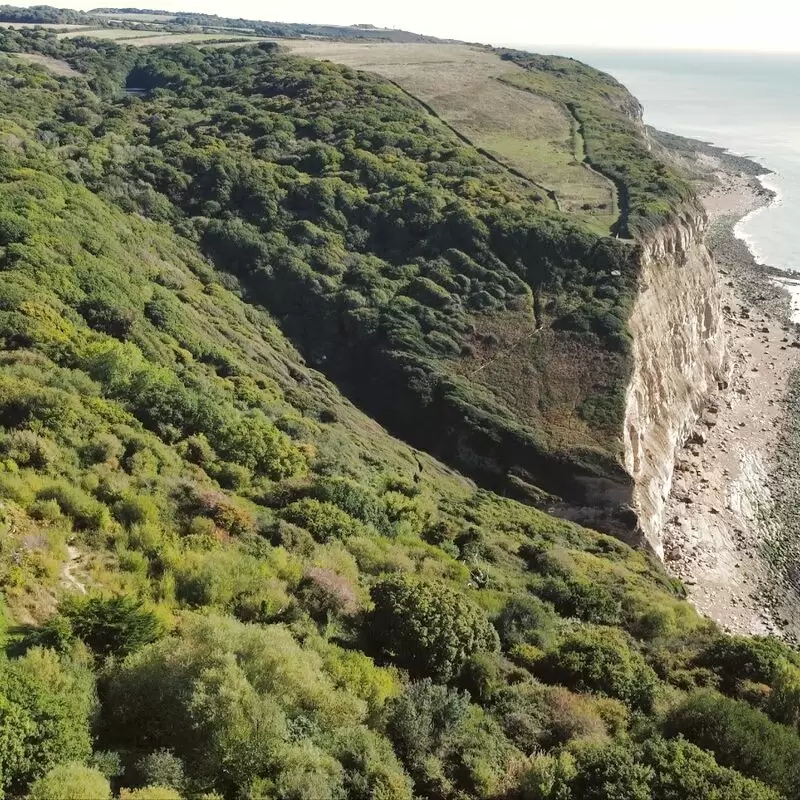 Ecclesbourne Glen
Barley Lane, Hastings
Monday - Sunday: Open 24 hours
17. Smugglers Adventure
Unleash your inner pirate at Smugglers Adventure in Hastings! Immerse yourself in the labyrinth of secret tunnels and caves where smugglers hid their loot. Smugglers Adventure is full of exciting stories, interactive exhibits and eerie atmosphere, offering a glimpse into the mysterious lives of pirates. It is also located in the St. Clements Caves, which are awe-inspiring with their natural beauty. Just a few steps away is the historic Hastings Castle, perfect for rounding off the day with a piece of history.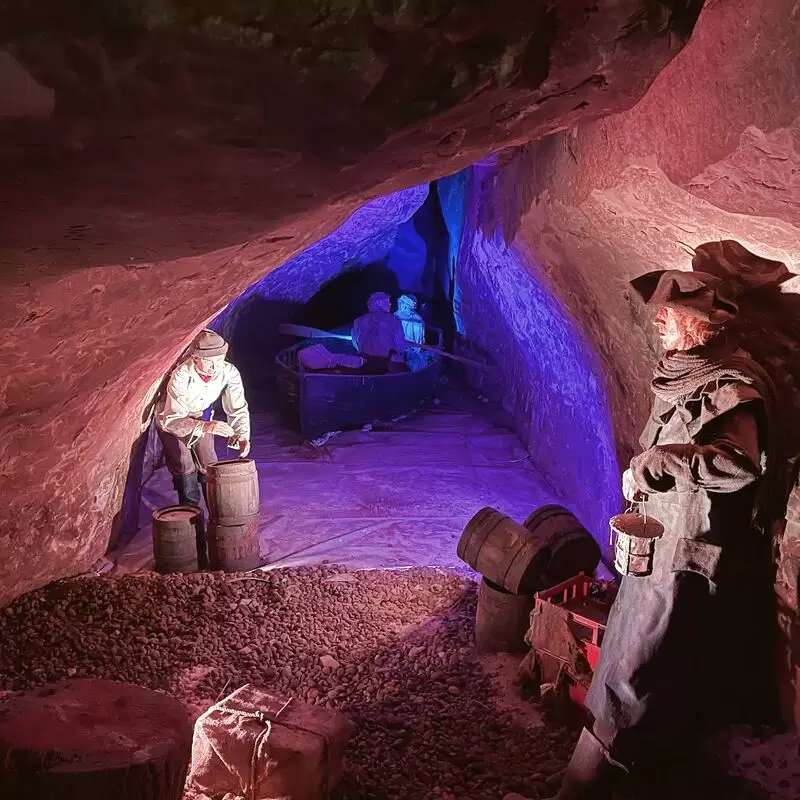 Smugglers Adventure
St Clement's Caves, Hastings
Monday - Sunday: 10:00 AM – 5:00 PM
18. Hastings Contemporary
Hastings Contemporary is a must-see for art lovers. Nestled on the boardwalk, it houses thought-provoking modern art. The Dee view from the rooftop terrace alone is worth a visit! Don't miss the opportunity to buy local art in the store. Nearby is the impressive East Hill Cliff Railway, the steepest funicular in the UK, which offers stunning views of the Old Town and the sea. Also just a stone's throw away is Smugglers Adventure - delve into the fascinating past of smugglers!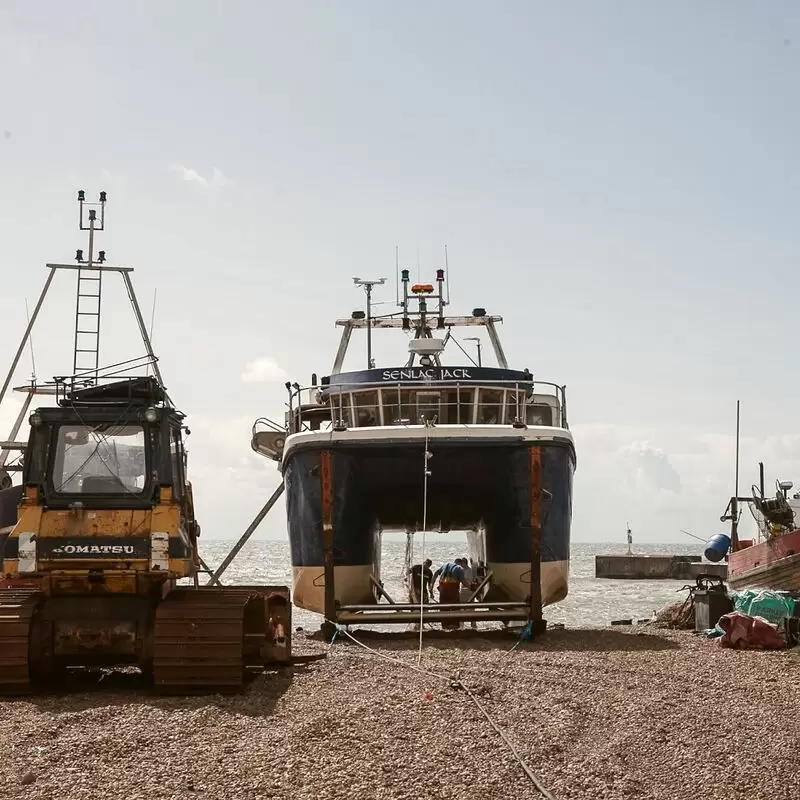 Hastings Contemporary
Rock-a-Nore Road, Hastings
Monday - Tuesday: Closed
Wednesday - Sunday: 11:00 AM – 5:00 PM
19. Hastings Battlefield
Immerse yourself in the history of England at Hastings Battlefield, site of the epic Battle of Hastings in 1066 that changed the course of English history forever. Walk on the same hallowed ground where King Harold fell and admire the ruins of Battle Abbey, built by William the Conqueror himself. Explore the nearby charming town of Battle with its quaint stores and restaurants, and just a stone's throw away you'll find Bodiam Castle, a stunning moated castle. Experience the echoes of the past on this impressive journey.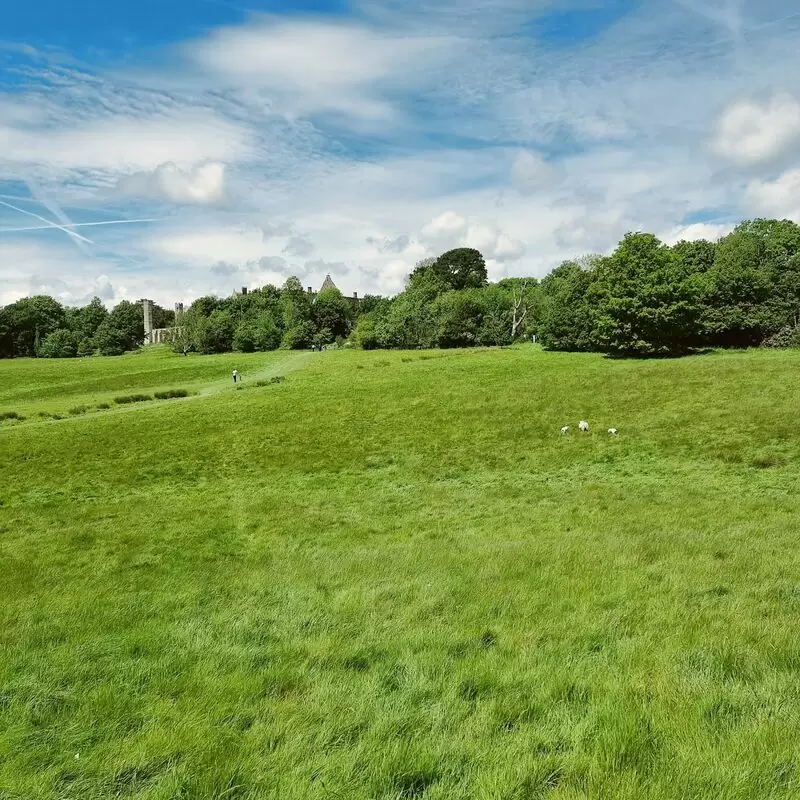 Hastings Battlefield
Battle TN33 0AD
Monday - Friday: Closed
Saturday - Sunday: 10:00 AM – 4:00 PM
Best Time to Visit Hastings
The best time to visit Hastings, United Kingdom, is between late spring and early fall, from May to September. During this time you can enjoy mild to warm weather, outdoor activities and local festivals such as the Hastings Seafood and Wine Festival in September.
Annual Weather in Hastings
Hastings 3-Day Forecast
Wed, 27 September
Night
61 °F
16 °C
0%
Morning
61 °F
16 °C
0%
Afternoon
64 °F
18 °C
0%
Evening
66 °F
19 °C
67%
Thu, 28 September
Night
57 °F
14 °C
0%
Morning
56 °F
13 °C
62%
Afternoon
66 °F
19 °C
50%
Evening
65 °F
18 °C
58%
Fri, 29 September
Night
56 °F
13 °C
0%
Morning
57 °F
14 °C
82%
Afternoon
63 °F
17 °C
0%
Evening
60 °F
16 °C
0%
Questions & Answers

What is the history of Hastings?

Hastings, a picturesque coastal town in southeastern England, gained fame as the site of the famous Battle of Hastings in 1066 during the Norman Conquest of England. The striking cliff-top castle, commissioned by William the Conqueror, reflects this turbulent history. The town prospered thanks to maritime trade and a thriving fishing industry. In the 19th century, it developed into a popular tourist destination that has retained its original charm through the famous Victorian pier and the charming, well-preserved old town.

Is Hastings Castle worth visiting?

Hastings Castle is definitely worth a visit. This medieval castle is rich in history and breathtaking views, as it played an important role in the Norman Conquest. Although it is now mostly in ruins, it is still very impressive and offers a glimpse into its turbulent past through an audio-visual tour. Don't forget to take in the breathtaking views of the English Channel from the castle grounds. It is a wonderful place to enjoy the historic atmosphere of Hastings.

Are there any unique customs or traditions in Hastings?

Hastings in the United Kingdom is known for its annual "Jack-in-the-Green" festival, a May Day celebration that features a parade led by the namesake "Jack," a large folk figure sculpture covered in leaves and foliage. The four-day festival includes folk music, dancing and food and culminates in the "killing" of the Jack to "release the spirit of summer." The town is also known for its riotous Bonfire Night, which includes a torchlight procession, bonfire and fireworks.

How can I get around Hastings?

Traveling in Hastings, United Kingdom, is relatively easy and convenient. The city has a well-developed network of buses that cover the entire area, making it easy to get from one place to another. Alternatively, you can take a walk around the city center, where most of the attractions are within a short distance of each other. If you prefer private transportation, cabs are available in abundance. For scenic routes, especially along the coast, you can also bike or rent a car.

What local delicacies should I try in Hastings?

When you visit Hastings, be sure to try fresh fish and chips - the town's fishing fleet catches a large amount every day, which is processed by local fishmongers and restaurants. At the seafood stalls in Rock-a-Nore, you'll find local specialties like cockles and whelks. Also popular is traditional English tea with Hastings Lemon Ketchup, a locally made condiment. For a sweet treat, try Sussex Pond Pudding - a regional pastry in which a whole lemon is wrapped in a puff pastry.

Can I swim in the English Channel?

Yes, you can swim across the English Channel from Hastings in the United Kingdom. Due to the strong currents, cold water and busy shipping lanes, this is a challenge often only undertaken by experienced open water swimmers. Good training and preparation for the swim are essential. Many individual and relay swims are officially sanctioned and should be coordinated with organizations such as the Channel Swimming Association. Safety should always be a top priority when planning your channel swim.

What language is primarily spoken in Hastings?

The main language spoken in Hastings, United Kingdom, is English. Since the city is located in England, English is both the official language and the main language used in communication, official business, education, and daily life. However, due to the cultural diversity of the city, many other languages are spoken by residents and visitors from different ethnic backgrounds.

Is Hastings safe to travel alone?

Yes, Hastings is relatively safe for solo travelers. As with all destinations, it is important to use common sense and take the usual safety precautions. Stay in well-lit, busy areas, especially at night, always be aware of your surroundings and keep your belongings safe. The city is a popular tourist destination with friendly locals, and police and other services are always available if you need assistance. Overall, the city offers a welcoming and safe environment for individual travelers.

What are the typical opening hours of museums in Hastings?

Most museums in Hastings, United Kingdom, usually open at 10:00 or 11:00 in the morning and close between 16:00 and 17:00. They are usually open five to six days a week and often have one day closed for maintenance. However, these hours may vary from museum to museum and depending on the time of year. It is highly recommended that you check the exact hours of the museum you plan to visit in advance to make sure it is open.

Is it customary to tip in Hastings?

Tipping is not mandatory in Hastings, United Kingdom, but it is a common practice to show one's appreciation for good service. When dining out, it is customary to tip about 10-15% of the total bill. For other services such as cabs or hairdressers, a small tip is acceptable but not required. Generally, people tip at their own discretion and according to their level of satisfaction with the service.

Is there a dress code in religious sites in Hastings?

In Hastings, United Kingdom, religious sites are generally welcoming and do not impose a specific dress code. However, visitors are encouraged to dress respectfully. Generally, modest dress is preferred, especially when visiting during a religious service. Visitors are generally expected not to wear hats or other head coverings unless they are part of their religious attire. T-shirts with offensive graphics or language are also not recommended. It is always a good idea to check the rules of each site before visiting.

Where can I find the Pirate Day celebration?

Hastings Pirate Day is celebrated in the historic town of Hastings in East Sussex, England. Celebrations usually take place throughout the town, including in the Old Town district and on the beach, where numerous participants gather in pirate costumes. Notable events include the singing of sea shanties, pirate parades and attempts to break world records. It is a day full of activities for families and everyone who wants to have a good pirate adventure.

Are there hiking trails in Hastings?

Absolutely! Hastings in the United Kingdom offers plenty of hiking opportunities for outdoor enthusiasts. You can explore the cliffs of Hastings through the Hastings Country Park, enjoying breathtaking views of the sea and the picturesque landscape. Walking trails also lead to the historic old town of Hastings. The Fairlight to Hastings Walk, part of the 1066 Country Walk, is another popular trail that passes through woodlands and nature reserves and offers amazing views of the coast and historic sites.

Are there any famous historical figures from Hastings?

Hastings (United Kingdom) is known for its historical importance with famous personalities such as King Harold II, the last Anglo-Saxon king of England, who lost his life in the Battle of Hastings. It is also the birthplace of television pioneer John Logie Baird. The famous author Catherine Cookson spent her early years in Hastings and later wrote books describing working class life. In the early 20th century, Hastings was also home to the famous Aleister Crowley, an influential occultist.

Where can I see the traditional bonfire celebrations?

In Hastings, the traditional bonfire festival is held every year as part of the Hastings Bonfire Society. It is usually held on the beach next to the old town. The festivities include a torchlight procession through the historic streets, a large bonfire, and a grand fireworks display. Although traditionally associated with Guy Fawkes Night, the event also makes reference to local Sussex customs and traditions, making it a unique cultural experience for visitors.

Can I bring my pet with me to Hastings?

Yes, you can of course take your pet with you to Hastings. Many accommodations, cafes and pubs in the city are pet-friendly. Hastings also has numerous parks and outdoor areas that you can explore with your furry friend. Please follow local regulations and always keep your pet on a leash in public places. Check with your hotel or lodging in advance for pet policies.

How to get to Hastings from London?

From London, the fastest way to reach Hastings is by direct train from London Charing Cross or London Victoria, which takes about 1.5 to 2 hours. You can also travel by car via the A21 or Little Road, which takes about 2 to 2.5 hours, depending on traffic. If you want a more scenic route, you should take a coach, which offers several stops along the way.

Are there any wellness retreats in Hastings?

Yes, there are several wellness retreats in Hastings, UK. One notable option is the Wellington Health & Wellbeing Centre, which offers a variety of health-oriented courses, treatments, and therapies. For seaside tranquility, Pure Massage Hastings offers holistic revitalization. If you're looking for a relaxing country retreat, the Brickwall Hotel offers peaceful surroundings and a variety of amenities focused on health and wellness. These are great options for people looking for a relaxing getaway in Hastings.

Is tap water safe to drink in Hastings?

Yes, the tap water in Hastings, United Kingdom is absolutely safe to drink. The region follows high standards of water treatment and quality control to ensure that tap water is reliable and clean. However, the taste of tap water can vary greatly, as it often depends on the local treatment process. Therefore, some visitors prefer to opt for bottled water. But rest assured that the tap water in Hastings is edible.

Can I rent a bike in Hastings?

Yes, you can rent a bike in Hastings! There are several bike rentals tailored to your needs, allowing you to explore the city at your leisure. Cycling is a popular way to see the sights, with routes offering picturesque views of the English Channel and the countryside. Whether you're looking for a leisurely ride along the coast or a more challenging tour through the charming streets and hills, Hastings has it all.

Can I see the battleground of 1066?

Yes, you can visit the historic site of the Battle of Hastings, located north of the city at Battle Abbey. This English Heritage site offers museum exhibits and audio tours that bring the famous battle to life. The high altar of the abbey church is said to stand on the exact spot where England's King Harold fell. The expansive battlefield and ancient ruins of the Abbey will transport you back to one of the most significant engagements in English history.

Are there public toilets around Hastings?

Yes, Hastings offers several public restrooms for your convenience. Suitable facilities can be found in the town center, on the seafront, and in various parks. These are usually open all day and accommodate both regular visitors and tourists. Some have additional facilities such as baby changing rooms. Remember that in many cases you will need to carry coins for the pay toilets. Always remember to carry some change for these essential services.

Is it easy to get a taxi in Hastings?

Yes, it is quite easy to get a cab in Hastings, United Kingdom. There are numerous cab services in the city, including both traditional black cabs and private hire companies. These services are readily available and can be hailed on the street, pre-ordered by phone, or even ordered through an app. Also, many of these cab services operate around the clock, so you can get a ride at any time of the day or night.

What kind of wildlife can I expect to see in Hastings?

You can encounter a variety of wildlife in Hastings. The city's parks and gardens are home to common birds such as sparrows, blackbirds, and robins, while the seashore provides a habitat for gulls and wading birds. Foxes, squirrels, and rabbits roam the outskirts of the city. Hastings Country Park Nature Reserve is a nature lover's paradise, offering the chance to see badgers, fallow deer and numerous species of butterflies. Boat trips offer the chance to see marine wildlife, including the occasional seal and dolphin.

Are there sports facilities in Hastings for tourists?

Yes, Hastings welcomes tourists with sports facilities tailored to their needs. The renowned Summerfields Leisure Centre offers a range of activities including swimming, gym, squash and badminton. Those who enjoy outdoor activities can play tennis at White Rock Gardens. Golf lovers can improve their swing at Hastings Golf Club while enjoying panoramic views of the city. With its modern sports facilities and natural beauty, Hastings offers a pleasant experience for all sports enthusiasts.

Feedback

I hope you found this article informative and helpful. I'm eager to improve the content and make it even more valuable for you. If you have any feedback or suggestions, I would love to hear from you.

Do you have any tips or hidden gems that you think should be added to the list? Are there any areas that you feel could use more explanation or clarification?

Your input is greatly appreciated and will help us to continue providing high-quality content that meets your needs and interests. Please feel free to share your thoughts.