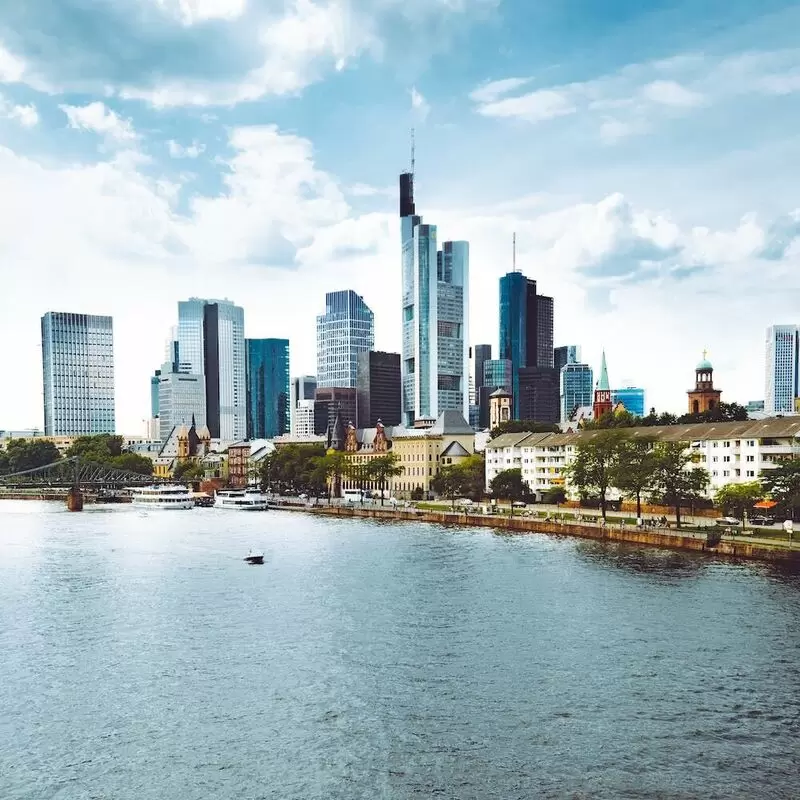 1. Palm Gardens

Experience an exotic getaway in the heart of Frankfurt at the Palmengarten, Germany's largest botanical garden. Walk through themed greenhouses, each representing different global climates and housing a fascinating variety of plants from rainforests to deserts. Don't miss the whimsical garden sculptures and tranquil lake.

Insider tip: Visit the garden on a cool day, and you'll feel like you're in the tropics! And just a stone's throw away, you can explore the fascinating Senckenberg Natural History Museum.

Palm Gardens
Palmengarten der Stadt, Siesmayerstraße 63, 60323 Frankfurt

Monday - Sunday: 9:00 AM – 7:00 PM
2. Iron Footbridge
The "Eiserne Steg" in Frankfurt is a must-see, offering a breathtaking panoramic view of the city skyline. Built in 1868, the pedestrian bridge invites lovers from all over the world to attach a padlock as a symbol of their love. Just around the corner, discover the charming, cobblestone alleys of Frankfurt's Römer, which is dotted with beautiful half-timbered houses. Don't miss the nearby Kleinmarkthalle with its local delicacies!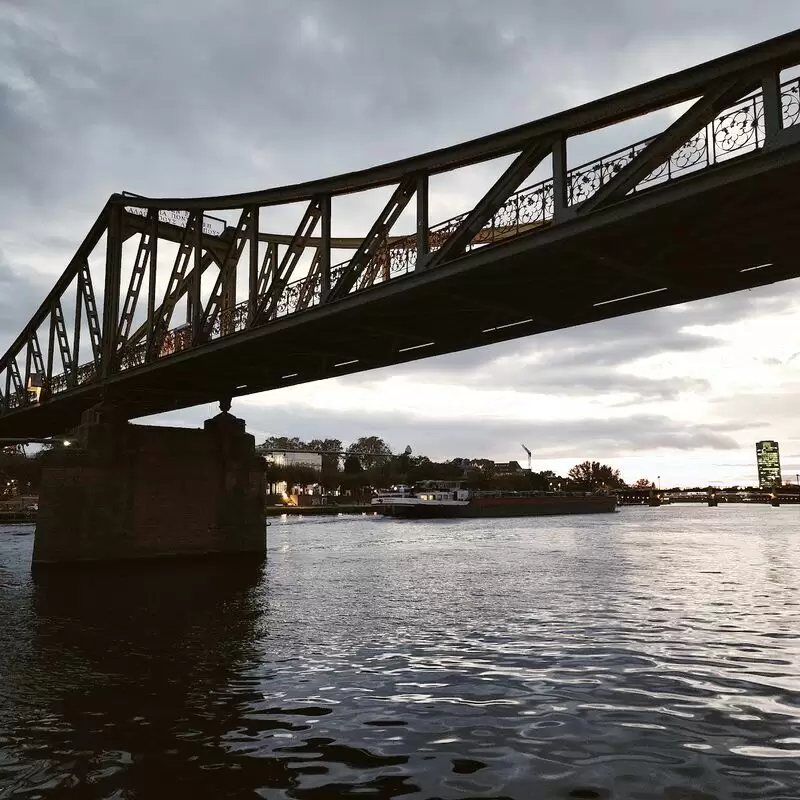 Iron Footbridge
Eiserner Steg, 60311 Frankfurt
Monday - Sunday: Open 24 hours
3. Römerberg
A visit to Römerberg is like a trip back in time. Its half-timbered houses and picturesque views capture the traditional charm of Frankfurt. The historic center with the rustic Römer, which houses the city hall, is a must-see, as is the bustling Christmas market, which exudes a beguiling scent of mulled wine. Just a stone's throw away is St. Nicholas Church, famous for its carillon of 47 bells - an orchestral surprise awaiting the unsuspecting visitor. A delightful blend of culture and history not to be missed!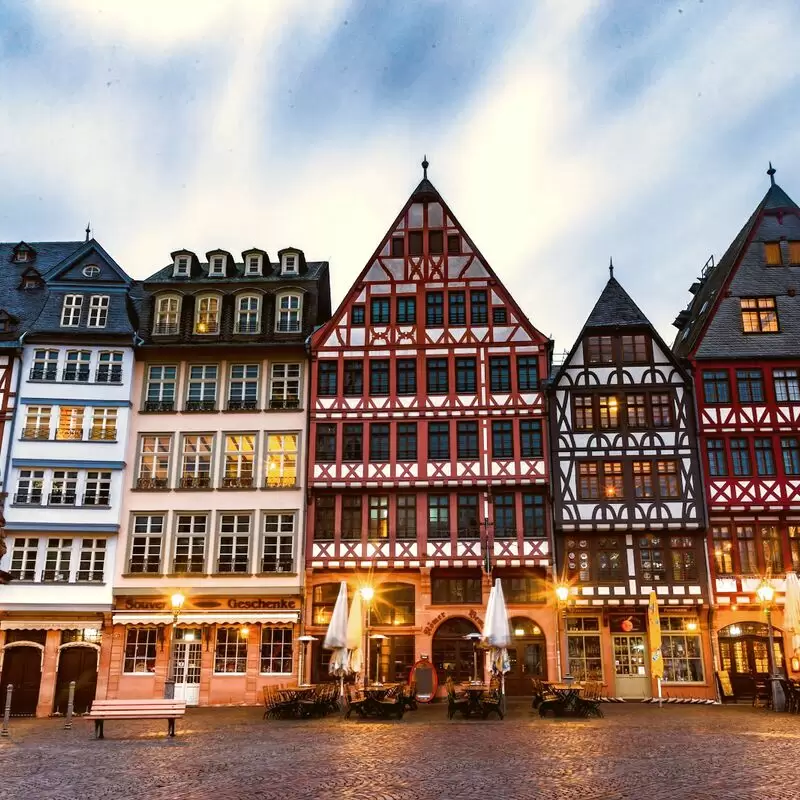 Römerberg
Römerberg 26, 60311 Frankfurt
Monday - Sunday: Open 24 hours
4. Frankfurt Cathedral
Embark on a journey into history and visit Frankfurt Cathedral, a Gothic structure that towers over Frankfurt's cityscape. It is not only a cathedral, but a treasure trove of history crowned by the Emperor's Coronation Hall. Take in the impressive architecture and feel the centuries of human history beneath your feet. Climb the 324 steps of the tower and enjoy the panoramic view of the city. On your way to the cathedral, you can also explore the archaeological garden, which reveals Frankfurt's ancient Roman past.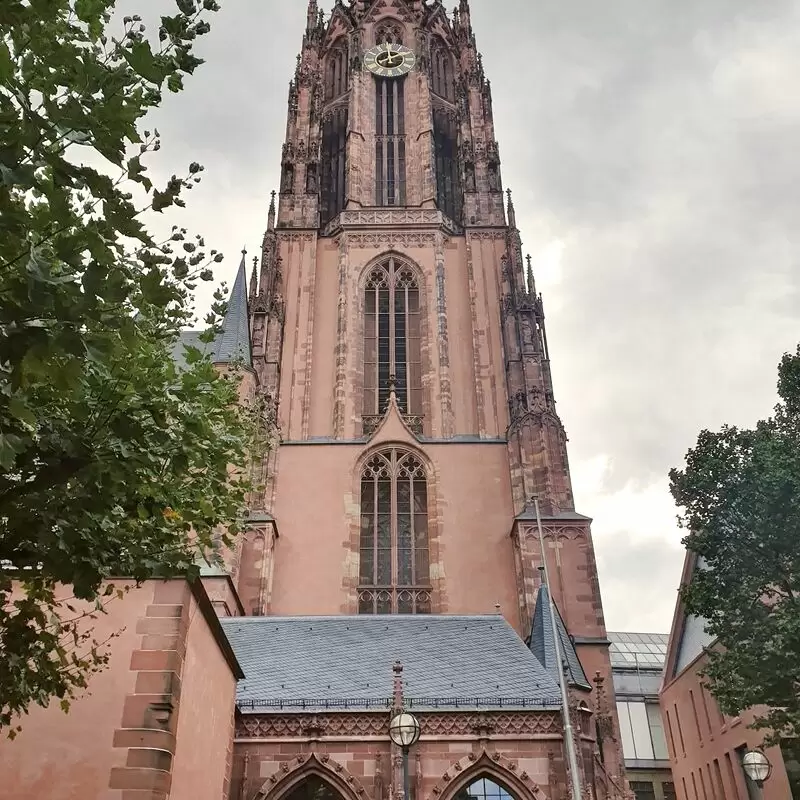 Frankfurt Cathedral
Domplatz 1, 60311 Frankfurt
Monday - Saturday: 9:00 AM – 12:00 PM, 1:15 – 8:00 PM
Friday: 1:15 – 8:00 PM
Sunday: 1:00 – 8:00 PM
5. Städel Museum
Explore the symbol of Frankfurt's vibrant art scene, the Städel Museum. It's full of world-famous artworks spanning 700 years, from old masters to contemporary works, and reflects the changing face of art history. Don't miss the underground contemporary art gallery, a hidden gem! Afterwards, stroll along the Main River to admire the impressive glass facade of the Museum of Applied Arts, just a few minutes away and also worth a visit.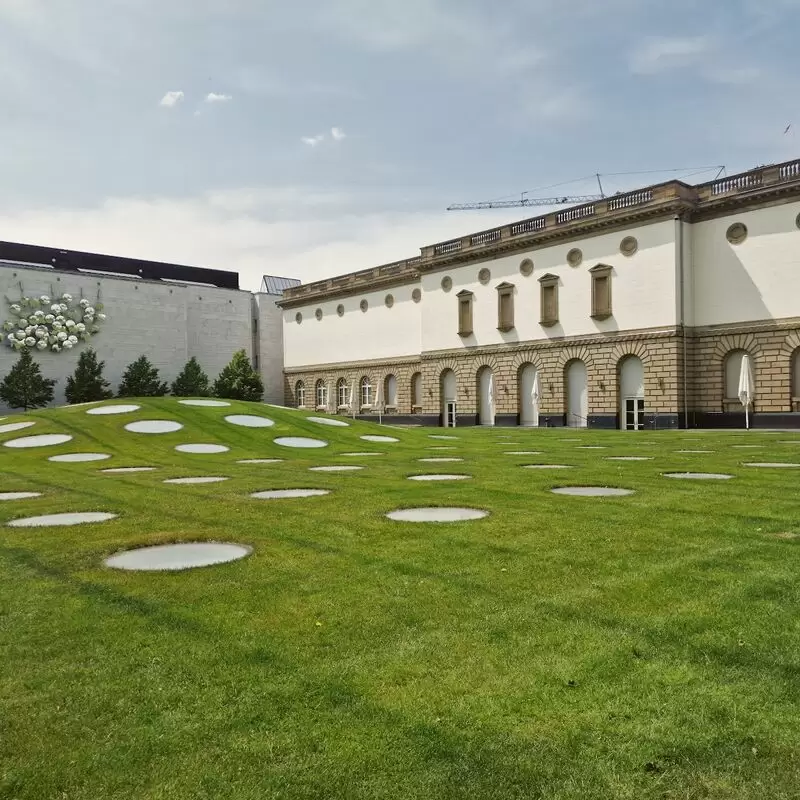 Städel Museum
Schaumainkai 63, 60596 Frankfurt
Monday: Closed
Tuesday - Sunday: 10:00 AM – 6:00 PM
Thursday: 10:00 AM – 9:00 PM
6. Alte Oper
Visit the Old Opera House, an architectural jewel of the Neo-Renaissance in Frankfurt. Admire the beauty of the theater, inaugurated in 1880 and resurrected after its destruction in World War II. Experience world-class performances in its grand hall or enjoy open-air concerts on the Opera Square. Not to be overlooked is the "Haus Schöne Aussicht", located southeast of the Alte Oper. This beautiful house is one of the few remaining pre-war buildings. Another adventure is a walk to the nearby Palmengarten, which houses exotic plants and enchanting botanical exhibitions.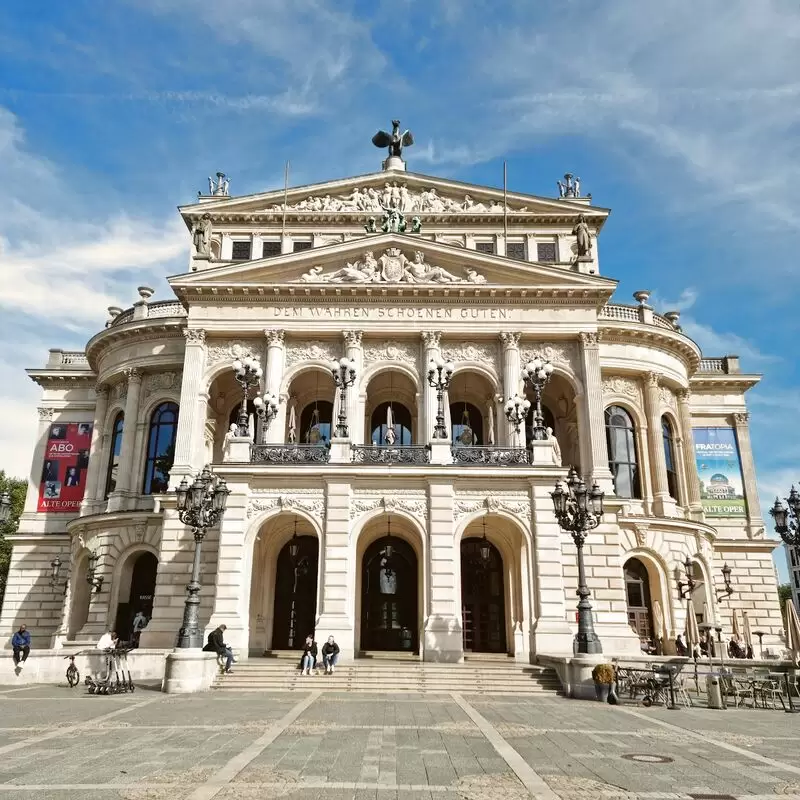 Alte Oper
Opernpl. 1, 60313 Frankfurt
7. Zoo Frankfurt
Unleash your inner animal lover and embark on an adventure at "Zoo Frankfurt". Here you'll encounter more than 450 species in near-natural habitats, from the fascinating Gorilla Garden to the playful Penguin Walk and the exotic Bird House. Plunge into the nocturnal bat caves - a unique spectacle that can't be seen anywhere else in the city. Pro tip: Visit the park during feeding times for an interactive experience. After your wild safari, take a short walk to the historic "Old Cemetery" for a touch of German history.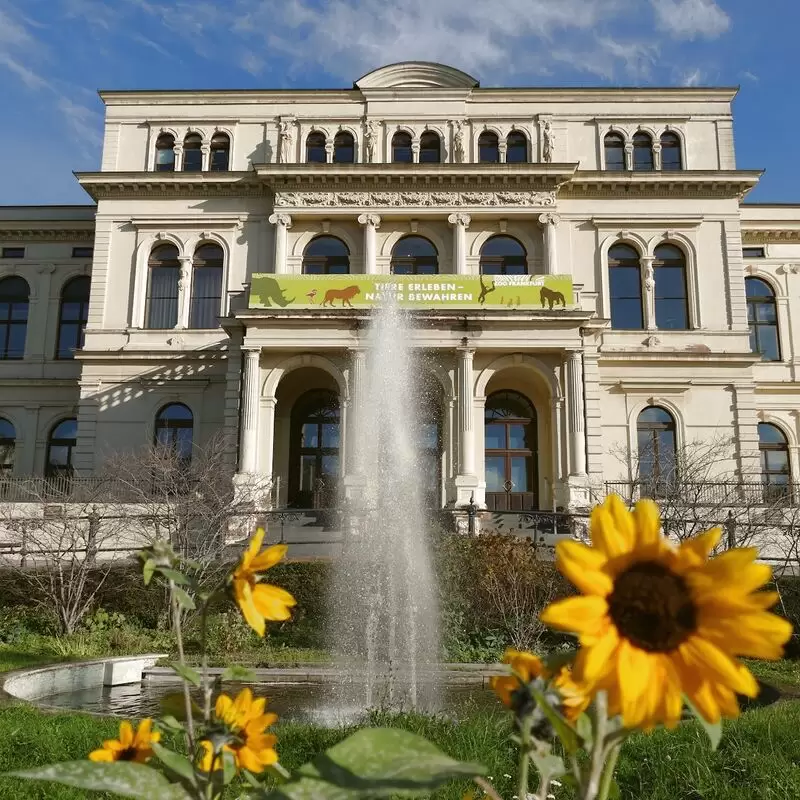 Zoo Frankfurt
Bernhard-Grzimek-Allee 1, 60316 Frankfurt
Monday - Sunday: 9:00 AM – 7:00 PM
8. Senckenberg Naturmuseum
Immerse yourself in the world of natural history at Frankfurt's Senckenberg Natural History Museum! The Senckenberg Naturmuseum houses the largest exhibition of large dinosaurs in Europe and amazes visitors of all ages. Marvel at the rich diversity of species, the well-preserved fossil collection, and the fascinating exhibit on human evolution. This museum is a true feast for scientifically curious minds. And don't forget: the whale skeleton is a must-see! Afterwards, you can take a walk to the Palmengarten, a magnificent botanical oasis nearby.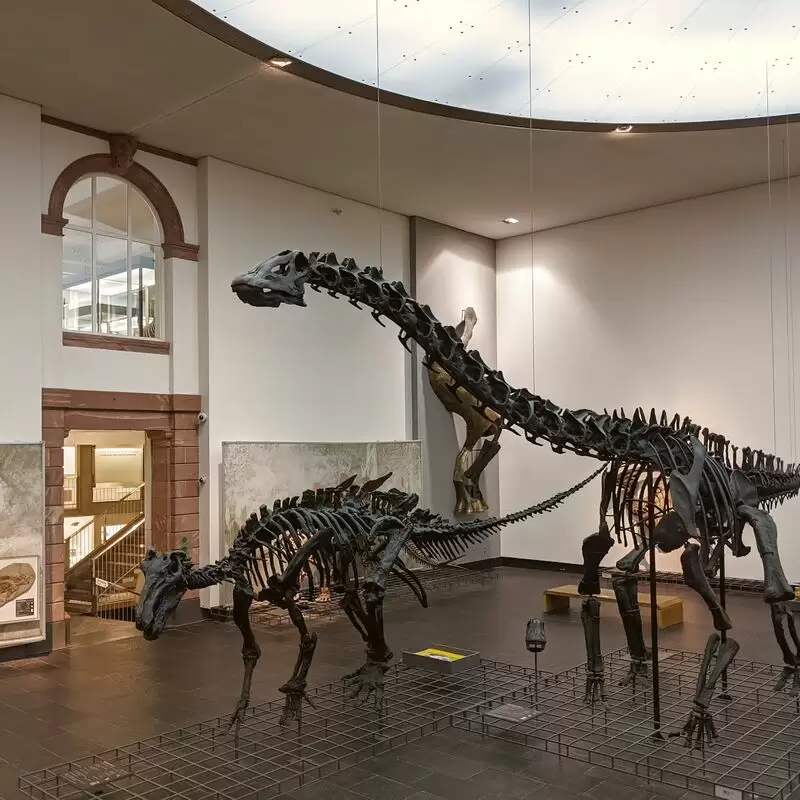 Senckenberg Naturmuseum
Senckenberganlage 25, 60325 Frankfurt
Monday - Friday: 9:00 AM – 5:00 PM
Wednesday: 9:00 AM – 8:00 PM
Saturday - Sunday: 9:00 AM – 6:00 PM
9. Kleinmarkthalle
The Kleinmarkthalle with its local charm is a culinary meeting place in Frankfurt that you should definitely visit! The bustling food market with over 150 stalls offers not only the opportunity to buy fresh produce, but also an authentic experience of local culture. Try the world famous Frankfurt Green Sauce or the hearty Bratwurst. Plus, the beautiful St. Catherine's Church is just a stone's throw away - a real feast for the eyes. And don't forget to look out for the "Kleinmarkthallen-Halte-Mann" - a friendly resident who is an integral part of the market's distinctive atmosphere.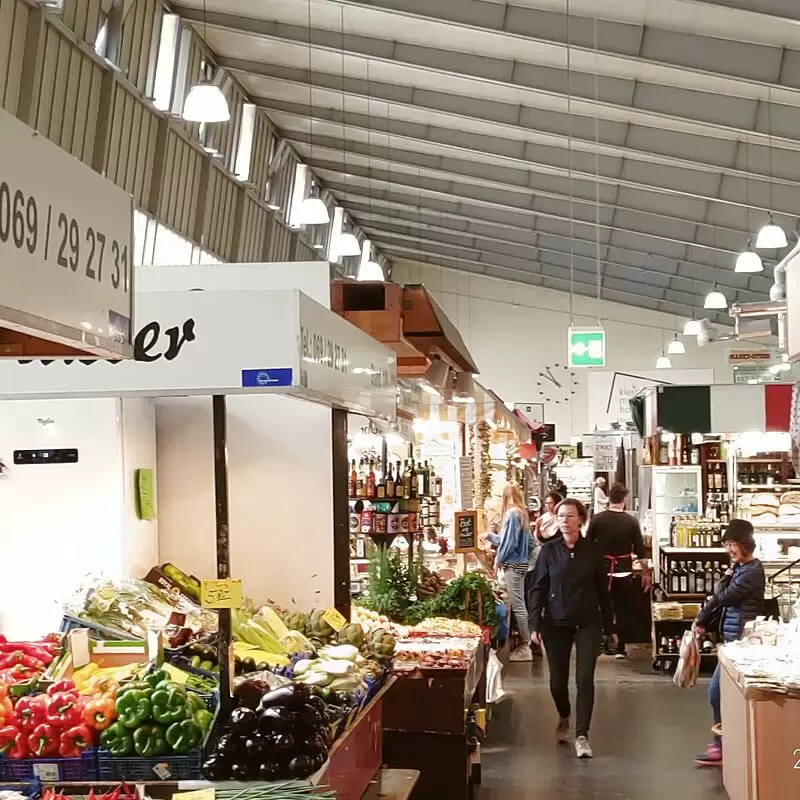 Kleinmarkthalle
Hasengasse 5-7, 60311 Frankfurt
Monday - Friday: 8:00 AM – 6:00 PM
Saturday: 8:00 AM – 4:00 PM
Sunday: Closed
10. Bethmann Park
Visit the charming Bethmann Park, a hidden oasis in bustling Frankfurt. Famous for its exquisite Chinese Garden, this tranquil spot offers a relaxing retreat from city life. Enjoy a moment of tranquility under the charming pagodas and by the tranquil ponds. You can reflect on life in the carefully tended stone and flower gardens. Don't miss the intricate mosaic dragon in all its glory - an insider's tip. And when you're done, Frankfurt's vibrant Berger Strasse, with its enticing stores and cafes, is just a short walk away.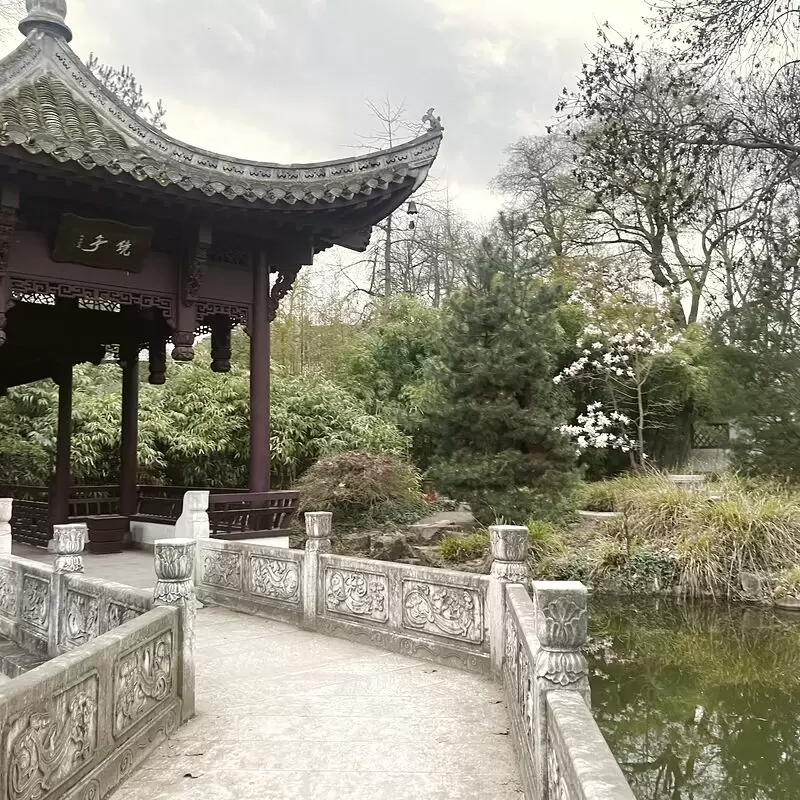 Bethmann Park
Friedberger Landstraße 8, 60316 Frankfurt
Monday - Friday: 7:00 AM – 9:00 PM
Saturday - Sunday: 10:00 AM – 9:00 PM
11. Grüneburg park
Grüneburgpark, a 29-hectare green space in Frankfurt, is an idyllic getaway. It is home to beautiful botanical gardens with around 120,000 different plant species. Discover the park's charm while enjoying a leisurely picnic, jogging or a relaxing stroll. Experience the tranquil atmosphere of the Korean Garden, a hidden gem in the park. Nearby is the famous Palm Garden, a magnificent greenhouse where exotic plants and flowers can be admired. Do not miss this place of tranquility and have an unforgettable experience.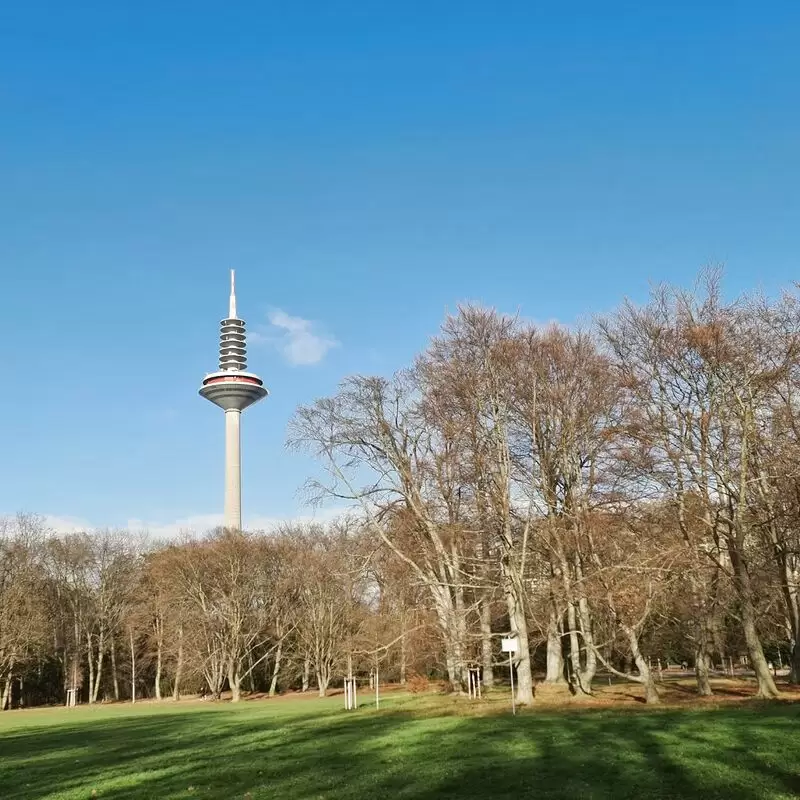 Grüneburg park
August-Siebert-Straße 22, 60323 Frankfurt
Monday - Sunday: Open 24 hours
12. Goethe House
A visit to the Goethe House in Frankfurt is like a journey into a history book, back to the 18th century, where the great German literary genius Johann Wolfgang von Goethe was born and grew up. Marvel at the fascinating Baroque architecture, antique furniture and Goethe's desk, where he wrote some of his famous works. Nestled in the old town, the enchanting charm of the Goethe House is enhanced by its proximity to the magnificent Paulskirche, Germany's cradle of democracy.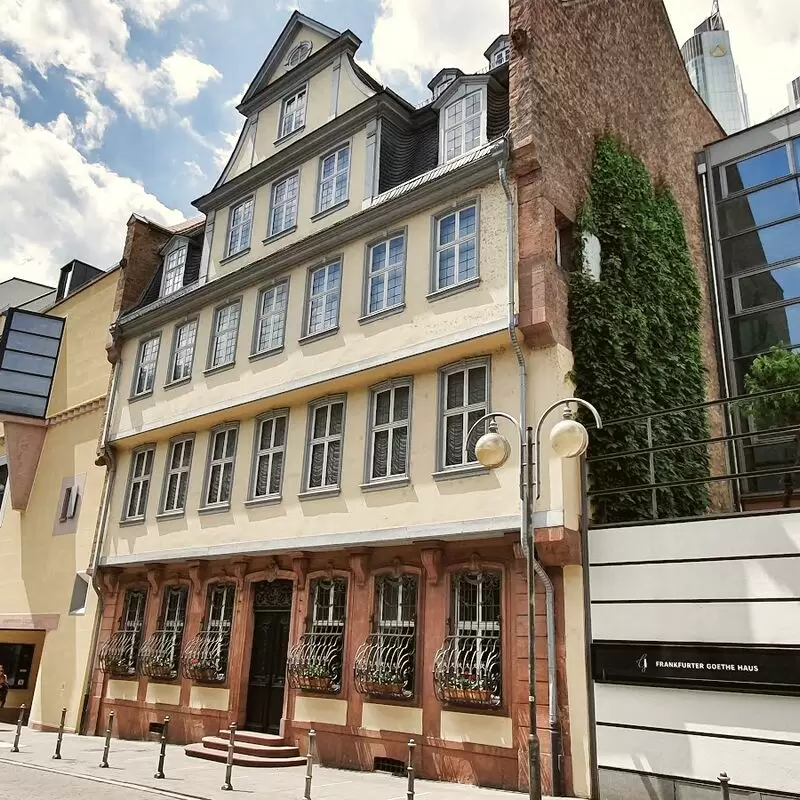 Goethe House
Großer Hirschgraben 23-25, 60311 Frankfurt
Monday - Sunday: 10:00 AM – 6:00 PM
Thursday: 10:00 AM – 9:00 PM
13. Schirn Kunsthalle Frankfurt
Let yourself be transported to a marvel of contemporary and modern art at the Schirn Kunsthalle Frankfurt. It is a vibrant cultural center that regularly hosts major temporary exhibitions. The Schirn is located in the heart of Frankfurt's old town and is therefore easy to reach. Don't miss the "Schikane," a mysterious, winding entrance way beloved by art lovers. And when you're done, visit the nearby Kaiserdom, just a stone's throw away, for panoramic views of the city.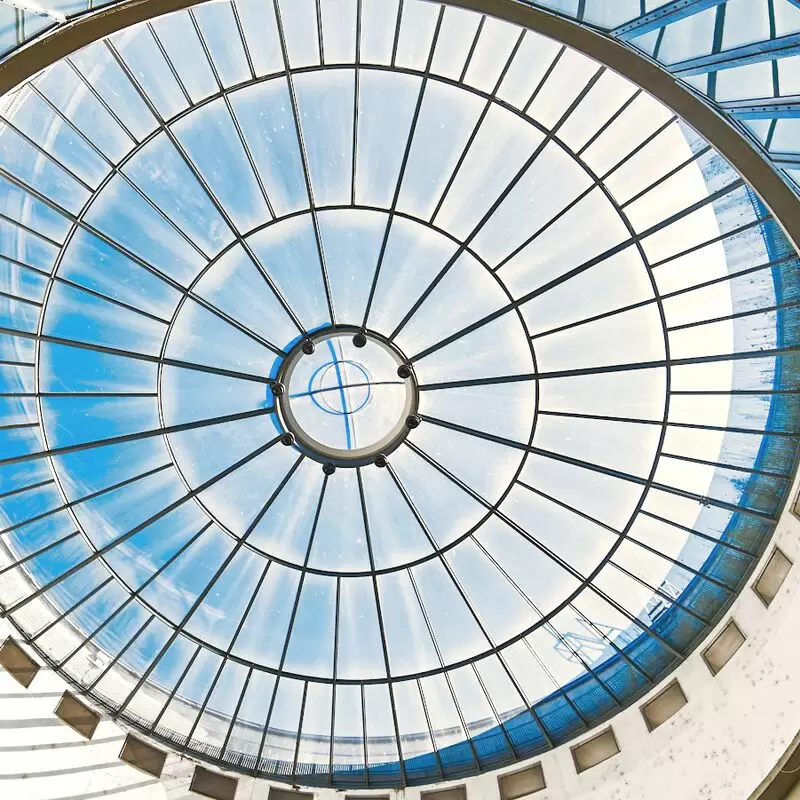 Schirn Kunsthalle Frankfurt
Römerberg, 60311 Frankfurt
Monday: Closed
Tuesday - Sunday: 10:00 AM – 7:00 PM
Wednesday - Thursday: 10:00 AM – 10:00 PM
14. German Film Museum
The German Film Museum in Frankfurt is a captivating treasure trove for film lovers. With historic projectors, captivating exhibits, interactive multimedia displays and an extensive film archive, it shows the development of film along winding paths. Take a peek behind the camera and learn more about the magic of the silver screen. Just a stone's throw away is the renowned Städel Art Museum, a cultural hotspot not to be missed when visiting Frankfurt.
German Film Museum
Schaumainkai 41, 60596 Frankfurt
Monday: Closed
Tuesday - Sunday: 11:00 AM – 6:00 PM
15. St. Paul's Church
Experience history in the Paulskirche, where the first German National Assembly took place. The symbolic significance of the church can be felt in every corner of the building. Amid the ornate stained glass and grand architecture, you can almost hear the whispers of the birth of democracy. The round shape of the church is a visual wonder, an architectural feat and a symbol of unity. You can also stroll just a stone's throw away on the Römerberg, Frankfurt's historic market square. The Old Town Hall is also nearby and completes your journey into the past.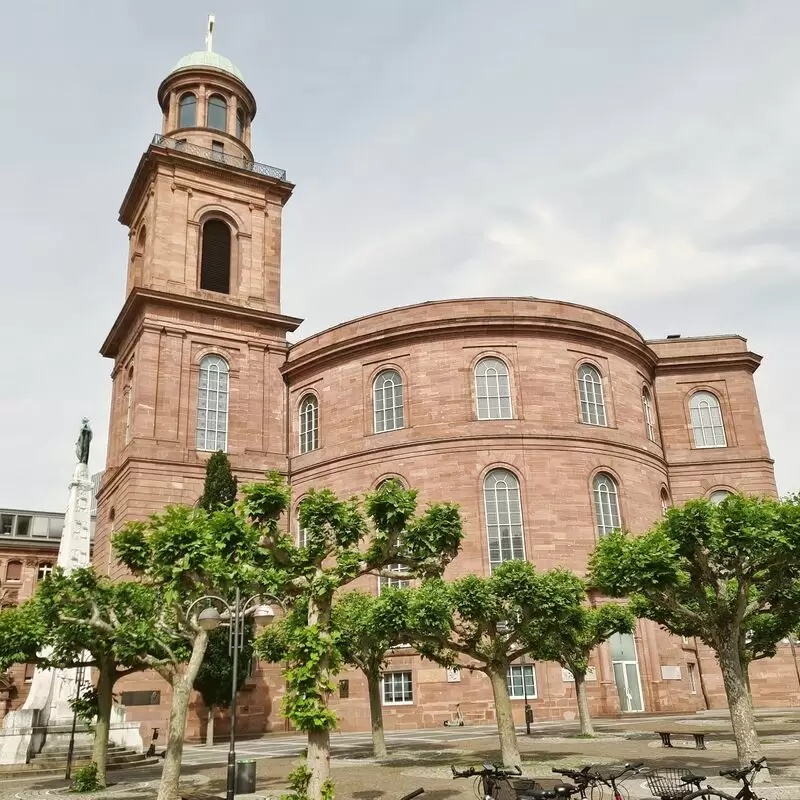 St. Paul's Church
Paulsplatz 11, 60311 Frankfurt
Monday - Sunday: 10:00 AM – 5:00 PM
16. Liebieghaus
Located on the banks of the Main River, the Liebieghaus offers a unique journey through 5,000 years of sculpture history. The exquisite villa is teeming with masterpieces from ancient Egypt to neoclassicism. Get up close and personal with delicate terracotta figures, impressive ancient Egyptian statues and much more. And don't miss the quaint café hidden in the charming garden! The close proximity to the Städel Museum makes it a perfect destination, as the masterpieces of European art are just a stone's throw away.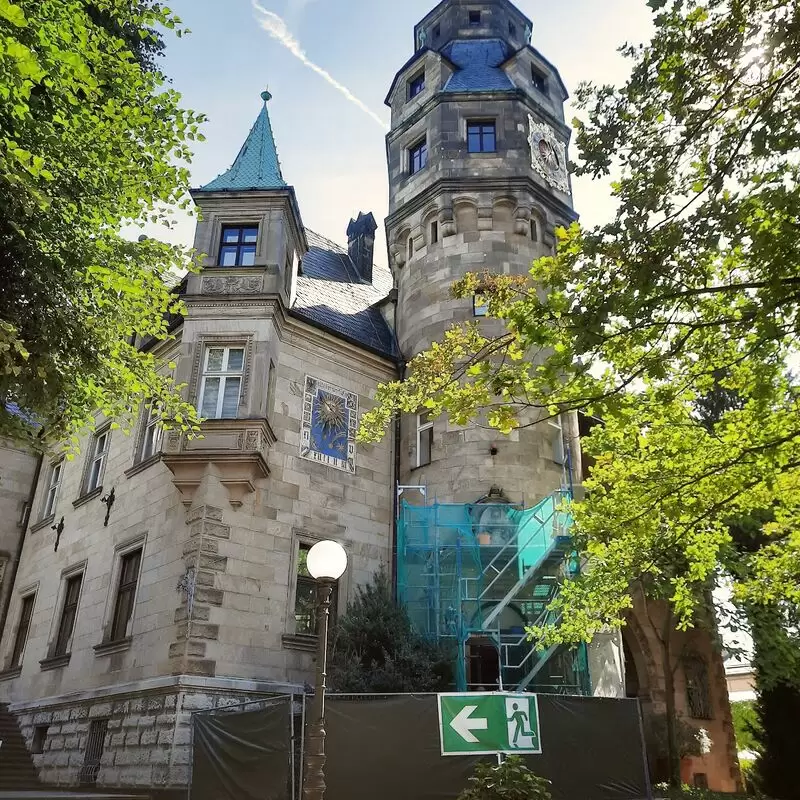 Liebieghaus
Schaumainkai 71, 60596 Frankfurt
Monday: Closed
Tuesday - Wednesday: 12:00 – 6:00 PM
Thursday: 10:00 AM – 9:00 PM
Friday - Sunday: 10:00 AM – 6:00 PM
17. New Old Town
Immerse yourself in Frankfurt's rich past by visiting the New Old Town, a carefully restored area that recalls the city's medieval splendor. Don't miss the Coronation Walk of the Holy Roman Empire; it's like going back in time! Explore the attractive mix of homes, stores and culturally significant buildings. Nearby, the famous Römer and the bustling Romerberg with its picturesque half-timbered houses await you. Just a stone's throw away is the Goethehaus, the birthplace of the famous writer Johann Wolfgang von Goethe.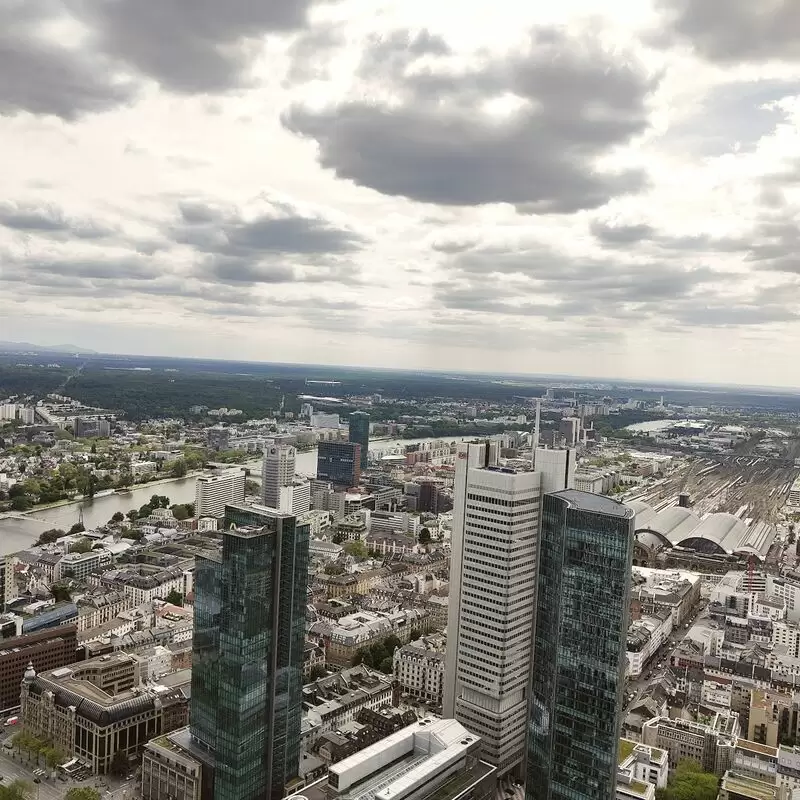 New Old Town
Krönungsweg, 60311 Frankfurt
Monday - Sunday: Open 24 hours
18. Jewish Museum
The Jewish Museum in Frankfurt offers an impressive insight into 850 years of Jewish history and culture in Germany. This museum is not only about history, but also about personal stories conveyed through fascinating artifacts and impressive multimedia presentations. The newly remodeled Rothschild Palace, which houses the museum, is an architectural marvel. Not to mention that its proximity to the Main River adds a picturesque touch to the visit. Just around the corner is the breathtaking Frankfurt Cathedral, whose Gothic tower offers a panoramic view of the city.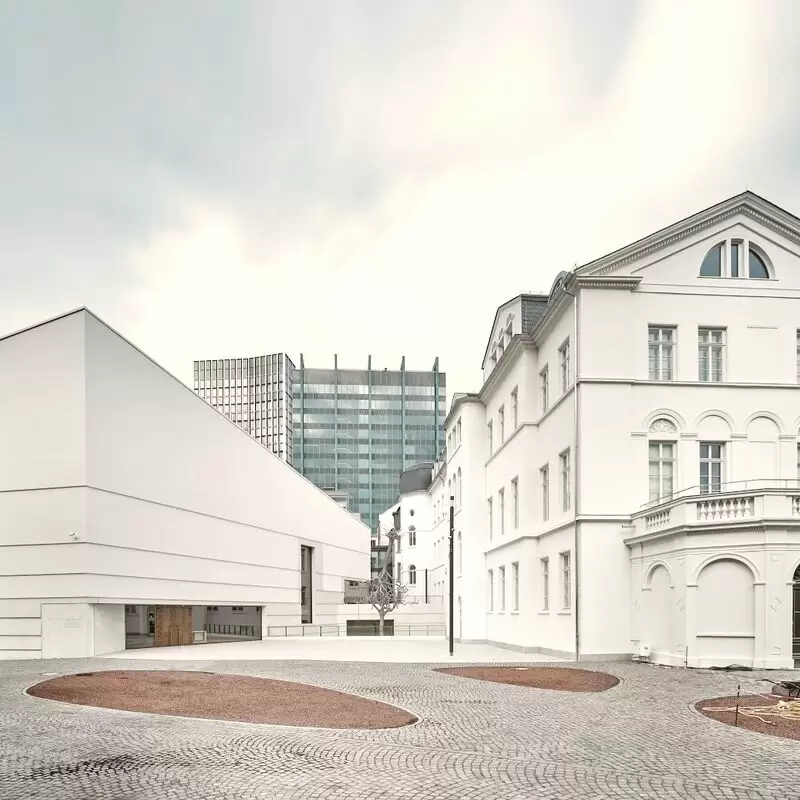 Jewish Museum
Bertha-Pappenheim-Platz 1, 60311 Frankfurt
Monday: Closed
Tuesday - Sunday: 10:00 AM – 5:00 PM
Thursday: 10:00 AM – 8:00 PM
19. Museum Applied Art
A must-see for art lovers is the Museum of Applied Arts, a fascinating mix of art, craft and design. Housed in a building designed by Richard Meier, the museum houses an extensive collection ranging from medieval artifacts to contemporary design. A hidden delight is the museum's manicured garden, which provides a peaceful retreat. Just steps away is the Goethe House and Museum, where you can round out your culture-filled day with a visit to the poet's original home.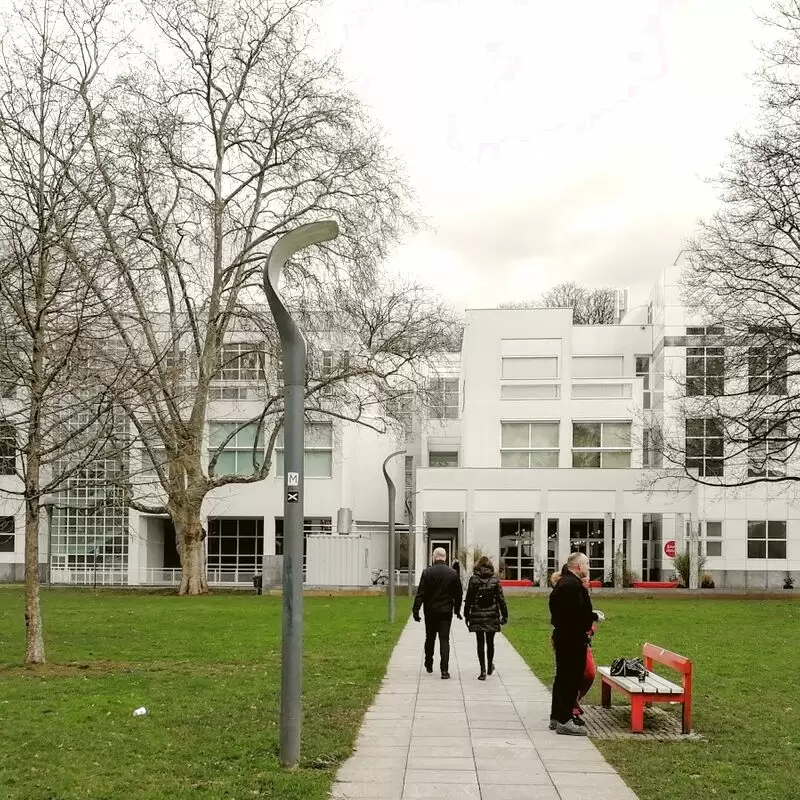 Museum Applied Art
Schaumainkai 17, 60594 Frankfurt
Monday: Closed
Tuesday - Friday: 12:00 – 6:00 PM
Wednesday: 12:00 – 8:00 PM
Saturday - Sunday: 10:00 AM – 6:00 PM
Best Time to Visit Frankfurt
The best time to visit Frankfurt is late spring to early fall, especially between May and October, when the weather is much warmer and outdoor activities can be enjoyed extensively. The city's fairs, festivals and events also peak during this time, offering a lively cultural experience.
Annual Weather in Frankfurt
Frankfurt 3-Day Forecast
Tue, 26 September
Night
56 °F
13 °C
0%
Morning
53 °F
11 °C
0%
Afternoon
69 °F
21 °C
0%
Evening
67 °F
19 °C
0%
Wed, 27 September
Night
61 °F
16 °C
0%
Morning
57 °F
14 °C
0%
Afternoon
71 °F
22 °C
0%
Evening
69 °F
20 °C
0%
Thu, 28 September
Night
64 °F
18 °C
0%
Morning
62 °F
17 °C
0%
Afternoon
75 °F
24 °C
0%
Evening
72 °F
22 °C
0%
Questions & Answers

What languages are commonly spoken in Frankfurt?

The primary language spoken in Frankfurt is standard German, also known as Hochdeutsch, which is the official language throughout Germany. However, since Frankfurt is a cosmopolitan city, English is also widely spoken and understood, especially in hotels, restaurants, and among the younger population. In addition, due to the multicultural population, various other languages such as Turkish and Arabic can be heard.

What is the best way to navigate Frankfurt?

Frankfurt has a well-developed public transportation network consisting of buses, streetcars, subways and commuter trains operated by the Rhein-Main-Verkehrsverbund (RMV). The RMV mobile app provides real-time information for all modes of transportation and makes navigation easy. Another convenient option is cycling, as the city has a well-developed network of bike paths. For shorter distances, it's also easy to explore the city on foot. Cabs are also readily available, but can be quite expensive.

How safe is Frankfurt for tourists?

Frankfurt is considered quite safe for tourists. As in any large city, there are certain areas that are less safe at night, but overall incidents involving tourists are rare. The city center is well guarded and most attractions are located in safe areas. Visitors are advised to take precautions, such as keeping valuables out of sight and being aware of their surroundings, especially in busy areas. Tourists can explore Frankfurt with confidence and enjoy the city's rich history, diverse culture and beautiful architecture.

Are credit cards widely accepted in Frankfurt?

Yes, credit cards are widely accepted in Frankfurt, Germany. Most restaurants, hotels and stores accept major credit cards such as Visa, MasterCard and American Express. However, people still pay a lot with cash in Germany, especially for smaller purchases, so it is advisable to have some cash on you. Also, some smaller eateries and street vendors only accept cash, so it is important to have a mix of both with you.

What are favorite local dishes in Frankfurt?

Frankfurt offers traditional dishes such as Grüne Soße, a mixture of seven fresh herbs with sour cream served with boiled potatoes and eggs. Frankfurter Wurst, a smoked pork sausage, is another local favorite that is often paired with apple wine. Handkäs mit Musik is a regional cheese marinated with onions and served with rye bread. Apple cider, which is brewed in the region, also pairs well with this hearty cuisine. Each dish contributes to Frankfurt's gastronomic landscape and is an essential part of the local culinary identity.

Can you smoke in public areas in Frankfurt?

Smoking in Germany is mainly regulated at the federal level; in Frankfurt there are a few restrictions. In general, smoking is permitted in outdoor public spaces. However, smoking is prohibited in enclosed public spaces such as restaurants, bars and nightclubs, unless there are designated smoking areas. Smoking is also prohibited in some outdoor areas such as children's playgrounds, school grounds, and train stations. It is advisable to respect these laws and the well-being of others.

Are there etiquette rules I should follow in Frankfurt?

When visiting Frankfurt, be sure to follow certain etiquette rules. Germans value punctuality, so it is considered rude to be late for meetings or appointments. It is customary to greet each other with a firm handshake. Always use formal titles until you are asked to address each other by first name. It is also polite to take your hands out of your pockets when talking to someone and to remove your hat when inside. In restaurants, a 10-15% tip is customary. Remember to respect the local culture and the public, quiet atmosphere.

What are the emergency numbers in Frankfurt?

In Frankfurt, Germany, you can dial 112 for any type of emergency service, whether you need firefighters, medical help or police. This number is toll-free and works around the clock all year round. In less urgent medical cases, you can reach the medical on-call service by dialing 116 117. These emergency numbers will bring you immediate help when you need it most, so it is important to remember them when you are in Frankfurt.

Is tap water safe to drink in Frankfurt?

Yes, the tap water in Frankfurt is absolutely safe to drink. It meets Germany's high drinking water standards and is strictly monitored for contaminants. The water in Frankfurt is obtained from deep wells and surface waters that undergo thorough purification. Tap water is not only safe, but also of excellent quality, often comparable to or even better than bottled water. However, if you have a sensitive stomach, you should prefer bottled water to avoid potential problems.

What is the currency of Frankfurt?

The currency used in Frankfurt, Germany is the Euro (€). It is the official currency of most European Union countries, including Germany. Banknotes come in denominations of €5, €10, €20, €50, €100, €200 and €500, while coins are available in €1, €2 and cents of €1, €2, €5, €10, €20 and €50. Credit cards are widely accepted, but it is also good to have some cash on hand.

How does tipping work in Frankfurt?

In Frankfurt, it is customary to tip, which is usually about 10-15% of the bill. It is customary to give the tip directly to the waiter. The phrase "Keep the change" can be used, which means "Keep the change". Unlike other countries, in Germany the service charge is usually not included in the bill. Tipping is not obligatory, however, but is appreciated as a reward for good service.

How reliable is public transportation in Frankfurt?

The public transportation system in Frankfurt is exceptionally reliable and efficient. It consists of a seamless network of subways, commuter trains, streetcars and buses that run on time even during rush hours. The wide reach of this network makes it easy to reach different parts of the city and its surroundings. Thanks to digital route planners or mobile applications, you can find the fastest route and departure times without stress, making your commute efficient, whether you are a resident or a visitor.

Does Frankfurt offer facilities for disabled tourists?

Yes, Frankfurt is very accessible for disabled tourists. The city is known for its continuous commitment to inclusion and improving accessibility. Public transportation such as buses and trains are accessible to wheelchair users. Many of the city's top attractions, including museums, theaters and parks, offer facilities for guests with disabilities. Hotels also offer special services and facilities for disabled guests. Frankfurt offers enjoyable experiences for everyone and ensures that accessibility is not a barrier to exploring the city.

Is Frankfurt a child-friendly destination?

Frankfurt is indeed a child-friendly destination. The city offers a variety of attractions aimed at younger visitors. Children can learn interactively at the Experimenta Science Center or get in touch with nature at the Palmengarten Botanical Garden. Frankfurt Zoo is also popular with children, as is the Senckenberg Museum with its fascinating dinosaur exhibit. Many restaurants are also family-friendly and offer special menus for children. Frankfurt also has numerous parks and playgrounds for outdoor fun.

Is Frankfurt dog-friendly?

Frankfurt is generally dog-friendly. Dogs are welcome in many parks and outdoor areas. In restaurants and stores, dogs are usually allowed, but it is always best to ask beforehand. There are also many areas in the city where dogs can walk on a leash. Dogs are allowed on public transportation in Frankfurt, but they may need to wear a muzzle depending on their size. All in all, Frankfurt is a fantastic place to enjoy with a four-legged friend.

How's the nightlife in Frankfurt?

Nightlife in Frankfurt is vibrant and varied, appealing to a wide range of preferences. The city center is known for its lively pub scene and is home to numerous bars offering everything from local German beers to international cocktails. For lovers of live music and performances, Frankfurt is home to several theaters and concert halls. The city also has a lively club scene, playing everything from techno to hip-hop. Finally, the gastronomic scene is also enticing after dark, offering a variety of options for dining late into the night.

Do I need a visa to visit Frankfurt?

Whether you need a visa to visit Frankfurt am Main depends on your nationality. Citizens of countries in the European Union, the United States, Canada, Australia, New Zealand and Japan do not require a visa for a stay of up to 90 days. However, people from other countries may need to apply for a Schengen visa. It is advisable to check the official visa requirements of the German Foreign Office or contact the local German Embassy for more detailed information.

What's the procedure for medical emergencies in Frankfurt?

In the event of a medical emergency in Frankfurt, dial 112 for immediate assistance. You can reach the fire department and ambulance service as well as the medical emergency service under this number. Foreign patients are usually treated in university hospitals or private clinics. It is recommended to have travel insurance that covers medical care, as the costs can be very high. All doctors speak English. Pharmacies are available throughout the city for non-emergency medical needs, including over-the-counter medications.

Can I use my driving license in Frankfurt?

Yes, you can use your driver's license in Frankfurt as long as it is an international driver's license or a driver's license from a European Union country. Non-EU citizens, including those from the USA and Australia, can use their national driver's license for up to six months. After that, you must obtain a German driver's license. It is essential that you carry an English translation of your driver's license. Insurance documents and passport are also required.

Is the city suitable for budget travelling?

Frankfurt, Germany, offers a great mix of experiences suitable for budget travelers. Although the city is a major hub for international travel and finance, affordable accommodations are available, especially in lively neighborhoods like Sachsenhausen. The city is full of inexpensive or free attractions, including the Städel Museum's public collection and the Palmengarten. Plus, getting around is easy with the efficient public transportation system. Local street food, like the famous Frankfurt sausages, is another way to save on food expenses.

How widespread is English in Frankfurt?

English is widely spoken in Frankfurt due to its status as a global hub for trade, finance and commerce. Many residents, especially younger people and those who work in business or the hospitality industry, have a good command of English. Most signs, menus, and public notices are also available in English. Although it is relatively easy for English speakers to find their way around the city, learning a few basic phrases in German can improve your experience.

Are there bicycle rental services in Frankfurt?

Yes, Frankfurt offers several bike rental services that are ideal for exploring the city. Of particular note are Deutsche Bahn's Call a Bike and Nextbike, both of which offer easy-to-use automated systems. In addition, Frankfurt's local bike-sharing program, the FRM Mobile Bike app, allows you to rent bikes at various locations around the city. Whether you prefer a leisurely bike ride along the beautiful banks of the Main River or a sightseeing tour of Frankfurt's historic city center, the city's bike-friendly routes make it an enjoyable experience.

Does Frankfurt have free WiFi spots?

Yes, there are free WiFi spots in Frankfurt, especially in popular public places. These include areas such as Römerberg, the main train station, the airport, and several large shopping centers. Frankfurt's public libraries and many cafés and restaurants also offer free WiFi. Some of these places require registration or have a time limit, but they are generally available to tourists and locals alike.

Which side of the road do they drive on in Frankfurt?

In Frankfurt, as in the rest of Germany, the right-hand driving rule applies. This rule applies to all vehicles, including cars, buses, motorcycles and bicycles. It is also important for pedestrians to observe this when crossing the street. Car drivers sit on the left side of the vehicle, so the steering wheel is on the left side. For those who are not familiar with this driving system, it may take some time to get used to it.

Are taxis expensive in Frankfurt?

Cabs in Frankfurt are somewhat expensive compared to other means of transportation such as public transport, which are very efficient. The rates are regulated, starting with a basic fare and additional costs per kilometer driven. Higher fares may be charged for night trips or on holidays. Nevertheless, cabs are a convenient and comfortable means of transportation, especially for places that are difficult to reach by public transport.

Is Frankfurt vegan-friendly?

Yes, Frankfurt offers a variety of vegan-friendly restaurants. From vegan bakeries to Indian restaurants serving vegan thalis, the city caters to all dietary needs. Numerous cafes and restaurants have vegan options on their menus. Even traditional German dishes are available in vegan versions. Frankfurt's many health food stores also offer vegan products, making it easy for residents and tourists alike to enjoy plant-based meals.

Are drone operations permitted in Frankfurt?

Drone operations in Frankfurt am Main are subject to the regulations of the European Aviation Safety Agency (EASA) and the German Federal Aviation Authority (LBA). Strict rules apply especially around Frankfurt Airport, which is a no-fly zone for drones. Scenic flights are generally allowed under certain conditions, but operators must ensure they comply with distance rules, altitude restrictions and other regulations. Prior approvals may also be required for certain activities.

Can US mobiles work in Frankfurt?

Yes, U.S. cell phones can generally work in Frankfurt if they are unlocked and compatible with international bands. Most U.S. carriers offer international roaming services, but rates can be high. Another option is to purchase a German prepaid SIM card upon arrival in Frankfurt. It's best to check with your service provider before you travel to see if your phone will work abroad. WiFi is also fairly widespread in Frankfurt and offers a reliable alternative.

How can I make local friends in Frankfurt?

In Frankfurt, social life revolves around community activities. Participate in local events, cultural festivals, and language exchange programs, as these are wonderful ways to get to know locals. Join a sports club or volunteer organization, as this is a common cultural practice in Frankfurt. It's also good to hang out in the city's pubs and beer gardens, Frankfurt's traditional social gathering places. Germans appreciate directness, so don't hesitate to strike up a conversation. With their good command of English, communication is usually not a problem.

How common are tourist scams in Frankfurt?

Frankfurt is generally considered a safe city for tourists, but as in any big city, scams can occur. Pickpocketing and bag snatching can occur, especially in busy areas. Unofficial tour guides and street vendors may also charge inflated prices. Overcharging and unnecessary cab services are other potential scams. Always be vigilant, inquire about fair prices in advance, and use only approved service providers to avoid falling victim to these scams. It is advisable to take the usual travel precautions.

Feedback

I hope you found this article informative and helpful. I'm eager to improve the content and make it even more valuable for you. If you have any feedback or suggestions, I would love to hear from you.

Do you have any tips or hidden gems that you think should be added to the list? Are there any areas that you feel could use more explanation or clarification?

Your input is greatly appreciated and will help us to continue providing high-quality content that meets your needs and interests. Please feel free to share your thoughts.